We aren't over the beautiful #OneTillInfinity wedding, which means we still swoon with all of Eki's look for her big day (both traditional and white wedding). The fashion influencer tied the knot to her lover, Osagie in a number of outfits that beautifully complemented her figures as she walked down the aisle. This time we get to know all the behind-the-scenes details of some of her look.
If you are wondering what it took to make this dress or how she settled on the design? Then you should read till the end of this post. The bride and some of the designers will be sharing what it took to create all the masterpiece outfits she rocked. So now, sit back and enjoy.
First, let's talk about her white wedding dress with the designer, Mariam.
Hi, Mariam! Can you take us through inspired Eki's bridal look?
The inspiration came from Eki's elegant and chic personality. She knew she didn't want anything elaborate and overbearing but something simple and beautiful.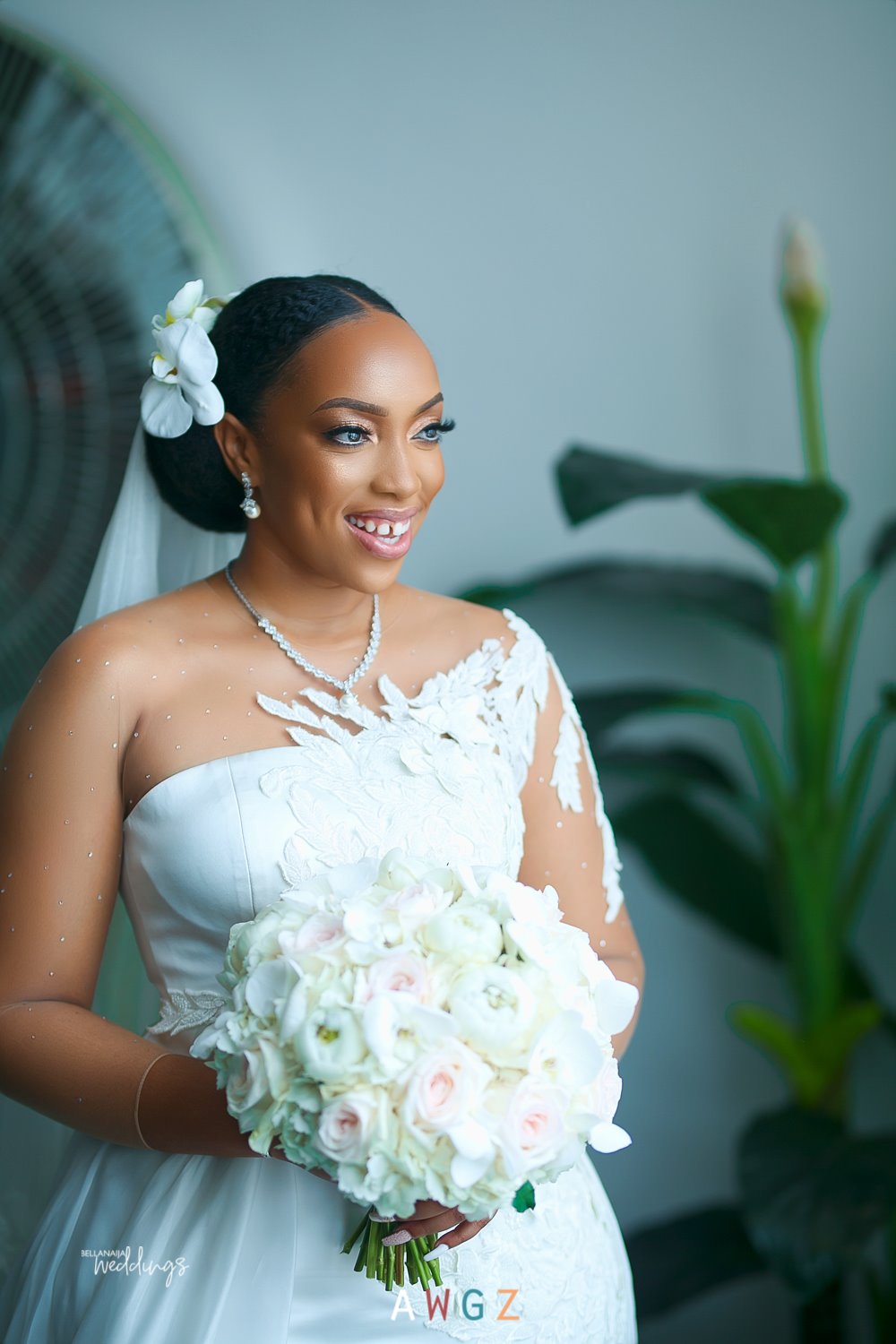 Nice, what was the process of designing the look for the ceremony?
The process started with a consultation which led to various stages- coming up with illustrations from our mood board until we got the final look. A pattern was then made and a sample of the silhouette was made for Eki to try on. From this, we were able to decide what the silhouette of the final dress should be. Then we proceeded to source for the perfect fabrics which were mainly gotten from a European couture fabric company and a Turkish lace manufacturer. Eki was involved in this process as she was able to choose the fabrics she preferred for the final look. After the fabric sourcing, we made the dress and had various fittings for each stage to make sure it was her perfect fit and dream dress.
Fitting: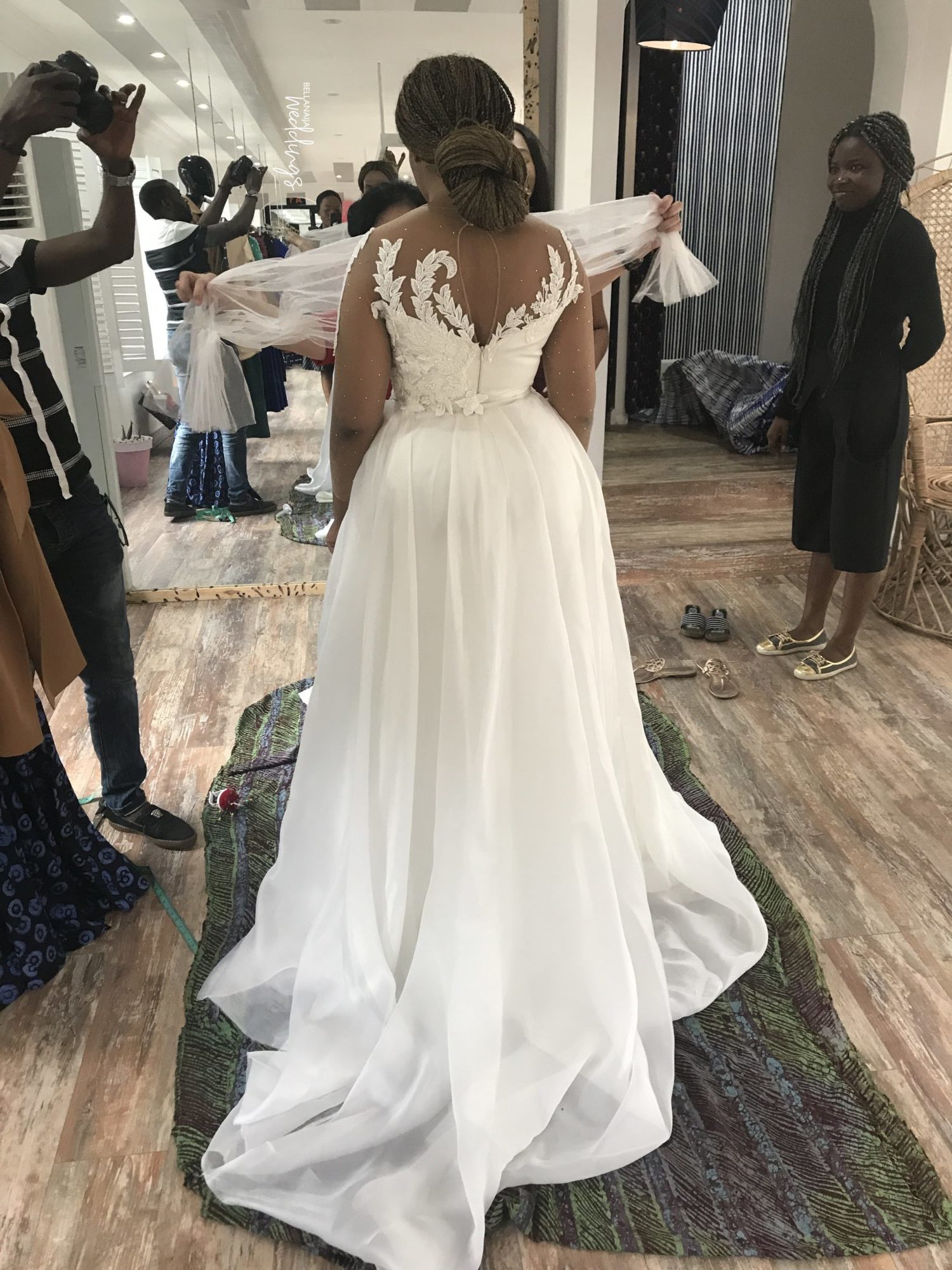 How did it differ from the process of creating the look for her traditional ceremony?
For the traditional ceremony, Eki already had an idea of what she wanted. So the process was much simpler and we went straight to making the dress from the patterns created. Then had about two fittings and she loved it.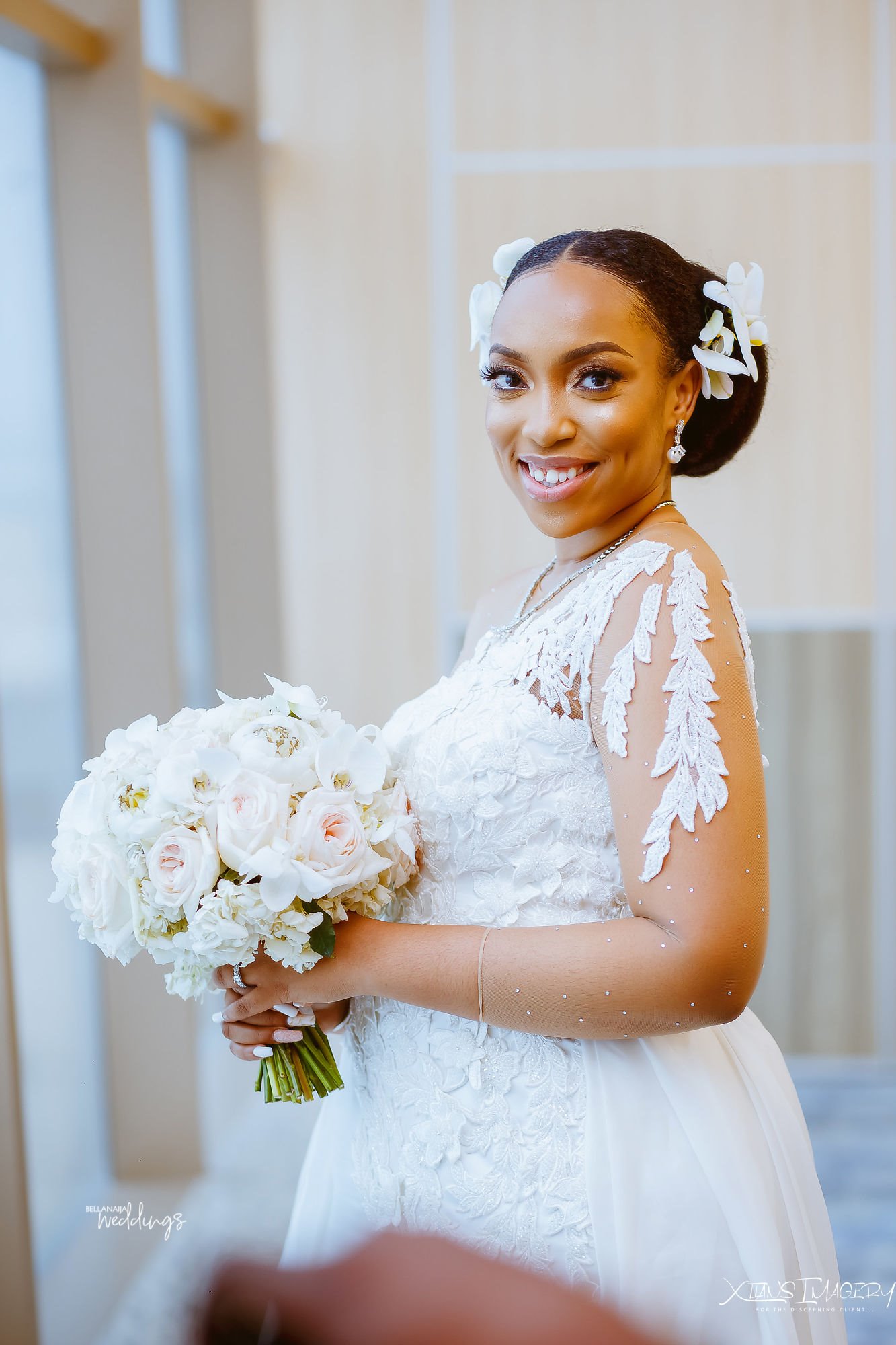 Did her heritage inspire and contribute to the design choices for either look?
Not really, I would say it was mainly her personality, amazing curves, and elegance that contributed to our design choices.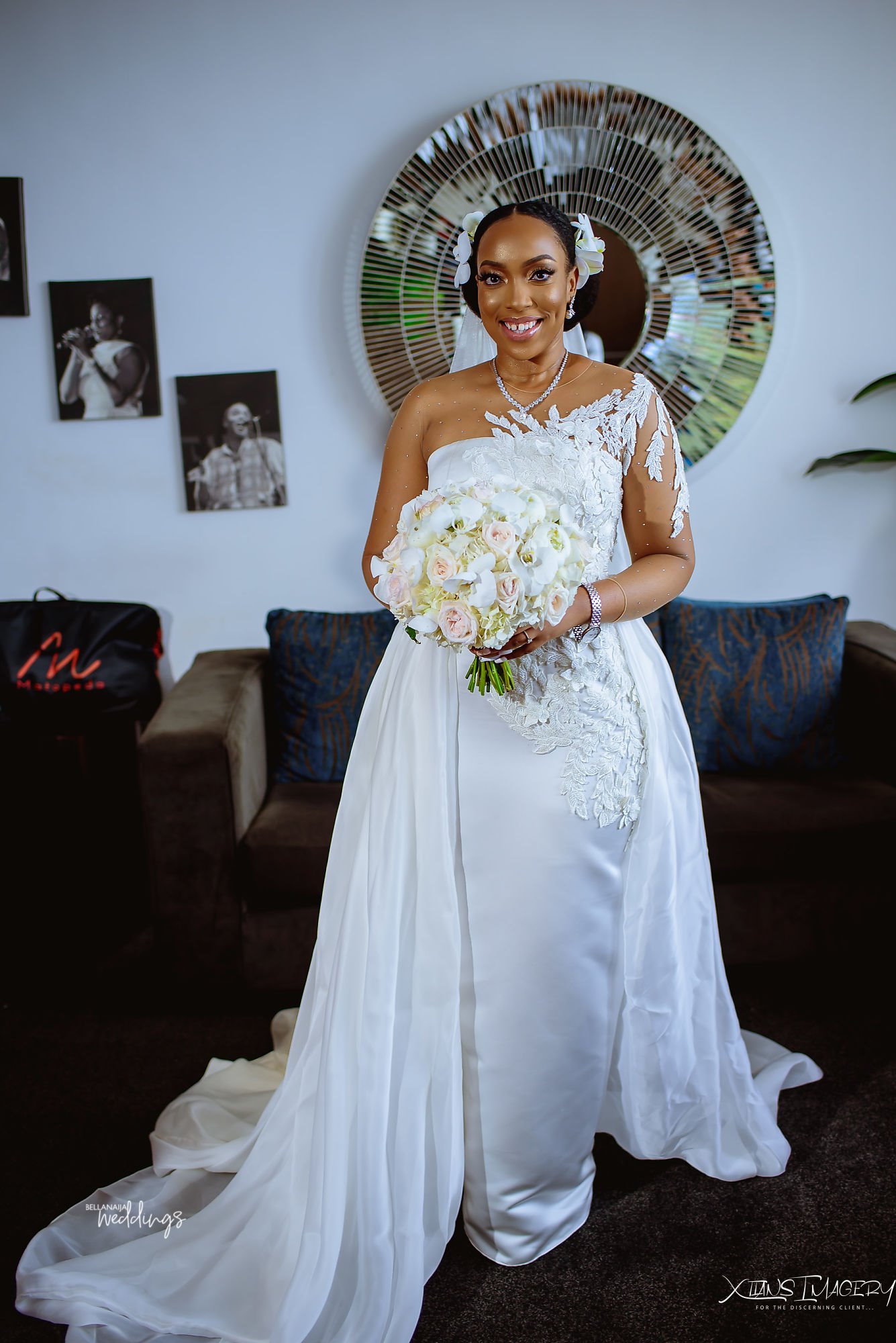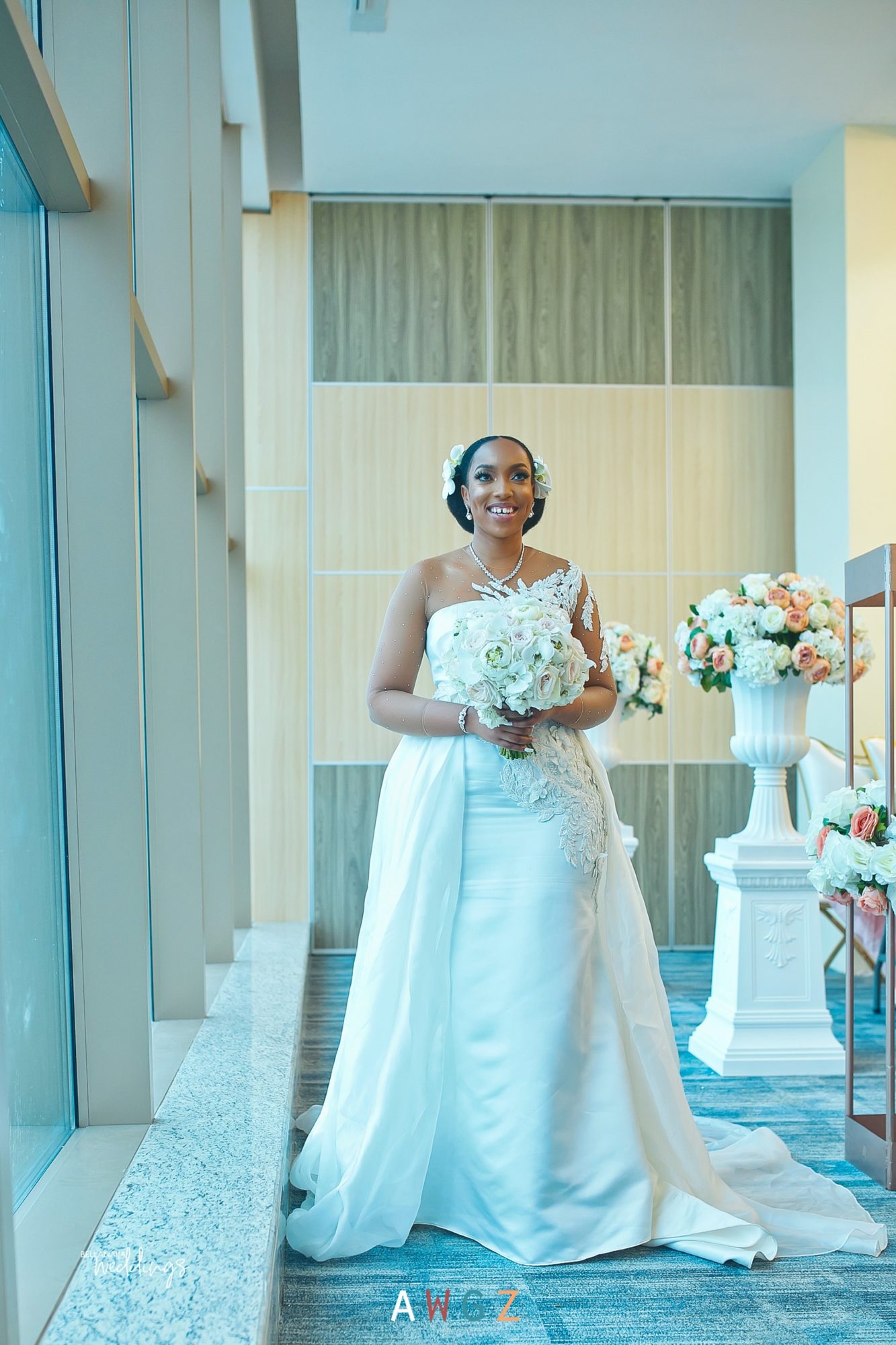 What are your top tips for brides on choosing a wedding design?
– Do a lot of research
– Set a budget
– Choose a theme that works with your vision and body
– Keep an open mind but don't be pressured
– Find a designer who is very patient and ready to involve you in the process.
– Start searching early.

Your after-party dress was lit! Can you tell us about it?
The bride, Eki: Initially, I thought I wanted something flared I could dance in but when Tope assured me I'd be able to dance the night away in one of her Matopeda pieces, I was sold. Next was picking fabrics and have to say, Tope really wowed me with how she transformed the fabric with the crystals she added all over, it was beautiful – way better than my expectations.
Dress fitting: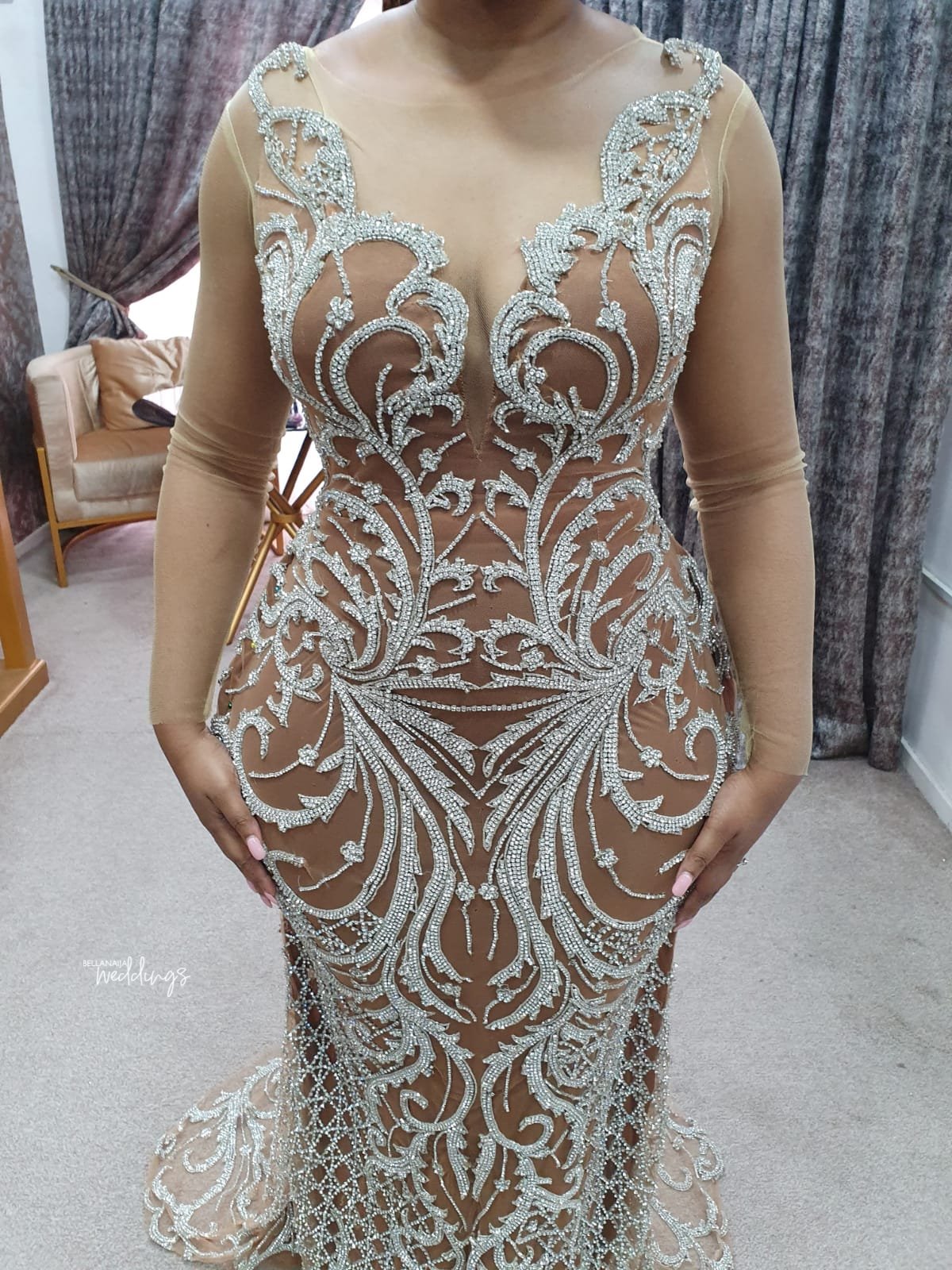 Designer Matopeda: Eki came in with her sister for her consultation. I could tell how important this dress was to them and how important Eki is to her sister. She was shy about showing off her curves but I knew we had to show it off in a classy way. We decided to go for a dress that looked like it was just crystals on her skin. She was easy and a lot of fun to work with. I loved making her dress.
Final look: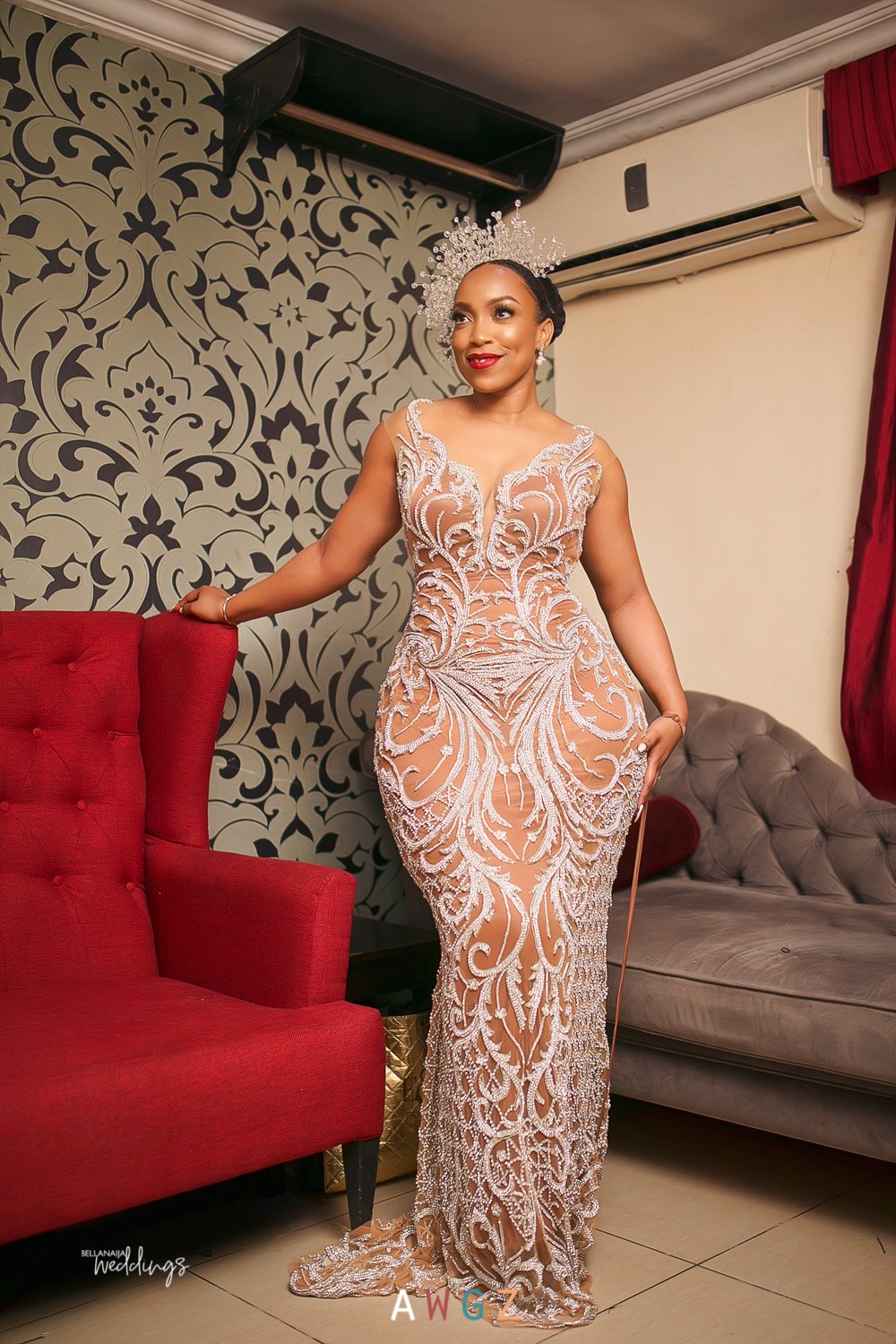 Now, that we have seen your white wedding looks. Let's talk about your traditional wedding outfits:
Eki: The brand is one of my favourites when it comes to working with Ankara and beading, Dupe pays a lot ofh attention to the fit of her pieces and I really wanted that to come through with my red Okuku dress. The fabric, which was my absolute favourite part, was from Fabrics by Style Palette. It was a mix of velvet and lace with Swarovski crystals in a bright, delicious, tomato red. The interesting part of this is Dupe didn't cut the fabric to make this dress so I can actually wear it again as another style, clever!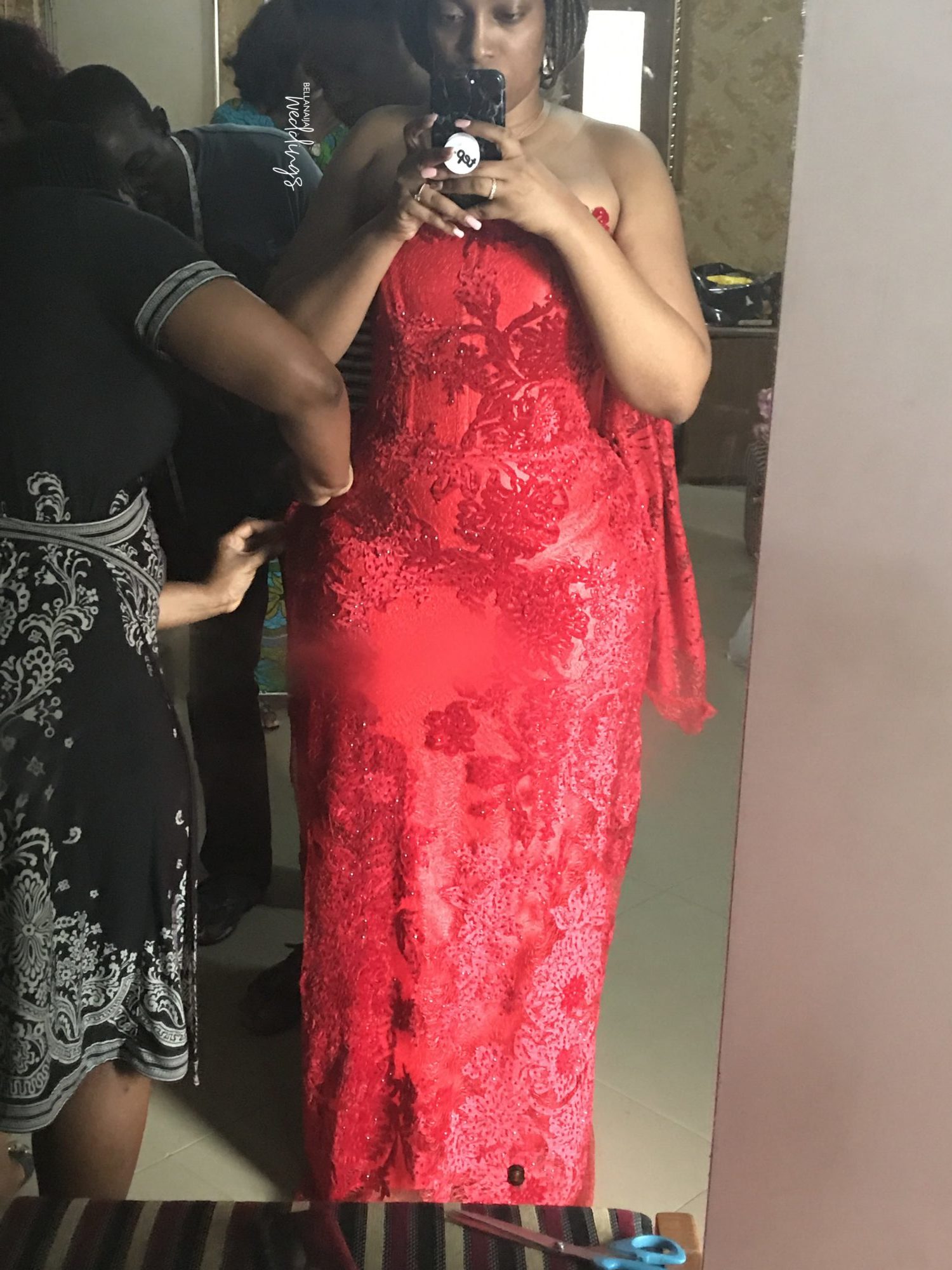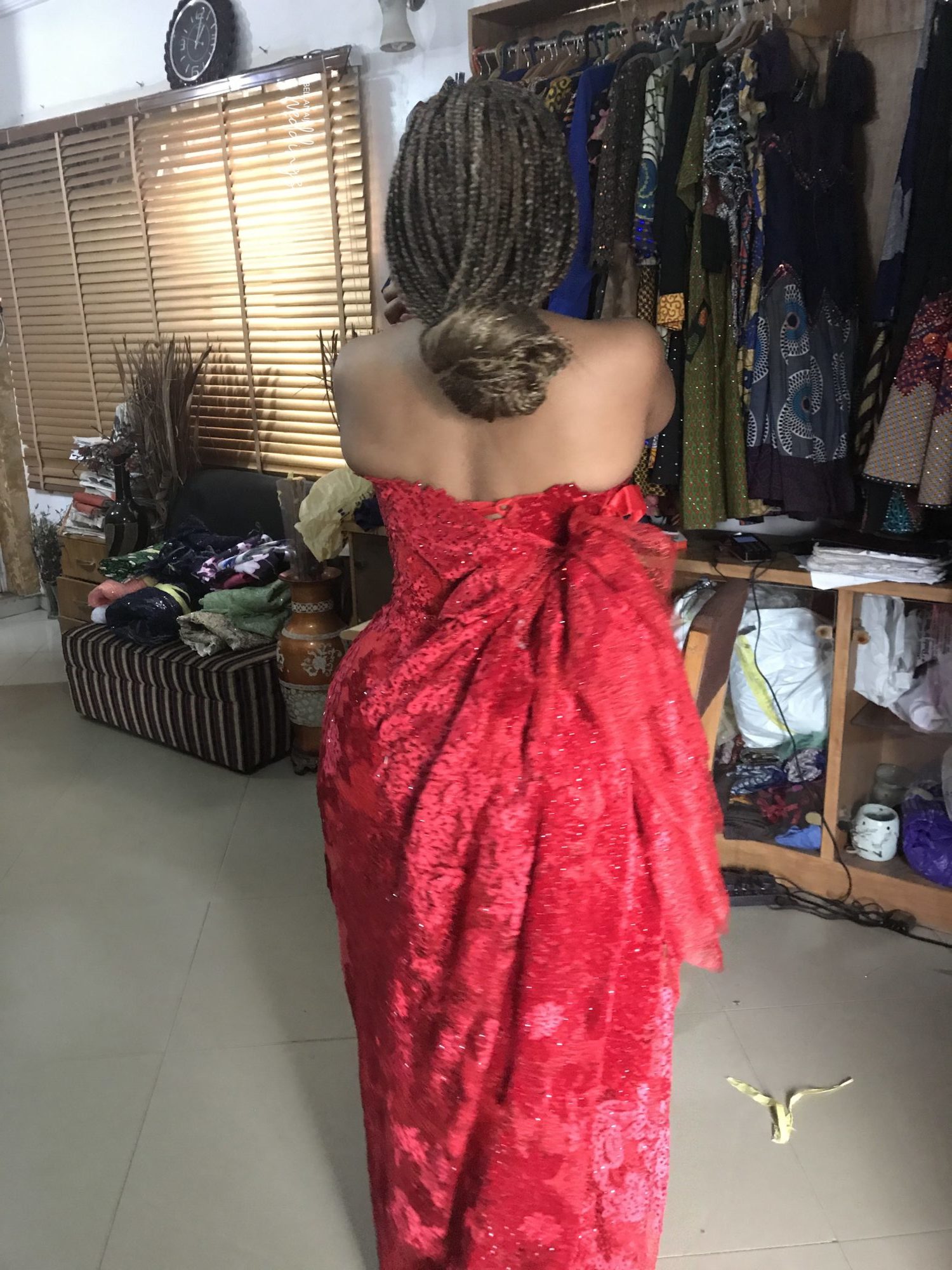 The final look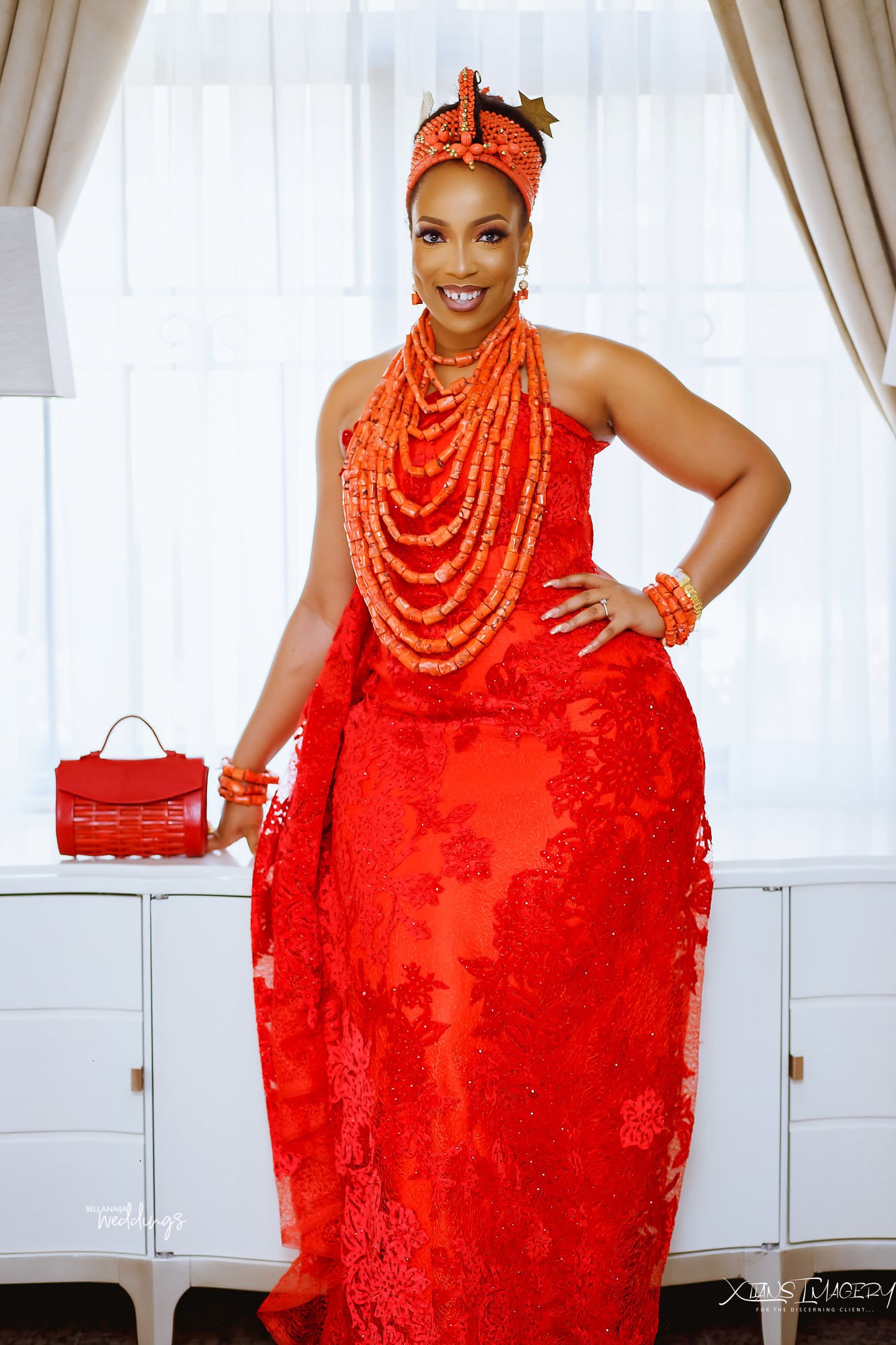 Credits
Bride: @ekiogunbor
White Wedding Dress:@mazelle.bespokeandbridal
Photography:@xtiansimagery | @awgzzz
Okuku Fabric: @fabricsbystylepalette
Okuku: @odepaiv
After-party Dress: @topefnr