The 2018 Edition of The Wedding Showcase is the fourth consecutive edition of what has been the largest wedding fair in South East Nigeria. It is unarguably the only melting pot of Fashion, Events, Media, Logistics & Hospitality vendors anywhere in South Eastern Nigeria.
Date: Thursday, November 22nd- Friday, November 23rd
Venue: The Exhibition: Golden Royale Hall, Bisala road, independence layout, Enugu
Date: Saturday, November 24th
Venue: Business Meeting: Polo Mall, GRA, Enugu
Date: Sunday, November 25th
Venue: Night of lights: The Base Landmark, Independence Layout, Enugu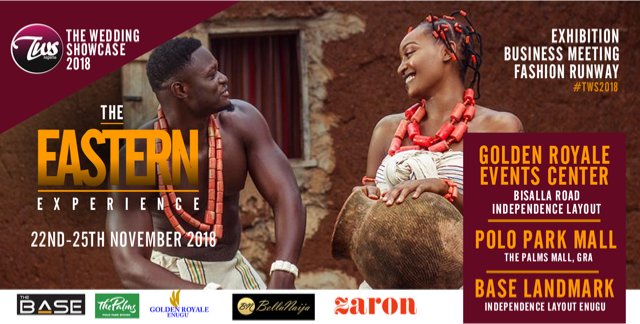 The Eastern Experience
Each year's edition of The Wedding Showcase has been a phenomenal success, with an impressive line-up of vendors, intending couples and high profile guests in attendance. This year's edition is themed "The Eastern Experience". It is the first themed edition and will be showcasing wedding fashion, decoration, food and everything else associated with weddings in Eastern Nigeria. The aim is to get our guests to appreciate the rich culture behind Igbo weddings, as well as all the vendors most capable of delivering that experience.
The Wedding Showcase is made up of three main events, the exhibition, The Business Meeting and Night of Lights.
The exhibition: Starting on Thursday, November 22nd vendors showcase products and services, connect with a wide variety of customers and network with key players in the events industry. The exhibition has featured a long list of well-known brands, and this year will not be any different.
The Business Meeting, is a business interactive add-on for Fashion, Events, Media, Logistics & Hospitality and other related vendors that will hold on Saturday, November 24thPrevious editions have had notable speakers, the likes of Temi Amodu of Tsoule, convener of Event market Nigeria, Cornel Agwu – financial analyst, Gloria Emodi – OAP/Social media analyst, and Chinyere Okoro – hair stylist/Engineer. This year we will have some notable persons including Uche Nnaji – CEO, Ouch Couture, Paul Foh – Nigeria's most sought-after sales coach, Uju Okechukwu – CEO, Gossip Hair and Cosmetics one of the biggest brands associated with cosmetics in South-Eastern Nigeria and seasoned customer service expert Happiness Okorie will be discussing different topics under the sub-theme "Branding, Business, and Breaking Beyond Even".
The Night of Lights is the final event. It is a night of cocktails, glitz, glamour, and pageantry with the international wedding fashion runway. It boasts a regular participation of globally recognized designers like Mai Atafo, Ouch!, EjiroAmos Tafari, James Brendan, Otumemine Couture, Sheye Oladejo, Wiez Dhum Franklyn, Habana Bespoke, Chiemela, Savondejana and celebrities likes Uti Nwachukwu, Bryan Okwara, Beverly Osu, Ebube Nwagbo, Enyinna Nwigwe, Melvin Oduah, Eric Arubayi (of blessed memory) who will light up the night at each edition.
The Wedding Showcase 2018 – The Eastern Experience holds from Thursday 22nd – Sunday, November 25th, 2018 at Golden Royale hall, Bisala road, Polo Mall, GRA and The Base Landmark, Independence Layout, Enugu.
———————————————————————————————————————
Sponsored Content