Hey family, Bisola Borha here!
I am so excited to be sharing with you. In this category, I will be sharing different tips and nuggets to help ease the wedding planning process and get you on the rack to enjoy your big day. Firstly, I will be sharing a couple of things to consider before choosing and settling for a wedding venue.  So let's get into it. If you do follow these tips, you will definitely be avoiding stories that touch.
Here are 8 things to consider before choosing your wedding venue.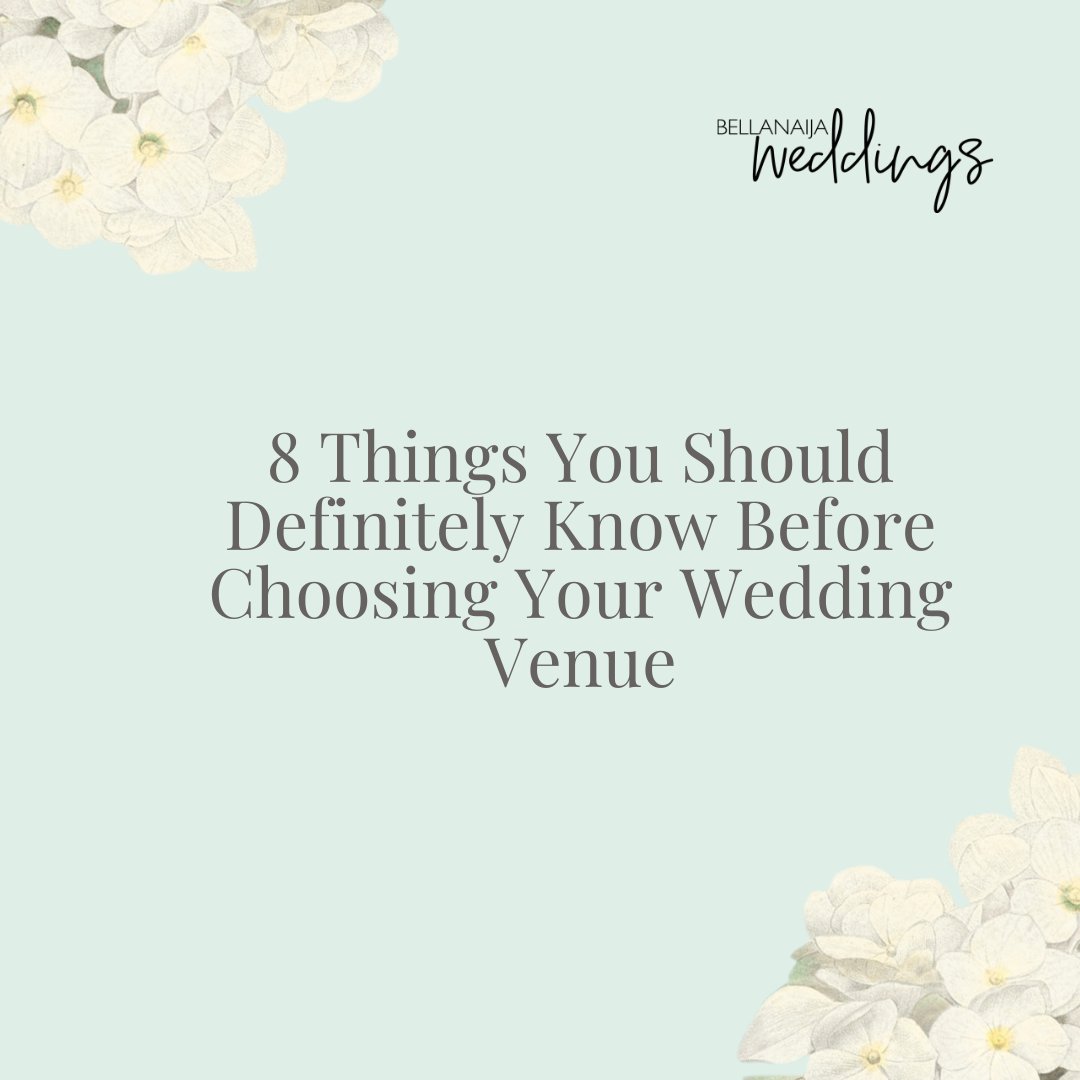 Location & Accessibility
Choose somewhere very decent, safe and easy to locate on the map. This is so that your guests can find it very convenient and easy to locate without stress. If the journey to the venue is not convenient, your guests will get tensed and this can affect the good vibe at your event. So make sure to pick a venue that is accessible and easy to locate.
Adequate Car Park Capacity
You should definitely check the capacity of their car park. It is very important that the venue has an adequate car park in proportion to your number of guests. You definitely don't want your guests to get stranded and have nowhere to park. The wedding experience for your guests starts from their arrival and you want people to feel that you put them into consideration by not inconveniencing them. Make sure you consider the availability of a parking space before choosing your venue.
The Capacity of the Venue vs Your Expected Guests
Honesty to be on the safe side, let the venue capacity be bigger than your expected number of guests. For example, if f you are having a 500 capacity wedding, your venue should be able to seat 1000 guests. Why? Especially this season why social distancing is important in every gathering, you want the tables and walkway properly spaced out, well-aligned. You also want the guests and service providers moving freely while the entertainers have adequate space for their work.
Facility Inspection
I must say that it is important to visit the venue by yourself or for you to send someone you trust. While at it, make sure that the facility is the closest match to the type of event you want in order to avoid doing too much transformation and spending more.
Contract
I understand that reading might be a tough task for some people, but this is so important. Make sure you understand everything stated in the contract and arrive at an agreement before signing. This is huge in order to avoid stories that touch. Check for what your payment covers; the number of hours, number of functioning ACs, how many conveniences are working properly, extra charges and fine clauses. These are very important so that you are not taken by surprise and you understand exactly what you are making payment for.
Alternative Exits & Fire Hazard Equipment
It is important that safety measures are put in place. These are very important, having alternative entry points for service providers are mandatory to ensure that in case there is a fire emergency, the event is safe. You need to also make sure the venue has a strong security force as well as safety measures in place for this season and post COVID19.
Management culture / Reputation
Don't just go ahead and make a booking, make sure you find out the management culture and their reputation. You can speak to a planner who has experienced their culture and practice. It helps to point out some major experiences of other people. You see a good venue with poor management will be filled with bad experiences. Sometimes you don't know all the damage control an event planner has had to stage to prevent the client and guests from having bad experiences, so planners are the best to ask.
Clear & Transparent Communication
Like it is widely said, communication is key.  Communicate via Email / WhatsApp to have a trail of agreements concluded before the purchase in case you need to refer to a statement previously agreed on. This always works for me.
You should have all these in mind while trying to settle on a wedding venue or better still hire an experienced event planner that will take all the stress away. I am pretty sure these things will help.