Editor's Note: Hey, fam! We are super pumped to bring you our new series called "12 Conversations With 12 Incredible vendors Across 6 Cities". For the next few days, we will be featuring talented wedding vendors from Lagos, Accra, Toronto and the United Kingdom on different aspects of the wedding industry. Today, we will be talking to the incredible Abuja-based event designer,  Hyeladzira Goje of Blue Velvet Marquee. 
Meet Hyeladzira Goje
Hyeladzira Goje is an internationally sought-after Event Design & Decor expert with over 10 years experience in the wedding and events industry of business. One of the foremost owners of an Event Centre in Abuja (BLUE VELVET MARQUEE) and has now diversified into Décor, Luxury Rentals and Event Planning. Hyeladzira creates designs that are jaw-dropping and leave guests in awe. Her signature style is the ability to craft the impossible for her clients as she explains, "I try to get a real sense of my client's needs & wants first and then use that inspiration to bring their event to life." Her clientele includes individuals from the crème da la crème of society to countless professionals cutting across different sectors of the economy. She is also a graduate of Business Administration and a Masters Degree Holder in Strategic Marketing Management and a Member, Chartered Institute of Marketing; she has also trained under the tutelage of world-renowned event designers and florist such as Karen Tran amongst others.
Hyeladzira can blend the tenets of Brand and Perception Management and bring to foreknowledge acquired into running her business into every event she creates – establishing herself as one of the Top Event Designers in the country, who has had her work featured on several TV stations, magazines and top blogs and websites in the Country and internationally. Although she generally keeps away from public speaking and not many know the face behind the brand but today we present to you, Hyeladzira DL. Goje.
We asked Hyeladzira Goje a few questions. Keep scrolling to read.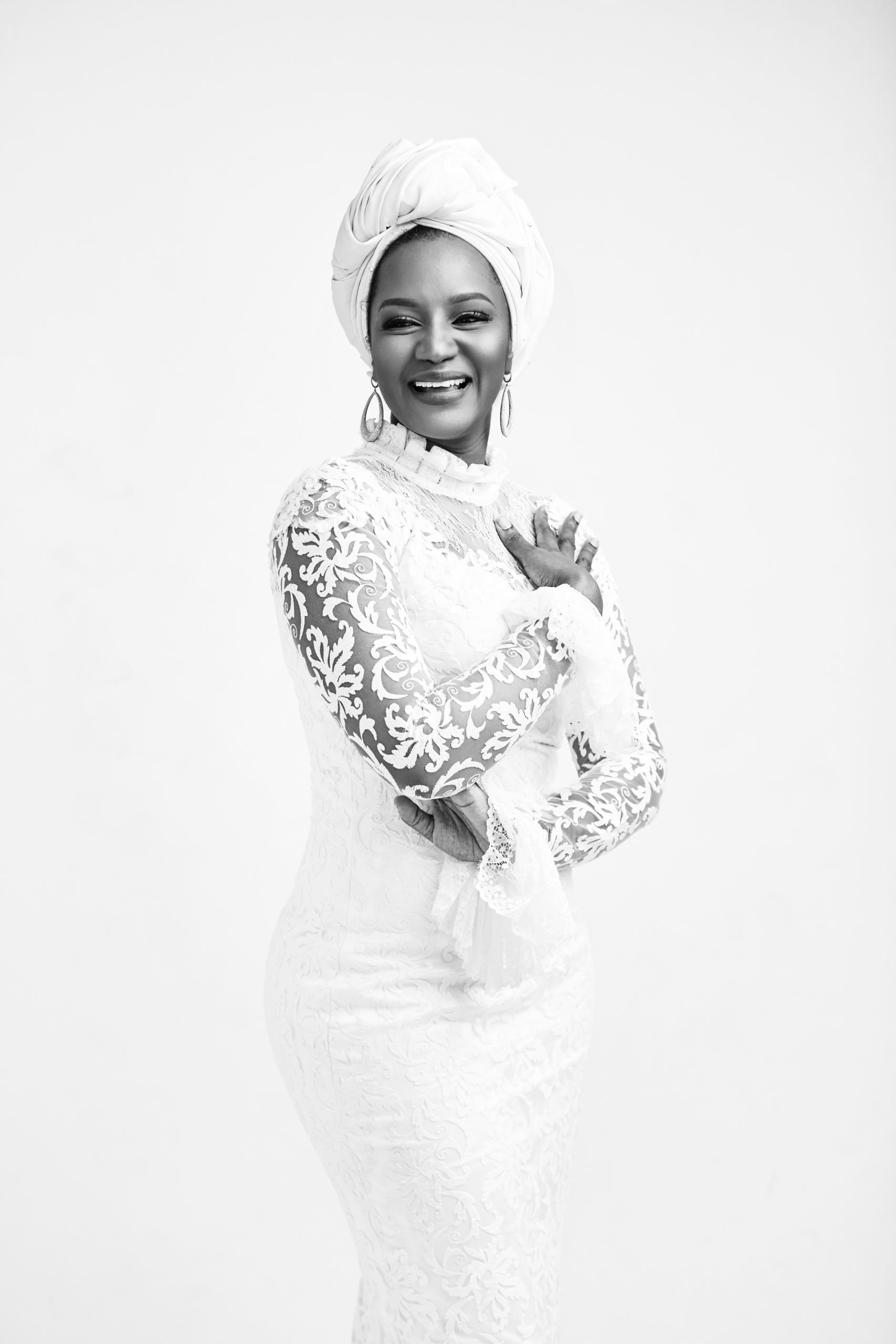 How long have you been in the business?
Blue Velvet started operation in 2011 with a marquee capacity of 500 guests and decor operations in Abuja.
How has your work influenced/transformed the African wedding space/around the world?
Over the years, we've been opportuned to work with clients from all walks of life and tell our clients stories using decor that suits their personalities and style. When we started decor the way we did, there weren't a lot of decorators in Abuja then who had our style of doing decor. I went for a Karen Tran master class in Paris early on at the start of our business and she's a world-renowned event designer and this definitely gave us an edge in the market.
What makes northern wedding decor stand out? How is the Kamu/Wushe Wushe decor different from other ceremonies?
Northern wedding decor is different as there are several types of northern events for different ceremonies. The cultural meaning of each event determines what the decor will be. Kamu and Wushe Wushe are particular to two different tribes in the North, one is a core Hausa traditional event thrown by the bride's family as a send forth the type of event, whilst the other is a Kanuri/Fulani cultural event thrown by the Bride's family to welcome the groom. Kamu can differ from one Hausa tribe to others with things like outfits worn by guests and family members, style and colours.
What are your 3 tricks to getting the right decor style for your couples?
1. Listen to their ideas
2. Keep an open mind when it comes to design
3. Picking up on their personality is a must as this sets the tone of their event
For an intimate traditional wedding, how can a couple infuse their style into their day?
Definitely the outfits make a statement in the whole event. Even though the fabrics of the traditional attires are the same, most couples style it differently and we then flow with the decor.
Tell us 3/5 things about that people don't know about you?
Hmmm, Blue Velvet will be 10 by next year. Then I like to be called Iya Ibeta (I'm a mom of triplets).  I'm very a very traditional person, old school. I am also very obsessed with anything YAM ?..
What's your favourite vacation destination spot?
That's definitely Milan.
One word that bests describe you.
Tenacious.
We decided to keep our conversation with this incredible vendor short just so that you can check up on them and their work. To see Hyeladzira Goje of Blue Velvet Marquee, do check @bluevelvetmarquee on Instagram.