Love will always get us pumped! And today, we're really excited about the sweet love that Mosunmola and Oladipupo share. These lovebirds started out as good friends in 2010 and a beautiful relationship followed.
Oladipupo gave his sweetheart such a pleasant surprise when he asked her to marry him and she said yes! As we go through their proposal story and lovely traditional wedding photos, we are yet reminded that love and culture are indeed a beautiful mix.
Mosunmola and Oladipupo make such a beautiful couple and we are in love with the show of Yoruba culture at this wedding. You can also check out their white wedding here.
Enjoy their proposal story and beautiful traditional wedding photos below.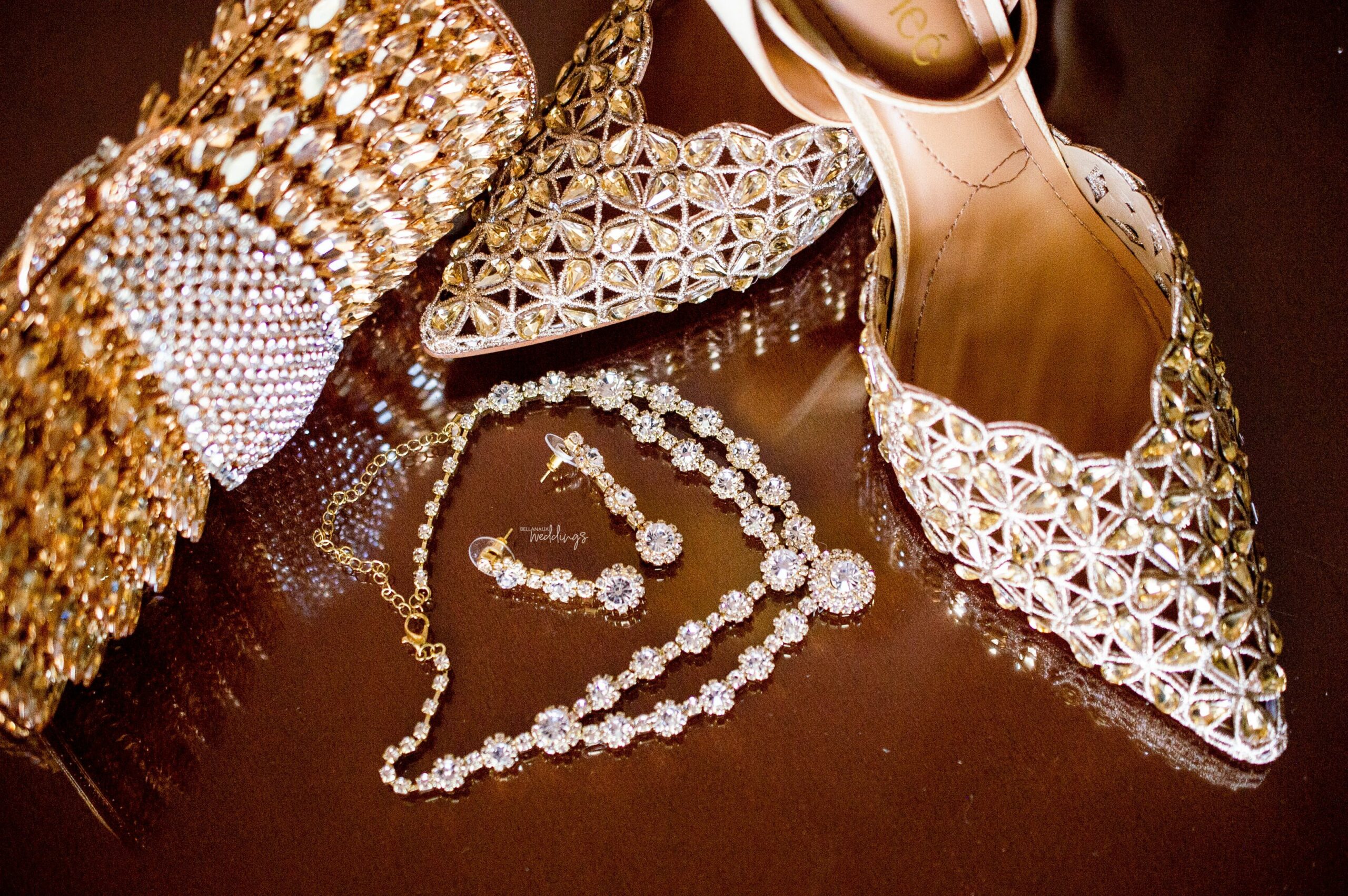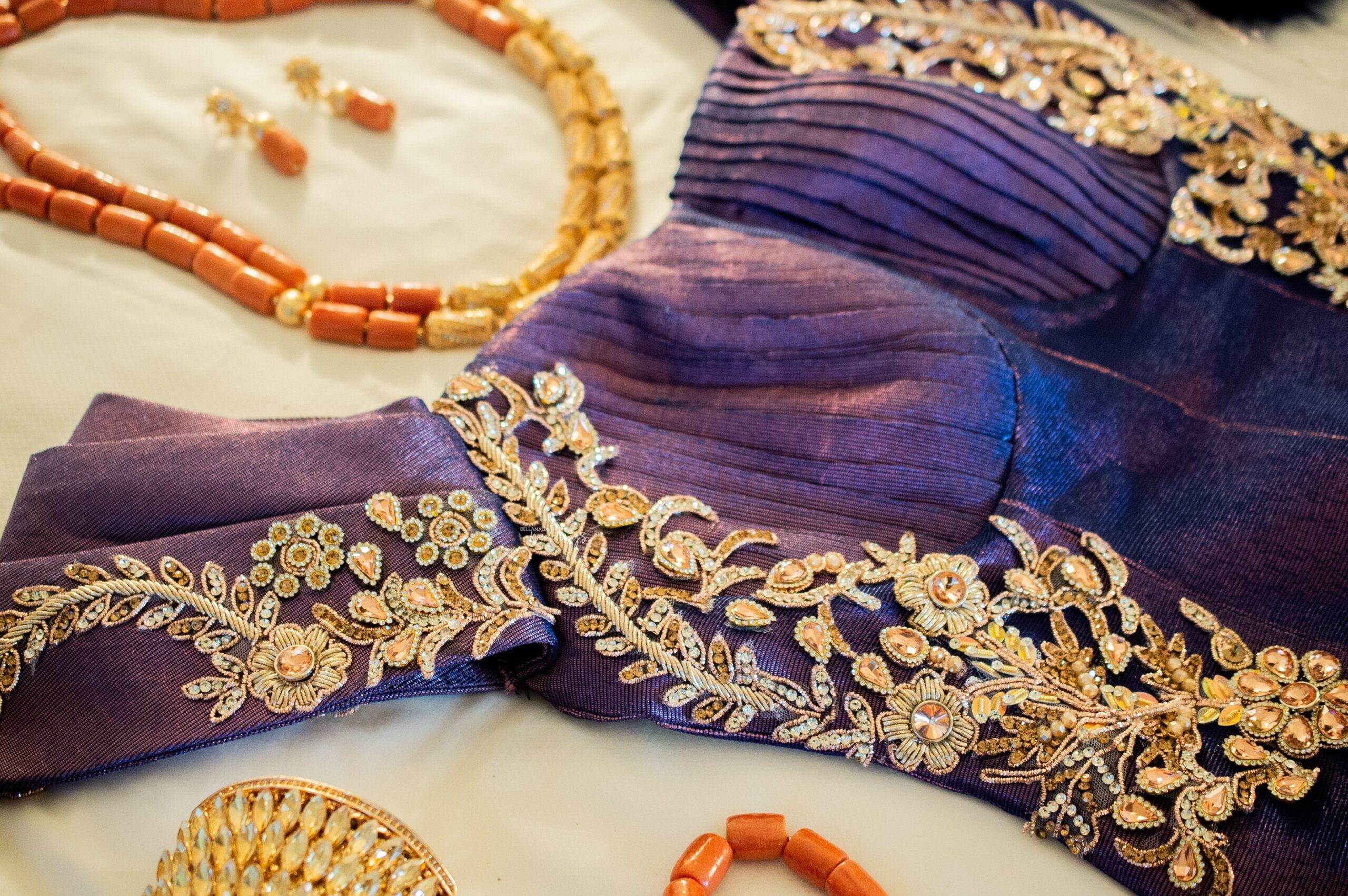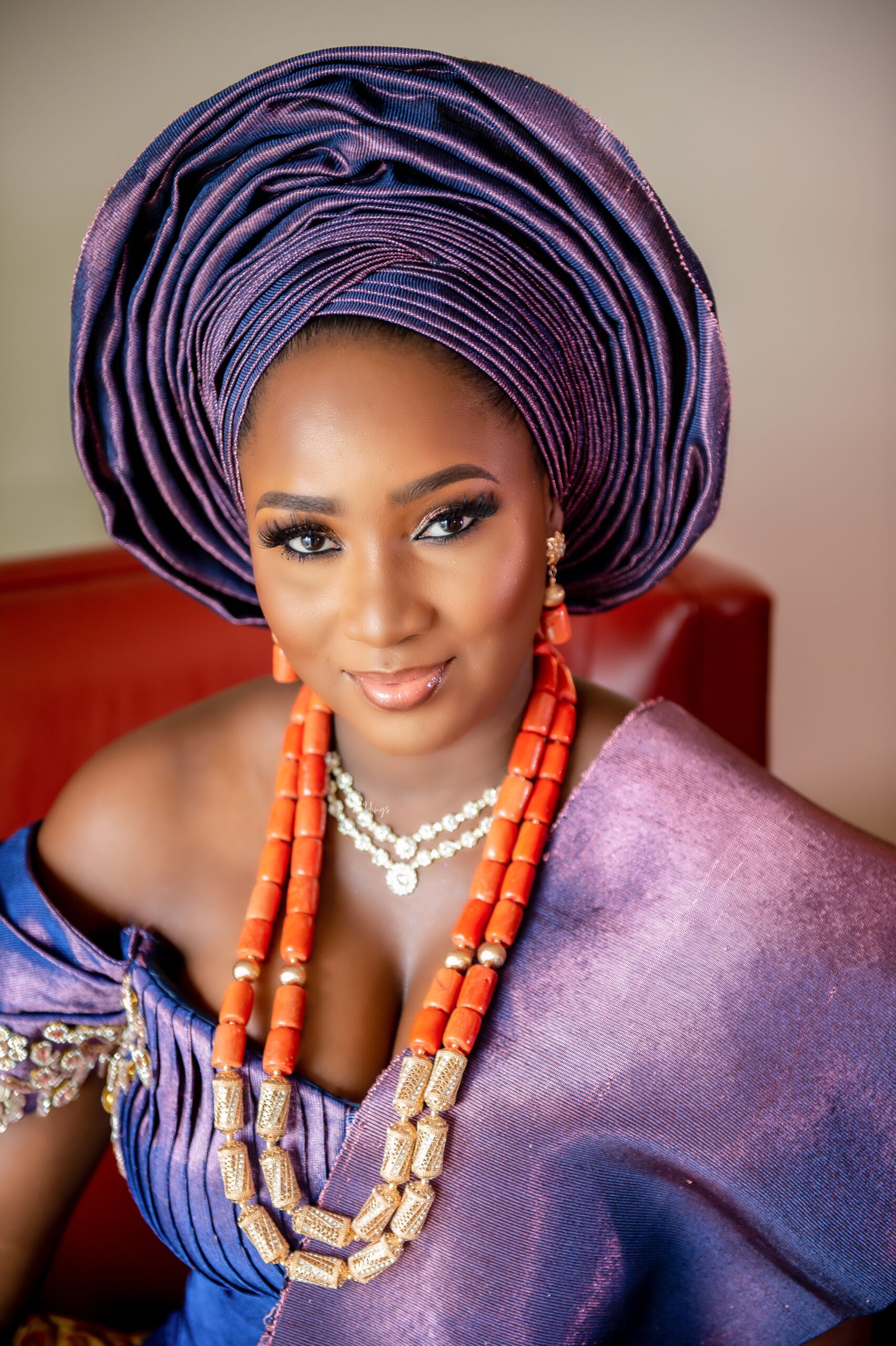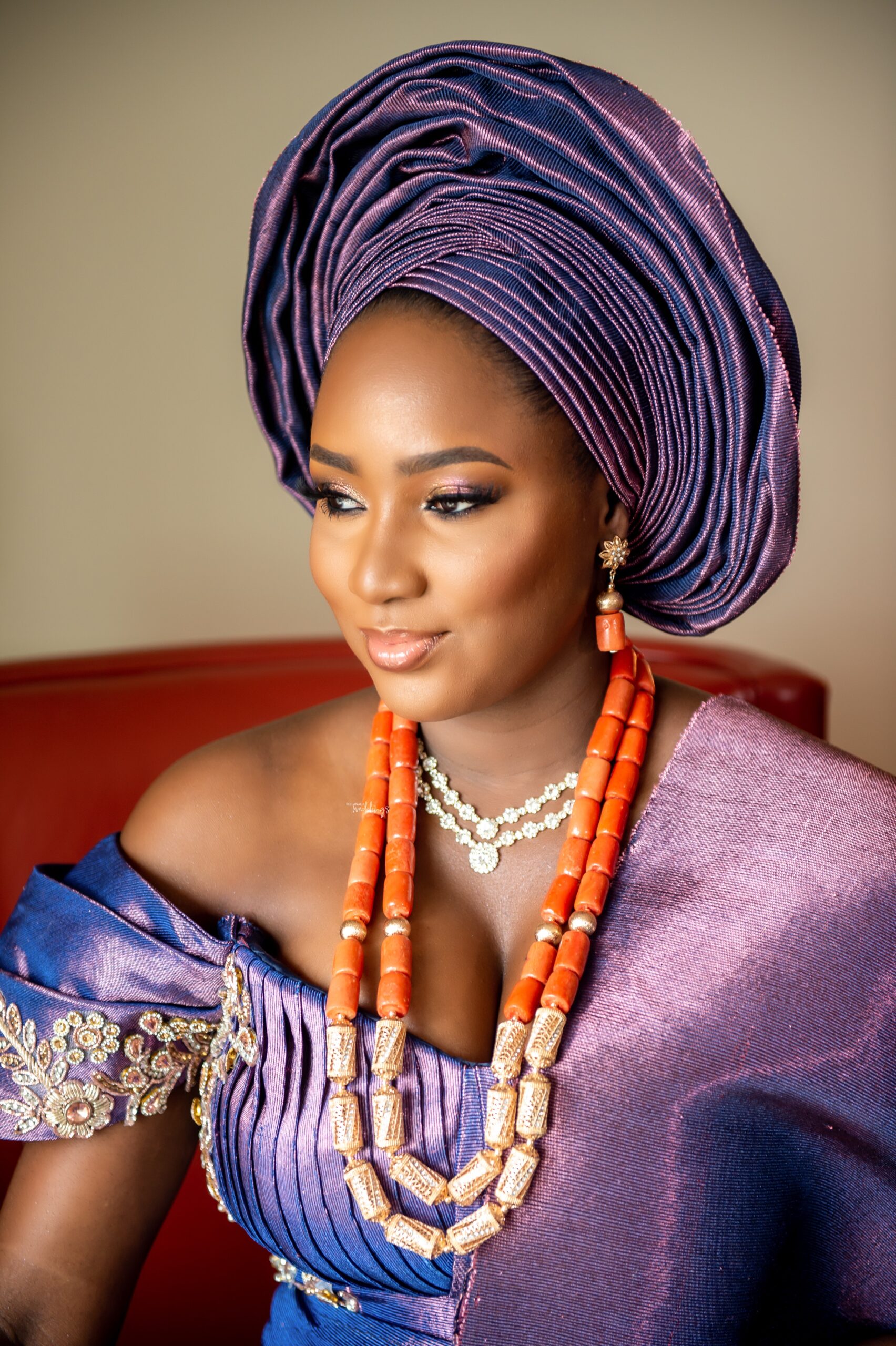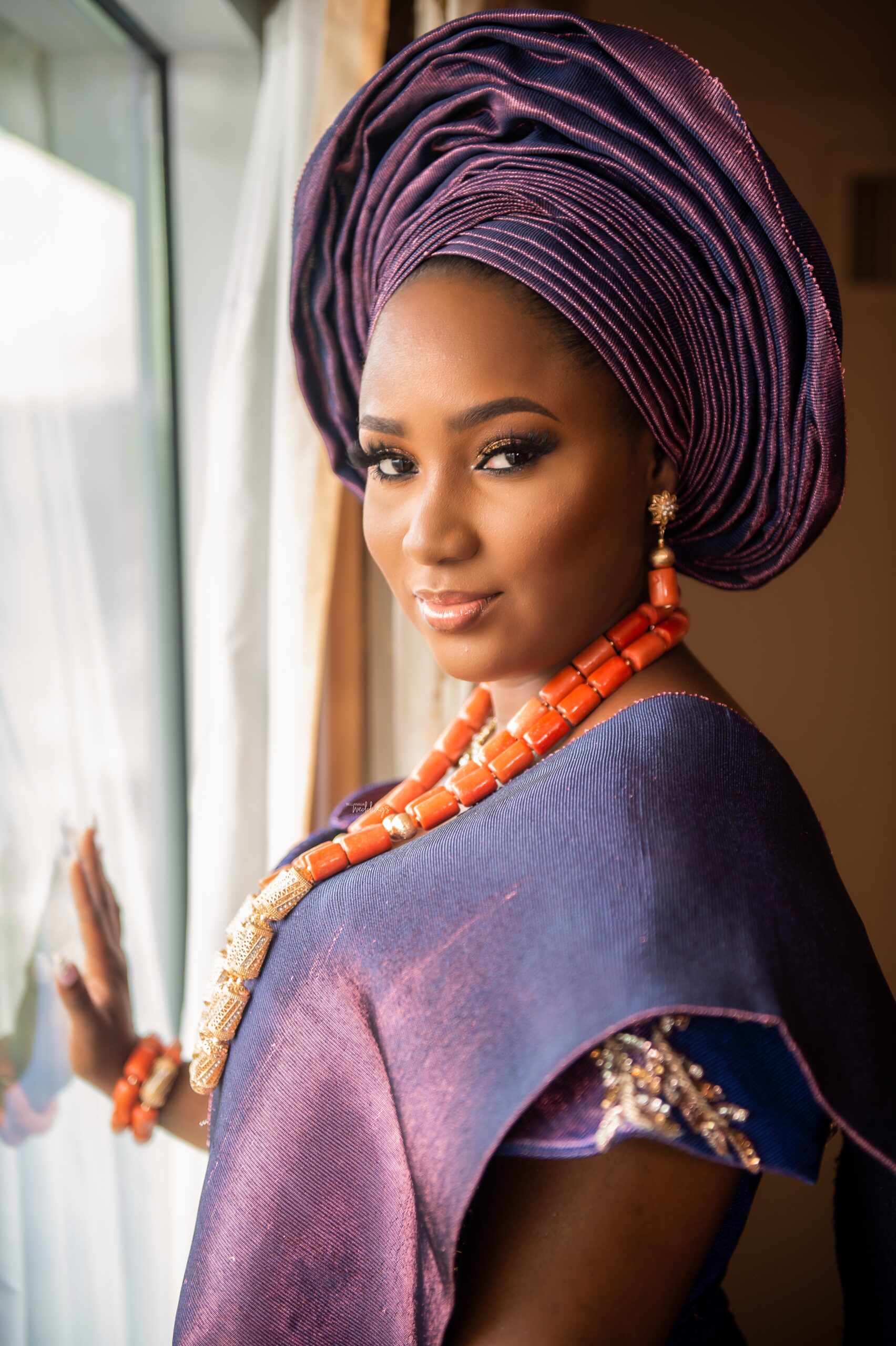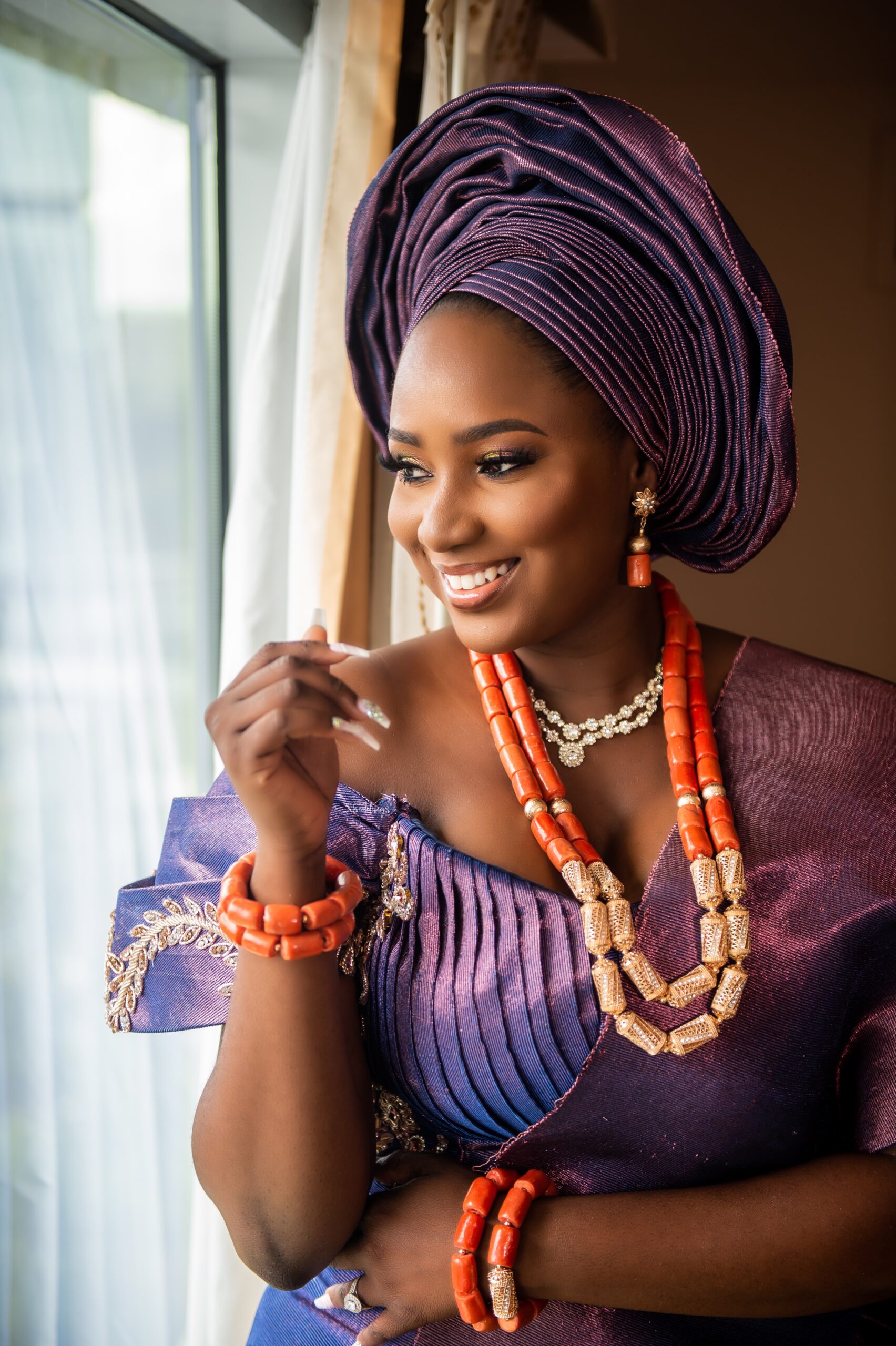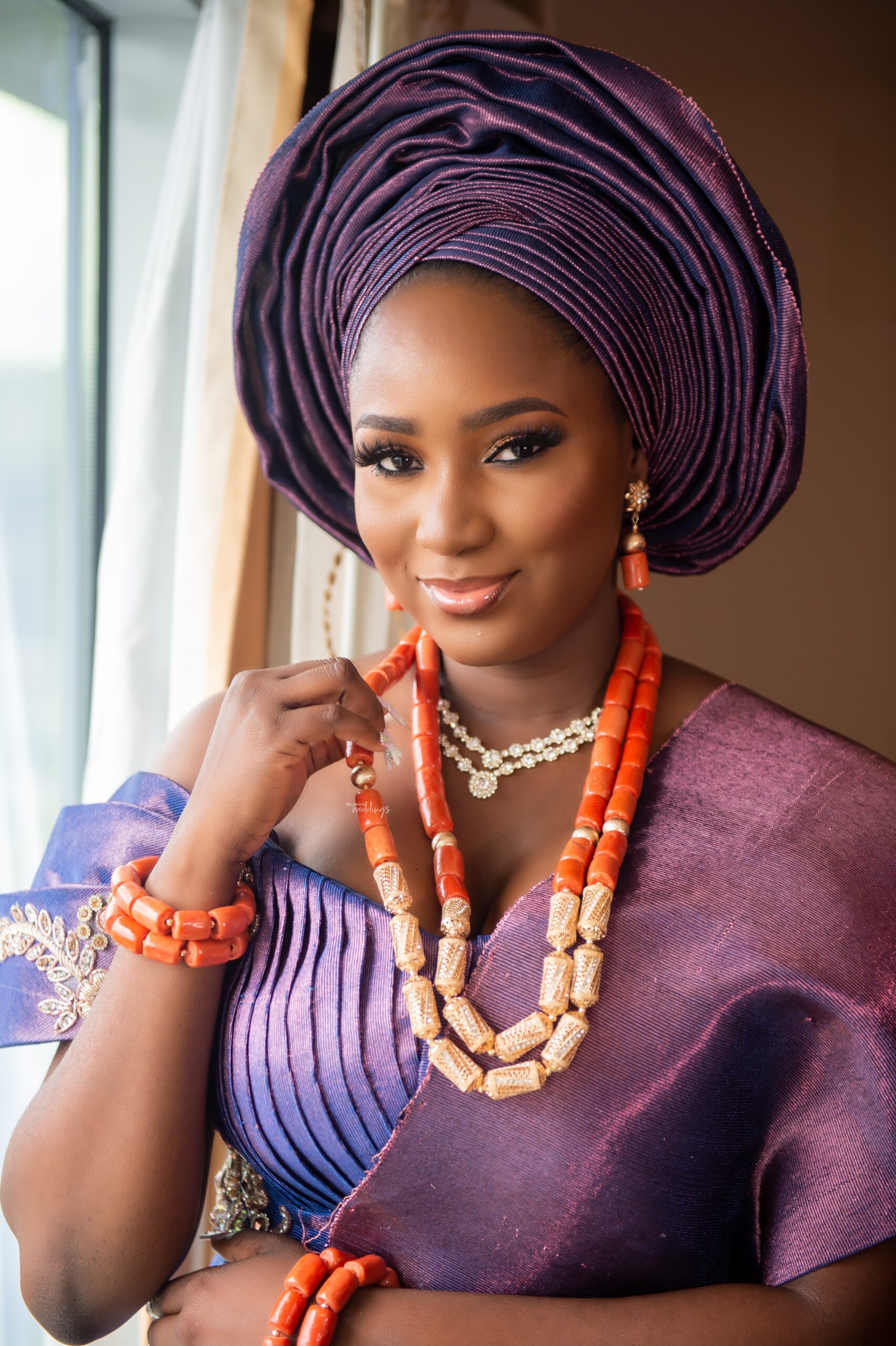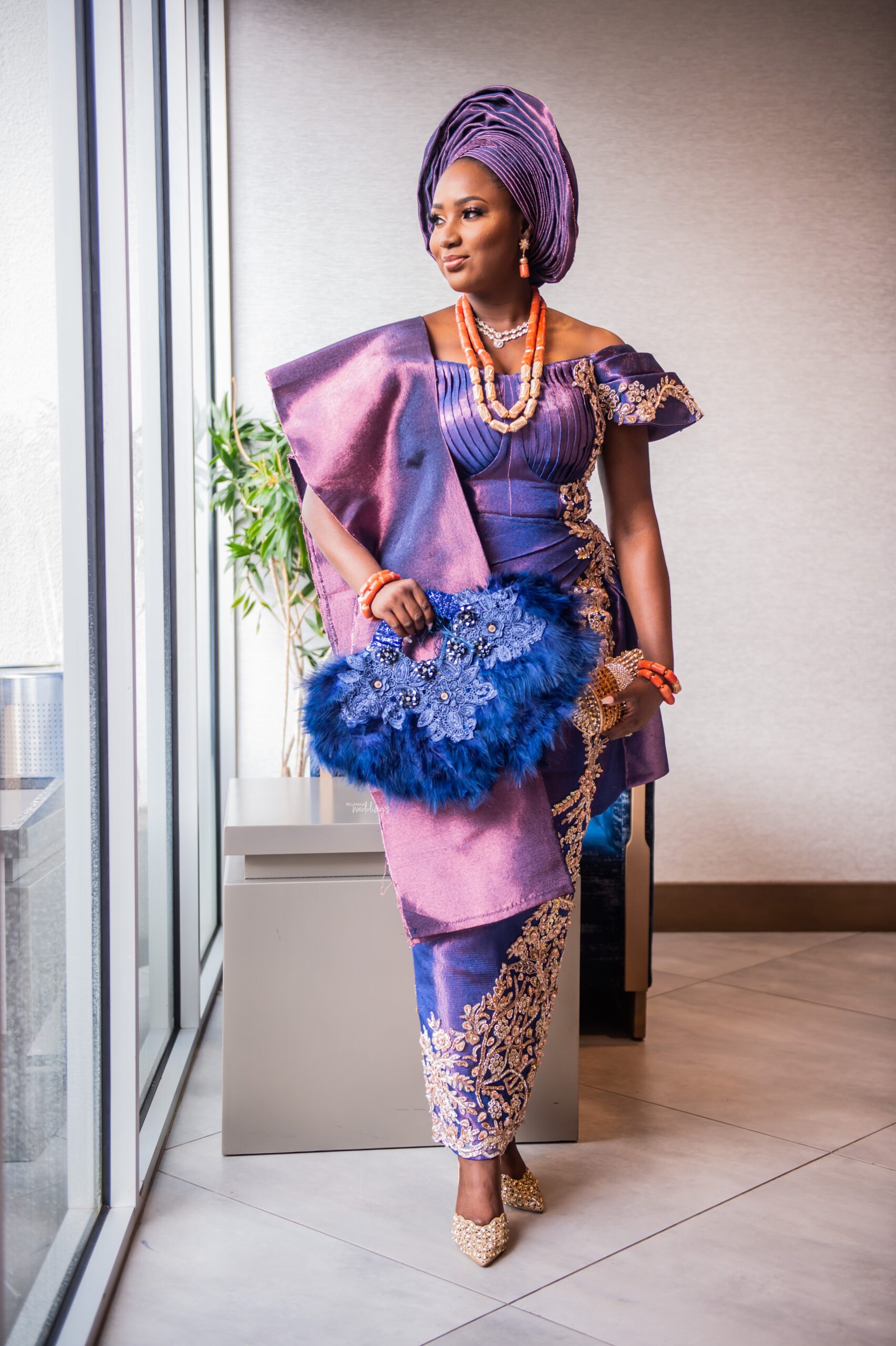 Here's how Oladipupo popped the big question:
Ladi arrived in the US for his MBA in April 2021. He arranged with a few friends to pull a surprise proposal at the Dekalb-Peachtree airport on Aug 8, 2021. He had reserved a private Helicopter tour in the guise that his summer employer was organizing an end-of-internship celebration for all interns who received a full-time offer. Mosunmola didn't think too much of it and believed Ladi's story about his company's dinner party and helicopter tour. We even went shopping together to prepare.
Mama and her baby girl…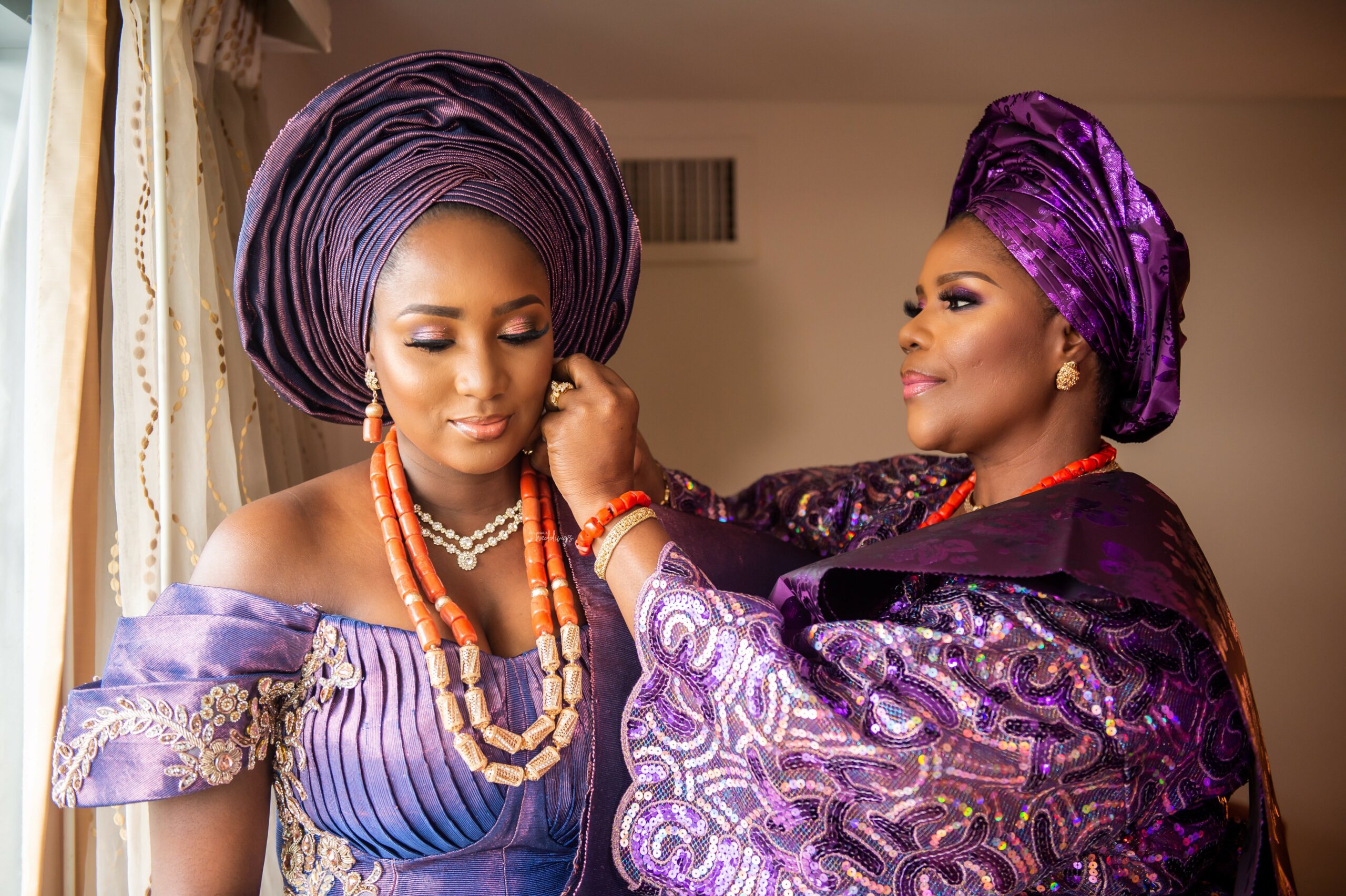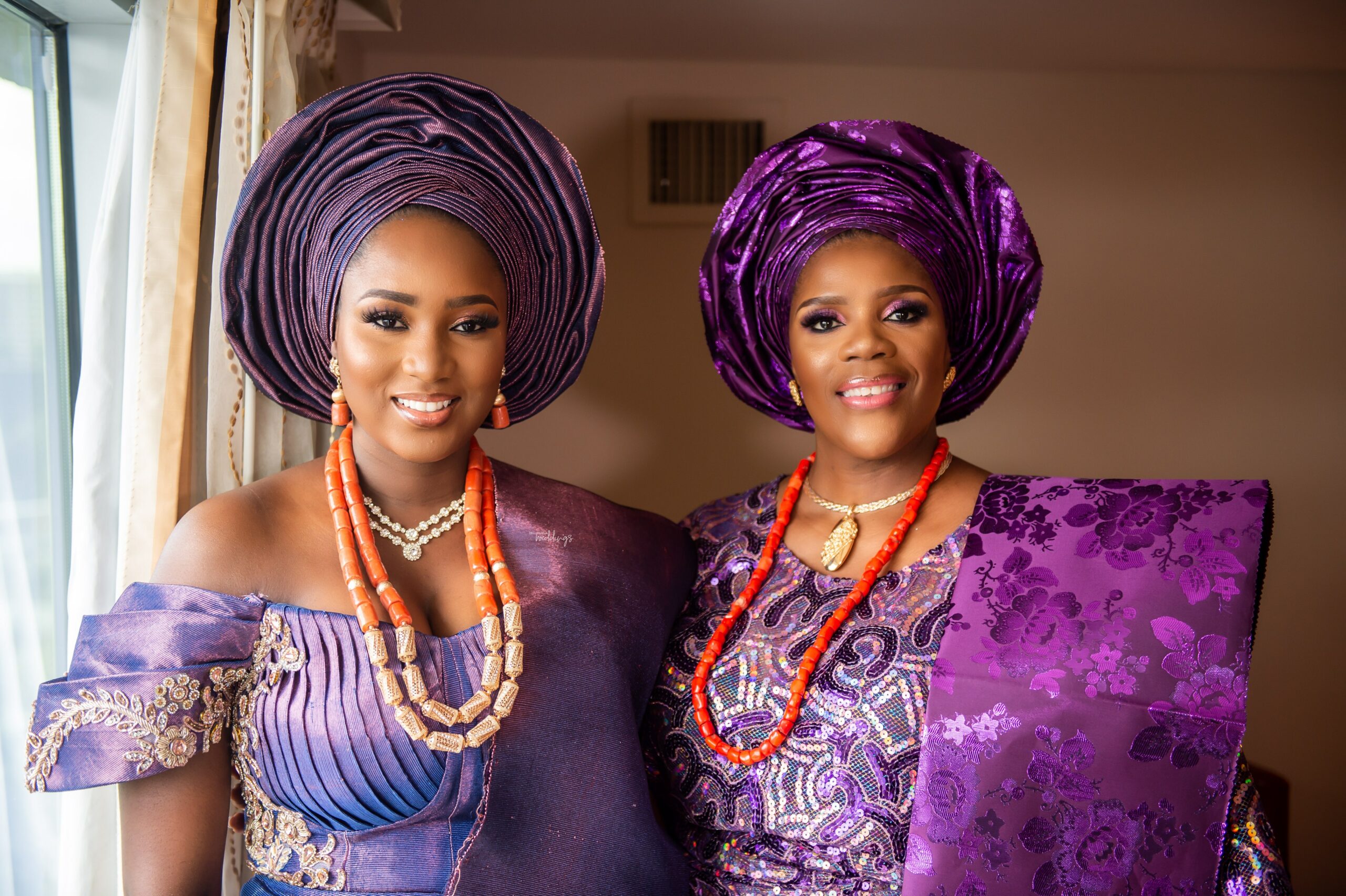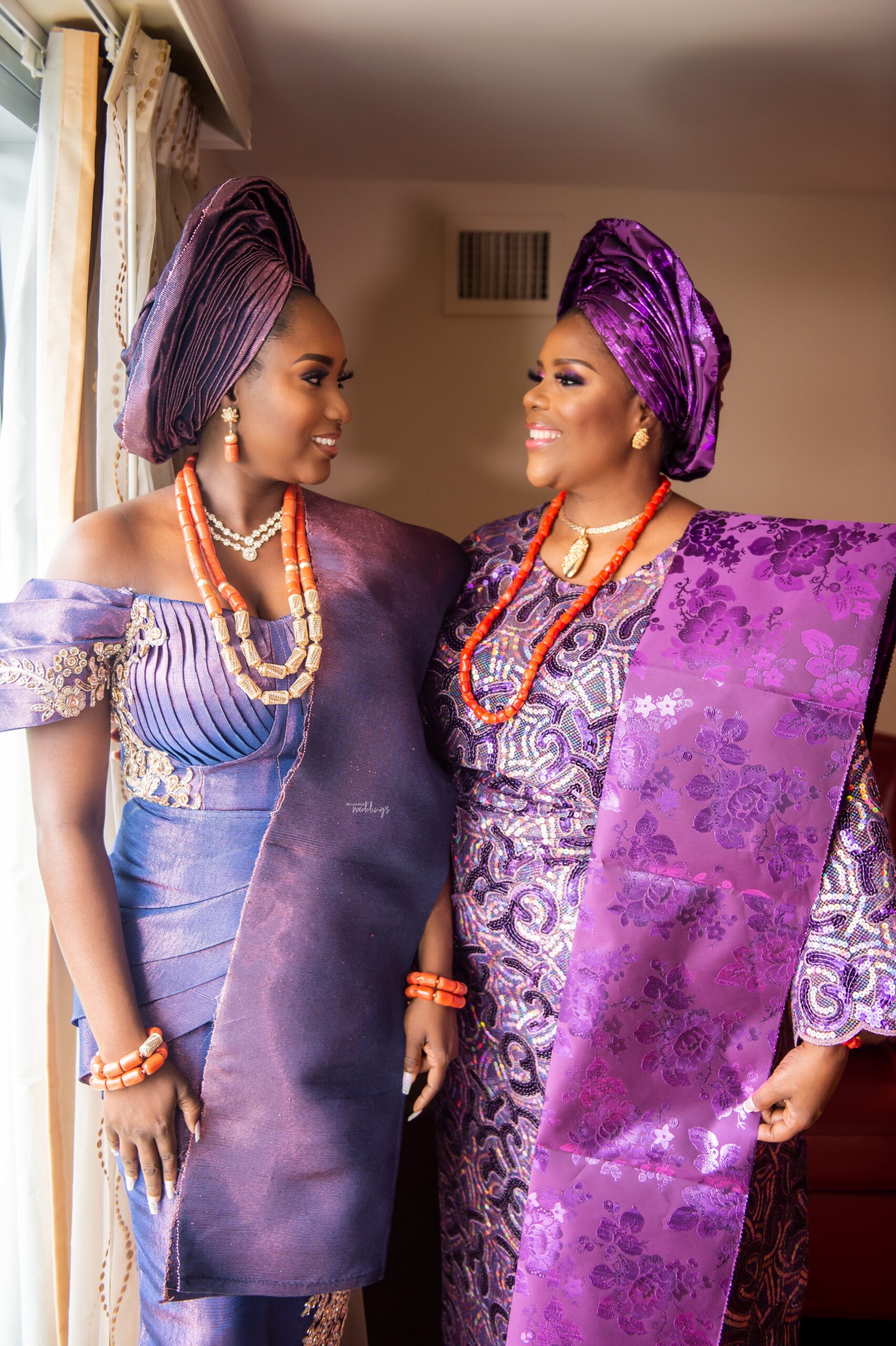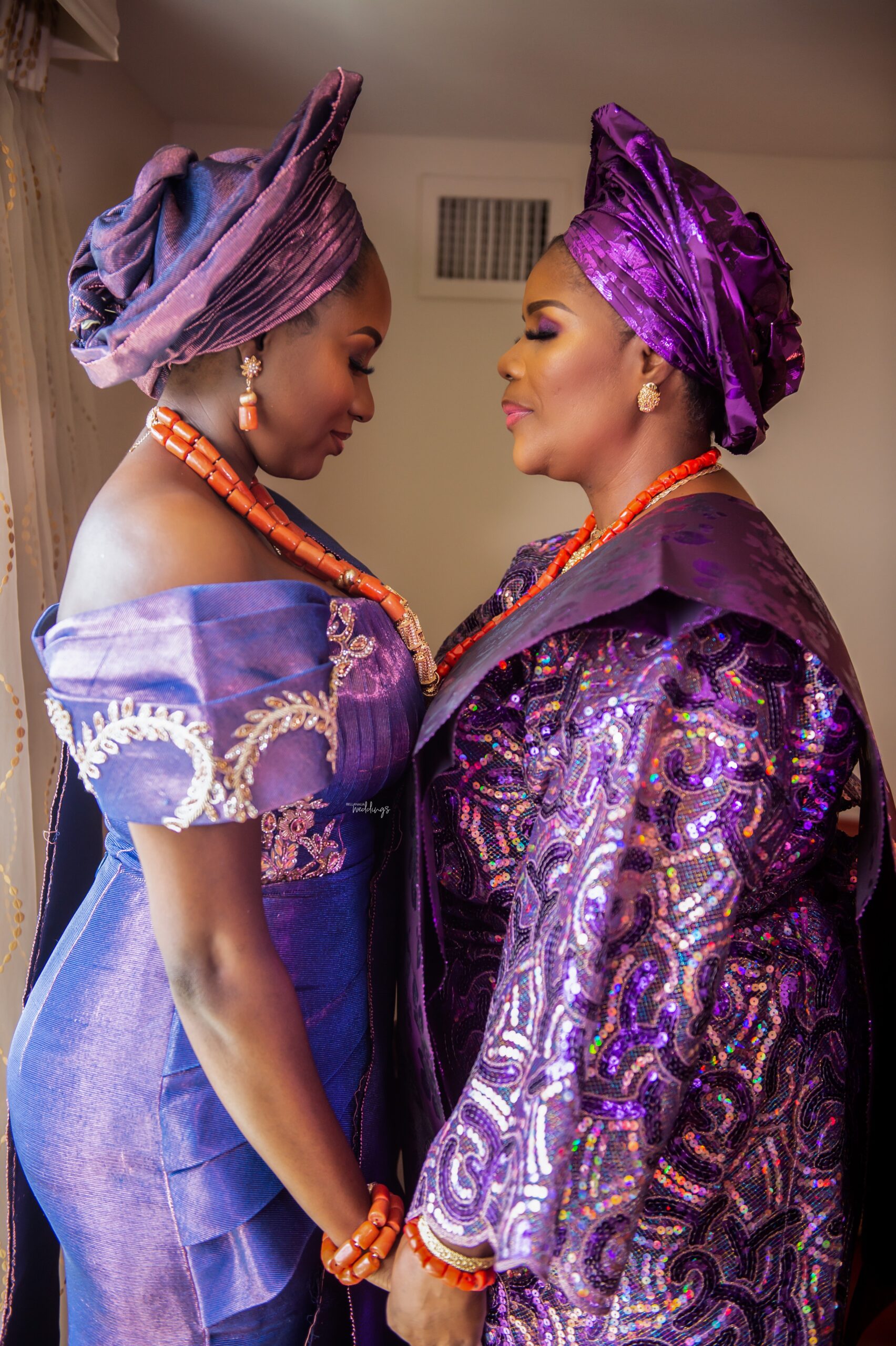 Ladi almost got caught when he said the party dress code was casual, then went on to say he was wearing a suit. Mosunmola was sure he had made a mistake and there was no way they would make the dress code casual. Then she requested to see the email to verify. Ladi went back to his computer and checked and said "Oh, it's business casual". Mosunmola let it go…but that was close.
The #AsoEbiBella ladies sure understood the assignment.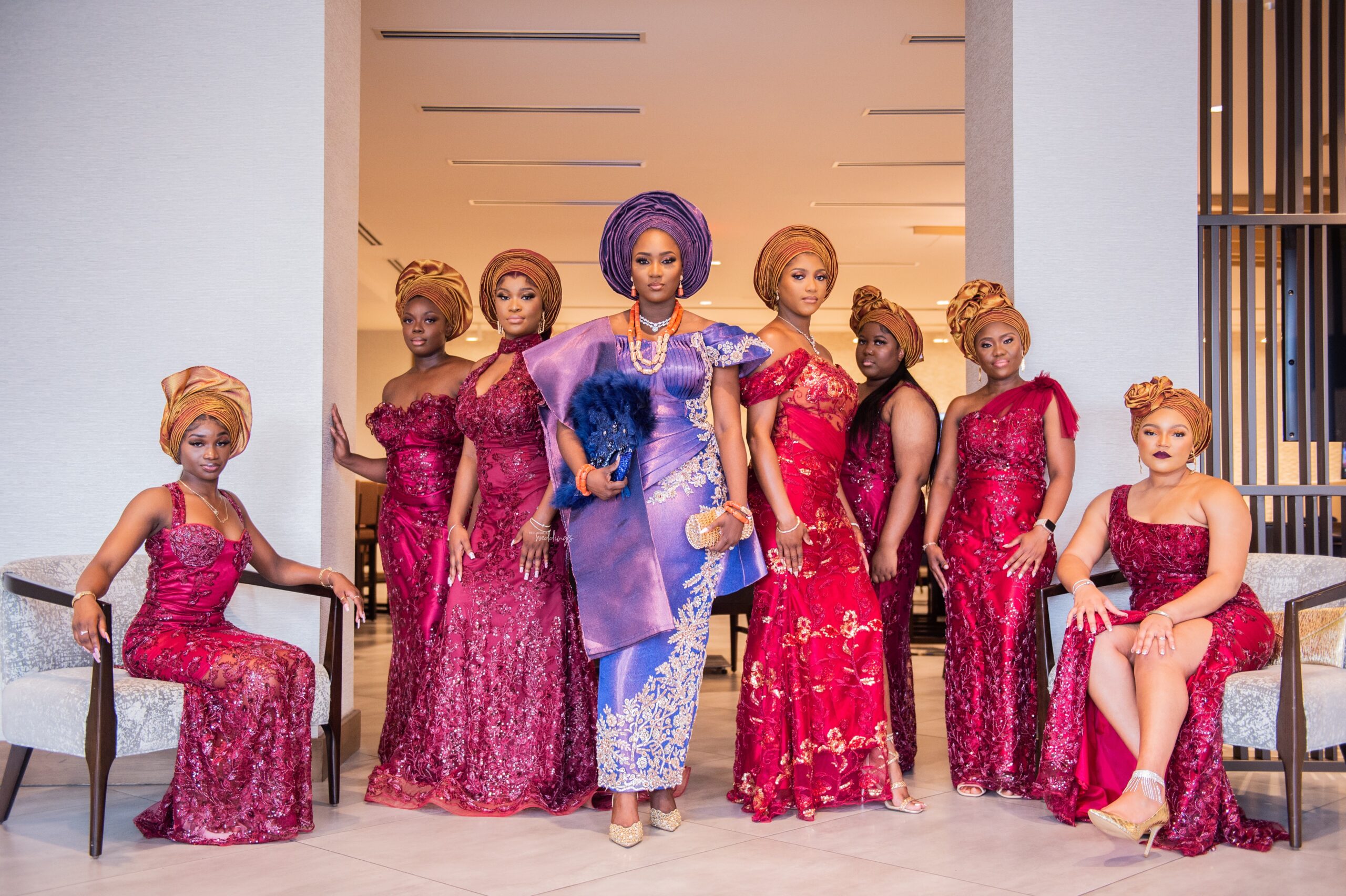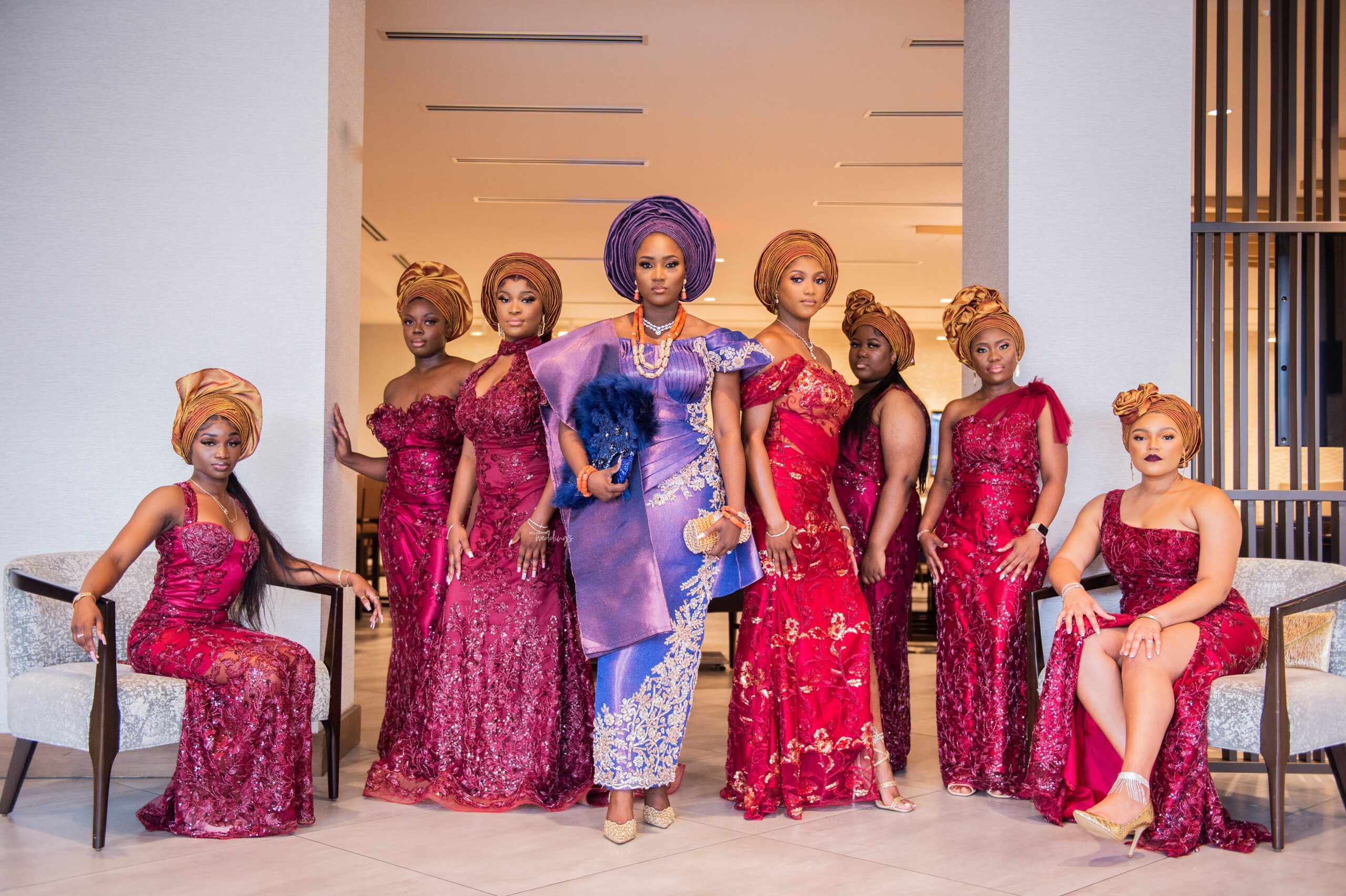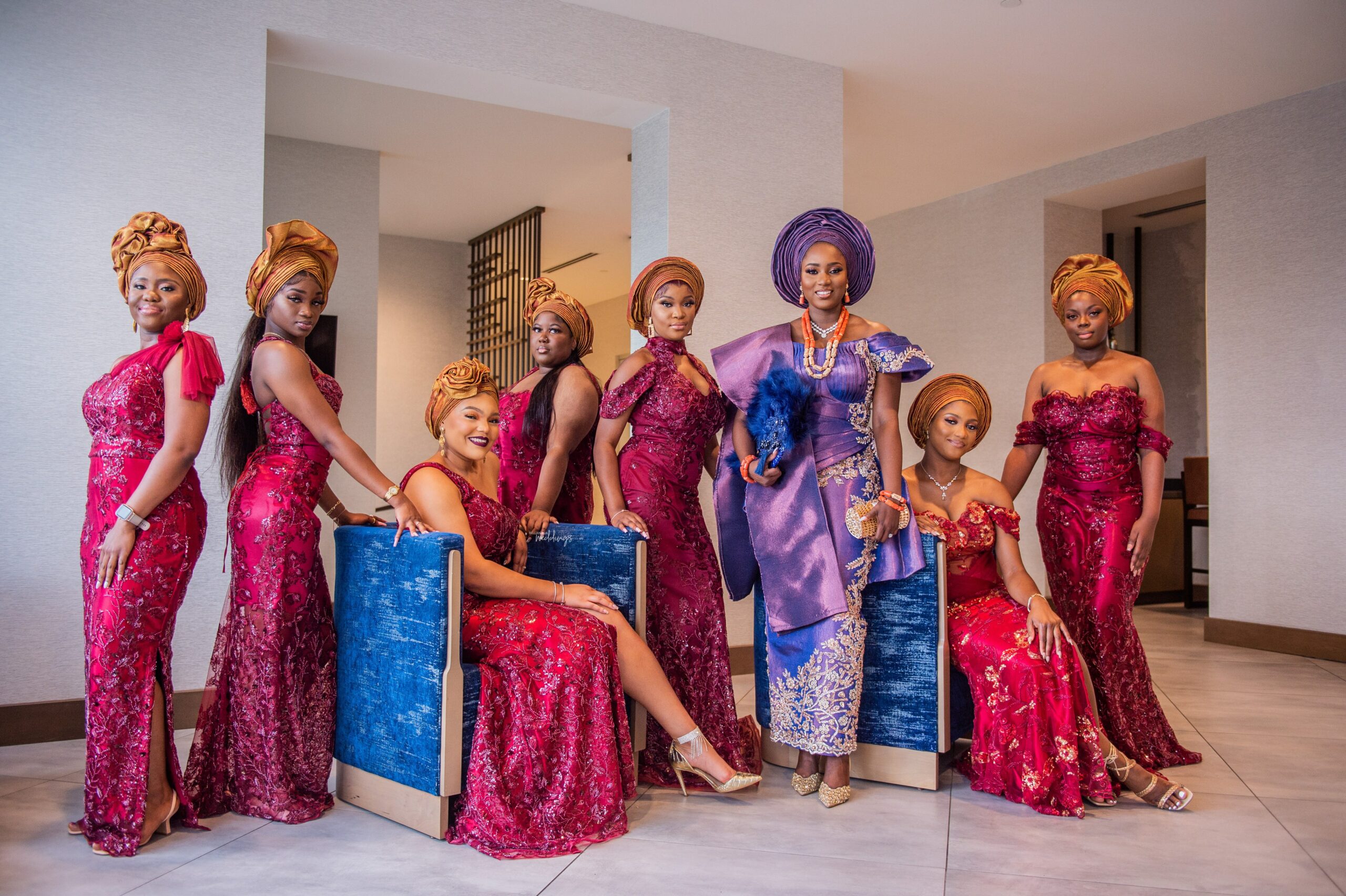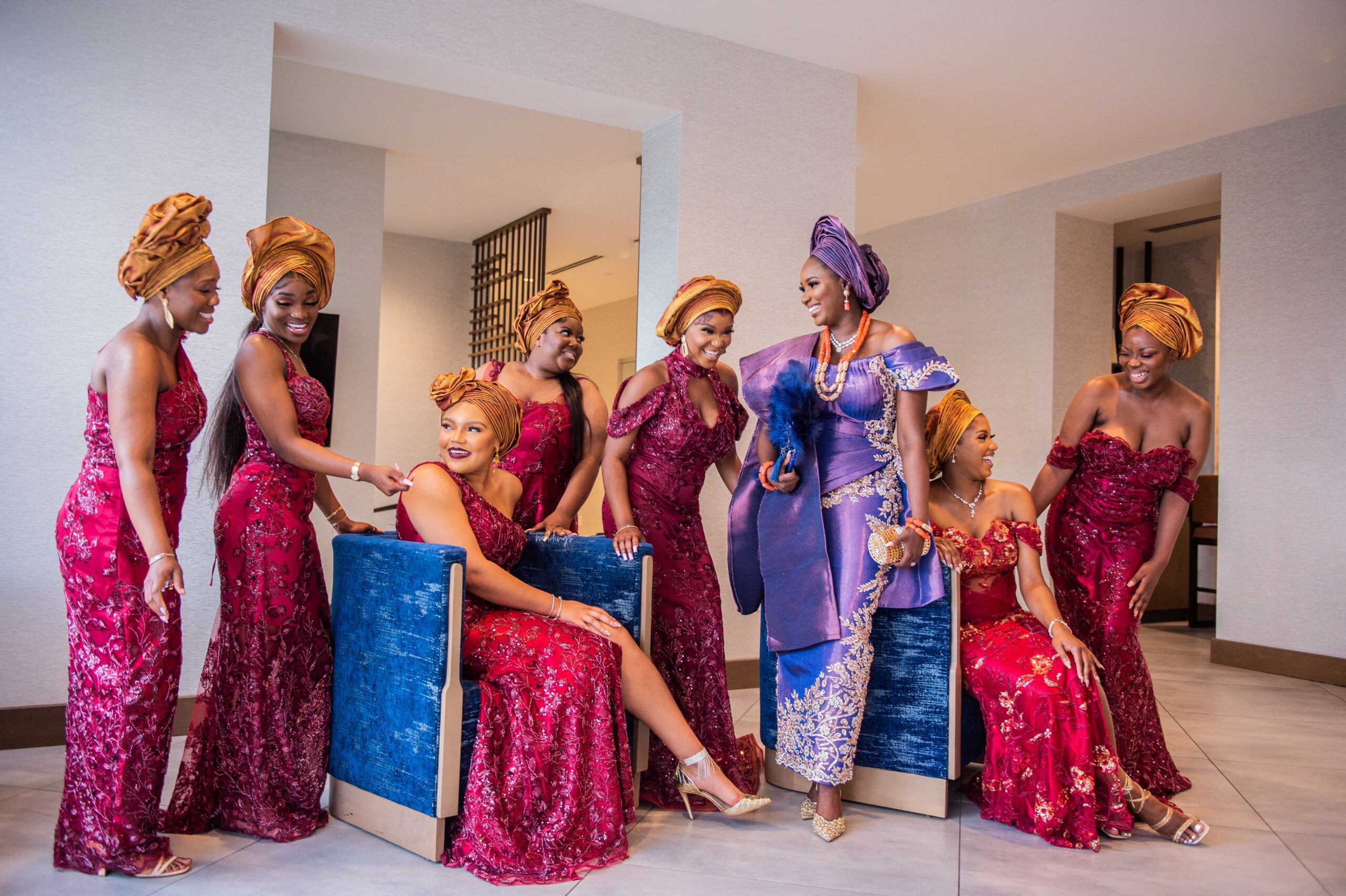 Let's head over to Oladipupo as he also gets set for the special day…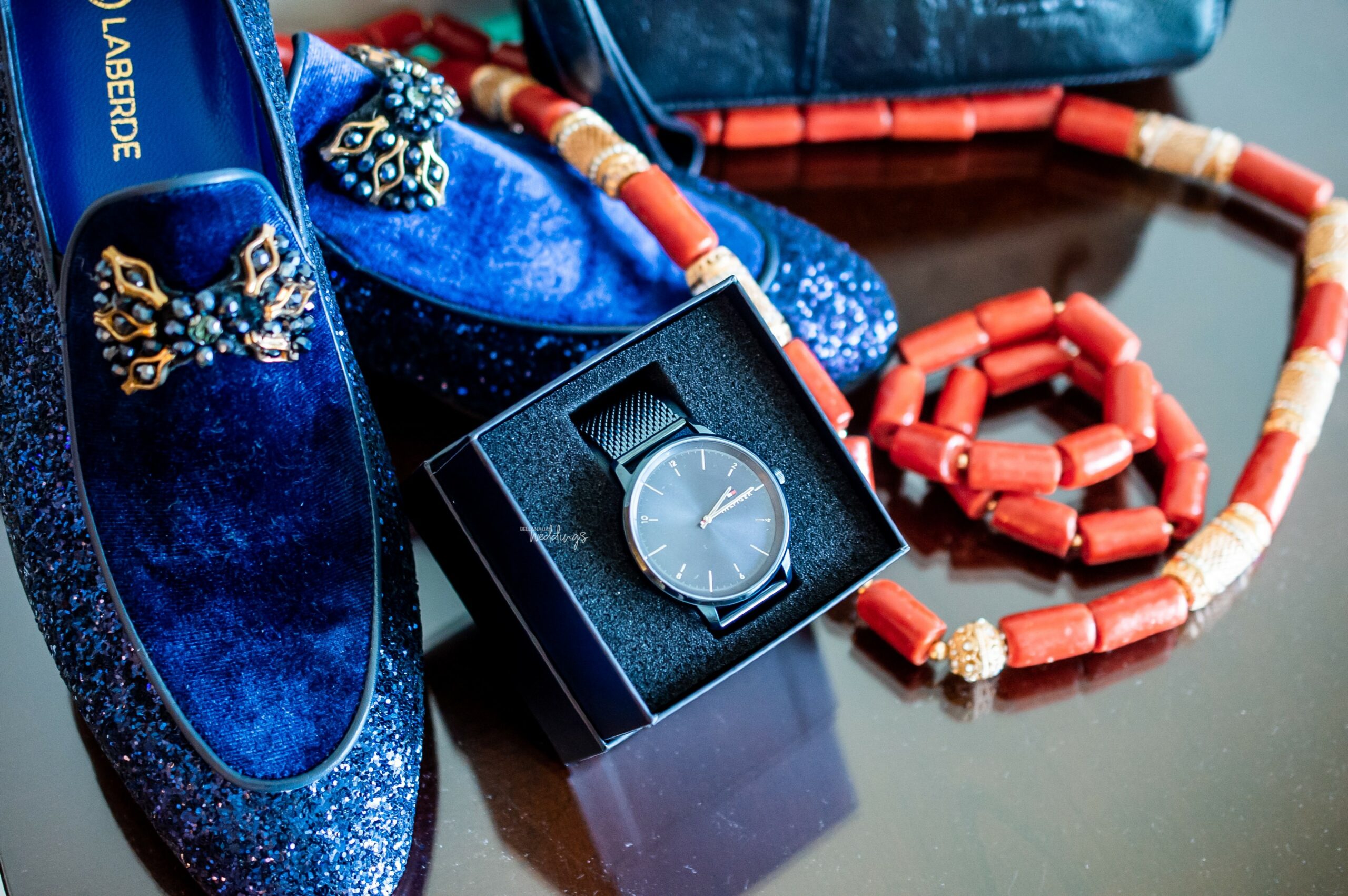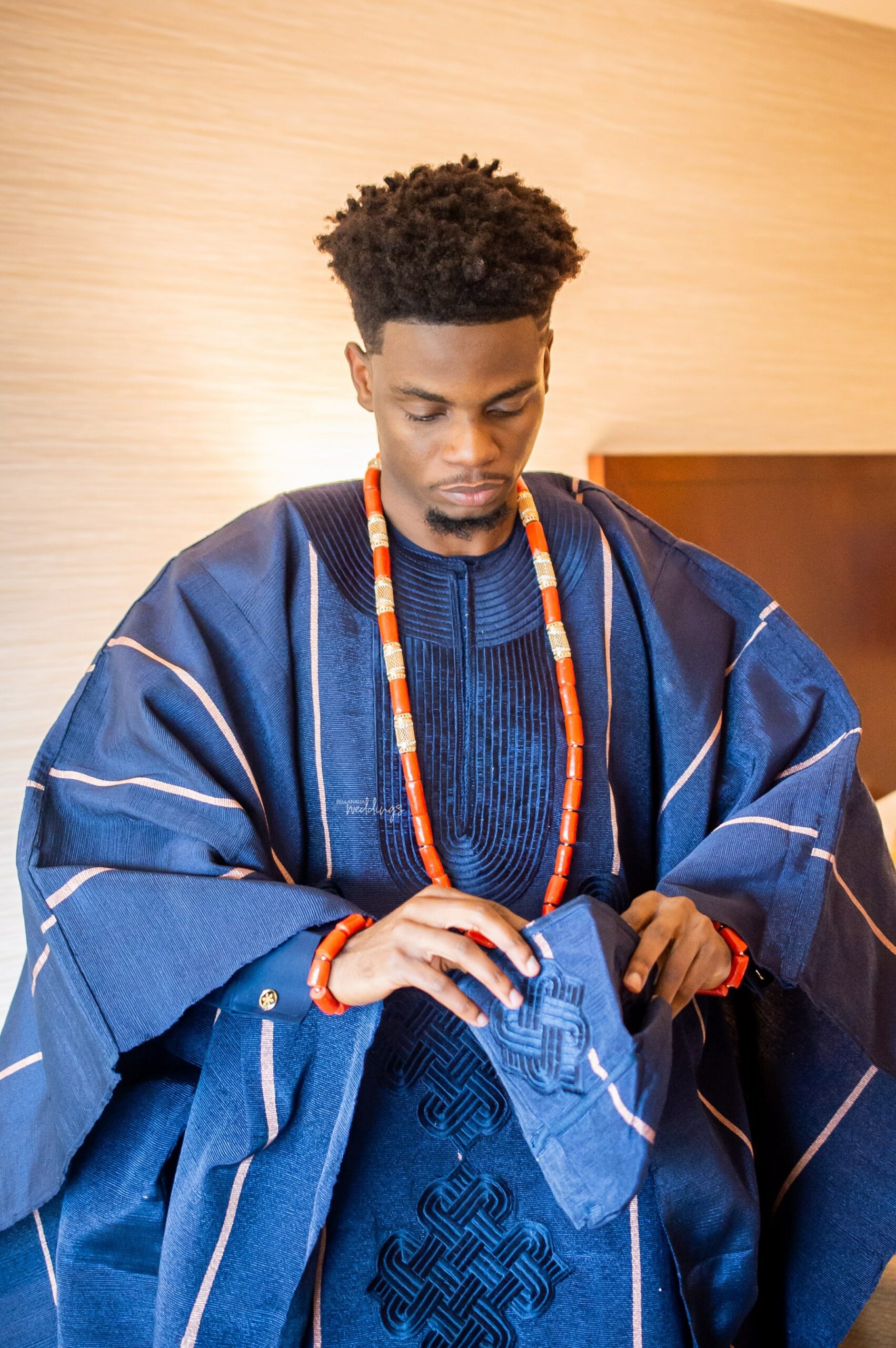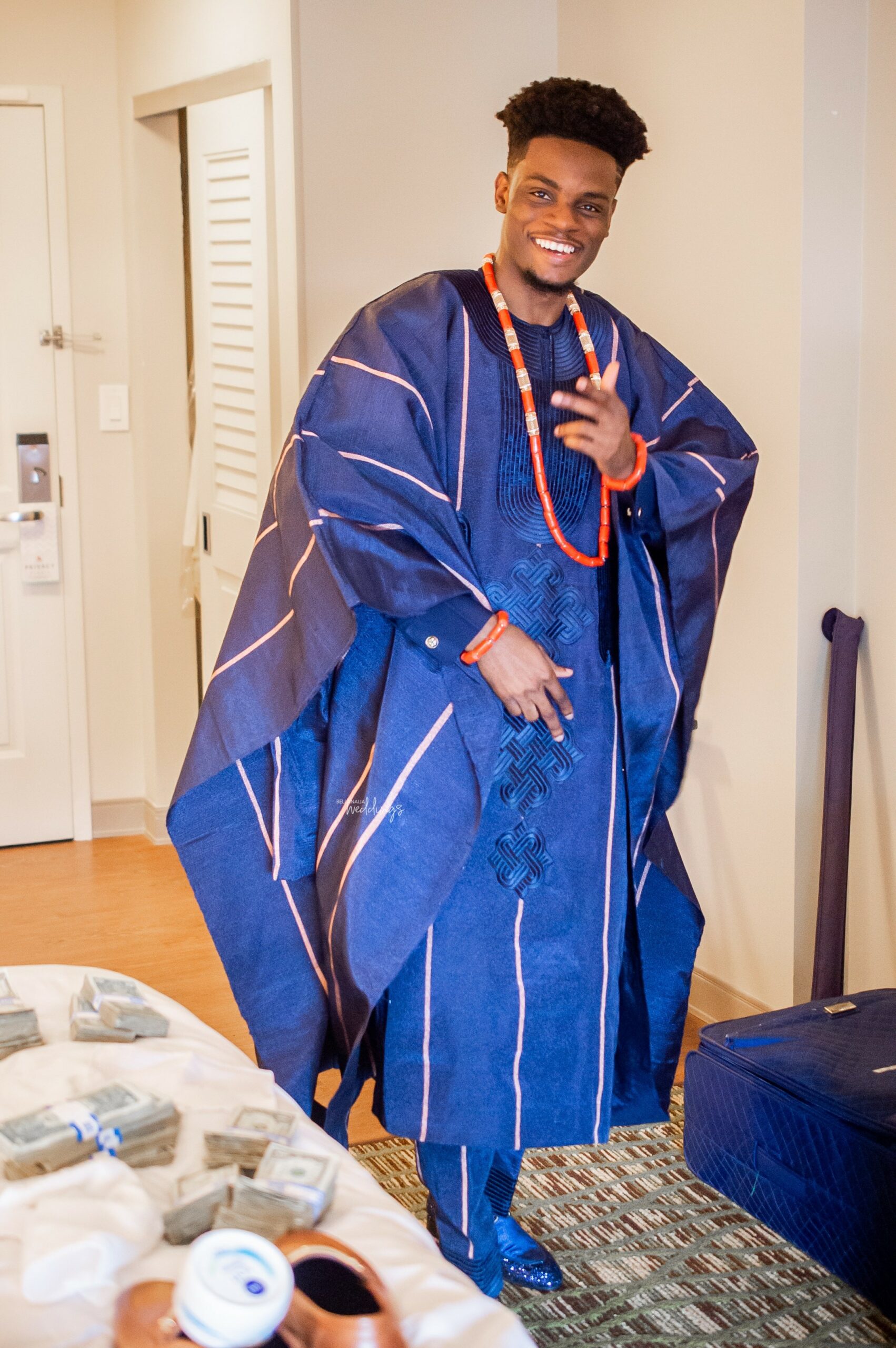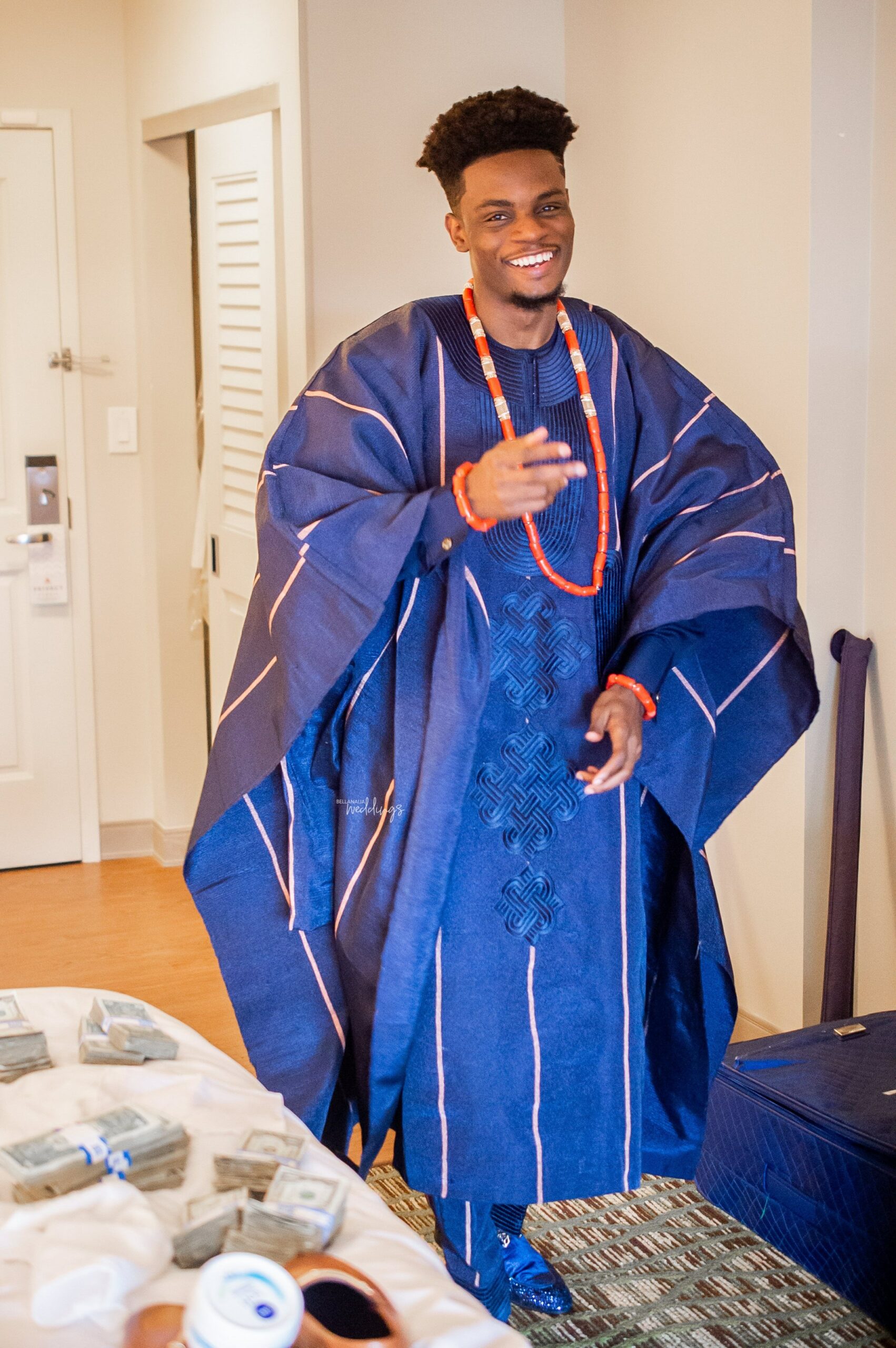 Day of, we toured downtown Atlanta for 30mins over glasses of champagne on the Helicopter. It was a beautiful sight and we both had a good time, or at least Mosunmola did because Ladi was nervous throughout the rise.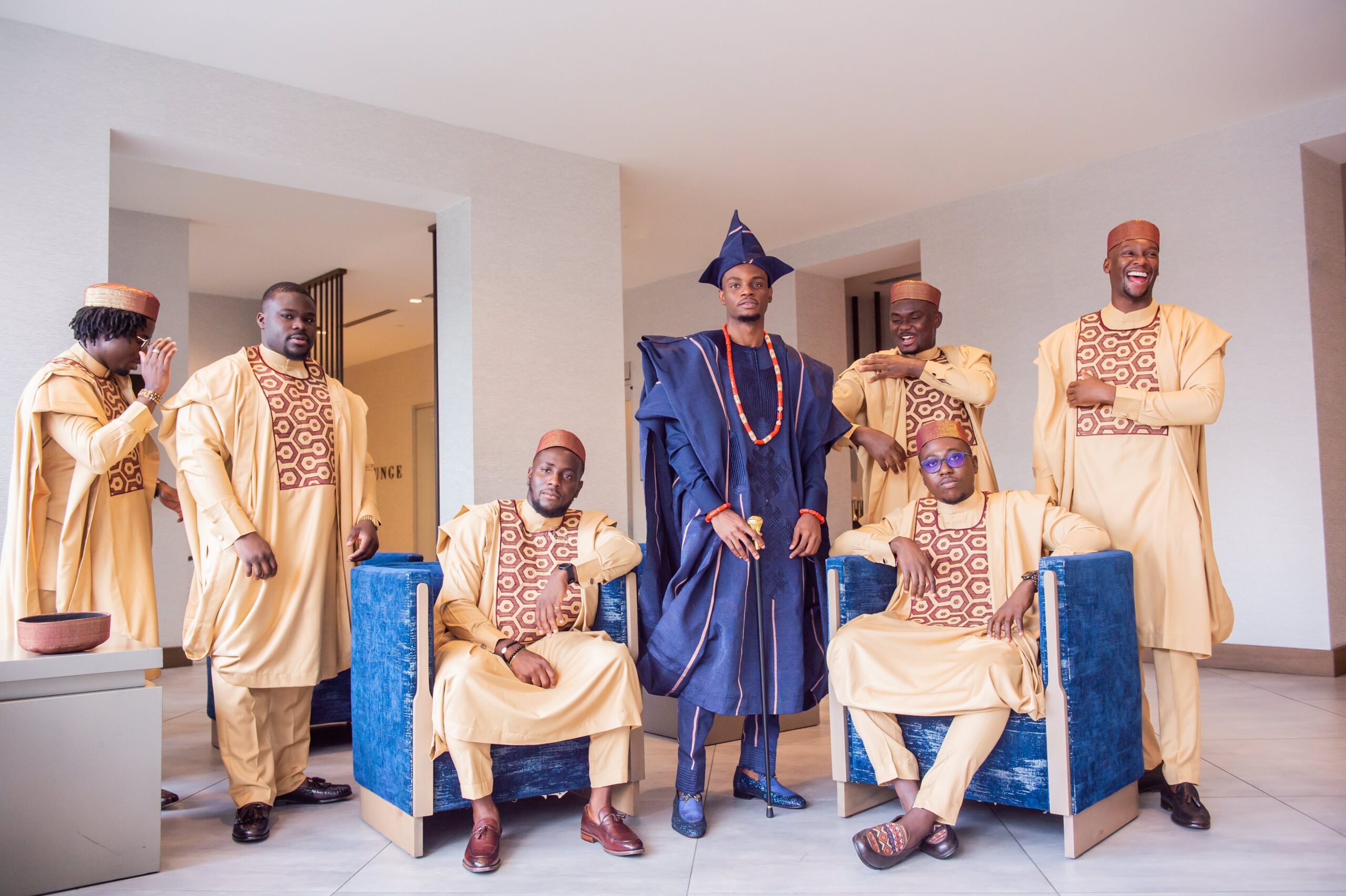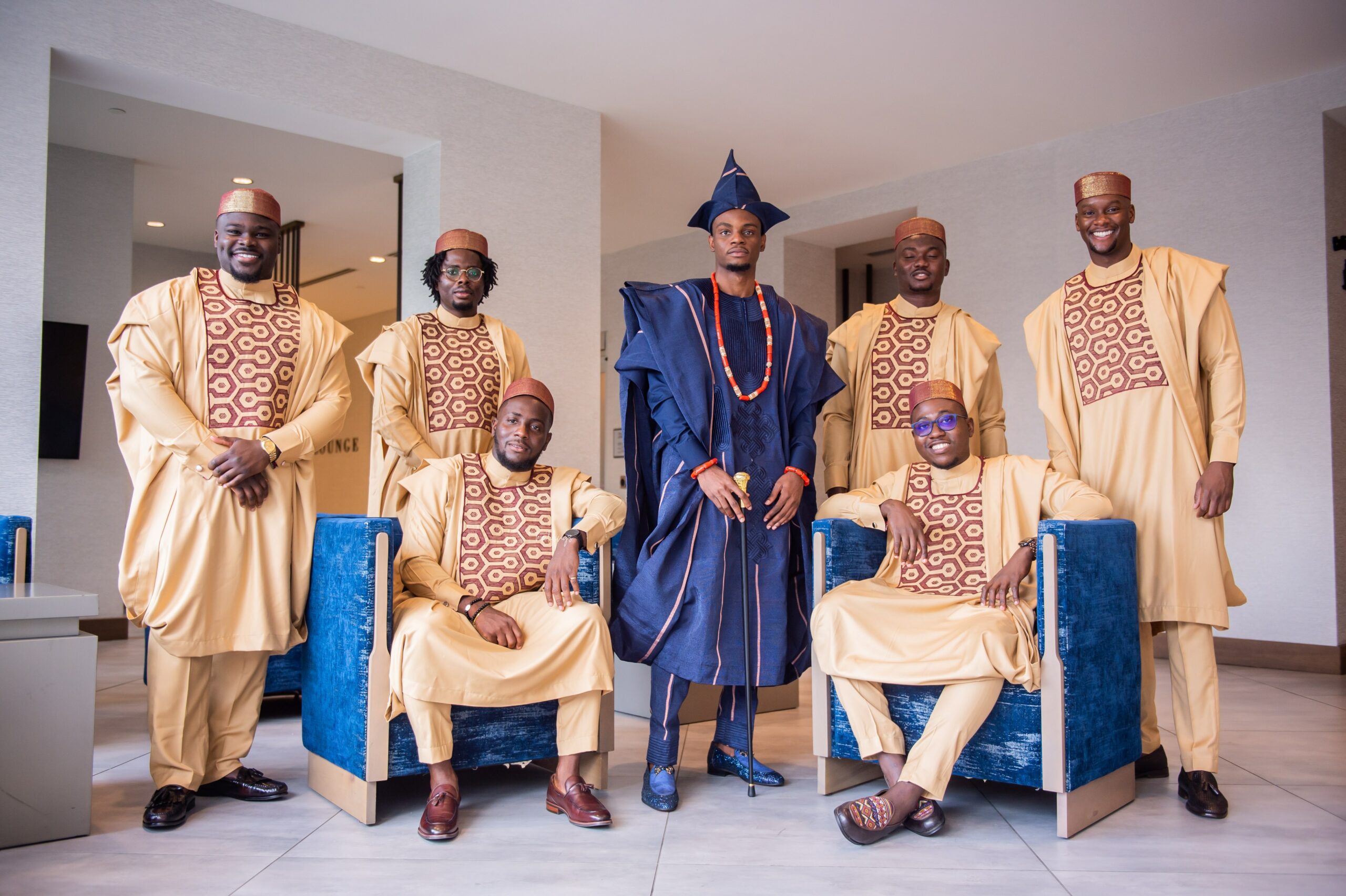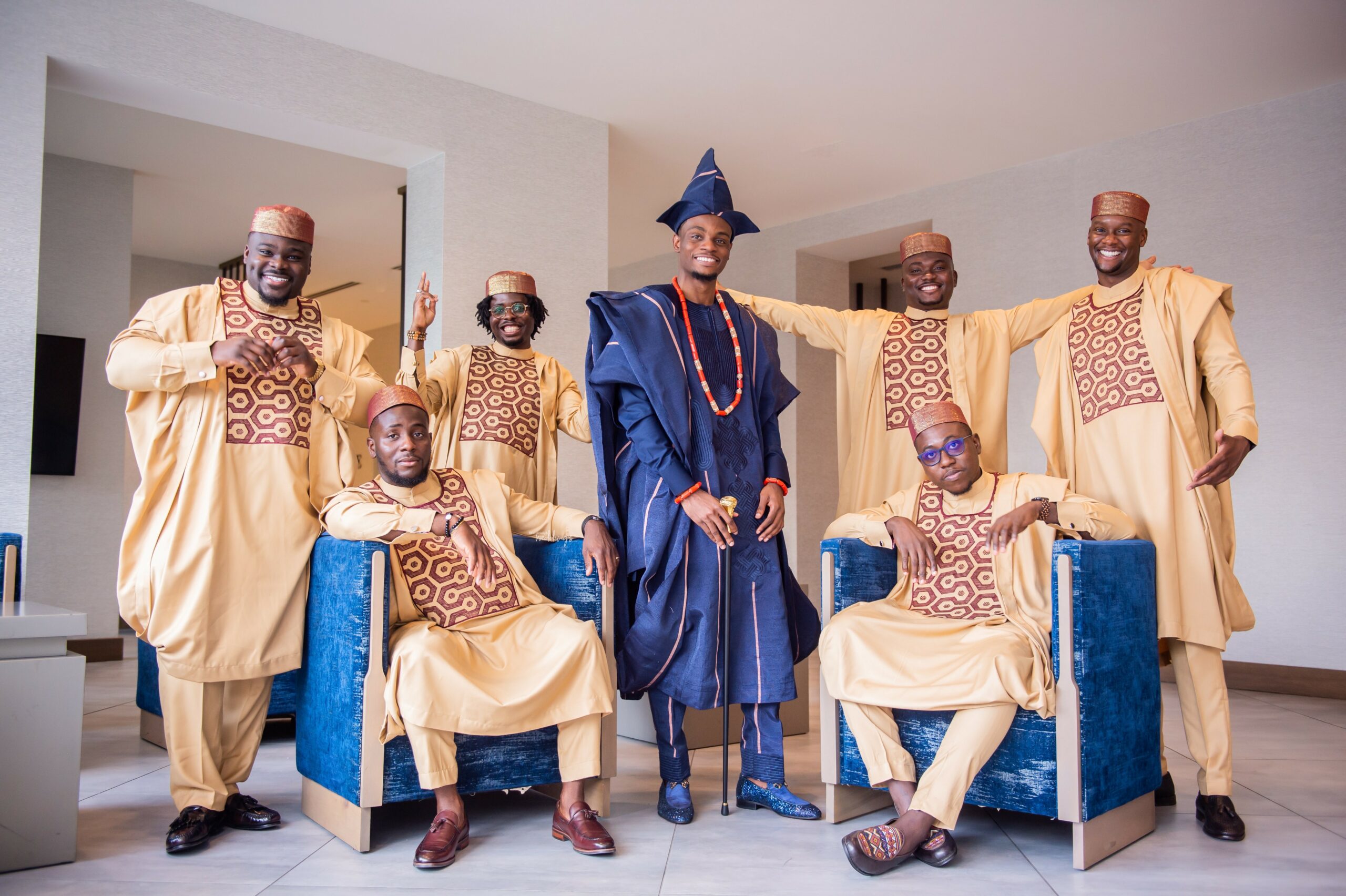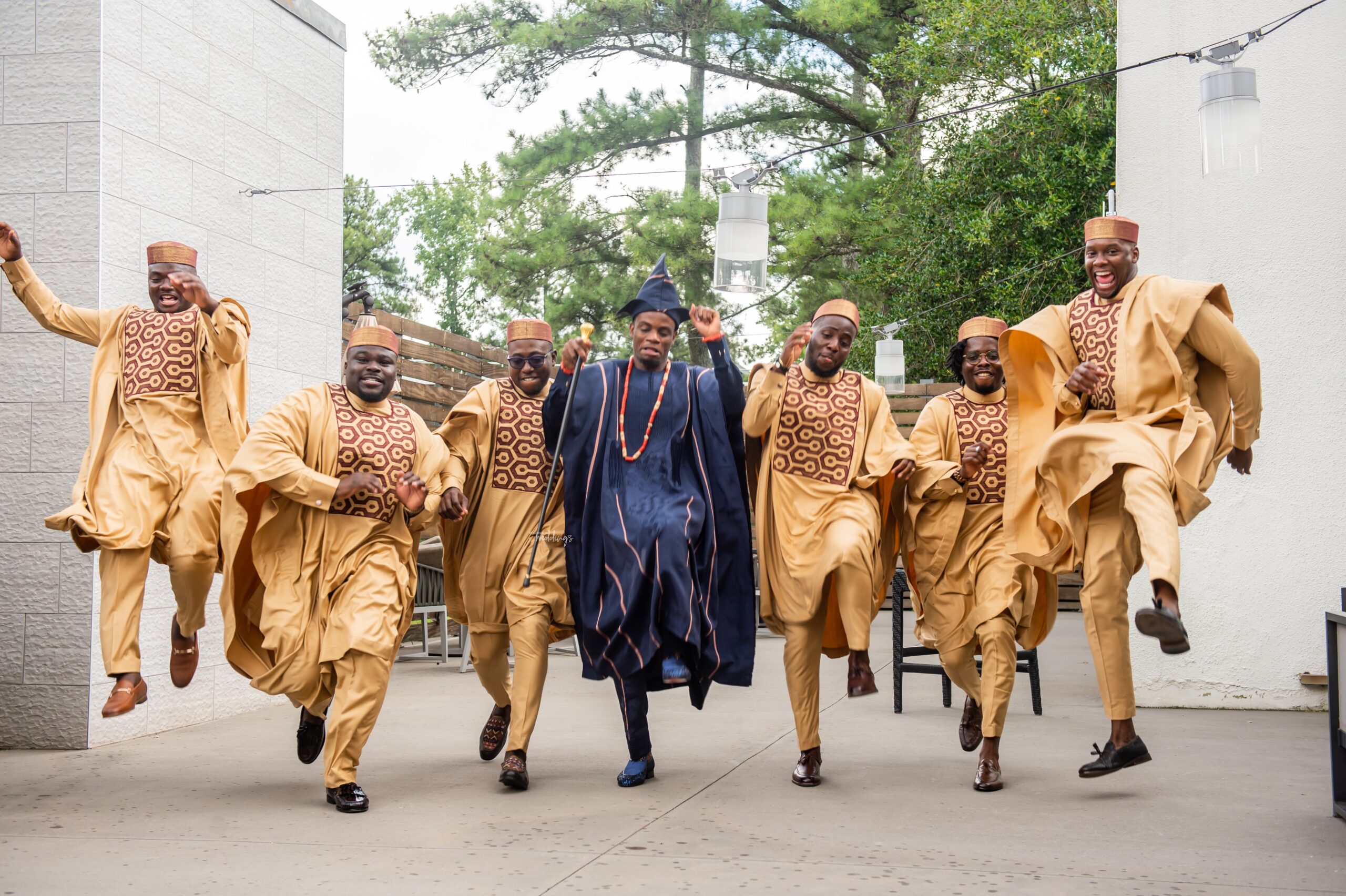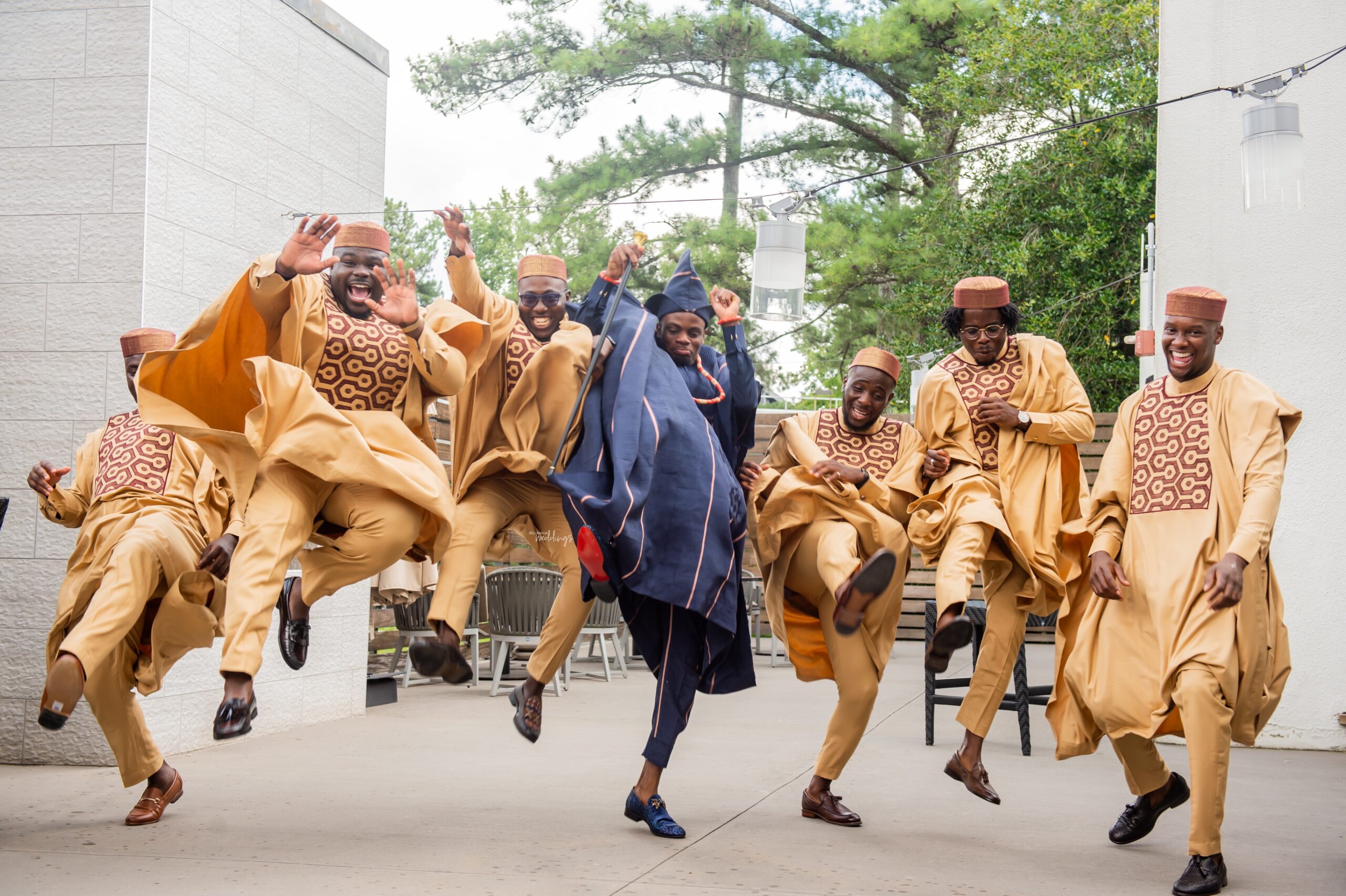 By the time we landed, Mosun saw her friend on the strip and was so excited to see her after several years. That was the distraction Ladi needed to get on one knee and propose… We're both excited that we made it and are happy we get to spend forever together.
The lovely first-look moment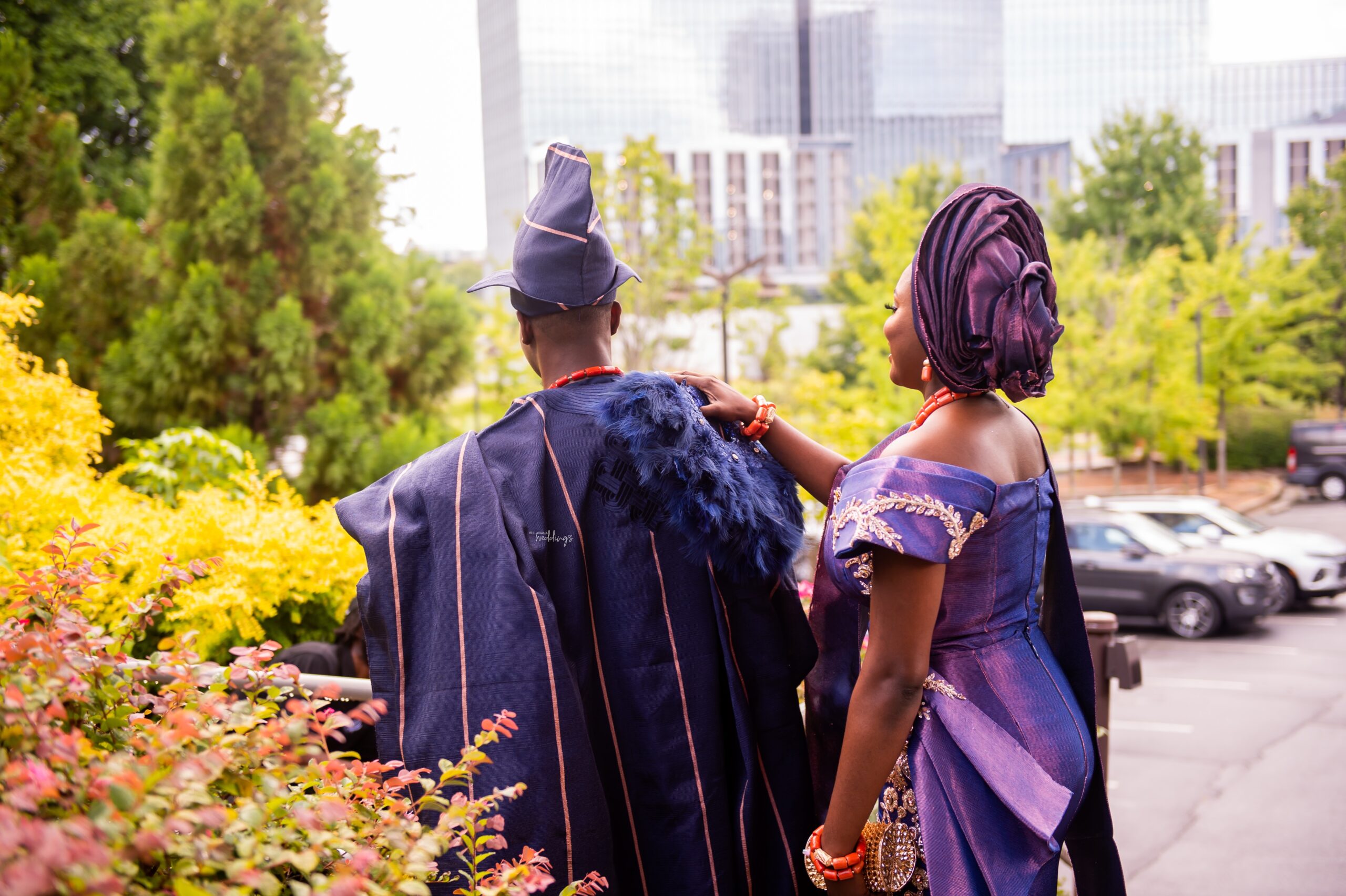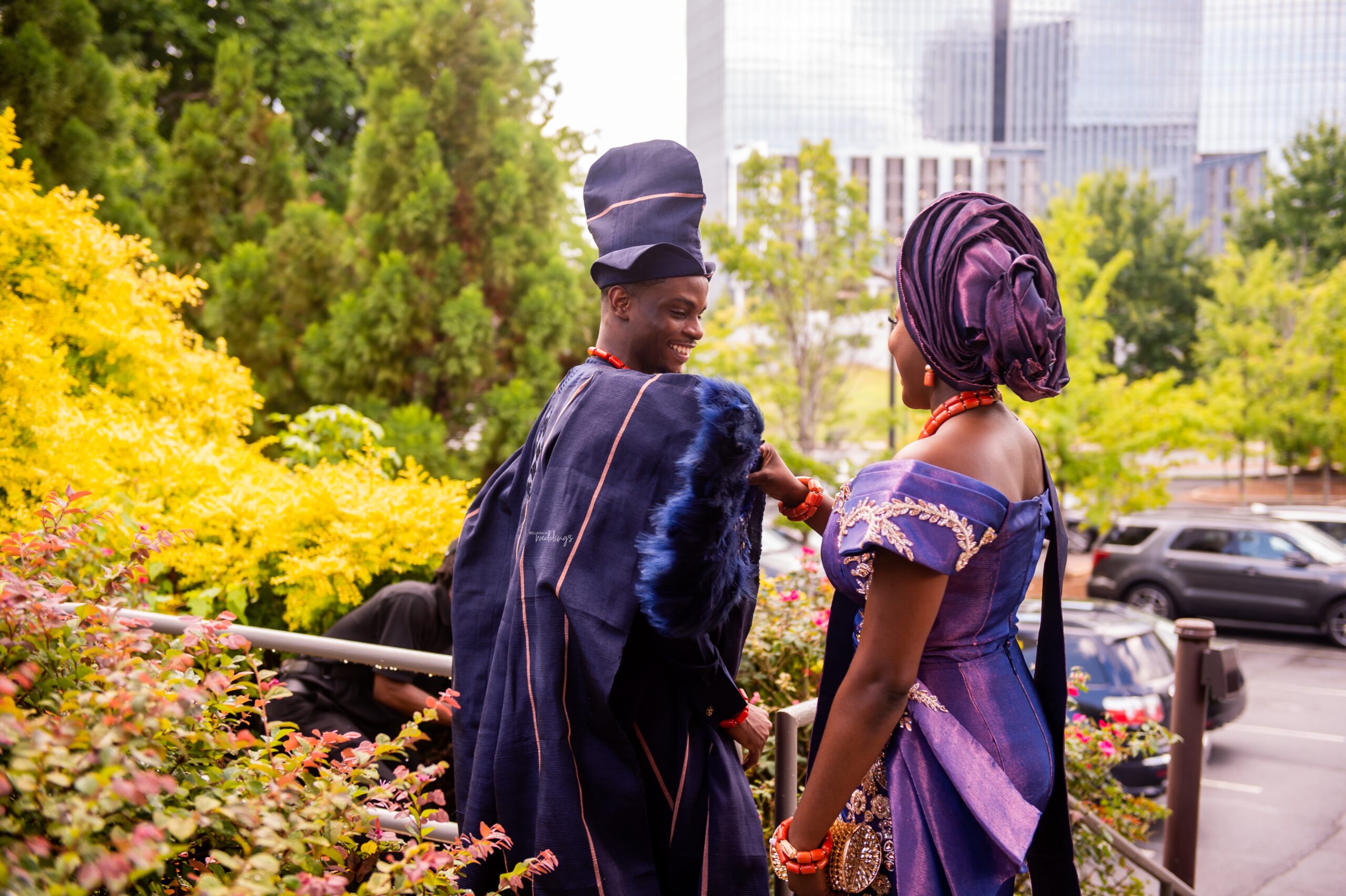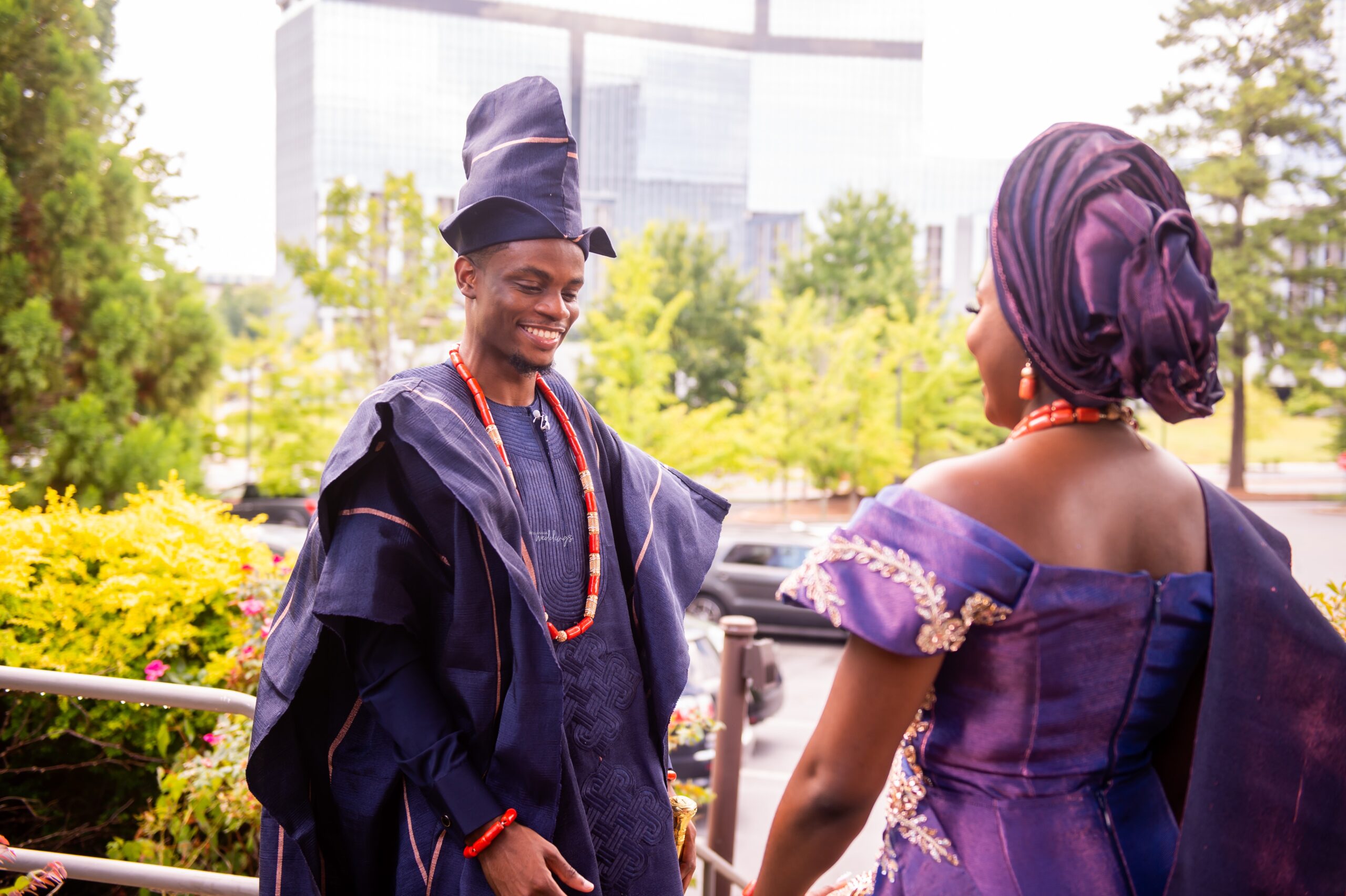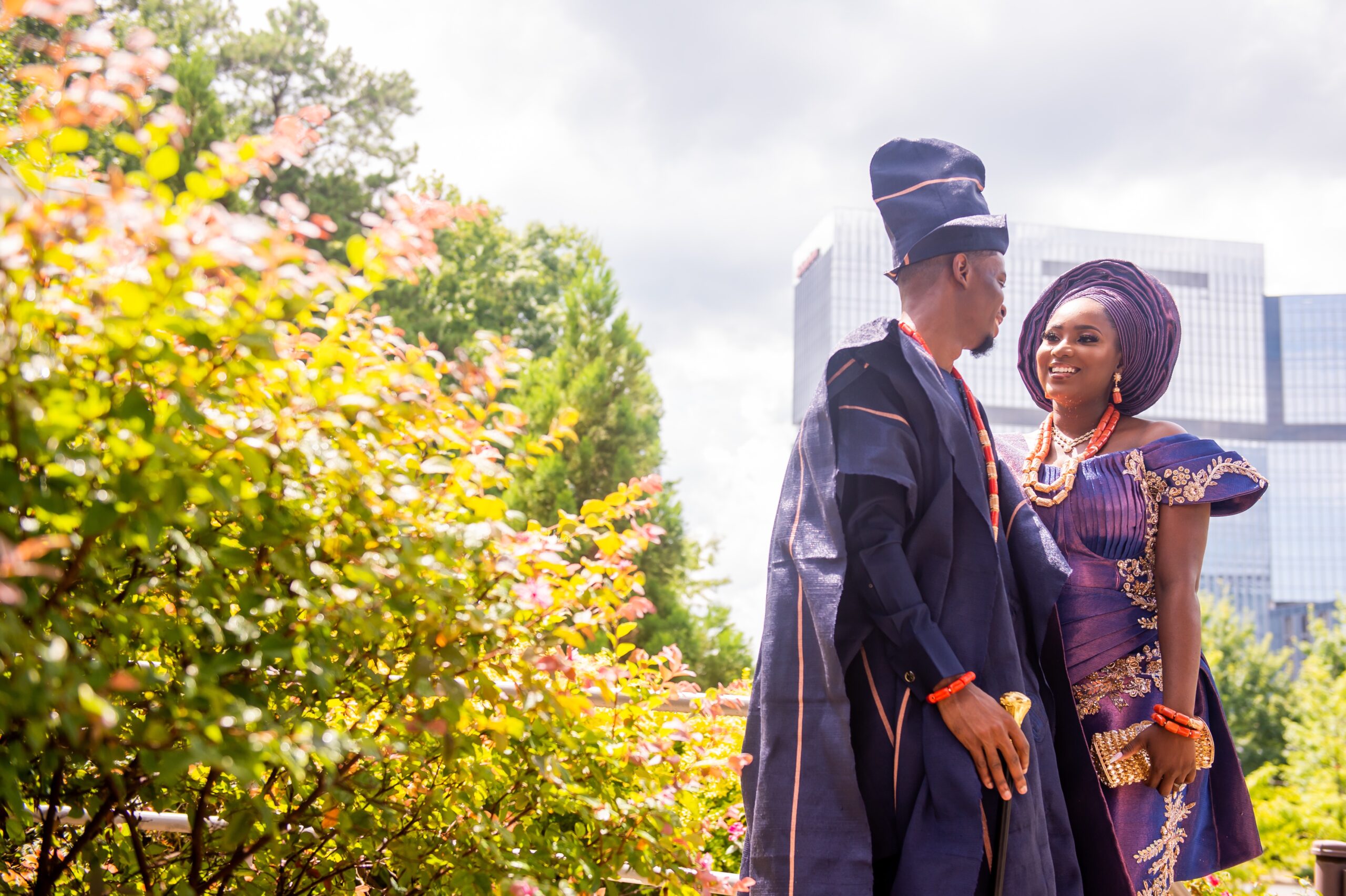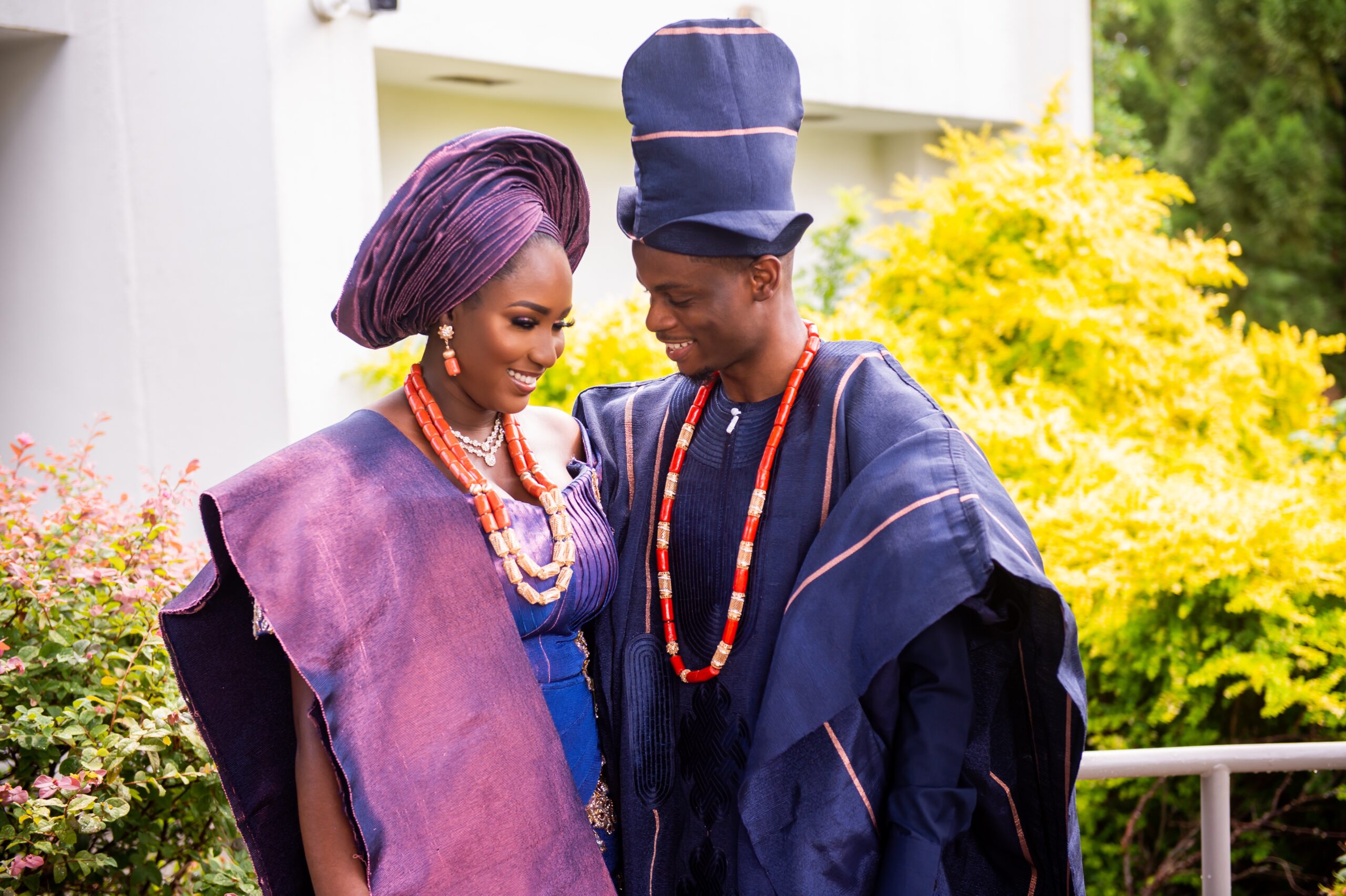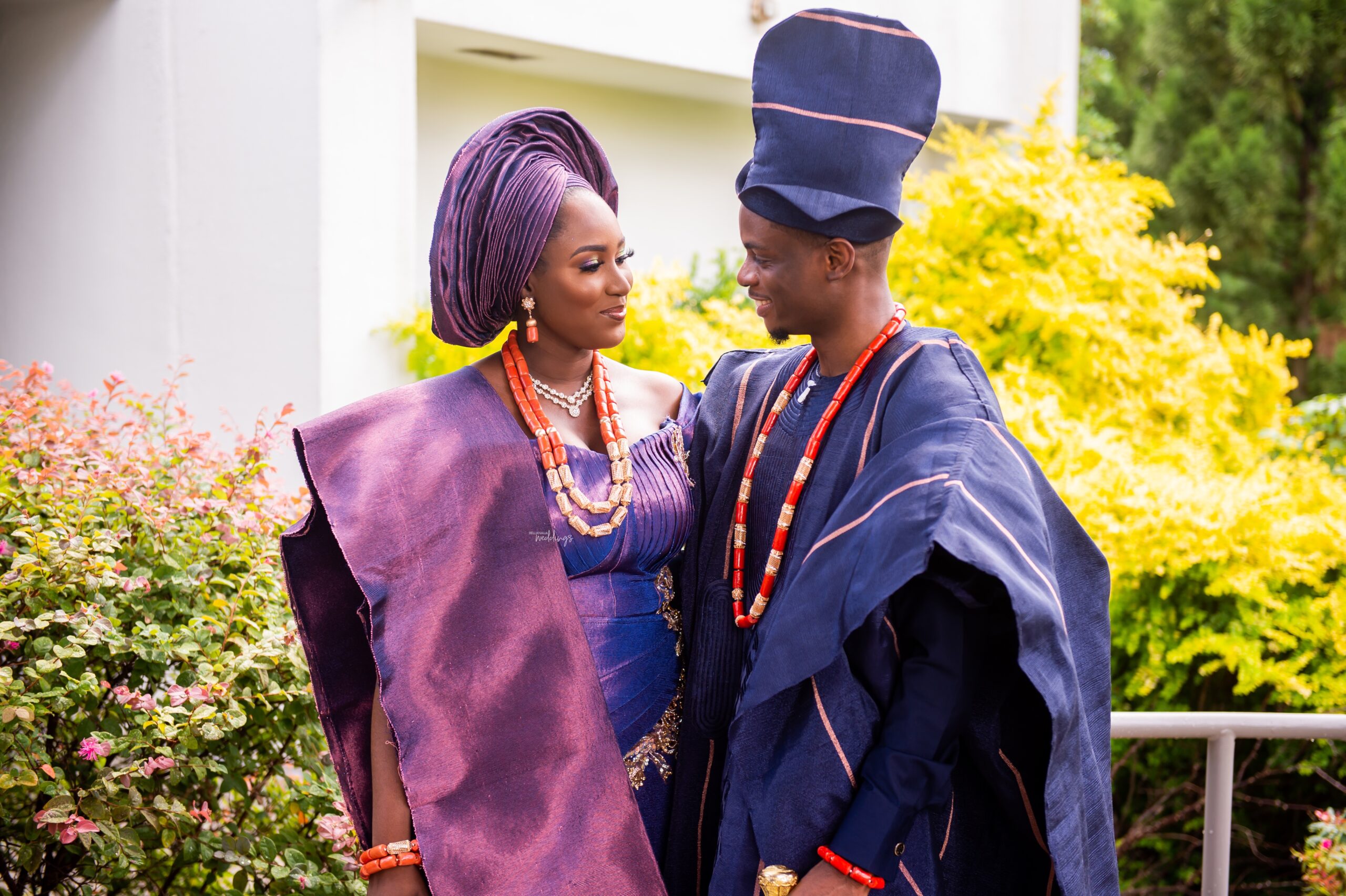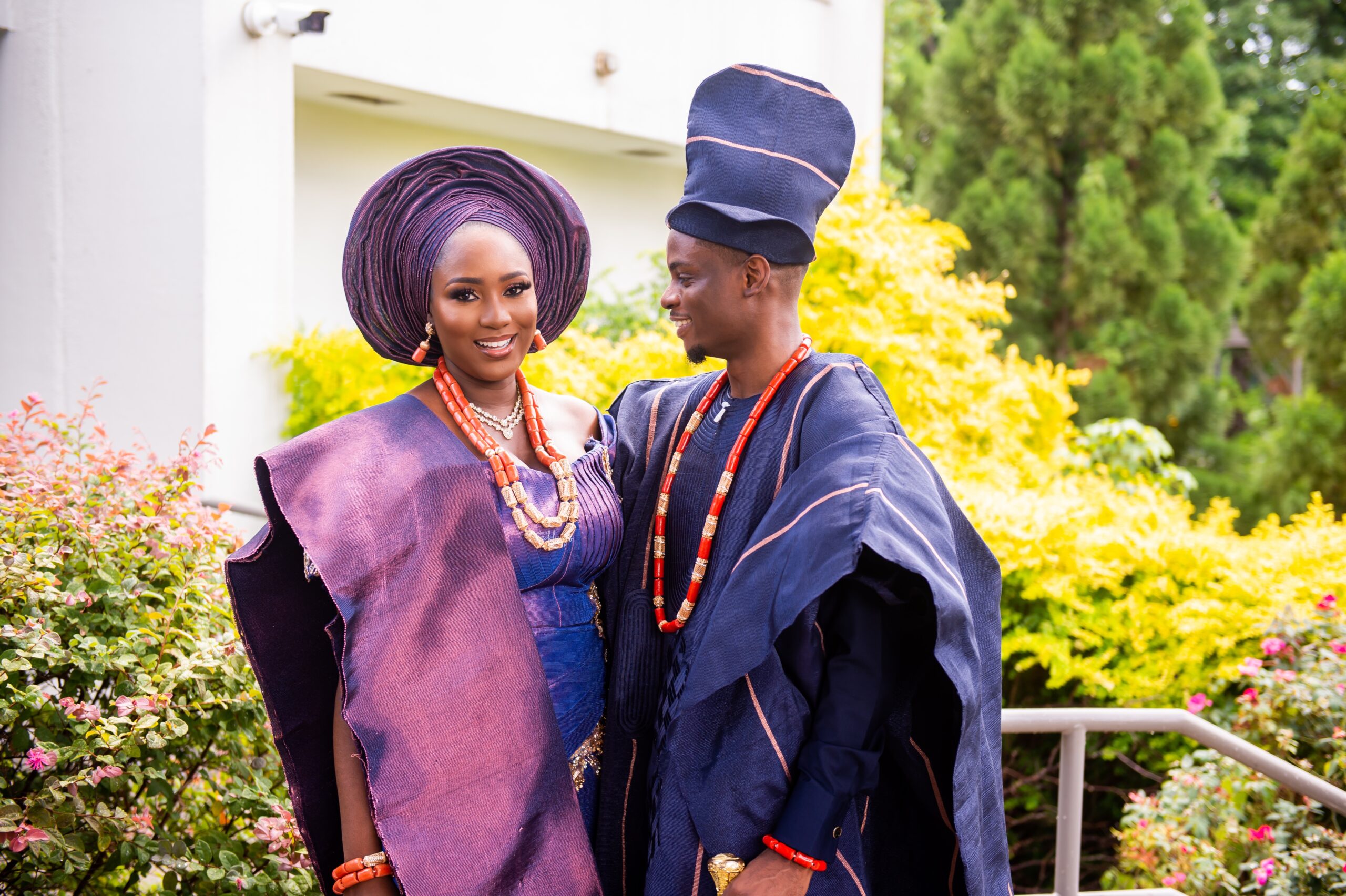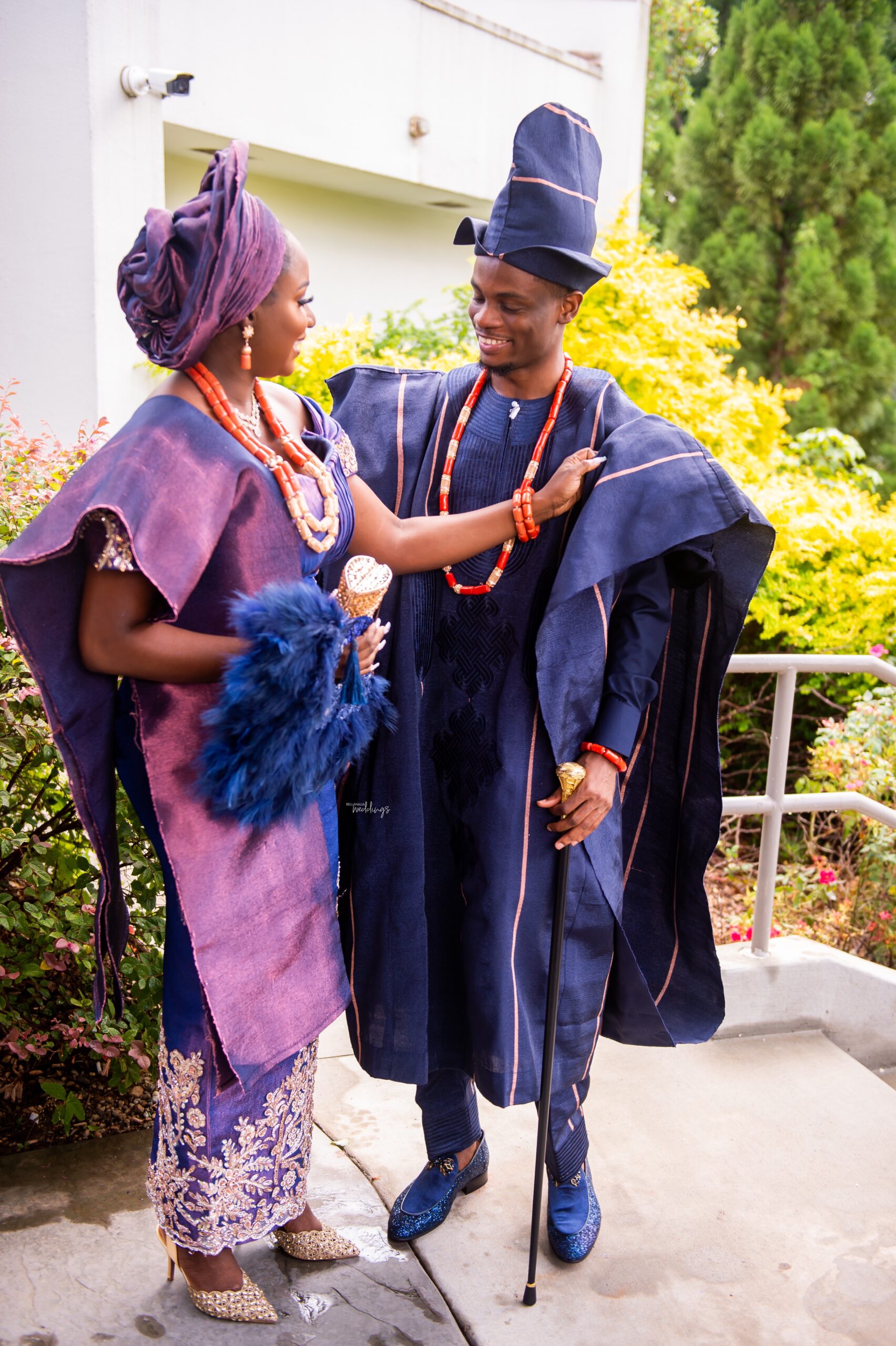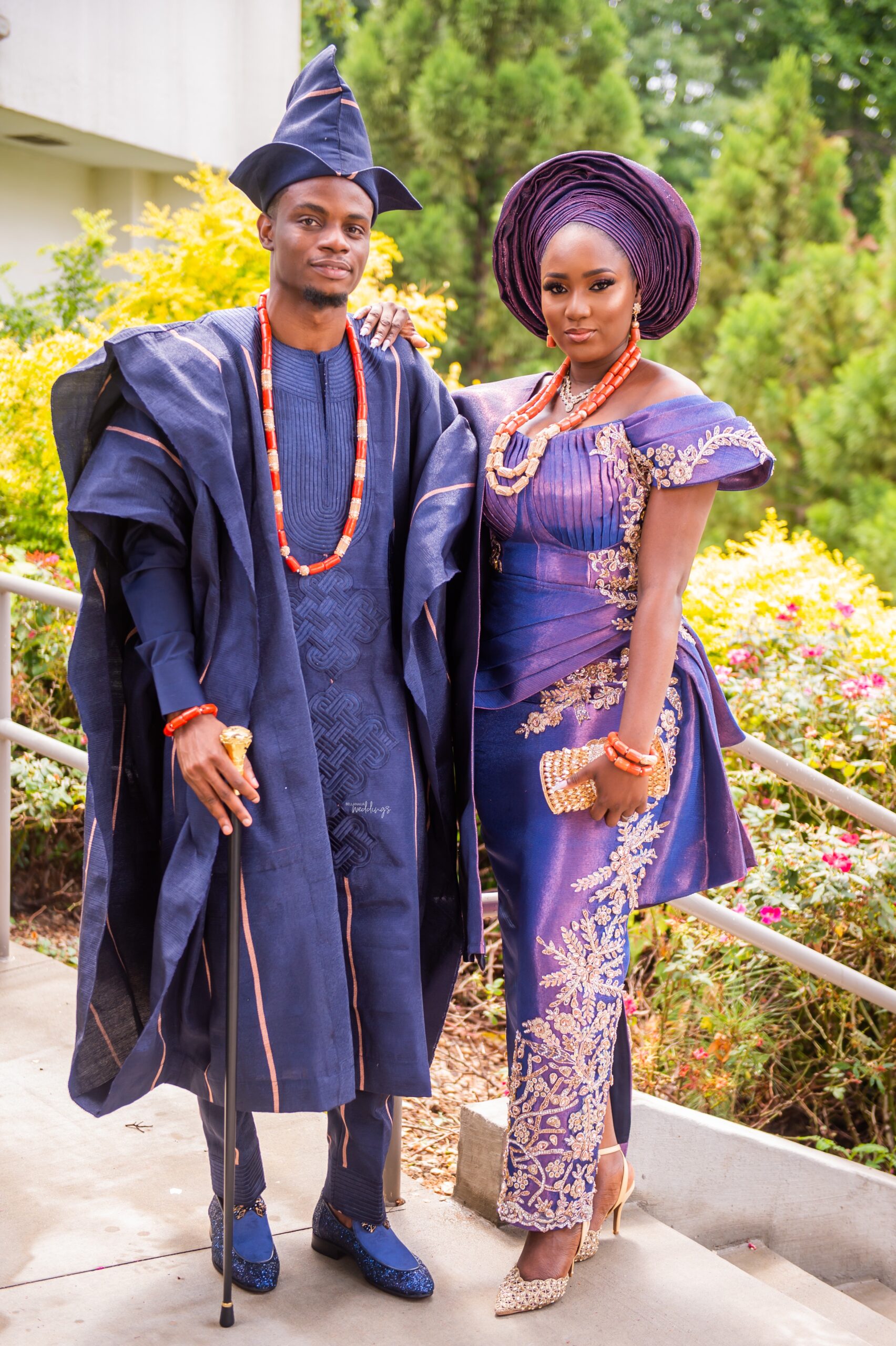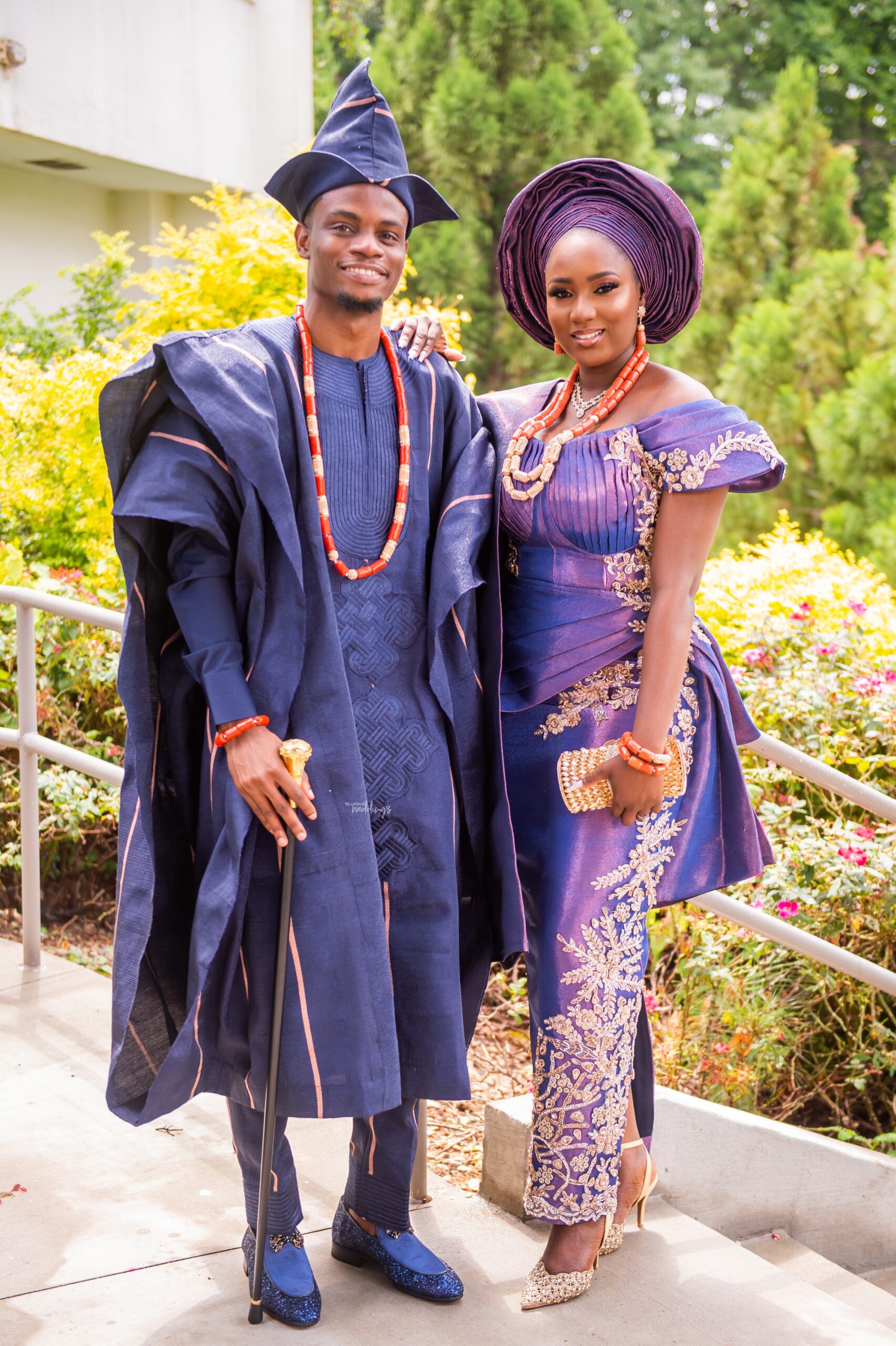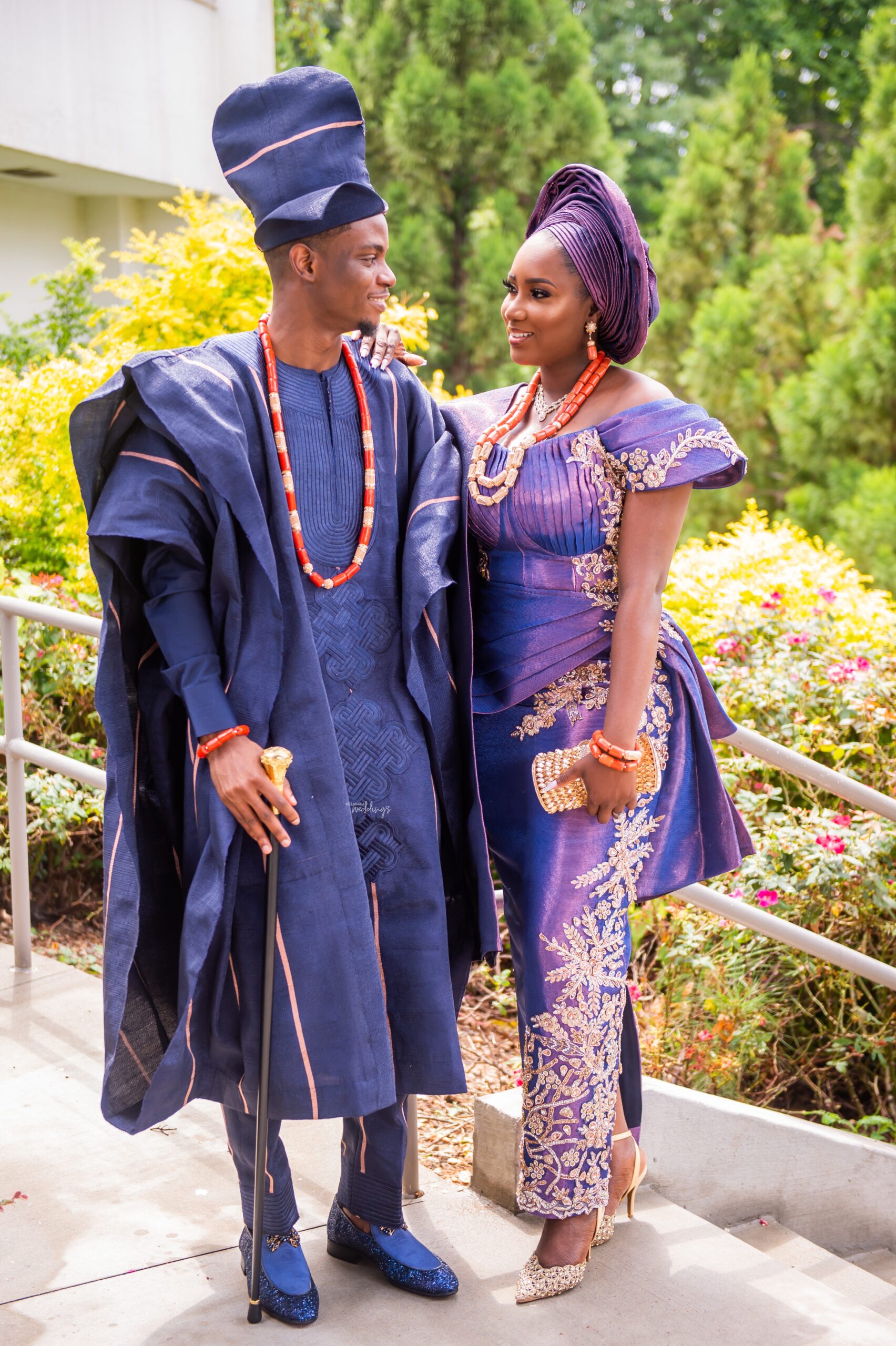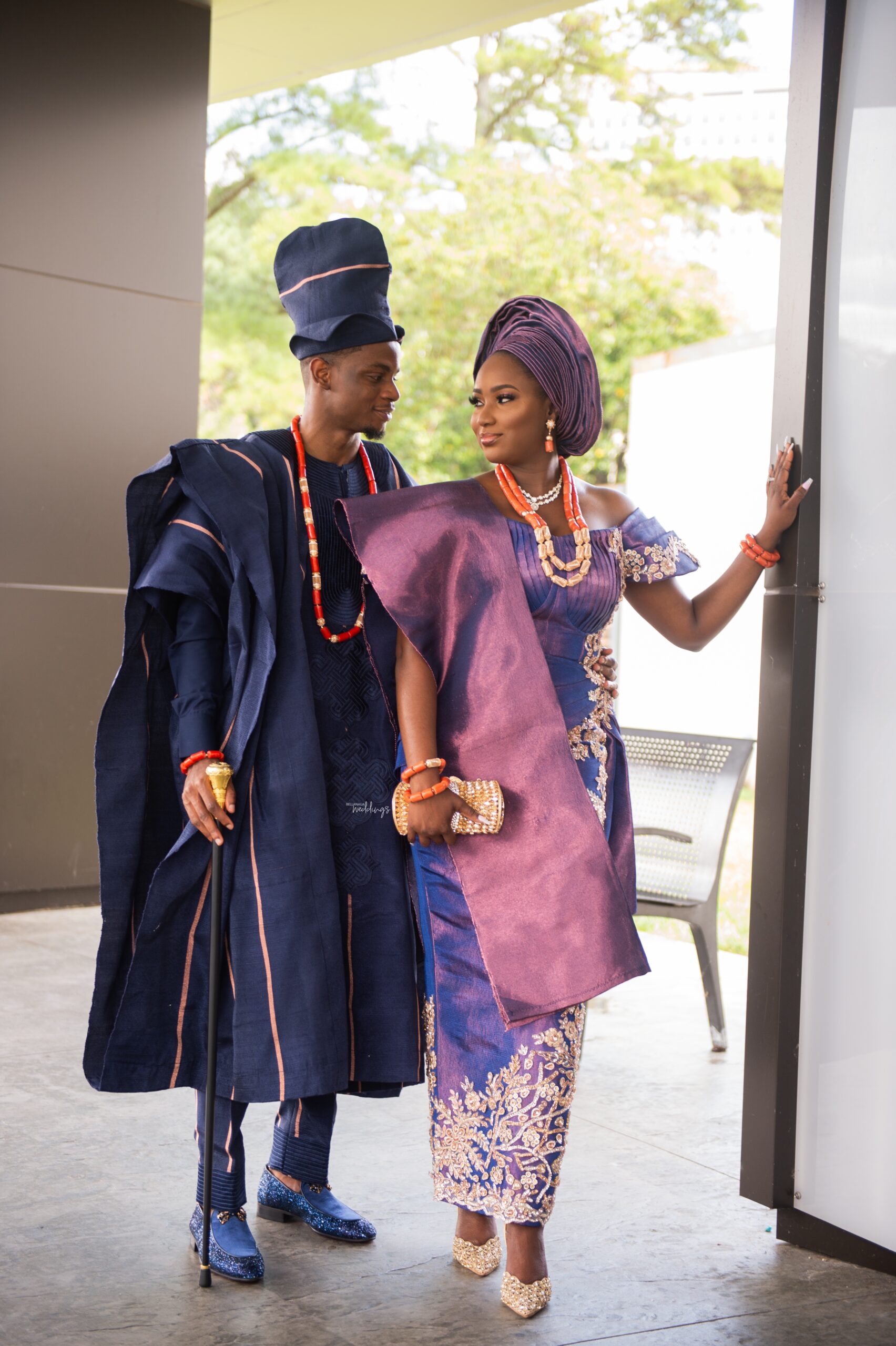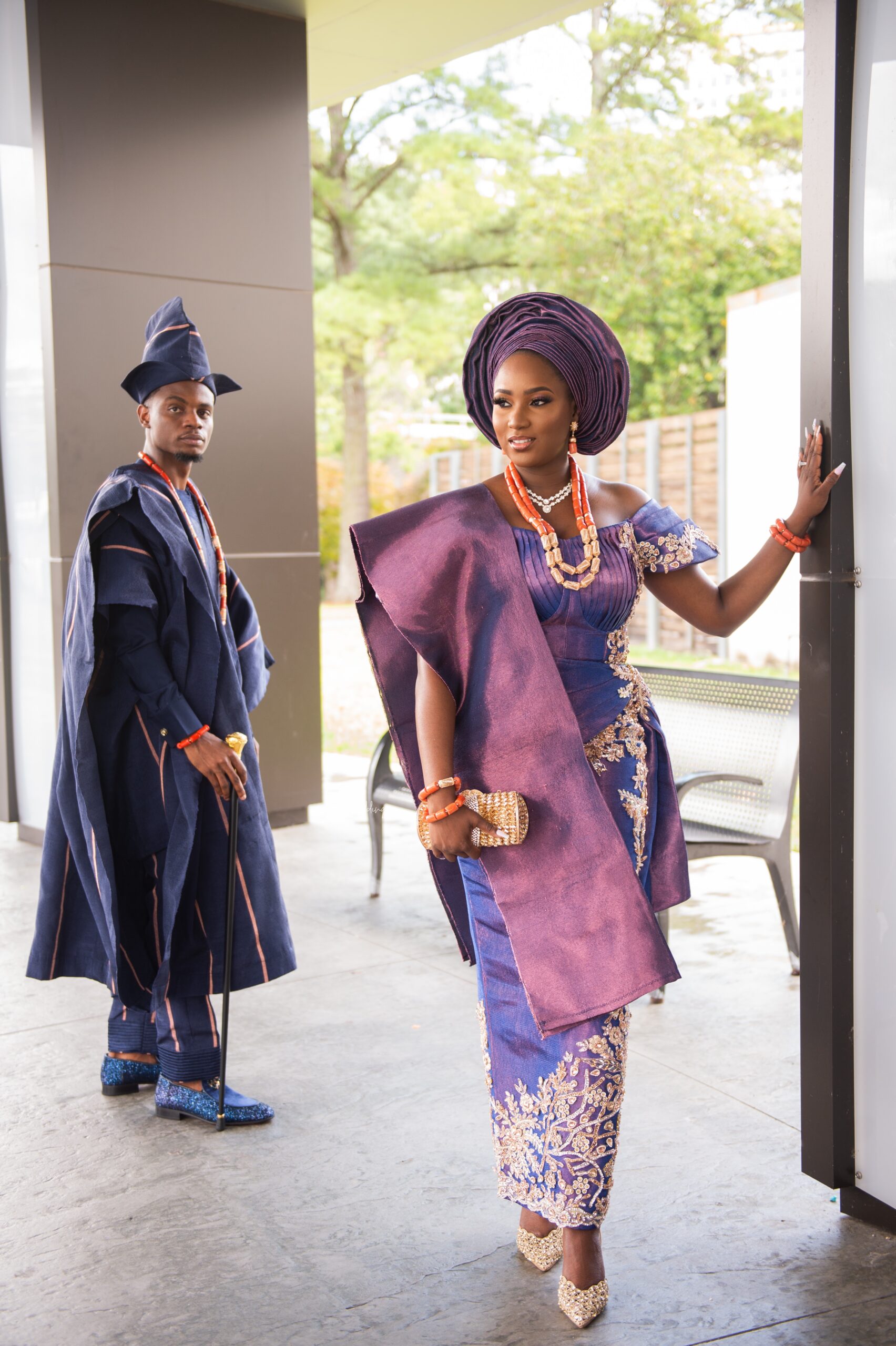 The couple and their favourite squad…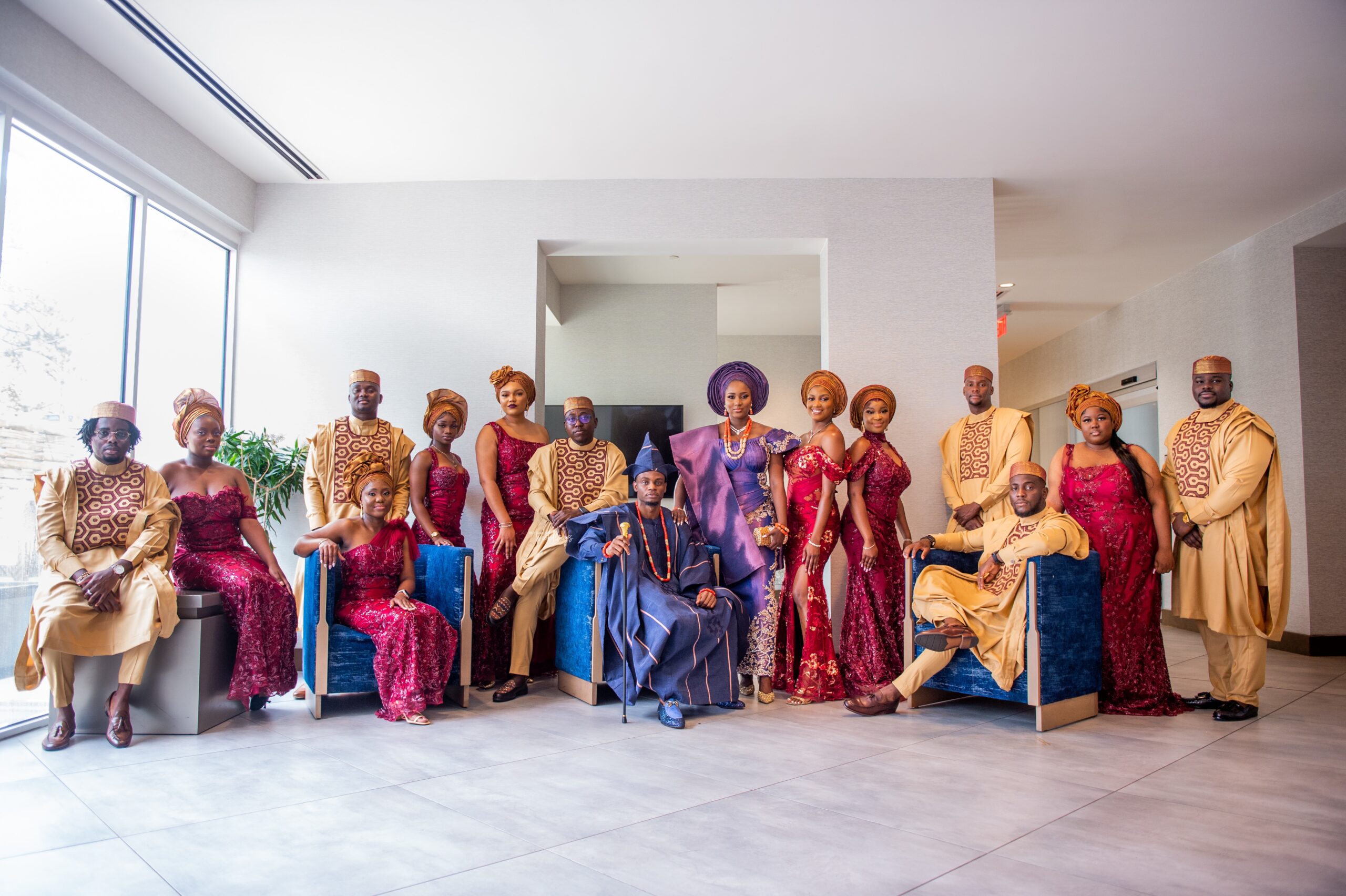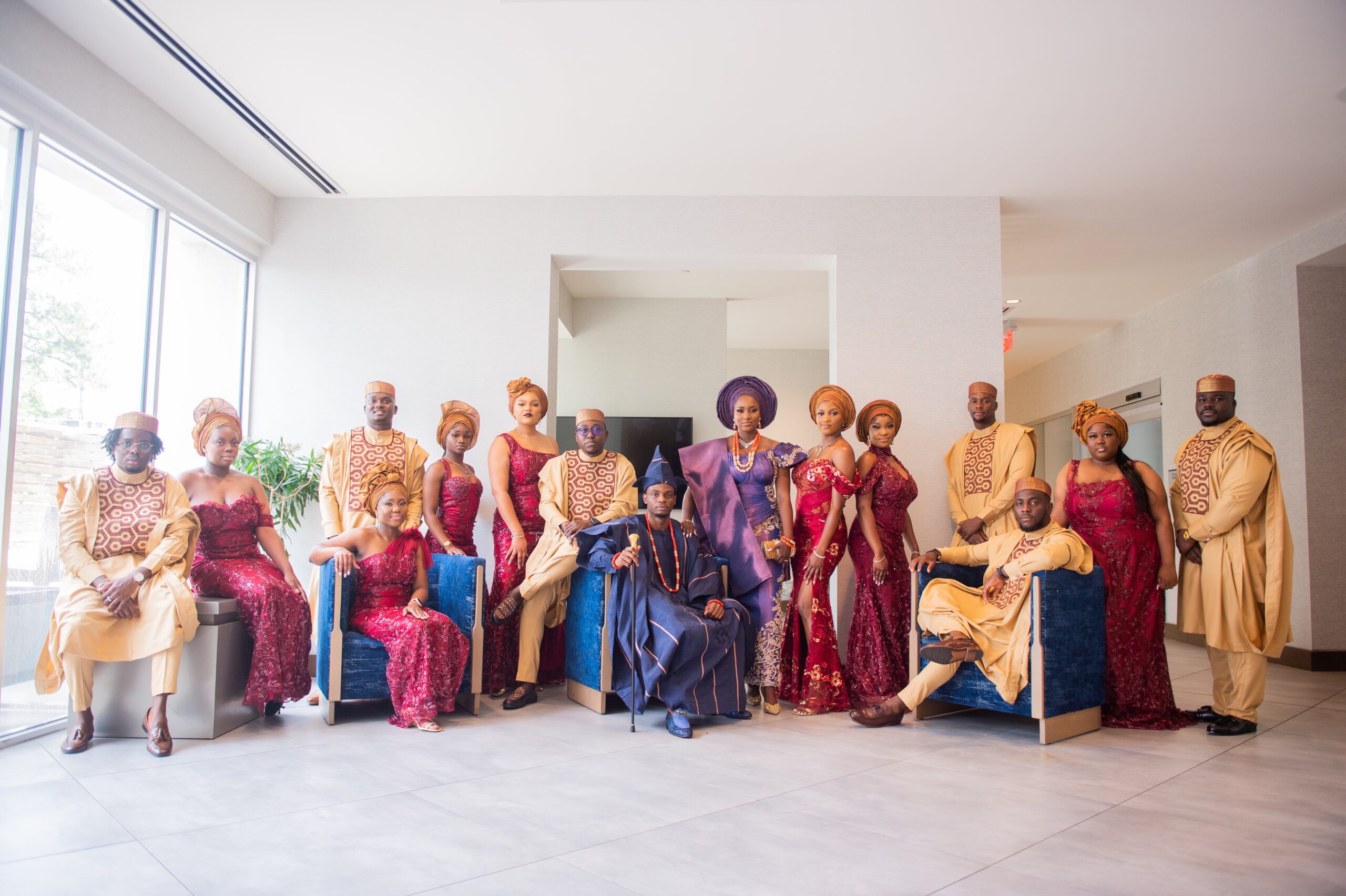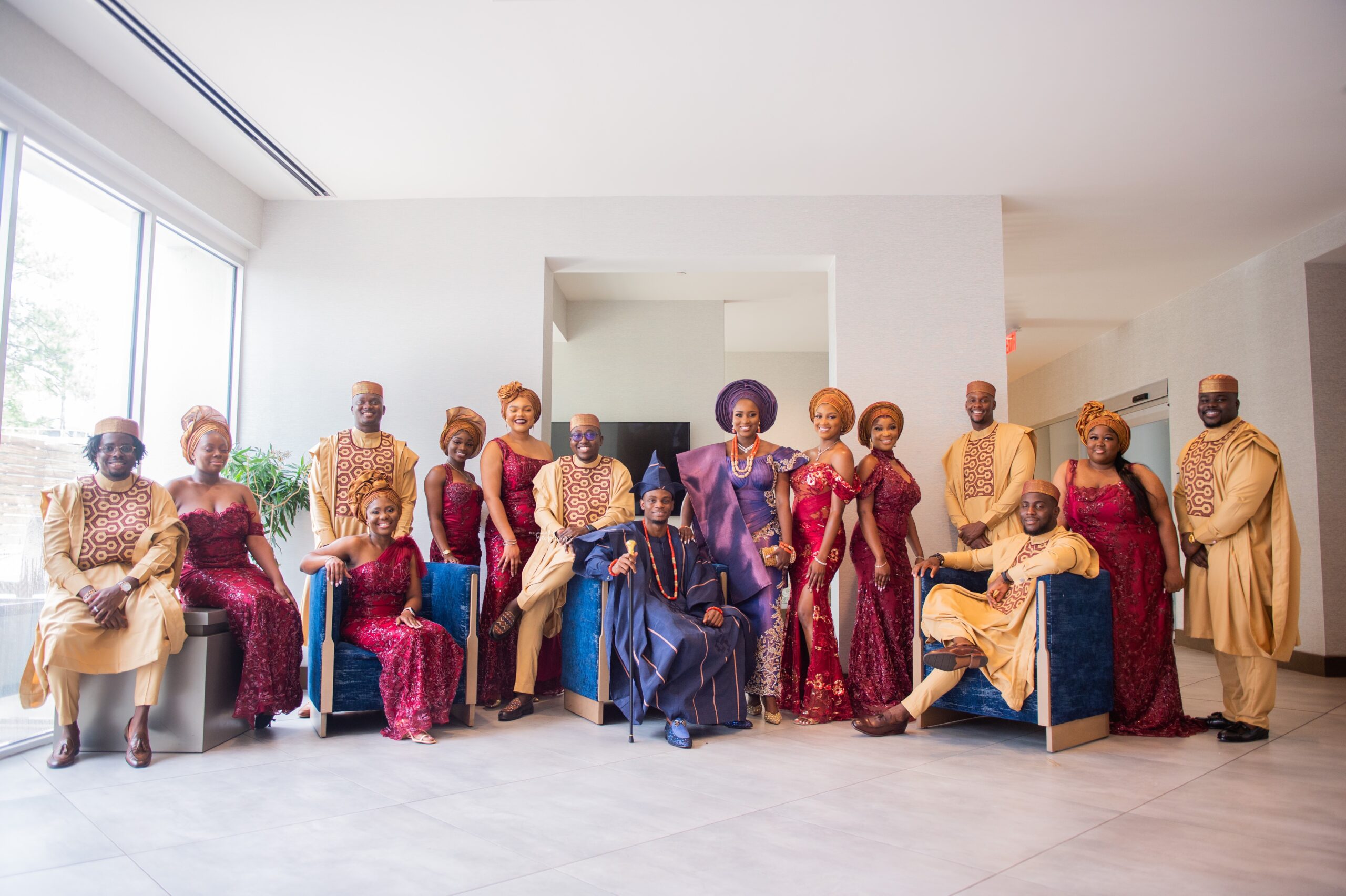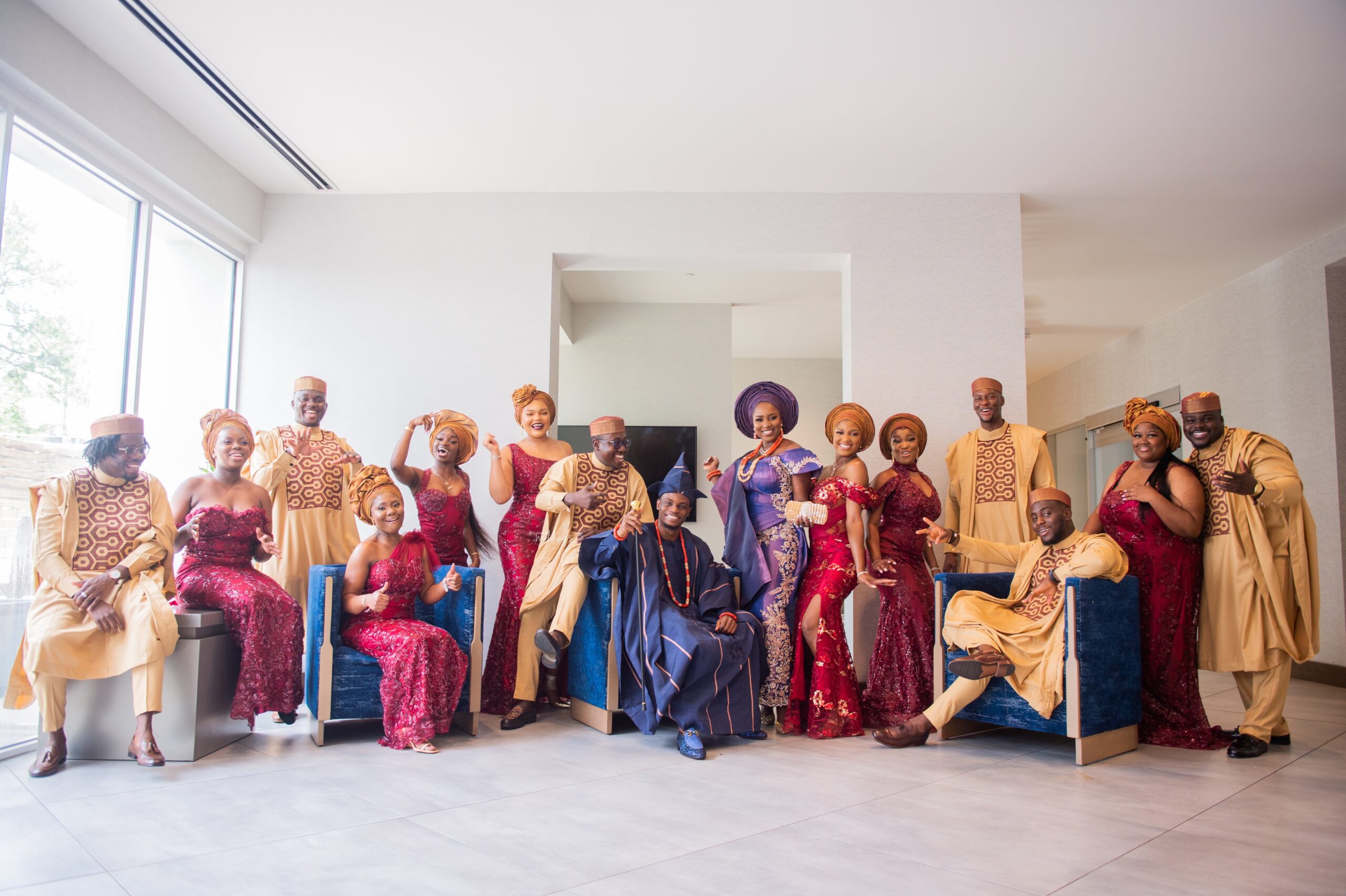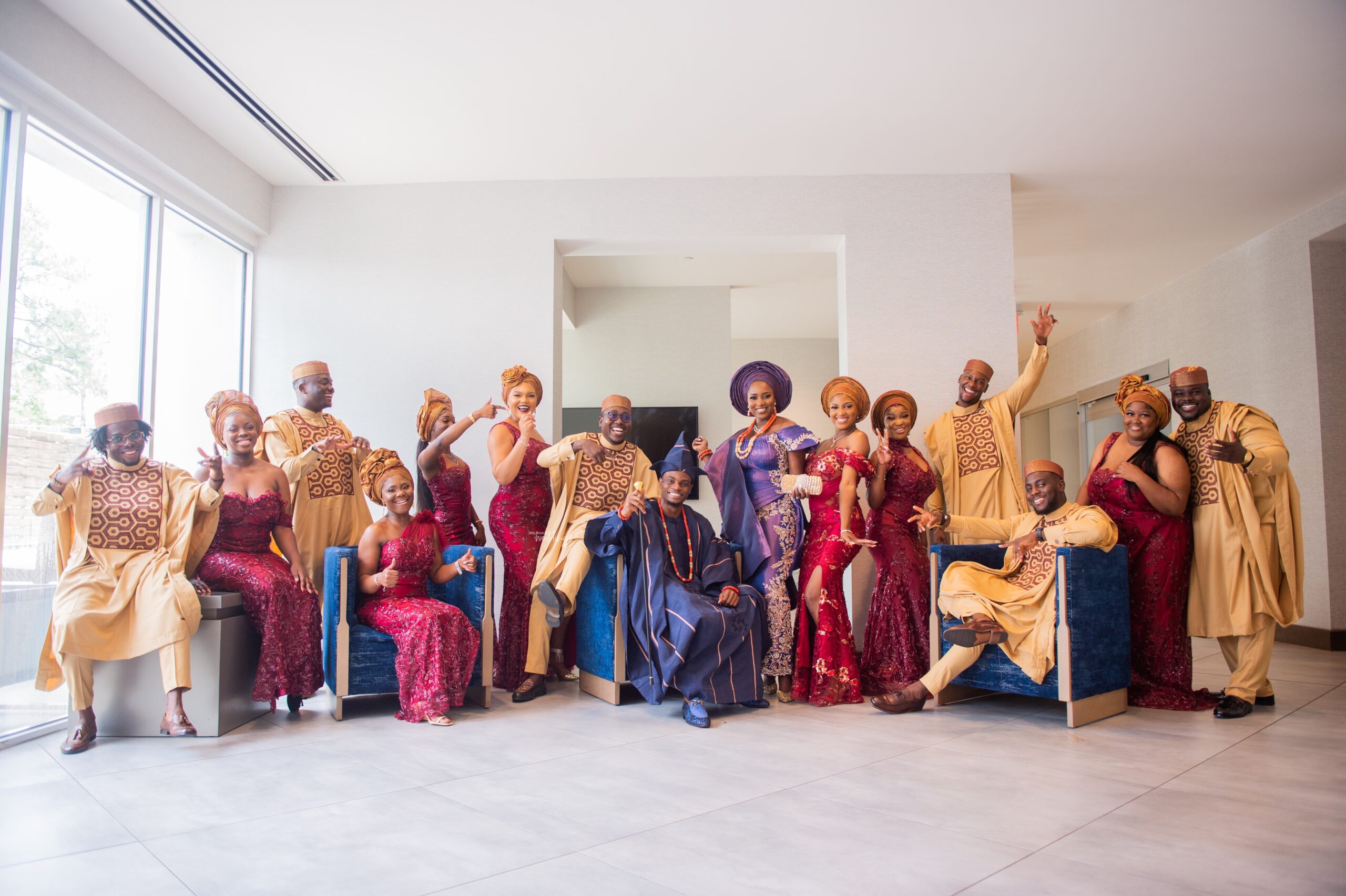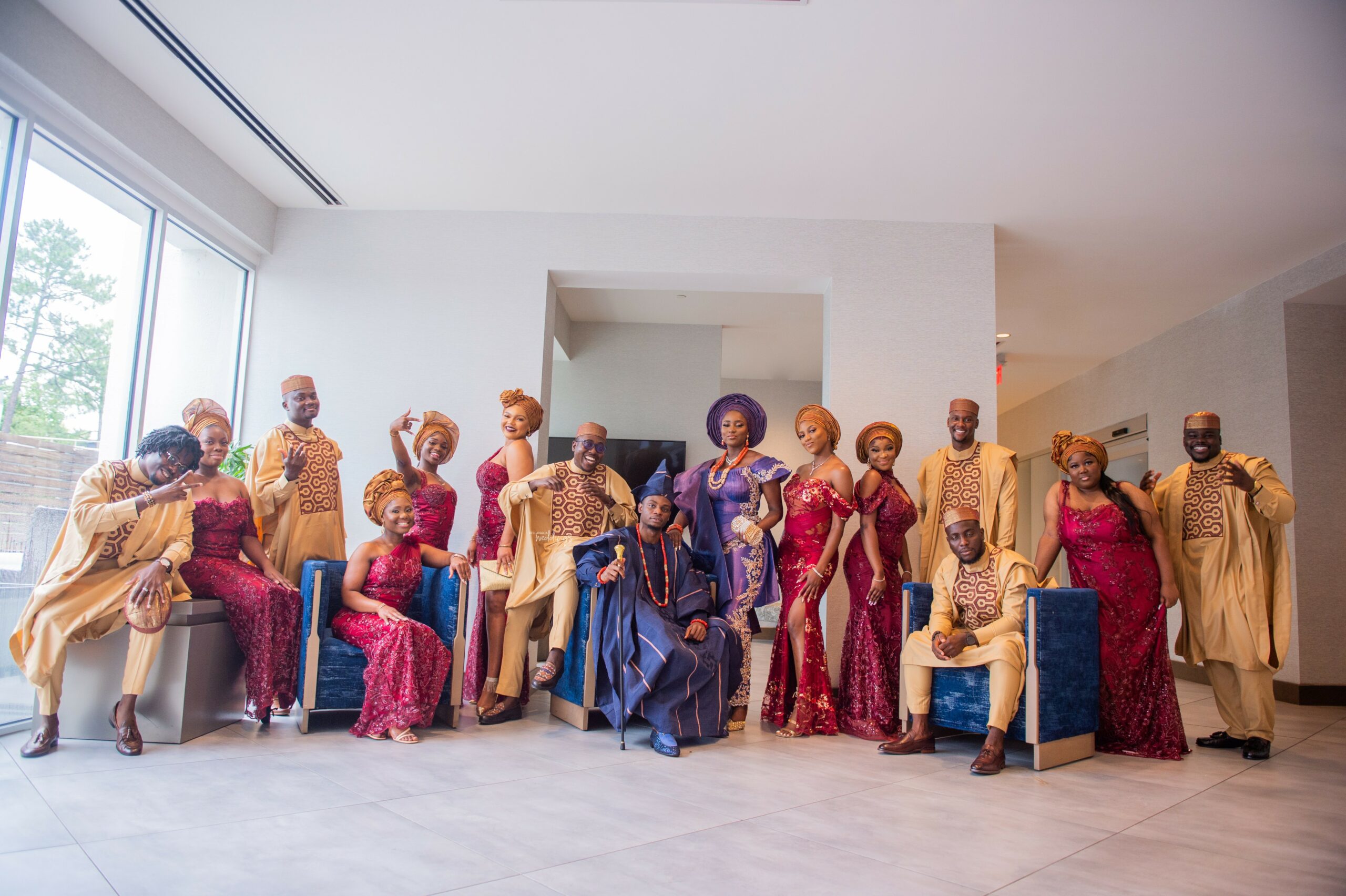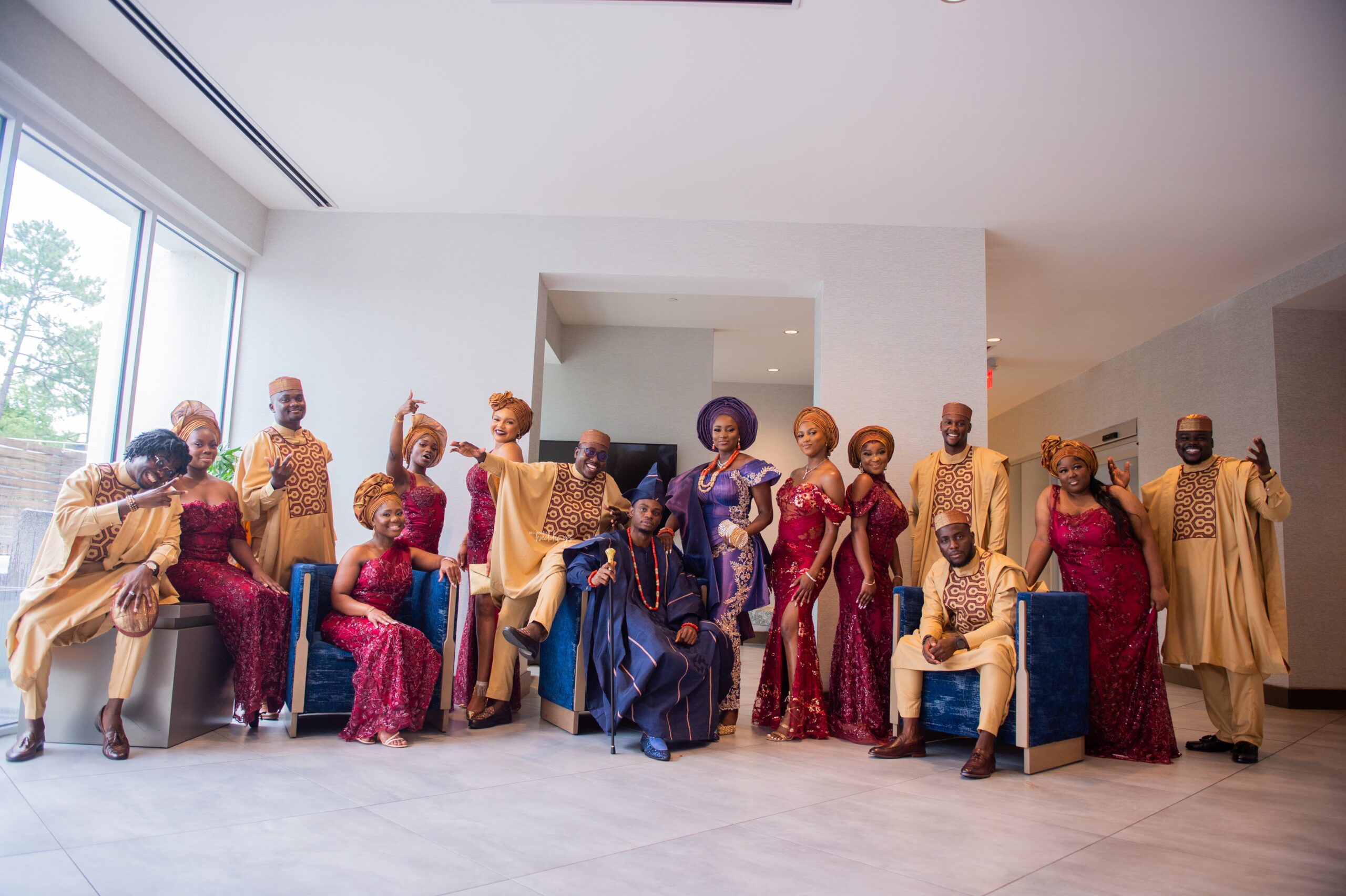 Let's admire the beautiful hall setup…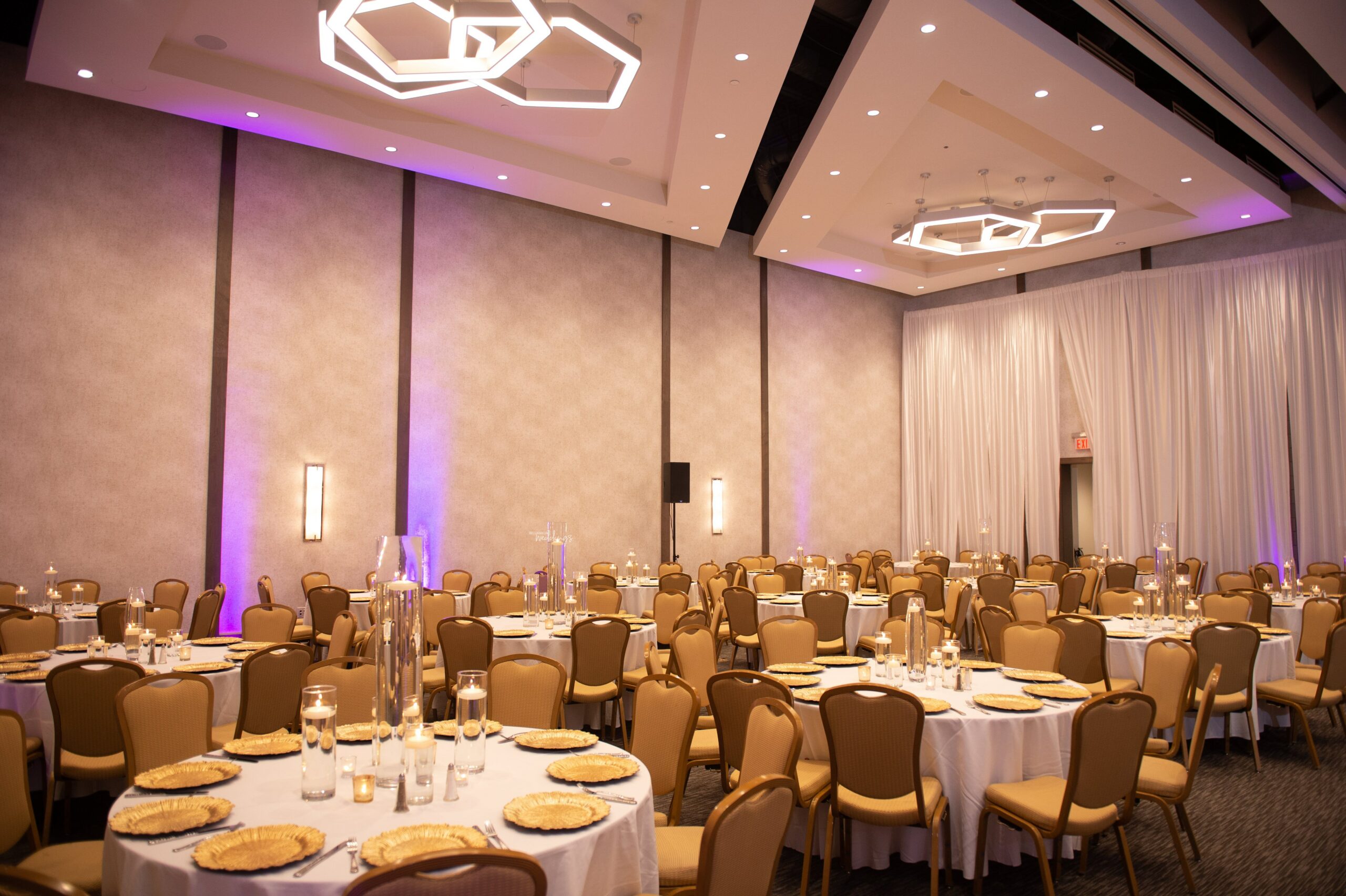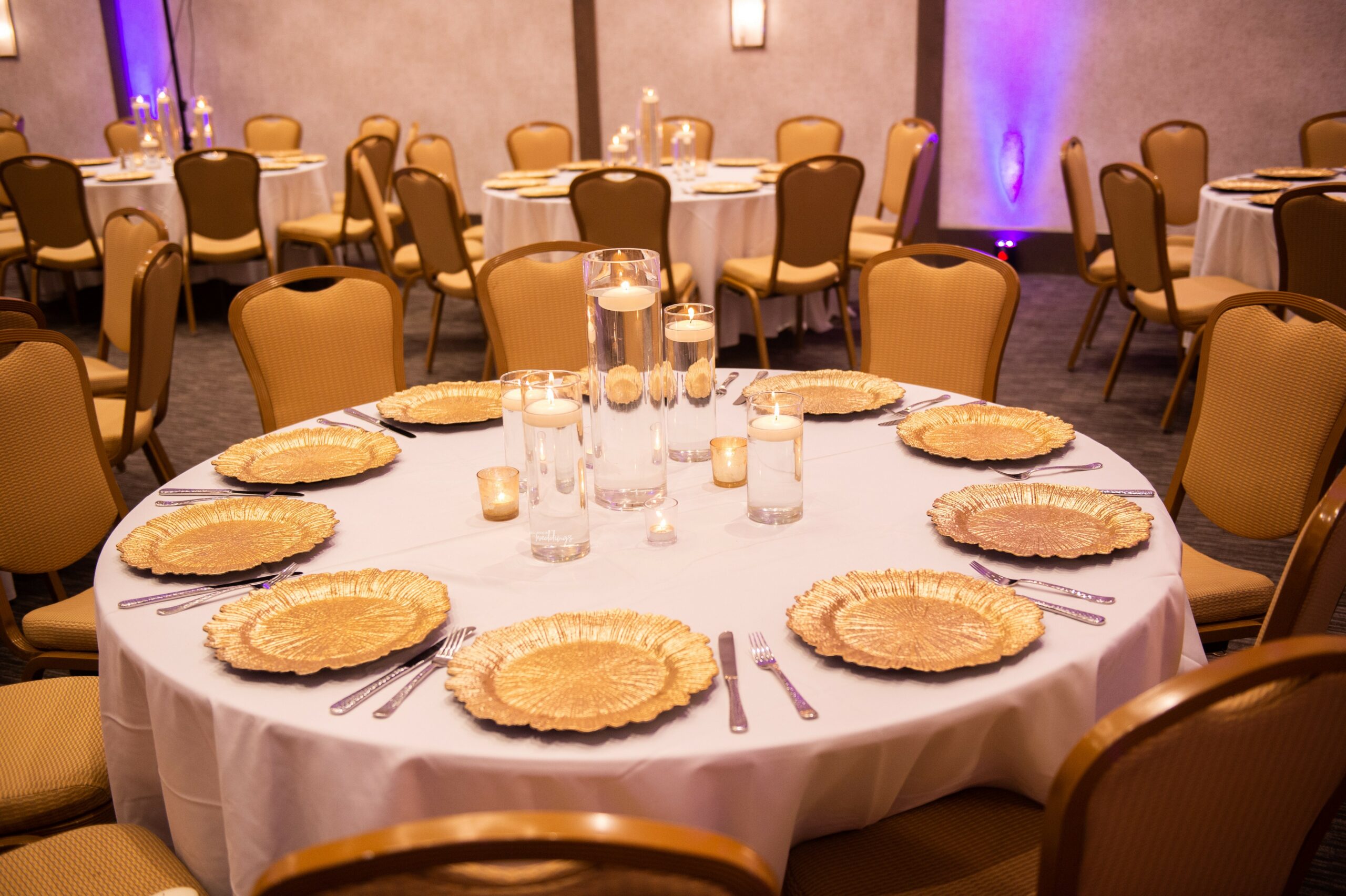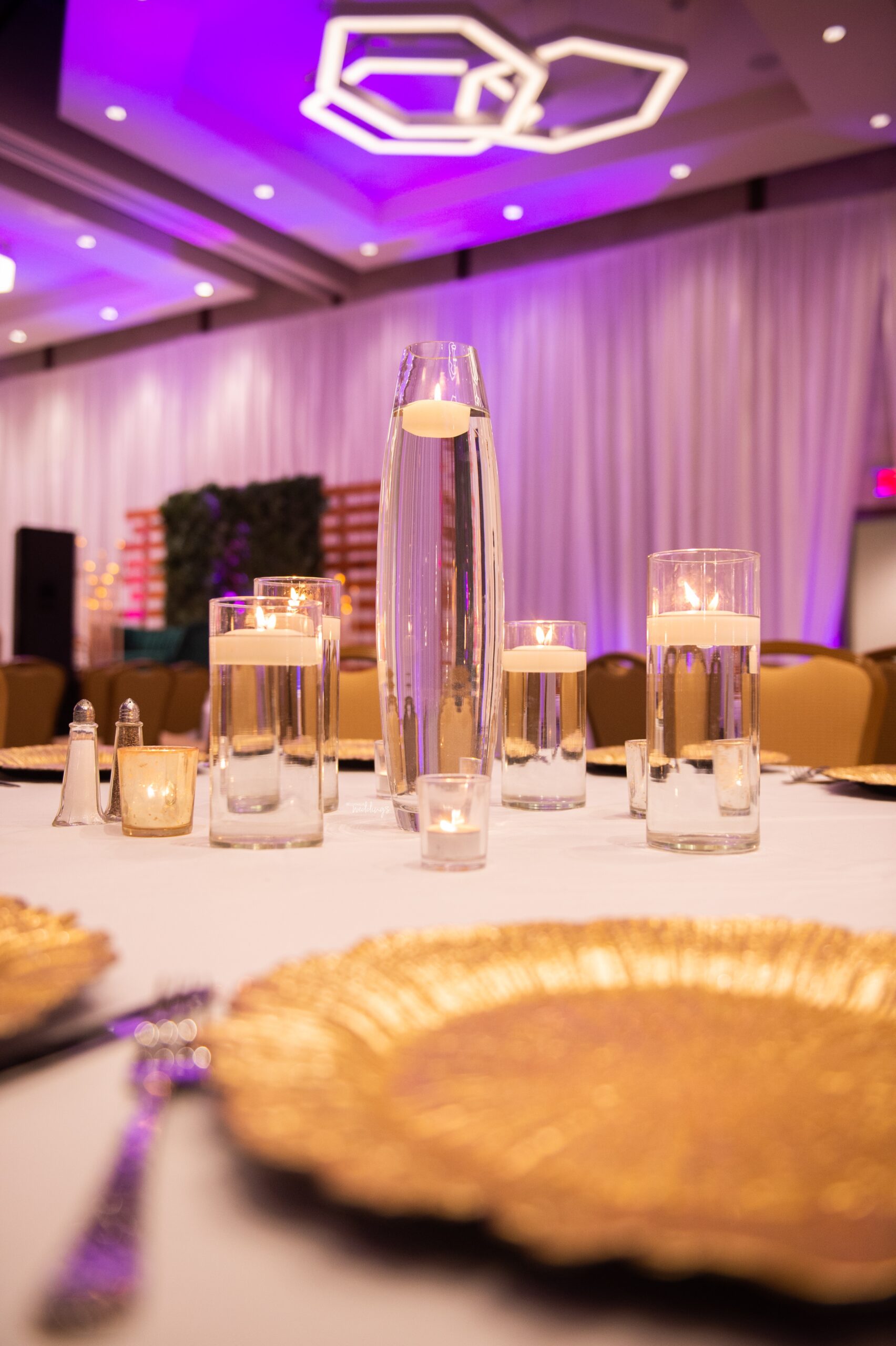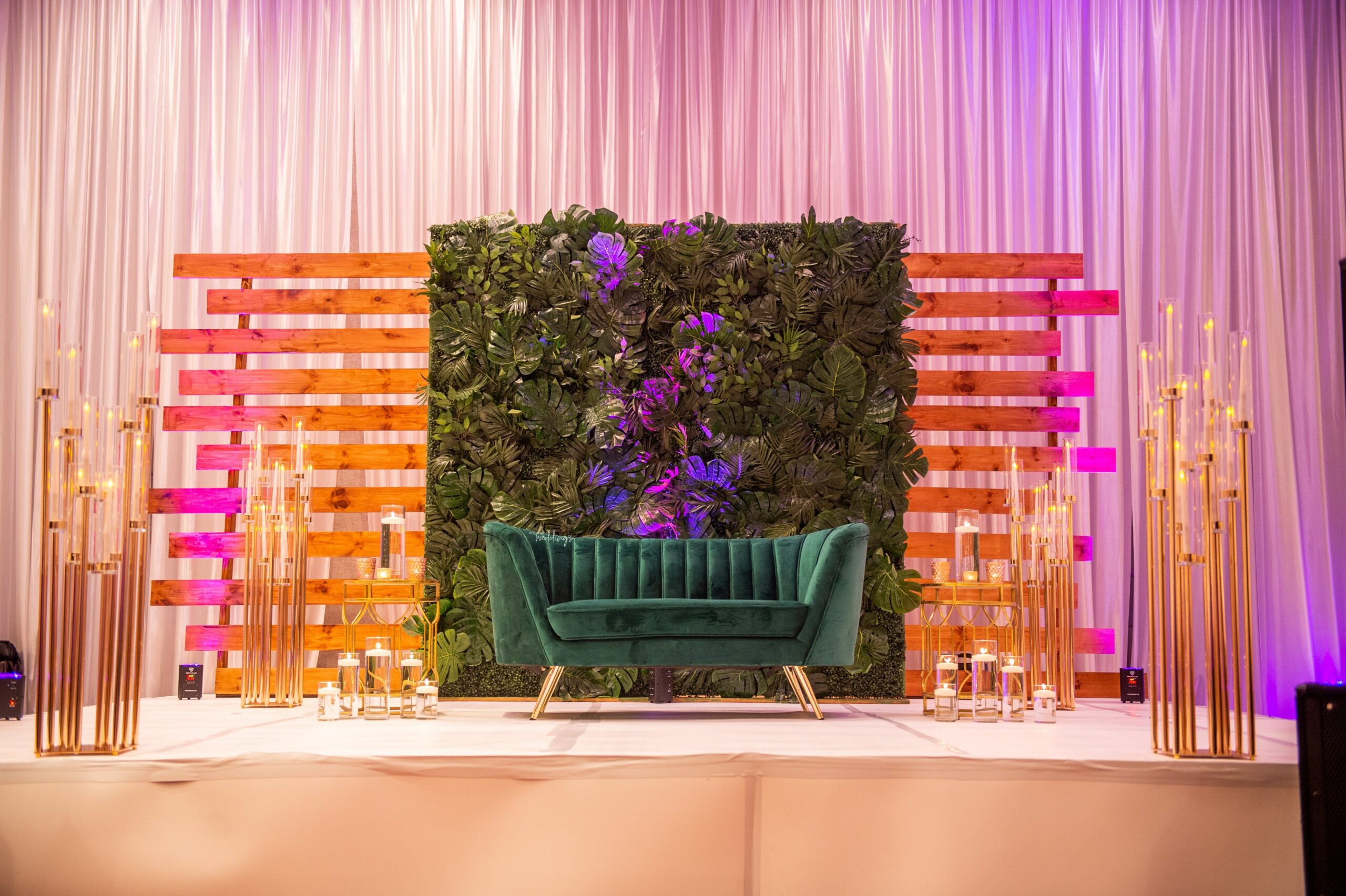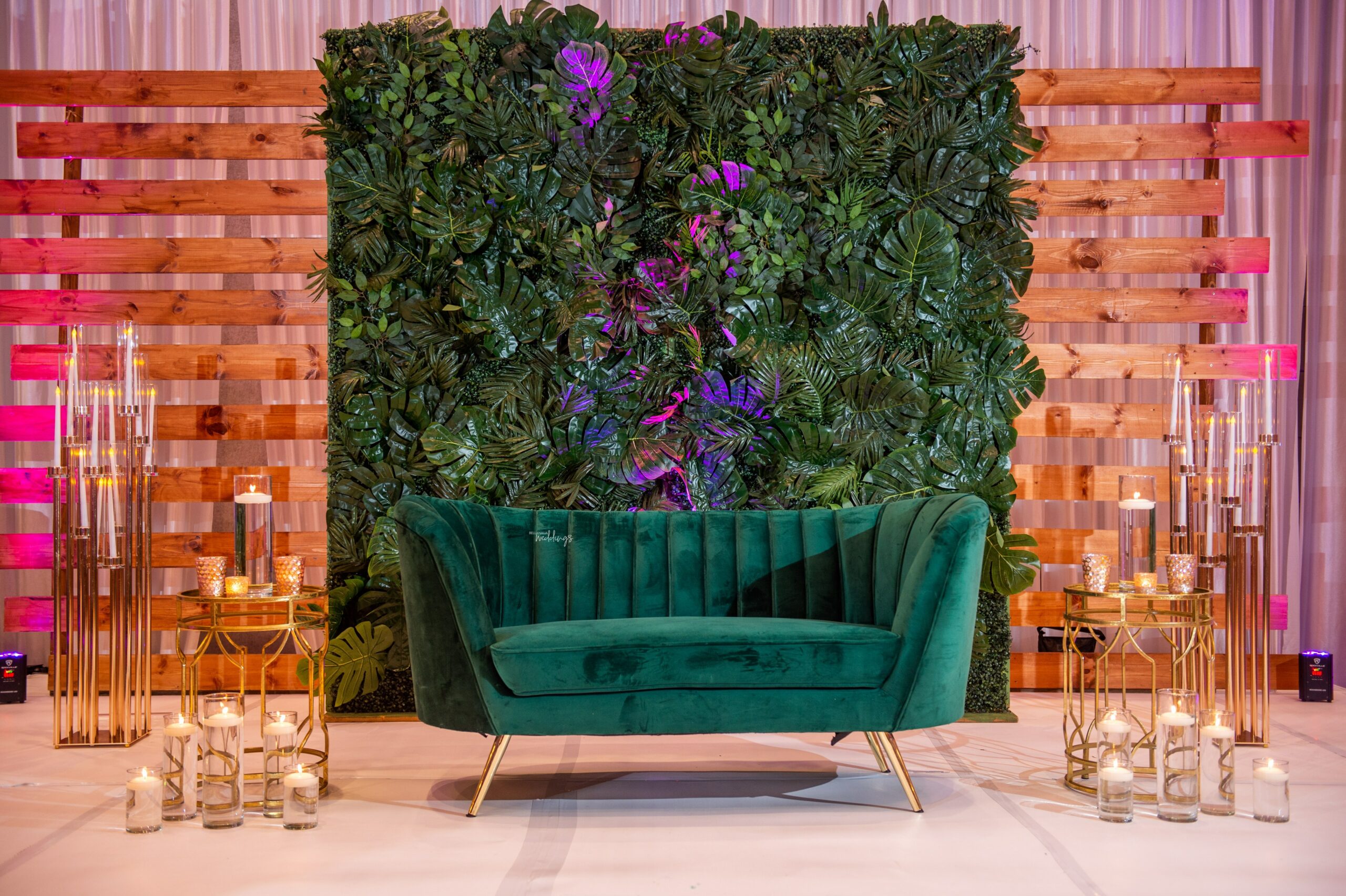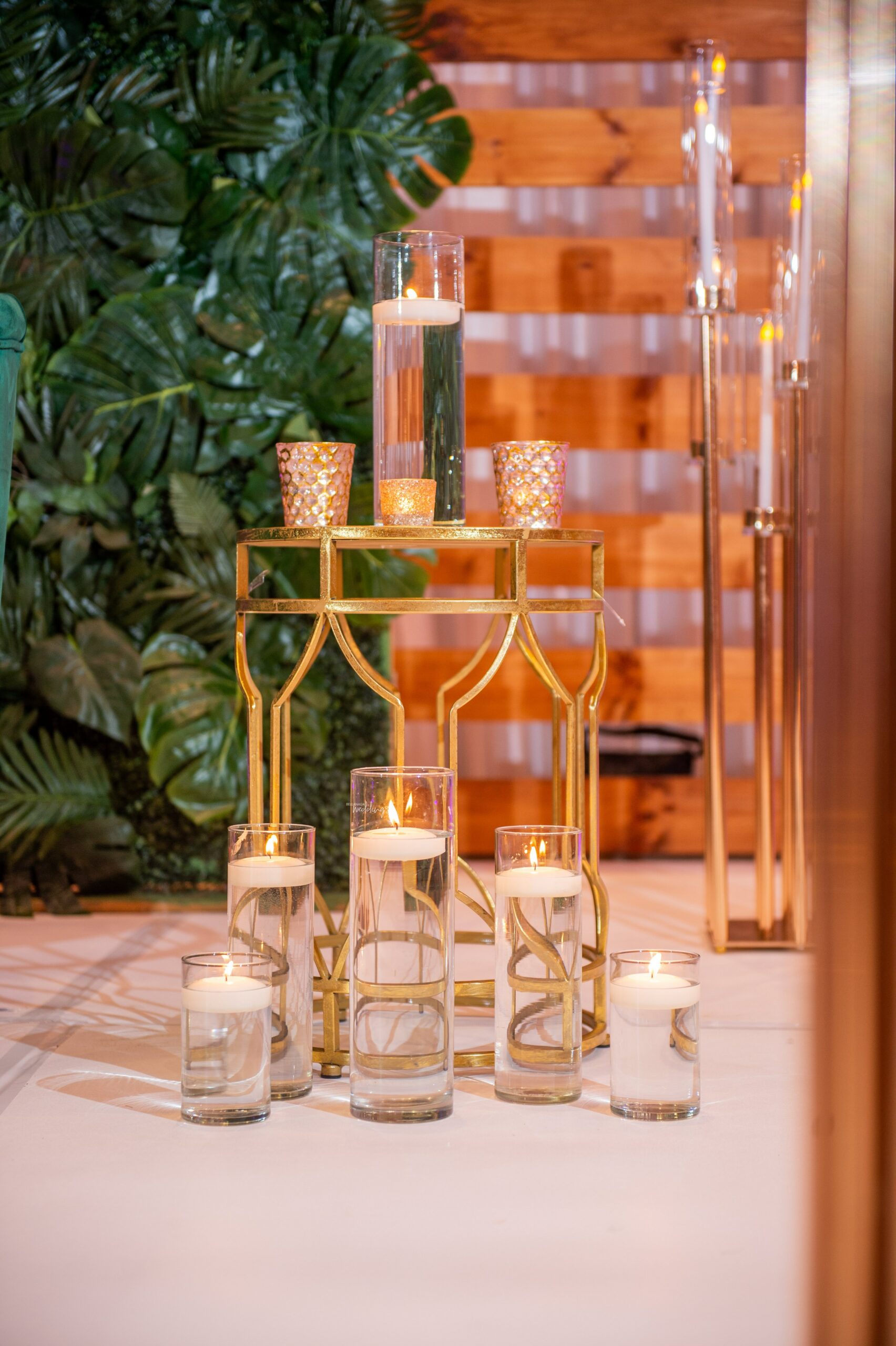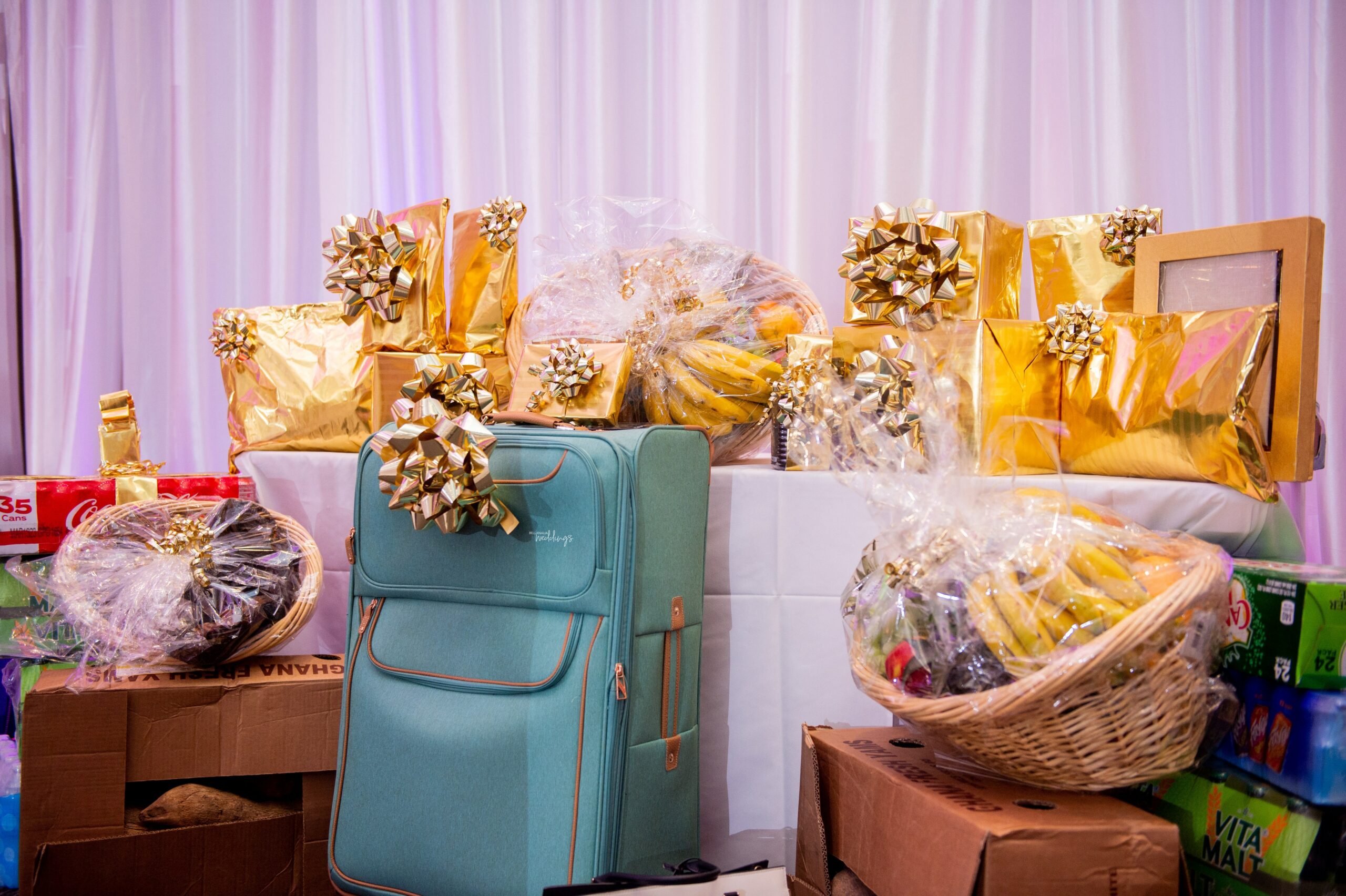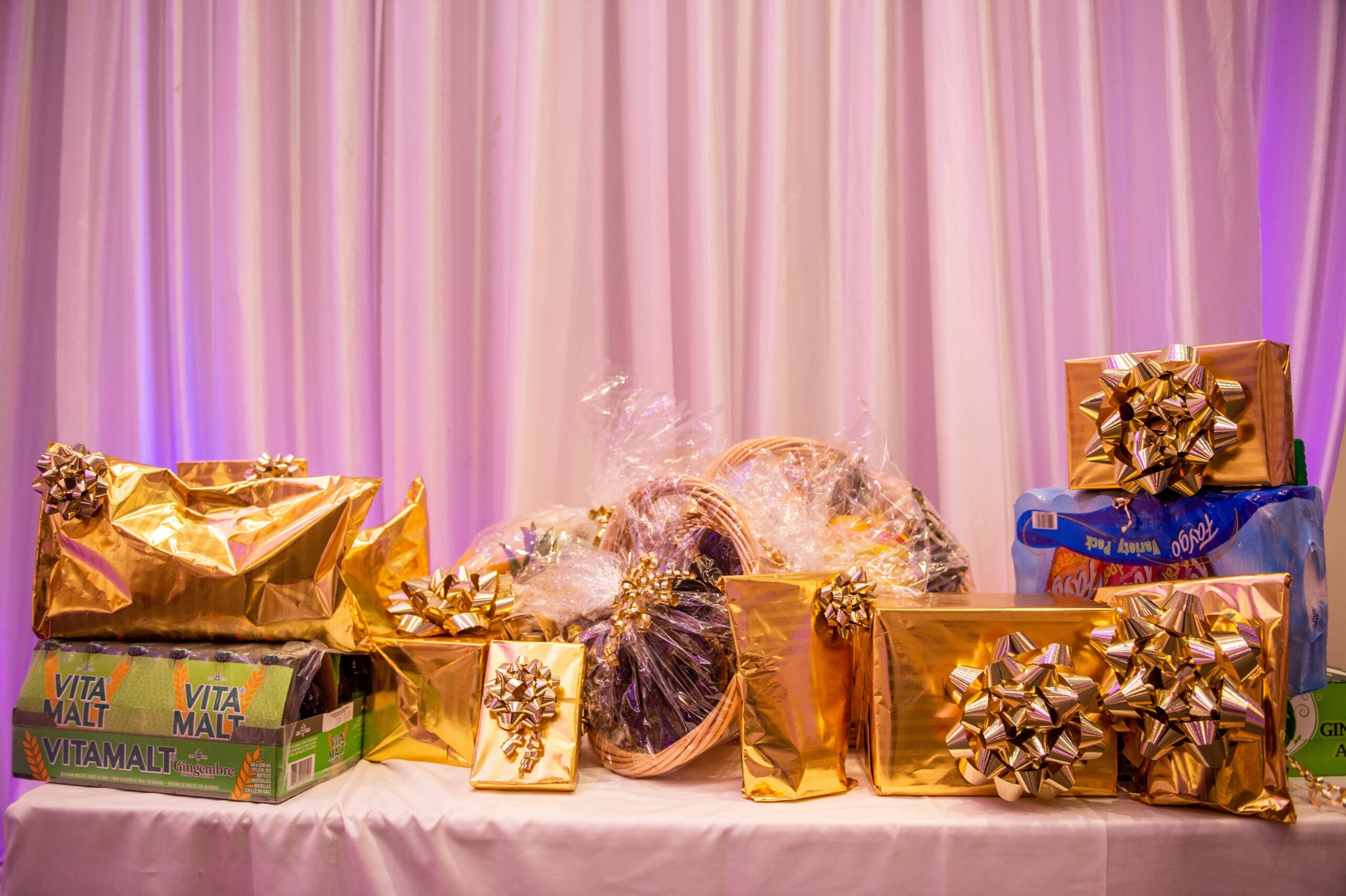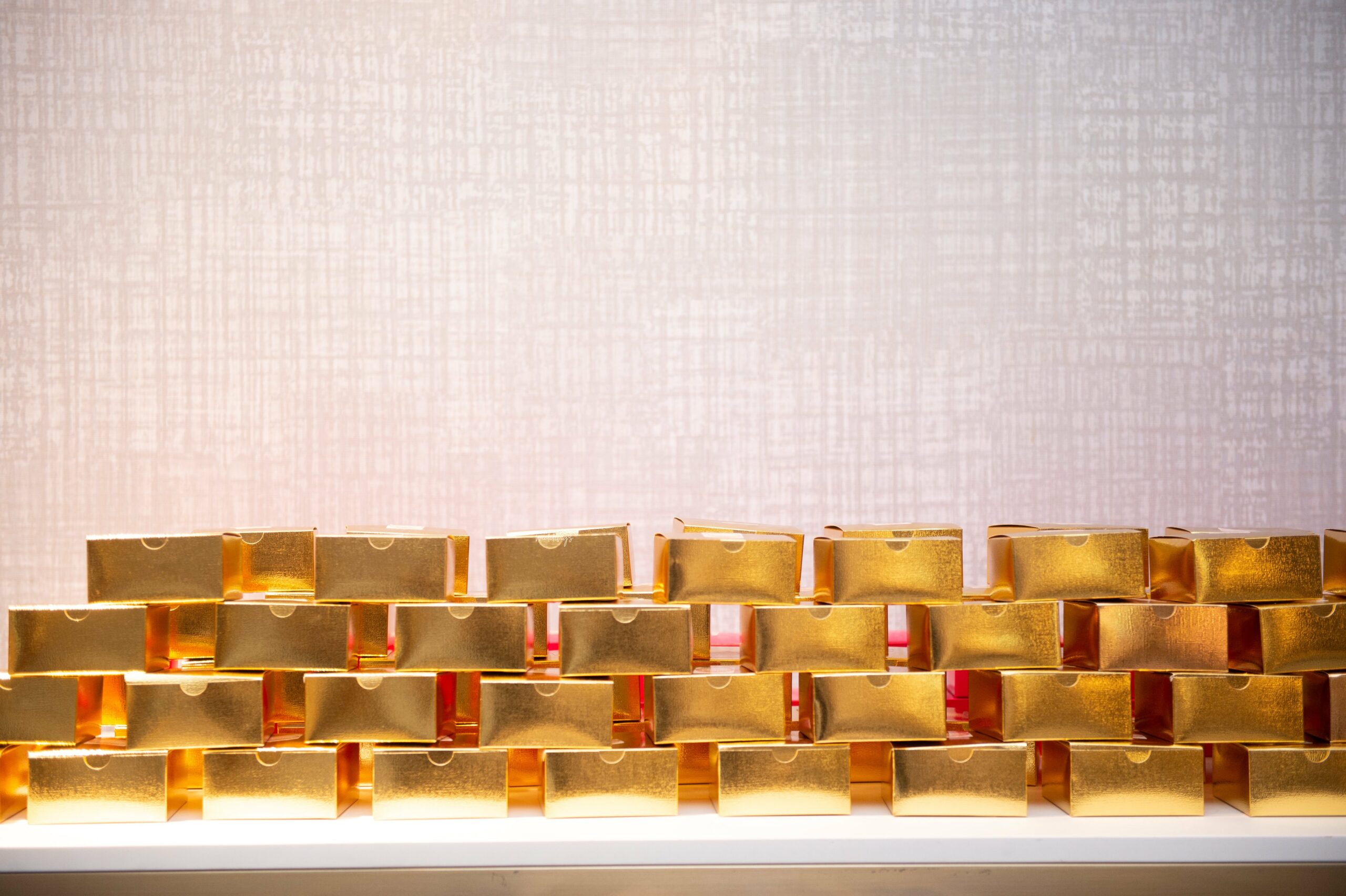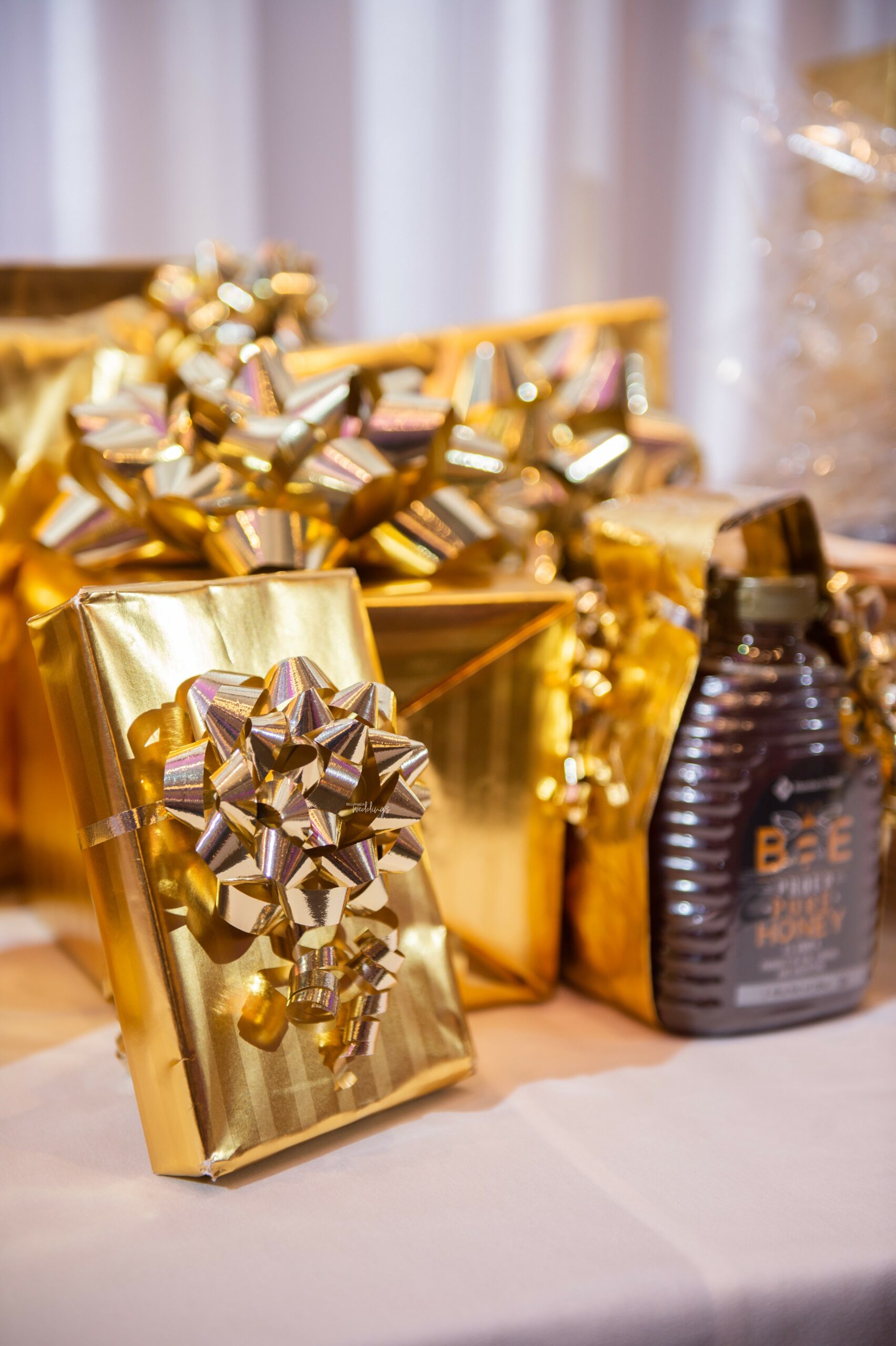 Let the ceremony begin…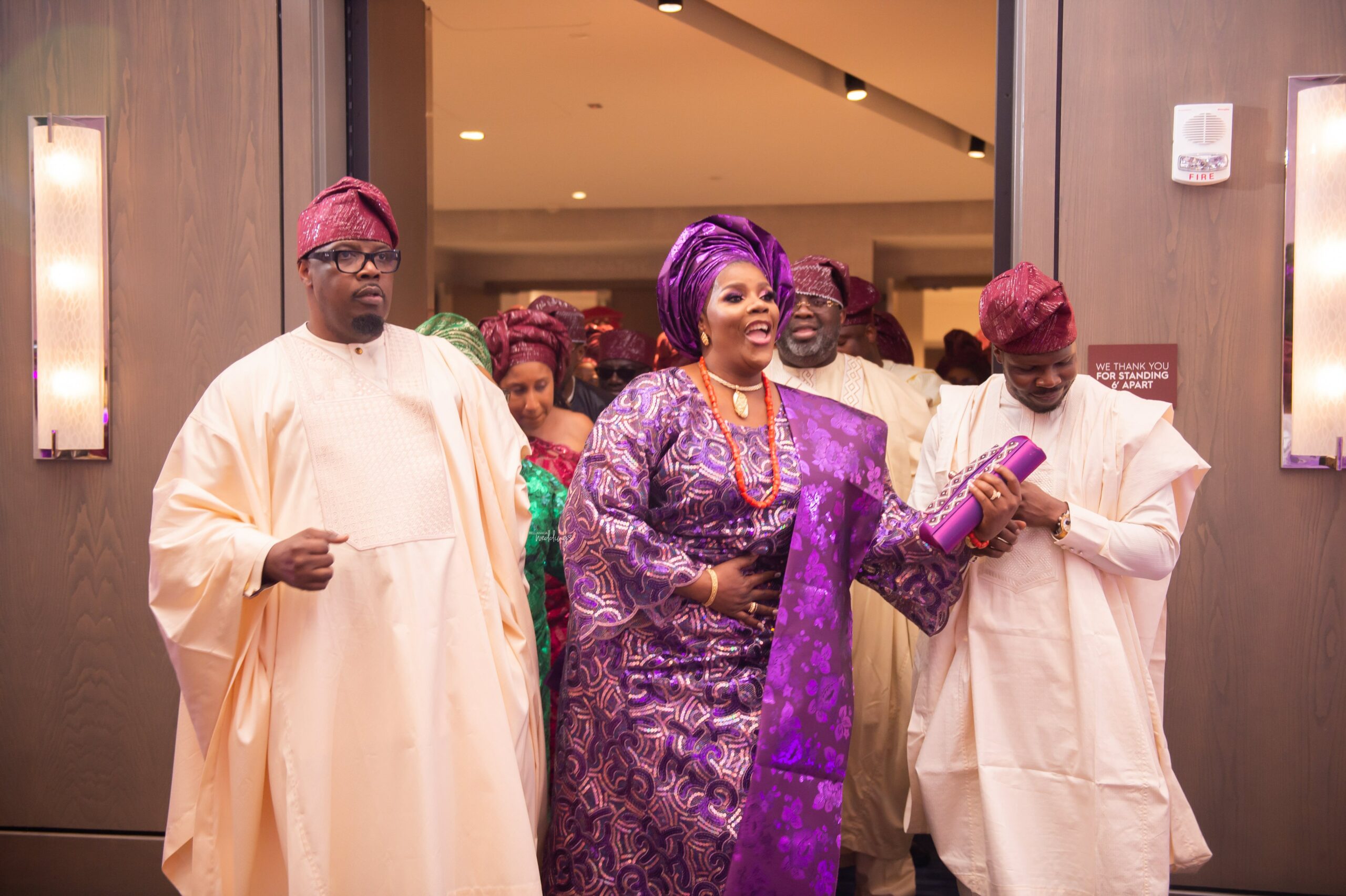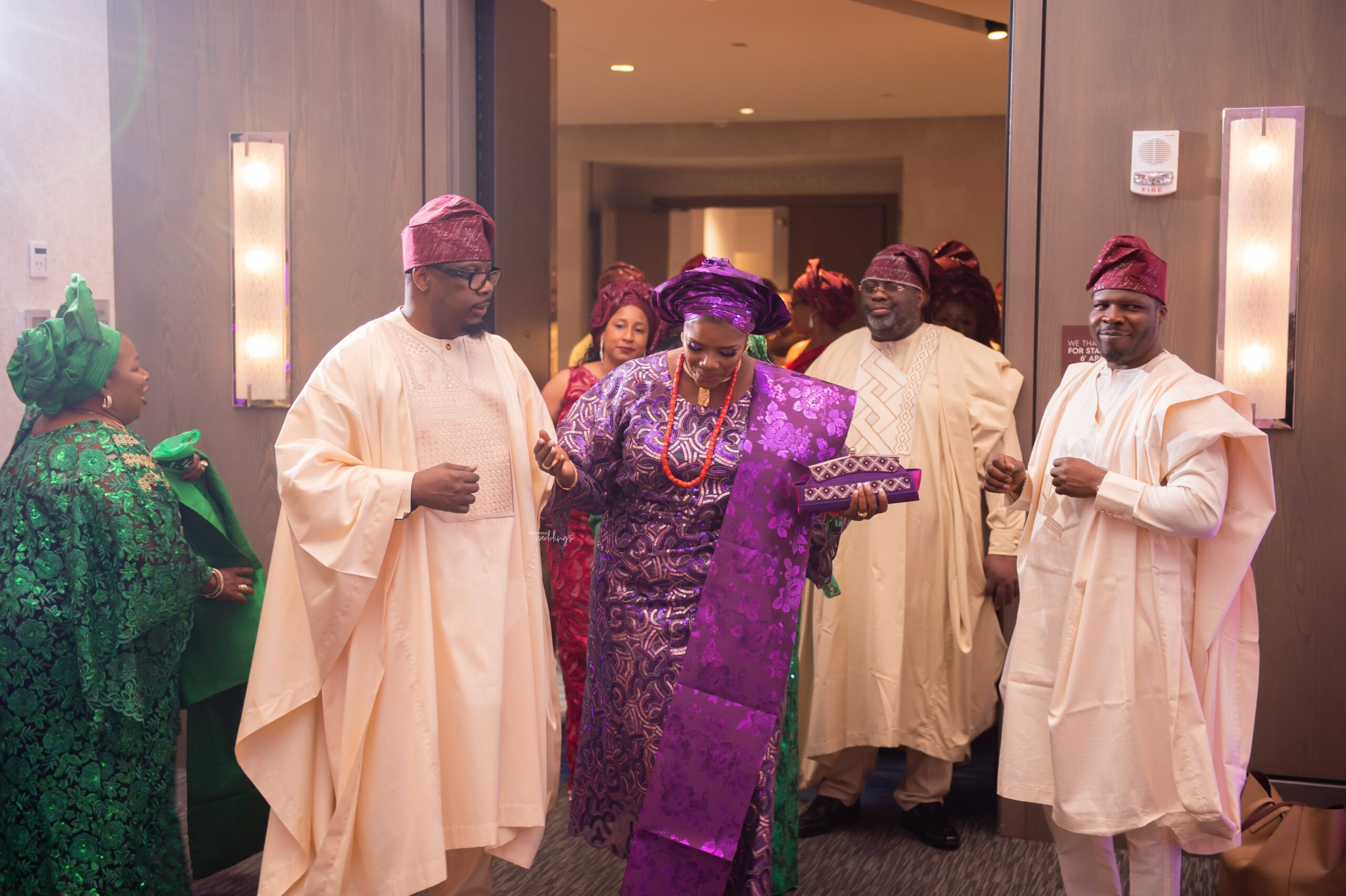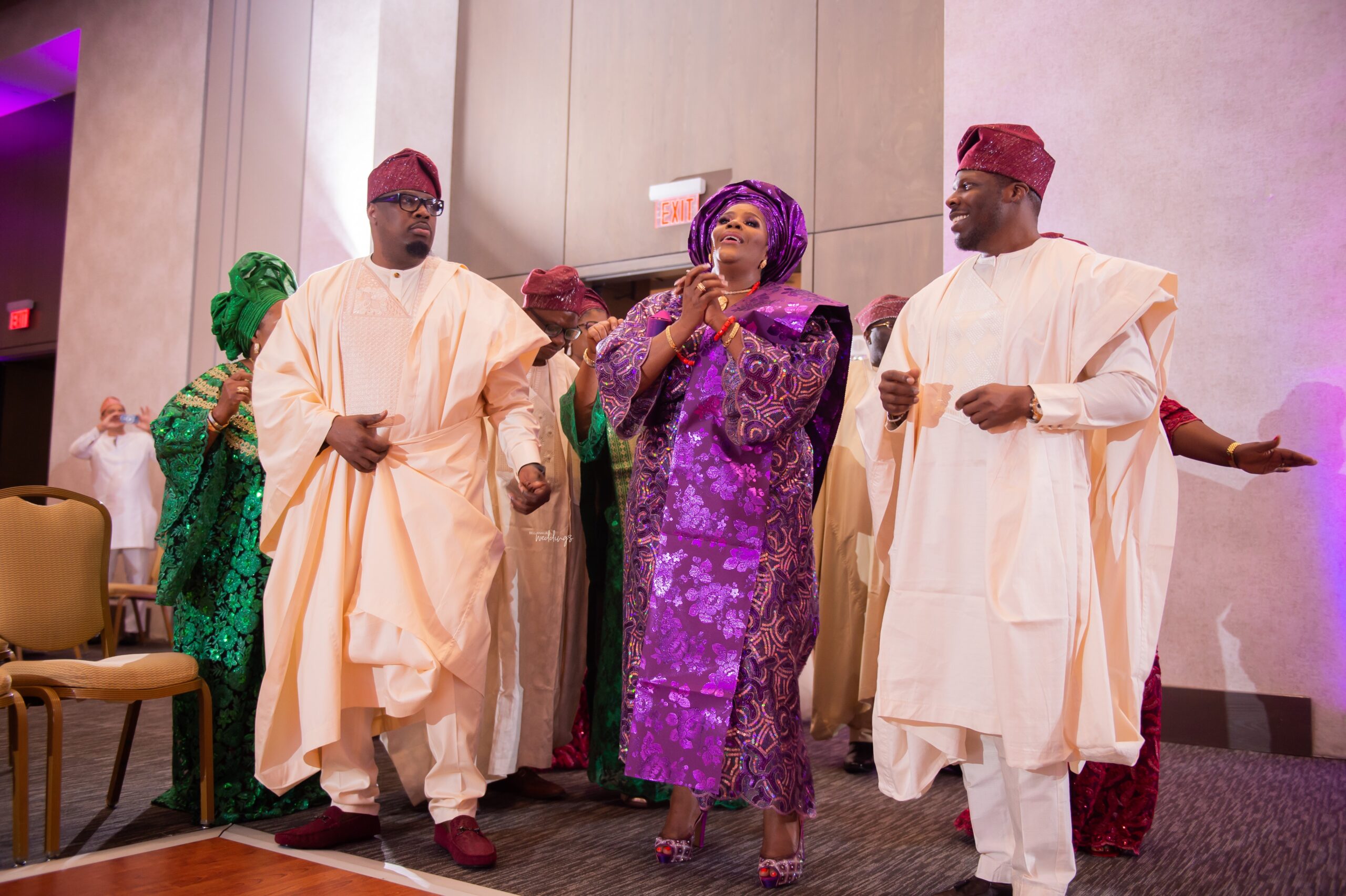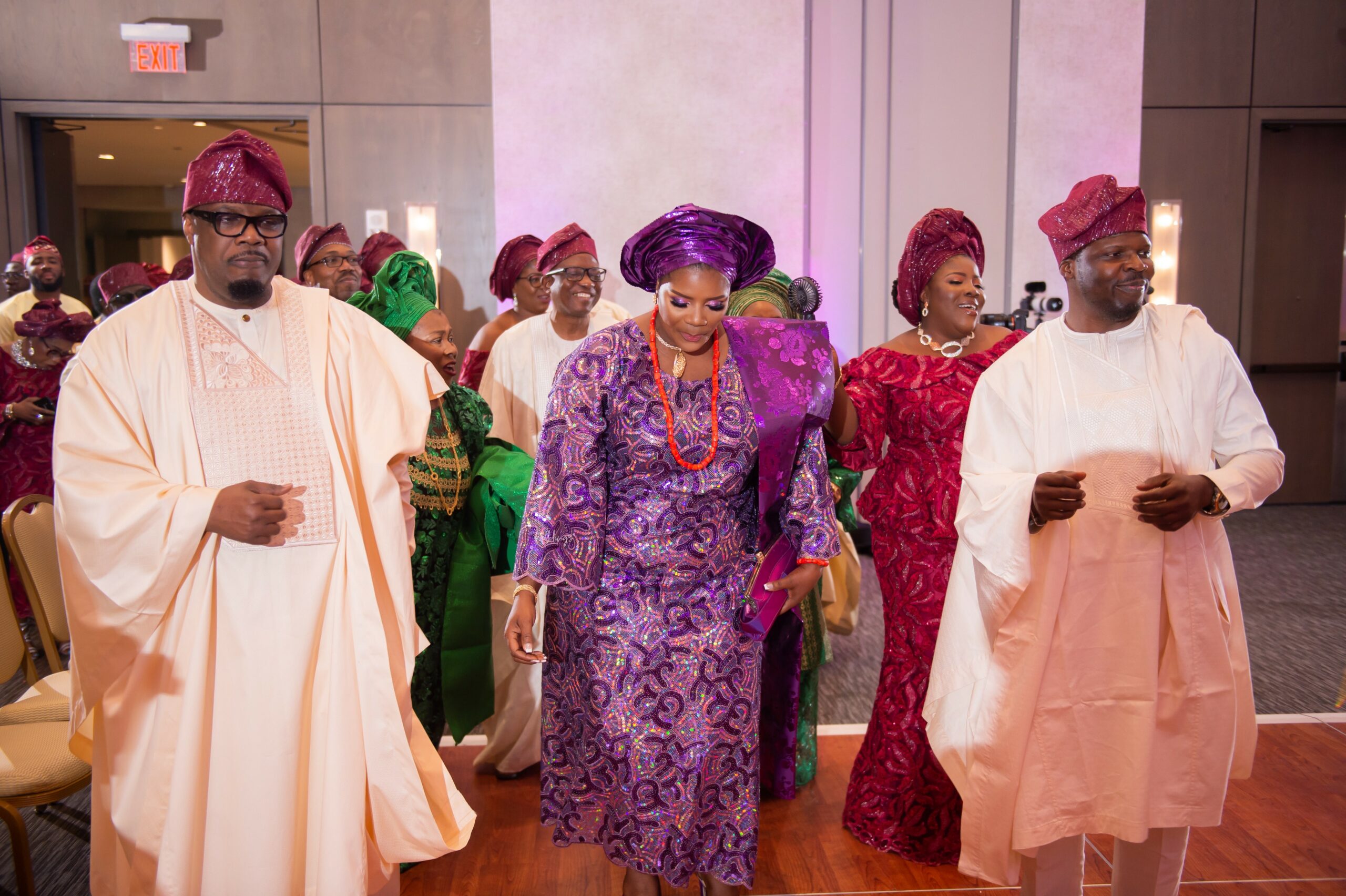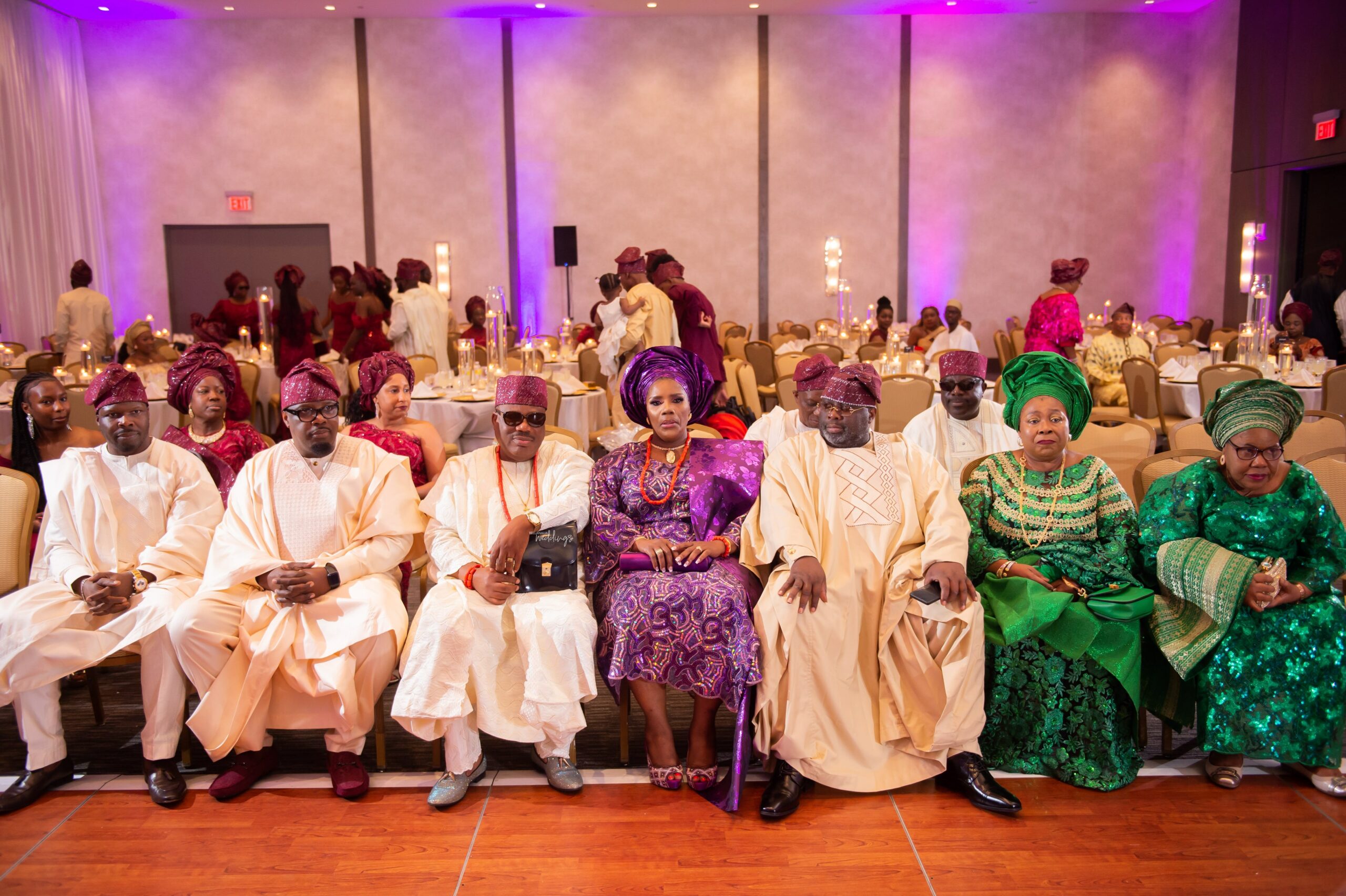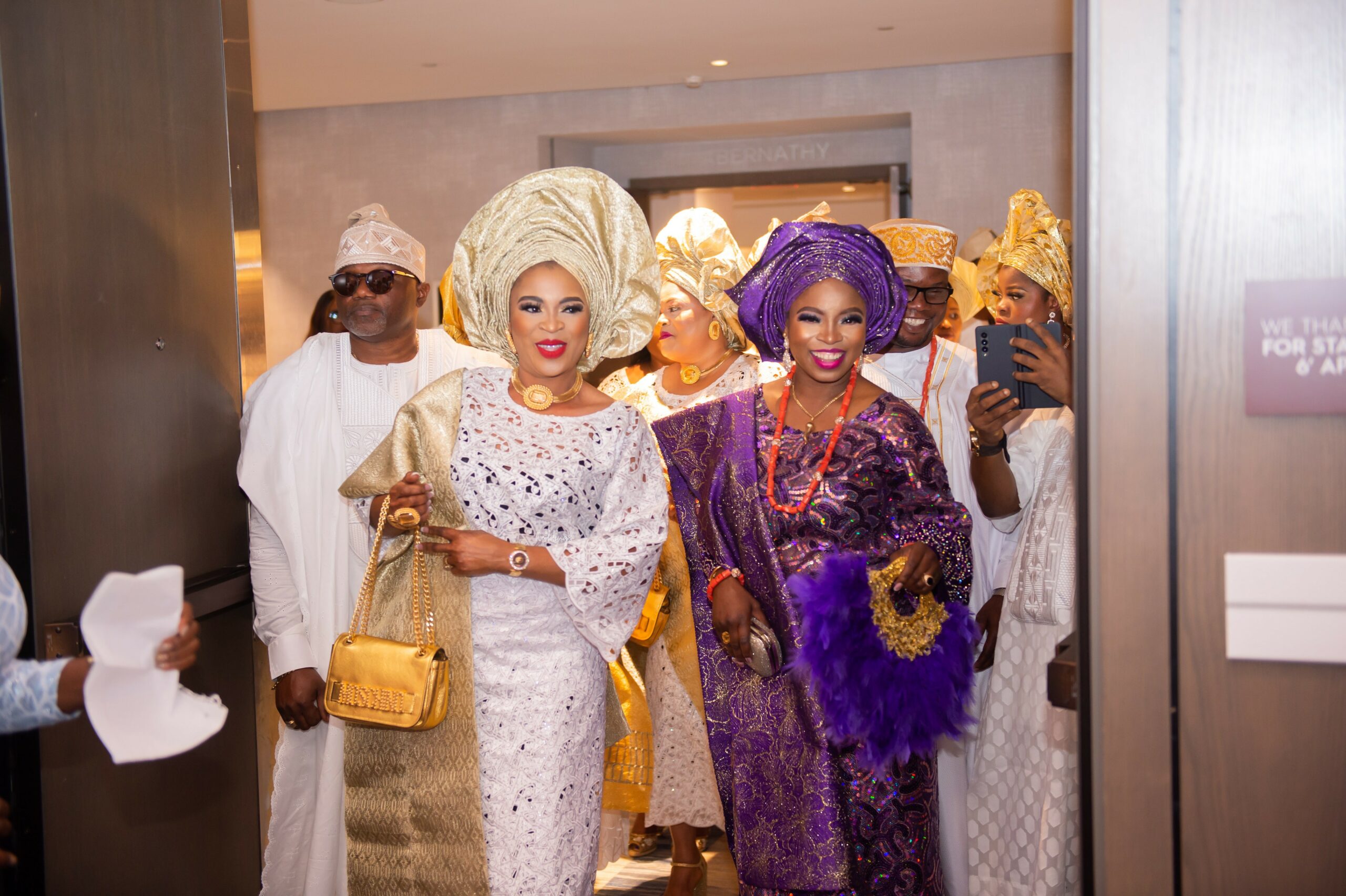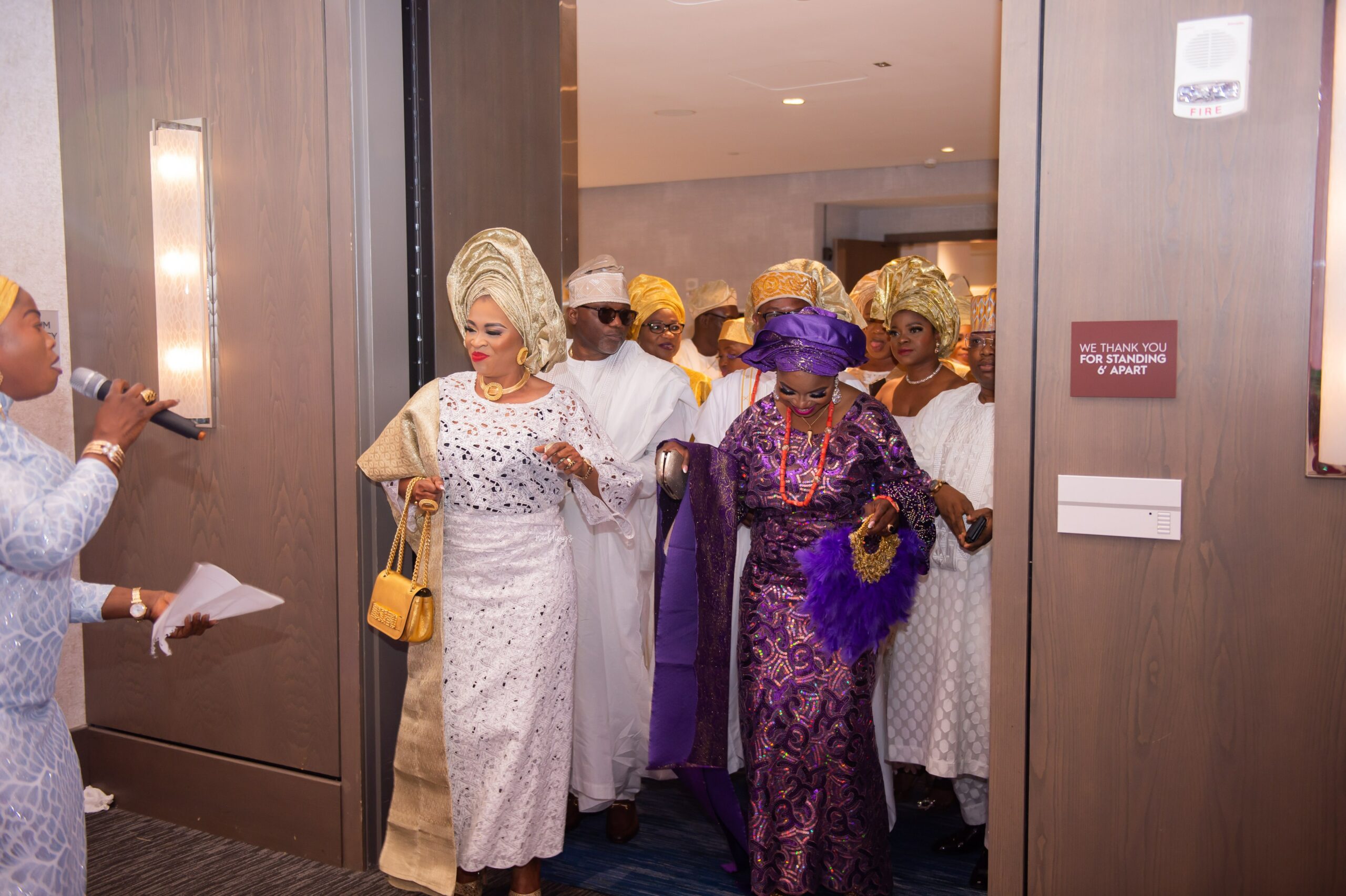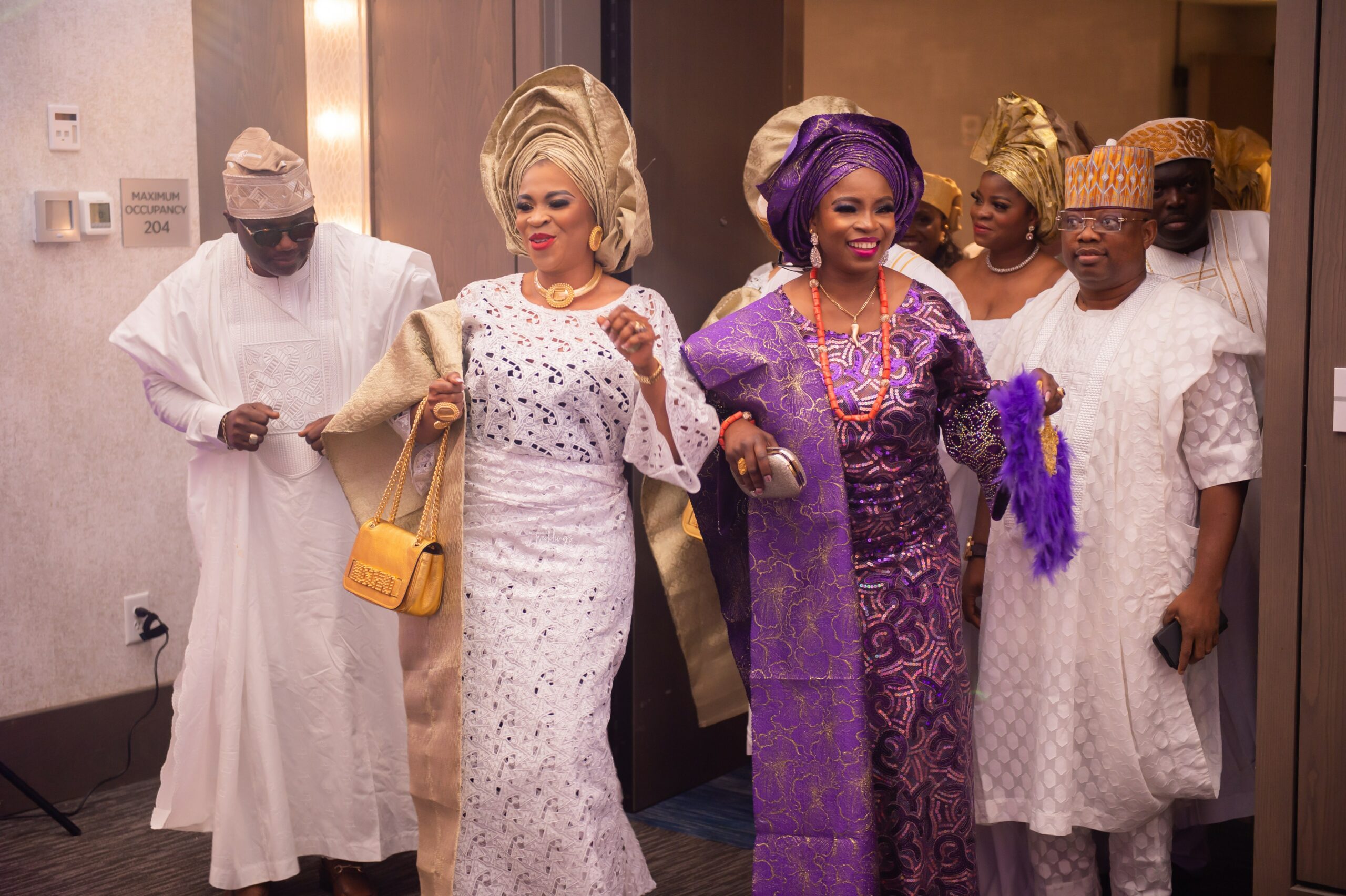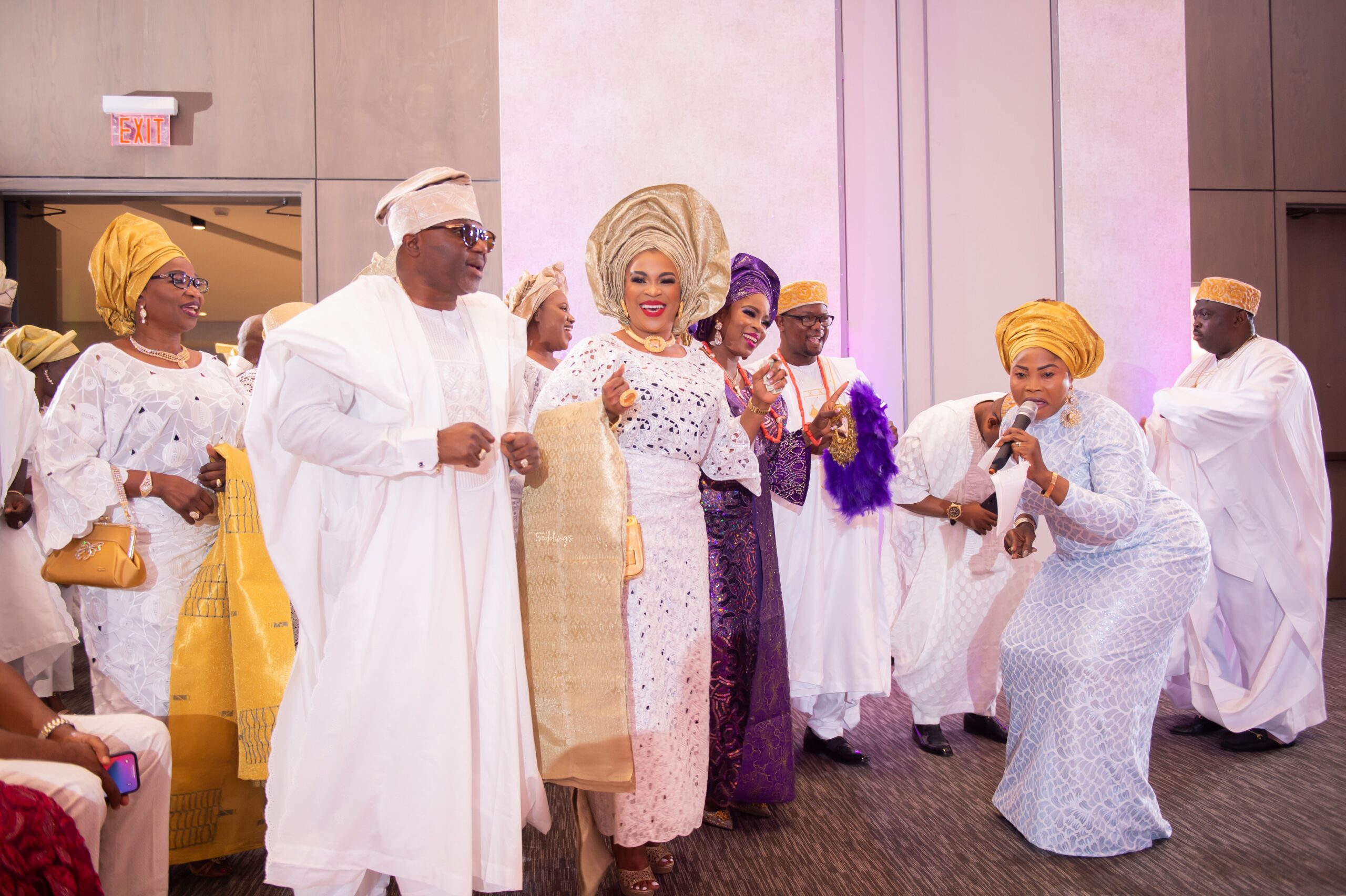 Meet the in-laws…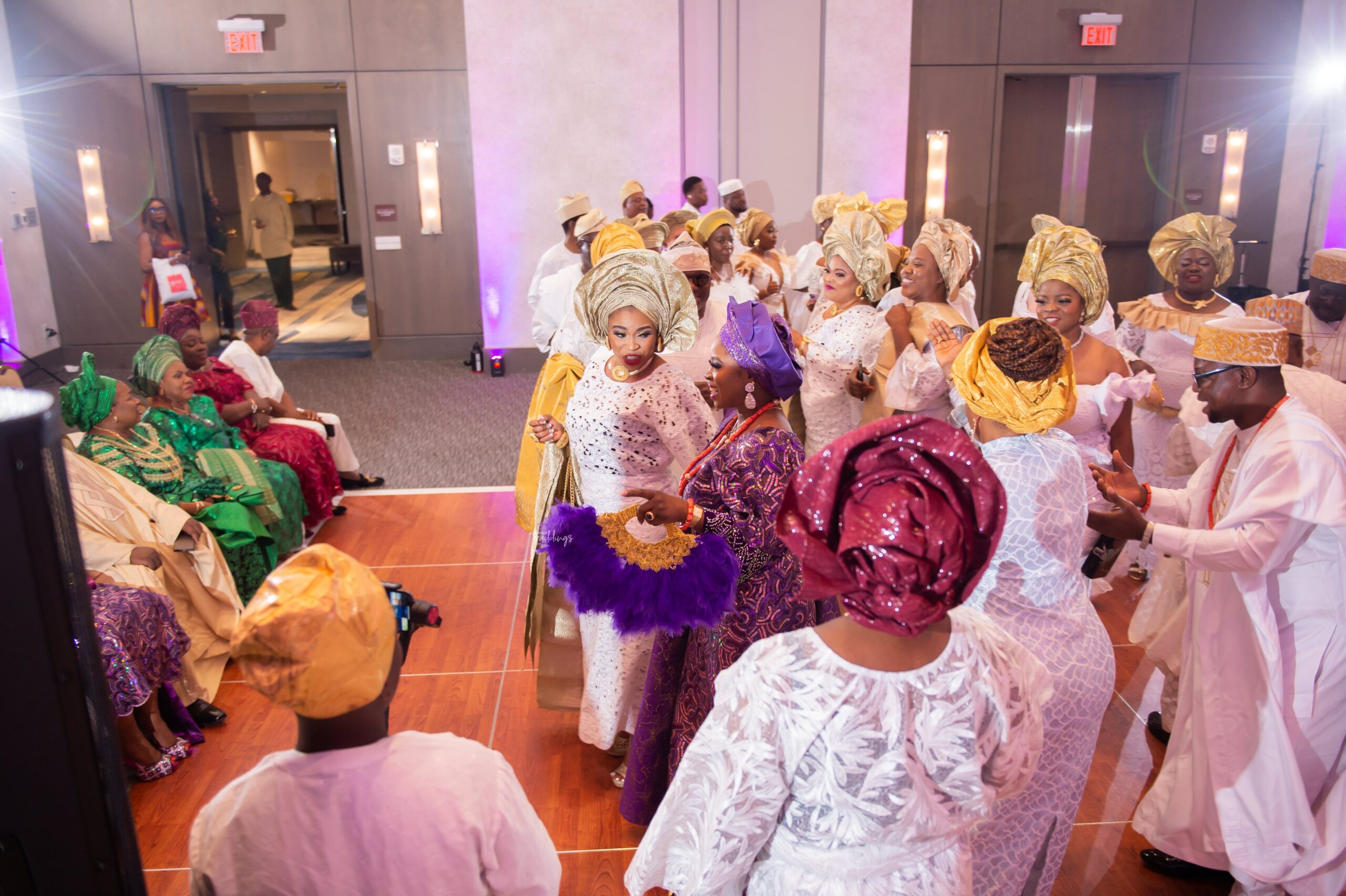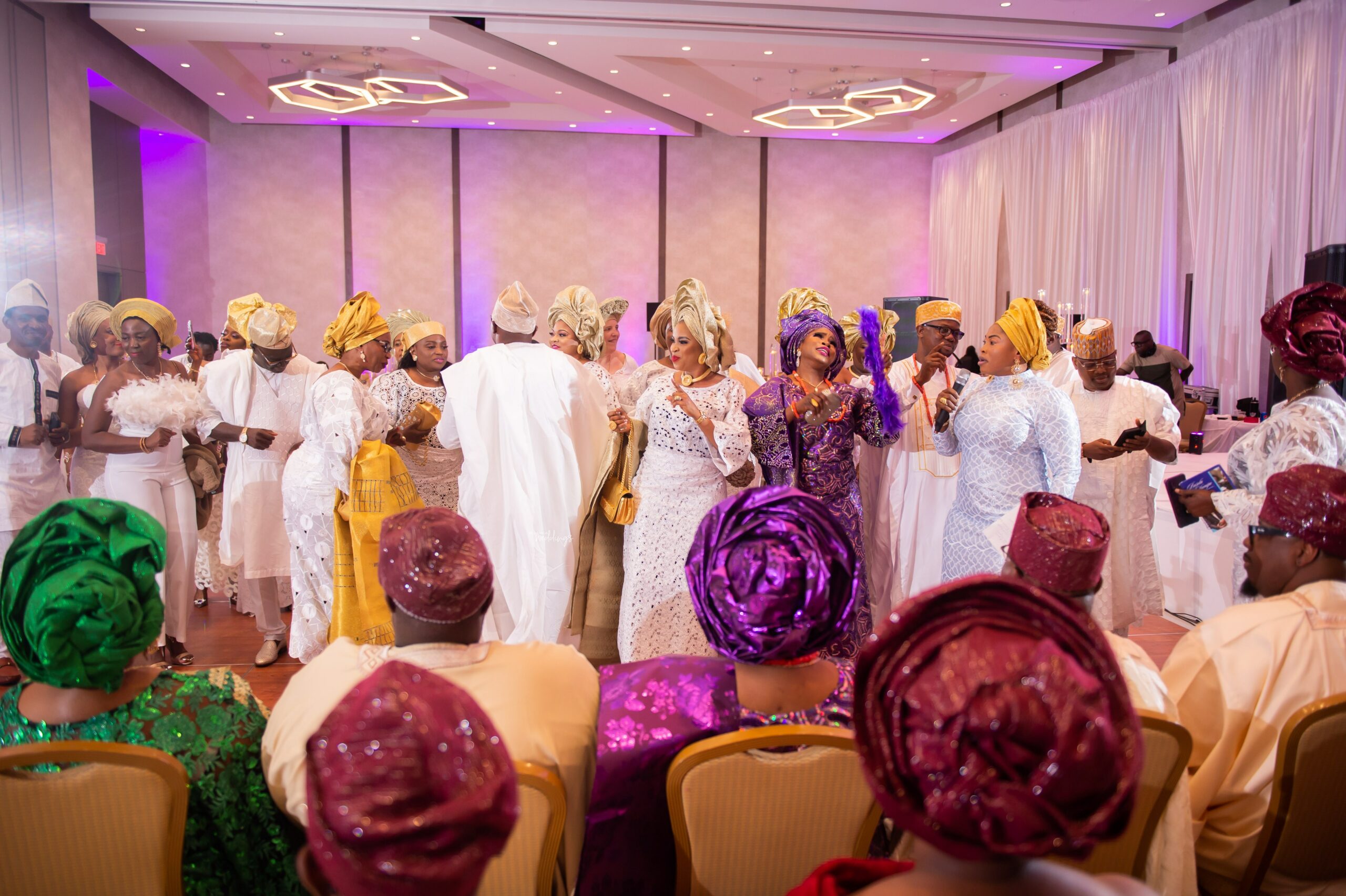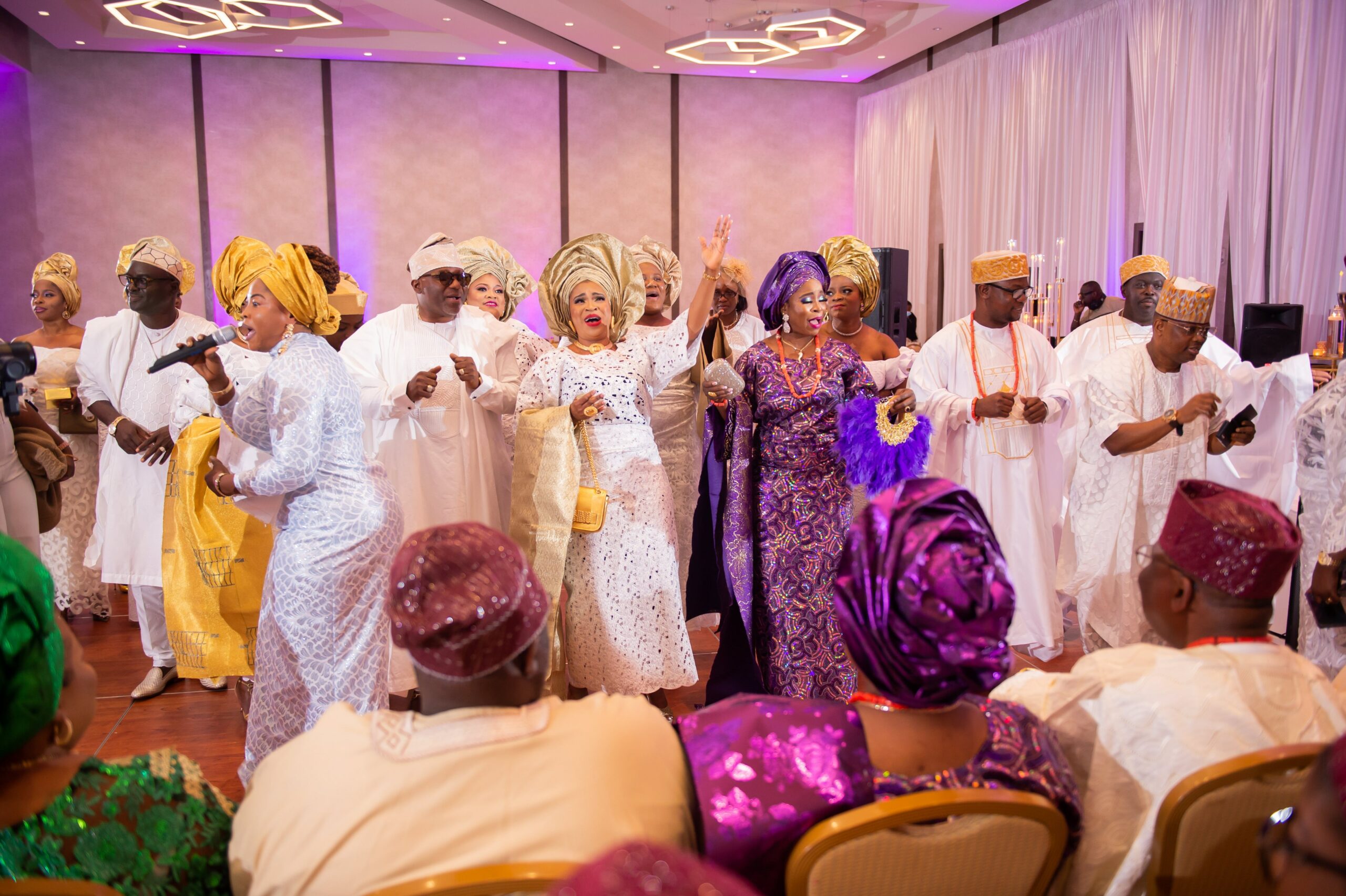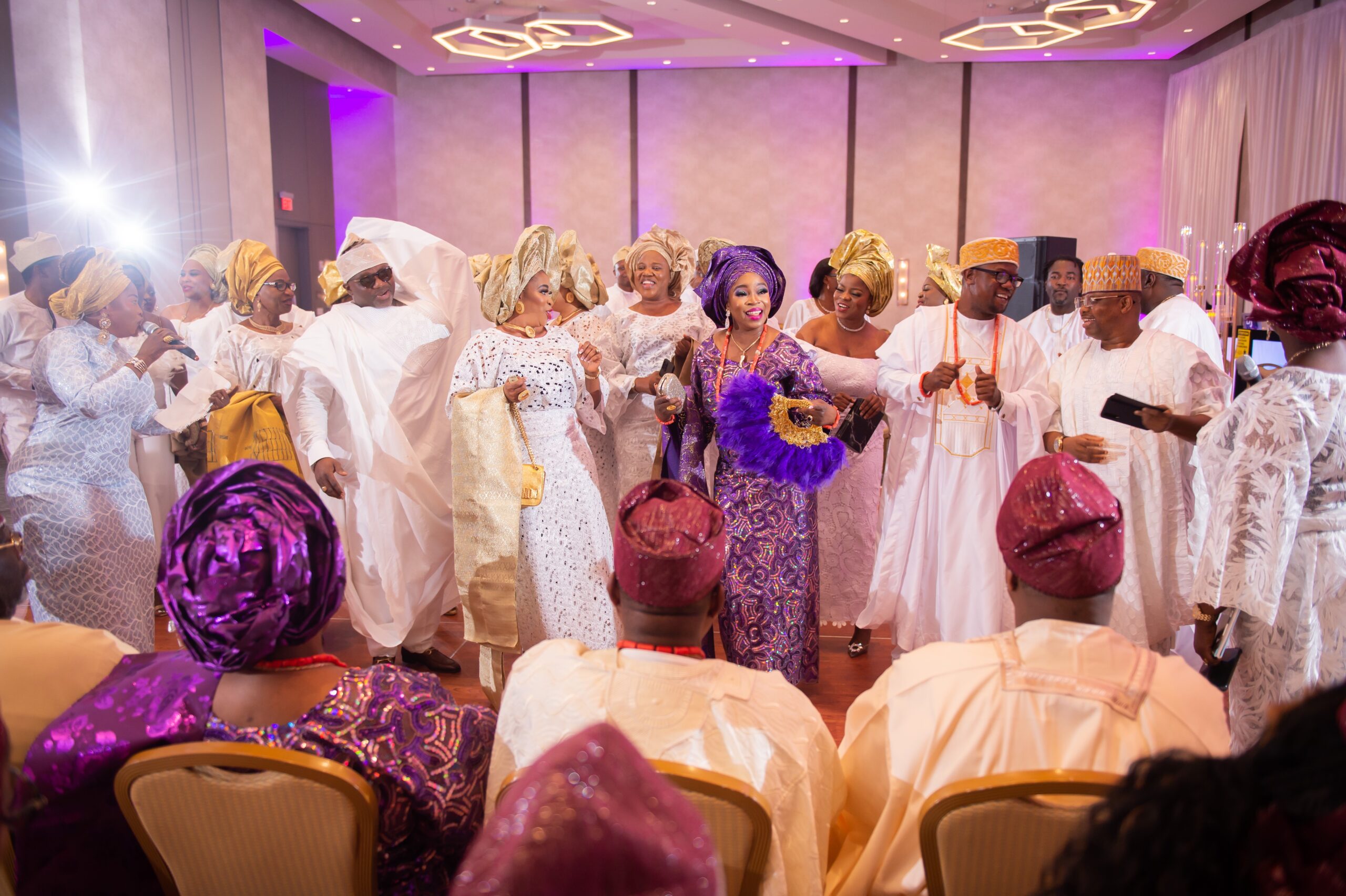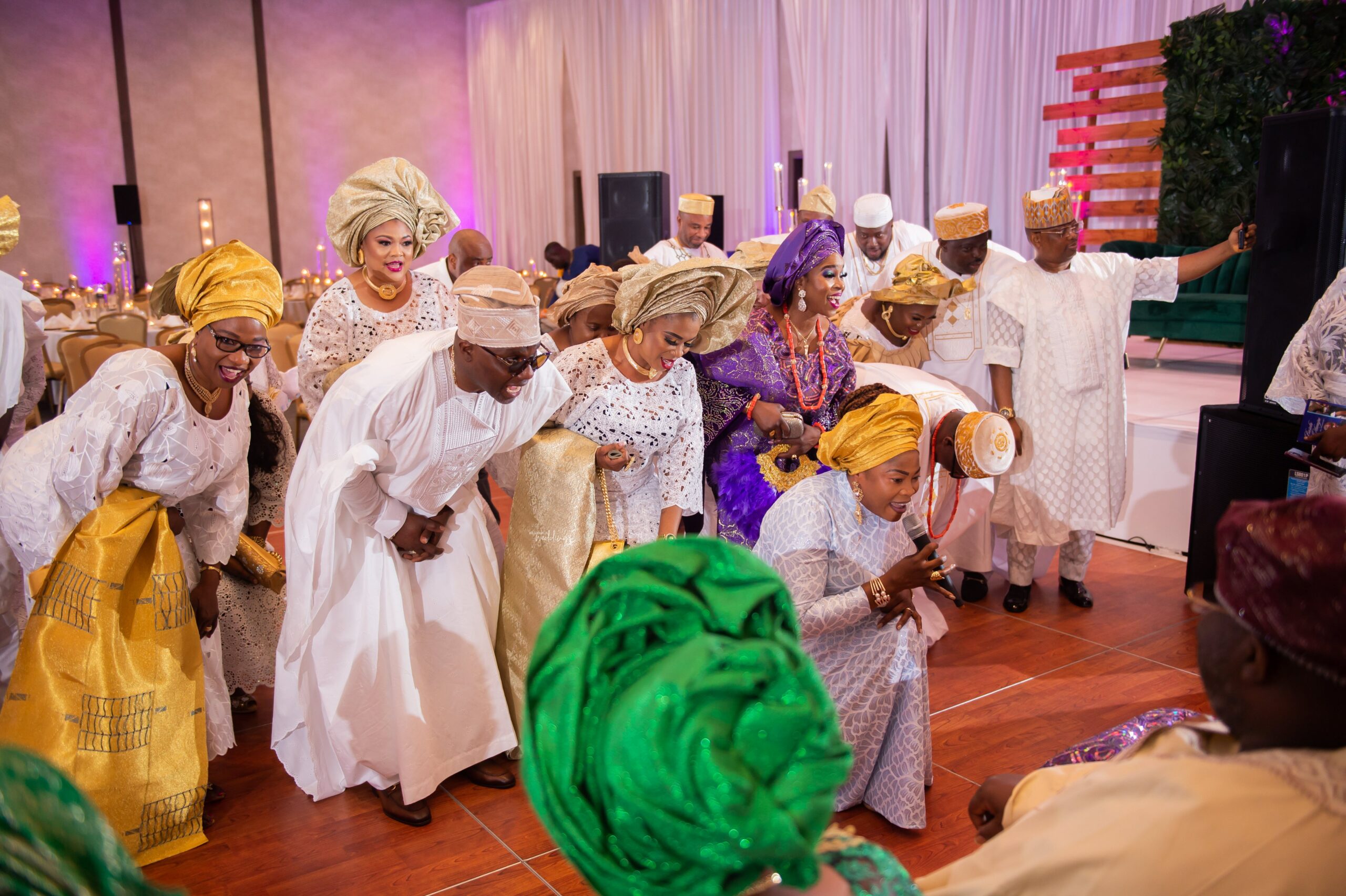 Presenting the engagement proposal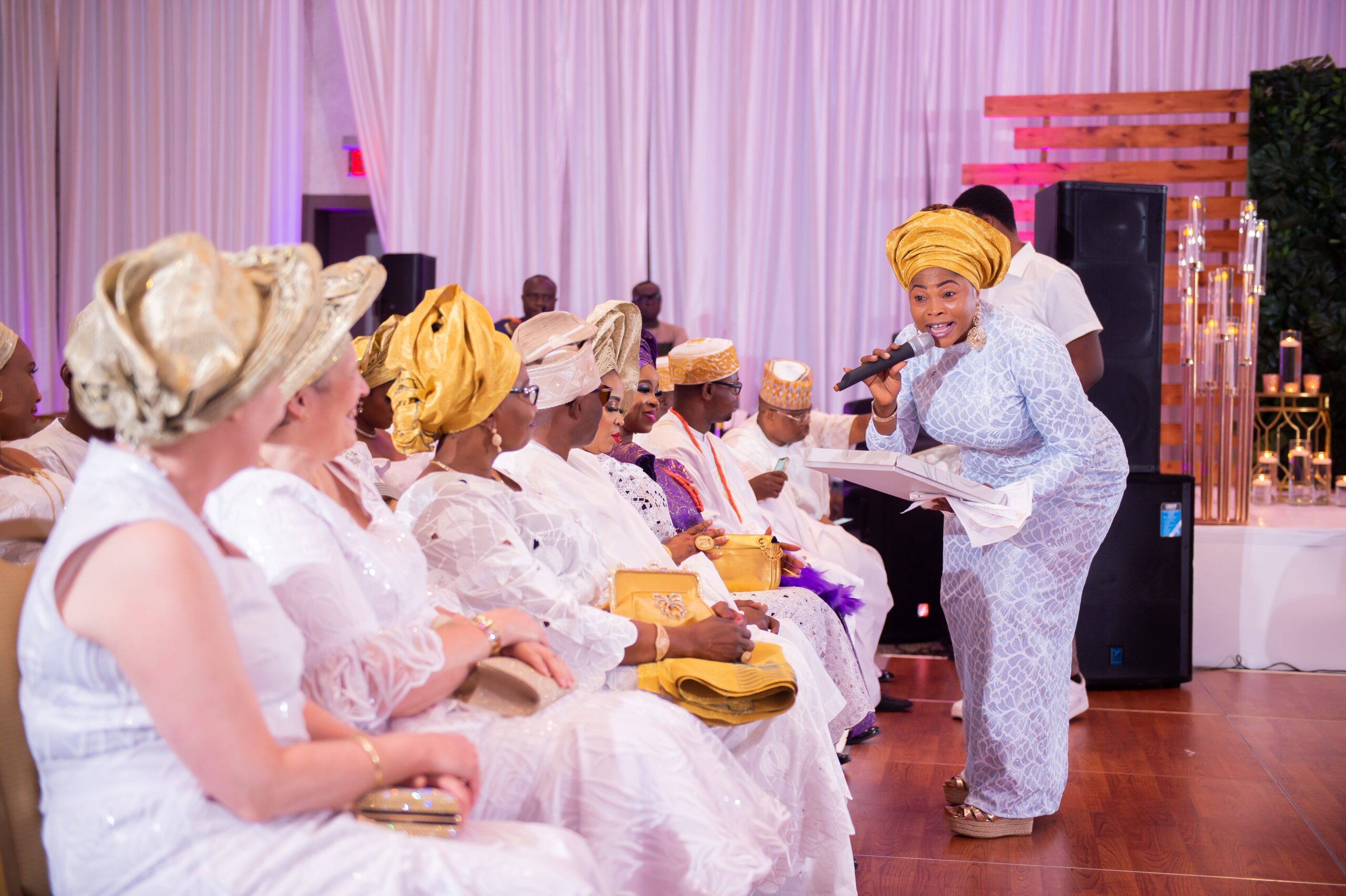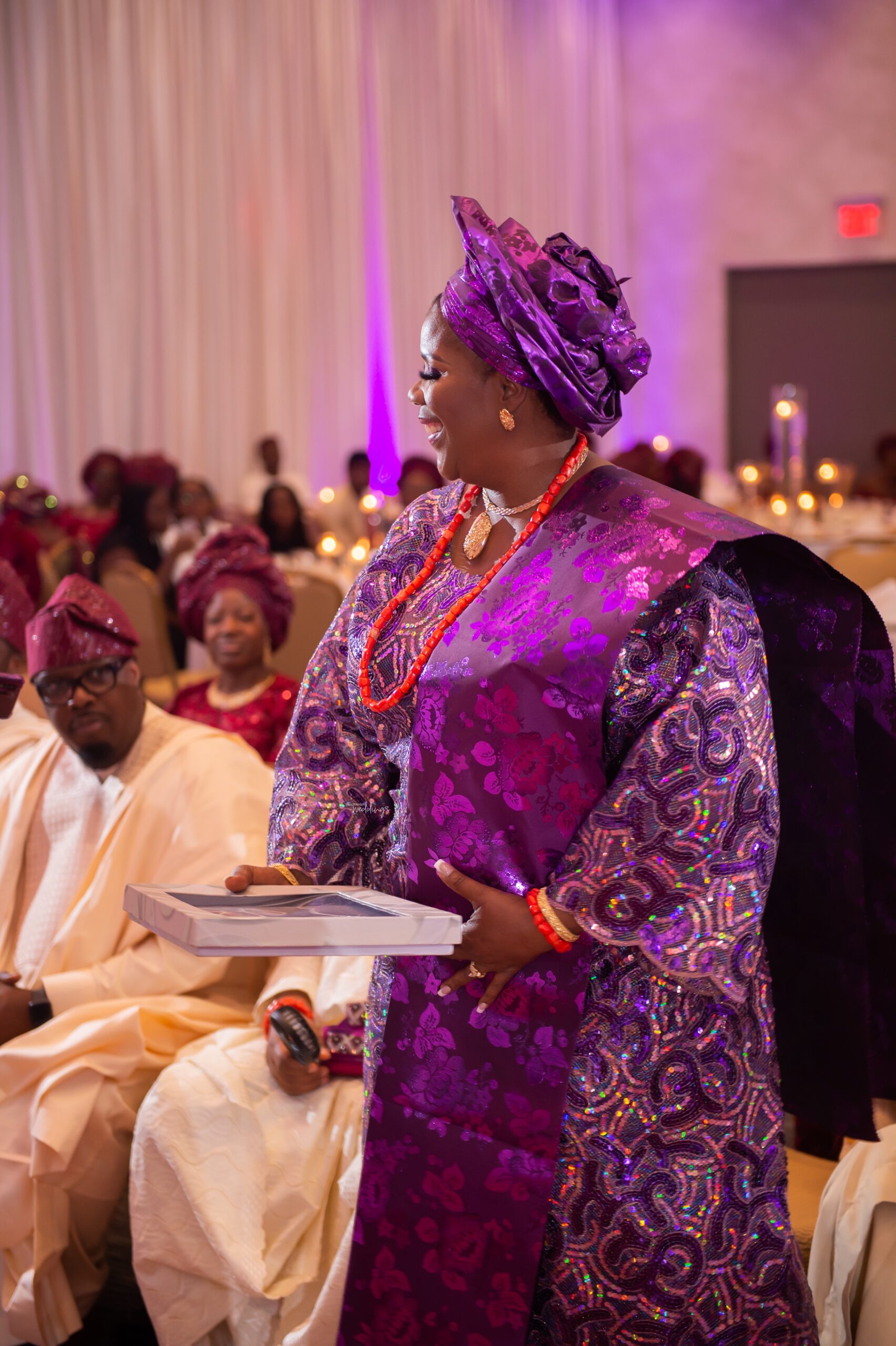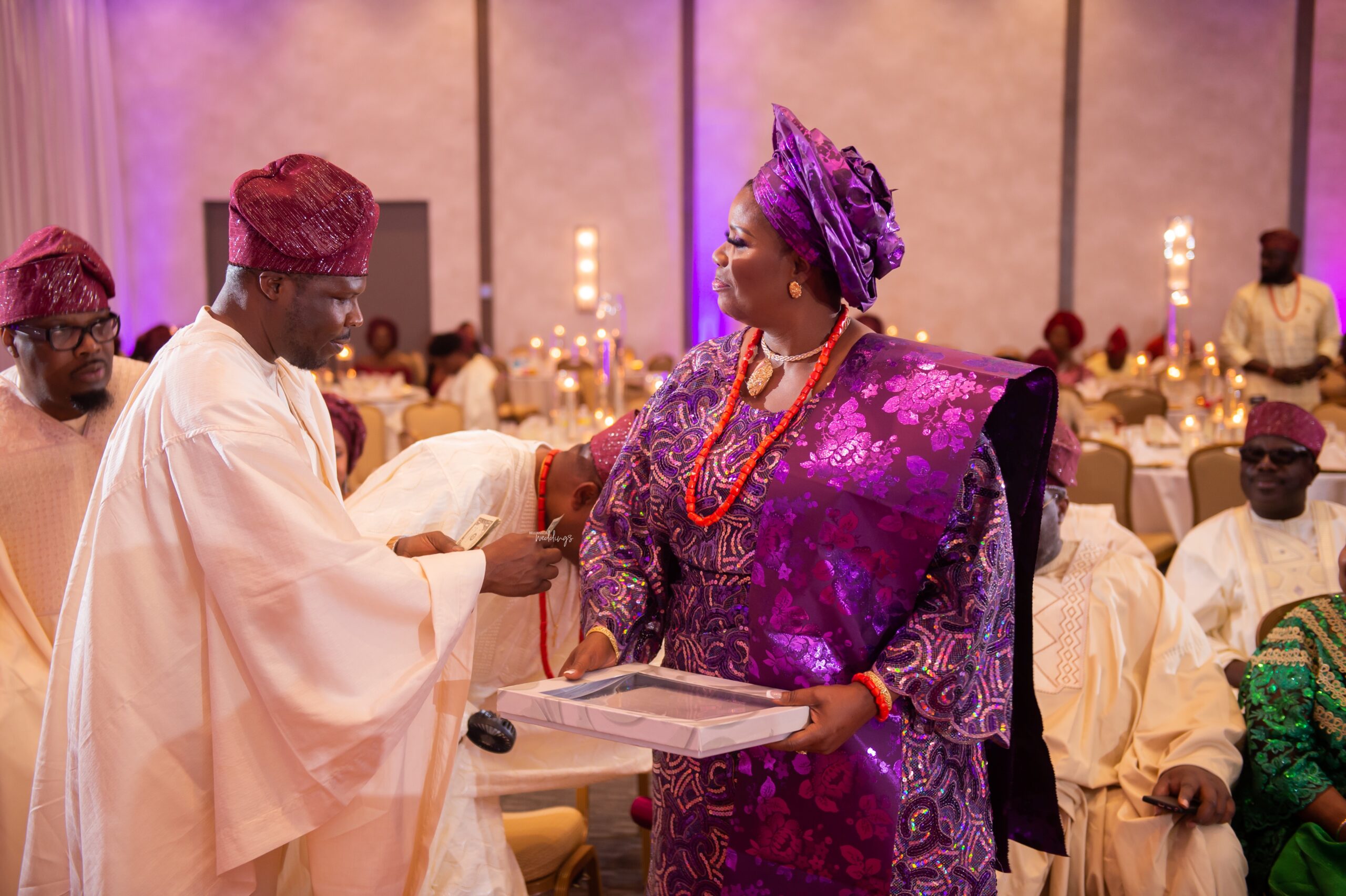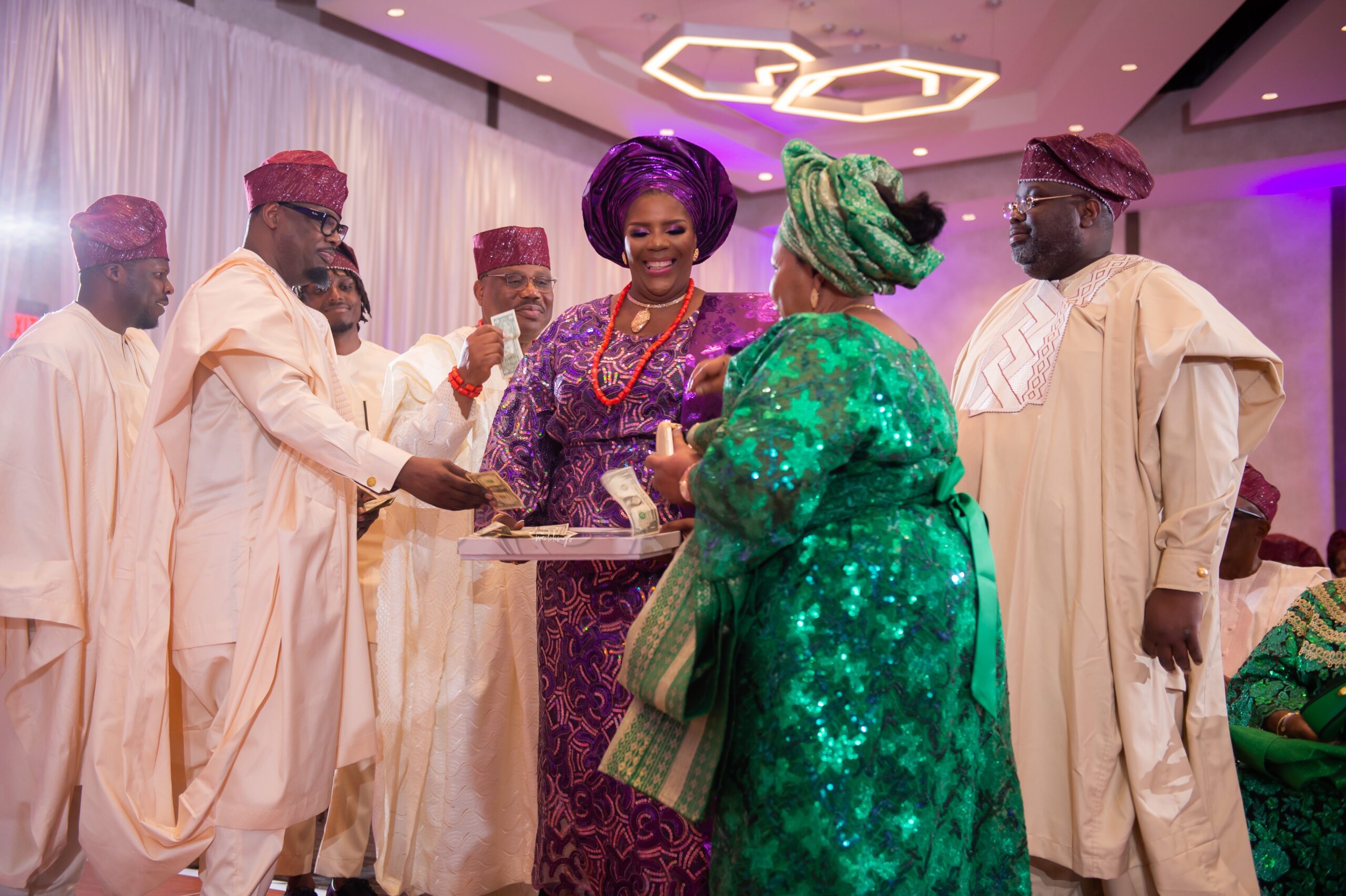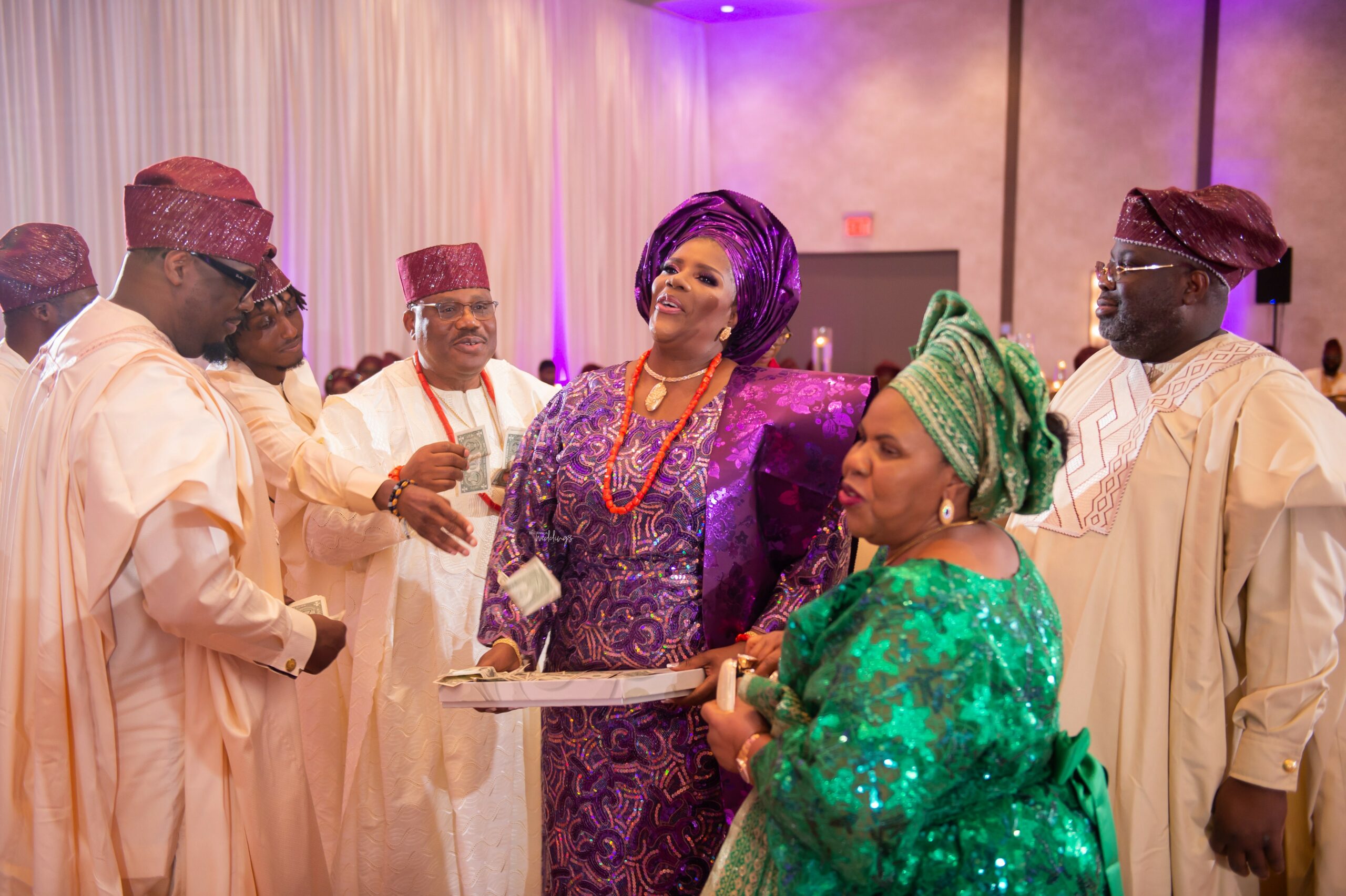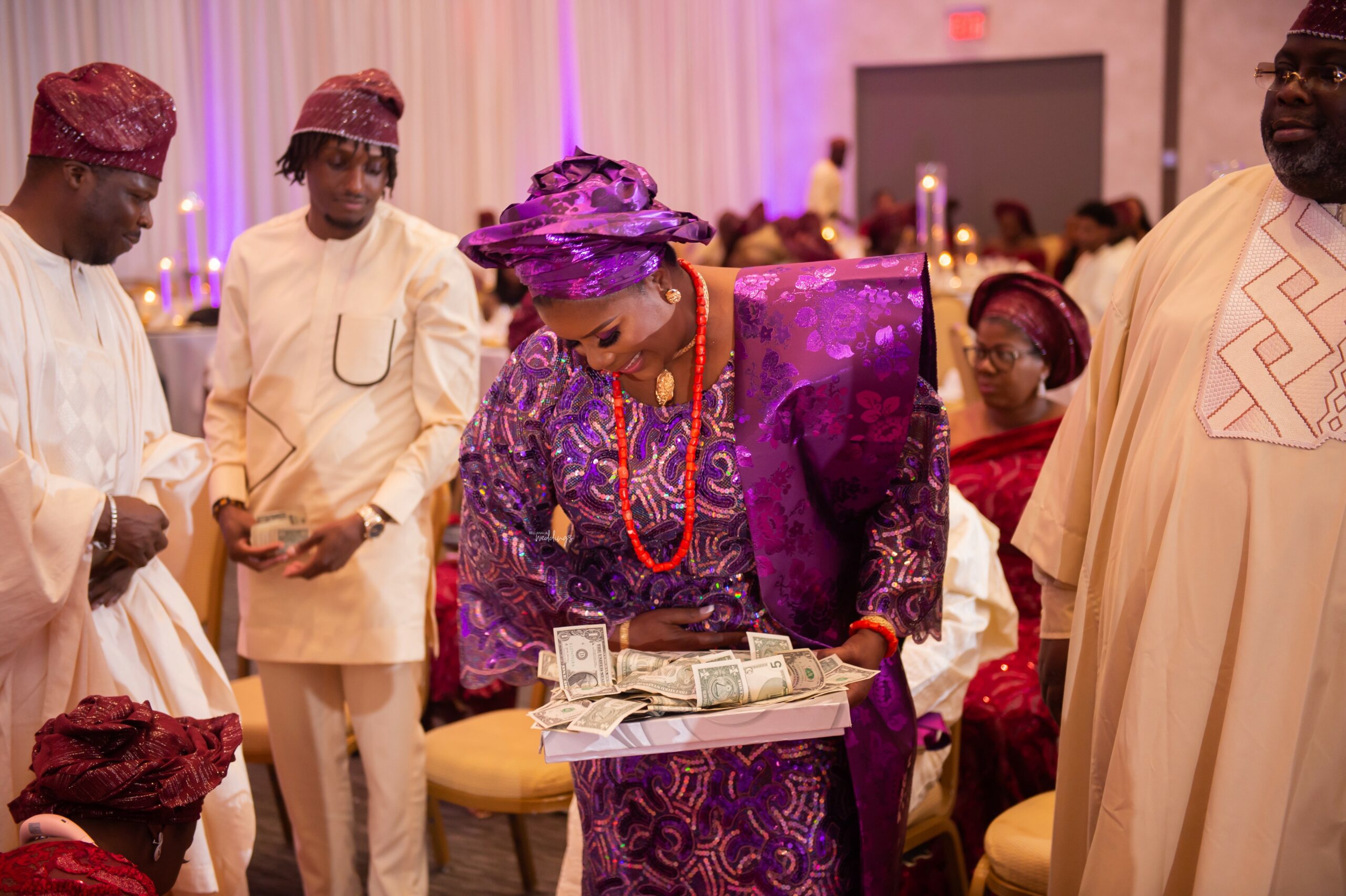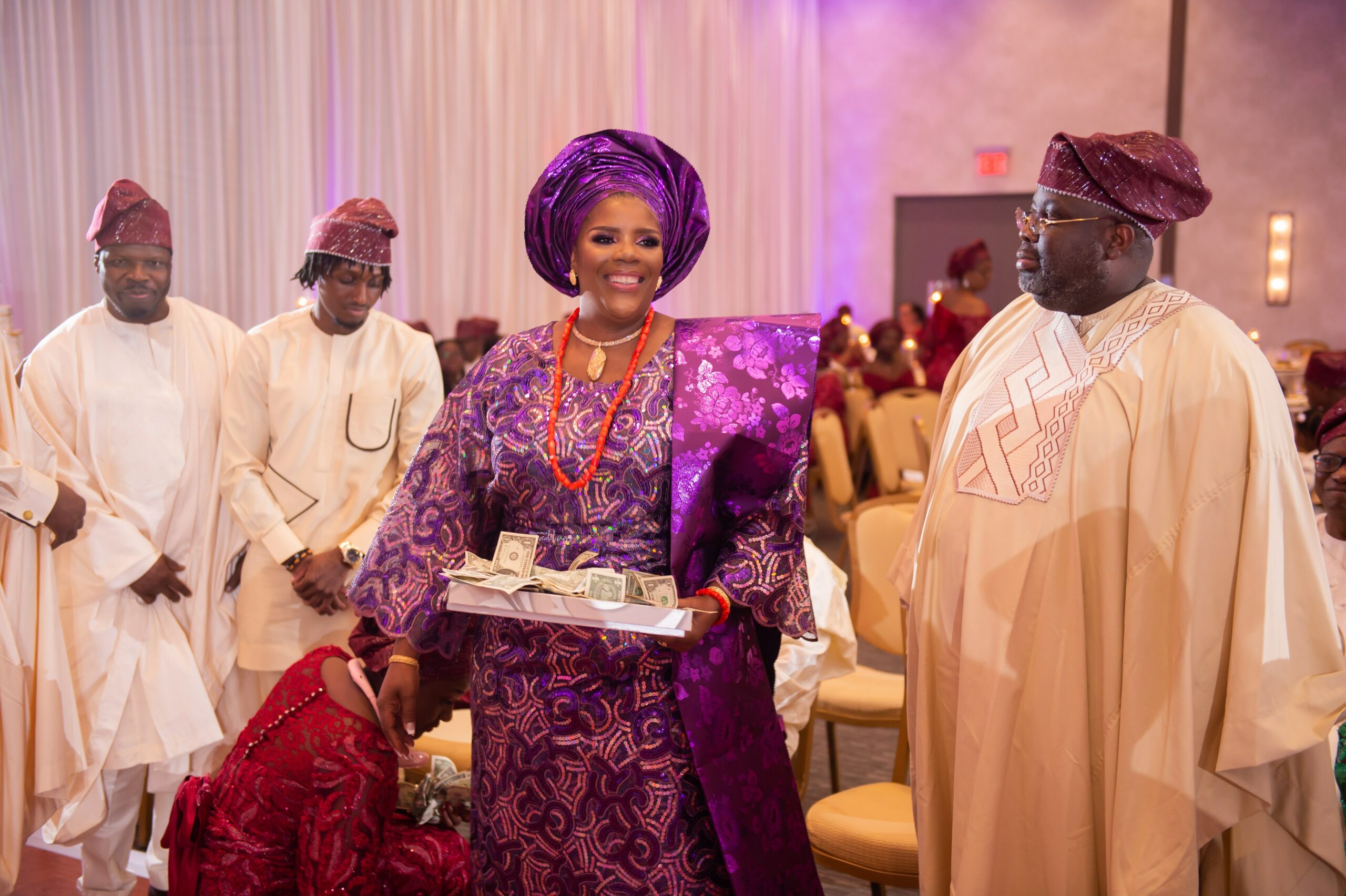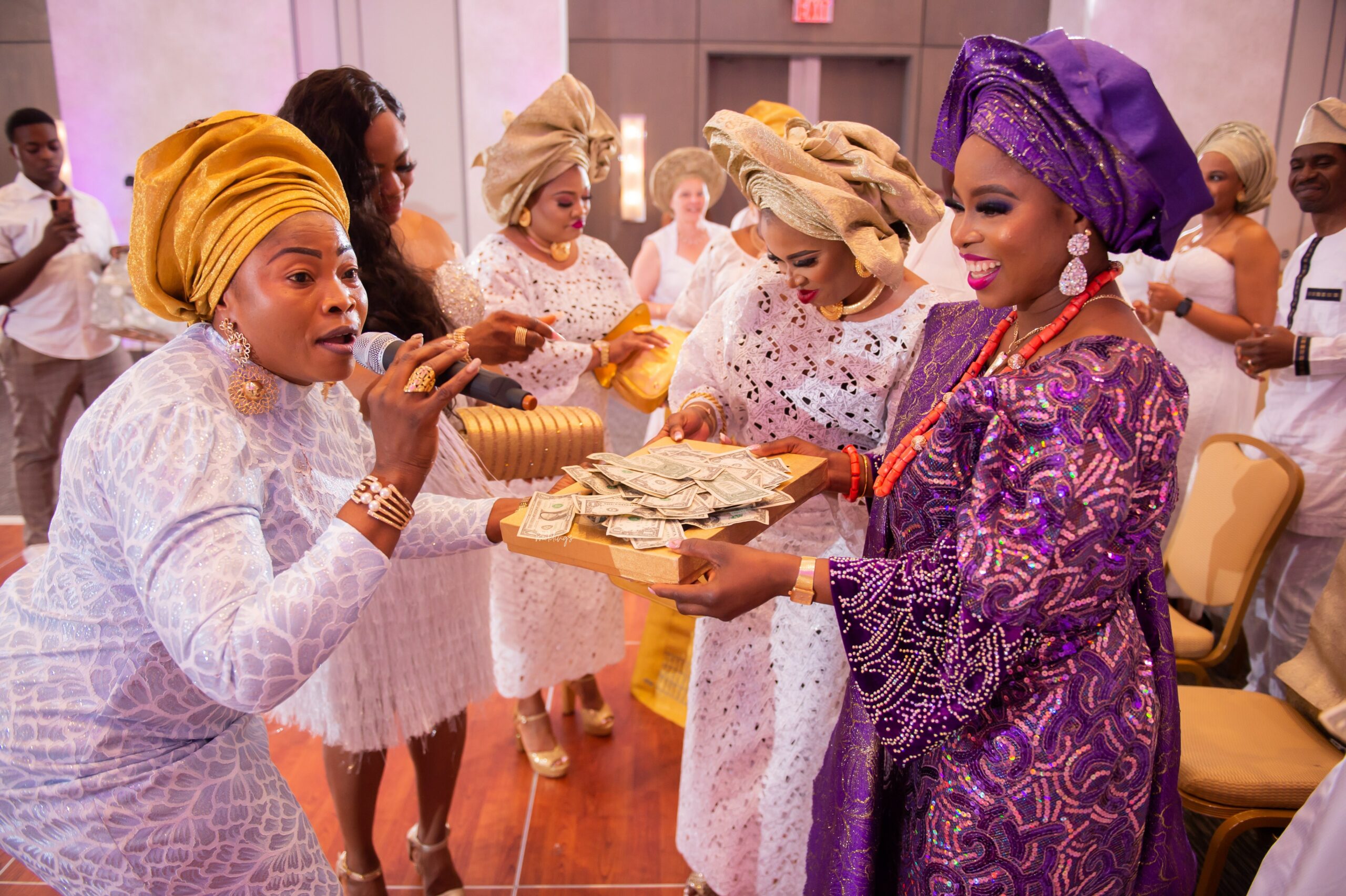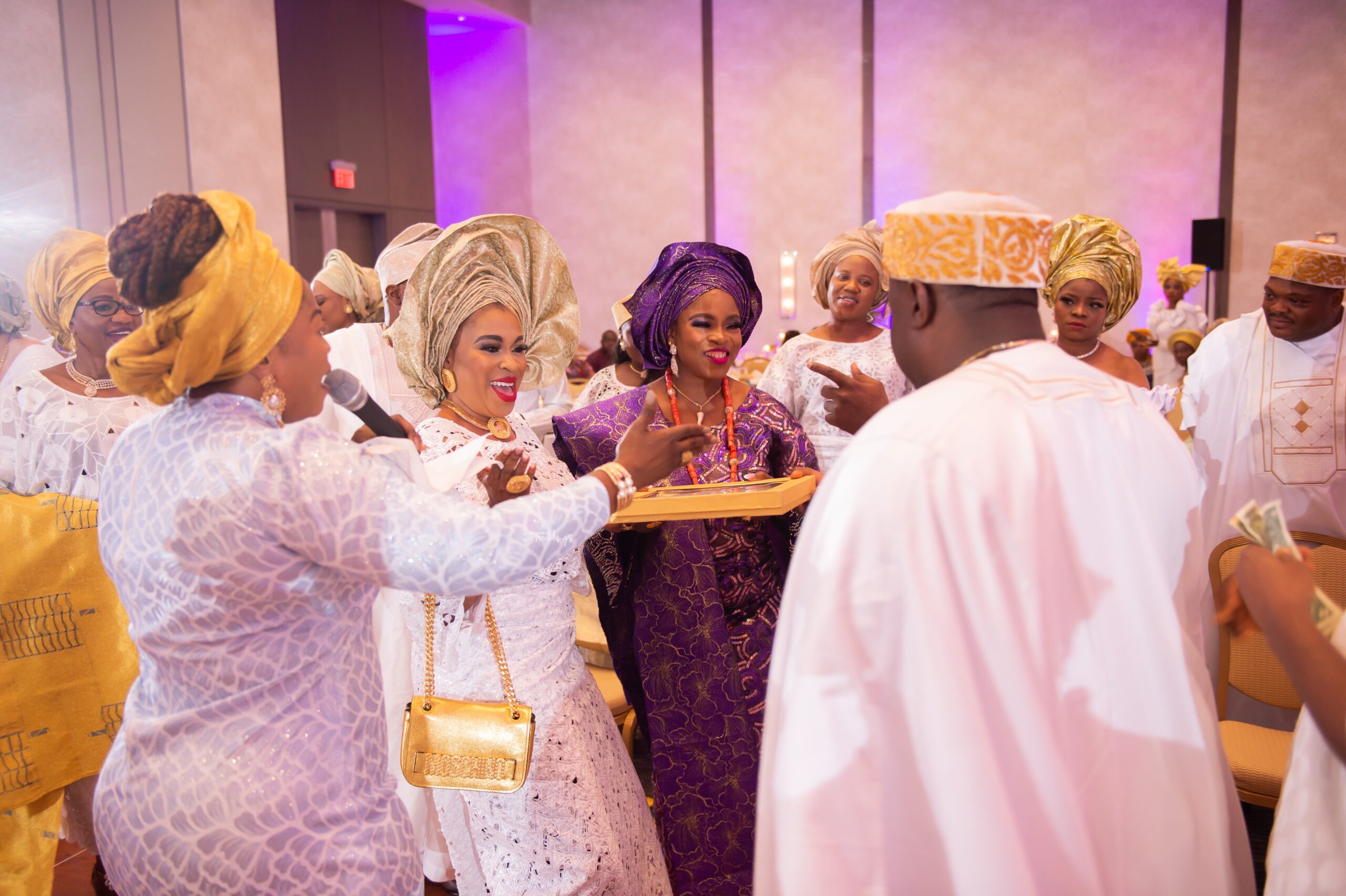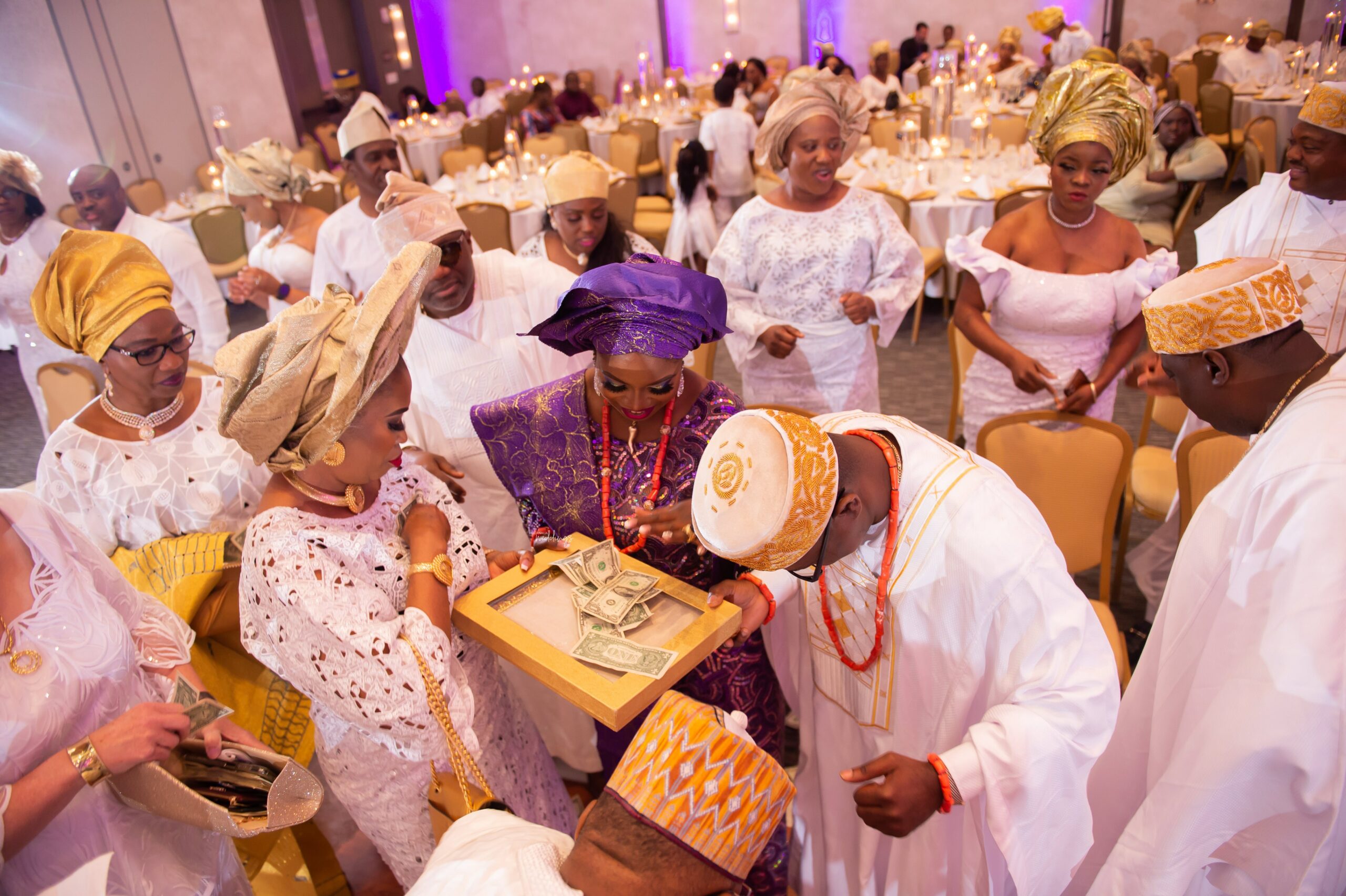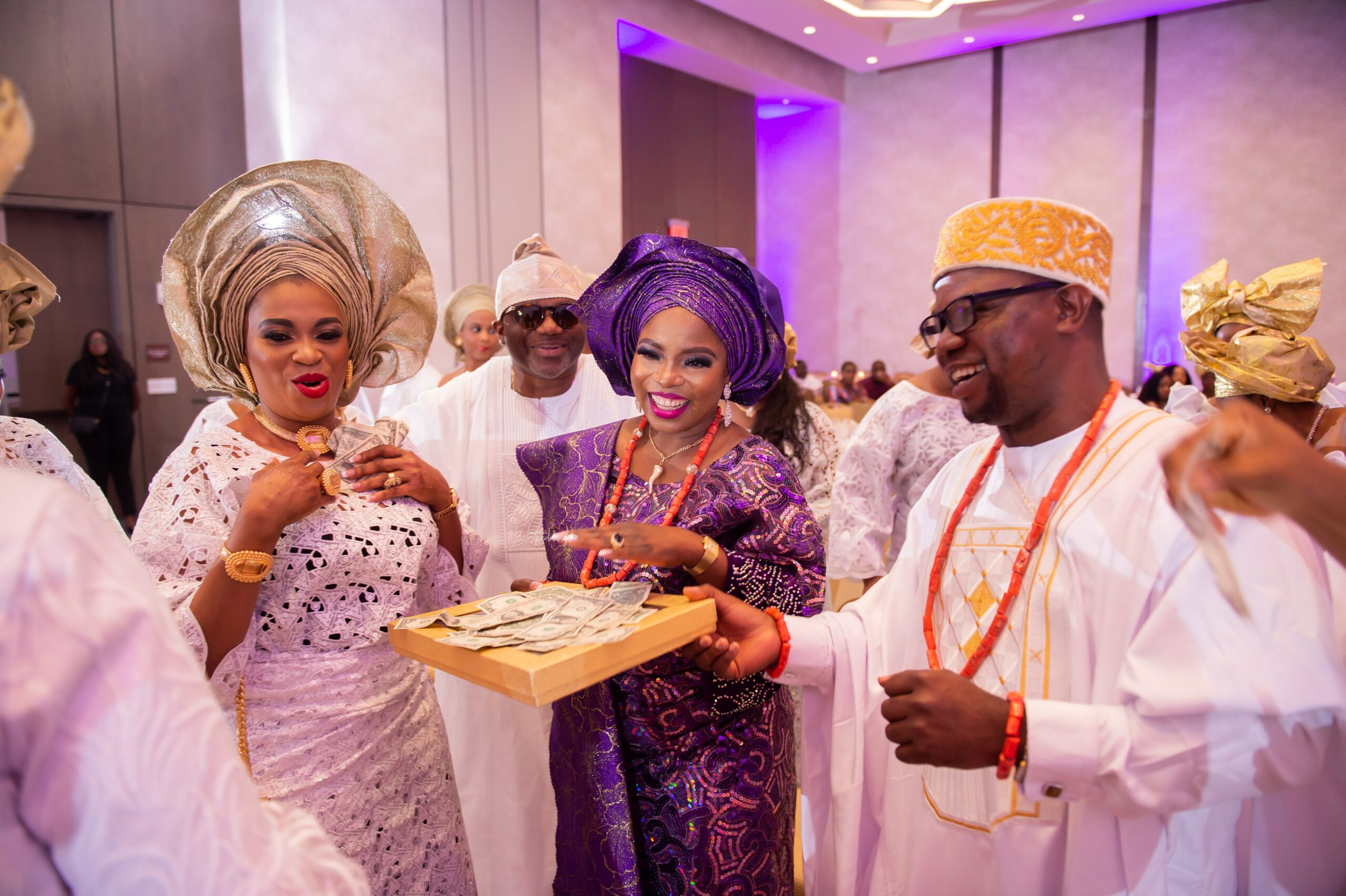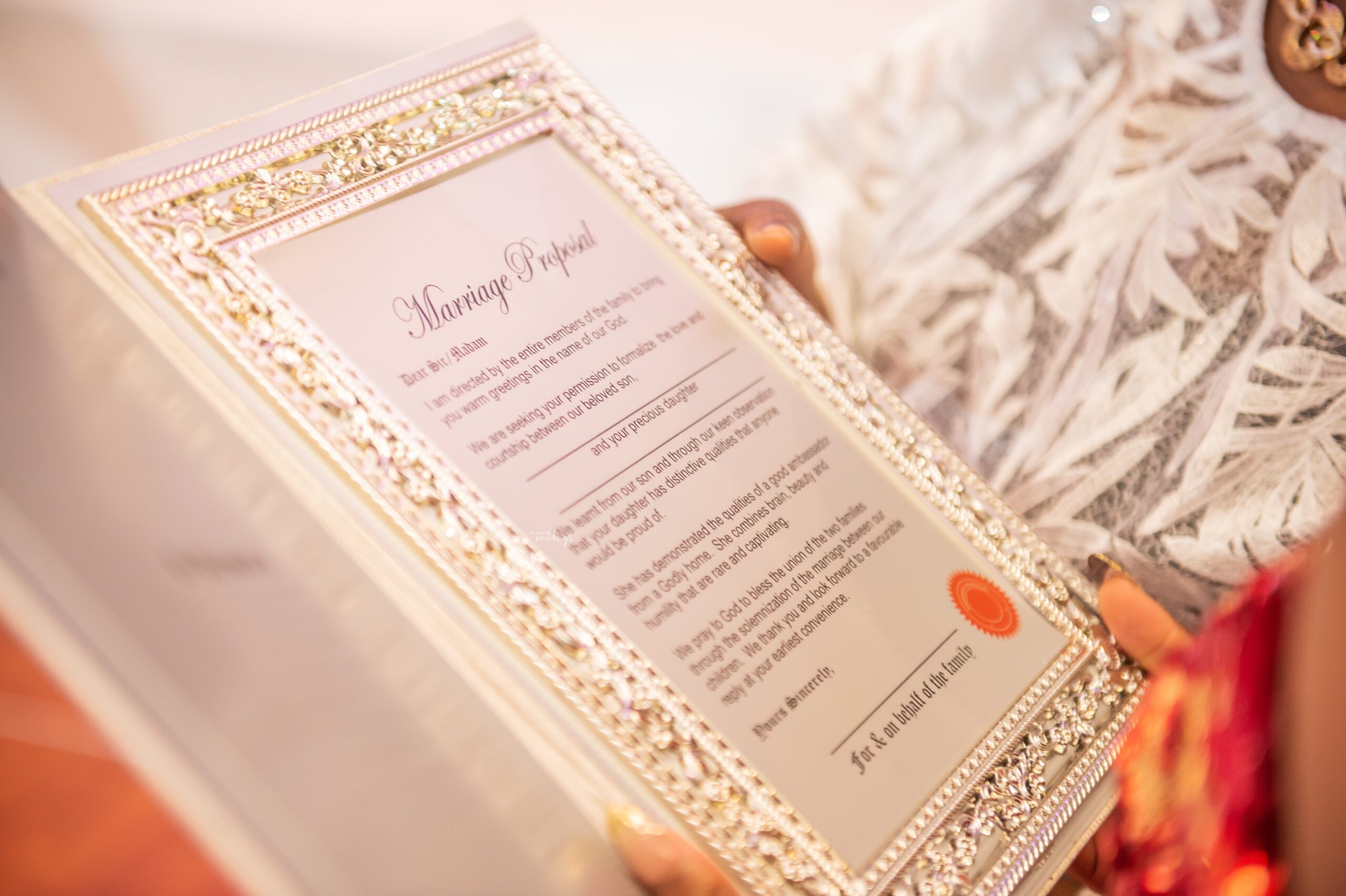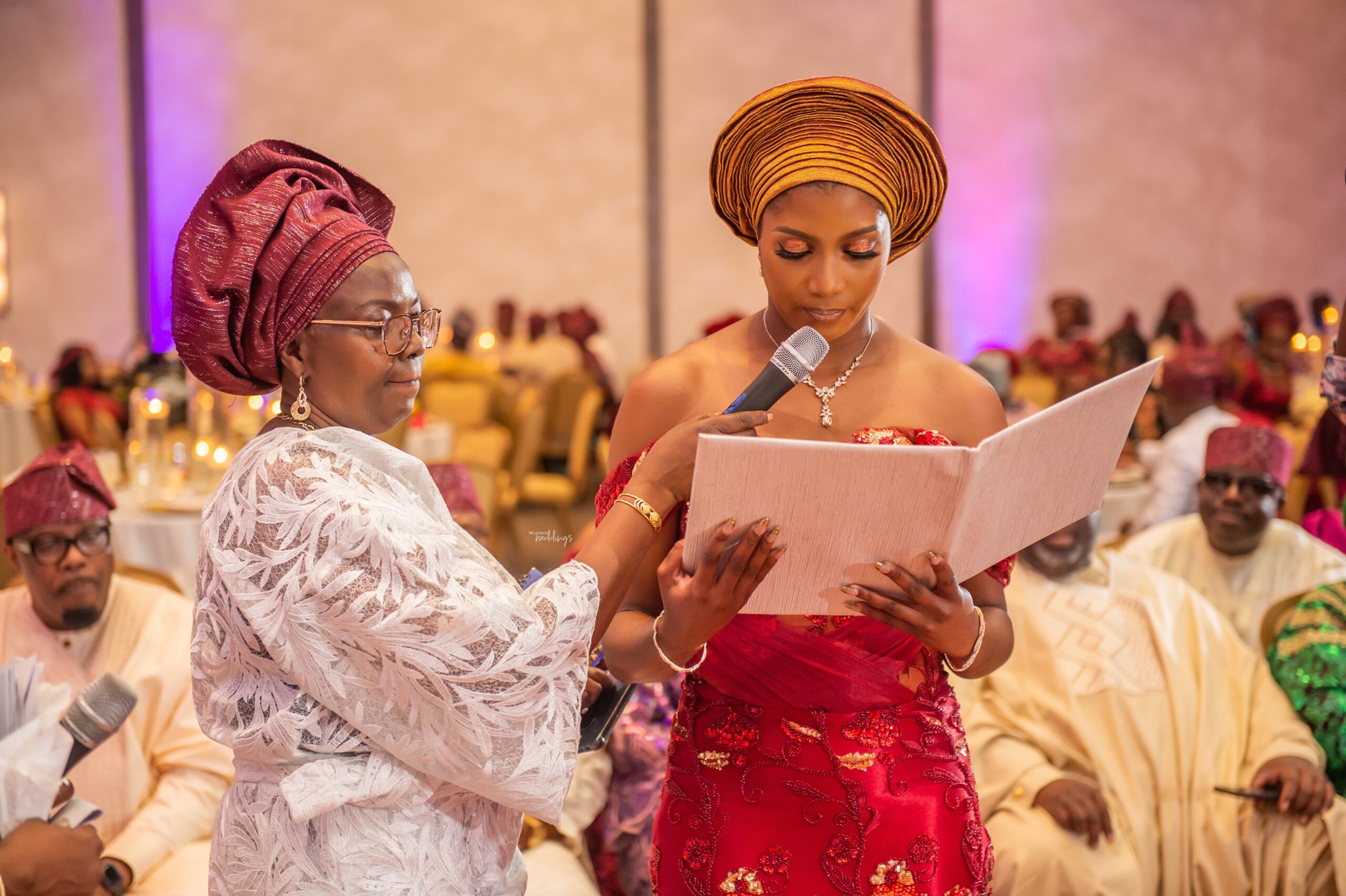 Groom coming through!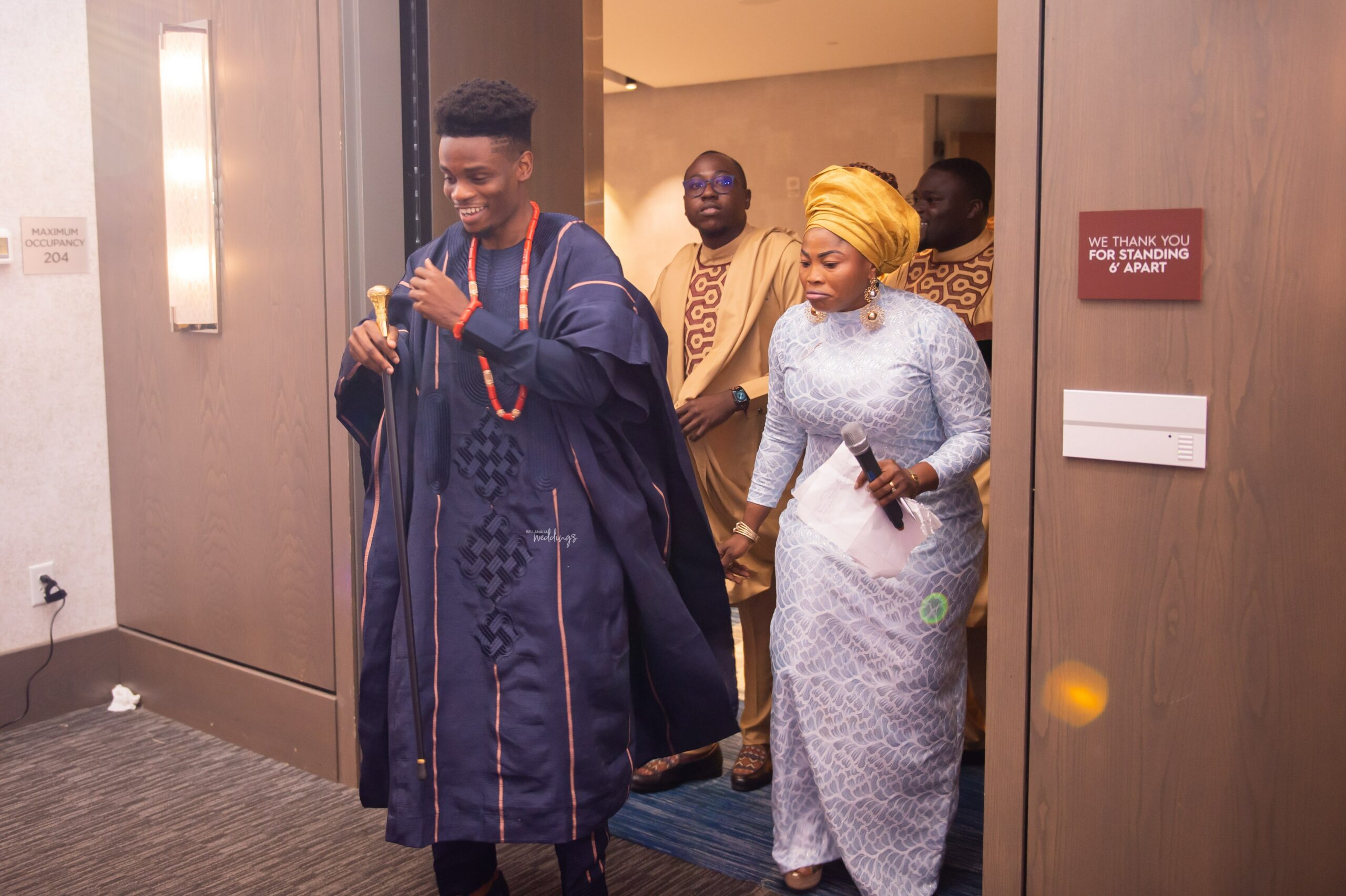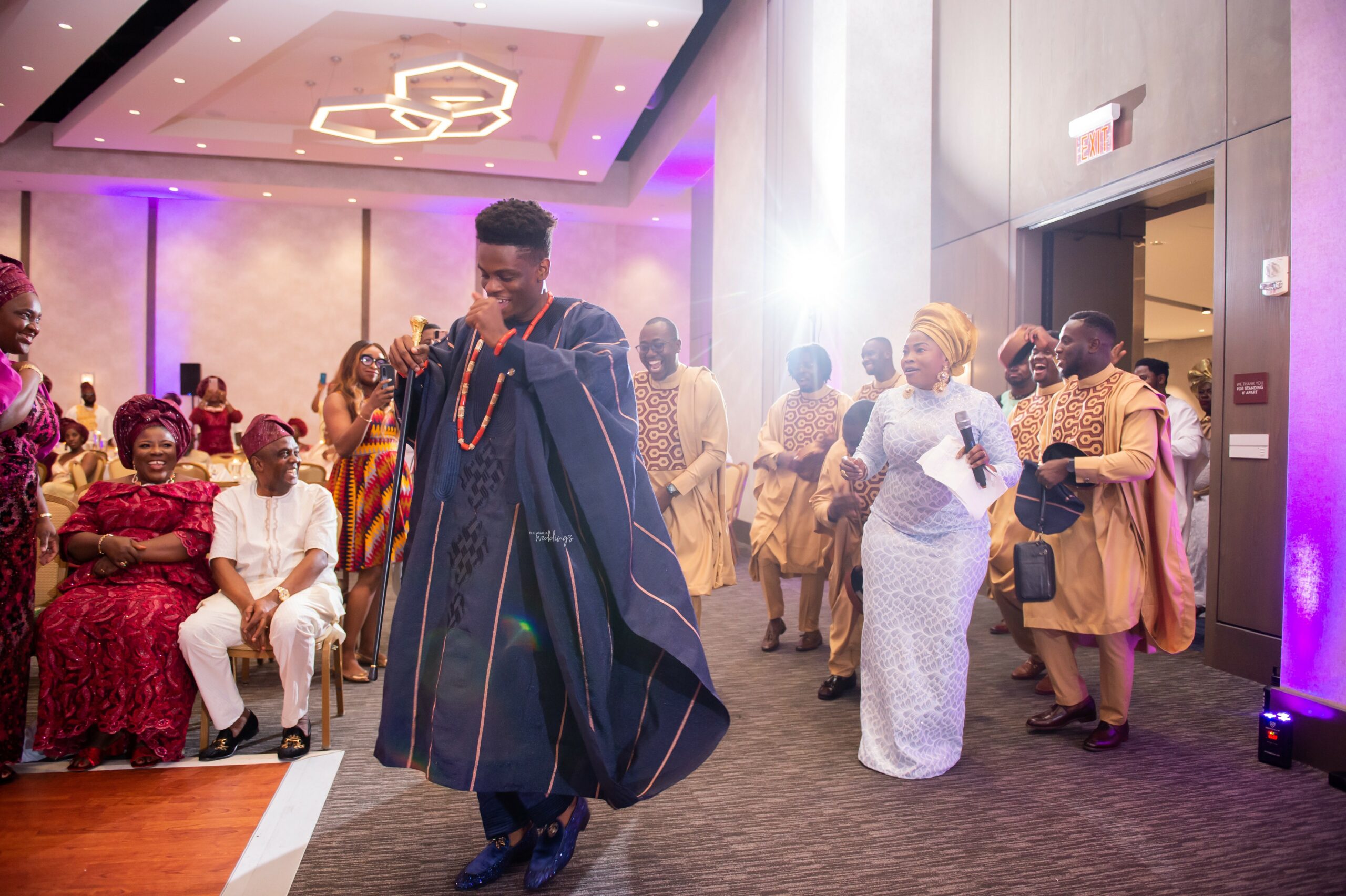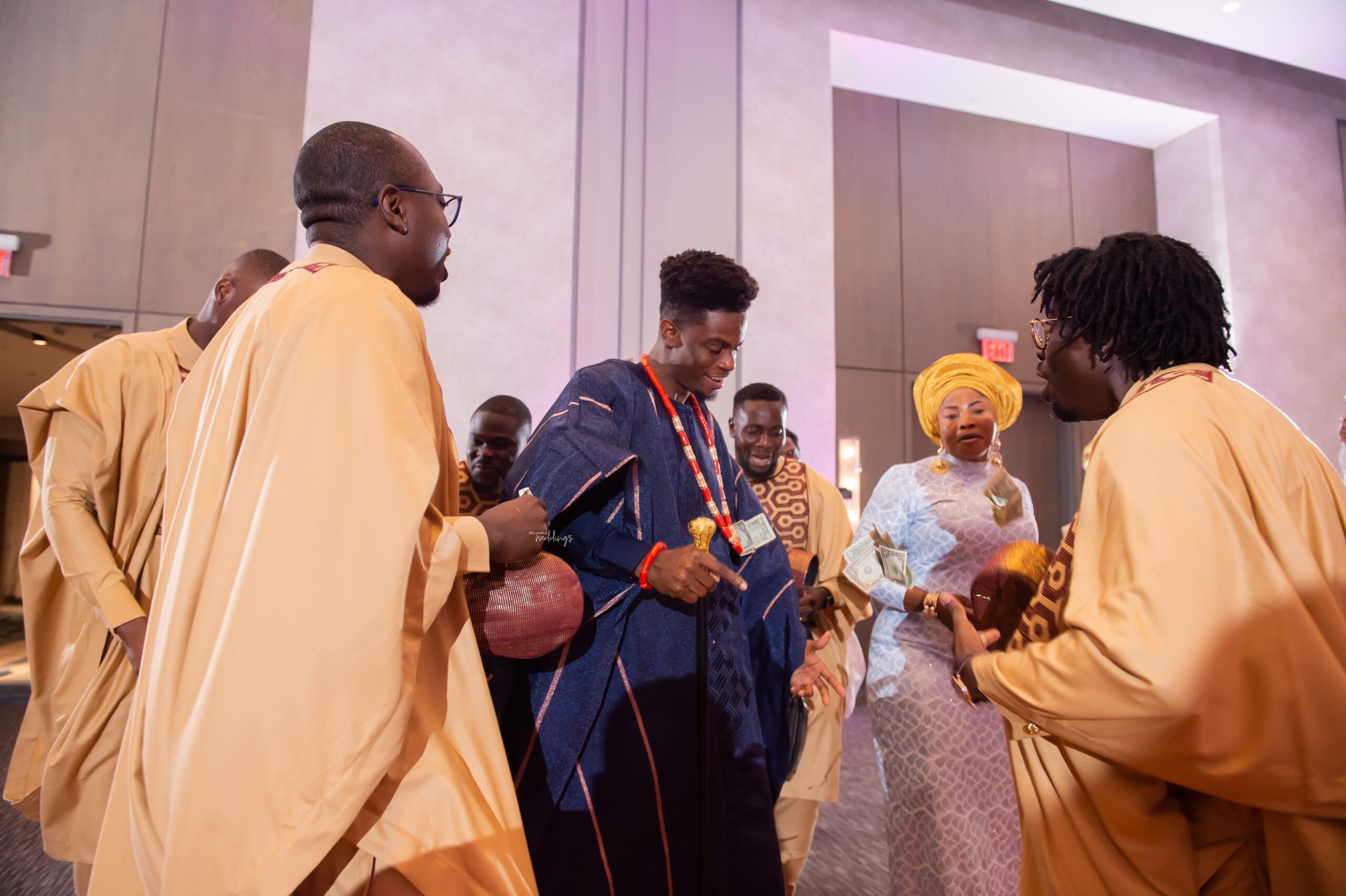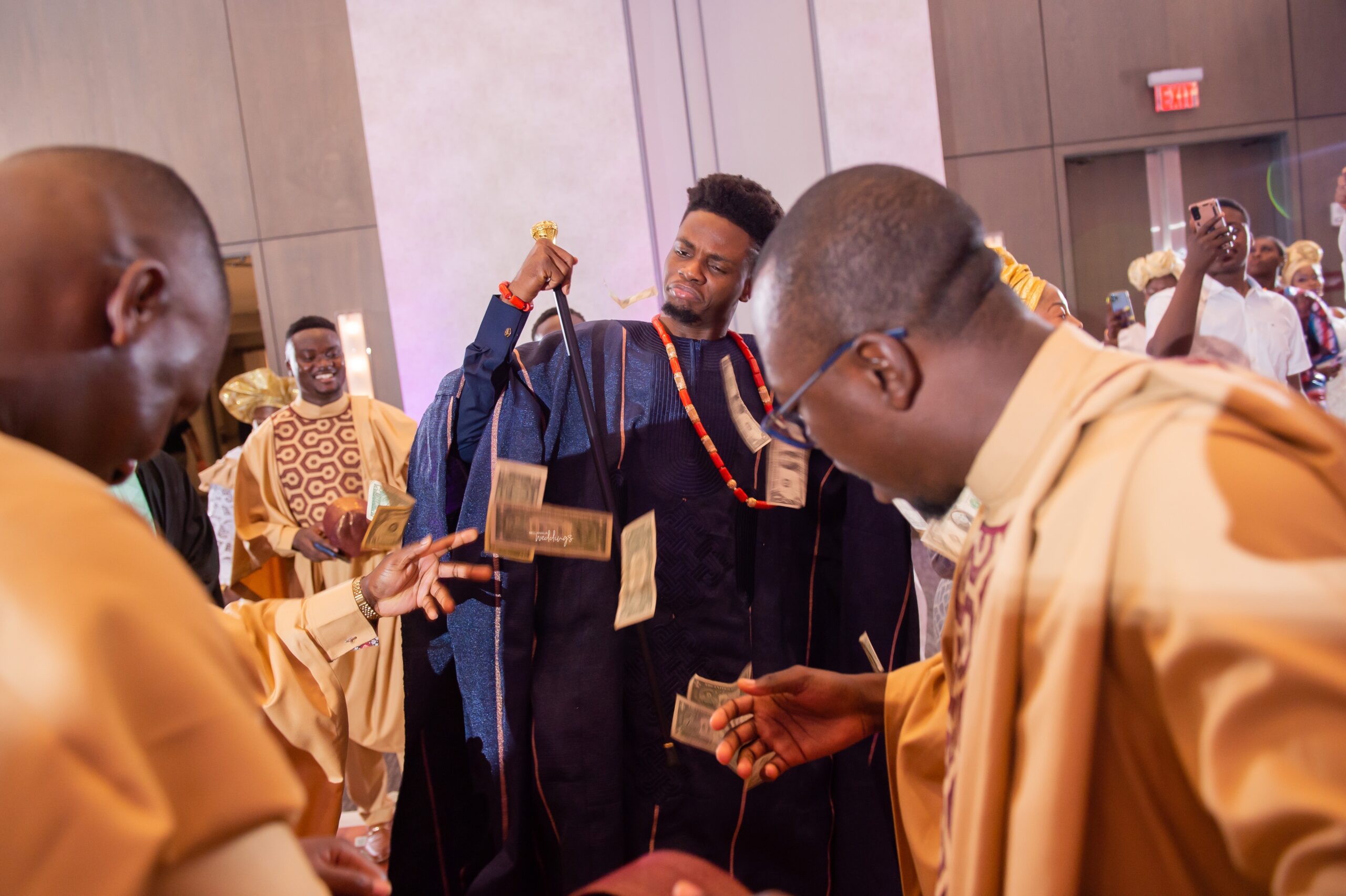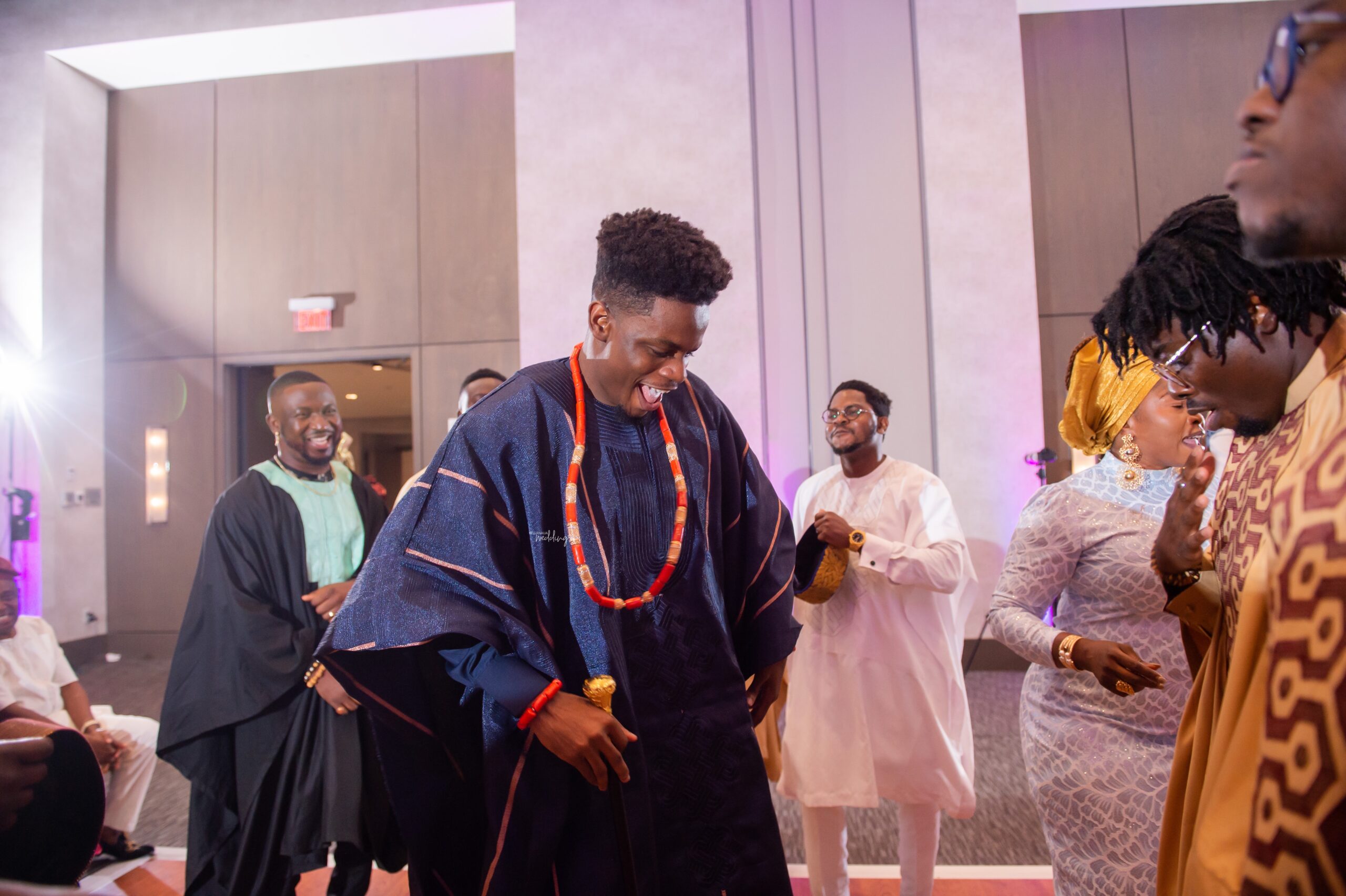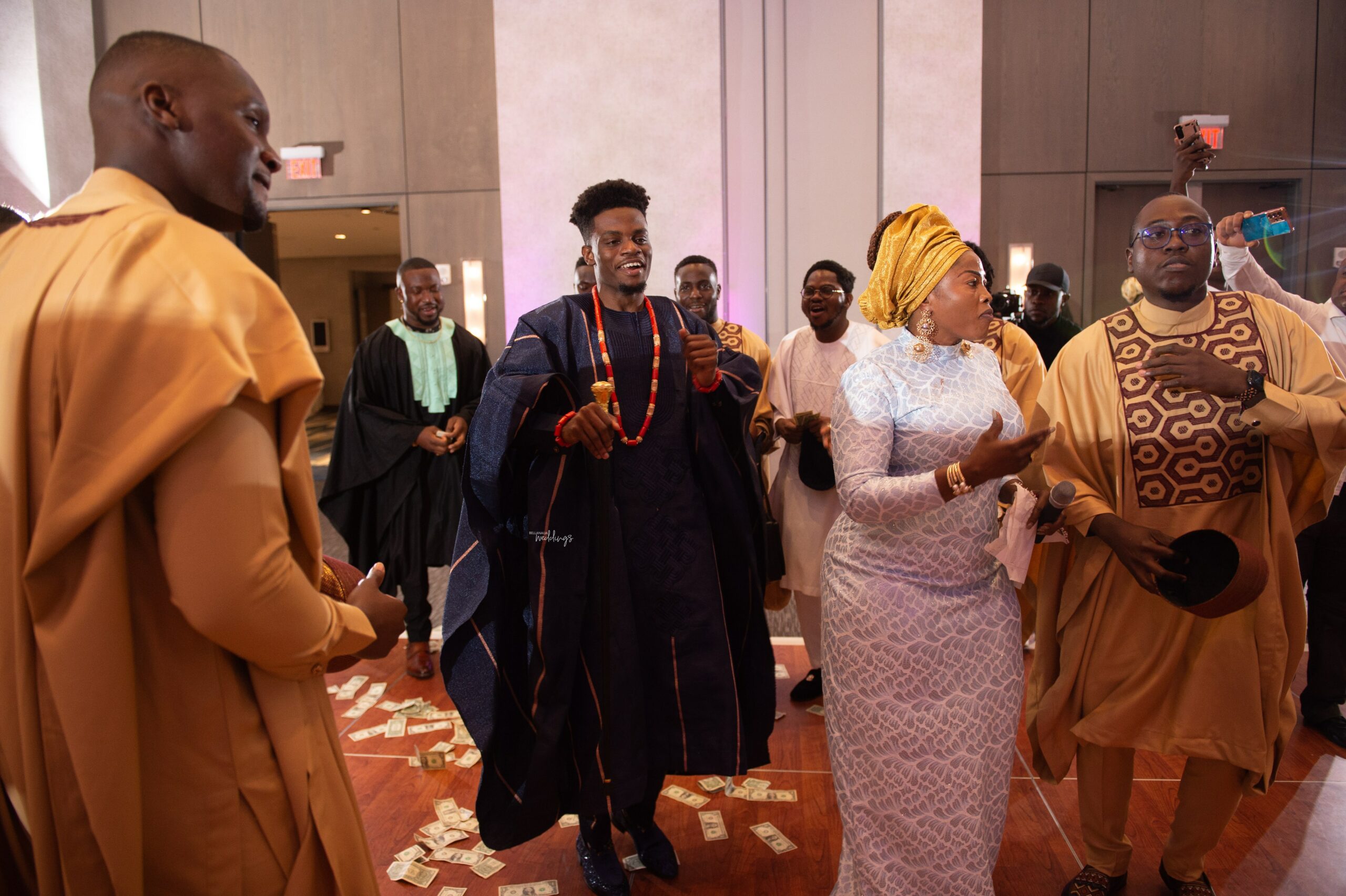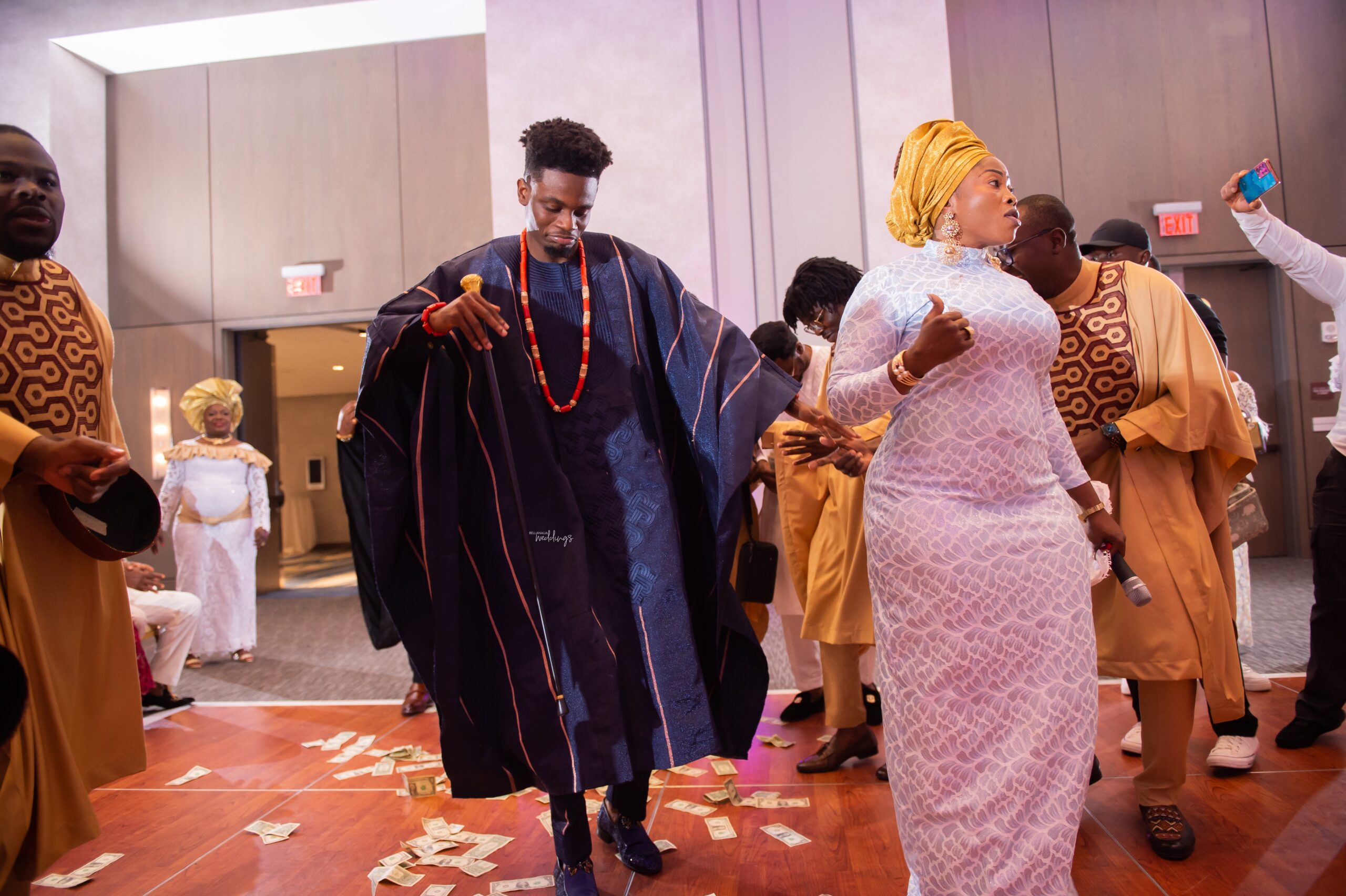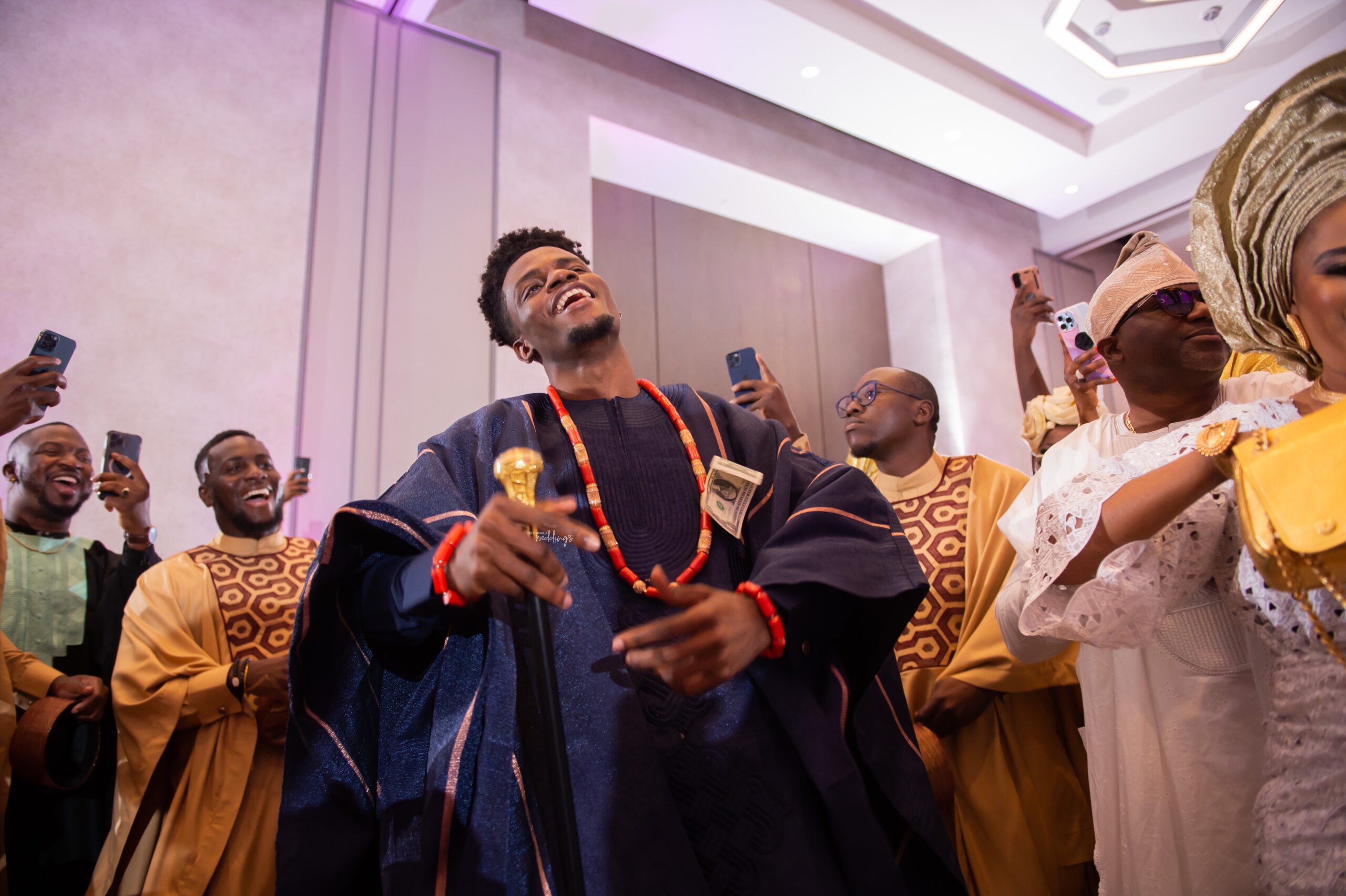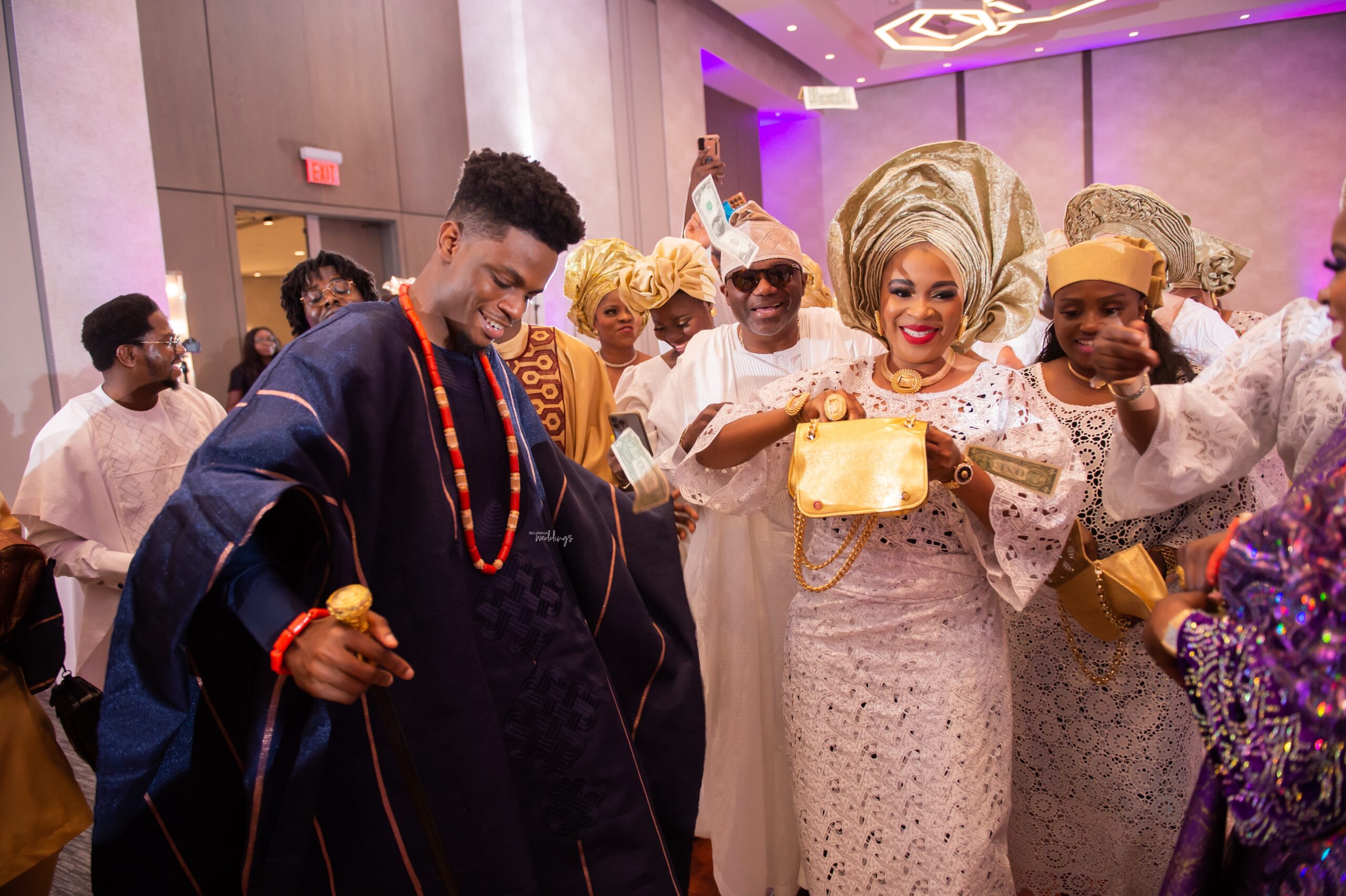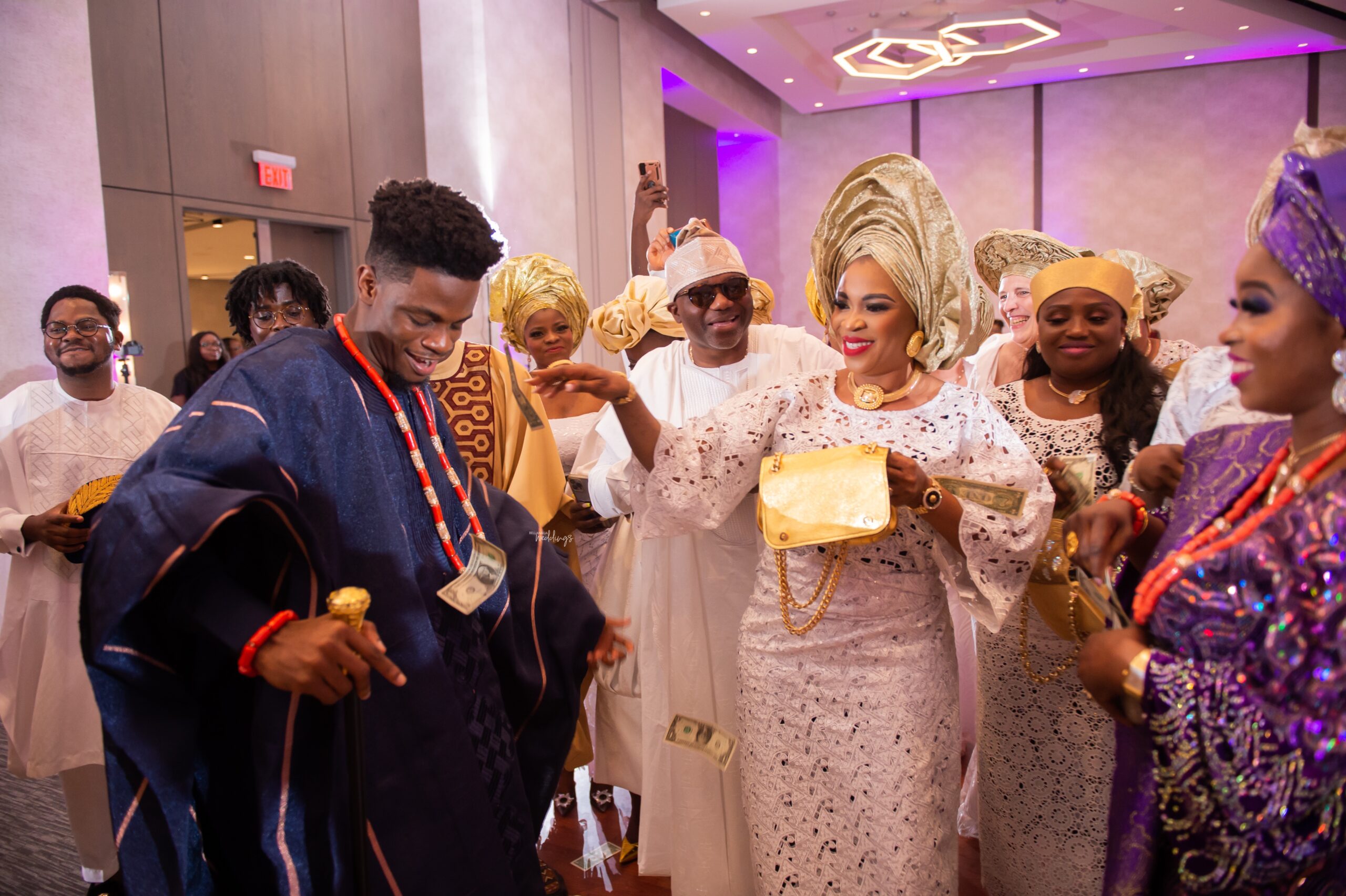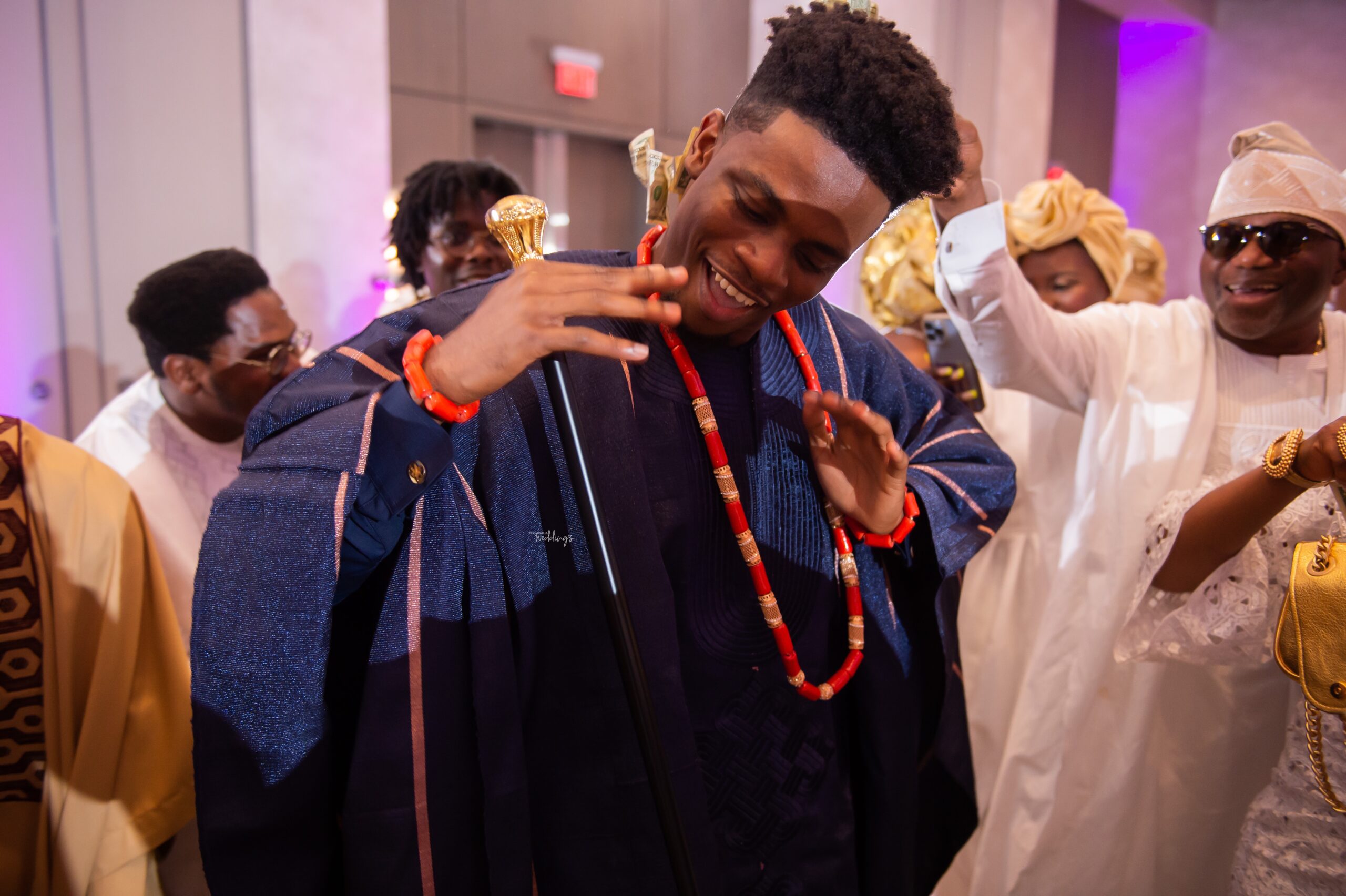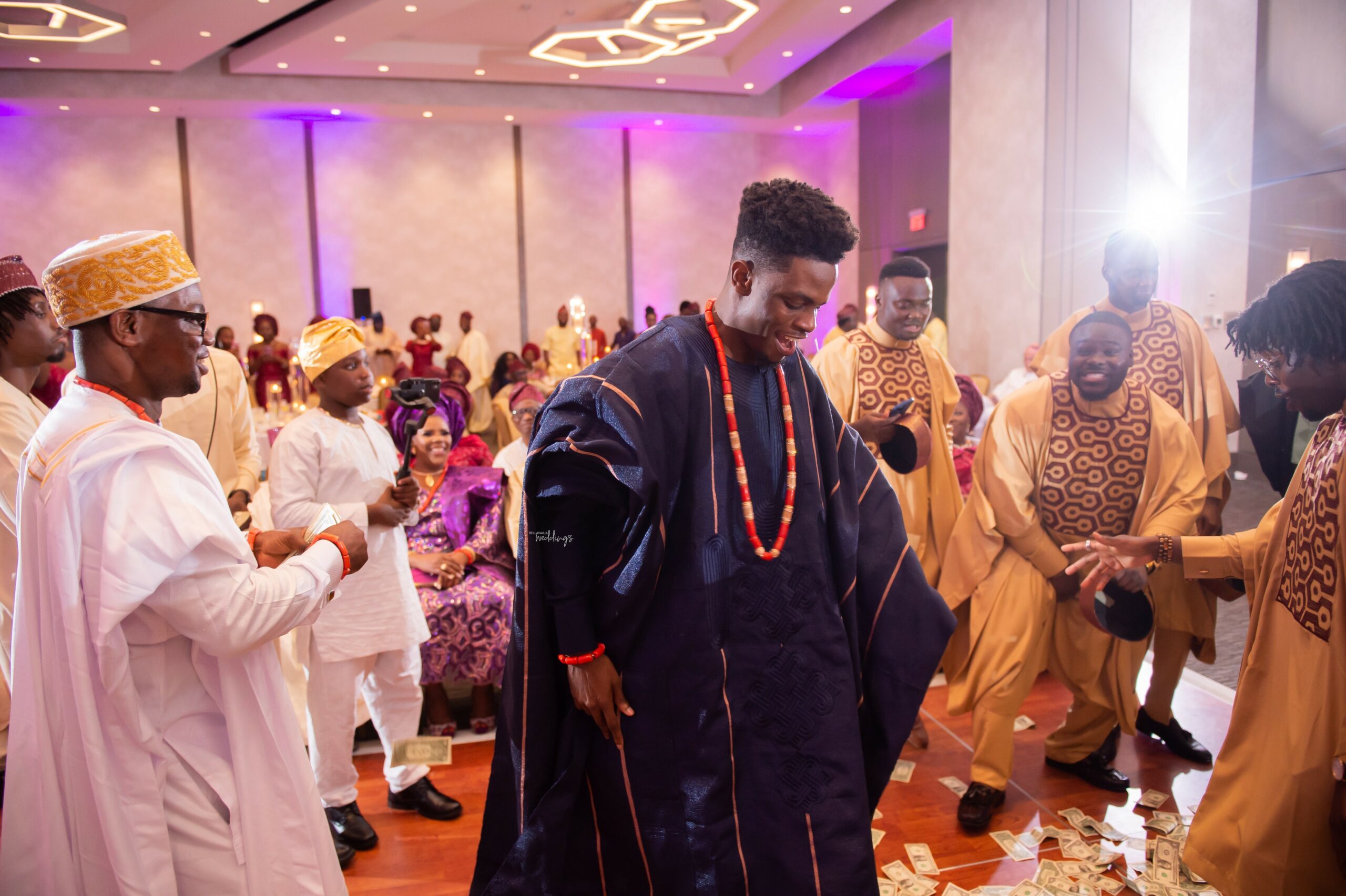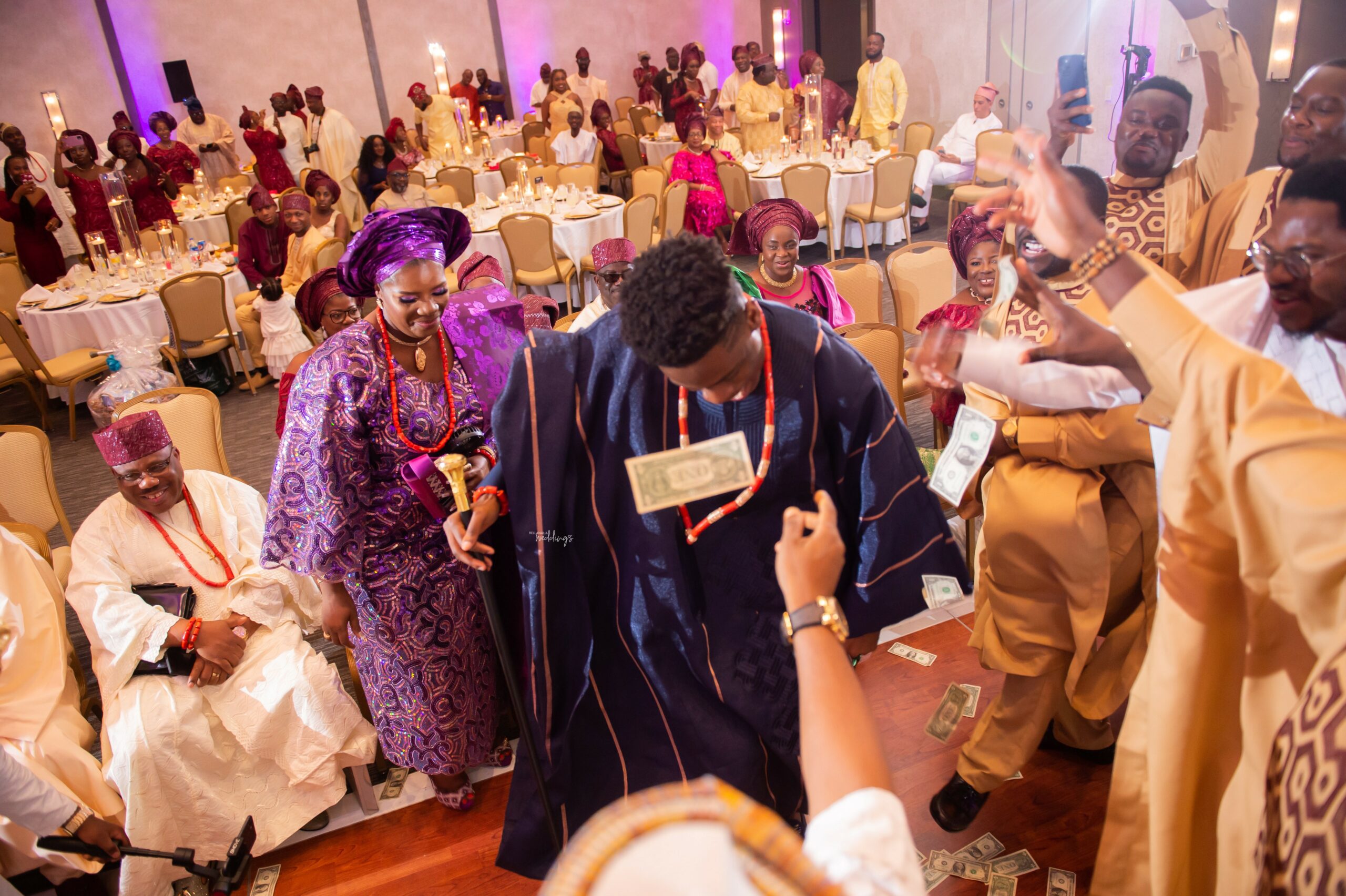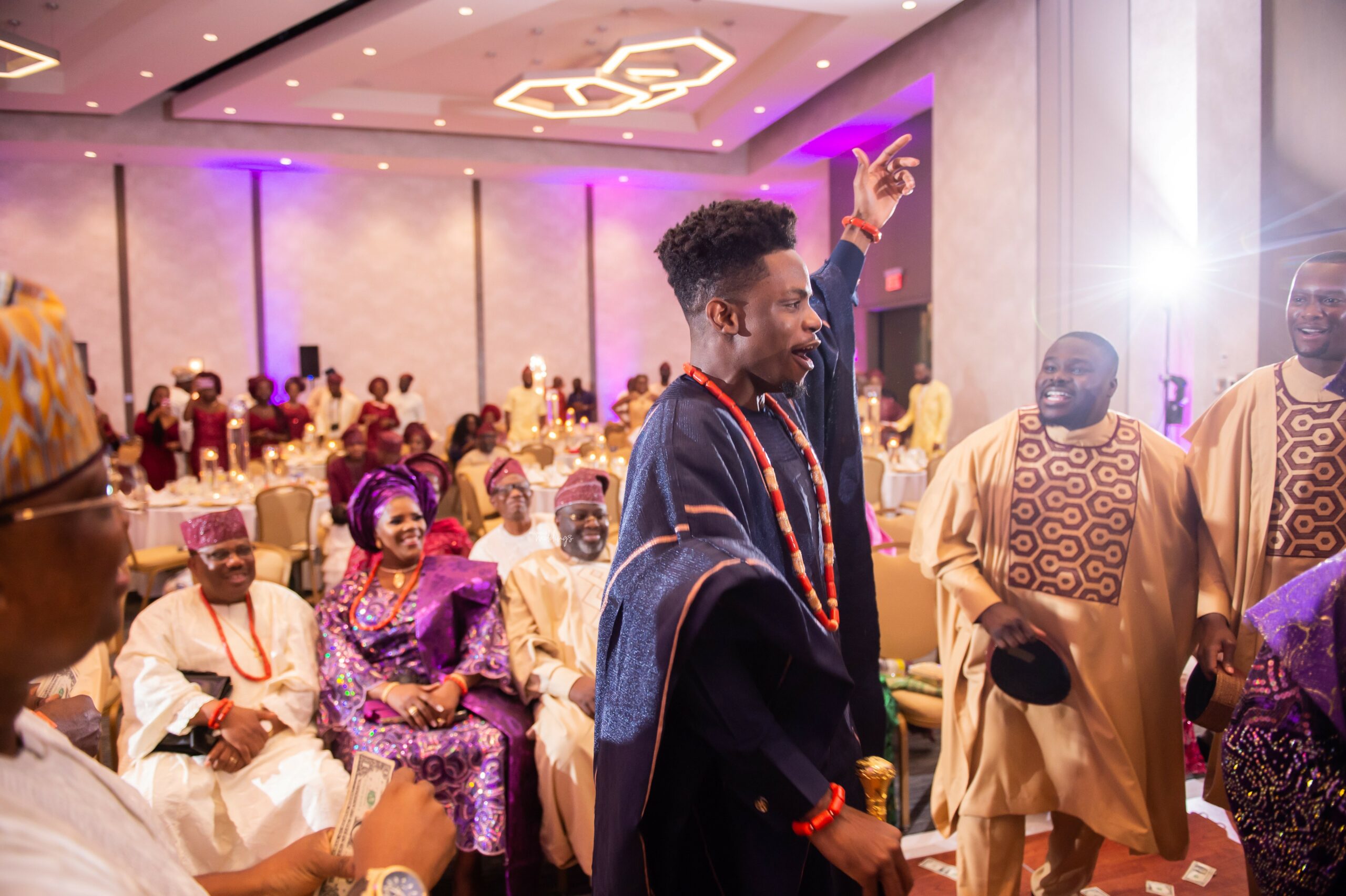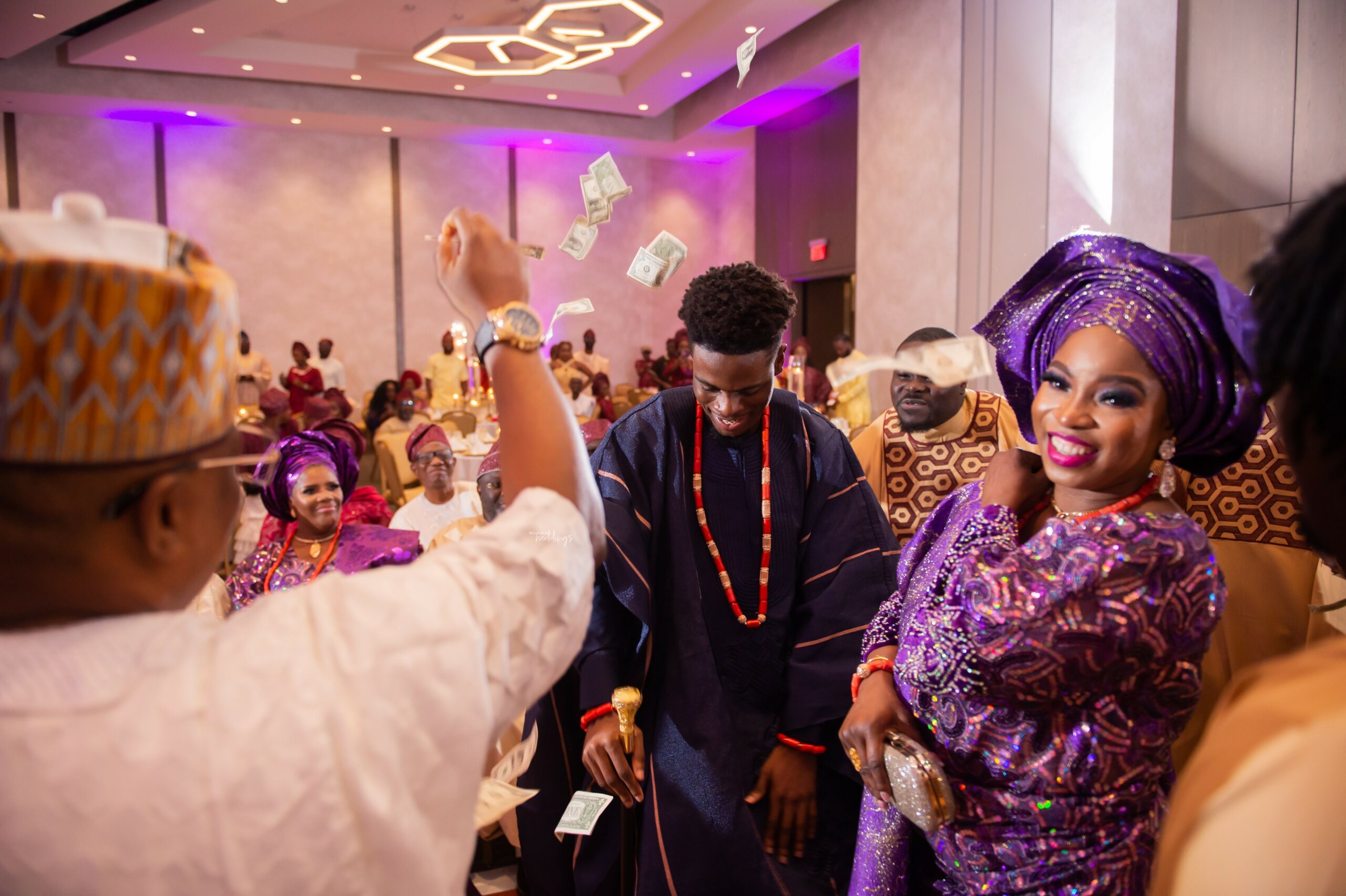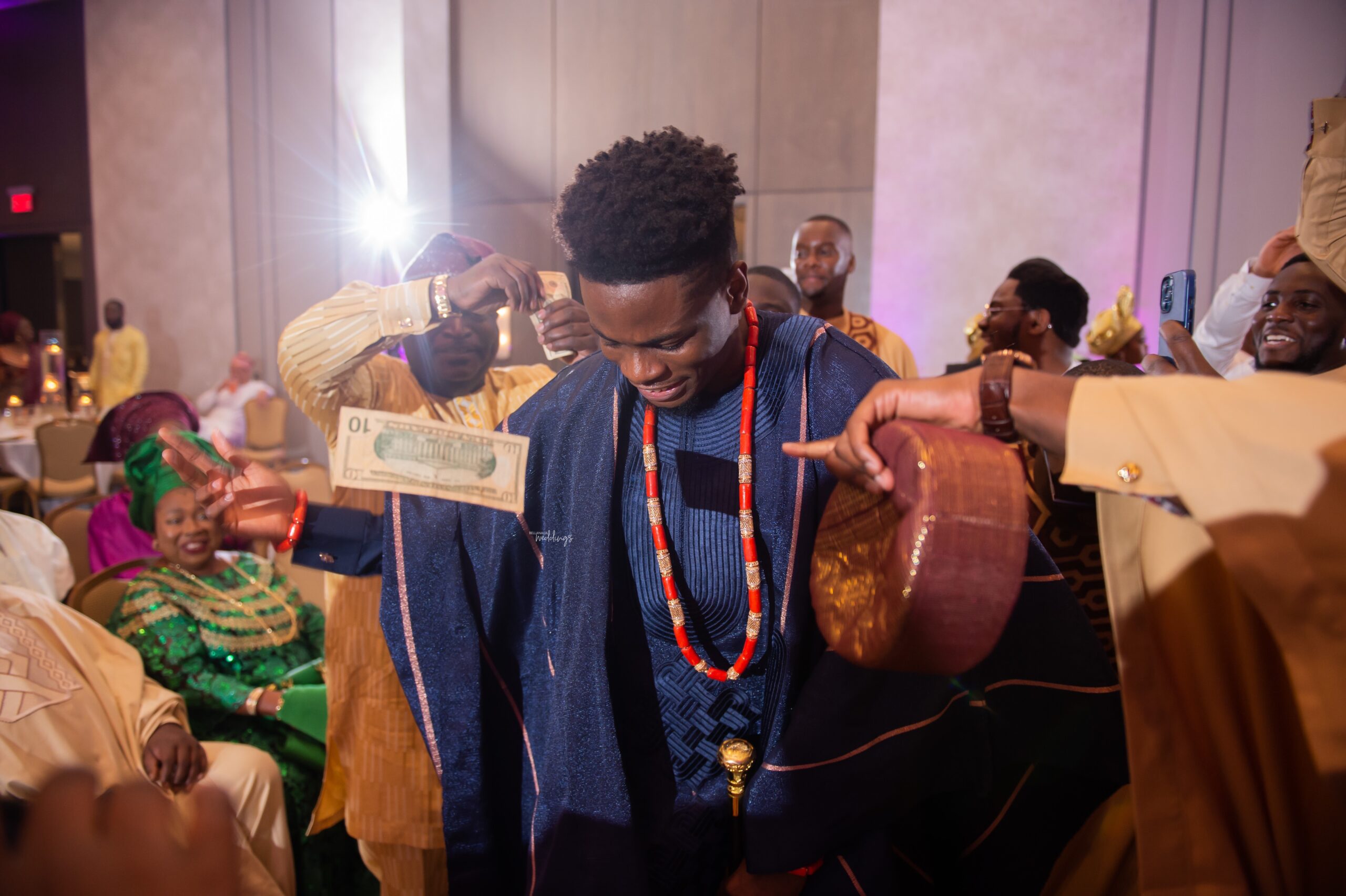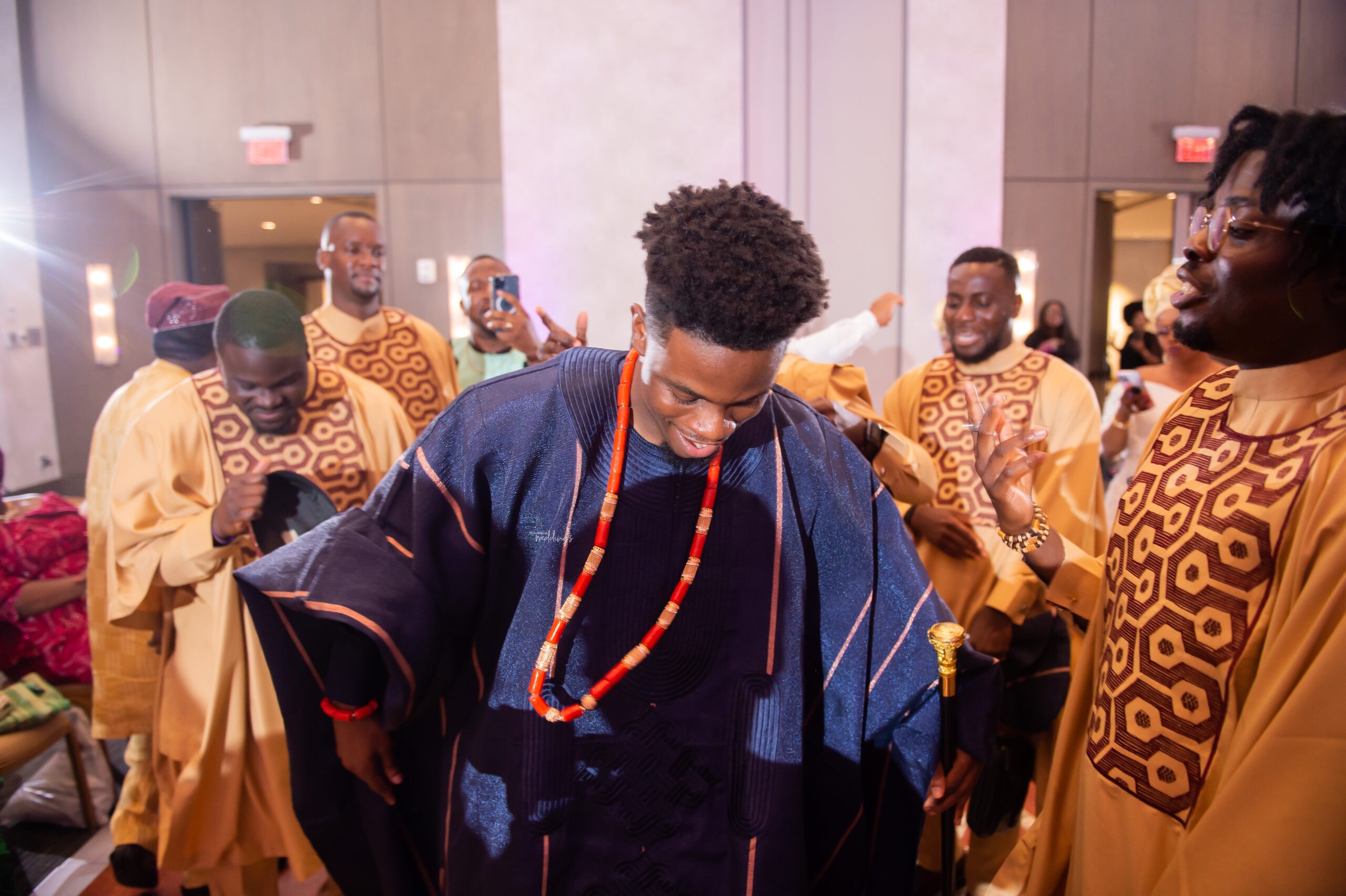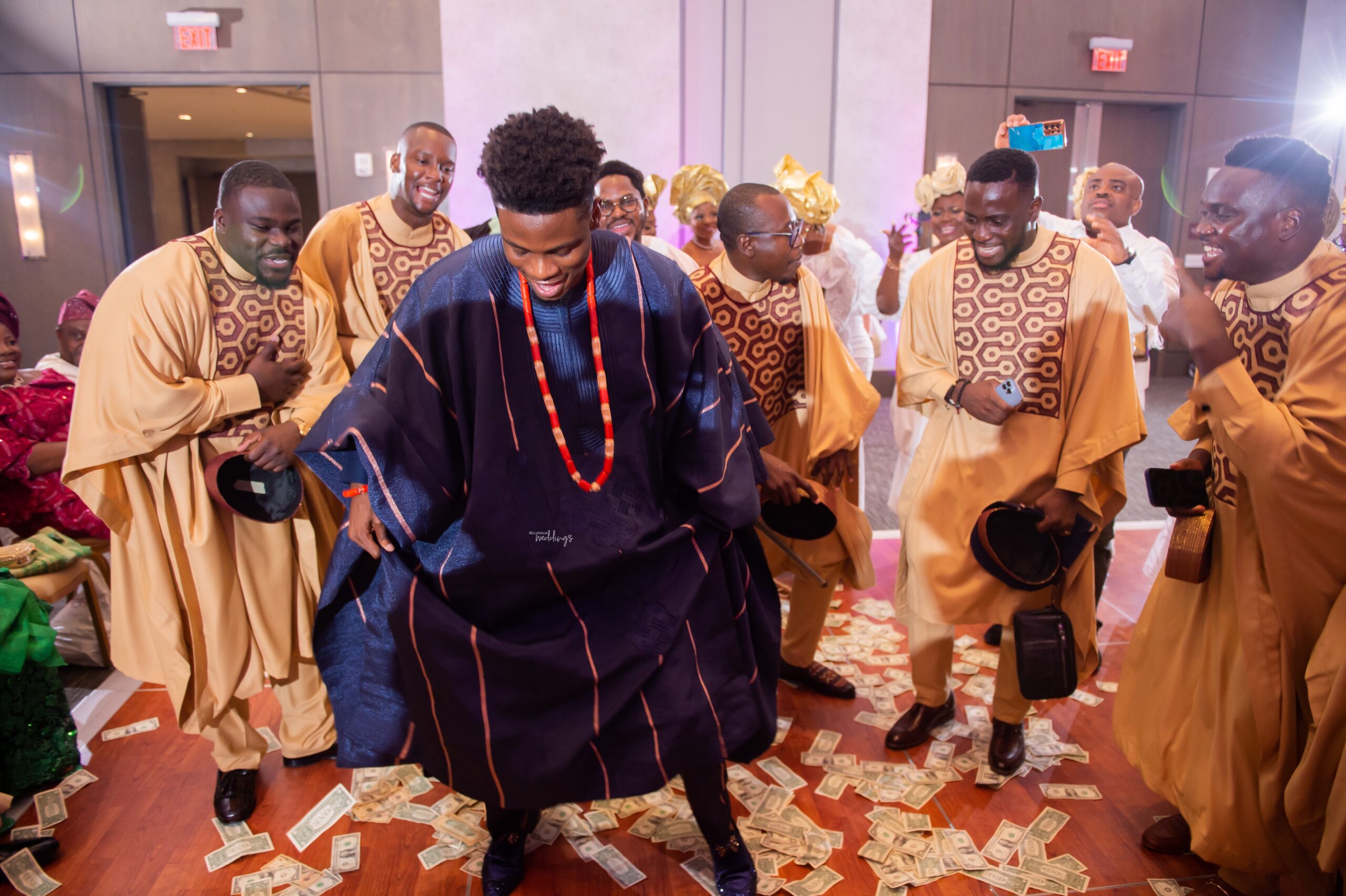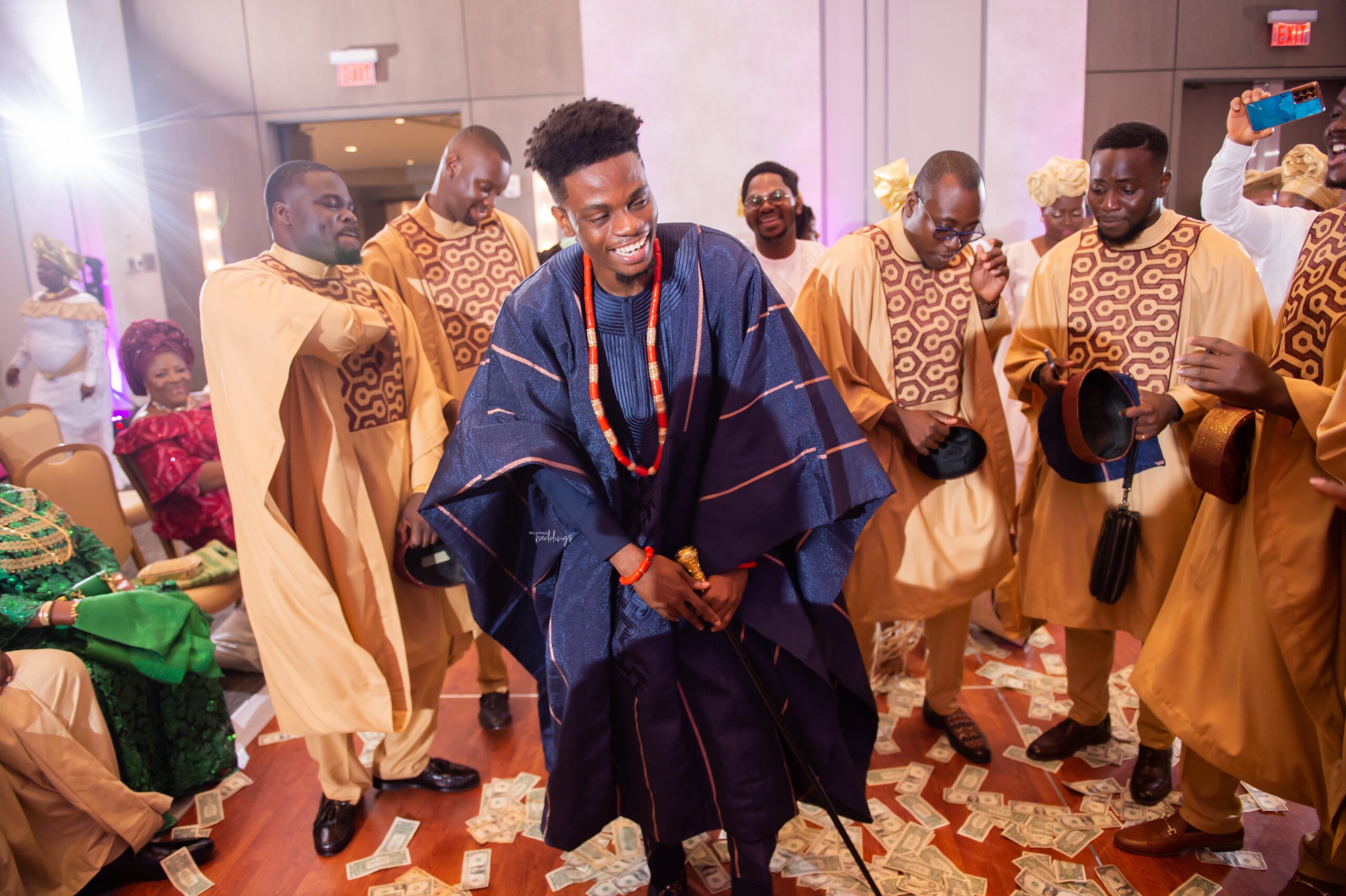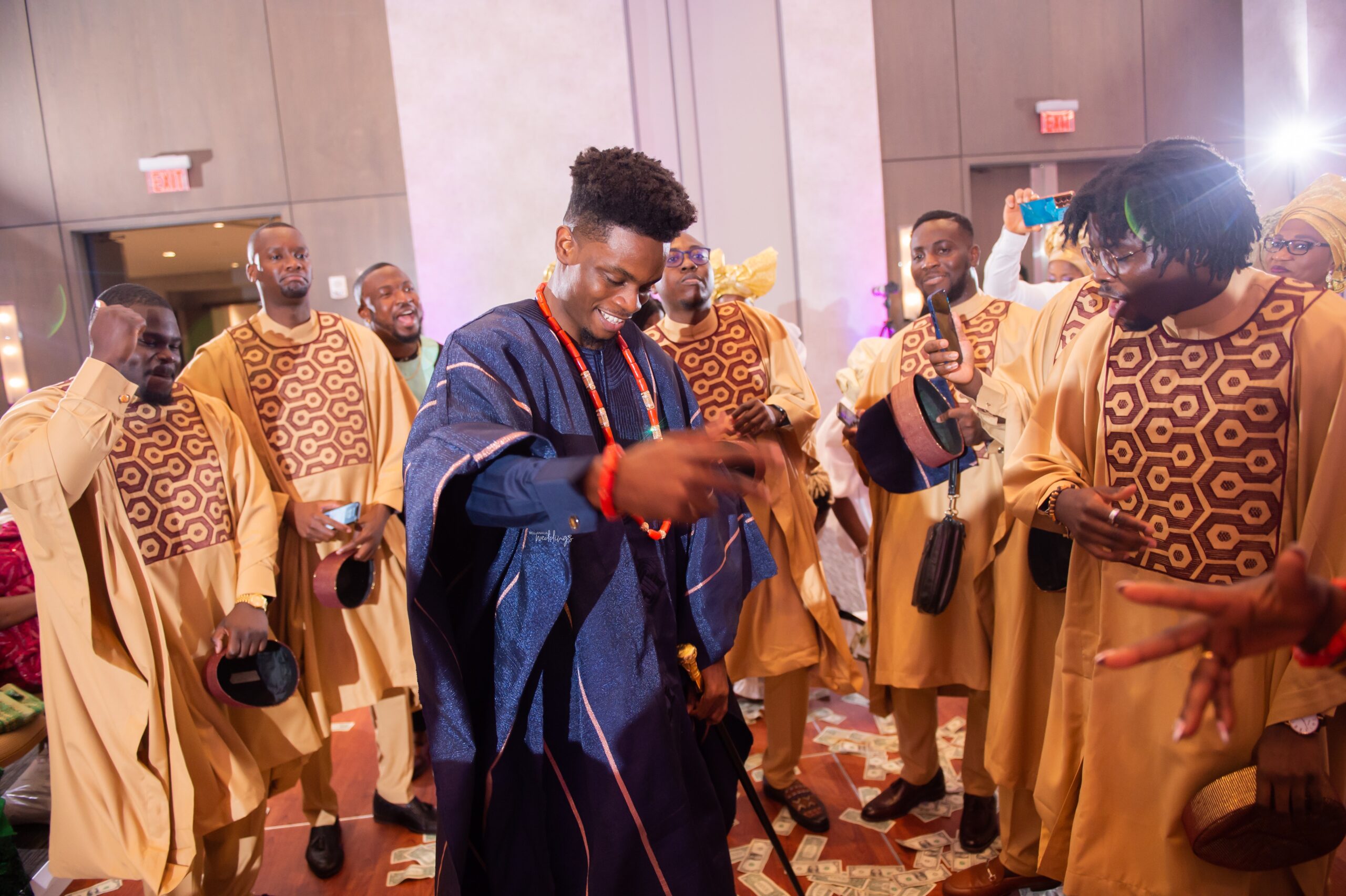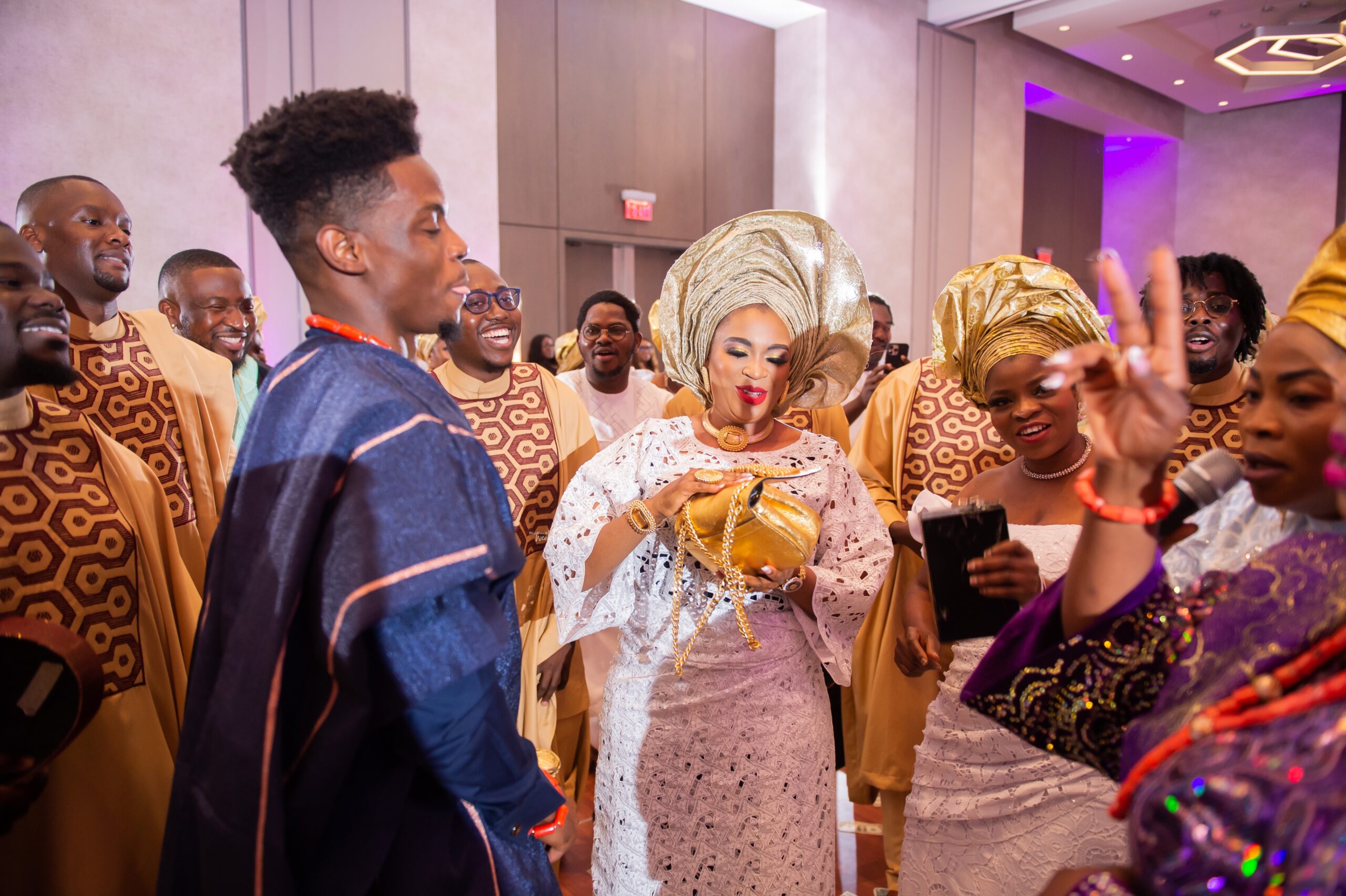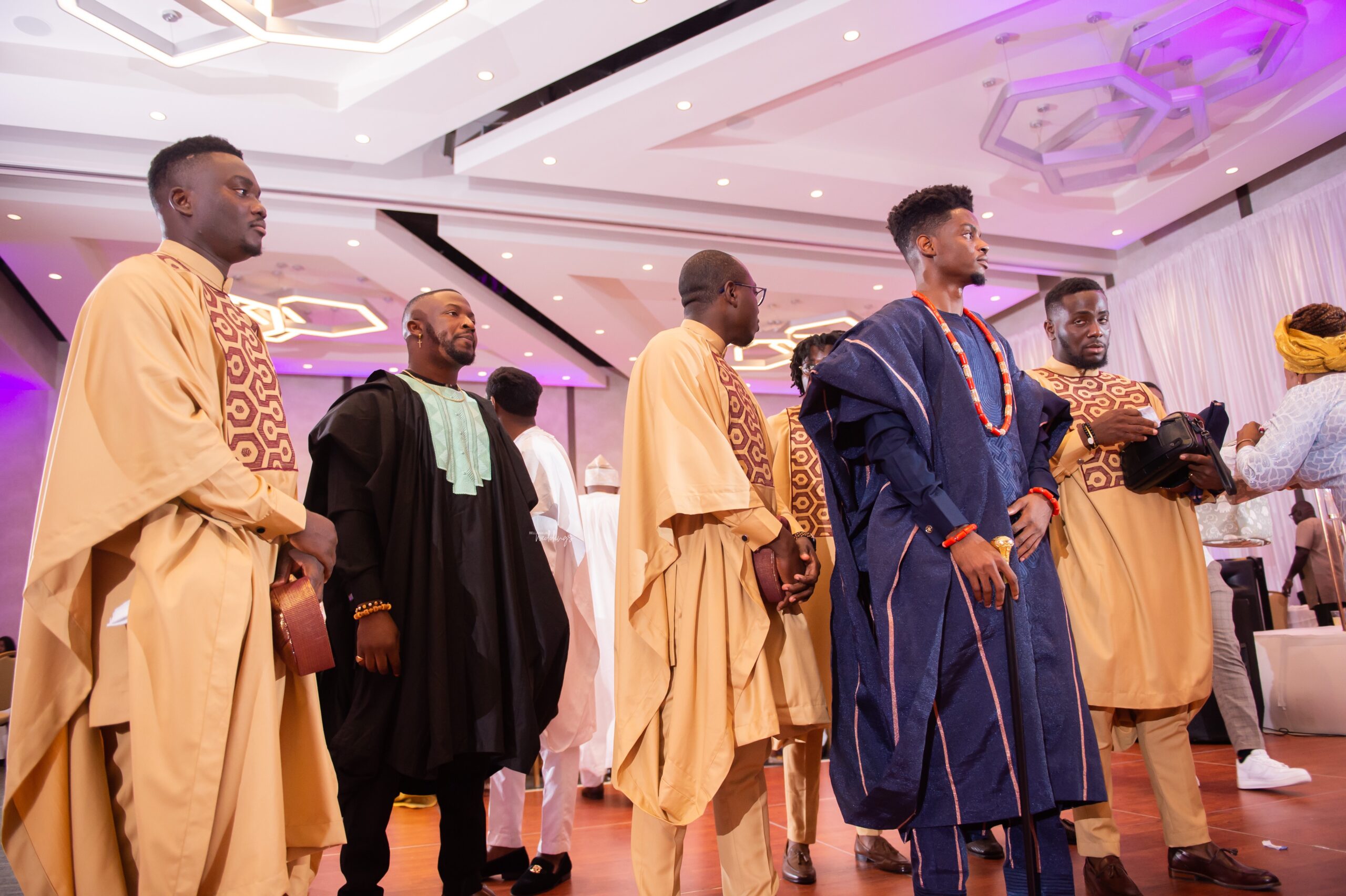 Time for the Idobale according to the Yoruba culture…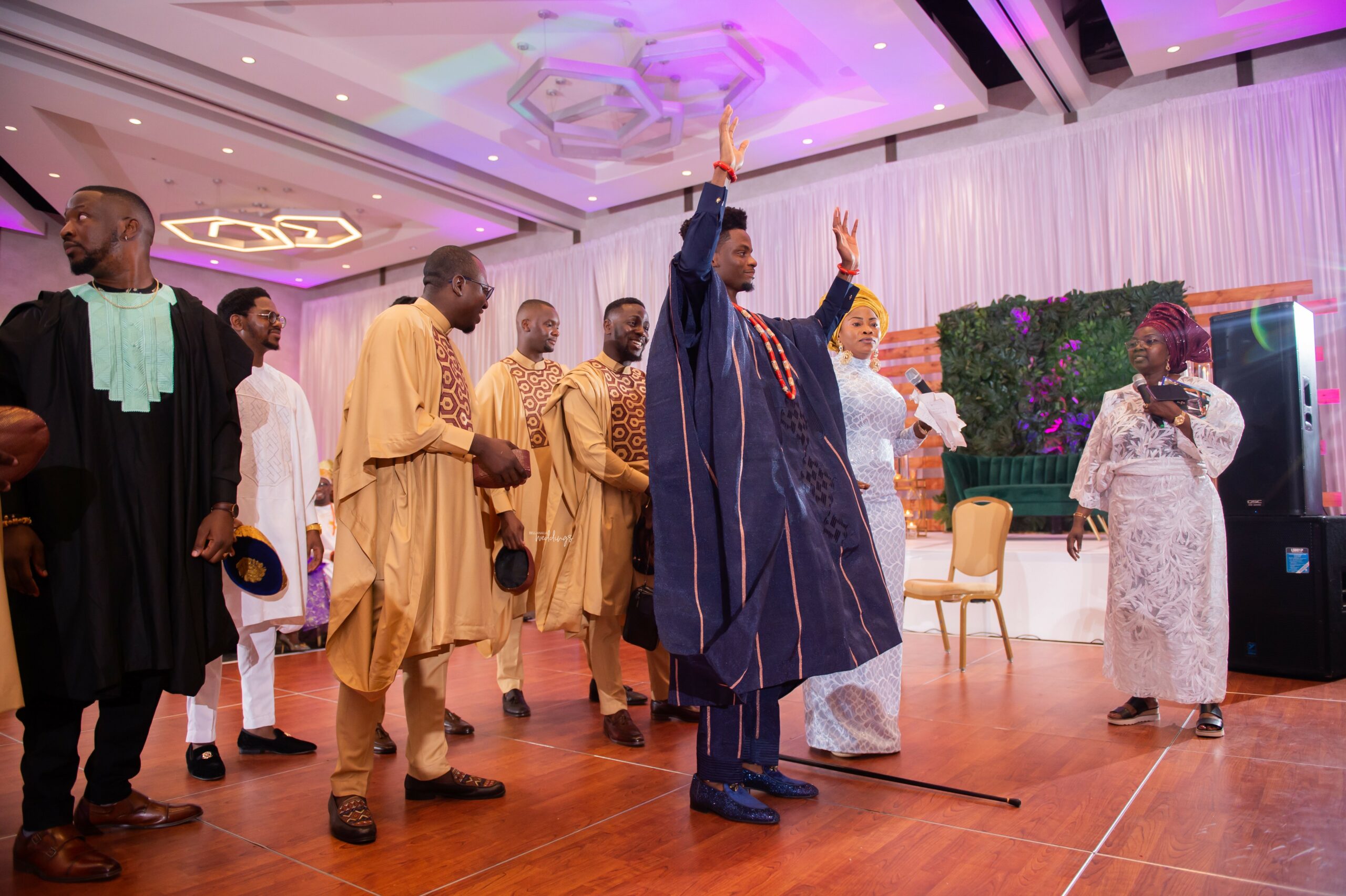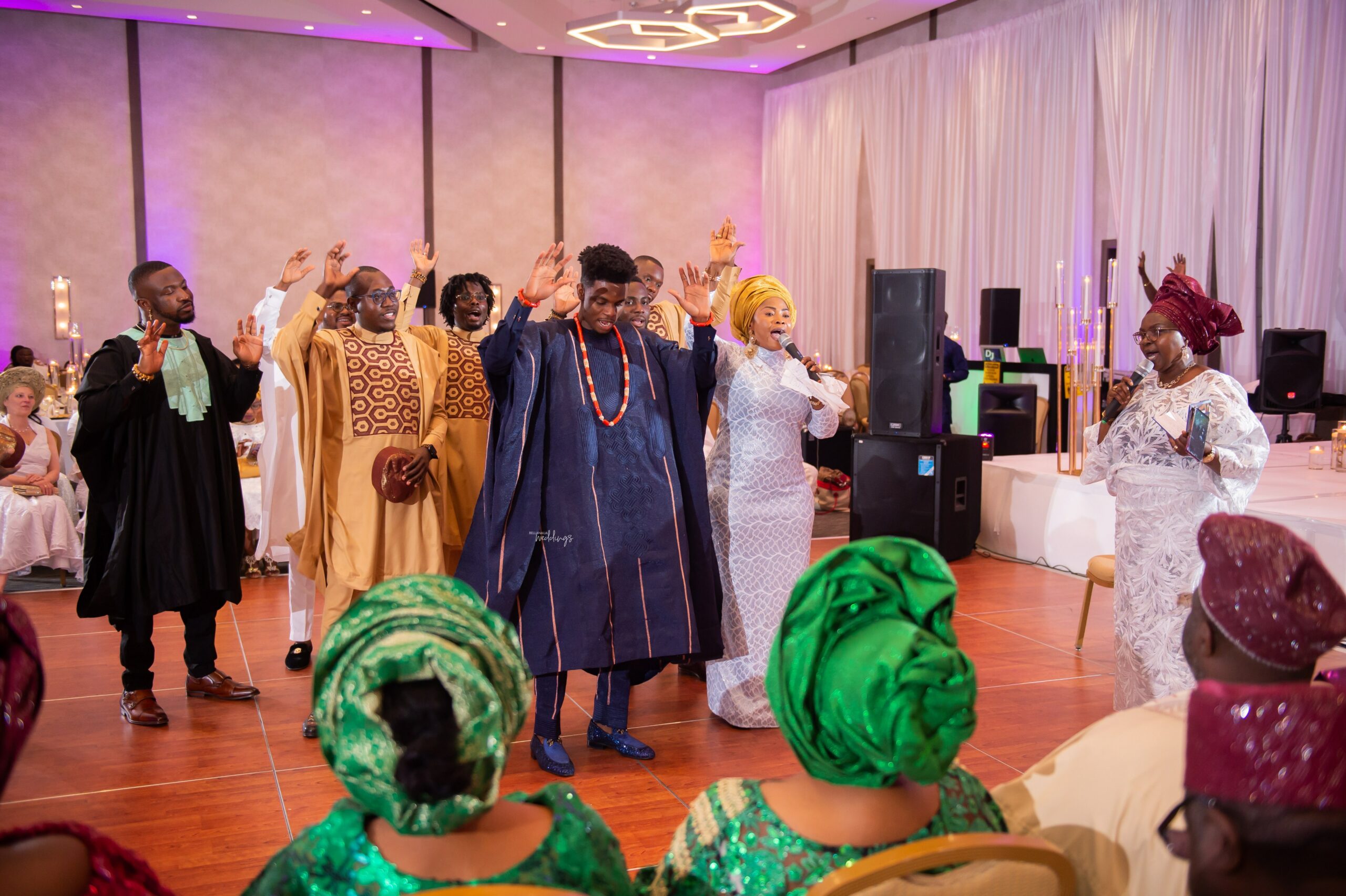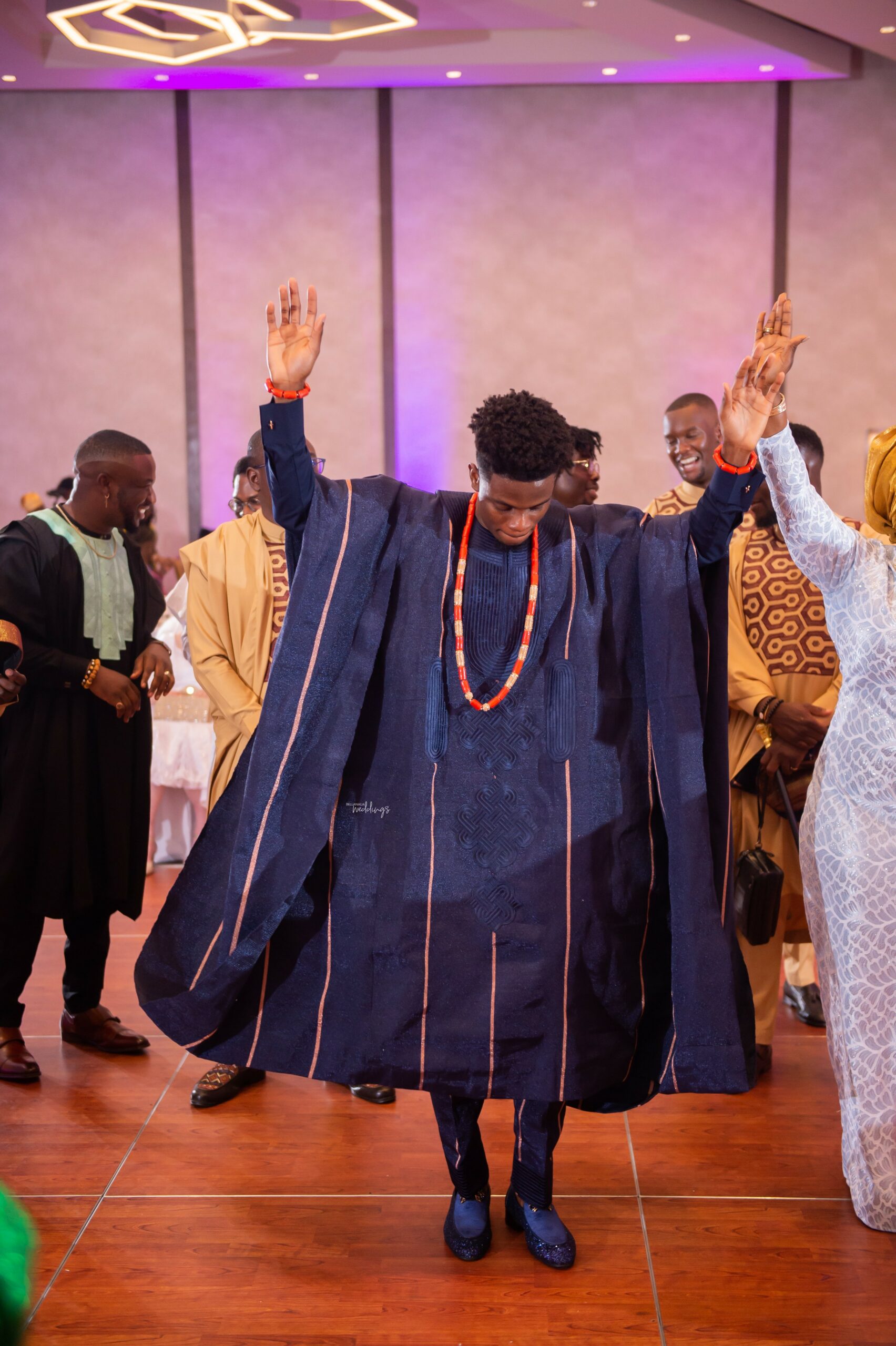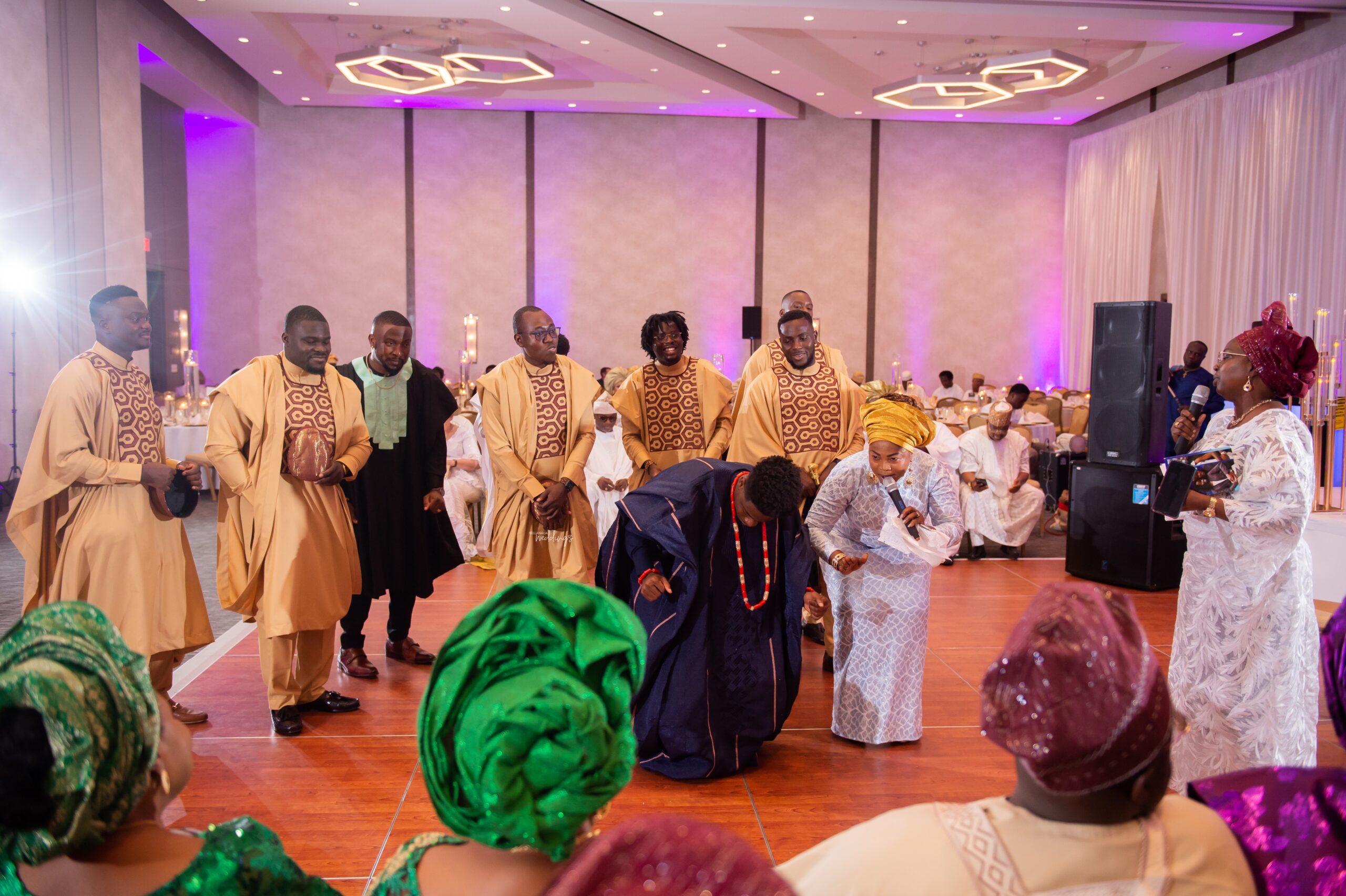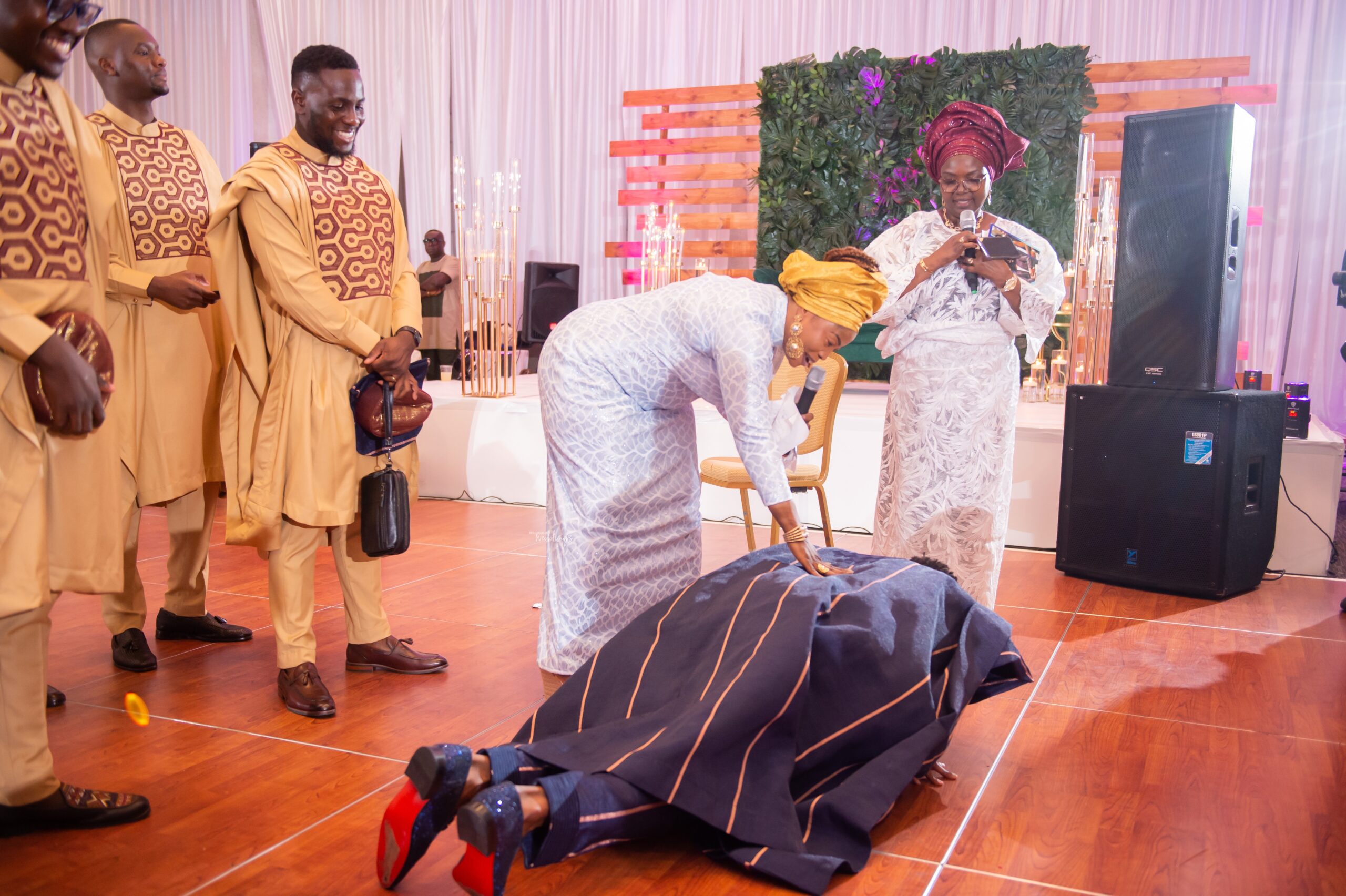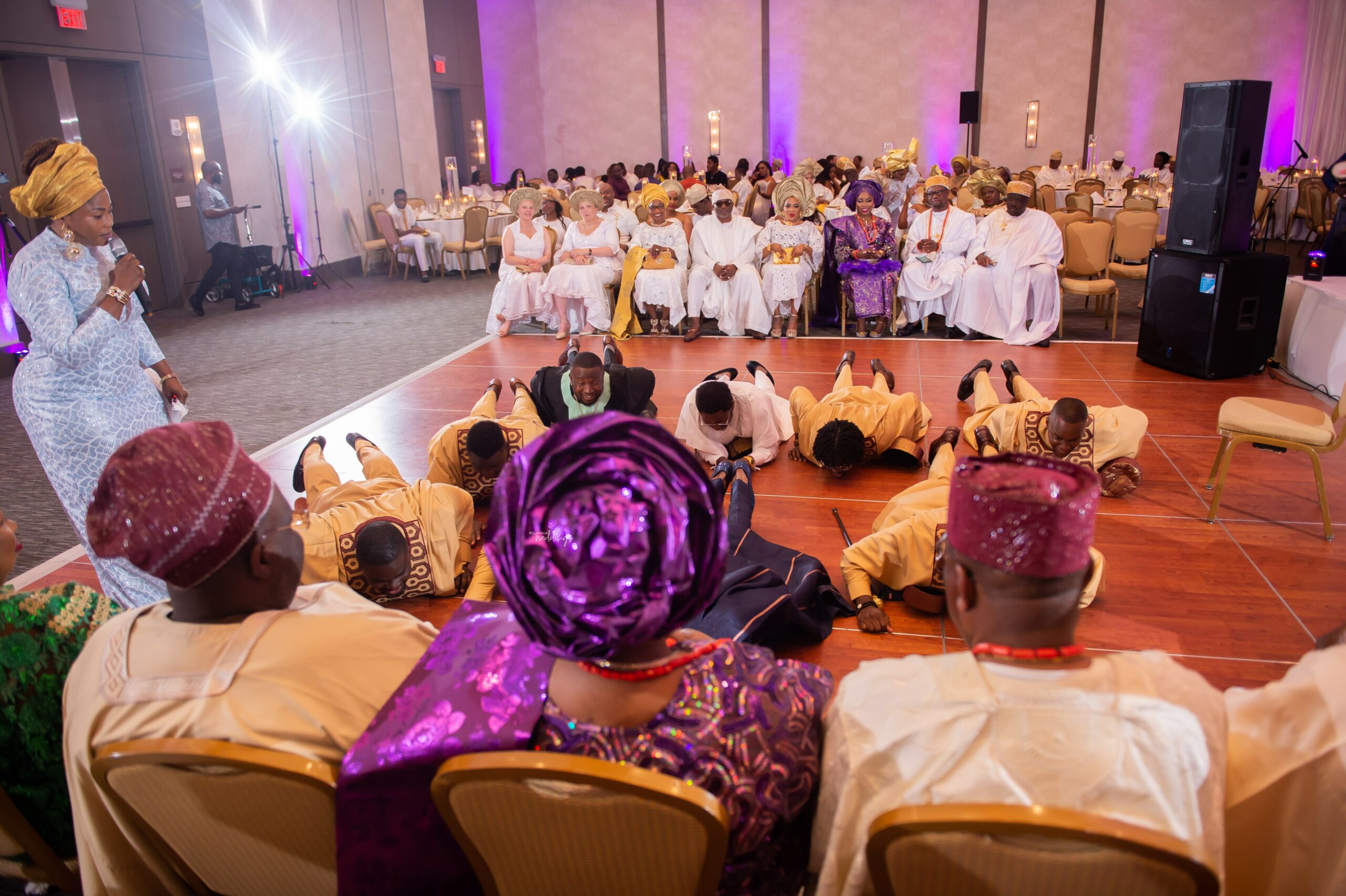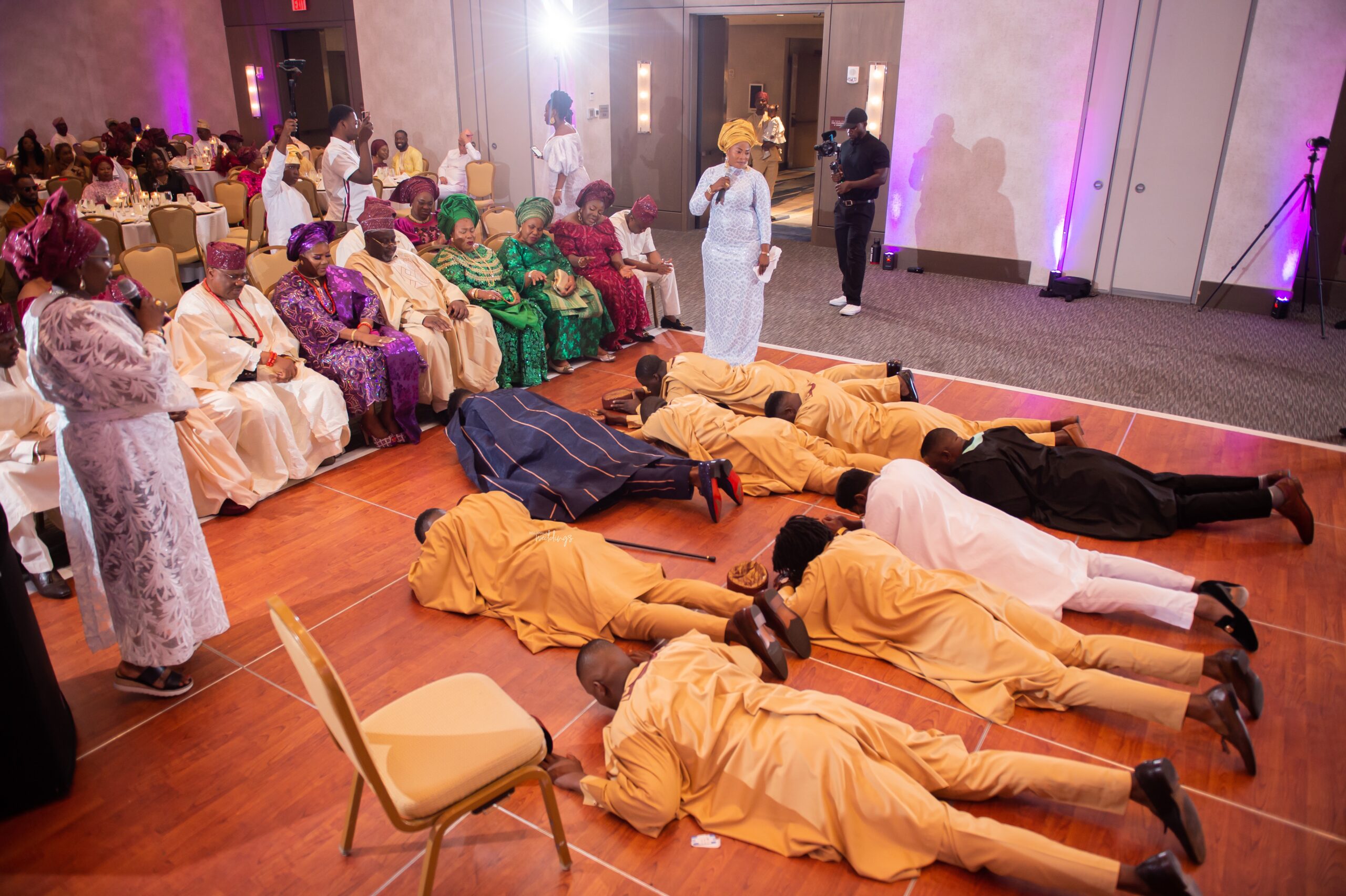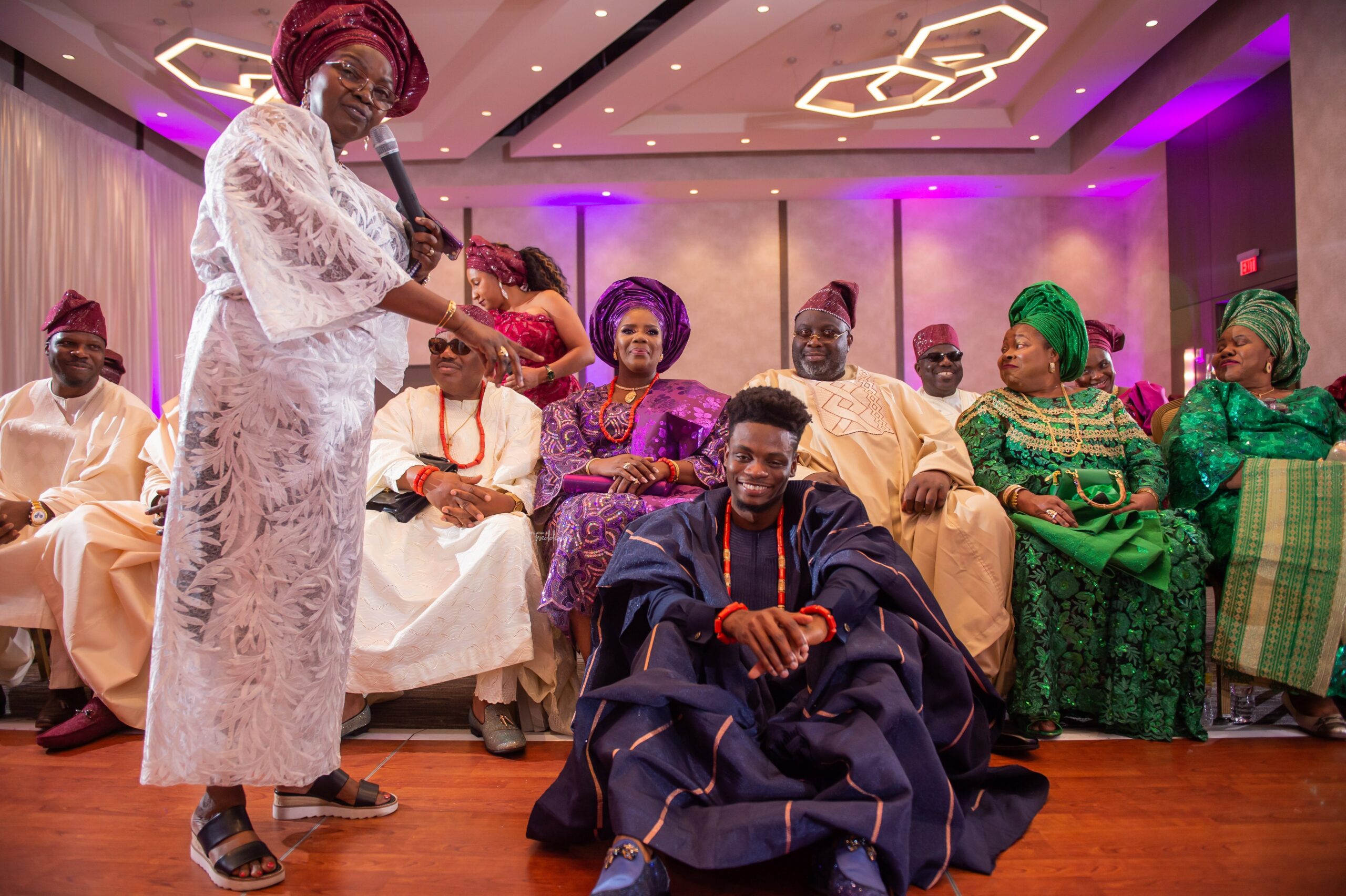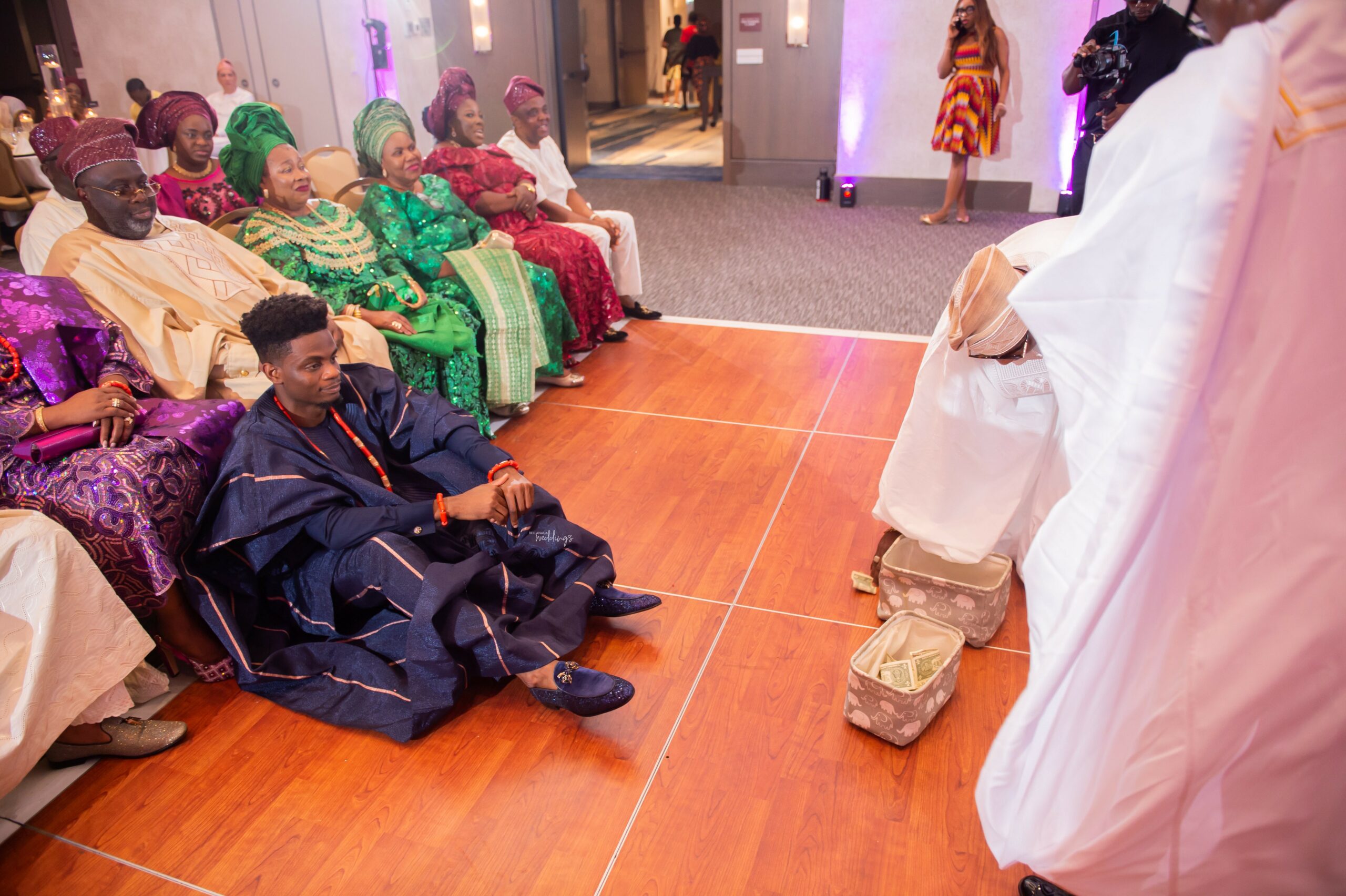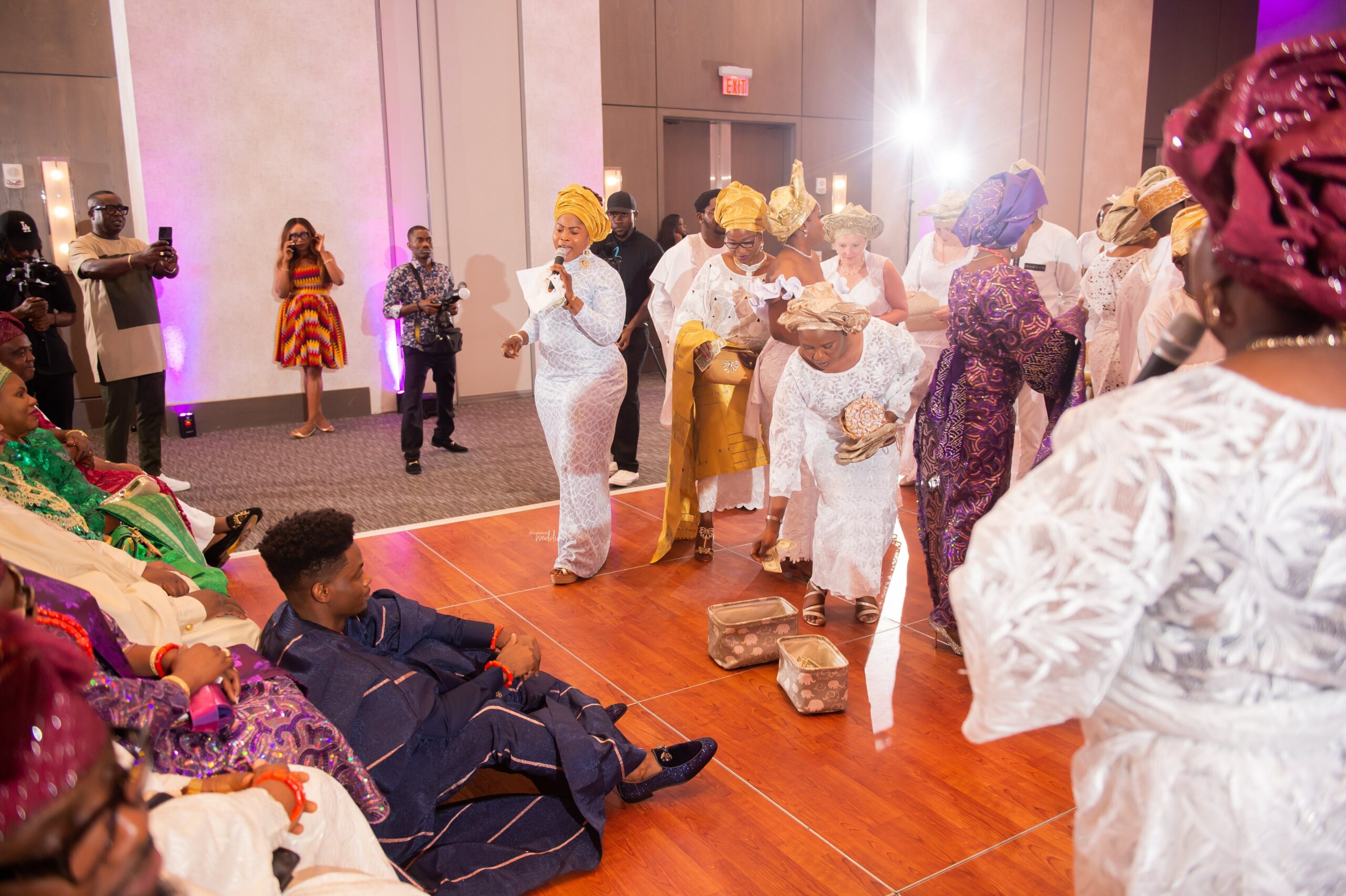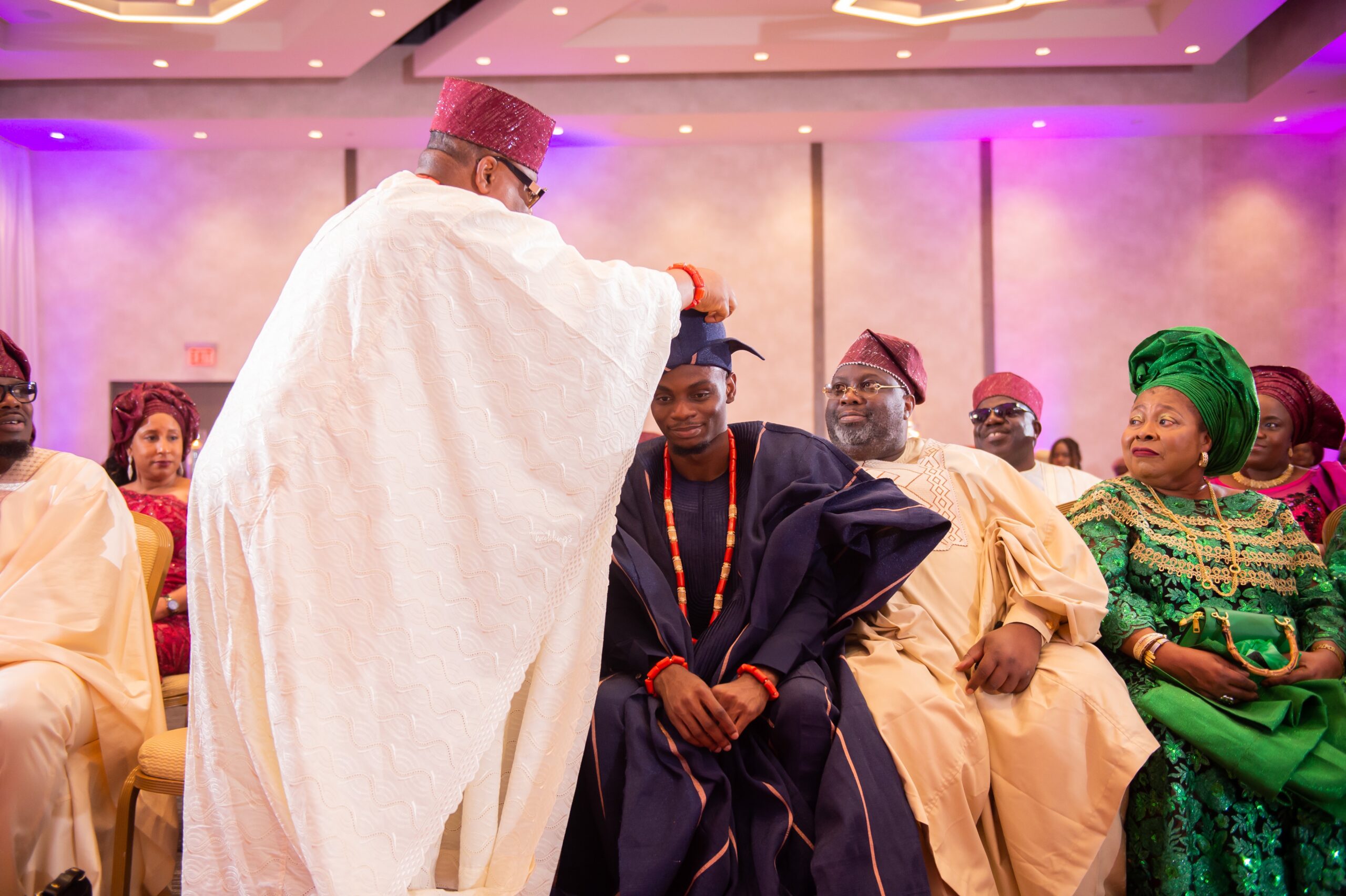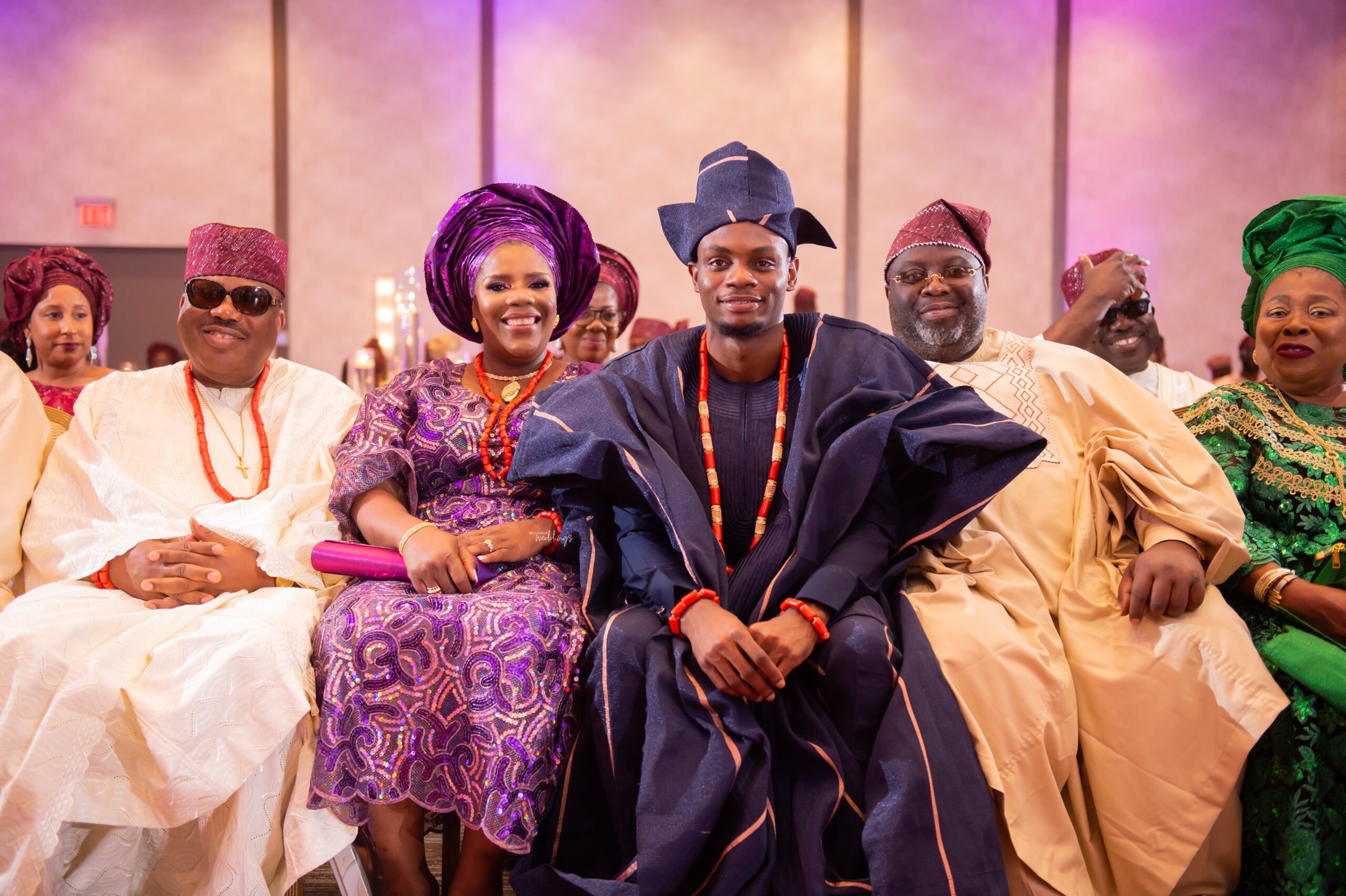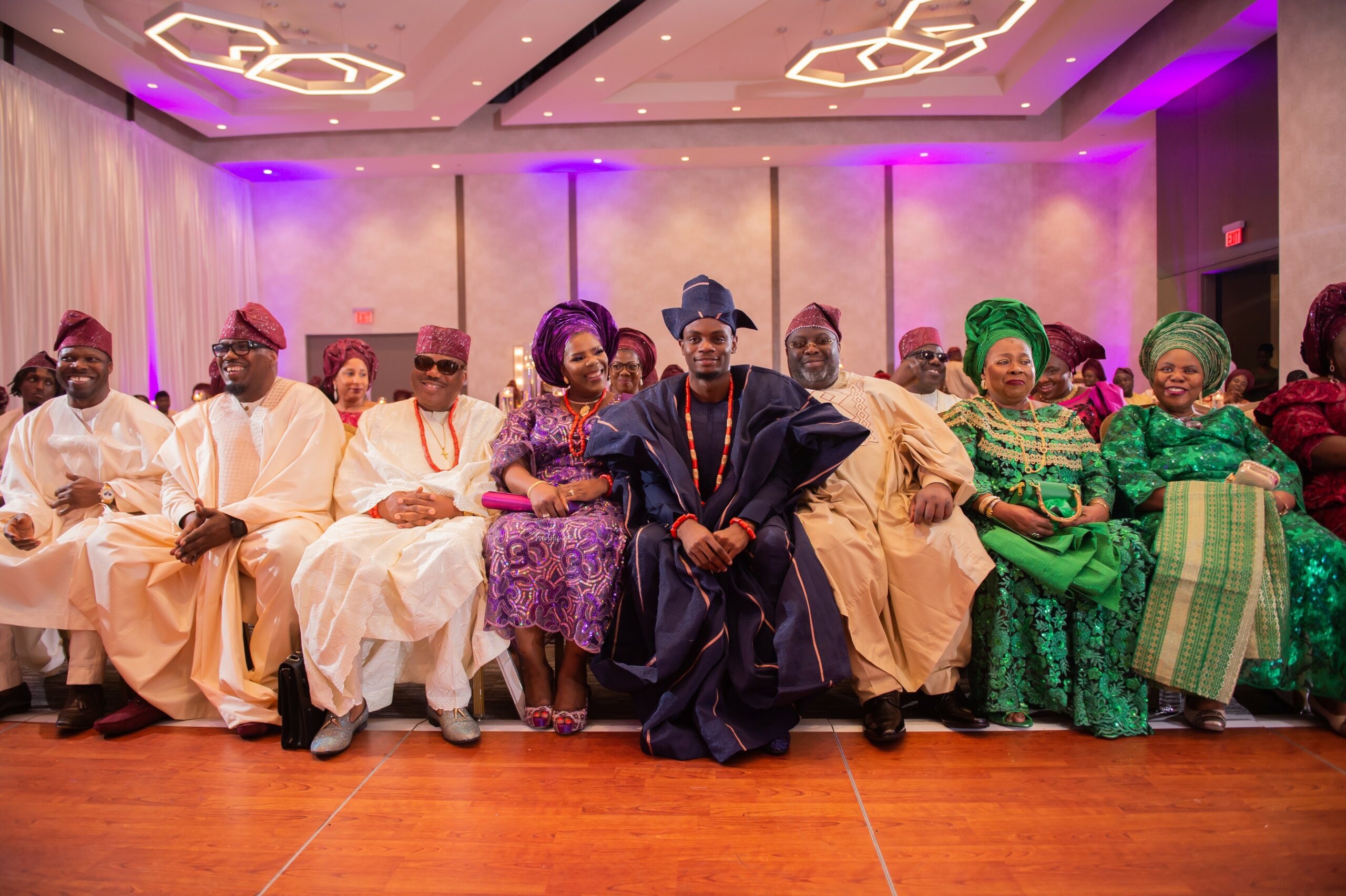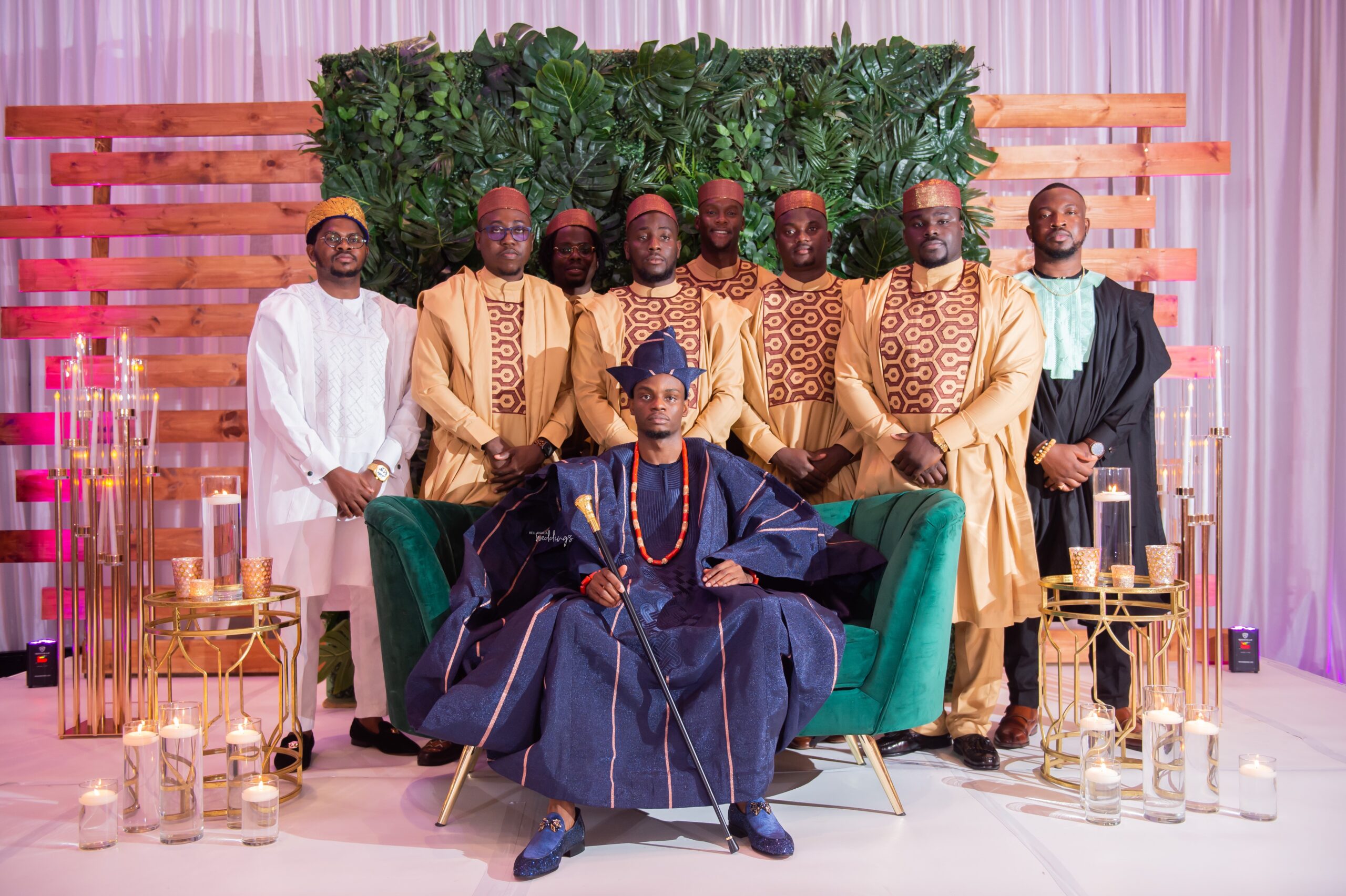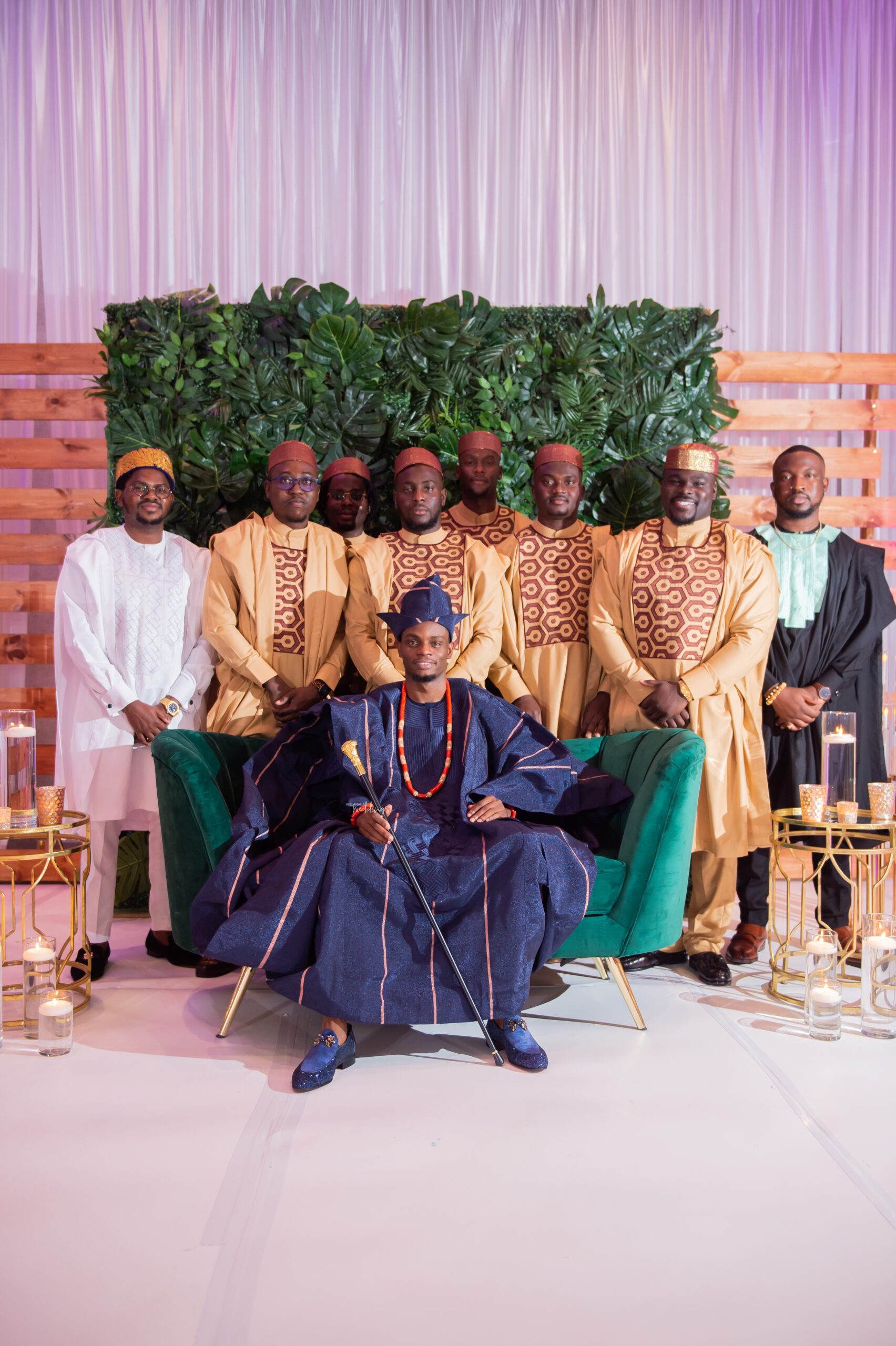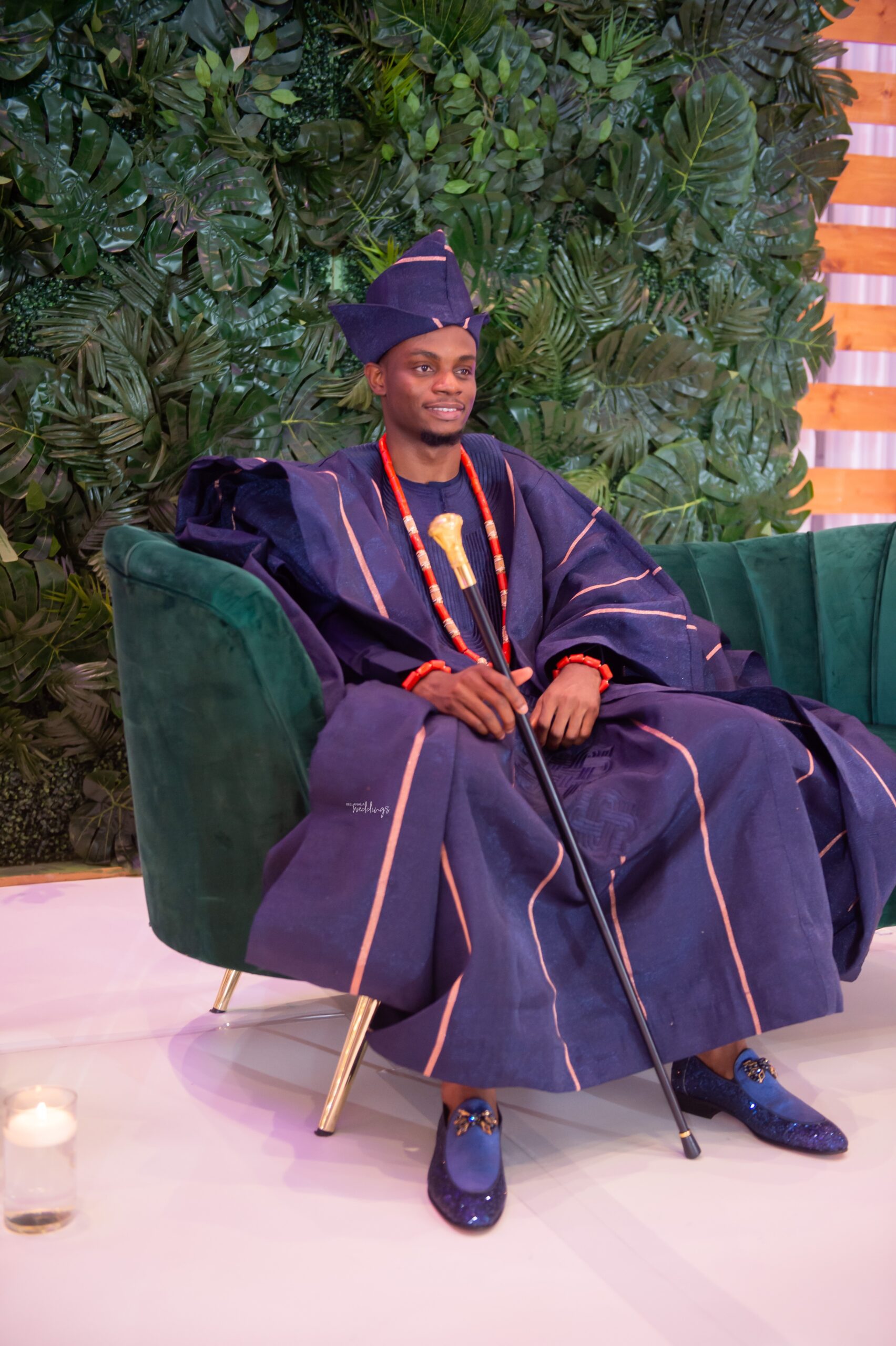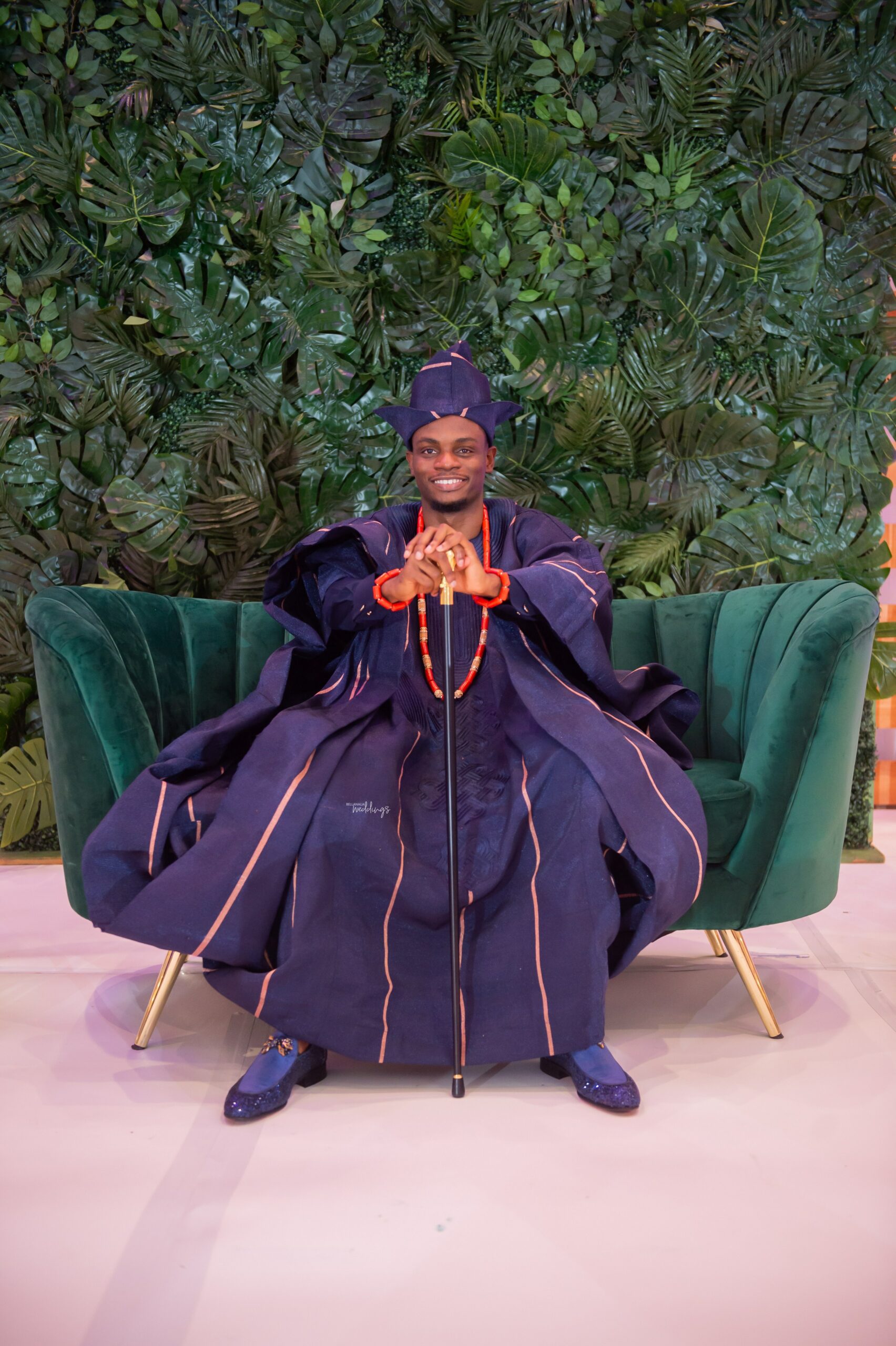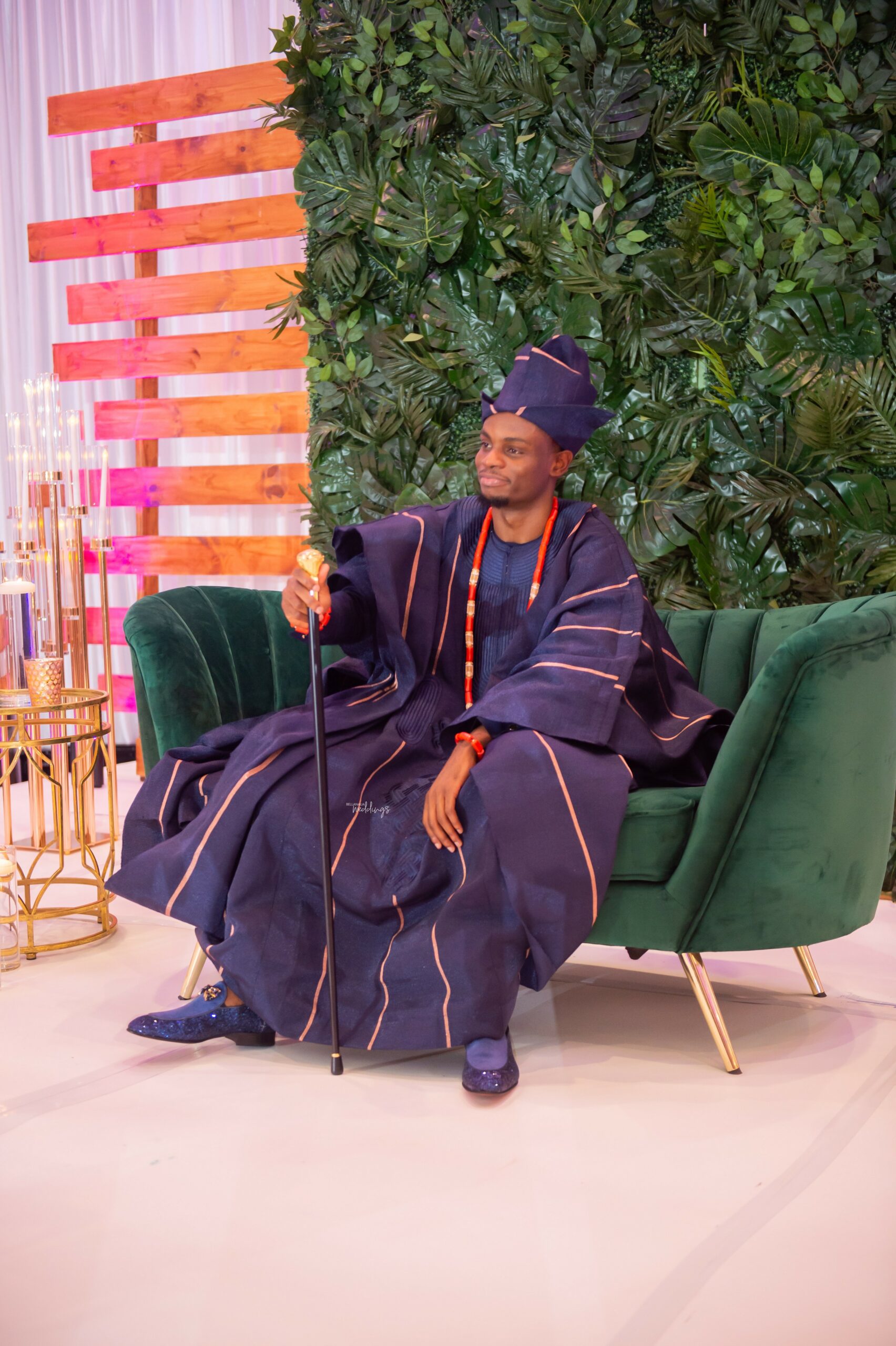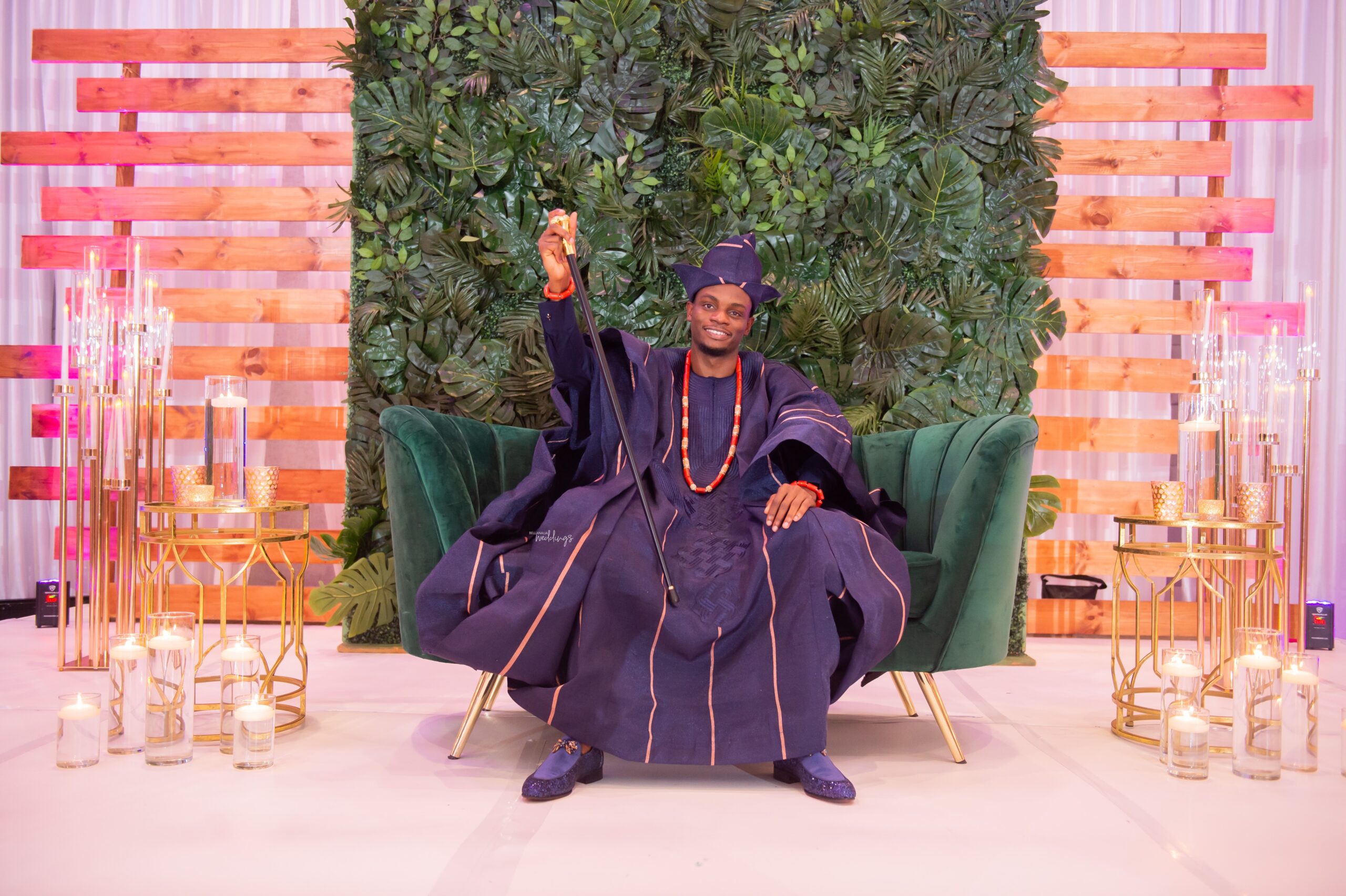 Now, the bride is here!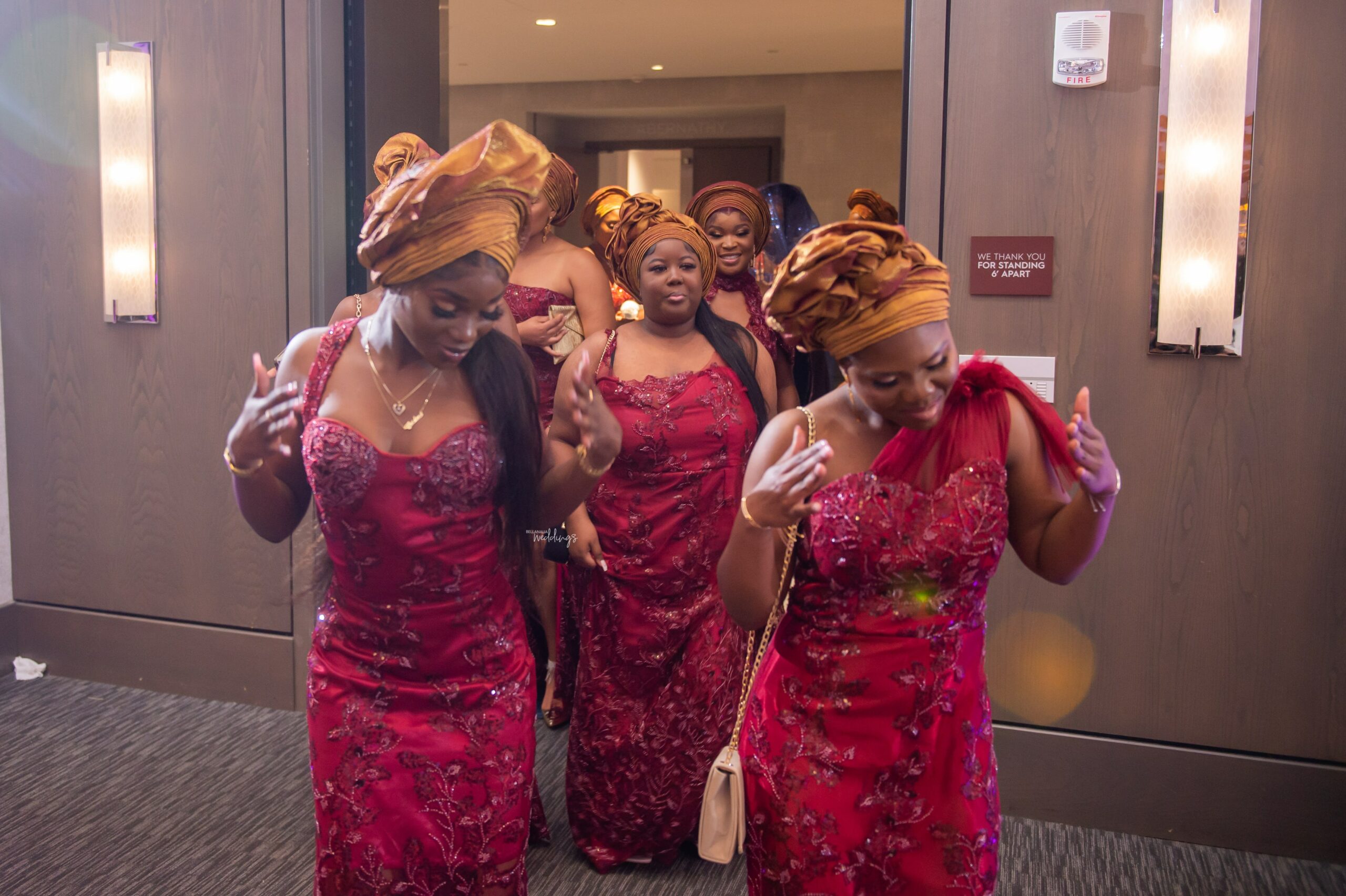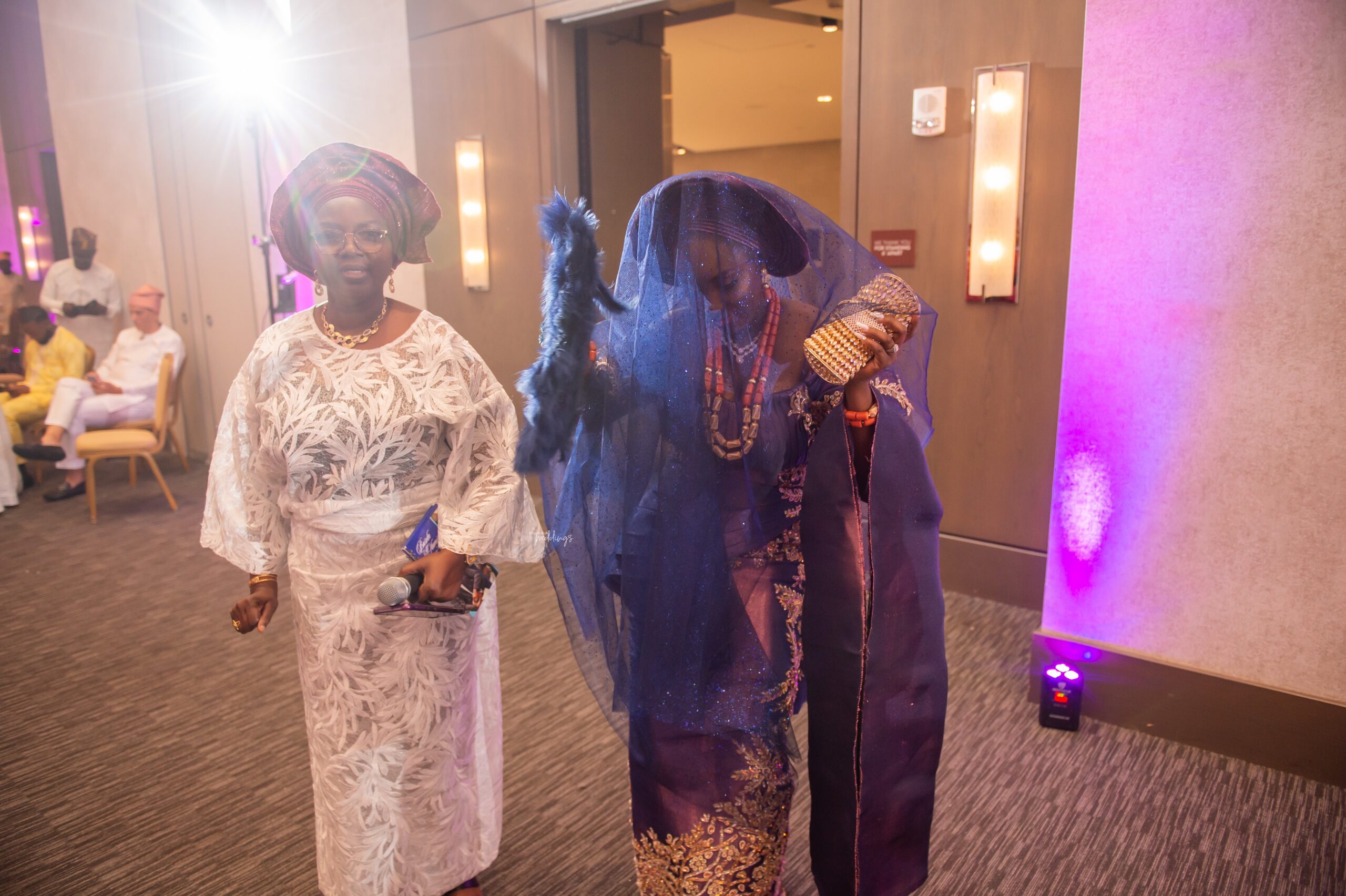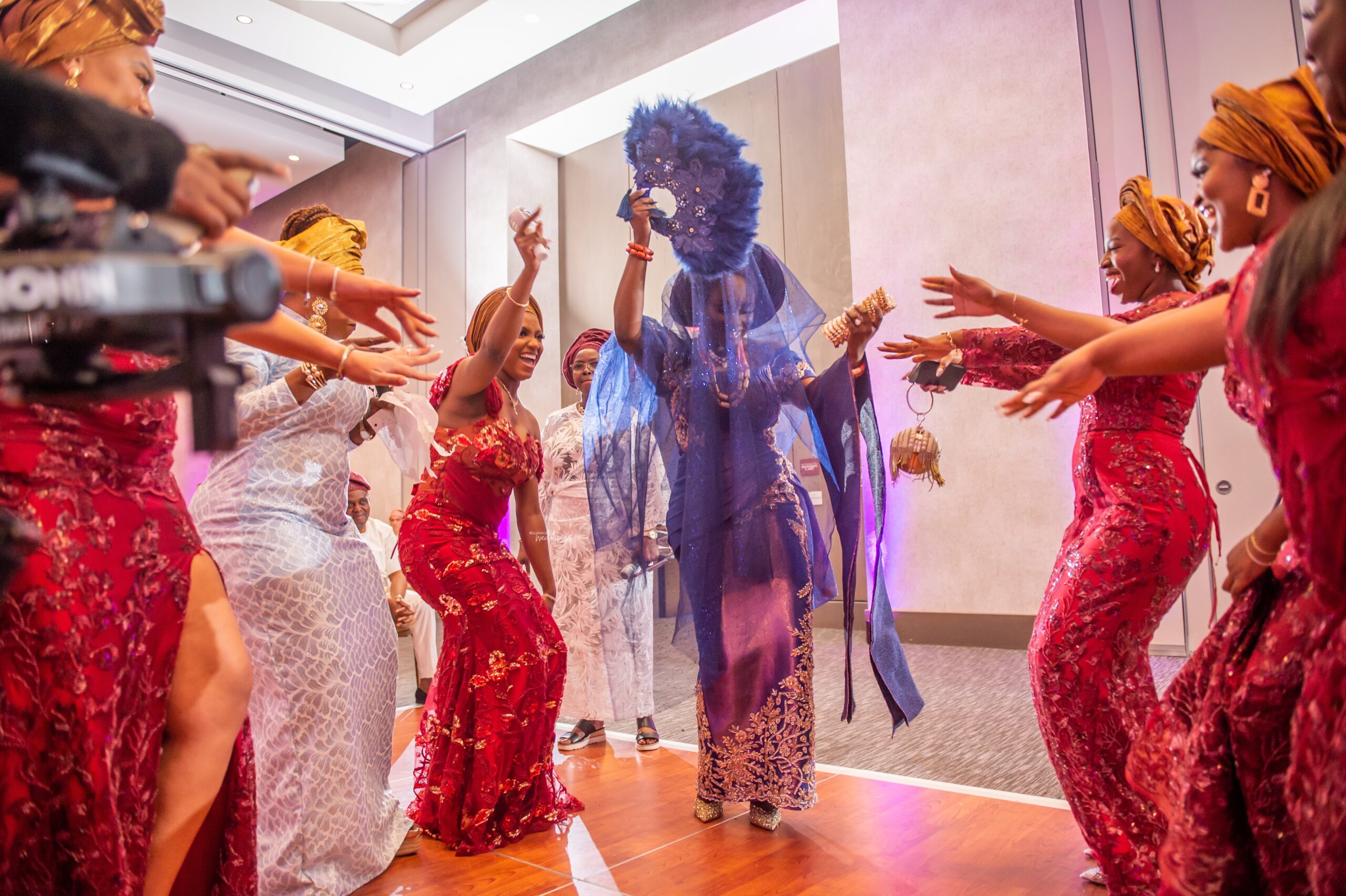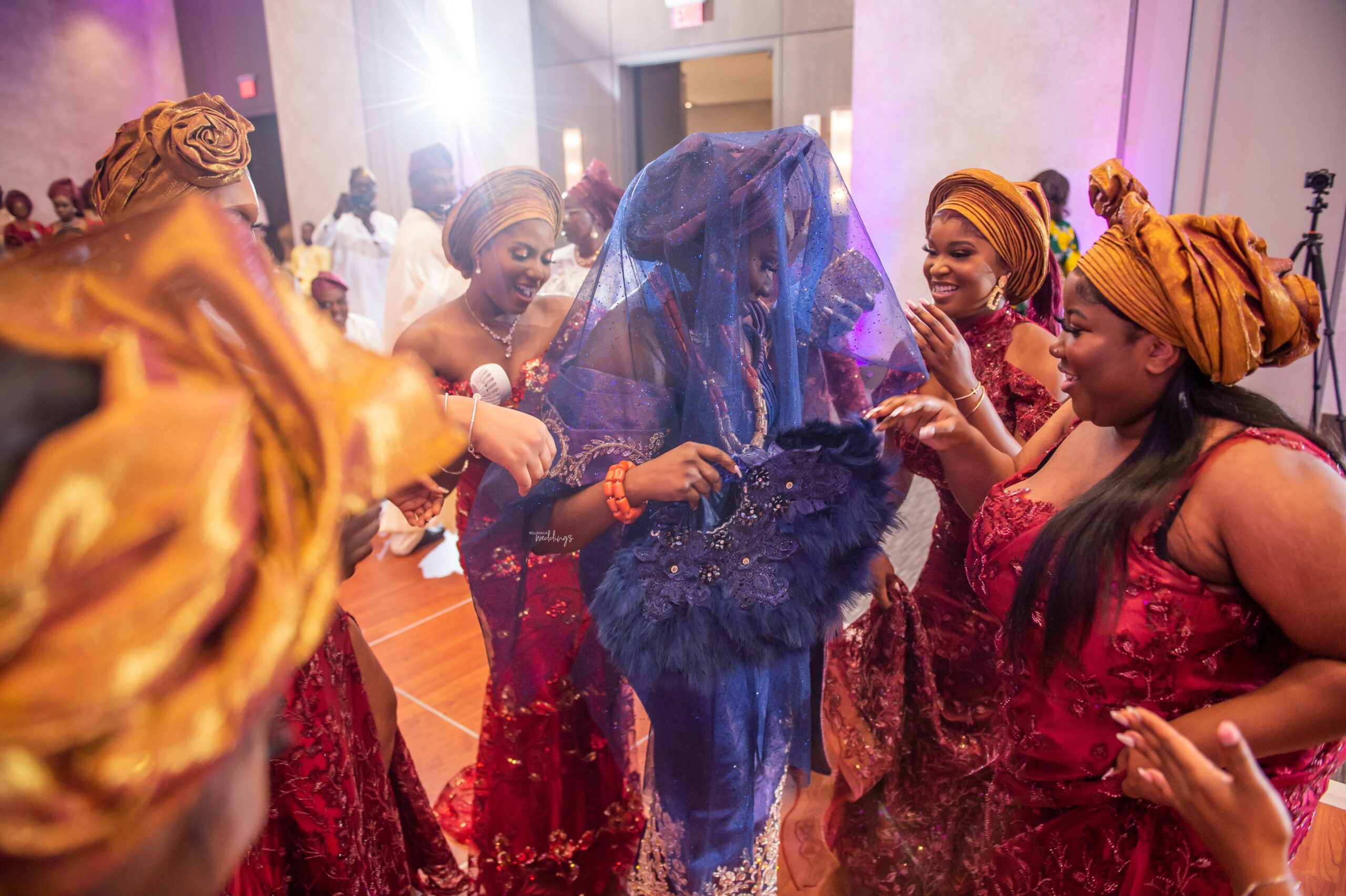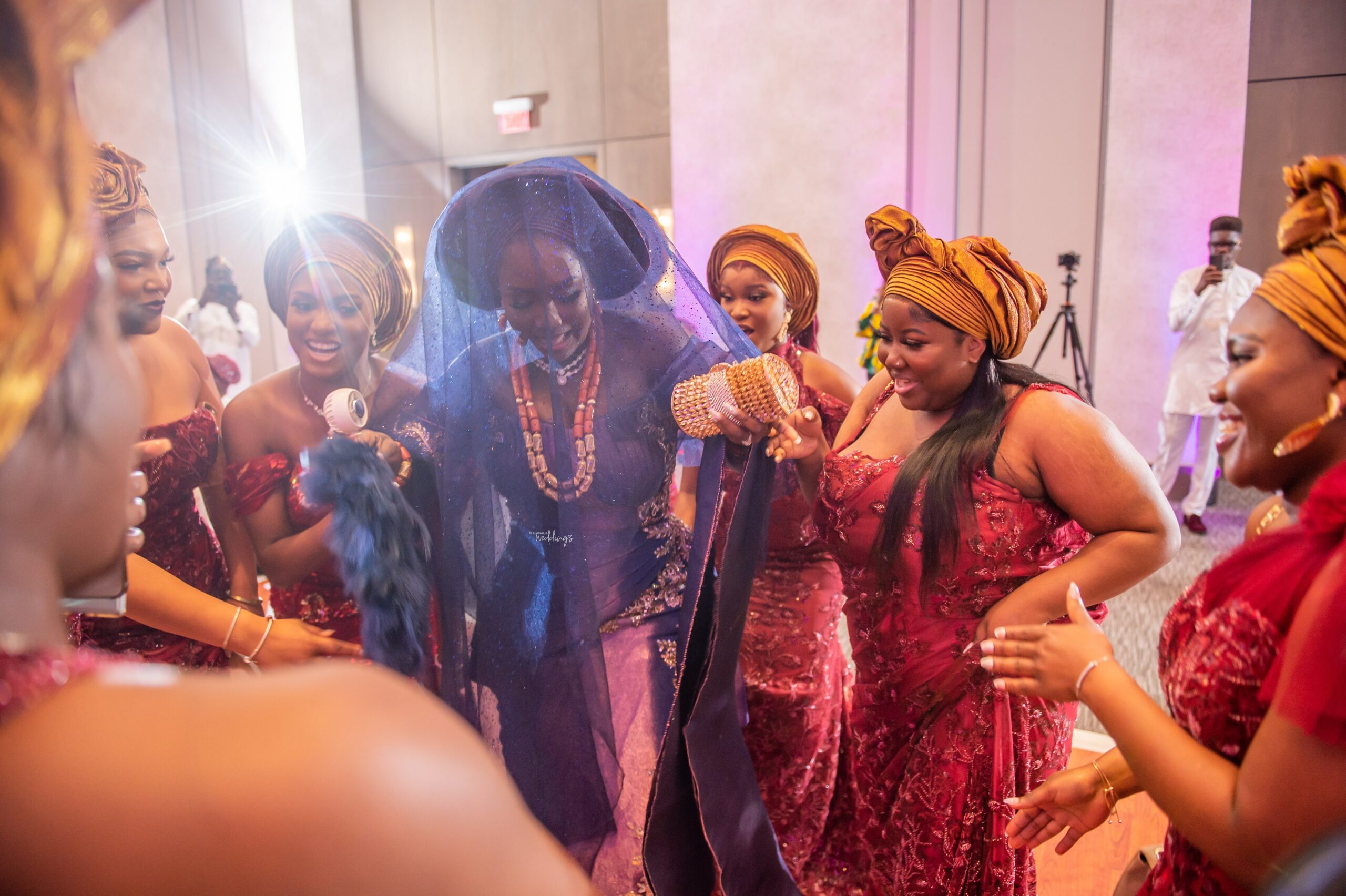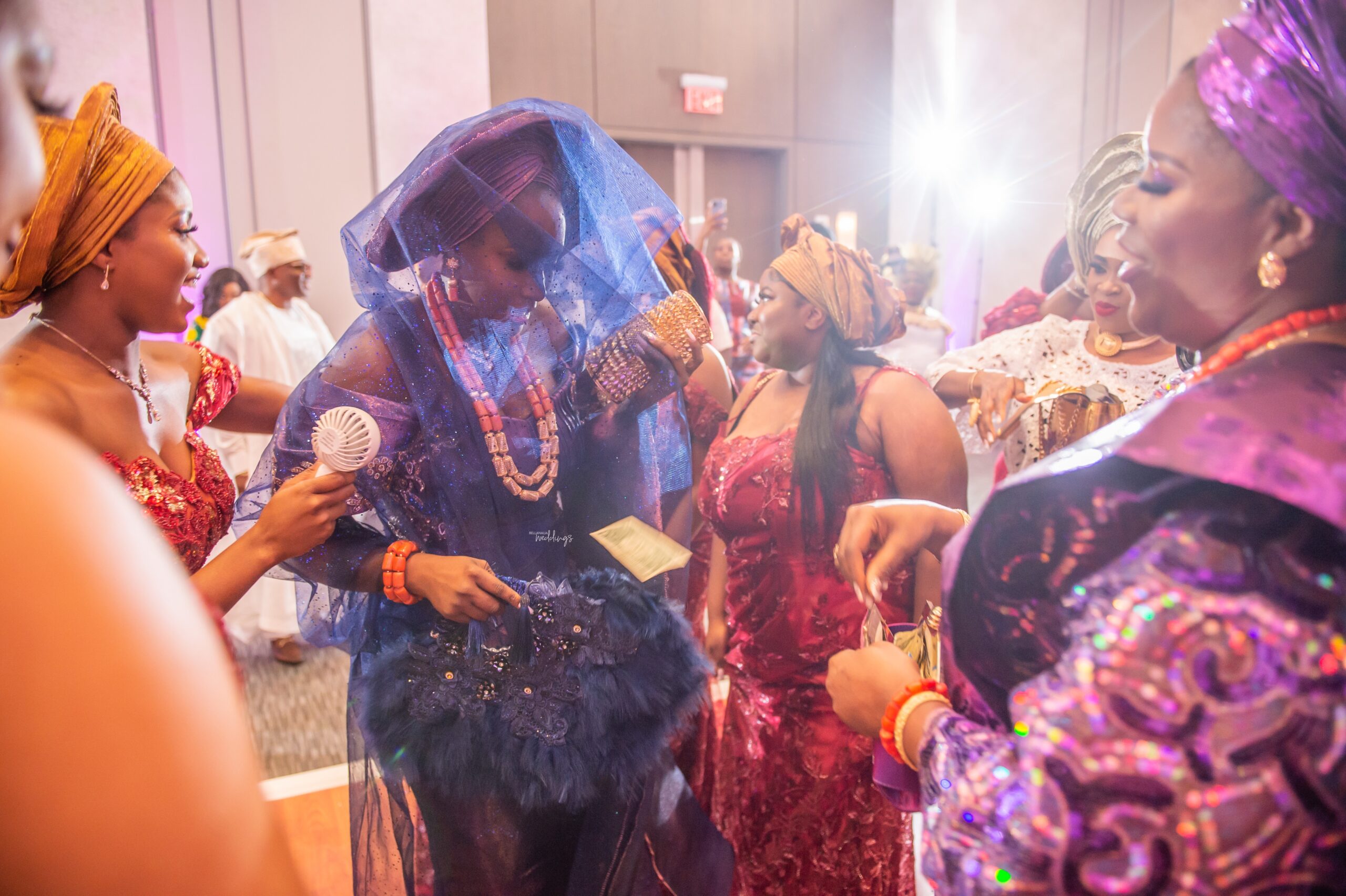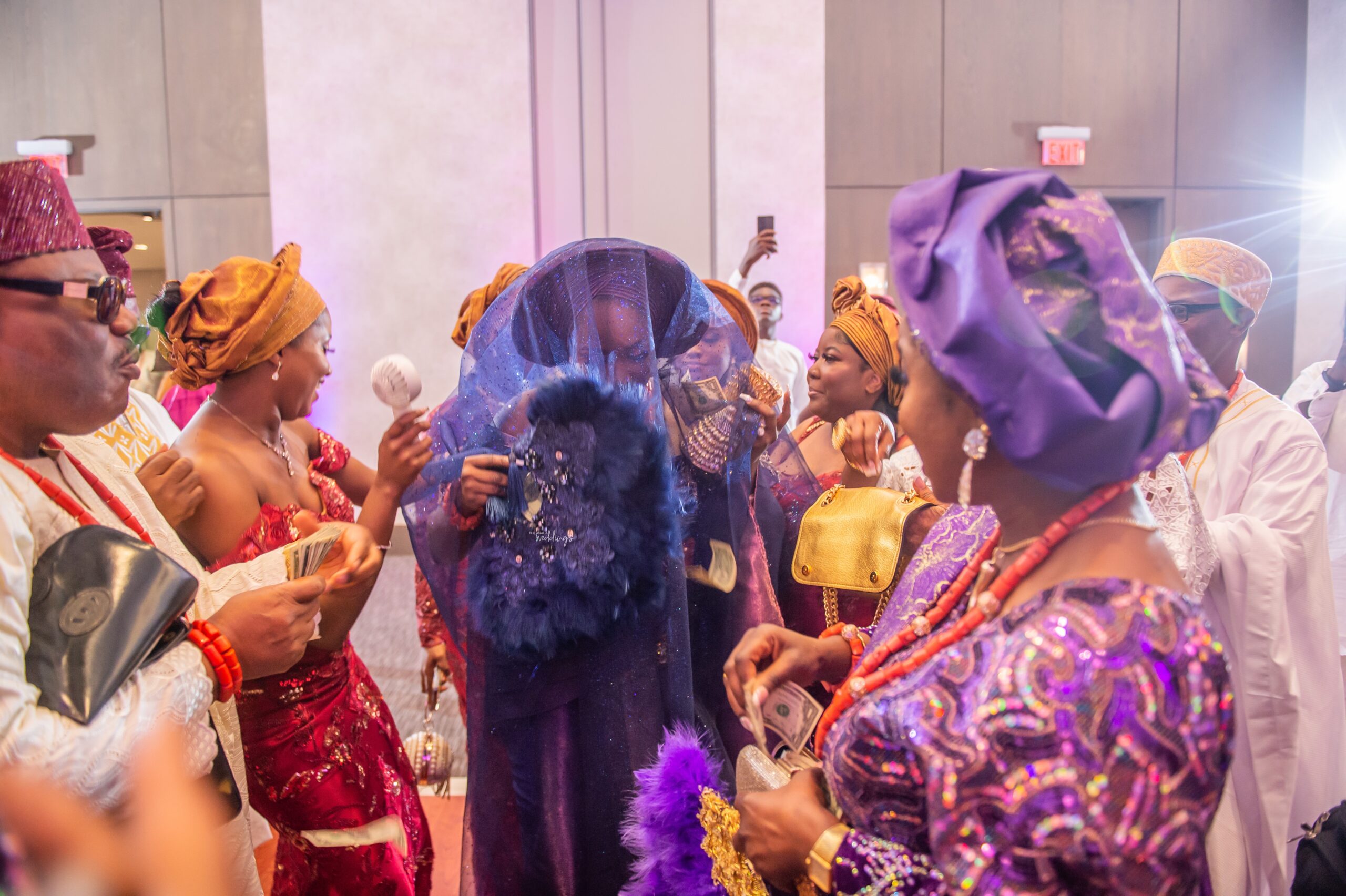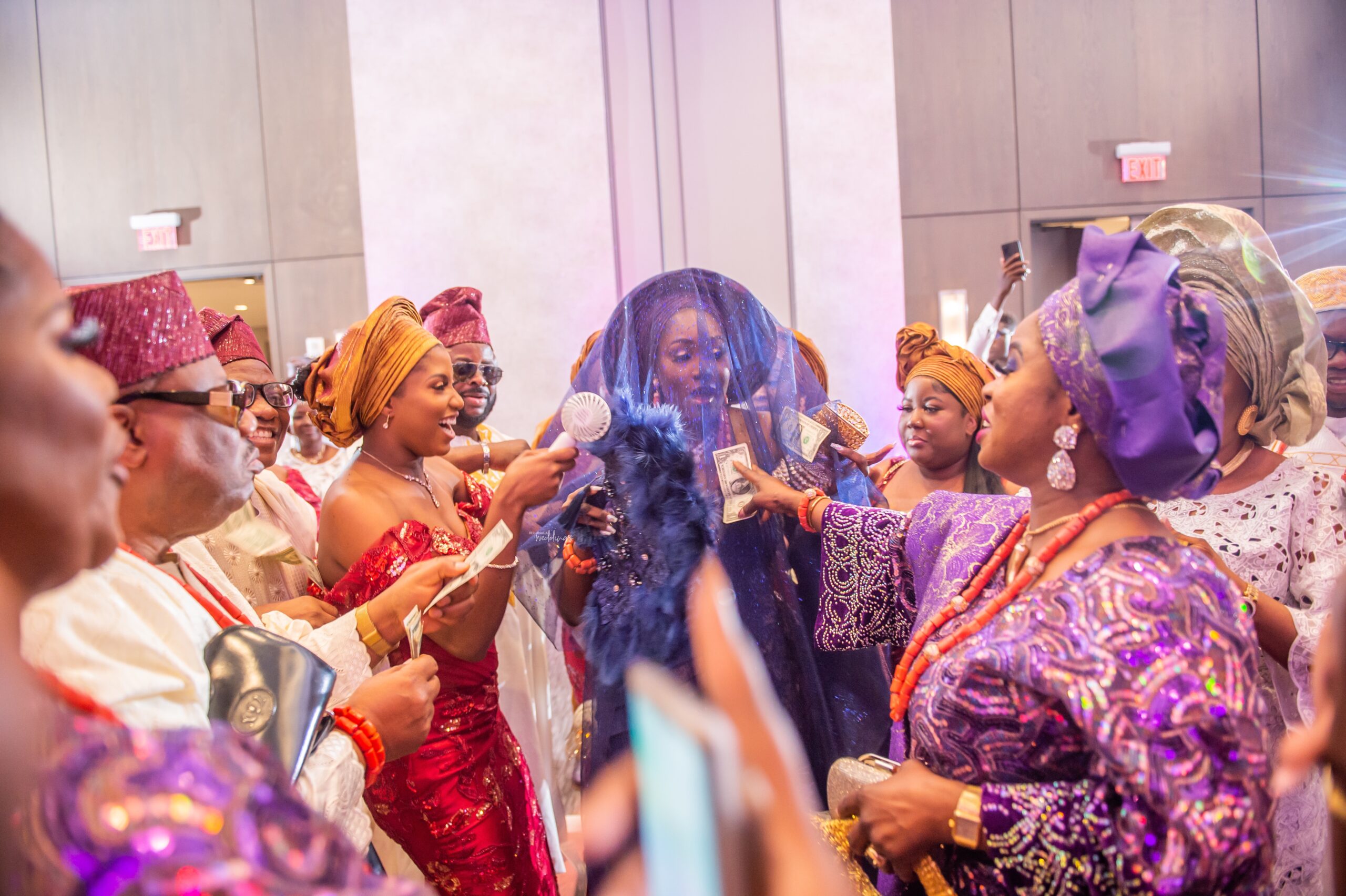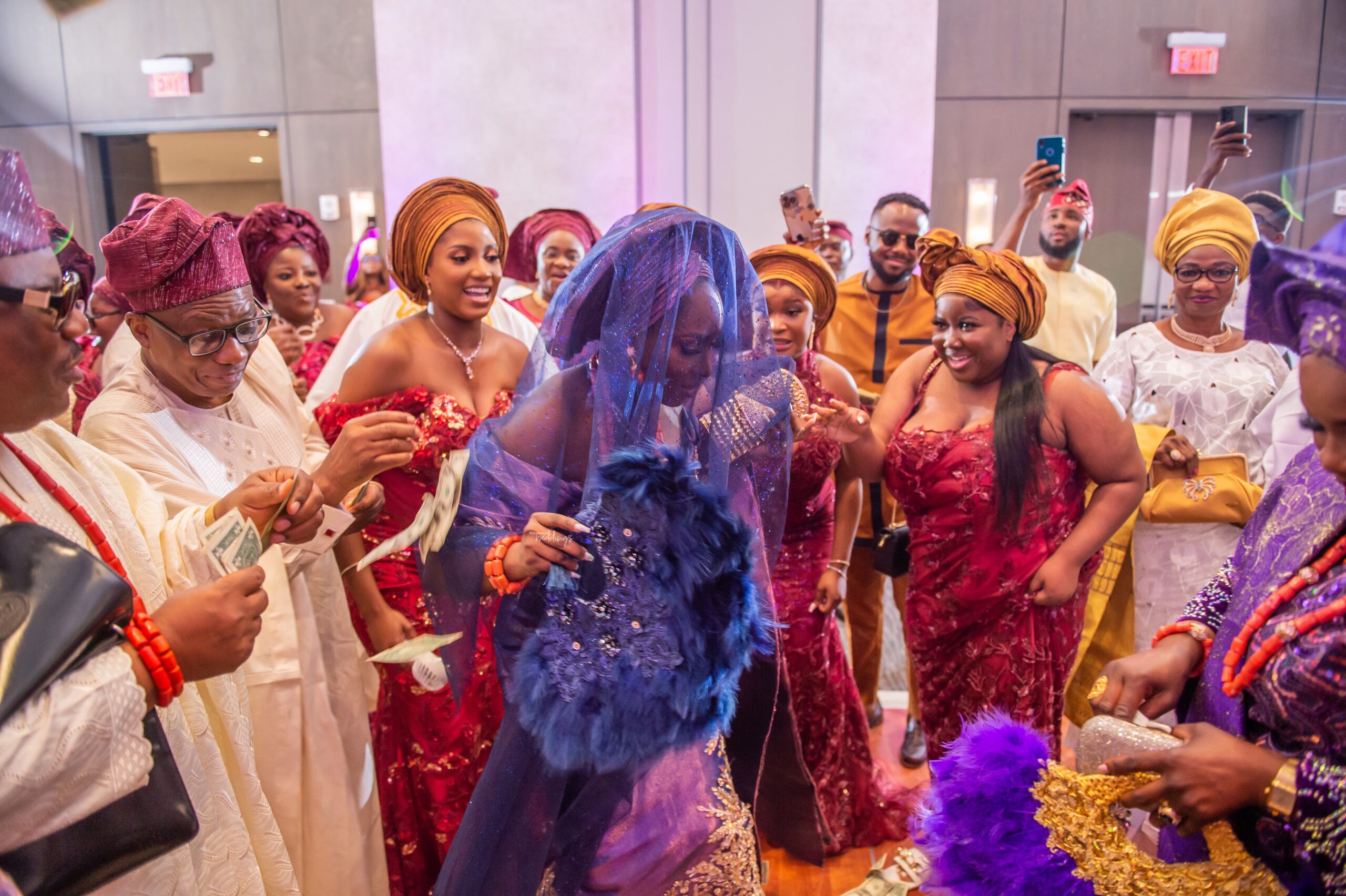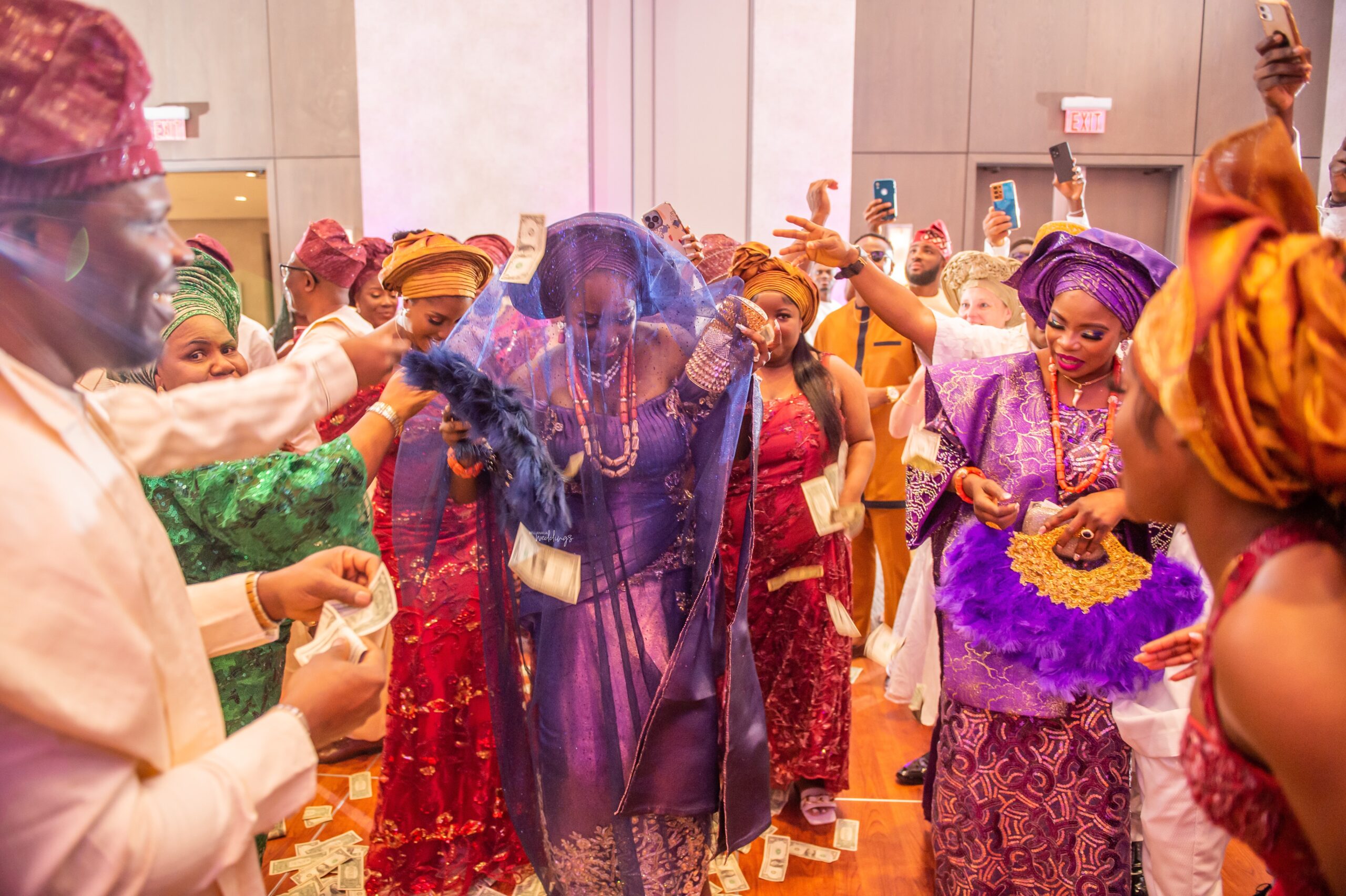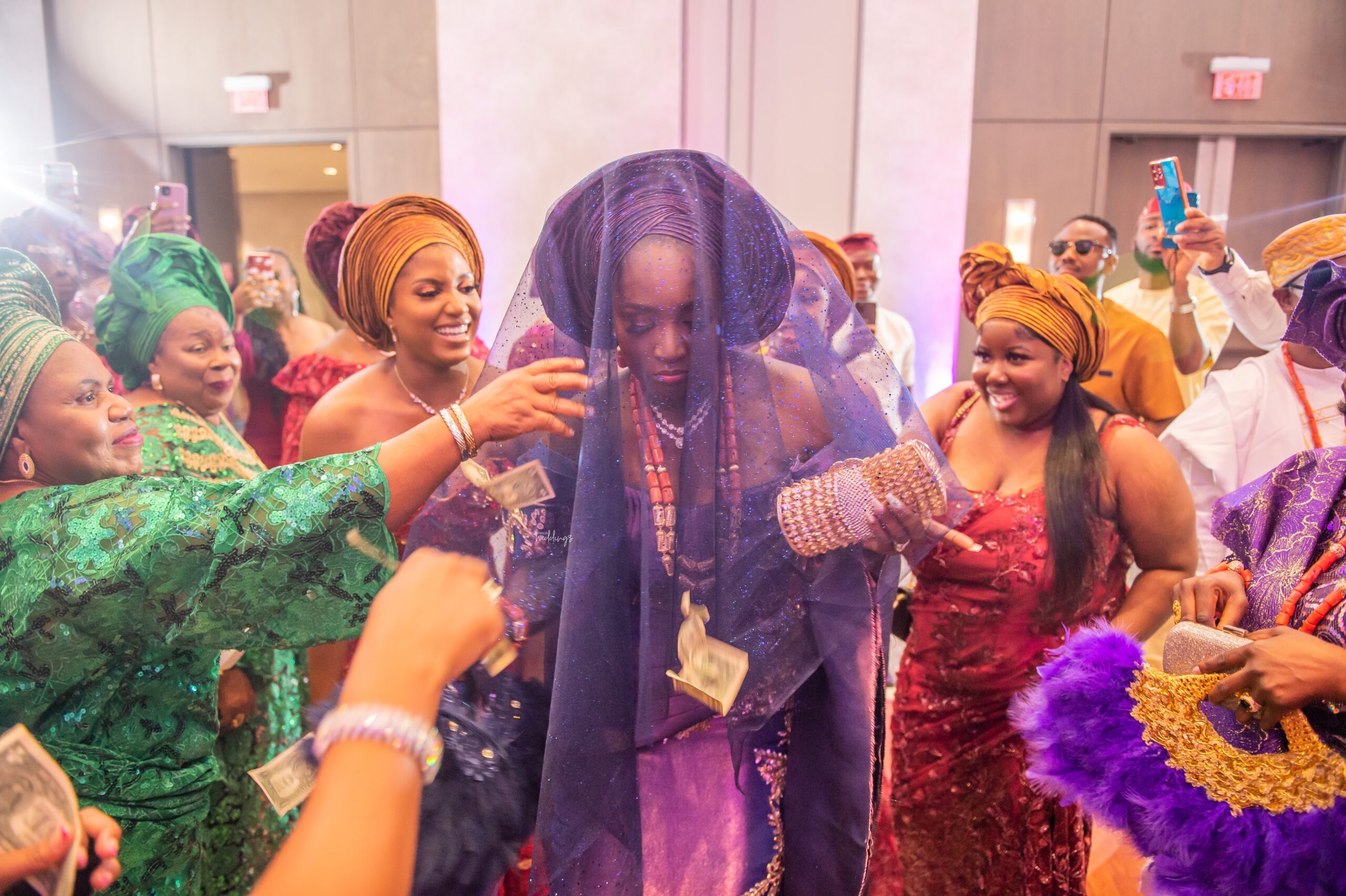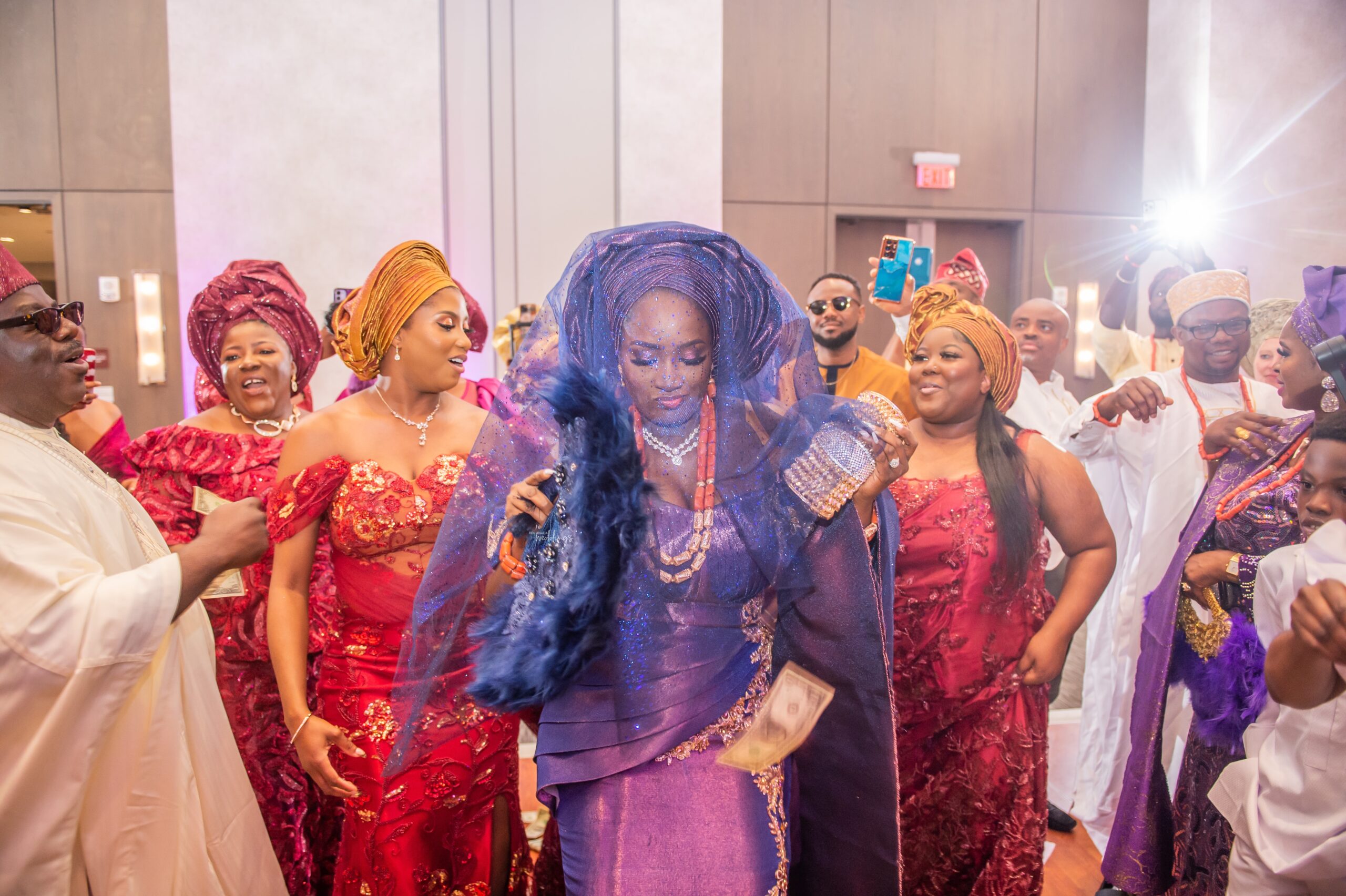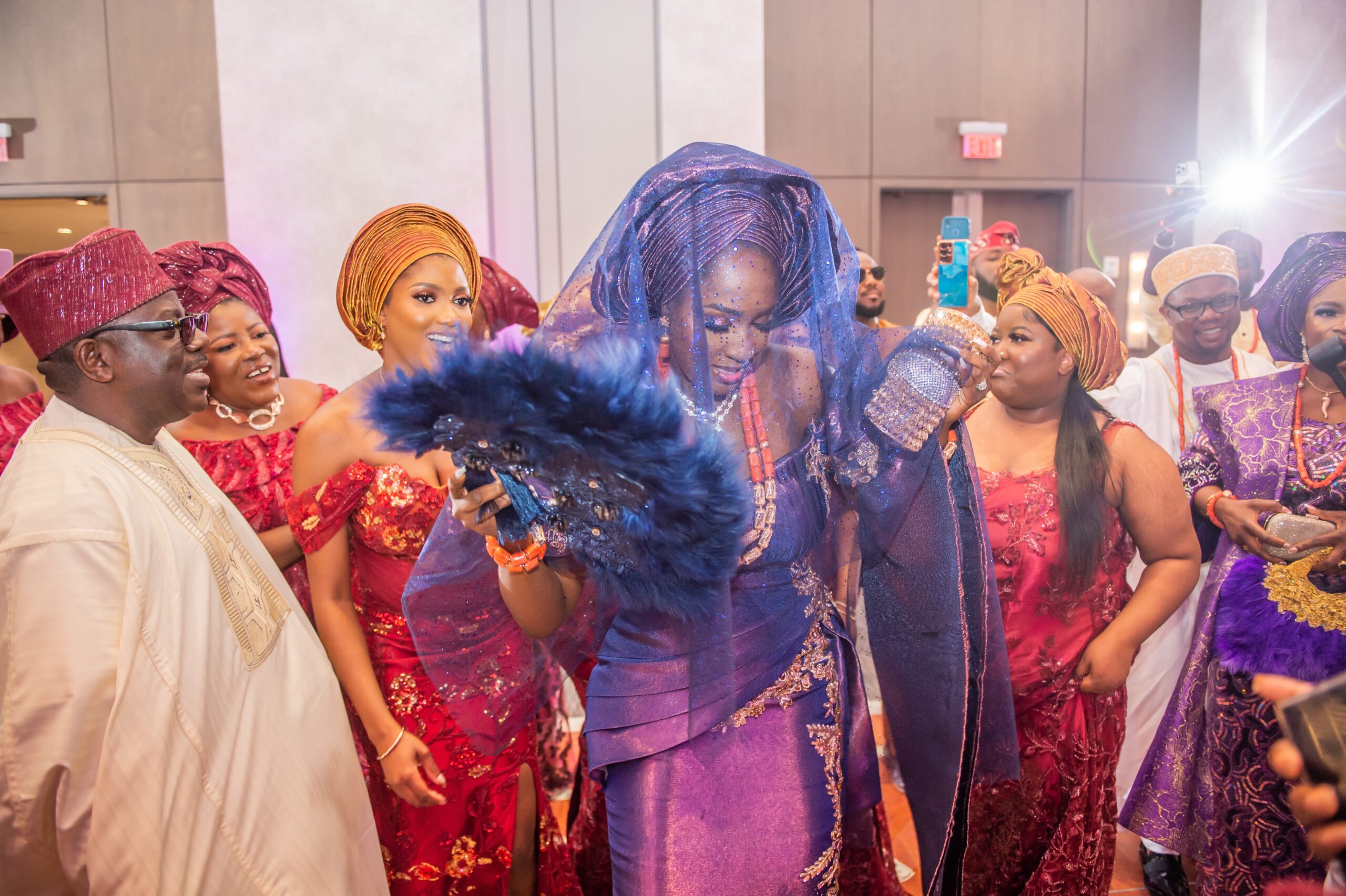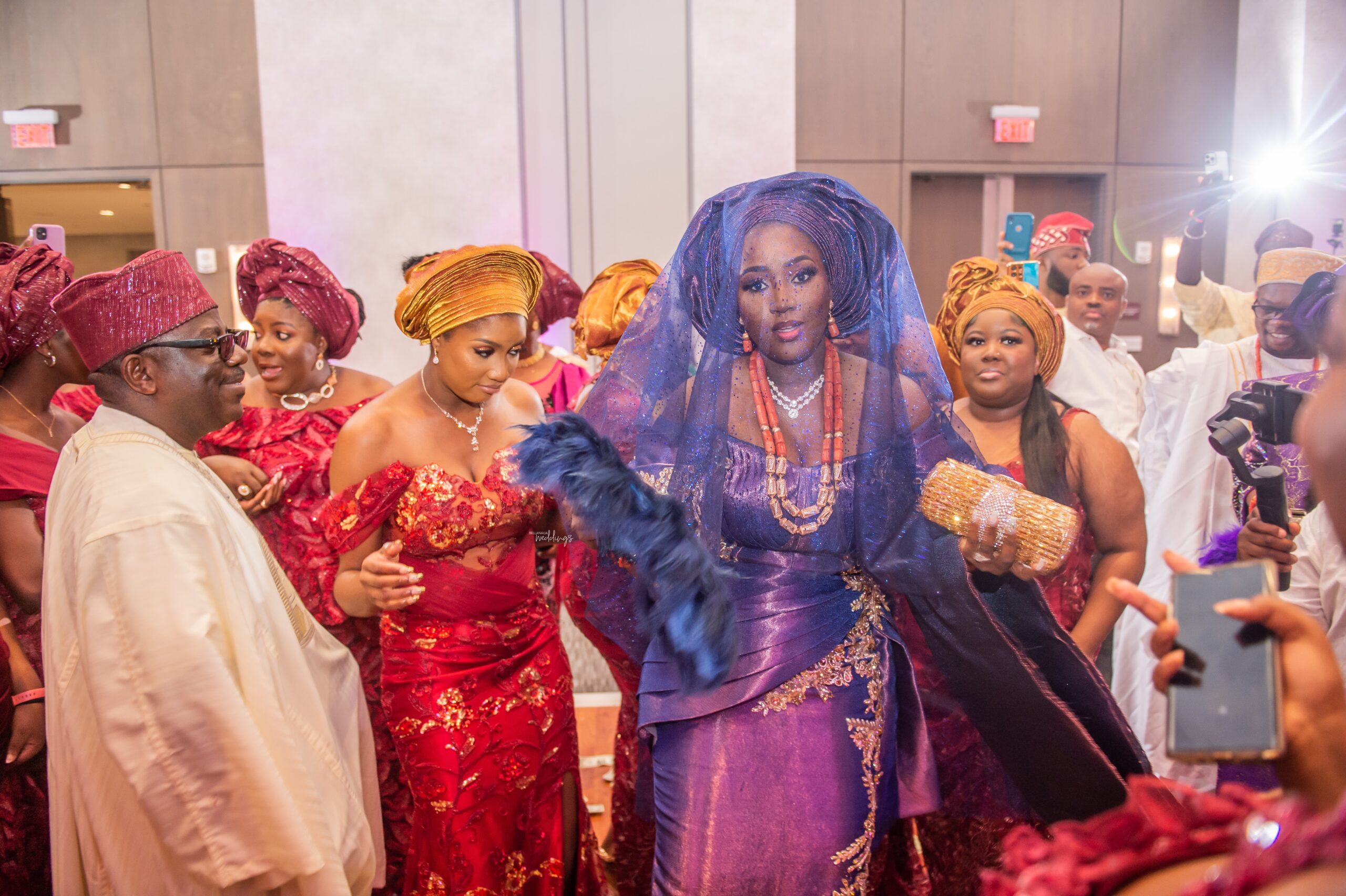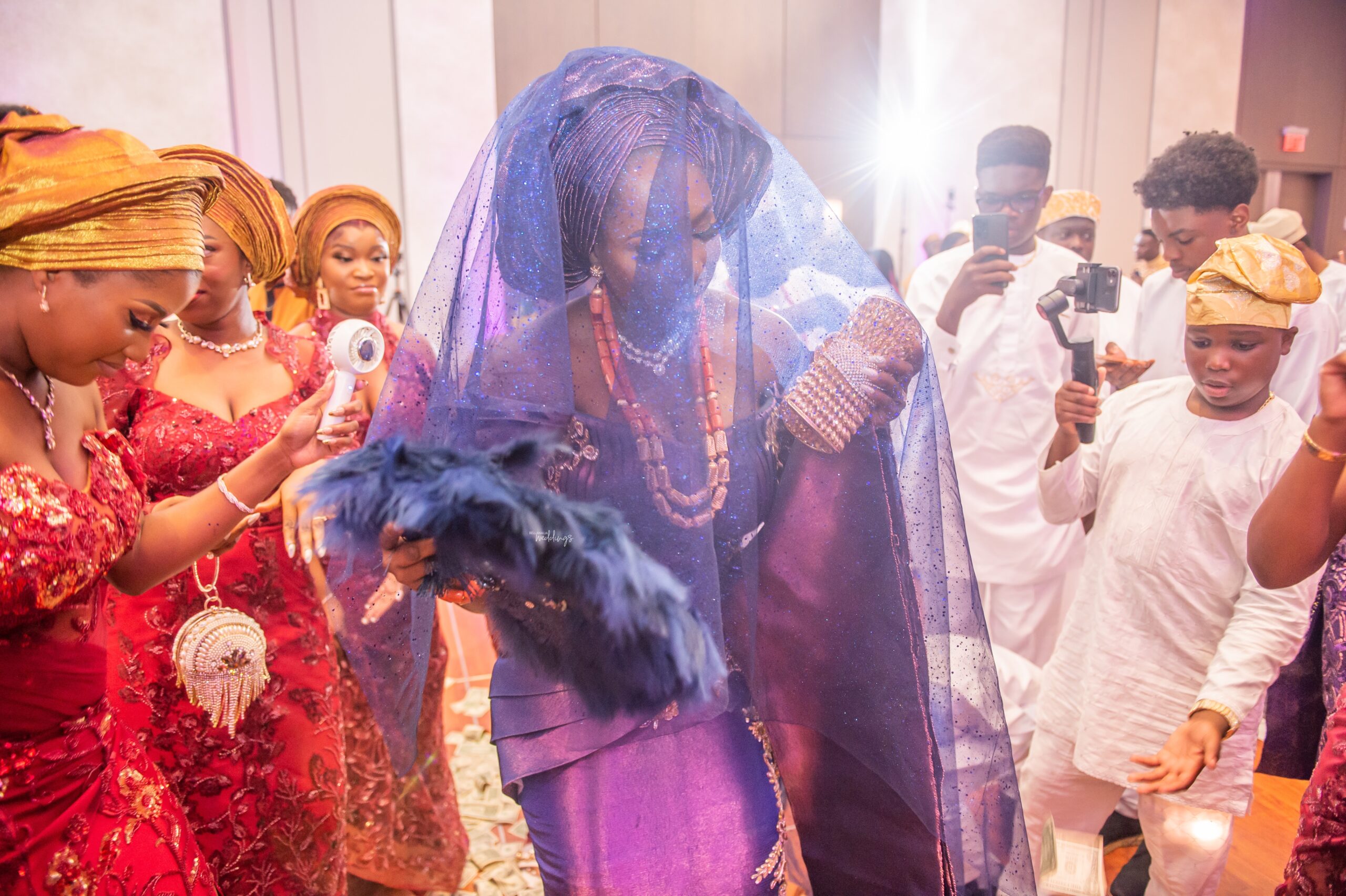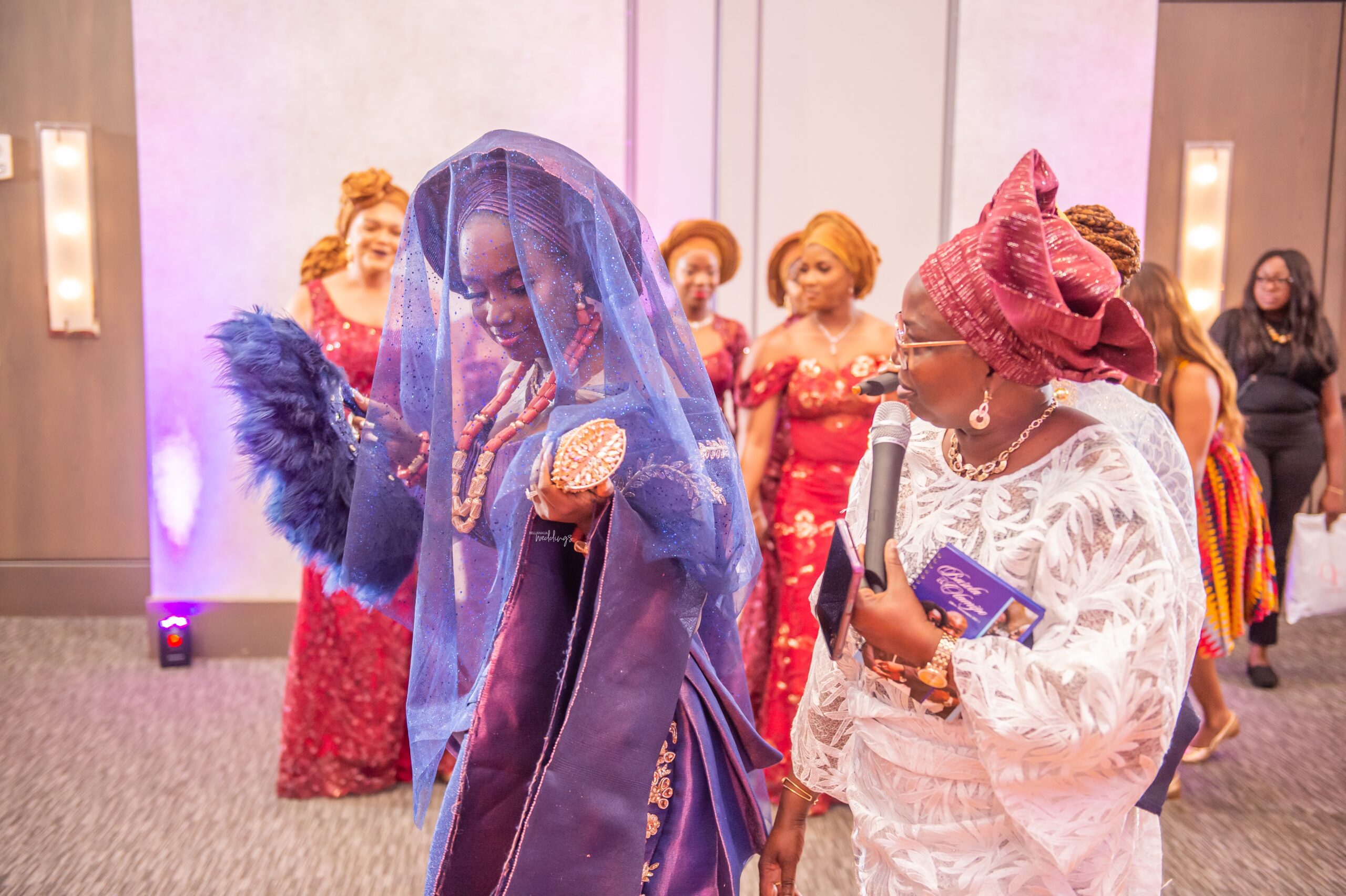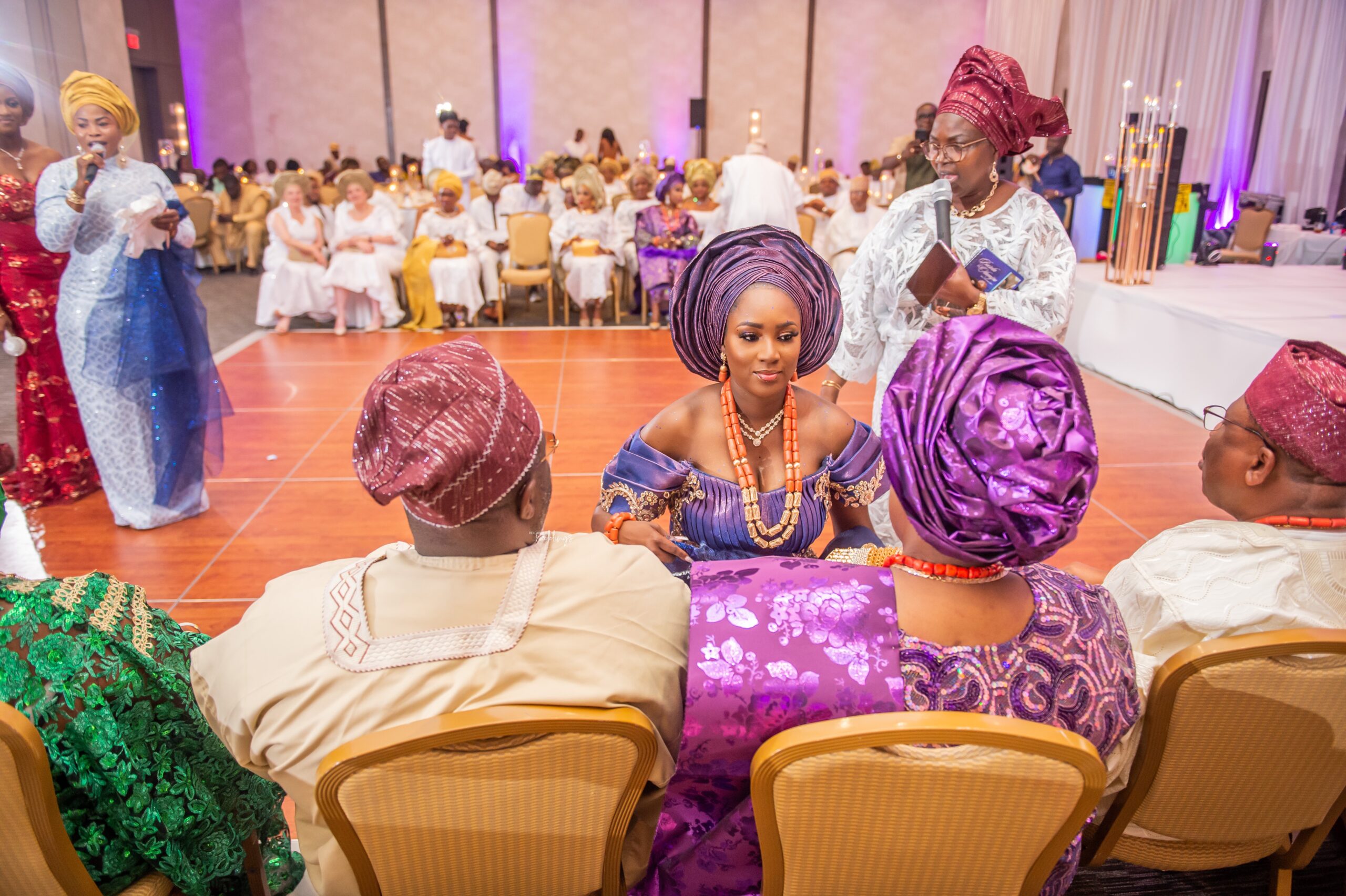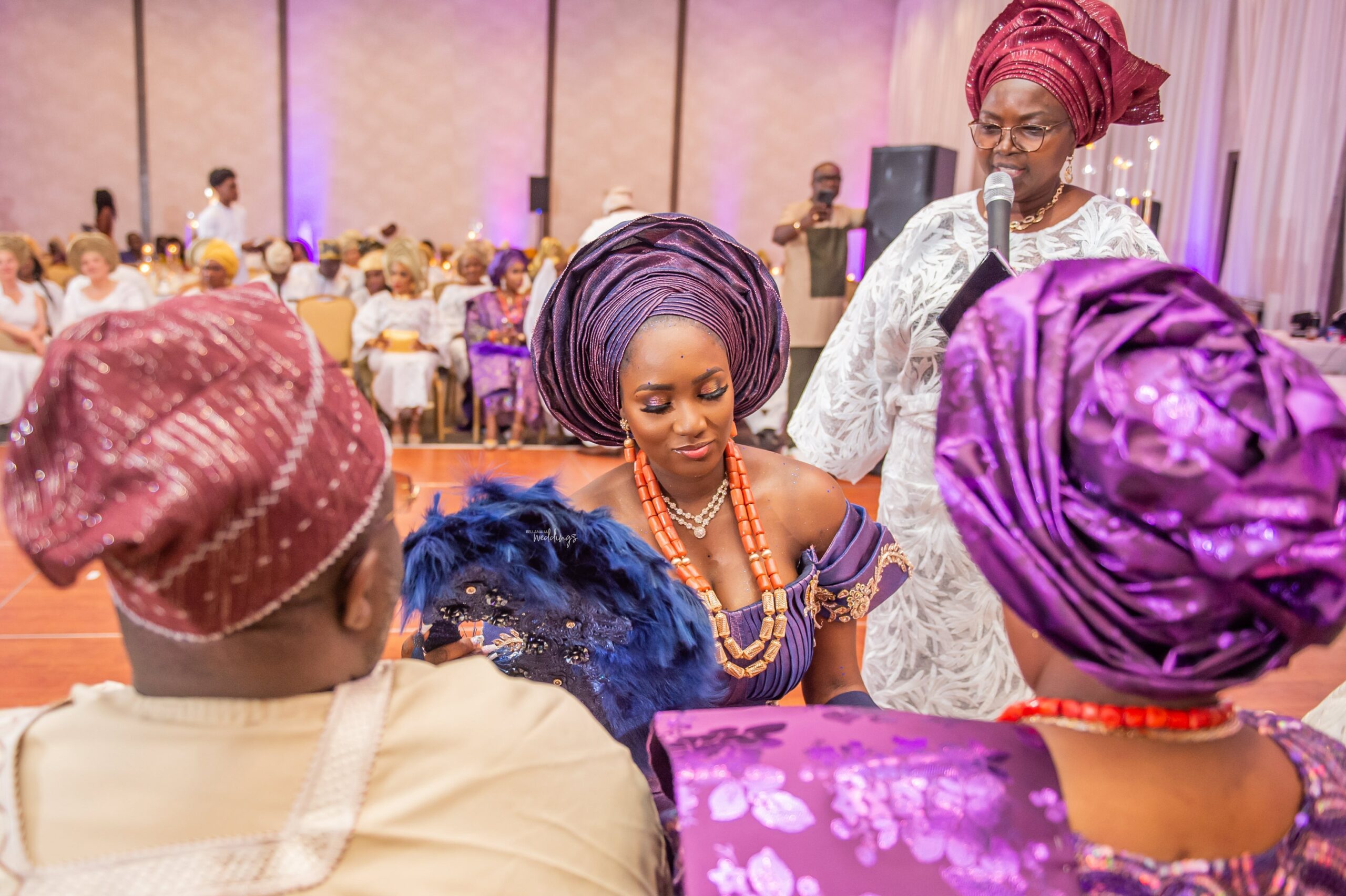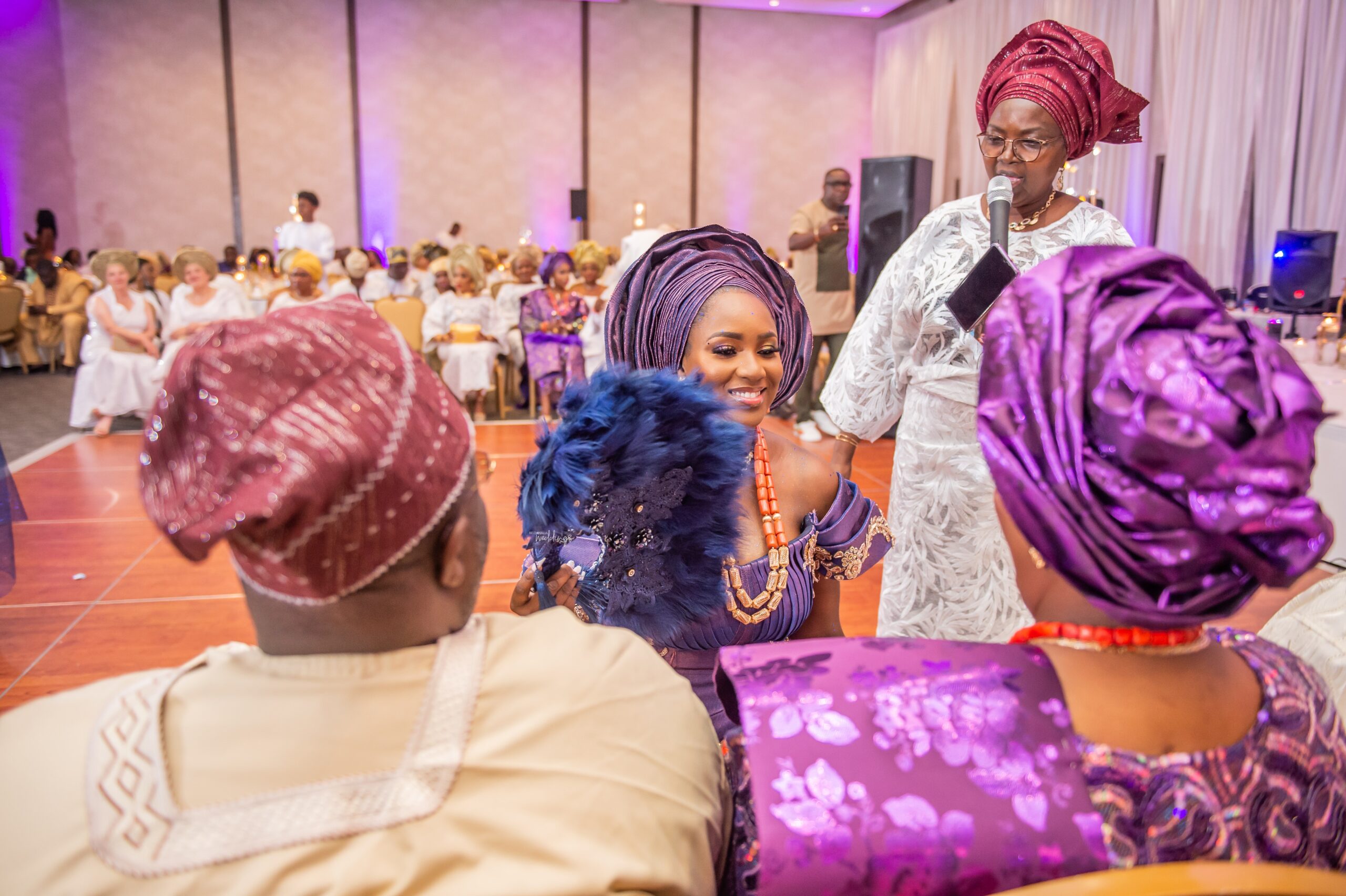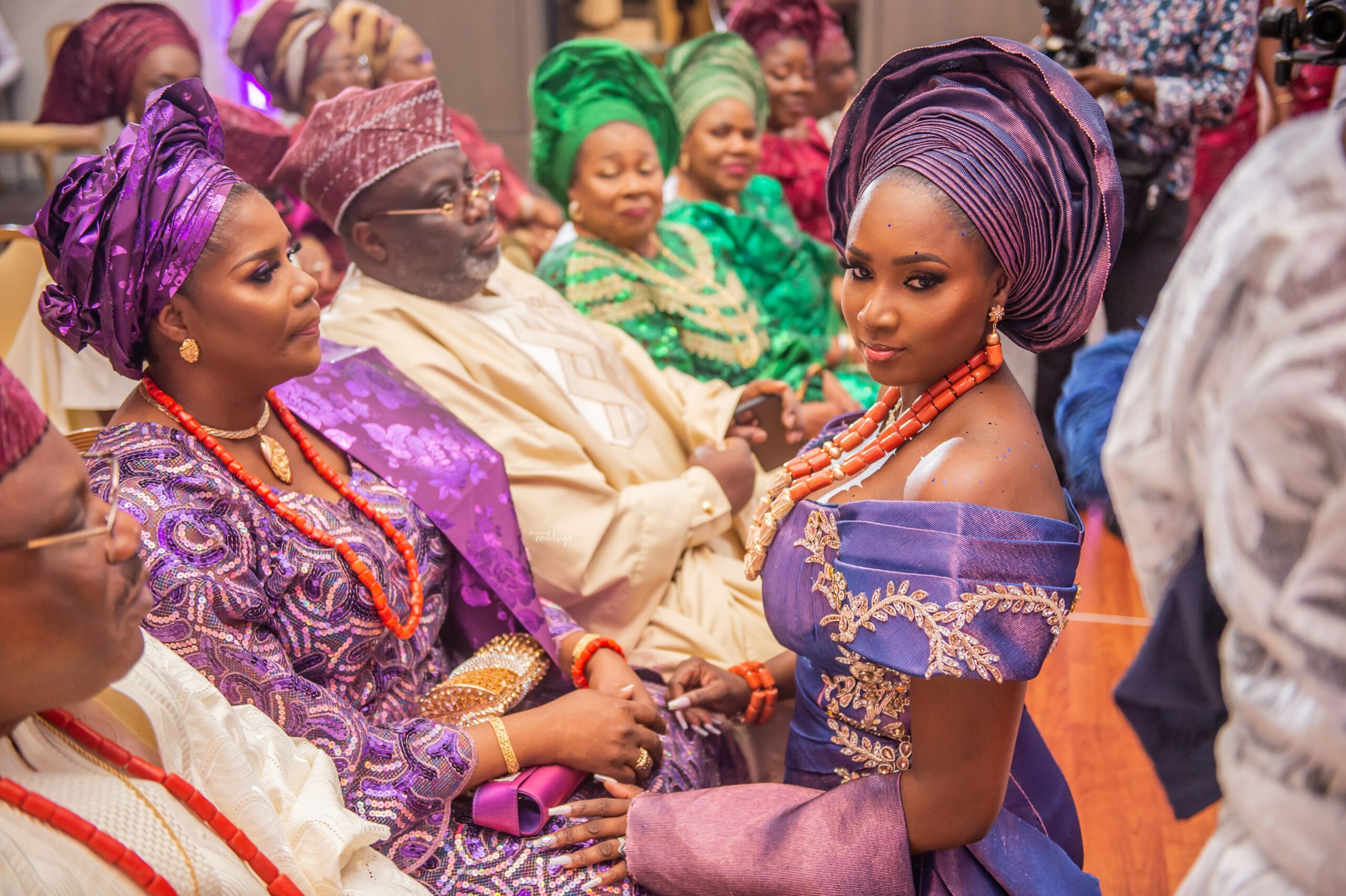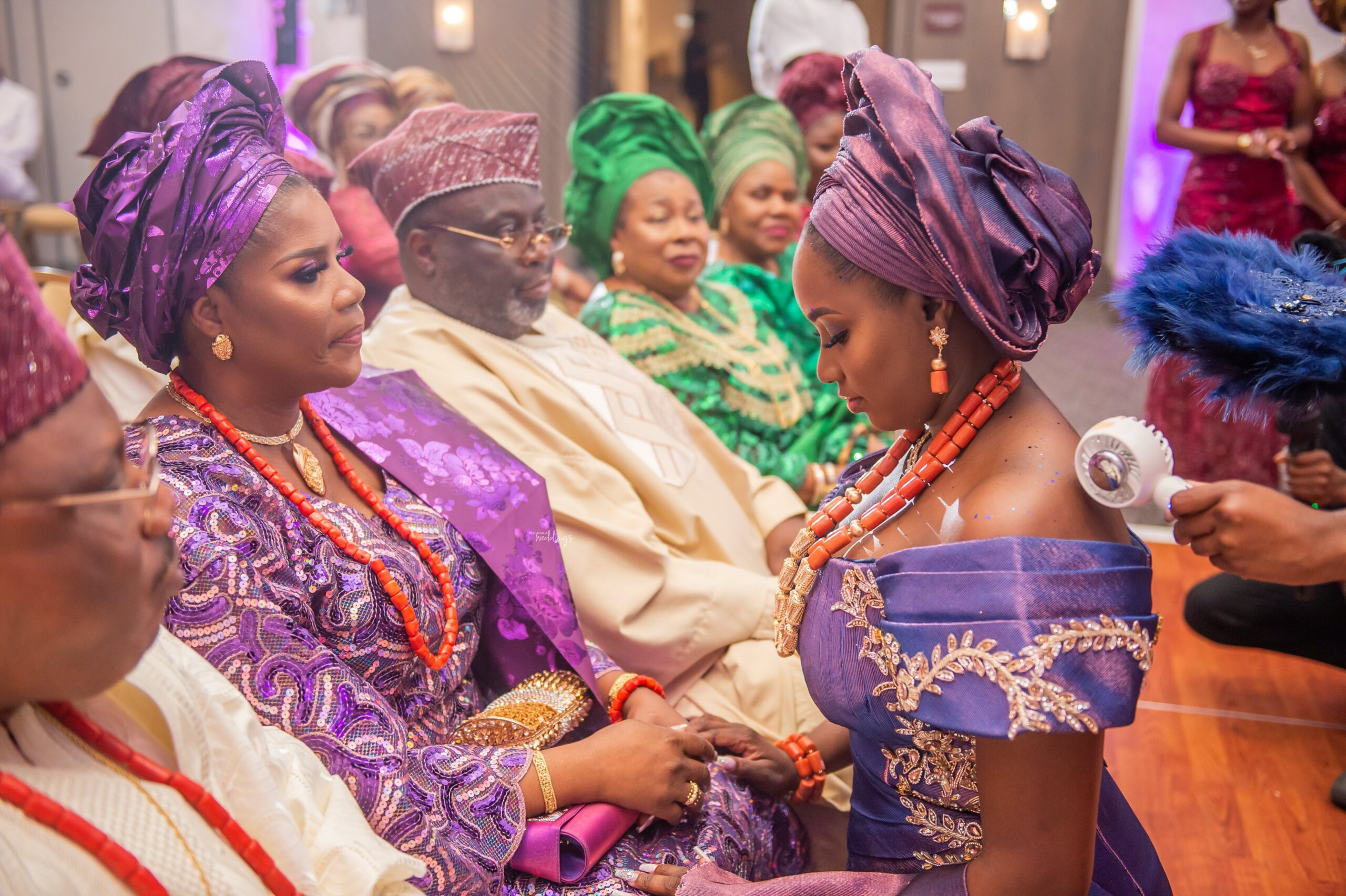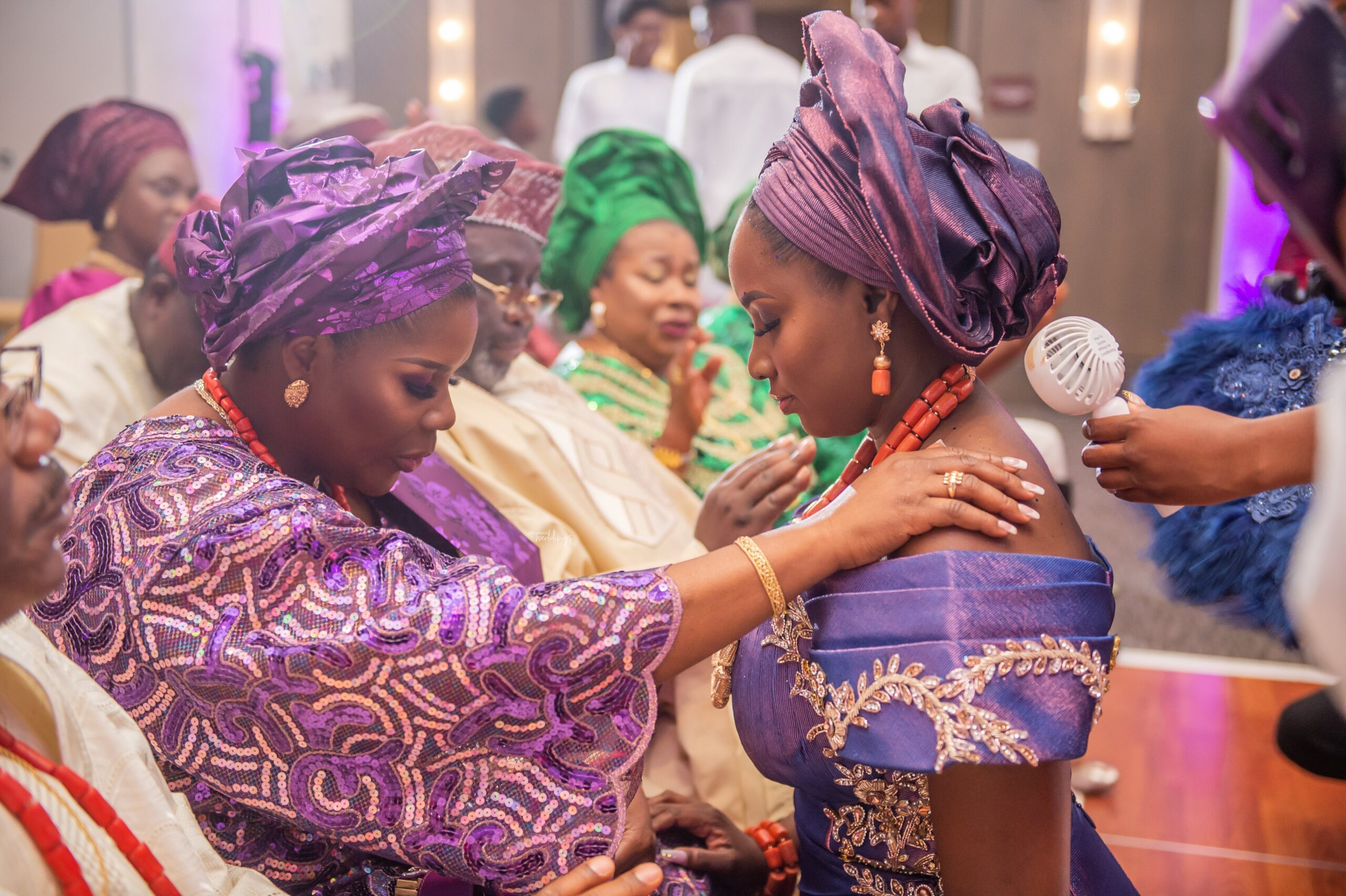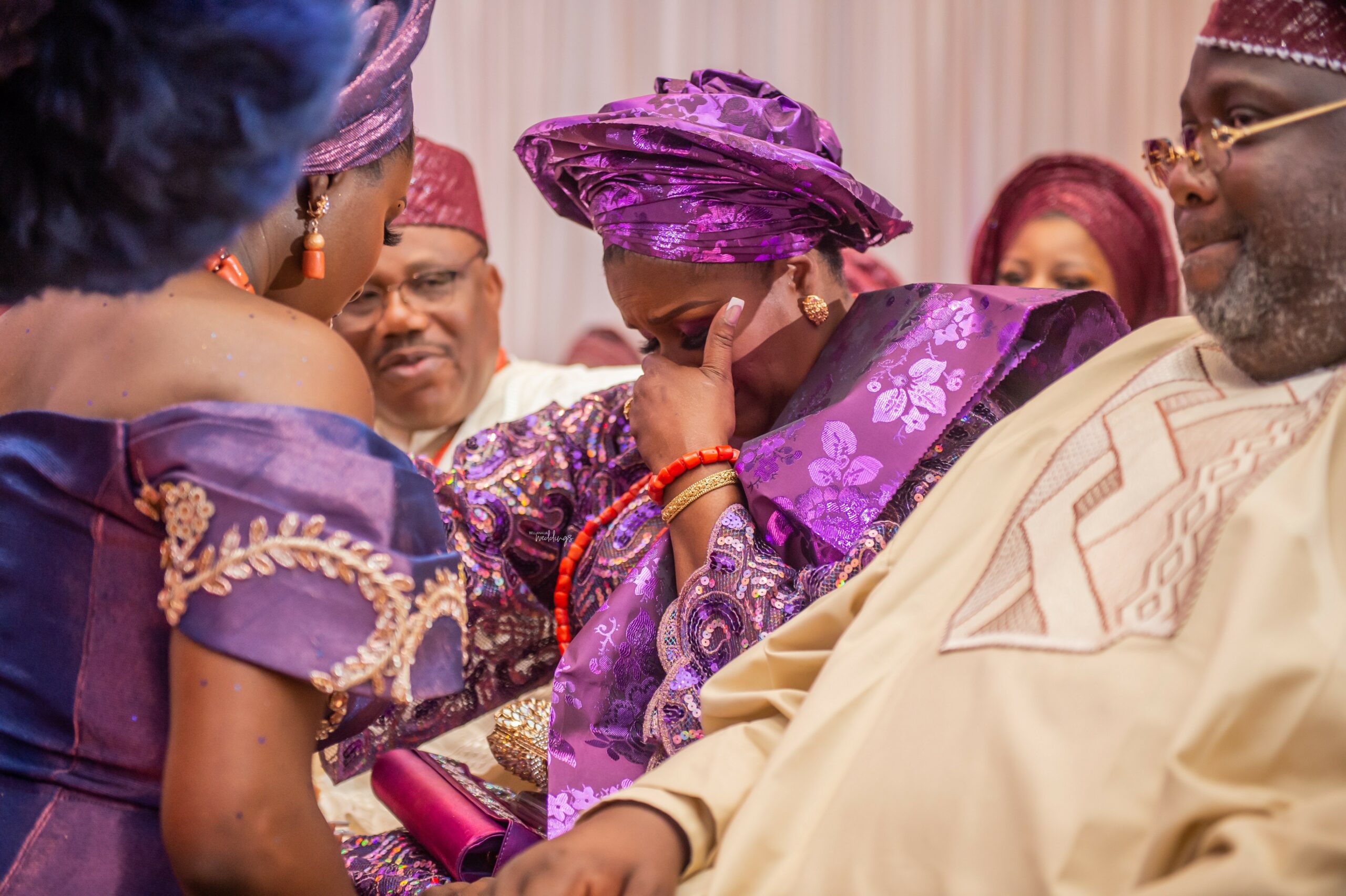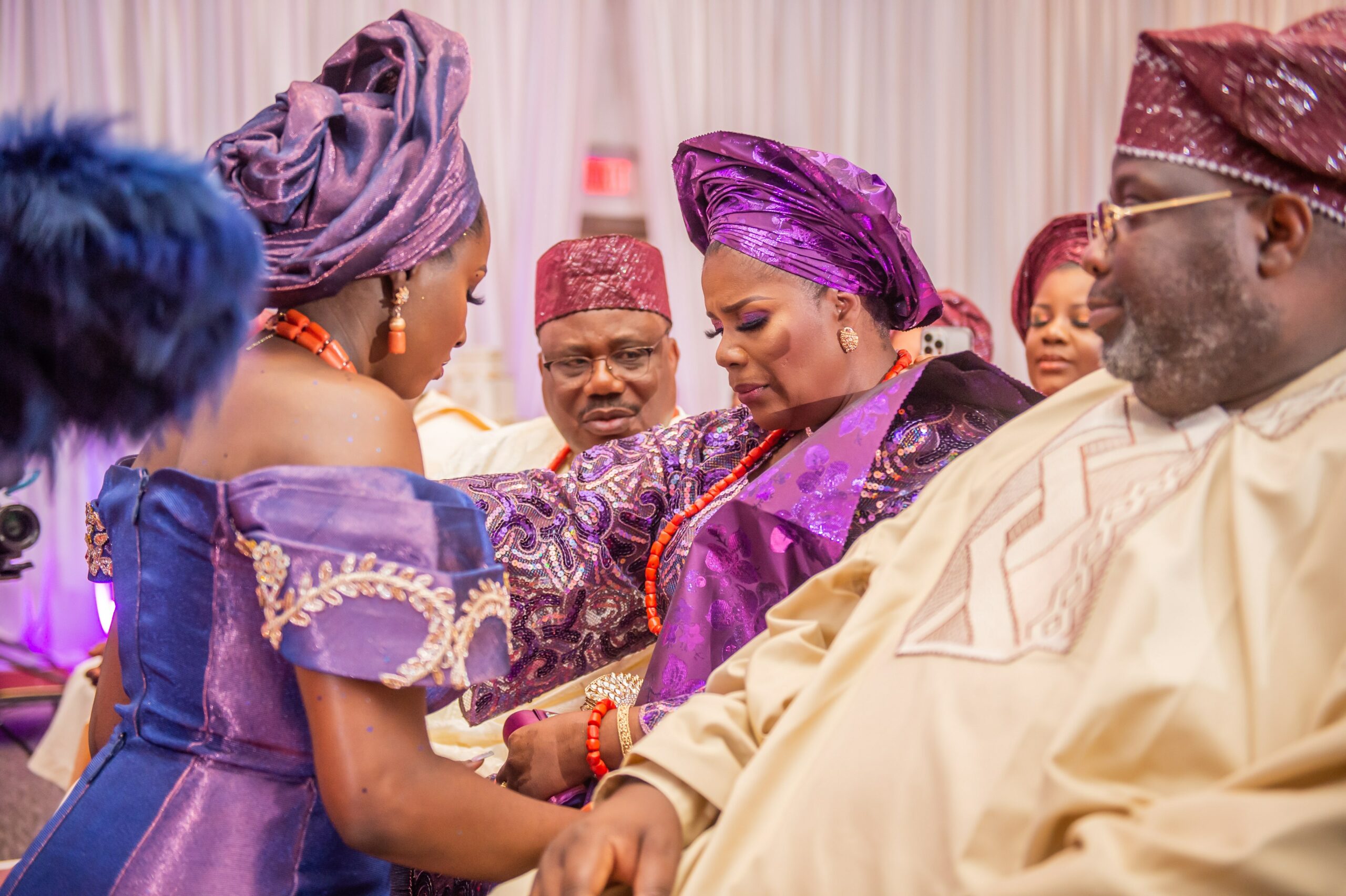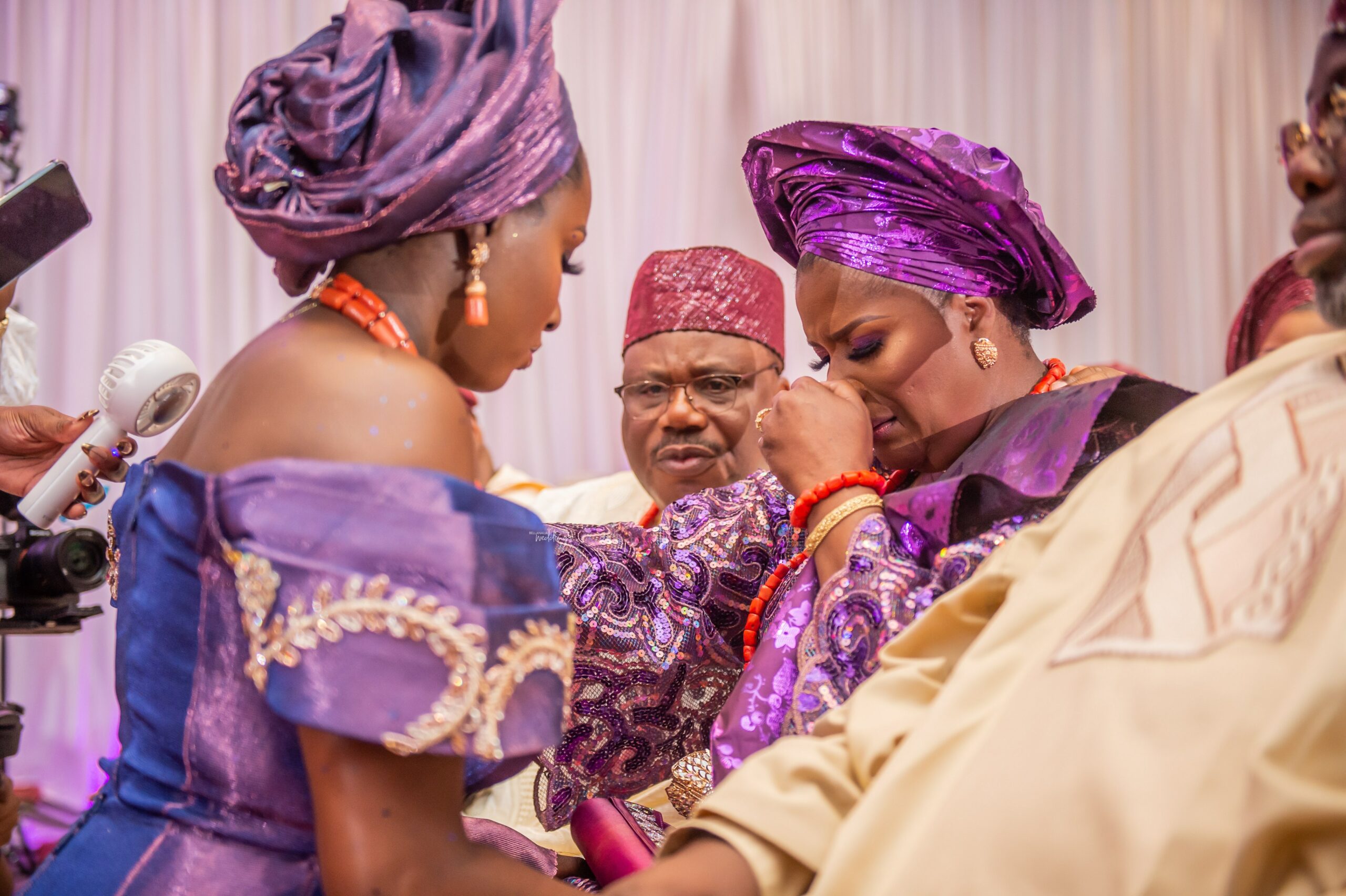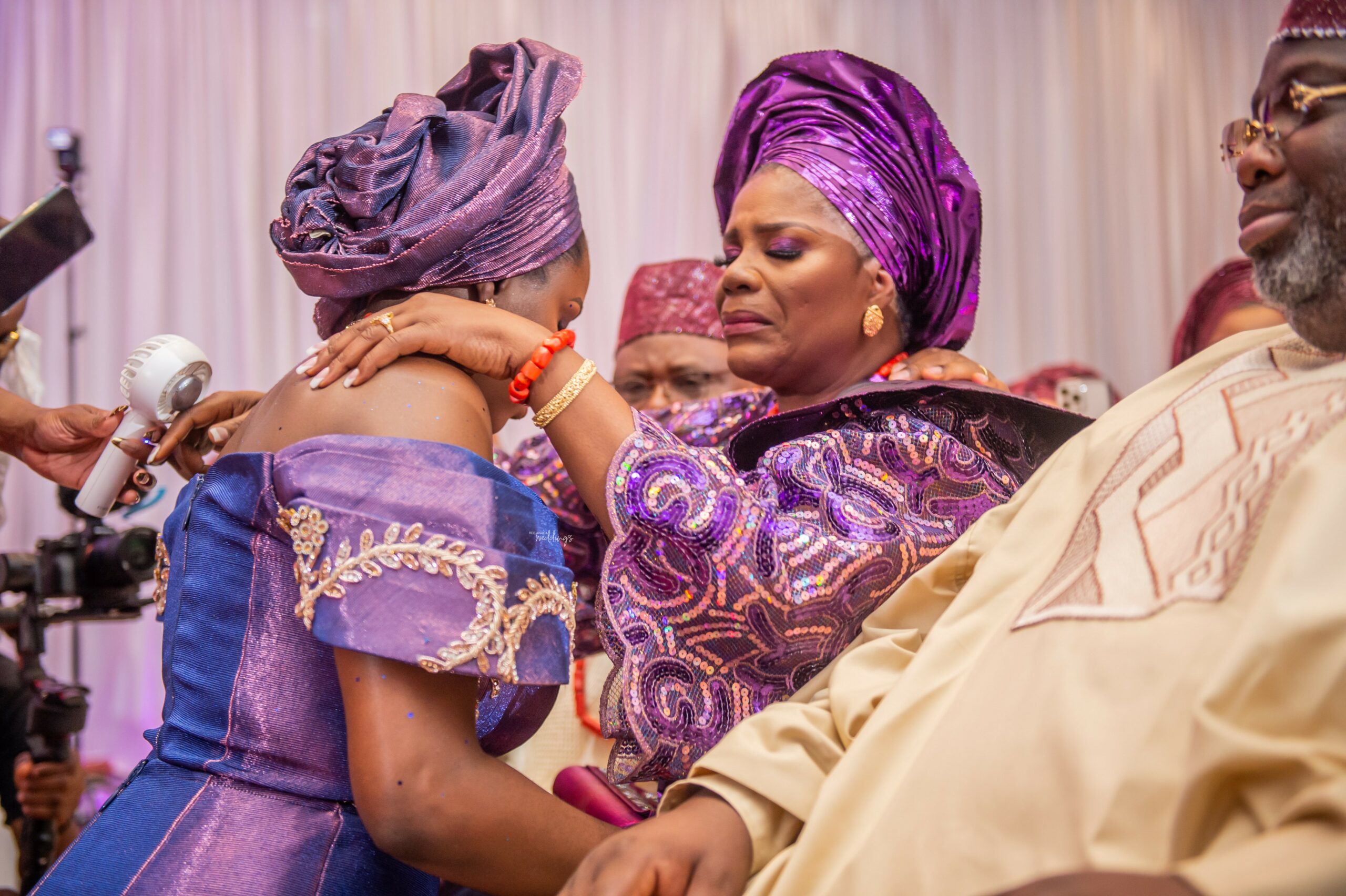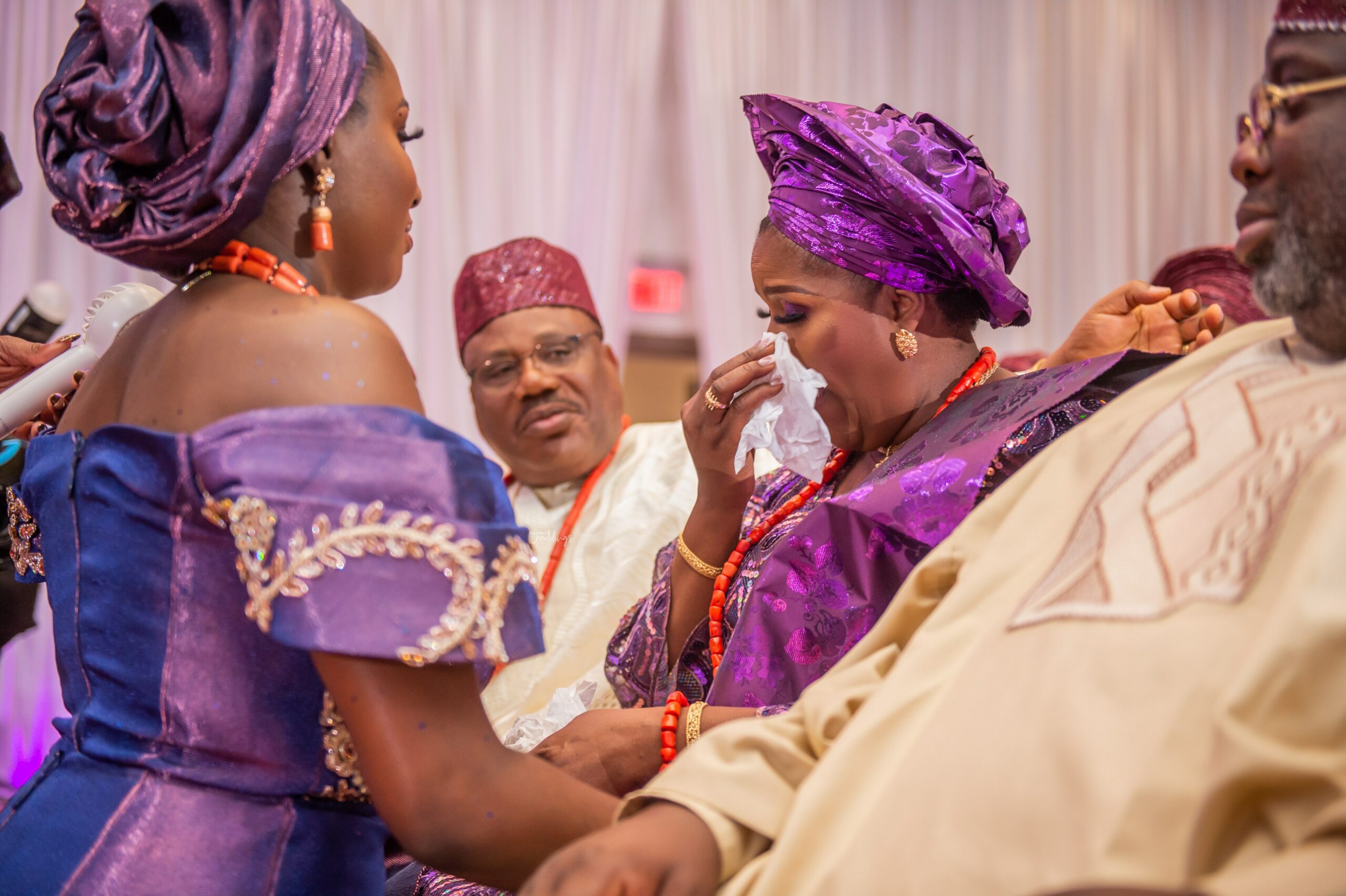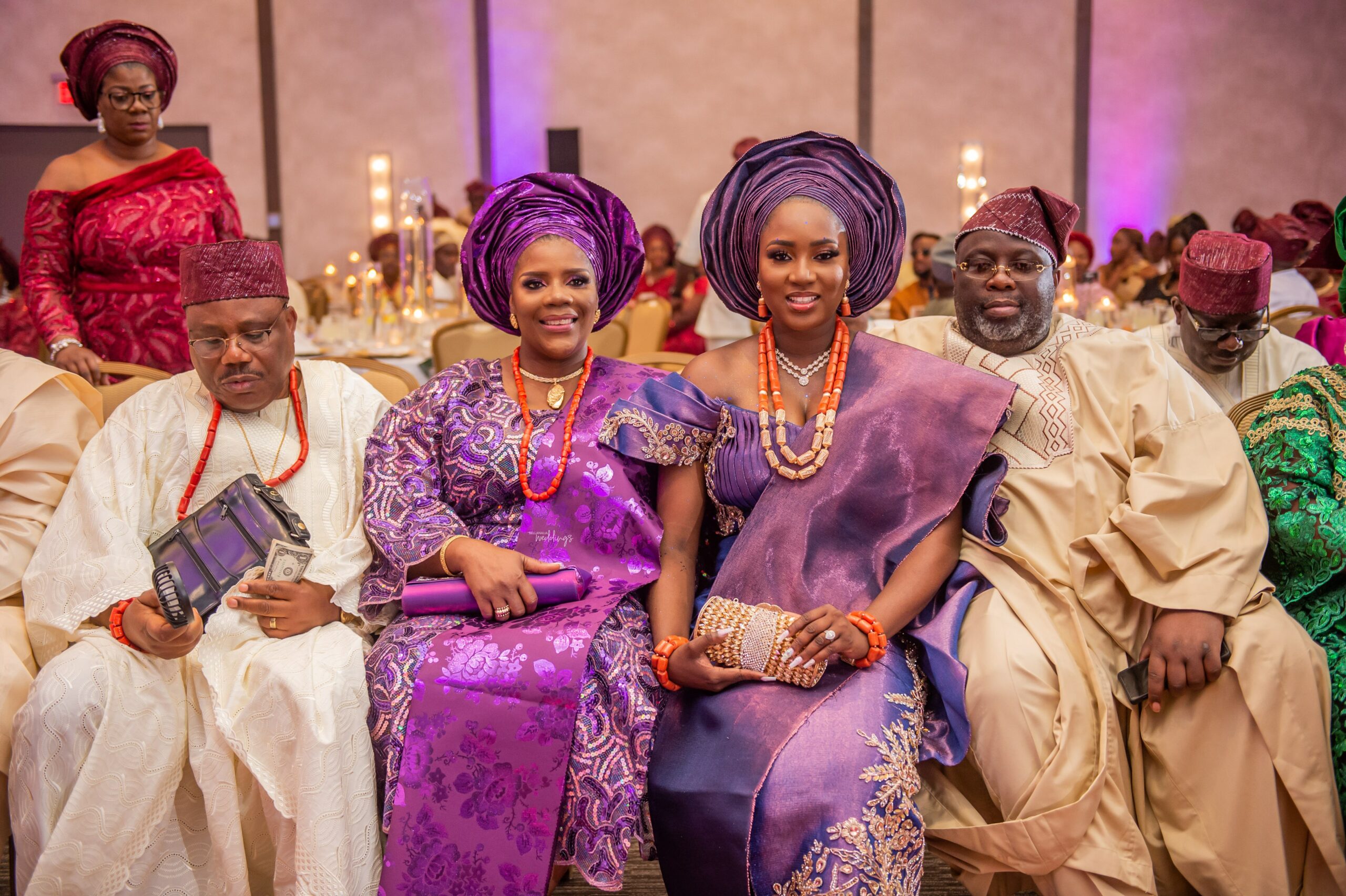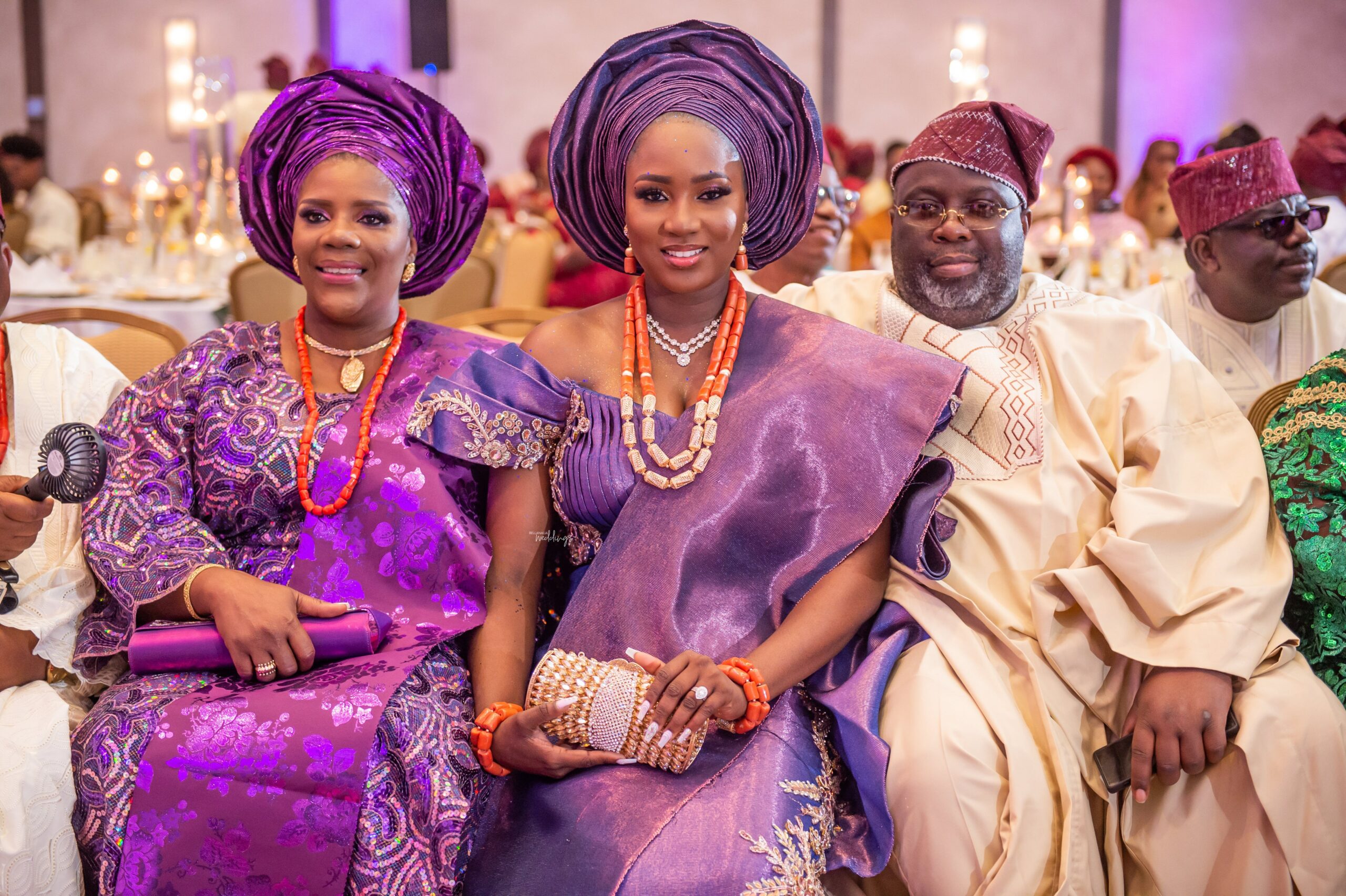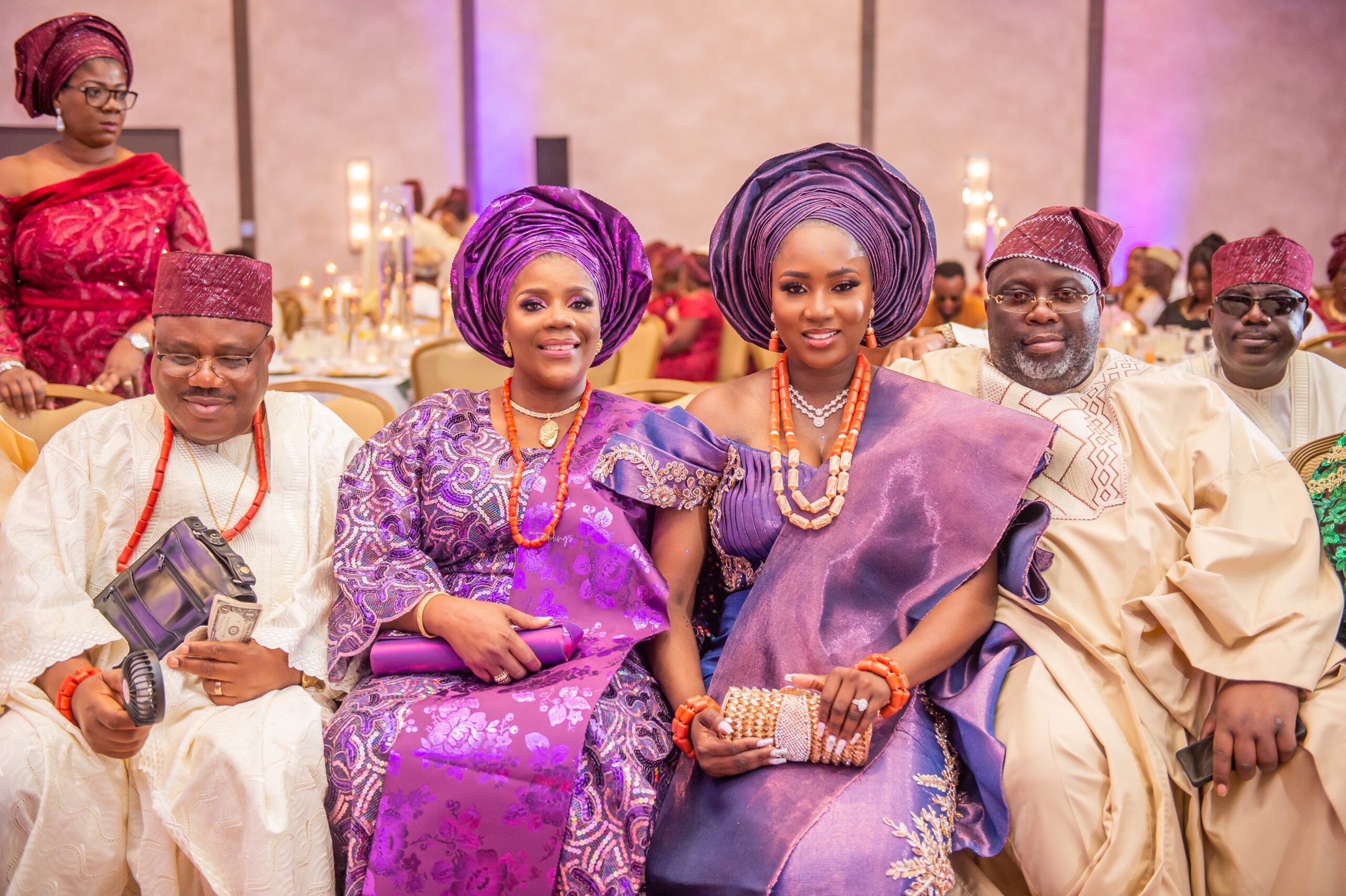 Heading over to the in-laws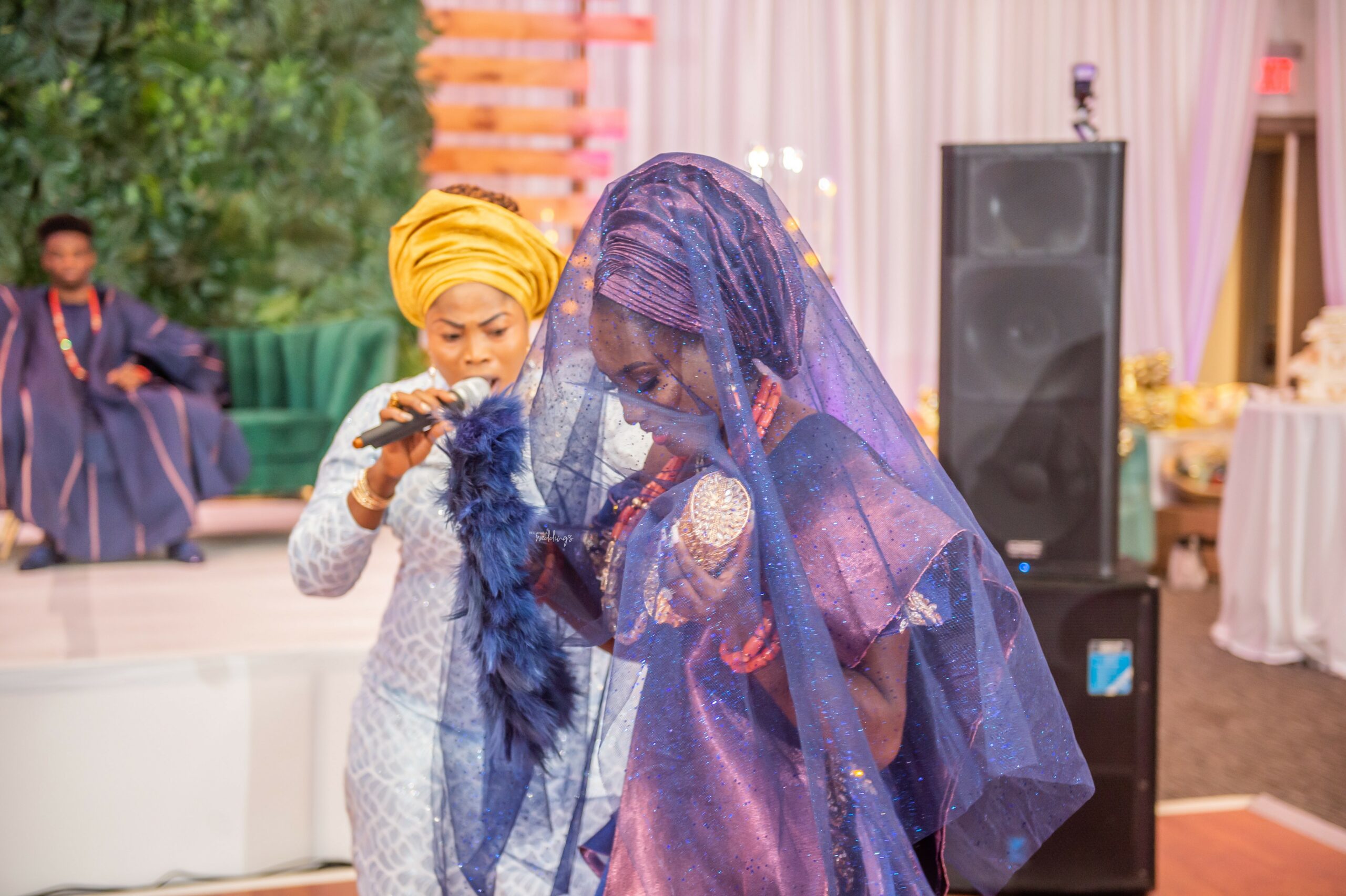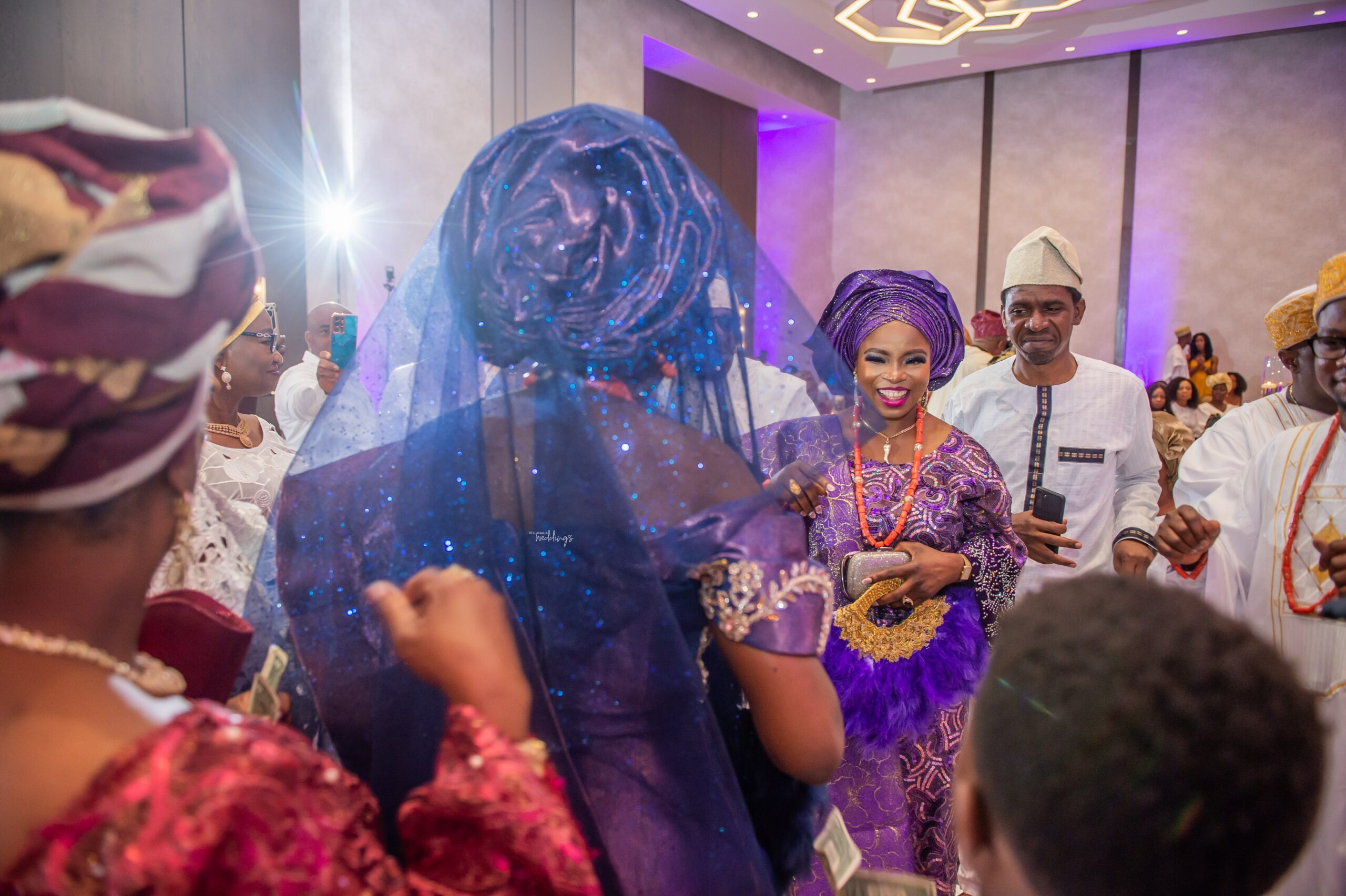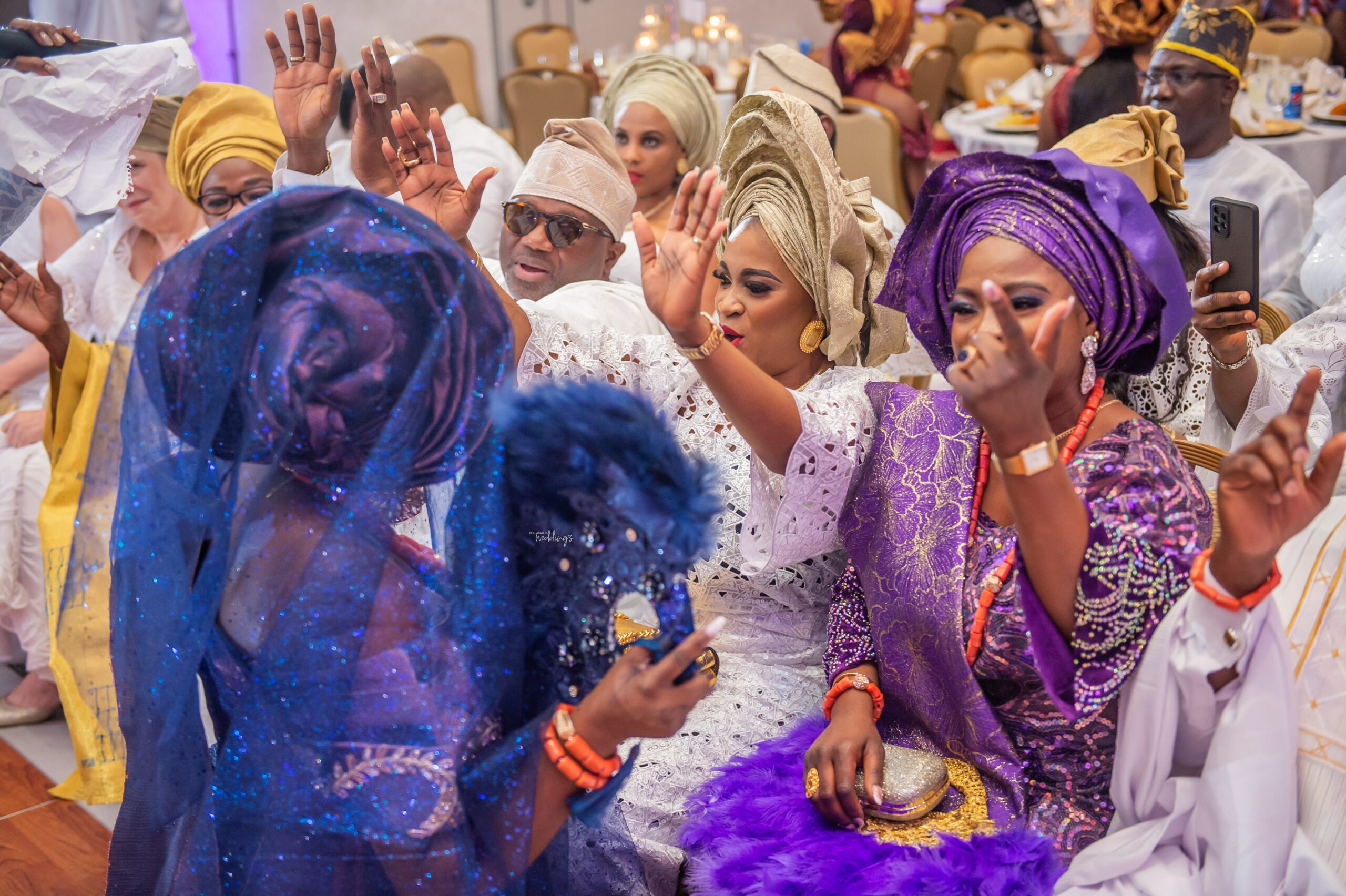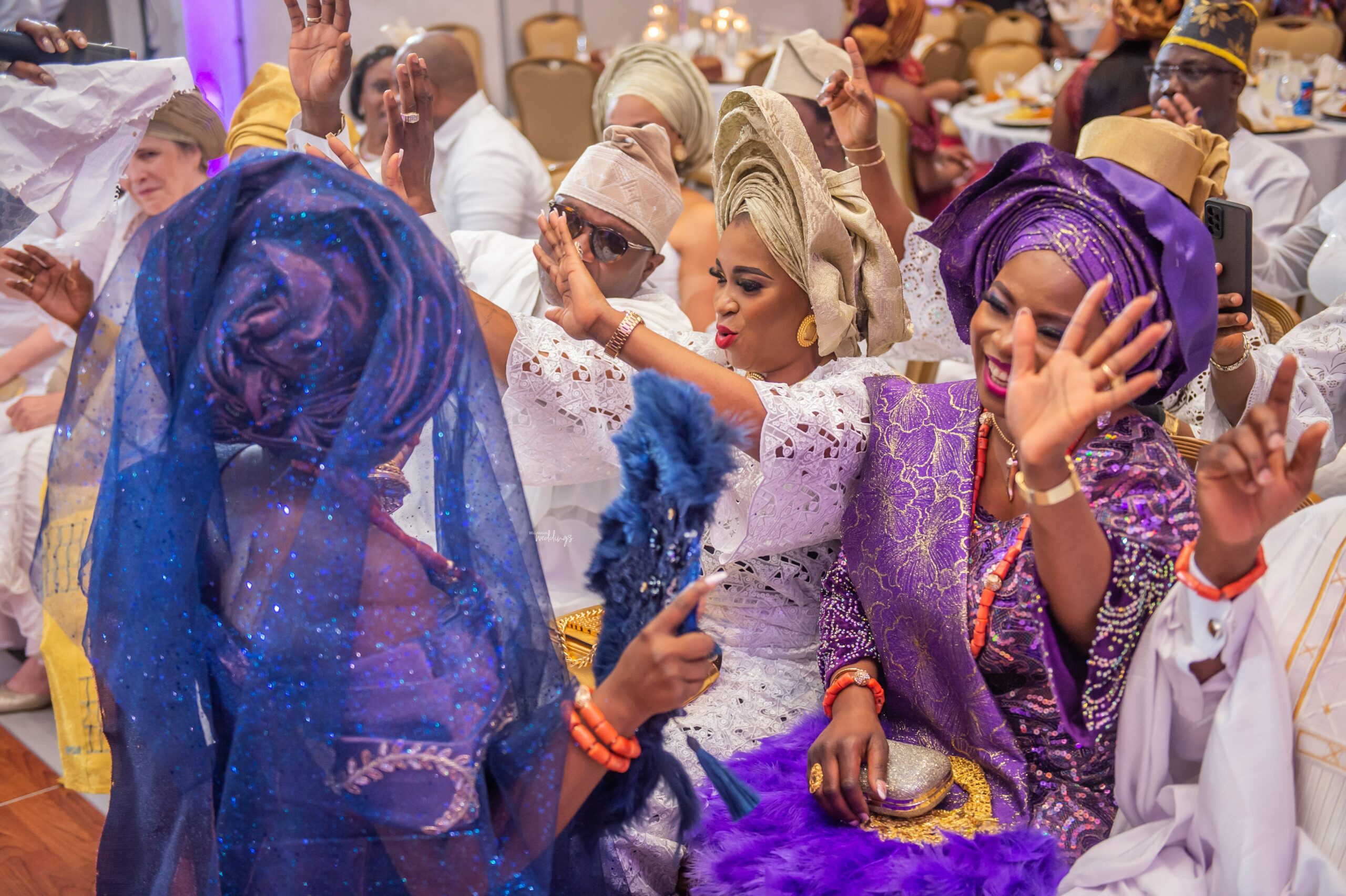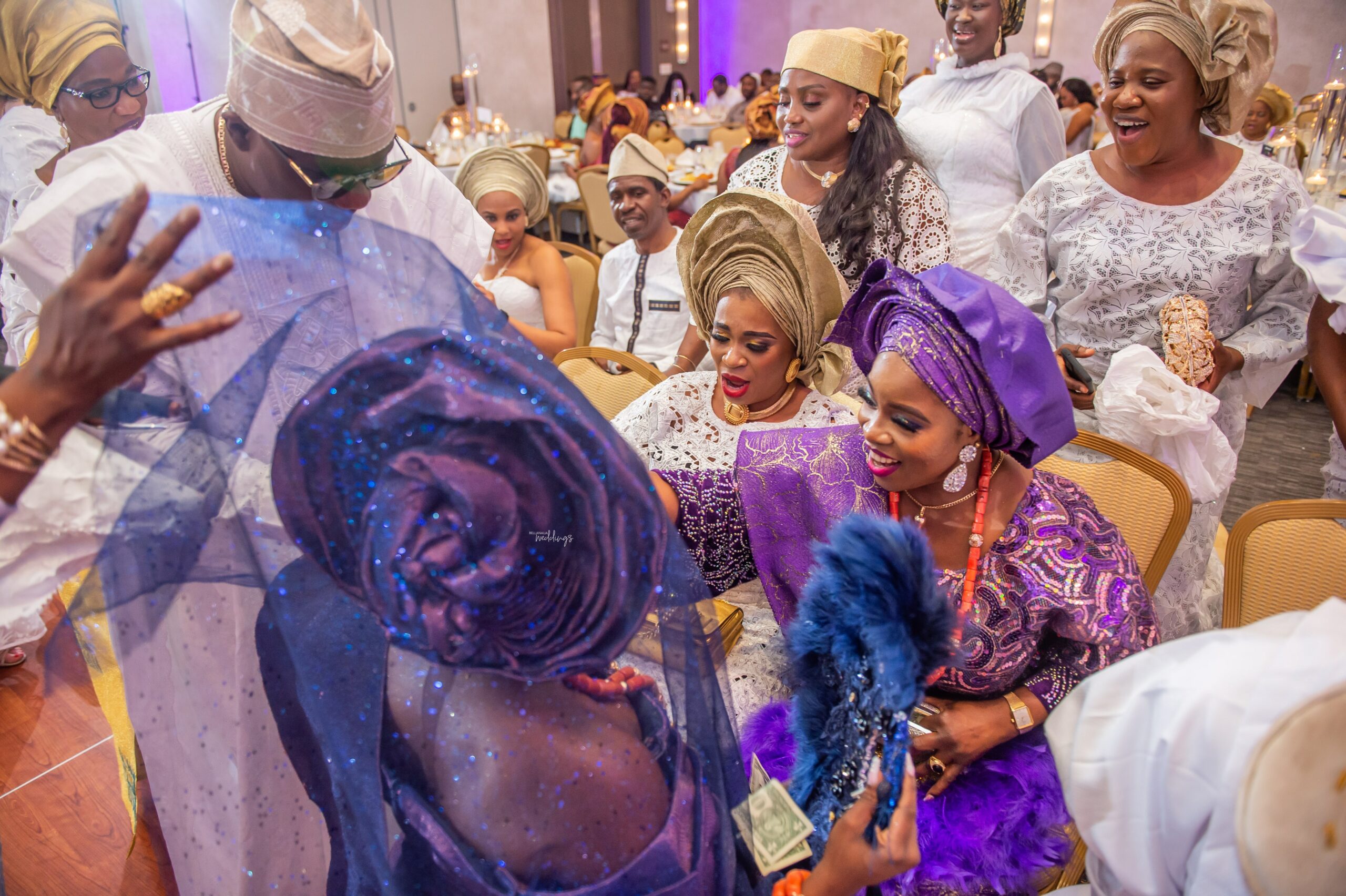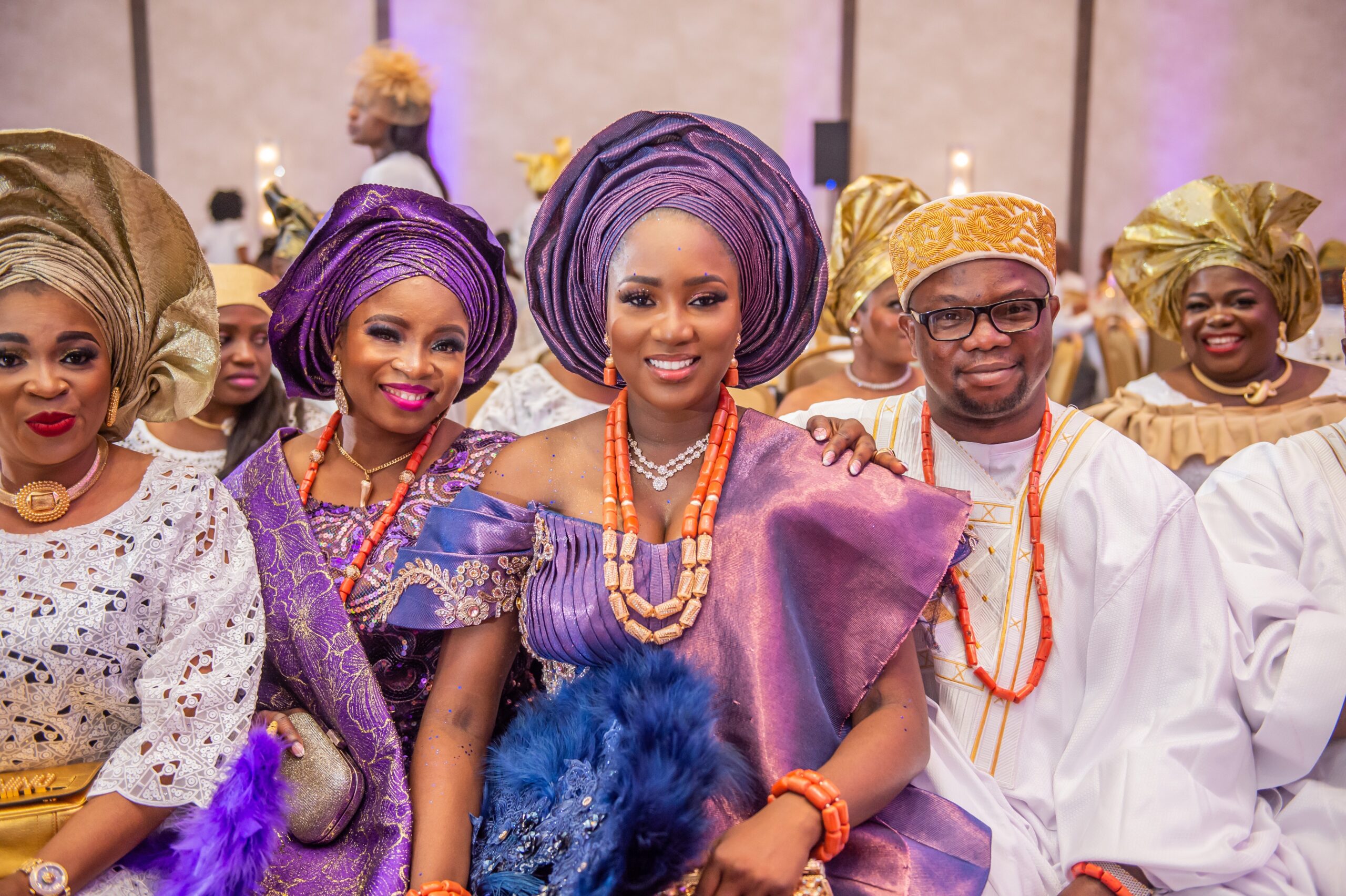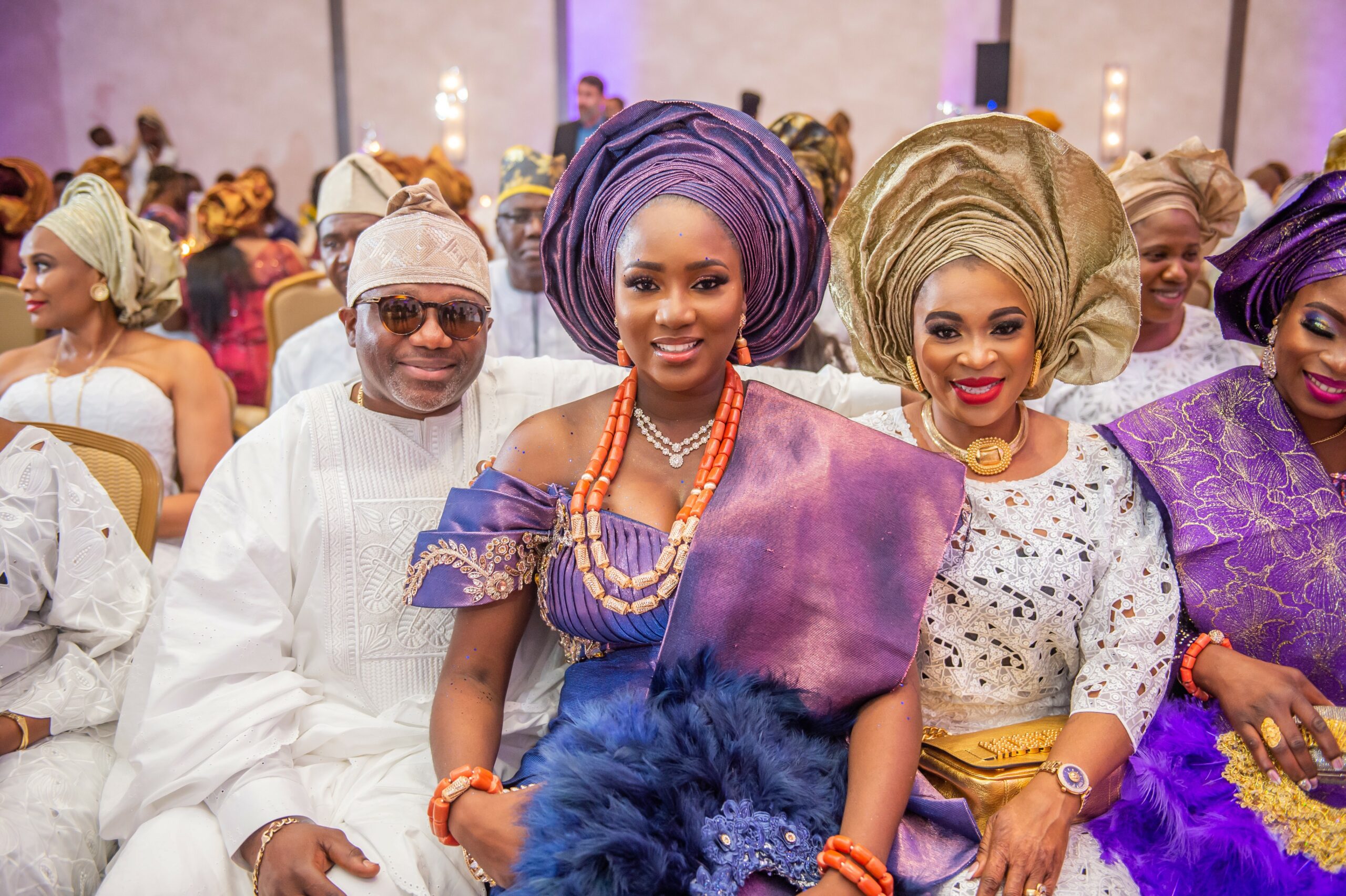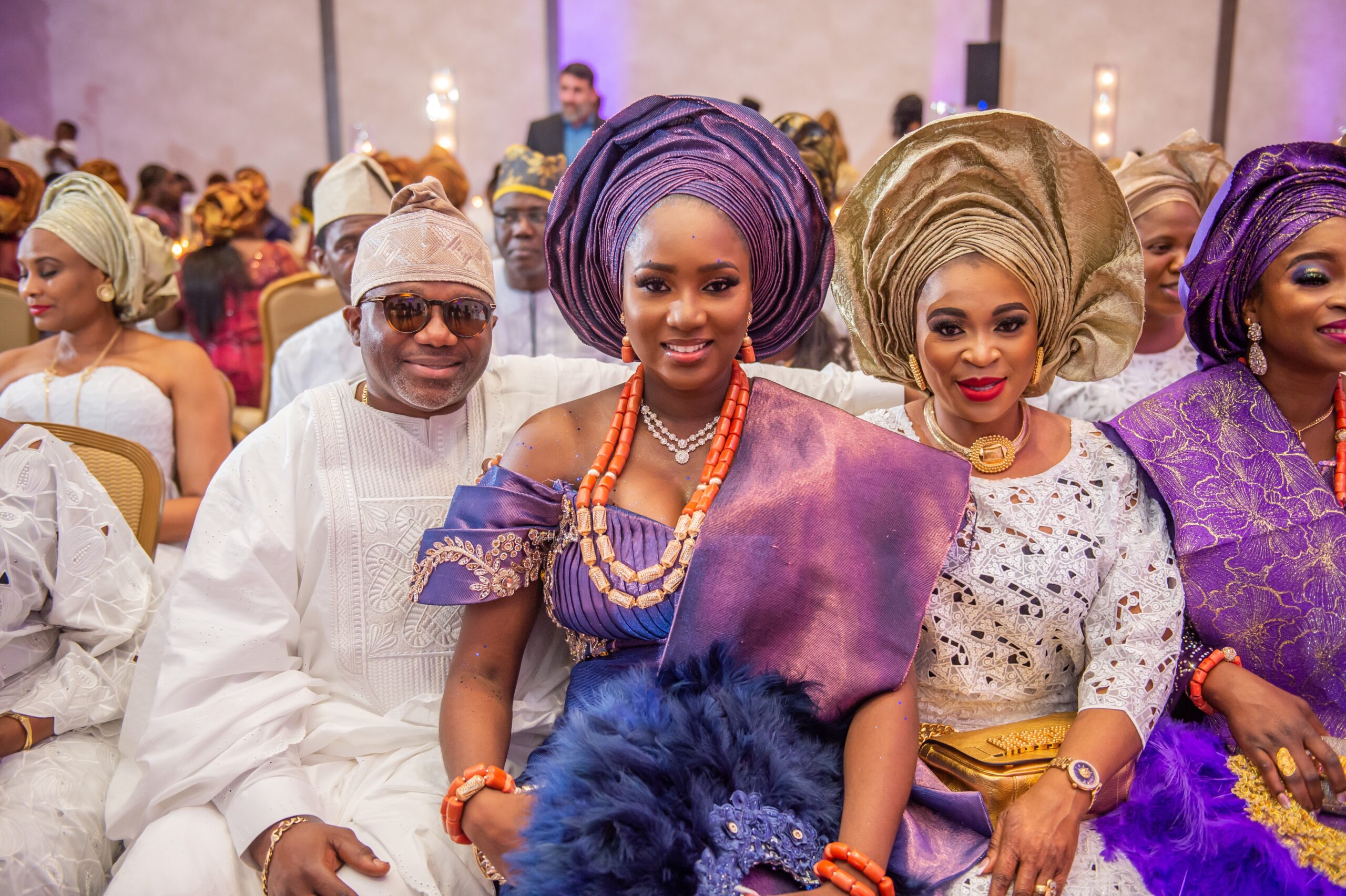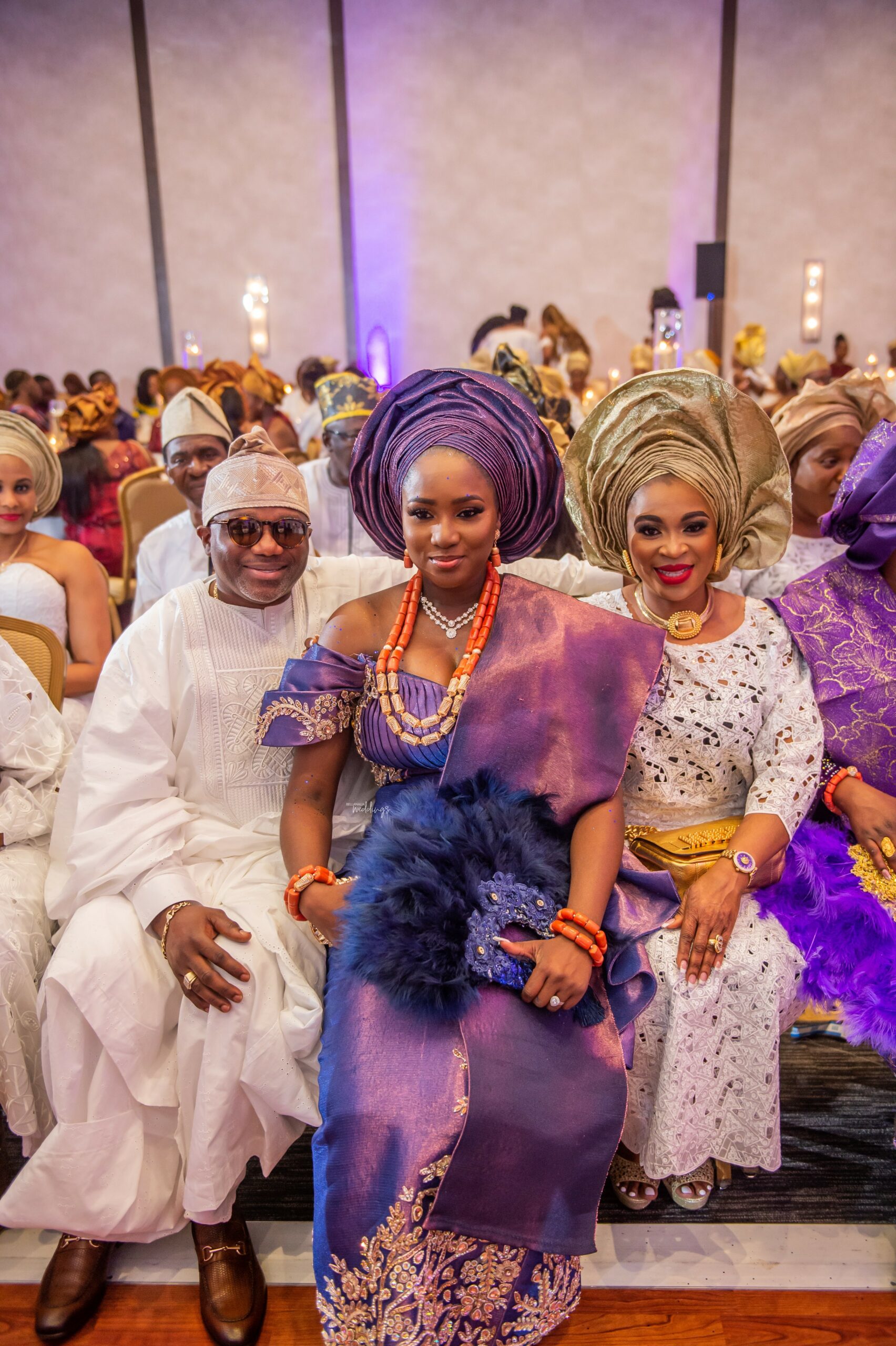 It's time to get her groom…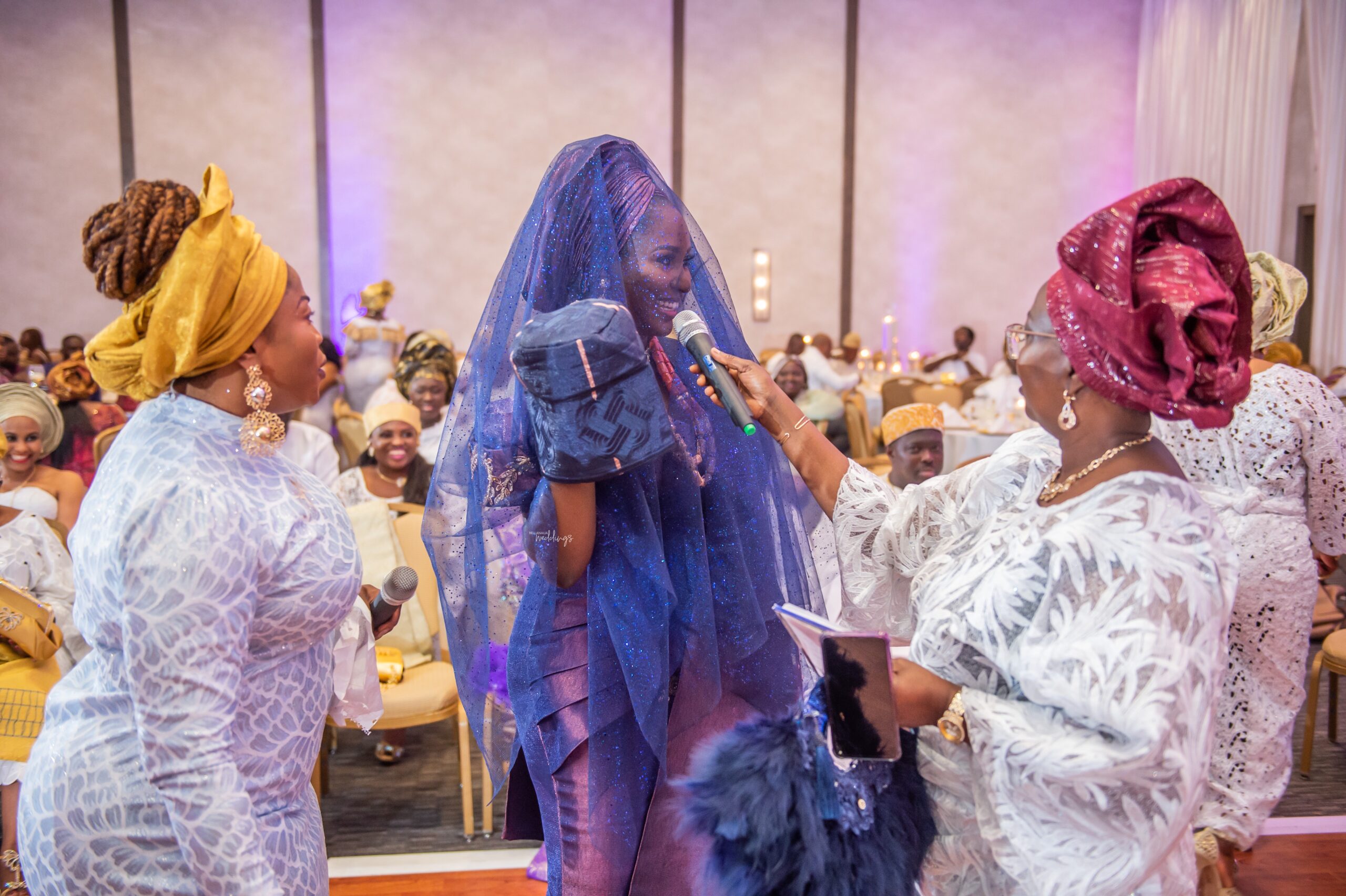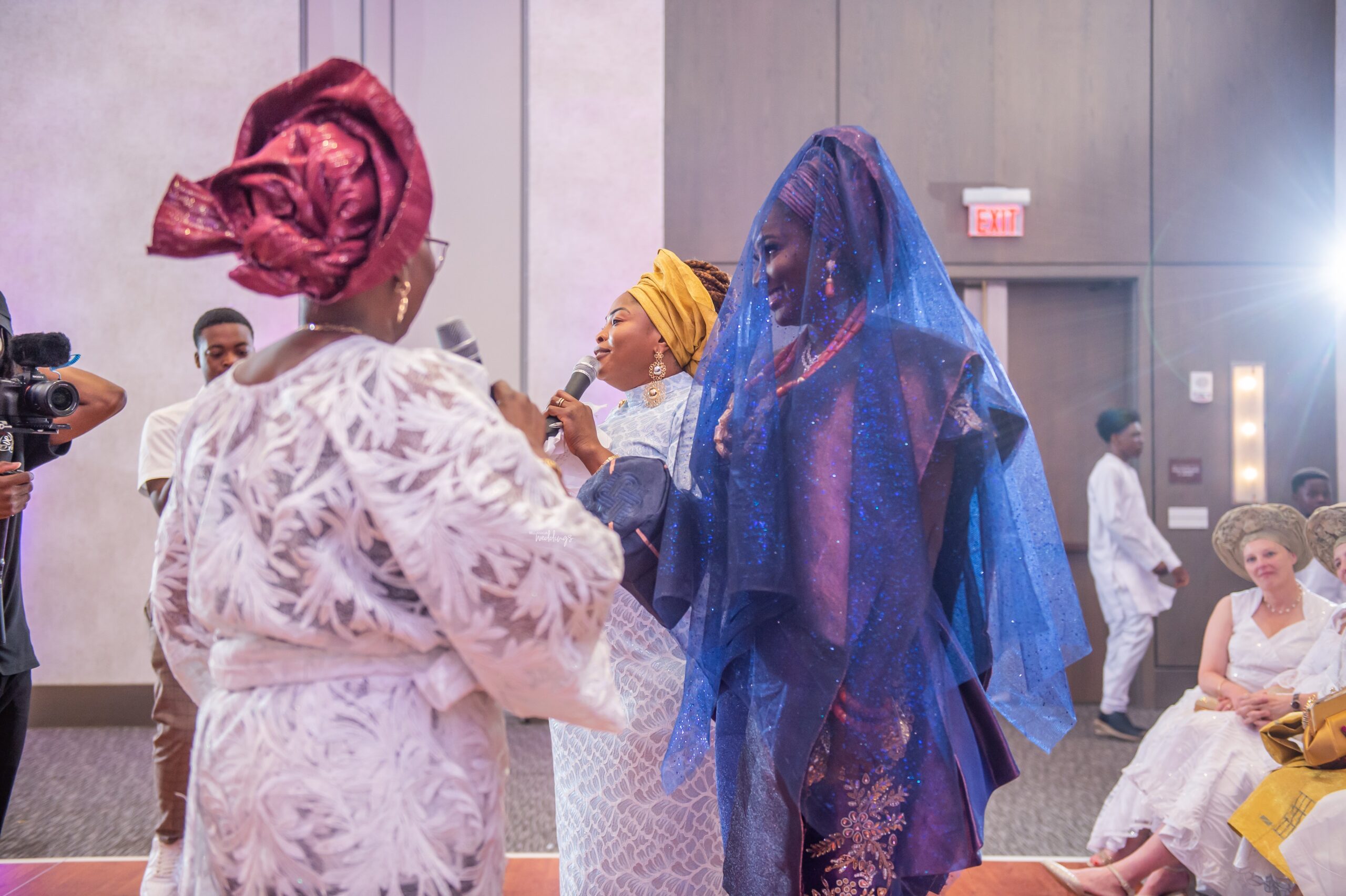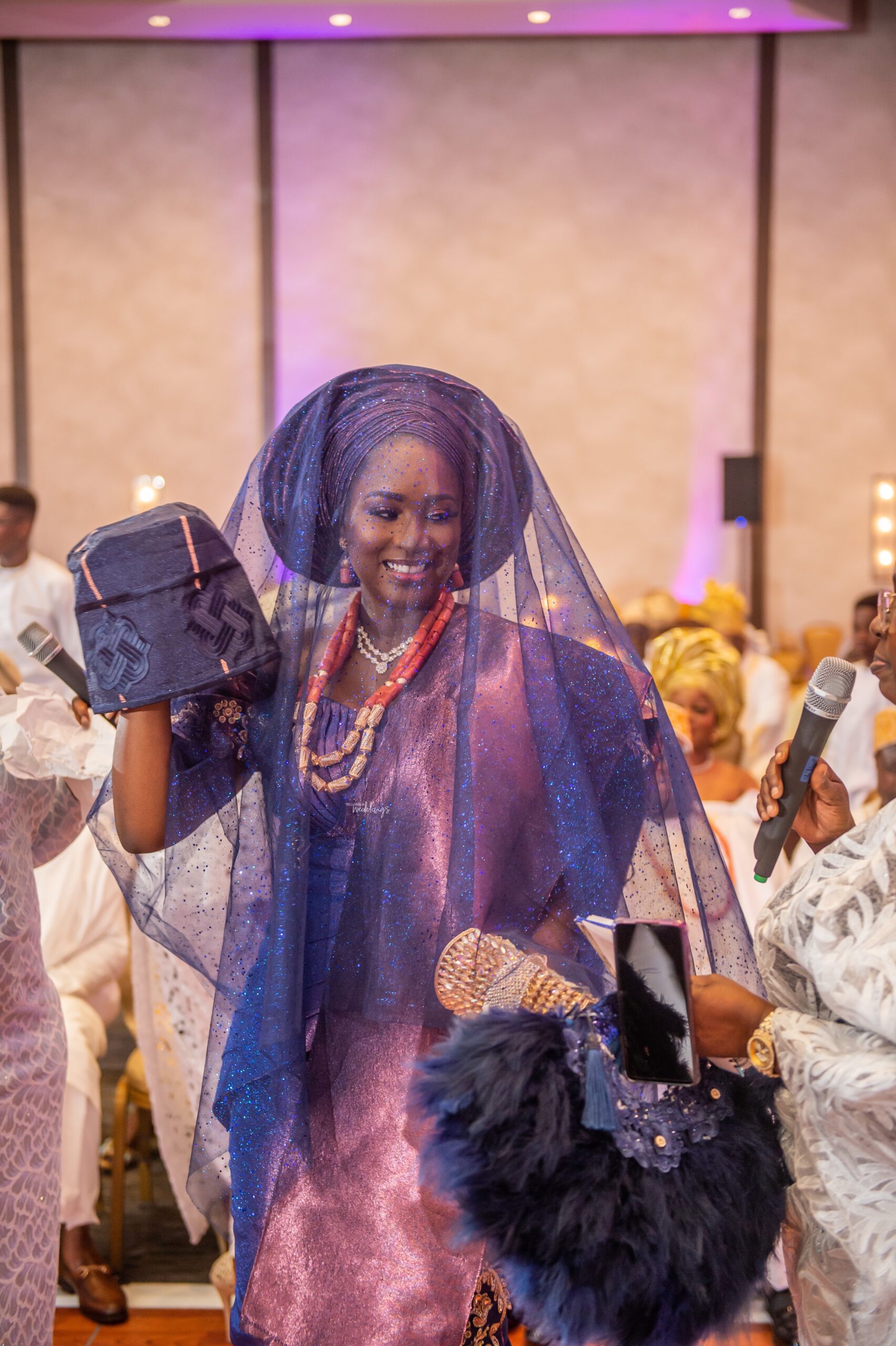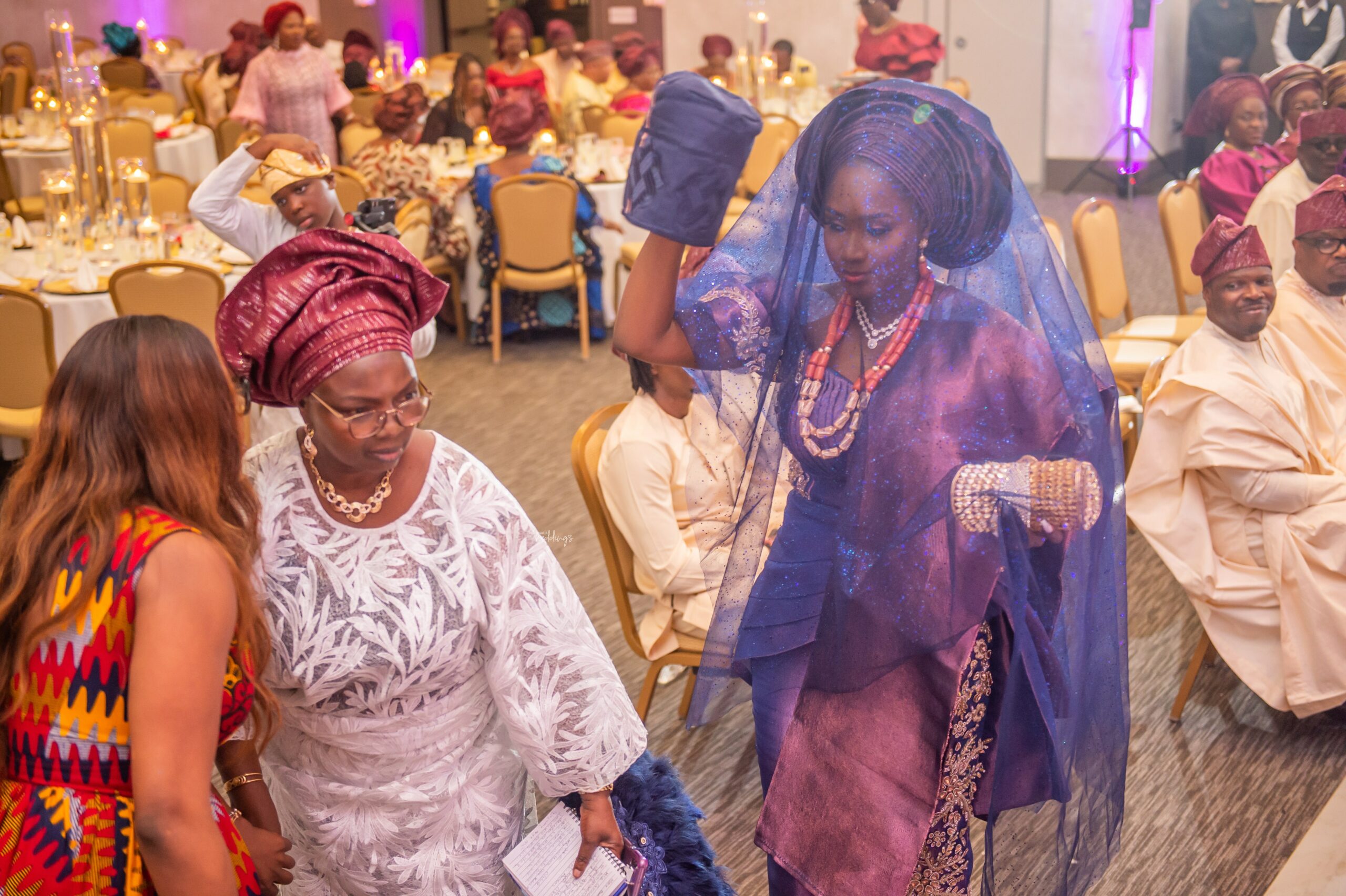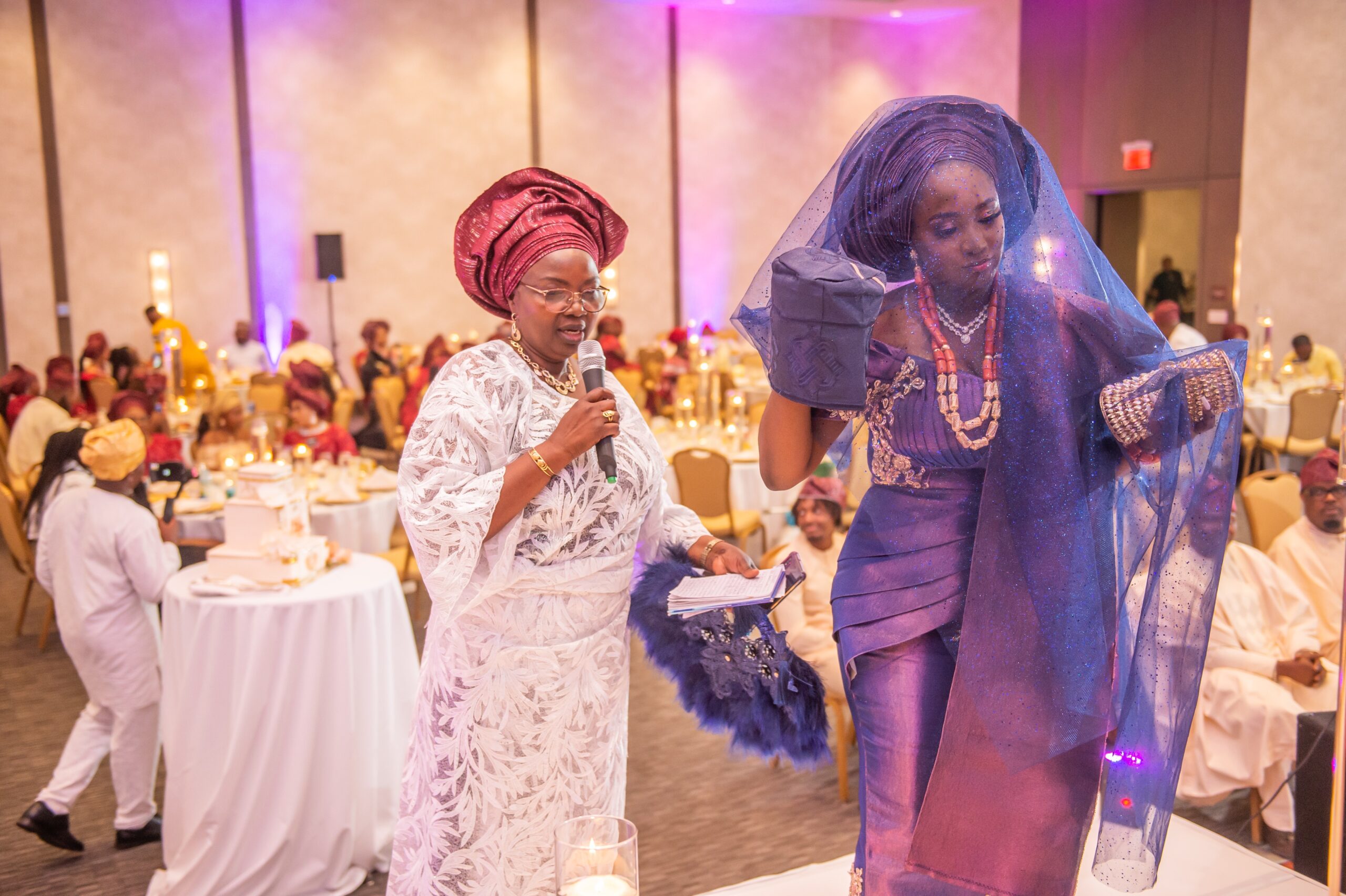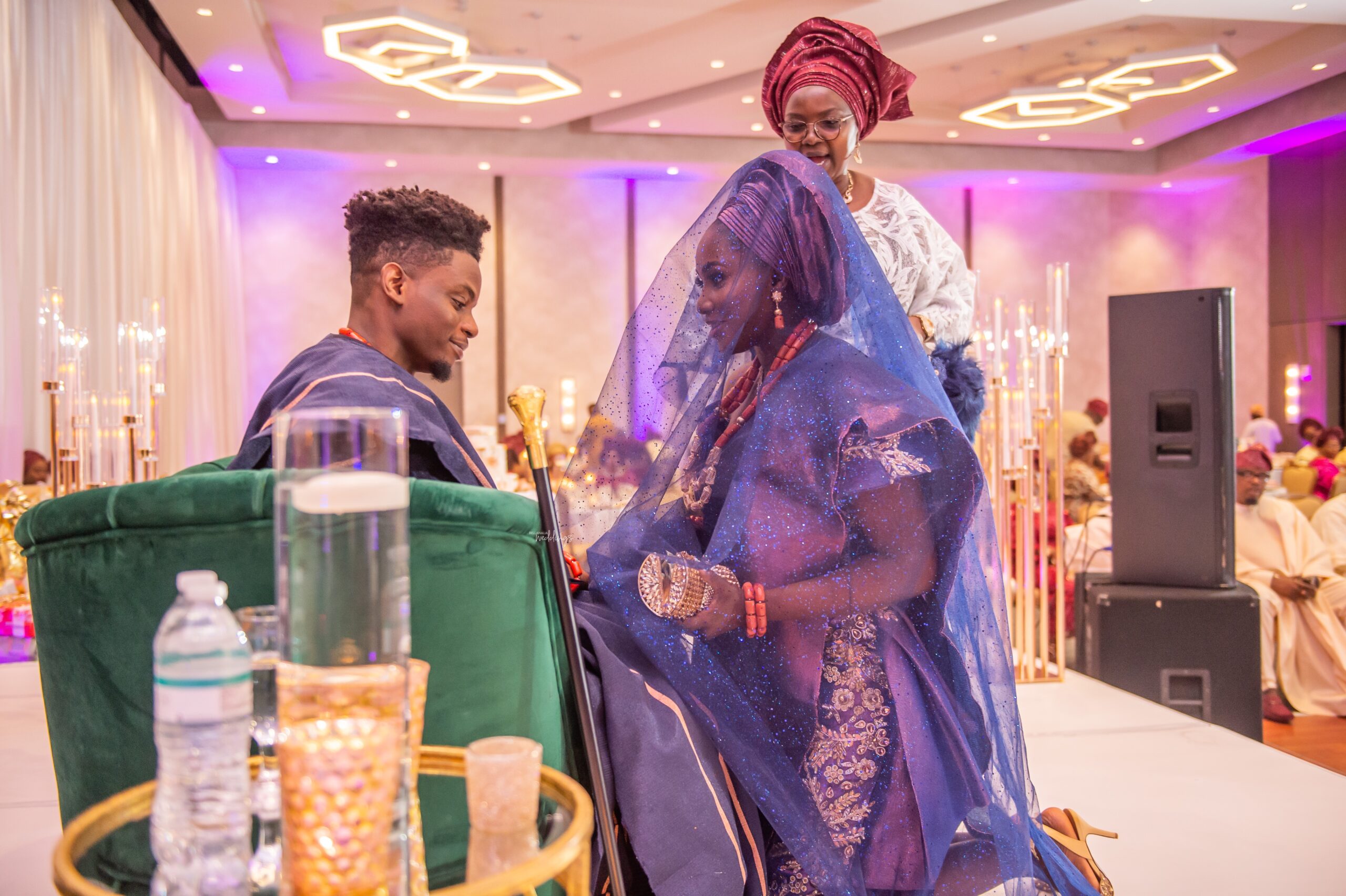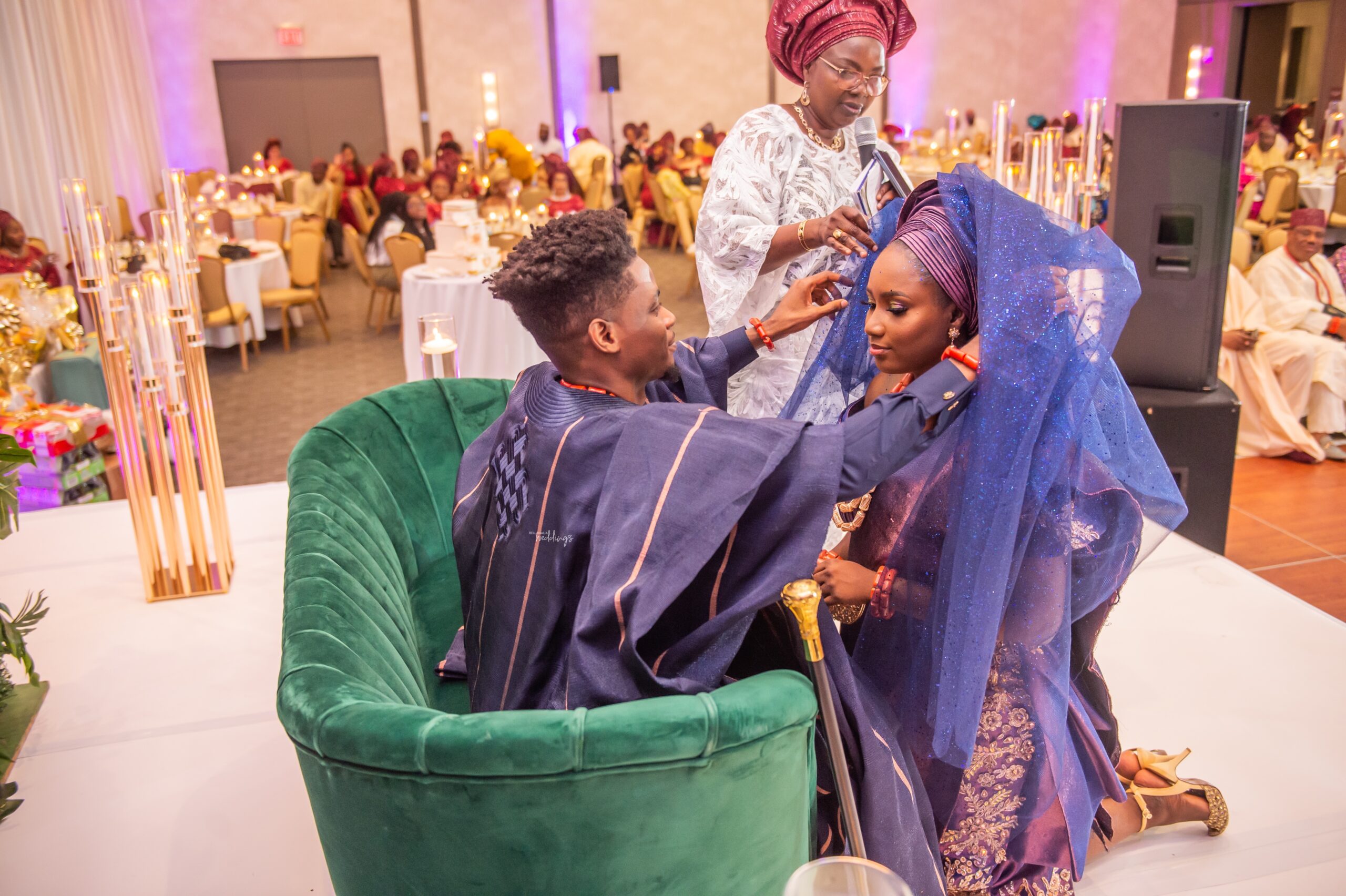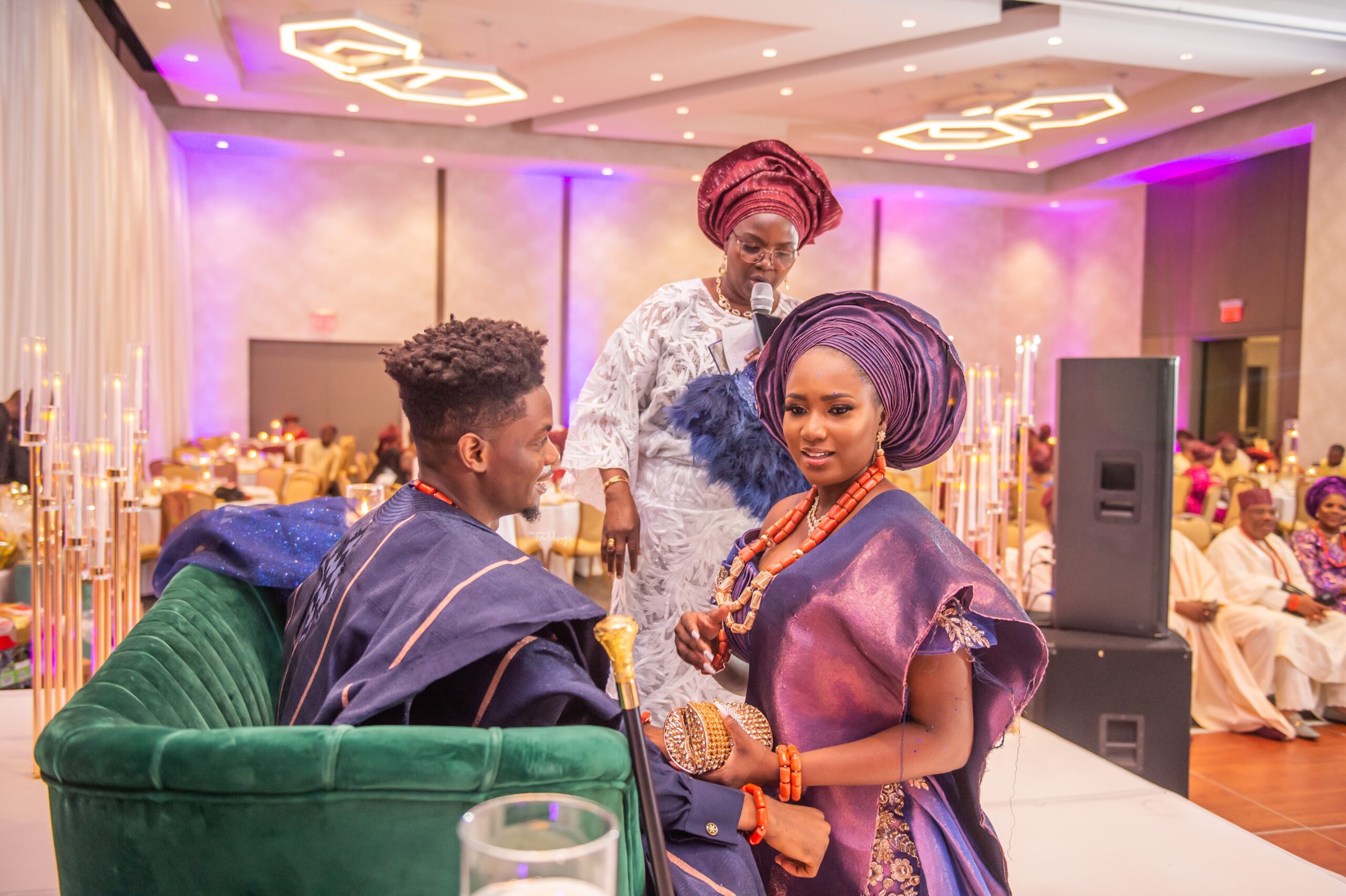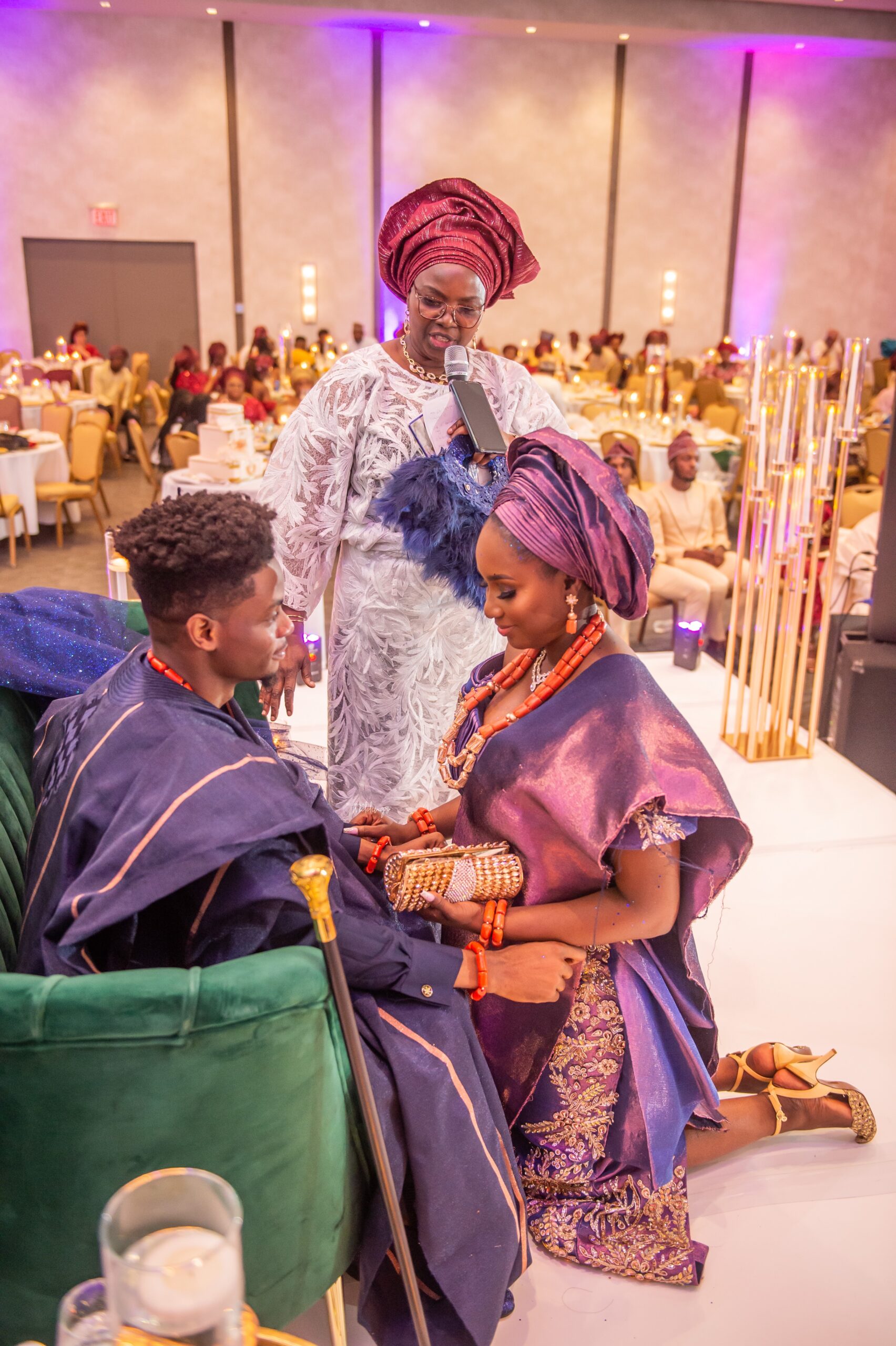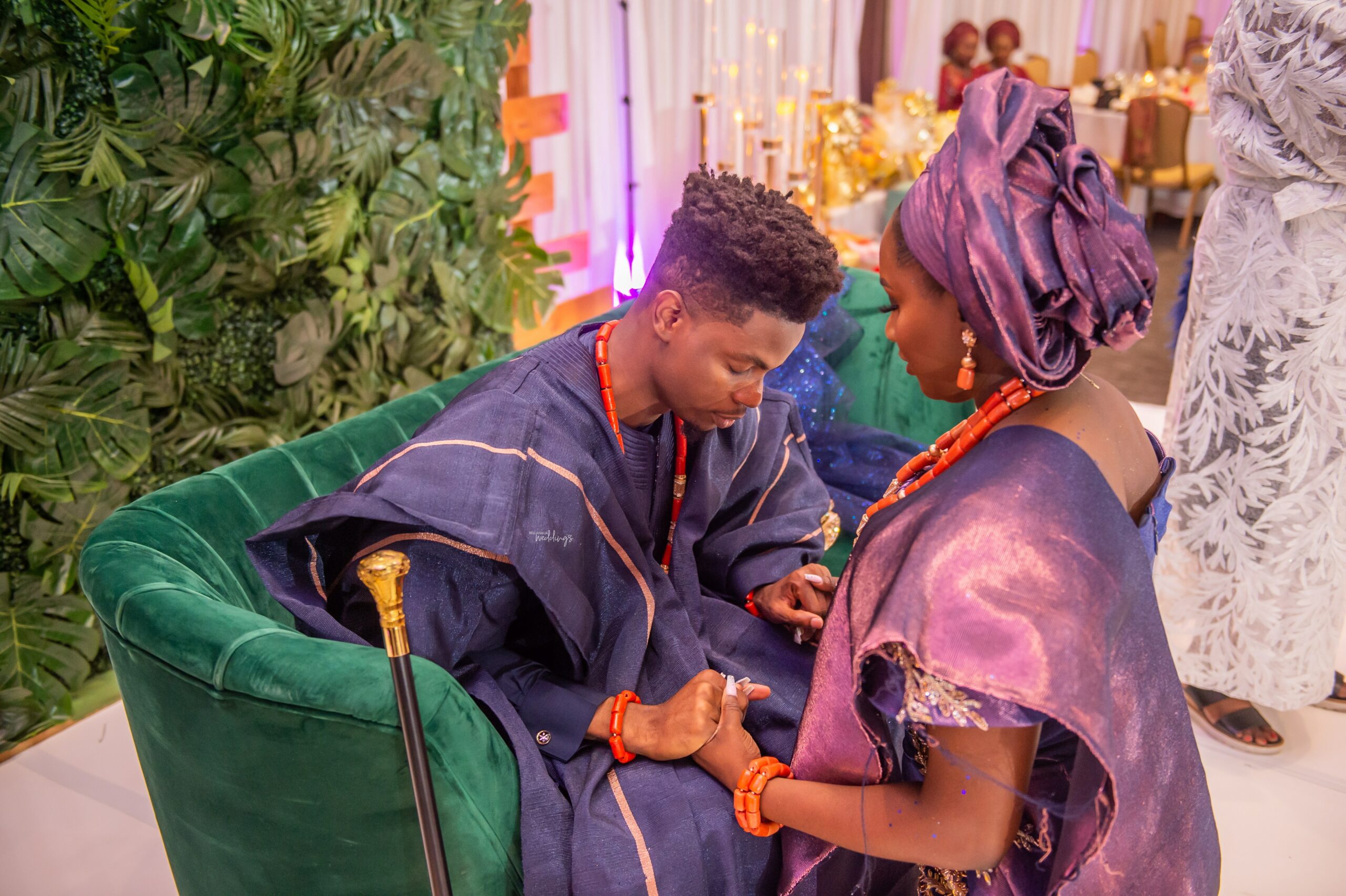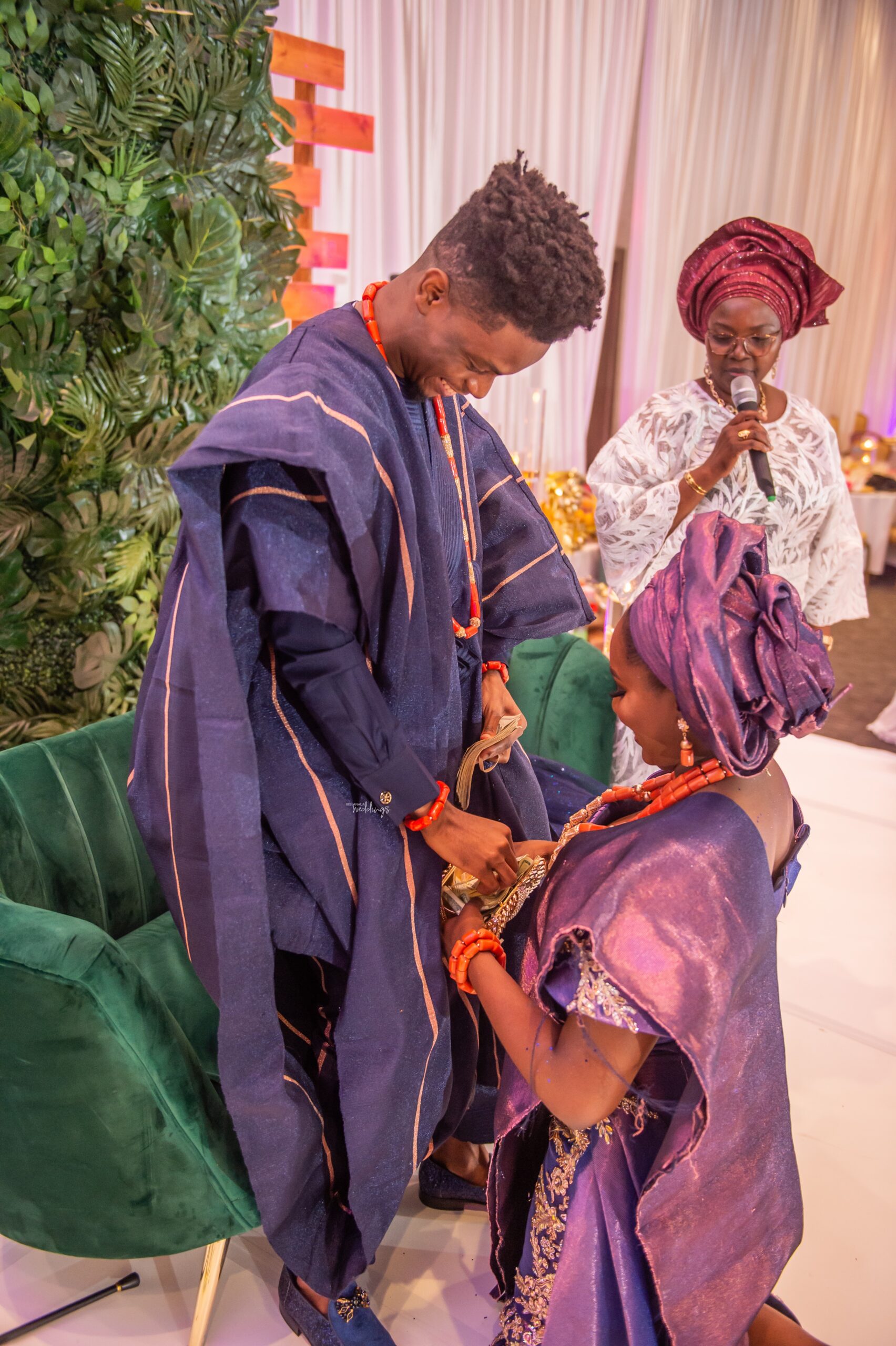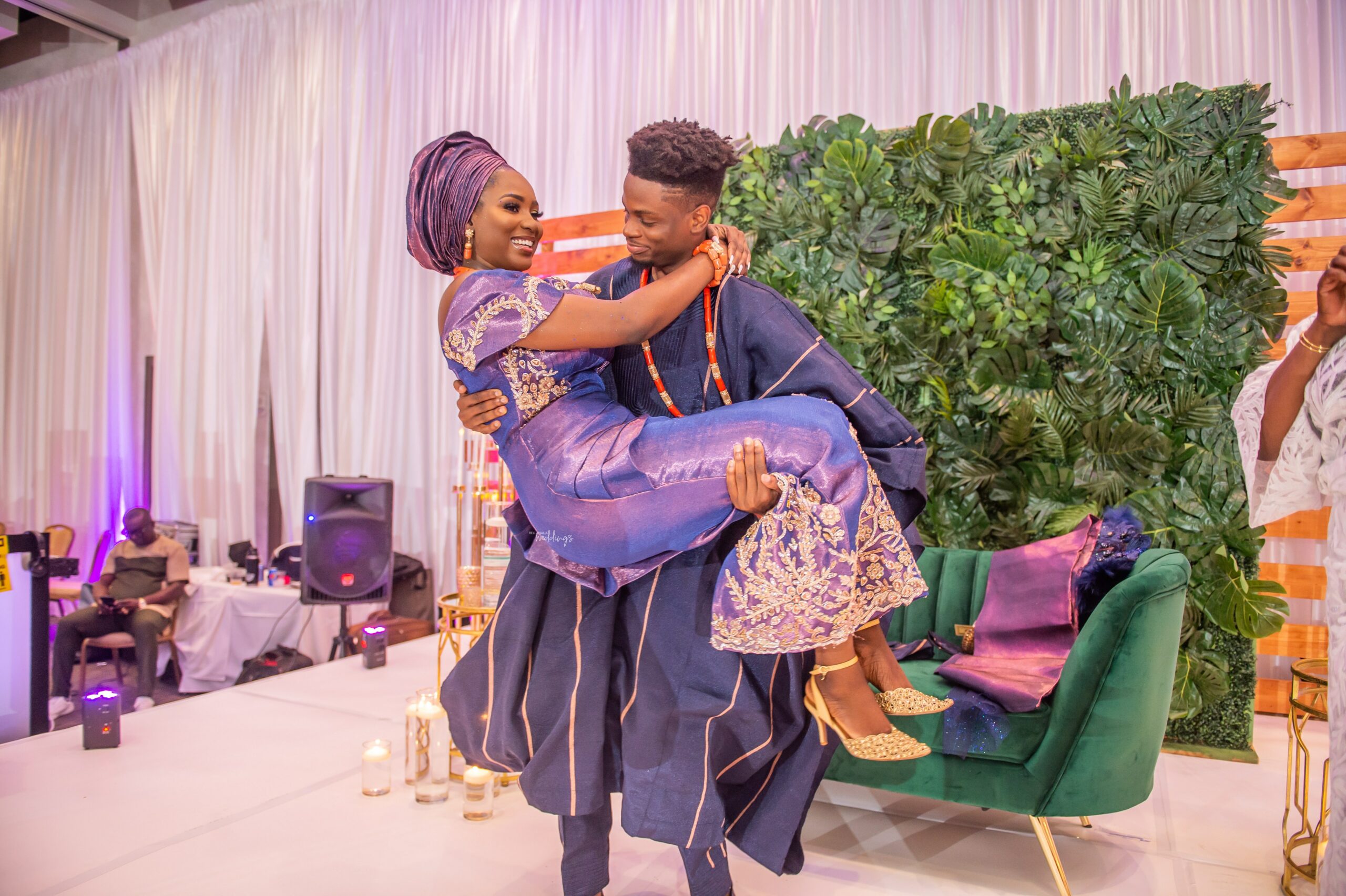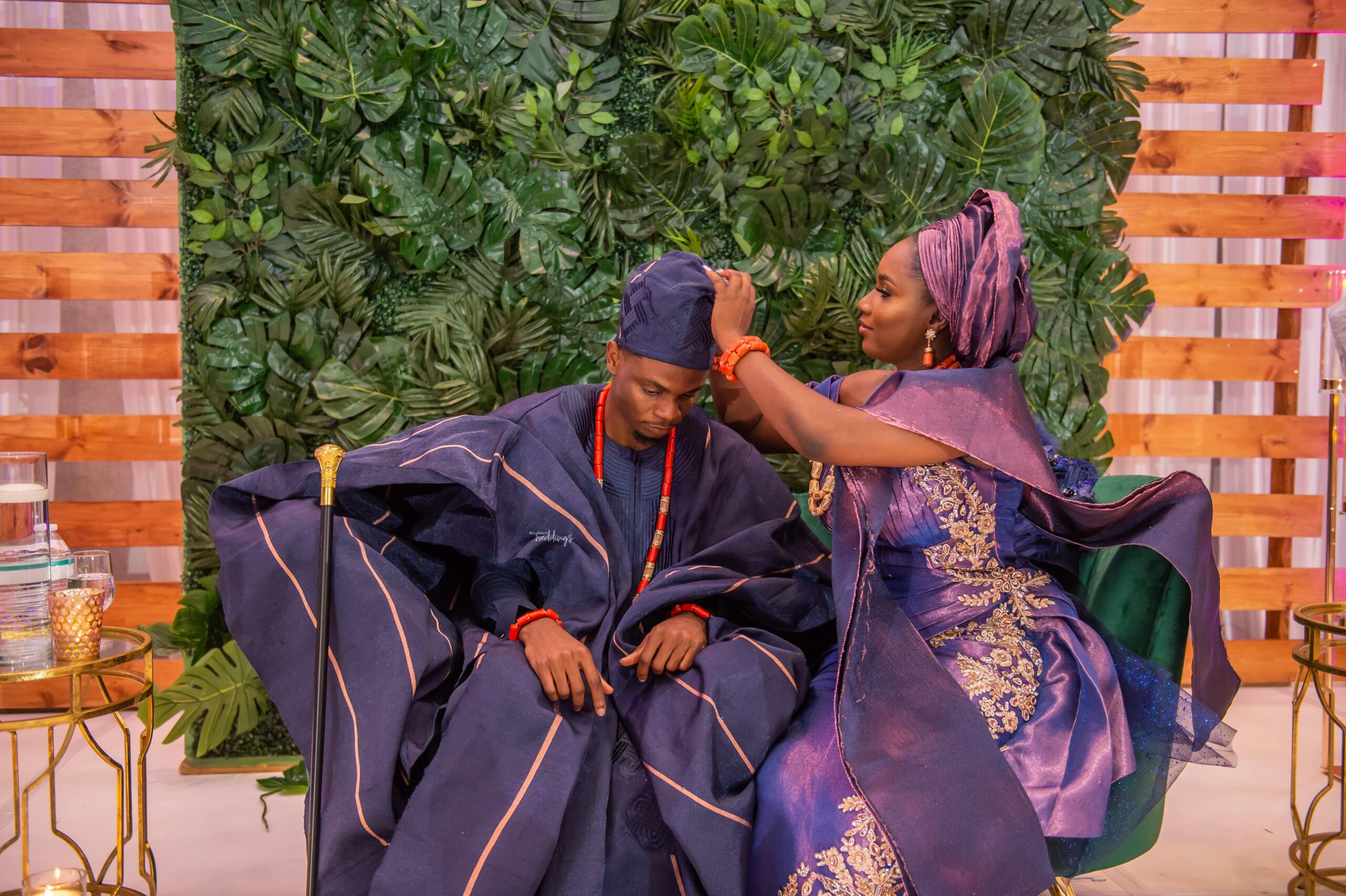 The traditional engagement with a ring…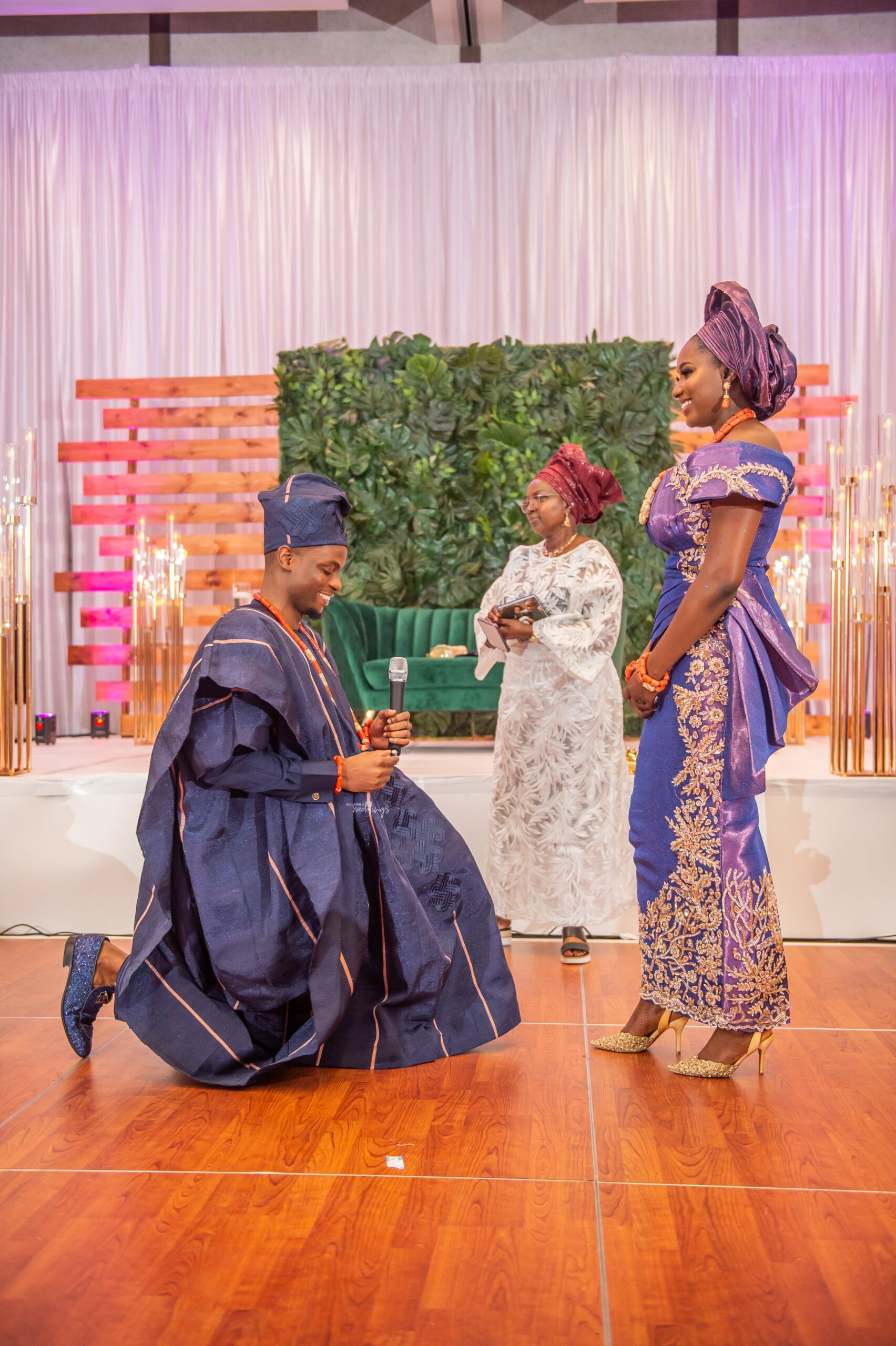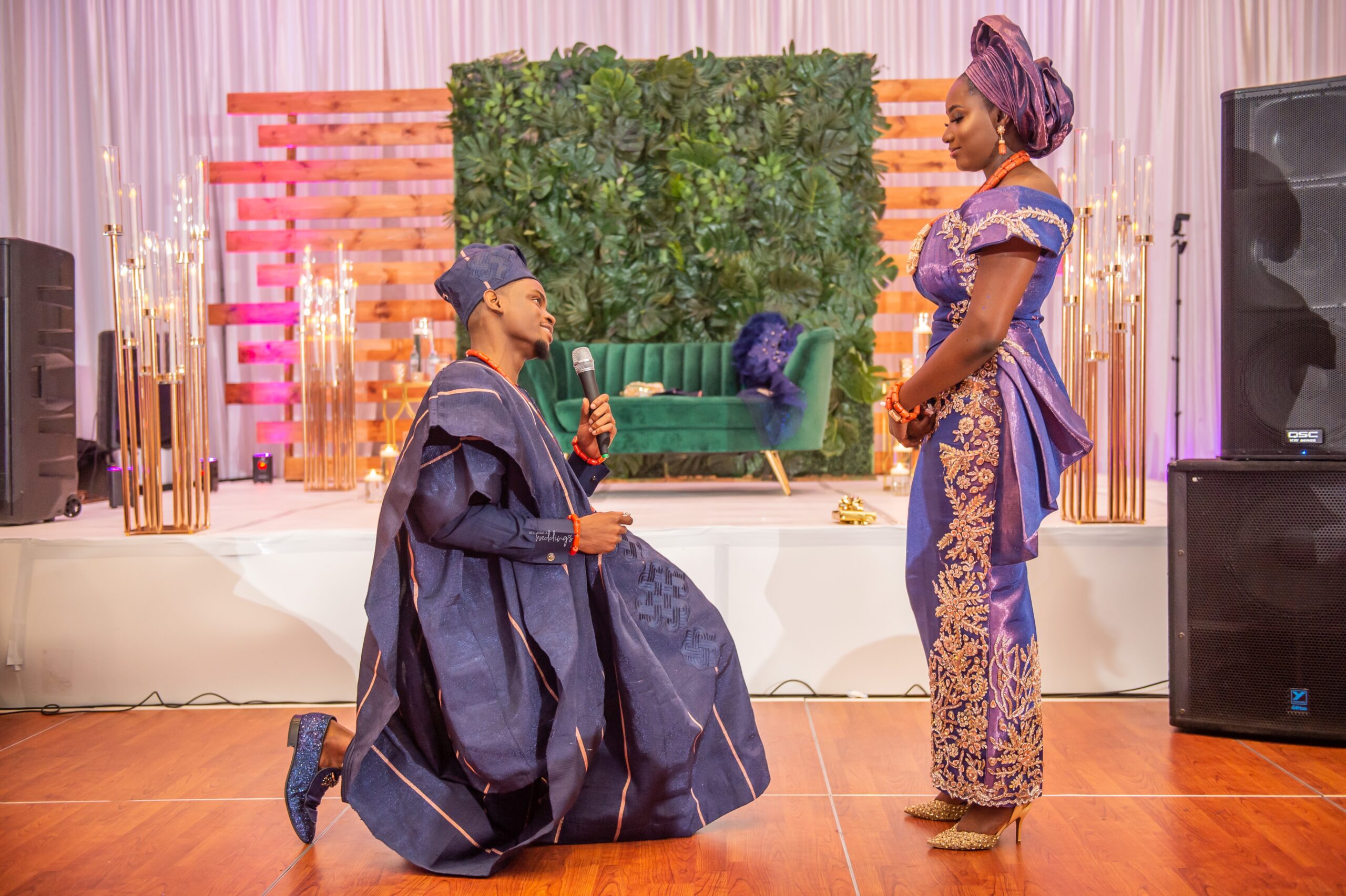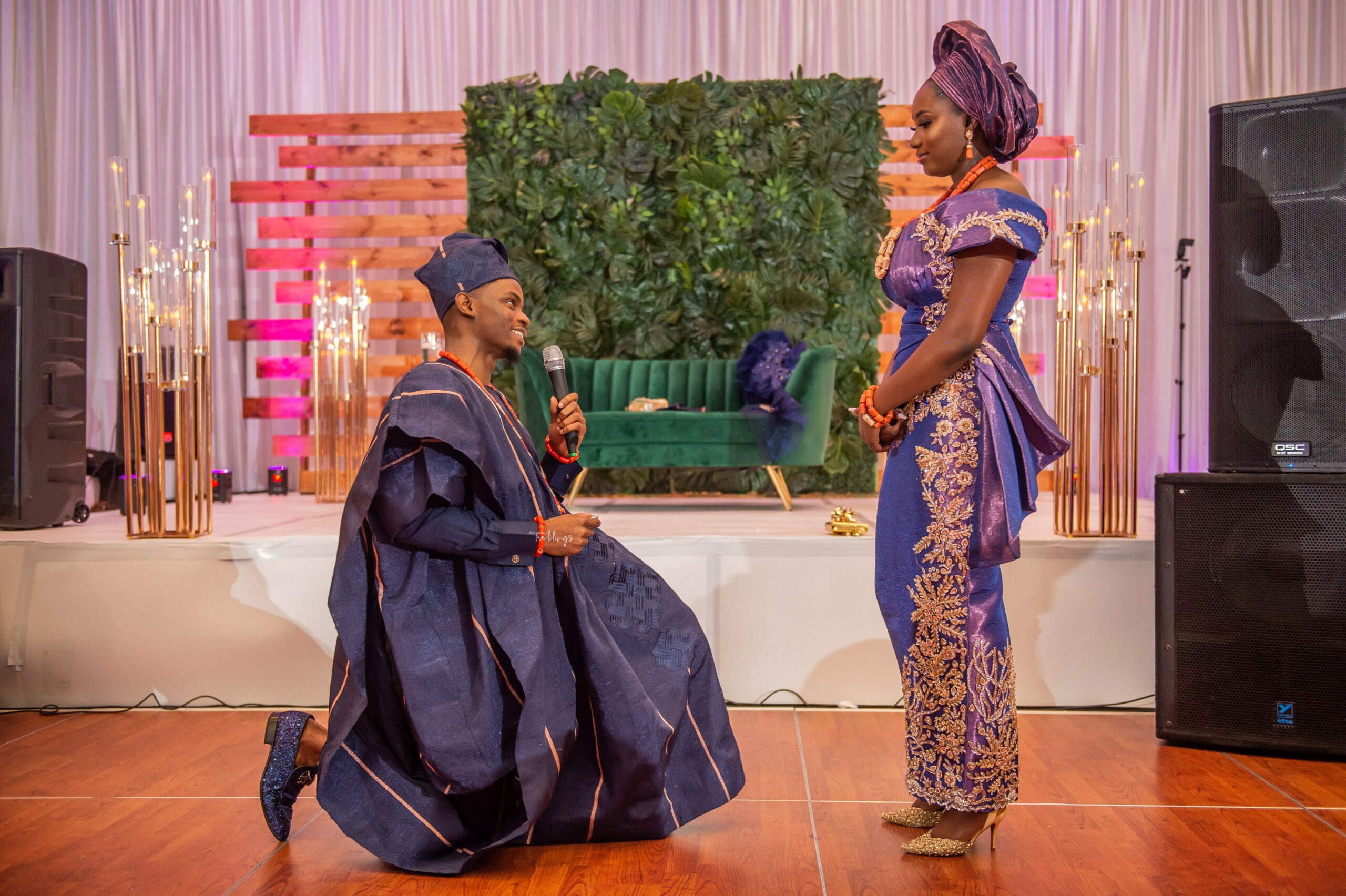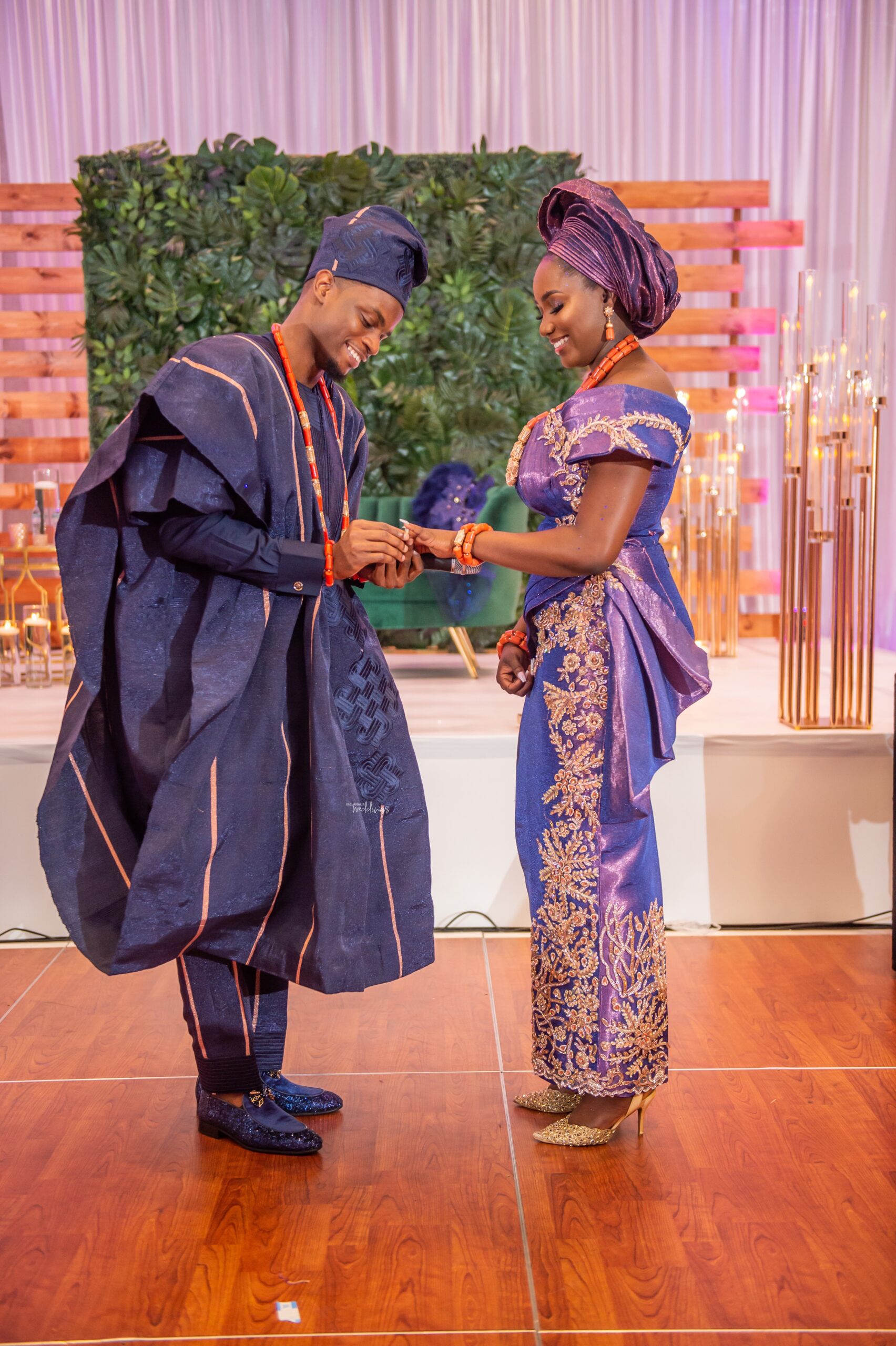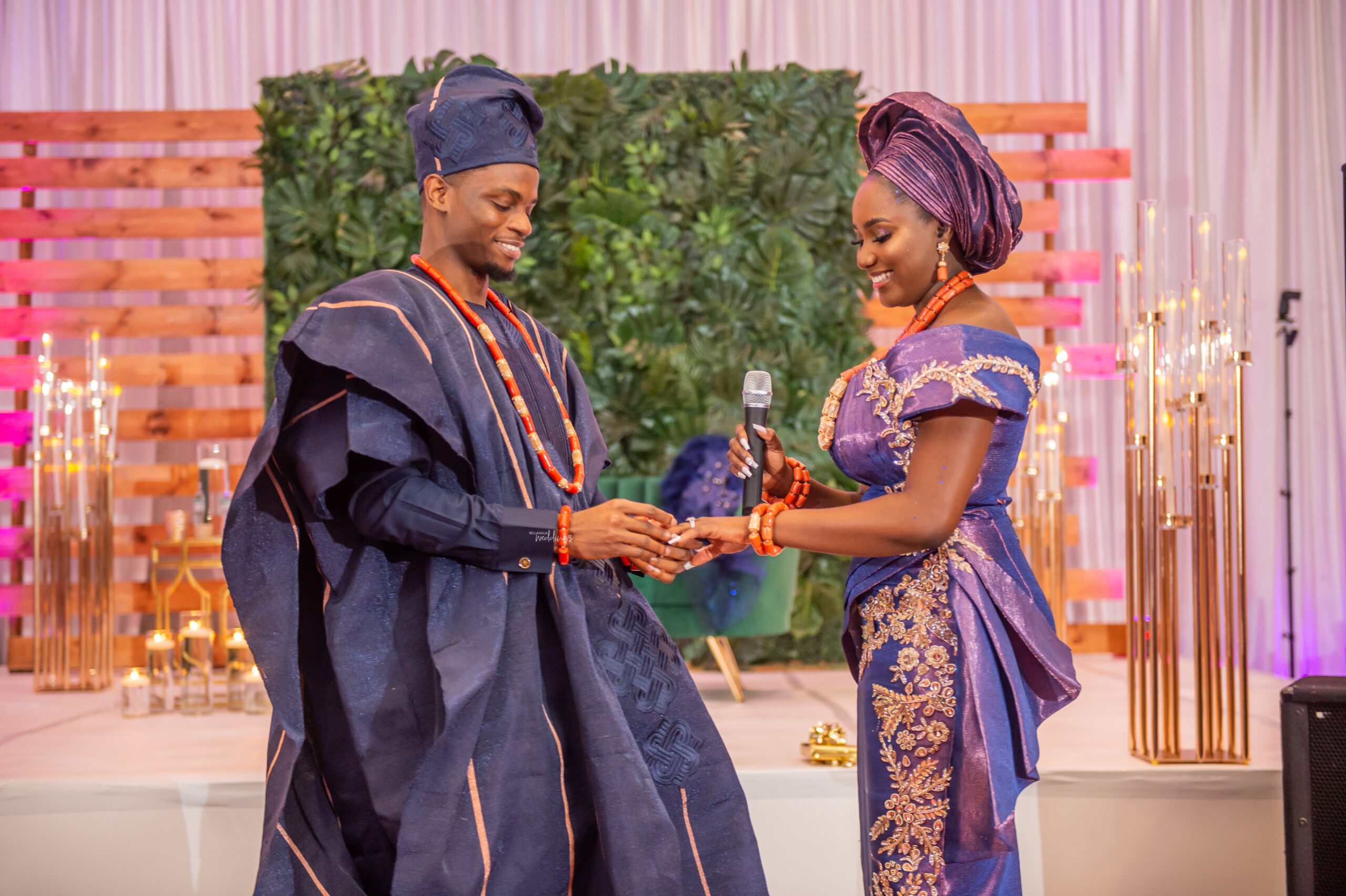 Time to cut the cake!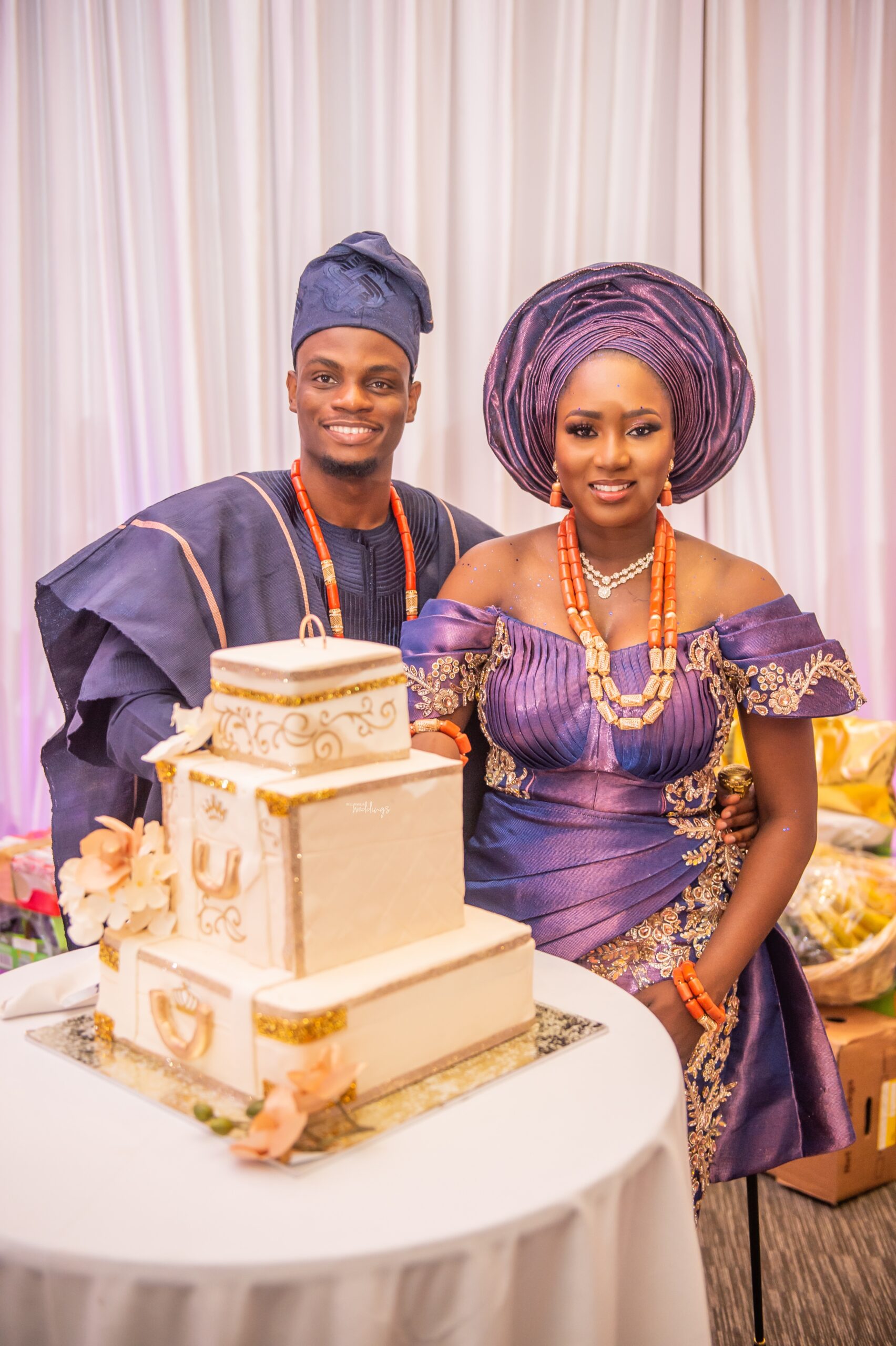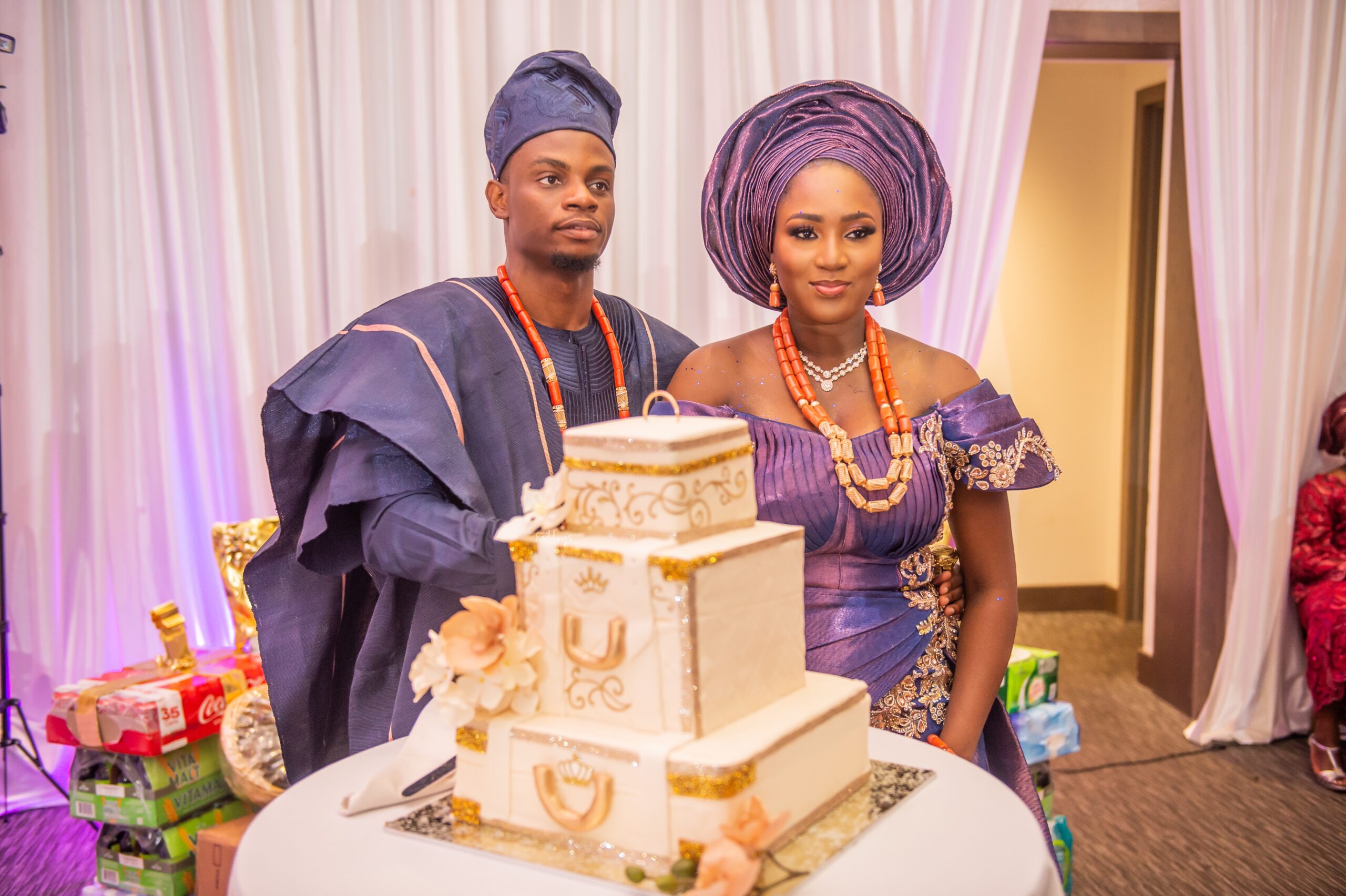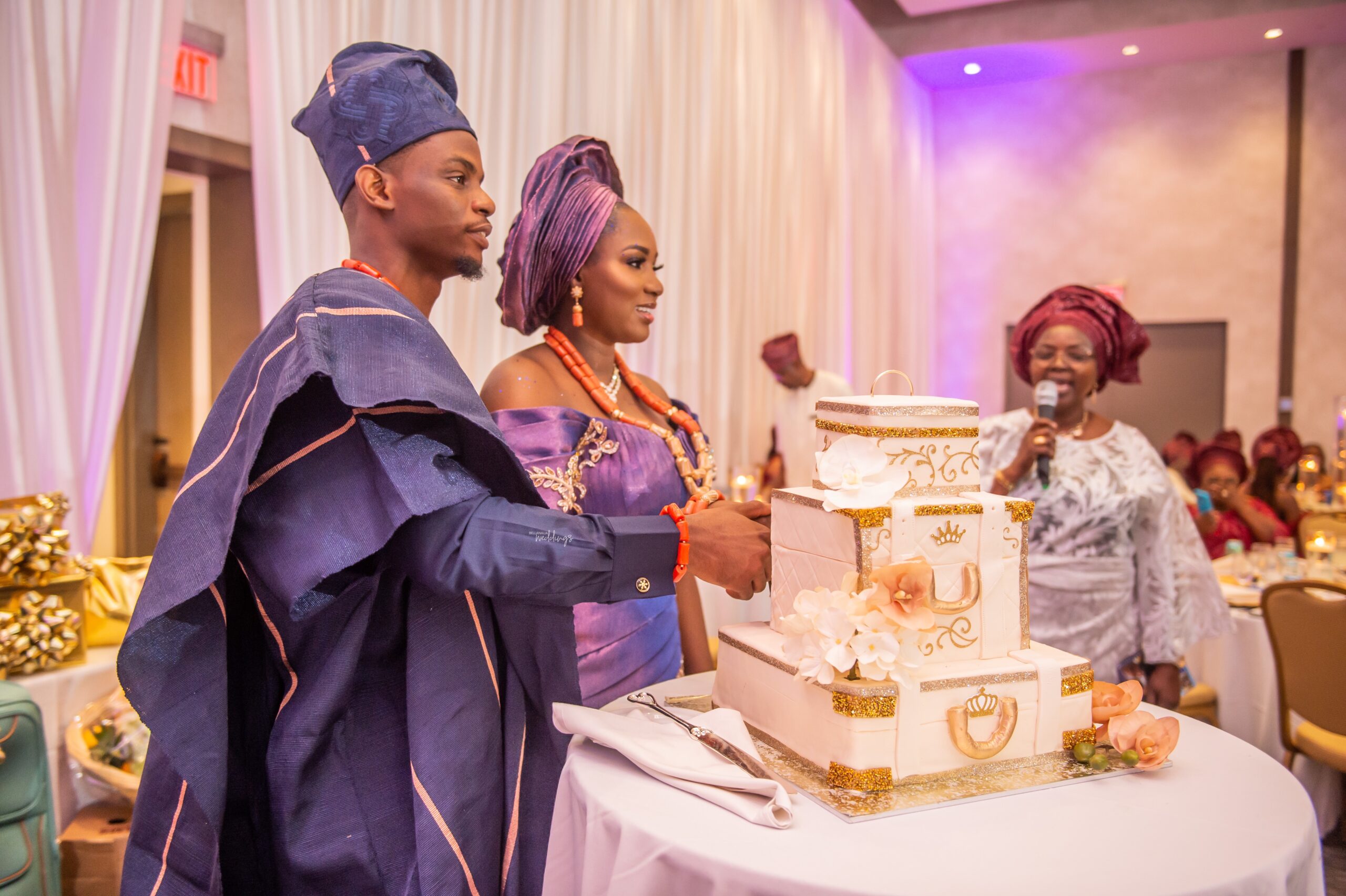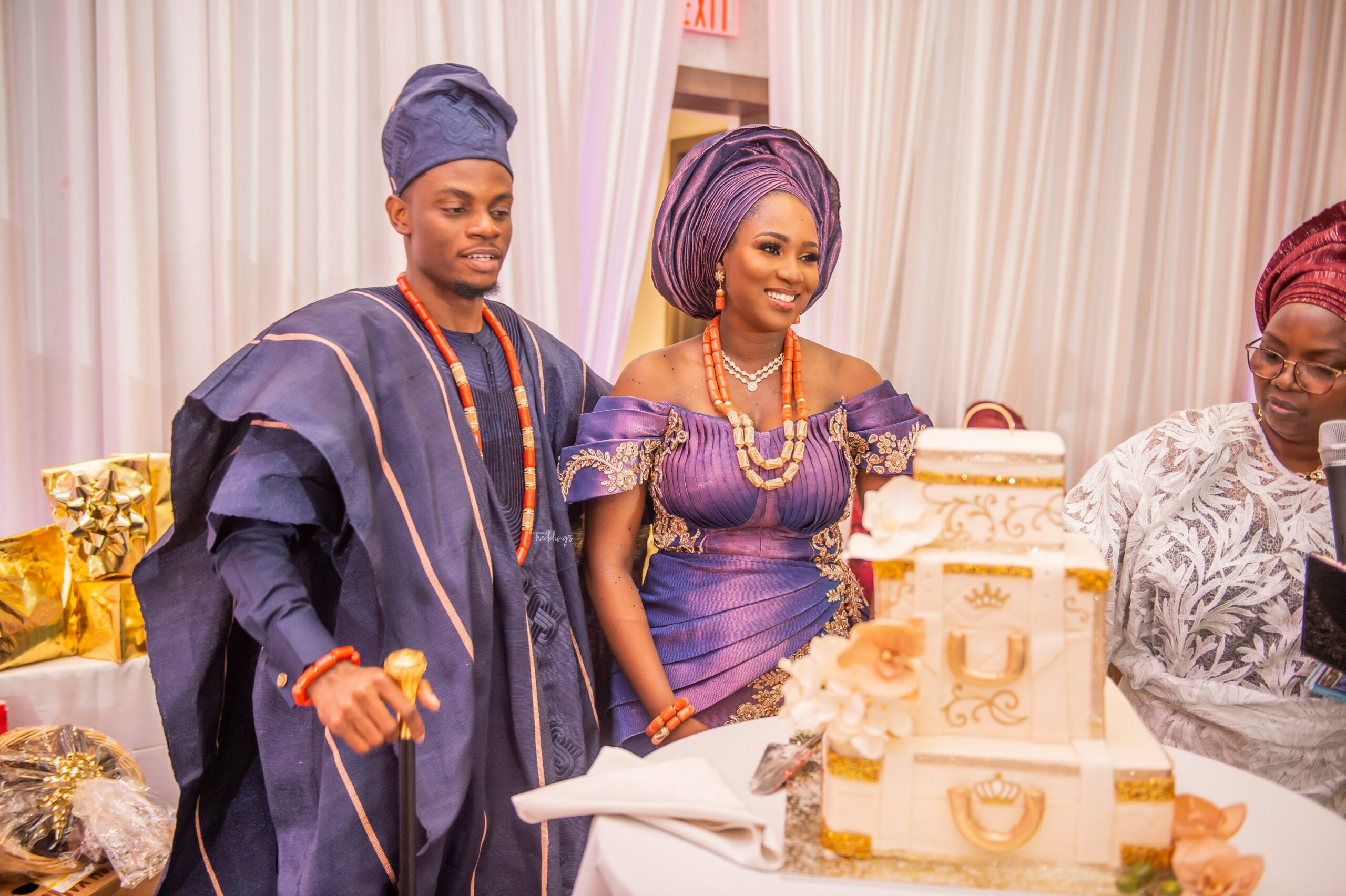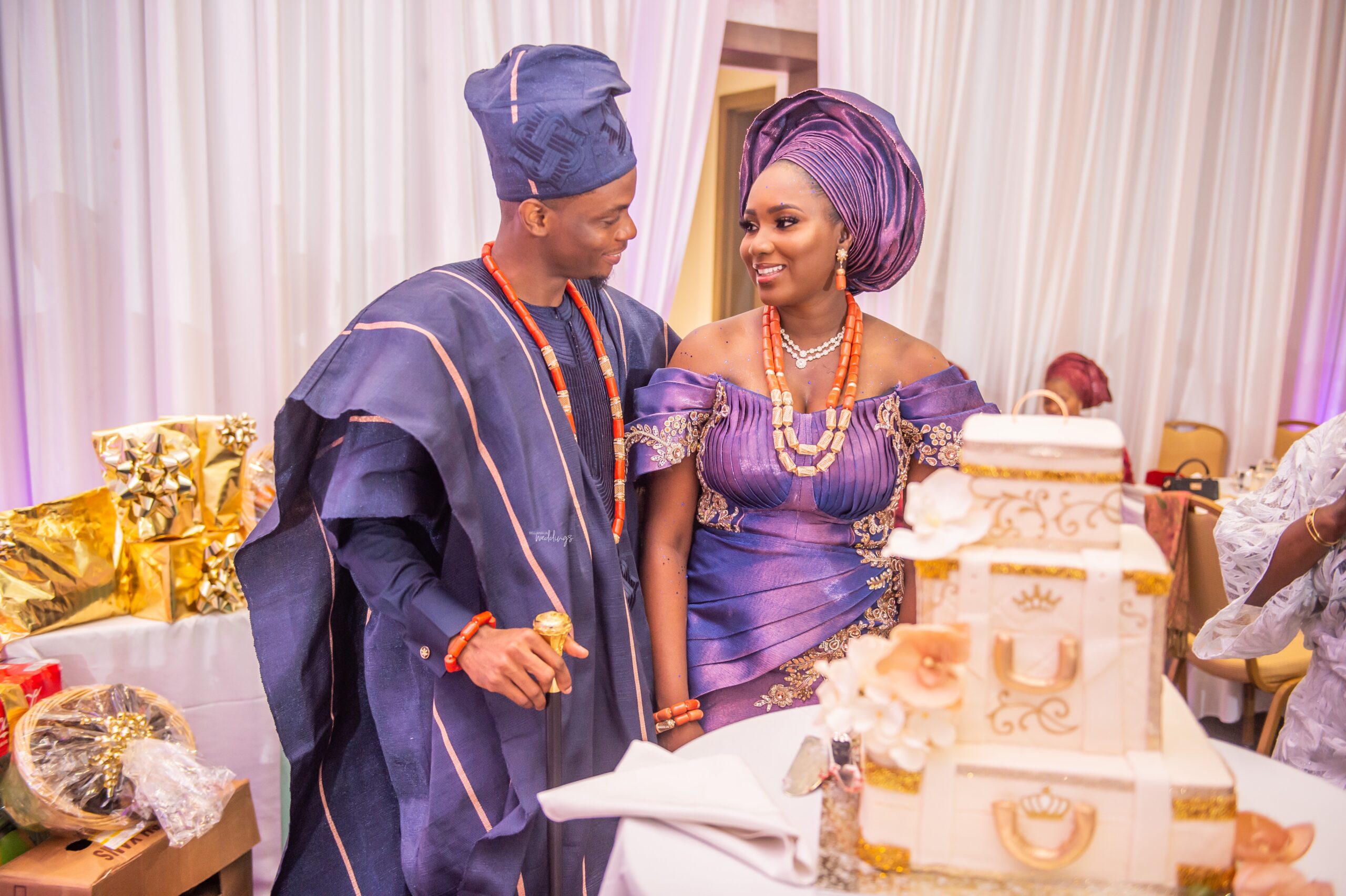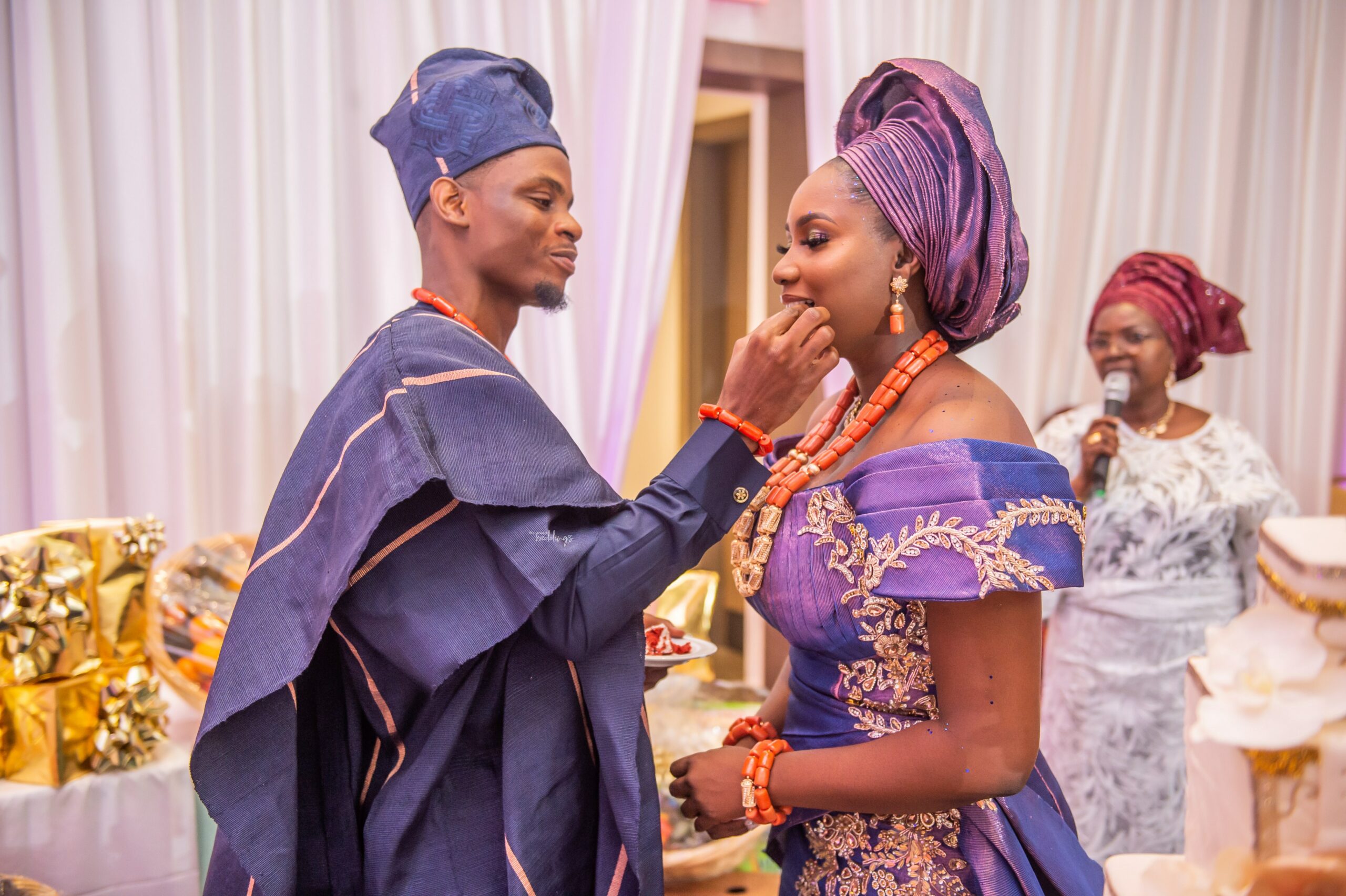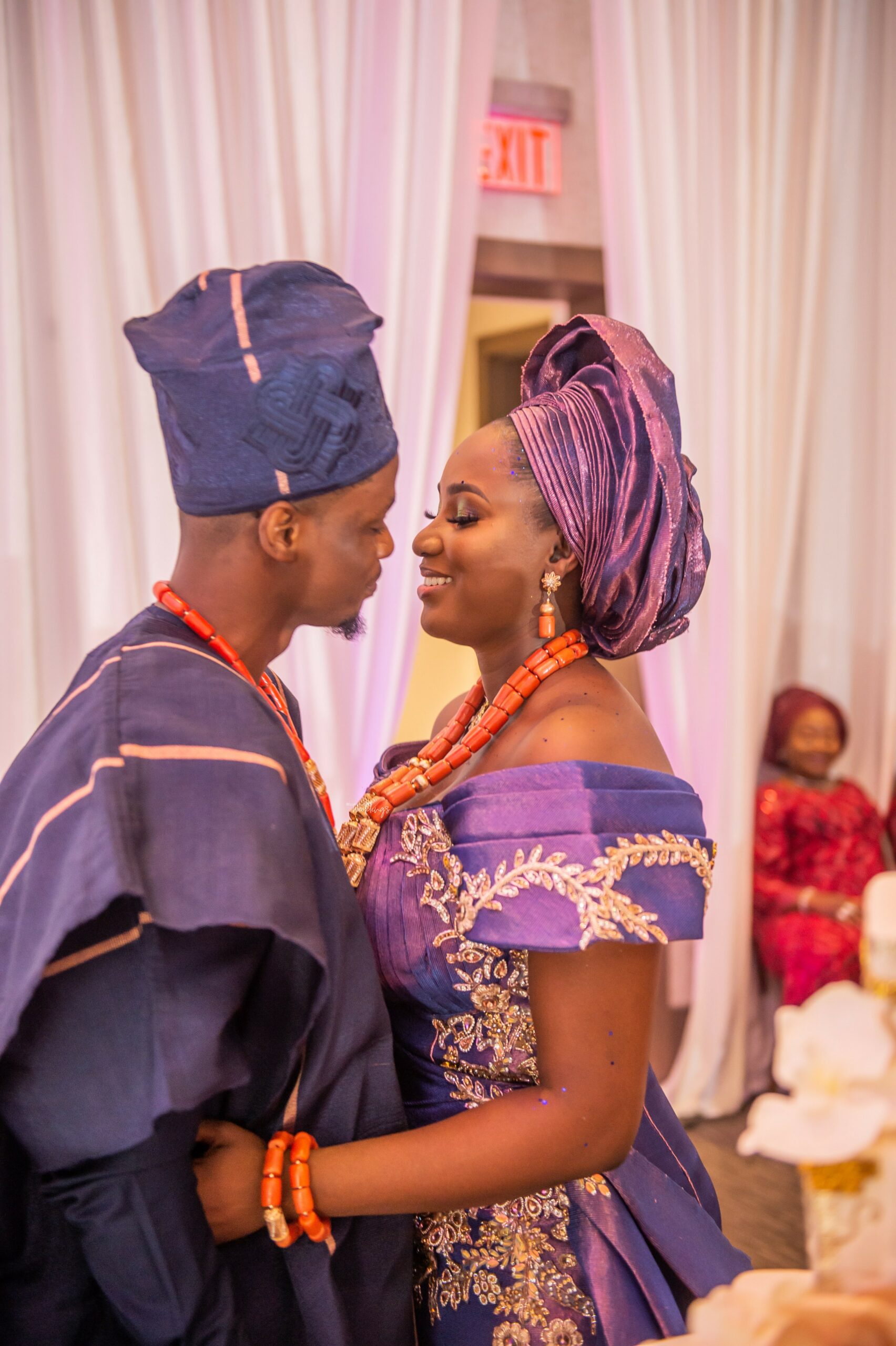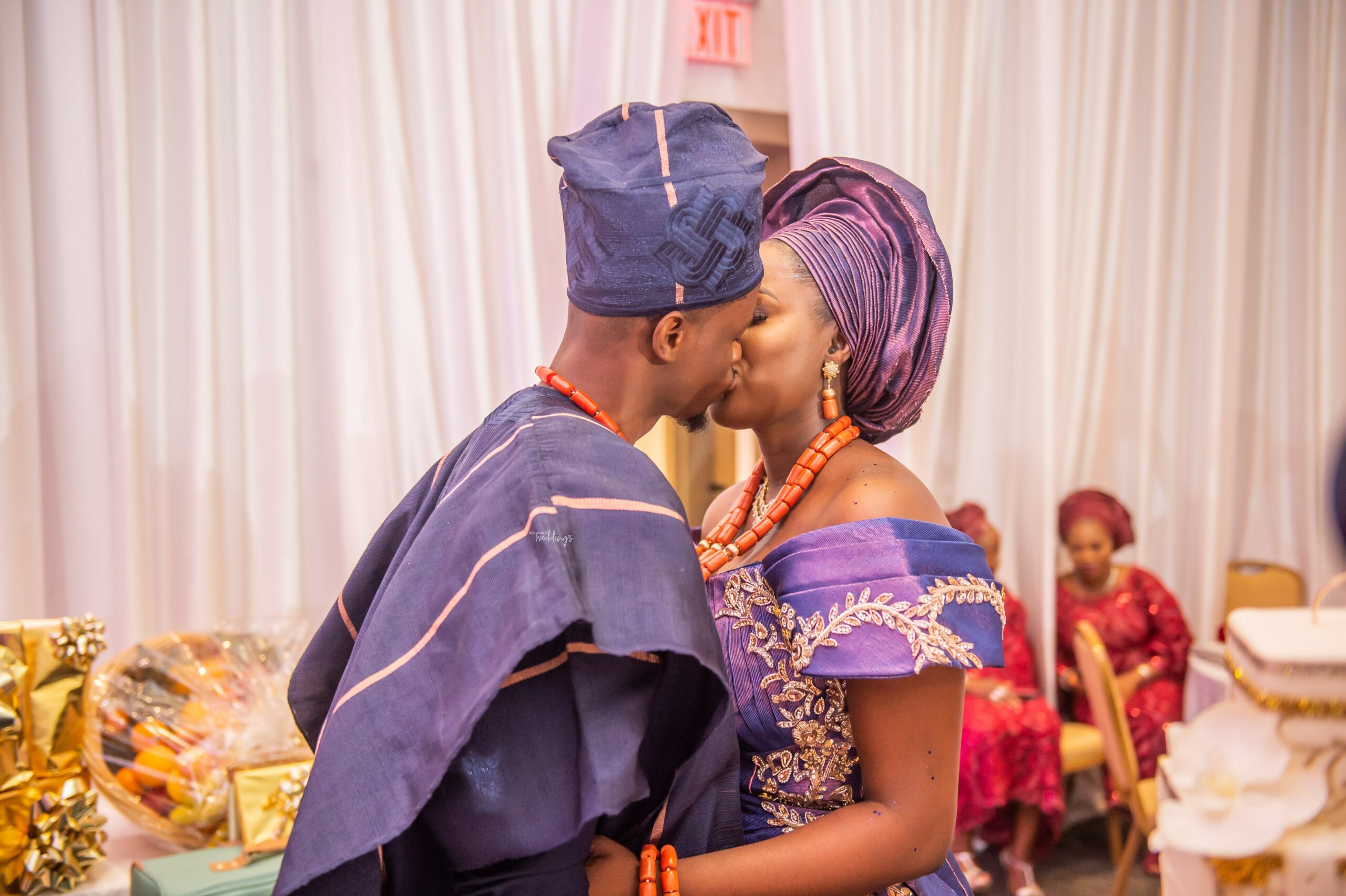 Now, it's Mr and Mrs!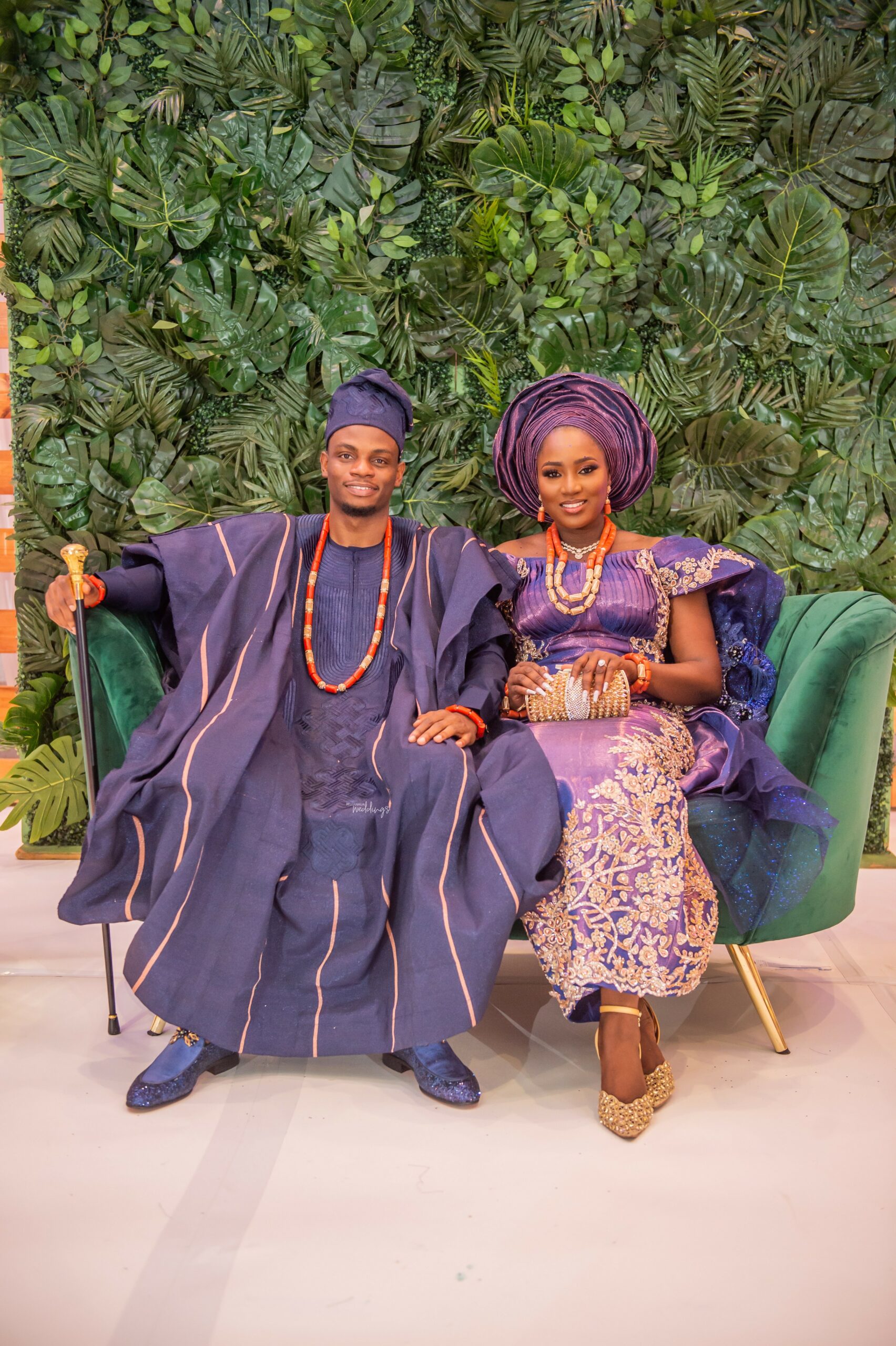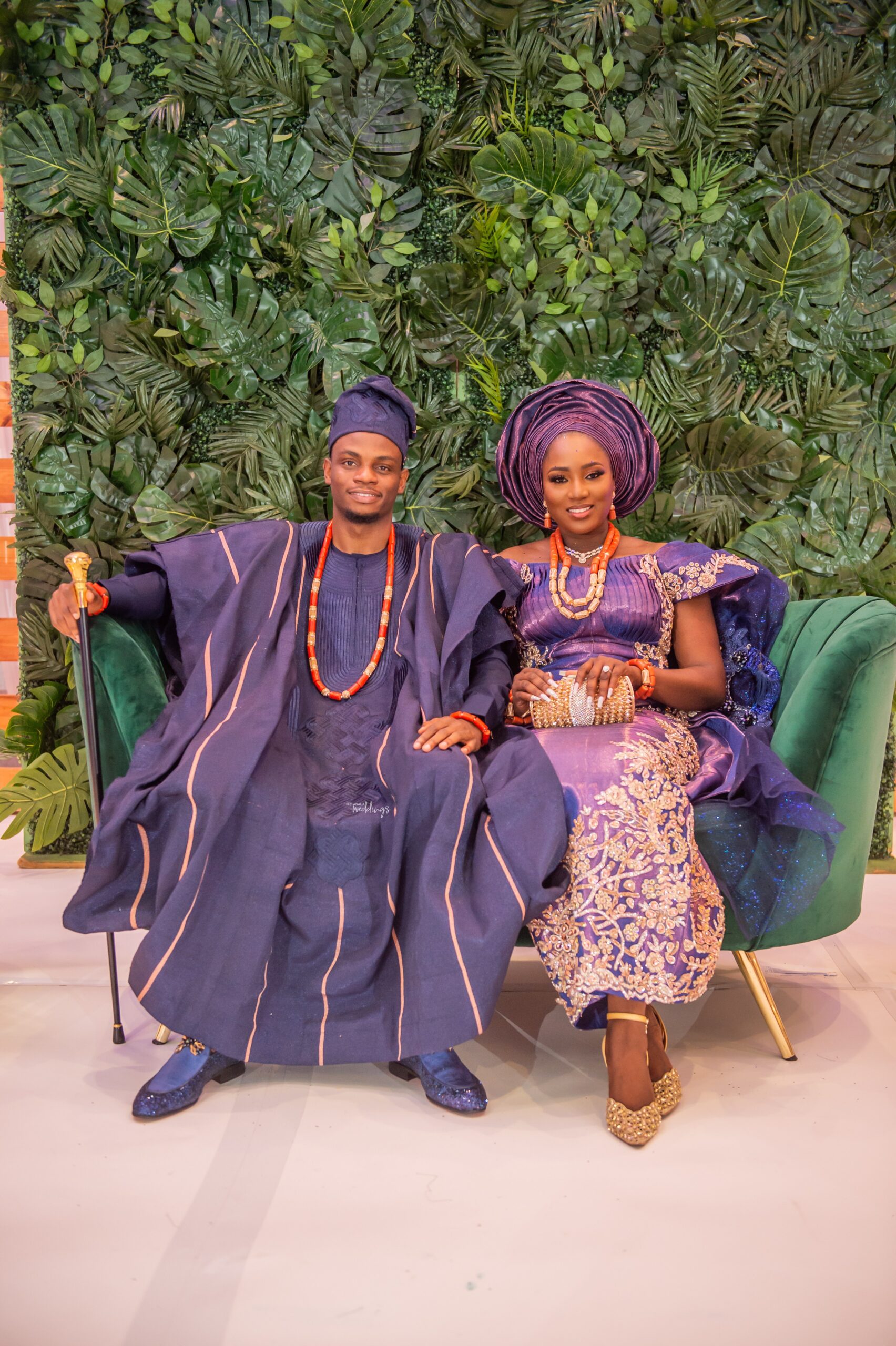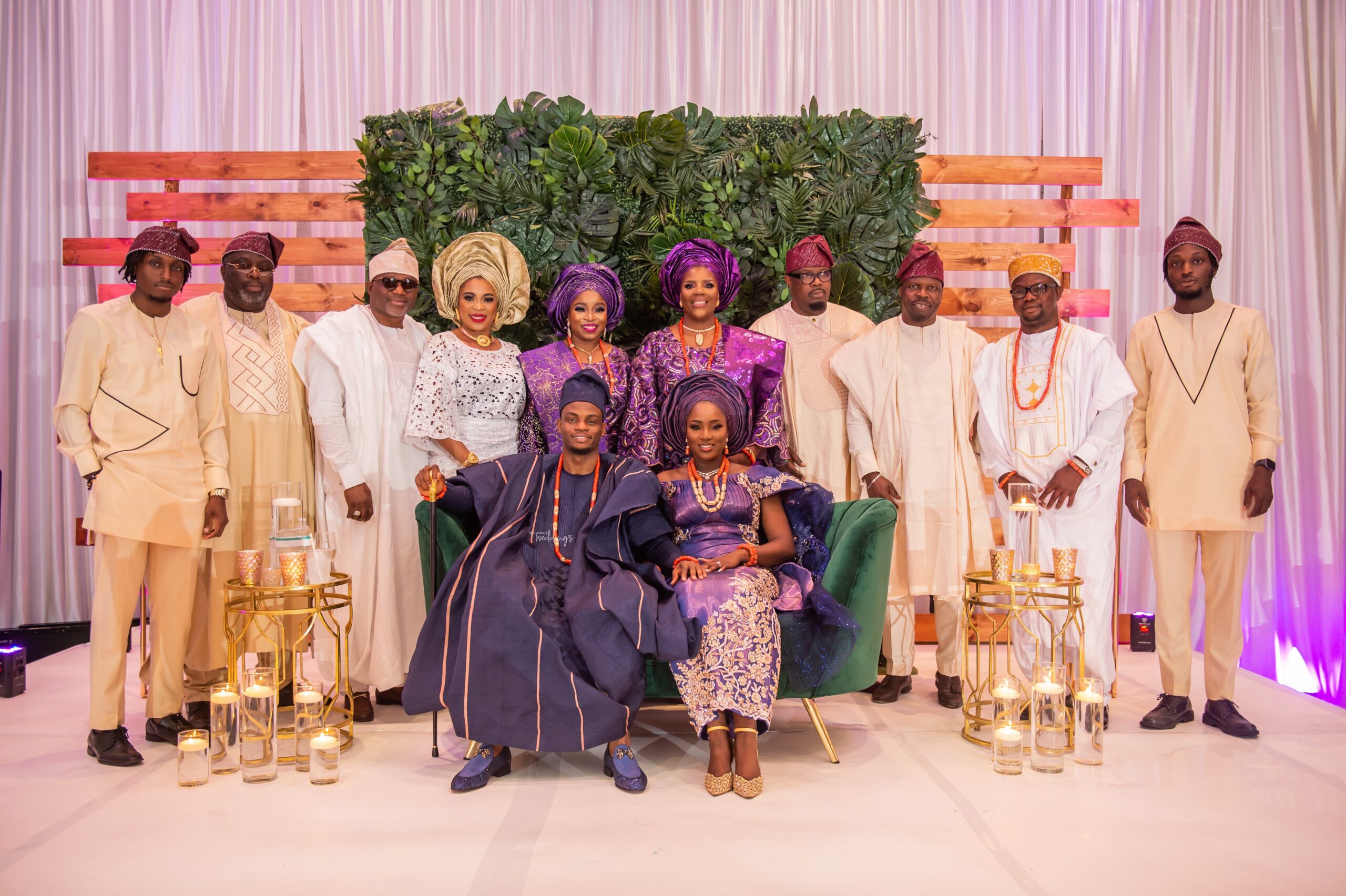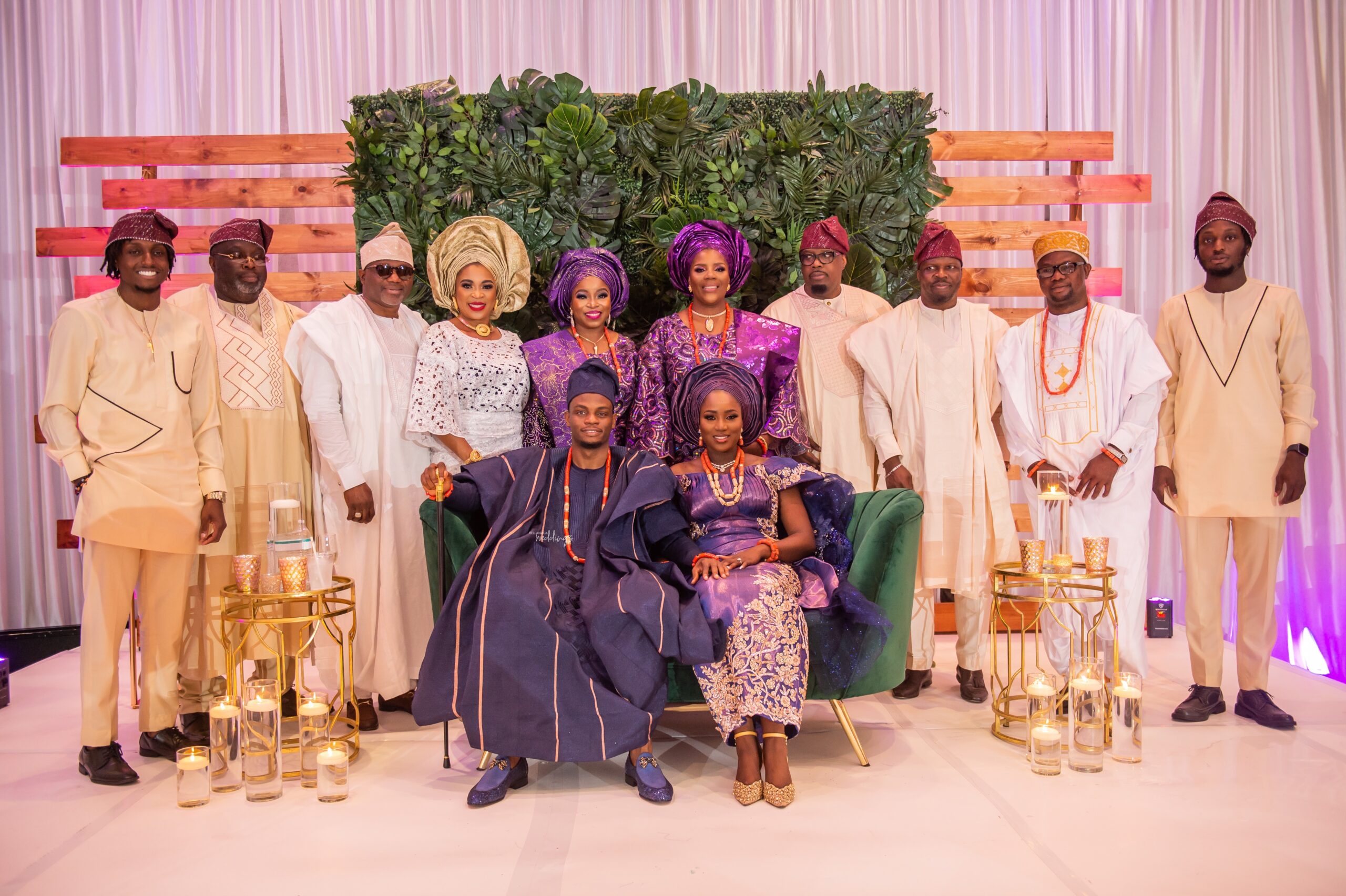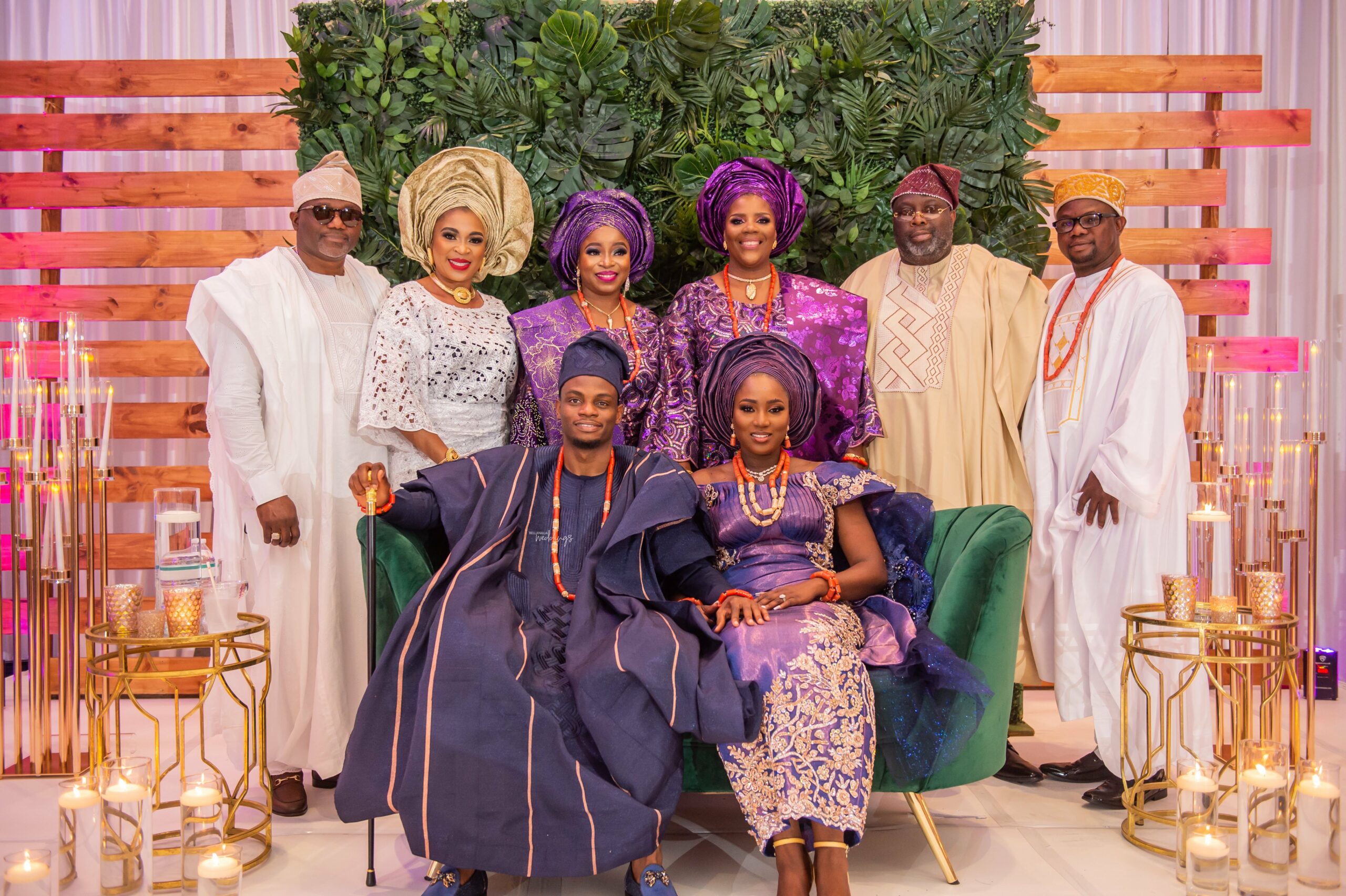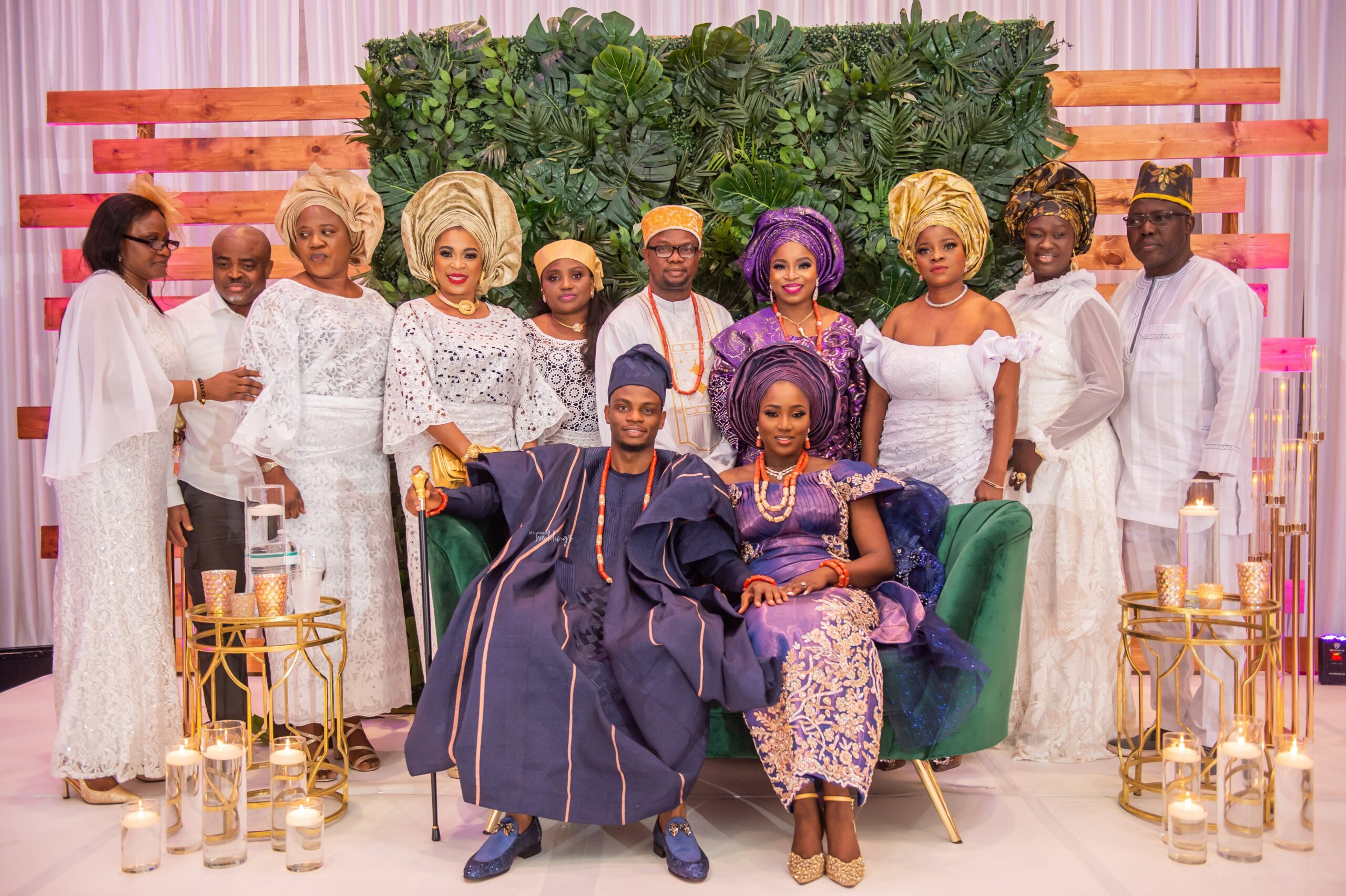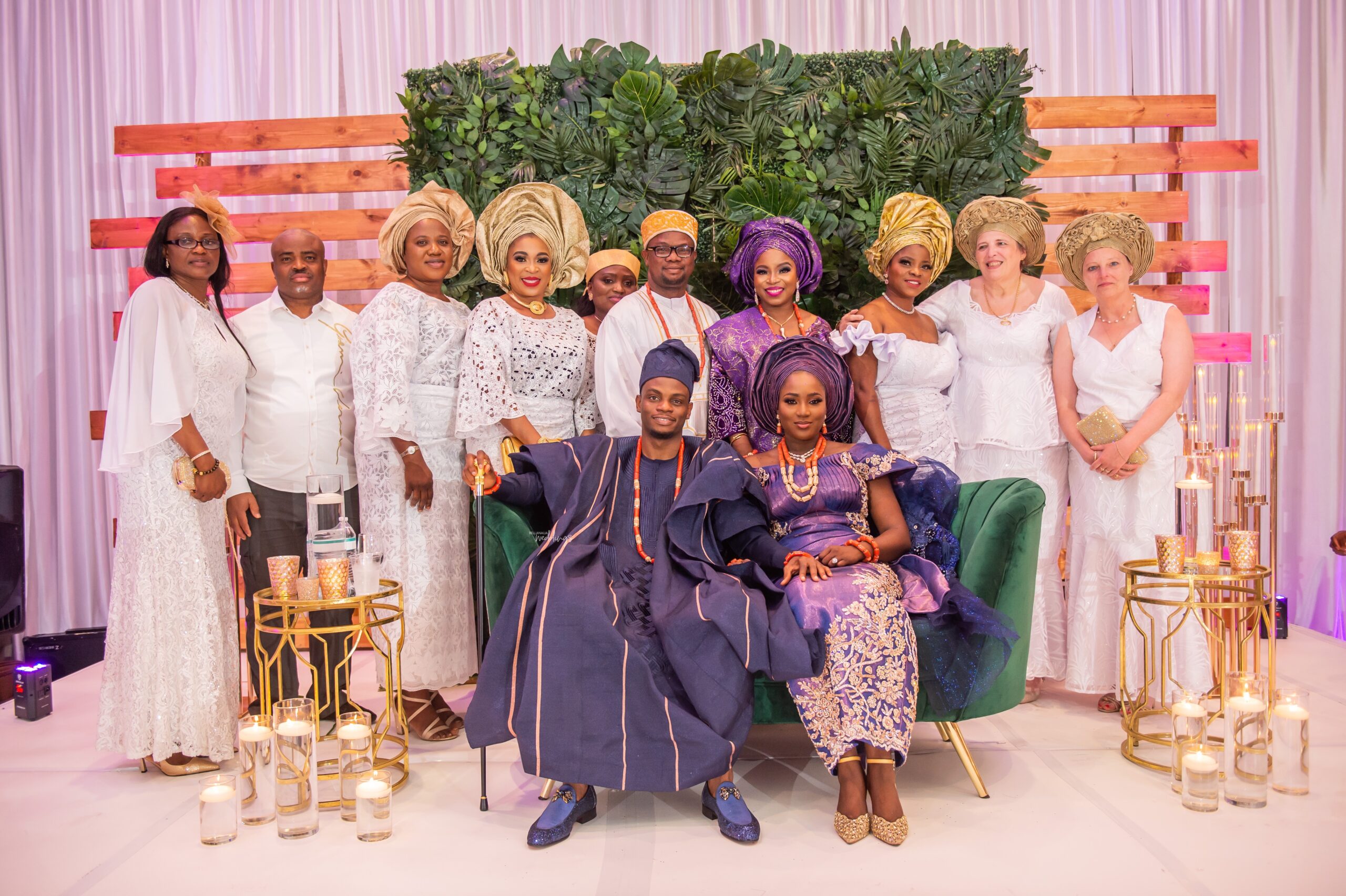 Forever and always!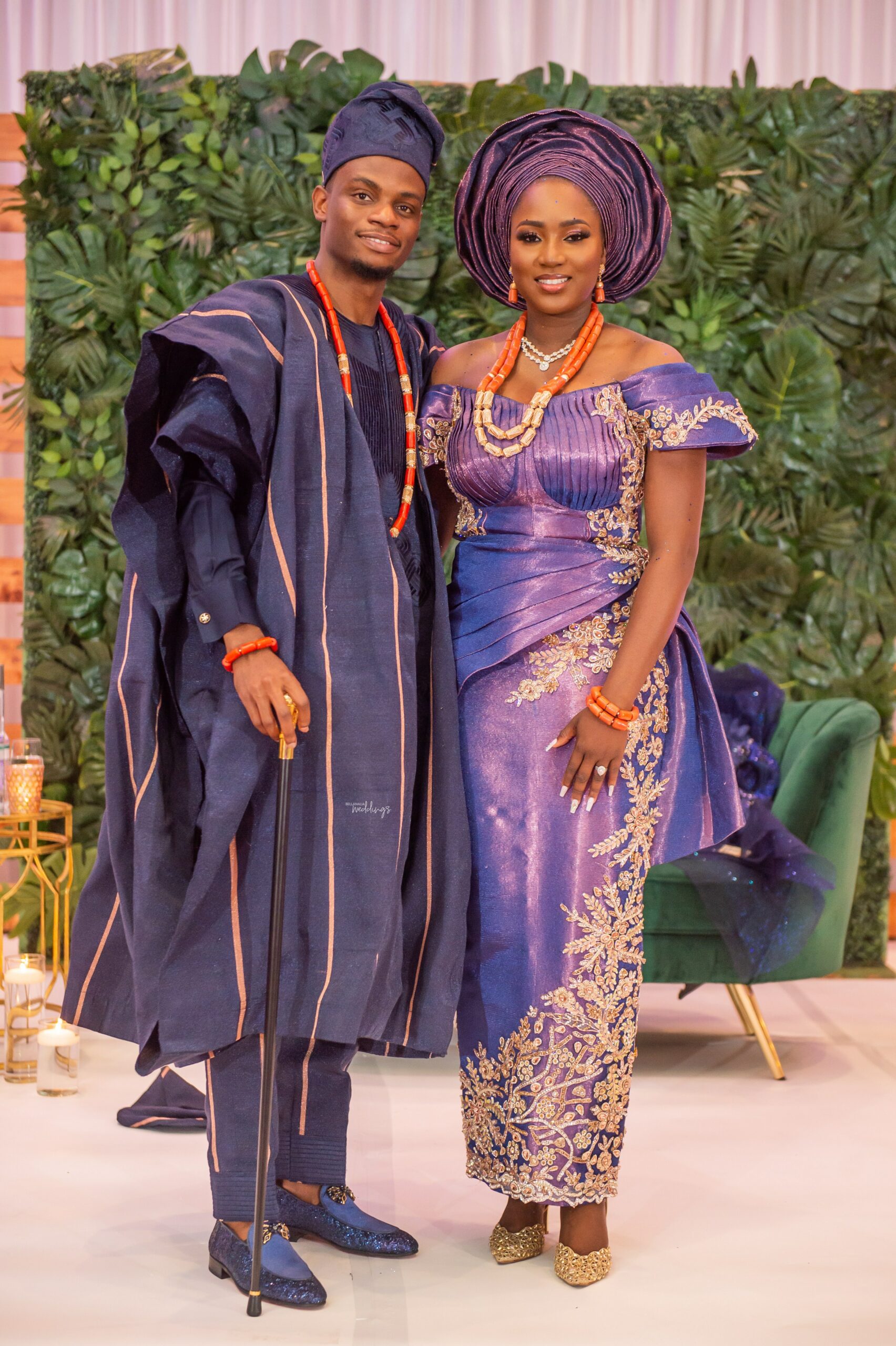 Credits
Bride: @msmolaa
Groom: @fyverfaya
Planner & Decor: @uniqueeventsbyshollah
Makeup: @cdmpromua
MC: @mcmilarito
Hairstylist: @kelechi_wigs
Asooke: @bimmms24
Photography: @inijephoto
Videography: @dakadavid_
Groomsmen Outfits: @j_solofficial
Wedding cake: @sassygirlpies