Editor's Note: We are back with another exciting deep dive into a stunning bridal look. Guess what? This time it is a totally different kind of look and culture. You did guess right, in this feature we are looking into this Fulani bridal look achieved by makeup artist Monavee of Monavee Beauty Lounge. As always it is all about spilling the hacks, tricks and secrets that went into this look. Do check out other features in this series here. 
Now let's hear from the makeup artist, how she nailed this beautiful look on her bride.
Before the wedding
Aisha called and booked for a bridal consultation based on a referral from her friend who was once a bride of mine some months earlier. She insisted I must do her makeup, so we fixed a date for the consultation.  On the day of her bridal consultation she showed me her outfit for her traditional Kamu and I just fell In love with it.  I just knew her eyes was where I was going to put all the attention she had beautiful eyes.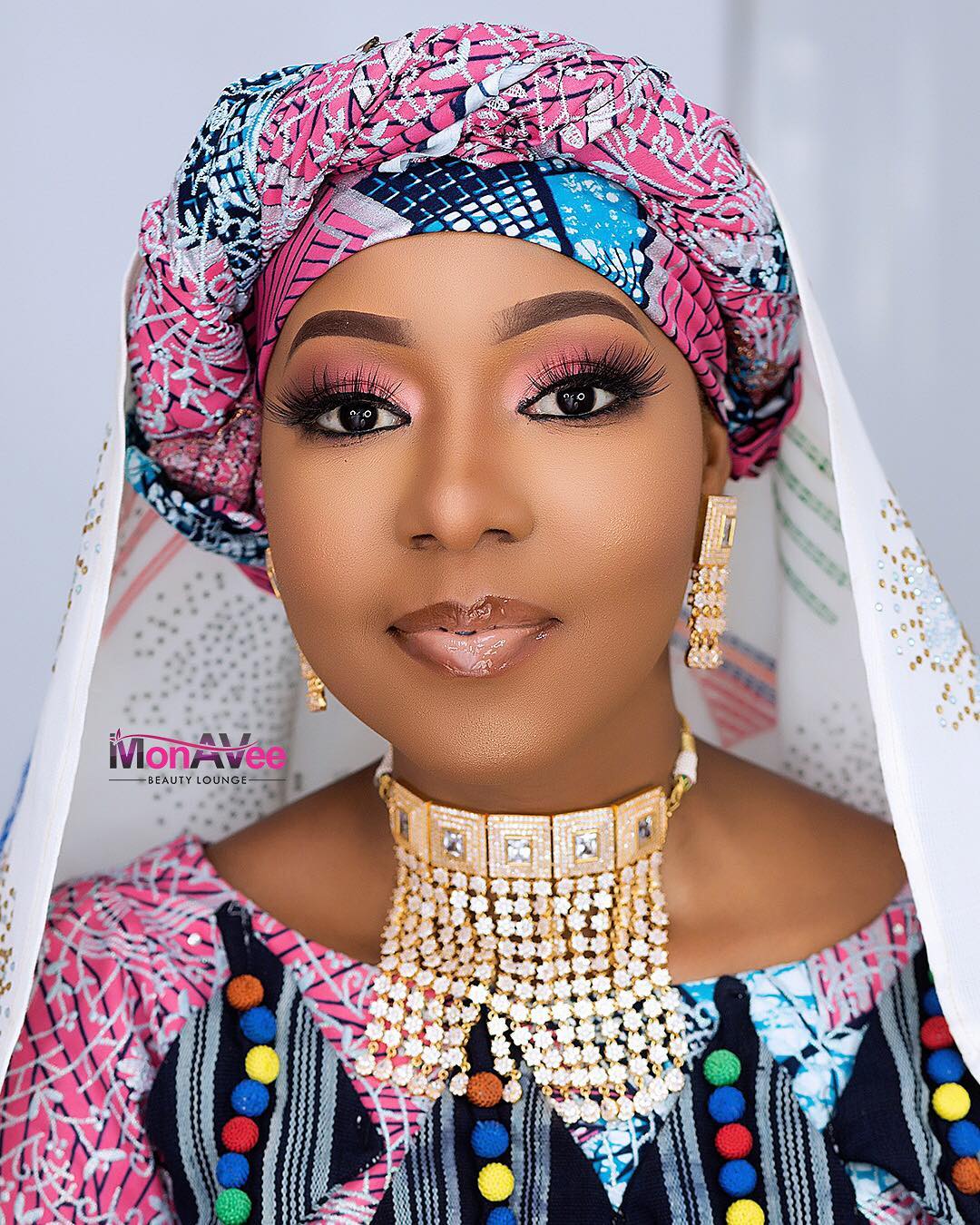 On the wedding day
Aisha just told me Monavee I trust my face with you. So do magic and that's something every makeup artist loves to hear it simply says "be free to be you with my face". The entire look was inspired by her outfit which was a fusion of the traditional Fulani attire and Hausa Atamfa.
Makeup process
Since she had done the traditional northern skin treatment (Dilka) we had a well-exfoliated skin and base to work with. Now I had to consider our weather in the North and so I started off by moisturizing her face with embryolisse hydrated with a Mac fix spray then primed and mattified with Becca face primer, ponds and Rimmel stay matte. Then to her brows, I defined them using The Yanga beauty brow pencil then filled it in with the H$E eyebrow gel. On the eye area, I primed with Bennye Clown white and Yanga beauty eyelid primer. Then I applied the eyeshadow combination and contoured using the Venus 2 eyeshadow pallete and Huda beauty desert dusk.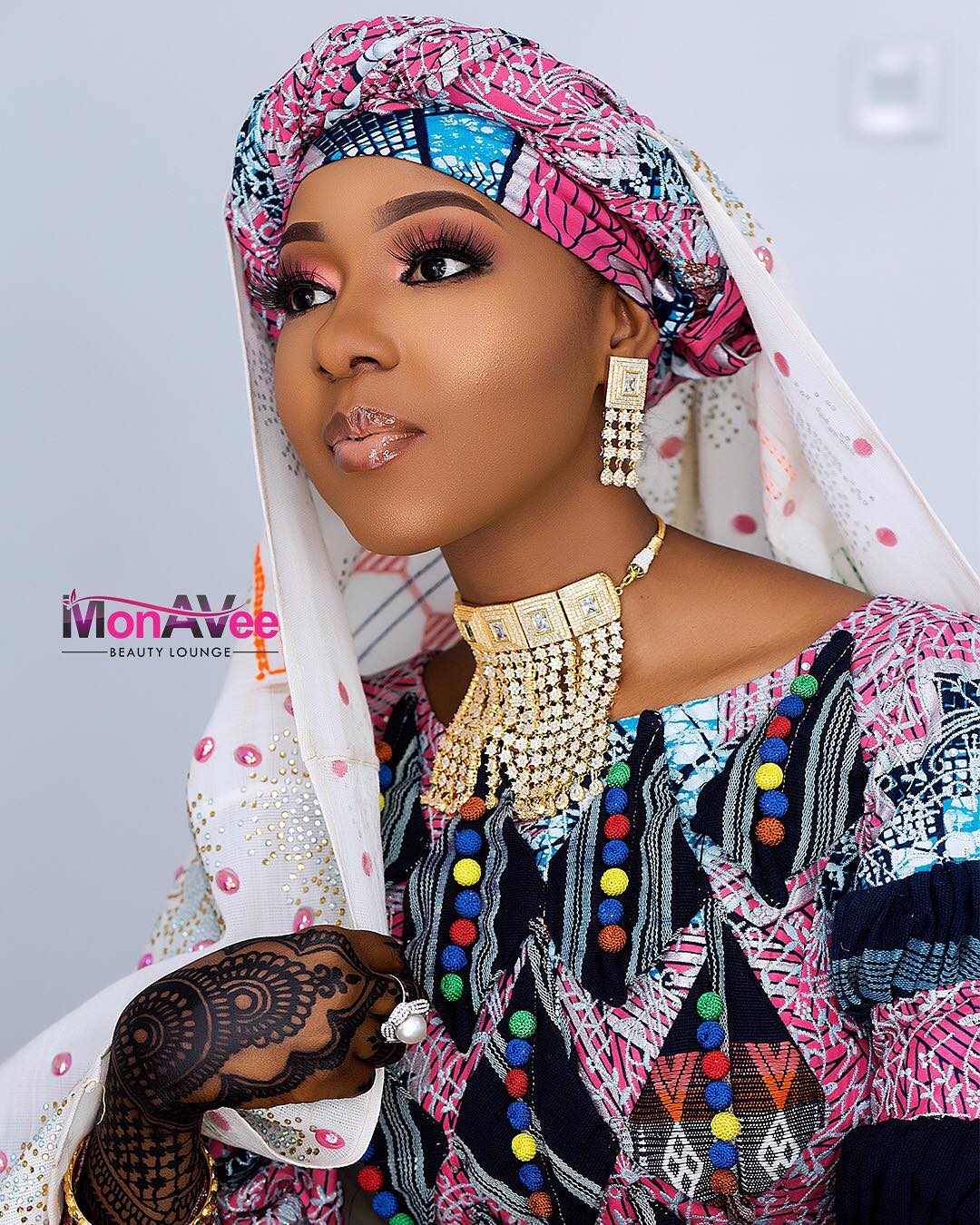 Now when I started working on her face, I used a mixed combination of Huda beauty foundation and L'Oréal infallible foundation to create a flawless base then concealed with Mac concealer studio finish, after which I set her face with Laura Mercier loose powder and blended the whole face area with Mac studio fix powder. Then I applied lashes by Wynkklashes and lined her eyes with Mabrook liquid eyeliner and Inglot 77. To create a glowing look, I used the Mac gold deposit to add a subtle glow to her cheekbones. When I got to the lips, I decided to keep it nude because I wanted all the attention on her eyes. Then finished up this entire look to perfection with a Mac fix + spray. Finally, since it was her traditional Kamu event we tied her head in the traditional Fulani way by wrapping it around and that's how this beautiful look came to be.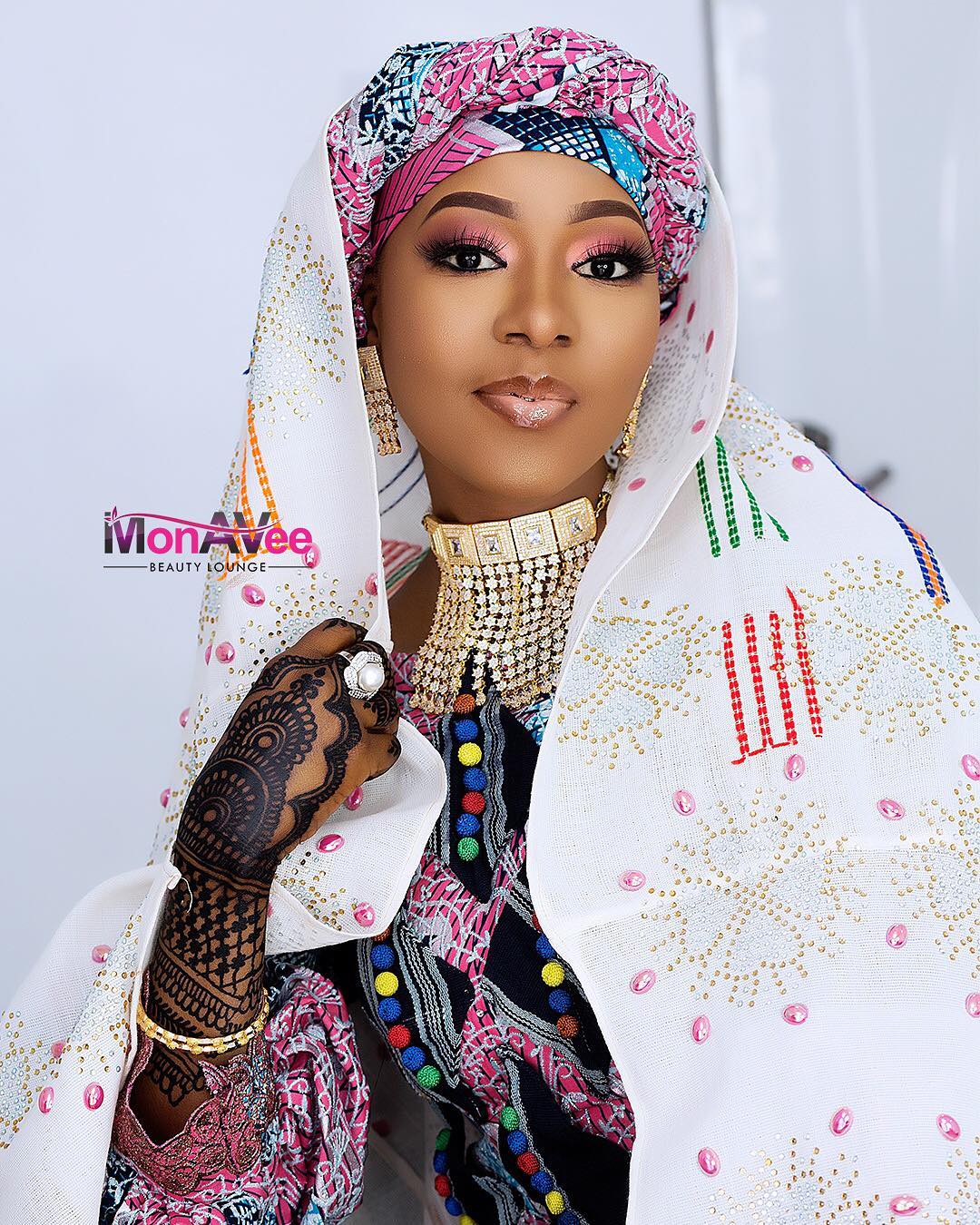 Super beautiful. To catch up with Monavee's brilliant work, check out @monaveebeautylounge on Instagram.
Credits
Makeup: @monaveebeautylounge
Dress: @reddotfashionnigeria