Editor's Note: Hey, fam! We are super pumped to bring you our new series called "12 Conversations With 12 Incredible vendors Across 6 Cities". For the next few days, we will be featuring talented wedding vendors from Lagos, Accra, Toronto and the United Kingdom on different aspects of the wedding industry. Today, we will be having the award-winning New York-based bridal couture designer, Yemi Osunkoya of Kosibah.
Meet Yemi Osunkoya
Yemi Osunkoya is the designer behind the Kosibah label. Kosibah is an exclusive brand specialising in bespoke Bridal and Evening wear. Based in NYC, and with a satellite atelier in London, the Kosibah brand is known for creating figure-enhancing gowns using luxurious fabrics and sumptuous embellishments. Yemi's signature use of corsetry and boned bodices cleverly recreates the classical and elegant hourglass figure, producing gowns that curve, shape and flatter the wearer. All dresses are made to measure. The team at Kosibah are committed to providing exceptional quality of service and meticulous attention to detail. The designs made from individual body measurements, use luxurious fabrics, sumptuous embellishments and couture techniques.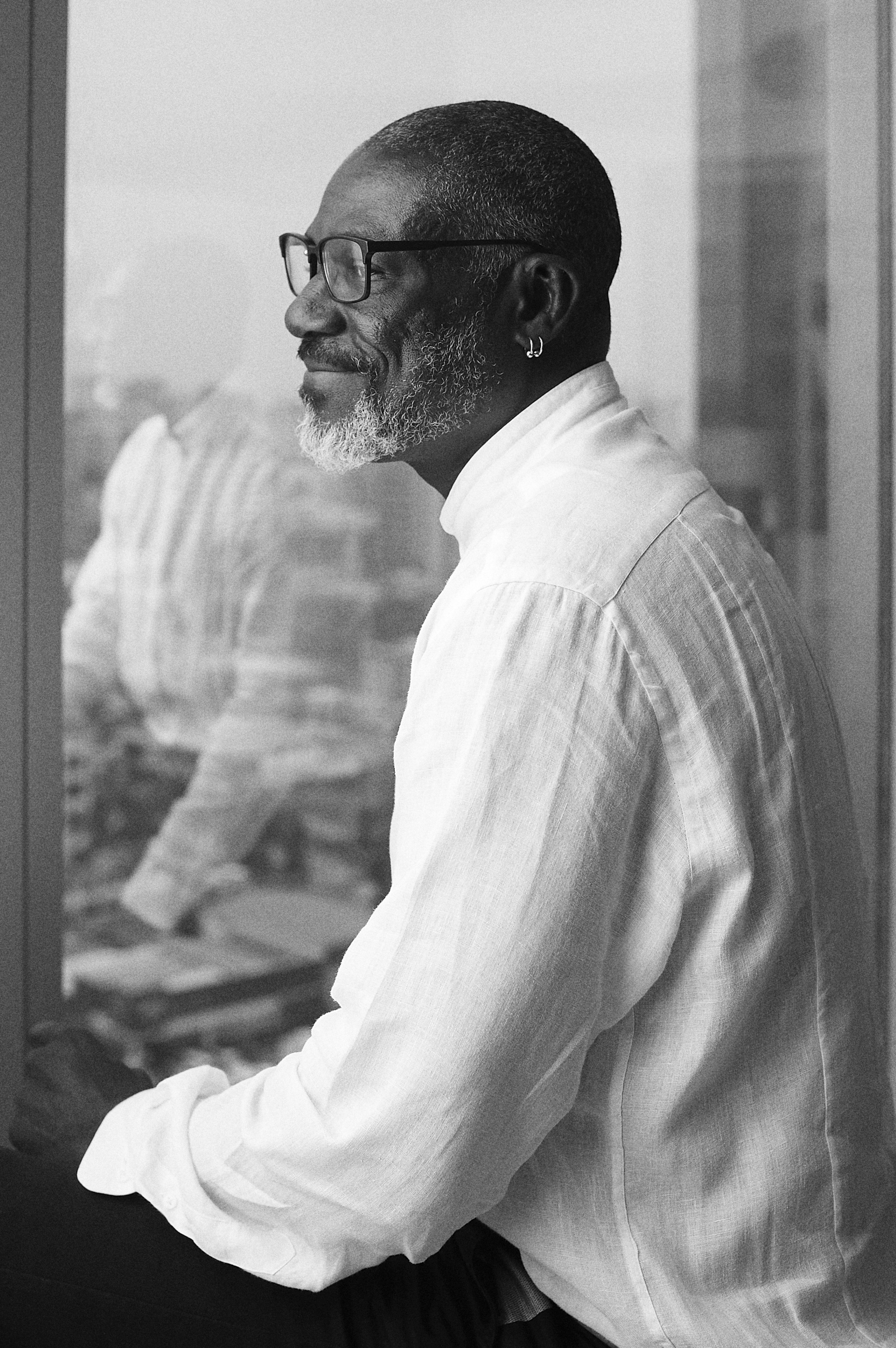 We asked Yemi a few questions. Here are his responses:
How long have you been the business?
Kosibah was established as a company on 1st September 1991 so on the 1st of September 2020, it will be 29 years.
How has your work influenced/transformed the African wedding space/around the world?
It is a bit difficult for me to answer this question because the premise is quite presumptuous. If I had to take a guess, I would, however, say I contributed to the uplifting of bridalwear as fashion niche. I've also noticed a lot of dresses now have the removable illusion or mesh top worn under strapless gowns to give the initial impression of modesty in a gown. This was something I'd been doing over 20 years ago as an answer to the 'bolero' problem. Most churches required a bride have her shoulders and upper arms covered and almost every dress had a bolero. I notice also the cinched in waist/ hourglass silhouette styles which have been my aesthetic for over 25 years.
Now that small/intimate weddings are taking over, what should a bride consider before deciding on her wedding dress?
Brides should realise that though the scale of your wedding may have been reduced in terms of numbers and leading on from that the size of the venue, now is the time more people will pay attention to your dress because most people will see it via photographs and video or via zoom, so almost everyone has a front-row view. The amount of money saved from reduced numbers should be redirected to the perfectly detailed and fitting dress, the best photography and videography you can afford, and to create in the smaller space a really luxe ambience with amazing florals and decoration.
Brides should research as much as they can before the trip to purchase a dress because of social distancing and COVID compliance rules the amount of time spent in a bridal salon and dresses you can try on and people you can take along with you are greatly reduced. I have set up a remote bridal consultation service to meet this need and I advise and guide brides to hone down their ideas and end up with a style that would suit their figure, religious and traditional requirements and theme of their wedding and it also includes a sketch of their ideal bridal gown to use as a template.
How would you describe a Yemi Kosibah bride?
A Kosibah bride is a woman who knows she wants a dress designed and created specifically for her.  She is aware of and appreciates the labour-intensive nature of couture and is able to afford the price with which it comes. A woman that is confident in her femininity and is happy to celebrate and enhance her figure. A woman that is more understated, classic but detail-oriented rather than overly flamboyant and to the hour trendy. Most likely paying for the dress herself or if not, still have the authority to make final decisions on style details and costs.
Tell us 3/5 things about you that people don't know?
My usual answer to this question is that the main reason people probably don't know those things about me is that I've carefully chosen for them not to know. It's one of the reasons my brand is called Kosibah rather than Yemi Osunkoya couture or something like that.
One detail I can share is that I went to Nursery, Primary and Secondary schools all within the campus of the University of Ibadan. Also, I am the 3rd of 4 sons born to my parents and we are all very close to one another.
What's your favourite vacation destination spot?
I absolutely love Italy. I have been to various cities there over 7 times. I love the architecture, fashion, museum and galleries and most importantly, the food.
One word that bests describe you
Restrained.
We are pretty sure you found out some things you didn't know about the amazing Yemi Osunkoya today. We kept our conversation short just so that you can check up on them and their work. To see more of his brilliant work, do check @yemikosibah on Instagram.