Guys, I suggest you grab a chair, popcorn, and a drink. It's about to get all lit in here.
Claudia and Vince's traditional wedding will give you that wow expression. Their traditional wedding in Ojoto in Anambra state was pretty epic and of course, you already know it is an Igbo wedding ceremony. Talk about a wedding that really spotlights the traditions and culture of the Igbos, this wedding is one. From the introduction of families to the wine carrying, every part was beautifully done. They ended the night with guest performances from Zoro and Phyno.
If you think all the awesomeness and cuteness was just at their wedding, then you should read their love story and proposal story. You'd definitely love every part of it.
Let's get into their love story by the groom., Vince:
Another Sunday was upon us with a scheduled Umu Igbo Unite (UIU)-Atlanta meeting. I looked forward to such meetings for the opportunity to meet new people, but this Sunday was special. During introductions at the meetings, each attendee says their name and which state in Nigeria they are from. That Sunday I noticed a few new faces in the crowd; one of them was a beautiful woman who stood and introduced herself as "Claudia from Anambra State". I was immediately intrigued as I am also from Anambra. I approached her later in the meeting to personally introduce myself and welcome her to the group. After chatting with her, I found out that not only is Claudia from my home state, but she is also from the same village. The coincidence seemed too good to be true. We exchanged numbers and kept in touch, but our busy schedules didn't allow us to really see each other much initially as interview season for residency had just begun for me and Claudia was very busy with her research.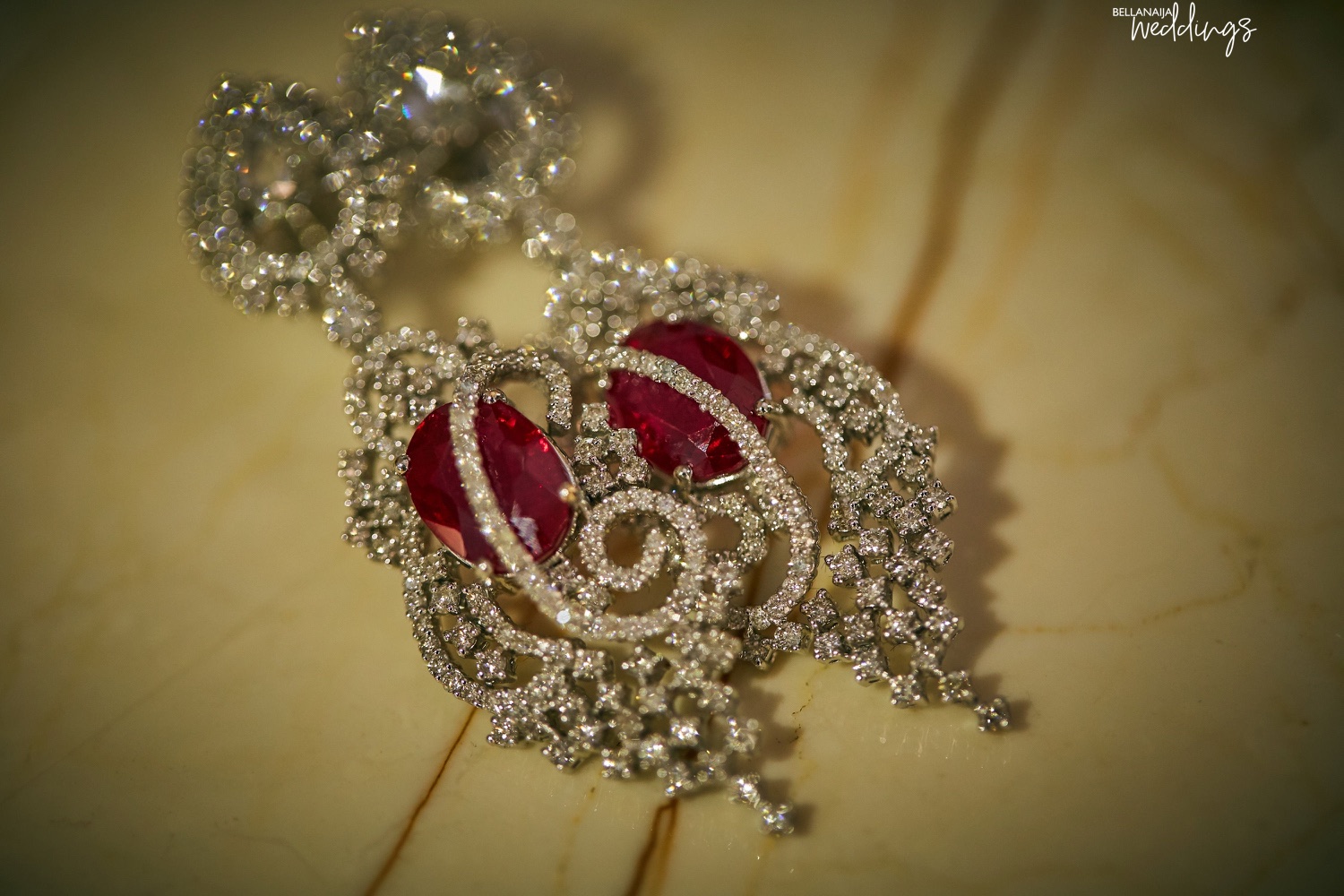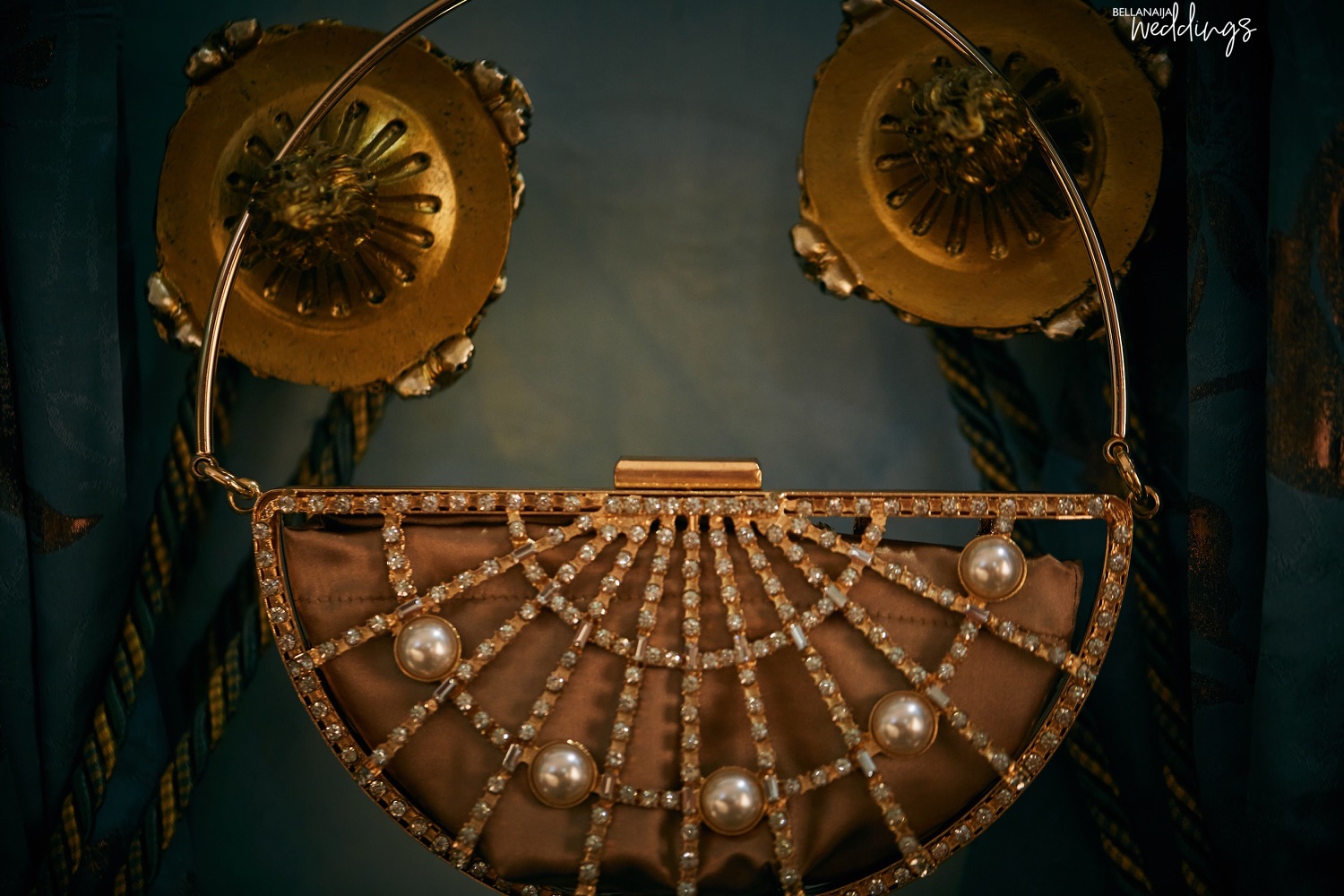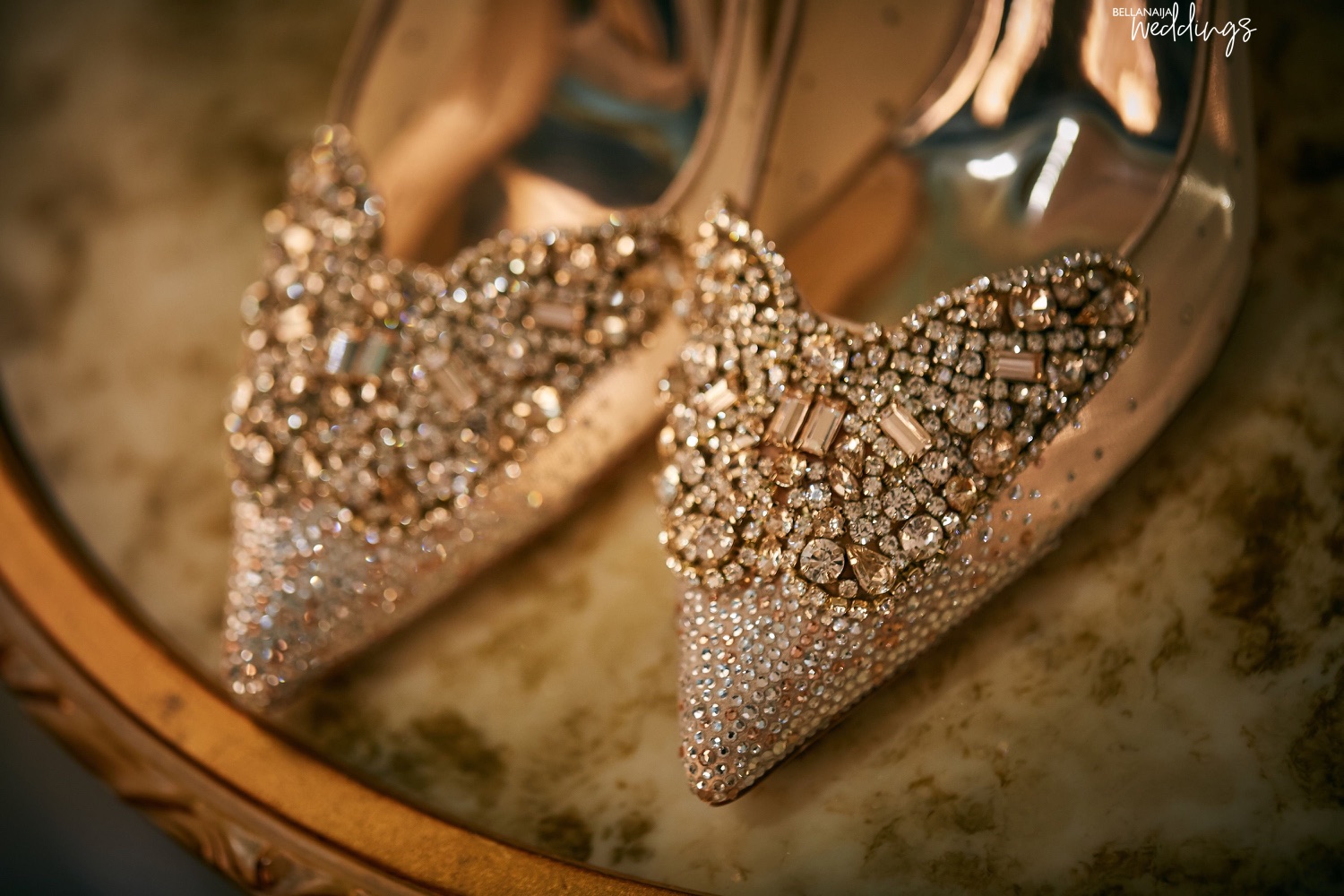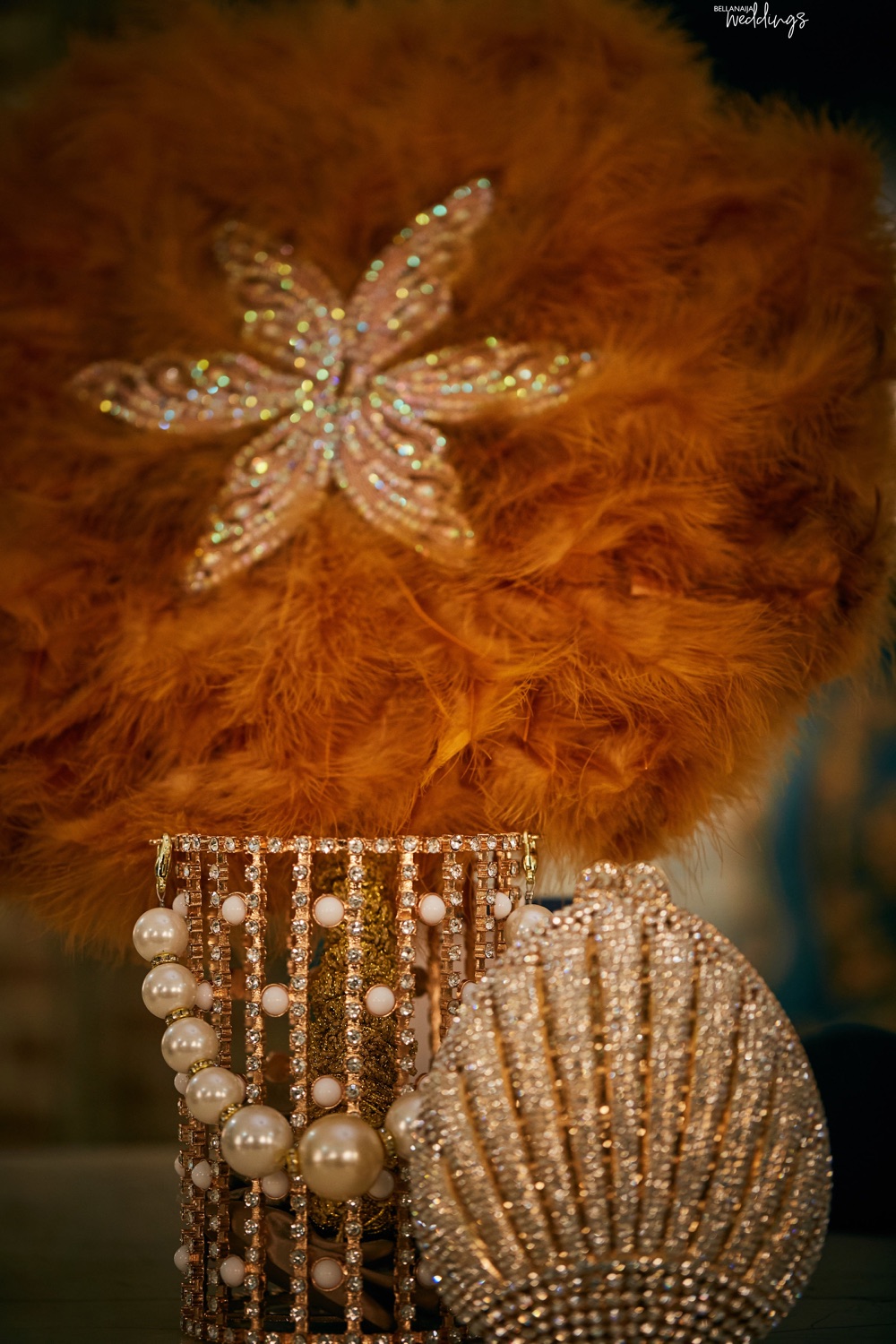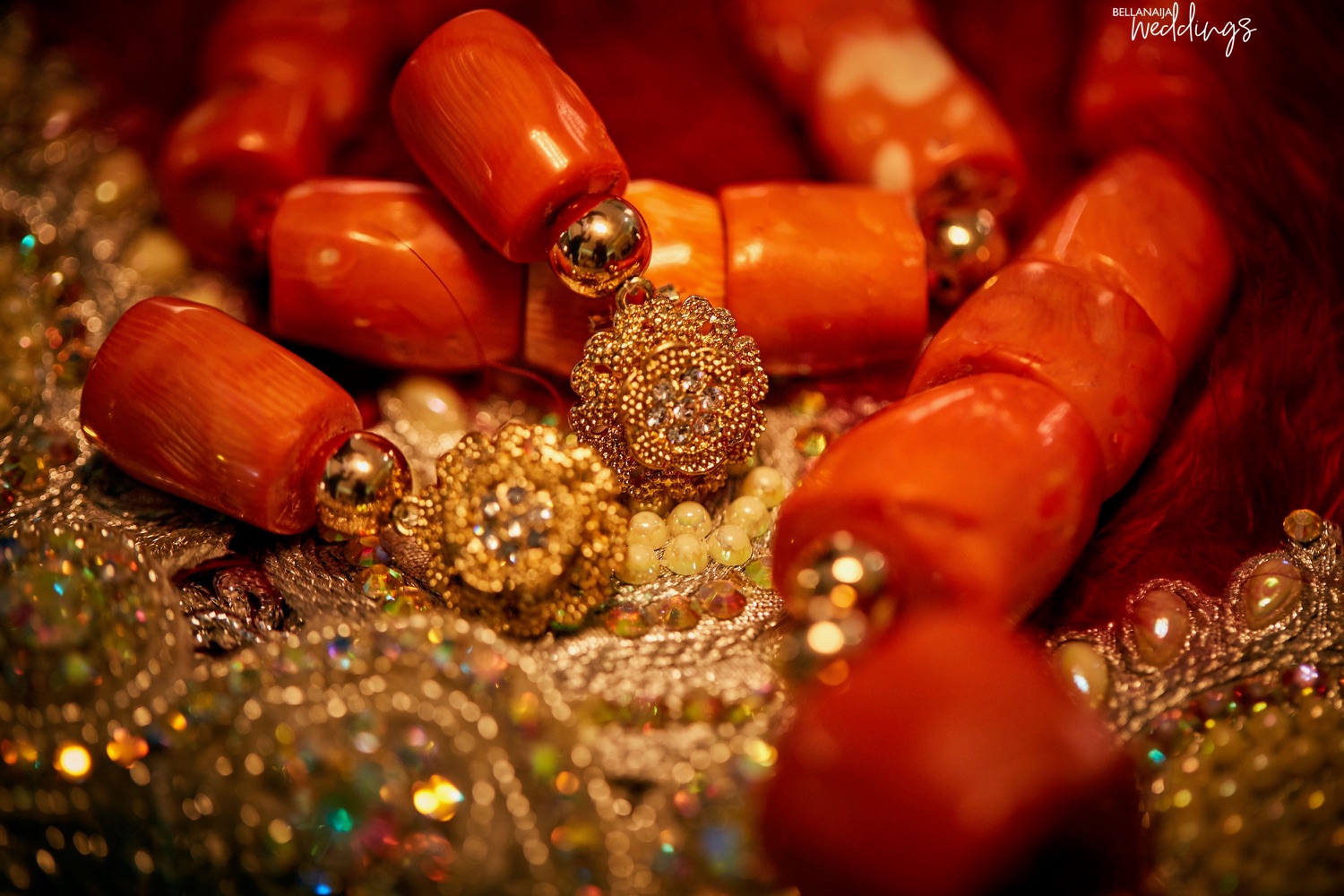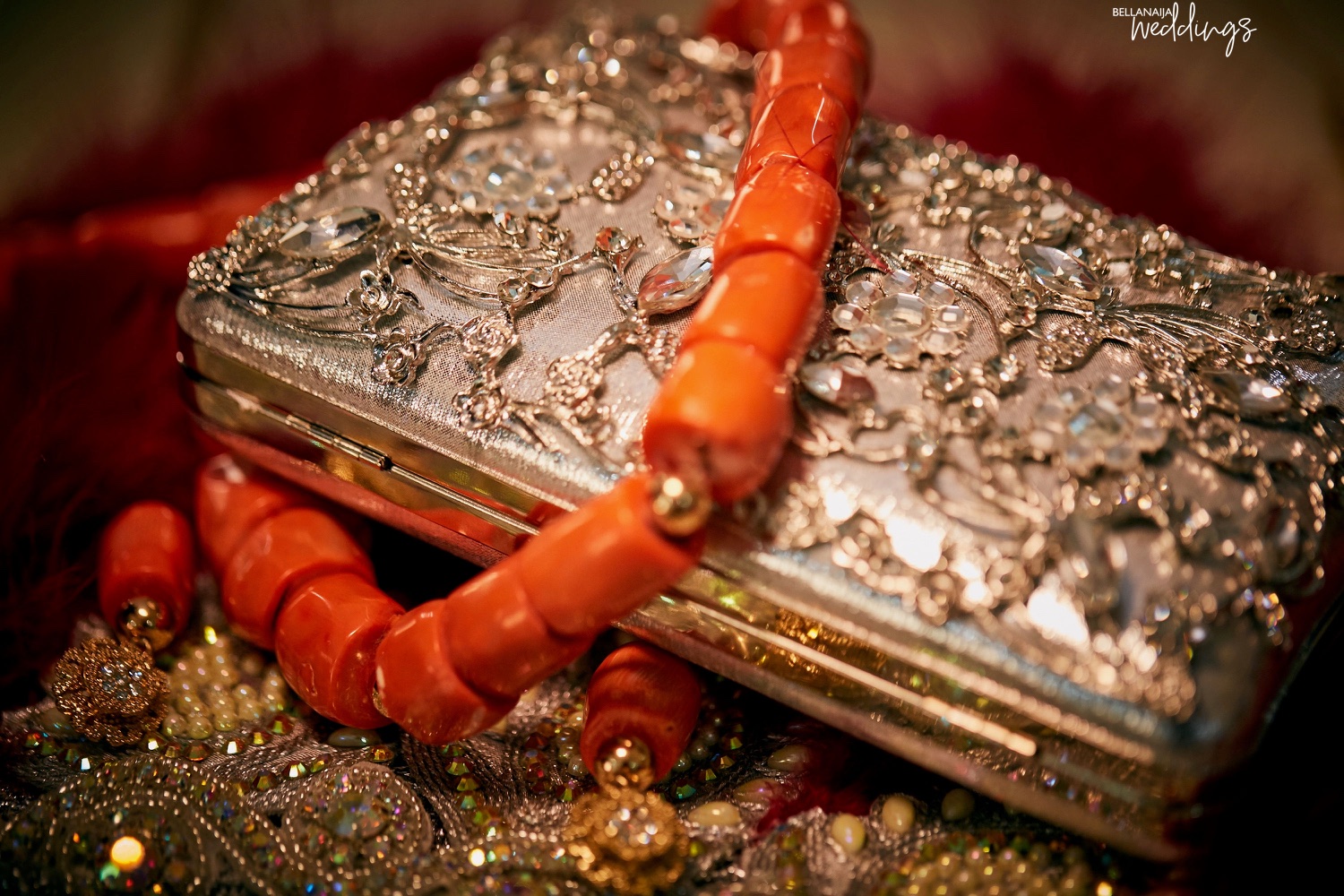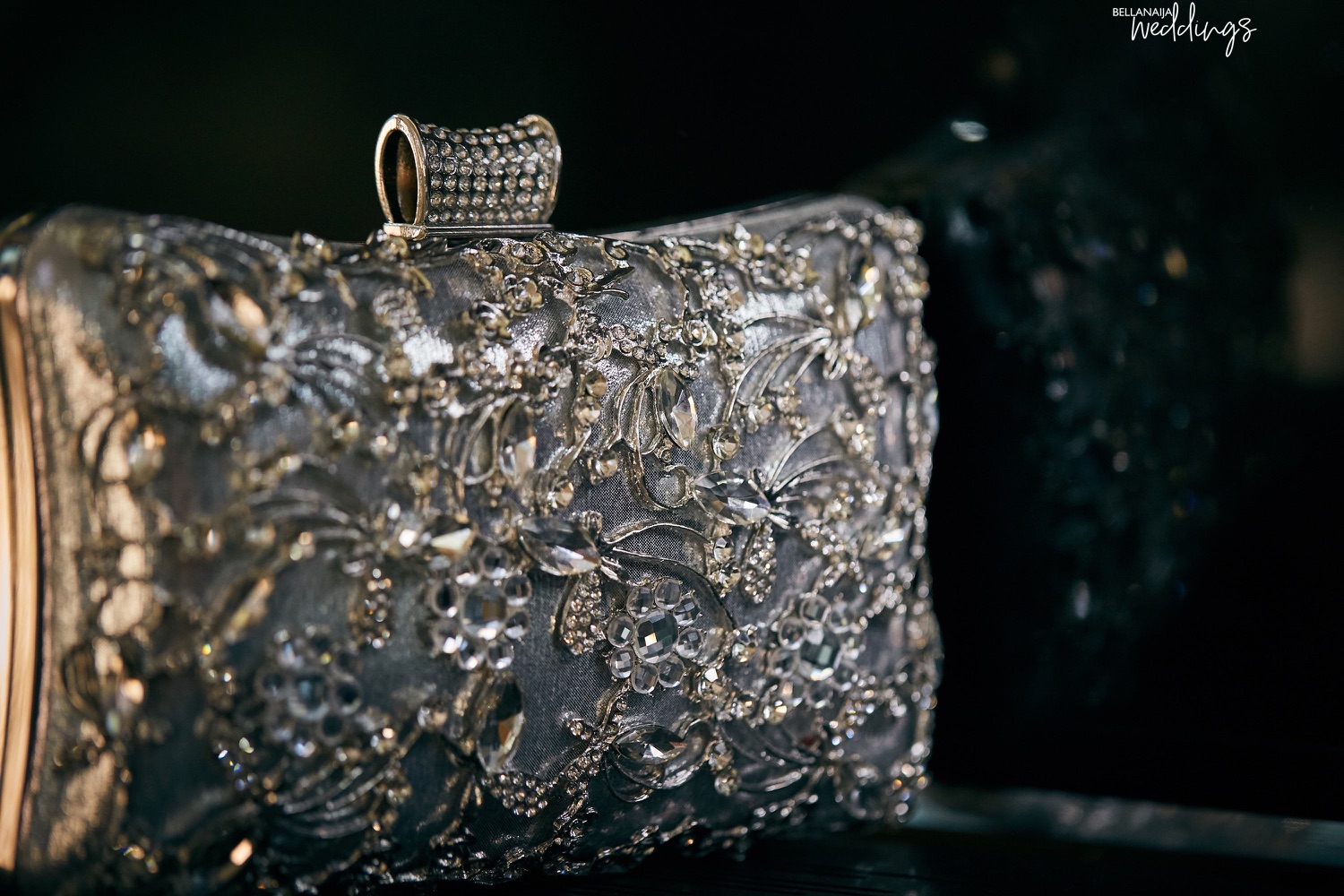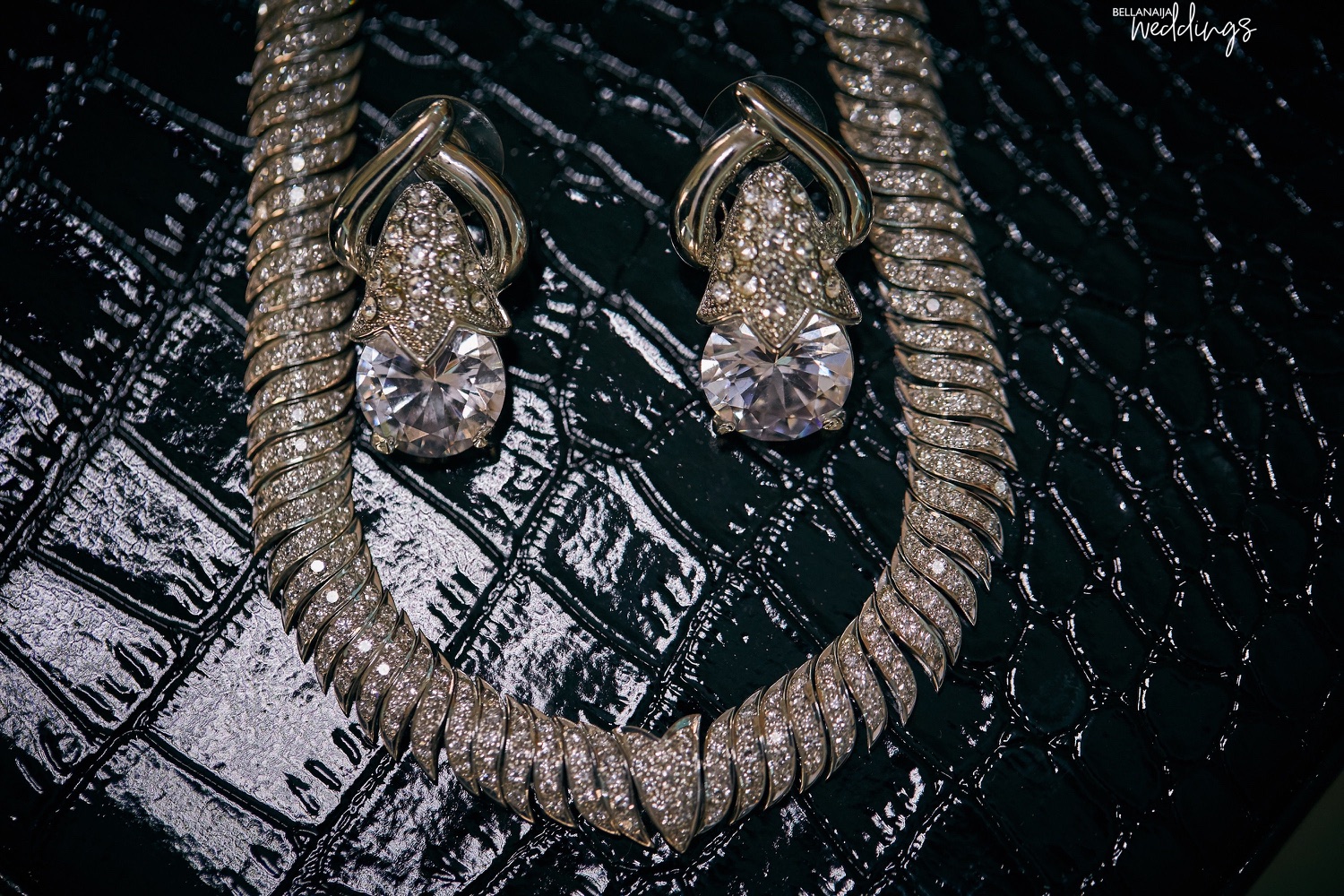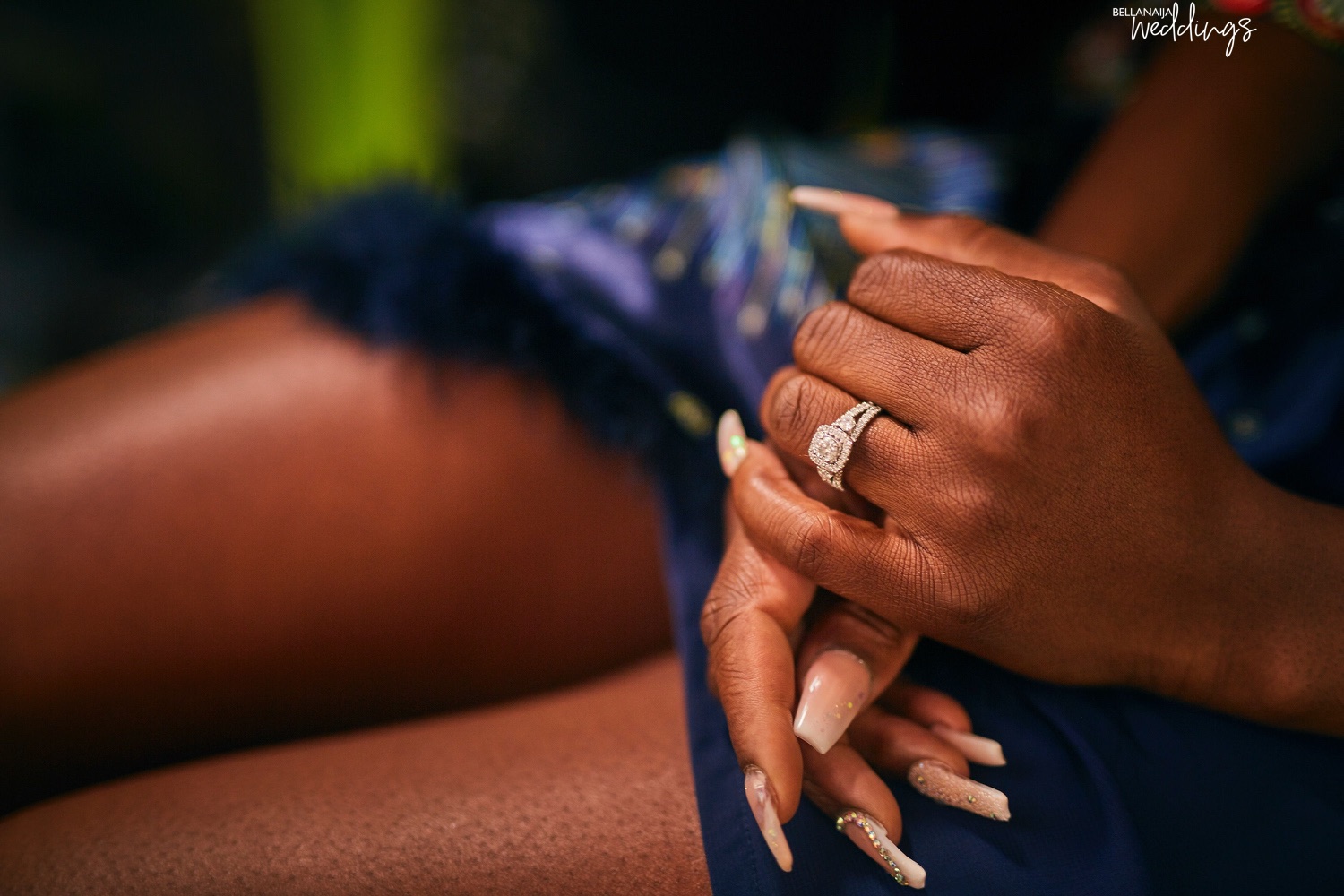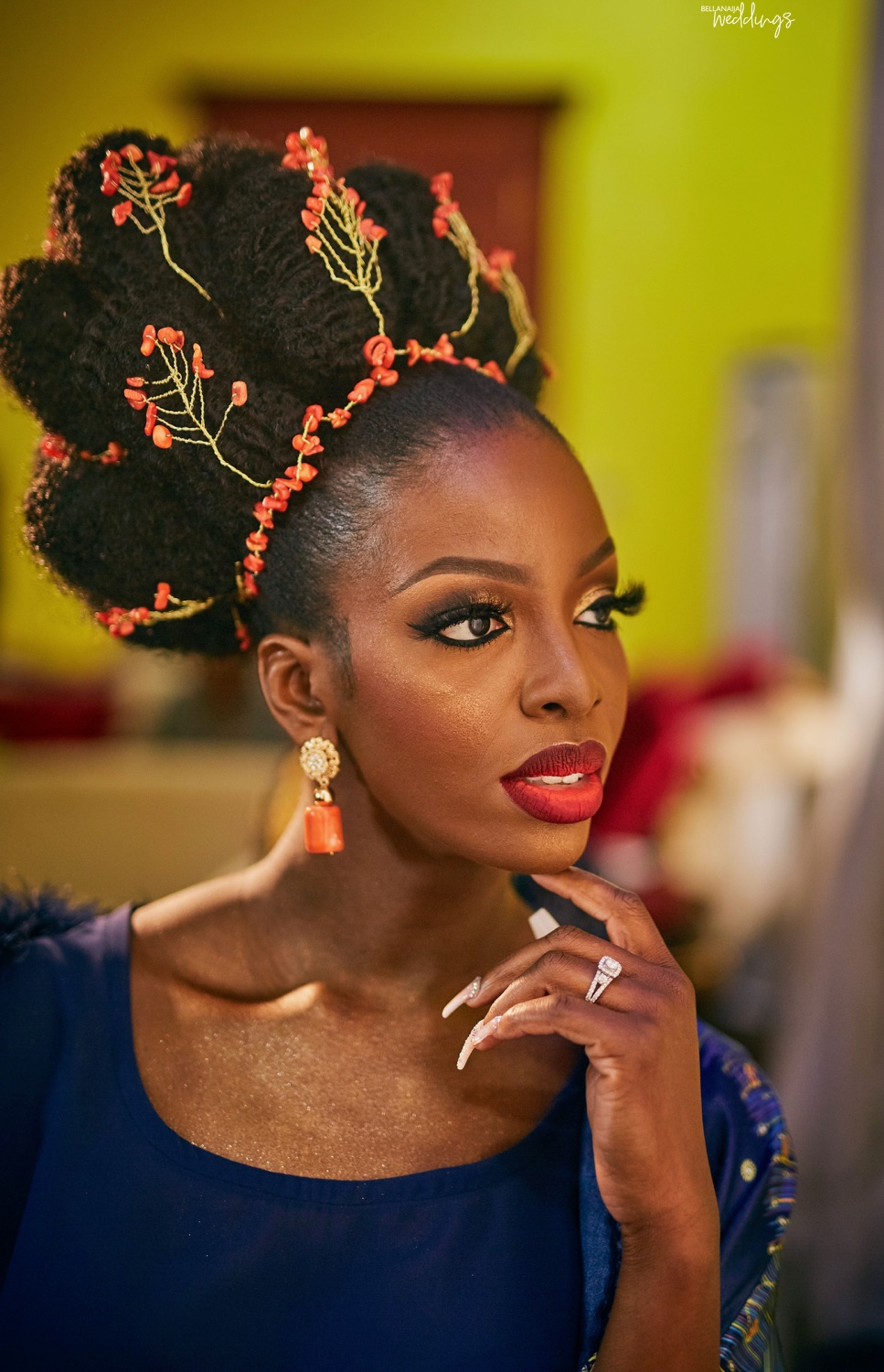 We would see from time to time at social events, and each time I wanted to make plans to ask her out but my schedule wouldn't allow. Finally, with Christmas around the corner, I was able to take her out and we had a great time. More chatting revealed that not only were we from the same state and the same village, but that our families are actually very close. We both travelled to Nigeria that Christmas and volunteered to deliver goods to orphanages as part of the UIU-Atlanta Igboland project. I took full advantage of the opportunity to spend time with Claudia and her family over the Christmas break. I particularly loved how close she was with her family and how respectful and comfortable she was with mine. We carried the momentum of the trip back to Atlanta and our relationship quickly evolved.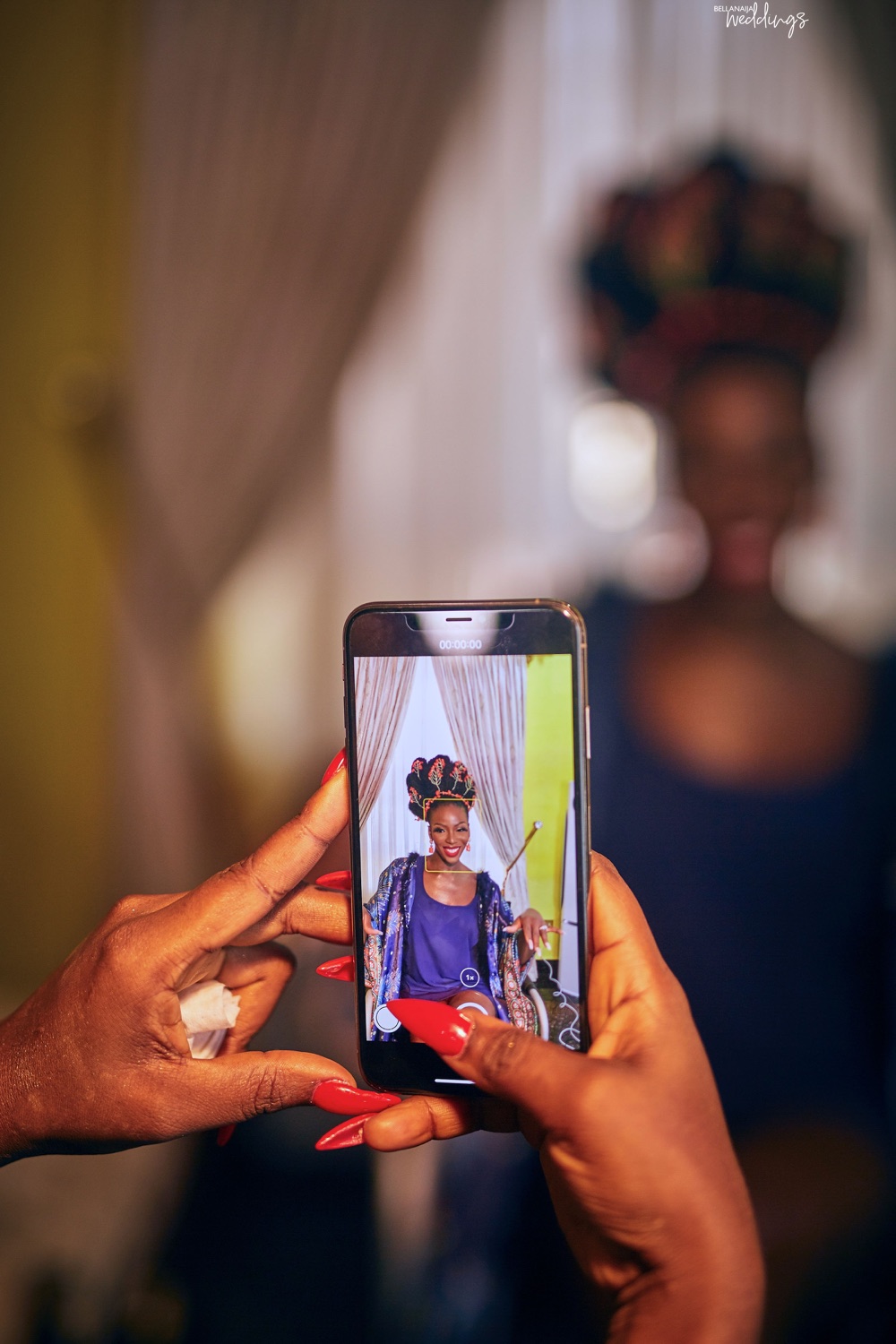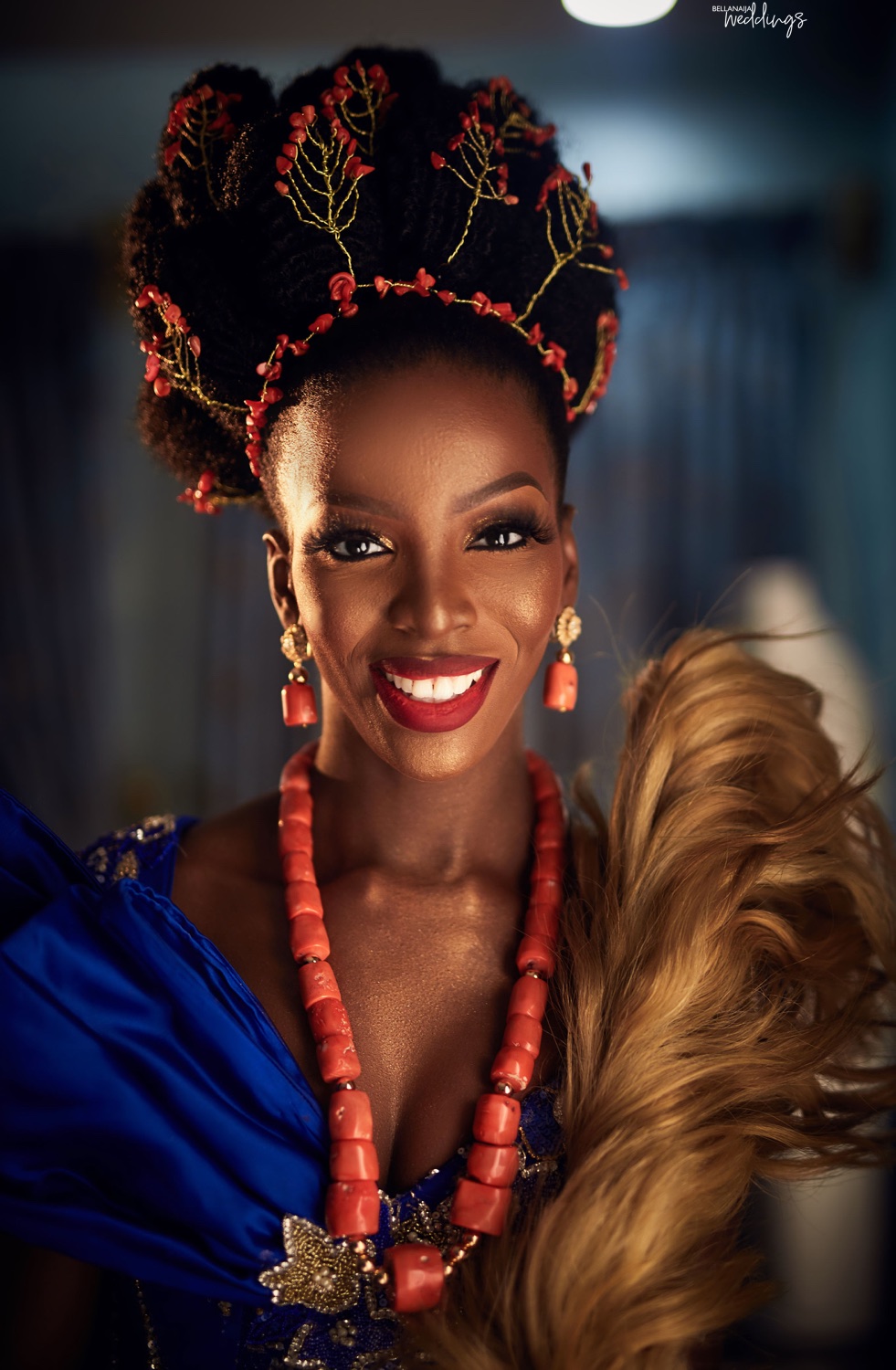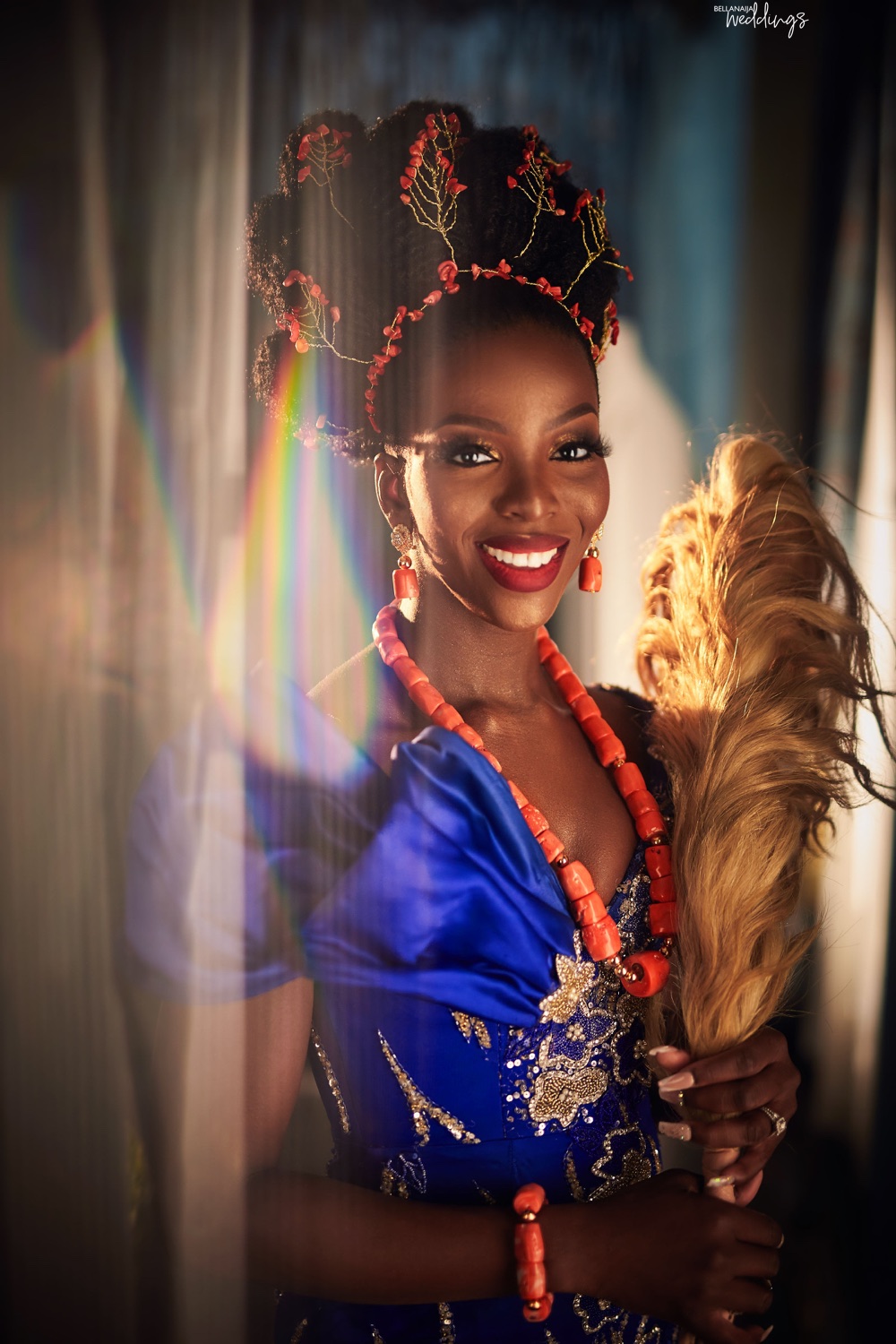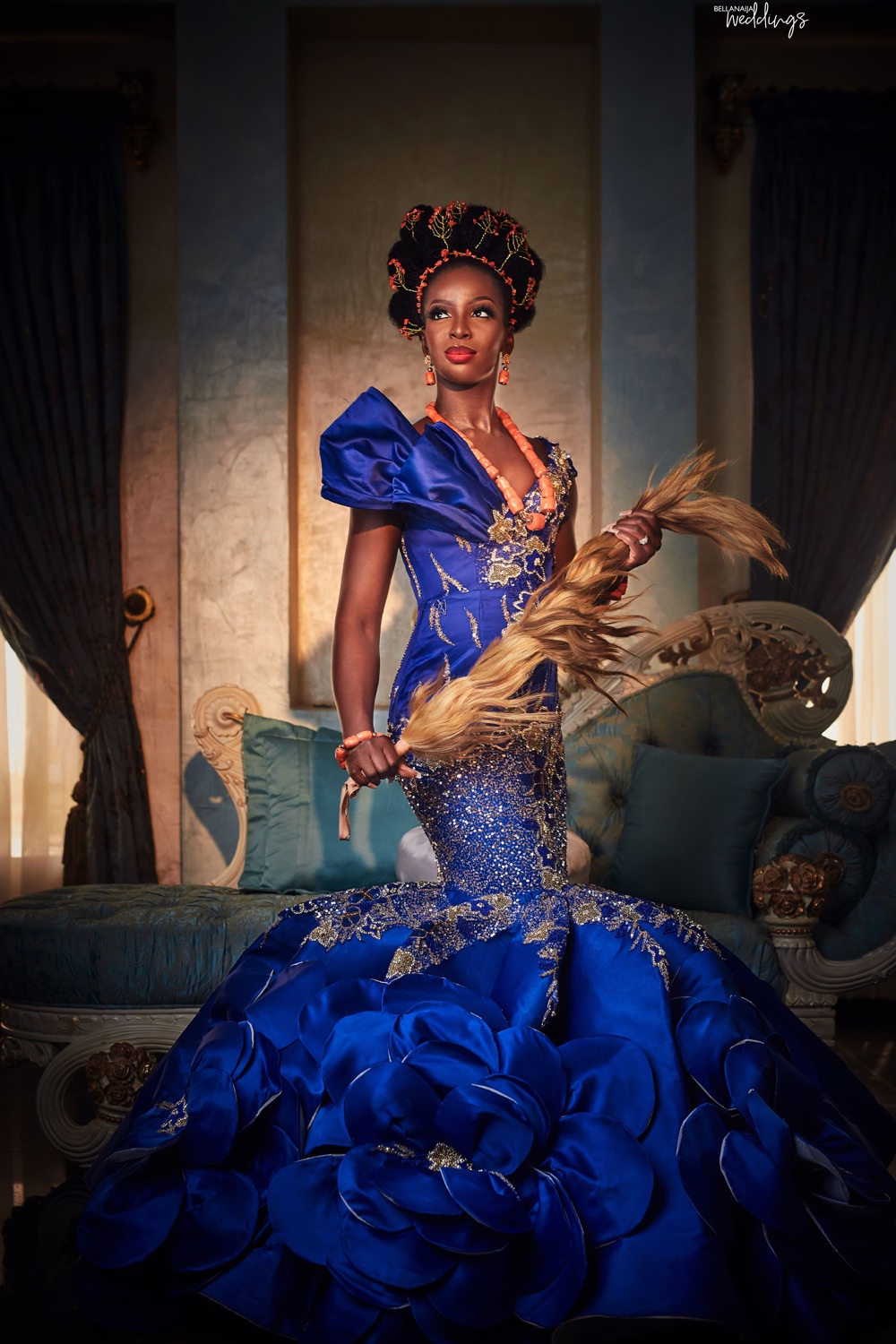 Here's Claudia's version of how they met:
In 2017, I attended my first meeting for a non-profit in Atlanta. During the meeting, I was asked to introduce myself and where I was from. After my brief introduction, A young cheerful man with a pleasing smile walked up to me and quickly introduced himself as "Vince" he mentioned he was also from Anambra state, we had a brief but intimate conversation about Atlanta and family after which we exchanged numbers and parted ways. A few weeks later, I ran into him first at a gala and then at a friend's birthday party. Both times our outfits were coincidentally colour coordinated. Each time Vince asked me to take a picture with him because 'I made him look good.' I always thought to myself, 'we do look good together' but I didn't say anything. I just smiled and took the pictures. We didn't talk much after that. He would check in on me once in a while and mention intentions to take me out on a date but our schedules never gave us the opportunity.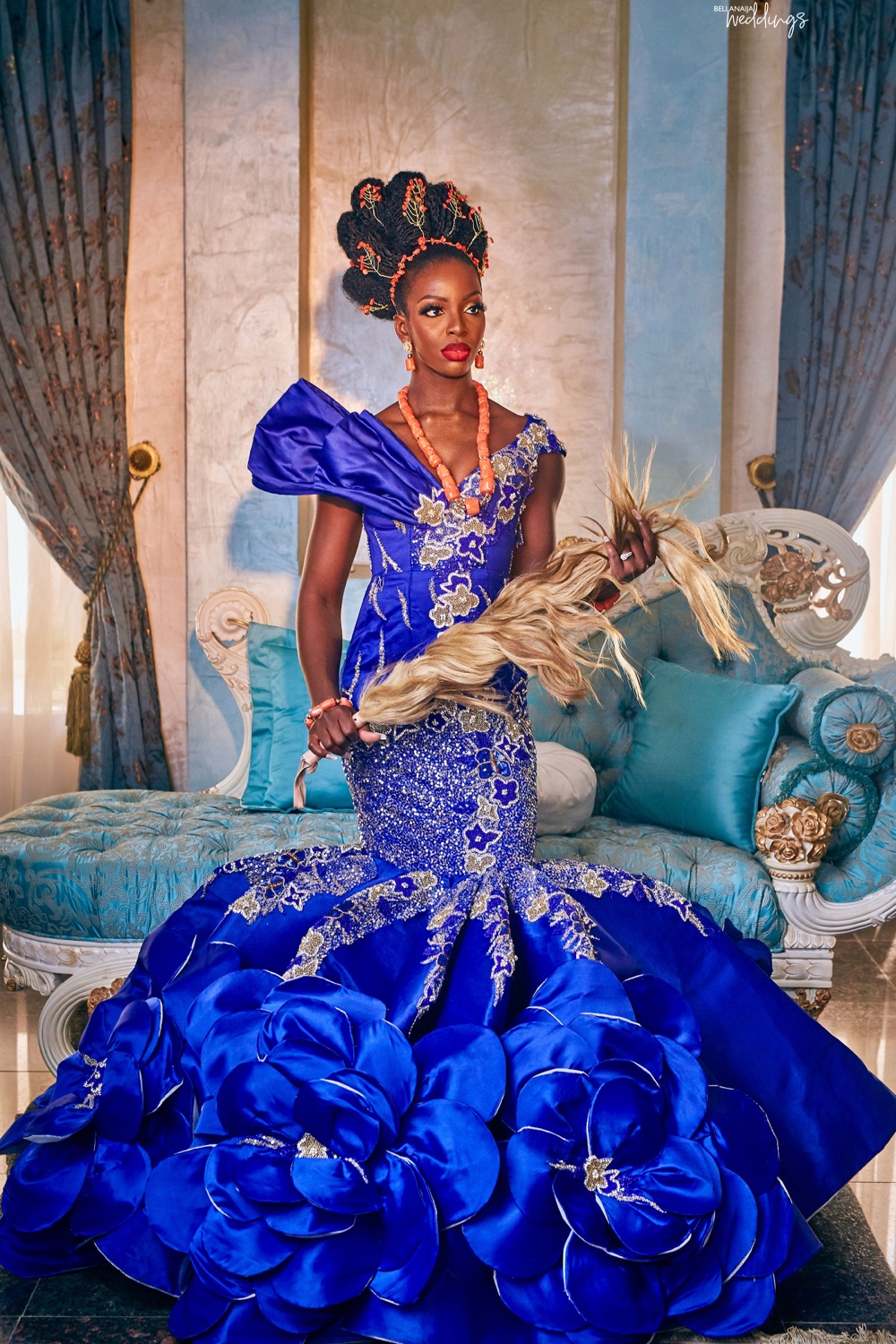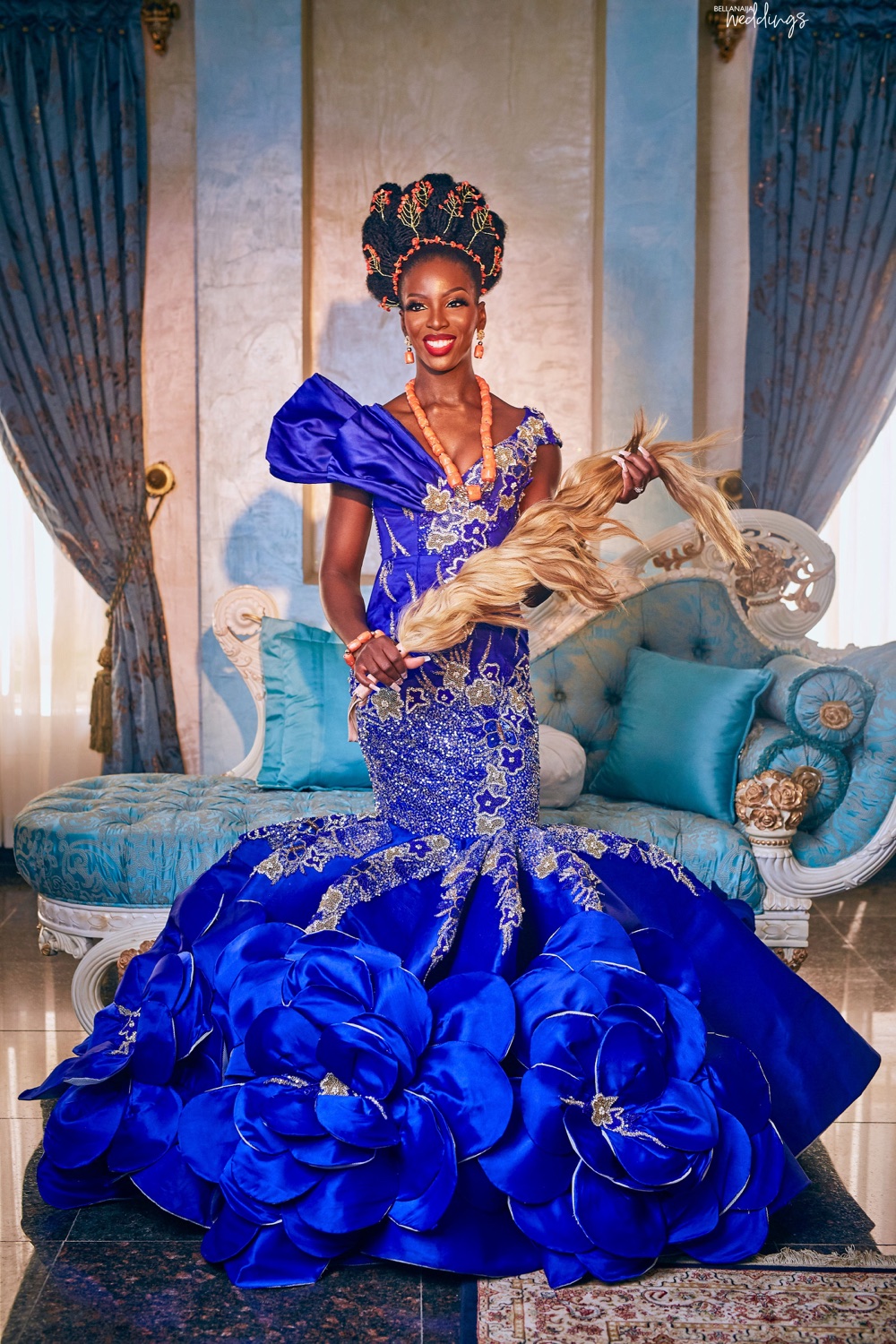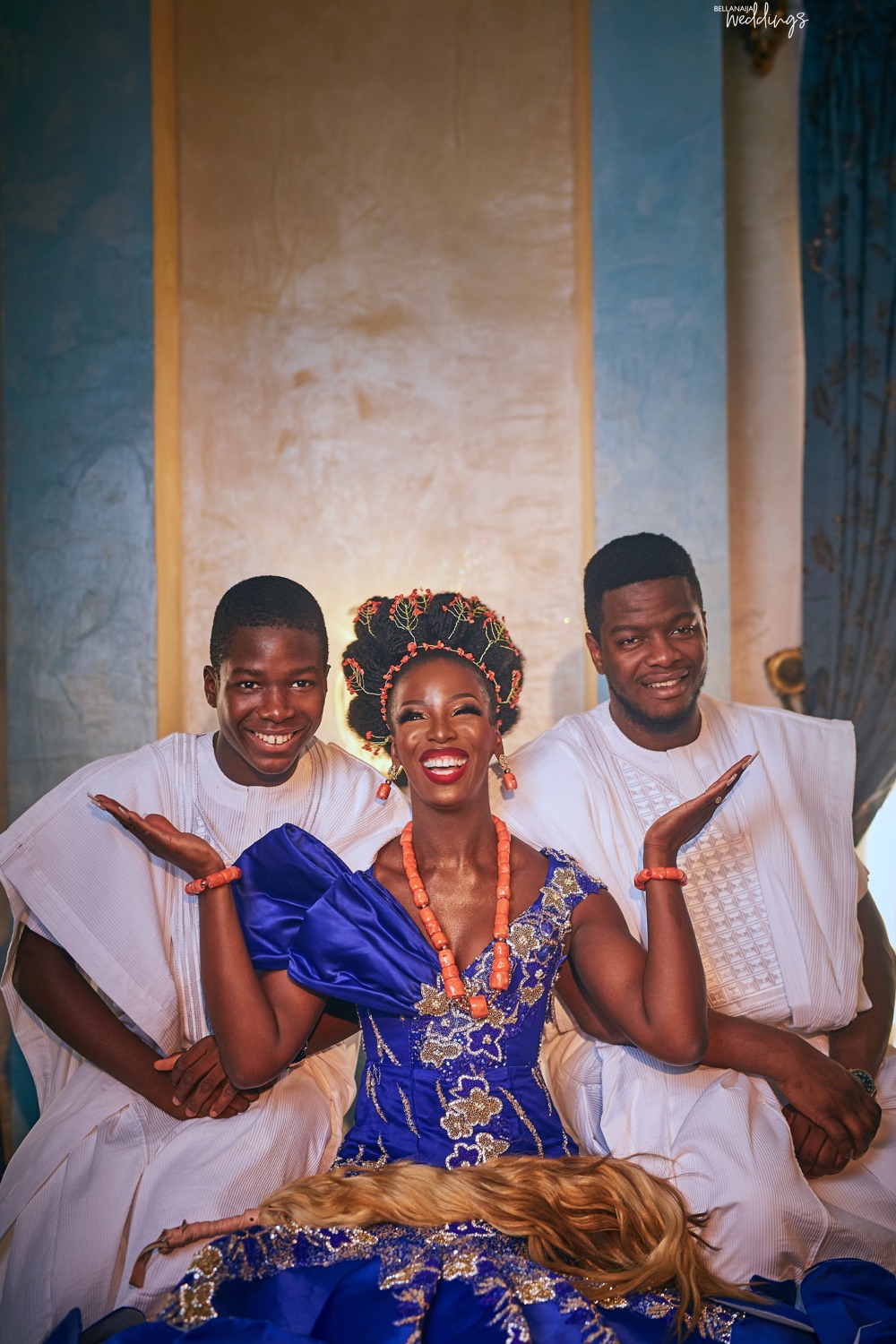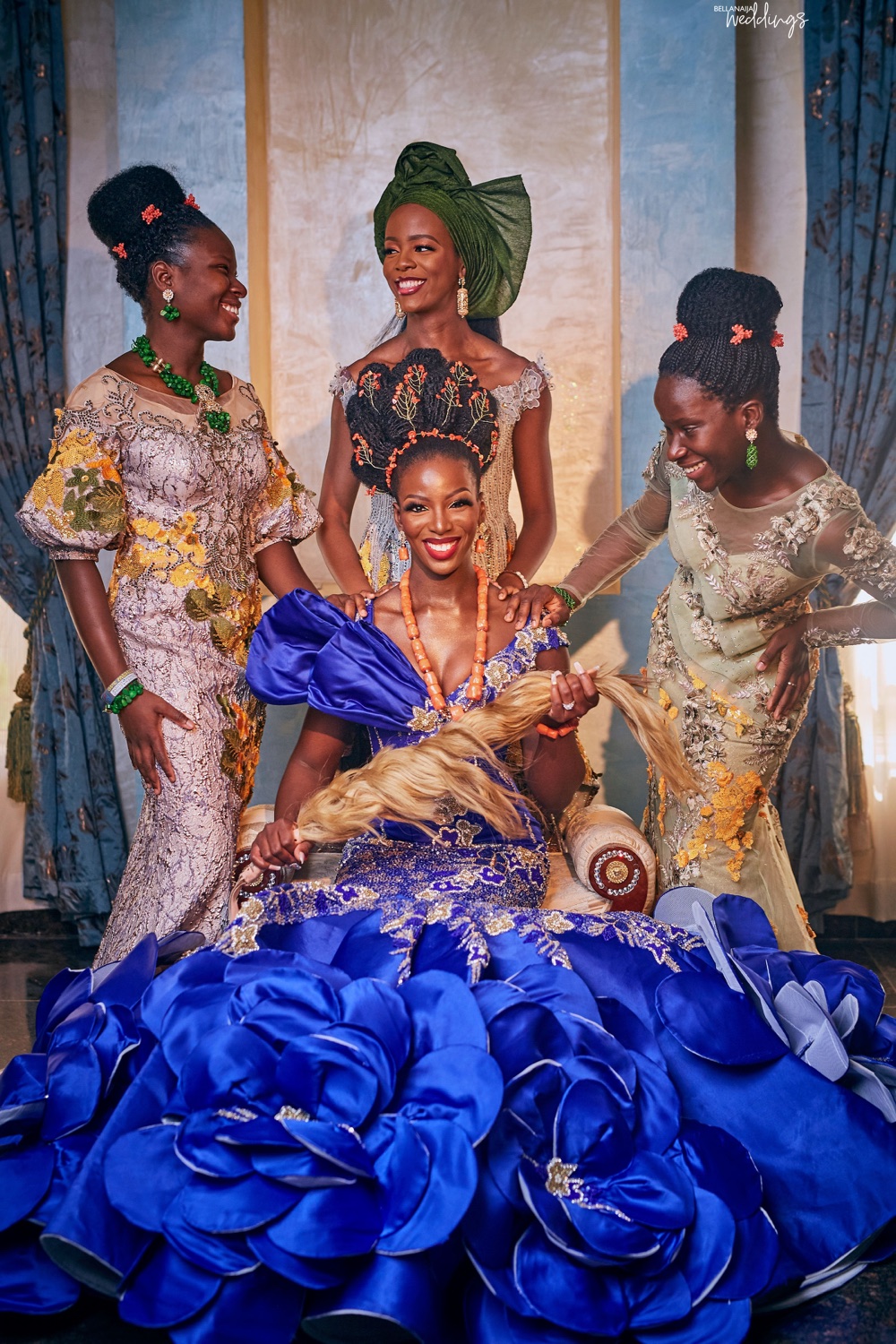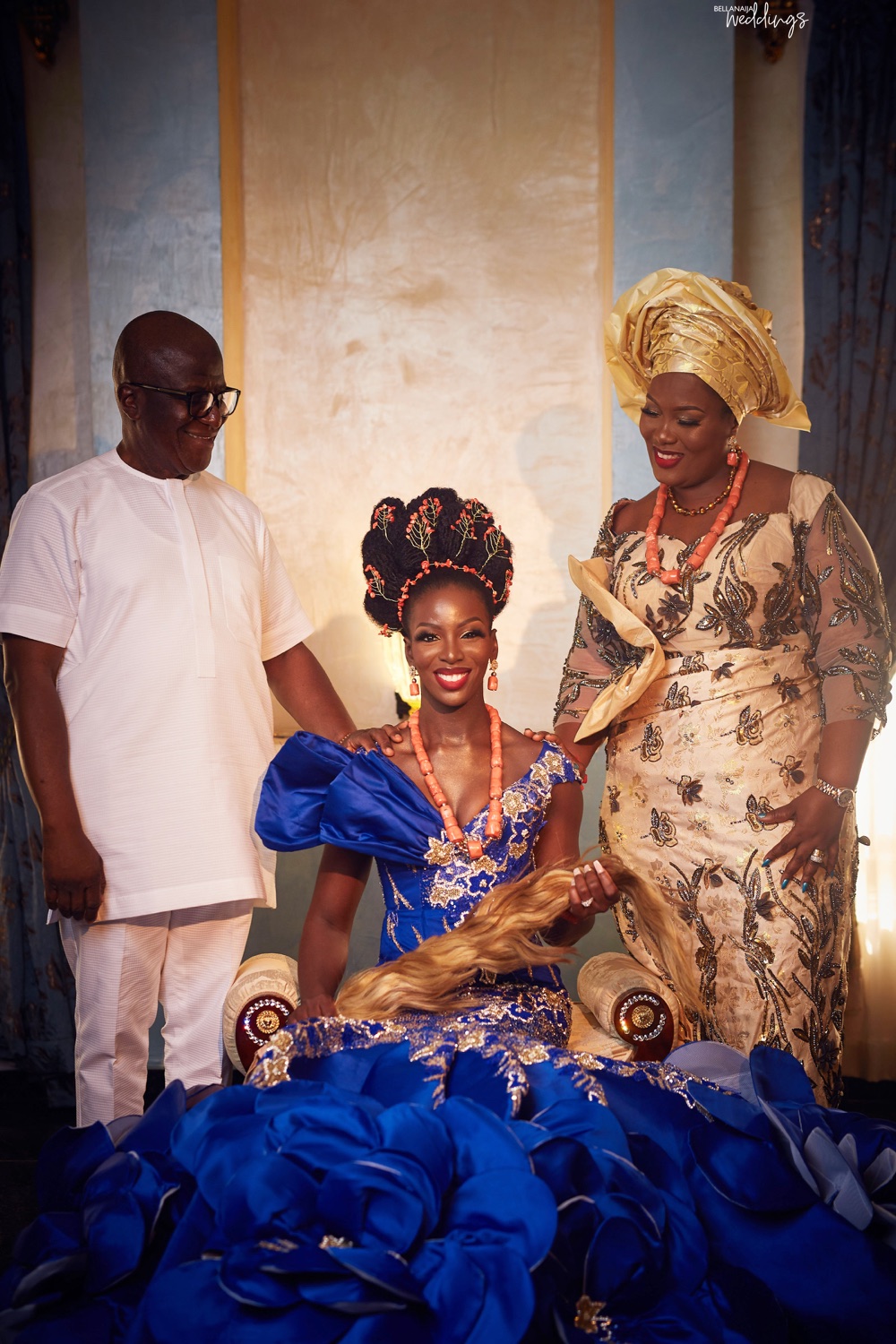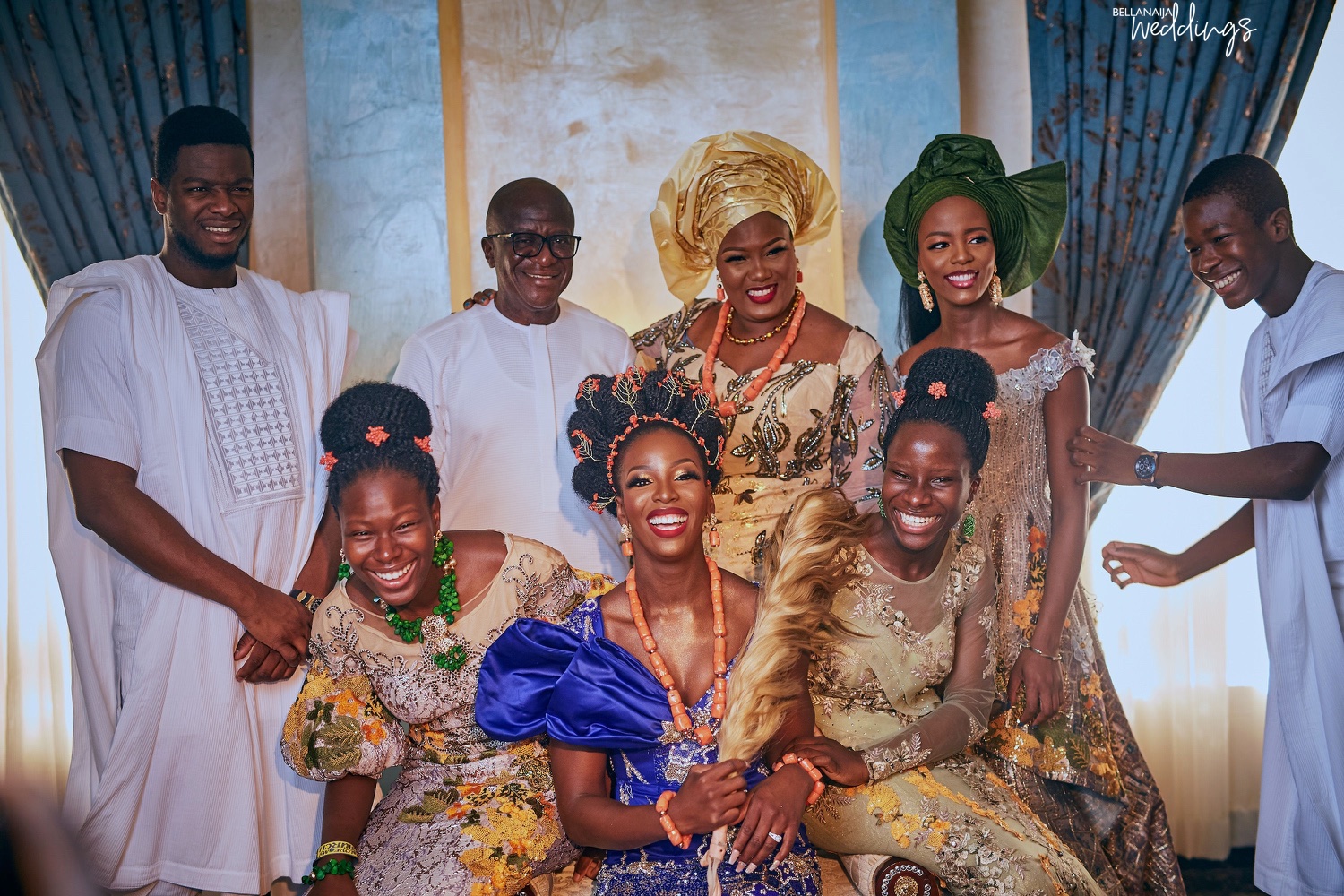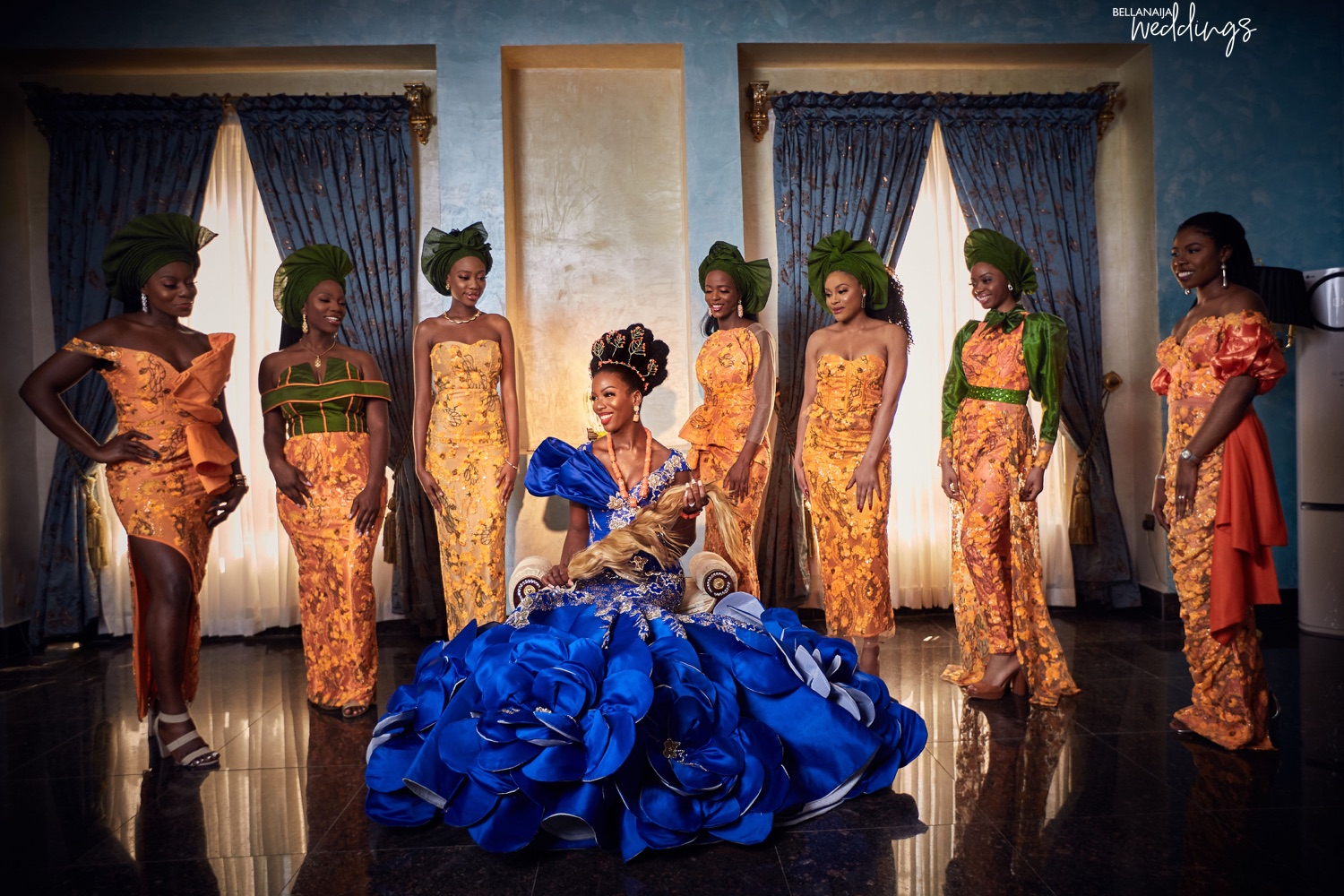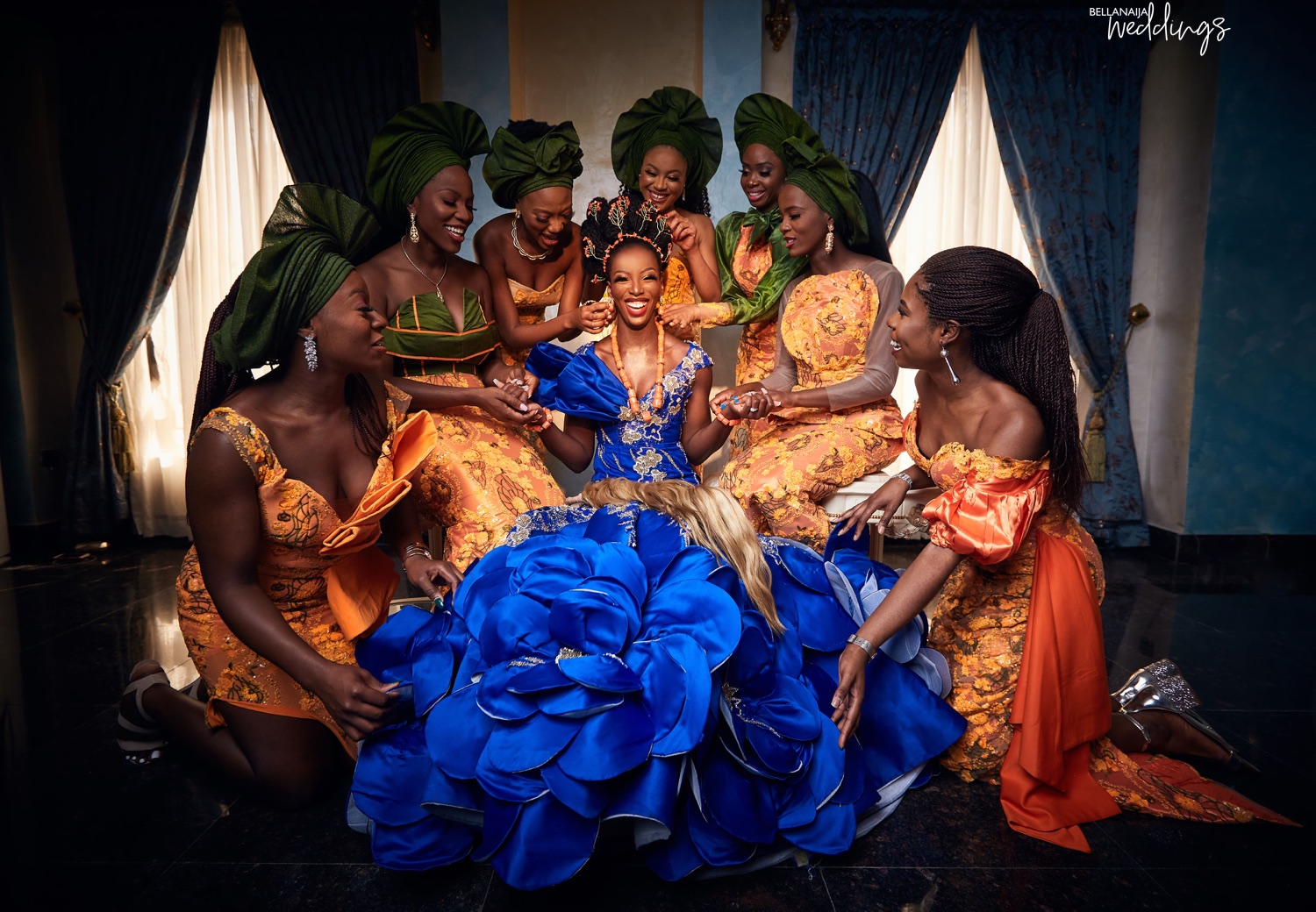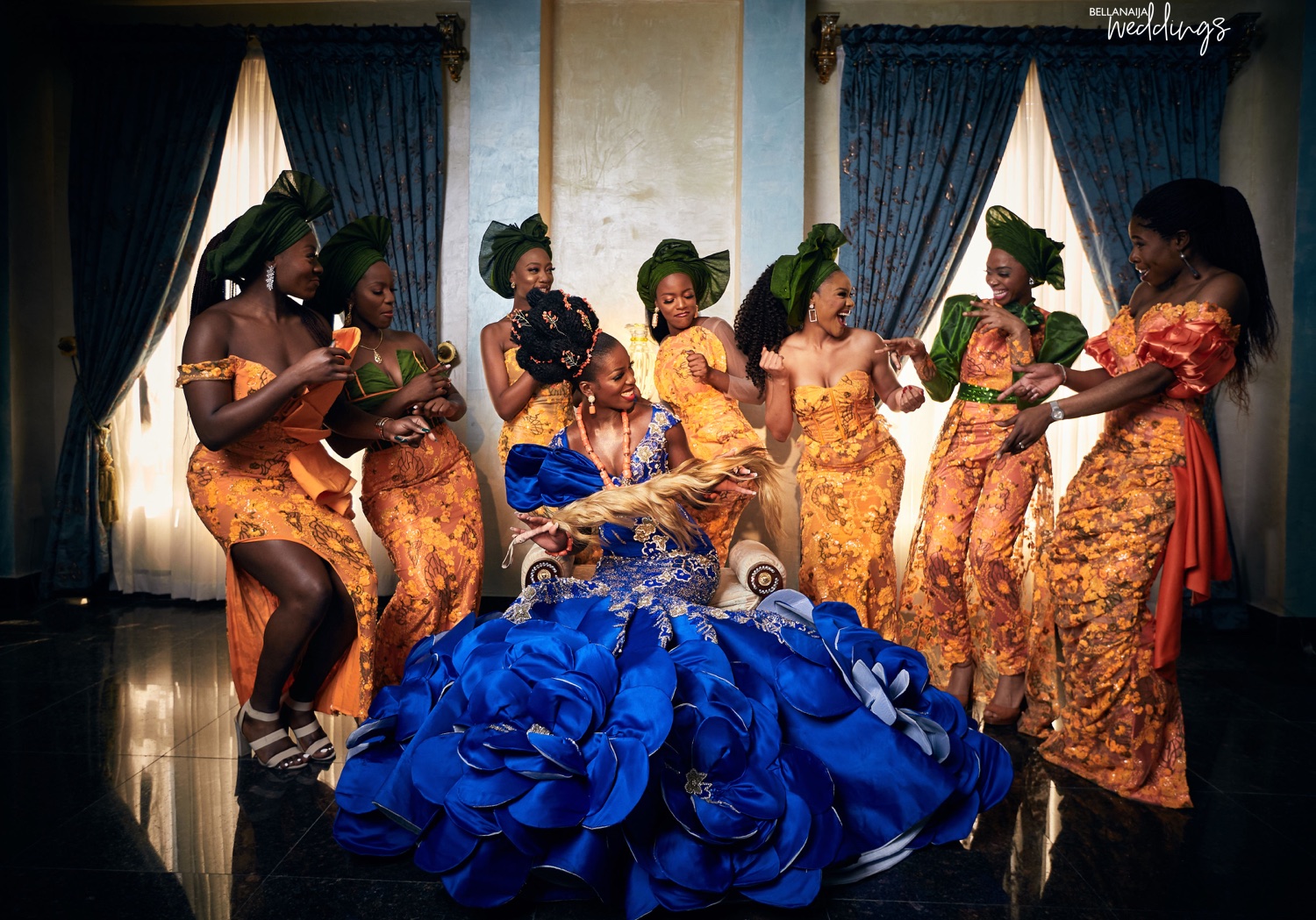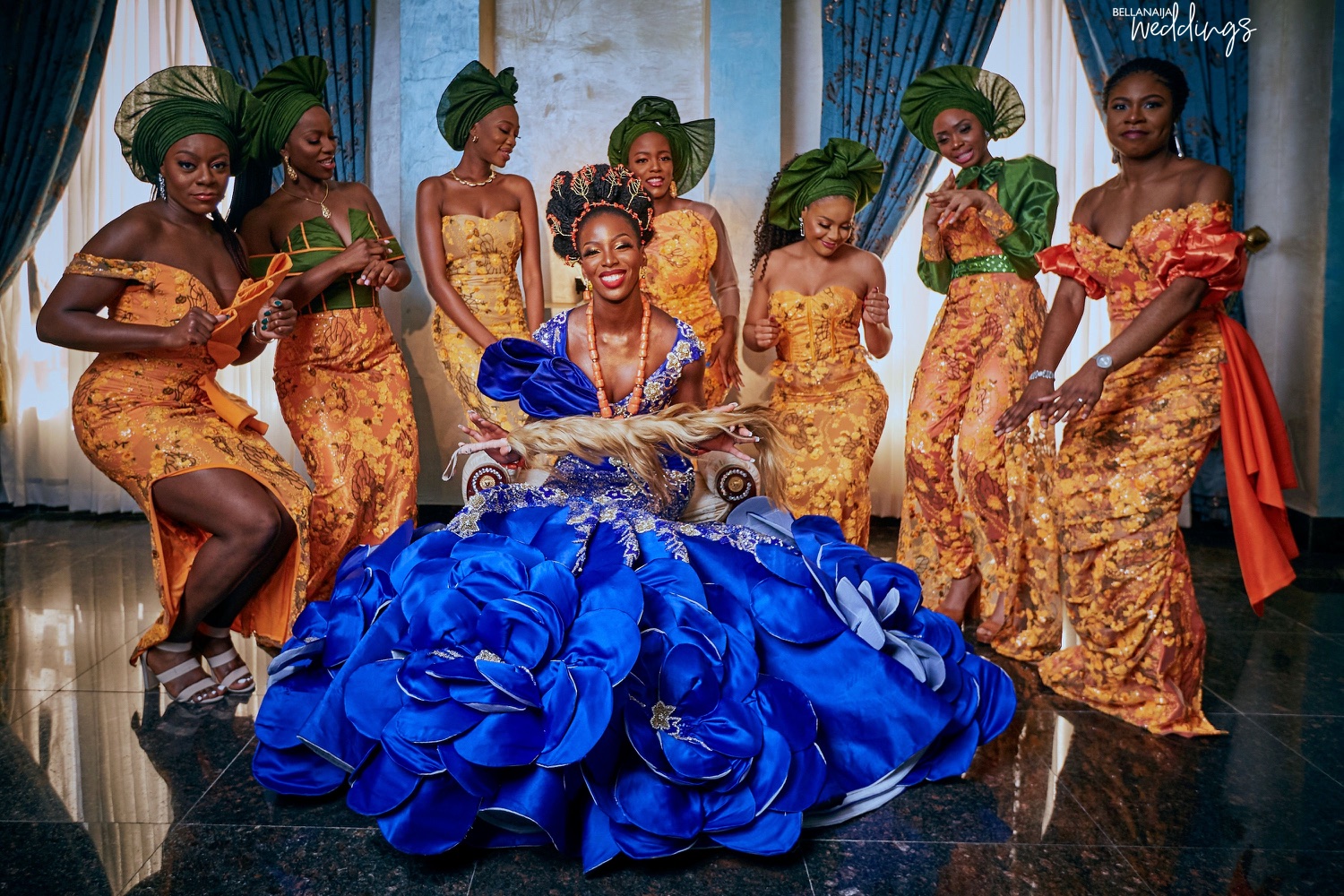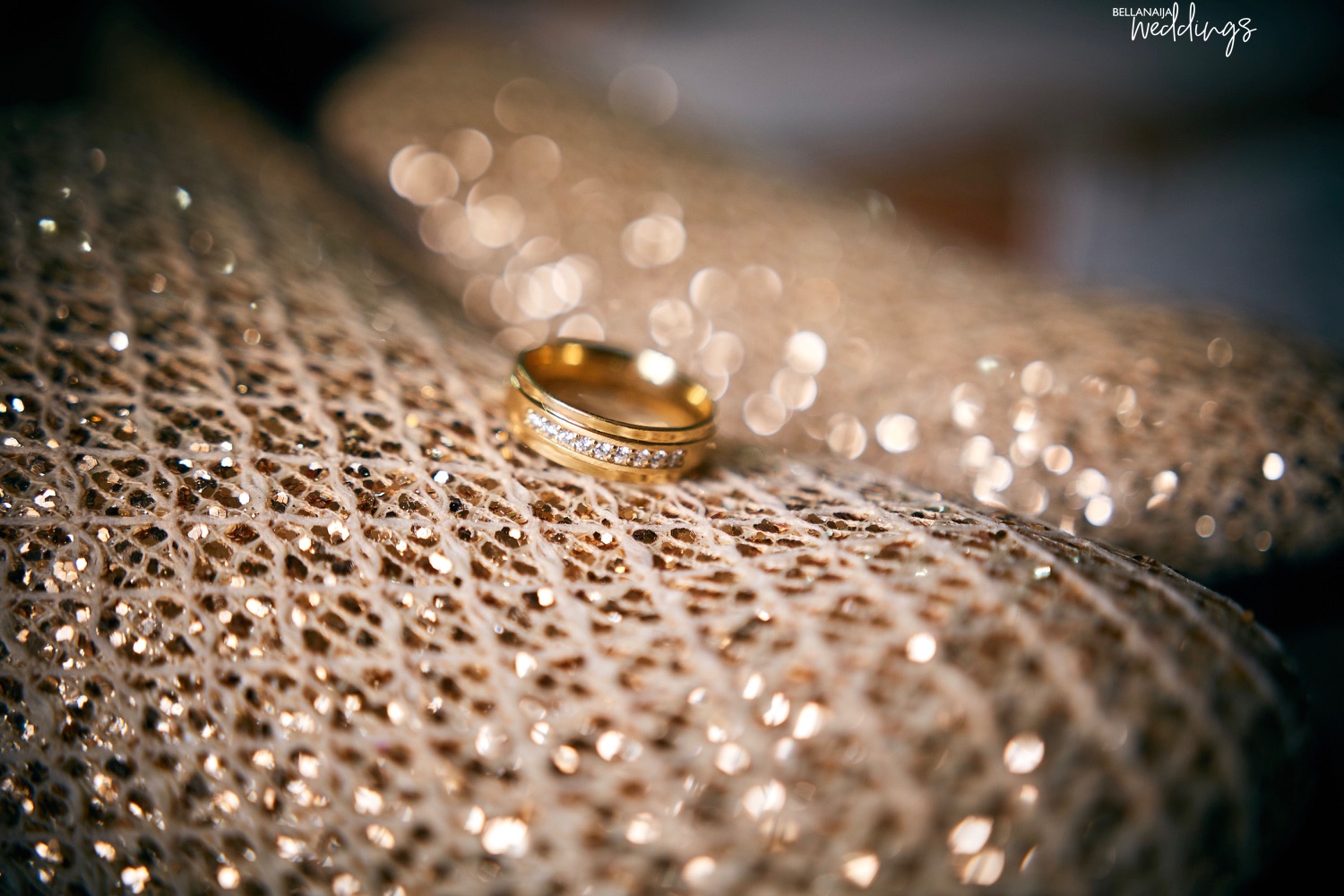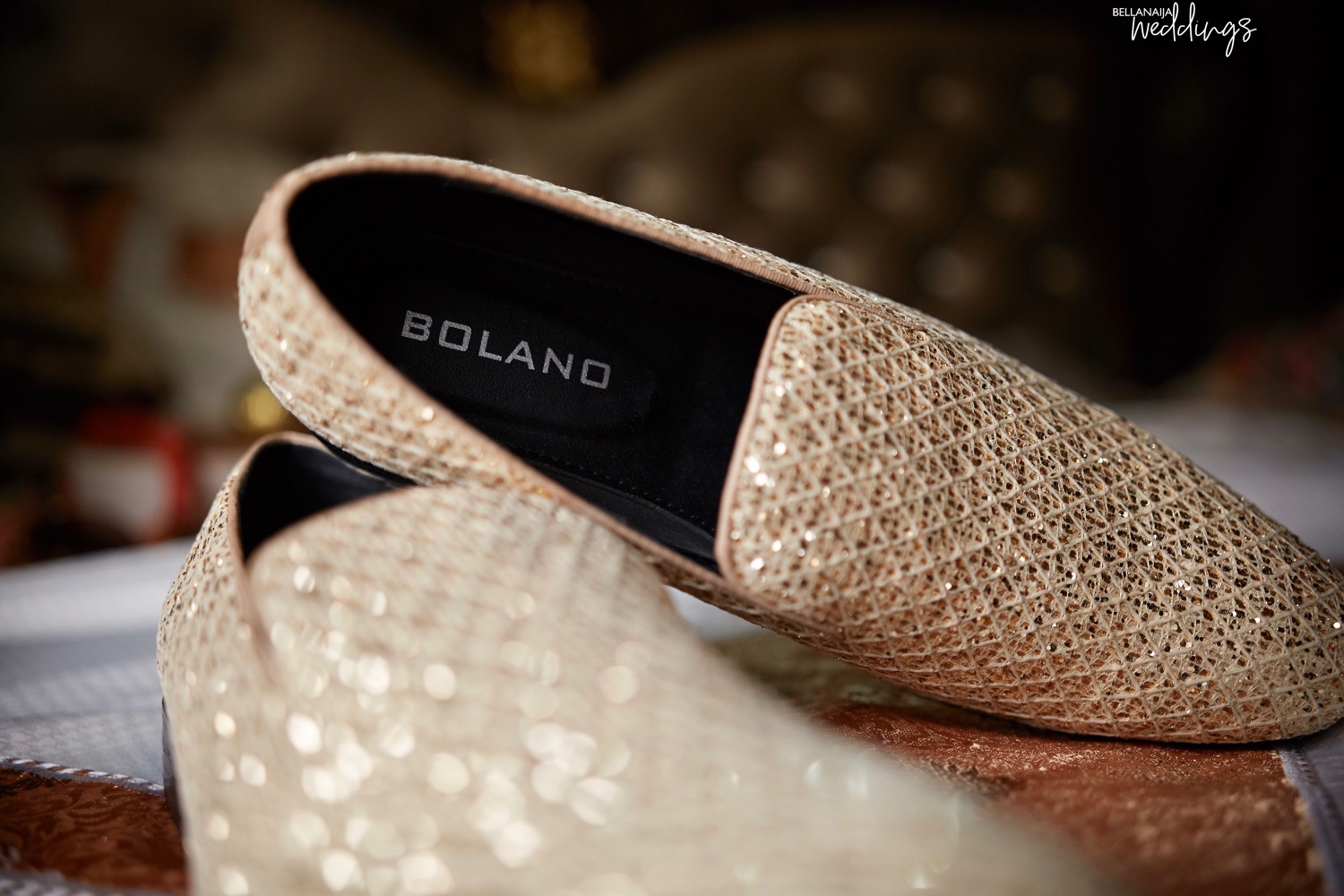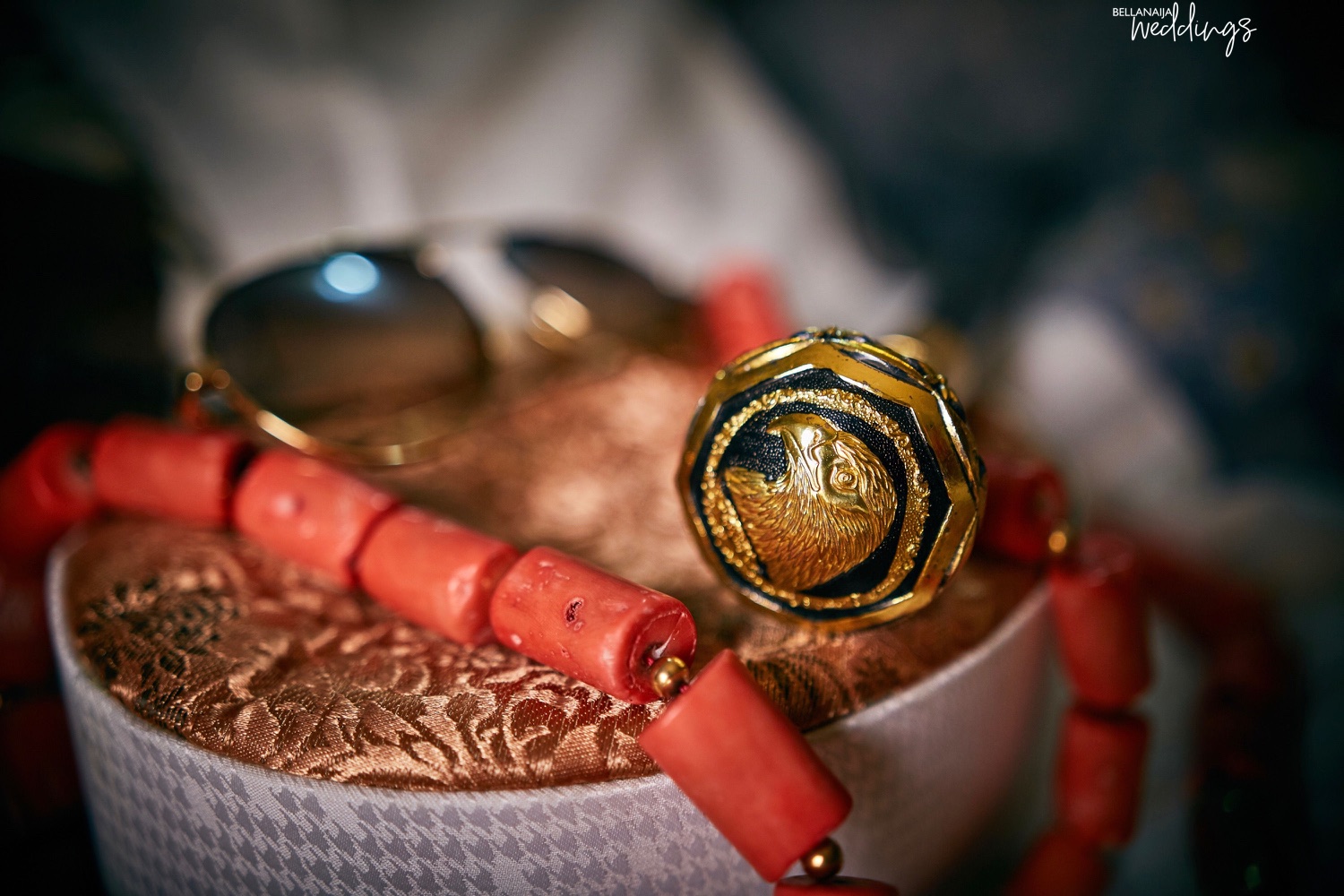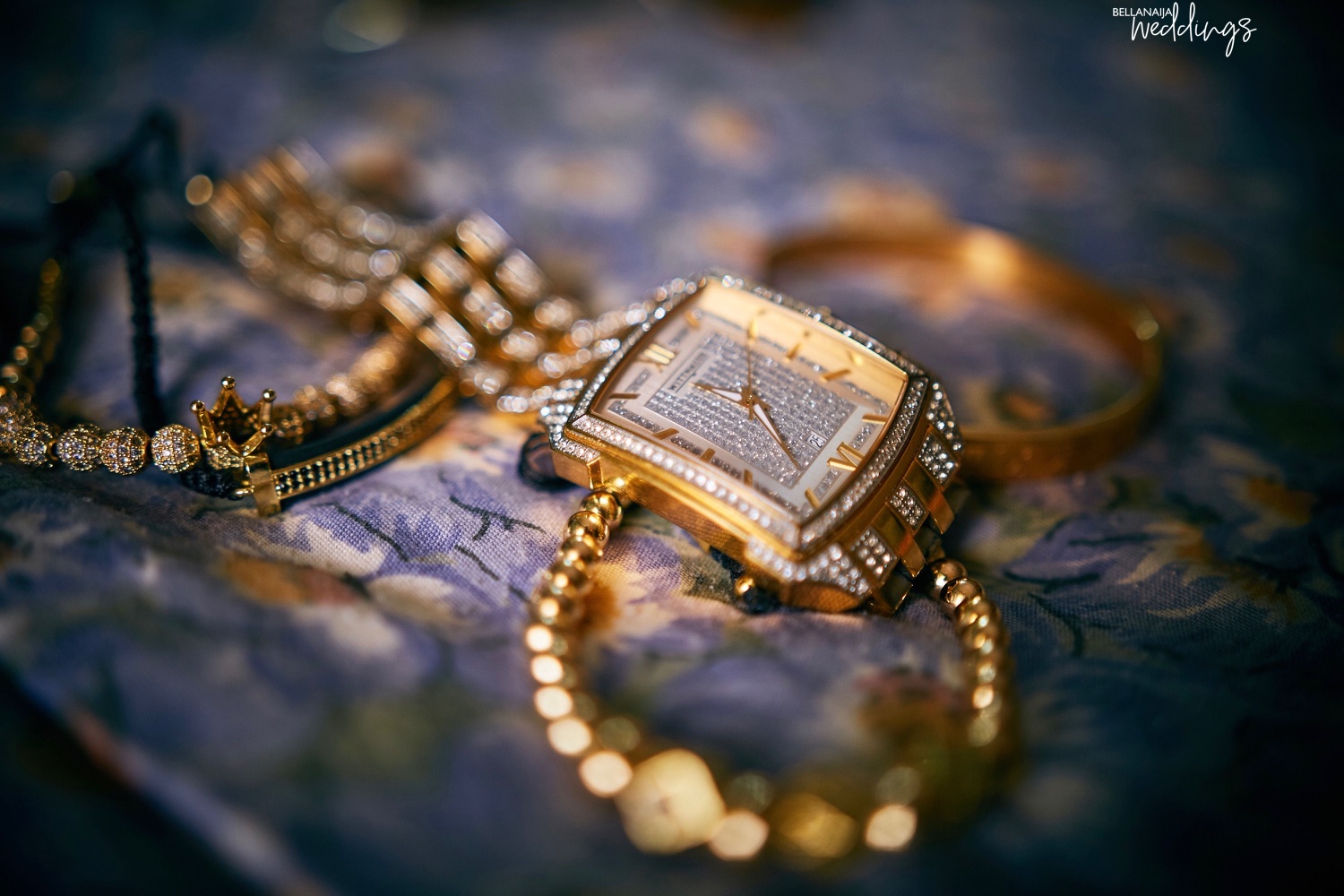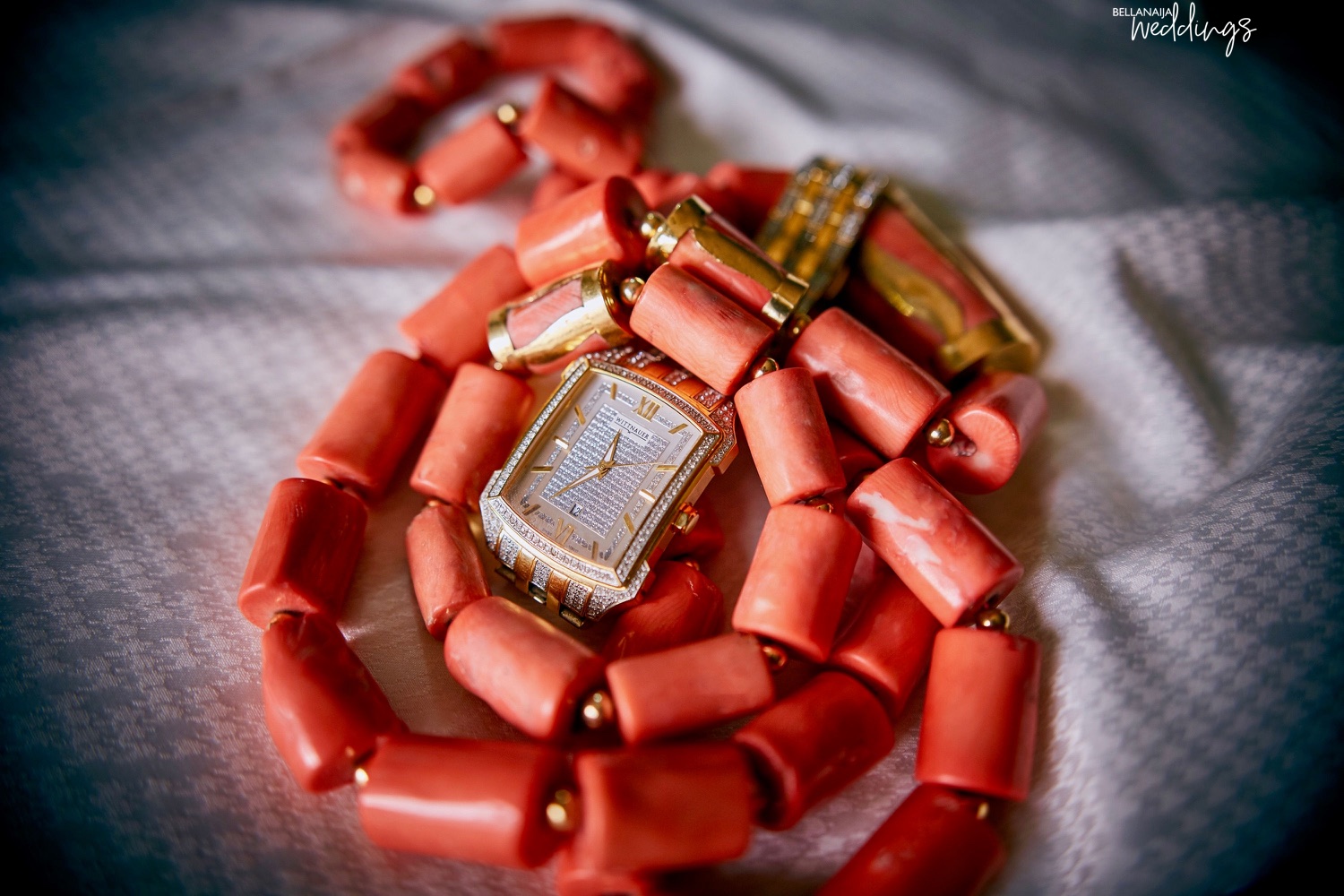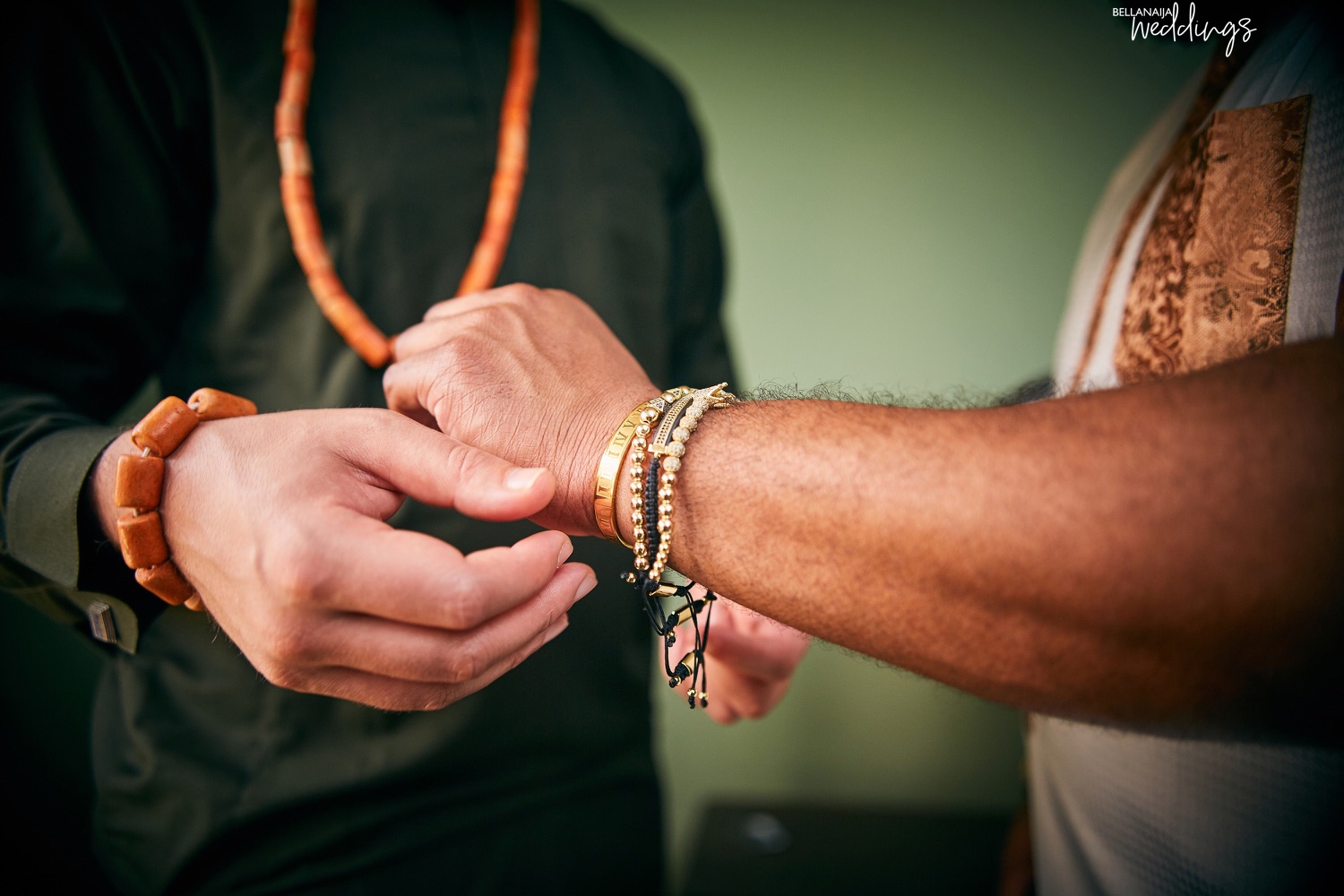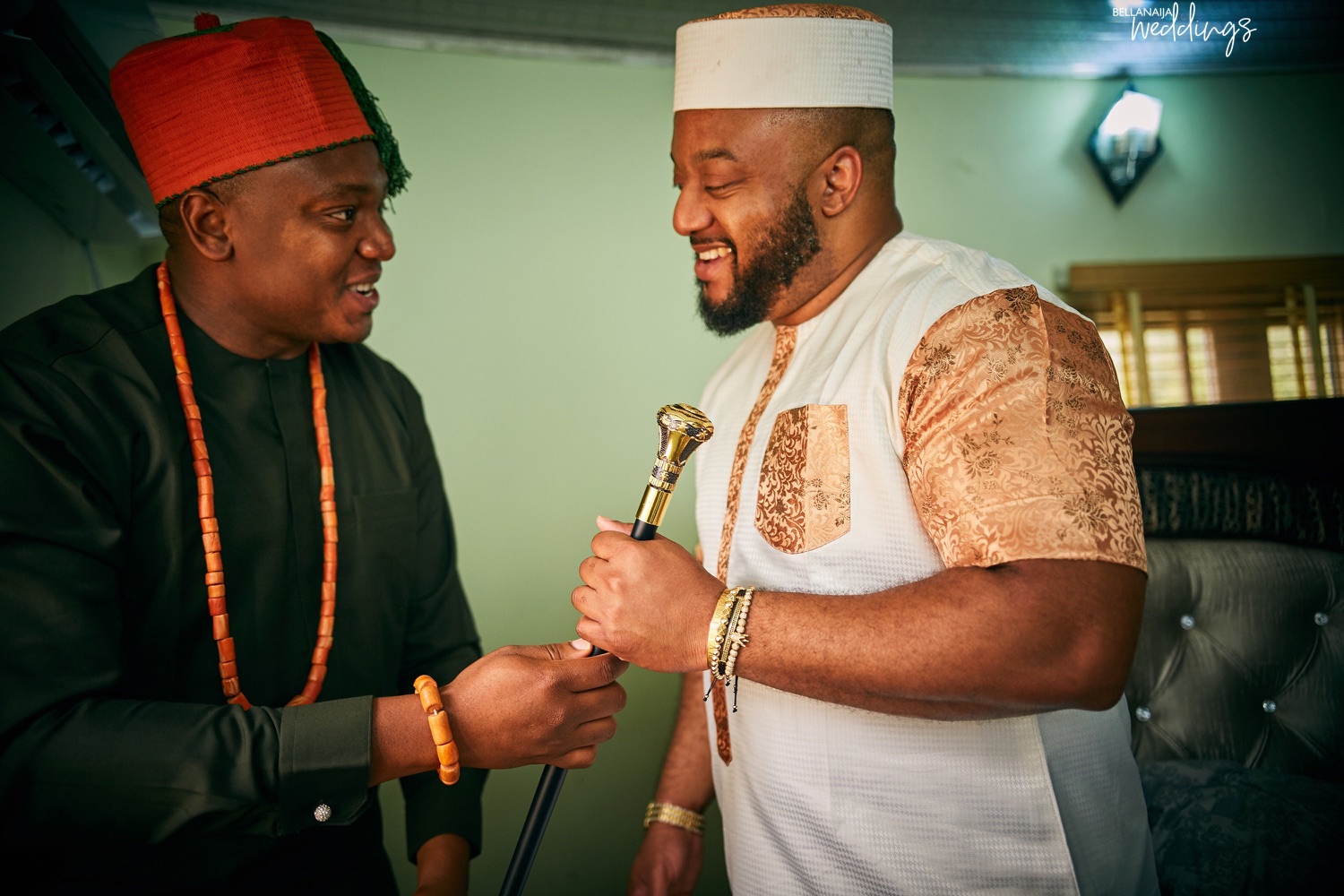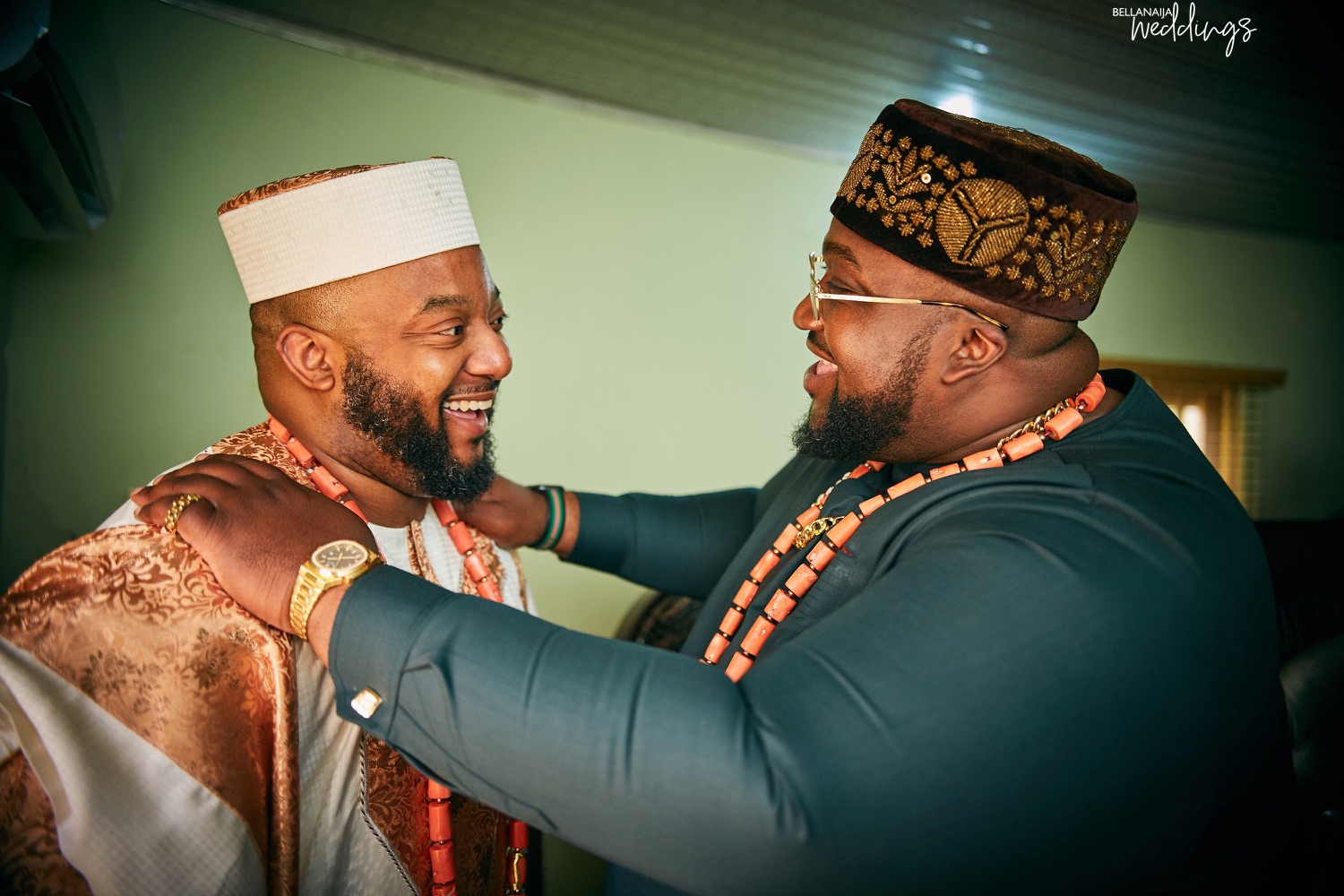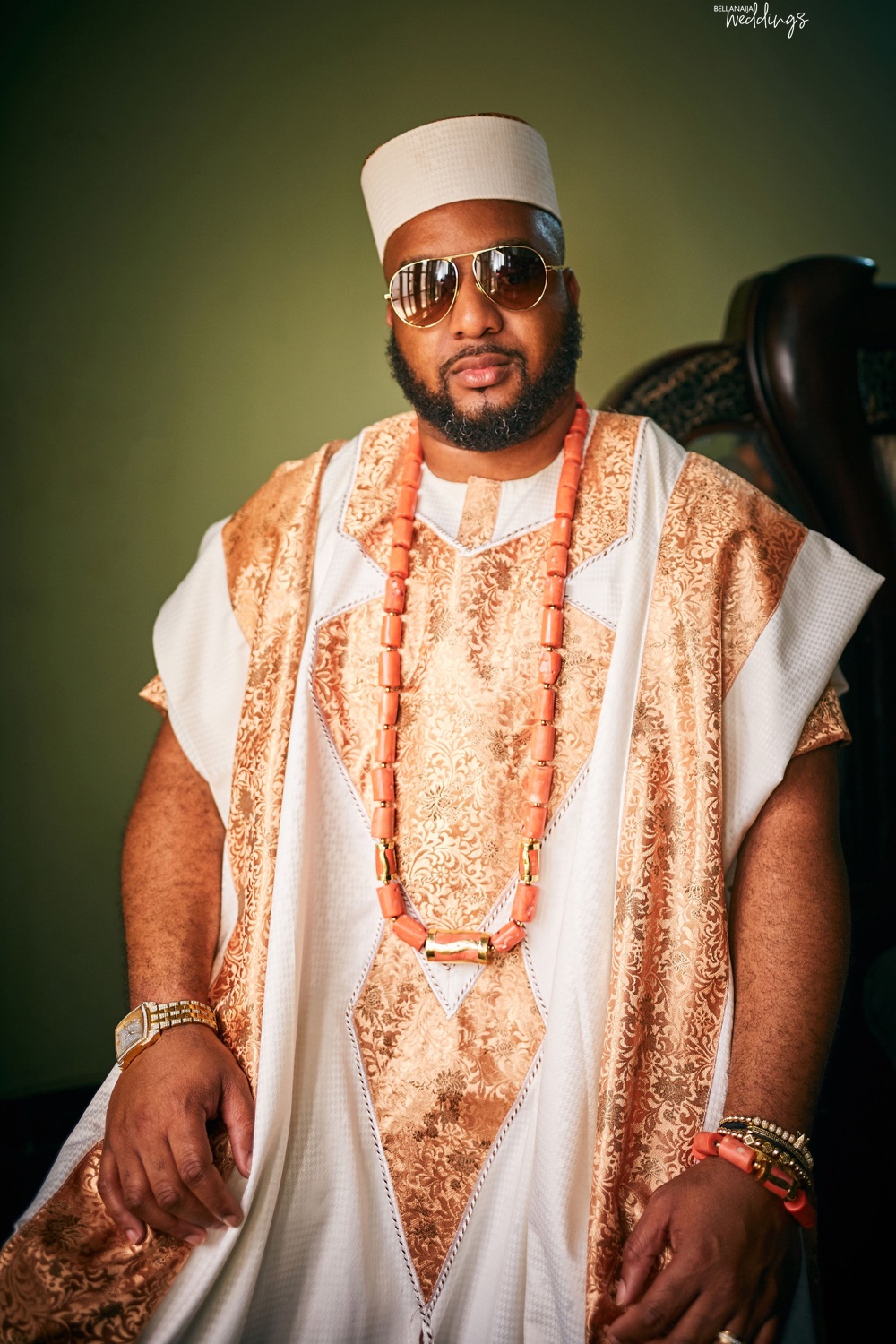 Fast forward to Christmas that same year. I was leading an orphanage visit in Anambra through the non-profit and found out that Vince was one of the ambassadors. I also found out that he lived ten minutes away from my house in the village. We planned trips to the orphanages in Anambra together and the long drive gave us time to connect. I found out so much about this wonderful man, how humble and kind he is. After the orphanage visits, Vince introduced me to his parents and told them informally that he was interested in me, little did we know that we were family friends! His parents paid my parents a visit to say "hi". I had no idea! The trip to the village also gave me the opportunity to learn so much about Vince's family! I can never forget the new years eve party at his house where they served my siblings and I the most delicious fish. Vince and his family's hospitality was very refreshing! Long-story-short, we talked every single day since 2017 Christmas and here we are, actually getting married!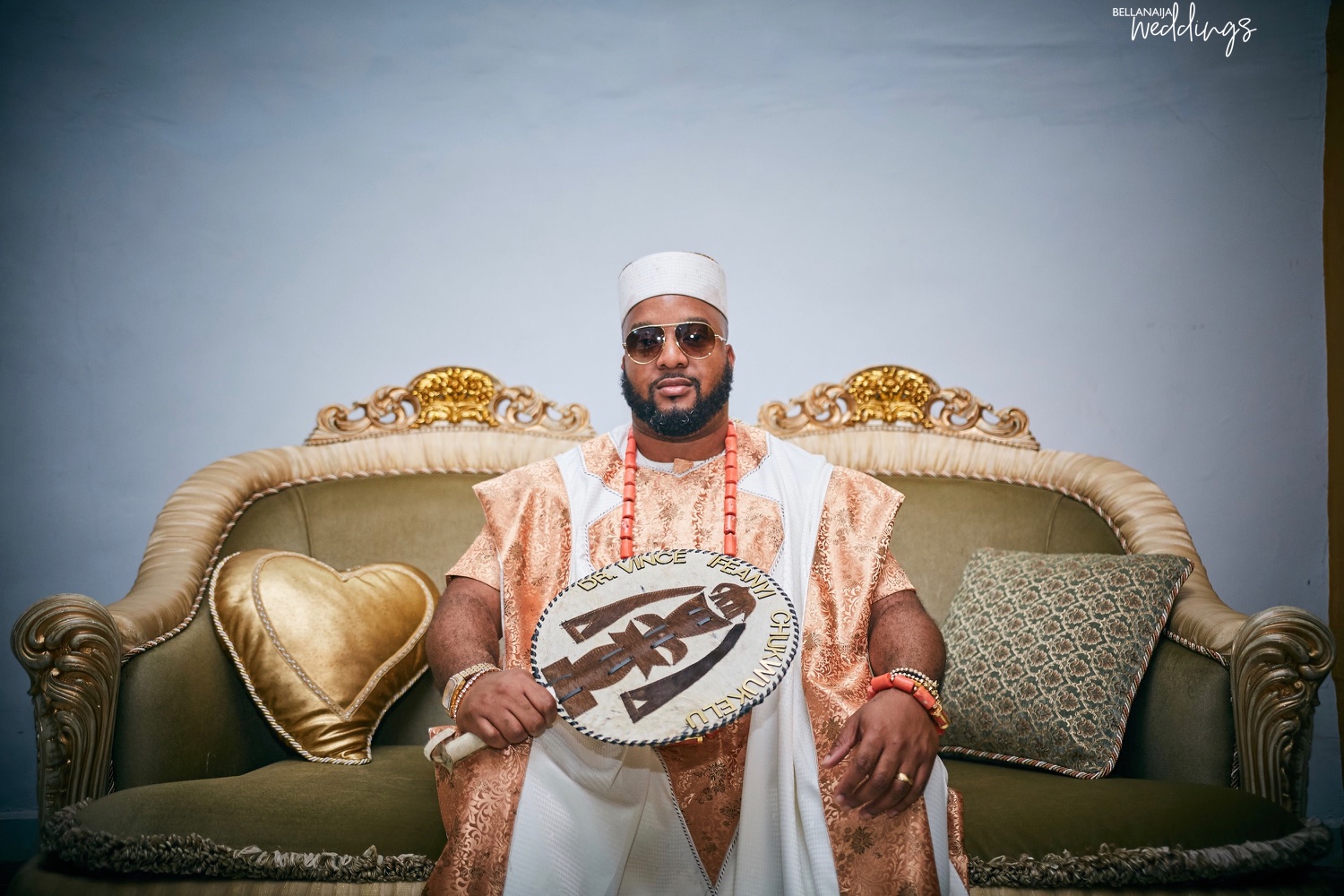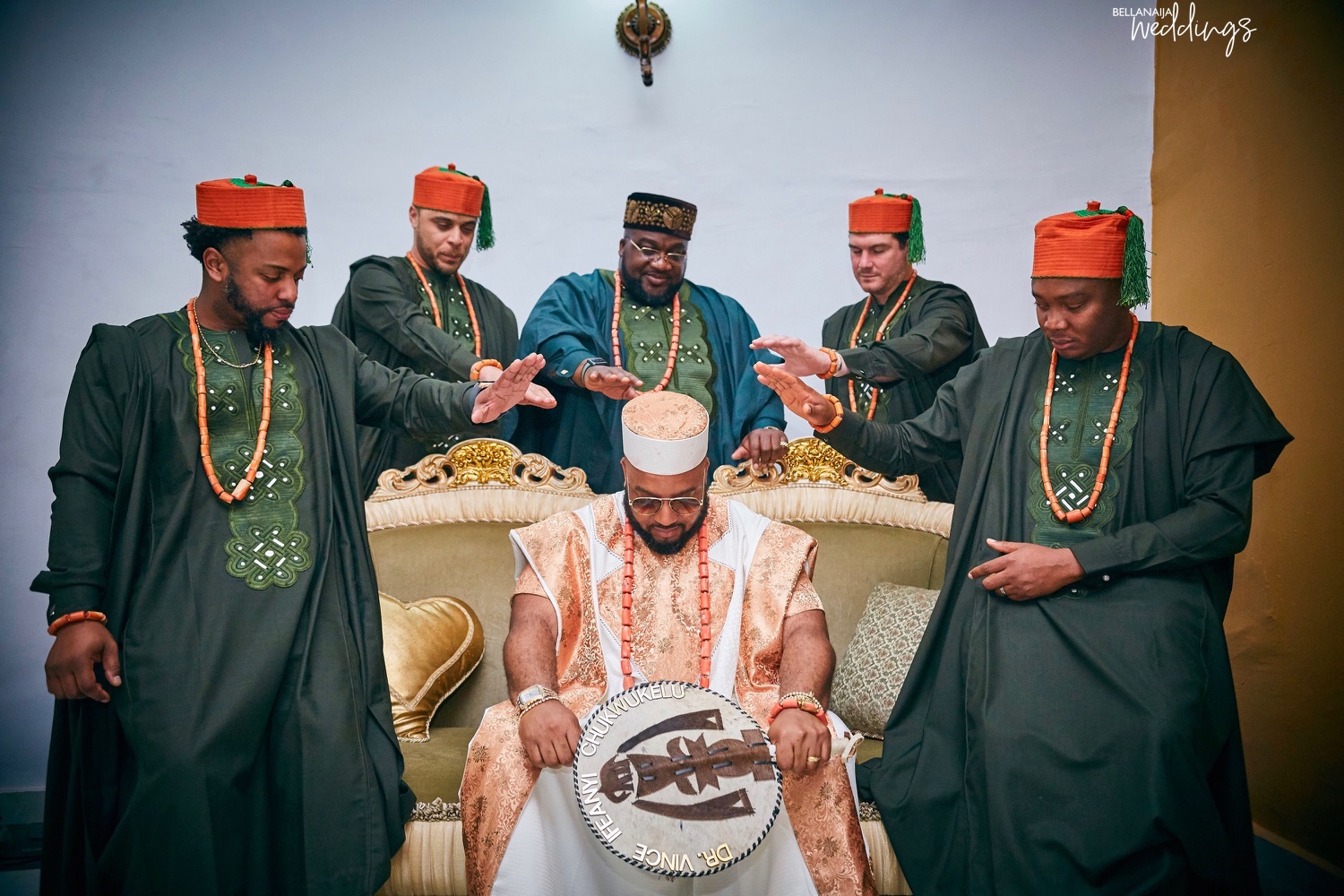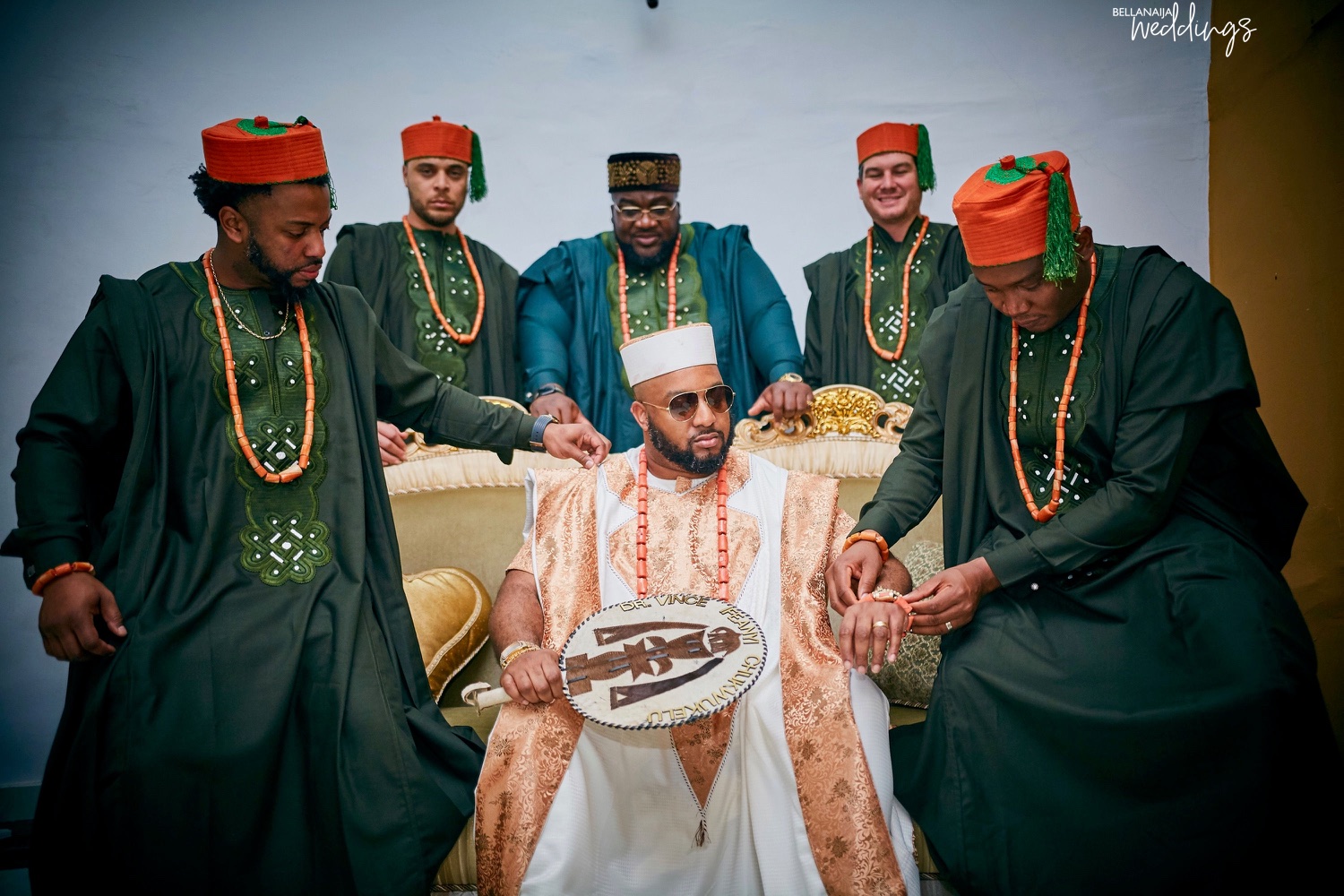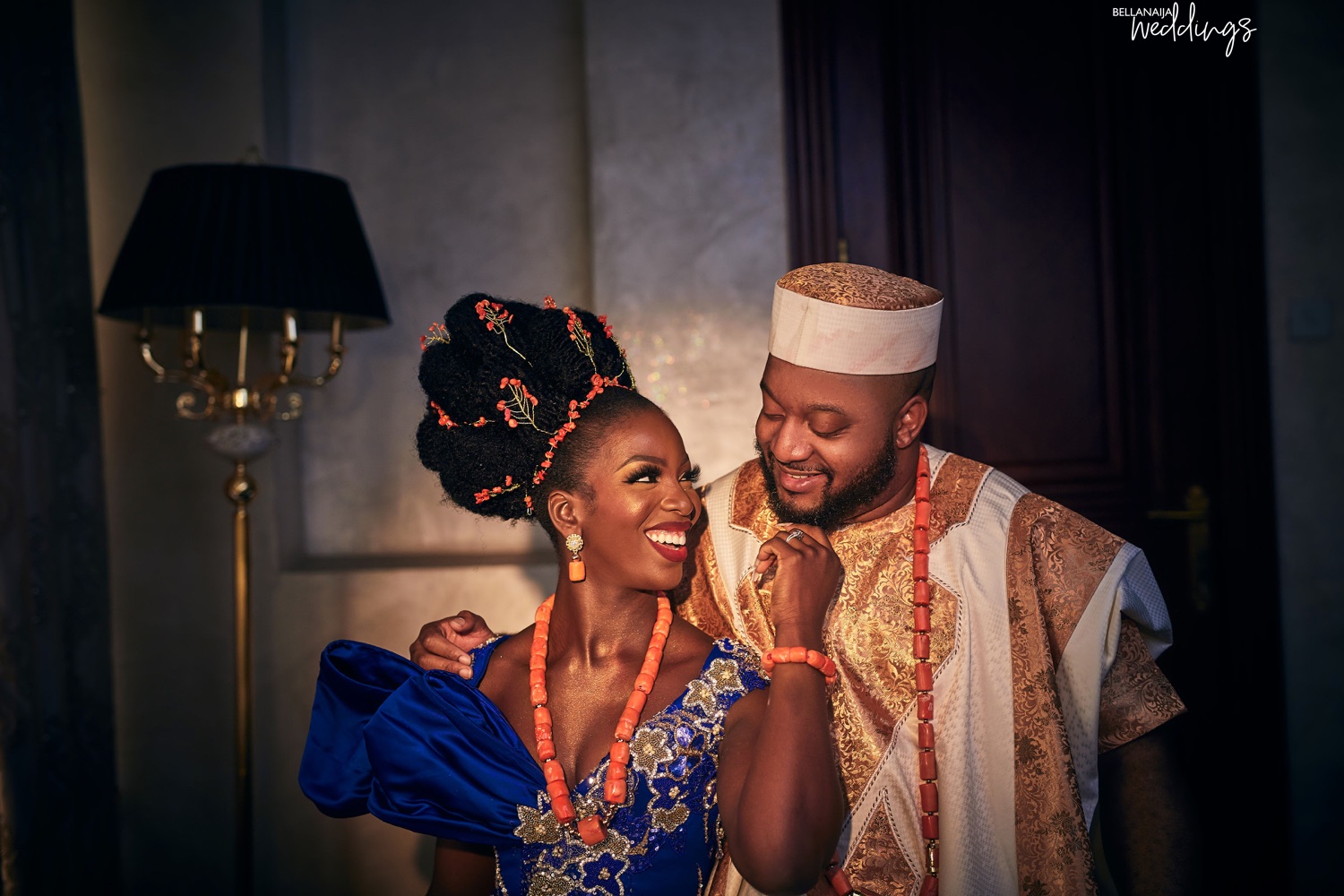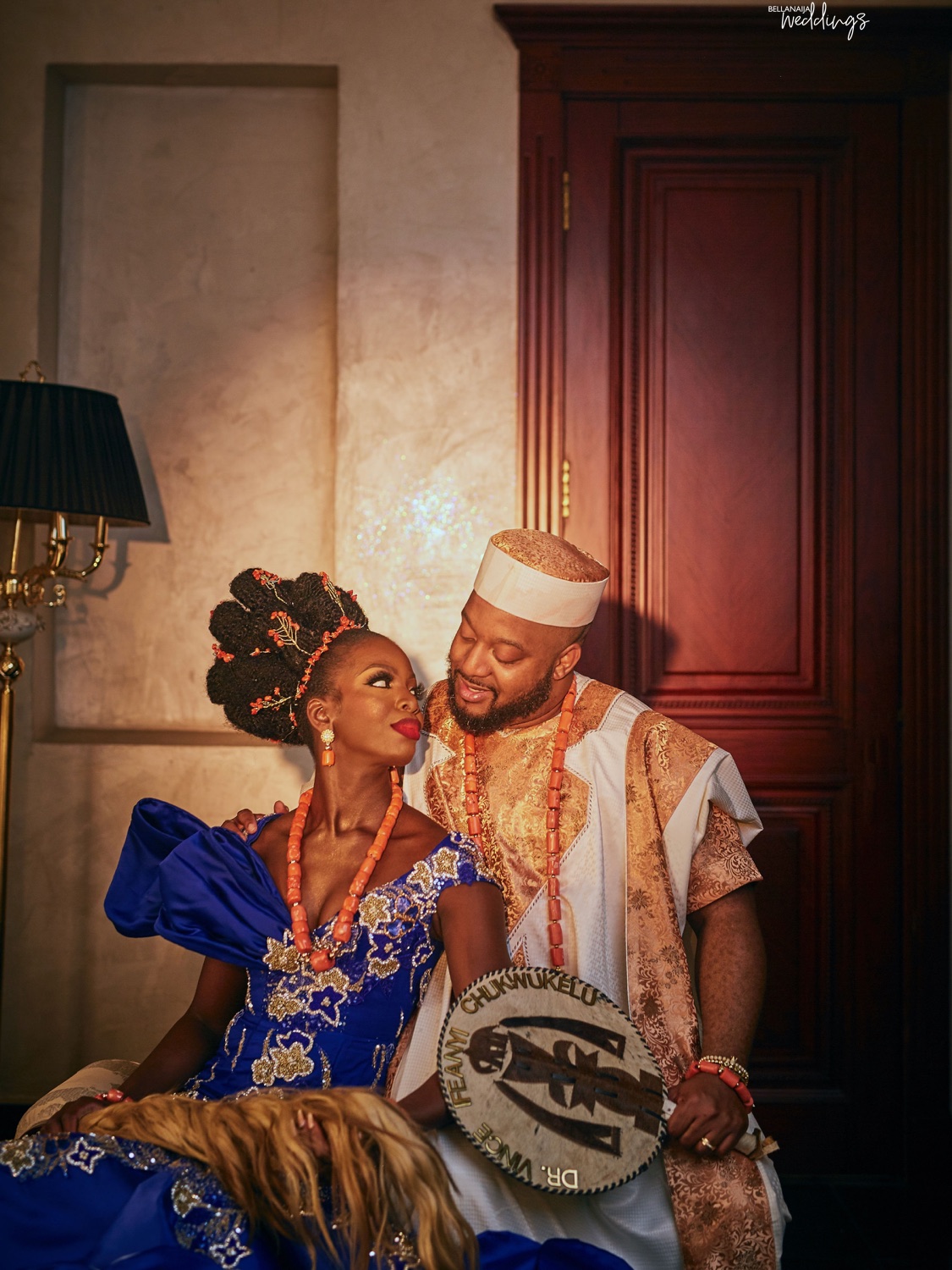 When it was time to pop the question, here's how it happened according to Claudia:
I got the opportunity to travel to Cairns, Australia to present my PhD research at a conference. Since Vince and I are travel bugs the opportunity was one we had to take advantage of. Once I told Vince about the opportunity he quickly took vacation time off residency to travel across the world with me and support me at the conference. After doing my research on Australia, I found out that it had the most beautiful beaches and landscapes and I thought it would be a great idea to do a couples photoshoot while we were there. I found a team of creatives who were more than willing to make our vision come true. Our first shooting spot was at Palm Cove beach in Cairns. When we got there, there was a picnic area set up with food and champagne and I was very impressed because I thought the team had gone the extra mile to make the shoot more exciting, little did I know that while I was planning the couple shoot, Vince was planning a surprise proposal. He asked me to grab some food from the picnic box and in the box lay another box, I could not stop smiling as I handed him the box and he popped the big question. That day has been the most memorable day of my life and I cannot wait to spend the rest of my life with my blessing. Soon to be Dr. & Dr Mrs.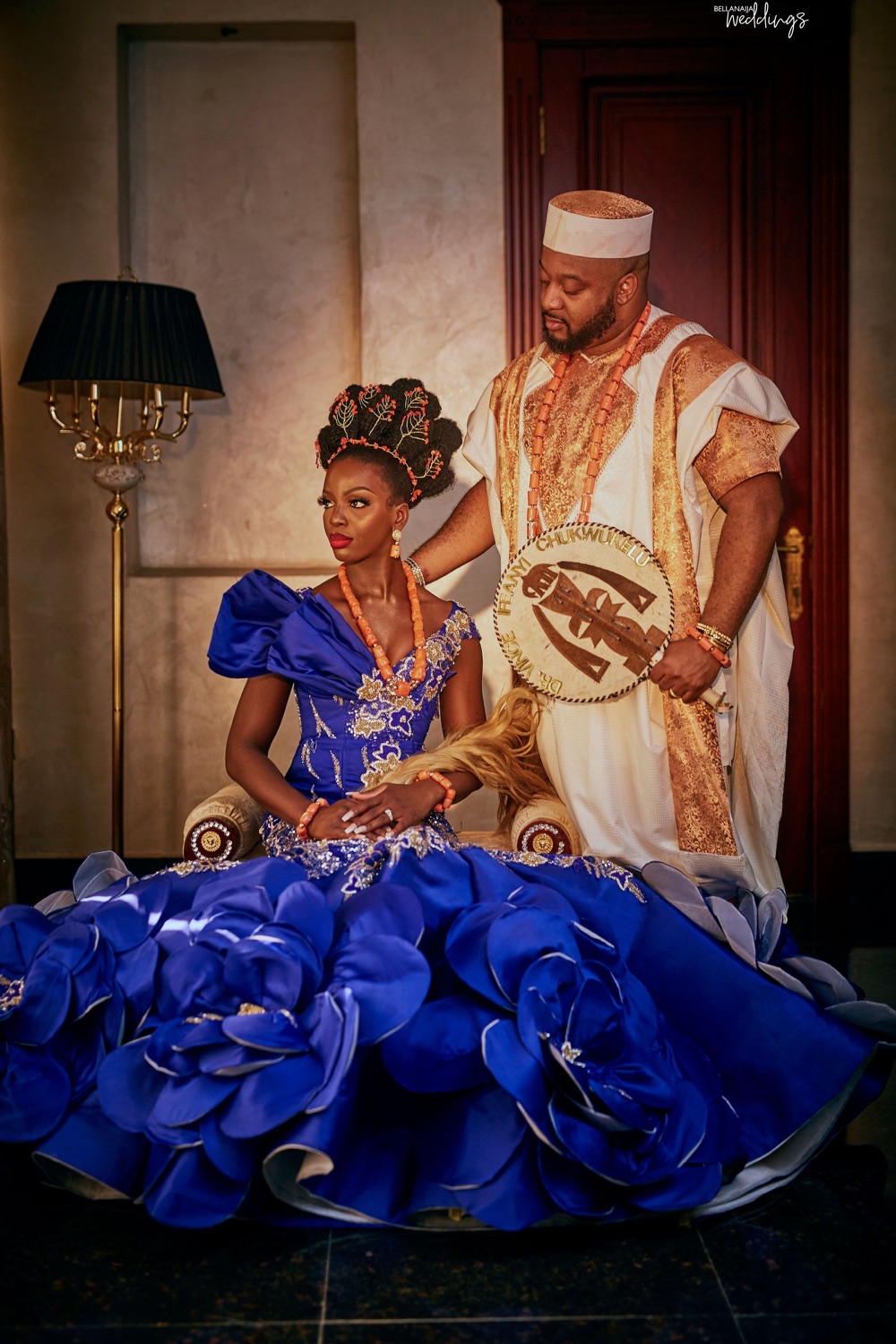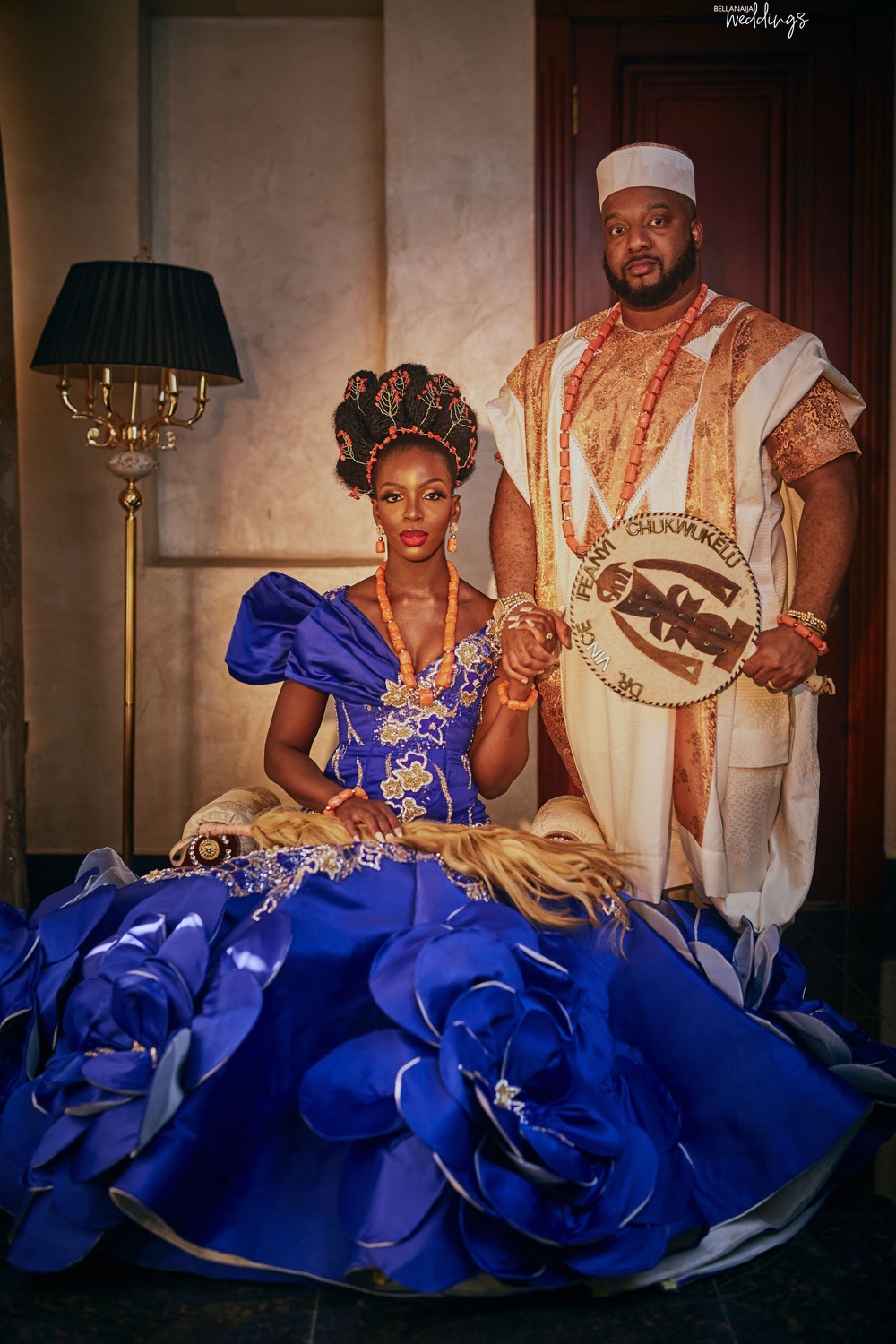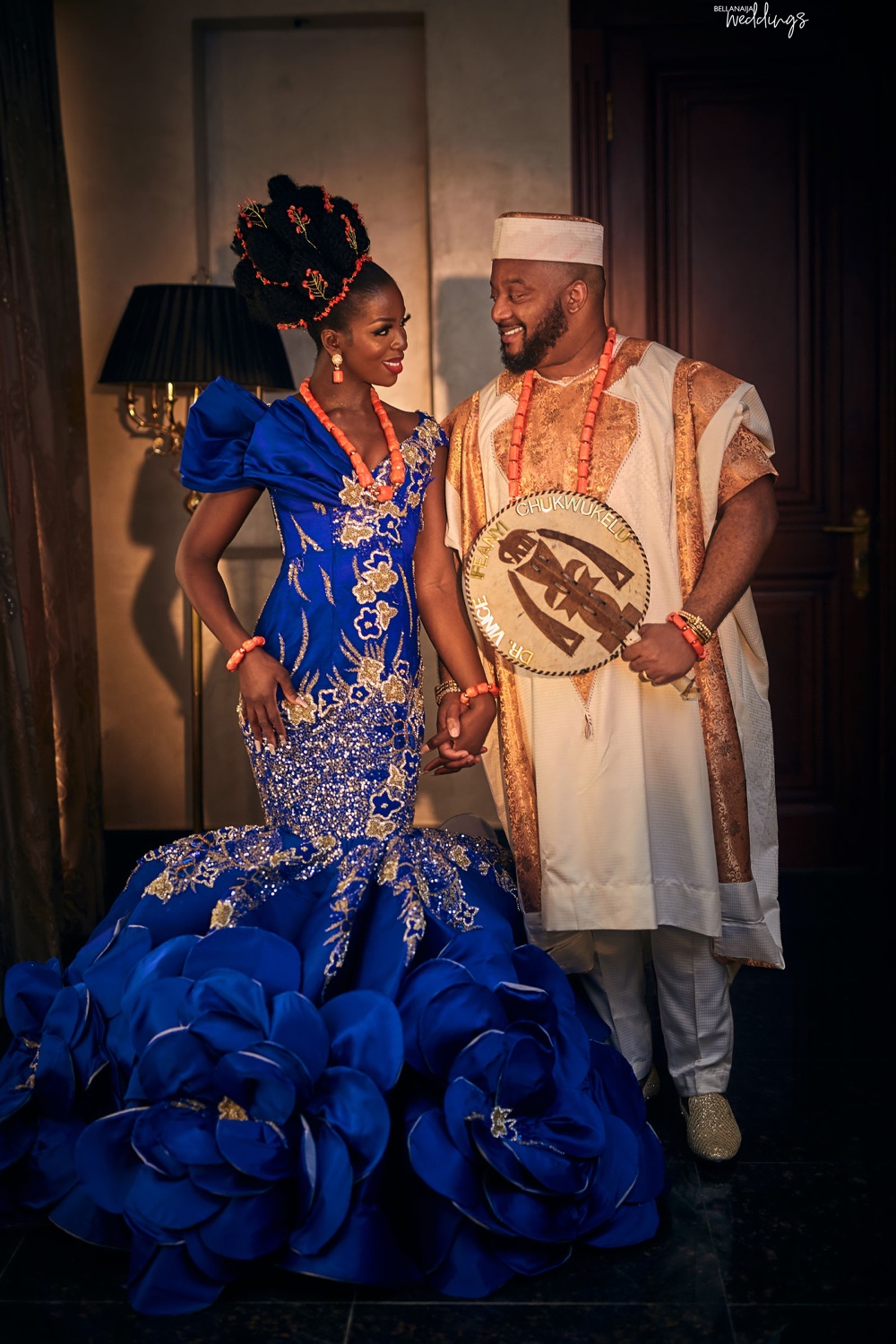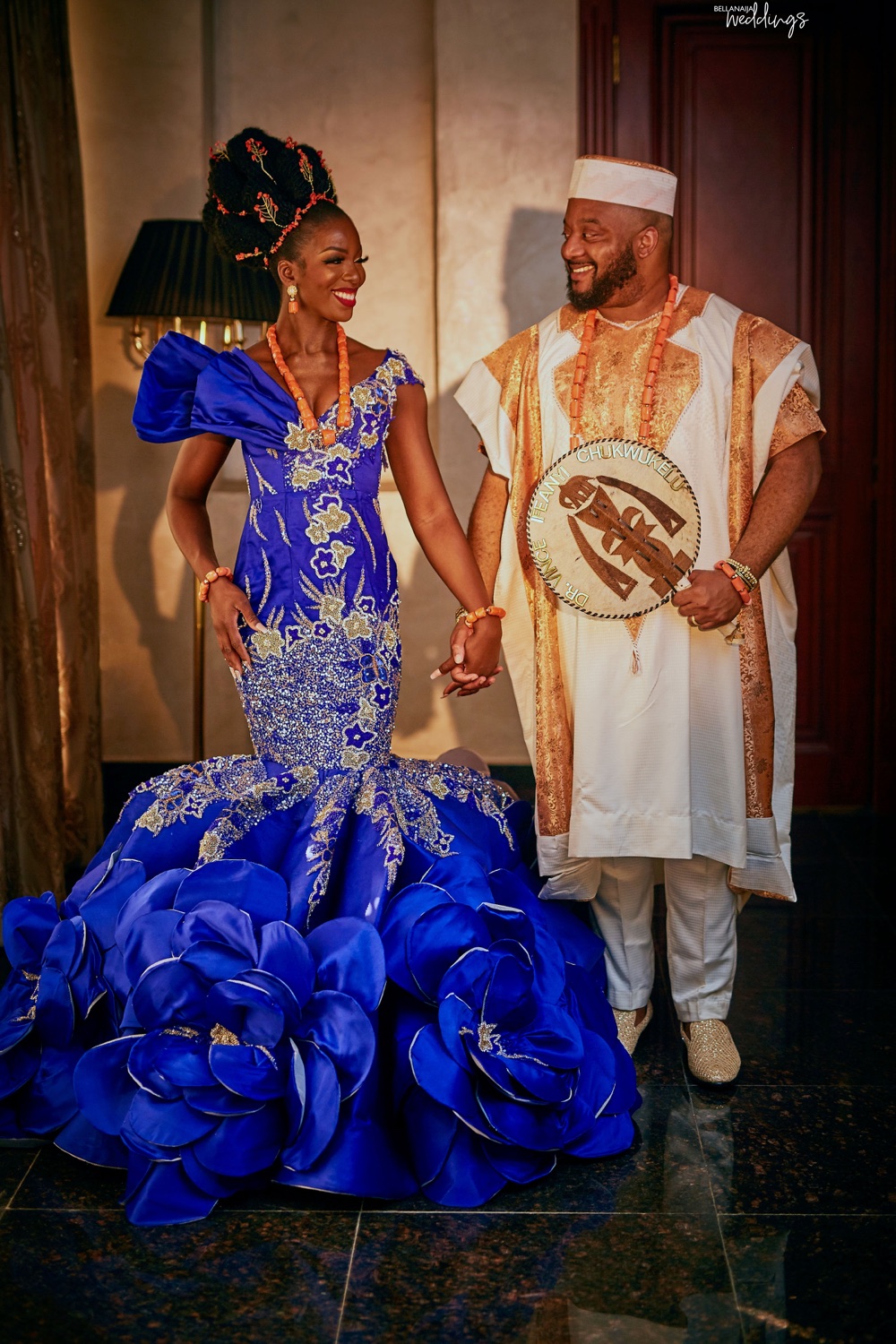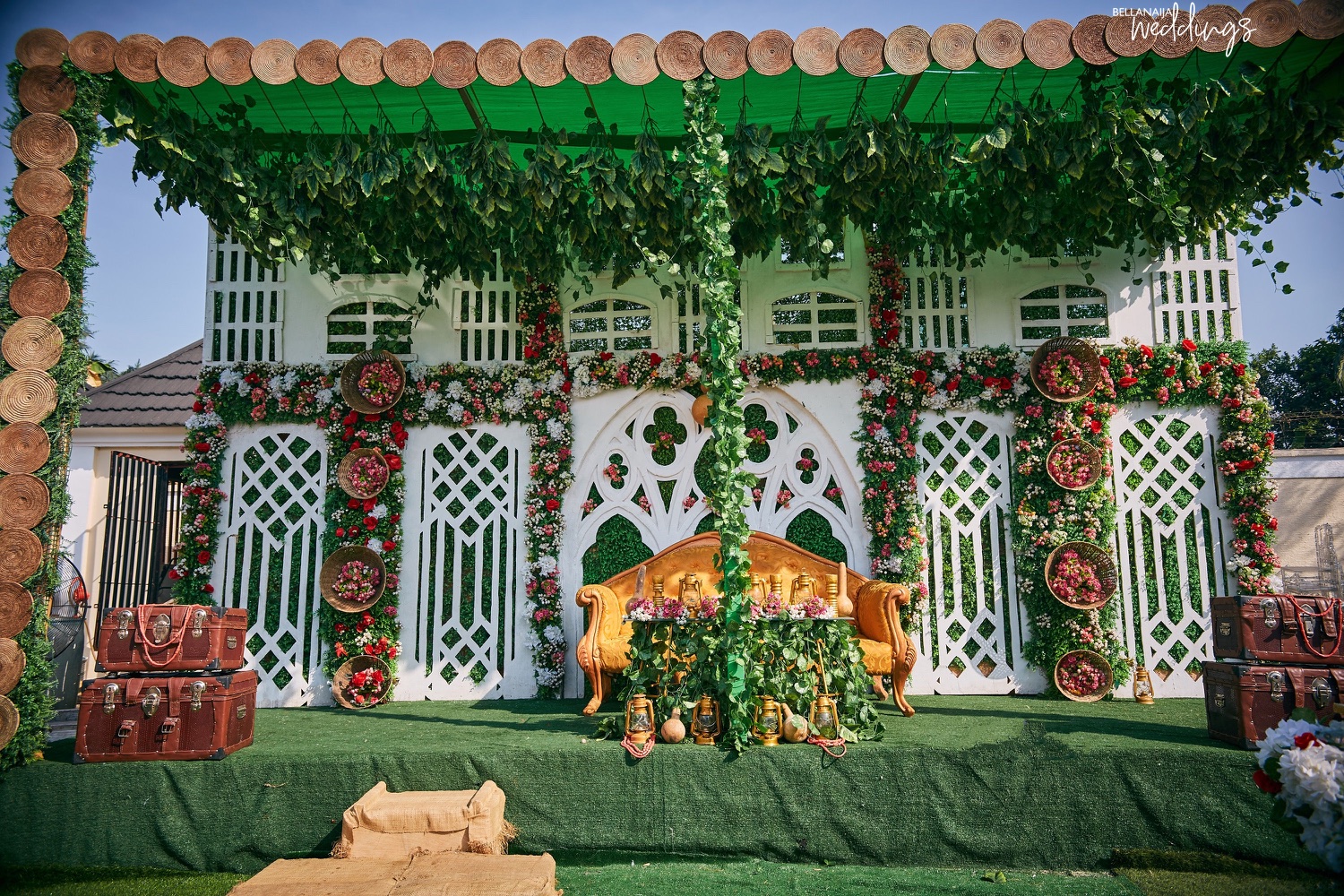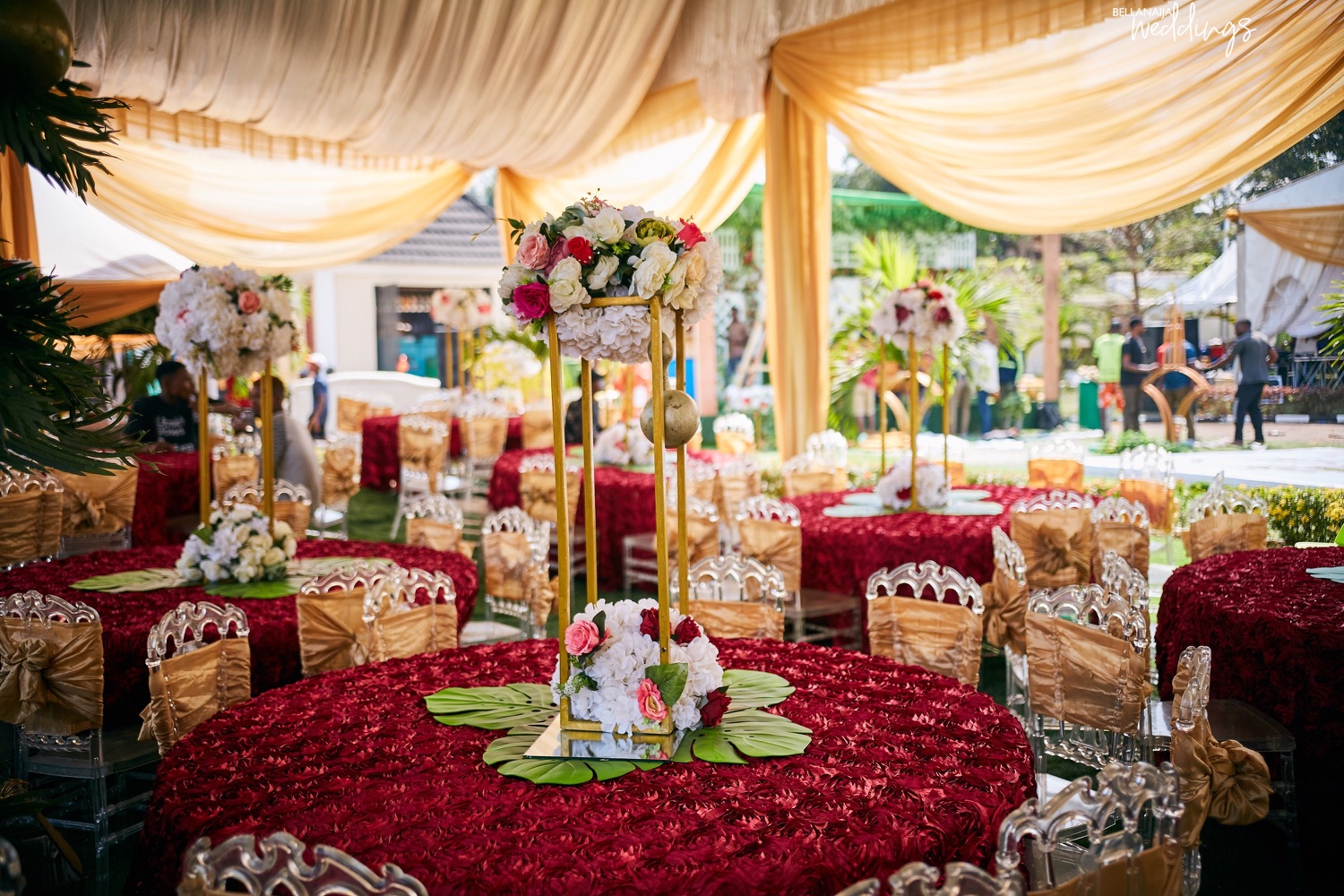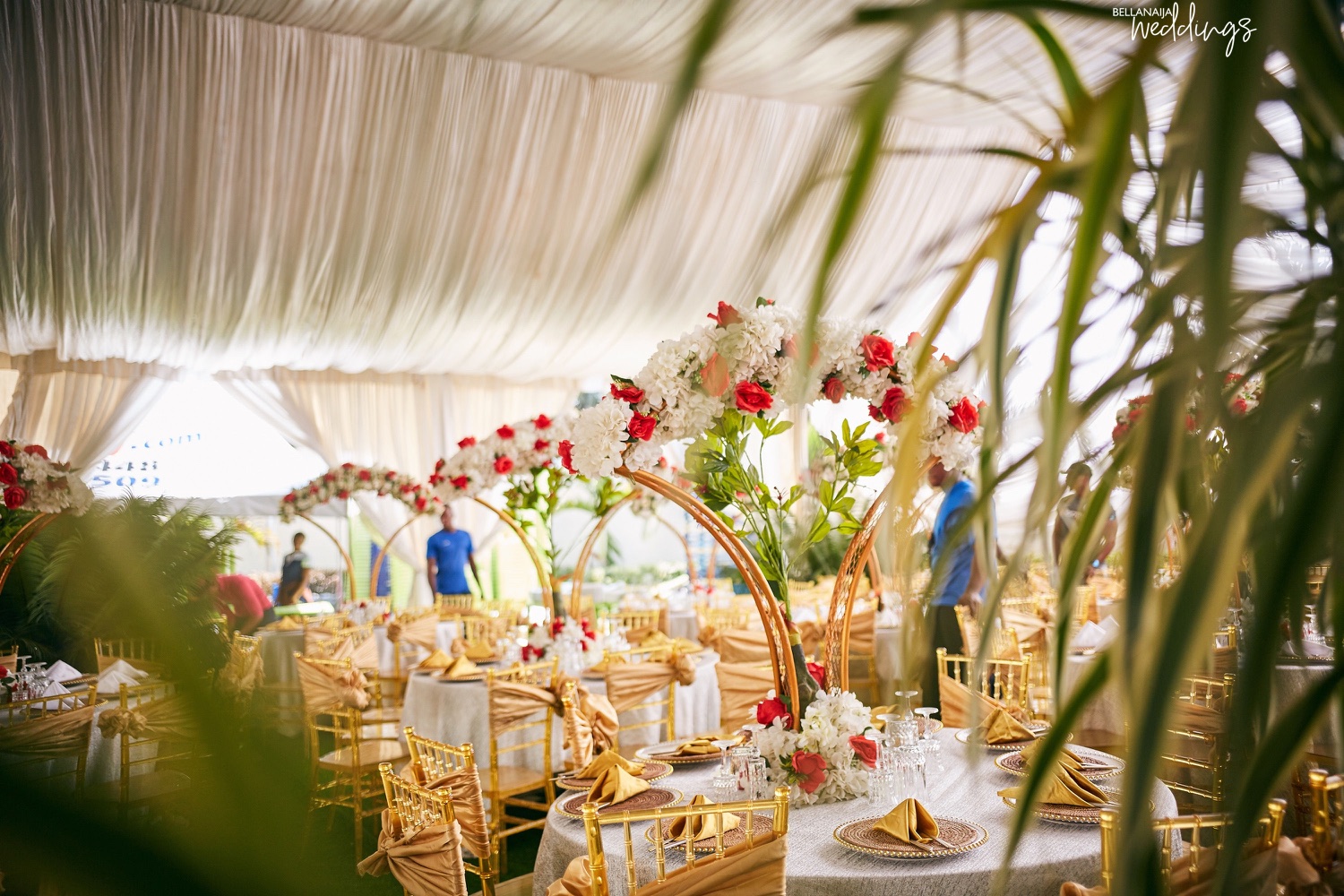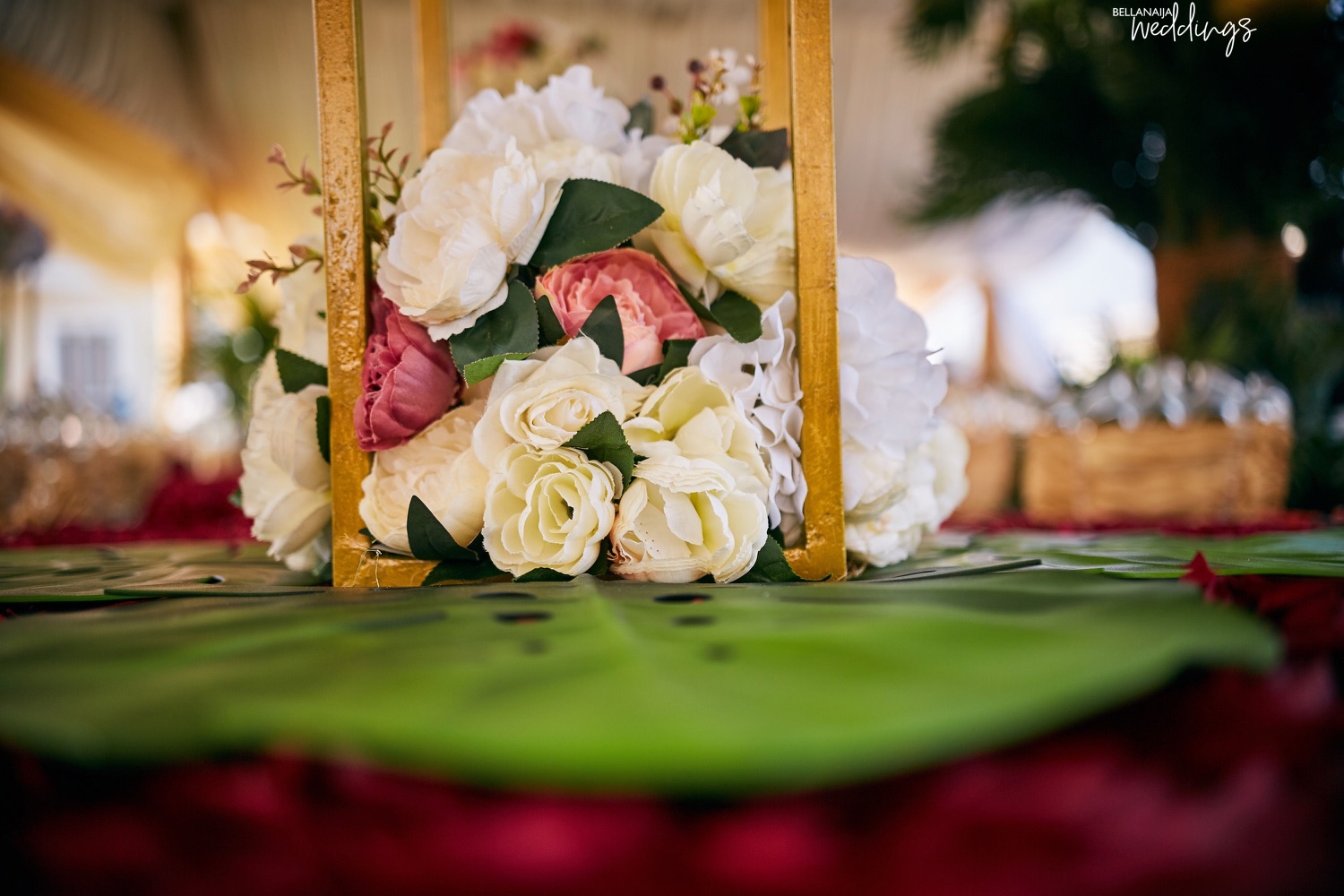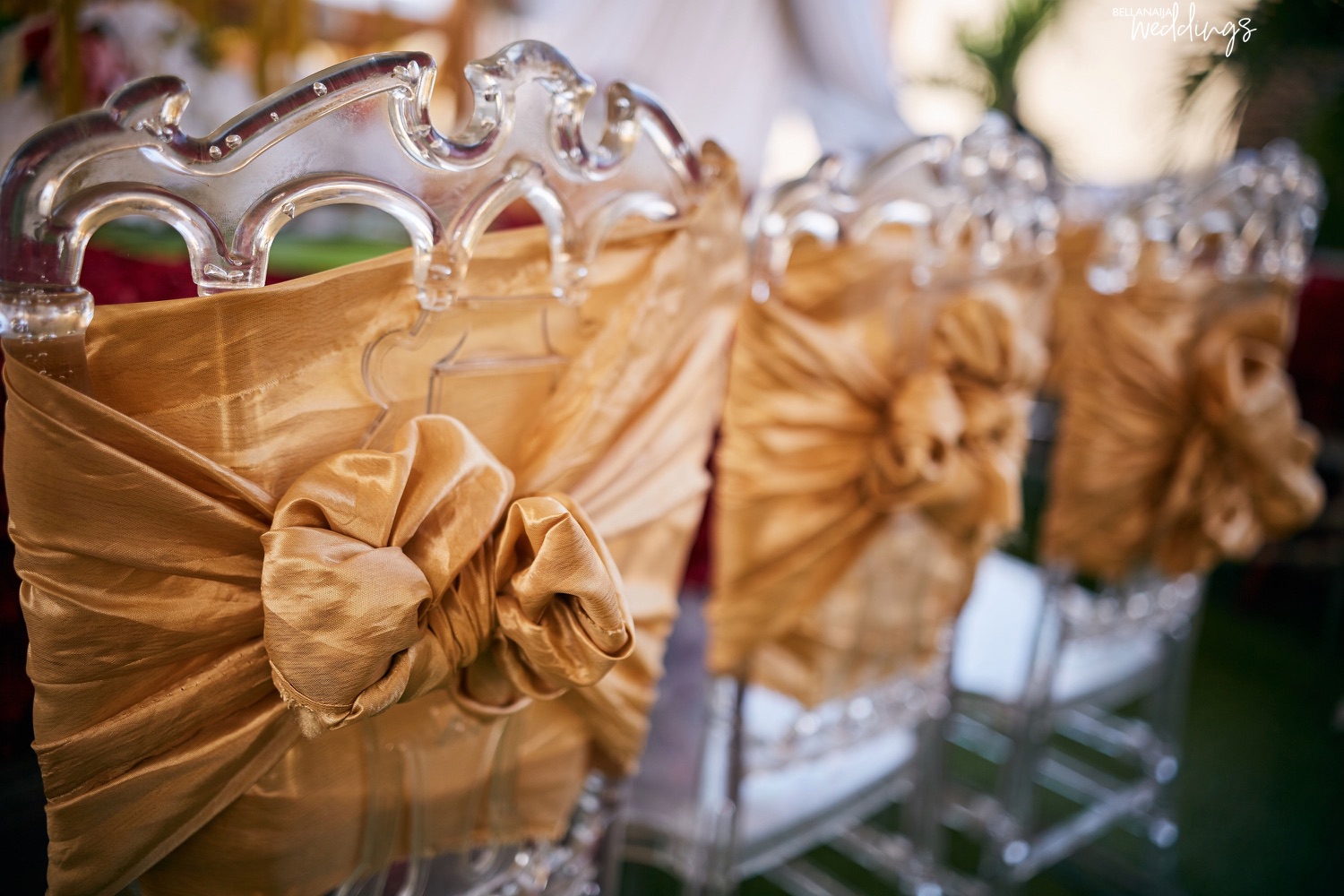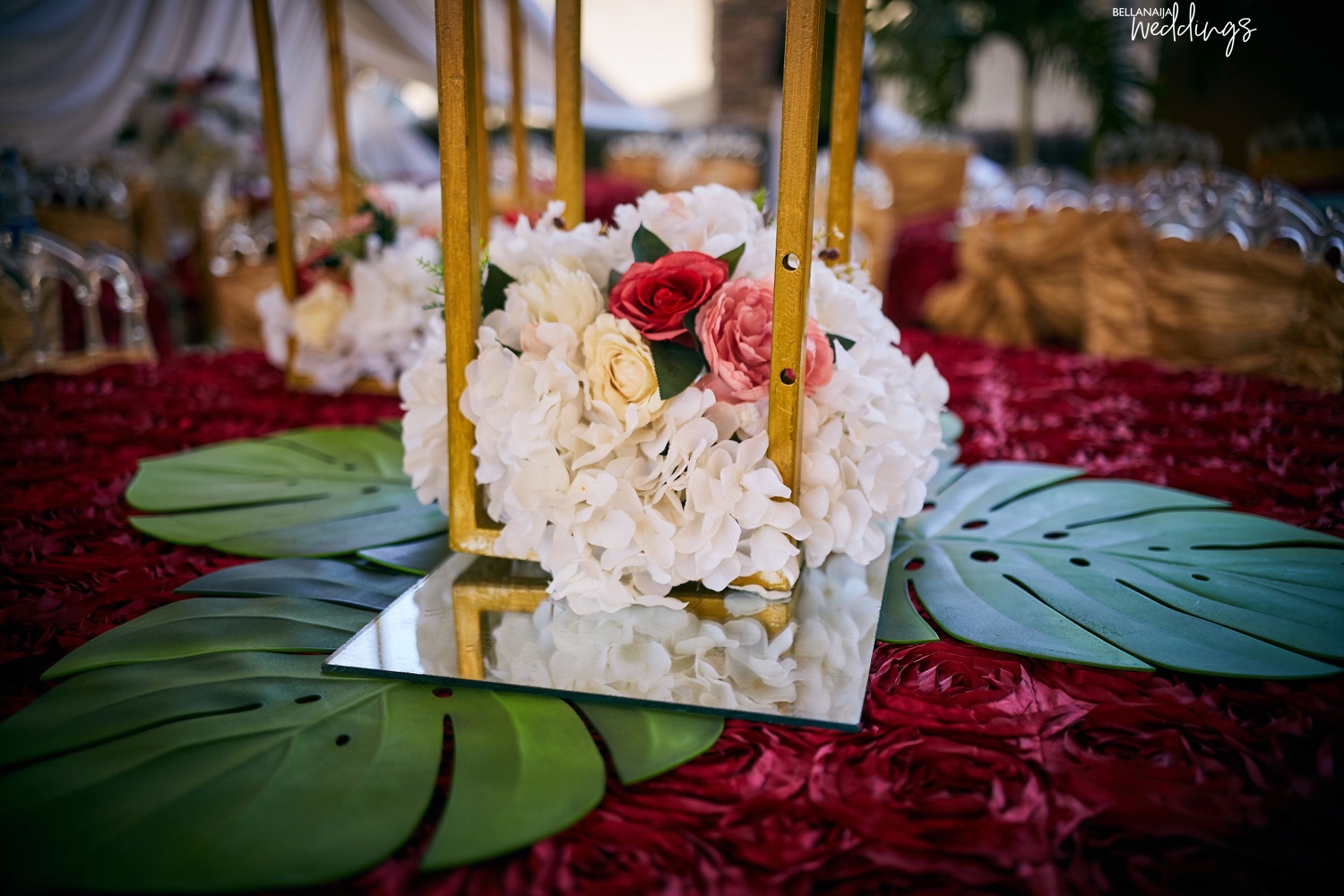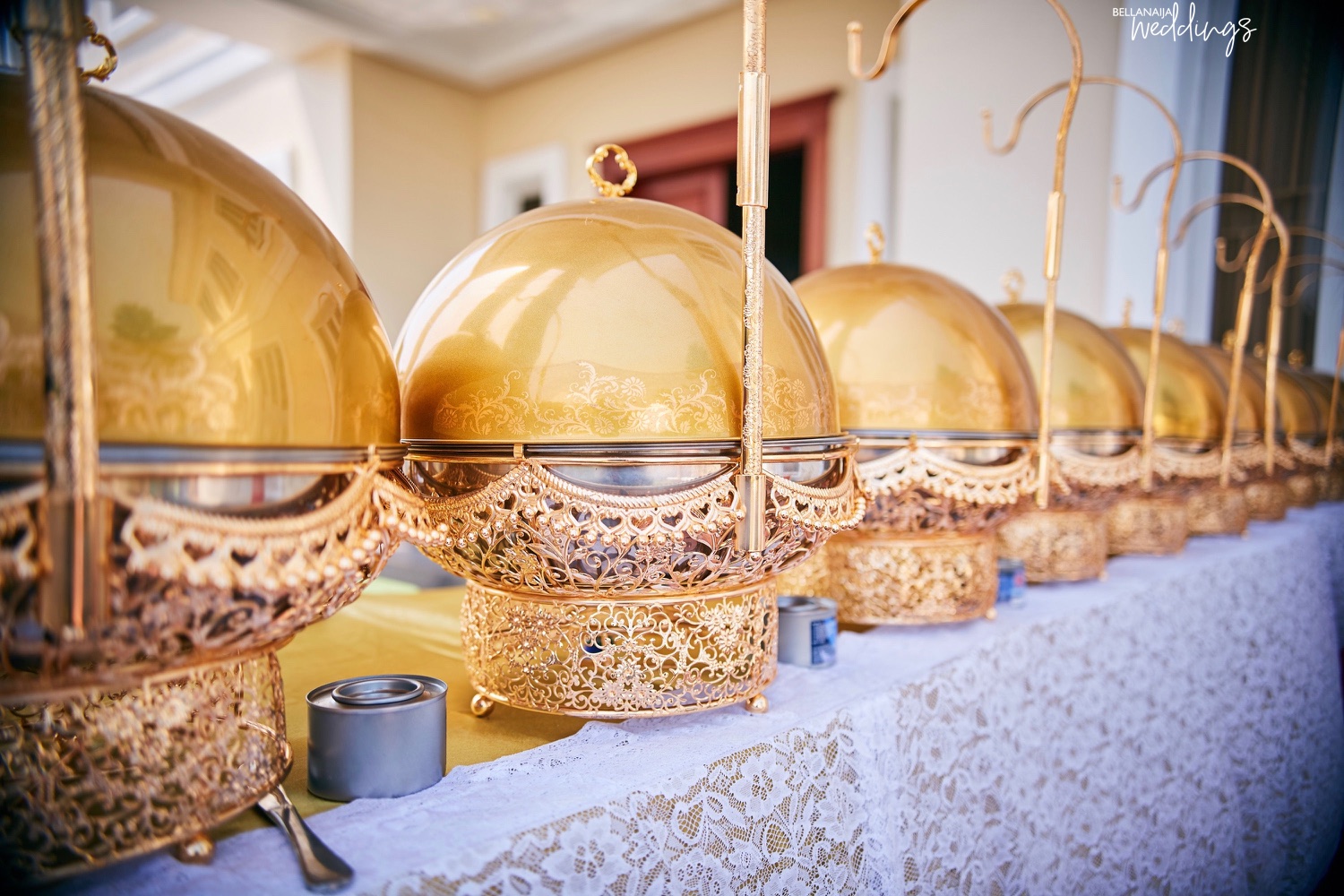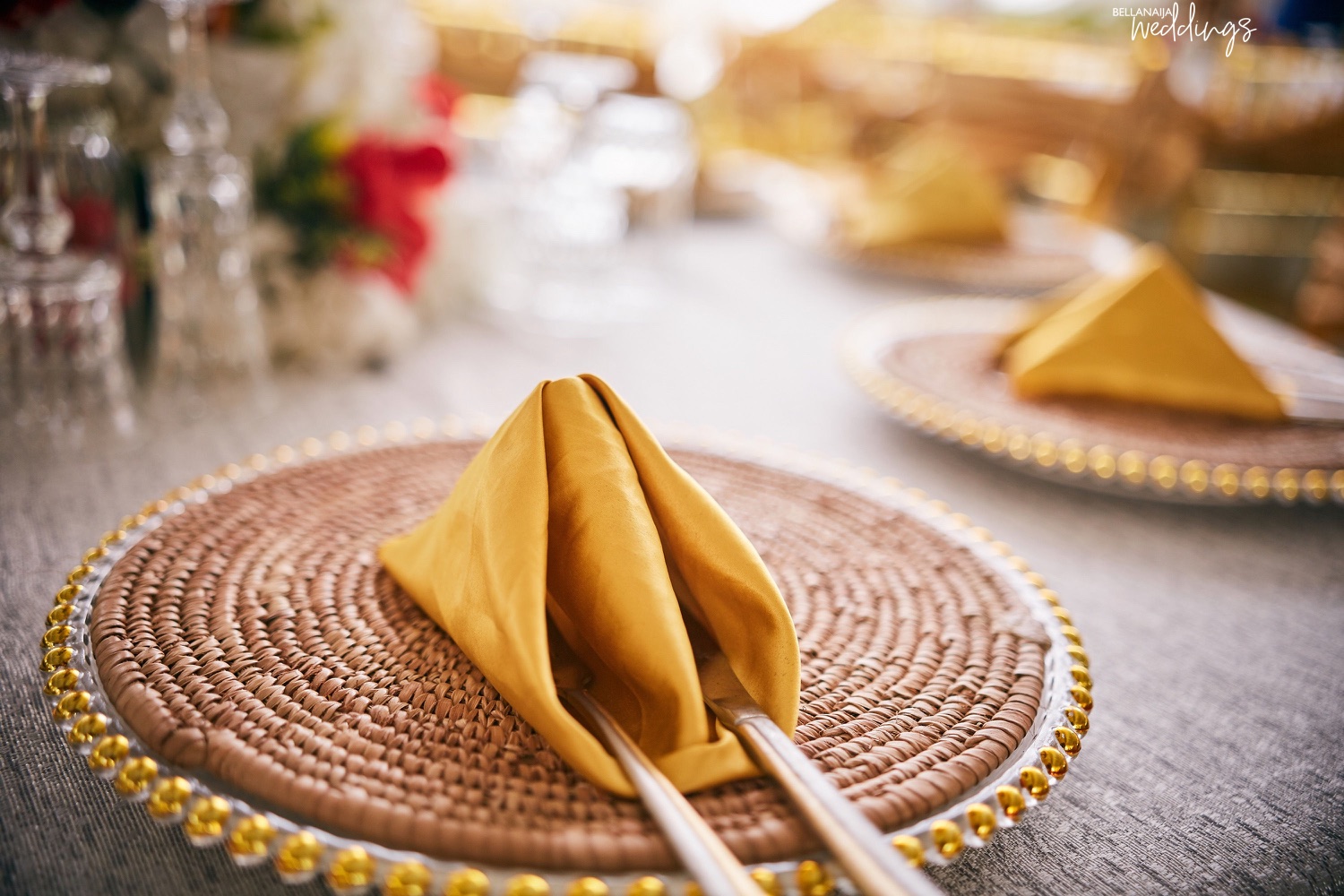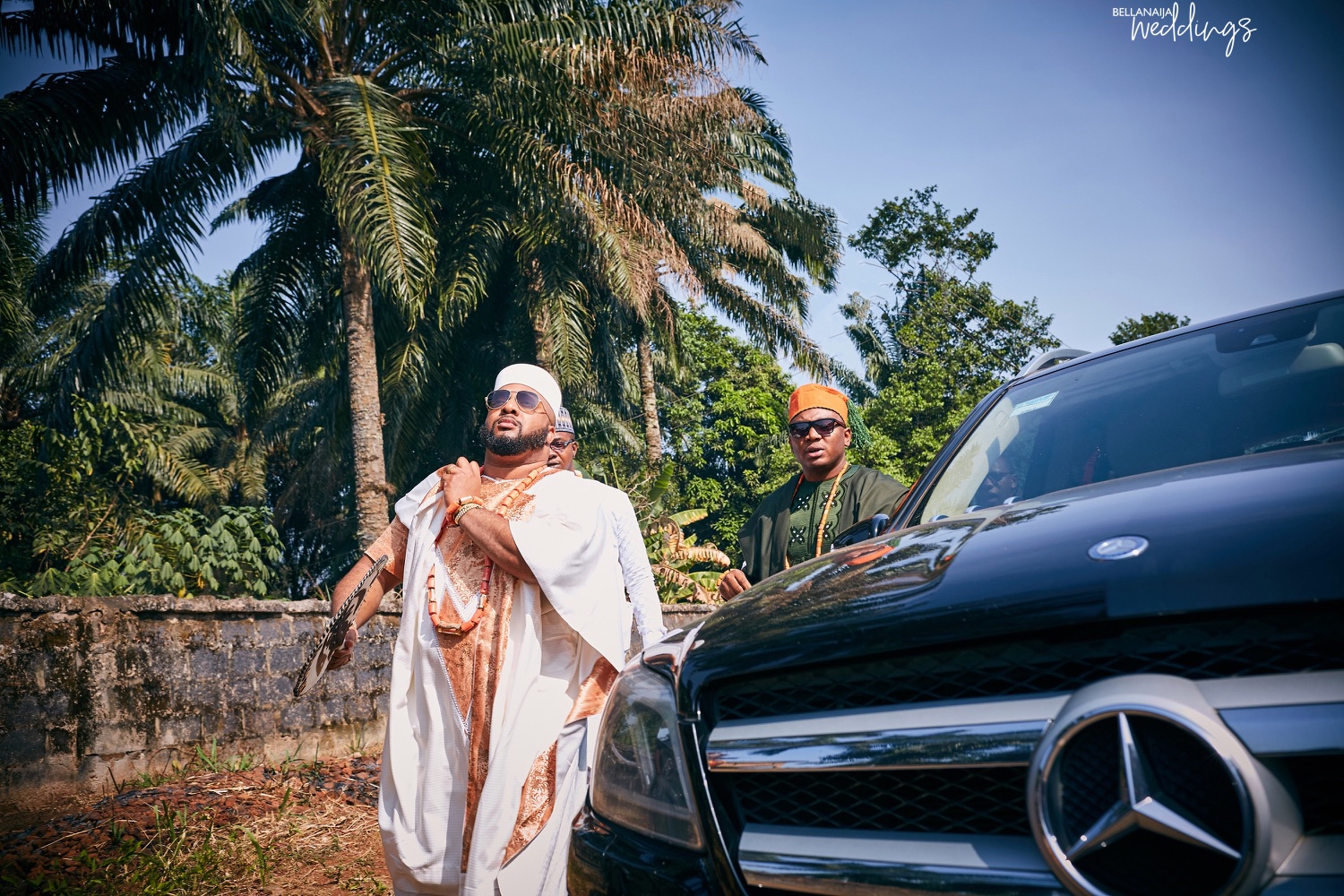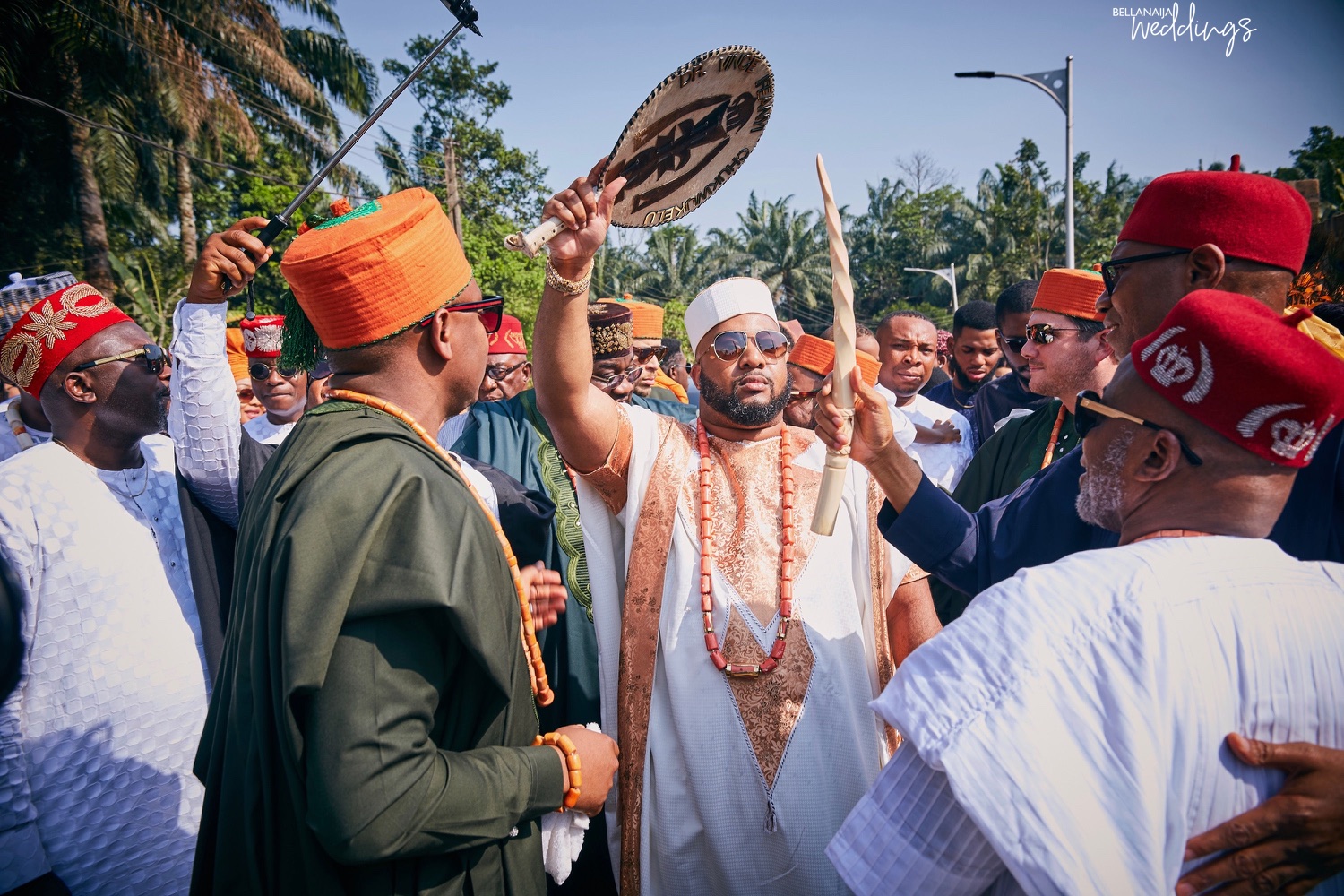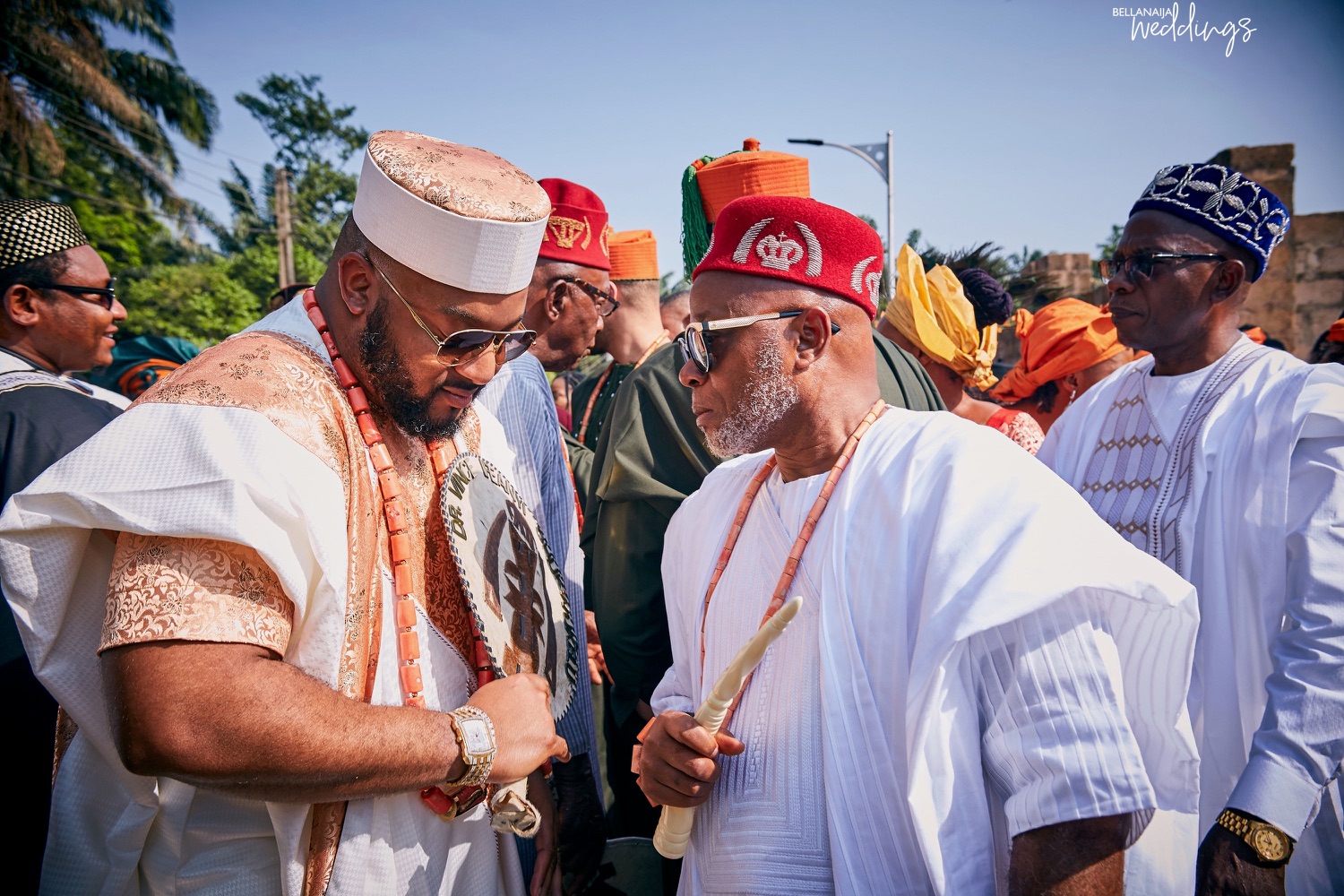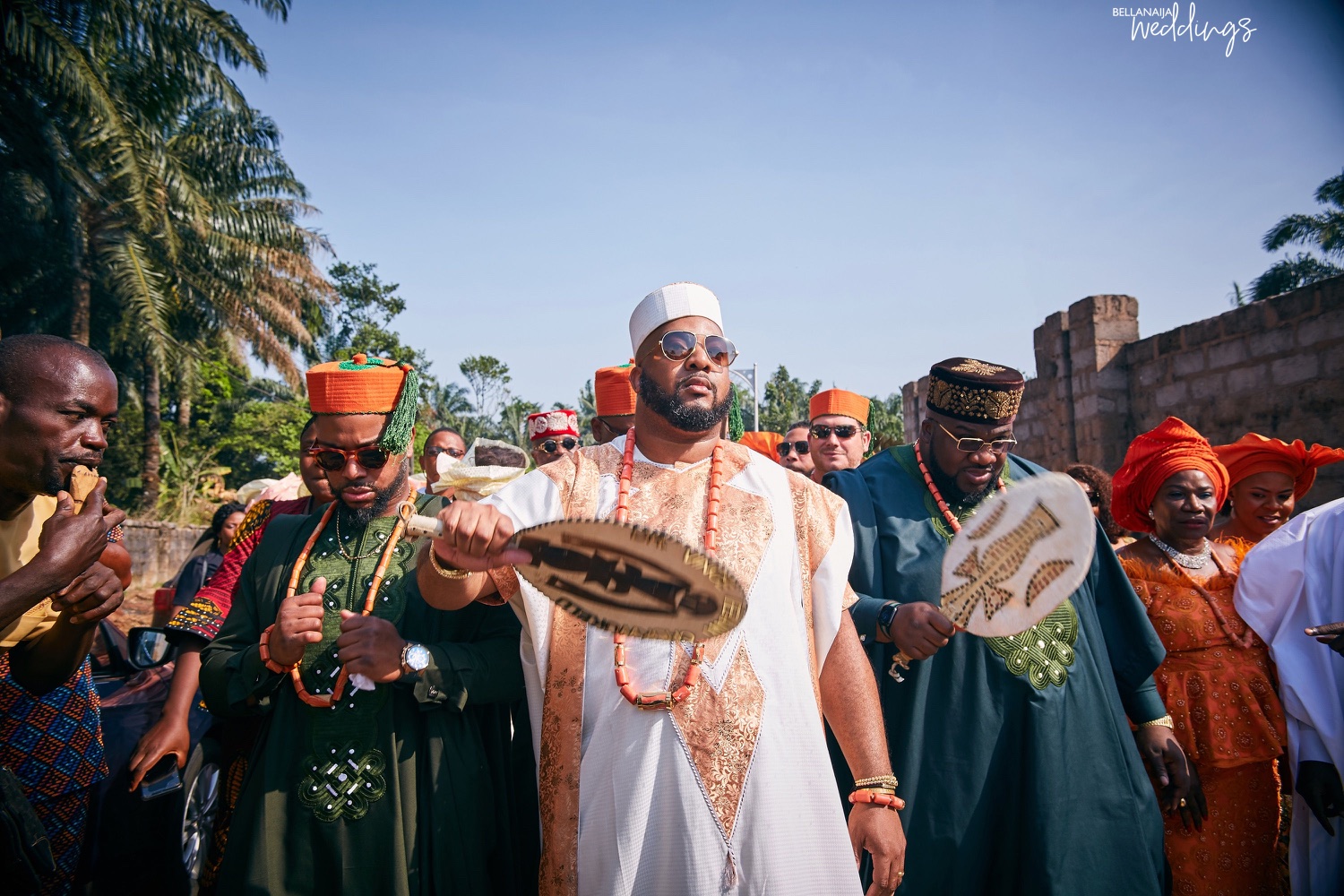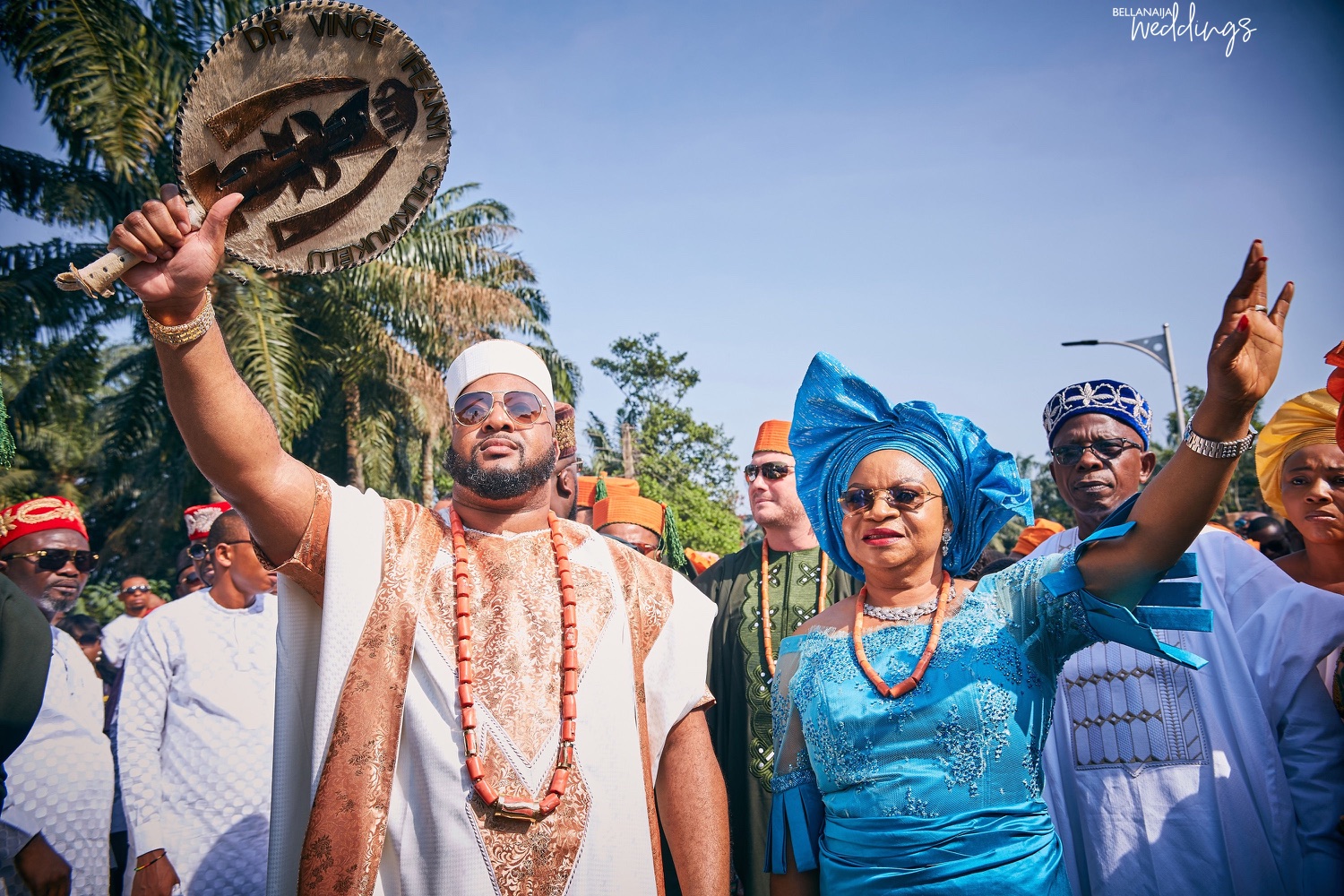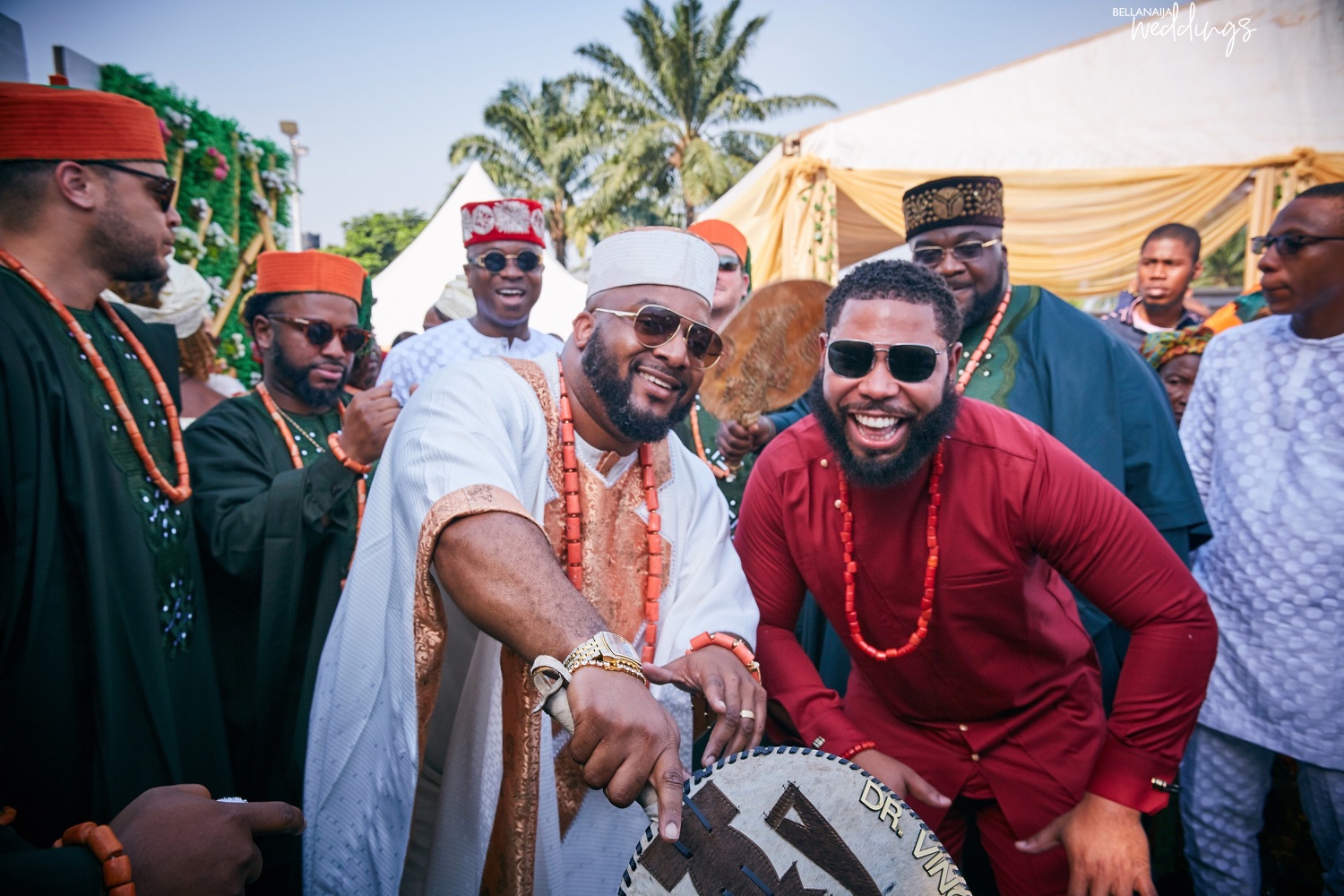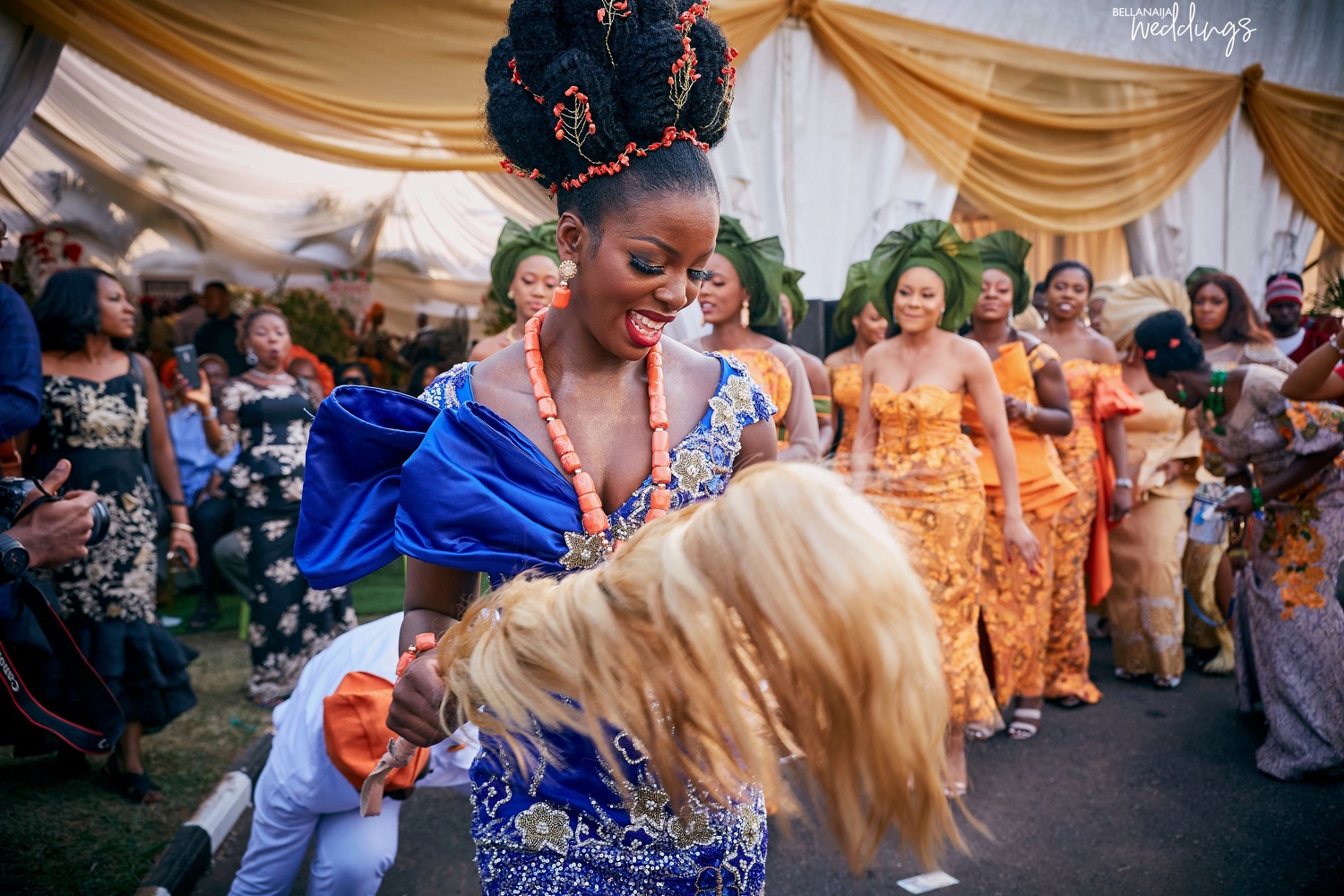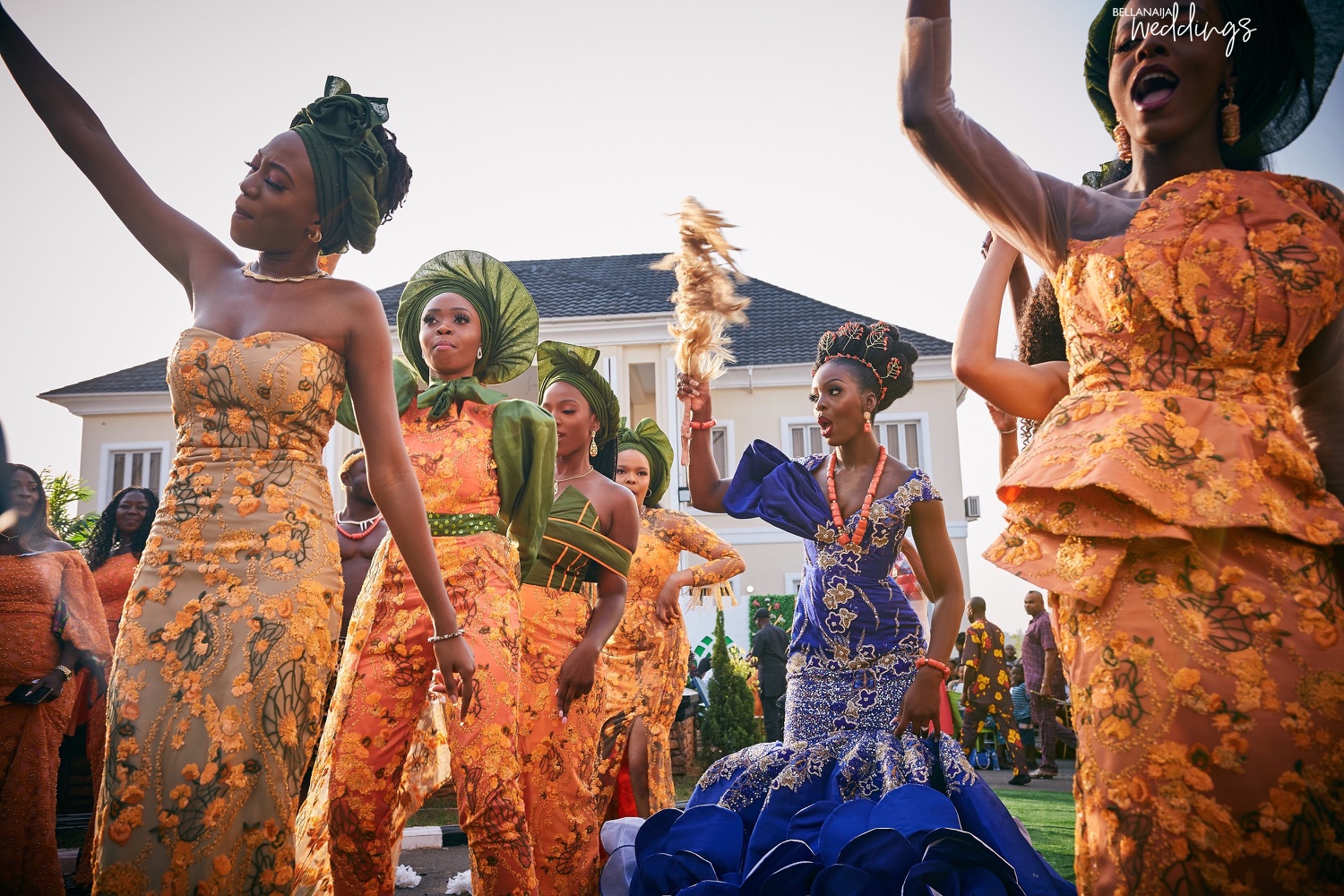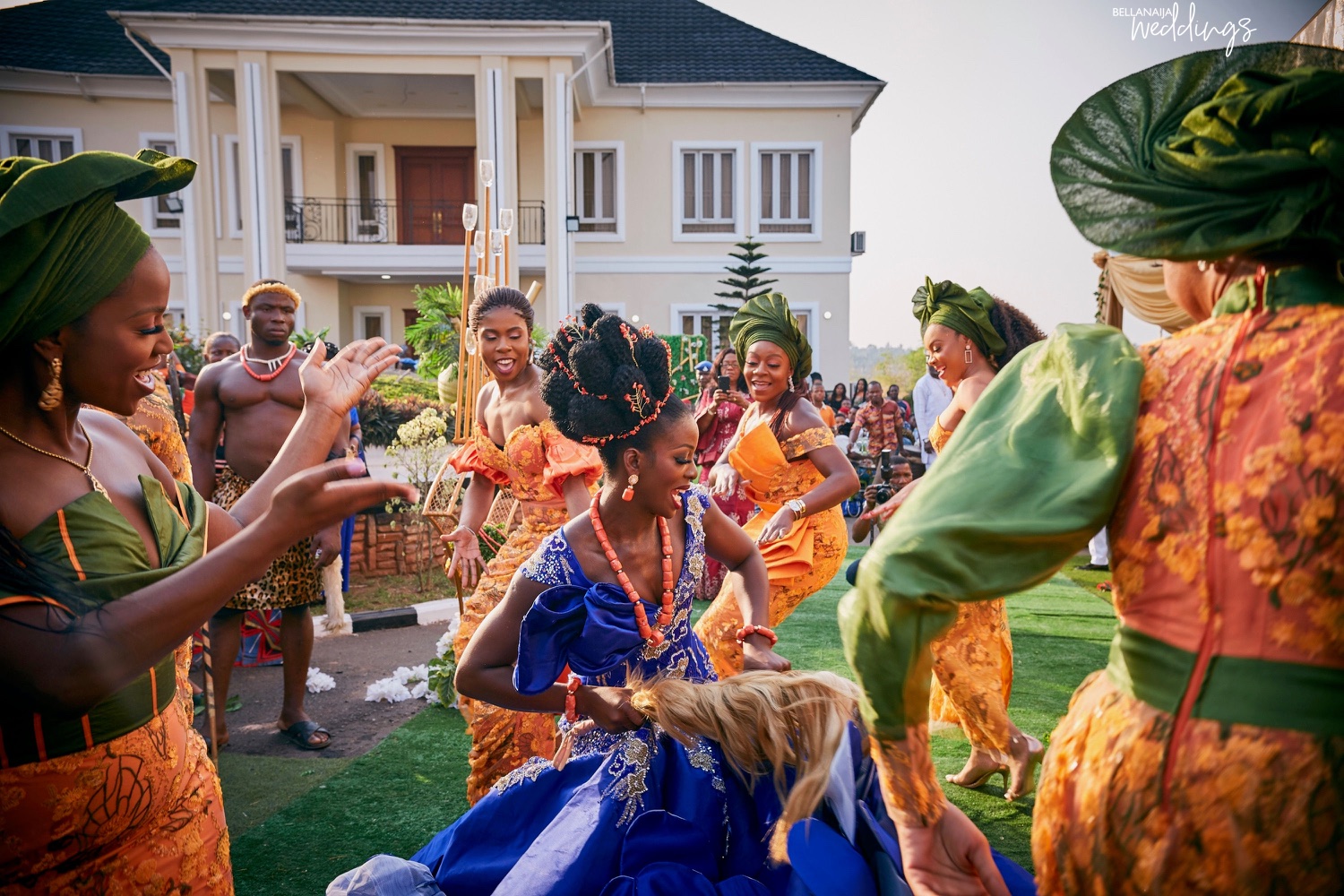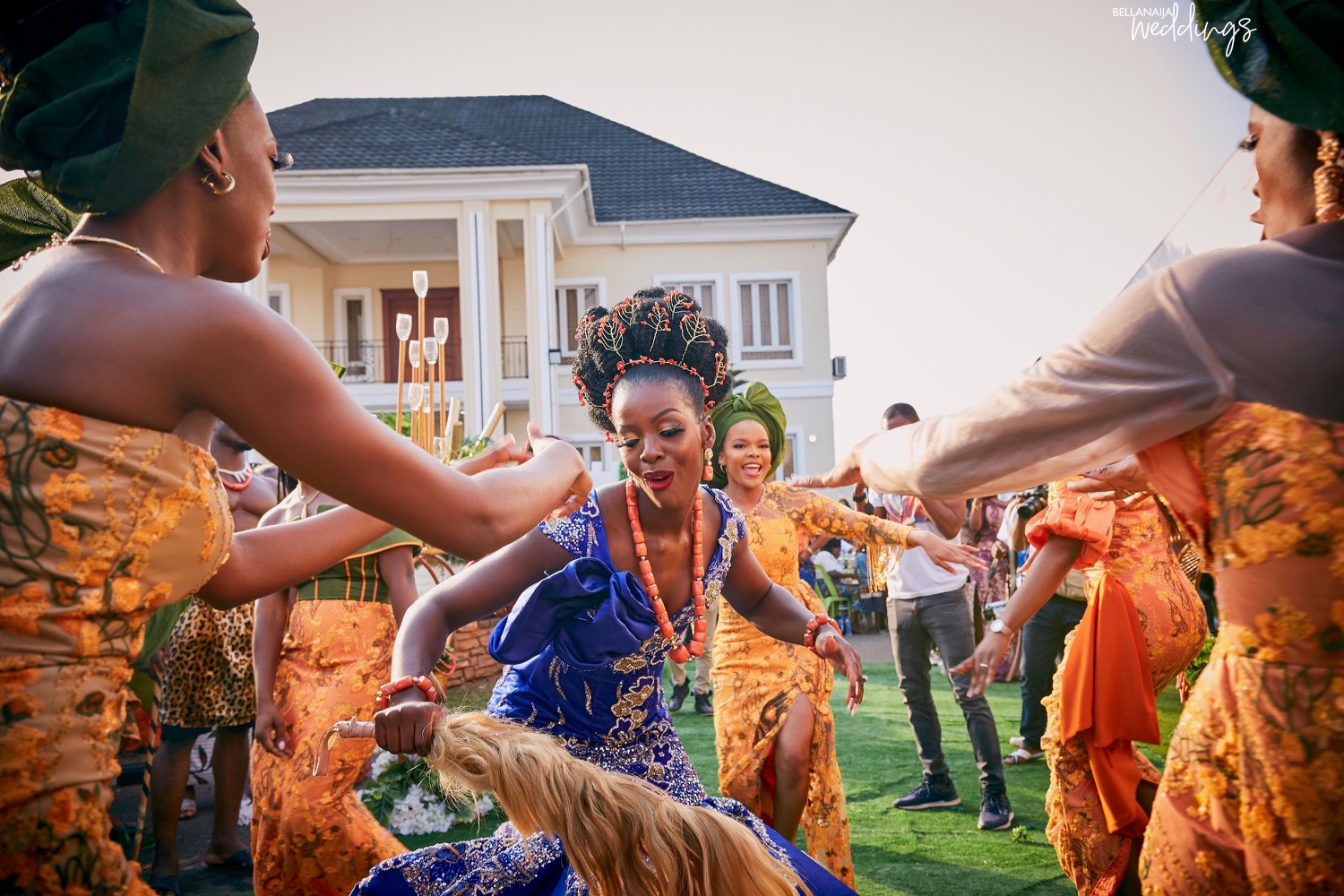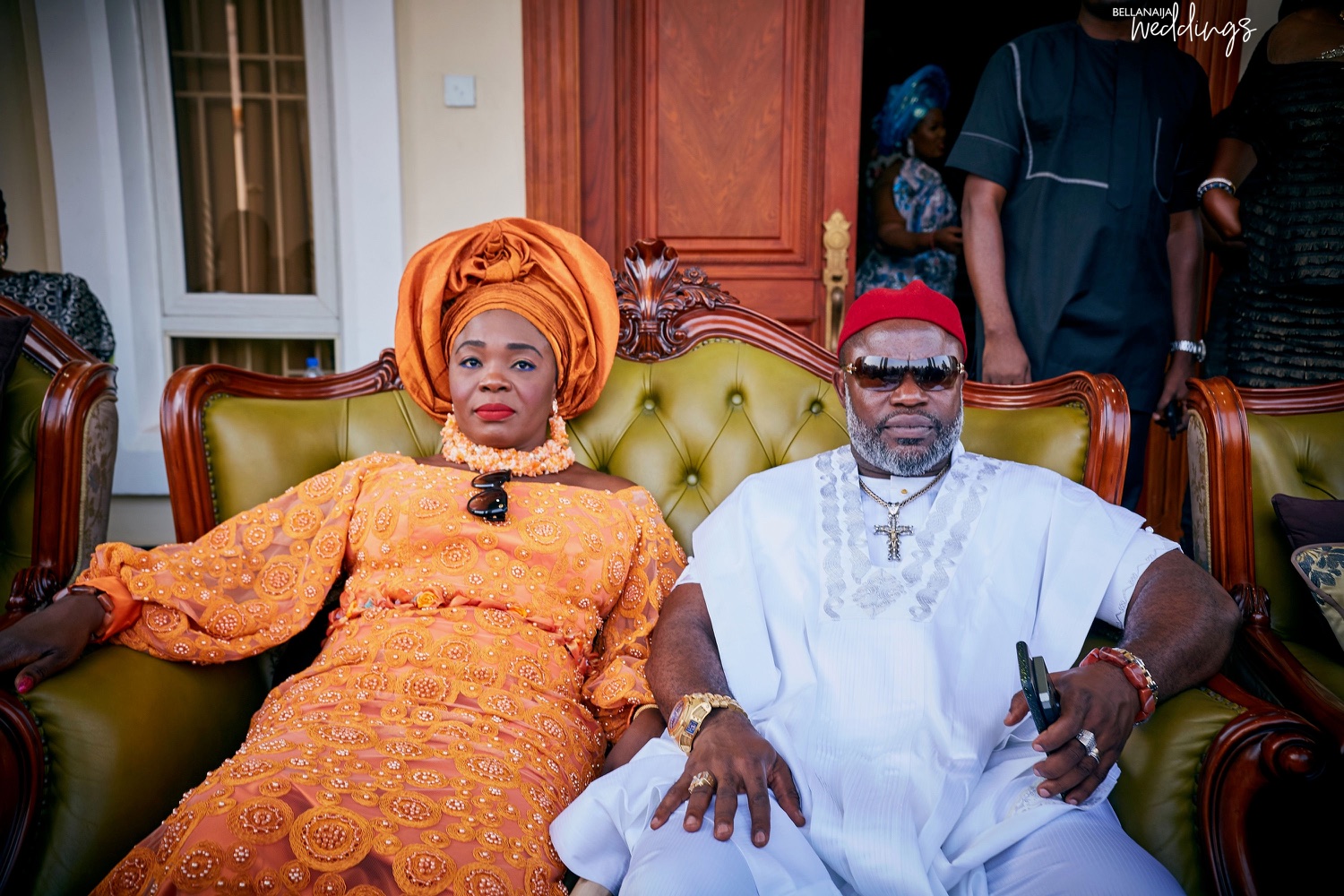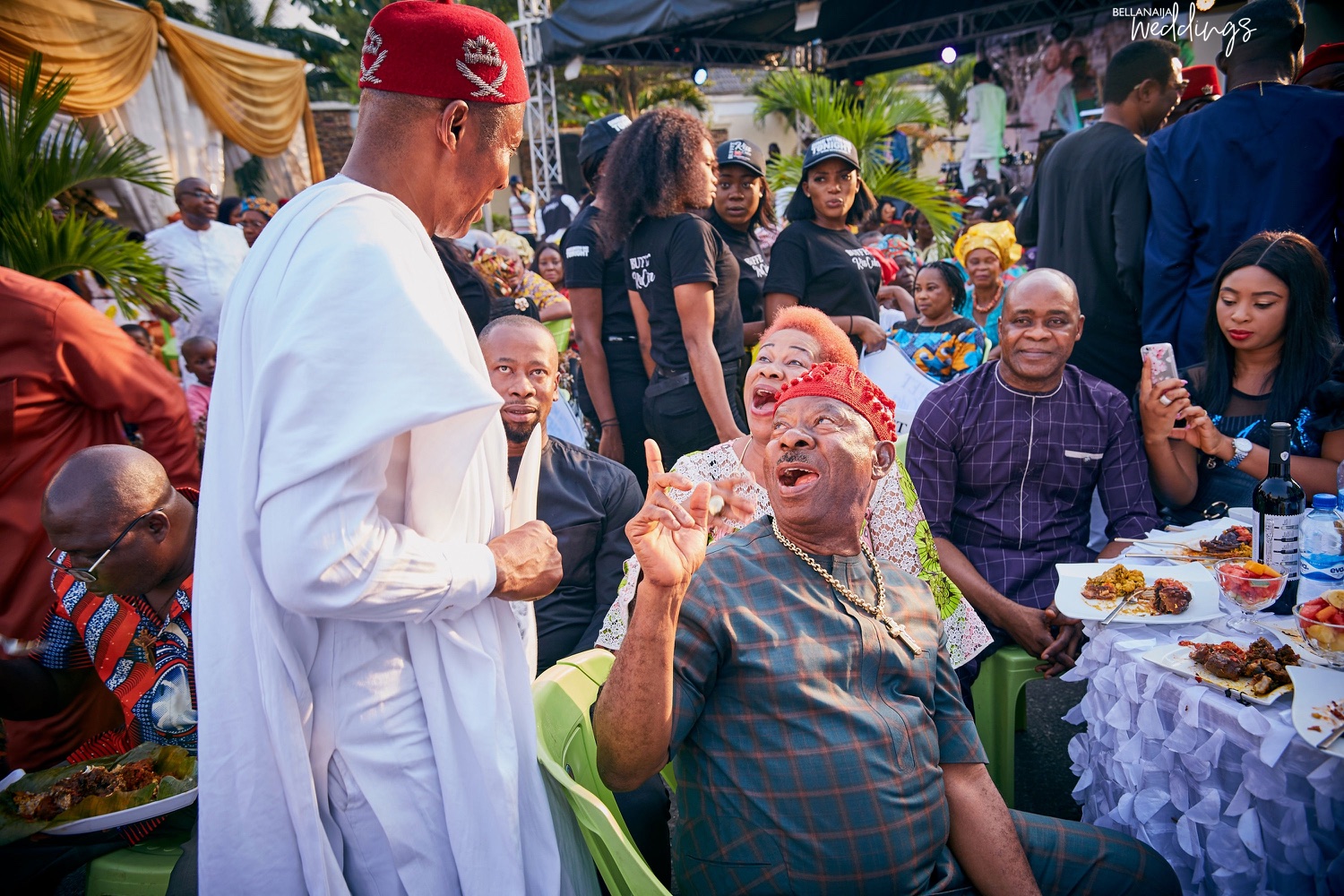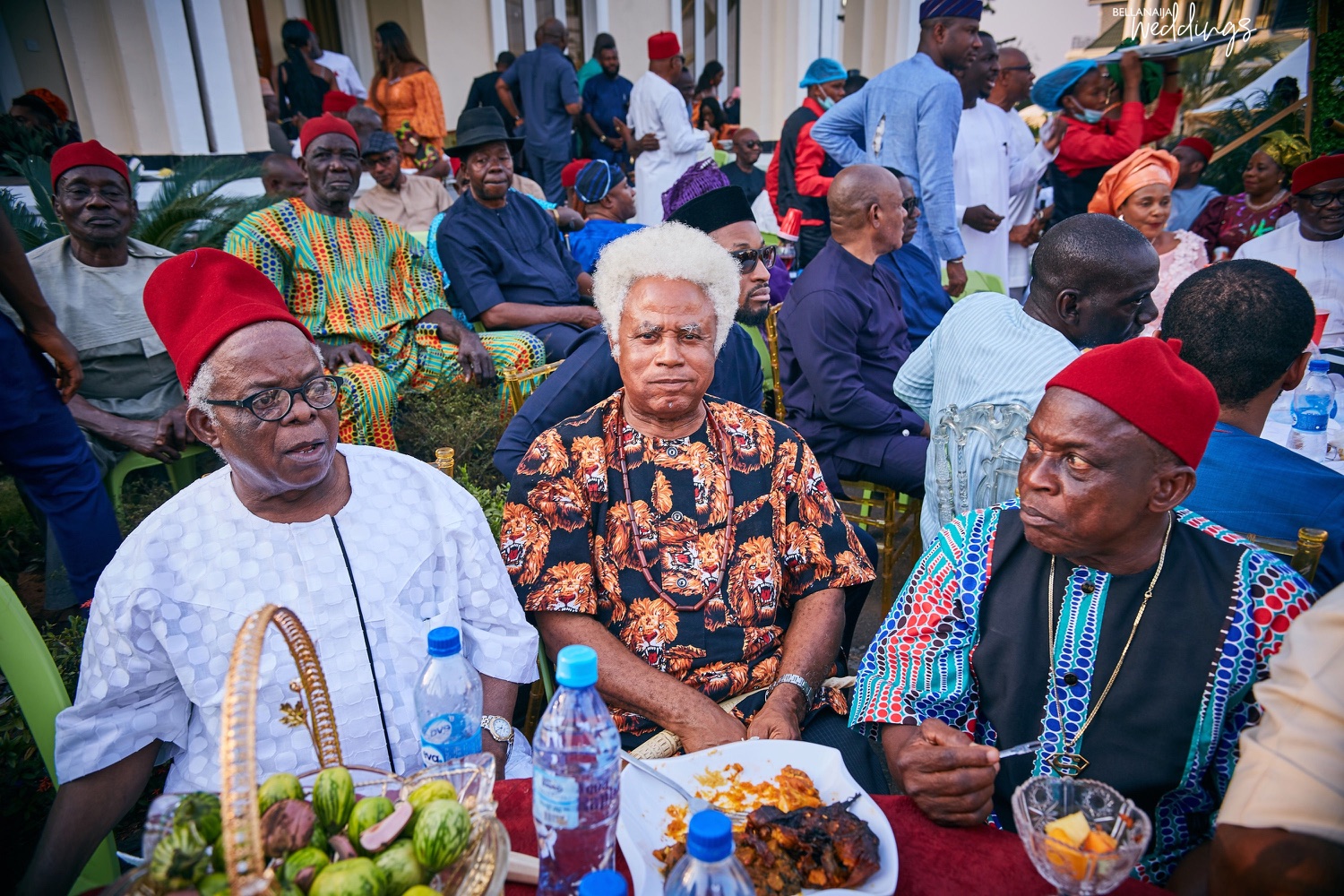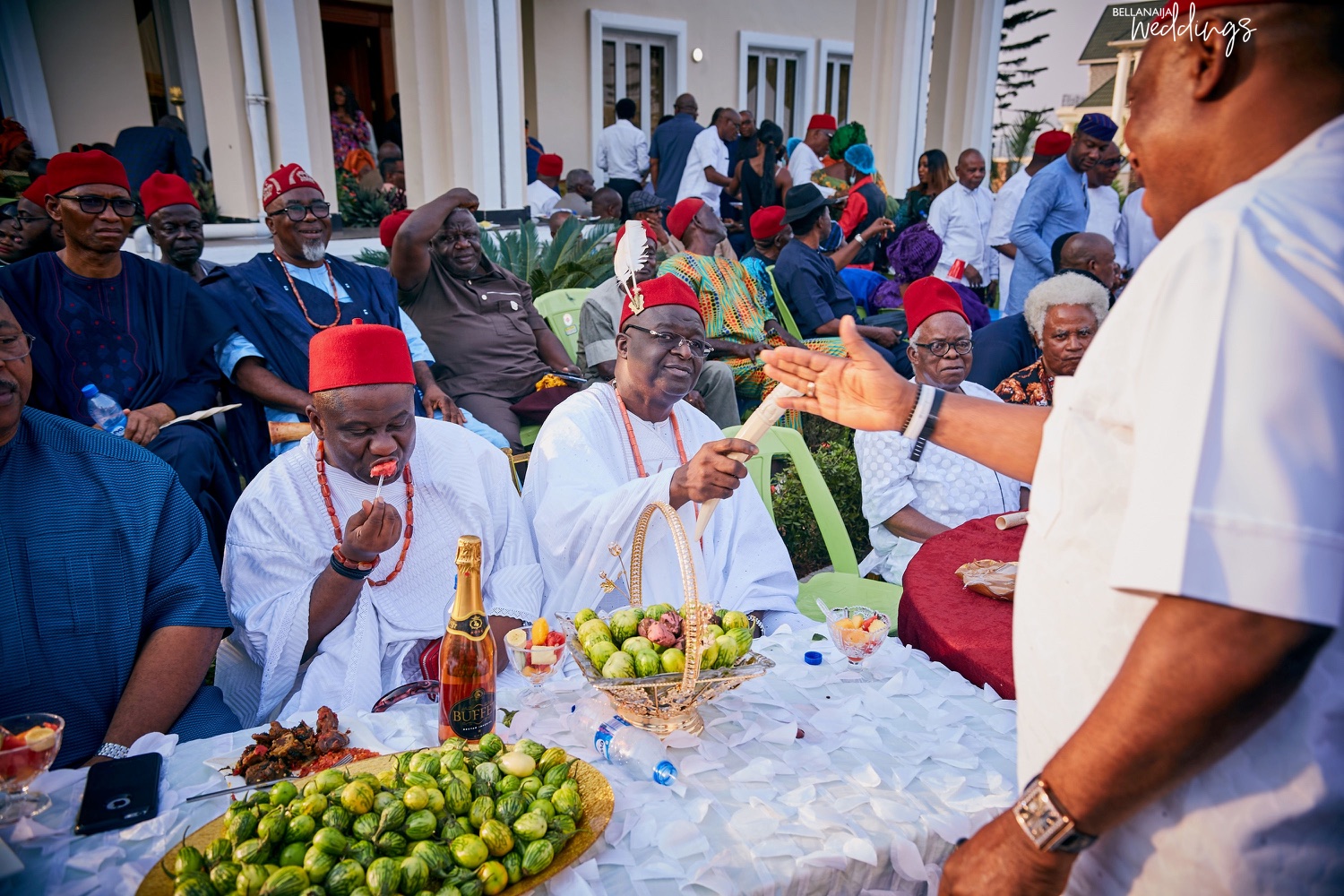 Palm wine carrying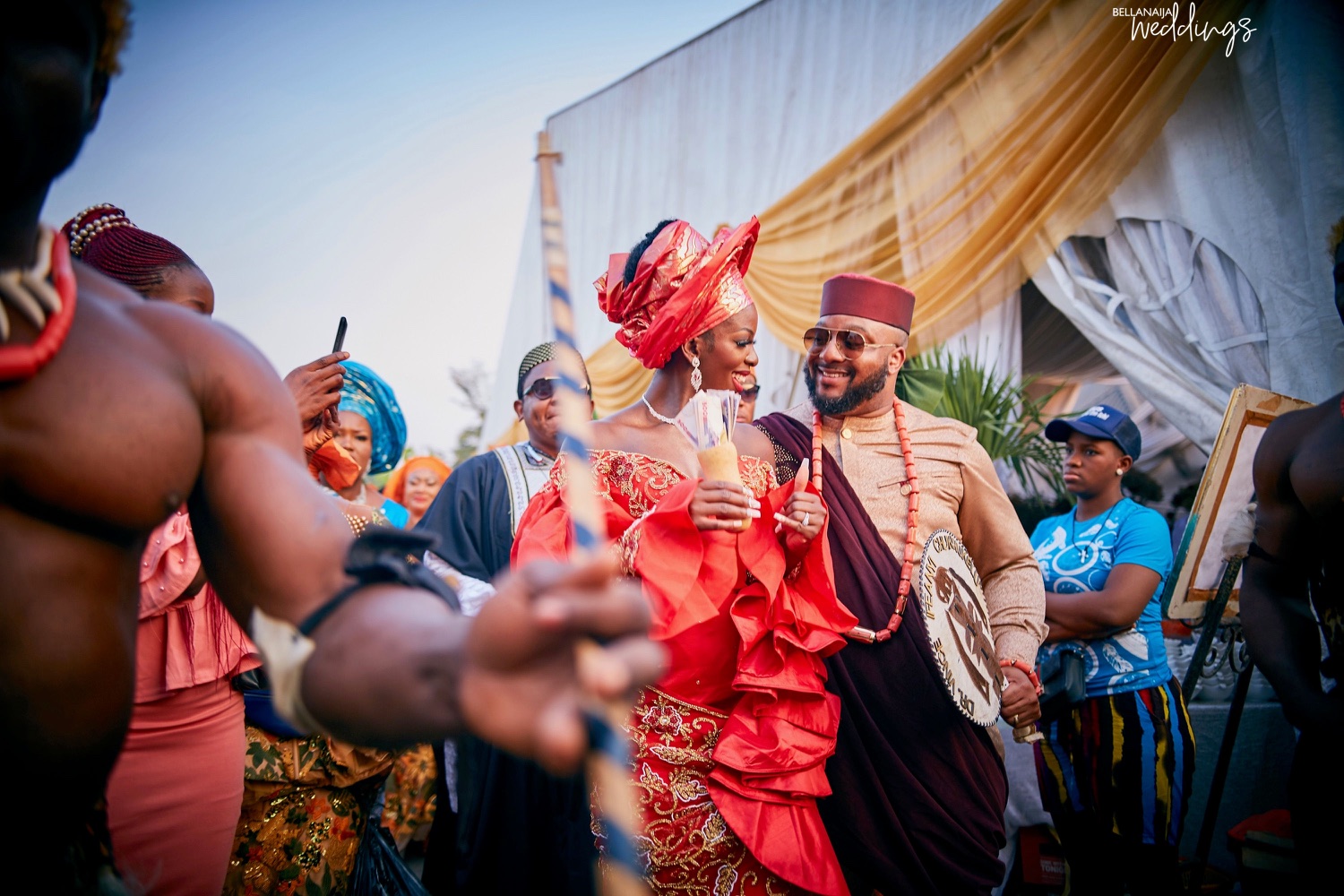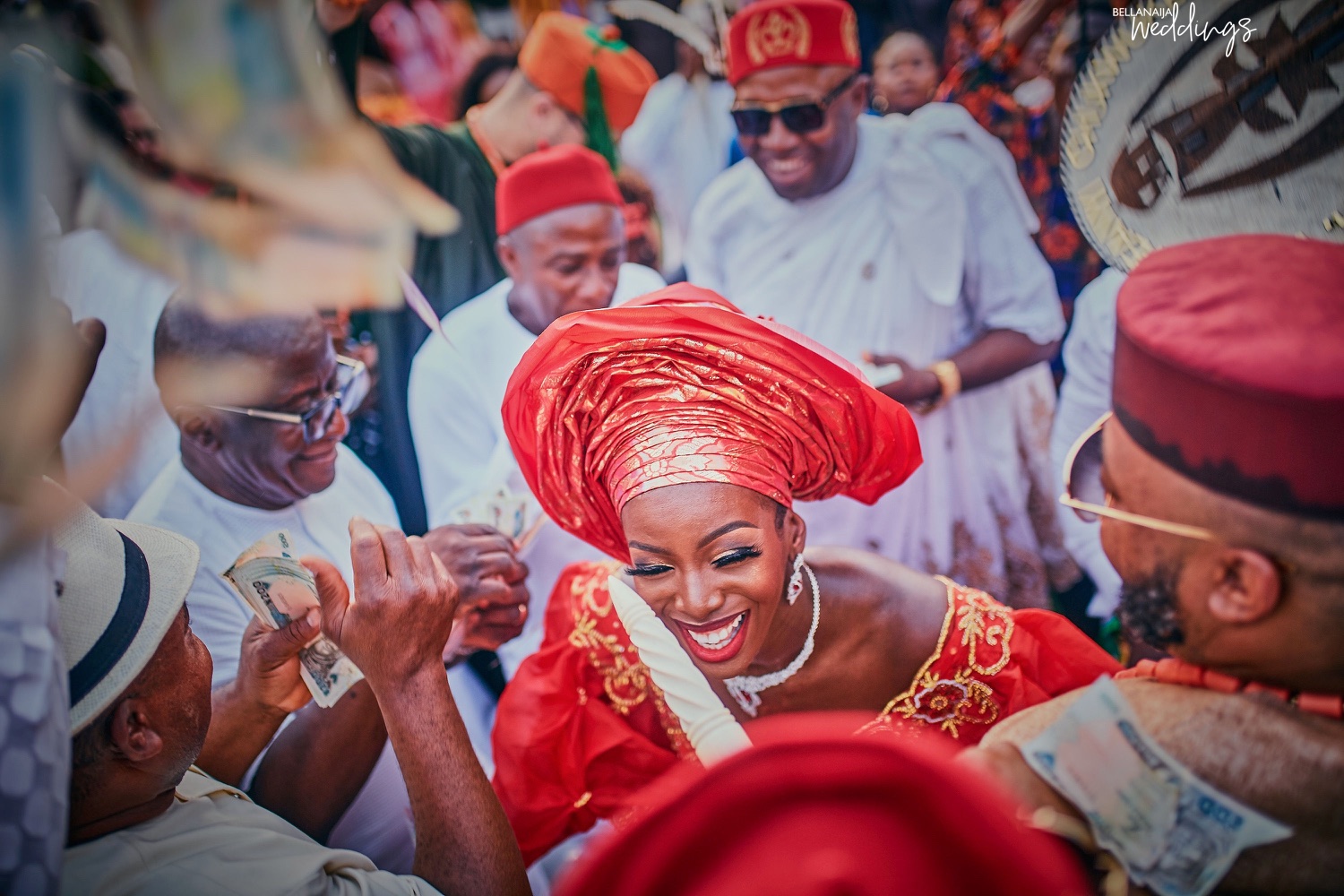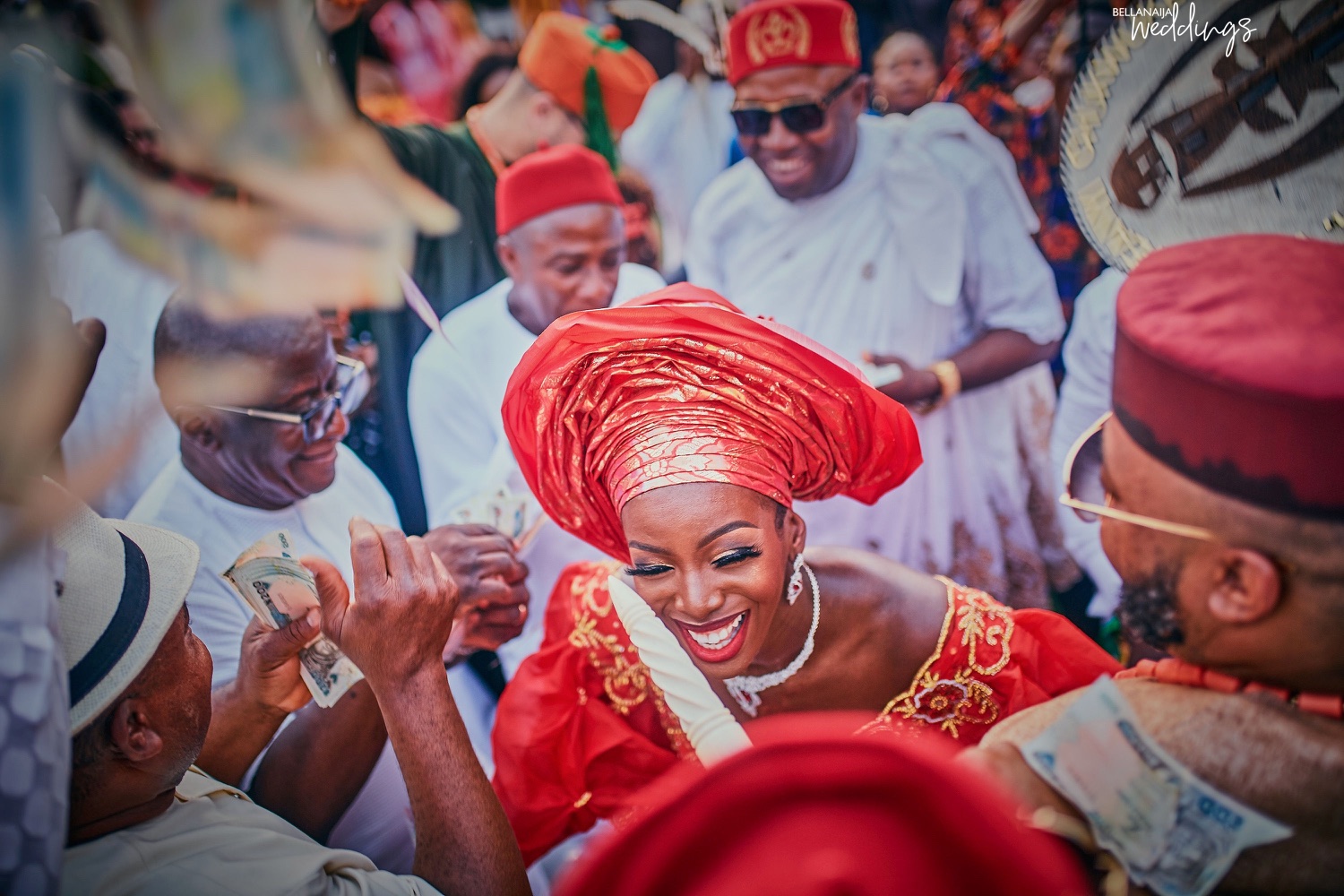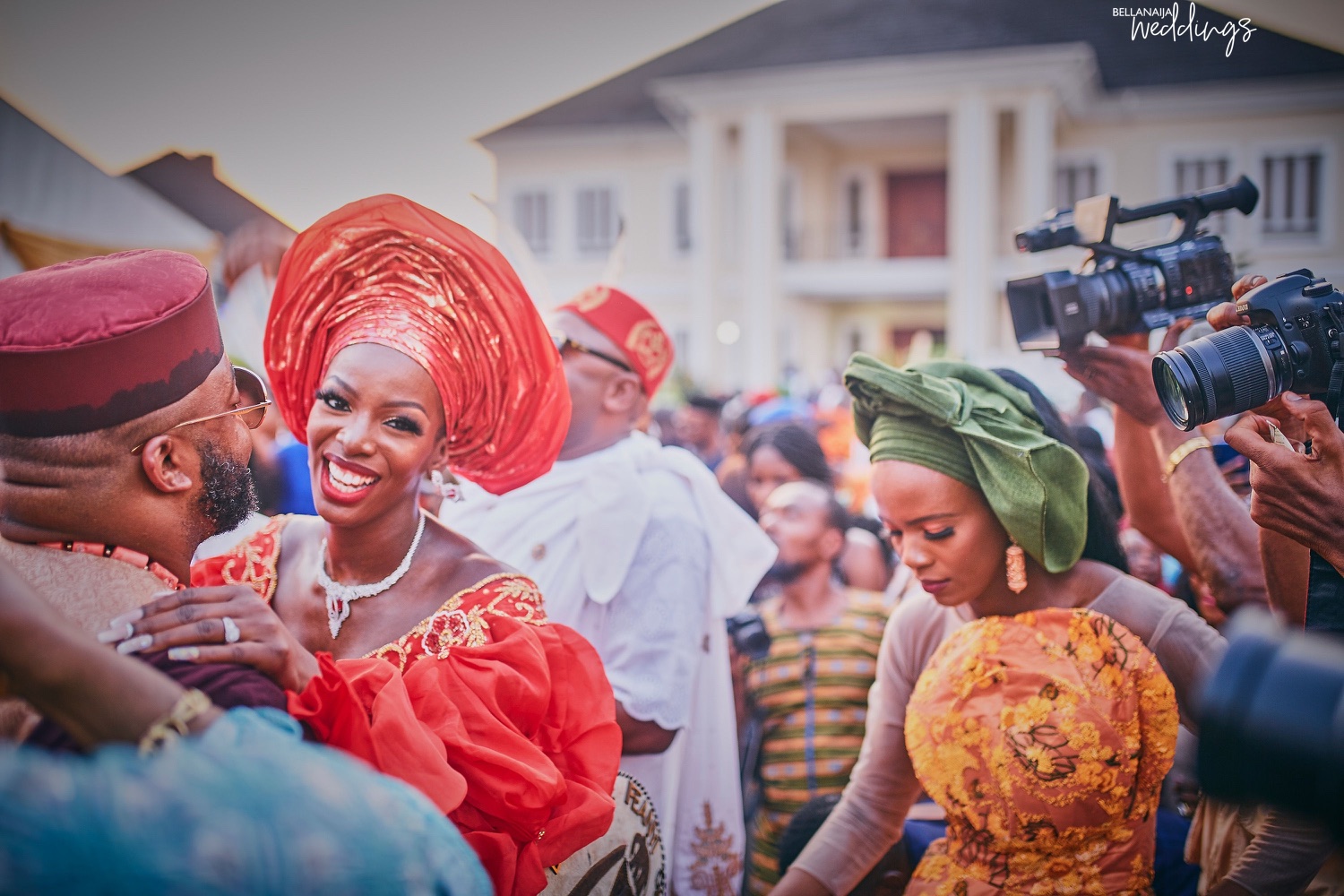 Now let's hear from the groom, Vince how popped the question:
After returning from our Christmas trip to Nigeria we began to casually date. At the time I had finished most of my residency interviews, was working and had much more free time than her so I tried to be an outlet for her as she glided through the rigorous schedule of her PhD program. I admired her work effort and could empathize with her demanding schedule being in the medical field so that common bond helped us understand one another better. Our relationship began to really blossom around the time I had to make a decision about my future. I was blessed to receive many residency interviews but needed to rank my choices which would determine where I would spend at least the next 3 years of my life. I knew early on the Claudia possessed all the qualities I was looking for in a partner and potential wife, but our relationship was still young. I also knew that staying close by would give our relationship the best chance to succeed. The closest interview to Atlanta I had was with Medical Center of Central Georgia about 1.5 hours south of Atlanta. As fate would have it I absolutely loved the program when I went to visit and ranked it as my #1 choice. It was far from a guarantee that I would end up there though.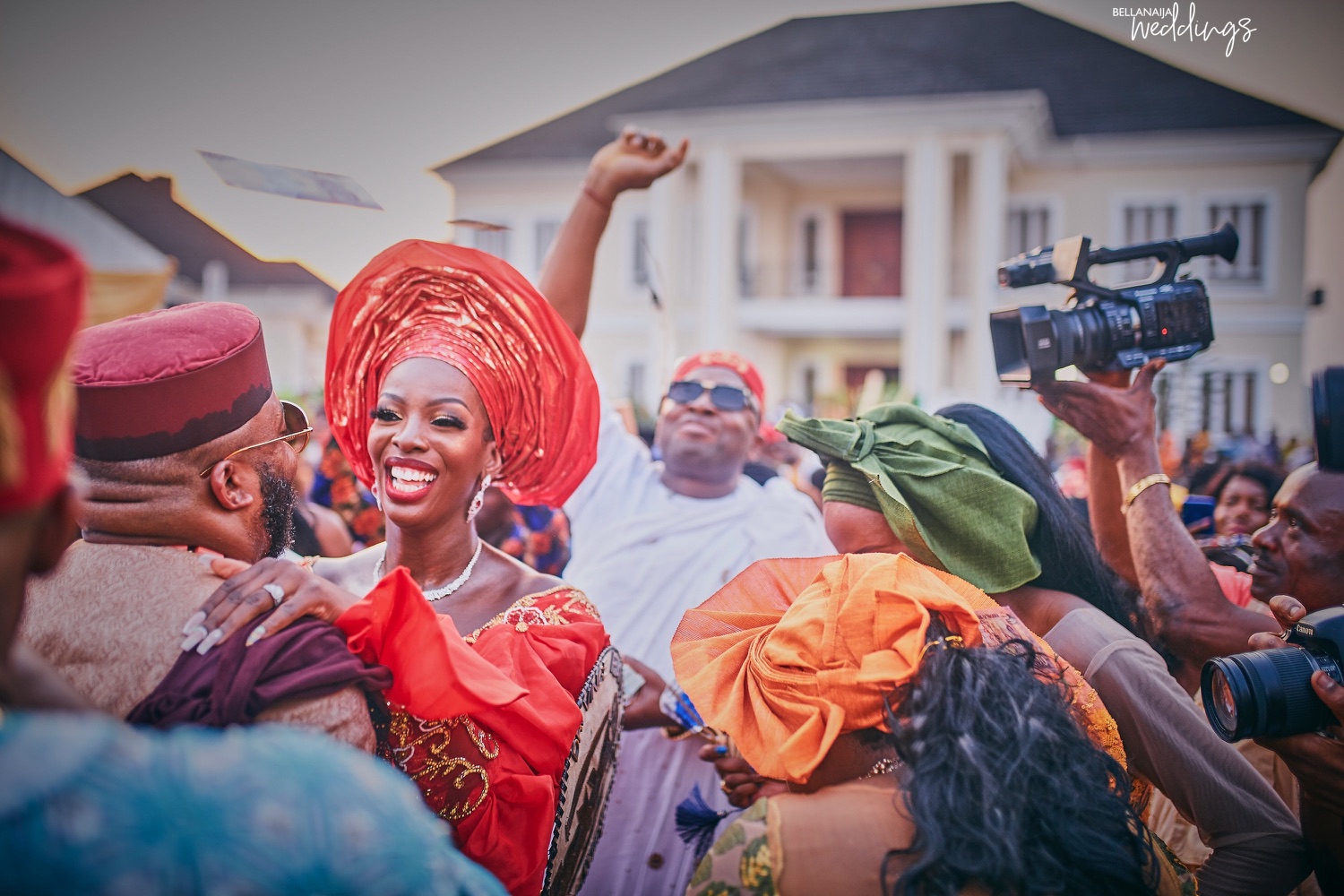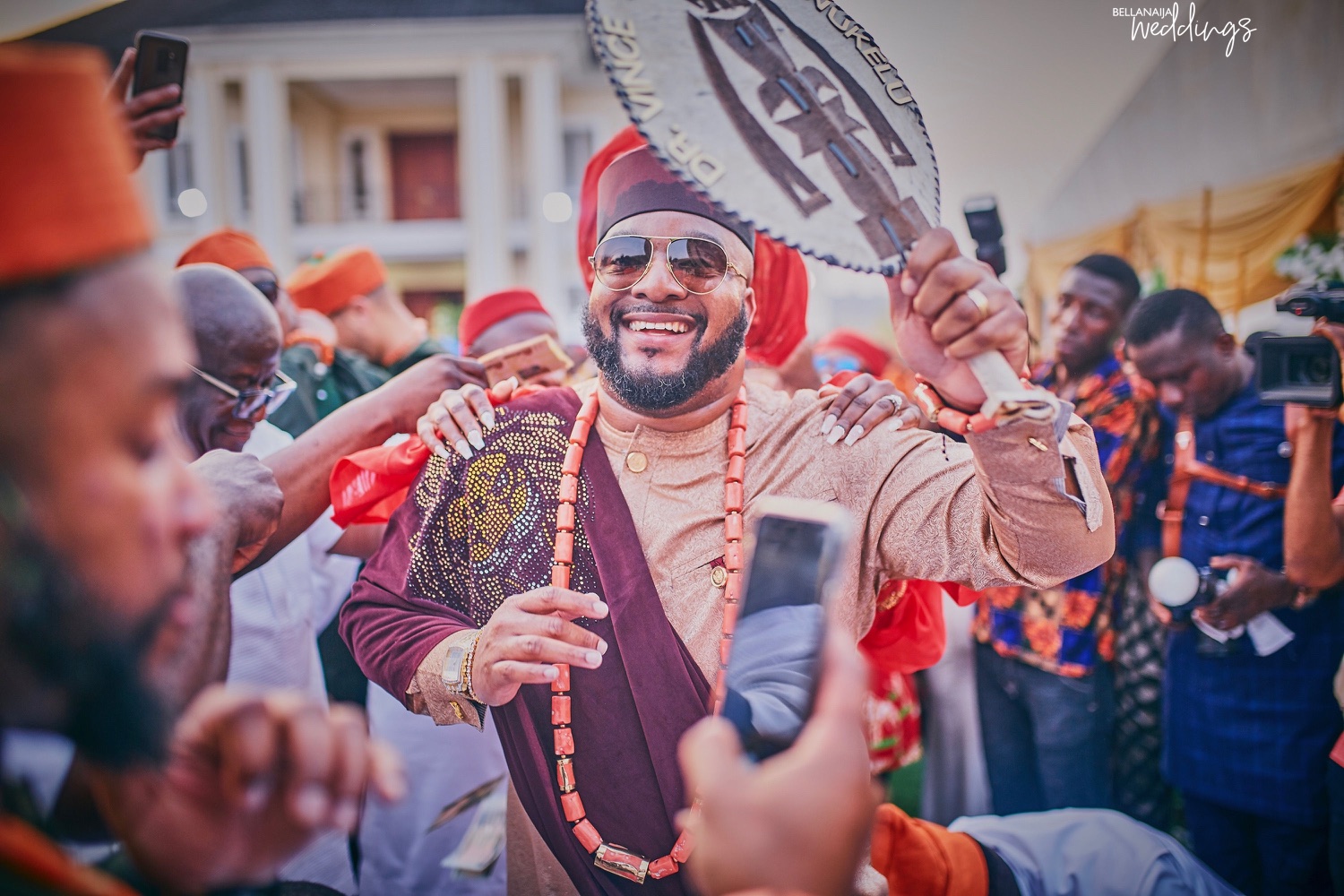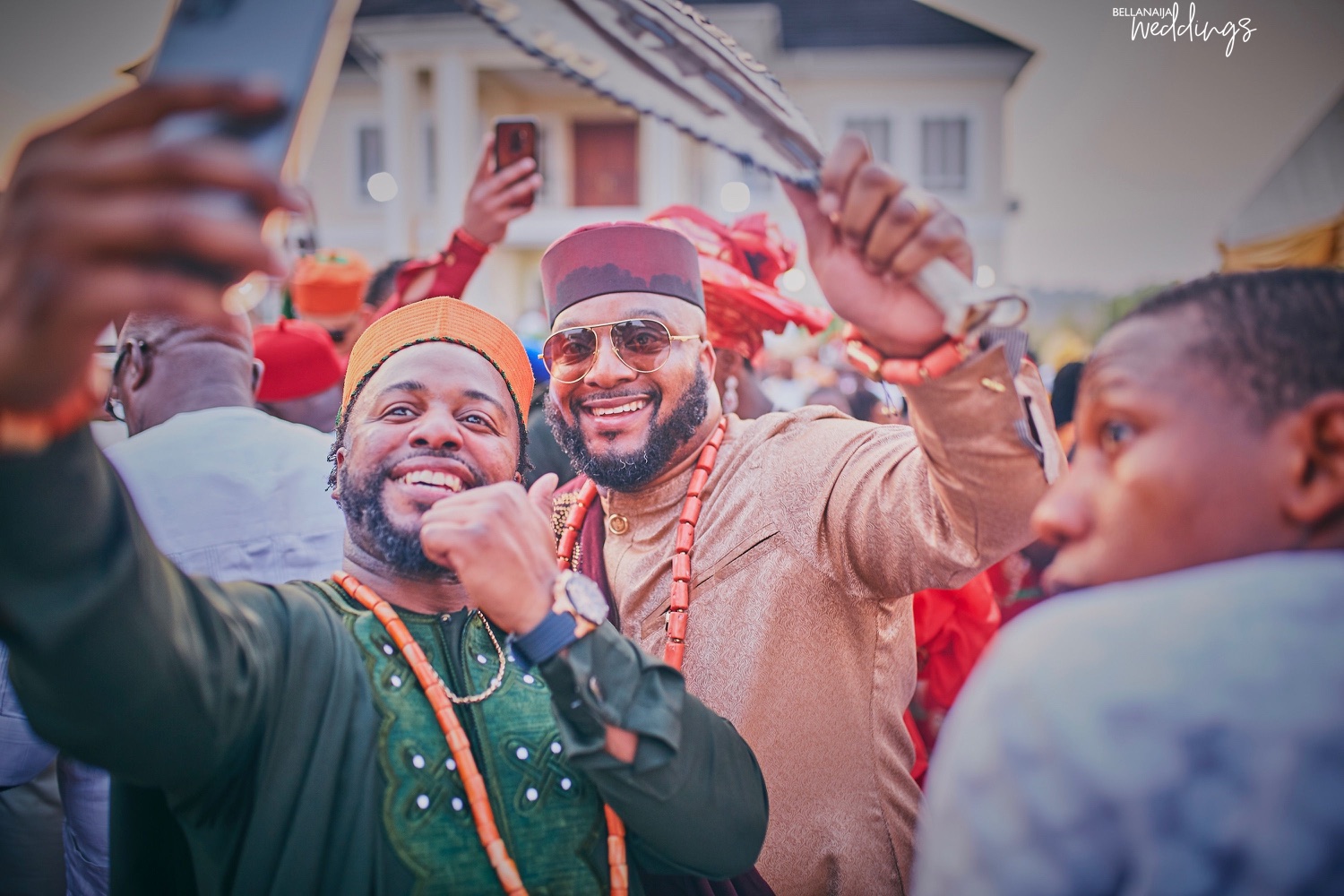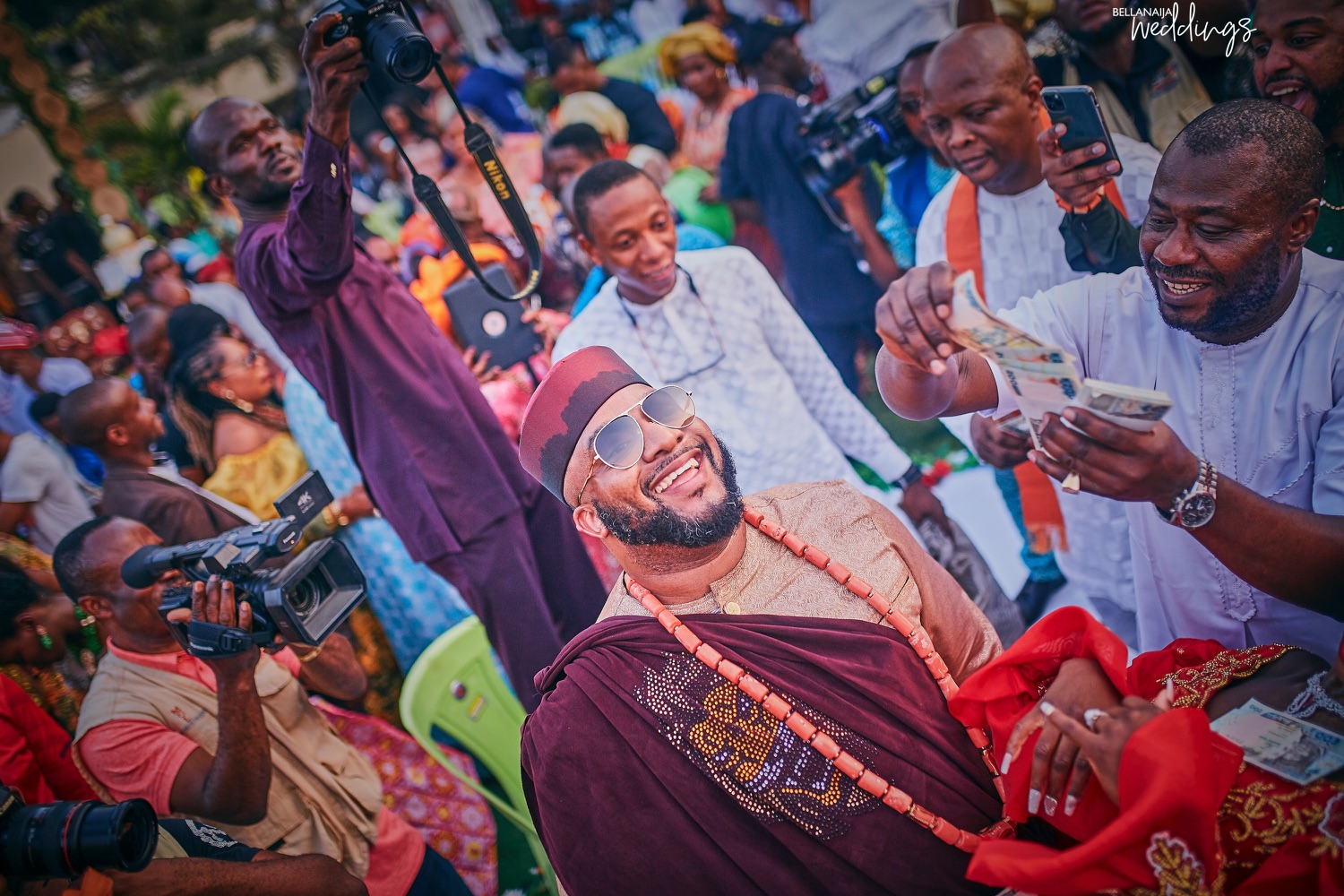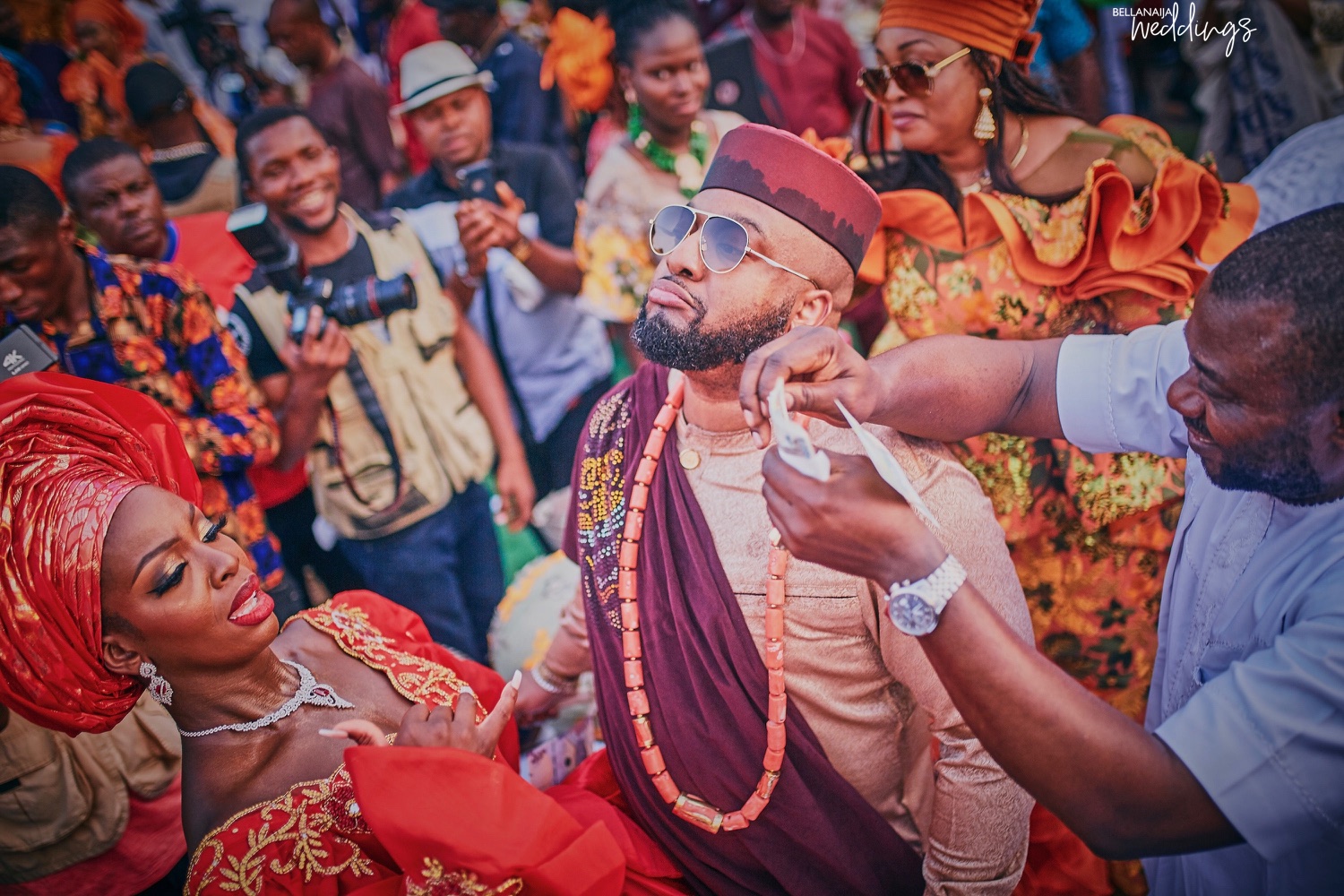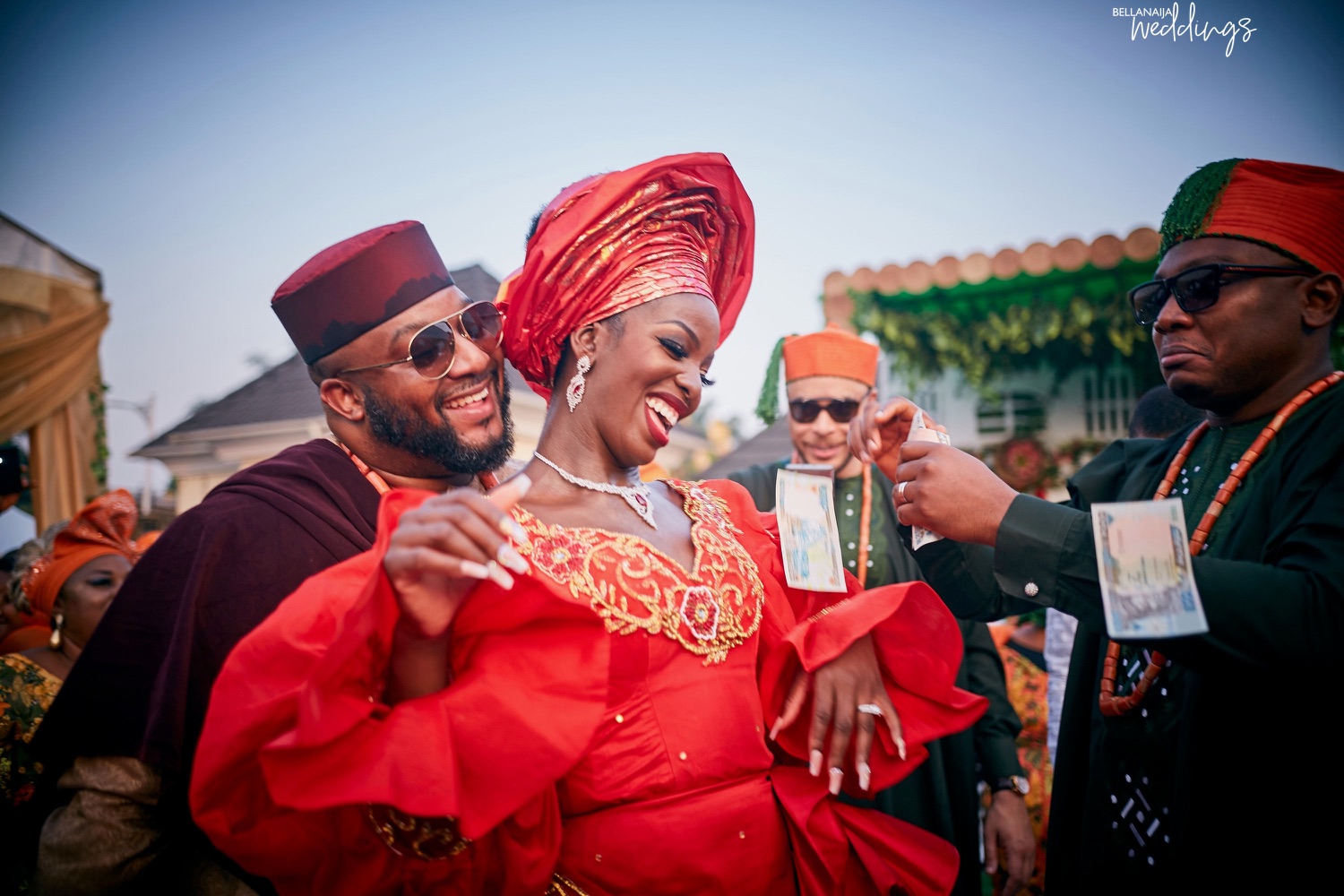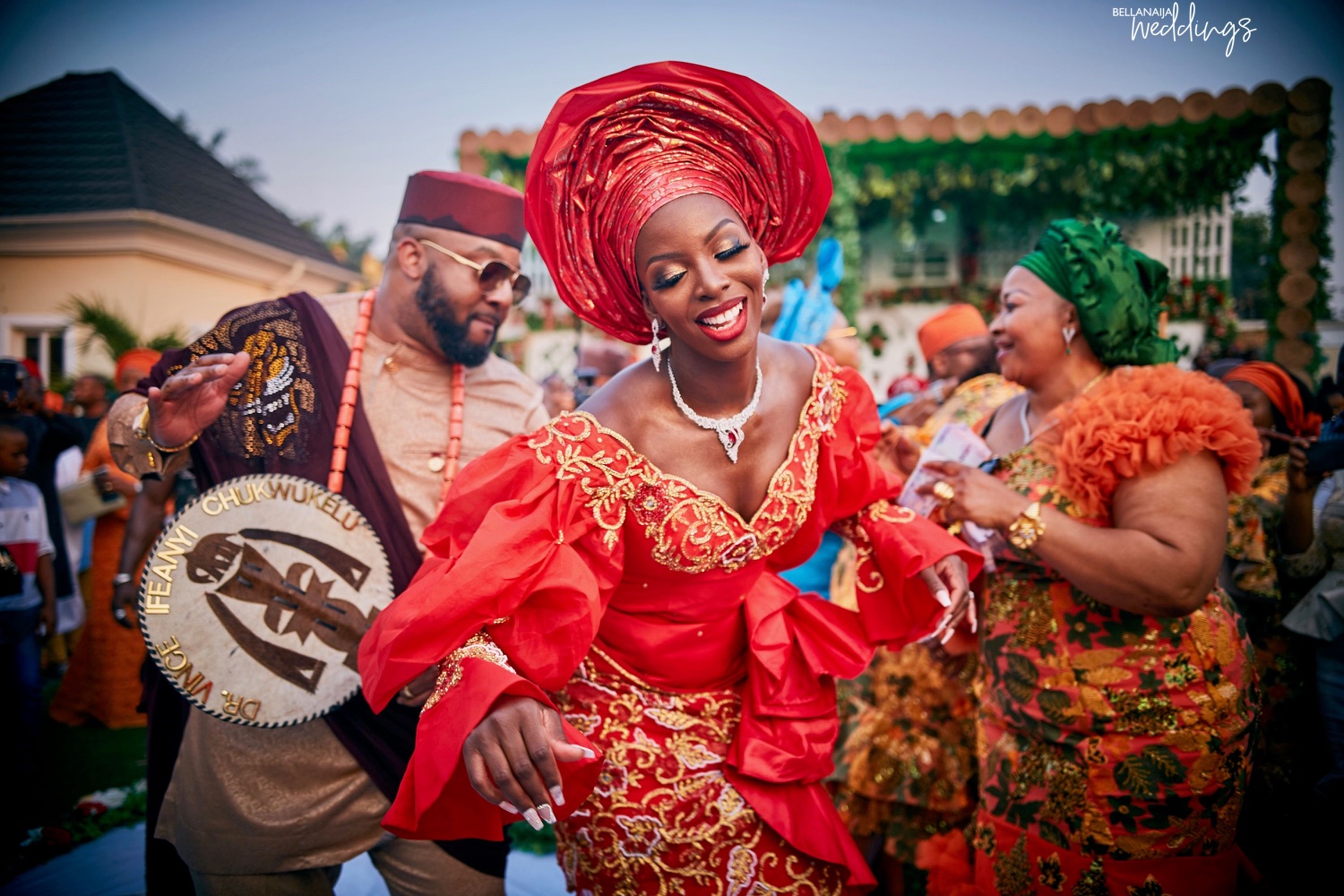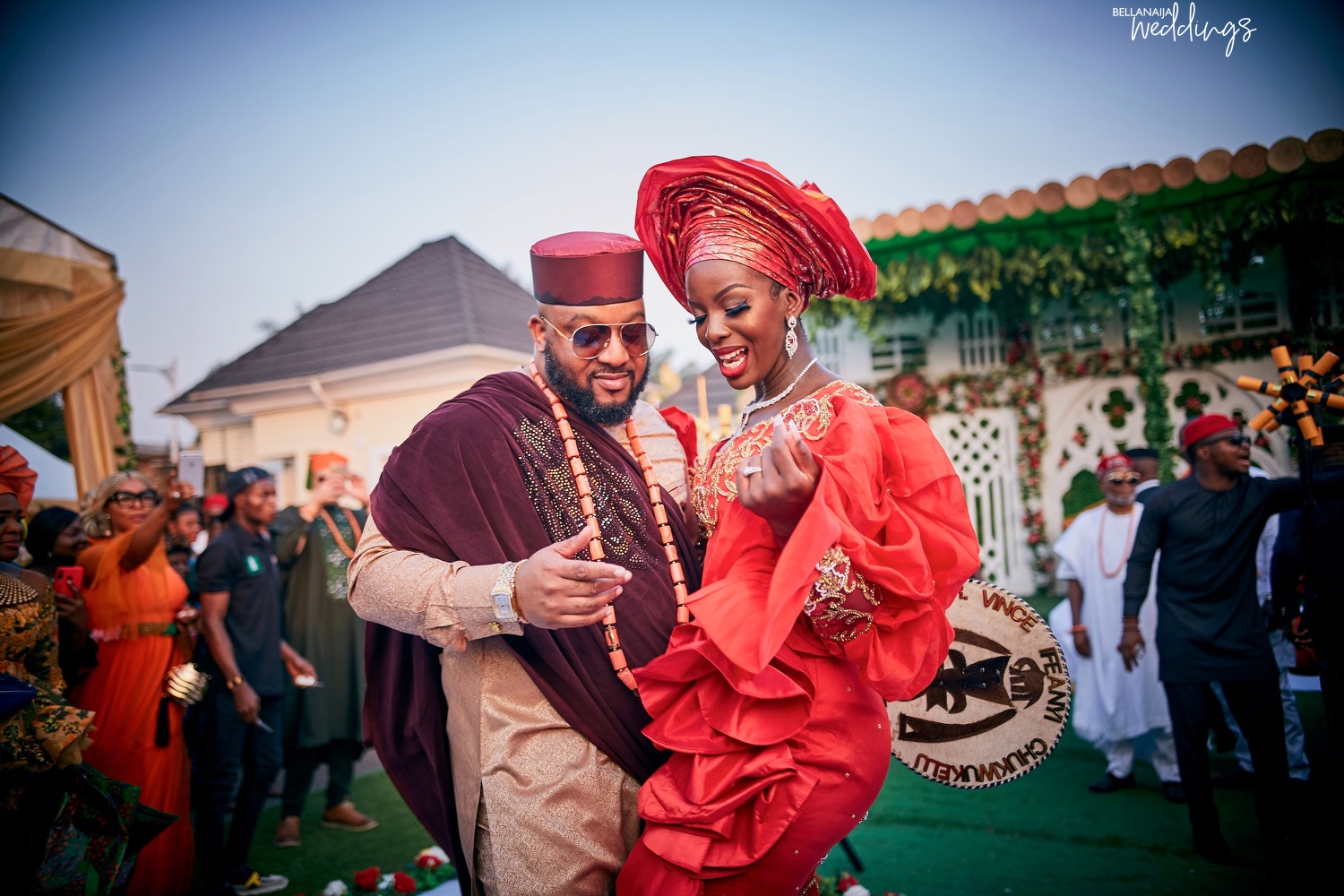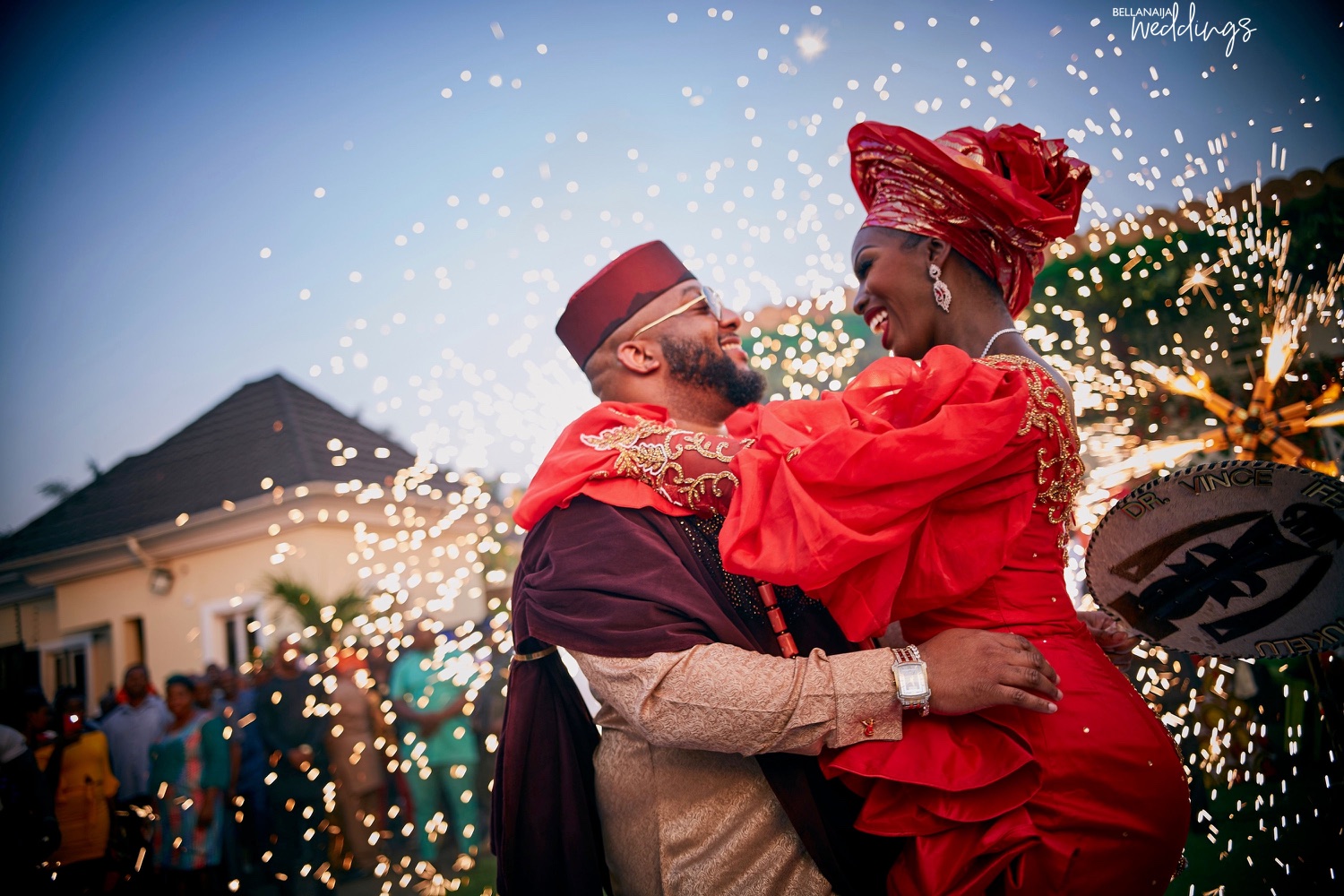 In mid-March 2018 I received the wonderful news that I indeed matched into the program and would be able to stay close to Claudia! Before moving we became exclusive to solidify our commitment to one another which was important because although the distance between us wasn't too far, we were both entering extremely busy phases in our lives and didn't have time to invest in a relationship we weren't serious about. As I began my intern year as a resident physician, our relationship continued to evolve as we learned more and more about each other. I would be lying if I said things were easy in the beginning, but we seamlessly worked through all of our issues leaning on communication as our best tool. Claudia remained my rock throughout the year and I knew she was the one for me. Anyone who could endure the trials we went through and sacrifice the intimacy she cherishes in order to give me the space I needed to rapidly learn how to be a physician and support me the whole way was someone worthy of becoming my wife.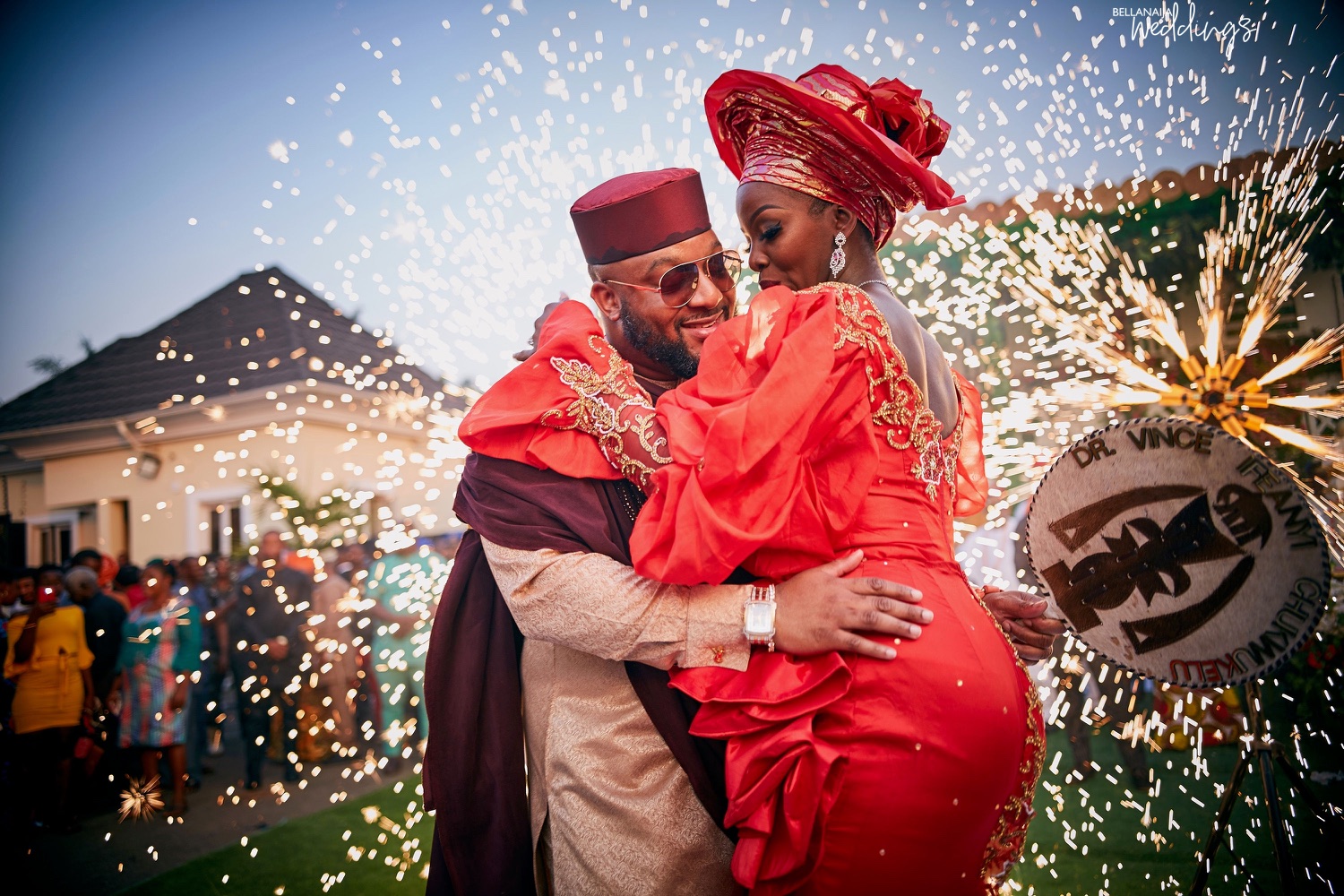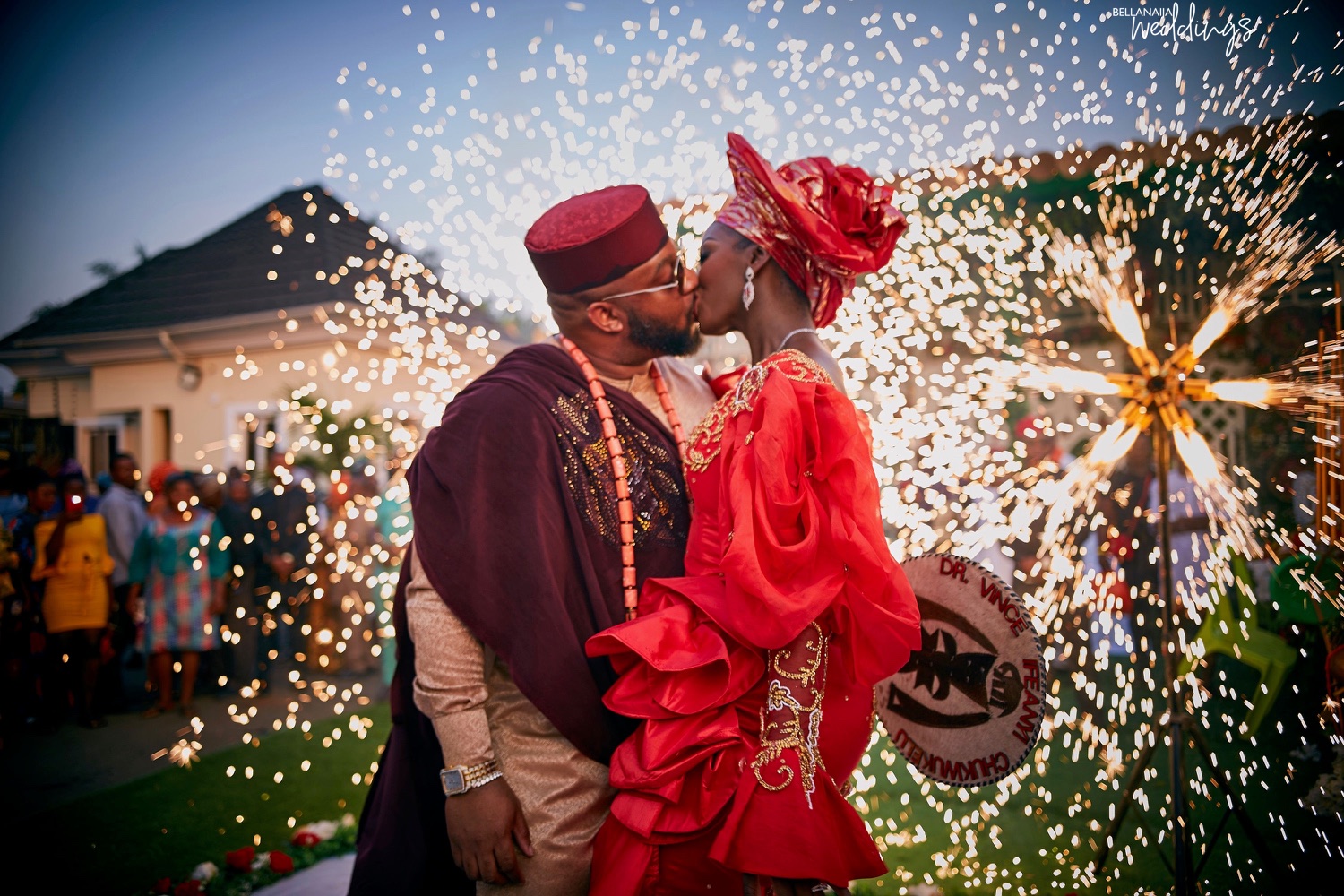 Now, the third look of the day…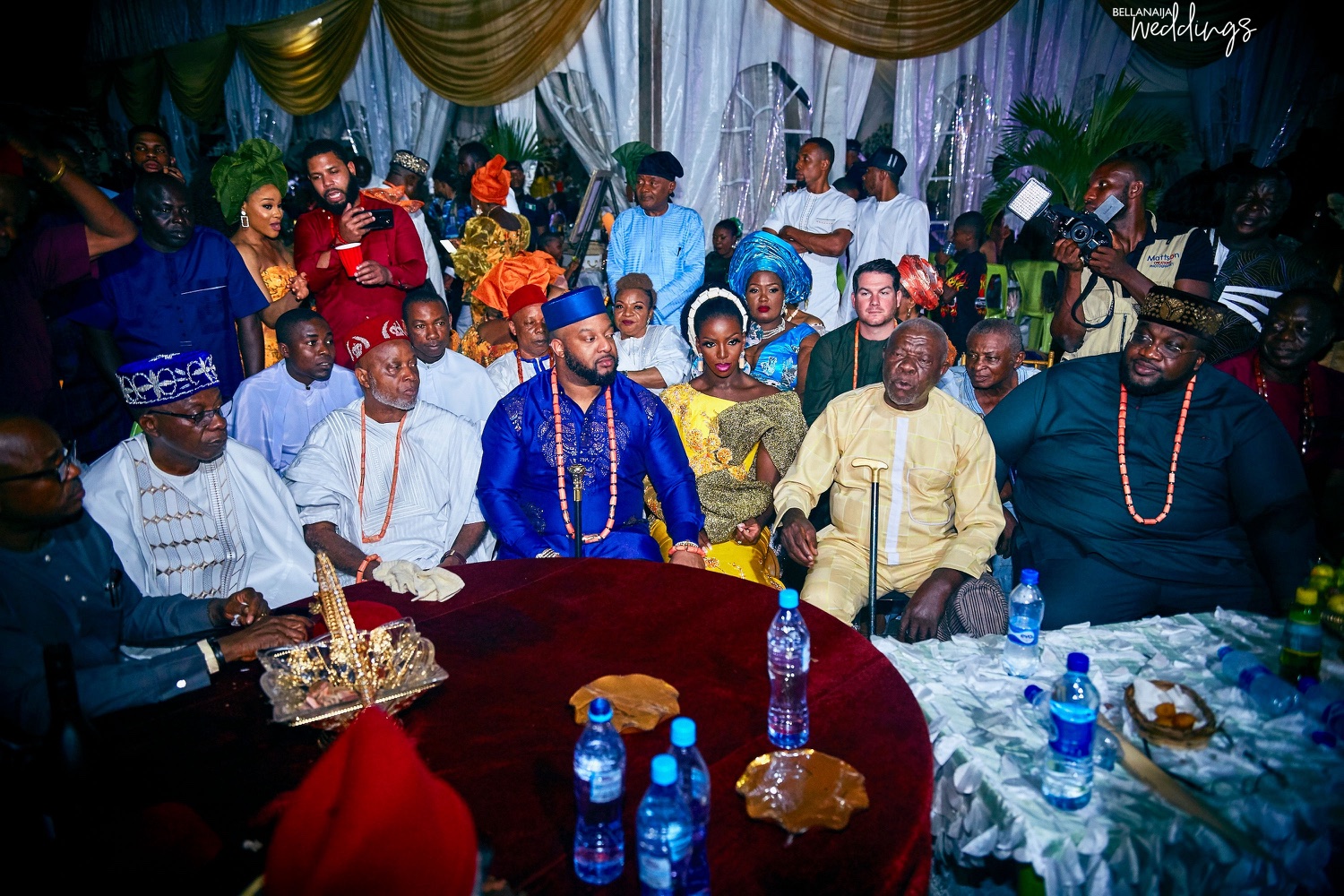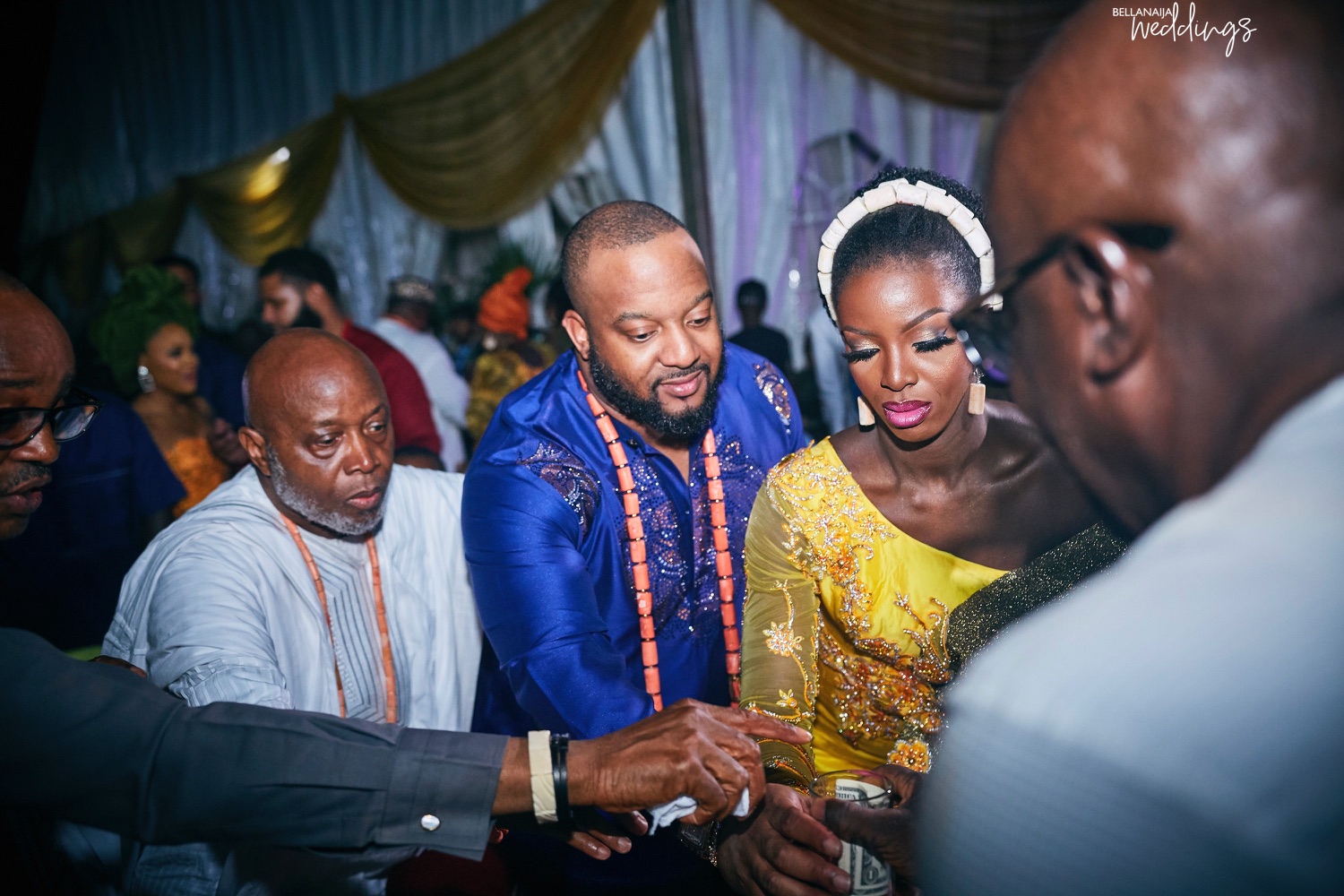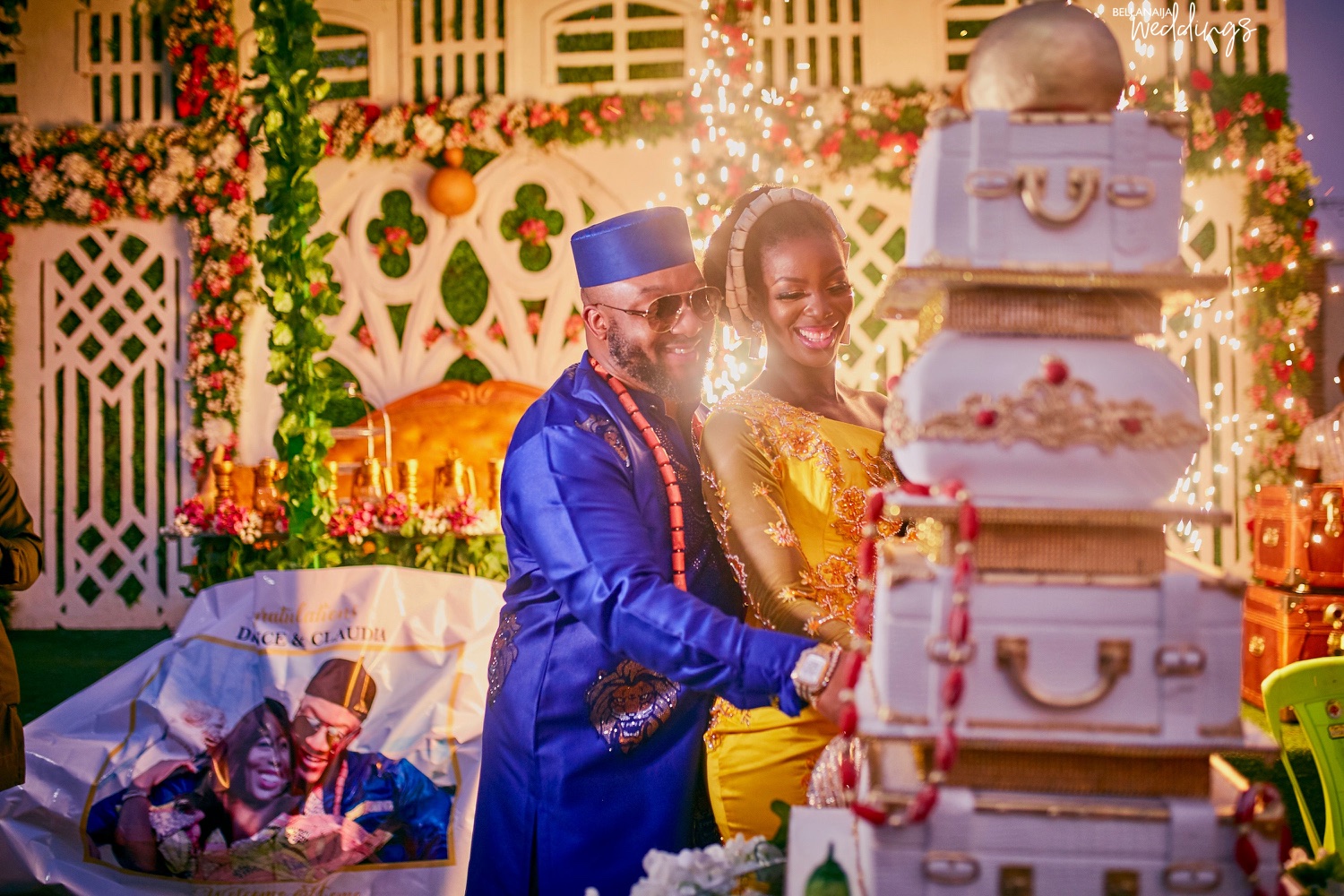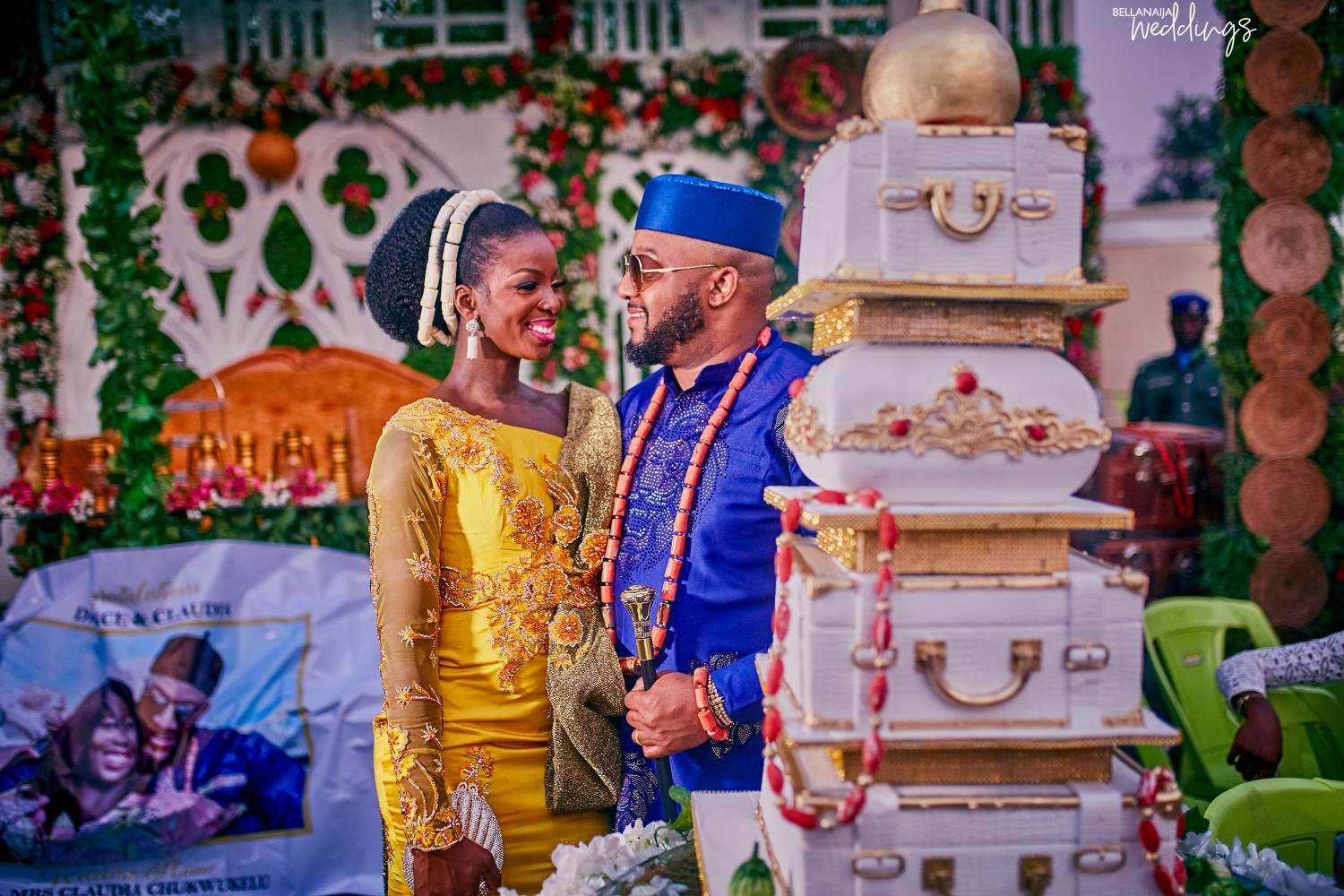 Another Christmas was upon us and Claudia and I decided it was time to take the next step in our relationship. We charged time out of our busy schedules to return home to Nigeria for Christmas break. This time we returned to Ojoto as more than just friends. We returned with the intention of making our love known to our village and to take part in the ceremony known as the introduction. In most instances, this is a small thing. The man visits the woman's home and states to her parents his intention to marry their daughter. If she and her parents accept, dowry price is negotiated and a small party might insue. Our own no be small thing! Our parents arranged photographers, caterers, DJ's, the whole nine yards and it seemed like the whole village was in attendance! Although I was slightly nervous, it all felt right and the ceremony was truly memorable.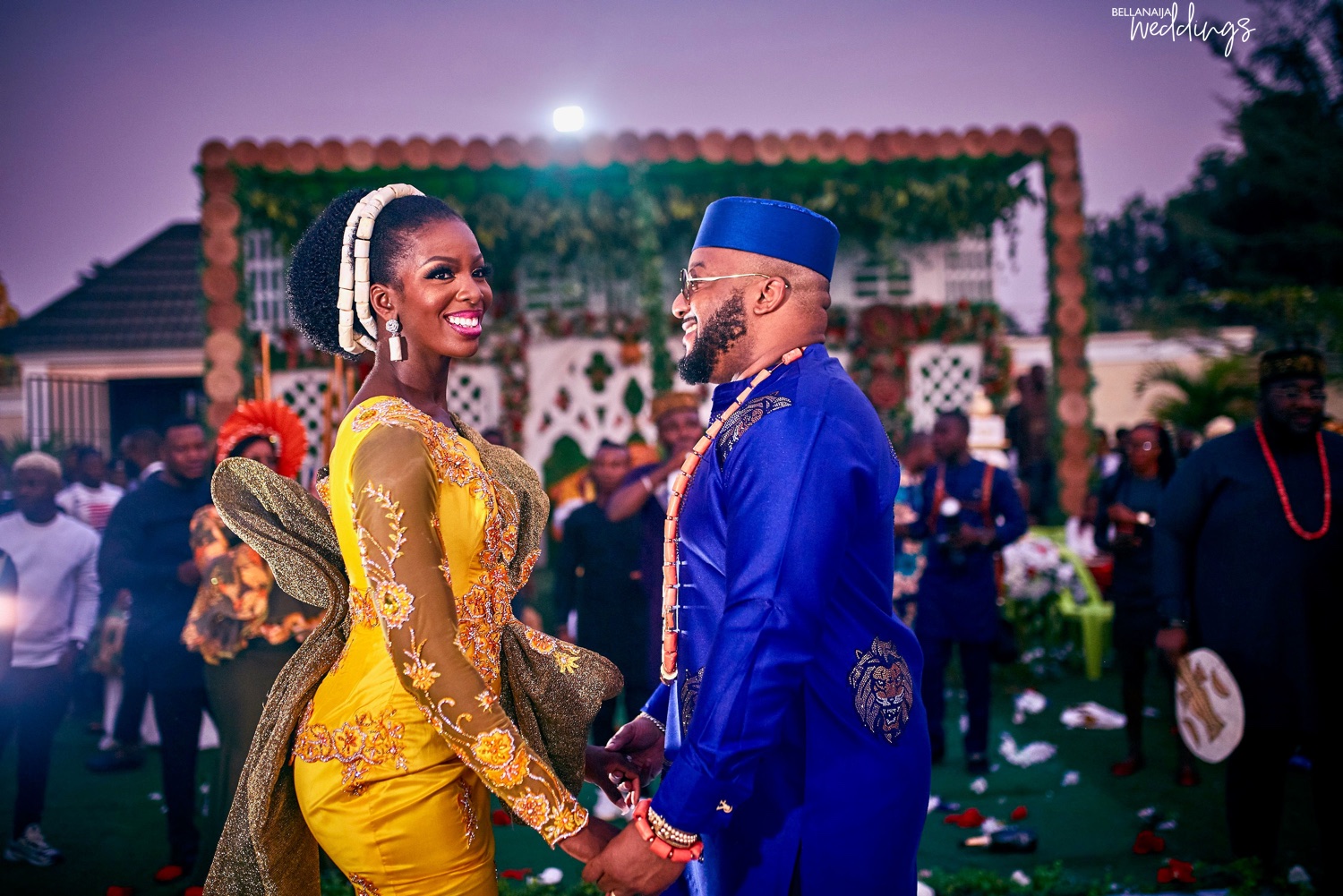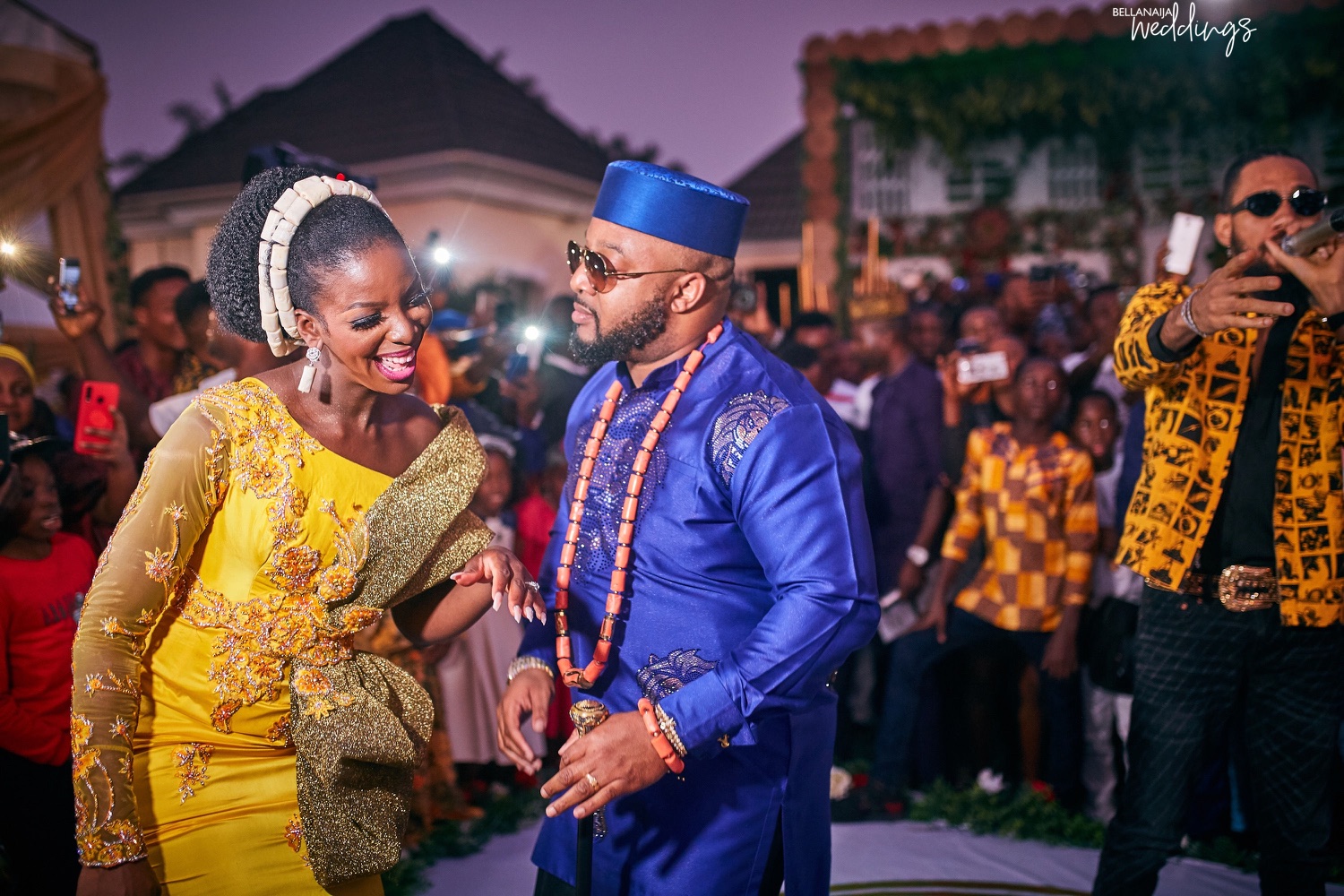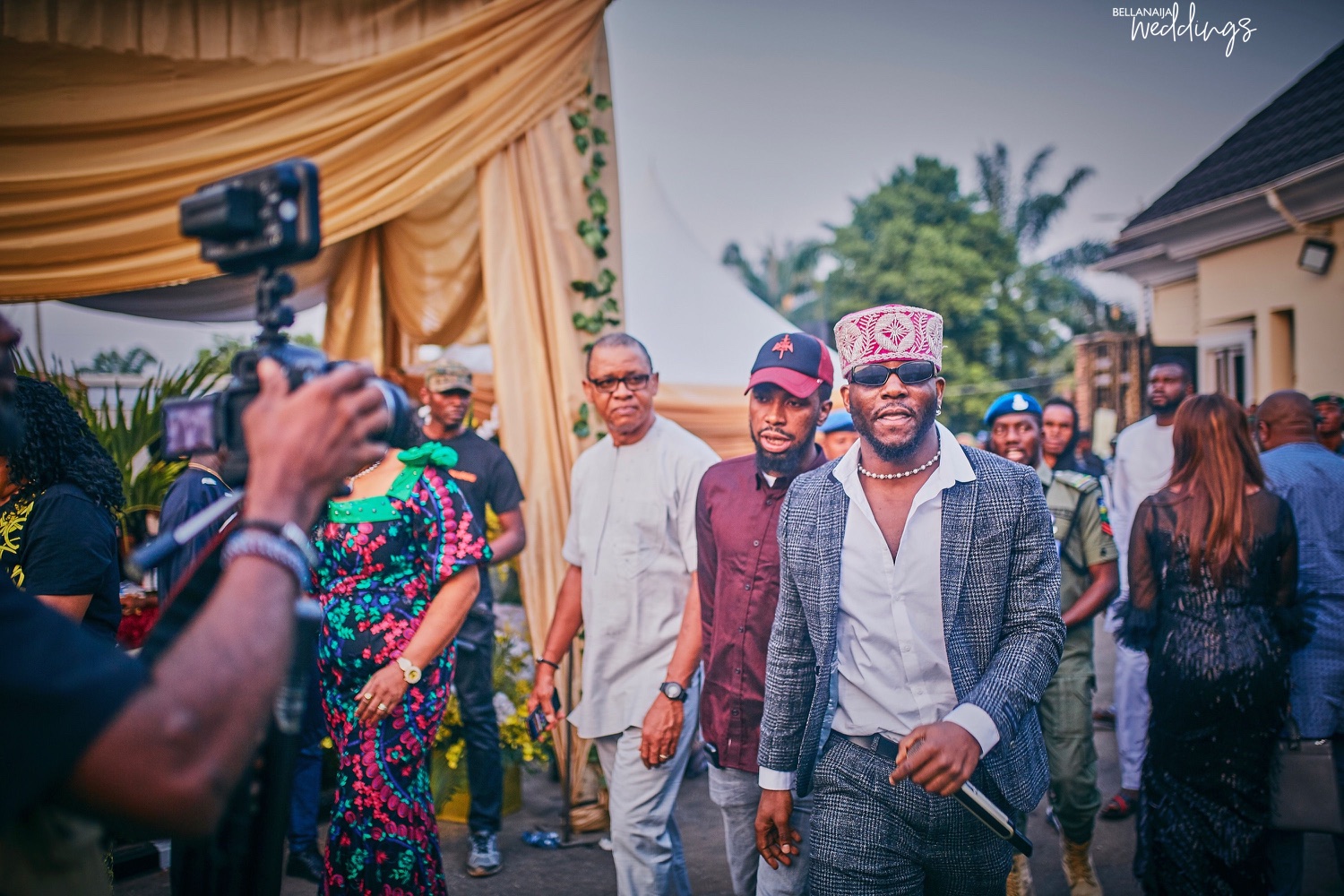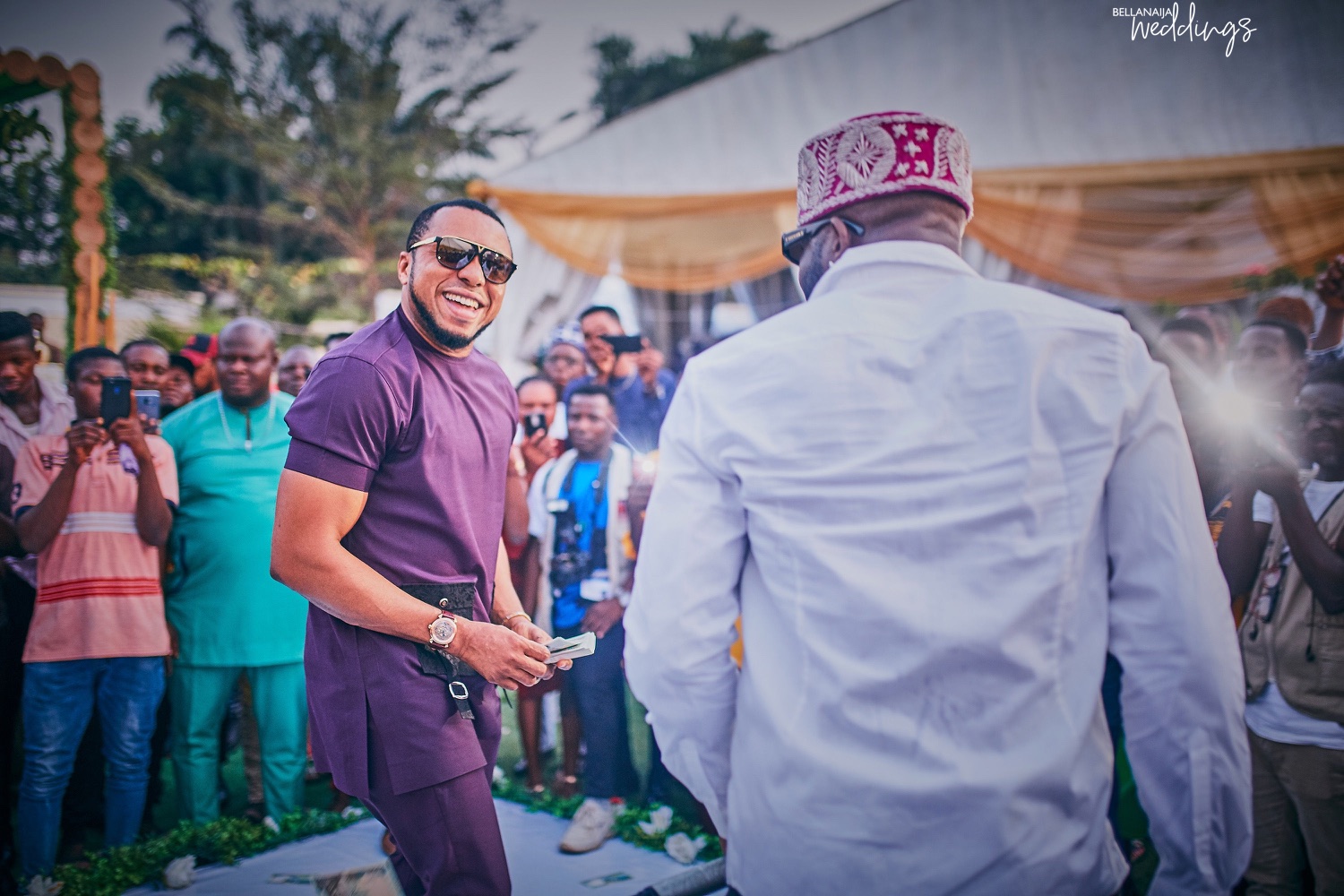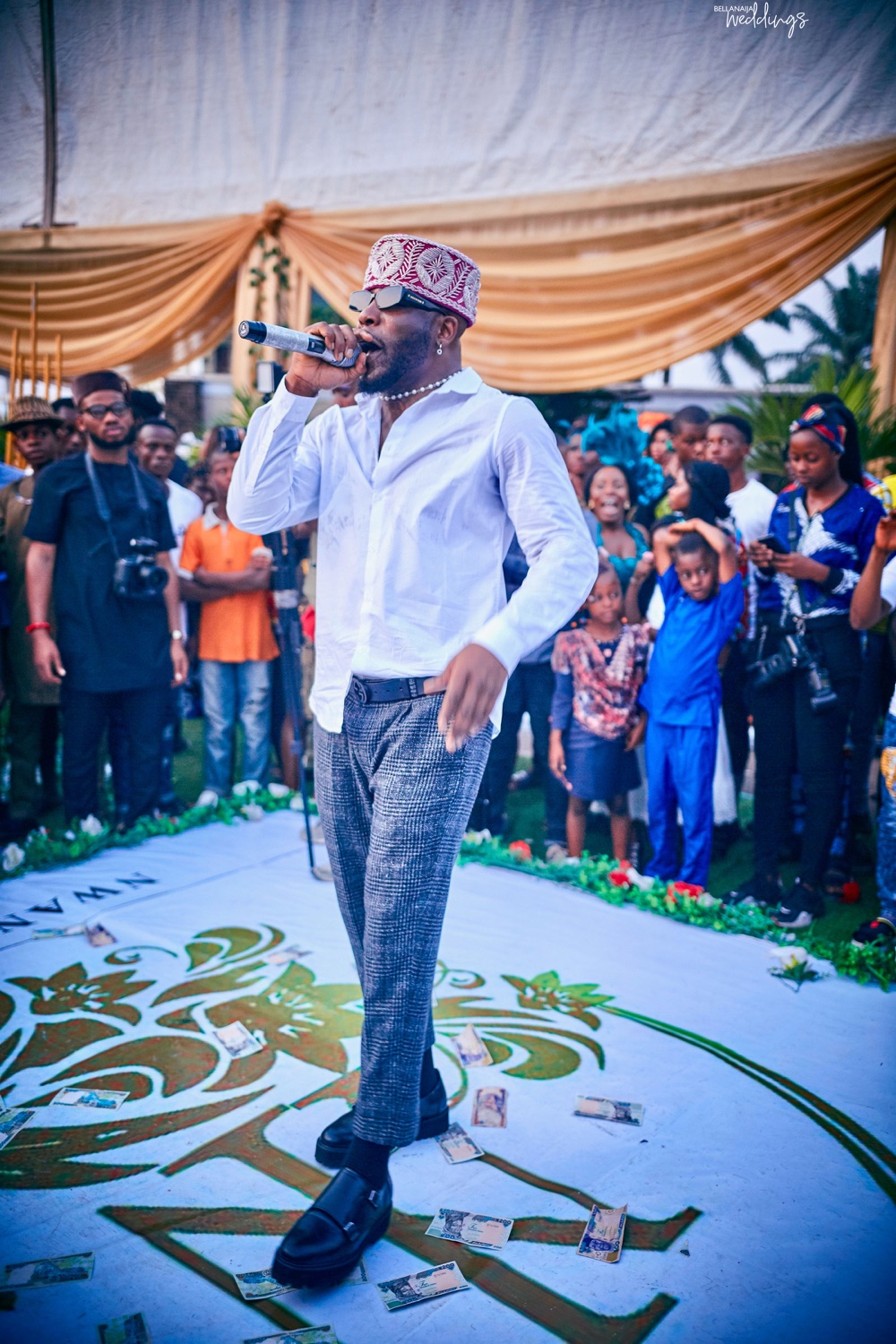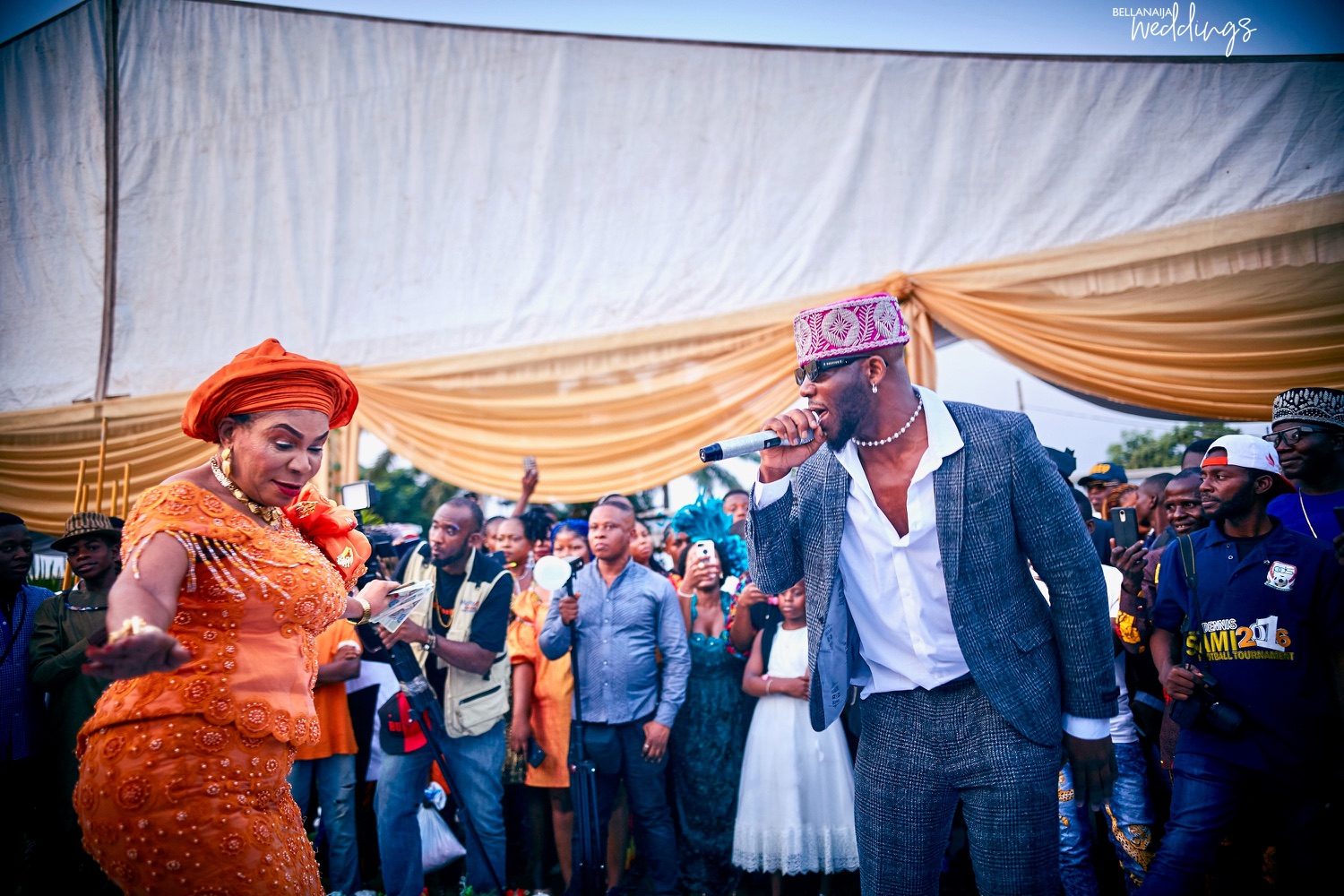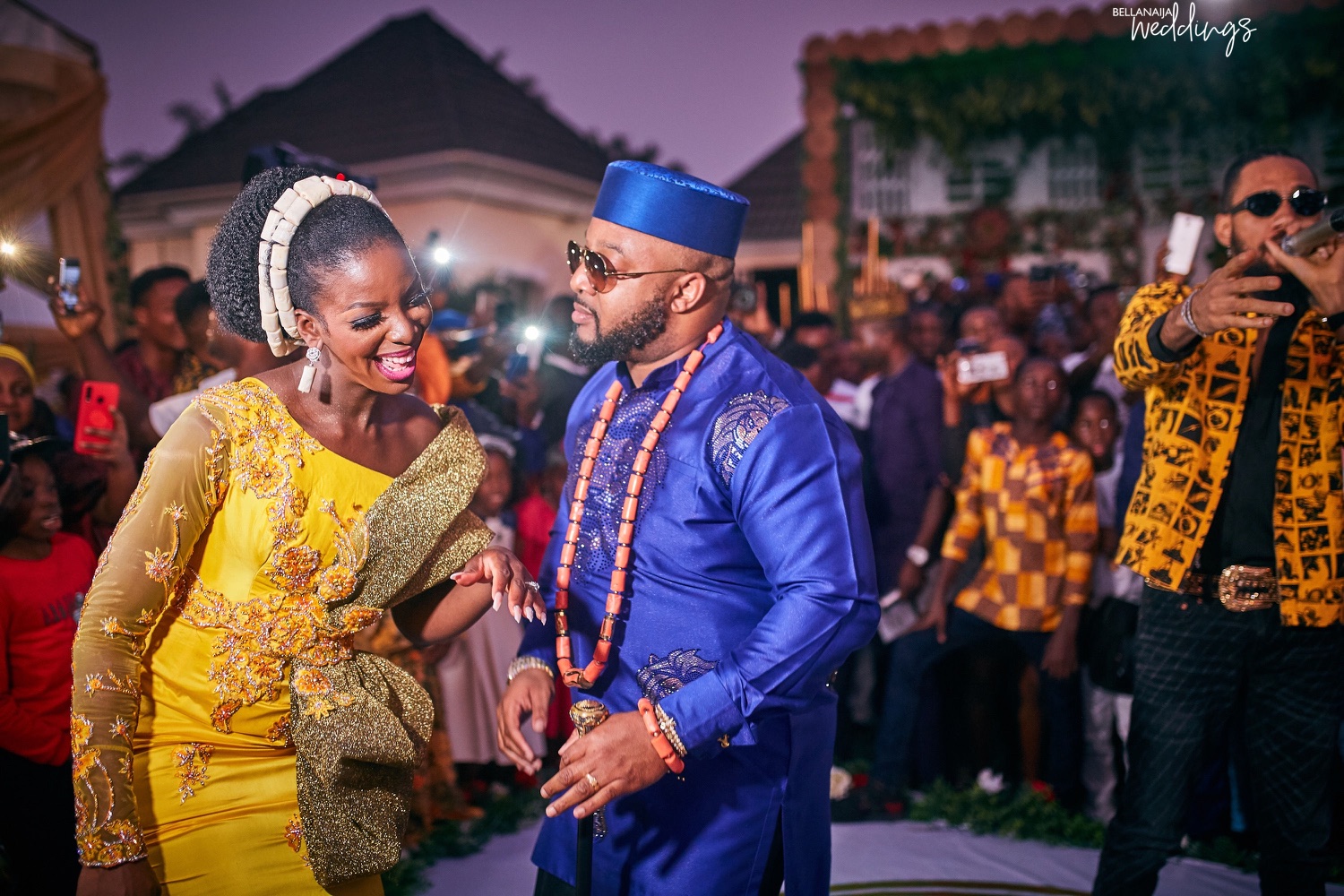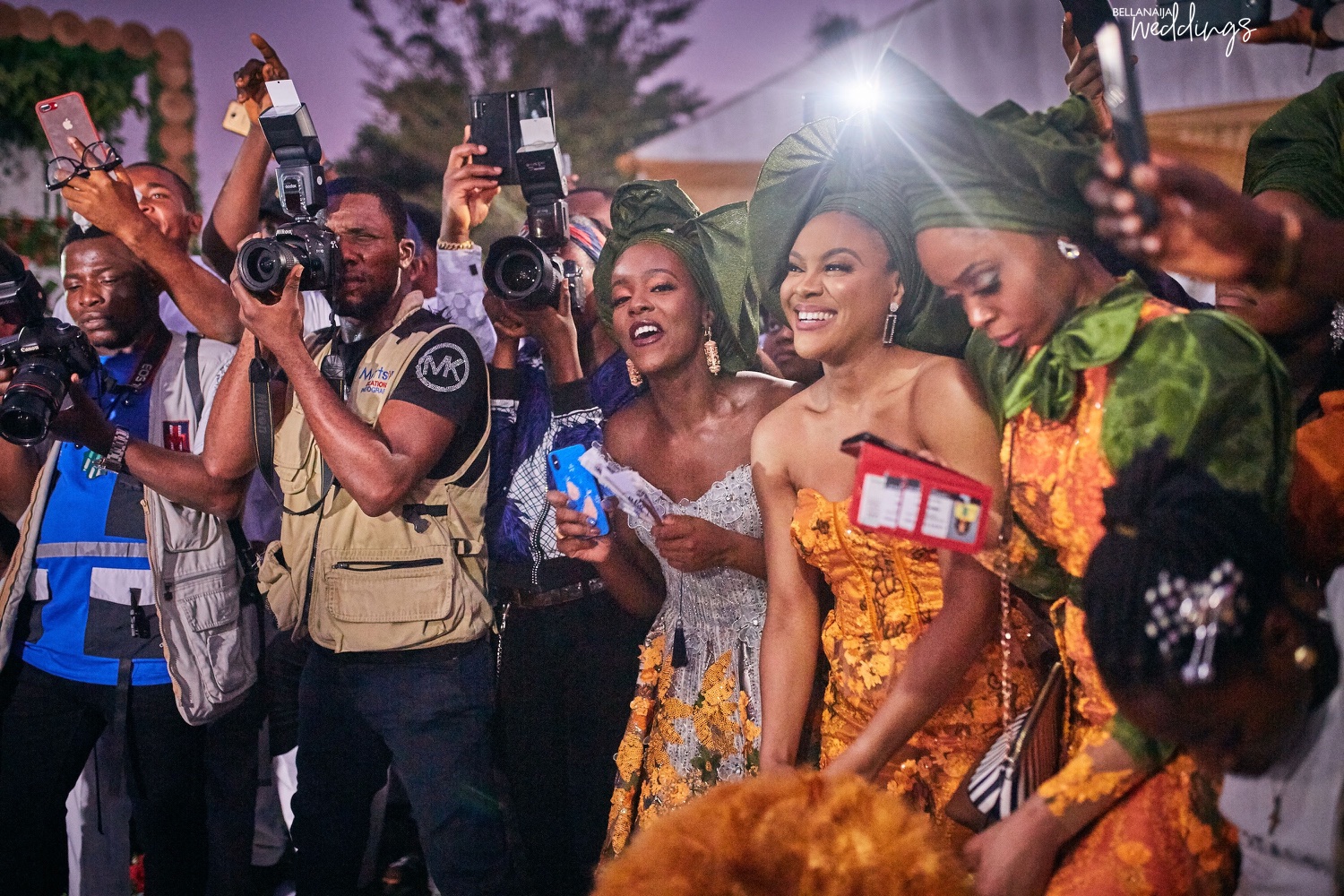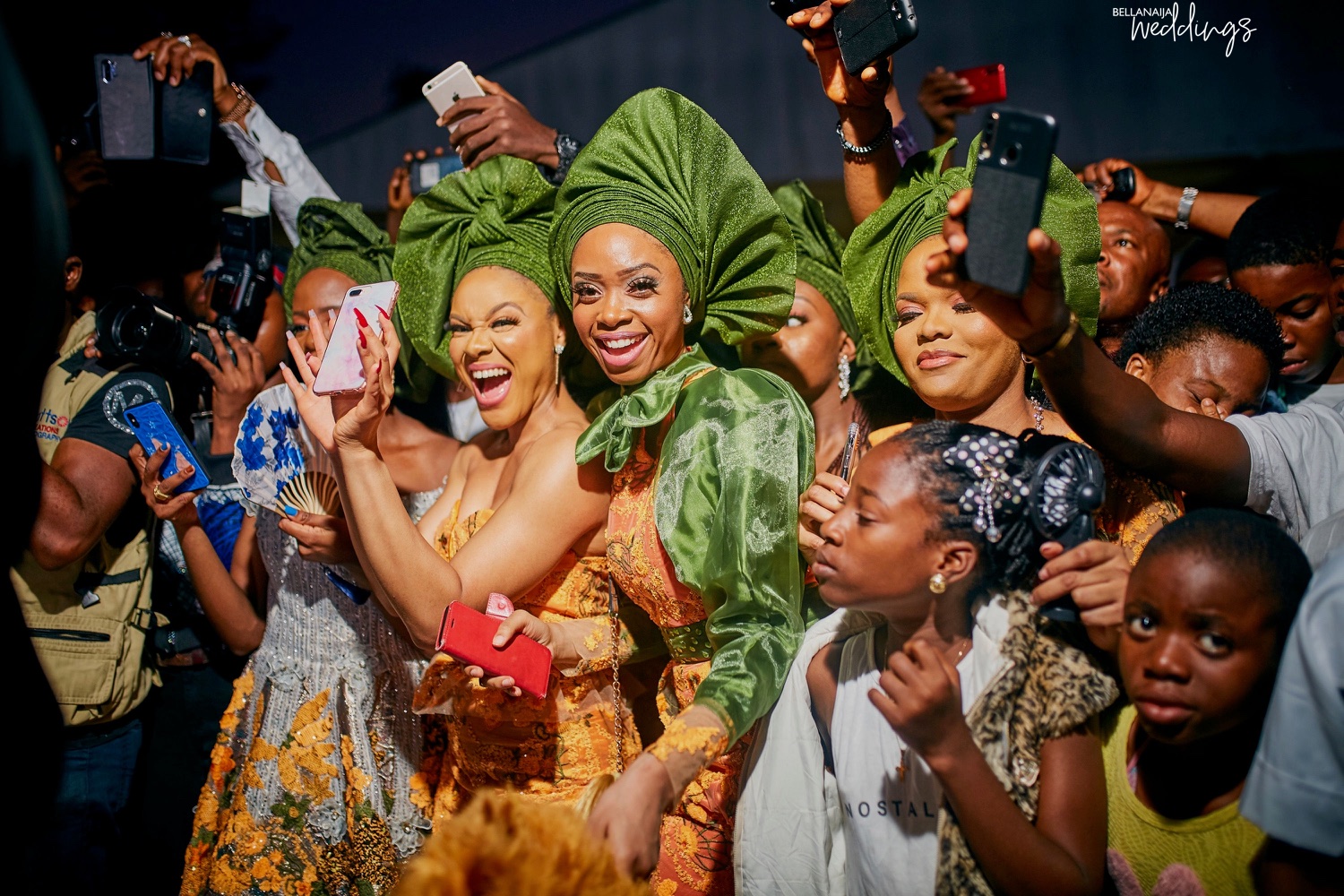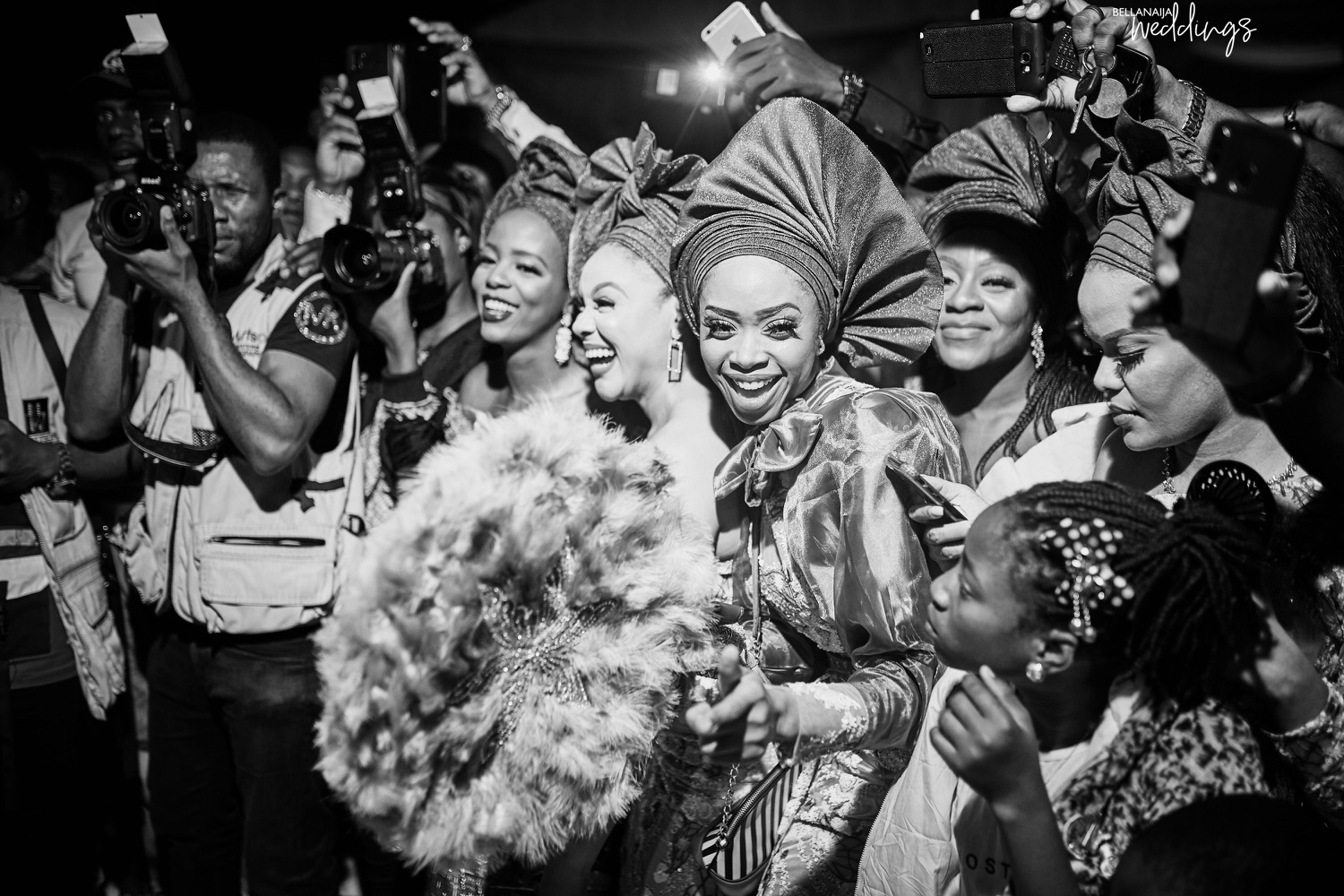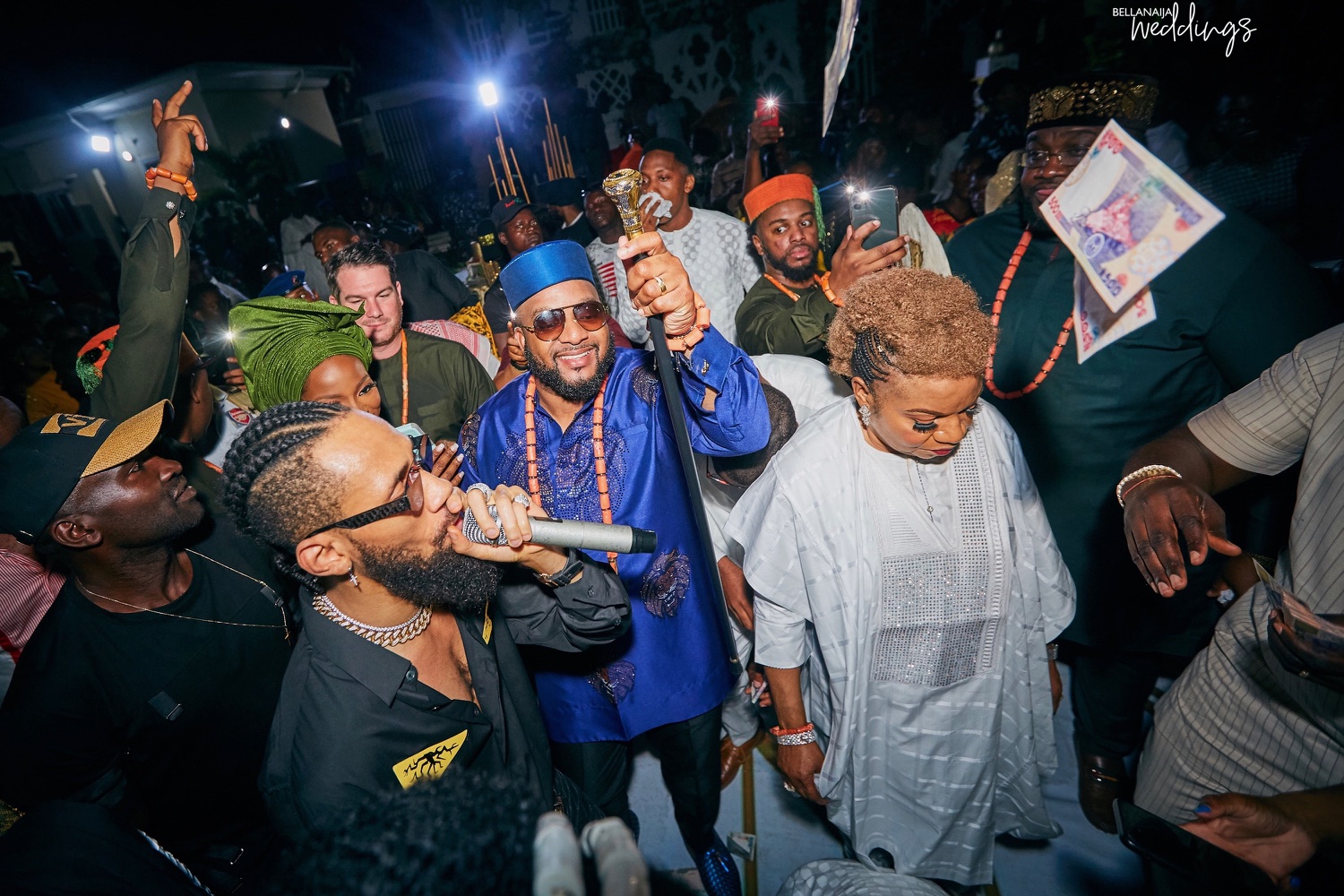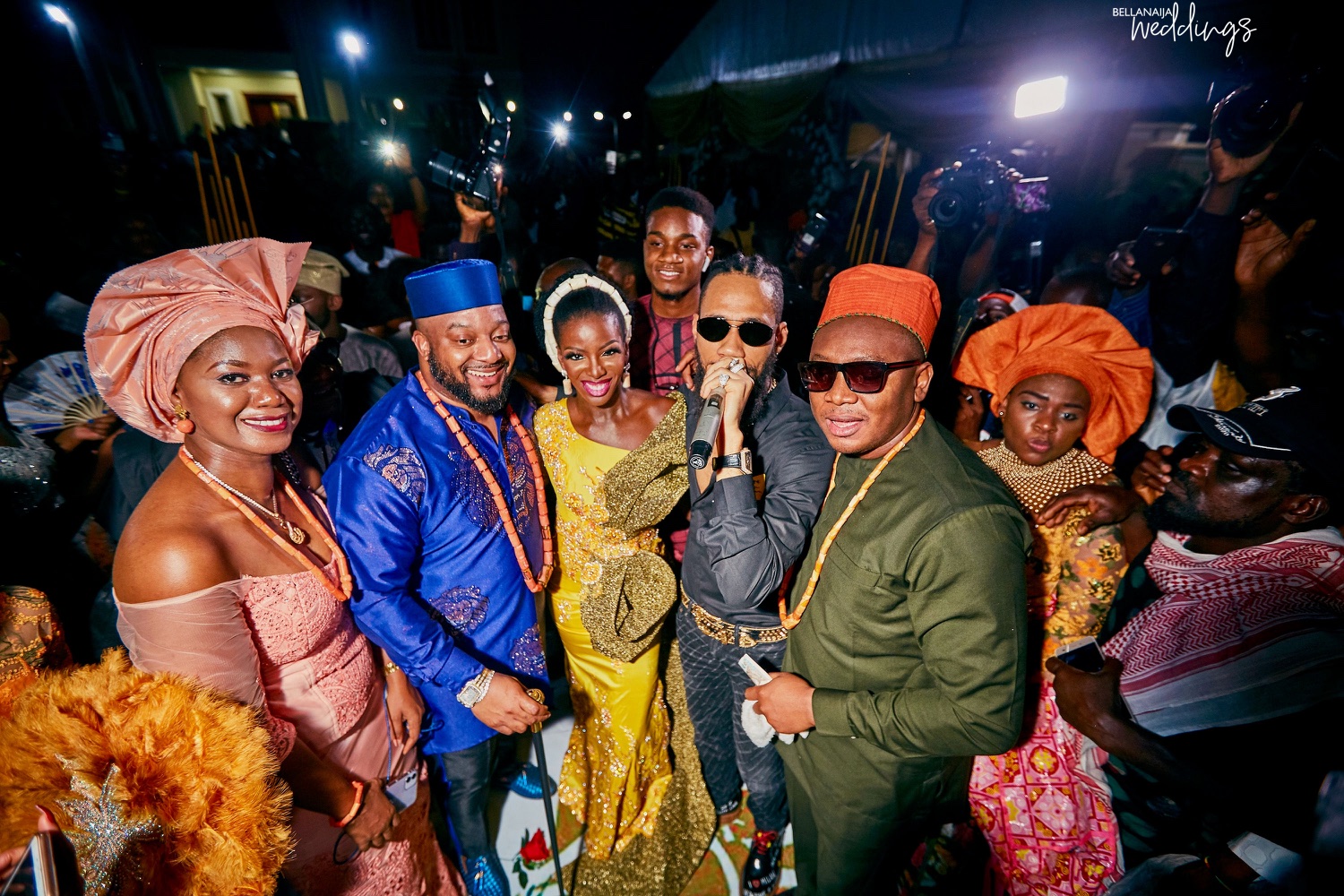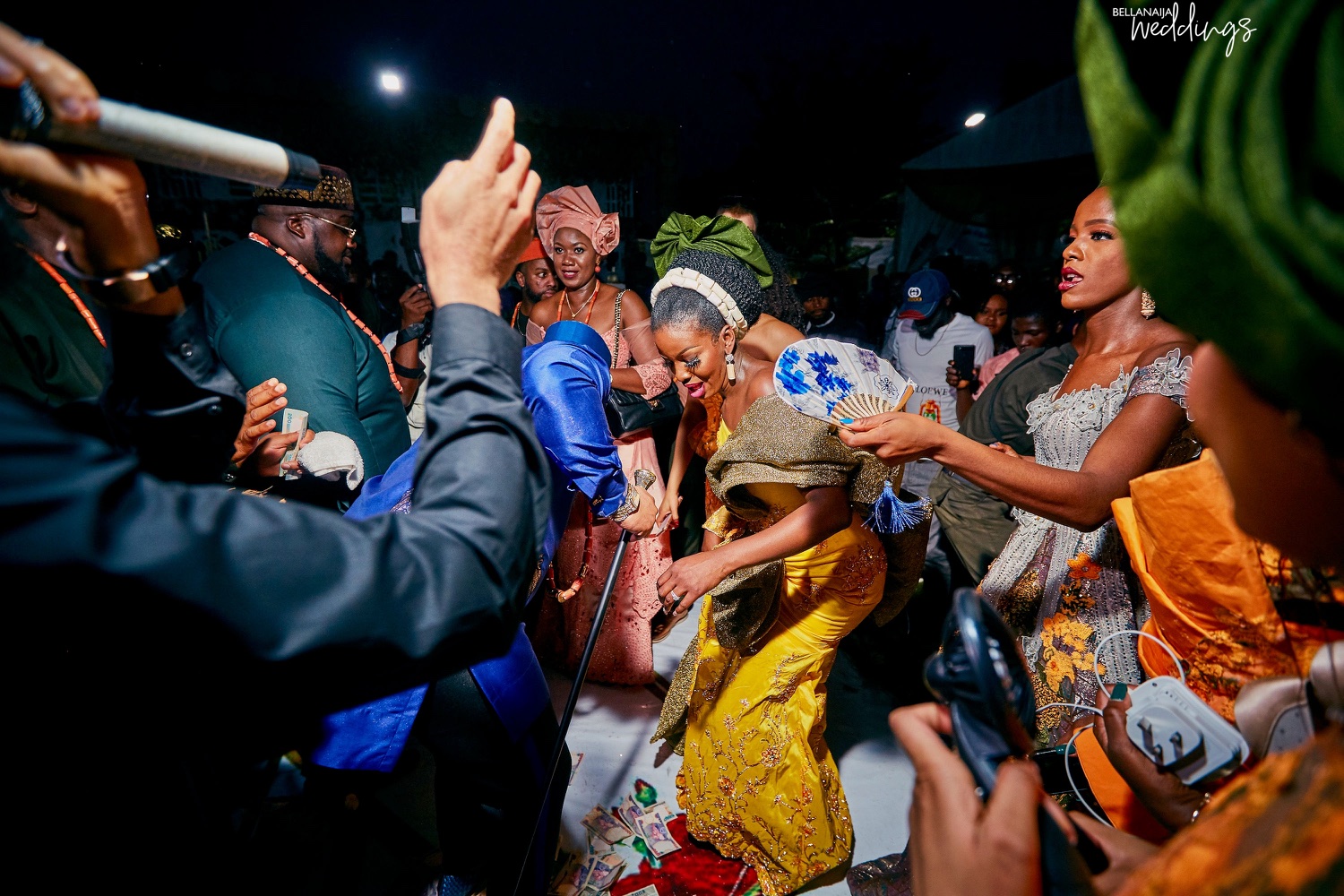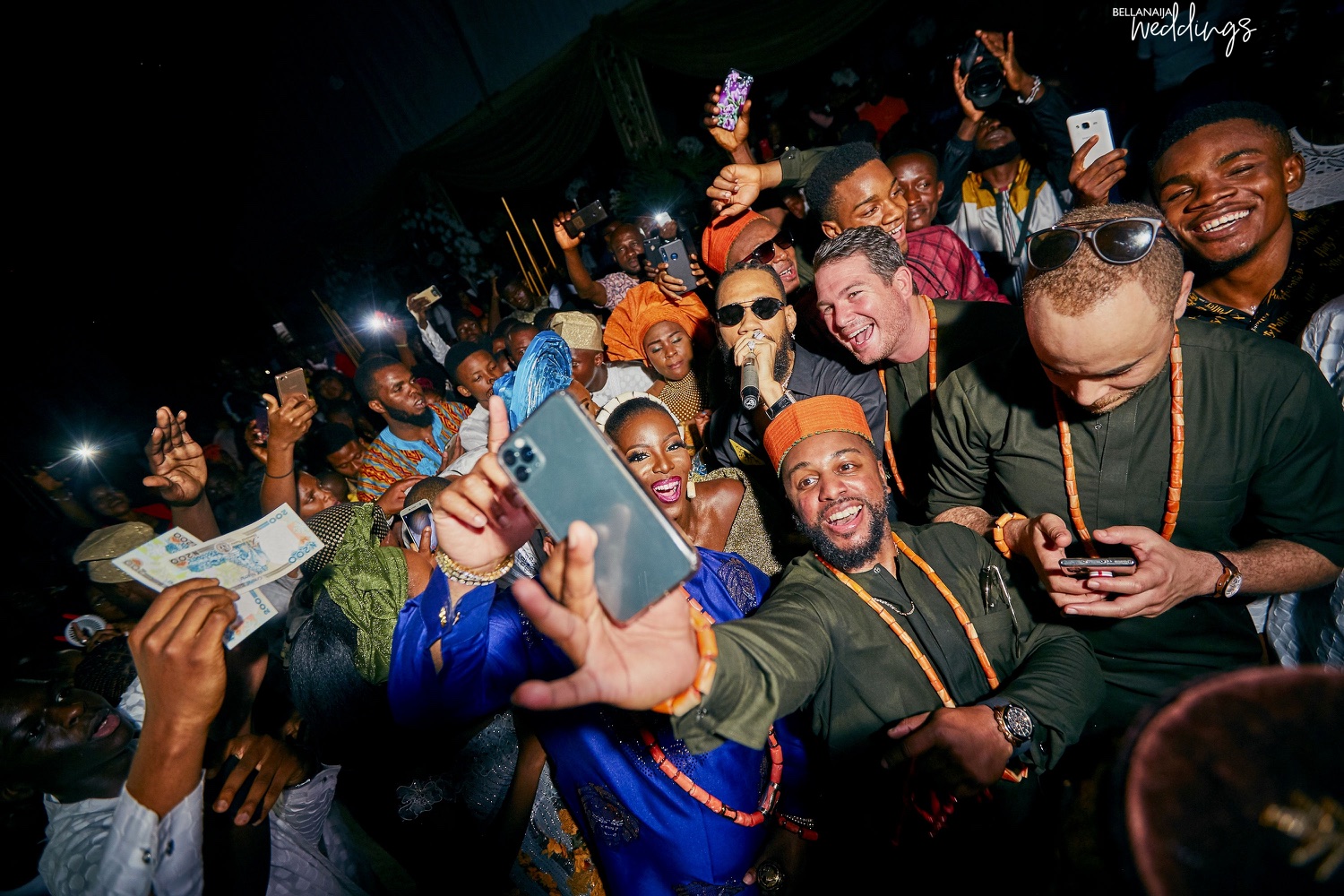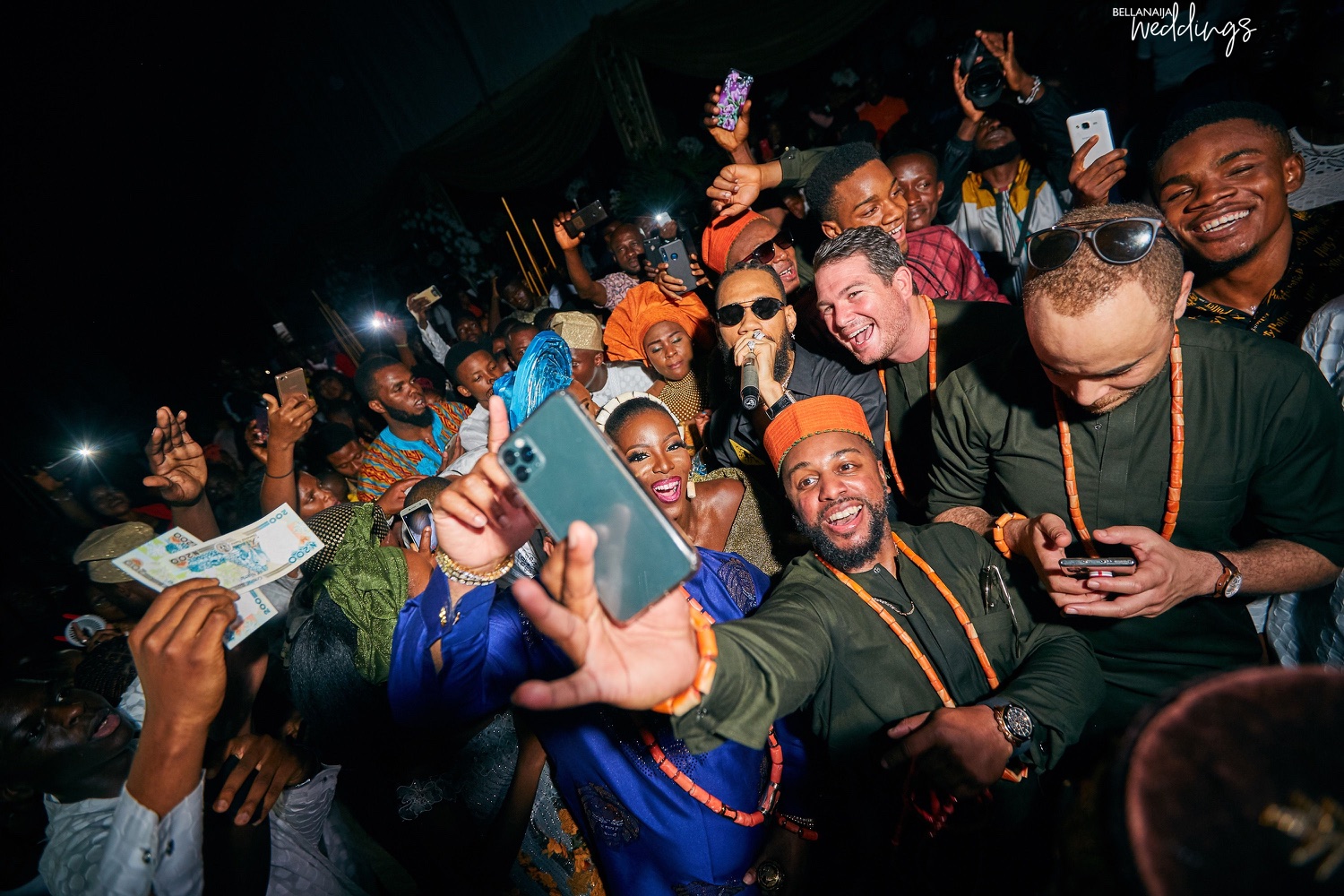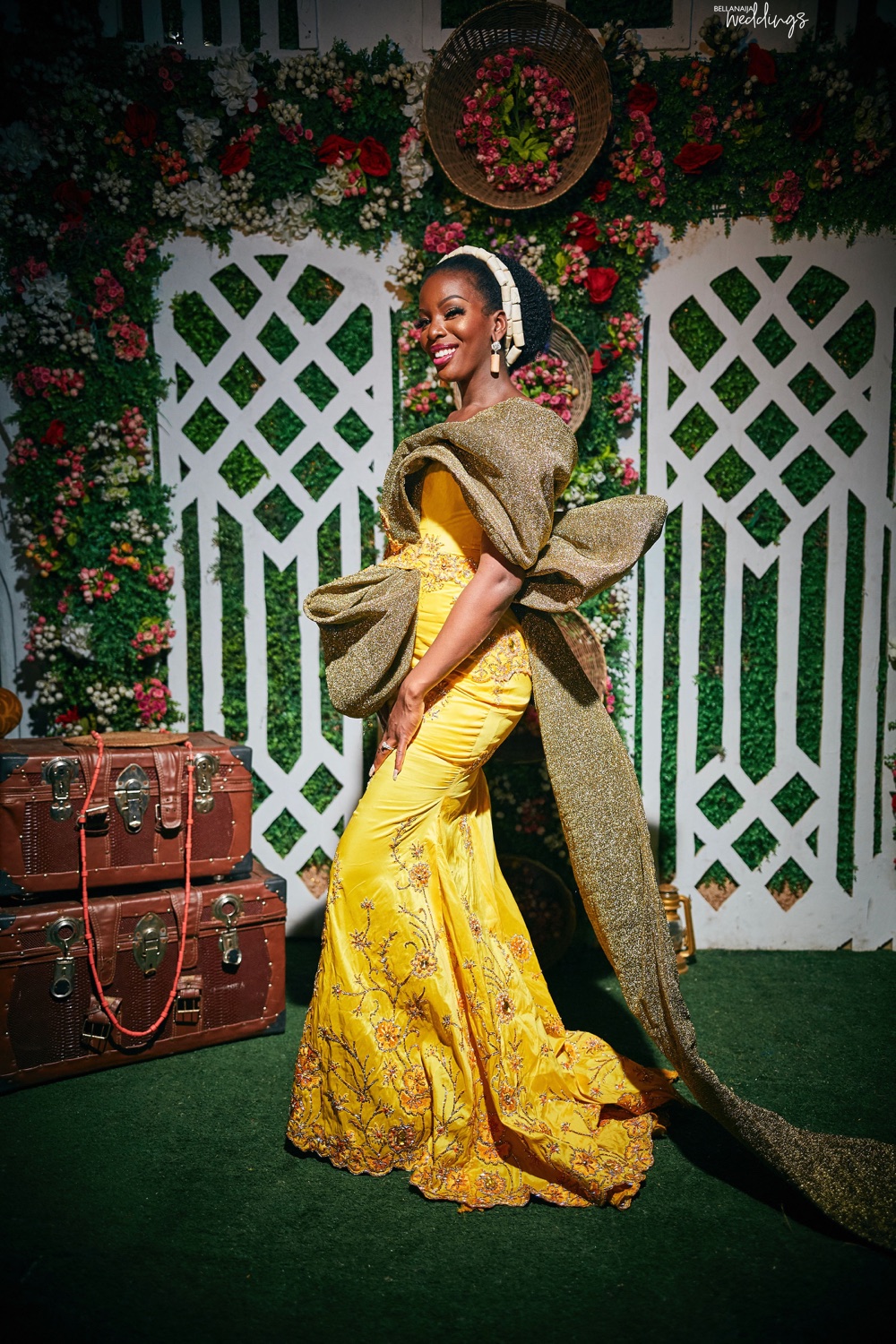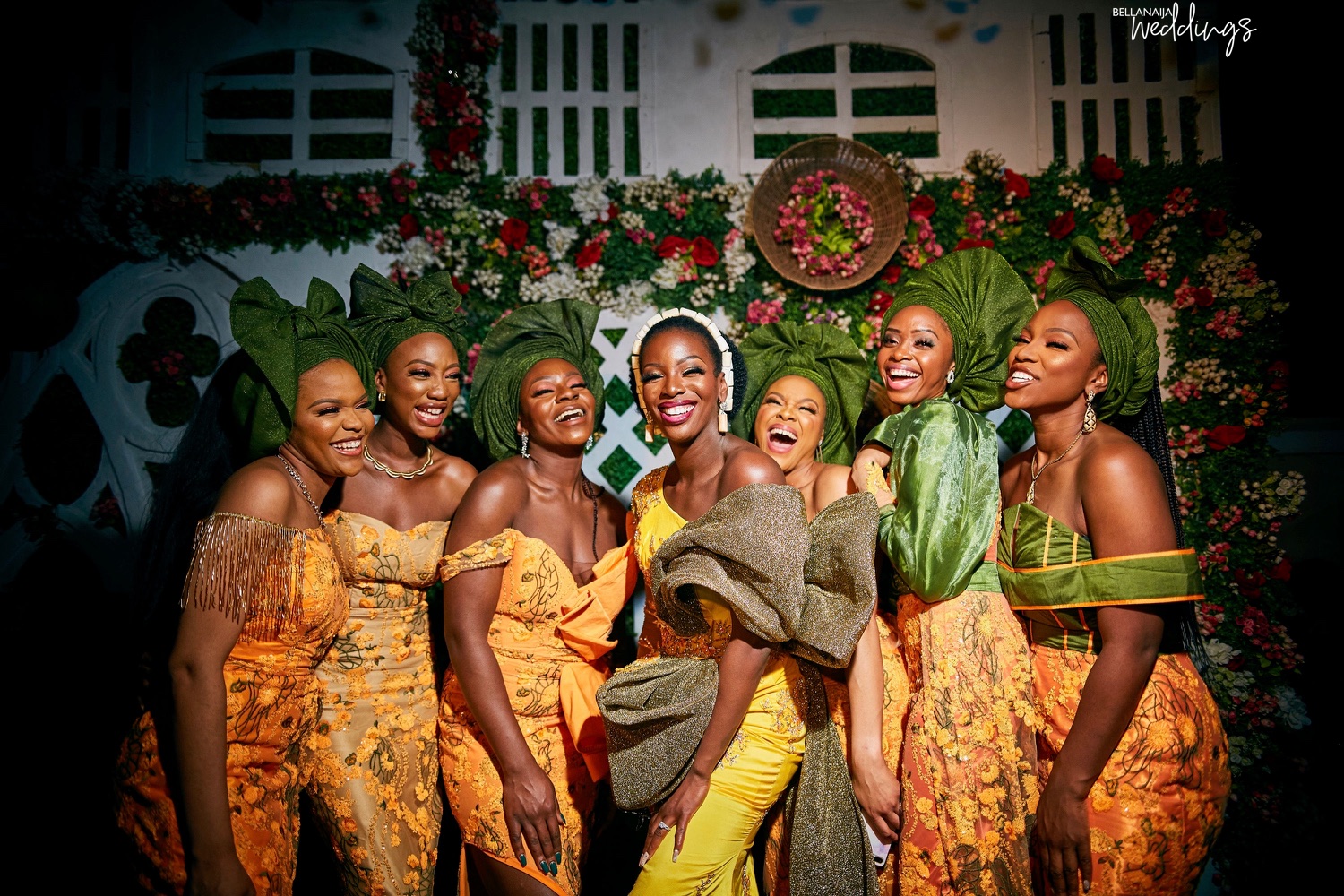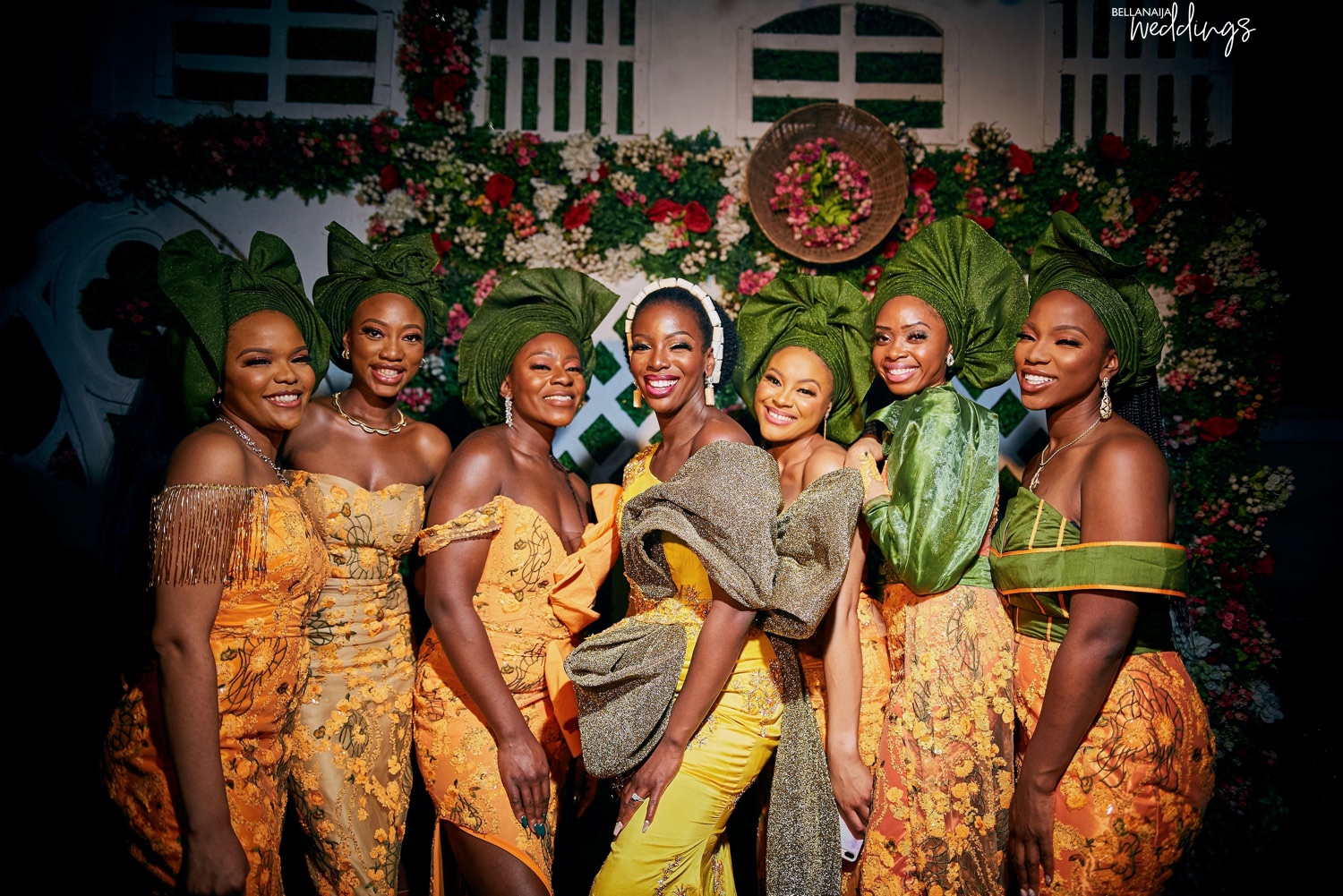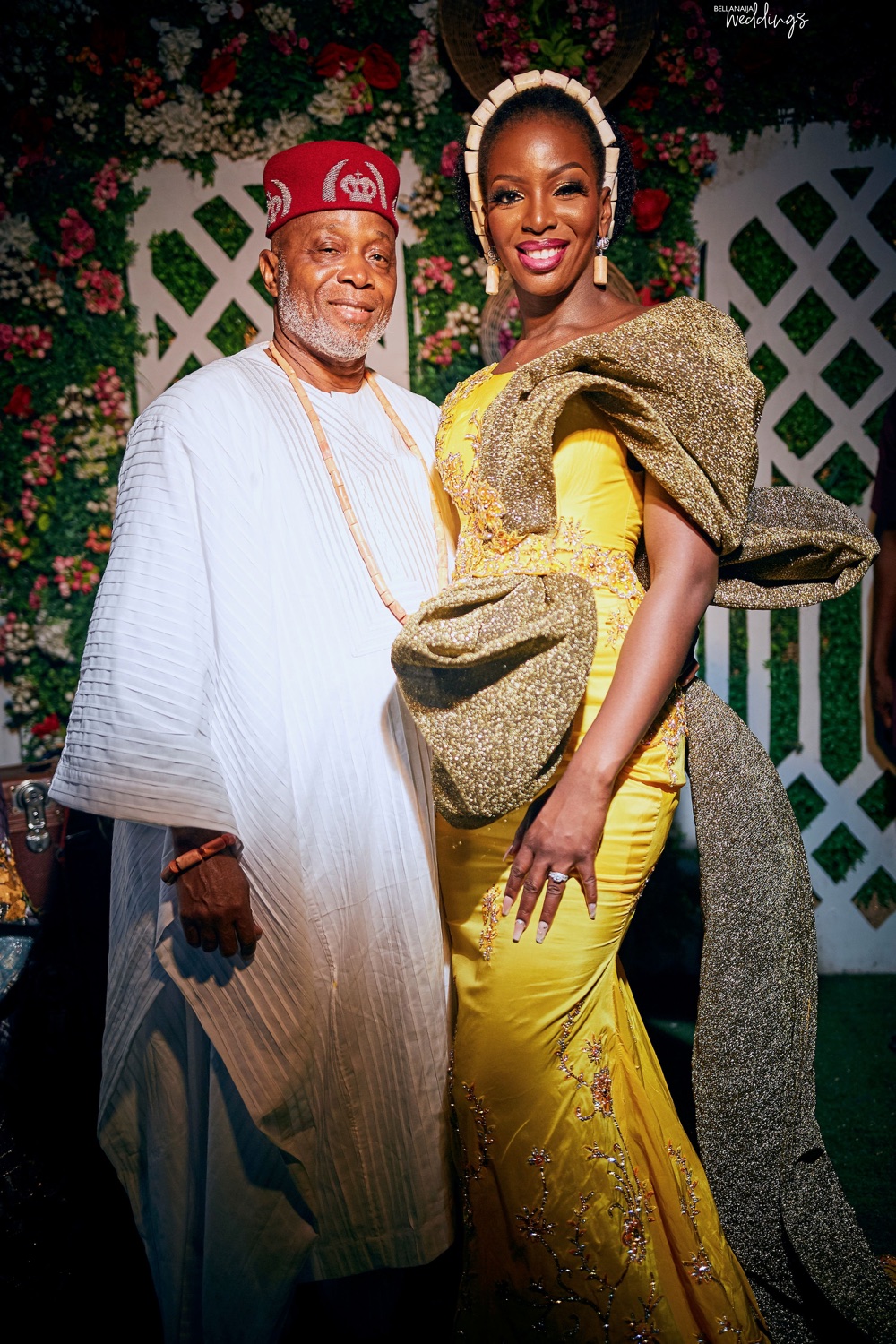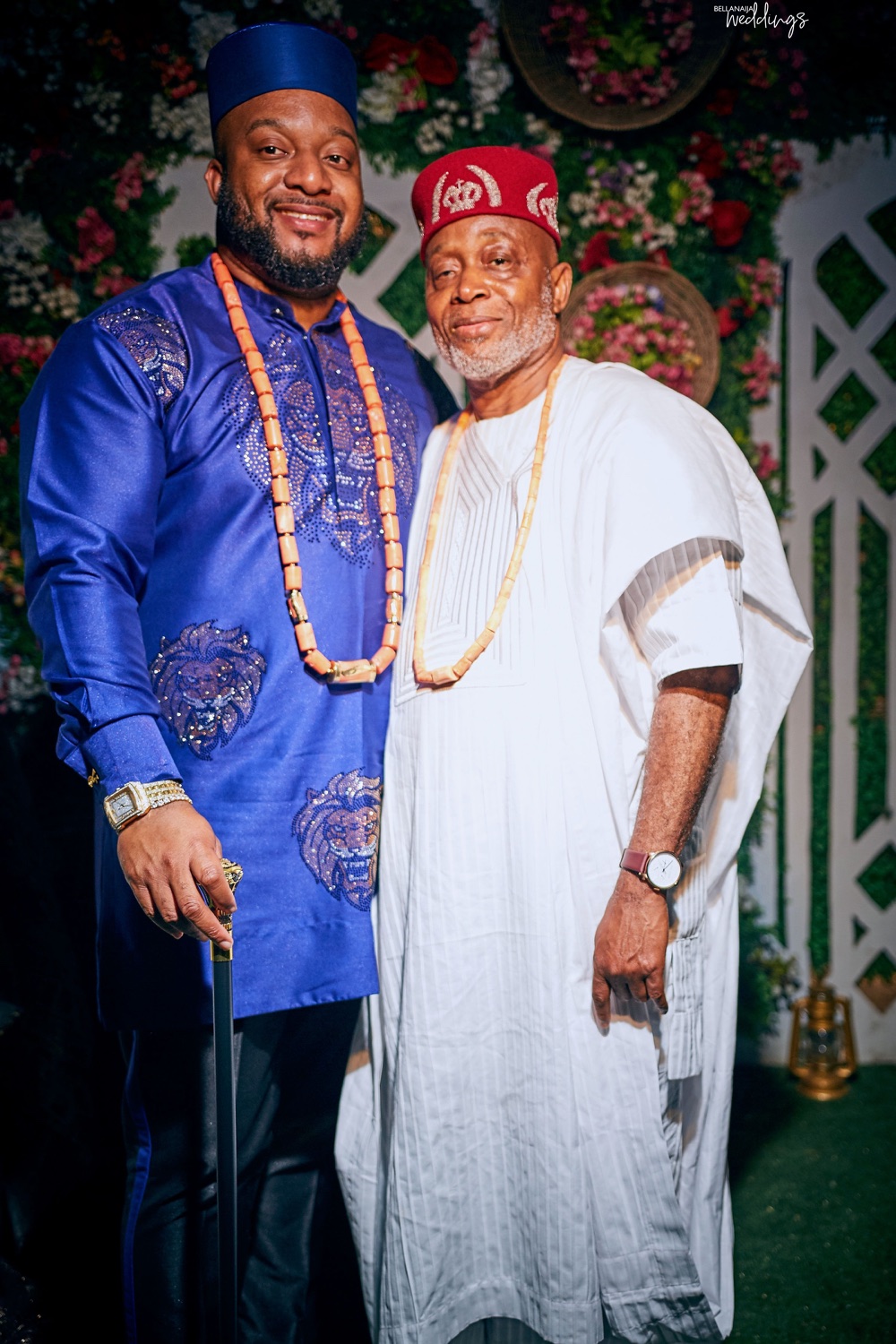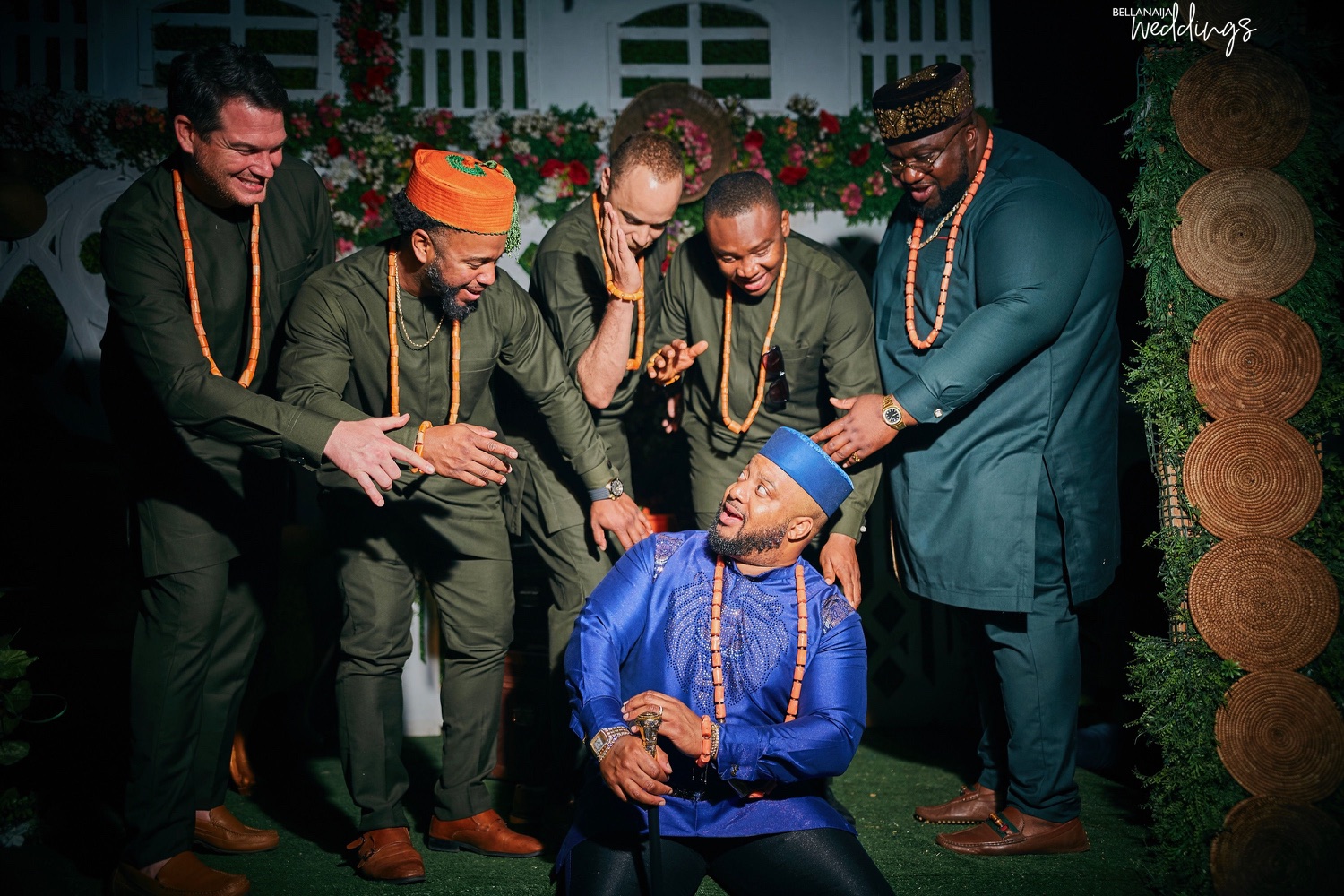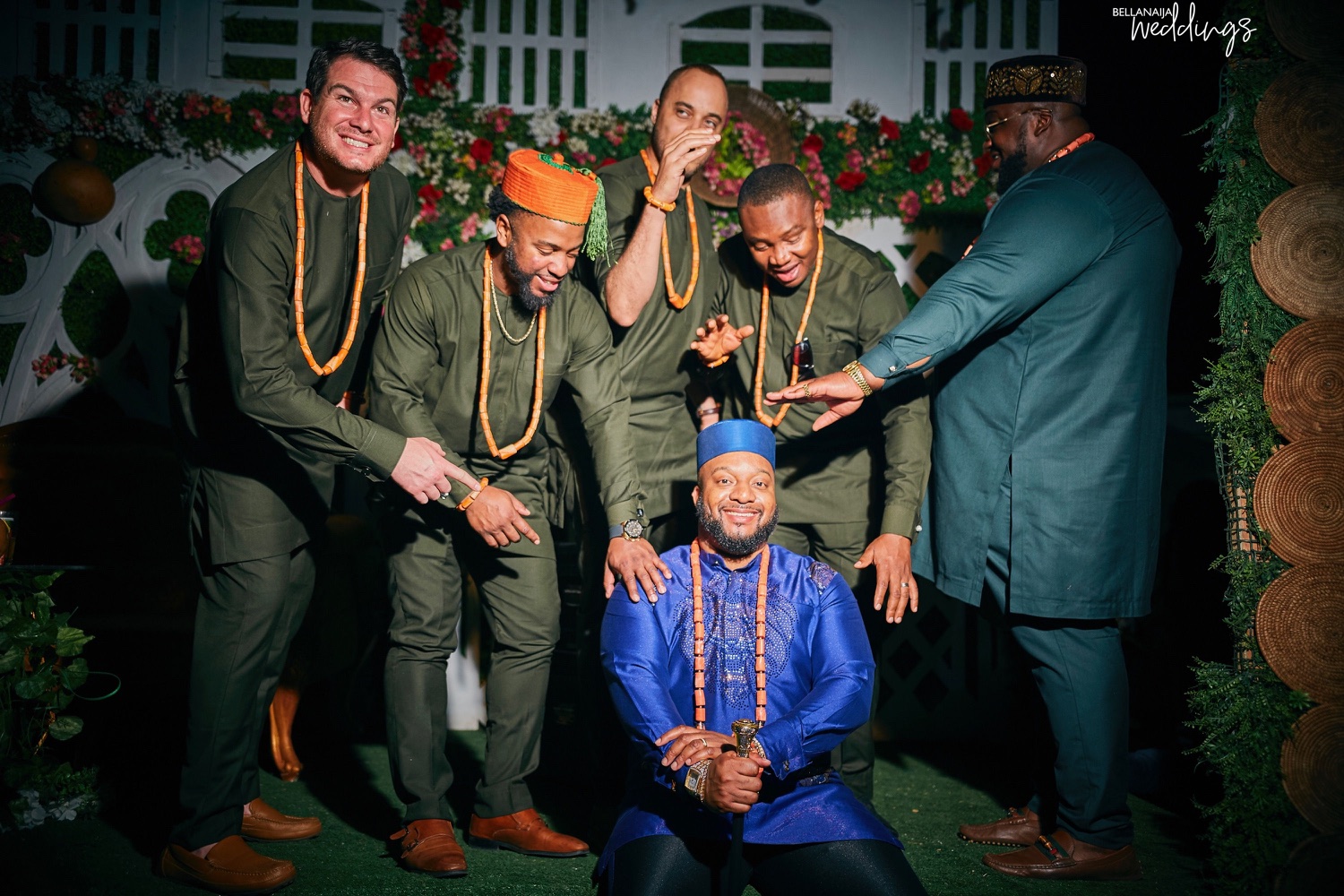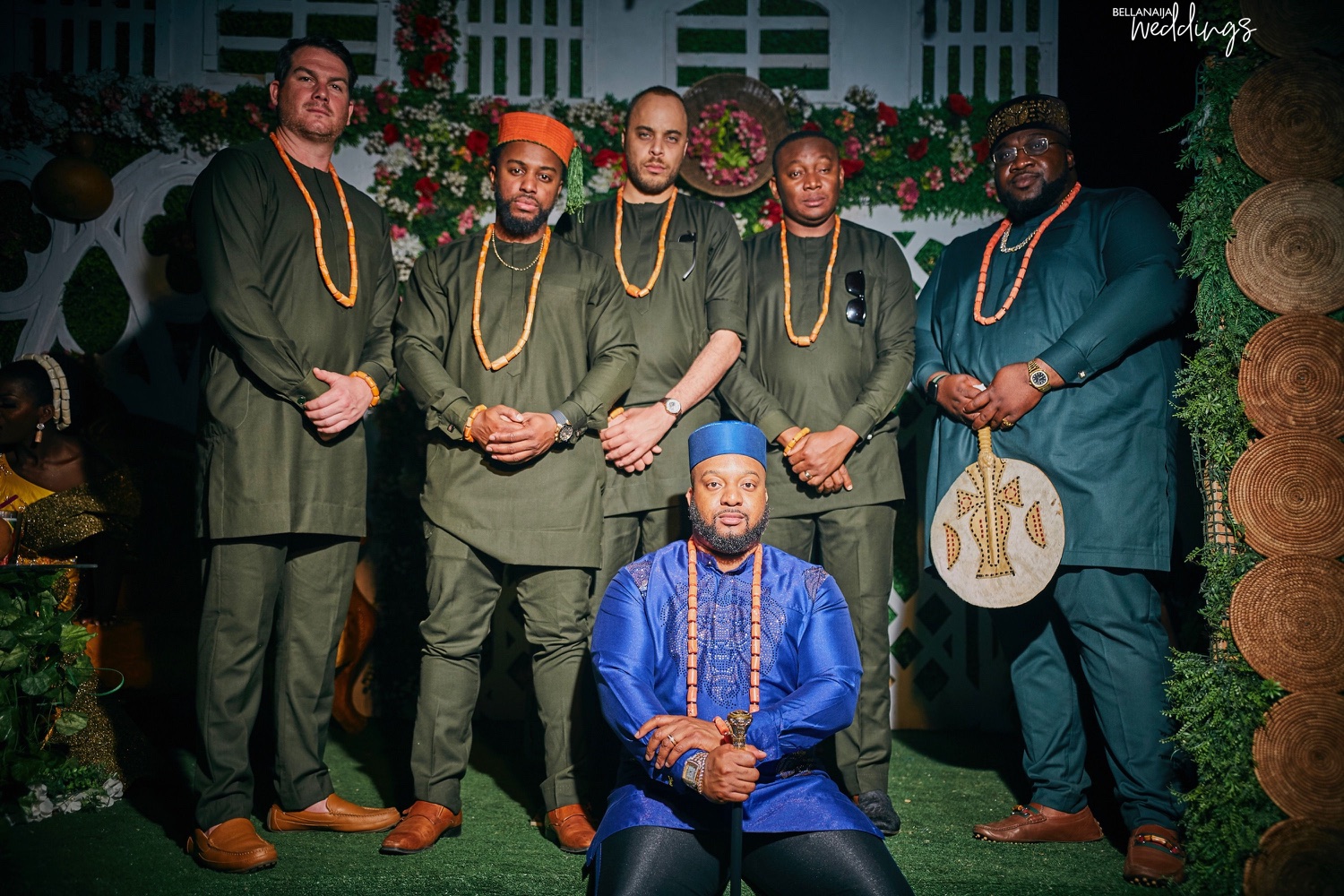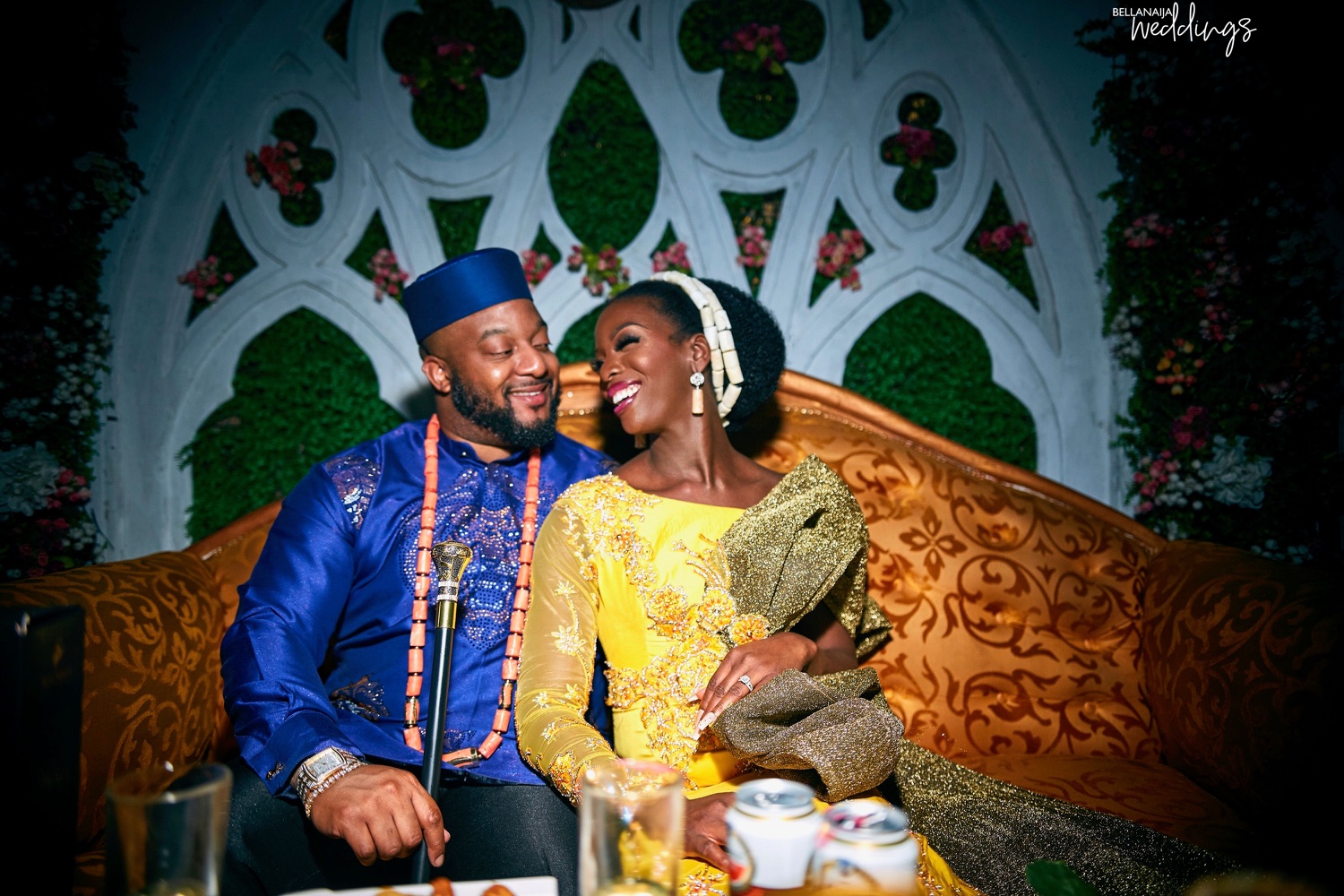 We were now married in the eyes of the village, and all that remained was my actual proposal. After returning back to Atlanta, Claudia was selected to speak at a conference in Australia. Being the avid travellers we are, we turned her speaking engagement into an opportunity for a vacation to a place I had always dreamed of visiting. We do everything big of course so we booked excursions and even planned a photoshoot. As I sat and went over our itinerary, it all sounded too good to be true and I saw an opportunity to make this trip even more special. I contacted our photographer and informed her that I planned on proposing to Claudia during the shoot. We put together a picnic on the beach which provided the perfect opportunity for me to pop the question. On that day (May 29th 2019) the weather was perfect and we were the only ones on the beach. I placed the wedding ring that took me months to find (I had to make sure it was perfect) into the picnic basket. She picked out each box until she eventually got to the ring. Now here we are!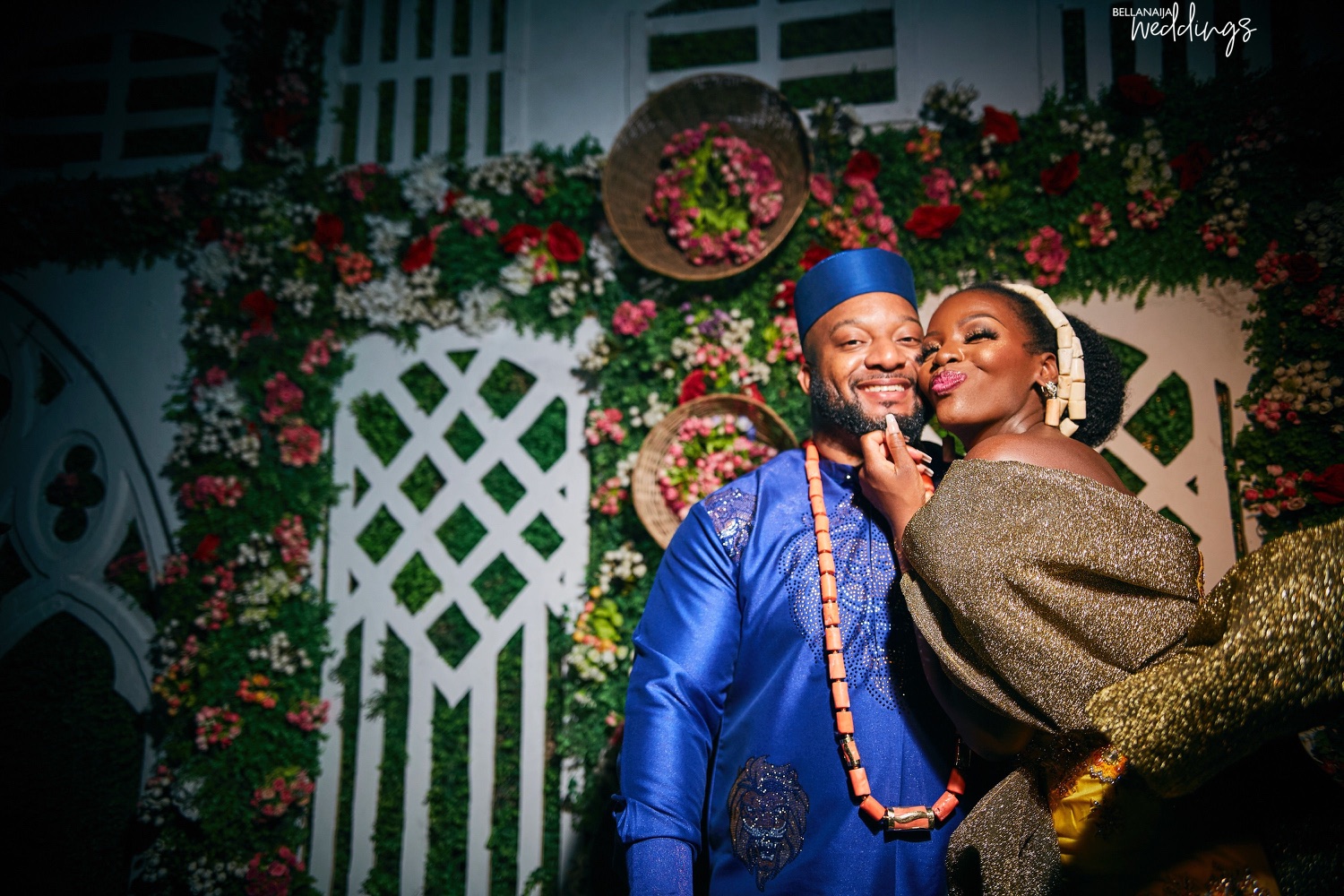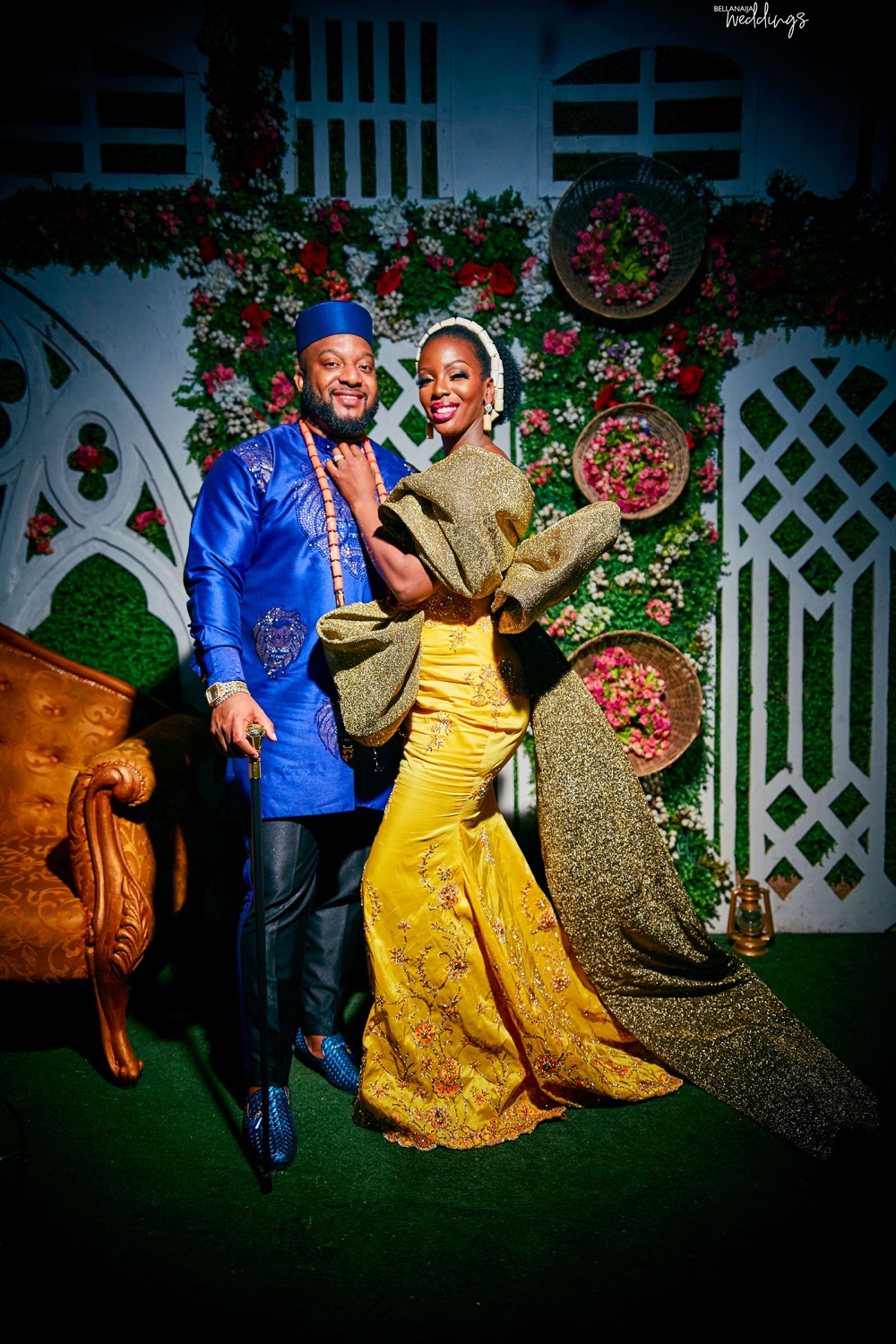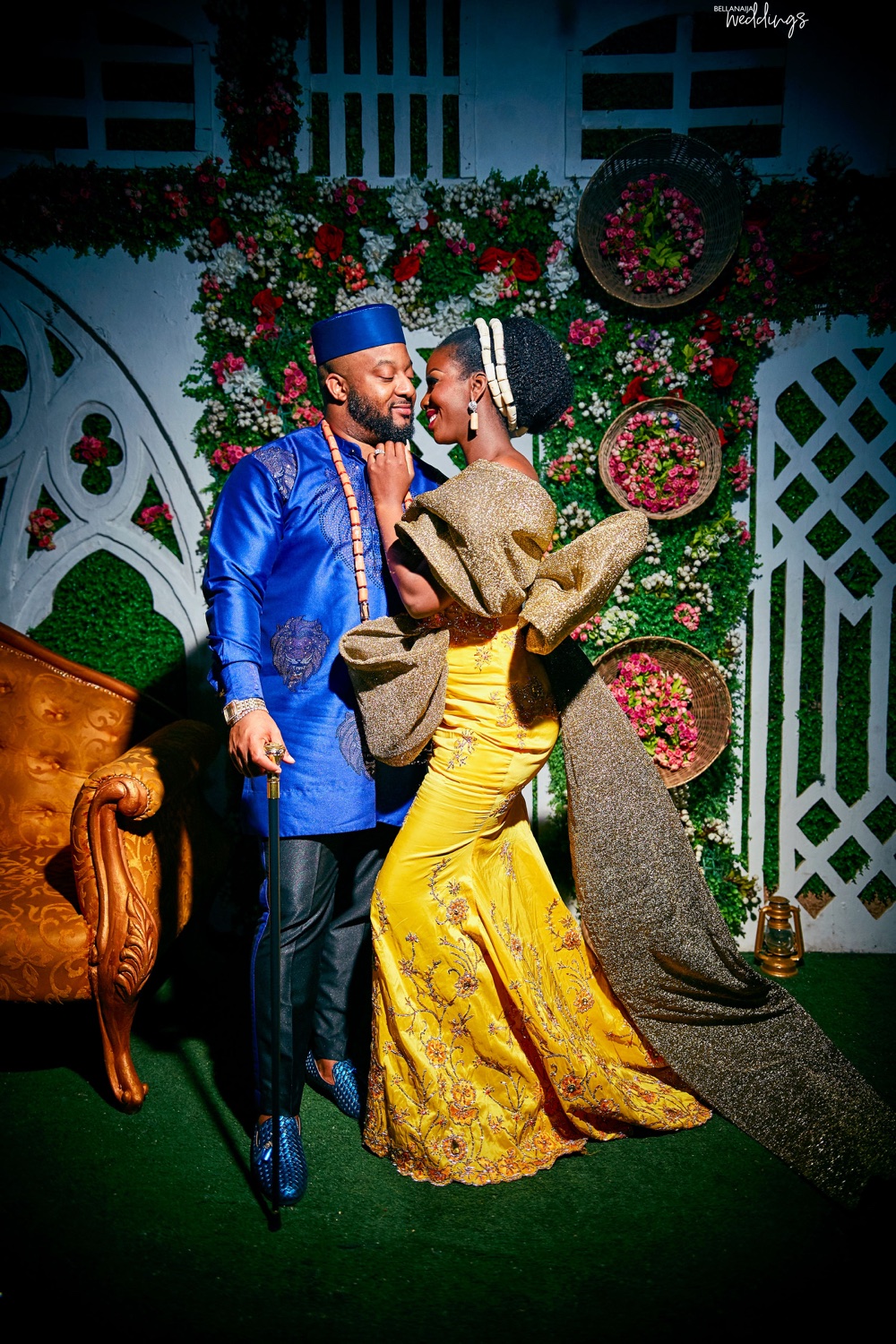 Credits
Bride: @claudiah_1
Groom: @drchuka
Planner: @stmmagicalcreations_events
Photography: @kunle_laniyan
Wedding Stylists:
1st outfit: @bibilawrence
2nd Outfit : @tubo_
3rd Outfit: @tubo_
Groom styling: @lookslikeagoodman
Groomsmen styling: @genesistailors
Accessories: @nenejewellryandcraft | @nicacorals_and_accessories | @knotty_knitters
Hair: @jovoria_beauty
Makeup: @sweettamara_
Gele: @oluchi_tender_touch
Nails: @nails_by_dami
Decor: @doxafredrick_event | @amarthadavid
Special Effects: @cloudeffects
Cakes: @kitchenpastries |@amiedoll_cakesncrafts
MC: @funnyboneofficial
Music Artists: @phynofino | @zoroswagbag