Editor's Note: There's almost nothing as beautiful as the love that has stood the test of time. That is why this month, BellaNaija Features and BellaNaija Weddings are bringing you beautiful stories of couples whose love has not waned through the years with The Ever After Series Special Valentine Edition.  
Today, Mr and Mrs Abu, who have been married since 2000, are sharing their insights on love, marriage, and the forever journey. Let's take you on a dive into their Ever After story. Ride with us!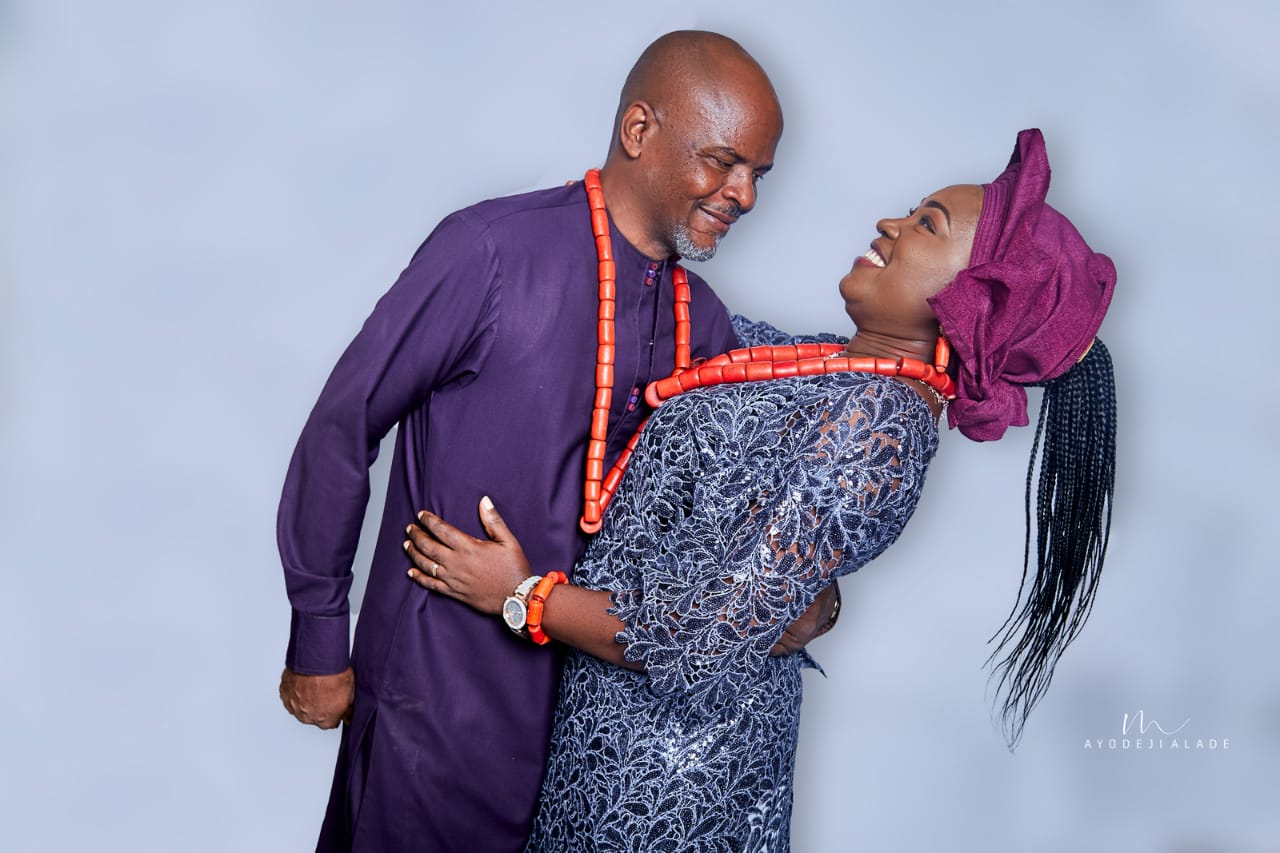 If you are a religious person and a Christian who doesn't go to church, let Oluwatoyin and Charles Abu's love story be the spiritual ginger you need.
Oluwatoyin was a sister in church, and Charles, a brother when they met. They attended the same membership class and wrote the same exams. Charles was also a friend to Oluwatoyin's closest friend and by extension, became her own friend too. But through it all – prayers, exams and friendship – Charles was busy casting his net into the sea in search of that golden fish. 
"I was not fishing for a spouse," he disagrees. 
Oluwatoyin has a different version.
When I saw him making some moves, I told my friend to go and warn him. While I was in school, he was always coming going to my home to check on my mum who was a widow. When I got back, we spoke and I let him know my mum told me he was always checking up on her.  
But Charles did it out of the goodness of his heart, right?
"I am just a caring person," he says.
Indeed!
"I noticed that she was still in school and I felt that it was a need for her family to know that even though she was not around, we recognise the fact that she was one of us. I will go out of my way to check on her mother at home. I was just doing my job.

The interest simply began to grow. I told my friend that in my conversations with Oluwatoyin, I keep seeing green light. So, let me take the plunge. If I get a no for an answer, then no problem. I took the plunge and the answer was yes.
In 1998, they started a relationship. In 2000, they got married and they are blessed with three children.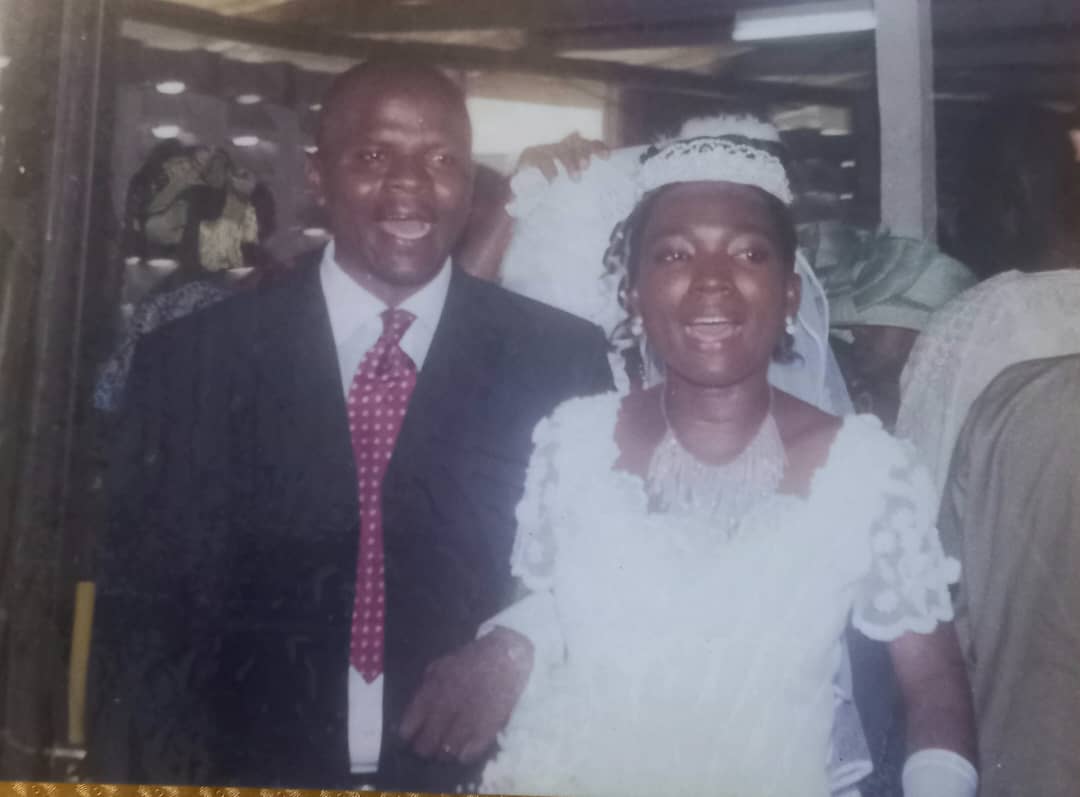 Love is a beautiful thing. It creeps up your heart, slowly but surely, and spreads into different parts of your body, warming up your fingertips or tingling your toes. Love tells you when you have found the one, directing your eyes and mouth, nudging your body towards the one who is truly meant for you. Your ever after.
Love transcends age, tribal and religious differences. They say the first few years are the toughest; it is when many couples decide to part ways and find their cupid elsewhere. But the Abus' love broke down this mountain, bit by bit until it became little surmountable rocks. With love, the bumpy roads in their marriage were smoothened.
Charles Abu: I don't know if the first few years being tough is a fallacy or not. But I know her maturity was what helped in the first few years. I found it easy because she made it easy. There was a day we had a conversation when we had a little disagreement. She made a comment about not coming into the marriage to get a divorce; she came into this marriage to stay in it. For me, that was a very big point.

She was much younger (she was 25 and I was 35) but her level of maturity taught me a lot. My wife is someone who manages conflict very well. If there is going to be conflict, there is a way she drowns the tension and makes me feel comfortable.

When our marriage was about 8/9 years old, I remember telling my pastor then that I didn't know if I am truly married because when I hear all the stories around me, it is always negative and I have to pinch myself sometimes and ask: are you living a life and is this truly marriage?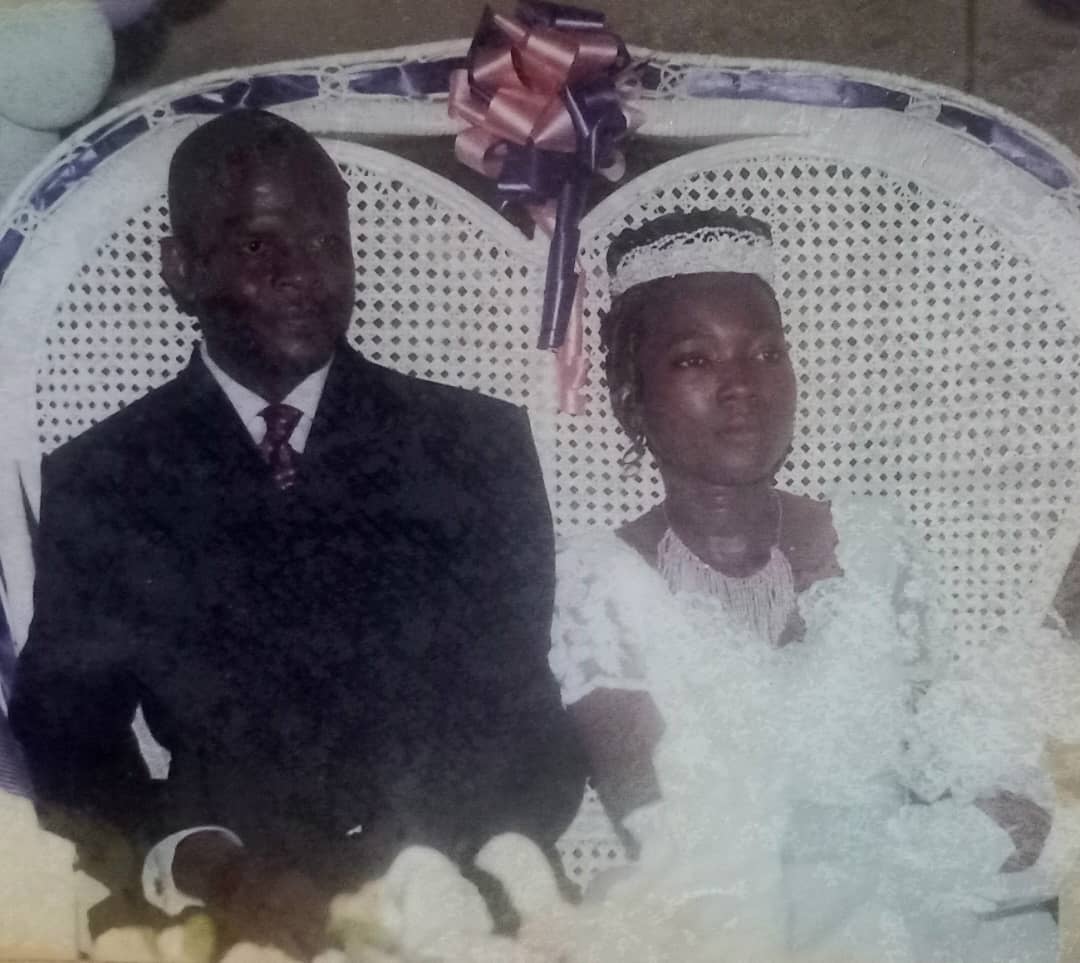 Oluwatoyin's commitment to her marriage is incredible. We live in a world where people are willing to throw in the towel when things begin to go south. It wasn't the case for her. "I came into my marriage with the mindset that it must work; I am not here on an excursion. As a young person, I always told myself that whoever I was going to get married to must be someone that should be intoxicated by my love, every day," she says.
I remember the topic on our wedding day was "Are you ready?" Whenever I am faced with something that is going to make me struggle or disoriented, I will ask myself: 'Toyin, are you ready?'

There are times in life when you need an anchor/vision word or statement to keep pushing and motivating you. I am a Yoruba lady from Ogun state and he is from Edo state and there are a number of things that come into play.

Rather than looking out for his own errors or faults, I always look inward and ask: what can I do better?  
Mountains, in marriages, show up in many ways – like love waning gradually and gradually until couples are relegated to being flatmates or roommates, family interferences, career differences, or different parenting styles. There's a way the Abus handled this.
Oluwatoyin Abu: During courtship and before we had our first child, he said: make sure you don't switch the love you have for me for the children when they start coming.

Charles Abu: I will still give it to her for her corporation. She learnt to switch roles from being a mother to being a wife.
And with one voice, they raised their children.
Charles Abu: I like the way my wife was brought up. At one point in time, I sent a message to her mother: "Grandma, thank you so much for raising Toyin to be a great woman."

One of the things that helped with parenting our children was that my wife stayed at home to raise them while I worked. She had enough time to be with the children and pay attention to them. She did most of the parenting and she told me the uniqueness of the children. Whenever the children reported me to her, she would defend me. She never formed an ally with them against me, rather she became my own ally to make them see the perspective of both of us.

We always spoke in one voice and if I said something she would never disagree with me. Even when she has to disagree, it will never be in front of the children. We are grateful that none of our children turned out to be a rebel or give us any form of challenge.

Oluwatoyin Abu: Most times, when I hear things from the children, I tell him the children think that it is only mummy that knows. There is a male perspective to raising children, and when it comes to parenting, it is always a blend of the both of us.

Even in our relationship as a married couple, we try our best to see that we are their role models.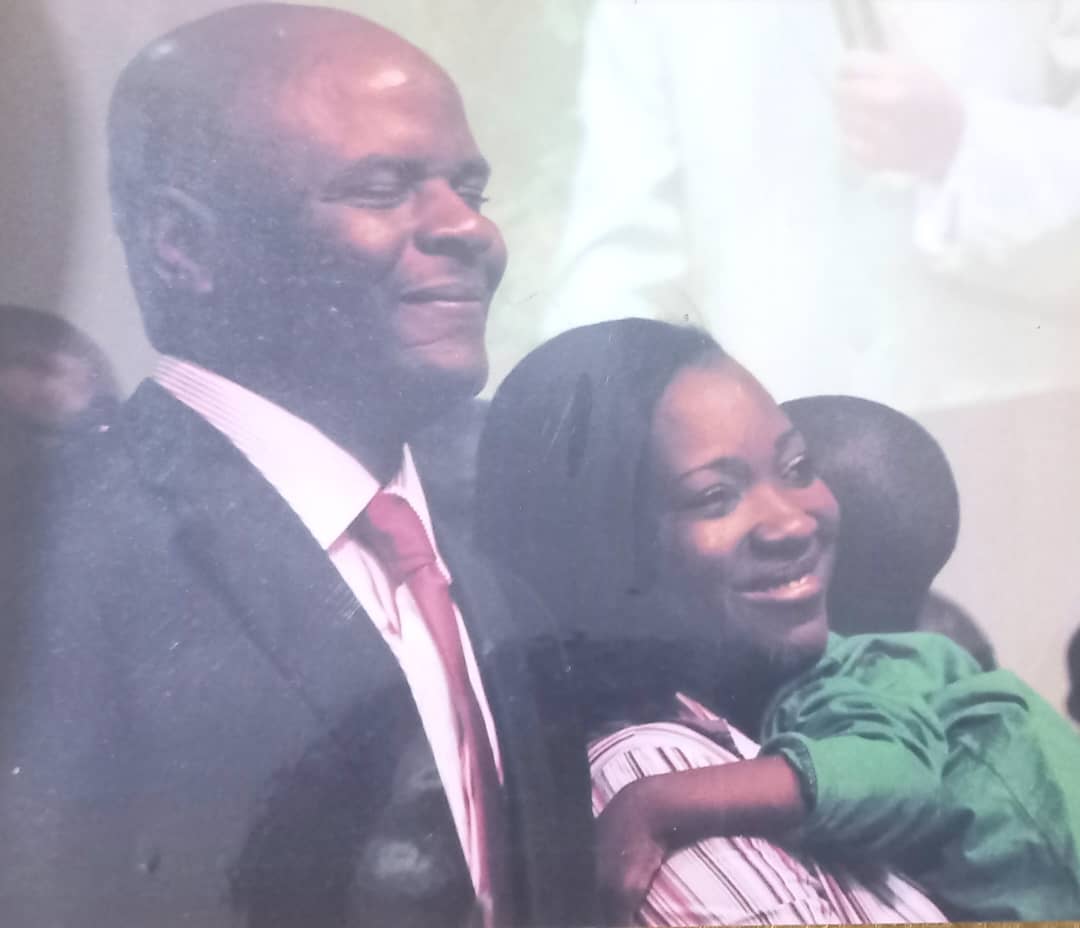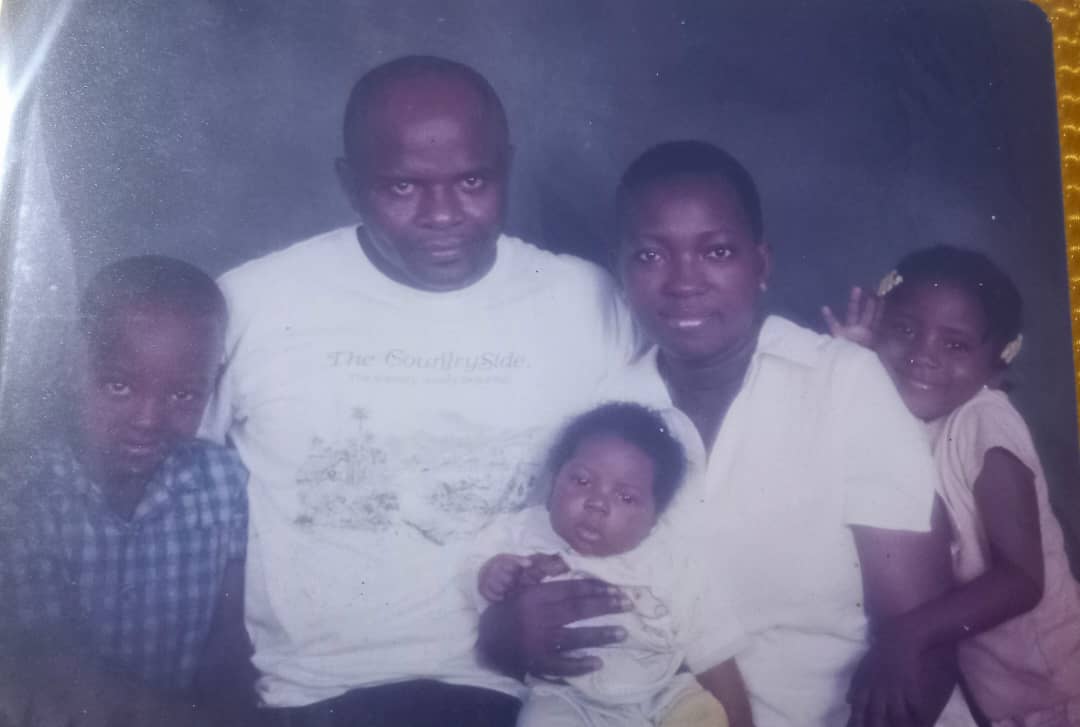 Love and romance are siamese twins; where one goes, you find the other. How do you say you love your partner when you do not buy them gifts, make time for them, or give them attention and care? Dey play. But when children come into the picture, couples get so engrossed with parenting, work, and bills that they forget to do those little things that attracted them to each other in the first place. The Abus kept the fire burning. How?
Charles Abu: To be honest, I cannot say I'm the most romantic of spouses…

Oluwatoyin Abu: I always make the kids know that I have to attend to my husband.

Charles Abu: …but I take my wife out sometimes. I also have the ability to be able to look at issues, talk over issues and work on proper communication.

Oluwatoyin Abu: We also take time to go out and play and make sure that it is deliberate. There needs to be regular appraisals and checks to be true to and real with yourself. Learn to be vulnerable as well, don't see yourself as perfect and someone who cannot make mistakes.
Regular appraisals and proper communication are important, let's be honest here. Especially when it's an inter-tribal marriage. How do you learn to eat ewedu when you're used to food from the Niger Delta?
Charles Abu: I see soups like 'omi obe', ewedu, okra as flat. When you come to the Niger Delta, you will see all manner of food. When someone from Niger Delta prepares porridge for you ehn, you will see crayfish, vegetables and all kinds of things.

It almost became an issue when we got married because almost every day, I will be seeing ewedu or okra and watery stew. I told her we had friends from the Niger Delta whose wives she could learn from. She never argued, she took that advice seriously and she went and learned. I tell you today, my wife prepares very good meals from the Niger Delta and that brought a lot of peace and fulfillment.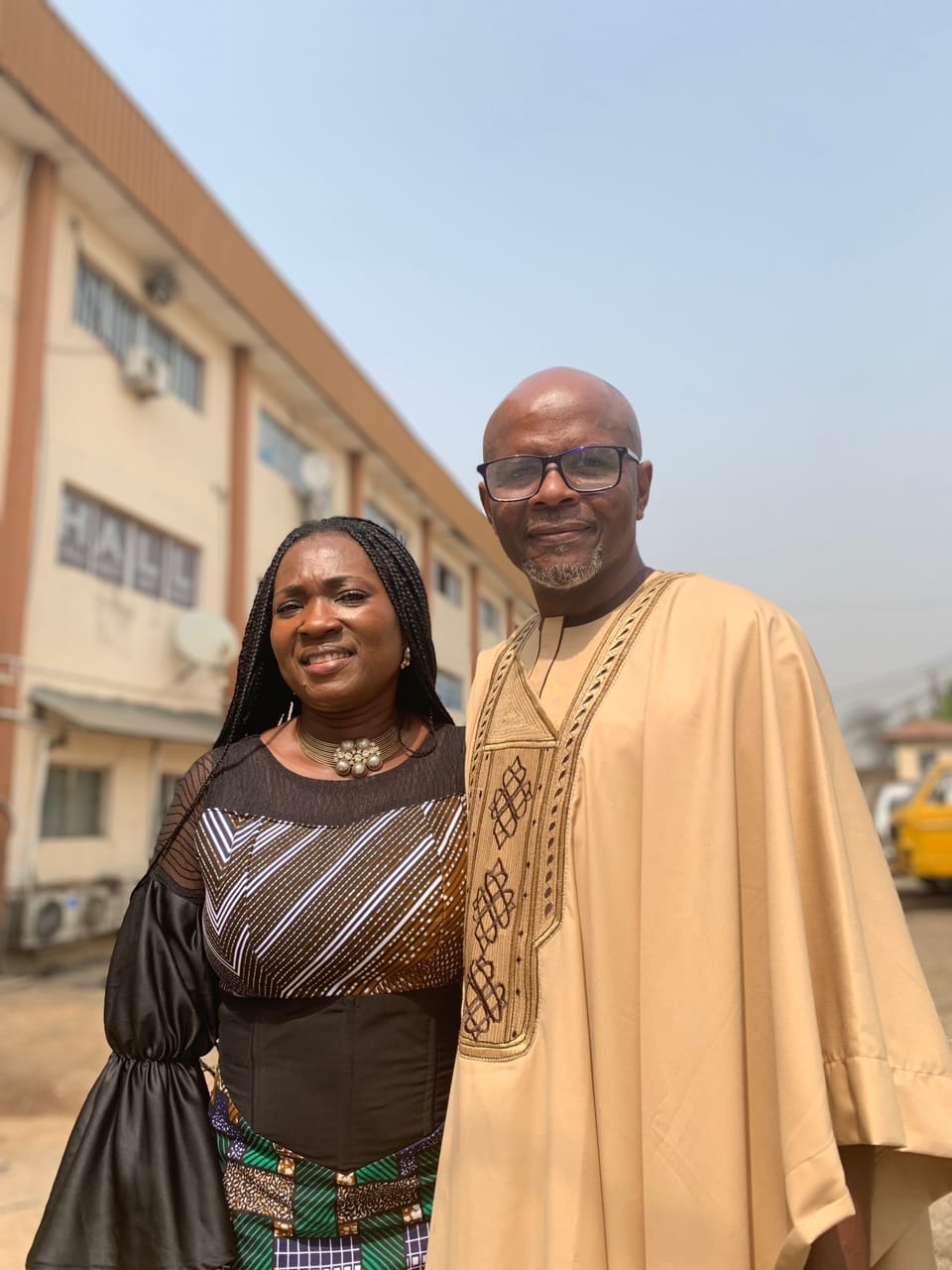 Having a good marriage is no walk in the park. They are tough and sometimes tiring. Sometimes you want to leave your house and not come back. Other times, you simply want to face the walls and scream your frustrations out until your lungs shrivel. Oluwatoyin Abu says that for a marriage to work, you have to make sure that you are ready to work. Indeed! For how do you handle the discovery of a low sperm count after marriage? 
Charles Abu: When we got married, there was a slight delay in my wife taking in. When we went to the hospital, the doctor told me that I had low sperm count.
Ah!
But then, we had our first child, our second and then the third.
Hallelujah!
Charles Abu: When we had our second child. We realised, after his naming ceremoney that one of his hands had an issue. We went back to the hospital where they did some tests. We still kept going from one clinic to another. We went to LUTH and two doctors said they had to put him on anti-nervous medication. However, another doctor advised us not to do that. That was the last time we went to the hospital. The child turned out to be brilliant and will be 20 years old soon.

Oluwatoyin Abu: Anytime we are asked this question, we have to think really deep to be able to come up with an answer. We won't say there are no hard times or disagreements, but there is none we were unwilling to iron out. Also, because we teach couples, when I see things, I ask him if I do that so it won't be a case of "teacher, teach thyself."

Charles Abu: It is truly difficult for me to answer. Maybe we are one of those lucky couples.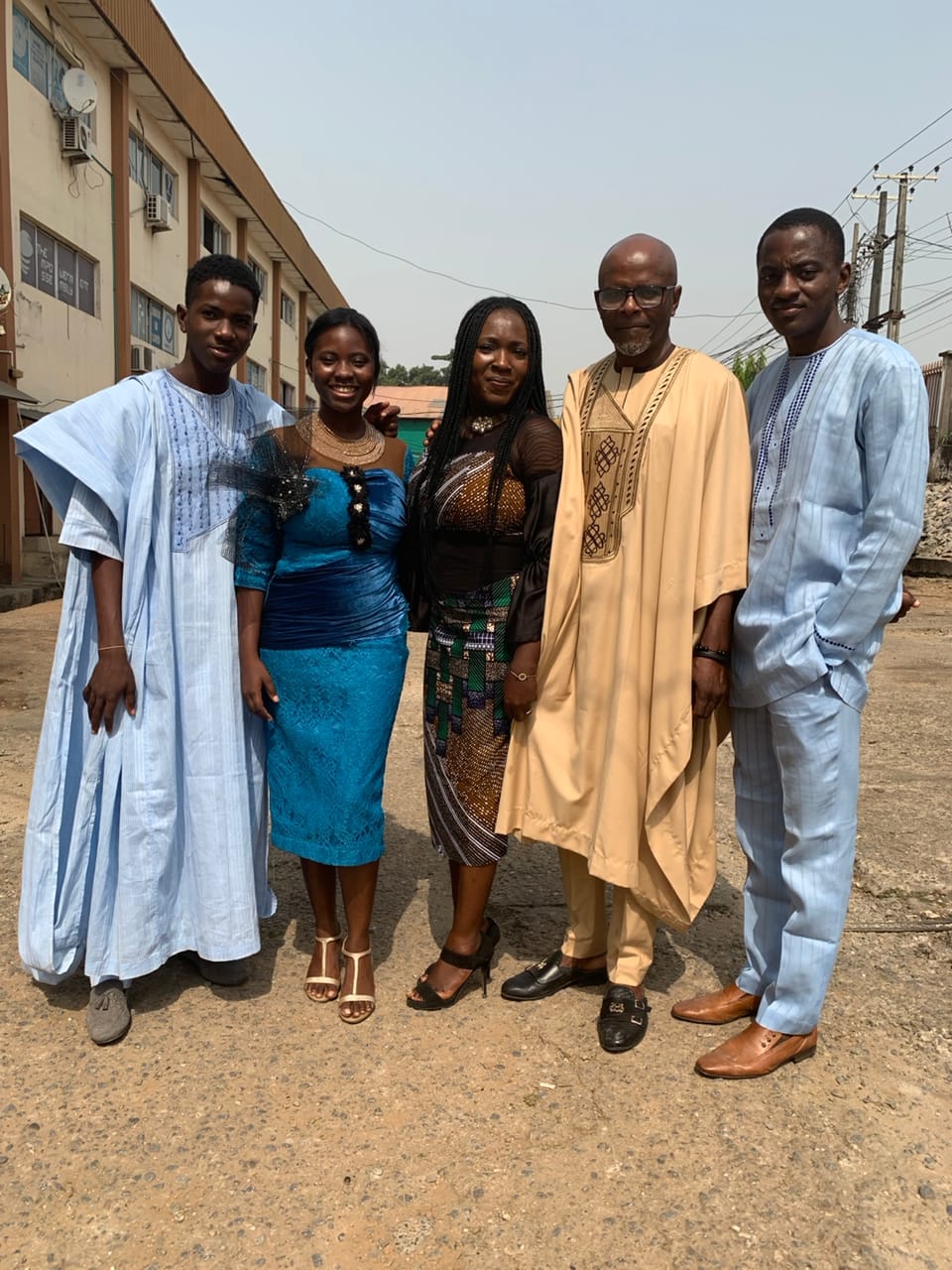 Marriage is a beautiful, beautiful thing and as we spoke to the Abus – still all coy smiles and soft eyes – we couldn't help but ask "God when?"
Pastor Charles and Oluwatoyin Abu are thanking God for their many blessings, especially the arrival of their three kids. They are also flexing on us.
One high point in our marriage is when we hold our couples retreat and we get to talk to couples. We see that this is something that could impact marriages and God committed this to us even when we didn't realise that.

Then the few times we travelled together. We had the opportunity to travel together to Ukraine to see that beautiful country. Then in 2015, we traveled together to Holland, we went to Ireland and then went back to London.
Ah! One more prayer, Baba God: Valentine is coming, I want to be a baller.
***
Did you miss the first edition of The Ever After Series? Read all the episodes here.