Editor's Note: Honeymoon is indeed a special time for the couple. It's a time to bond and experience a new place together as a married couple. Newlyweds Tosin and Kayode's honeymoon trip around New York Washington DC, Miami, Dubai, Maldives, Singapore, and Los Angeles is what we will be enjoying today!  So if planning a honeymoon trip between these cities is your goal,  then enjoy this feature.
Let's get into it!
Tosin:
A round-the-world trip? "Yeah, why not? After planning our wedding, we both knew we needed a type of honeymoon trip that is beyond extraordinary. We are frequent flyers, and since this was our first international trip in two years, we just wanted to explore as much as possible. After all, it's our honeymoon and we both deserve the treats after all those wedding planning headaches.
Since Kayode is The Points Engineer and he had tons of points and miles that we could use to travel to almost anywhere in the world. We saved up and started planning our honeymoon as we were also planning our wedding. We began our adventure with a stay at The St. Regis New York, where we had such an exceptional sleep experience and were treated to a really good breakfast the next morning.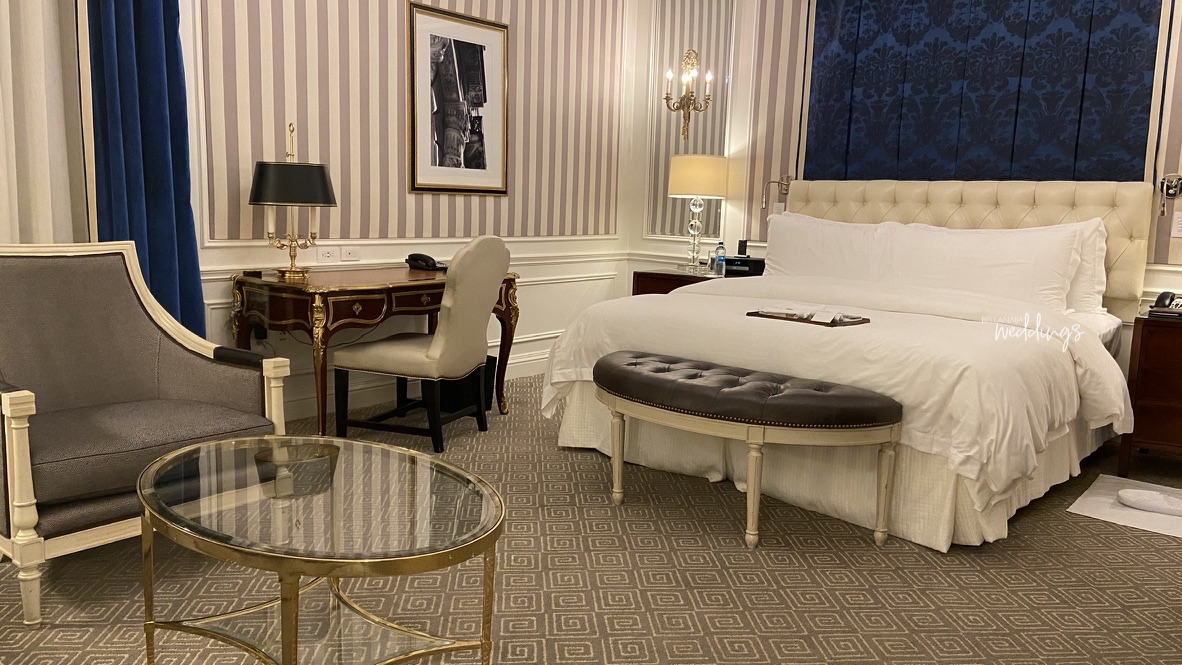 Kayode is a sports car fanatic, so we picked up a Dodge Challenger R/T Hemi V8 and headed out on a 3-hour drive to Northern Virginia for our flight out of Washington DC airport the next morning. For the night, we stayed at The Ritz Carlton Tysons Corner. As luxury travel bloggers, we're a bit used to that opulence service, fine dining, and the unique experience that the Ritz Carlton hotels offer, so this hotel was a perfect choice for us. We were welcomed with a handwritten congratulatory note, a bottle of champagne, and chocolates.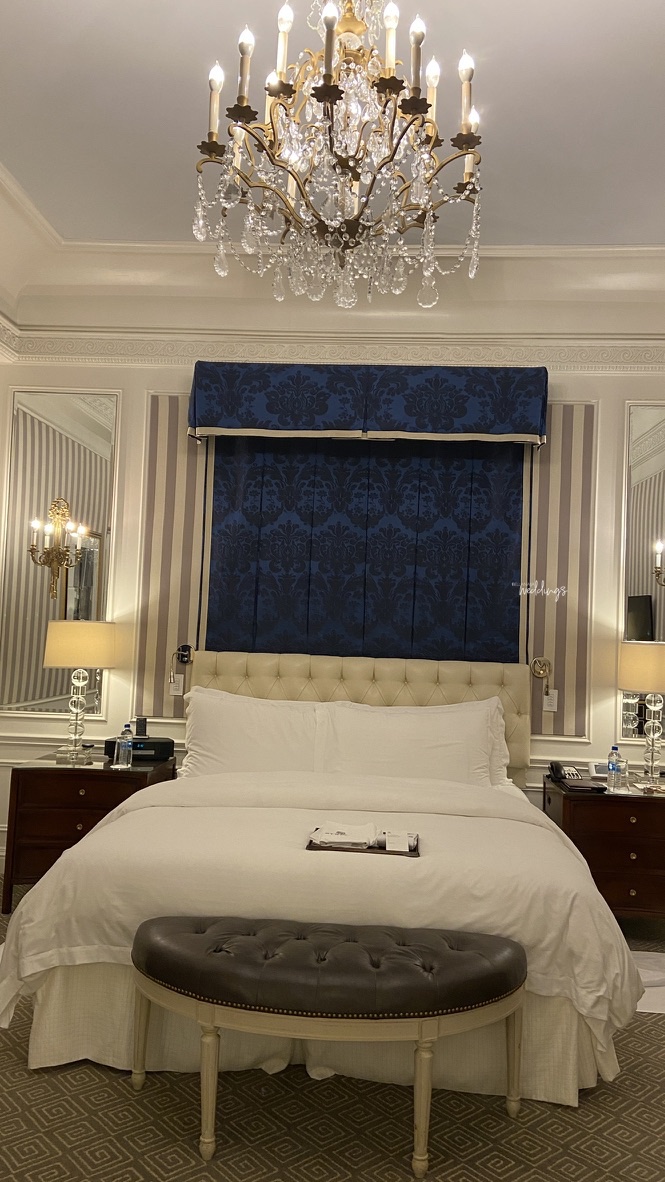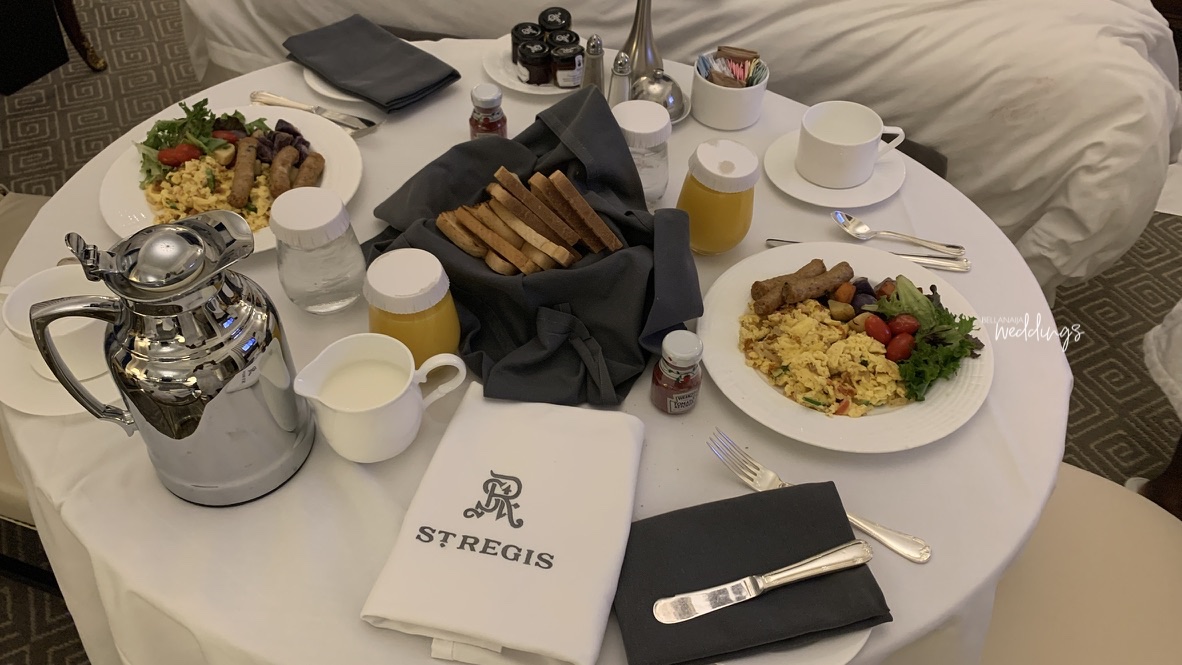 Kayode:
The day is finally here. The countdown is over. After dropping off our luggage at the check-in counter, we were ready to say adios to the United States of America. At this point, we were holding 3 Emirates First Class and 1 Emirates Business Class boarding passes in our hands.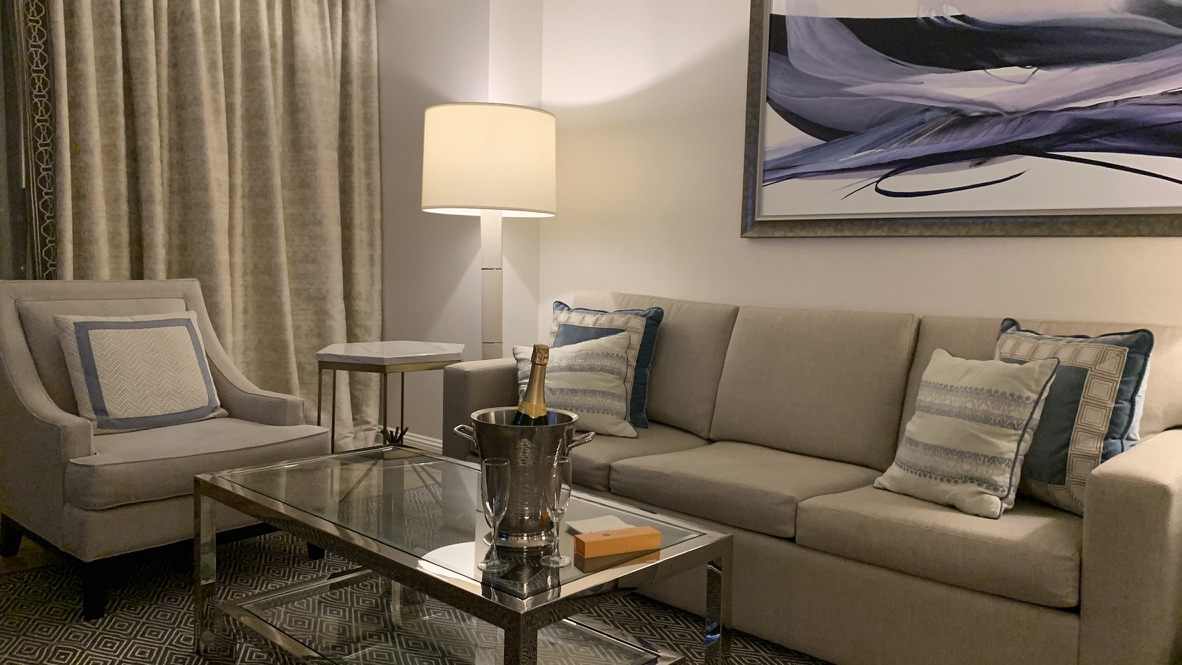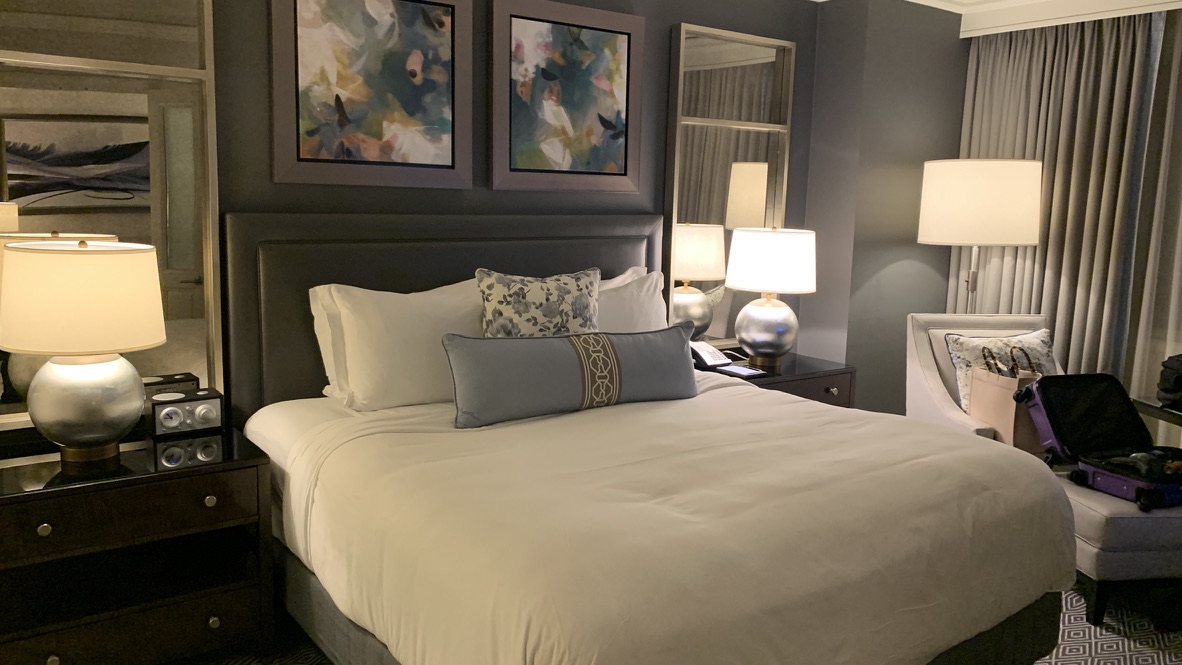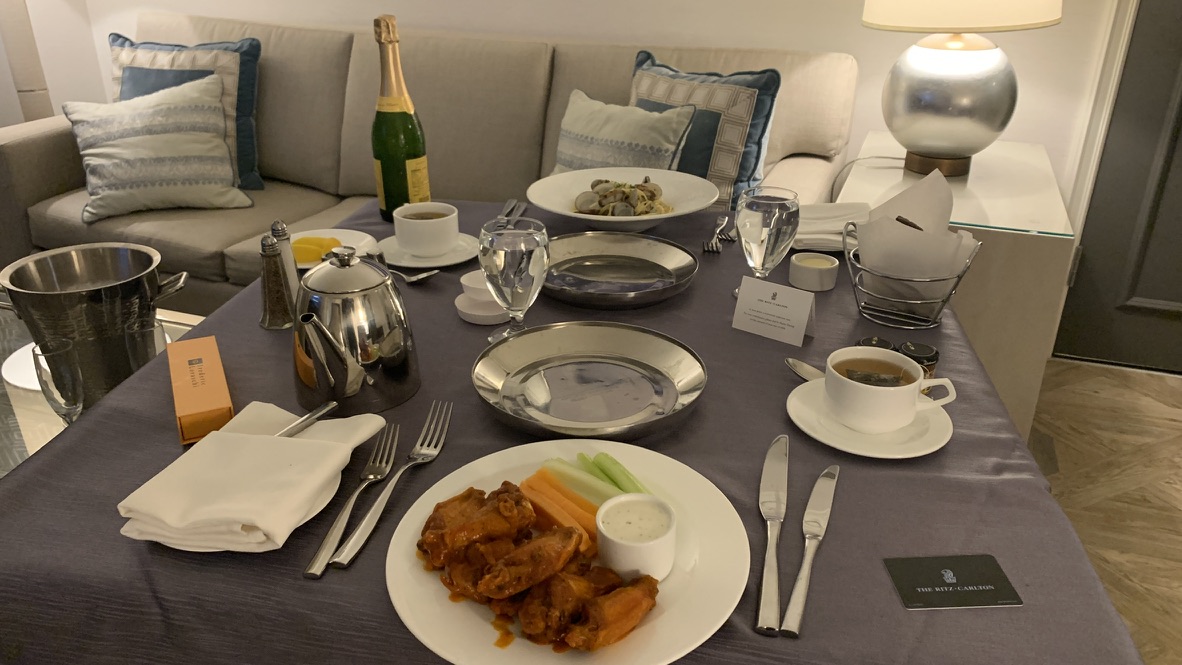 We made a quick stop at the Air France/KLM lounge while waiting for our flight to start boarding. We spent about an hour at the lounge and didn't even feel hungry one bit. I was saving my stomach for the Caviar and other treats onboard the flight while Tosin was just filled with excitement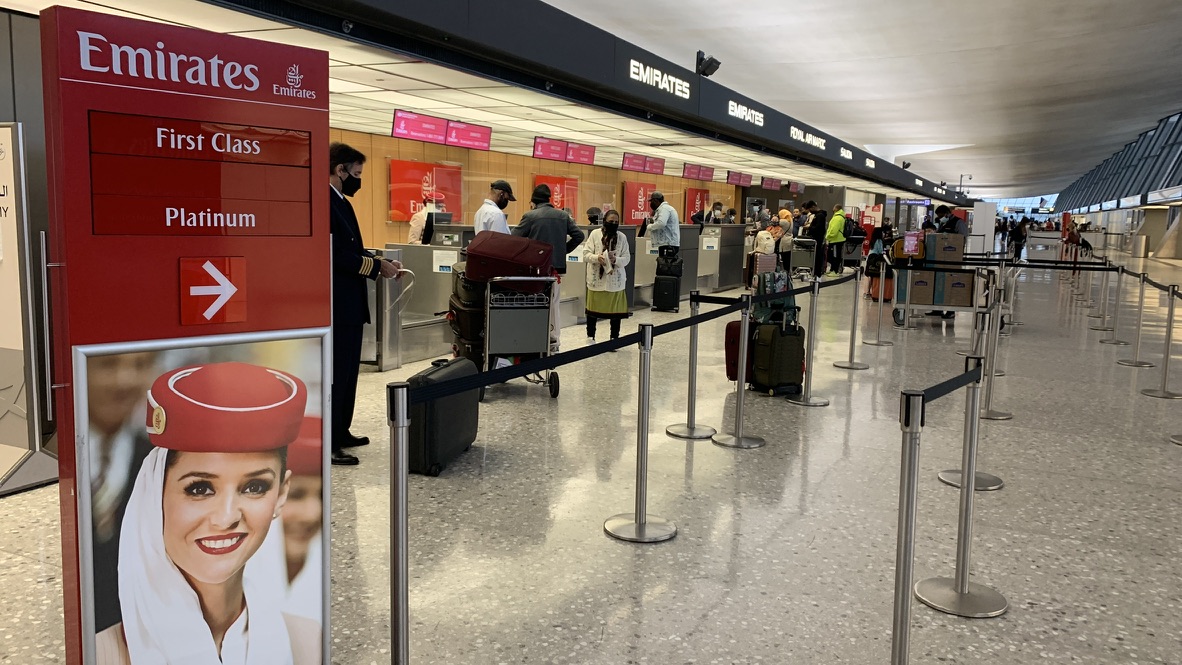 The flight attendants checked our boarding pass and then escorted us to our seats. We quickly settled into our Suite 2K and 3K as our designated flight attendants came to introduce themselves to us while they present us with Arabic coffee with dates and some other smallchops.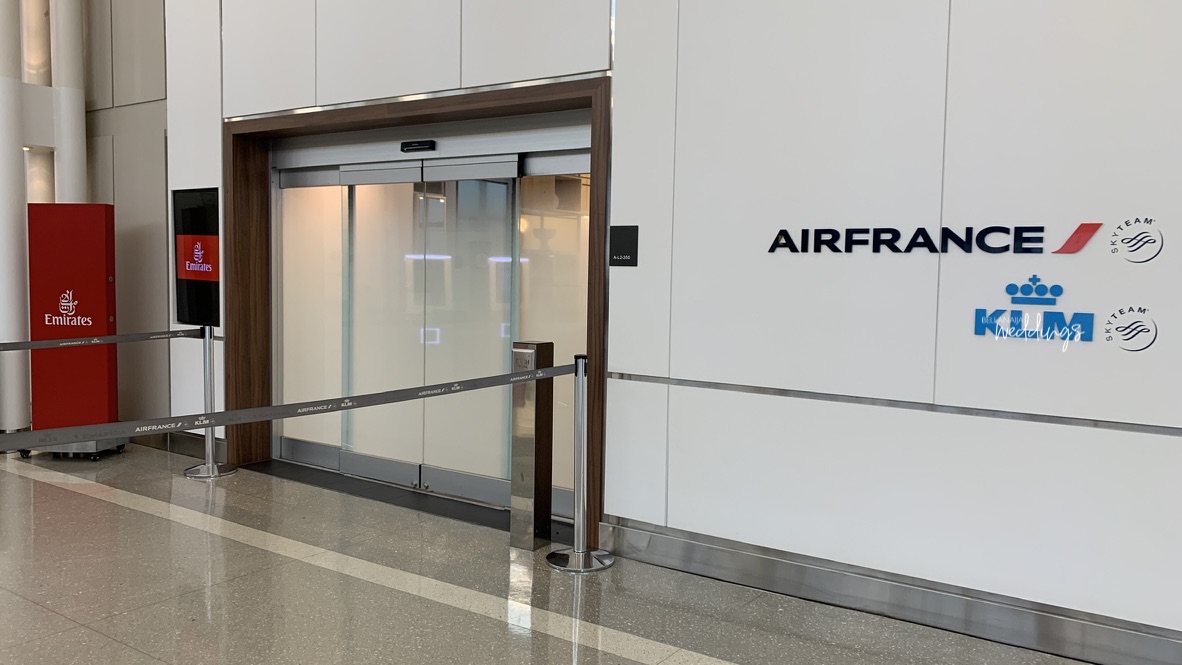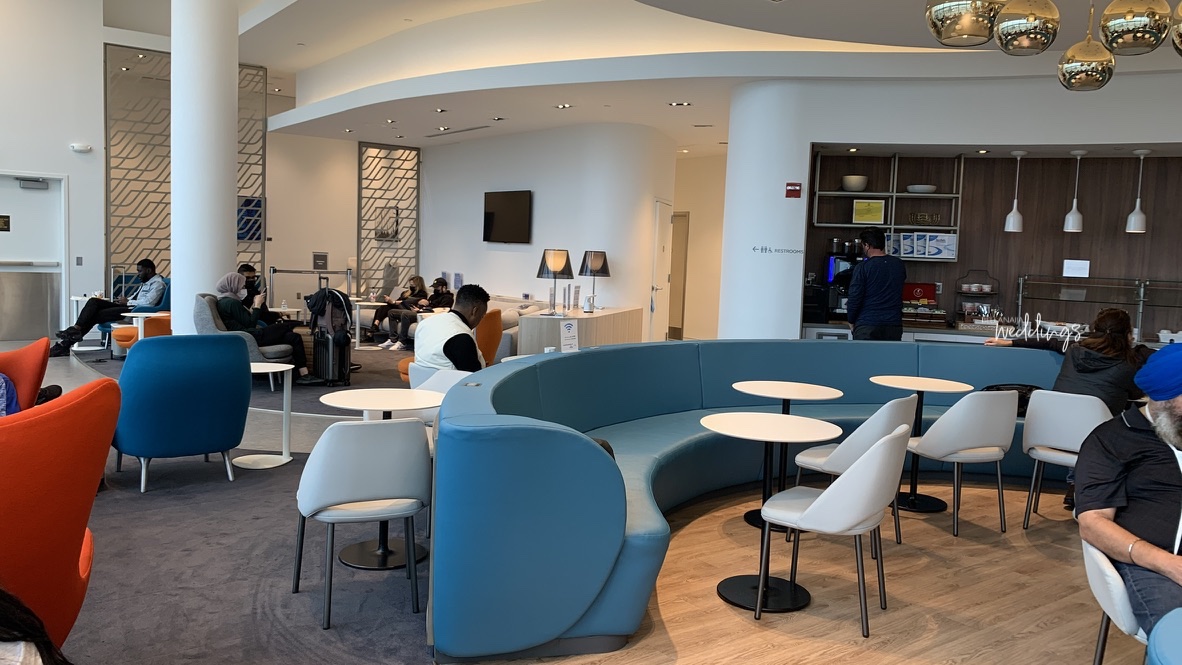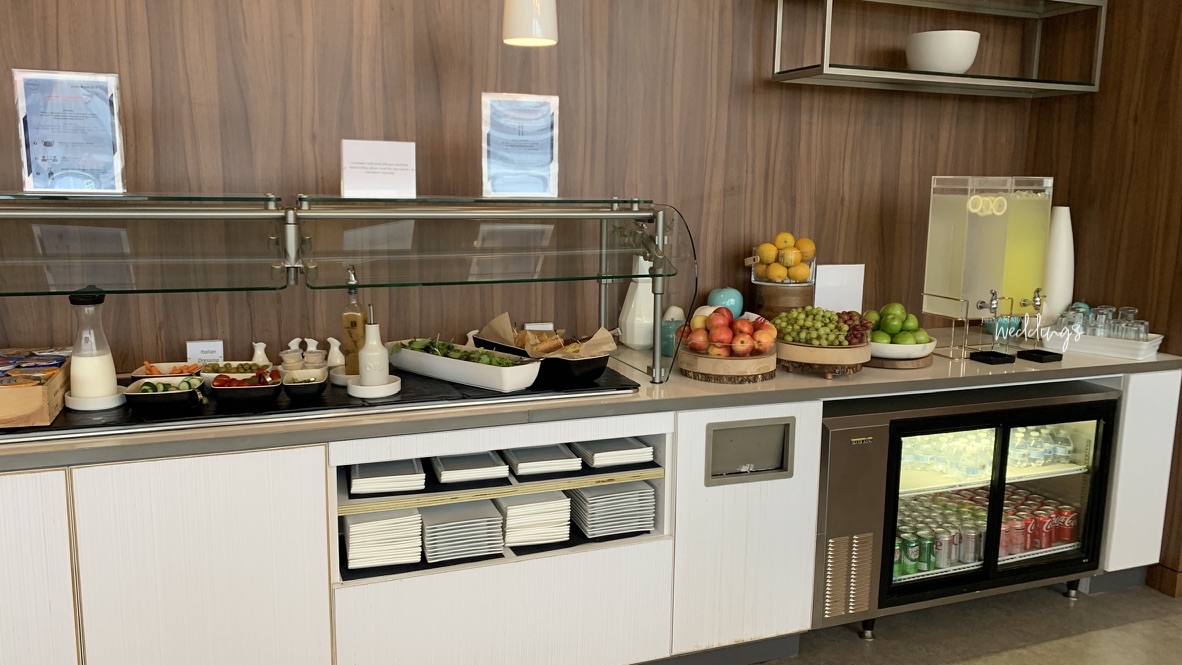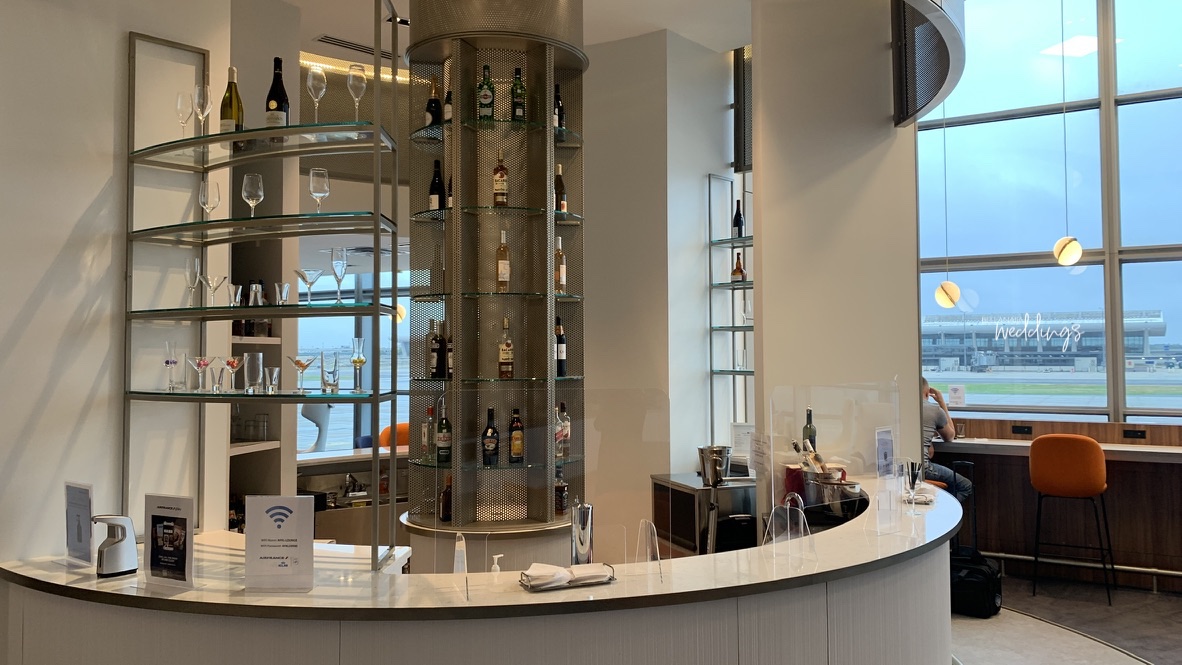 Tosin didn't waste time before she got acquainted with her suite. She settled in quickly and was ready to have our inflight dining. For the appetizer, she had asparagus soup while I had the Caviar I had been craving for. You don't want to be on diet on a day like this. No, seriously.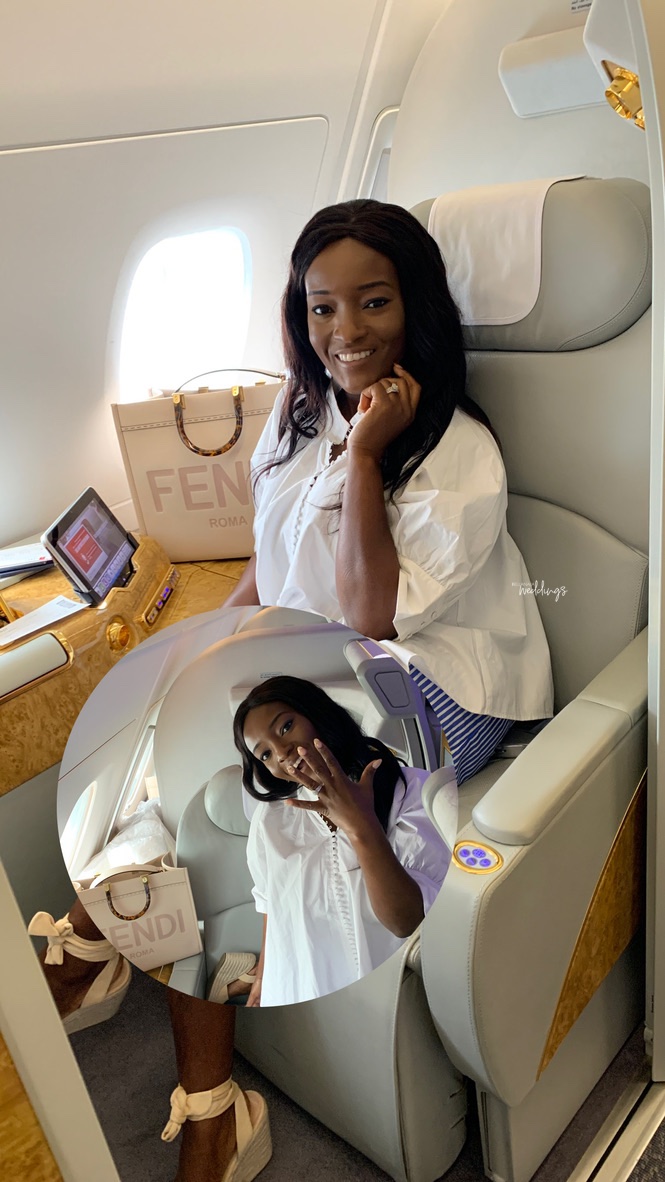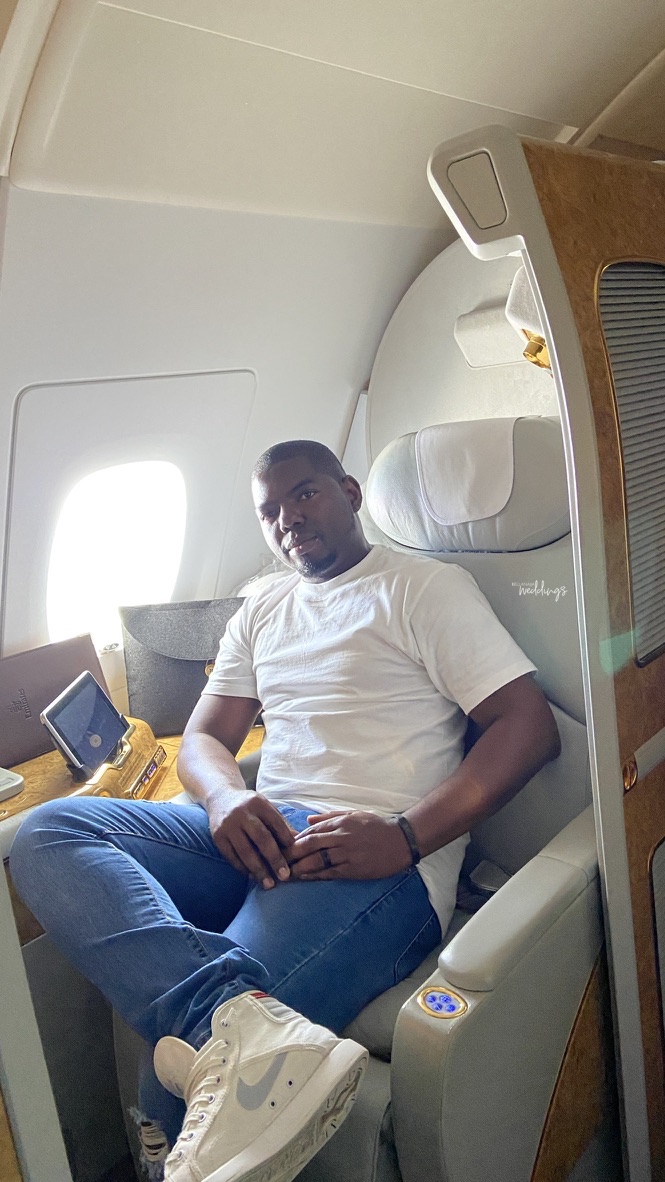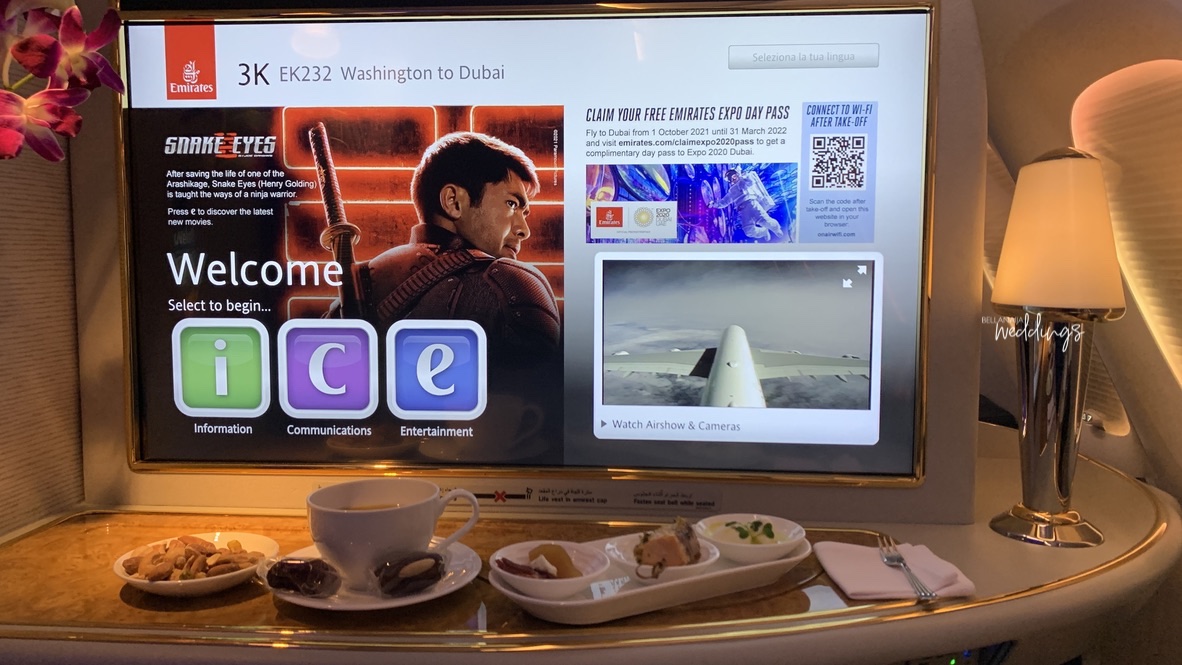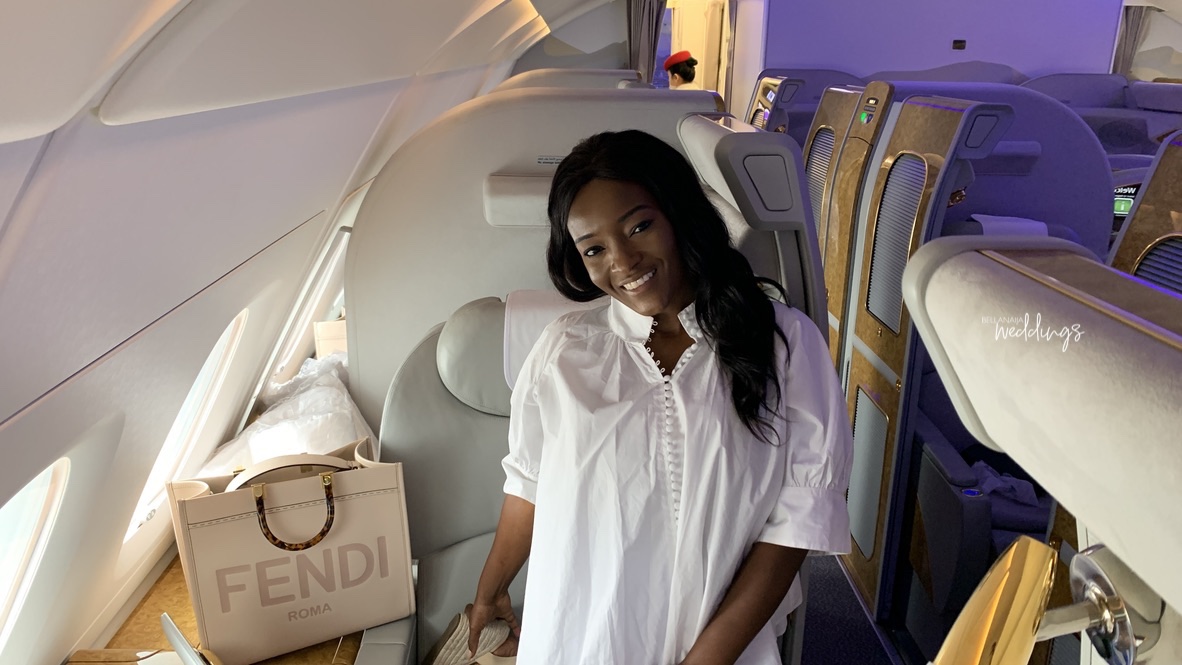 For the main course, we had the Prawn Machboos, which is one of Emirates' most popular inflight dishes. A rice dish packed with authentic Emirati flavours. Each meal is also escorted with a basket of assorted bread.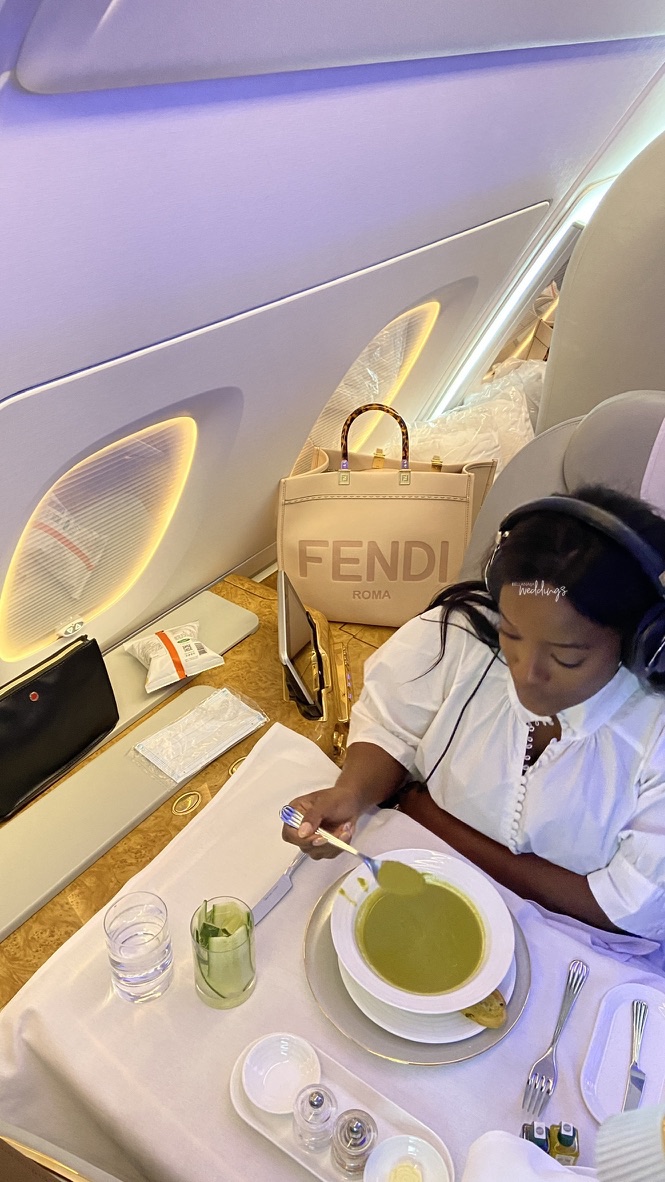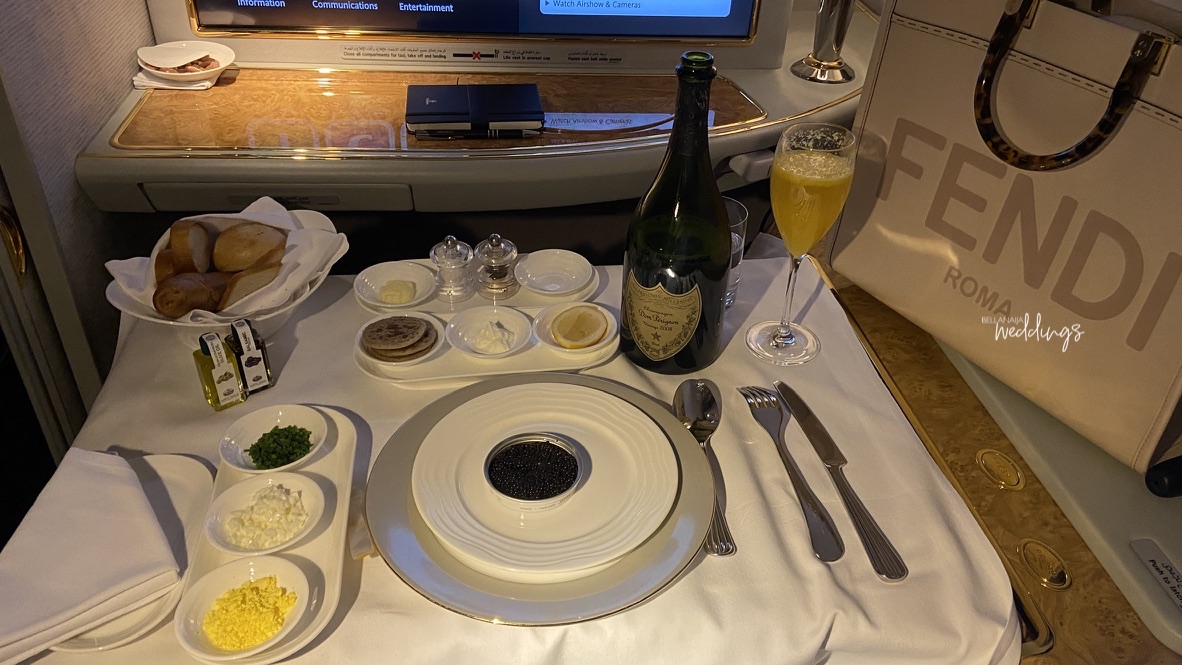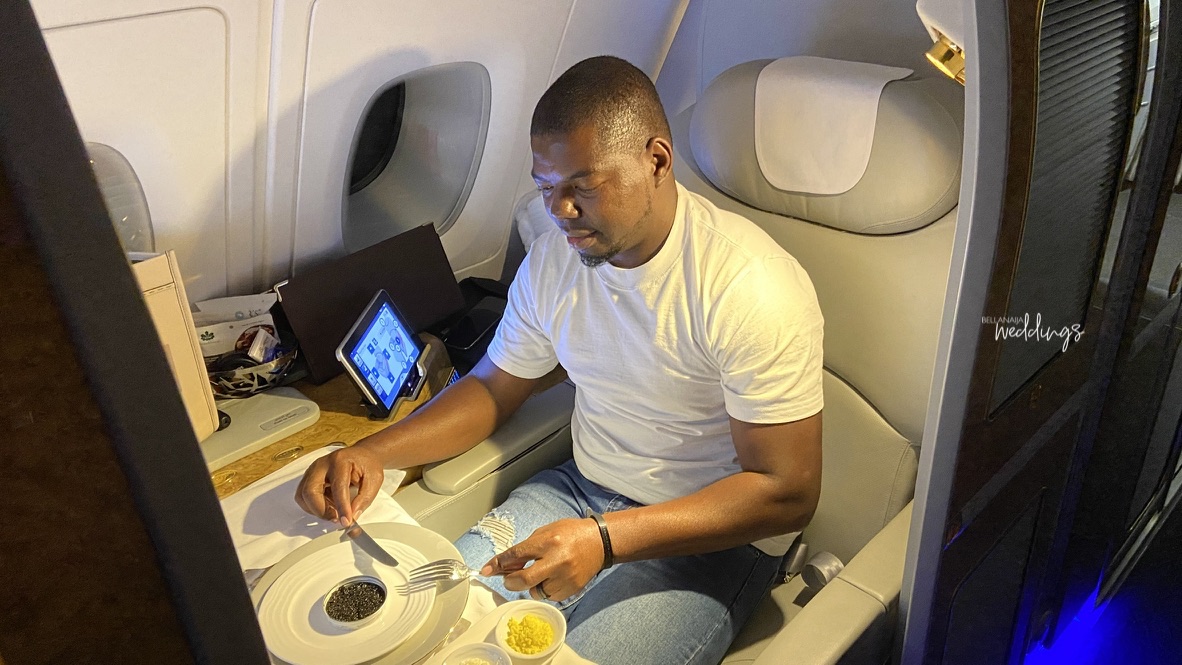 At this point, my wife tapped out, changed to her pyjamas in the shower while one of the flight attendants was preparing her bed. I stayed up for a few hours before joining my wife in bed, on a plane yes.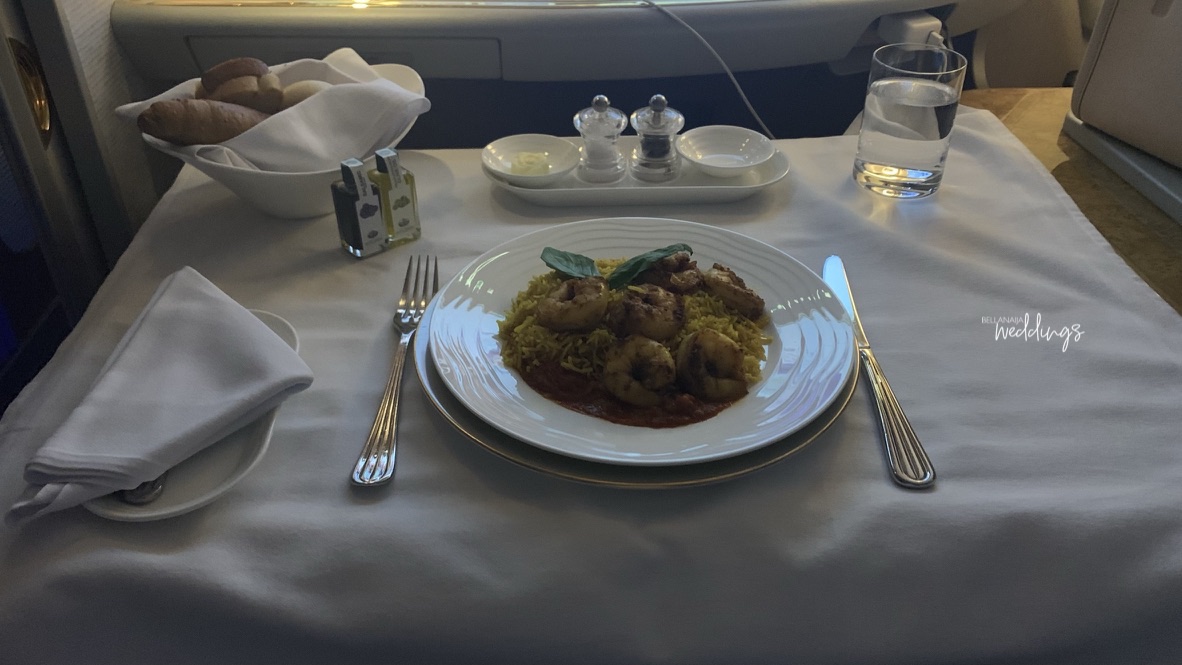 Our flight had an onboard lounge where guests can socialize while having snacks and sipping on premium drinks at 40,000 feet. After about 5 hours of sleep, we hung out at the lounge for a little bit before heading back to our suites.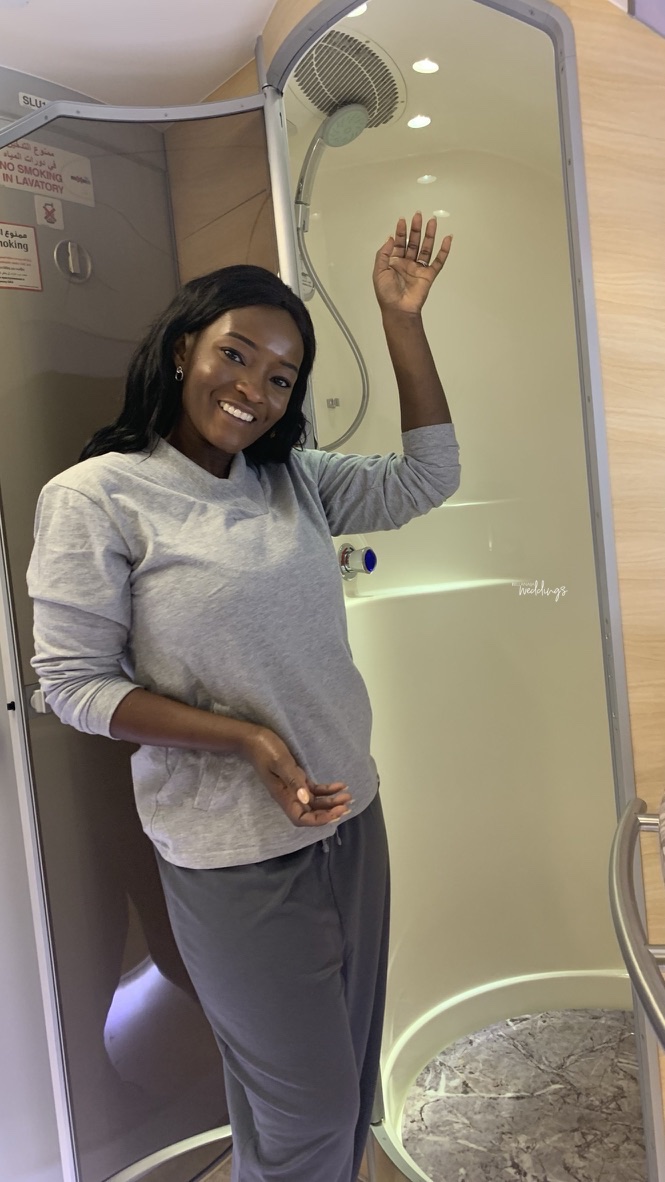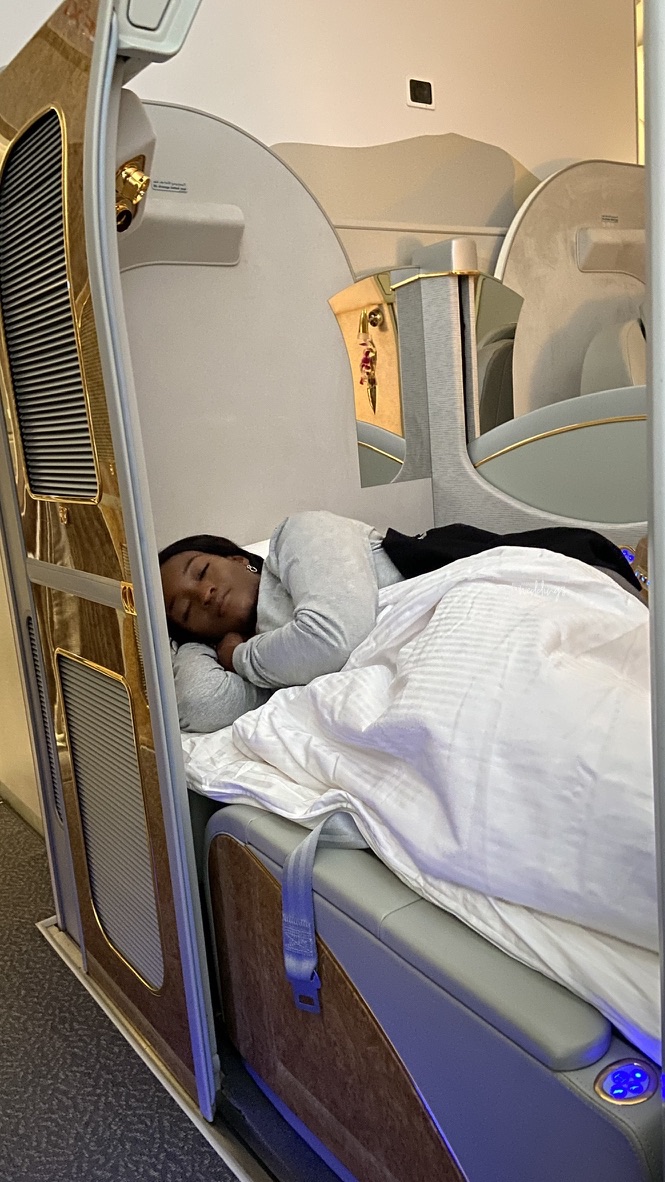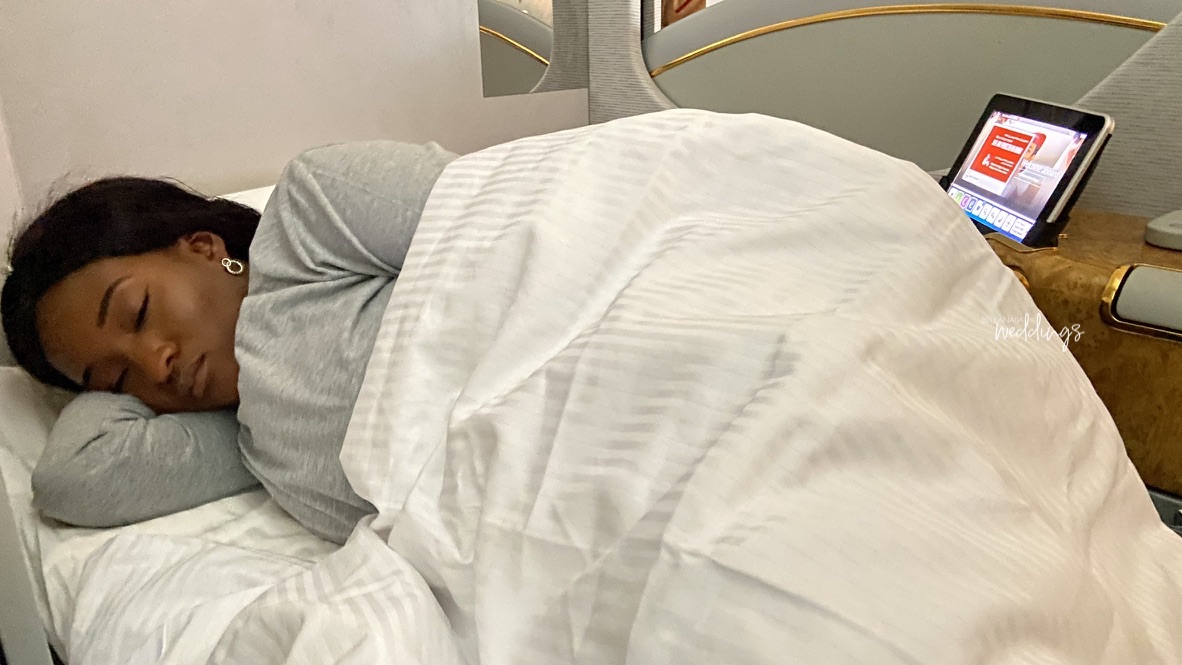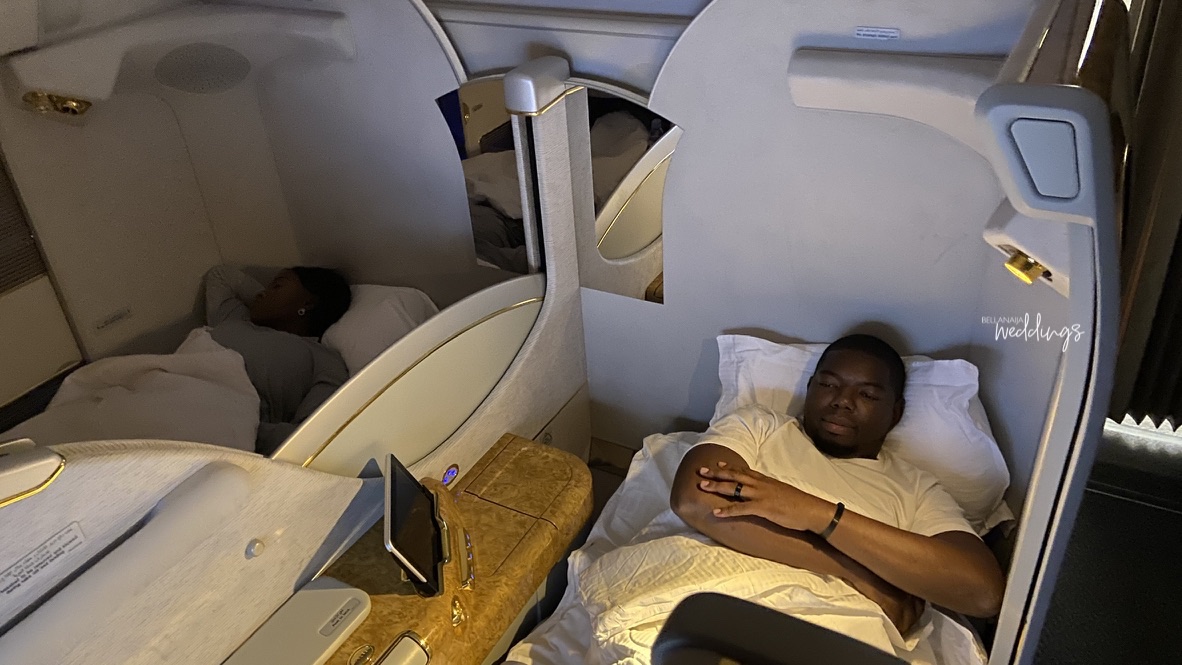 It doesn't get any better than this. We both took our shower-on-a-plane two hours before landing, and in all honesty, that 30 minutes shower felt so refreshing. The flight attendants had already prepared fresh fruits and tea for us in our suites while we were still in the shower. We ordered breakfast a moment later.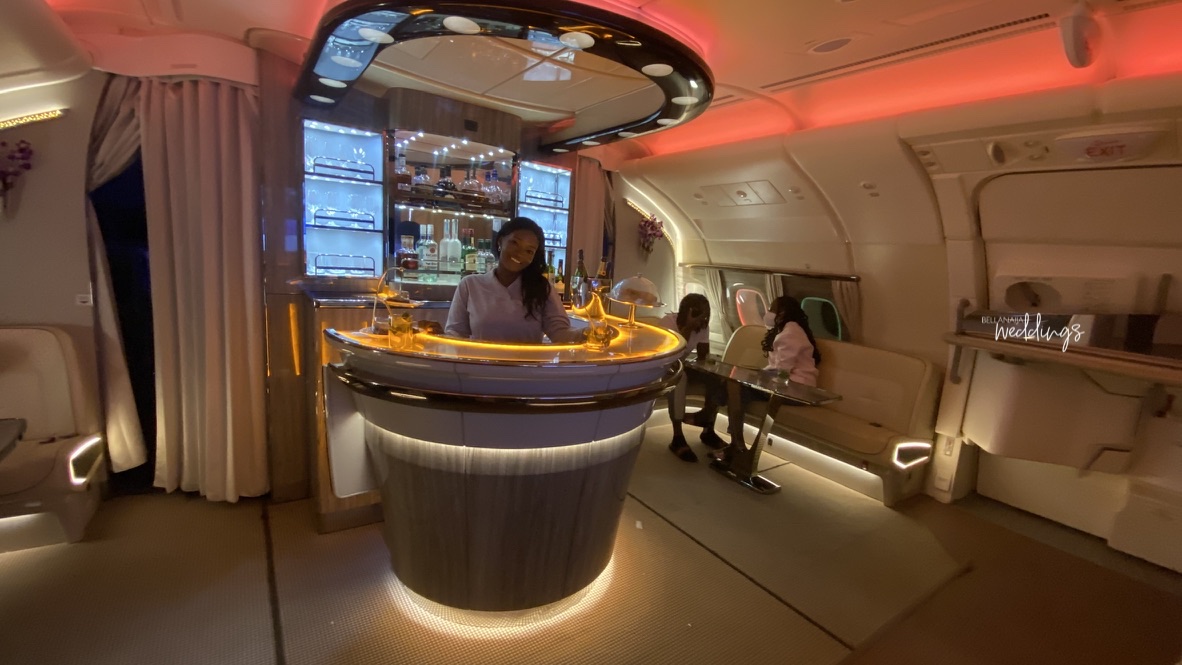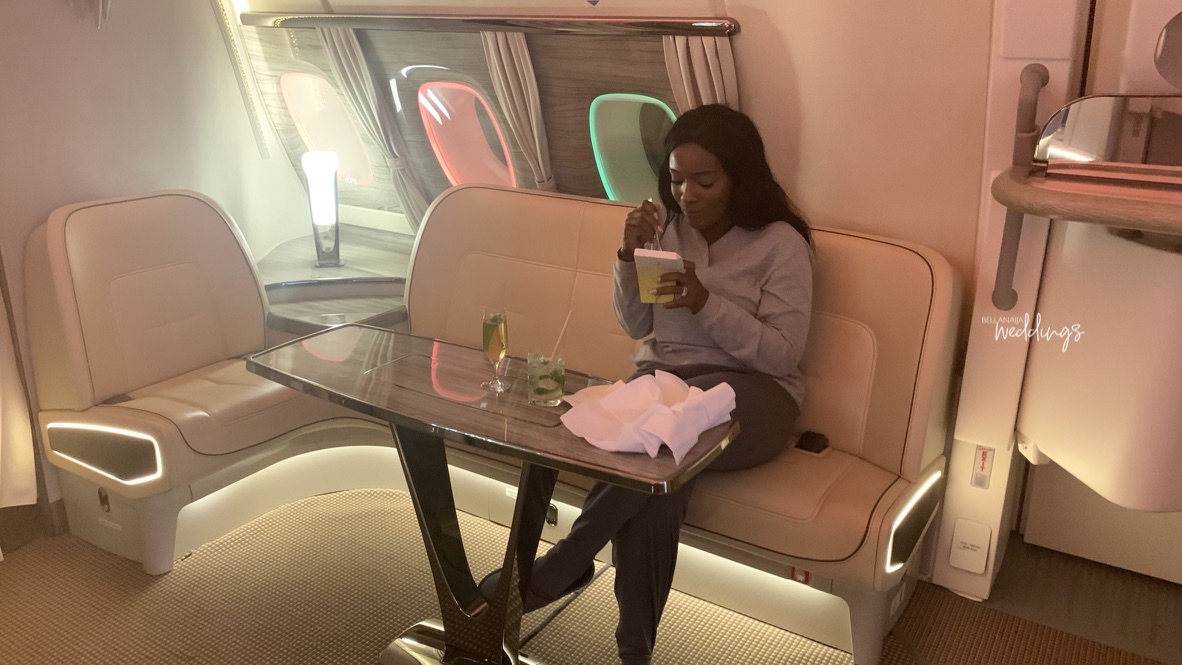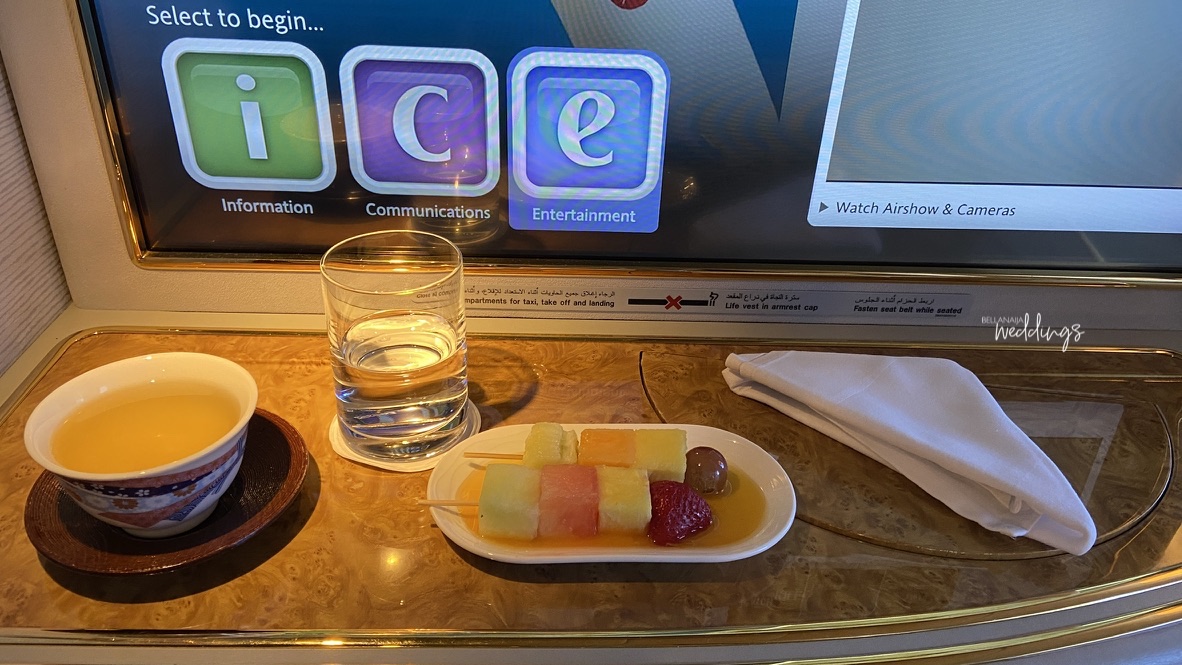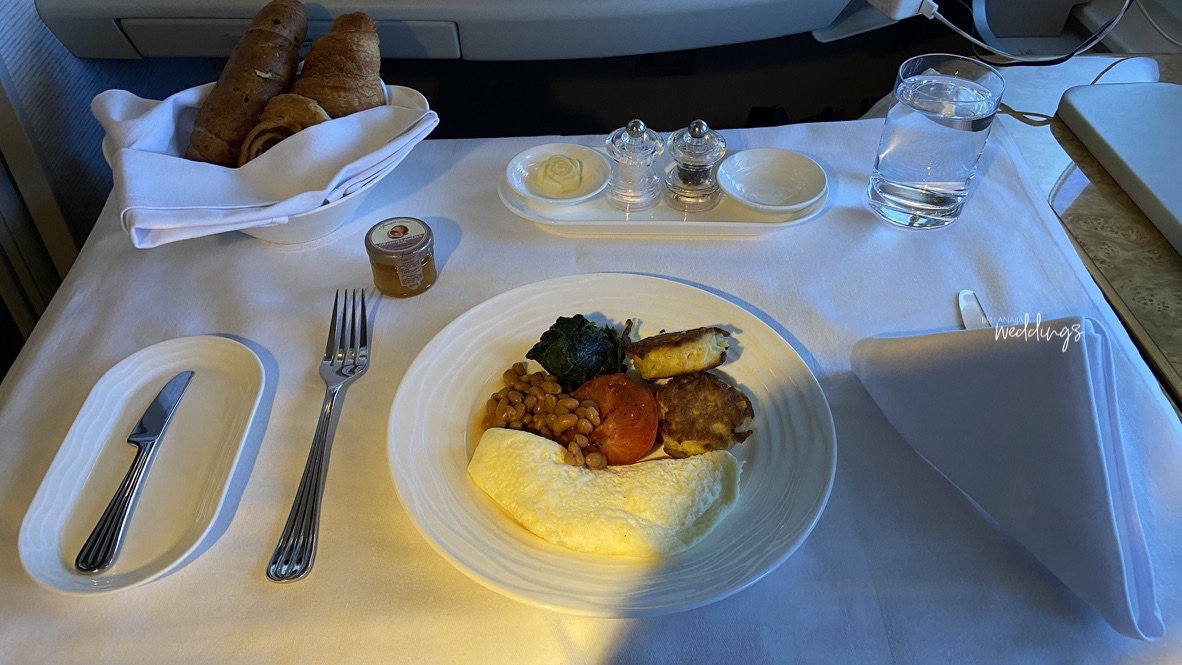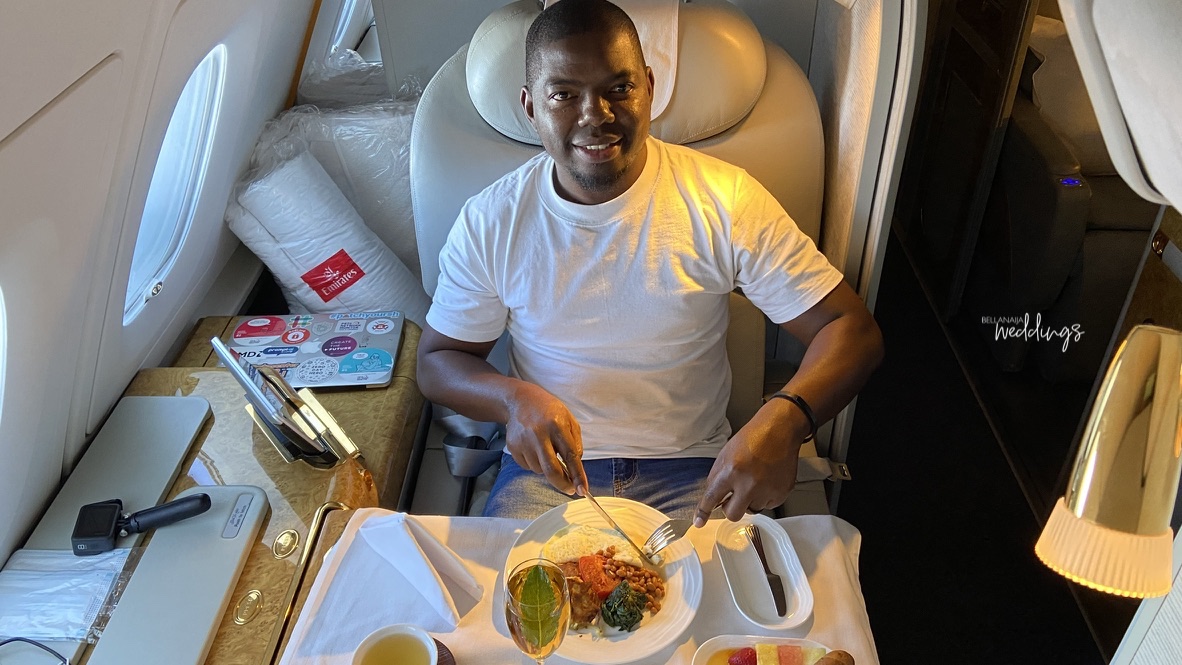 About an hour before landing in Dubai, the purser (flight attendant manager) presented us with yet another surprise. A happy honeymoon chocolate cake platter. This was very thoughtful of the entire crew flight crew and added that extra mushy feel to our honeymoon experience.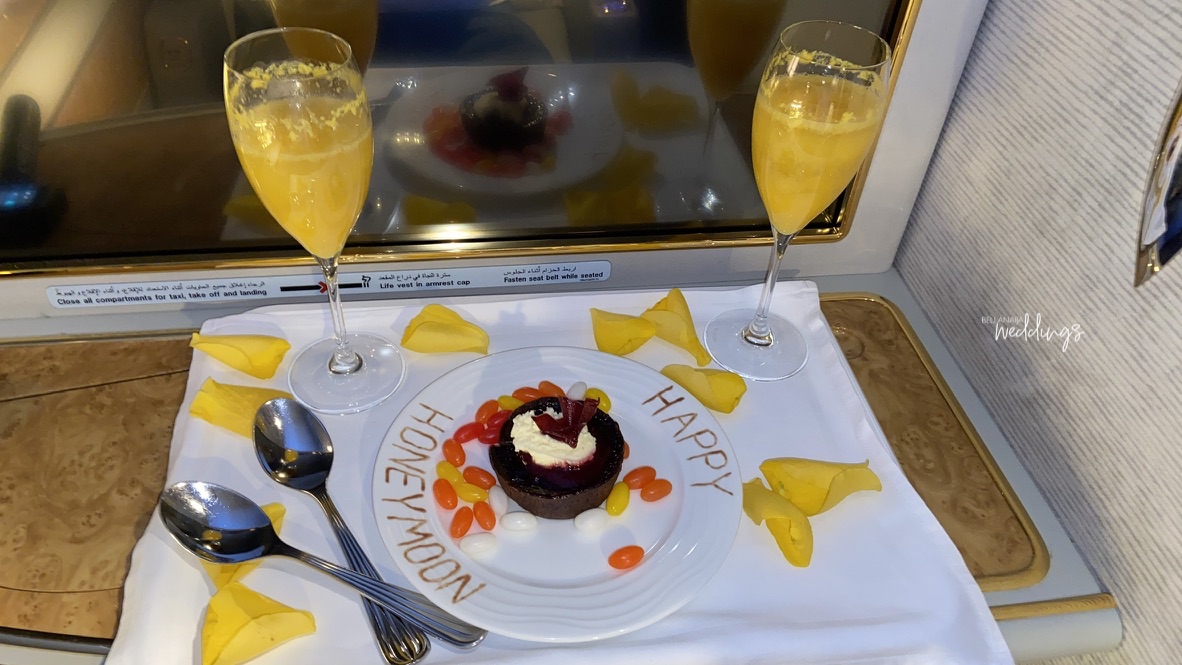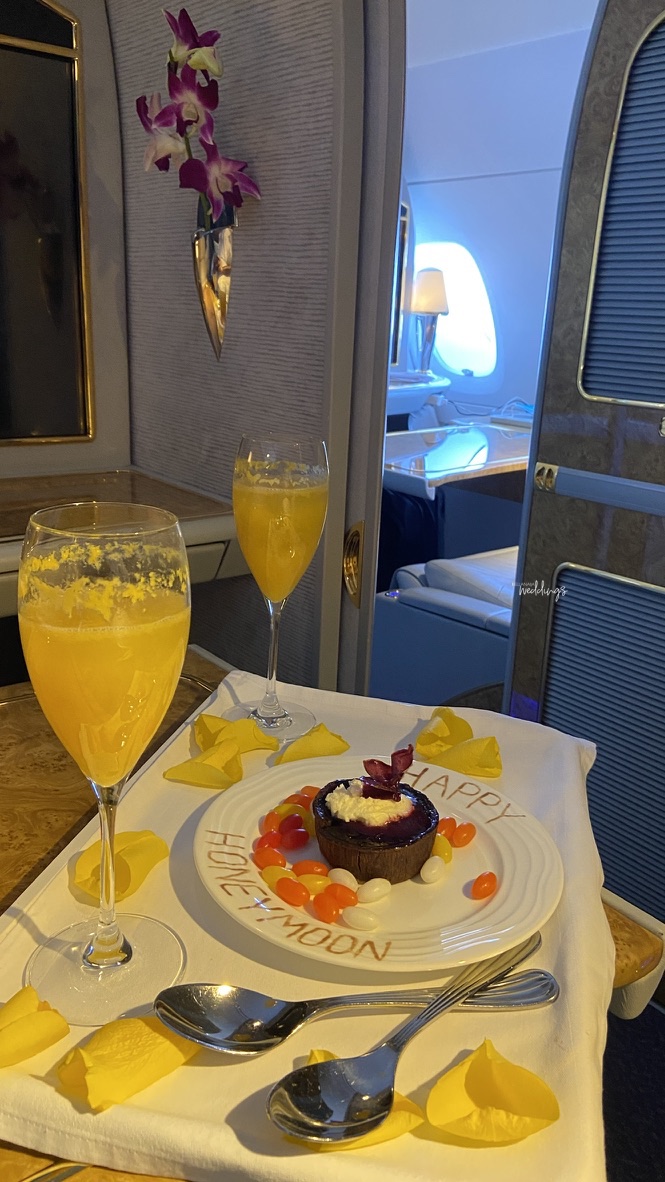 Emirates not only spoilt us during the flight to Dubai but even on our arrival in Dubai. An Emirates employee had our names waiting on her tablet, fast-tracked us through immigration, and then escorted us to the Emirates First Class Lounge. The Emirates First Class Lounge Dubai is a treat on its own. We had some of the best food during our entire round-the-world trip at this lounge. We had so much to eat at the lounge.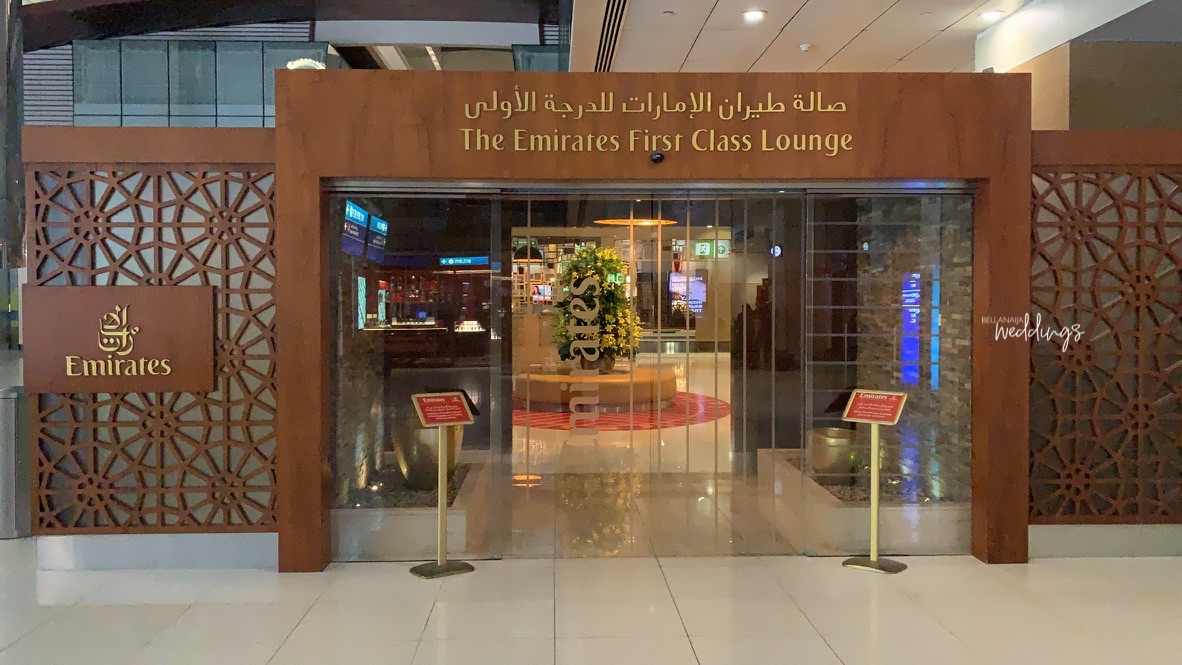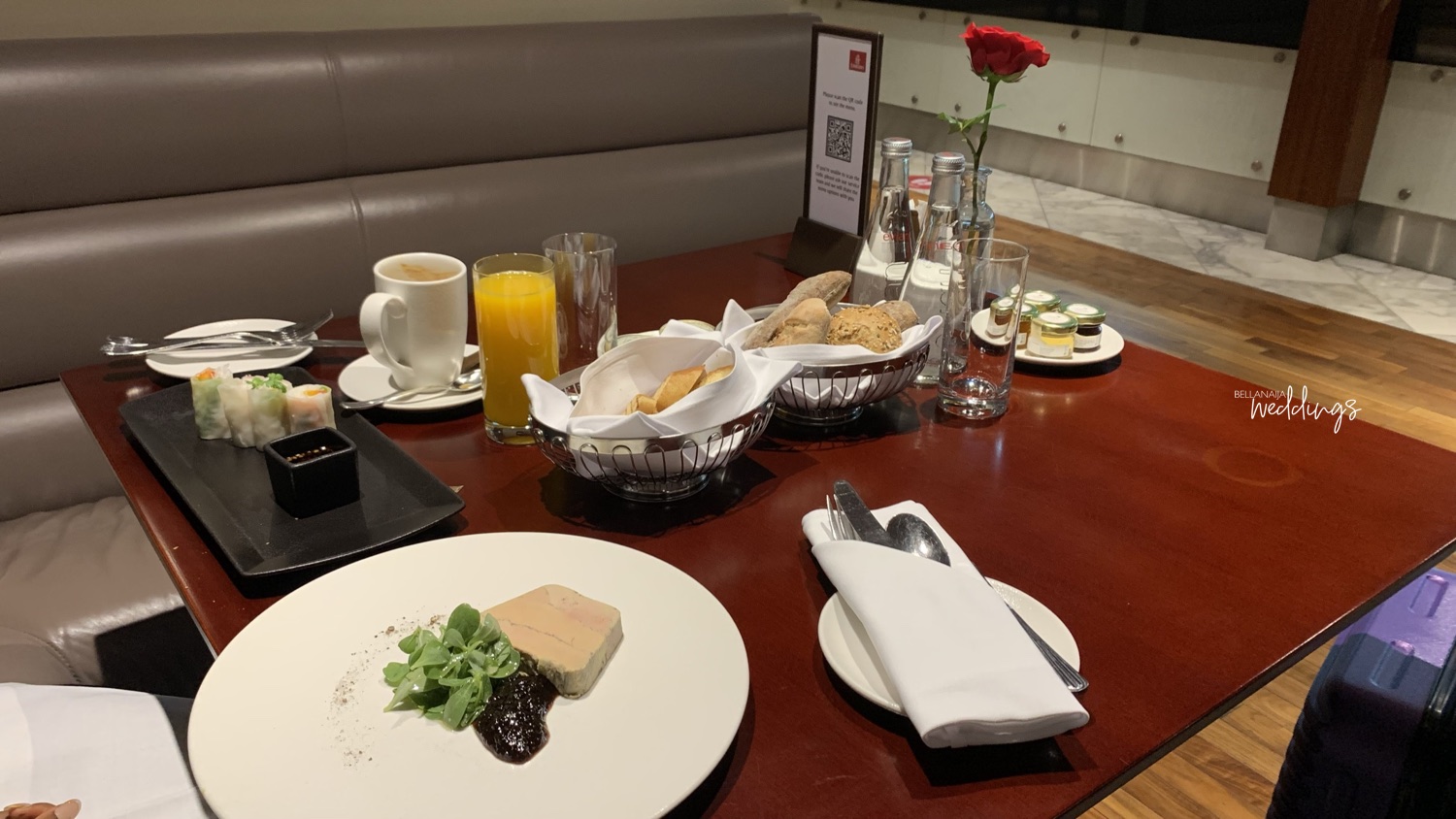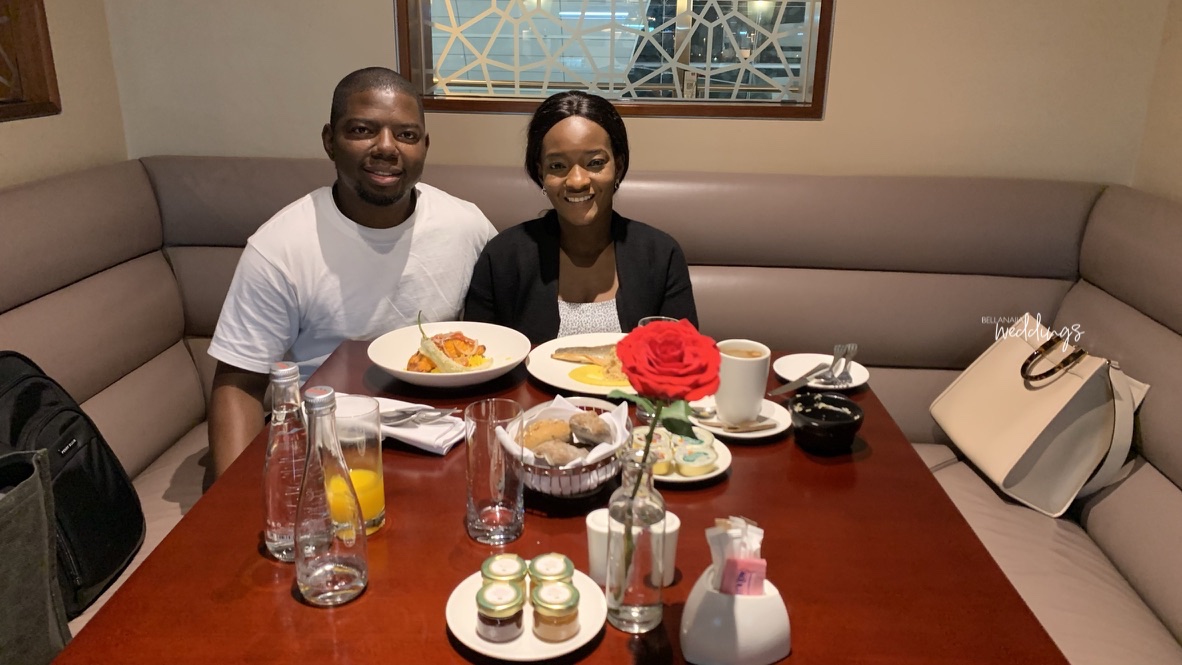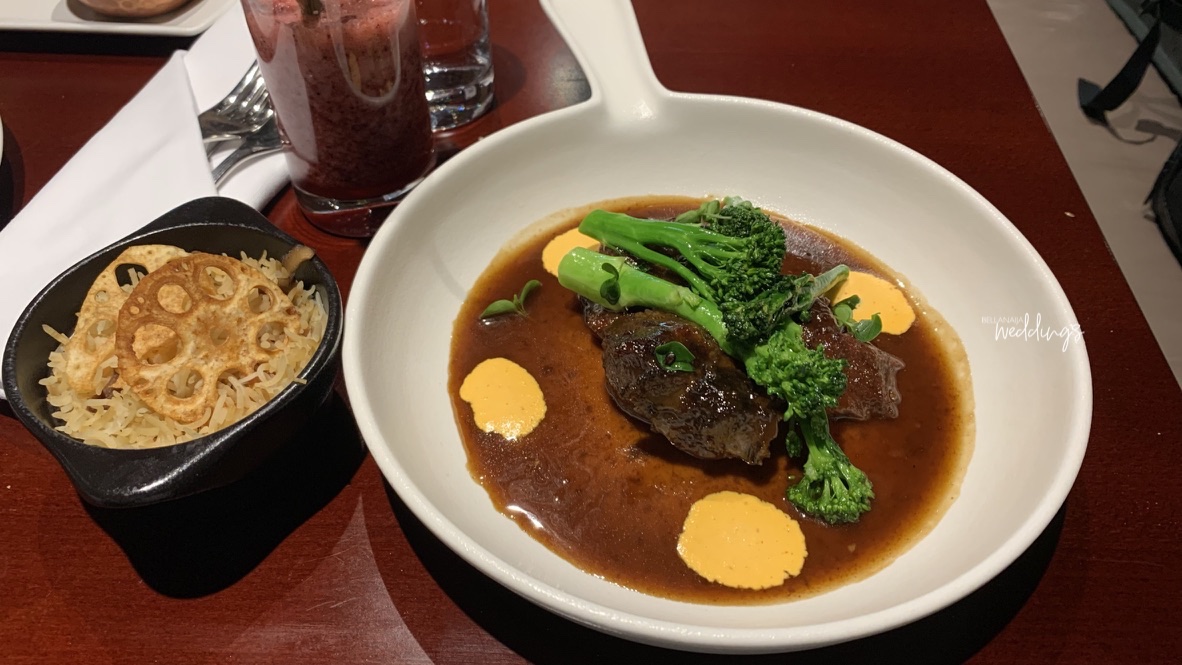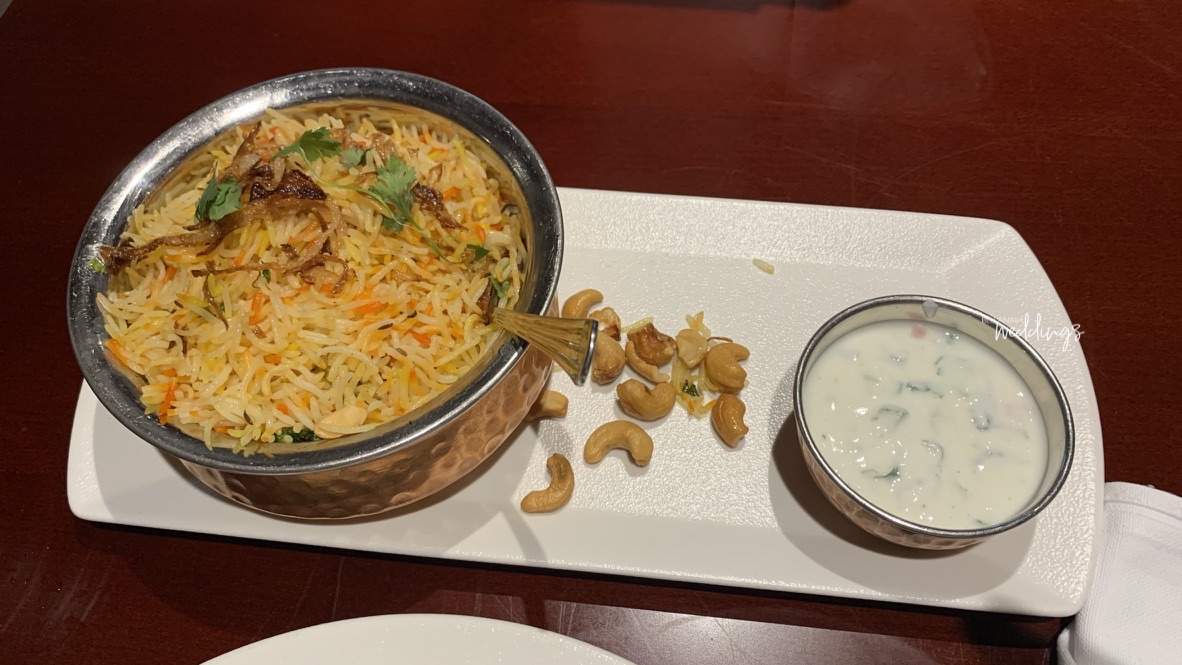 Pic 12a – 12e
Our plan was to go to Dubai Expo, but we instead spent the entire day sleeping in our hotel room. We stayed at Le Meridien Dubai which was about 5 minutes from the airport. Travelling to the Maldives from the US usually takes 2 days and requires a connecting flight. We boarded our flight EK658 from Dubai to the Maldives around 4 am and were super excited to be heading to the Indian Ocean. With a welcome drink in hand and P-Square Testimony playing overhead, we were super pumped up and excited to be heading to paradise-on-earth.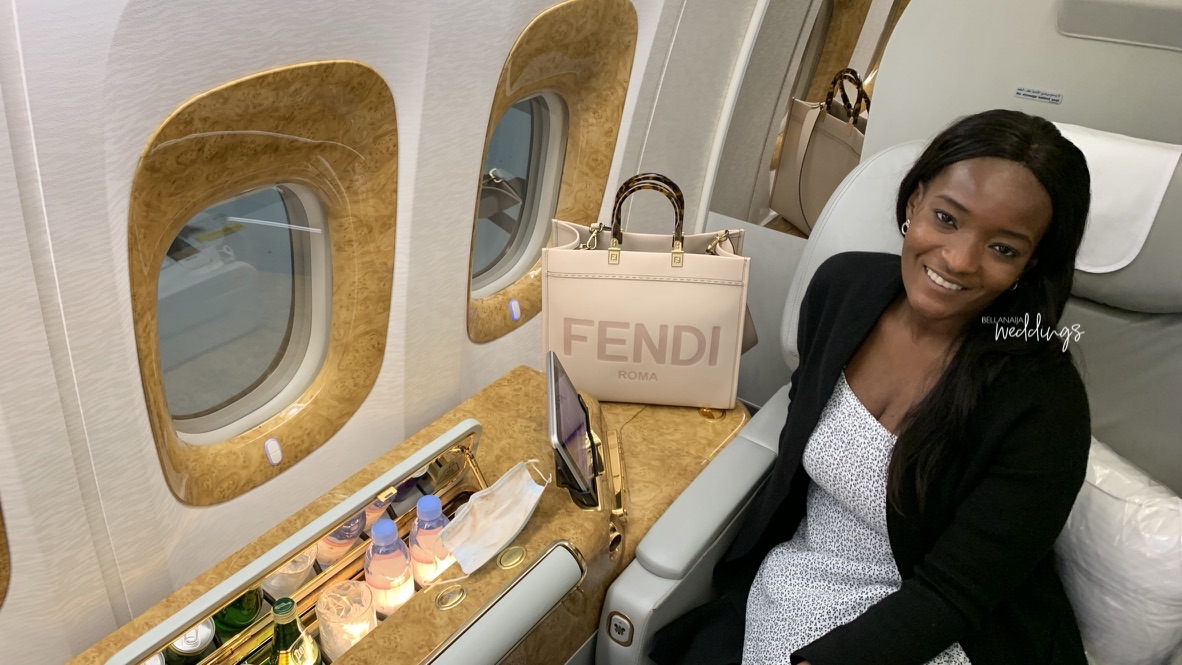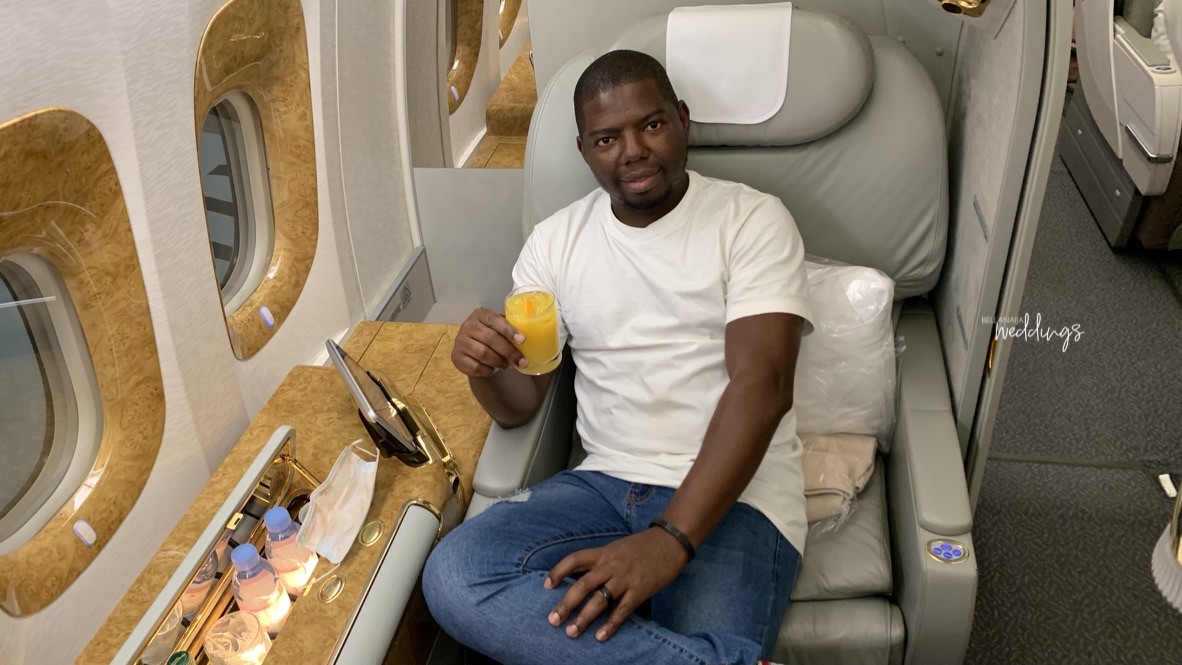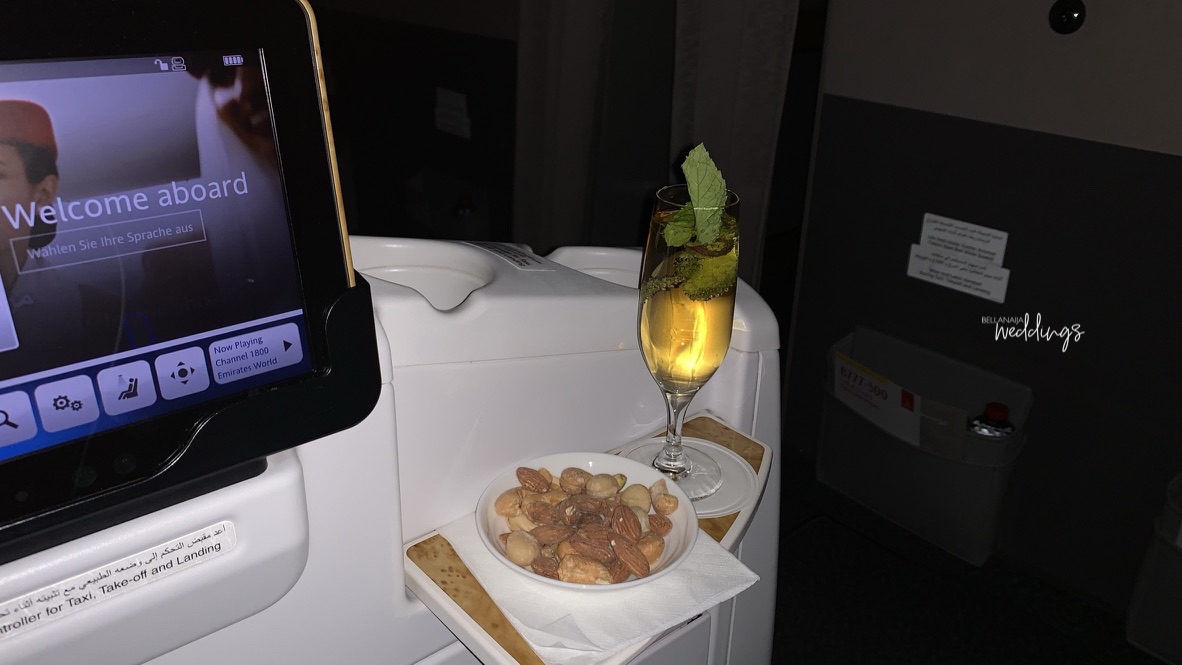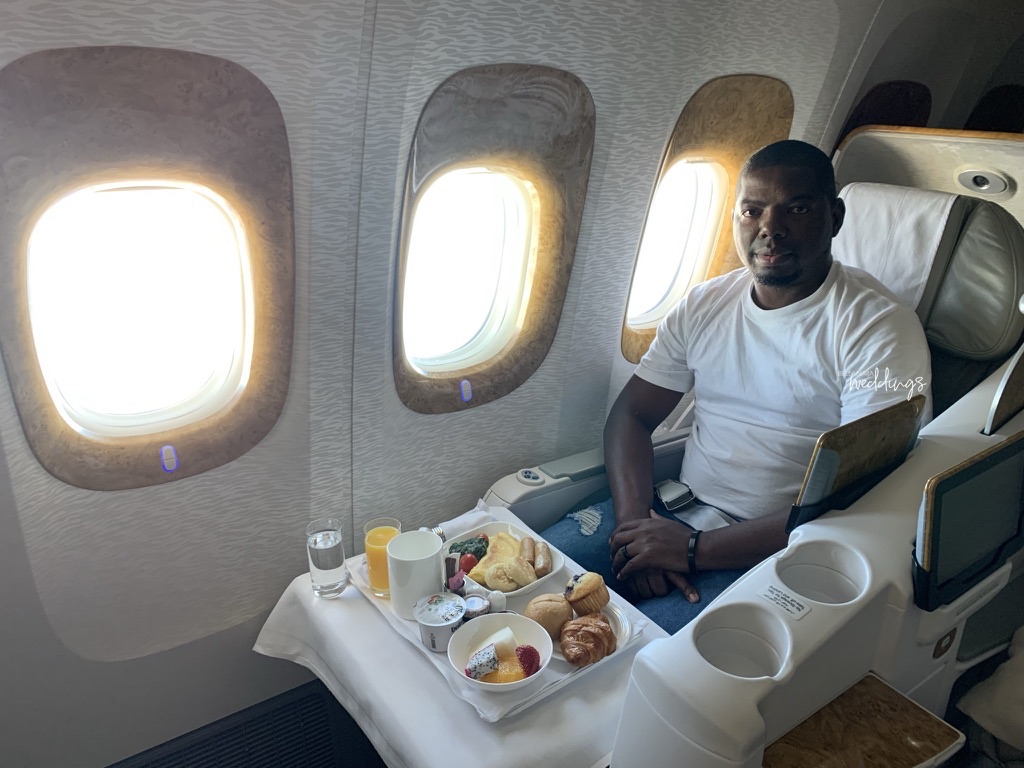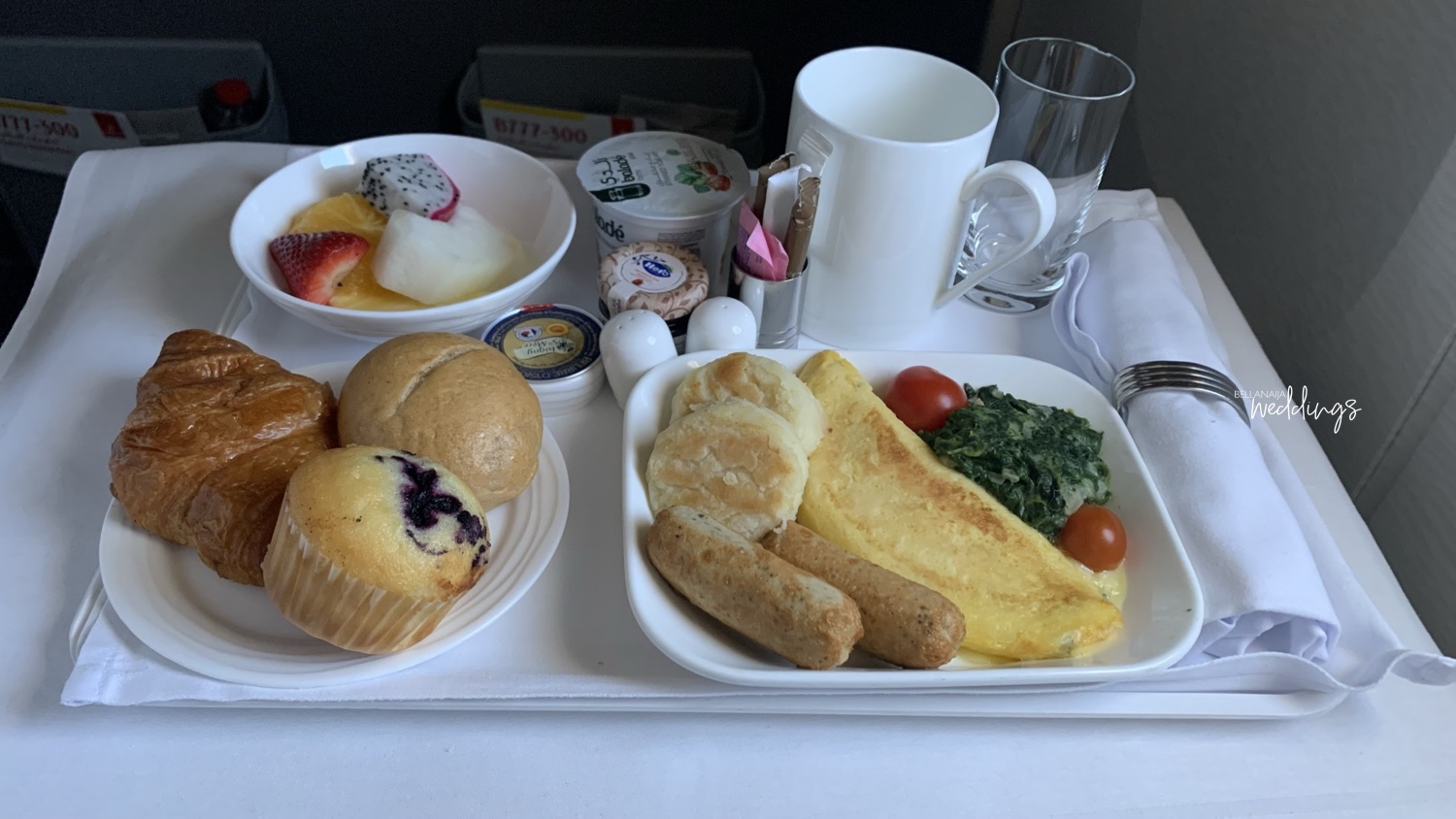 Welcome to the Maldives, The World's Best Honeymoon Destination. For us, Maldives was beyond extraordinary. It was a perfect trip to a perfect destination, at a perfect resort, in a perfect overwater villa. The resort took care of our luggage and the check-in process for the seaplane transfer. Depending on which resort you're staying at, you're more than likely will require a seaplane or speedboat transfer at additional cost. But hey, it's the Maldives, it's not cheap. The seaplane journey was an experience in itself. You're surrounded by postcard-worthy images of the outstanding beauty of several tiny islands that make the Maldives what it is. For me, it was indeed one of the most scenic flights I've ever been on (I've been on so many), while for my wife, it was probably one of the scariest flights she's ever taken.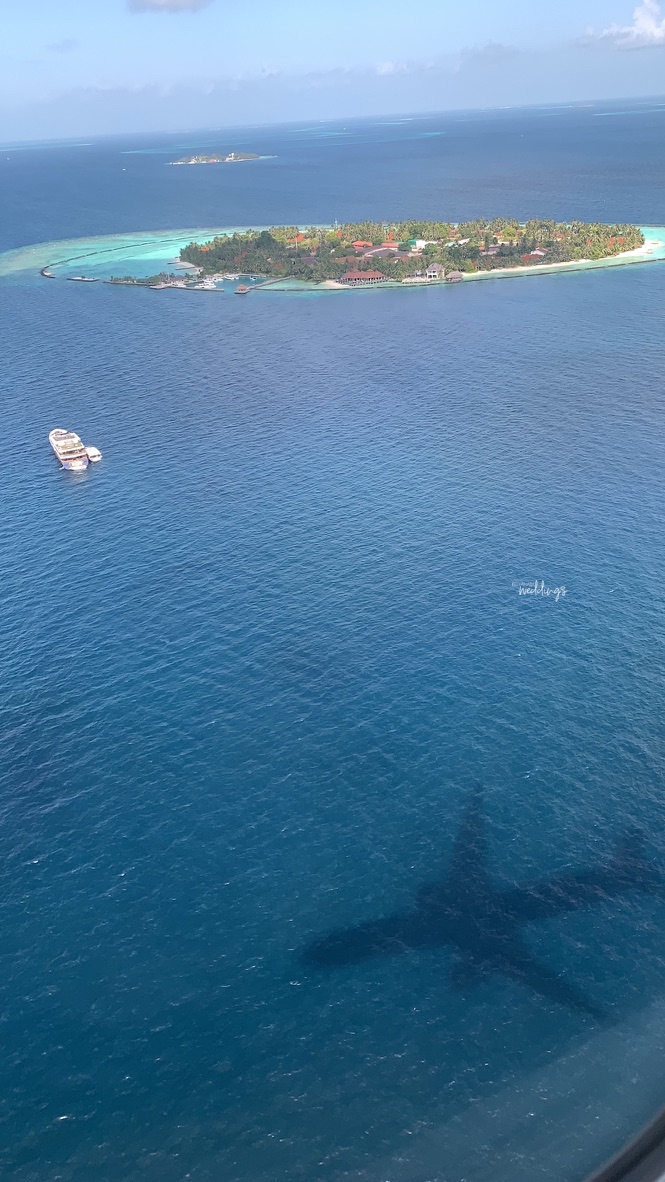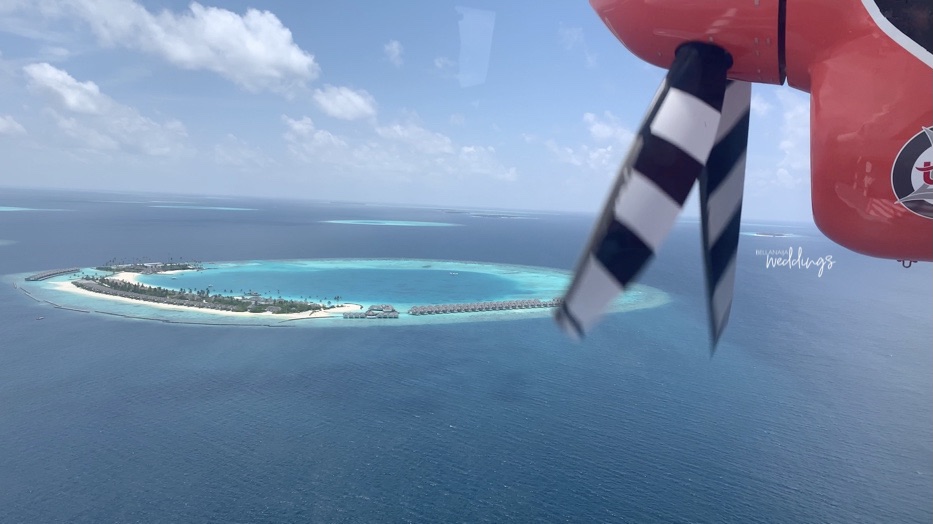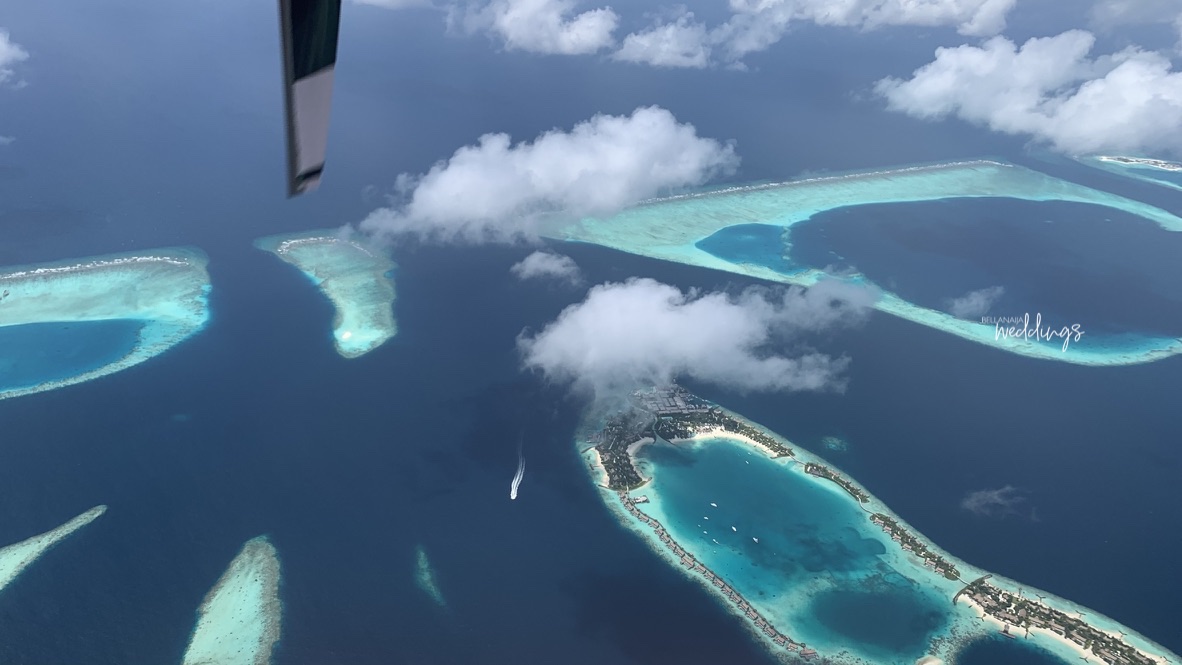 We received a warm welcome at the resort from the hotel staff as they lined up and gave us the Maldivian slight bow greetings. It didn't take me too long before I started greeting every hotel staff I come across in the Maldivian way. After all, "when in Rome, do as the Romans do". Right? The St. Regis Maldives is an amazing resort in the Maldives, and we booked a Sunrise Overwater Villa which has a private pool. I personally love it when the hotel provides a handwritten note, it's those little touches that count. Fresh fruits, chocolates, and champagne on arrival never stop.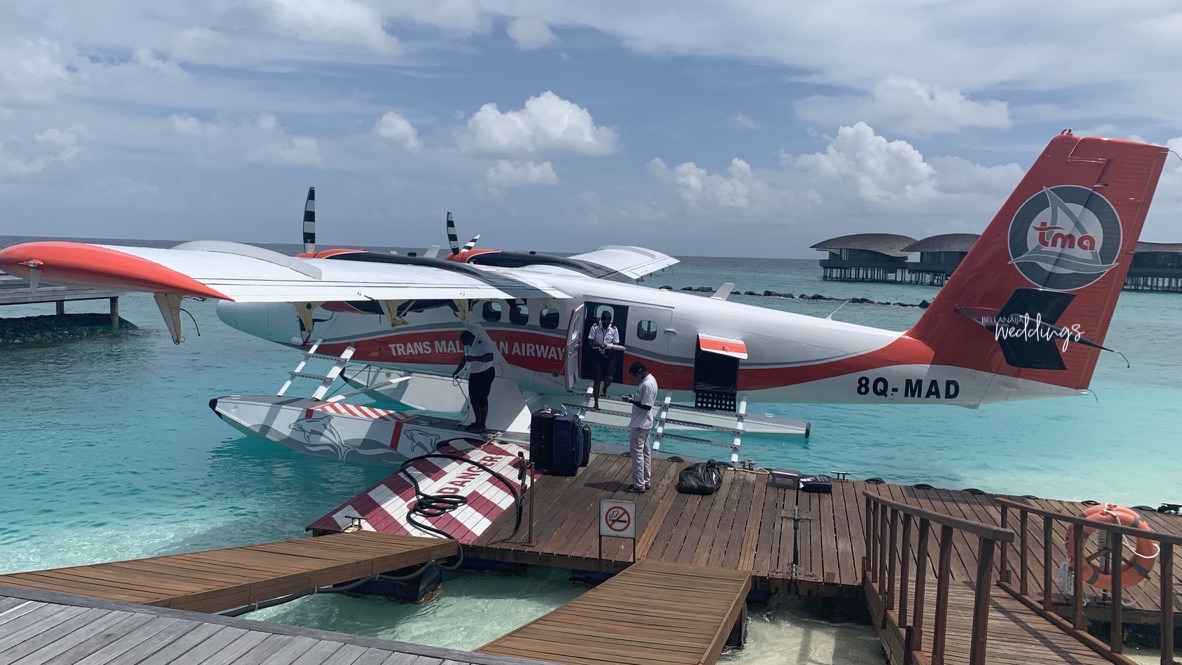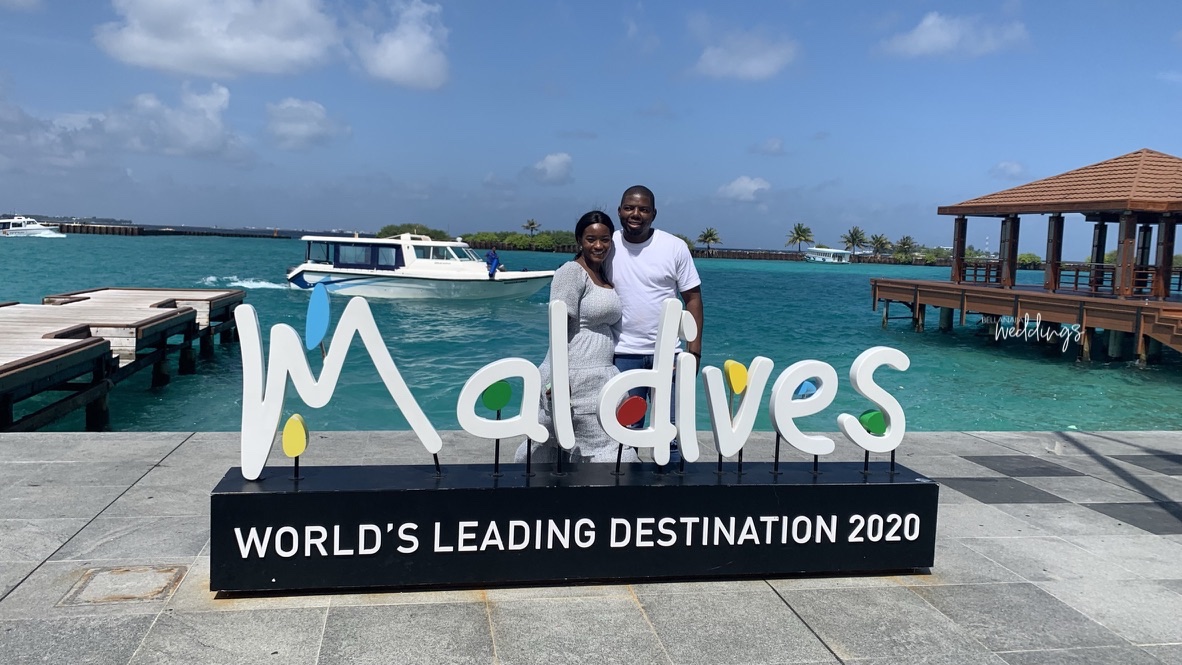 When you're isolated on a remote island, you might as well want to enjoy it to the fullest. After all, it's a once-in-a-lifetime trip.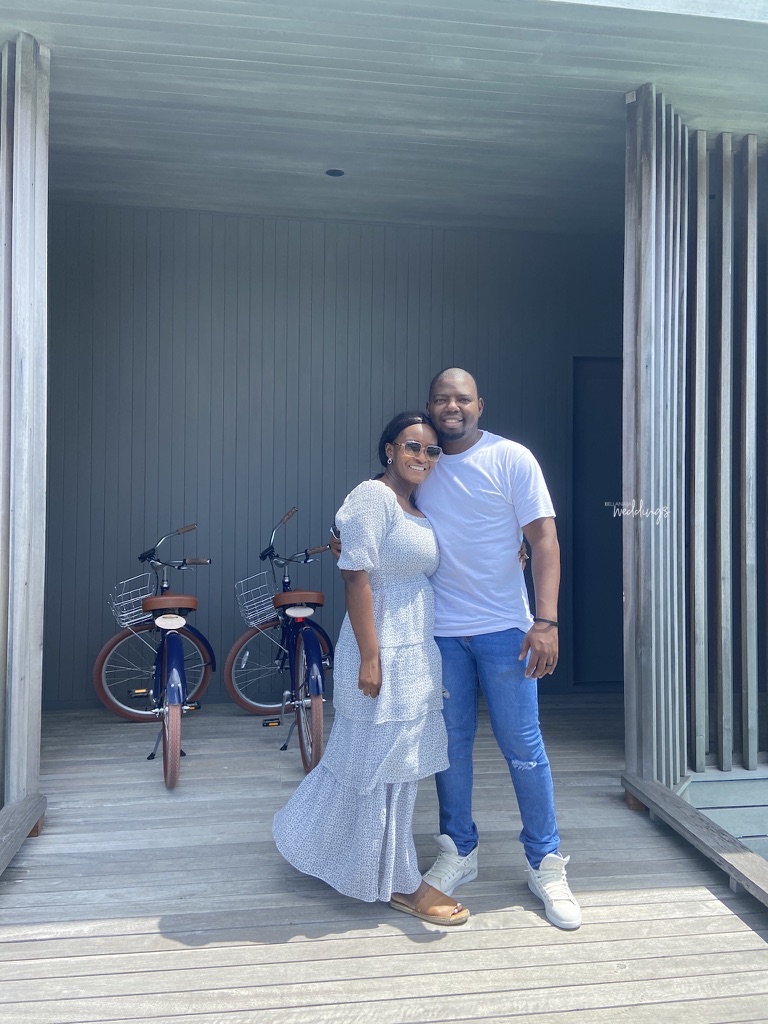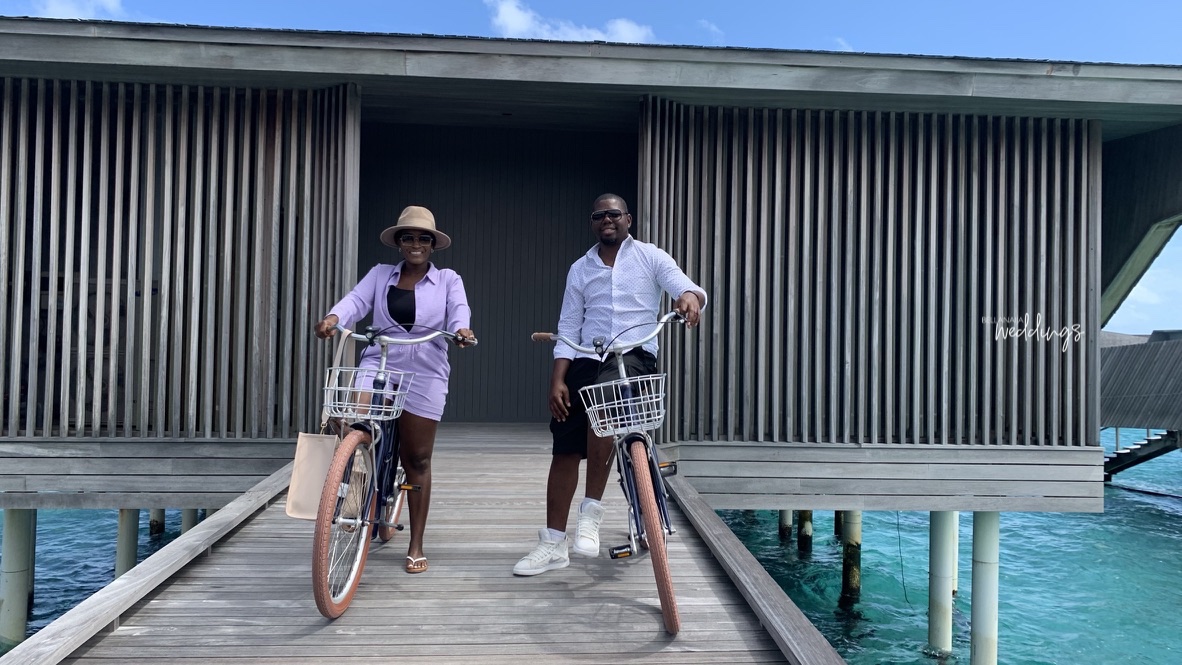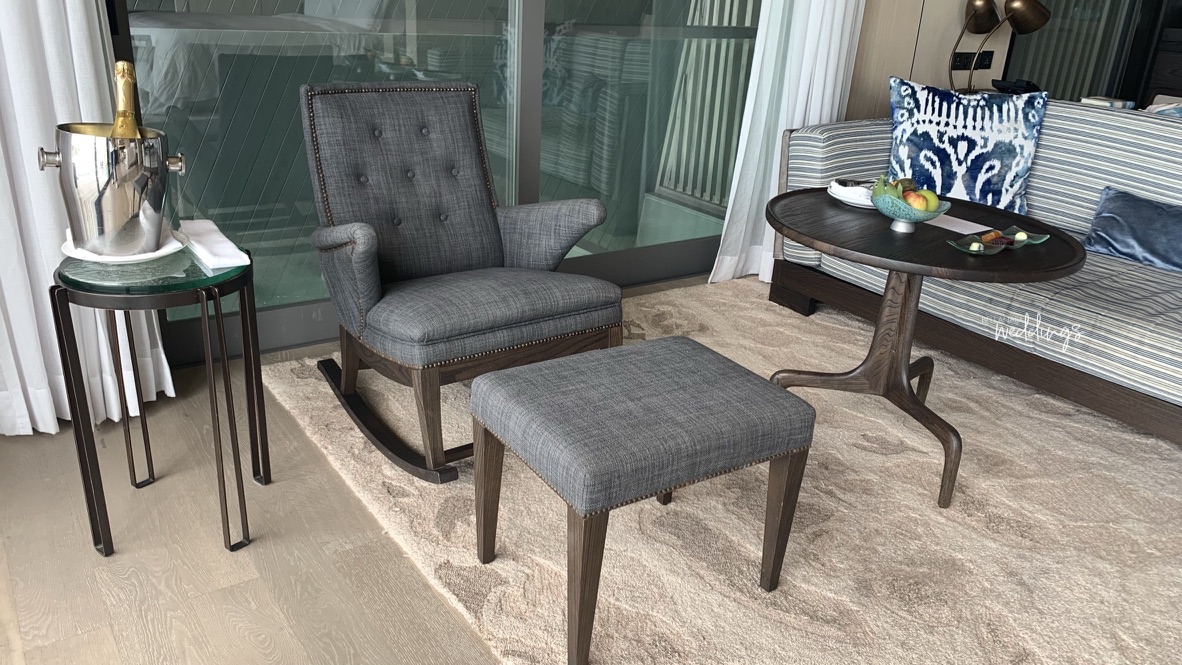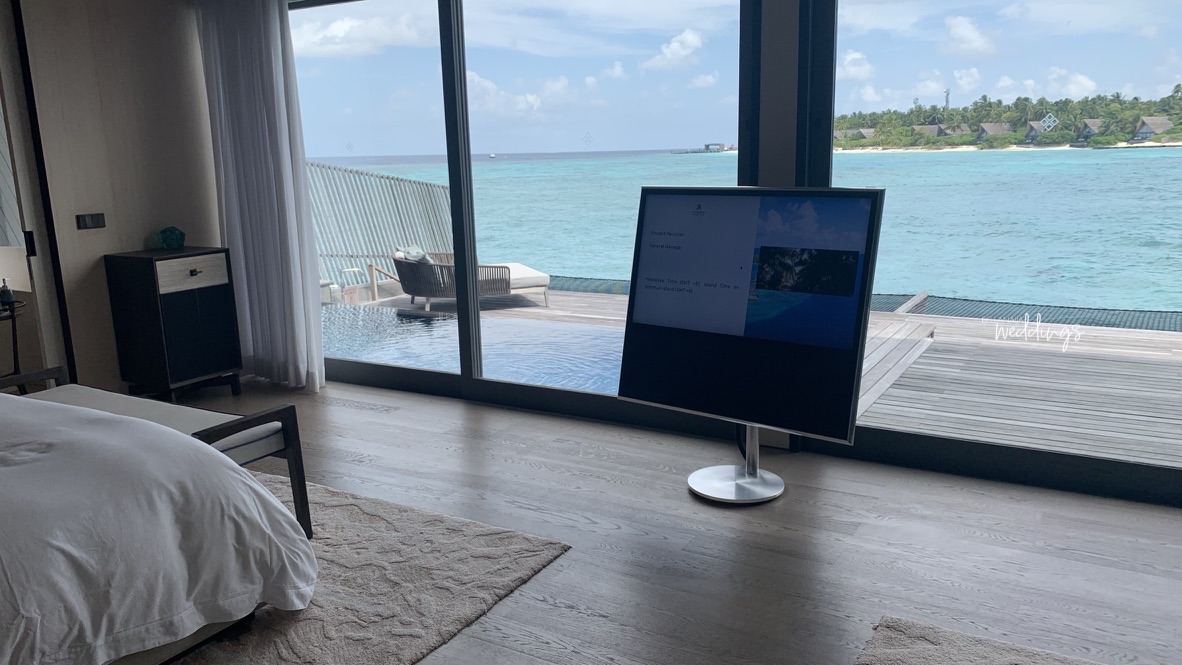 We had dinner at all the 5 restaurants on the island during our stay. We were always looking forward to breakfast, especially since it was complimentary, and they also serve champagne during breakfast. My favorite was the Tuna Curry paired with Roti, which was sweet and spicy, while my wife enjoyed the Japanese breakfast until she got tired of it the next day. We also had Lobster Thermidor, which we felt wasn't the best we've ever had.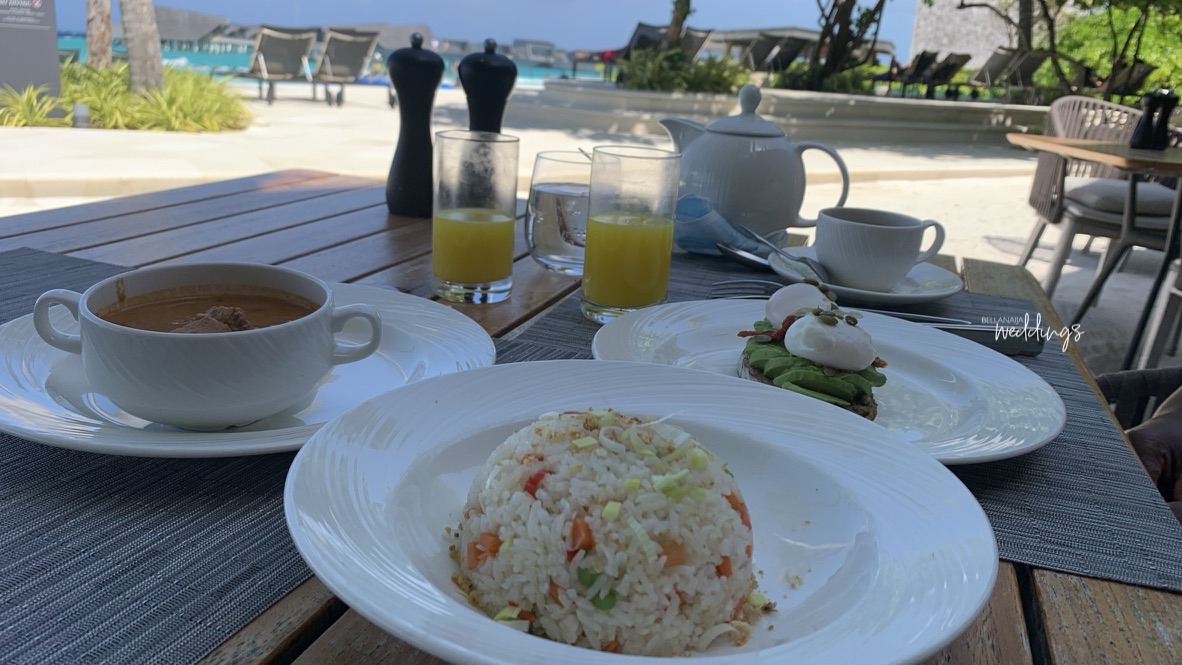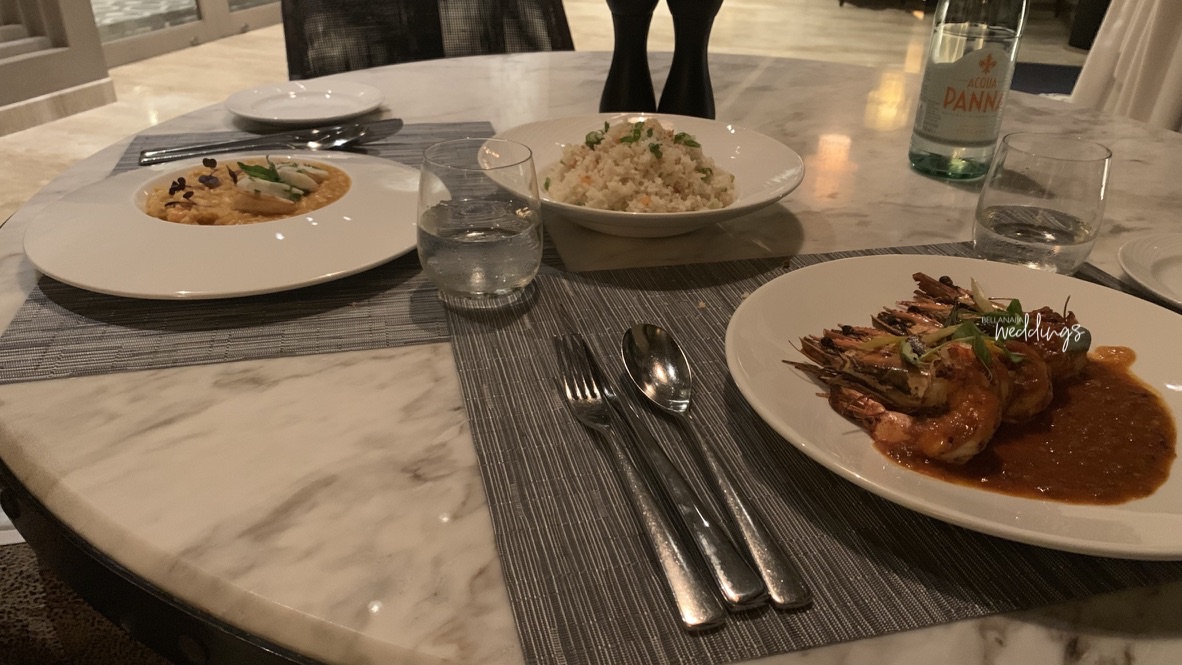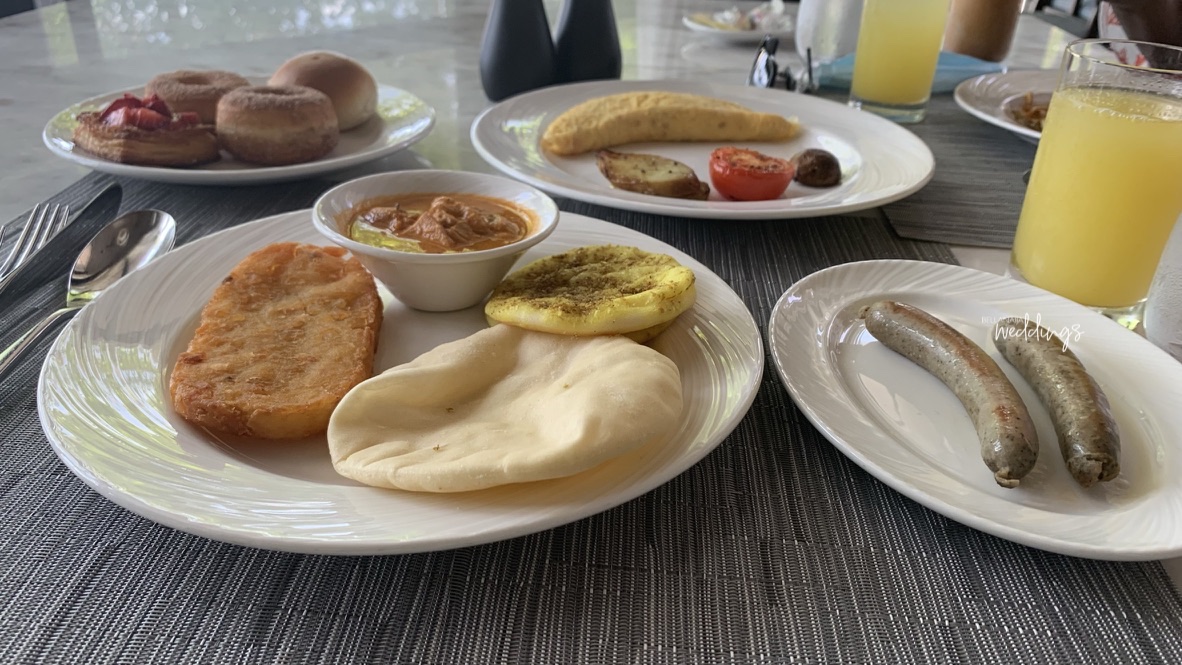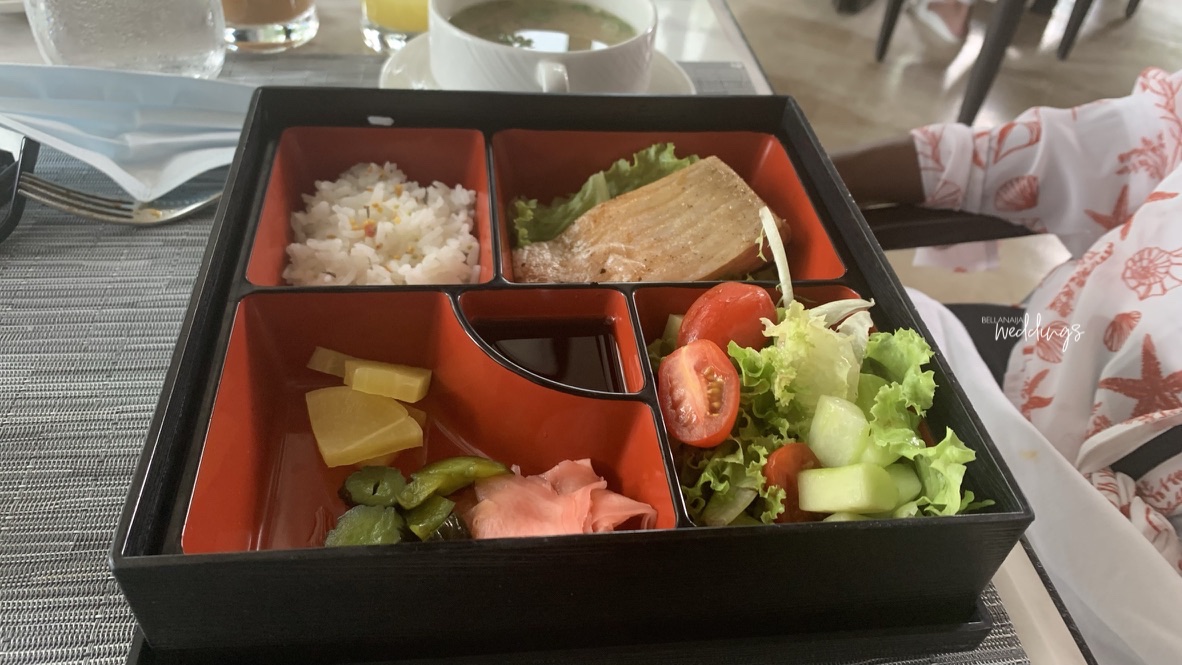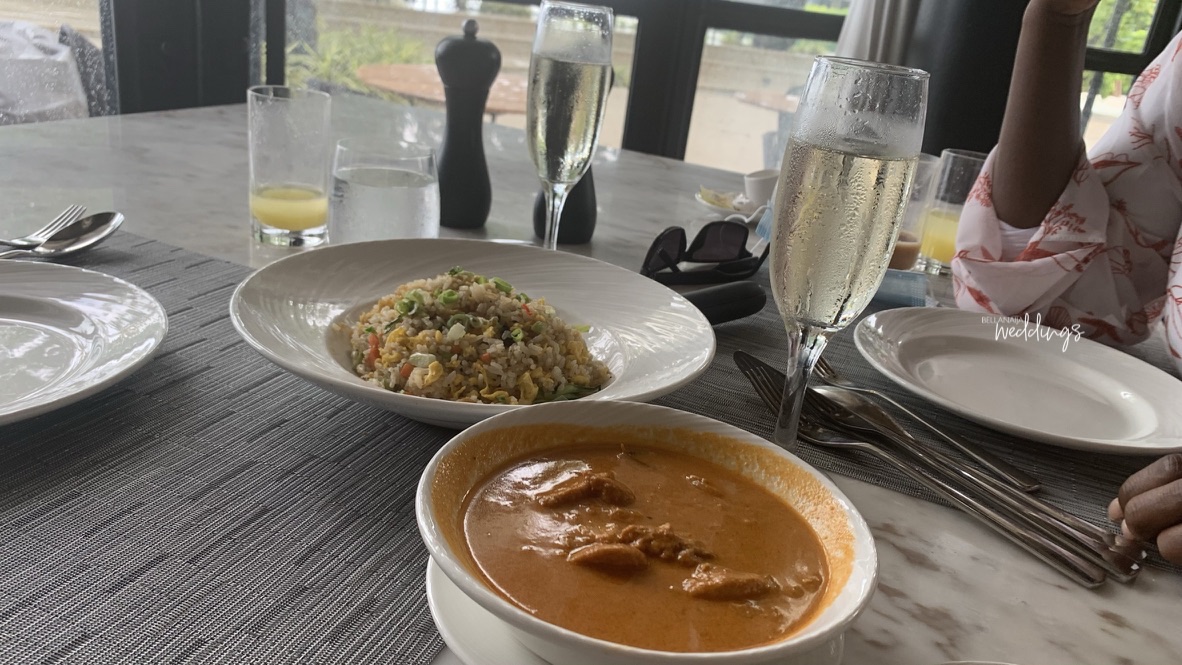 We came back to a surprise after dinner. Our butler had prepared the bathtub filled with bubbles and a heart sign made of flowers for us. With jazz music playing in the room, and
another table decorated with flowers that says Happy Honeymoon plus another handwritten note. This was when I wish I could be on my honeymoon in the Maldives for 6 months, twice a year. Another day, we walked back into our villa and found housekeeping decorating our bed with another Happy Honeymoon made of palm trees (aww aww).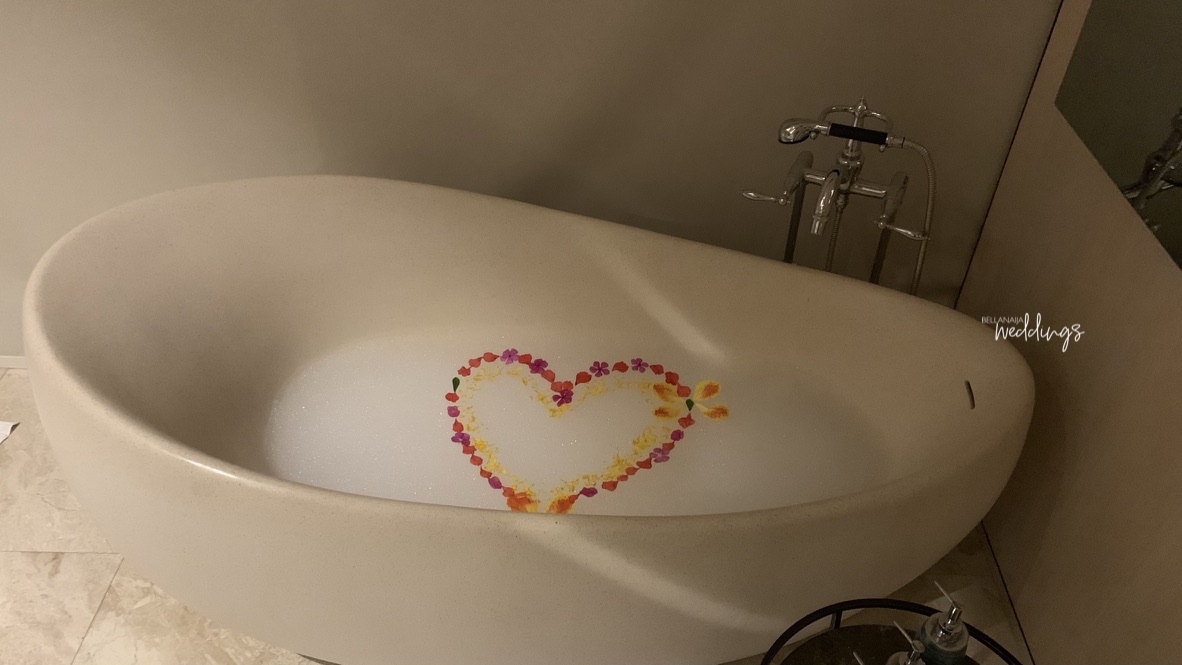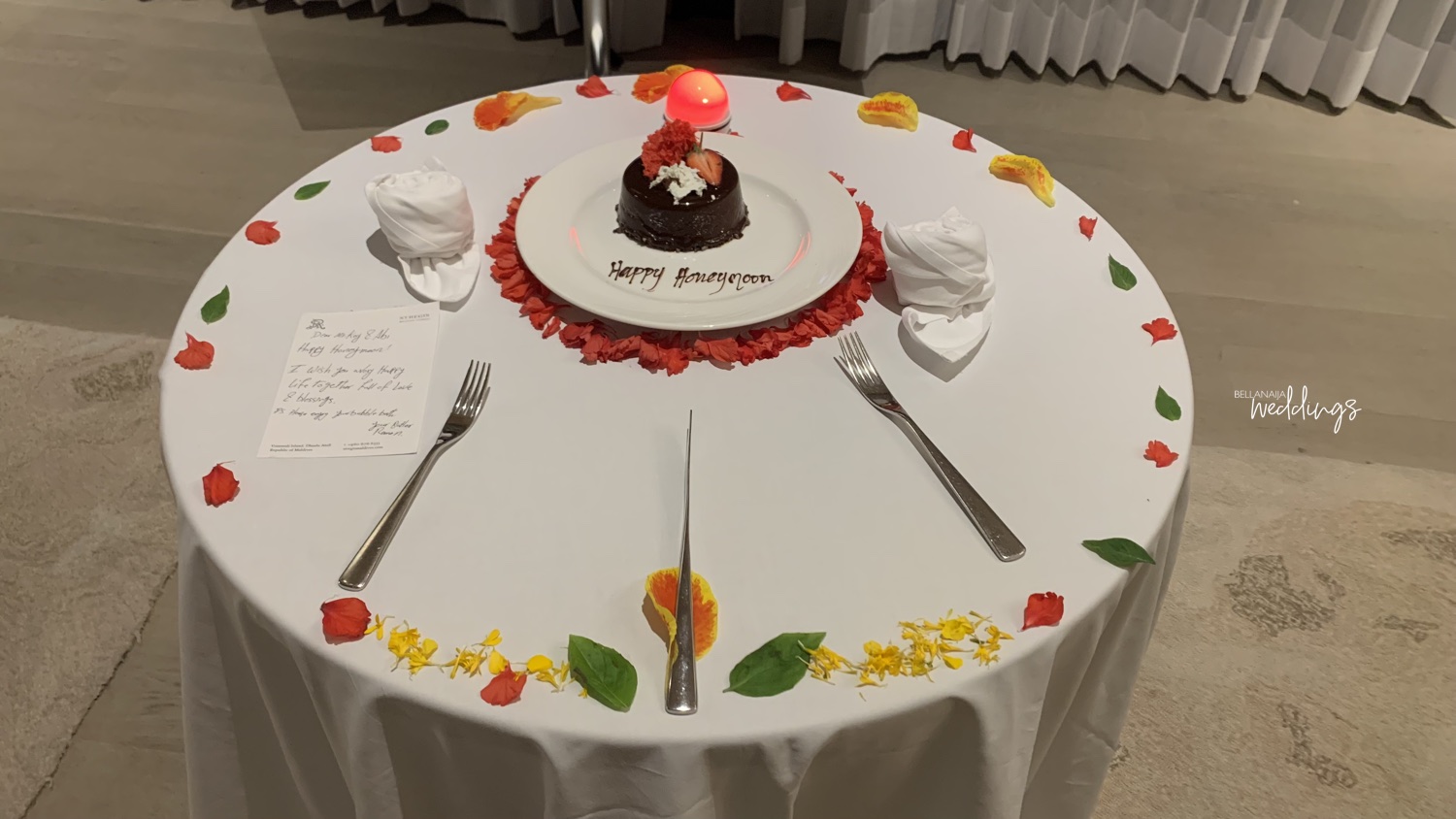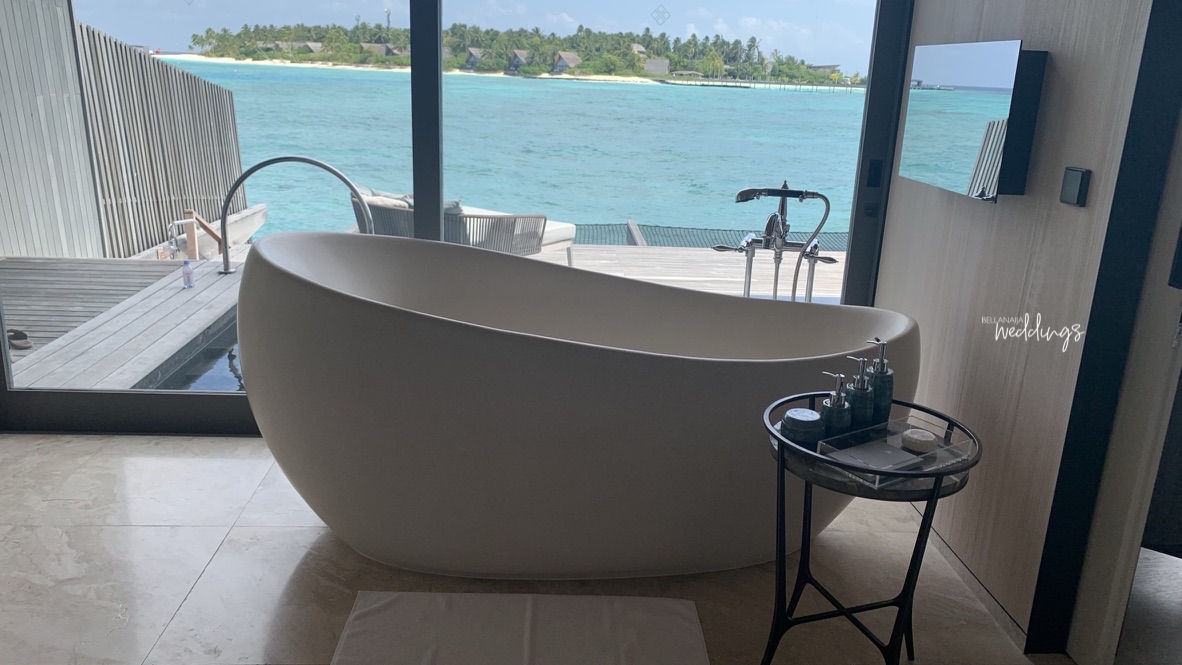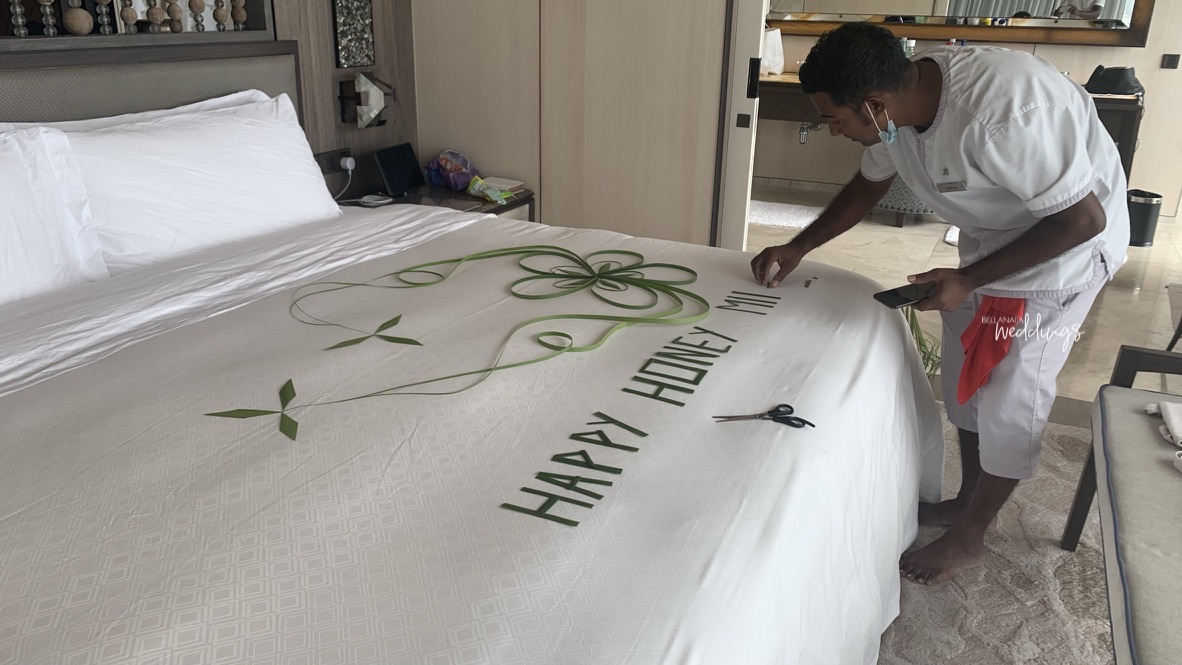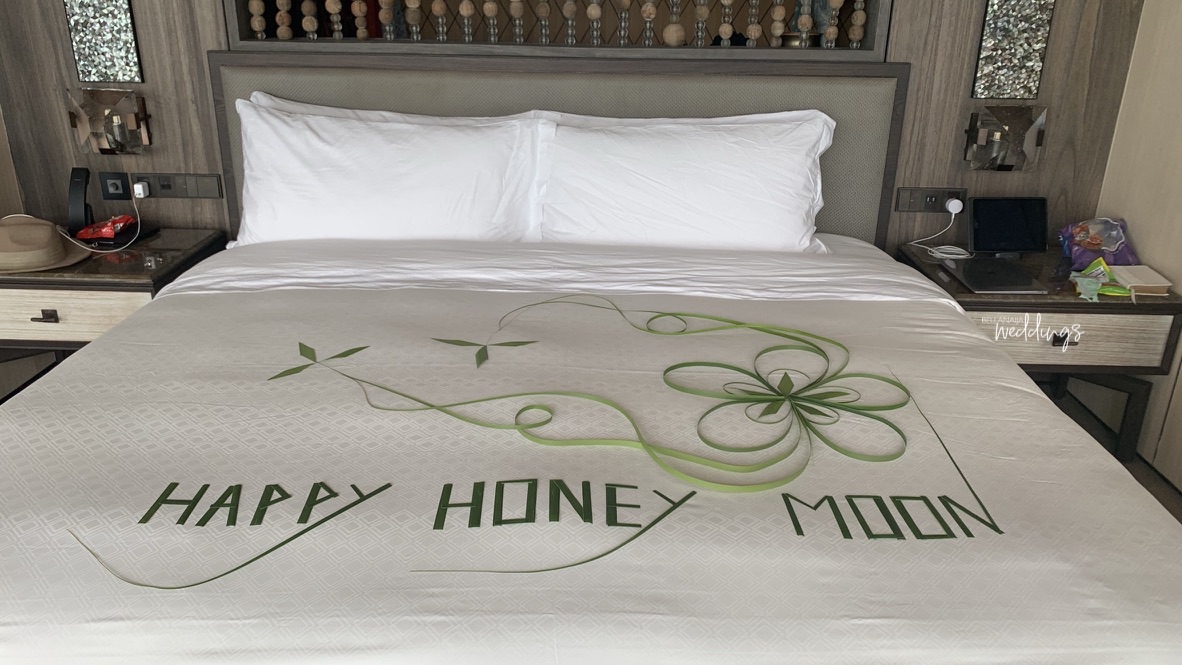 Our stay at the St. Regis Maldives was filled with love, fun, laughter, and lots of activities. The resort has so much to offer, in terms of activities, and almost every corner you turn to was just picture perfect.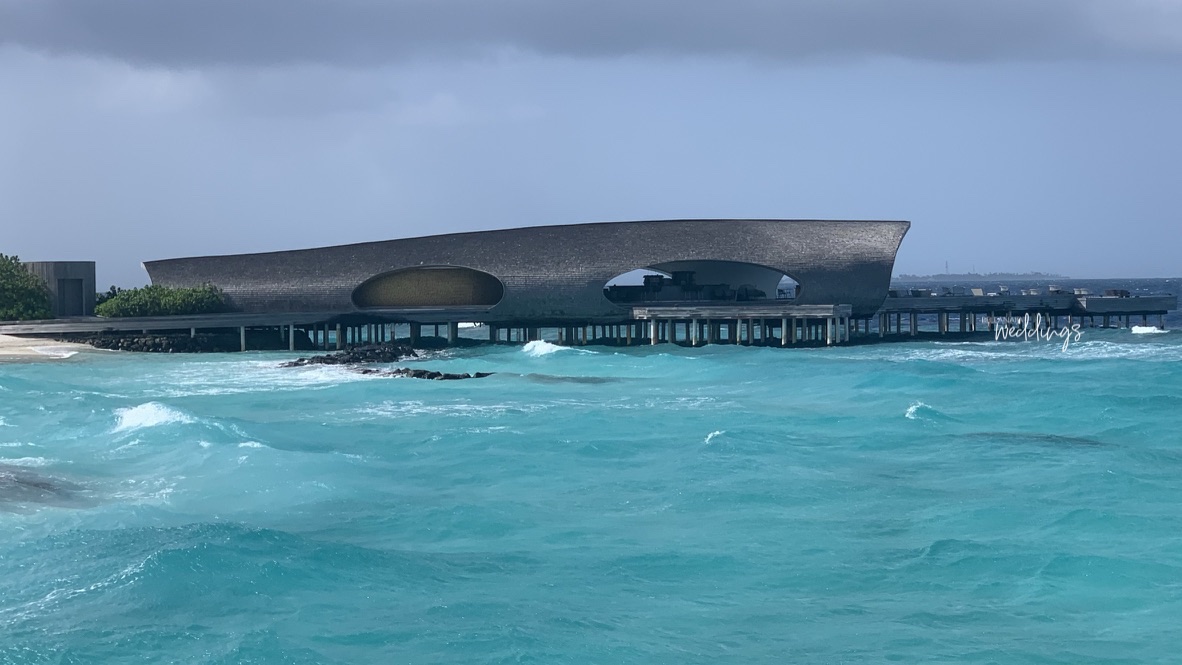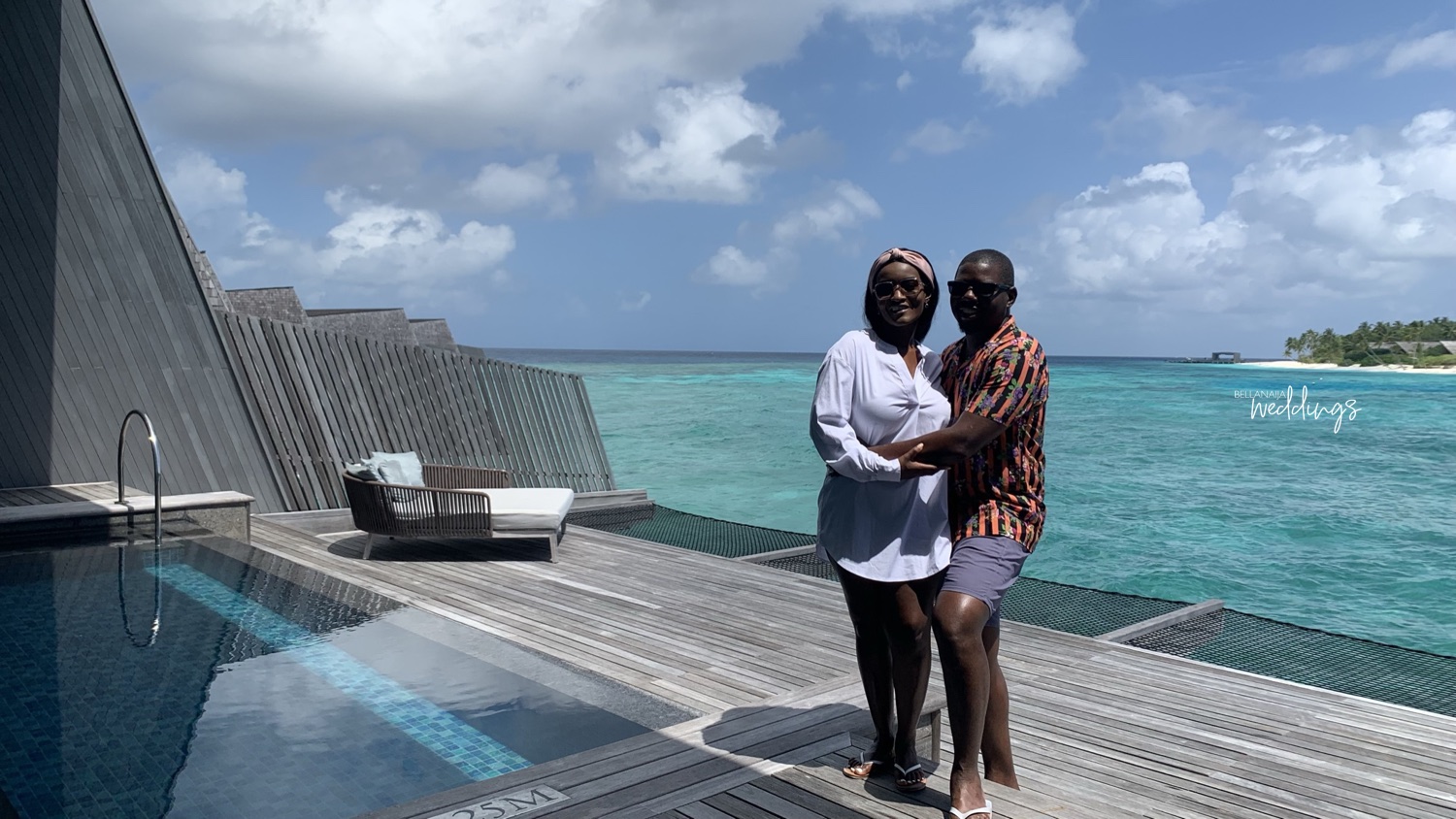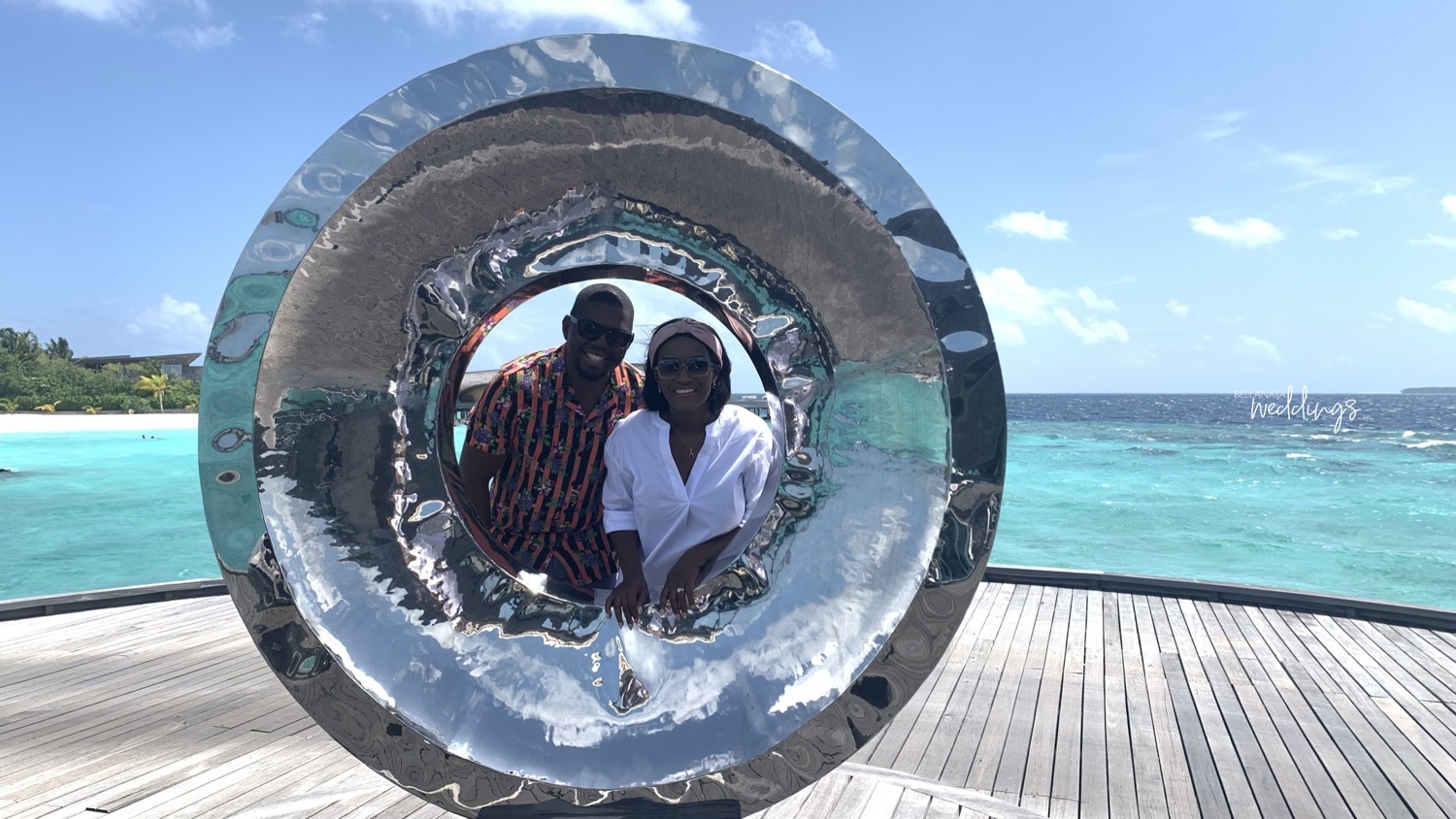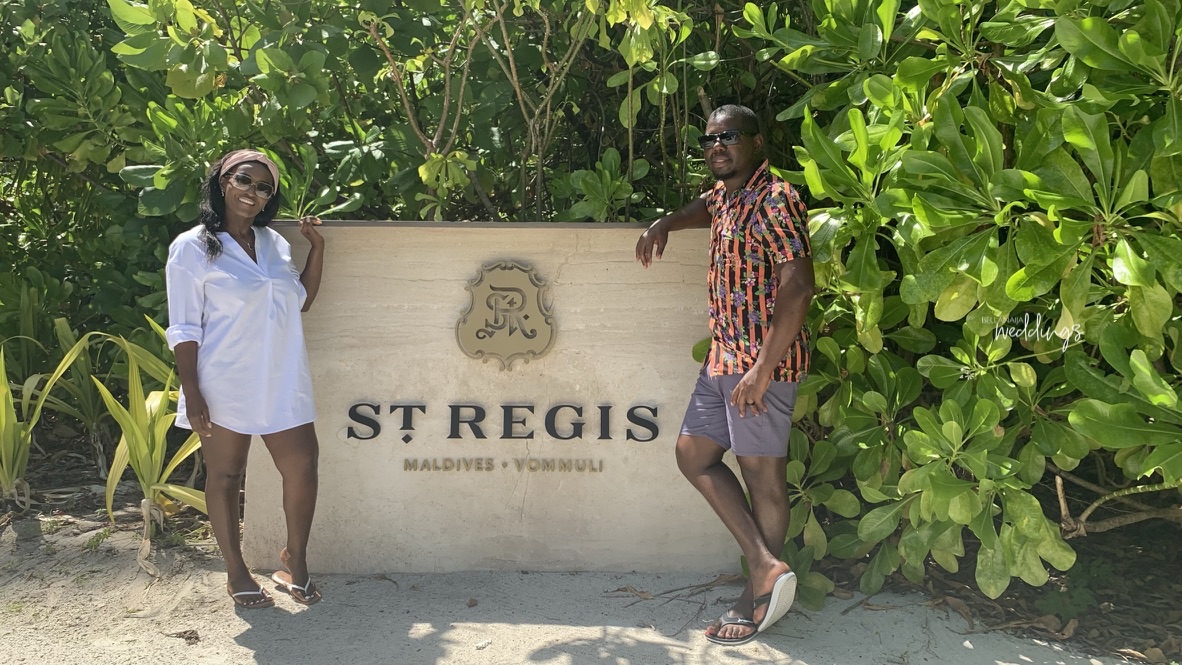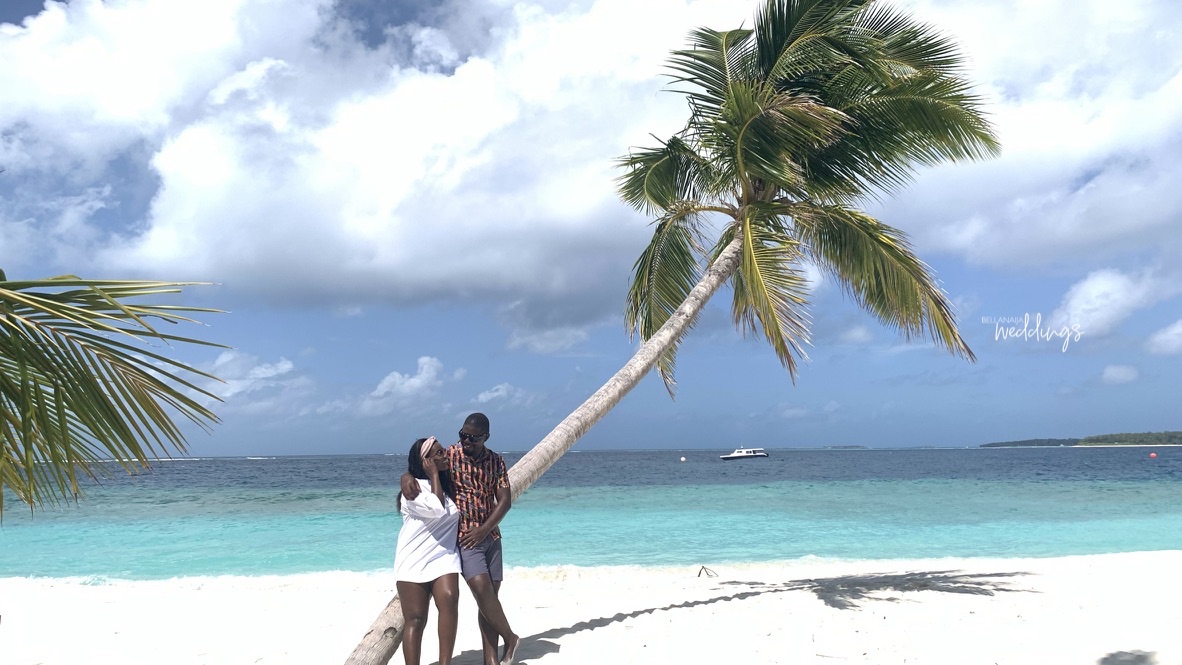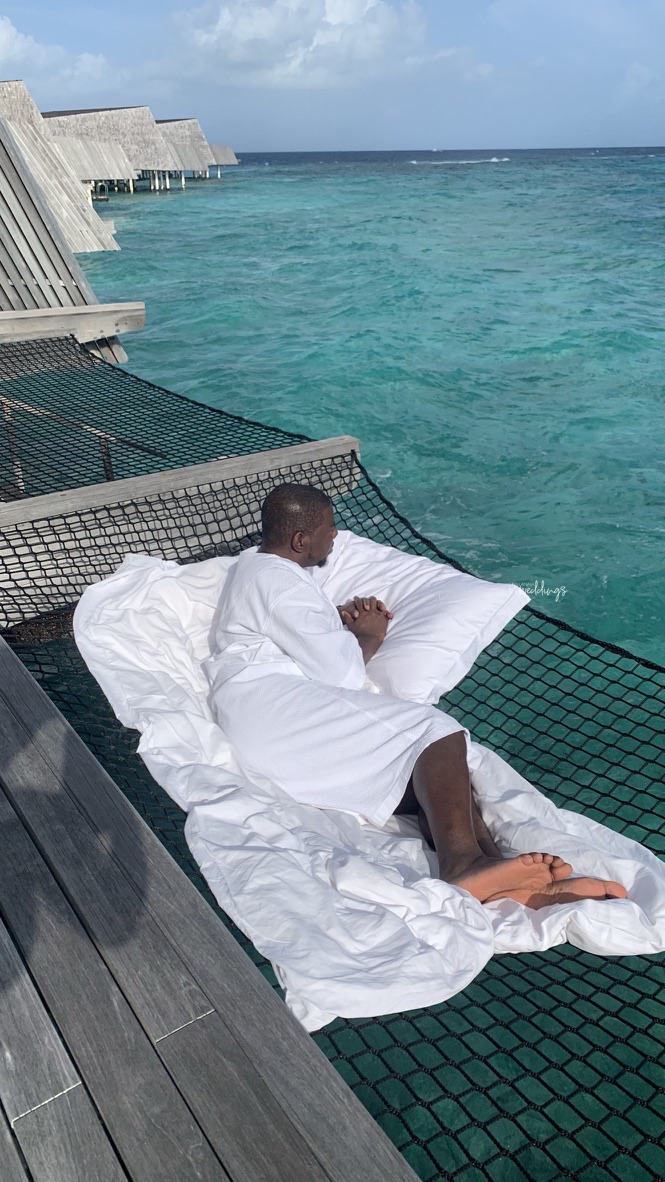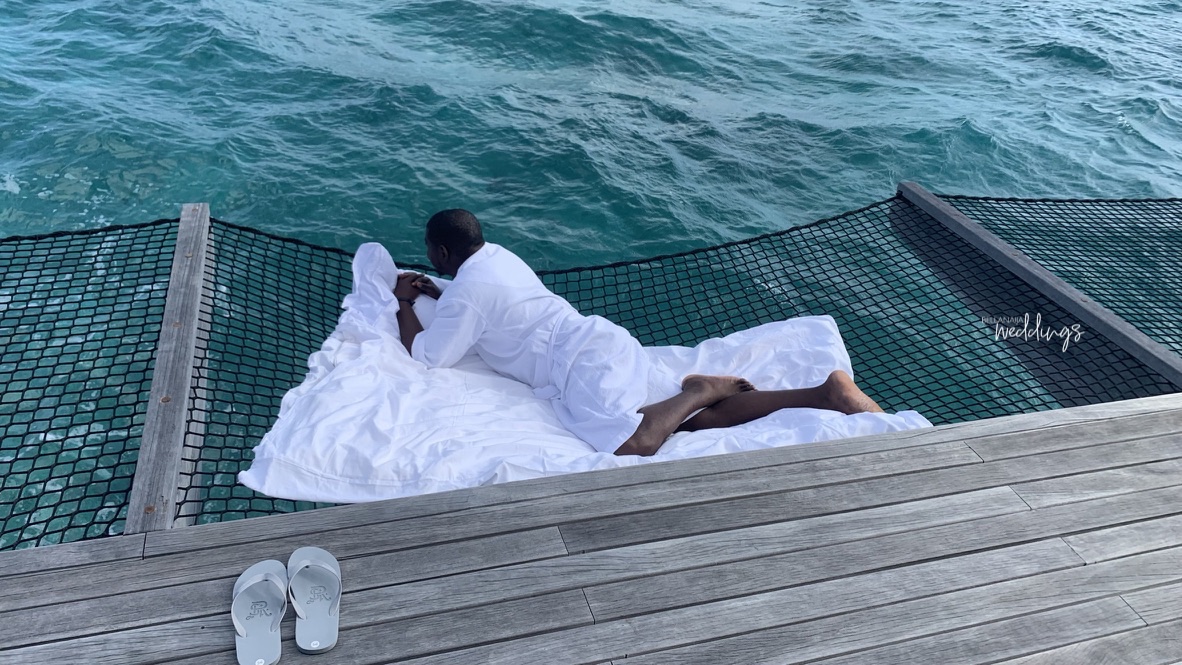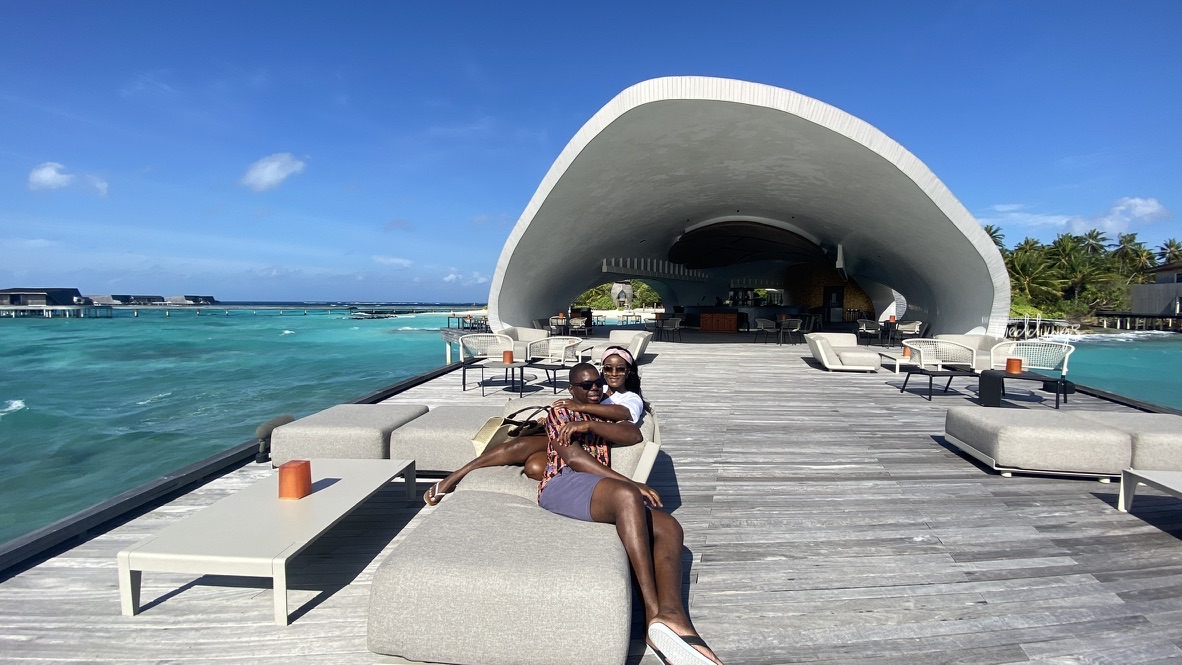 Fast forward to Singapore
The longest flight in the world is one flight I've been wanting to cross off my AVGEEK bucket list for about 2 years now. As a matter of fact, I've had to cancel and rebook my flight a number of times before. So, I was quite excited to be taking this flight finally. At this point, my wife was already tired and just wanted to go home. Apparently, being a jet setter is no joke.  The longest flight in the world is a Singapore Airlines SQ23 or SQ24, Singapore to New York or New York to Singapore. It's an 18-hours flight nonstop, so it's not for the faint-hearted. But with a lie-flat bed, this ultra-long-haul flight wasn't as long as it seems.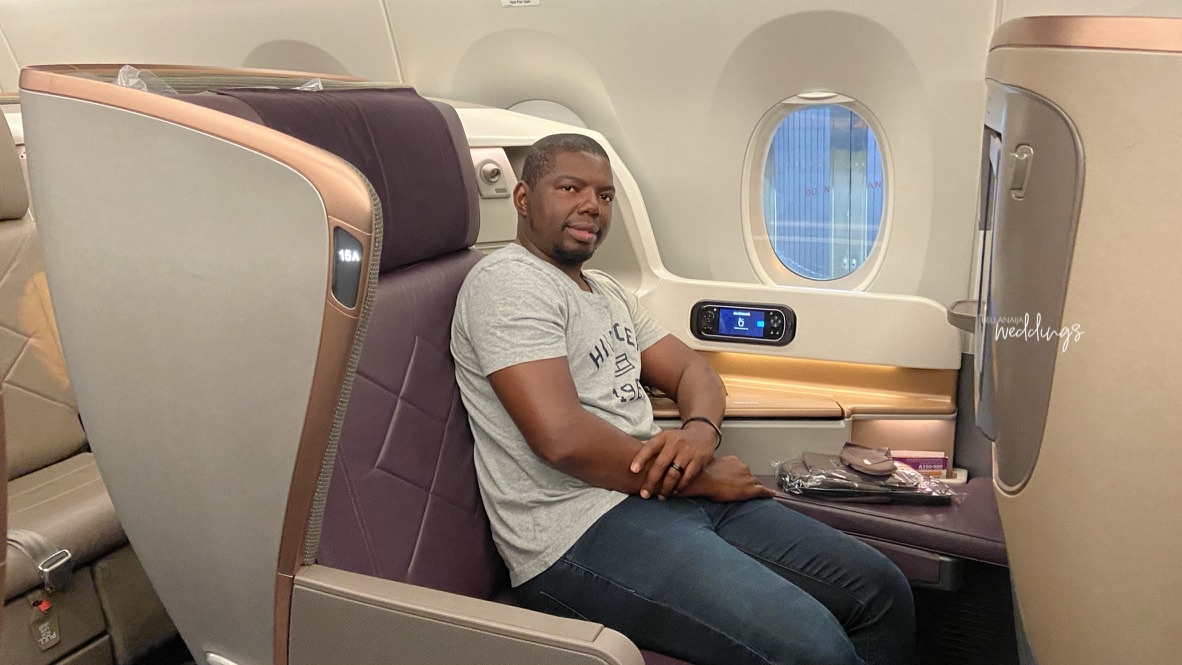 With the peace-out sign shown, and the do not disturb sign turned on, all my wife wanted to do was to just sleep. We managed to get a few more pictures before she called it a night. Singapore – New York flight wasn't that eventful, but eventually, we landed in New York JFK 18 hours after boarding in Singapore.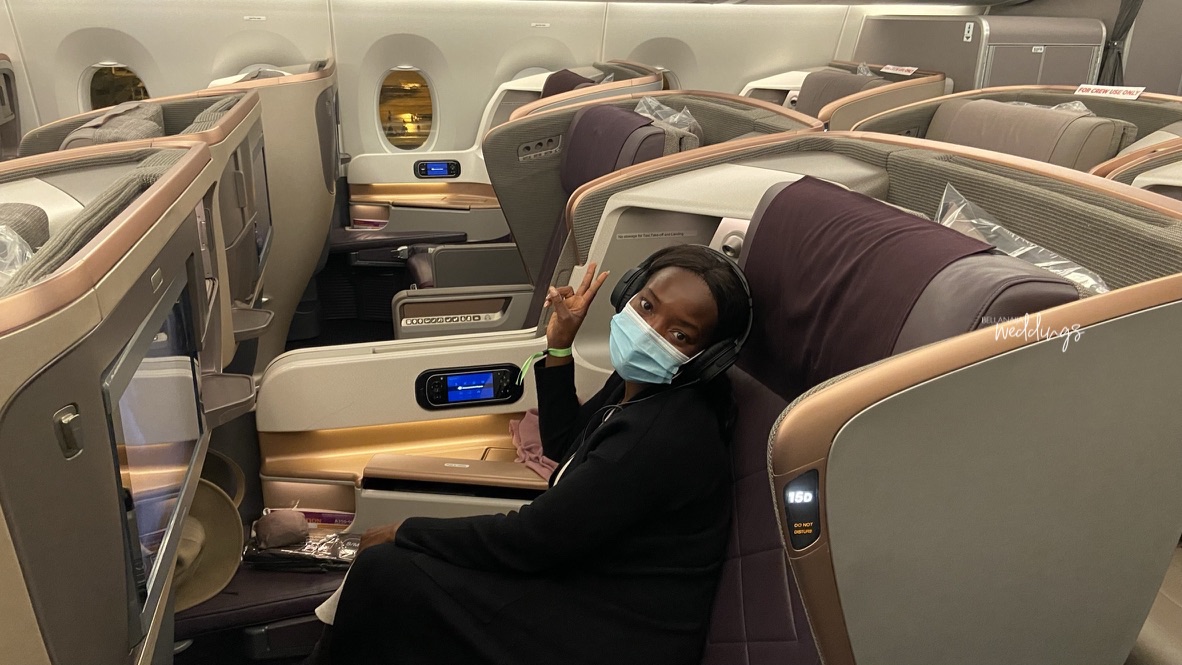 Yes, we're now back in the US but this our 'round-the-world honeymoon trip" wassn't over yet. We stayed in New York for 2 days and then we were back at JFK airport for our next flight to Miami. This time around, we were flying American Airlines Flagship.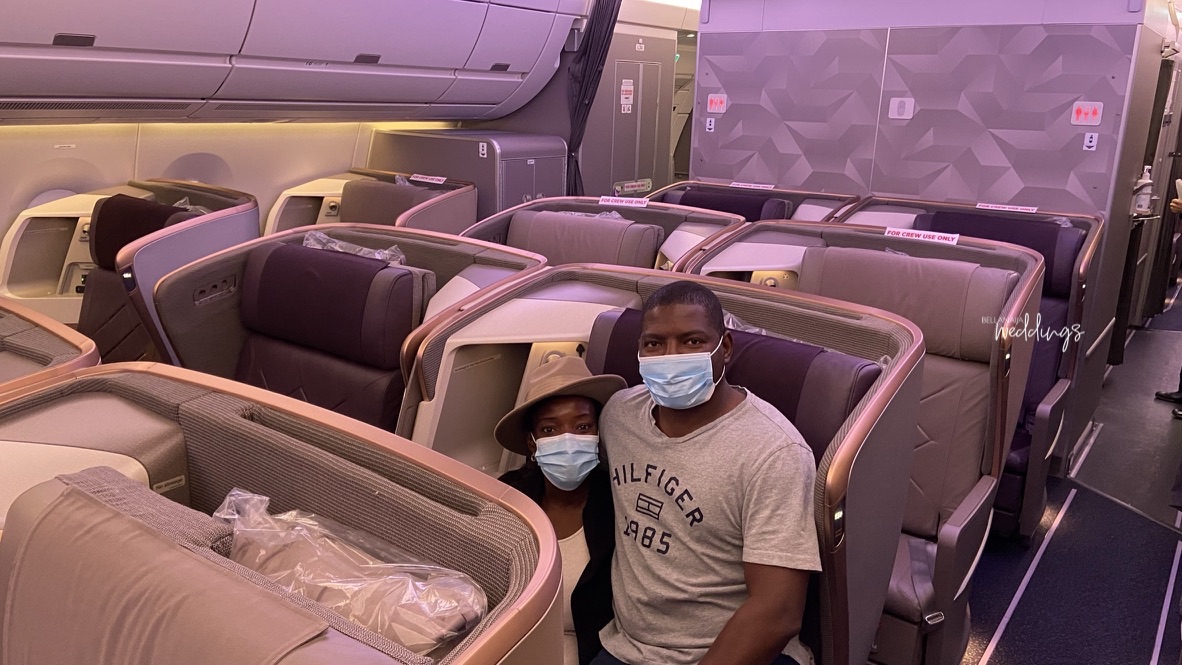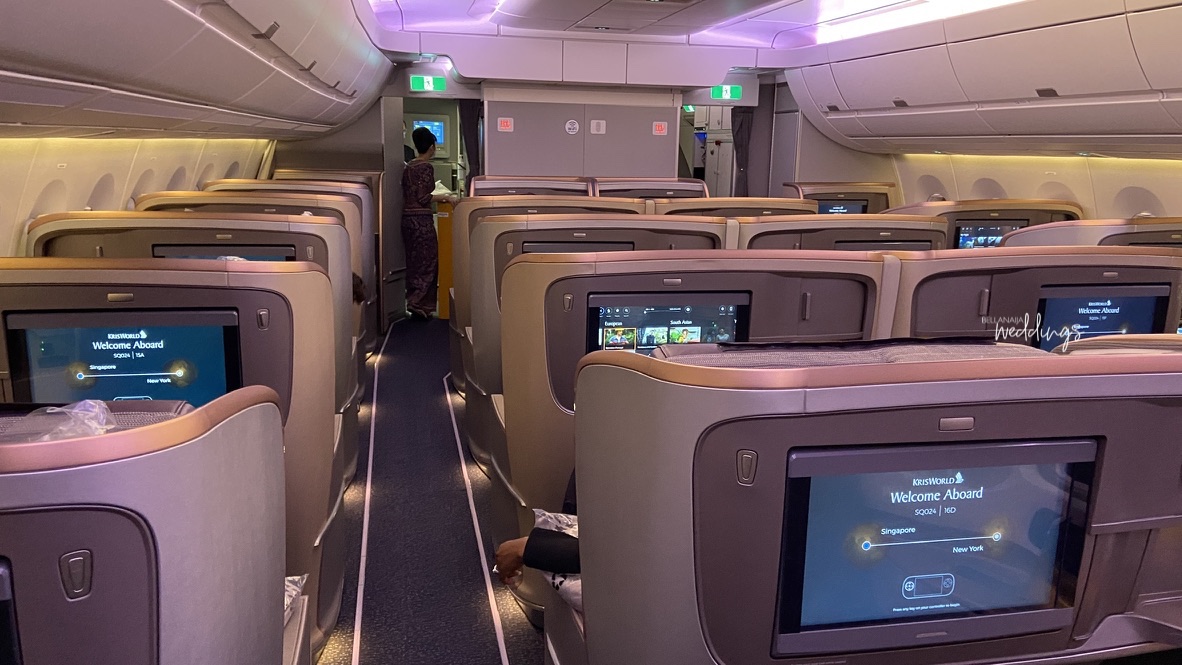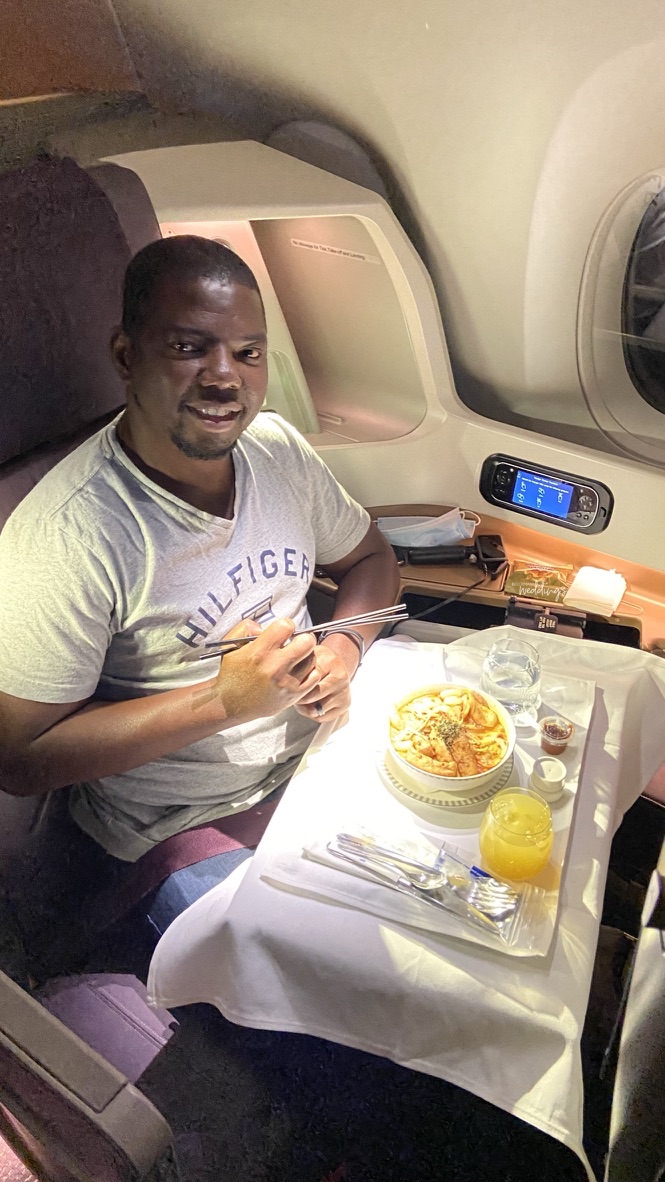 We arrived in Miami after the 3 hours flight from New York and headed to the American Airlines Flagship Lounge. It's not every day that one gets to visit the AA Flagship Lounge. With a champagne welcome at the door, great food and snacks spread, exclusive dining, premium liquor, a sleep area with daybeds, and a shower available, we were beyond ready.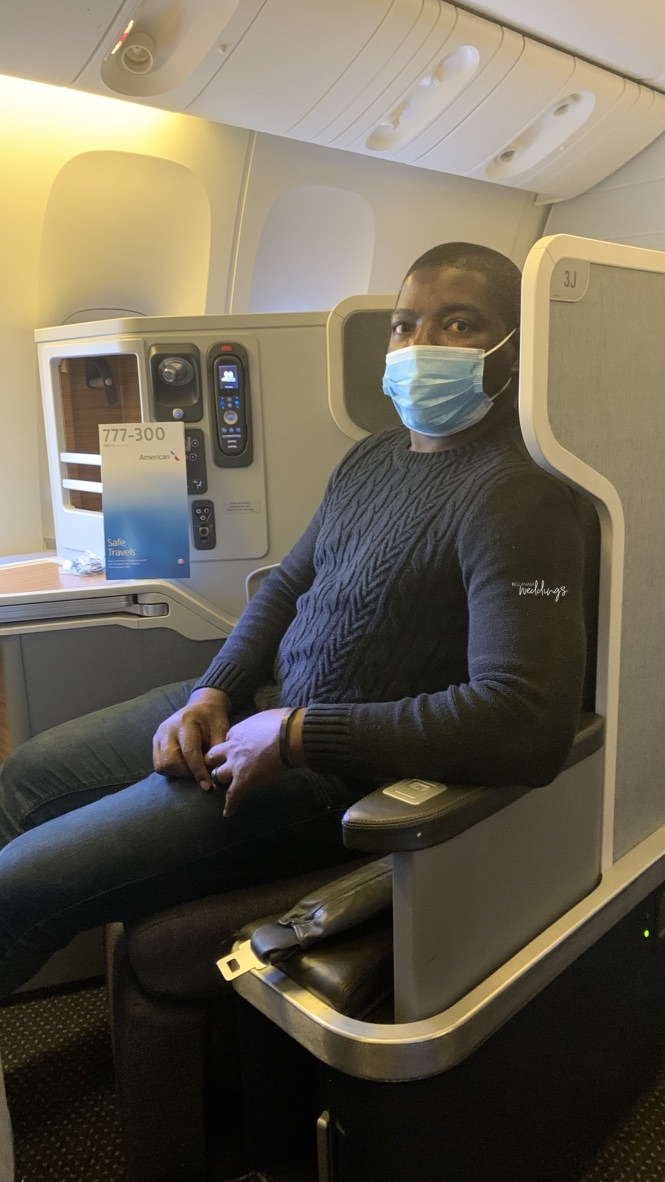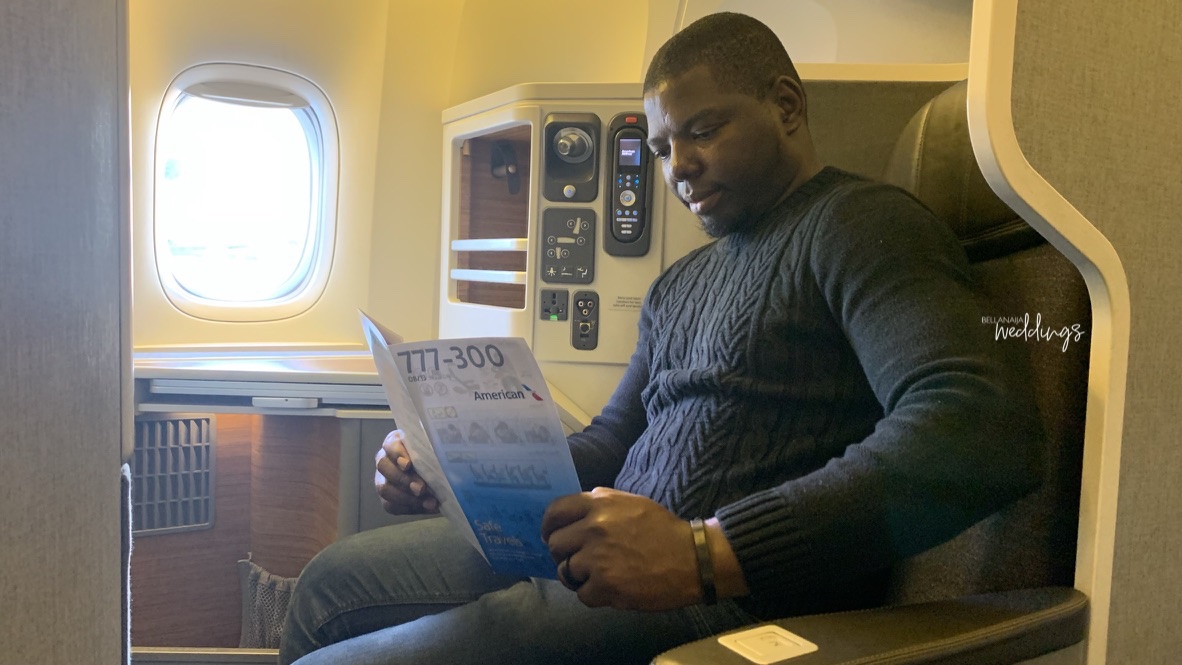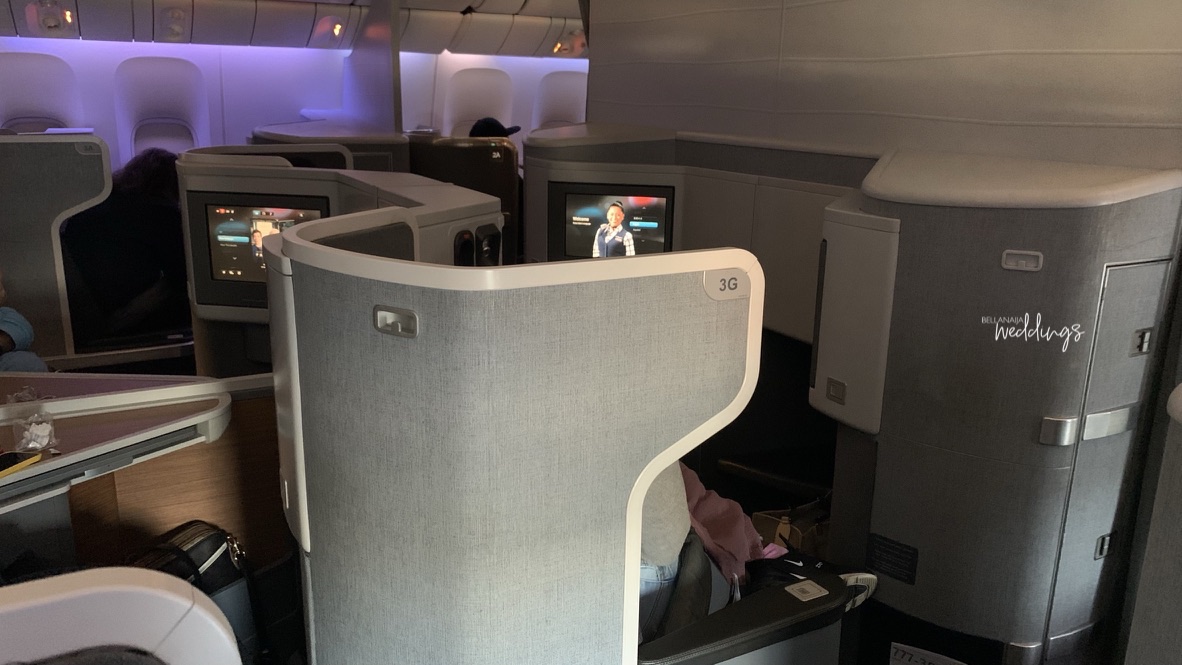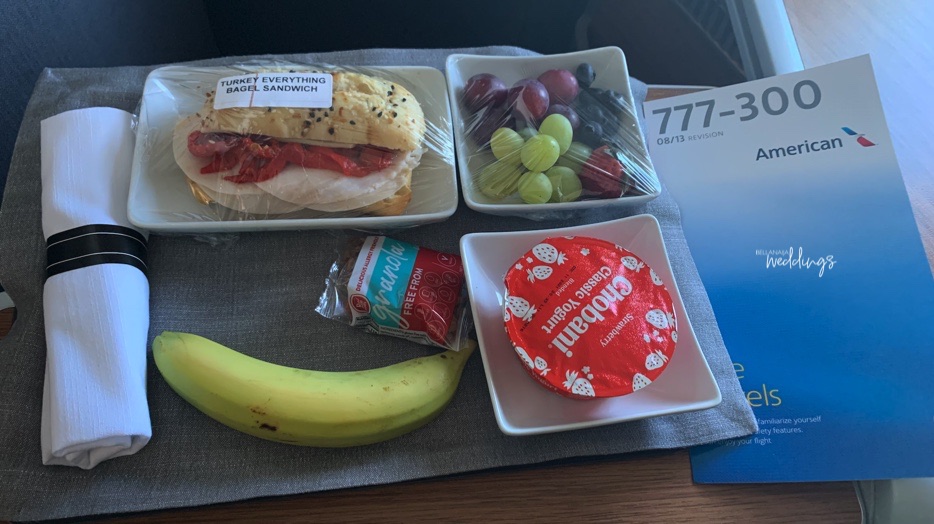 I promise you, just one more flight before we call this trip a wrap. It was now time to be "going back to Cali Cali". We boarded our flight heading out to Los Angeles from Miami.  The food onboard was great, bedding was plush, service received from the crew was simply amazing.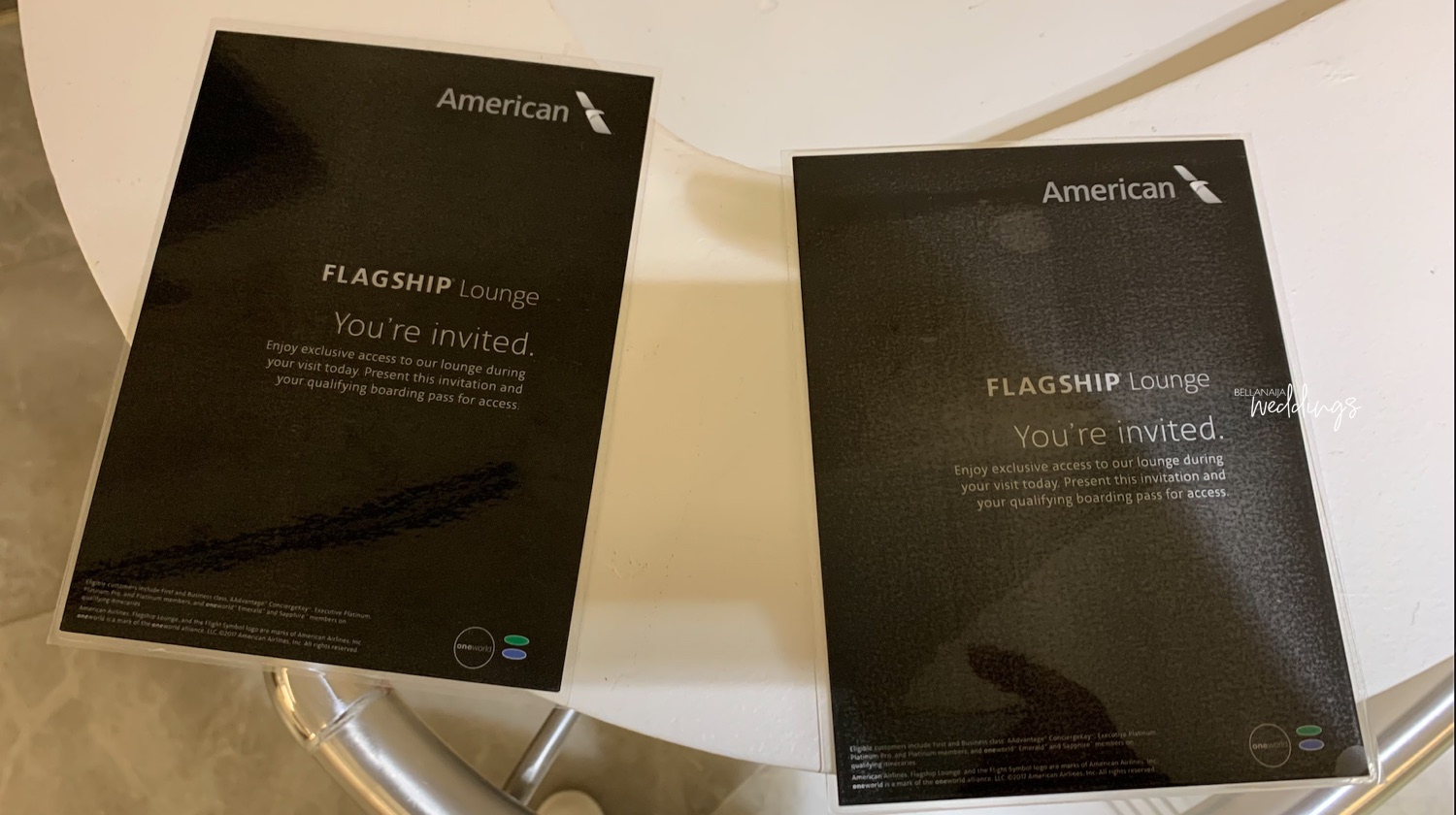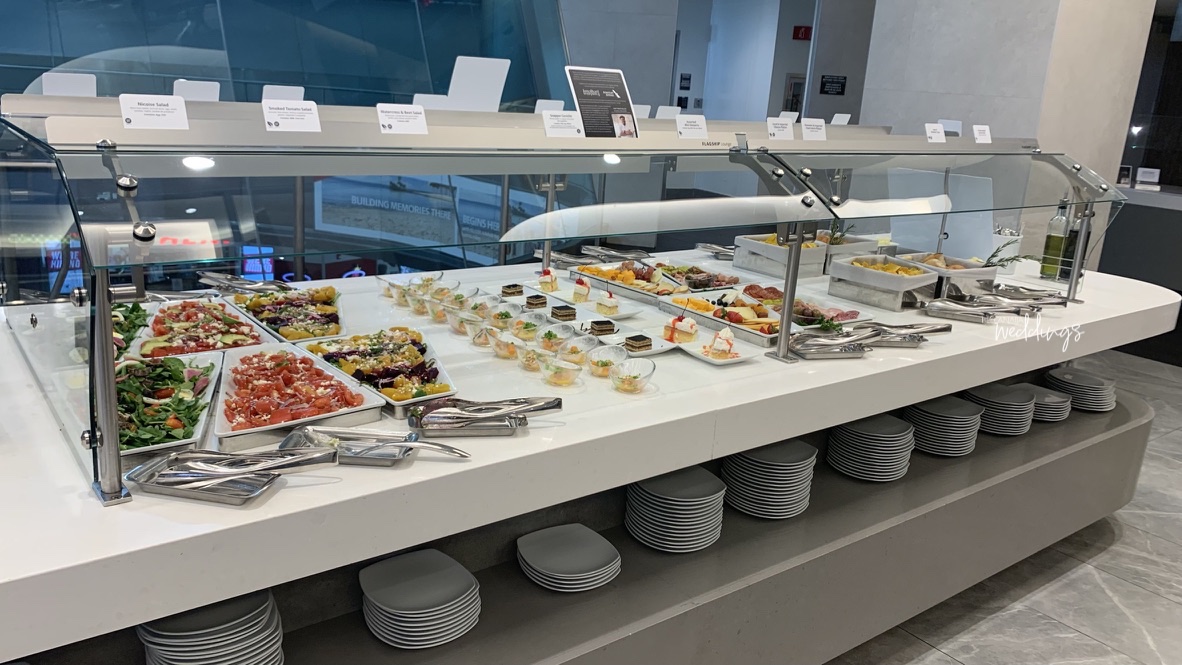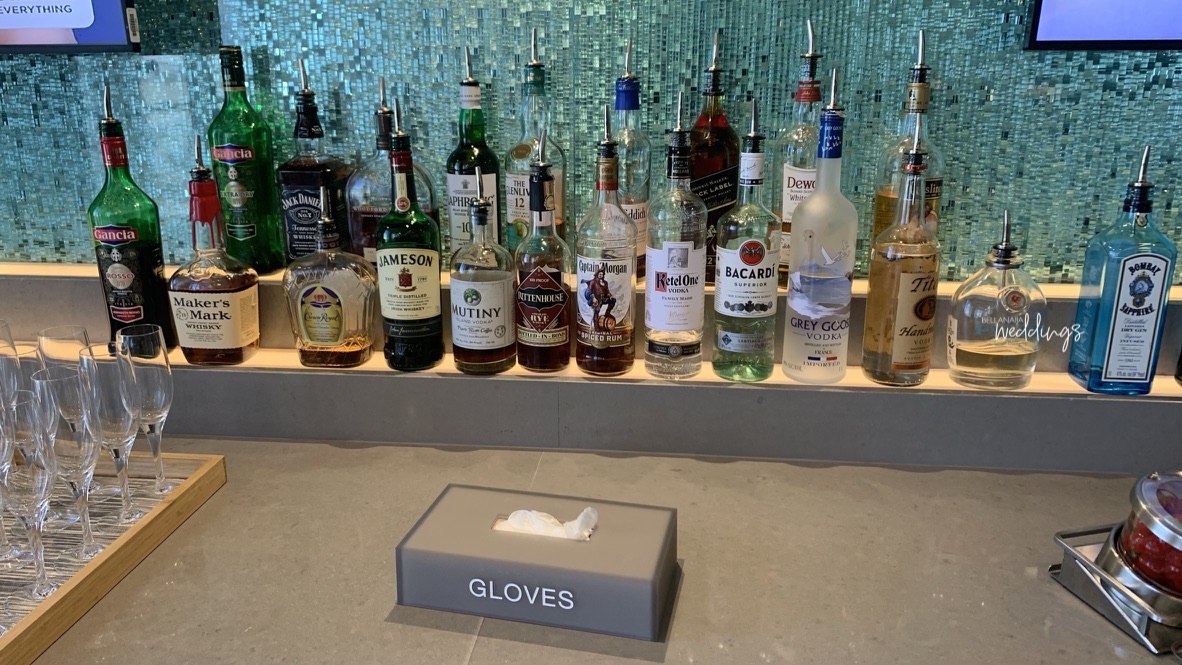 This indeed was a once-in-a-lifetime honeymoon trip for us. We enjoyed every bit of the trip from start to finish. We were privileged to experience the best of the best ways to travel, and this is something we'll always cherish, even in the years to come. For couples that are thinking of travelling the world in style as we did, we hope you can take a thing or two from our trip and apply it. If you're thinking of spending your honeymoon in the Maldives, we highly recommend it.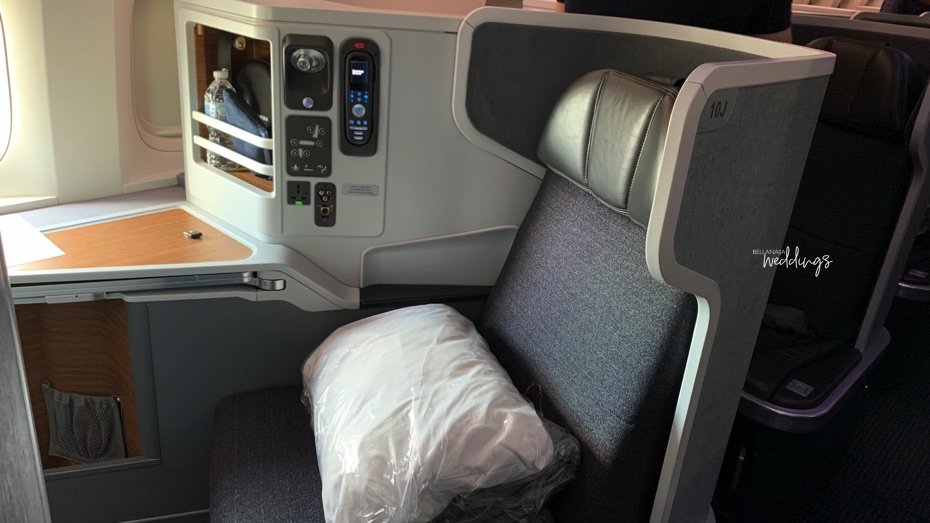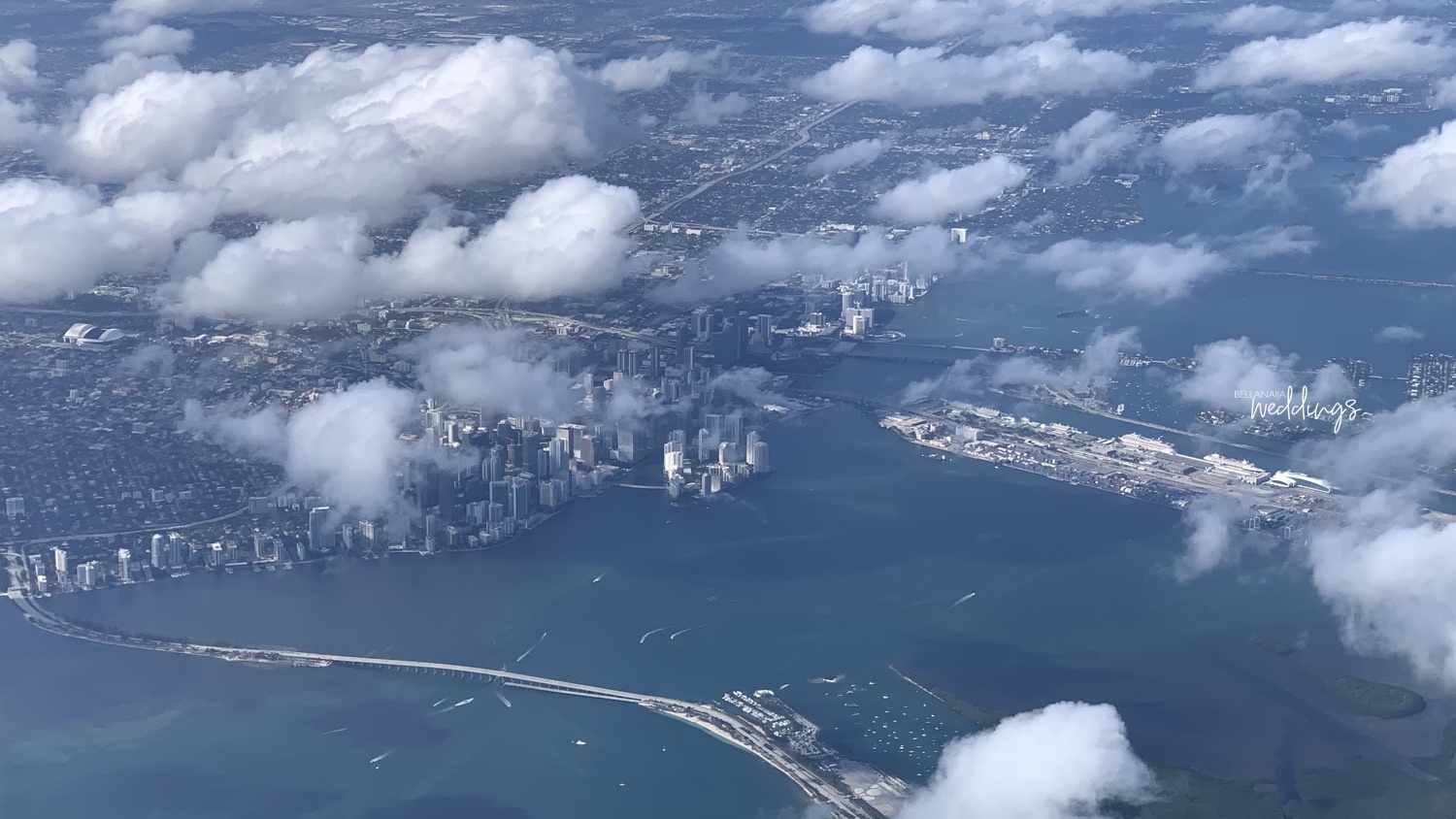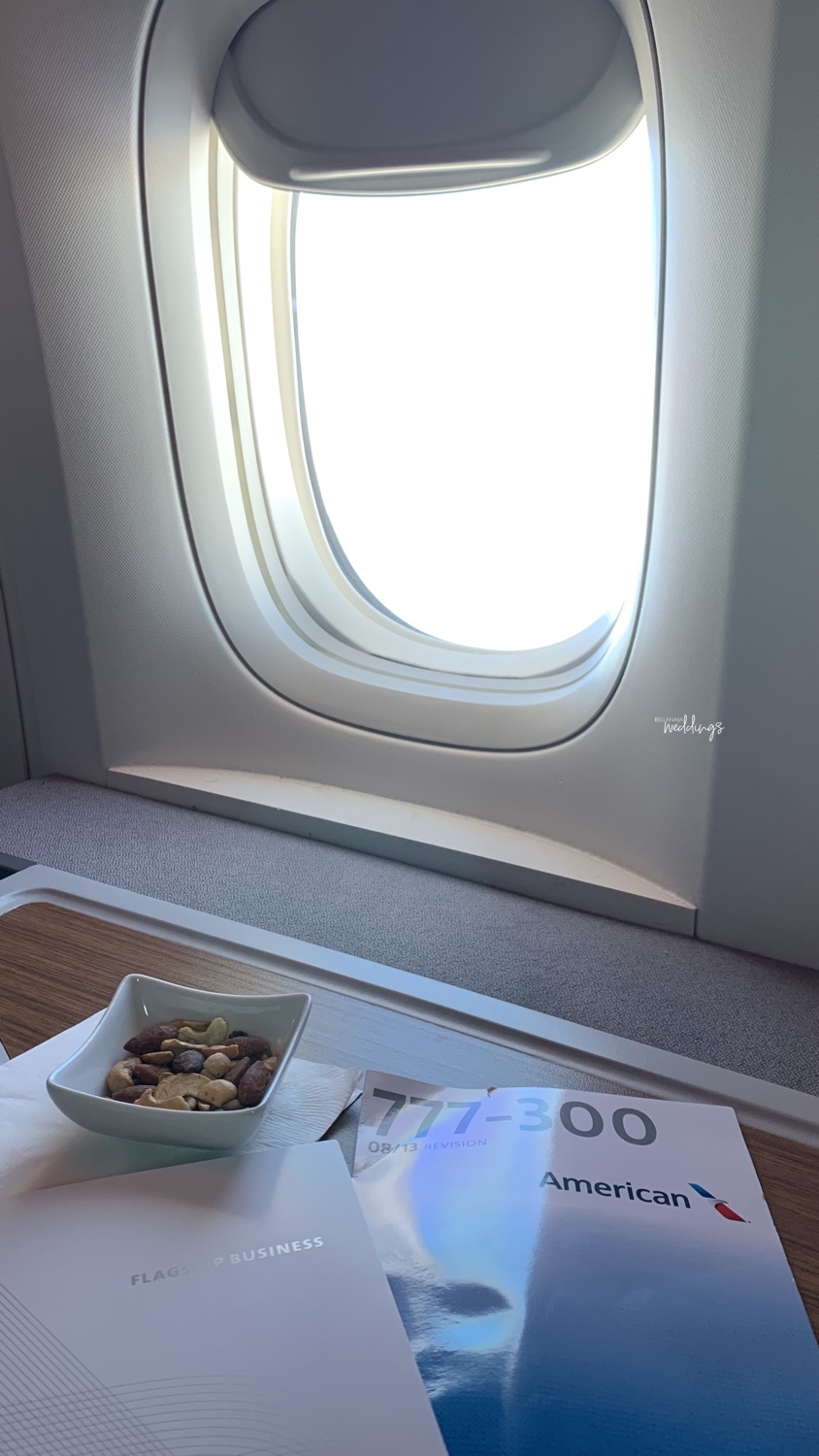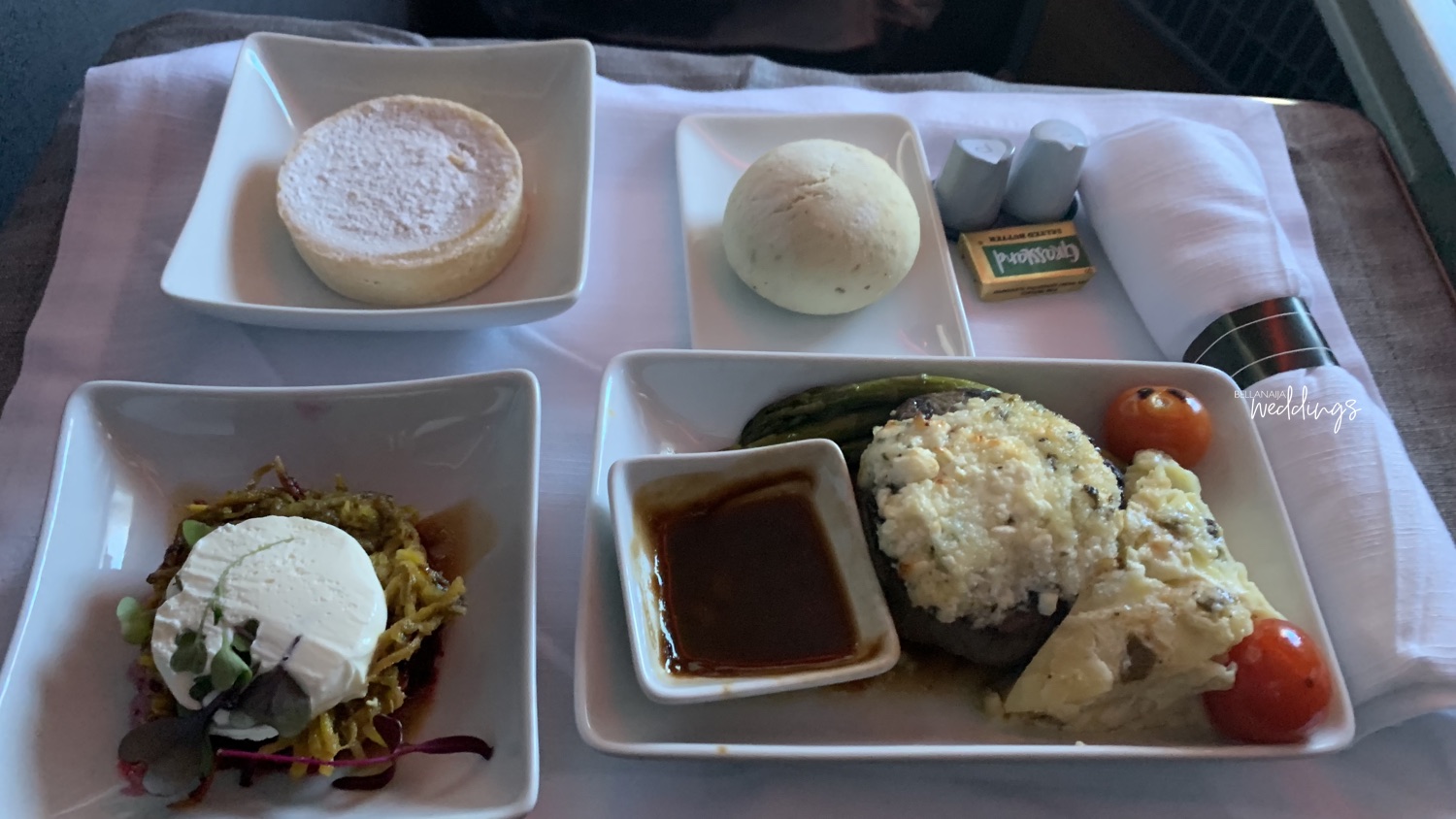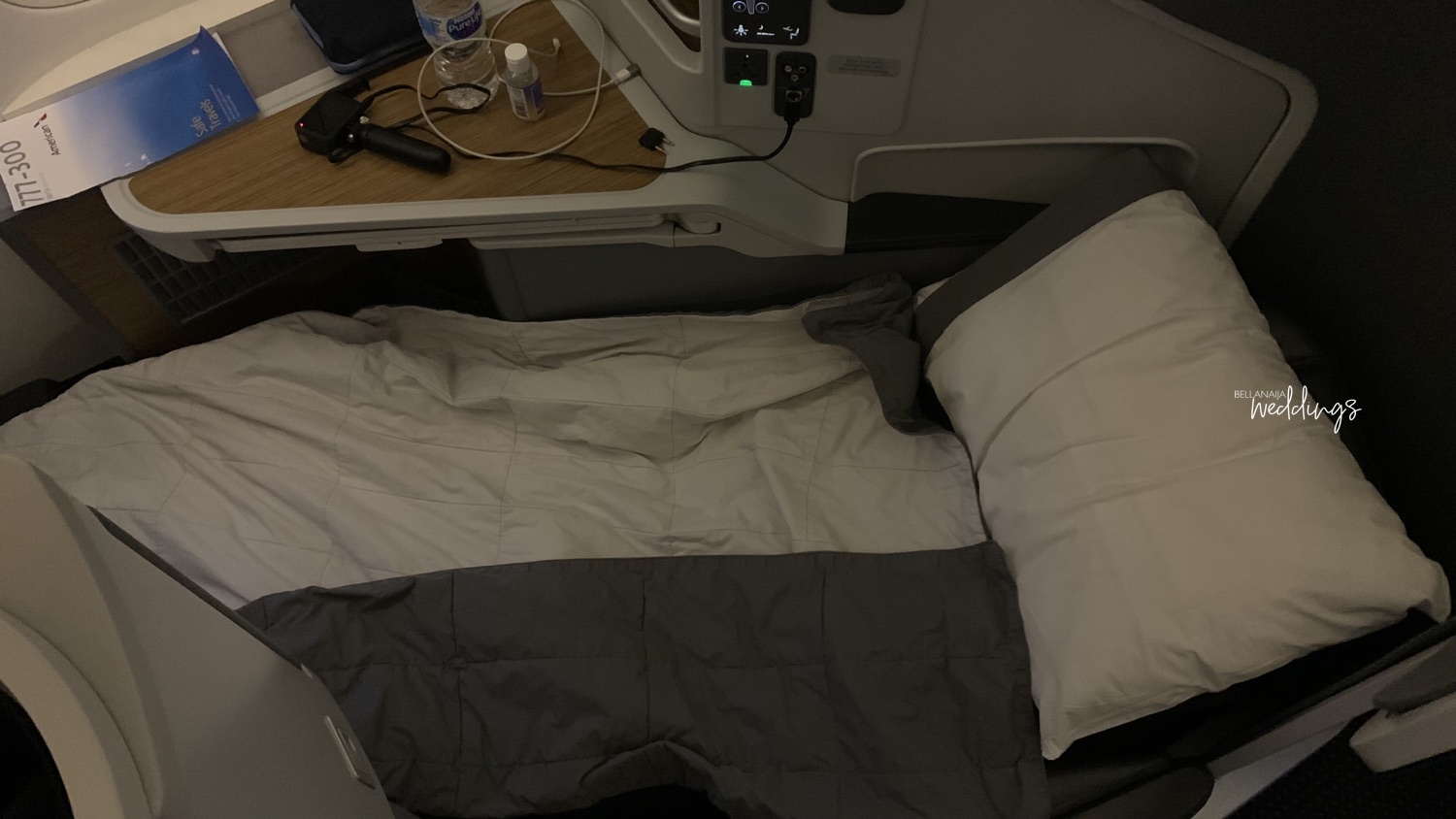 Need help planning a trip of a lifetime like this? We might be able to help. Hit us up.
Credits
Couple: @thepointsengineer & @happy_as_abby