We are always looking out for unique bridal beauty looks to inspire your style on your big day.
Today's beauty look is no different but very unique in its own way. We got attracted to it because of the hair colour, the glittering smokey eyes and the sultry glossy lips. Makeup artist, Joy Adenuga and hairstylist, Mary of Papachichistyle brought together their professional skills to create this whimsical unstructured bridal look.
So if you are daring bride and love to play with hair colours, then you know this is one look, you don't want to pass on. Here's something to note about this shoot by the makeup artist, Joy Adenuga:
Our model was picked out by the creative director – GTruly Weddings.  After seeing her beautiful face I immediately thought – "I have so much traditional makeup looks in my portfolio, I would definitely opt for something less traditional". When the hairstylist, Mary Papa Chichi of @papachichistyle mentioned the hair colour she would be using, I mentally added sparkle to the eye look. For the hair, Mary wanted to create a look that was unconventional yet still bridal. The icy platinum hair against the model's rich melanin skin coupled with a whimsical unstructured updo allowed me to put a modern twist on a classic hairstyle.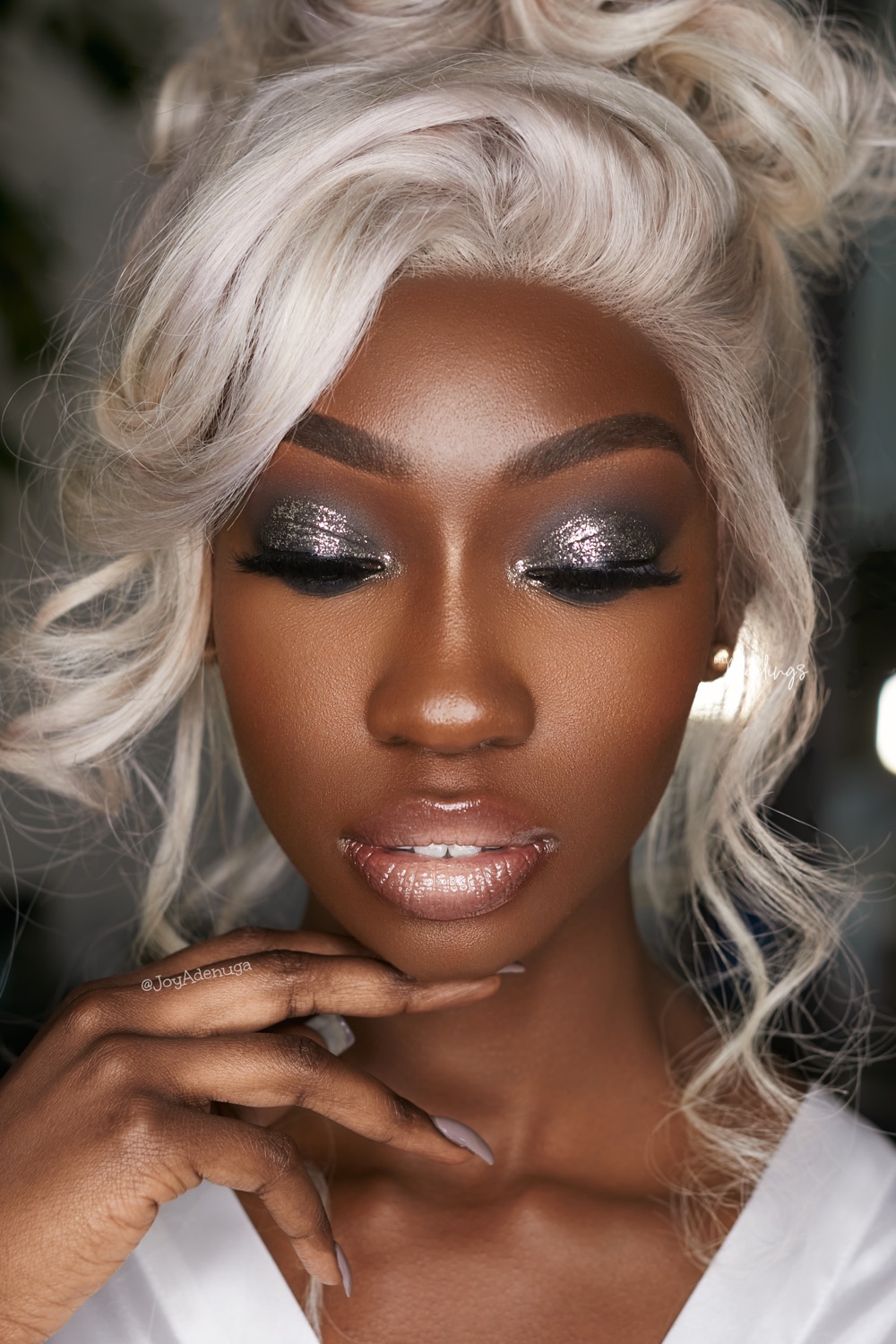 Here's how the makeup artist, Joy Adenuga created this look:
Her eyebrows were filled in using Evita Joseph @evita_joseph Brow pencil in expresso. For the great dark smokey, I used the Inglot @inglotuk gel liner in 77 which is my favourite for dark smokey eyes. I paired this with theBalm  Meet Matt Trimony eyeshadow and finished off with BPerfect Cosmetics glitter in buzz. Her eyes were just sparkling!

For her face, I started with the Chanel Beauty @chanel.beauty Hydra serum to plump the skin following by Milk Makeup @milkmakeup Hydro grip as a foundation base.
Then I used the Foundation used was Lancôme Teinte Idole and then the NARS Cosmetics creamy concealer.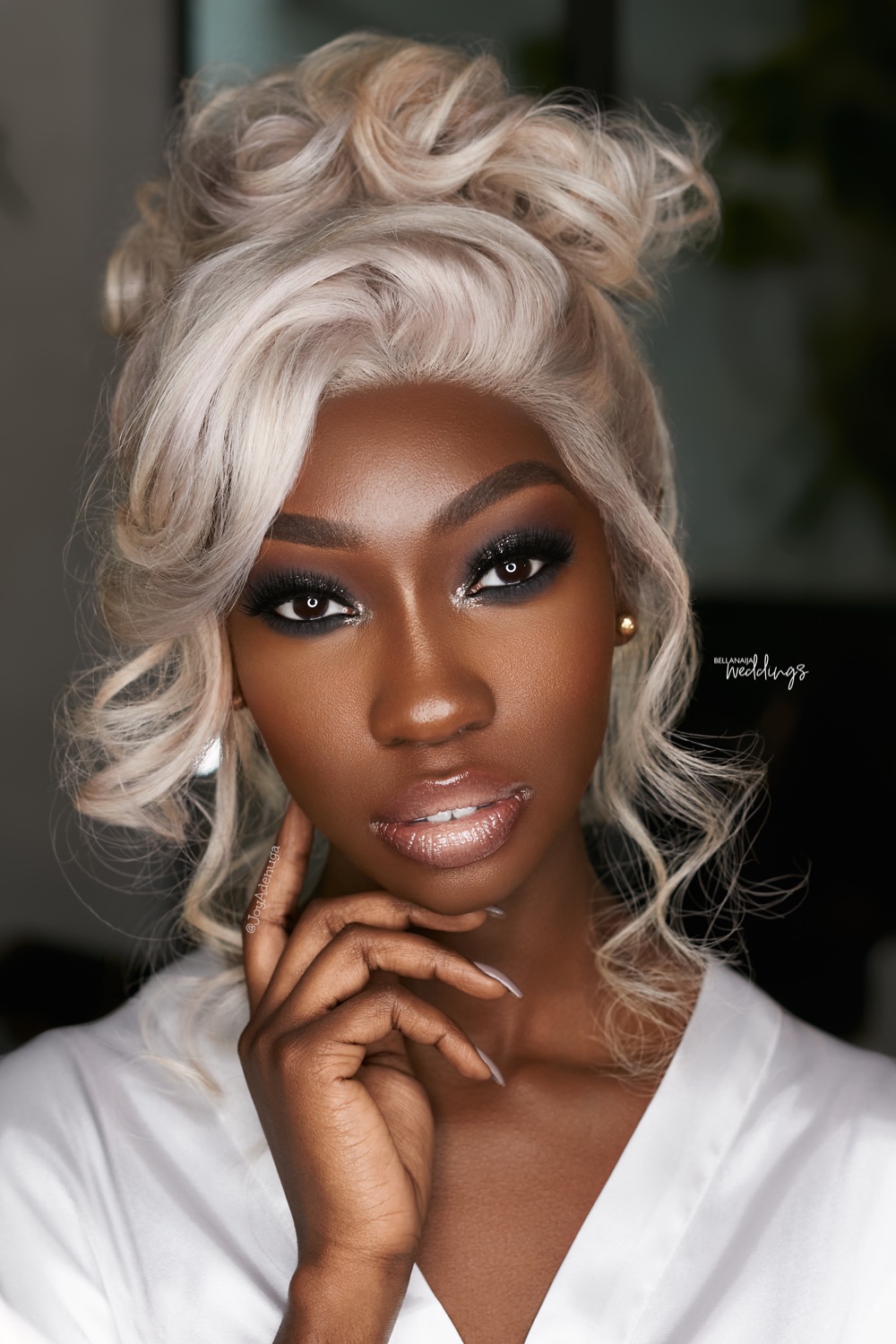 To set the concealer, I used the Chanel Beauty loose powder with MAC Cosmetics  Mineralize powder all over the face. For the blush, I used the Maréna Beauté in Cardinal. I added light to the high points of her face using Becca cosmetics Chocolate geode.

I kept her lips nude to allow her eyes to be the spotlight. So I used the MAC Cosmetics  Chestnut lipliner.  Then for the lipstick, I used the Dose of Colors  in the shade sand and Bobbi Brown Clear gloss to keep the lips sultry.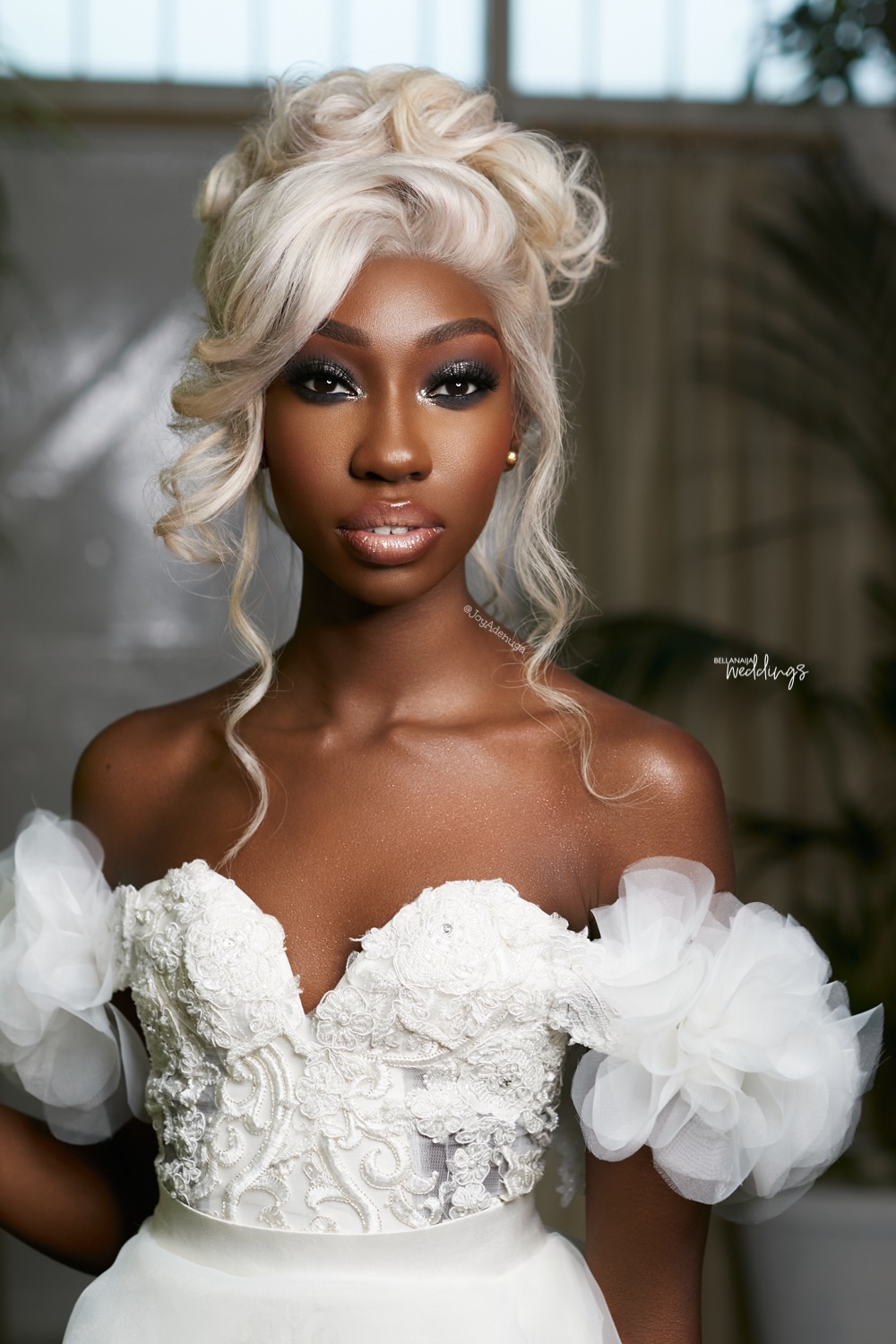 Credits
Makeup: @joyadenuga
Belle: @kimberleyakello
Hair: @papachichistyle
Dress: @yinkaalli
Photography: @JoyAdenuga