A lot has definitely changed in the past few months and it has no doubt had its effect on the weddings space all over the world. Weddings have had to be postponed and rescheduled. However, we are always thinking about how much we can spread love and light in this period especially to the couples involved.
So over the weekend, we asked our audience on BellaNaijaWeddings Instagram Page to share advice they will give to a couple who has had their wedding affected by the COVID-19. We got a few responses and we thought to share with. Please feel free to share your advice with them in the comments.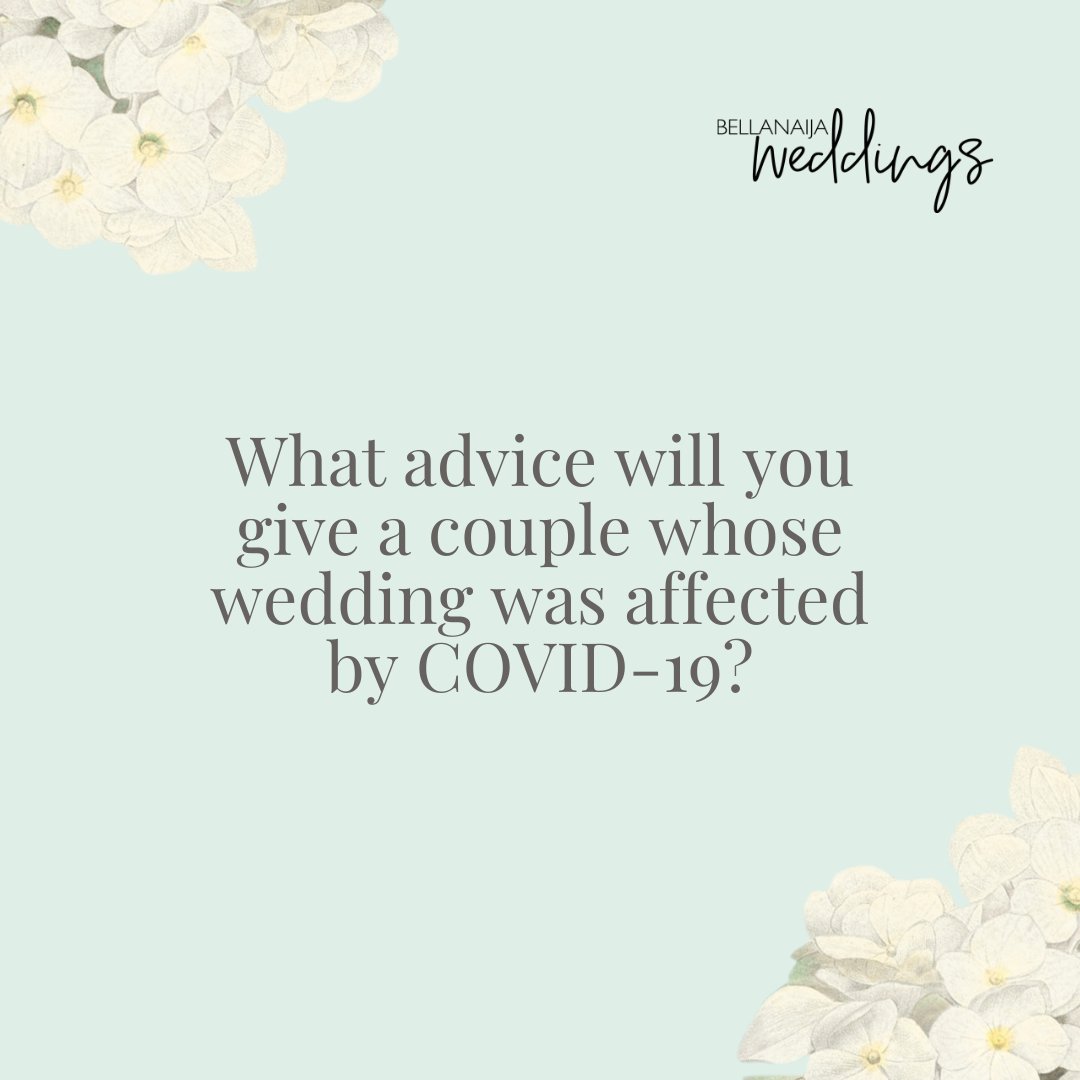 In no particular order, here are 25 responses from our #BellaNaijaWeddings Instagram followers:
@bridesnmoreikeja: Go ahead with your wedding, as long as your spouse is available.?
@nanaannanphotography: Marry now, the party next year!
@stmmagicalcreations: Get married. Reschedule the date and do it! I the date and do it! It's about the union and starting a life together … that's all the matters! Focus on your love too and what you share together not the virus/fear/anxiety or uncertainty. One thing is certain ! and that's both of you and the love you share.
@drminaedah_d_optometrist: The wedding ceremony does not matter, what matters is your union as man and wife. COVID 19 or corona, please gather your little crowd of 20persons, get blessed and start your life. This new normal might last a long time. Don't let COVID 19 disrupt what God has joined together. Wish u all God's blessings.
@nicoleosibodu: Covid-19 lesson for all. Build your marriage on solid rocks where the virus can not sweep away. The focus should not be on a 3-day event where you spend everything you don't even have and then get divorced a year or two later. The size of your wedding party does not shape your marriage but understanding God's intentions and plans for the union should be our focus. Have a party but let your marriage glorify God and not man.
@adornbykace: This is the best time to have a beautiful wedding with few guests, peace of mind, hassle-free, low cost….pls seize the opportunity!!
@nsolekebeauty: Do it NOW!!!
@__nelsongram:  None of what happened was their or our doing. It was an unforeseen but seen event which seemed like a joke to us all still it struck. I believe what you have with your partner won't fade with or without a wedding going through. I'm also aware the joy that comes with a wedding; raging from the Floral heavenly decorations, the nice bespoke dresses, sliver shoes, the dance, joy of walking down the aisle and more which you might think this pandemic took part of your joy or you feel like it's not complete without a proper wedding that follows the reception. These feelings are VALID, trust me but we should be able to look on the bright side which is safeguarding your guests, making their lives your priority by not pushing through the wedding because one thing is certain to be it now, today or tomorrow once there is life a wedding can still push through ?.  so I applaud you for giving in to the instructions aimed at protecting us from the novel Coronavirus and being resilient and faithful with your love for one another? ….. Love, Nelson
@megadesola: Take advantage of the moment and do an intimate, classy and simple wedding, keep your money to equip and build your new home.
@adorable_nattie: They should go on with a private wedding, it'll help them cut costs.
@george_by_ruverodesigns: Get married regardless!!! ❤️❤️
@soestou8104: Be patient and take a deep breath and change your wedding date for next year. Your marriage it's going happening soon.
@ruthsmarriage: Affected is perception. If you want to get married, you will get married. Marriage is not about the crowd. It's about the willingness and readiness of the couple, their parents' consent, and God. The celebration can happen later. It is actually a blessing in disguise. Use the money for other things.
@multigrace_ventures_: Have a lowkey wedding and move on with your life.
@houseofasooke: Do it now, no need of too much gathering.
@belemaogulu:  Take advantage, do a zoom wedding & save money…
@dr_xoli_mdletshe: Have a small wedding now, and a bigger one after COVID… whenever that will be…
@victoroa_iyeh: They should count it all joy. Yes.
@belkris_kouture: Go ahead and wed. Have a blissful marriage
@juneolibi: Go ahead and do it.
@thontojohn: Trust, patience, love with God.
@oge_chikwendu: Find a way to have the wedding of your dreams and tune out the people with their judgemental ideas.
@genial_fille: Imagine that you are married, call him your husband and call her your wife. Live every day excited by your home.
@obehiisesele: Do something simple and enjoy your day. You can always do something big later if you choose to.
@memkoh: Have that small, intimate wedding. You'll look back and be so thankful later on. I really see this as a blessing to couples, who over the last few years have been known to go into marriage in debt (even owing their wedding vendors). We're in a period where we are learning that nothing else matters apart from our family, having each other's backs and so on, but nothing surface level will pass into the post-COVID world. Any couple that postponed their wedding till next year in my opinion, did not get a full understanding of the lesson and blessing that this period brought us.