We can't get over the power of love. How it connects different people of different backgrounds and cultures and brings them into one happy fold, is so mindblowing. Today, we revel in that strength with Aren and Raydon who have now become one!
Aren met Raydon on Labour Day Weekend (an American holiday). While she was just out to enjoy some fries, love had something more grand planned out! This has now evolved into a beautiful love story that Aren shares with us – continue scrolling to read it all.
After their traditional wedding, the lovebirds took their love to church and said their "I do" to the cheers and excitement from friends and family. Then came the reception and it was many shades of "turnt"! The joy in the hall could not be contained and we can't help but take it in it as well. You'll definitely enjoy every bit of this wedding.
Enjoy their white wedding photos and love story as told by Aren below.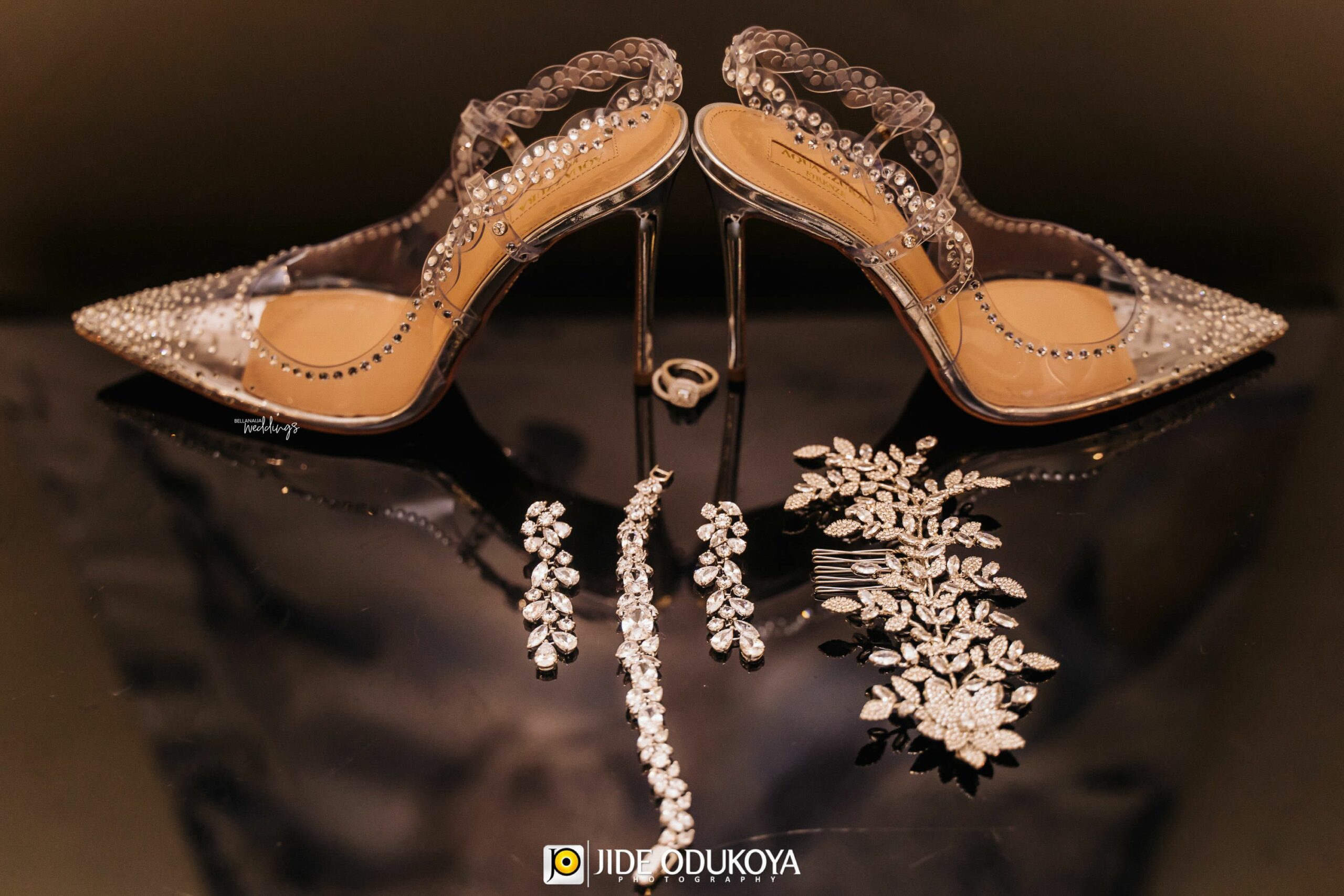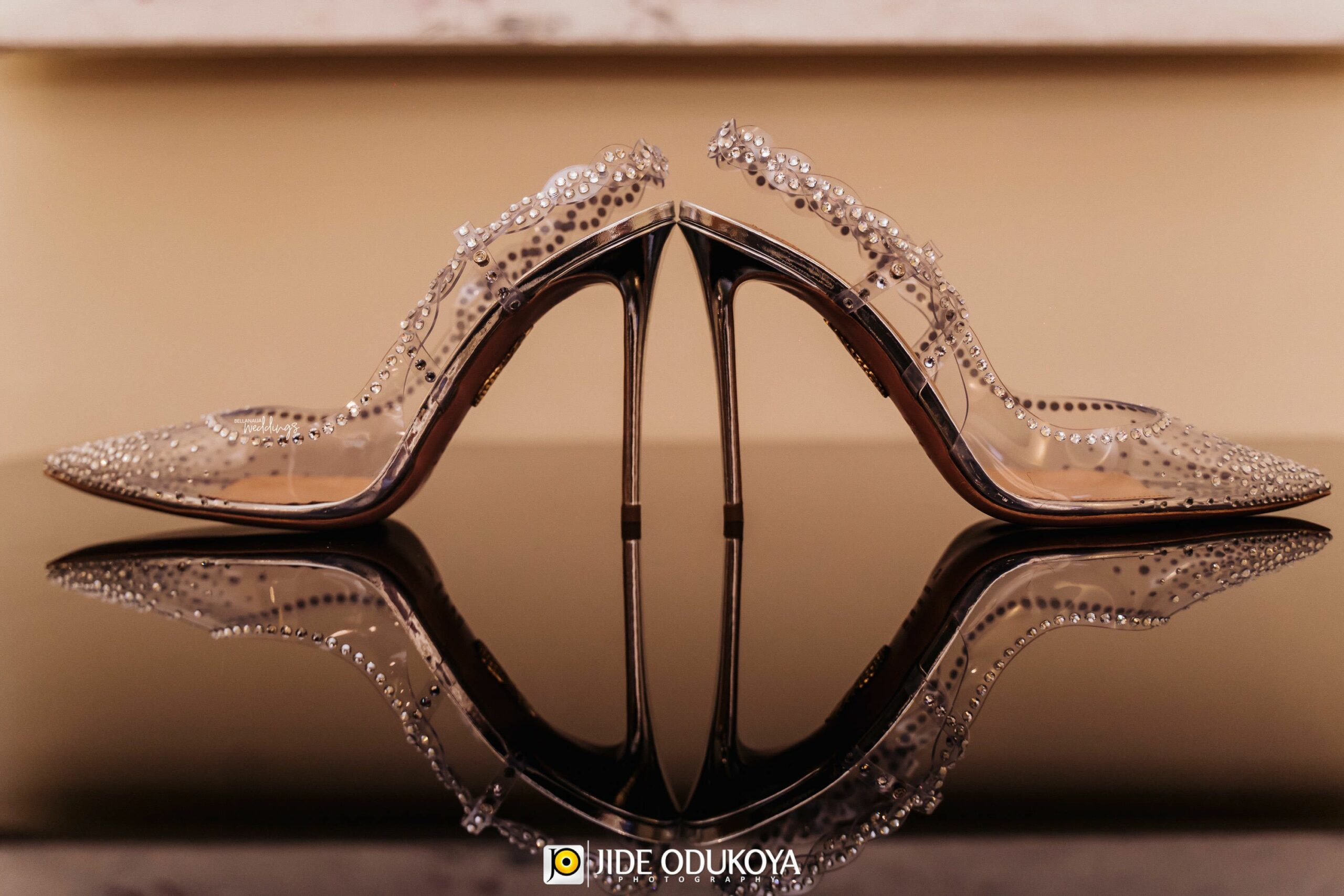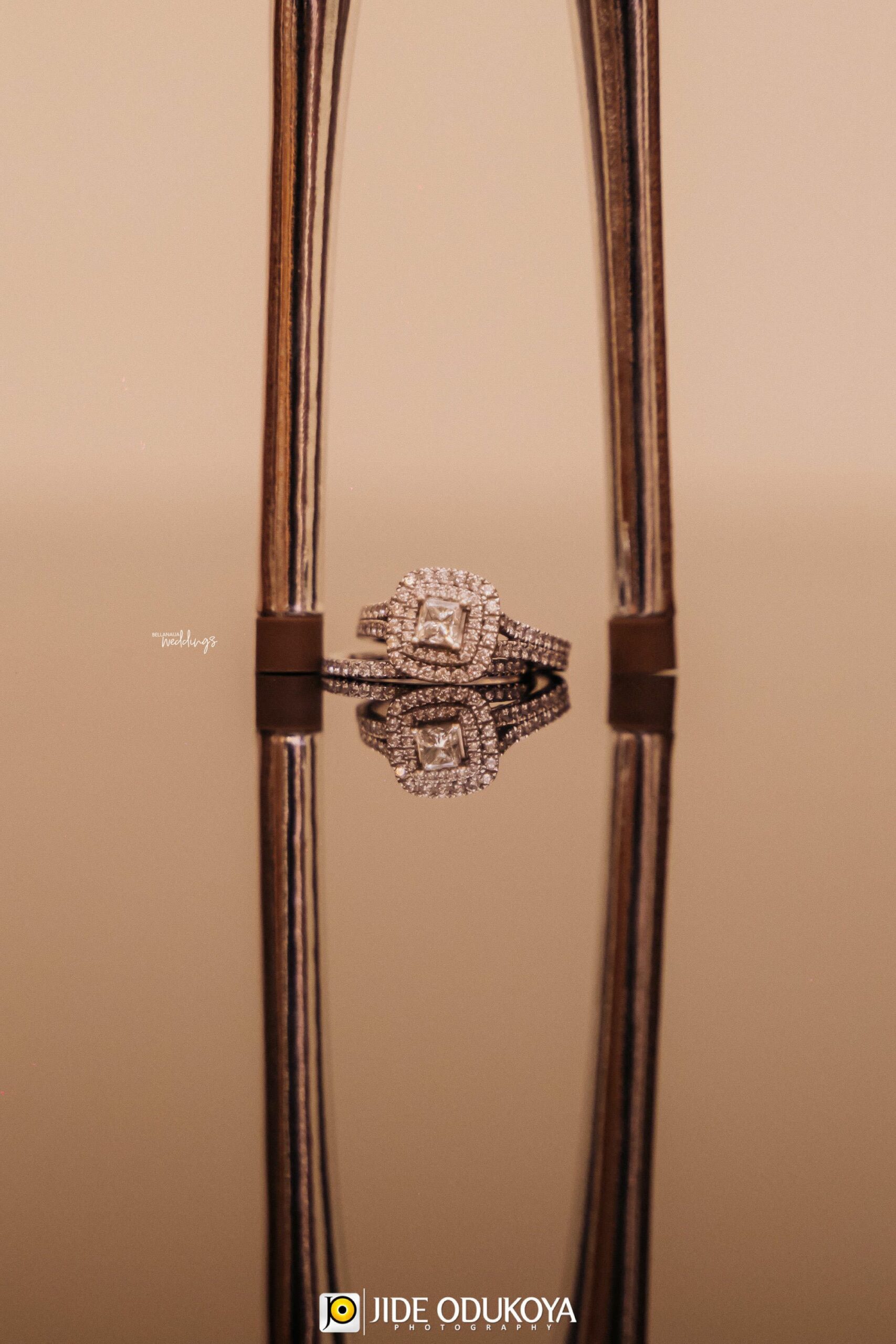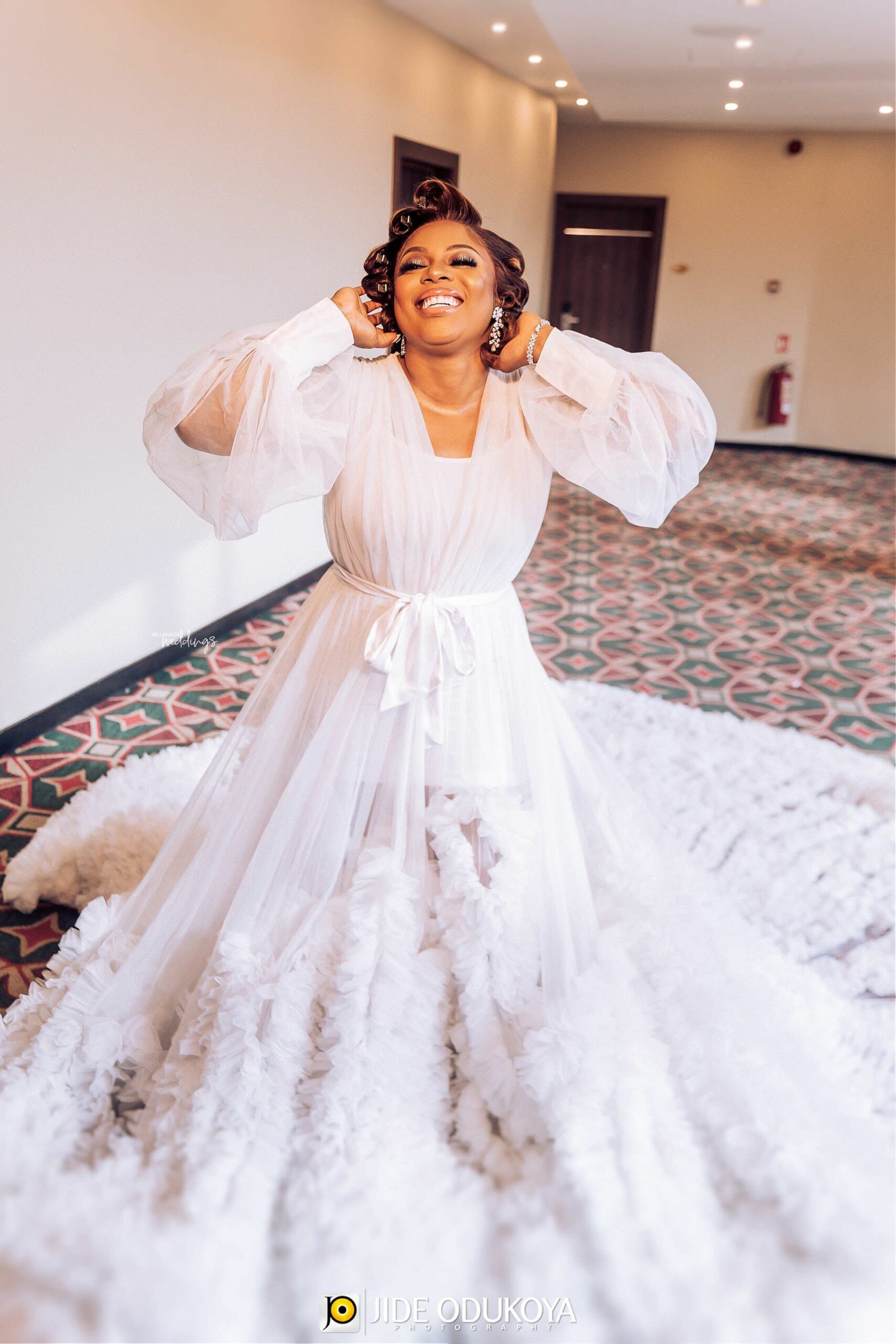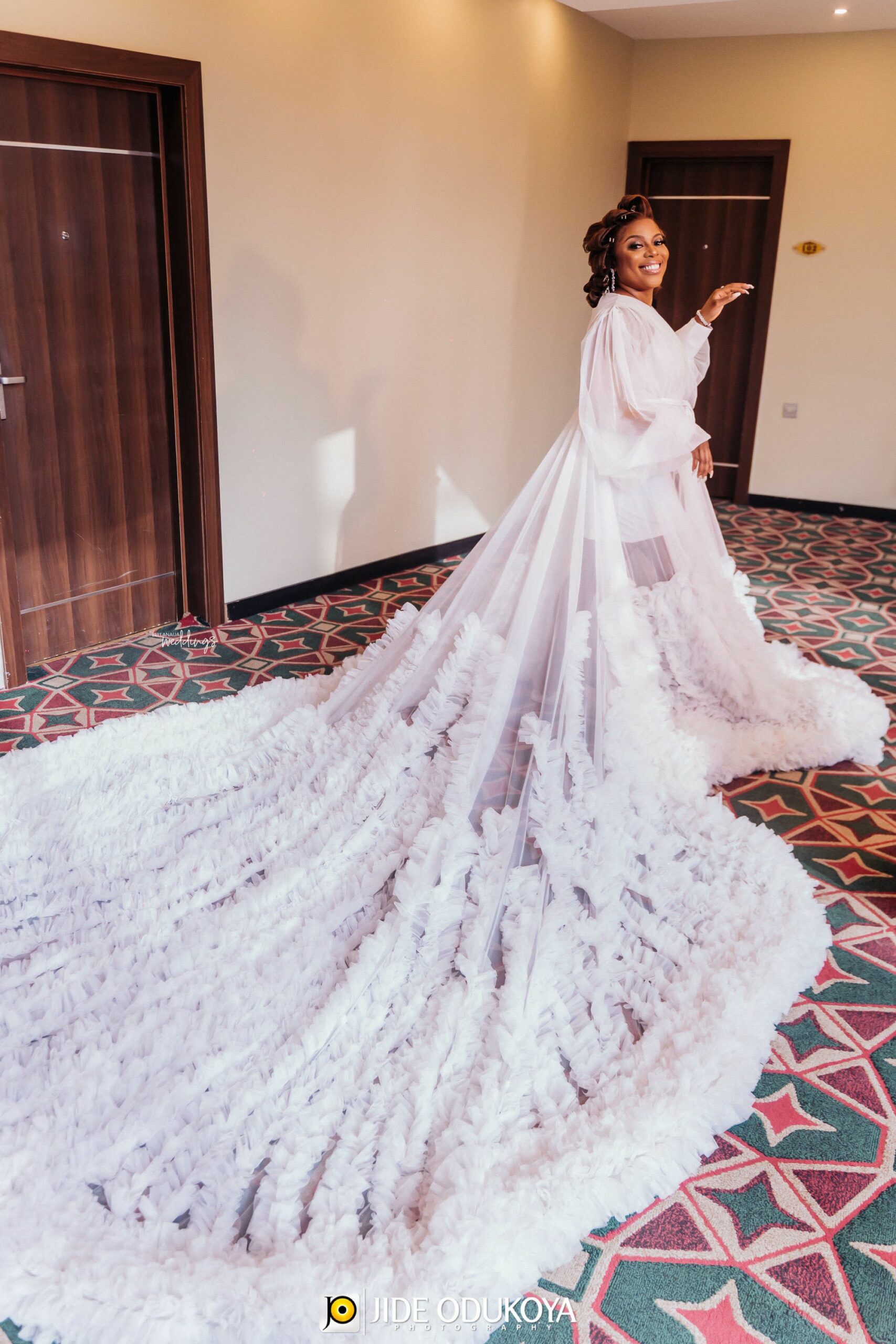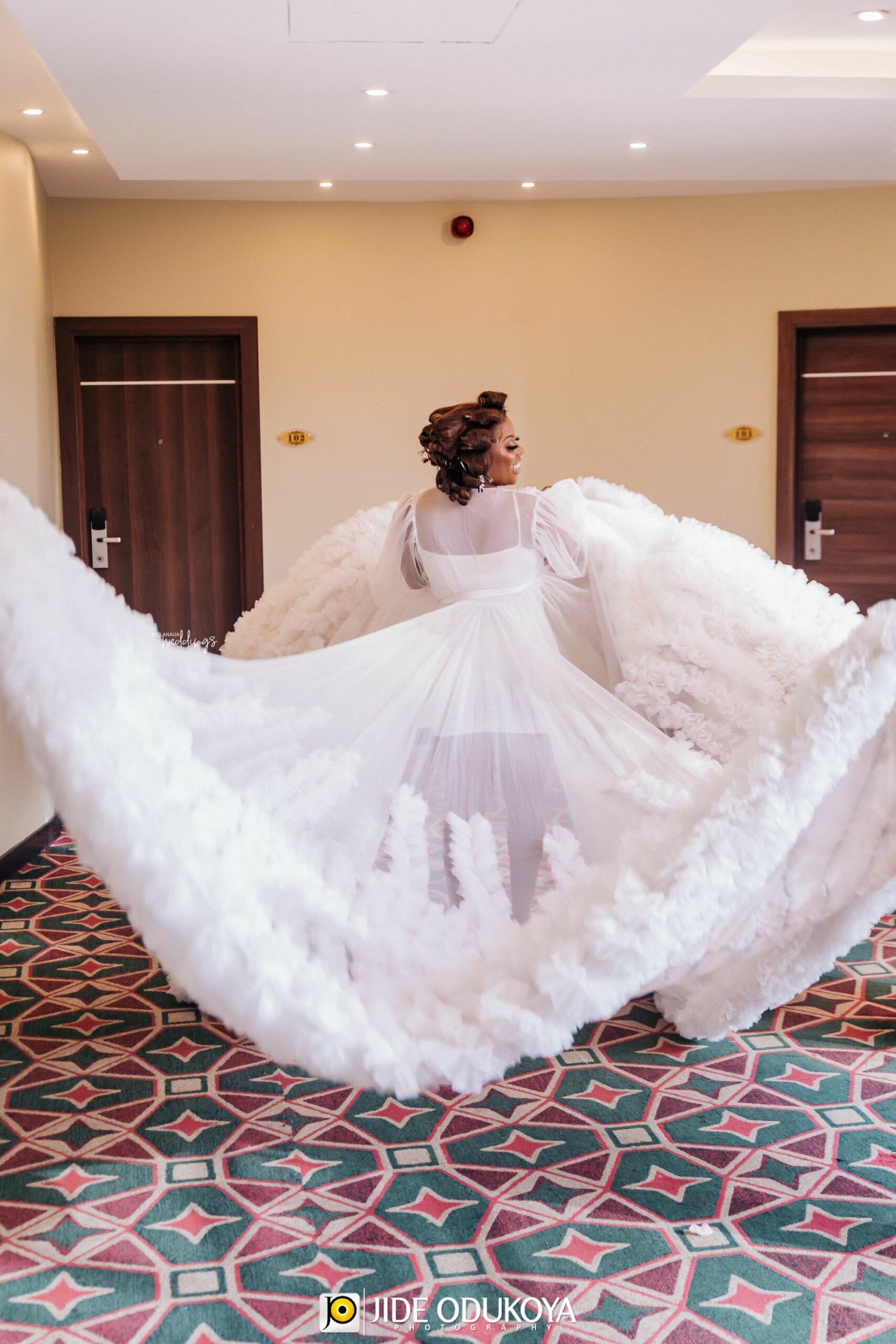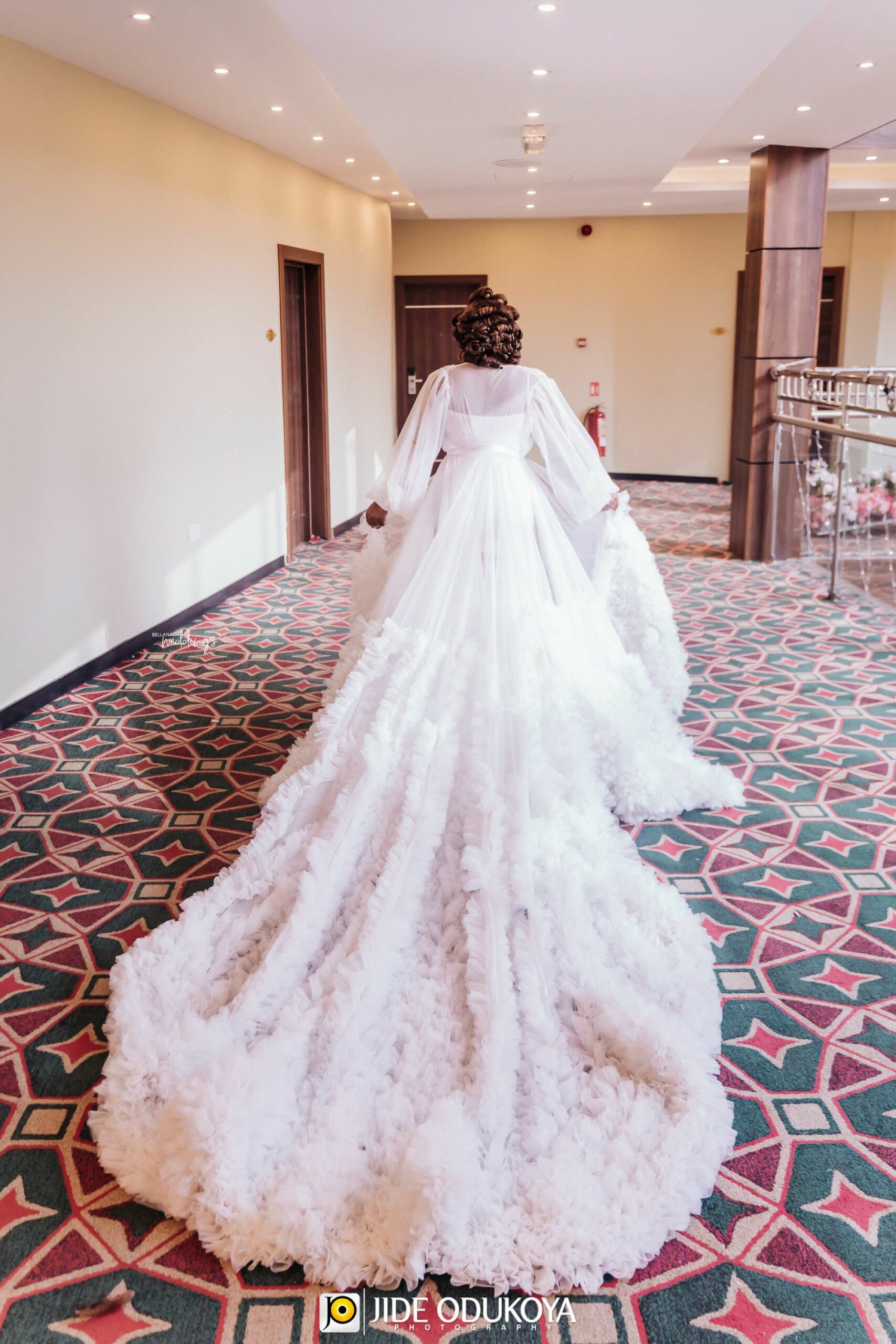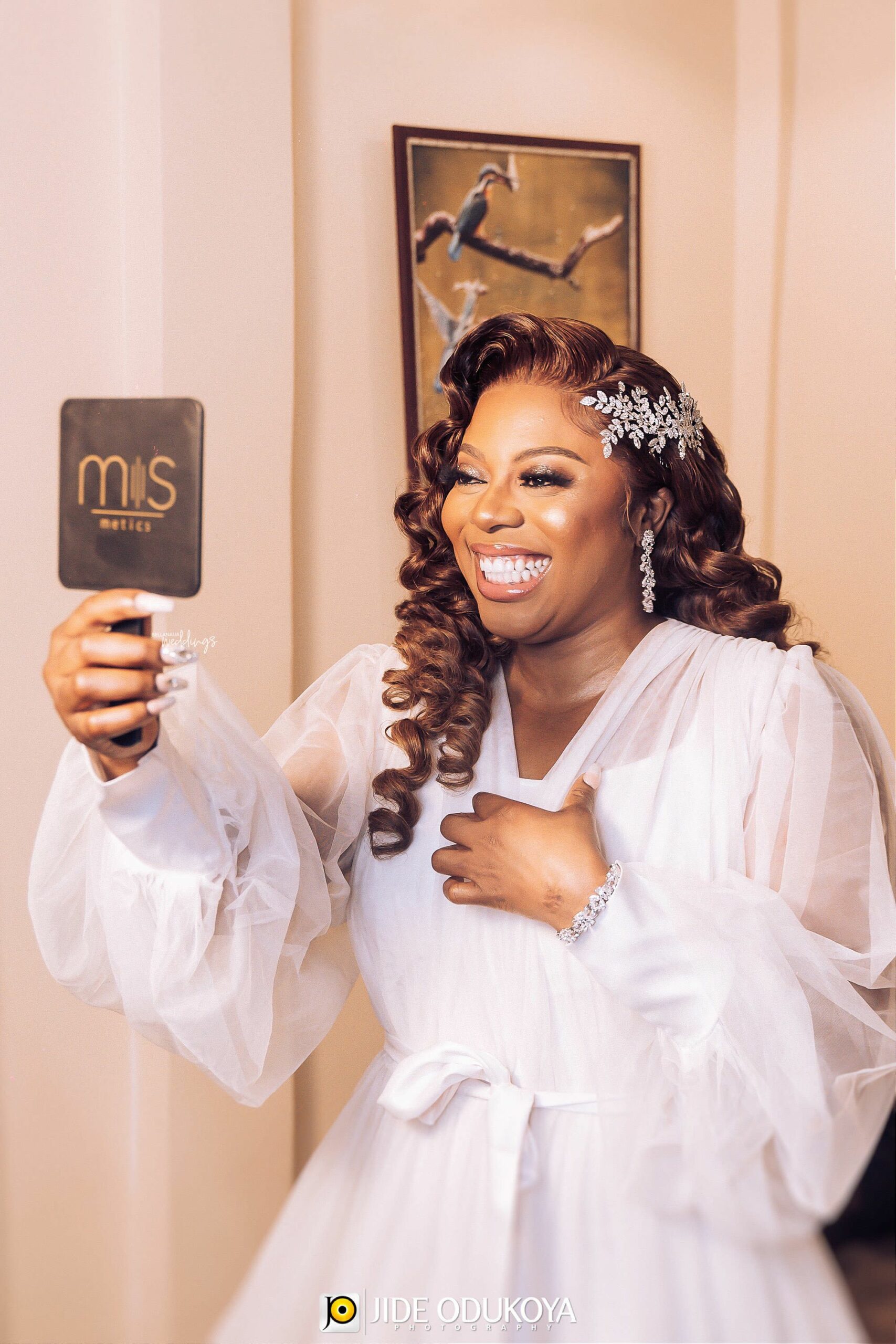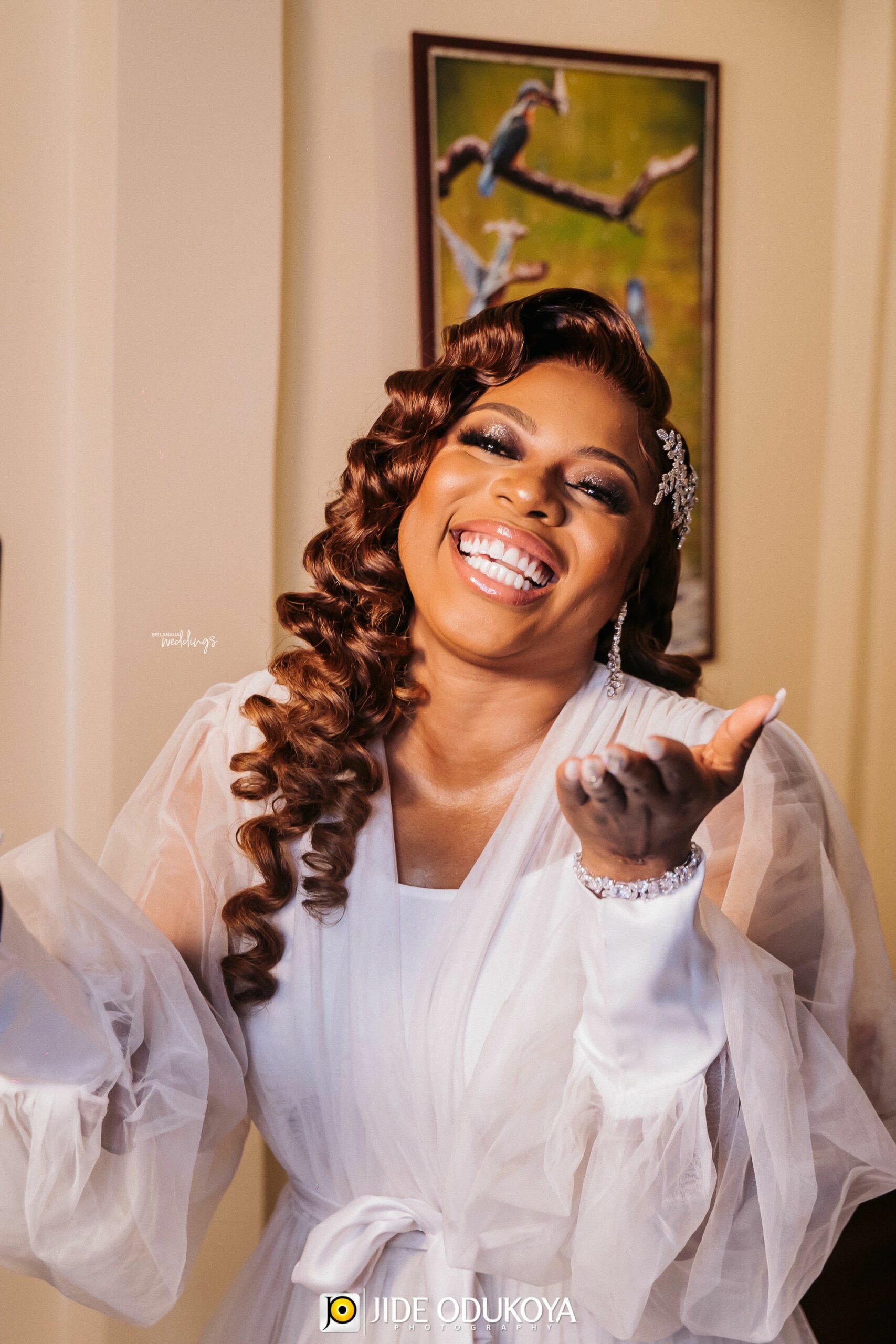 Their love story as shared by Aren:
It was Labour Day weekend, and I went to Burger King to get some fries. After I finished my meal, I turned around and dropped my bag of fries. As I reached for the bag, I heard a voice say, "Let me give you a hand." He assisted in the disposal of the bag of fries.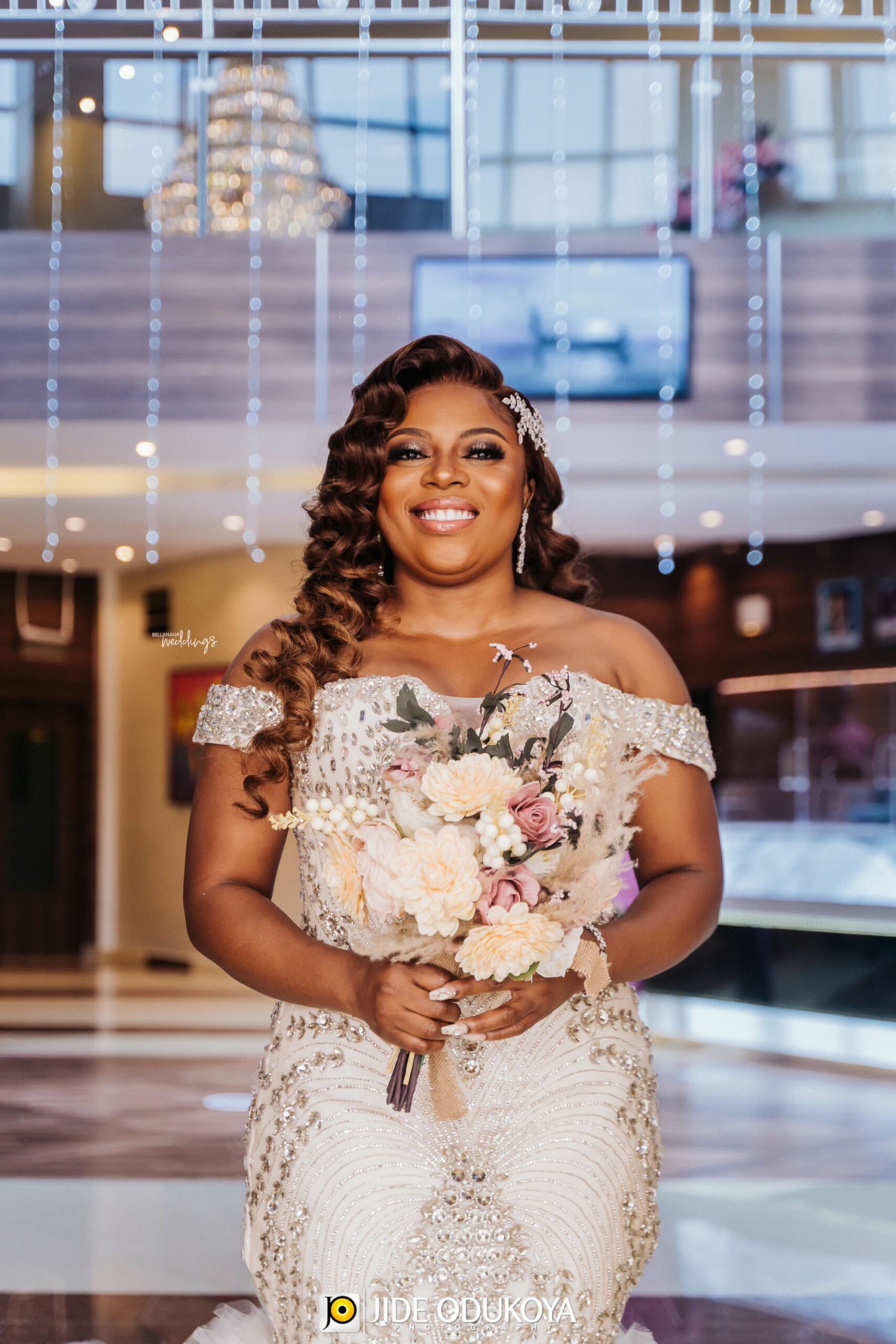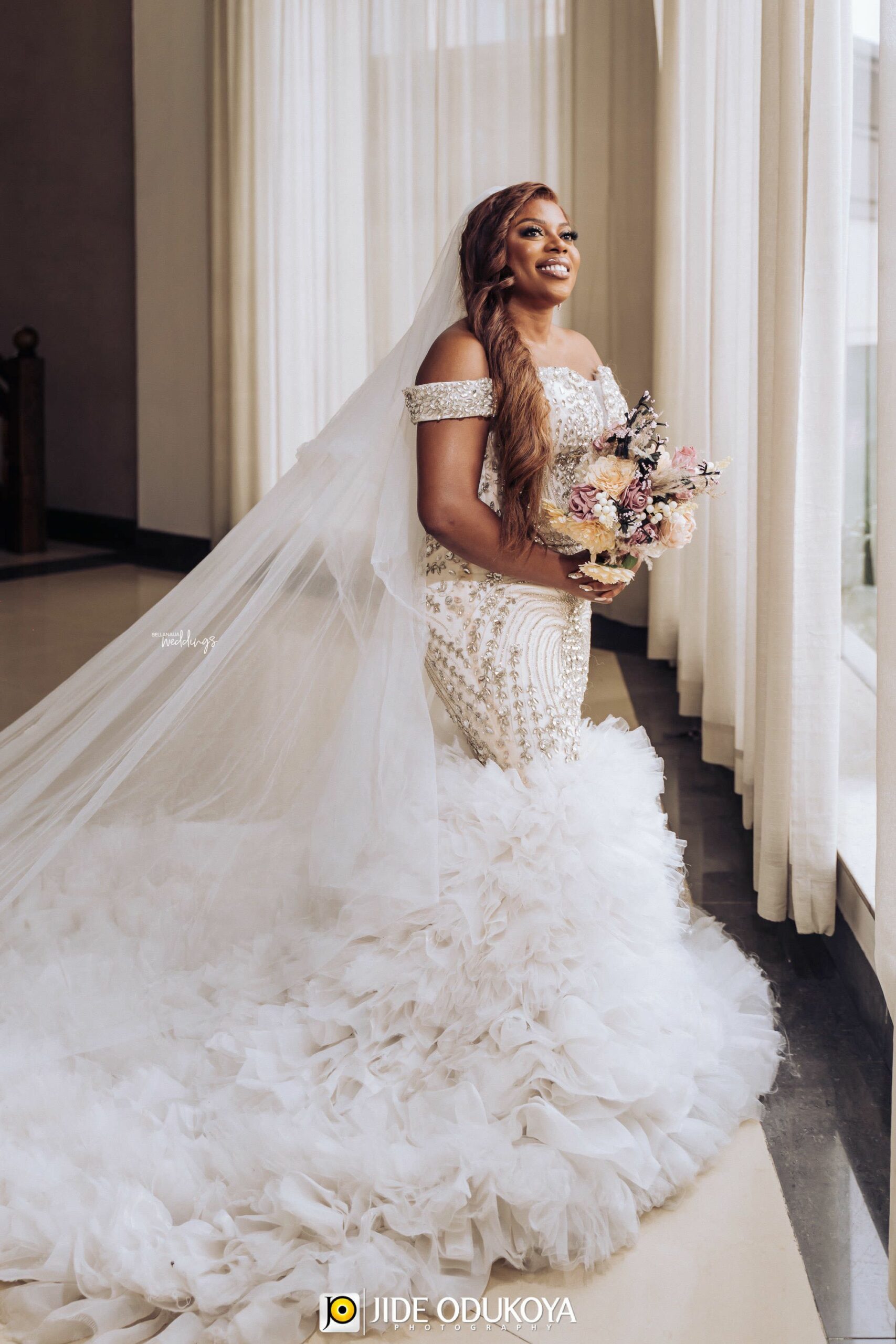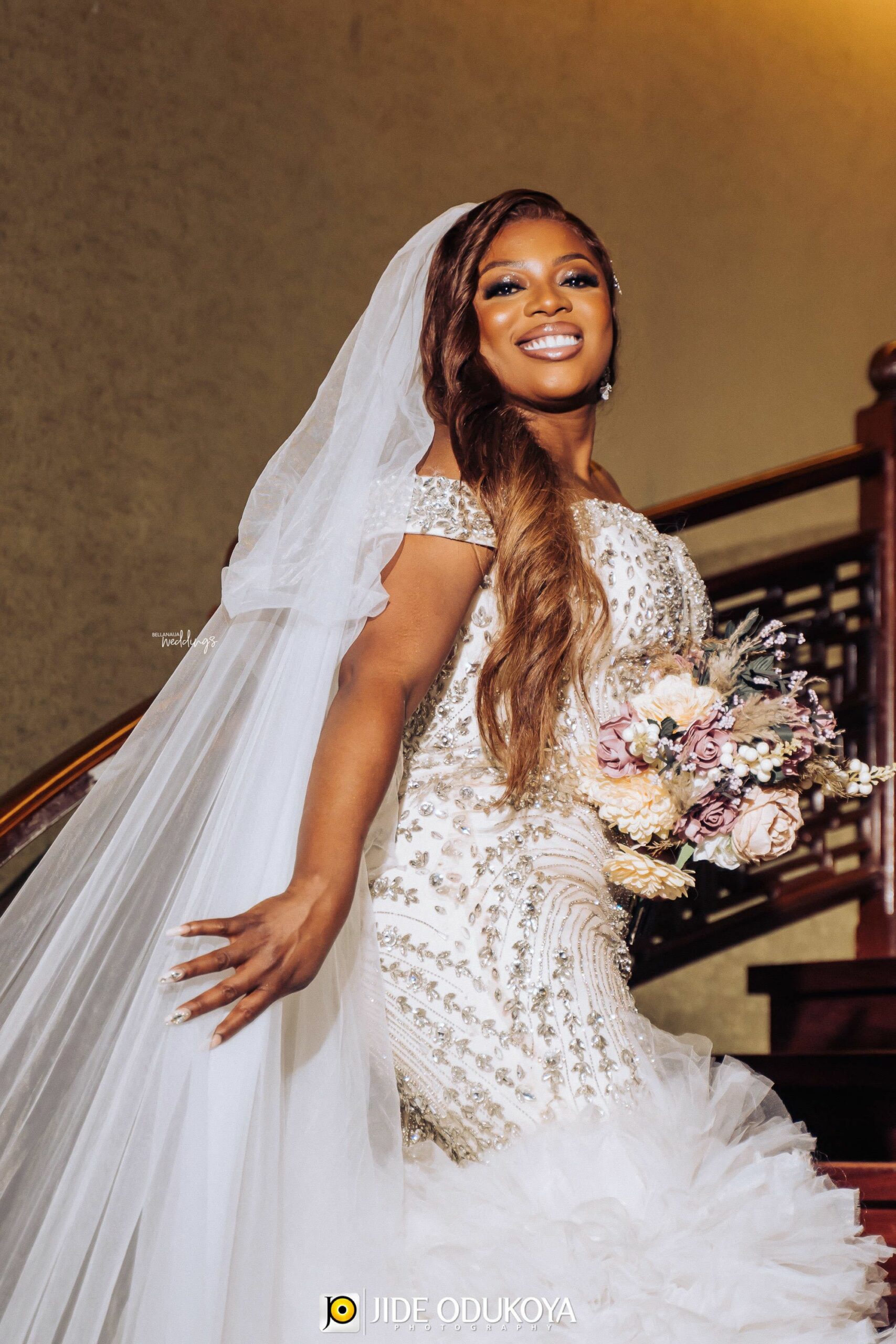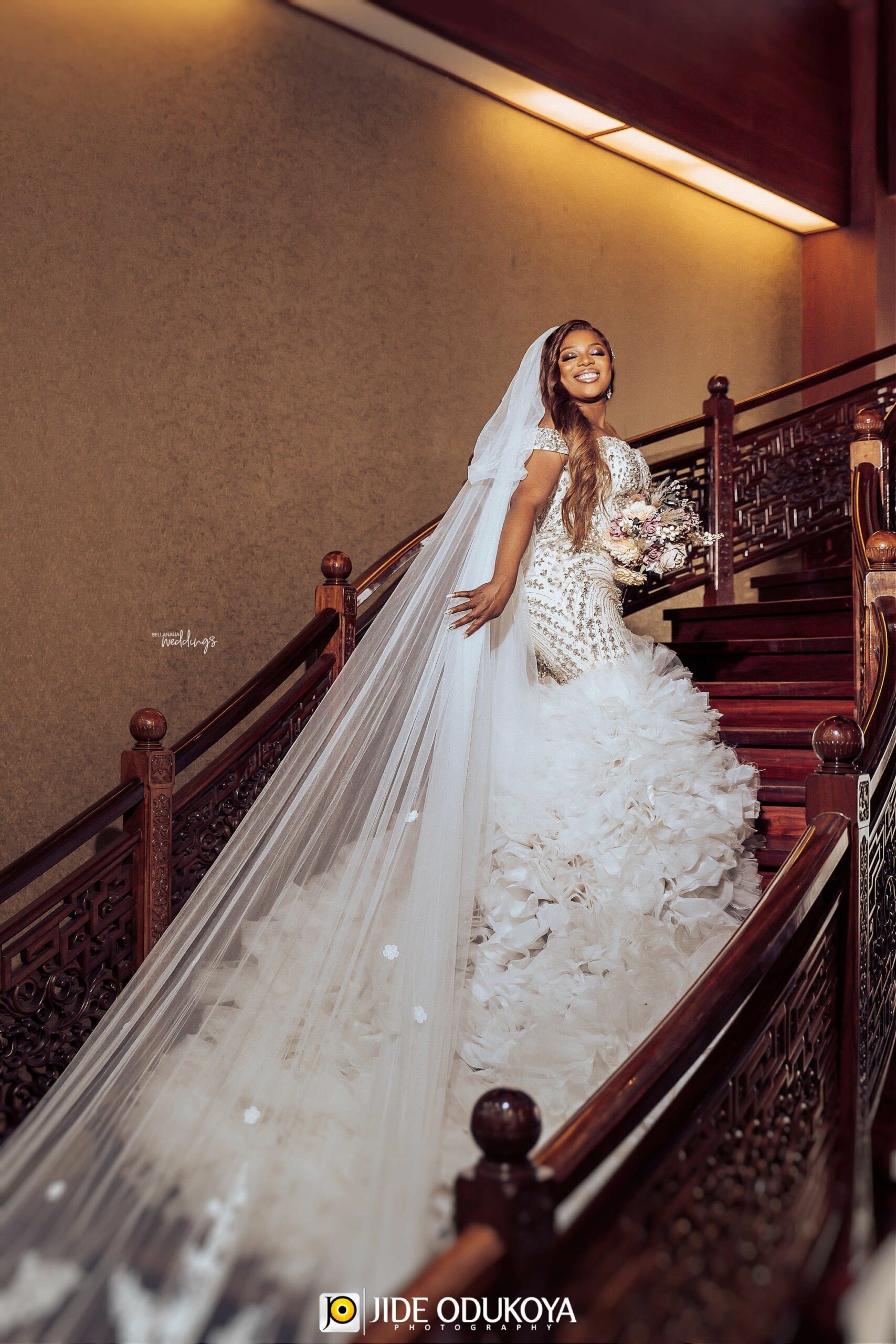 He asked where I was from, I told him Nigeria. You could see the excitement on his face, then he said, "bawo ni, Omoge". I pretended like I didn't understand what he said. He looked at me and smiled. He told me he was visiting his family in my city for Labour Day. We struck up a conversation, he asked for my phone number, and the rest is history.
Let's head over to Raydon as he also gets ready…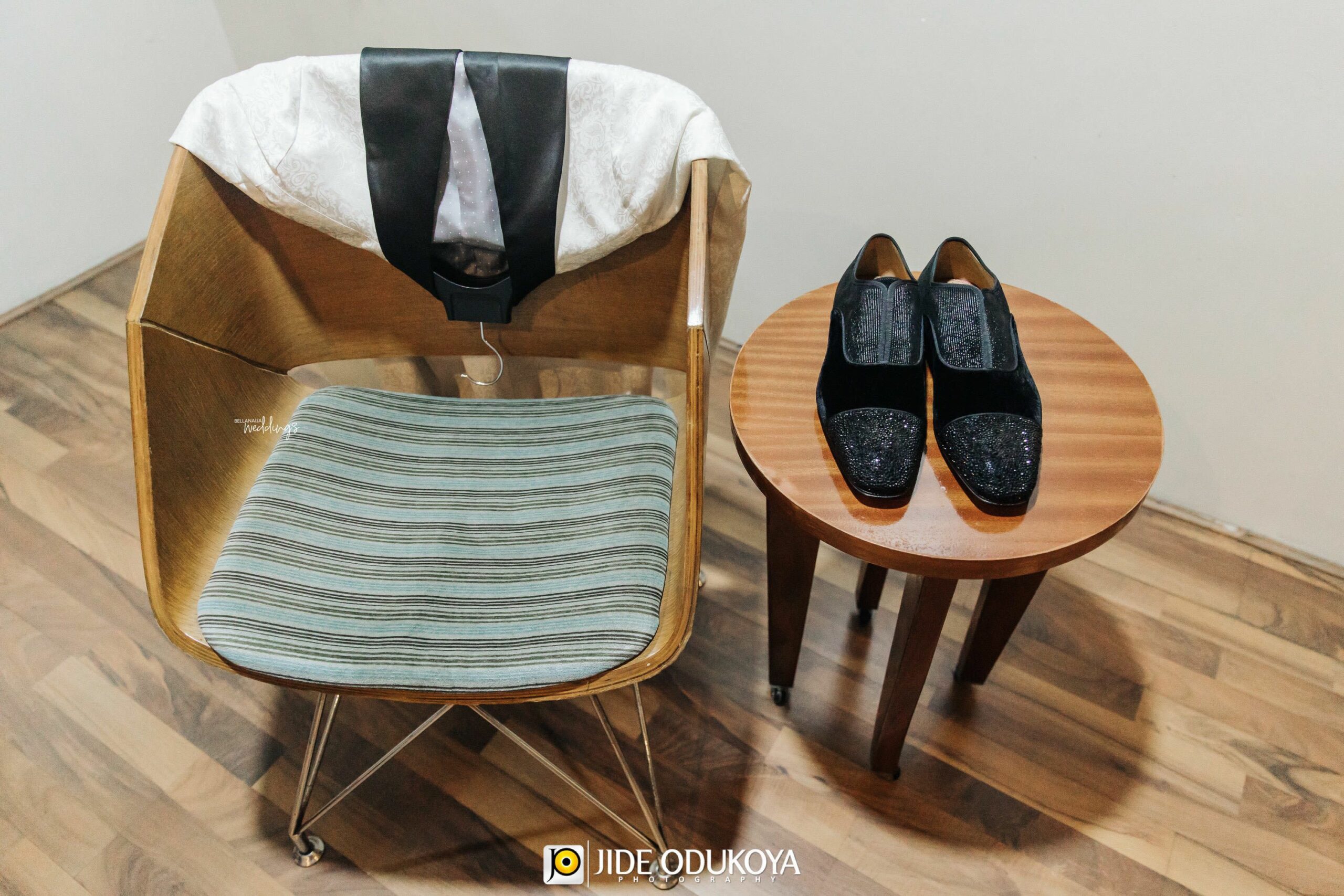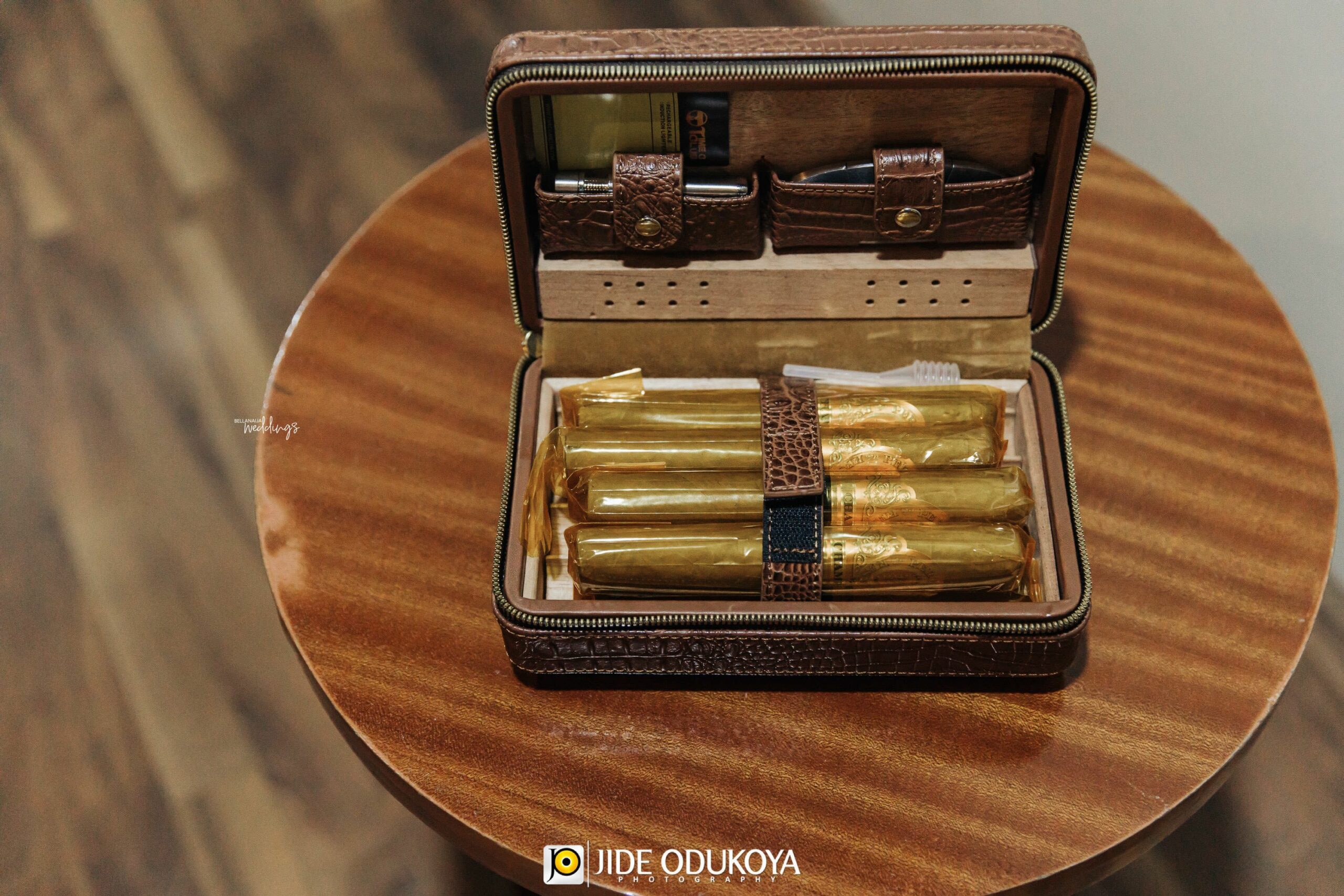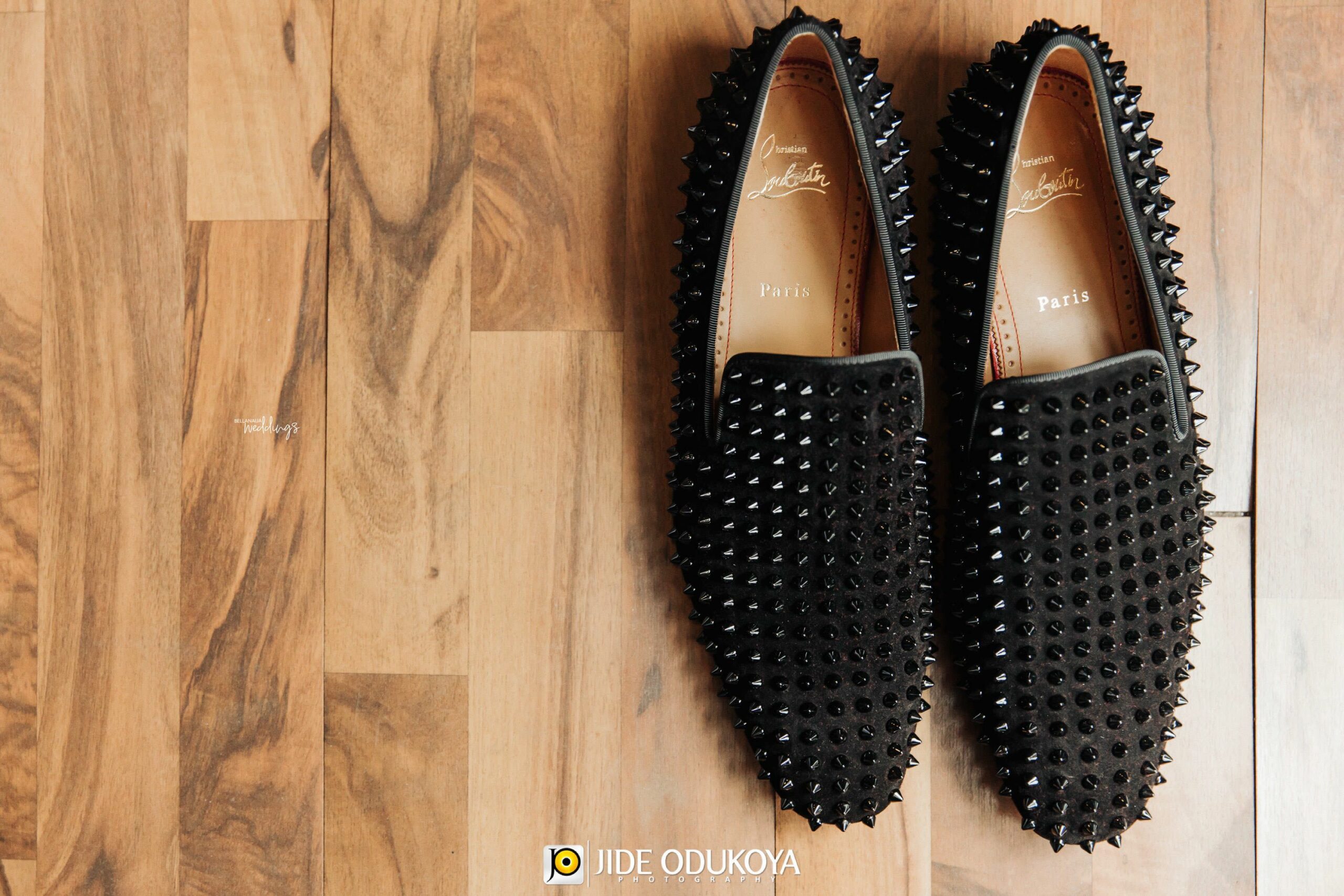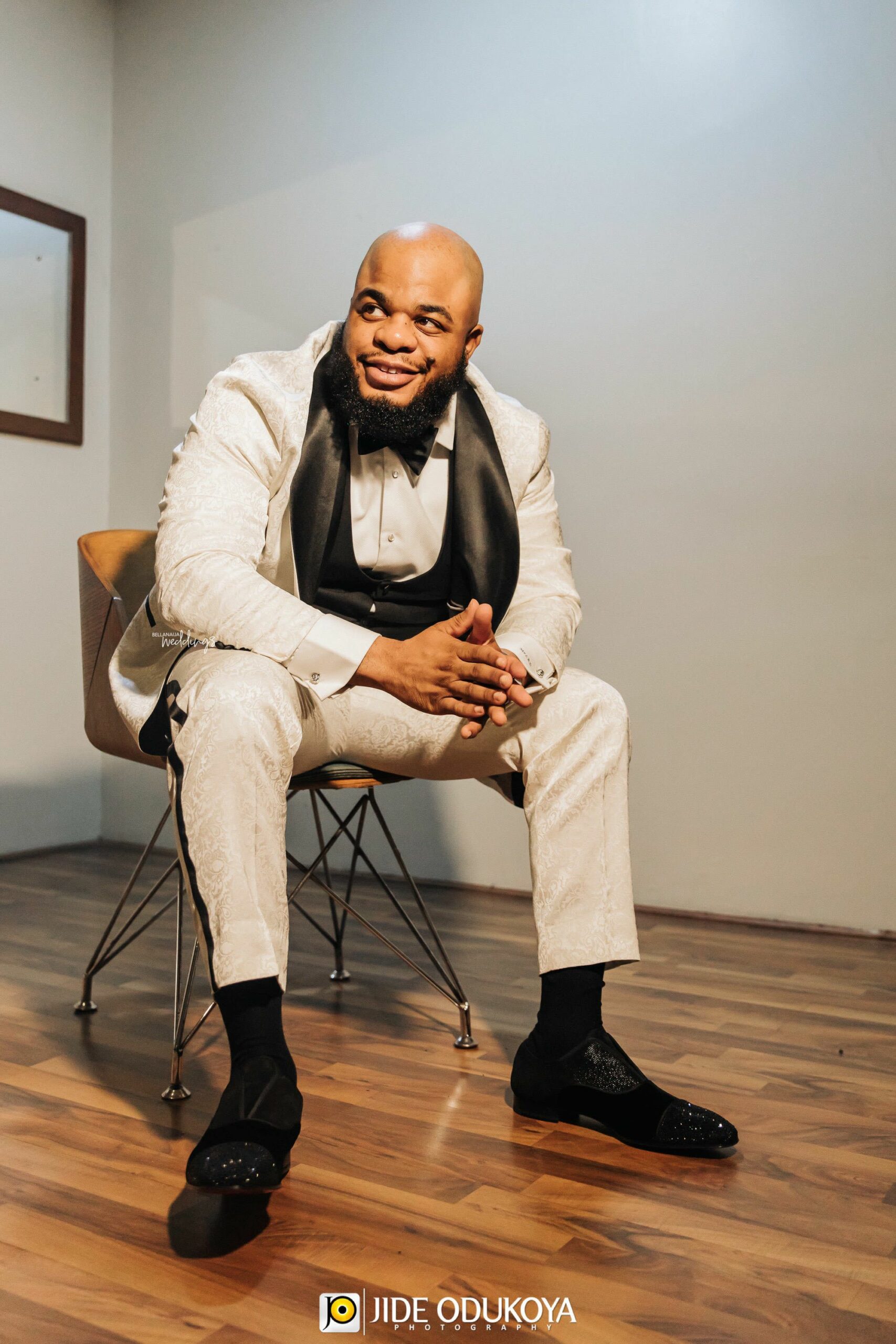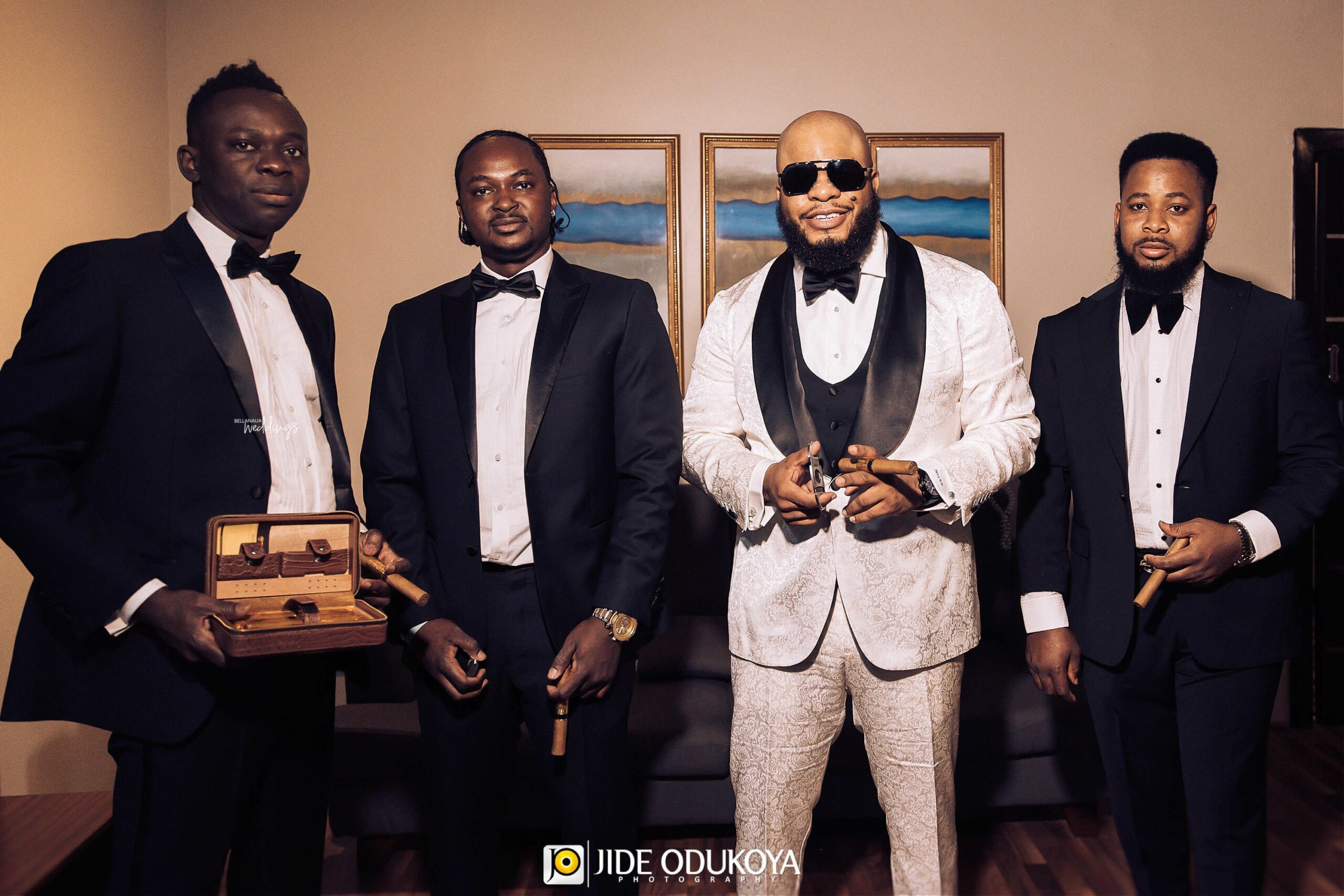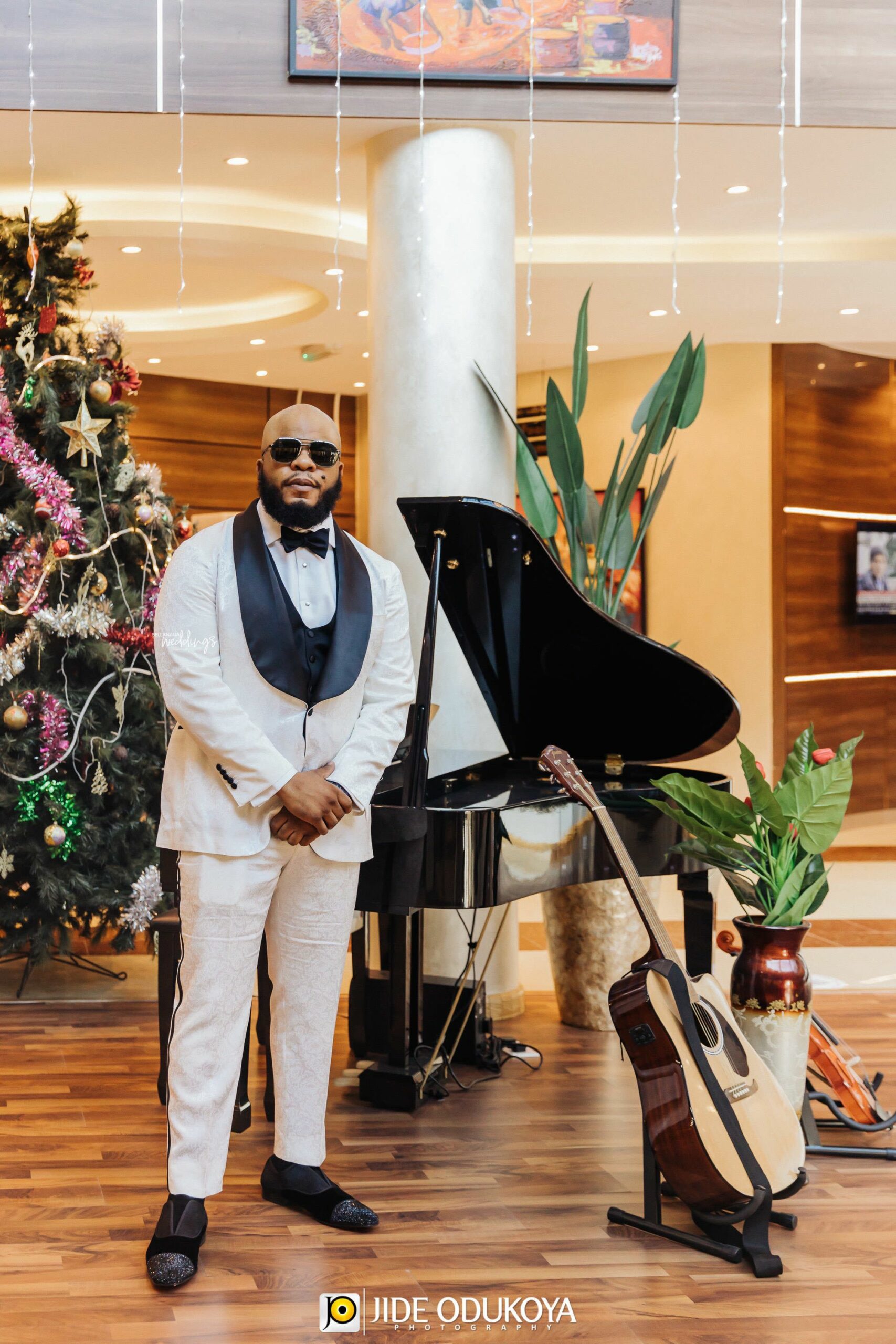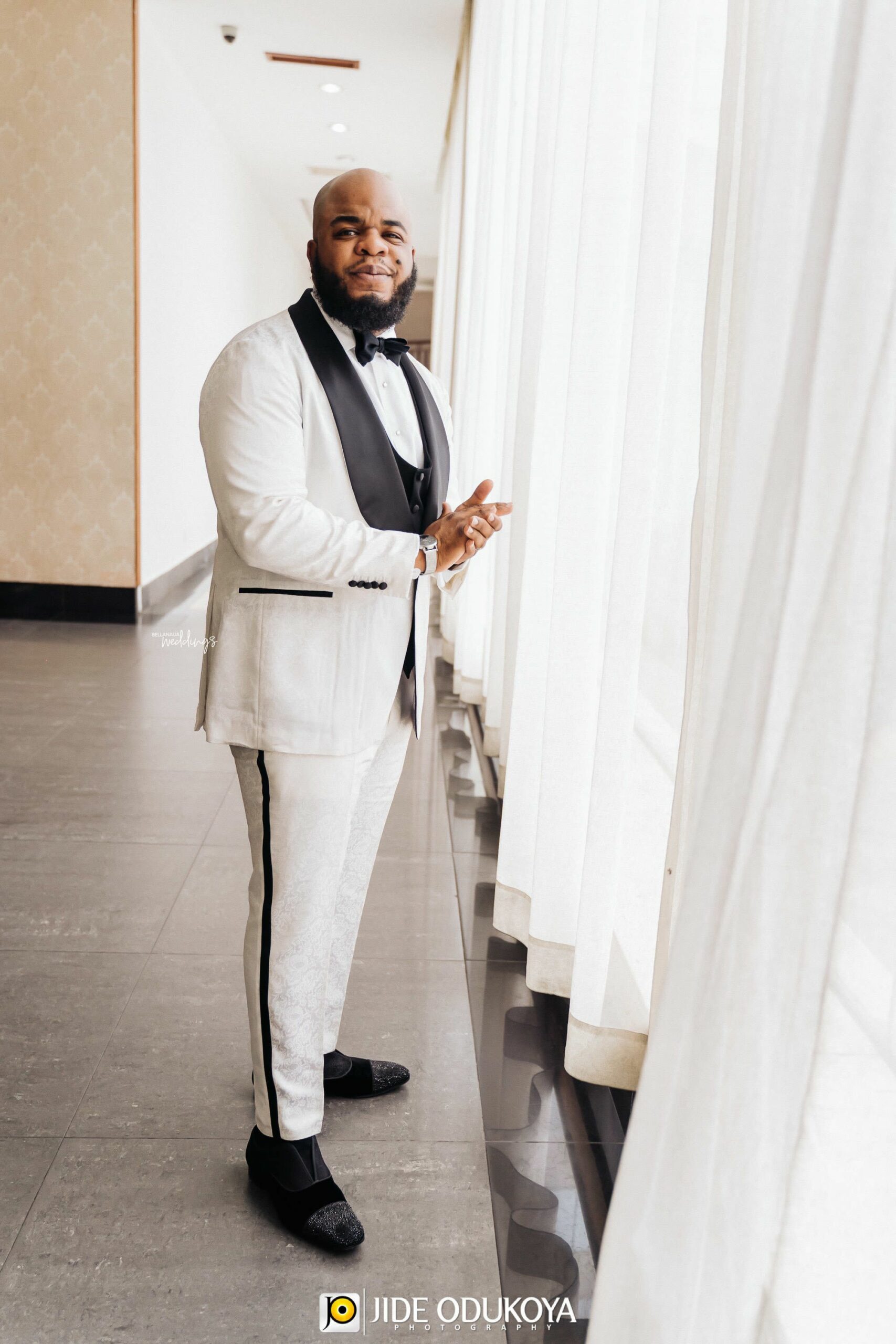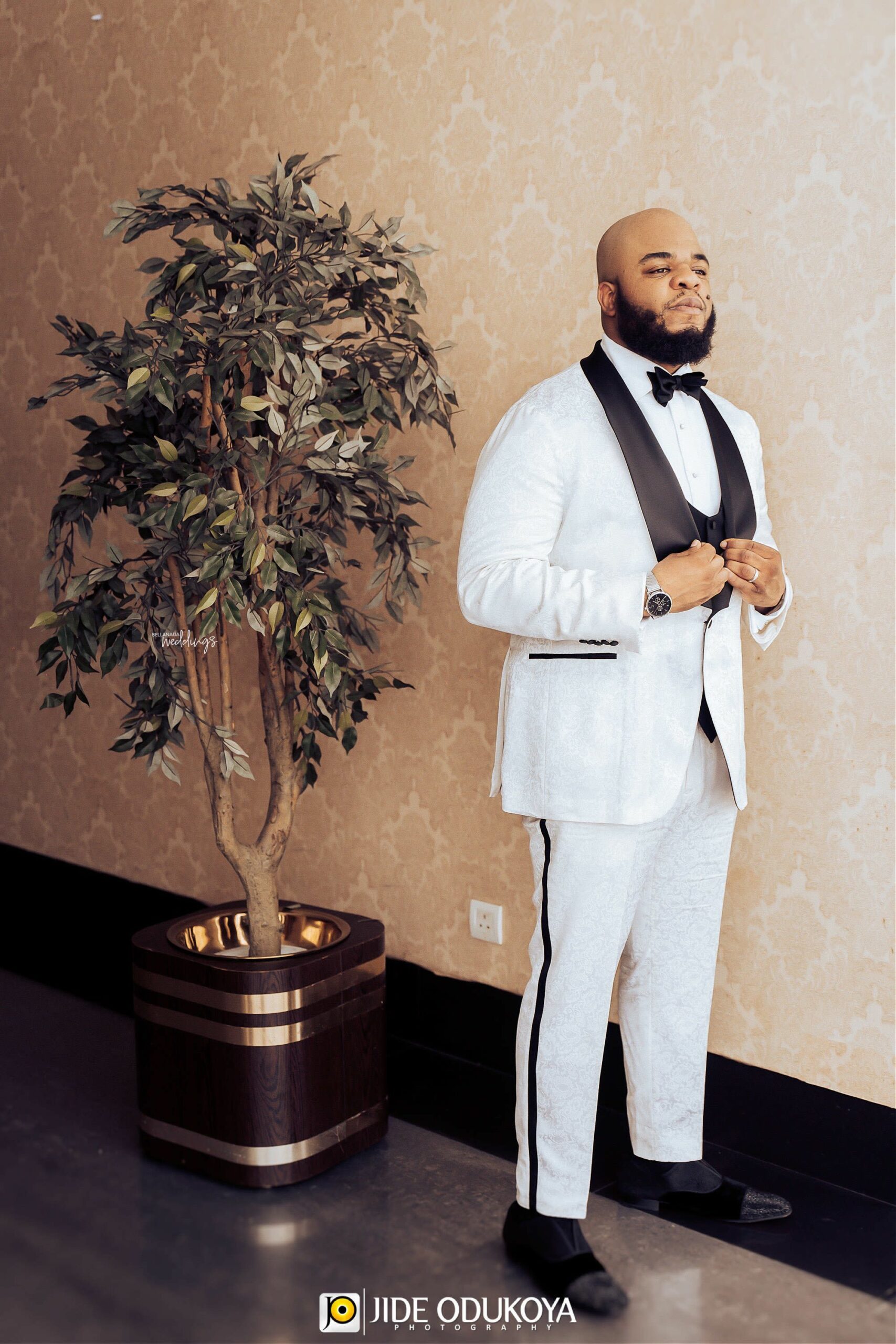 How Raydon popped the question:
It all started on December 15th, 2020, early in the morning. We woke up, as usual, ready for the day's events. Raydon seemed nervous, and I wondered what was wrong with him. He continued talking about how I'm the best thing that has ever happened to him. He asked questions about my culture and perception of a foreigner but I had no idea where the questions were leading.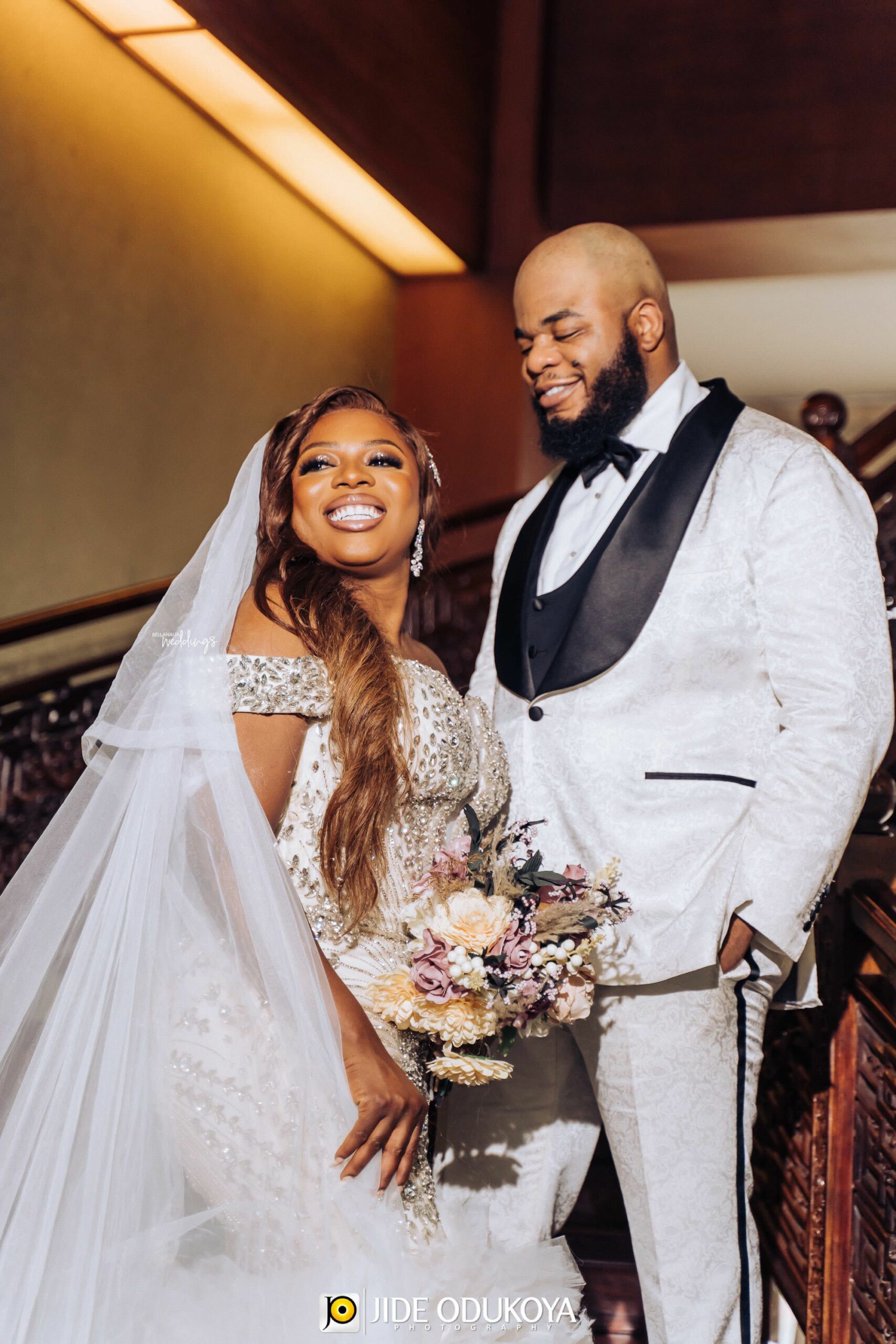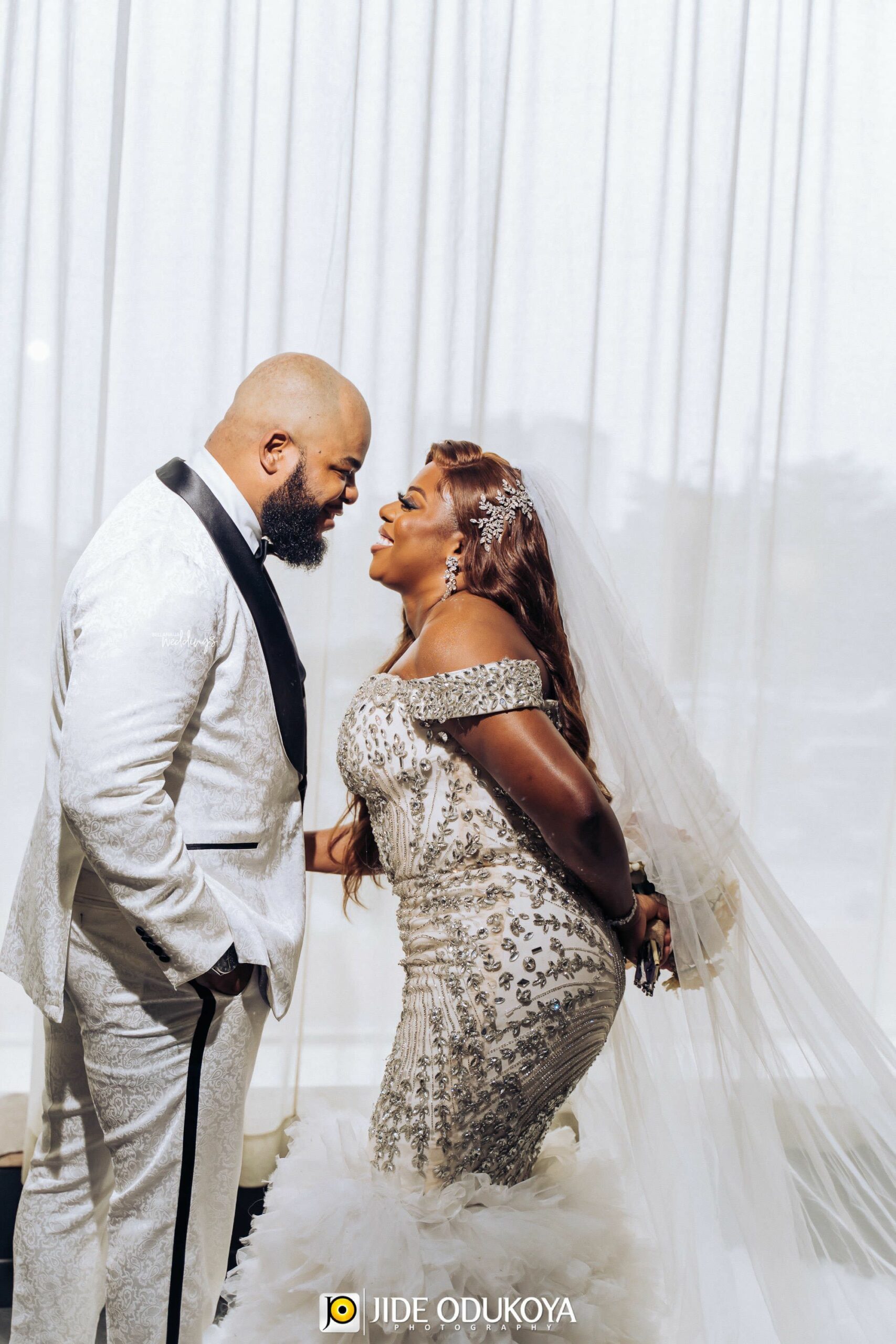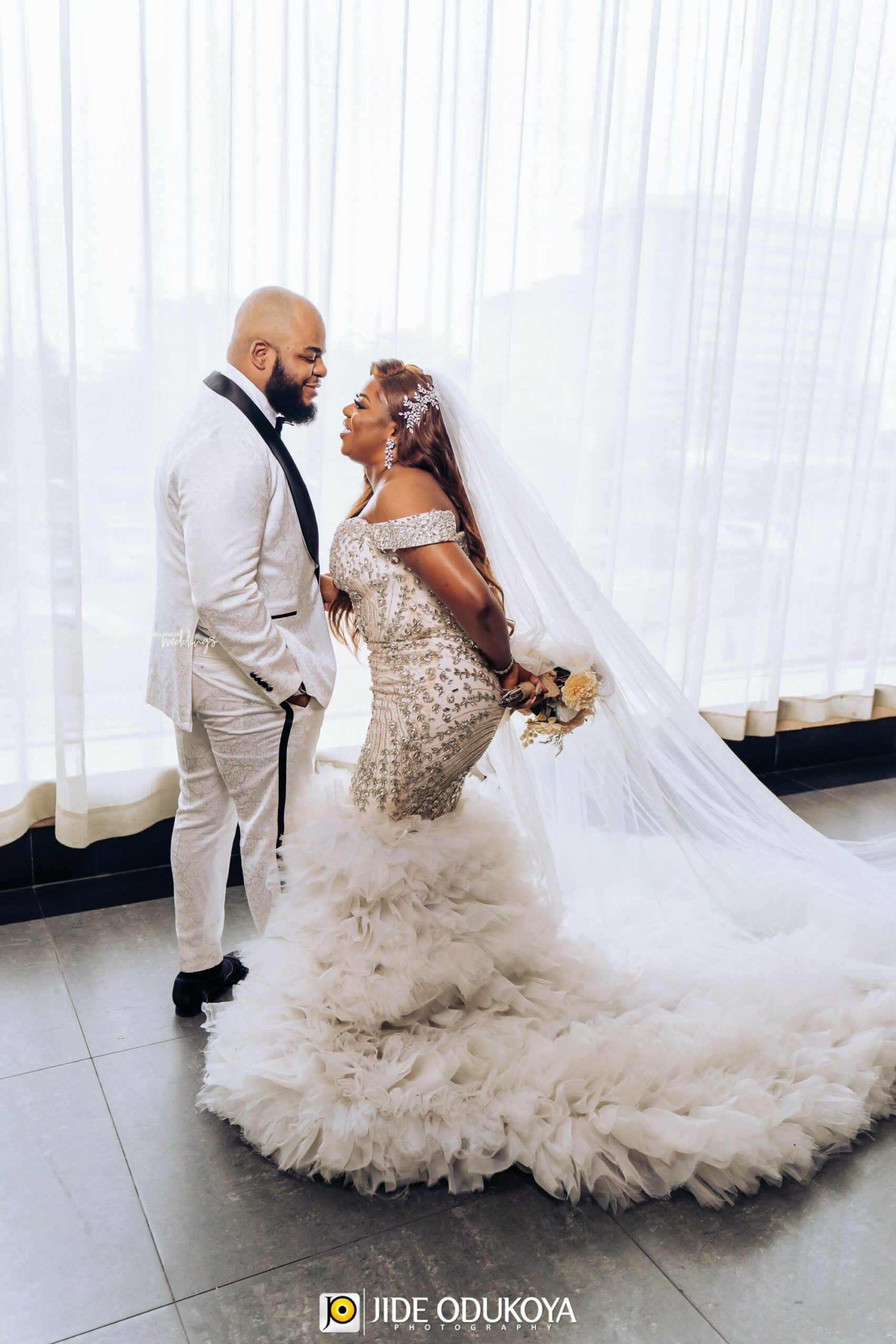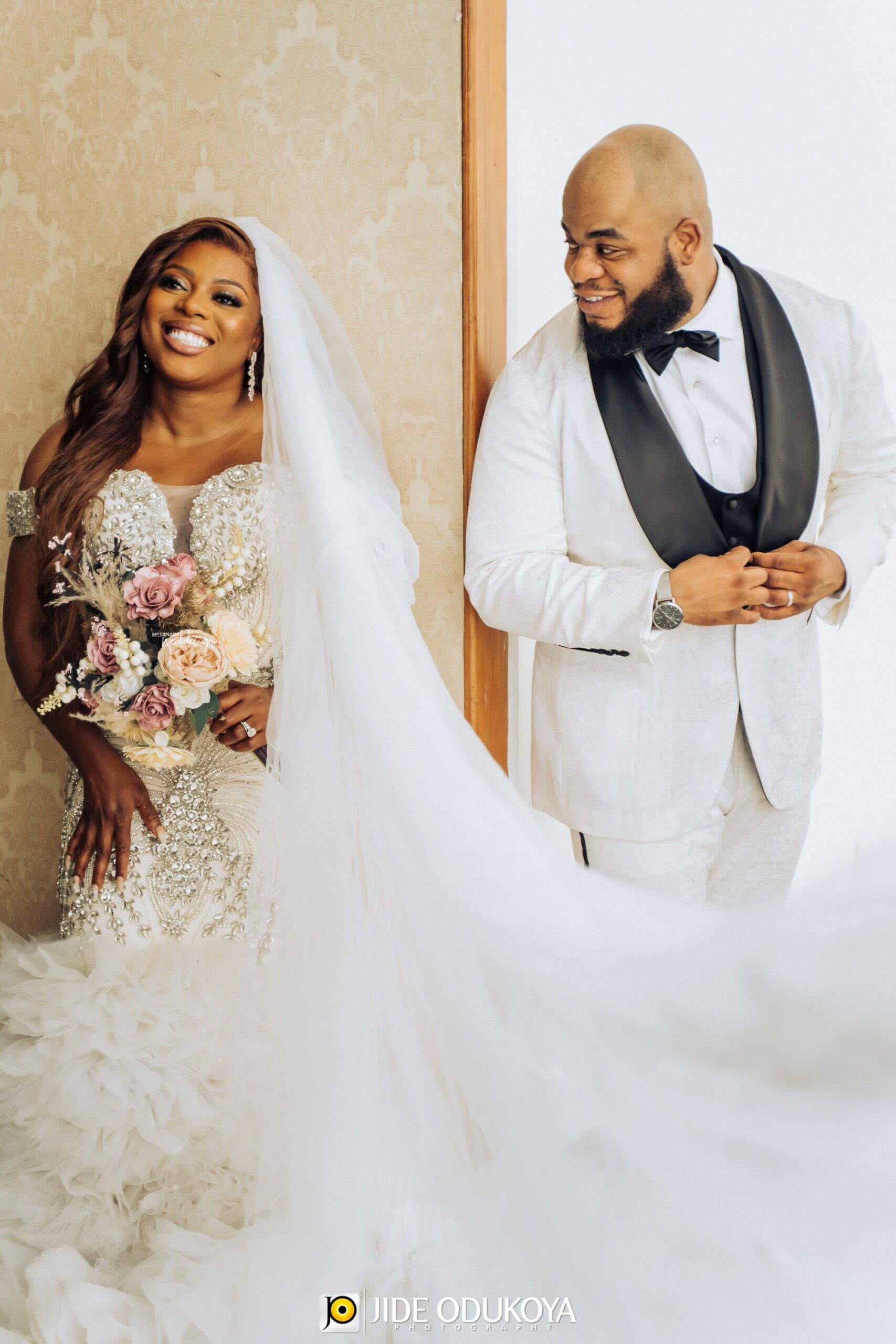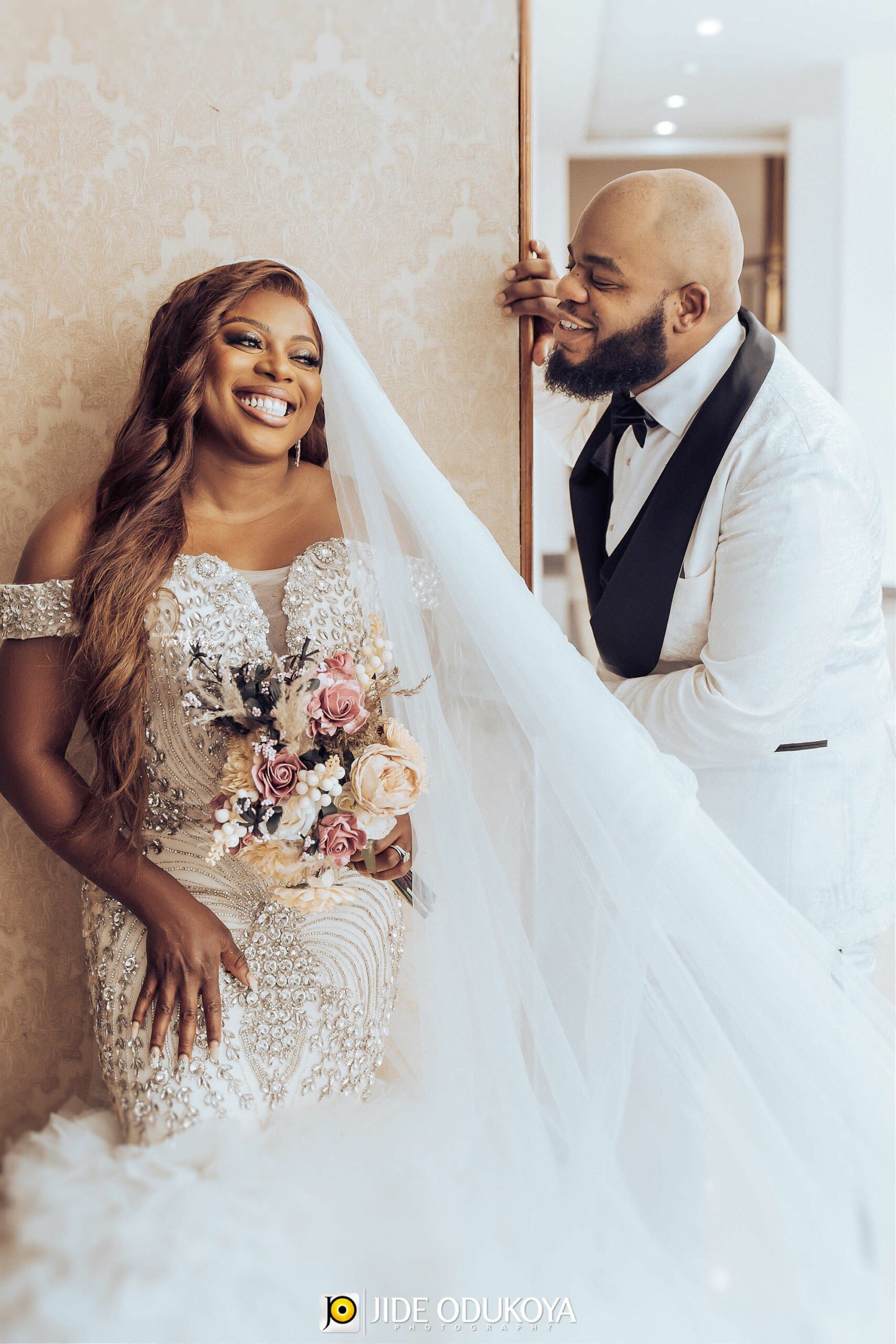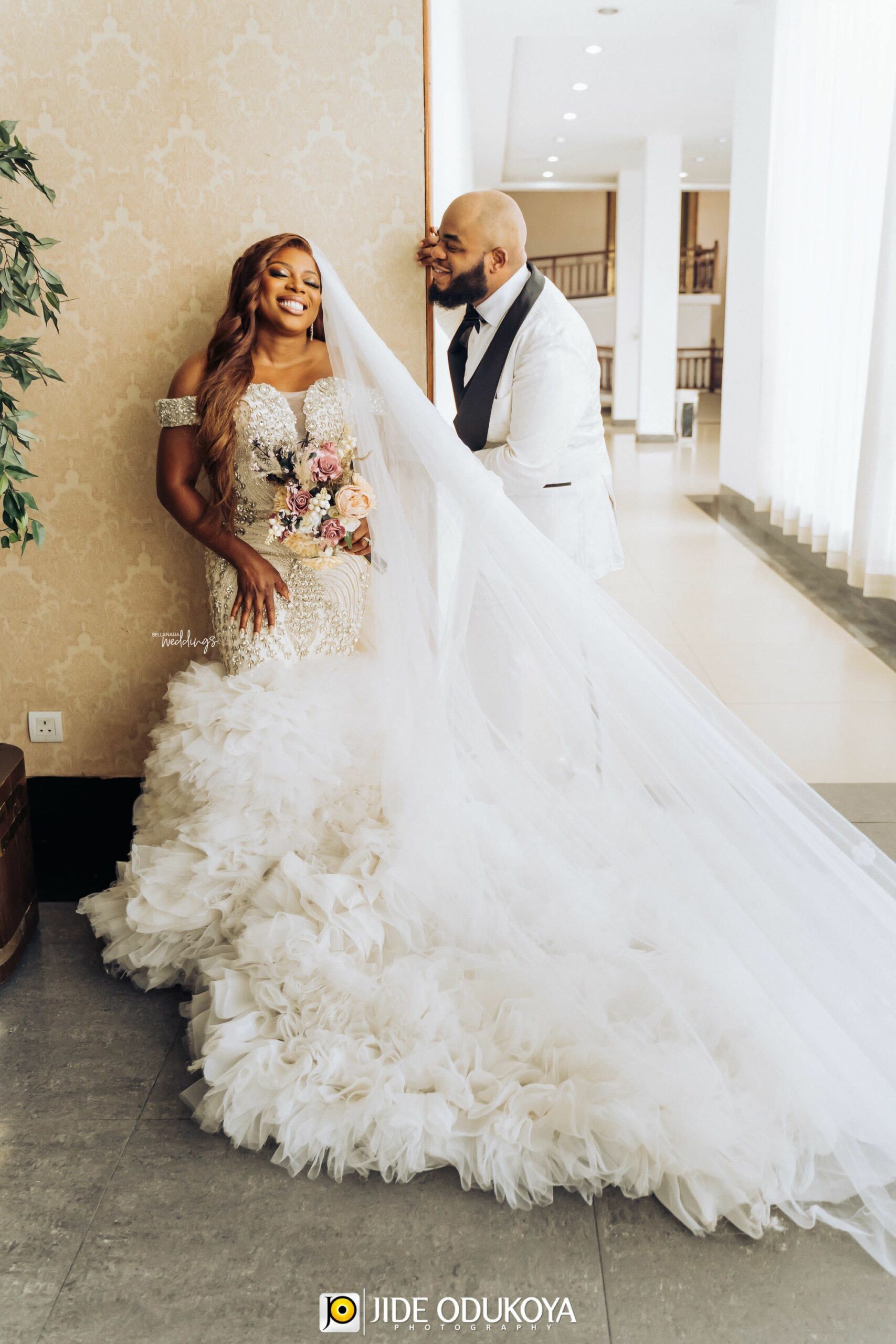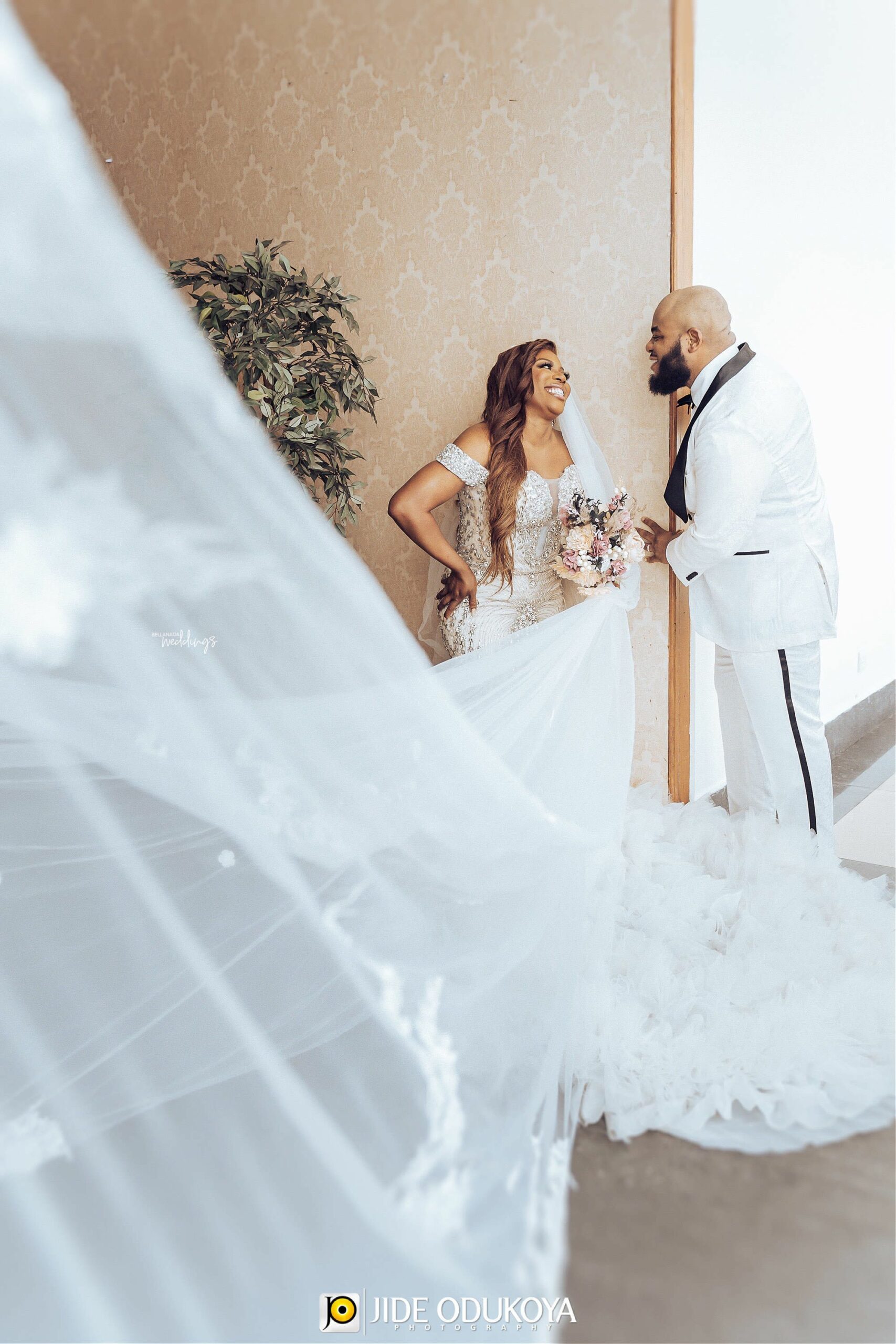 Later that day, as we were about to begin our errand-running routine, I was backing the door of our apartment elevator and checking myself out in the elevator mirror. I noticed Ray looking at me and getting down on one knee, so I turned around and he held my hands, saying, "If the world ends today, I want you to have something." I looked down, a little shy, as he pulled out a box and asked, "Will you marry me?" I laughed and said yes!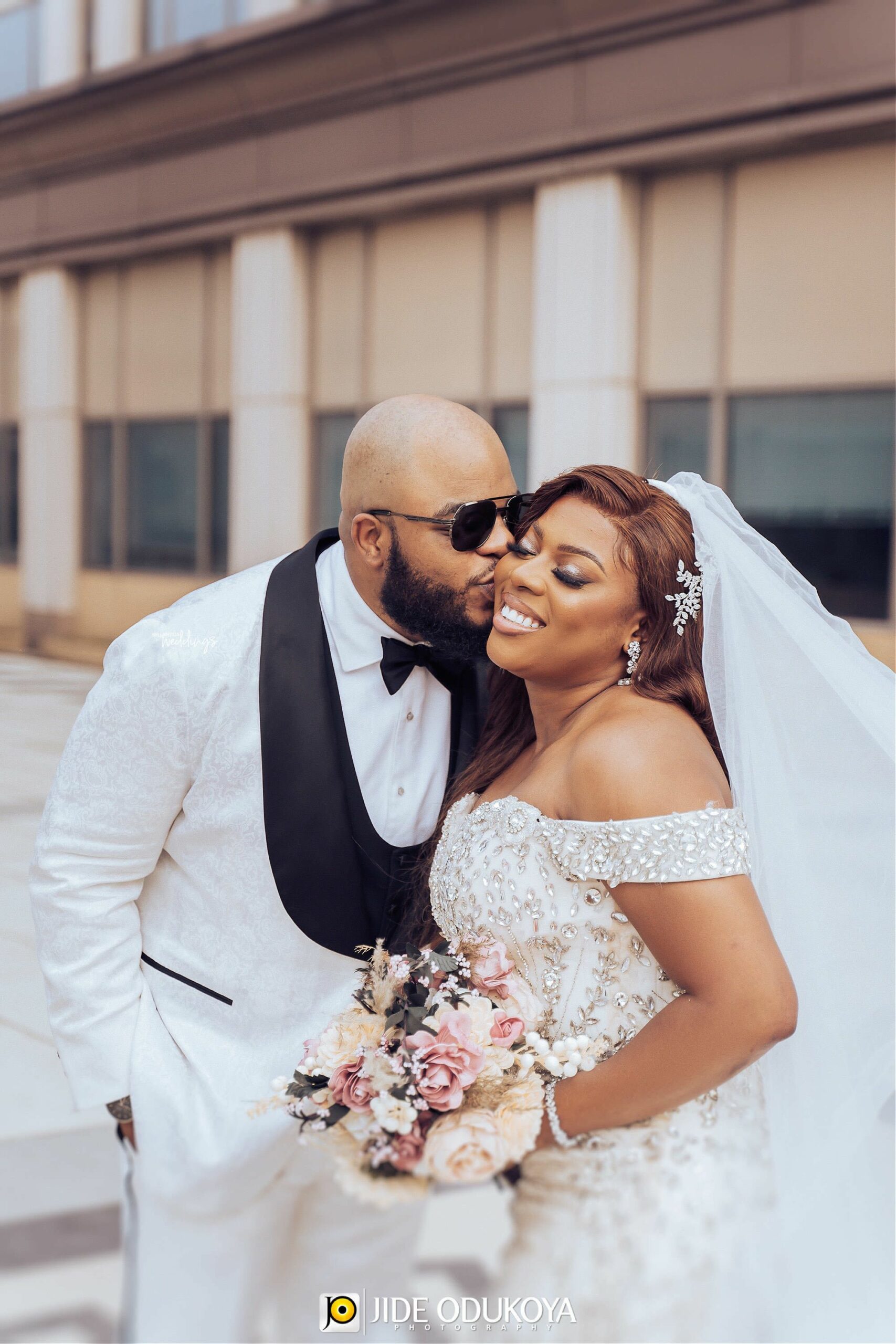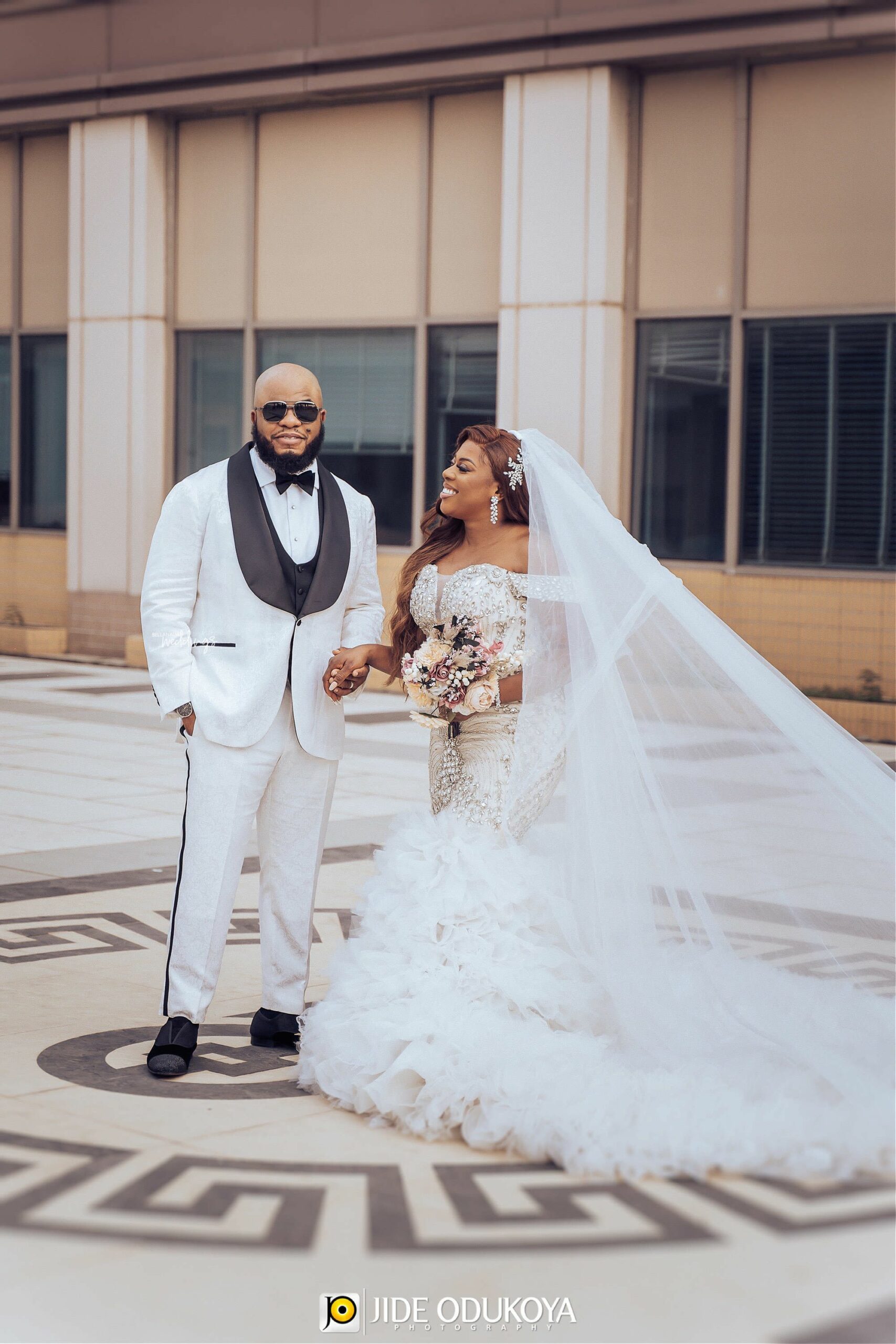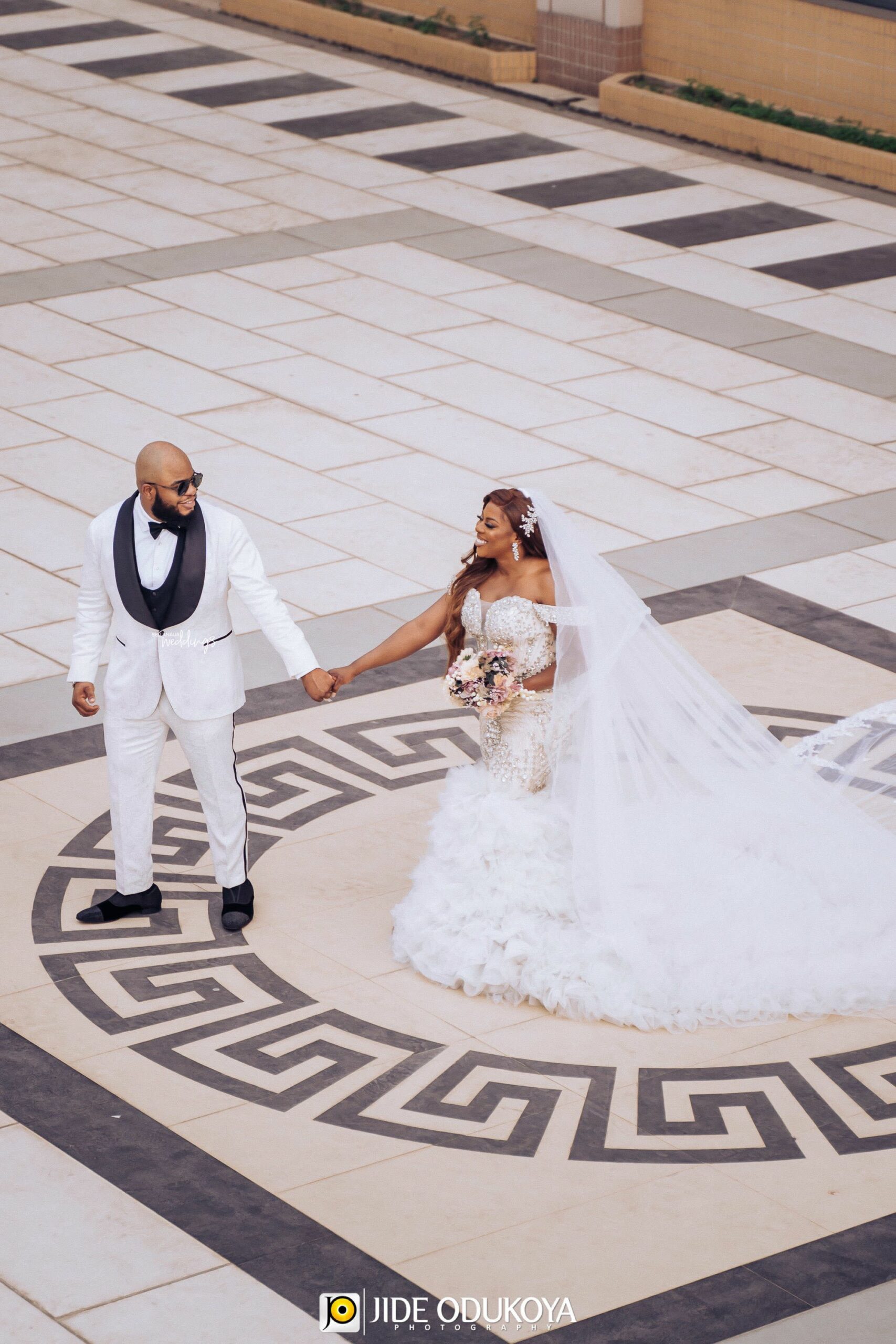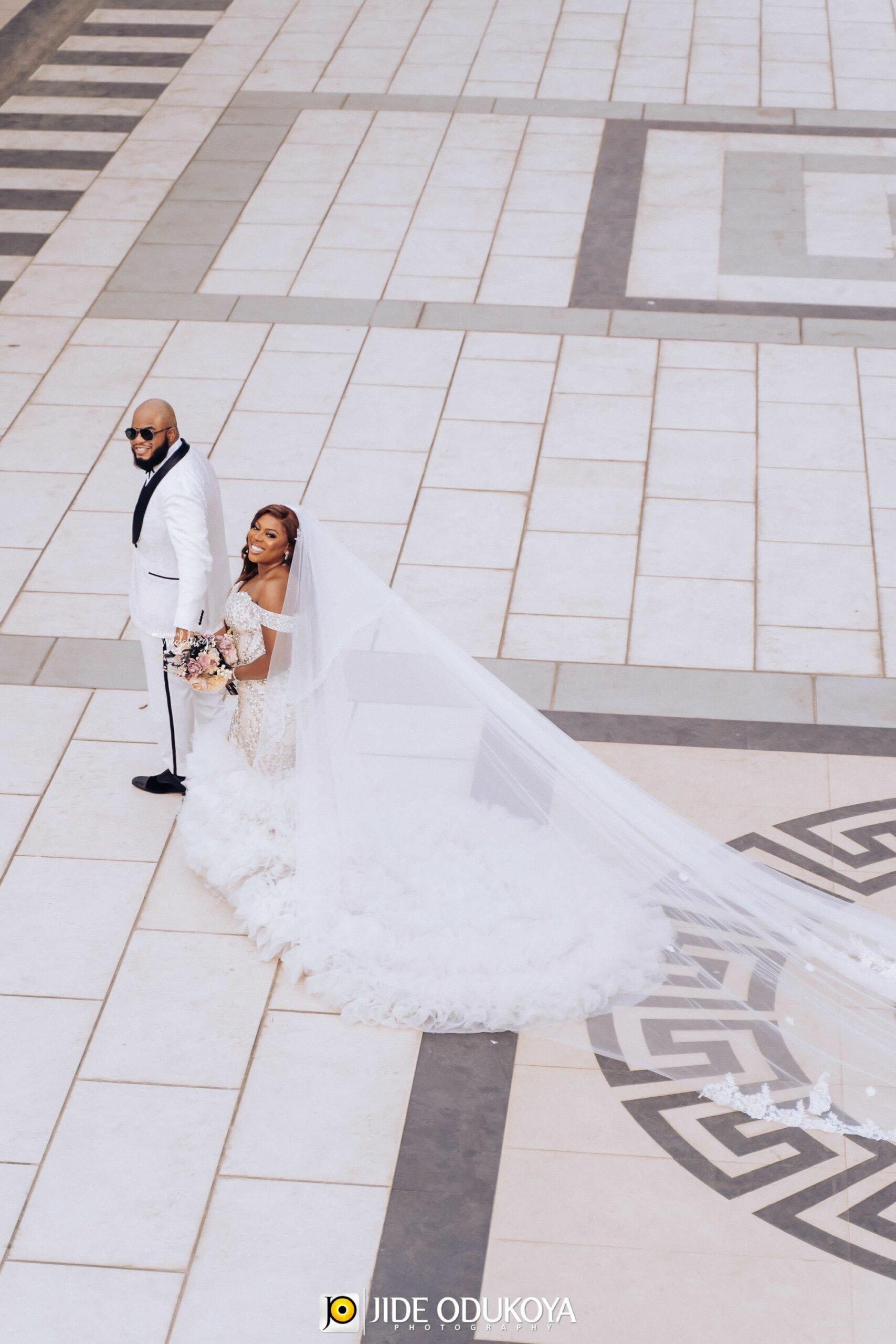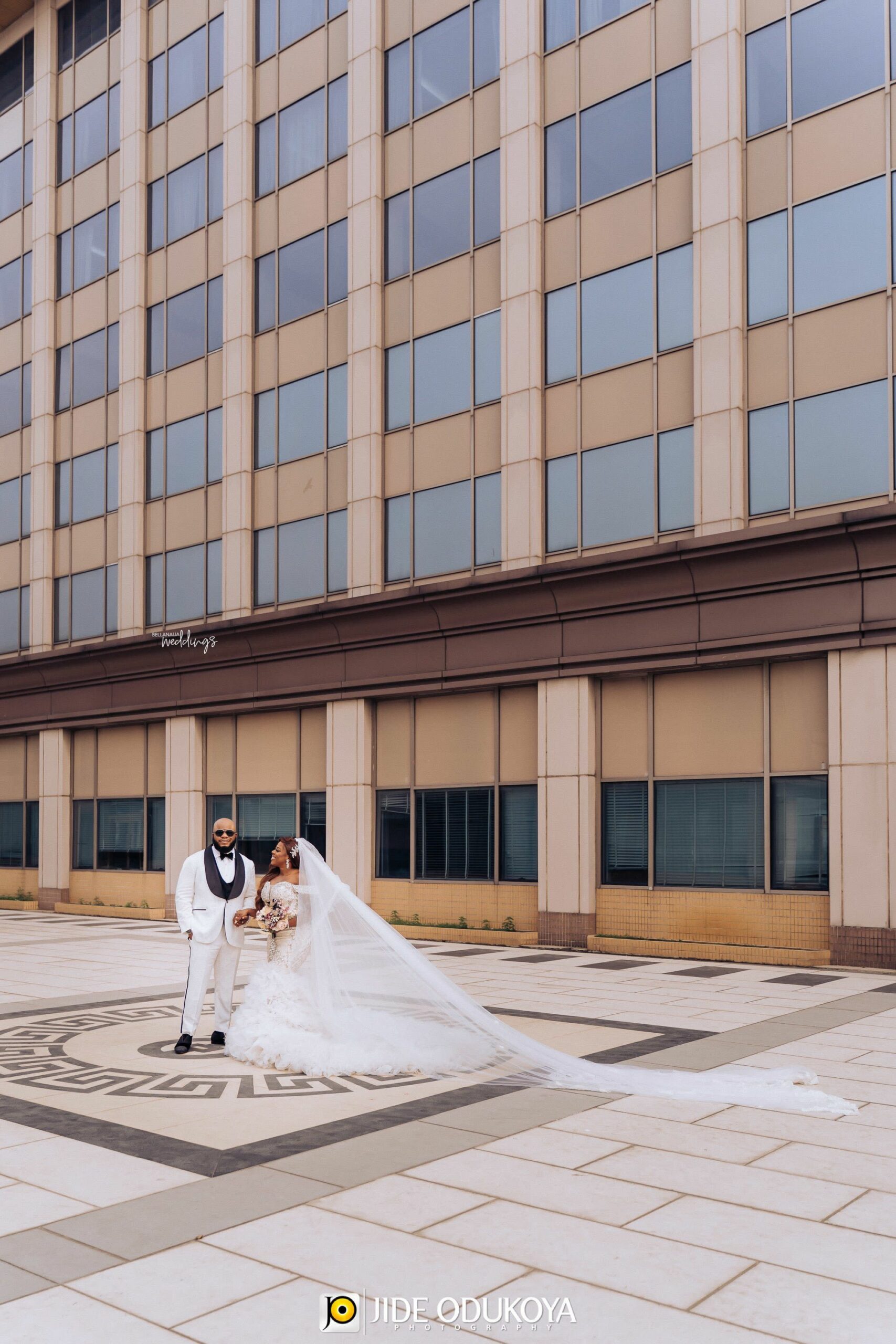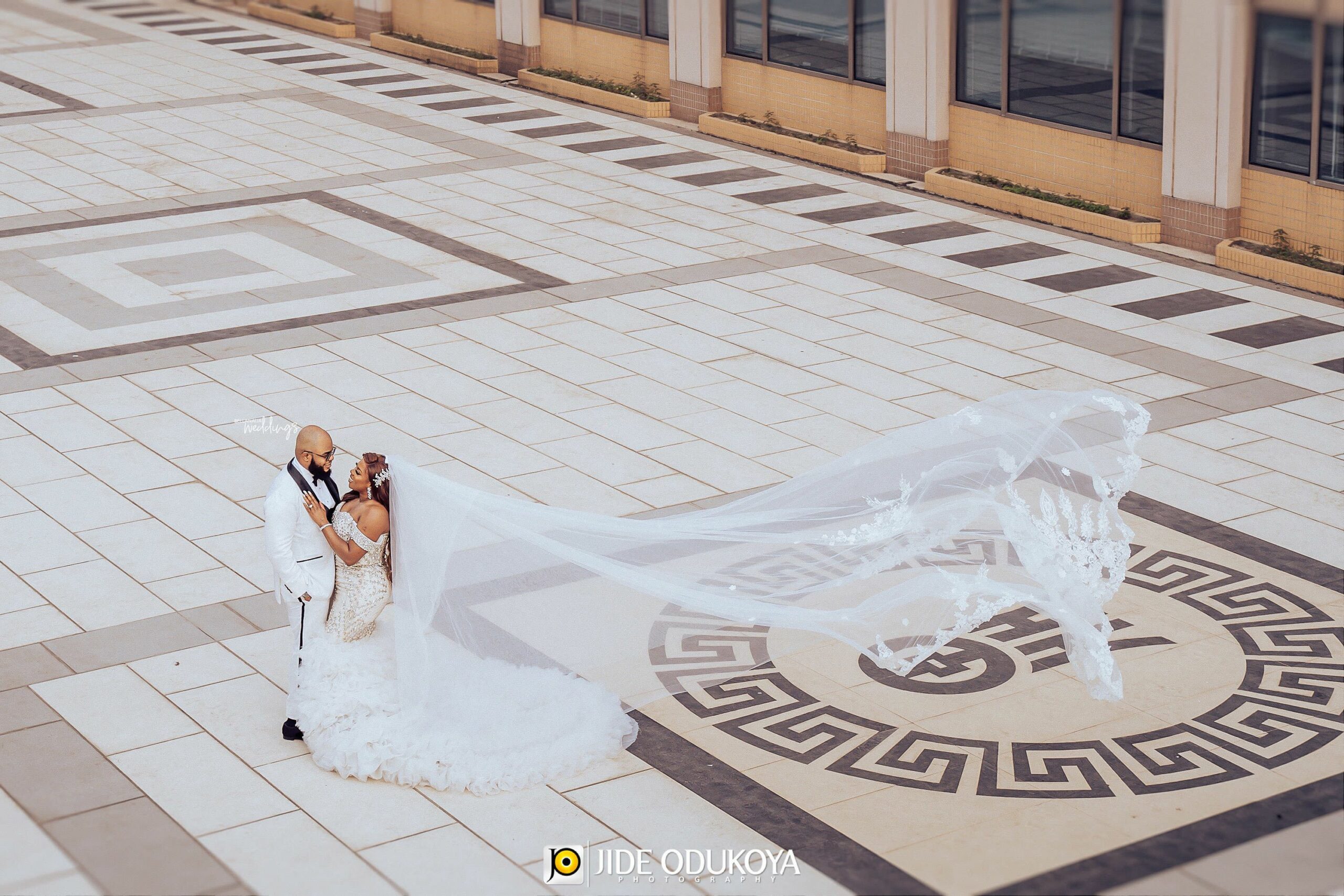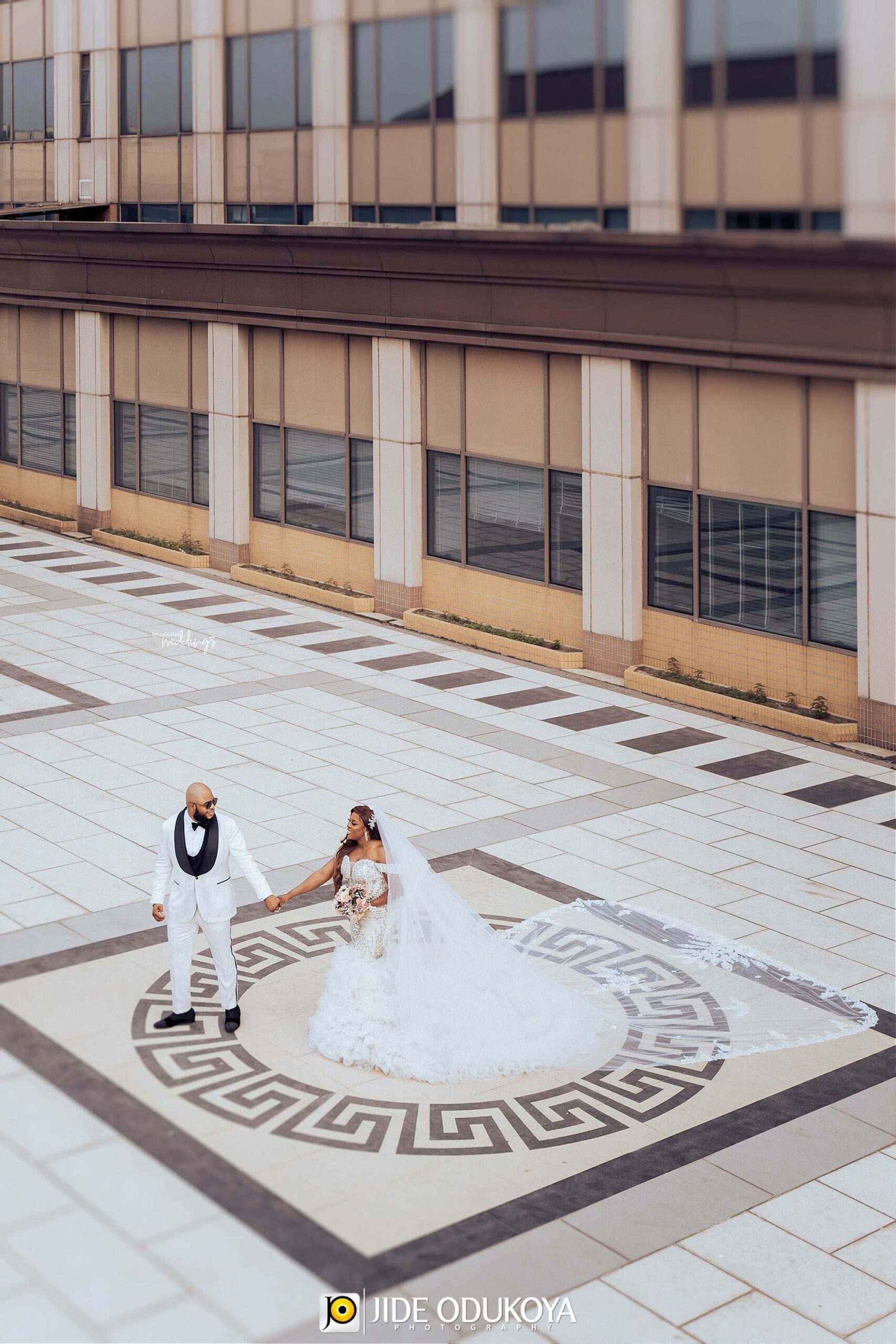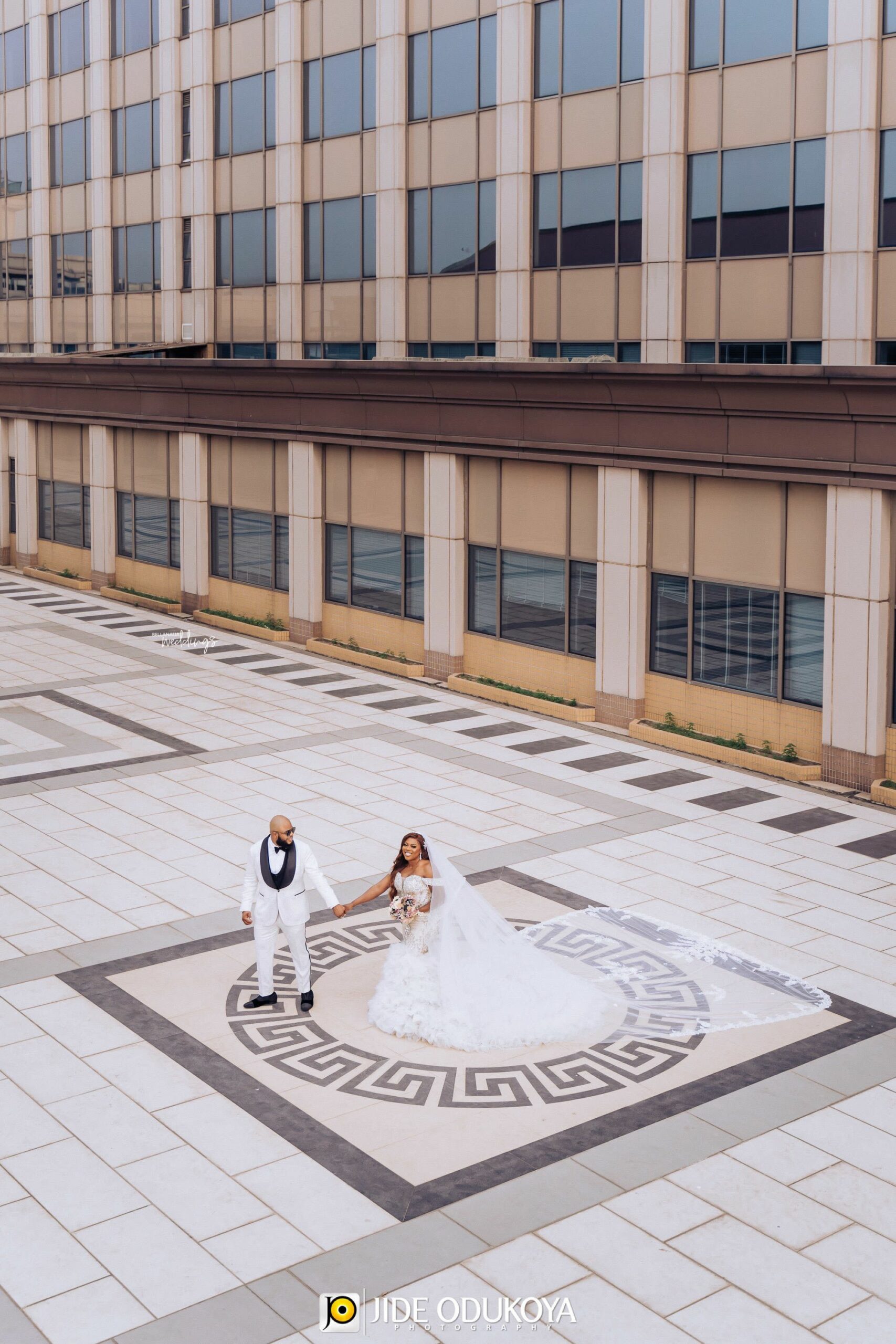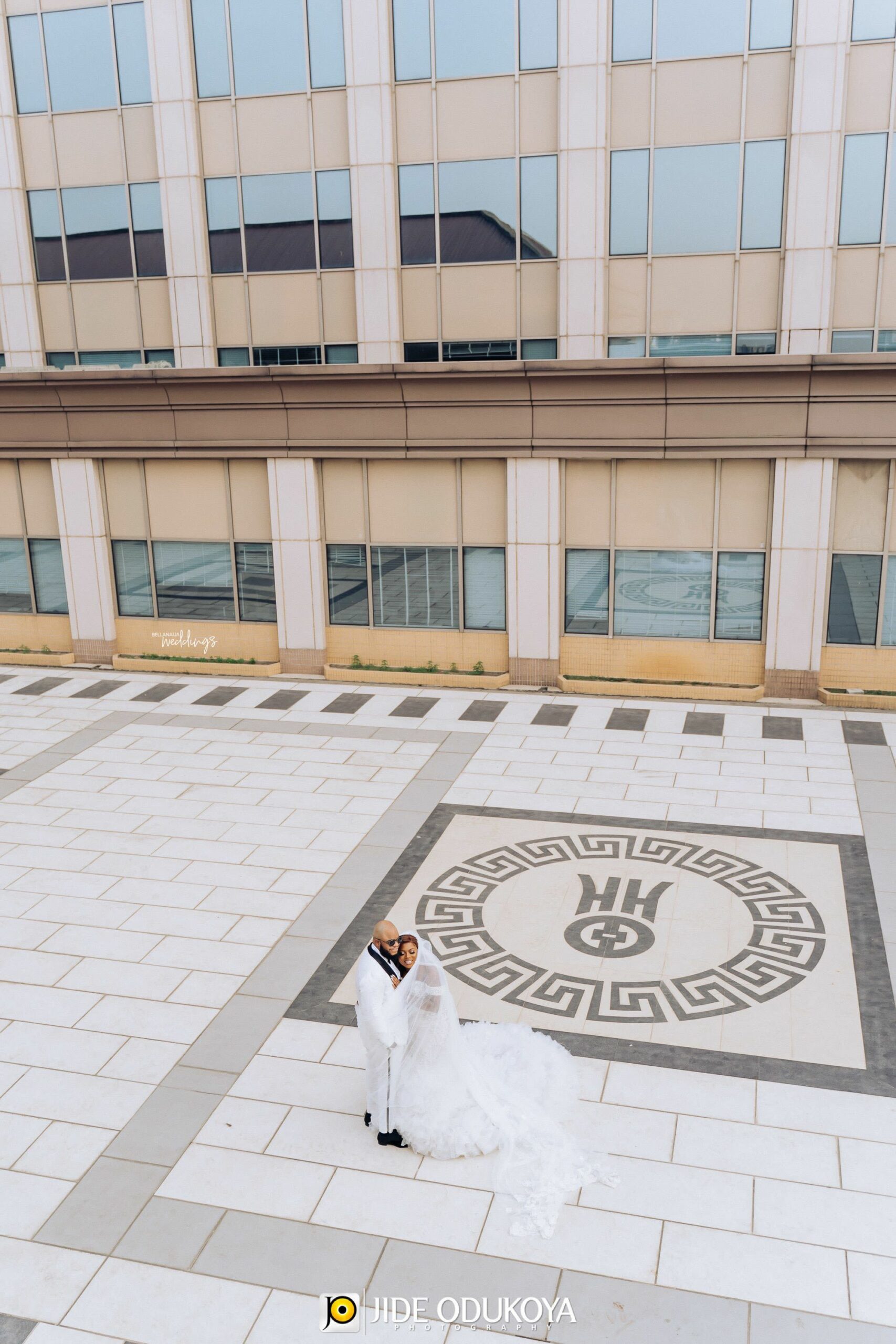 Let's take it to church!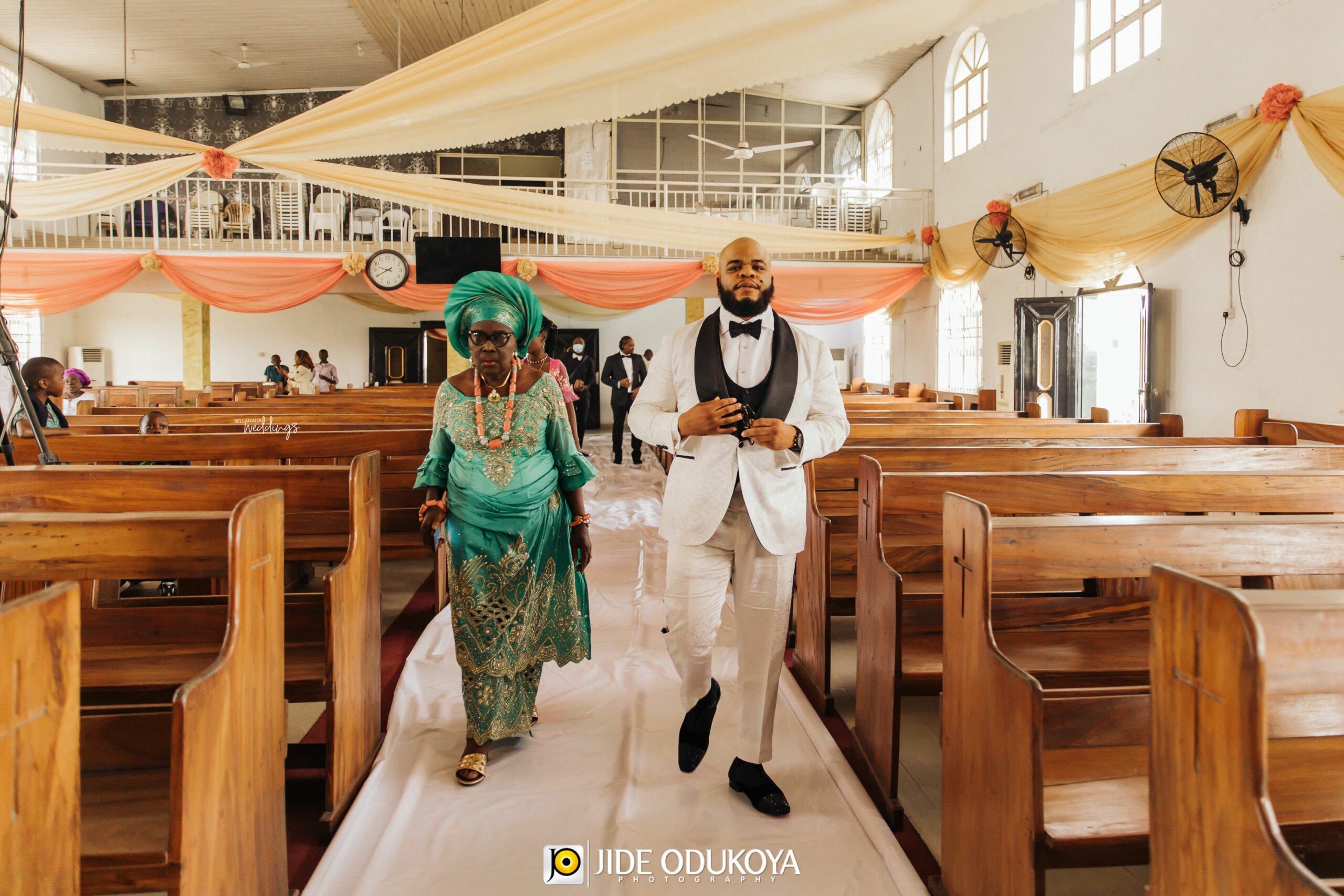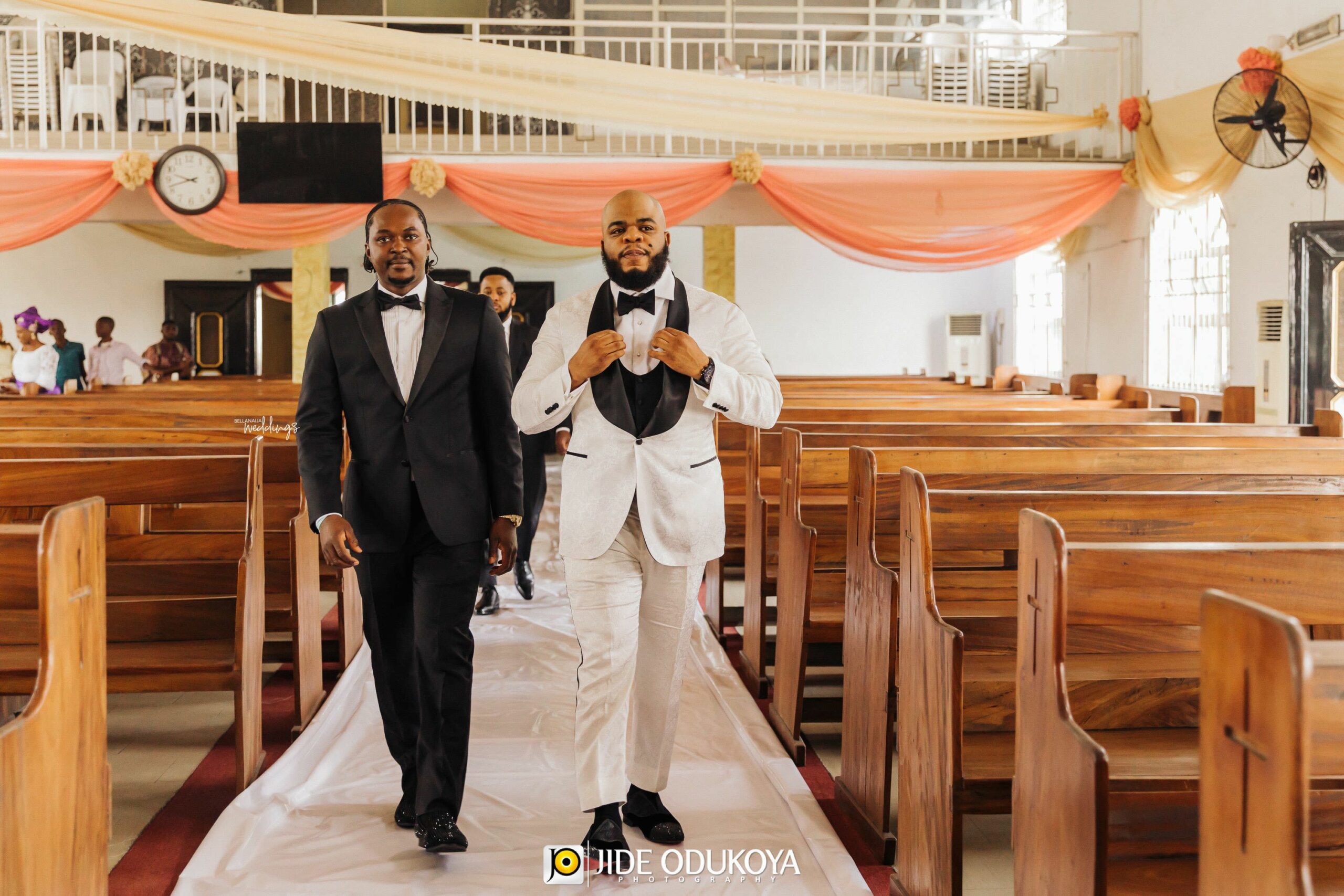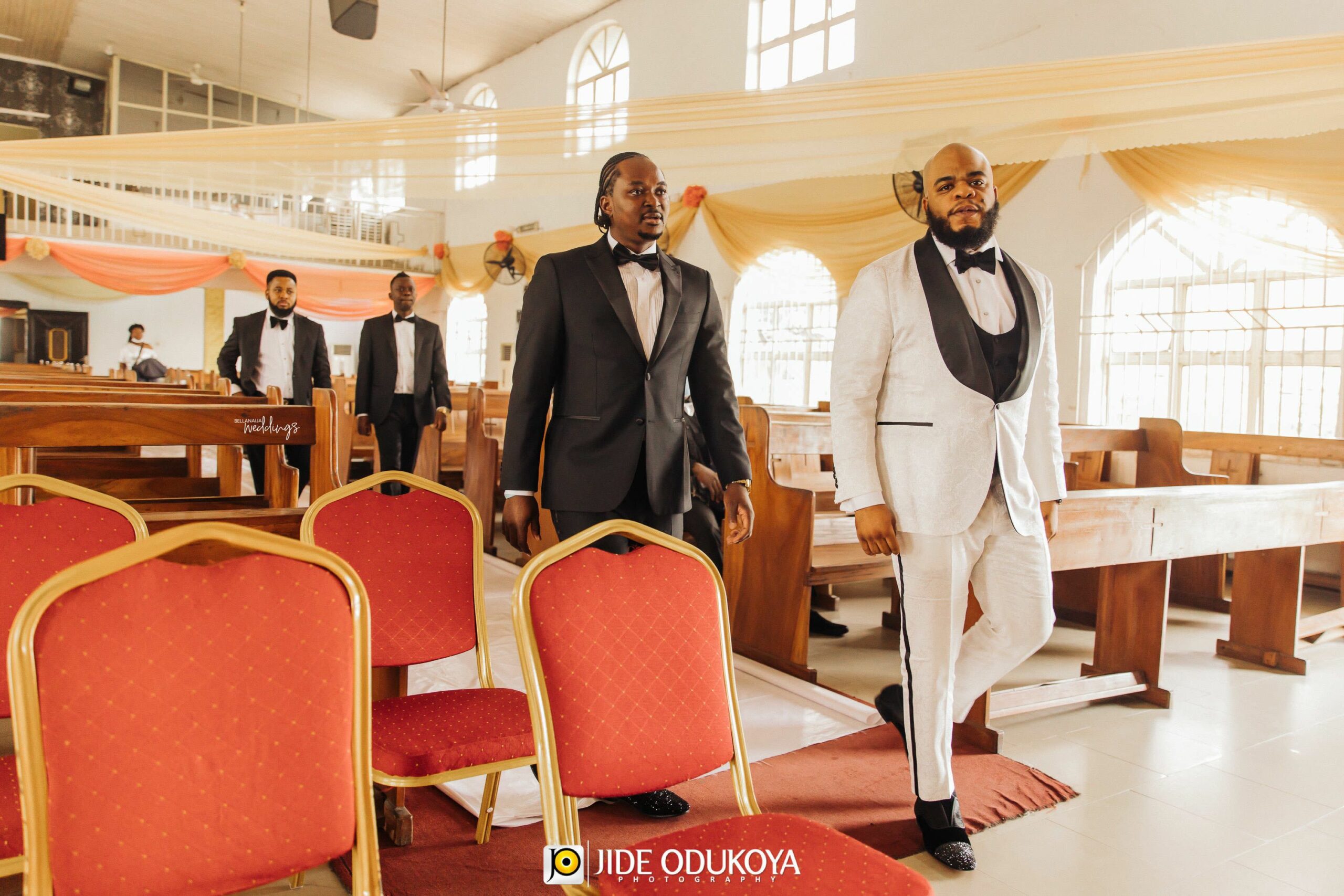 Here comes the bride!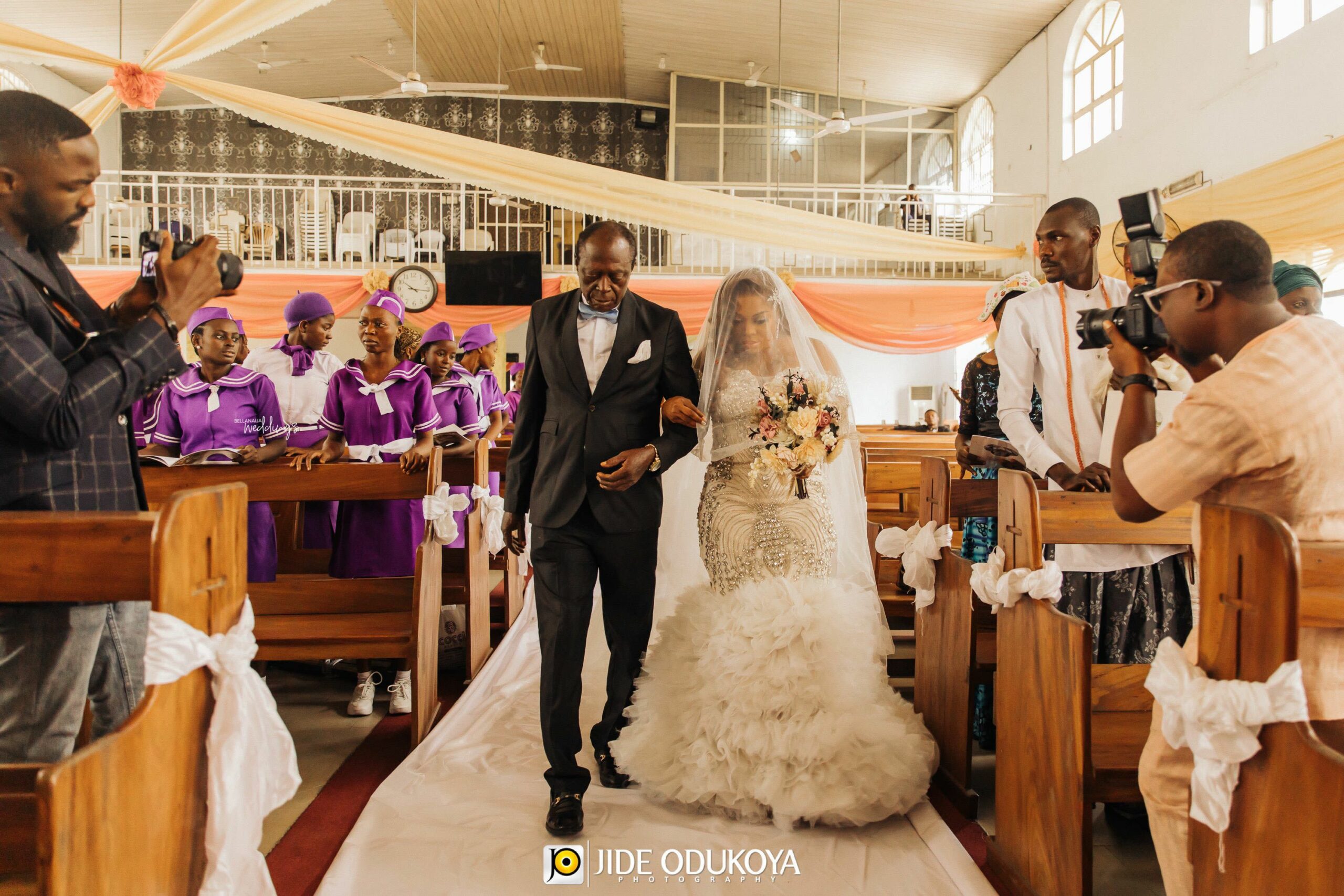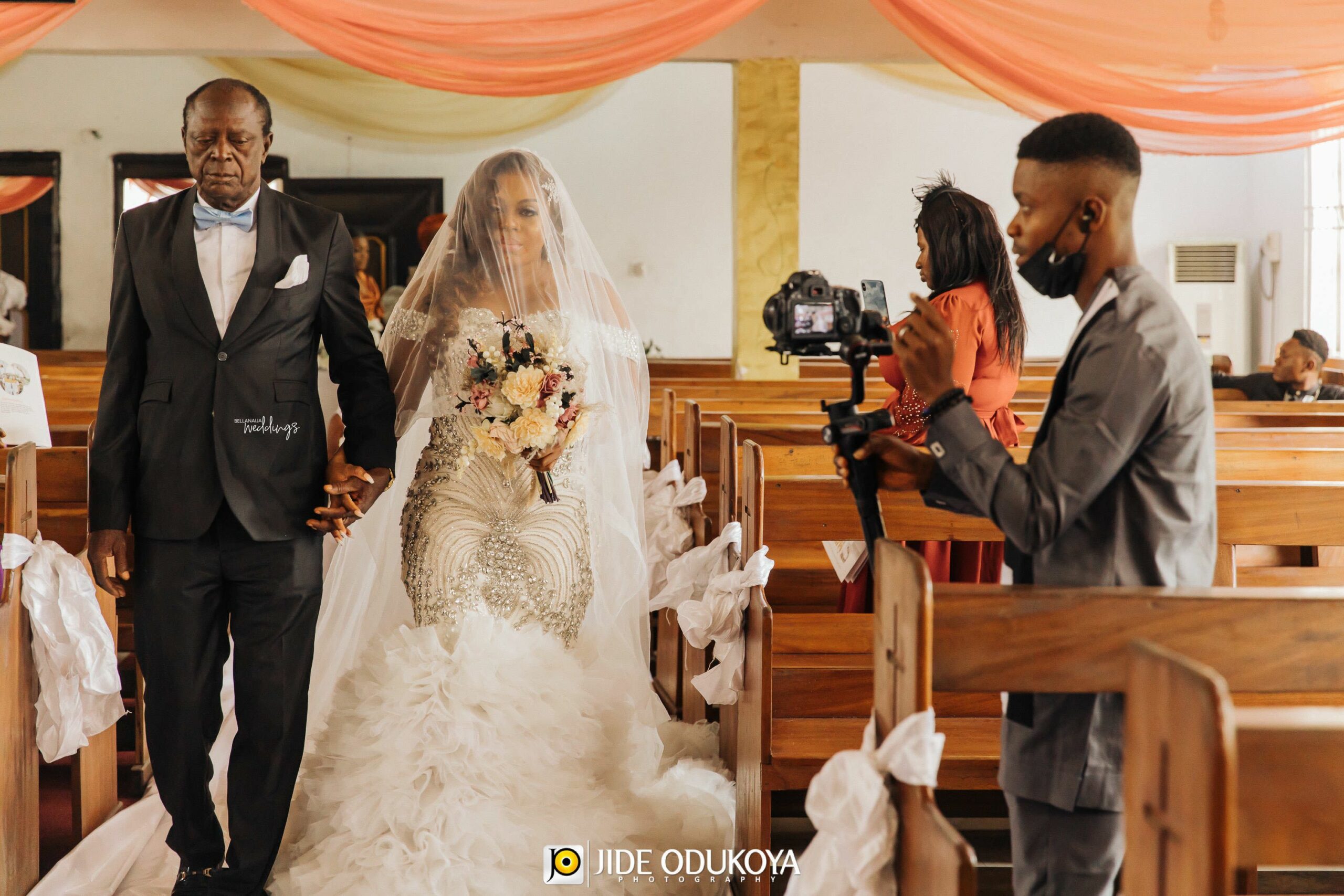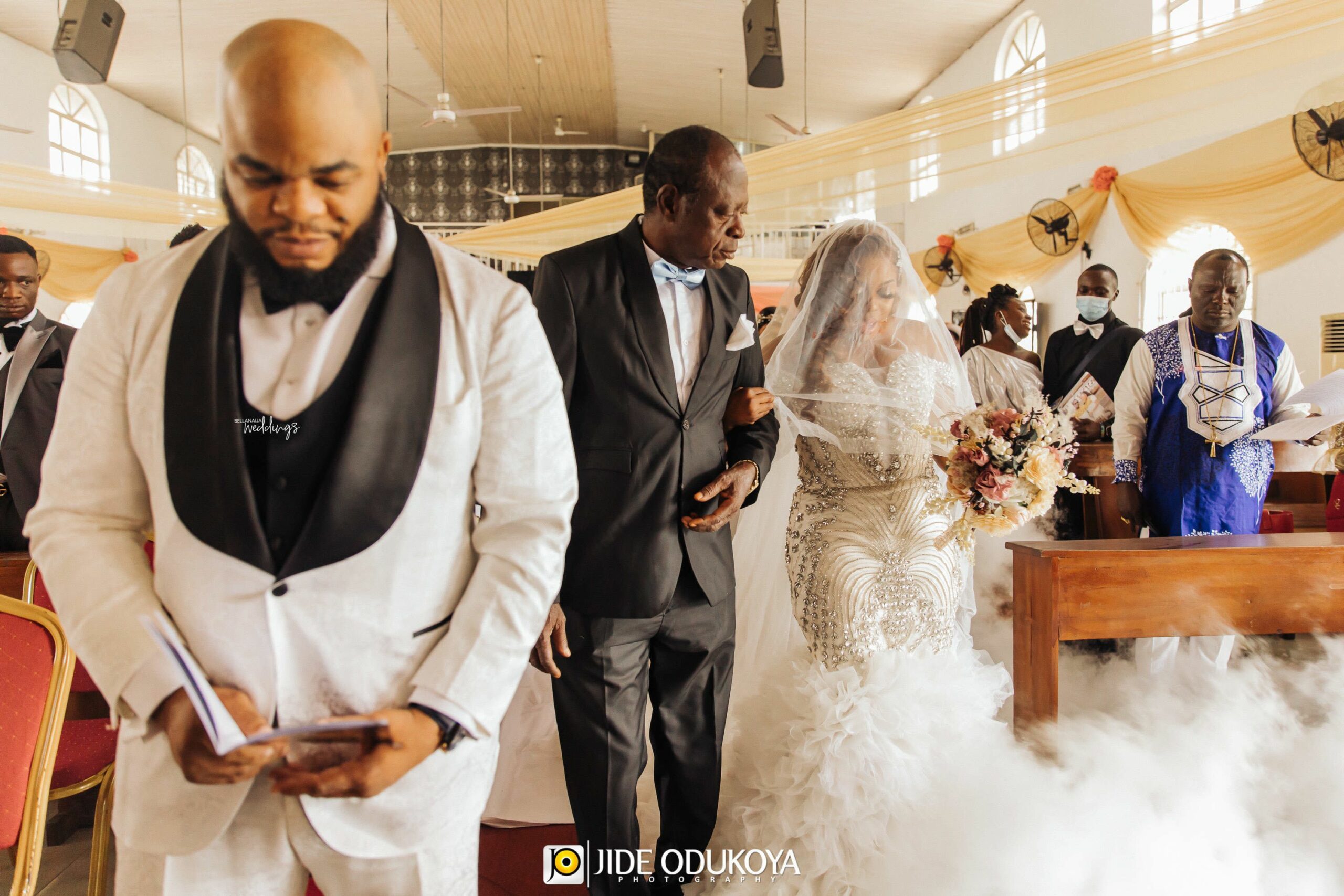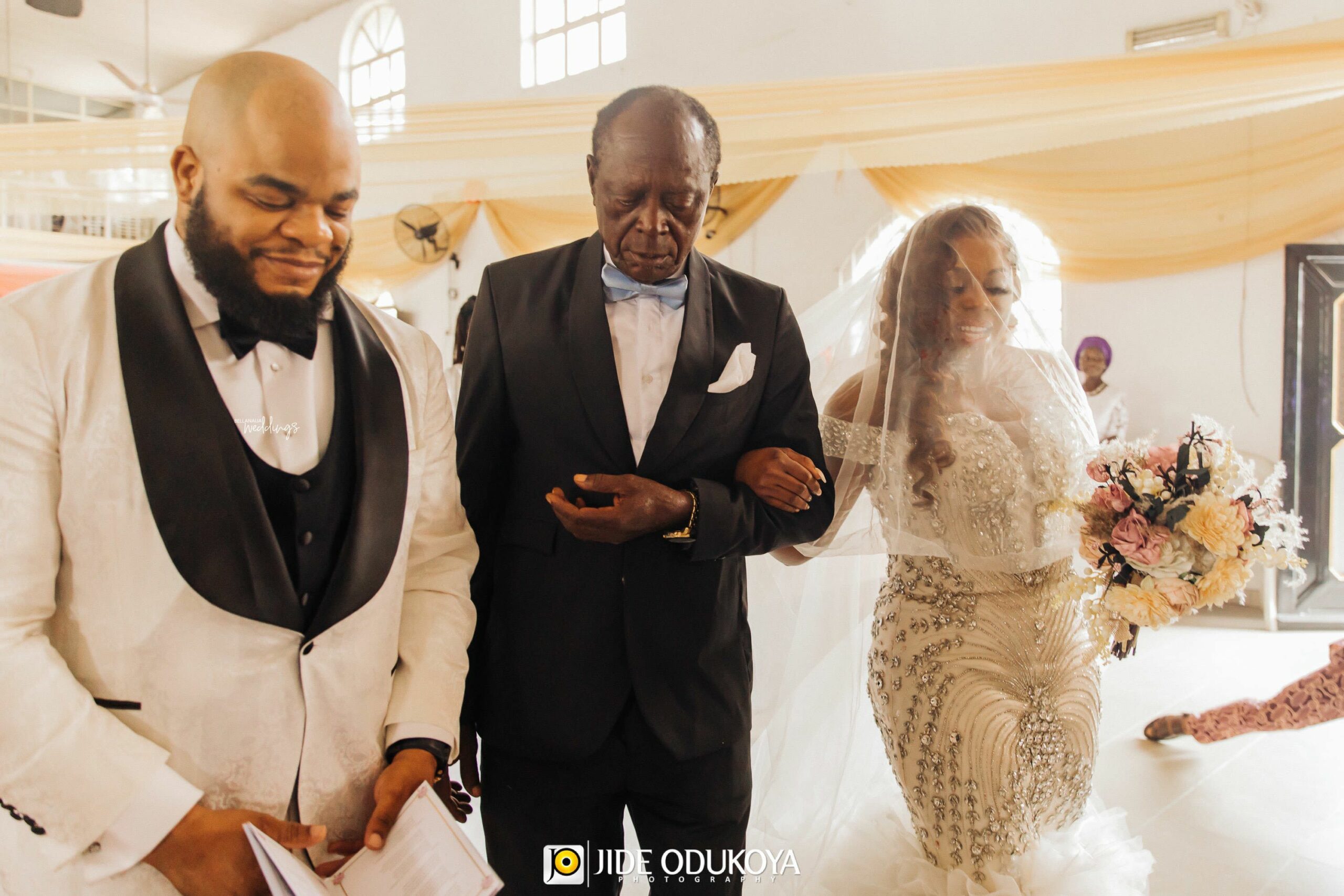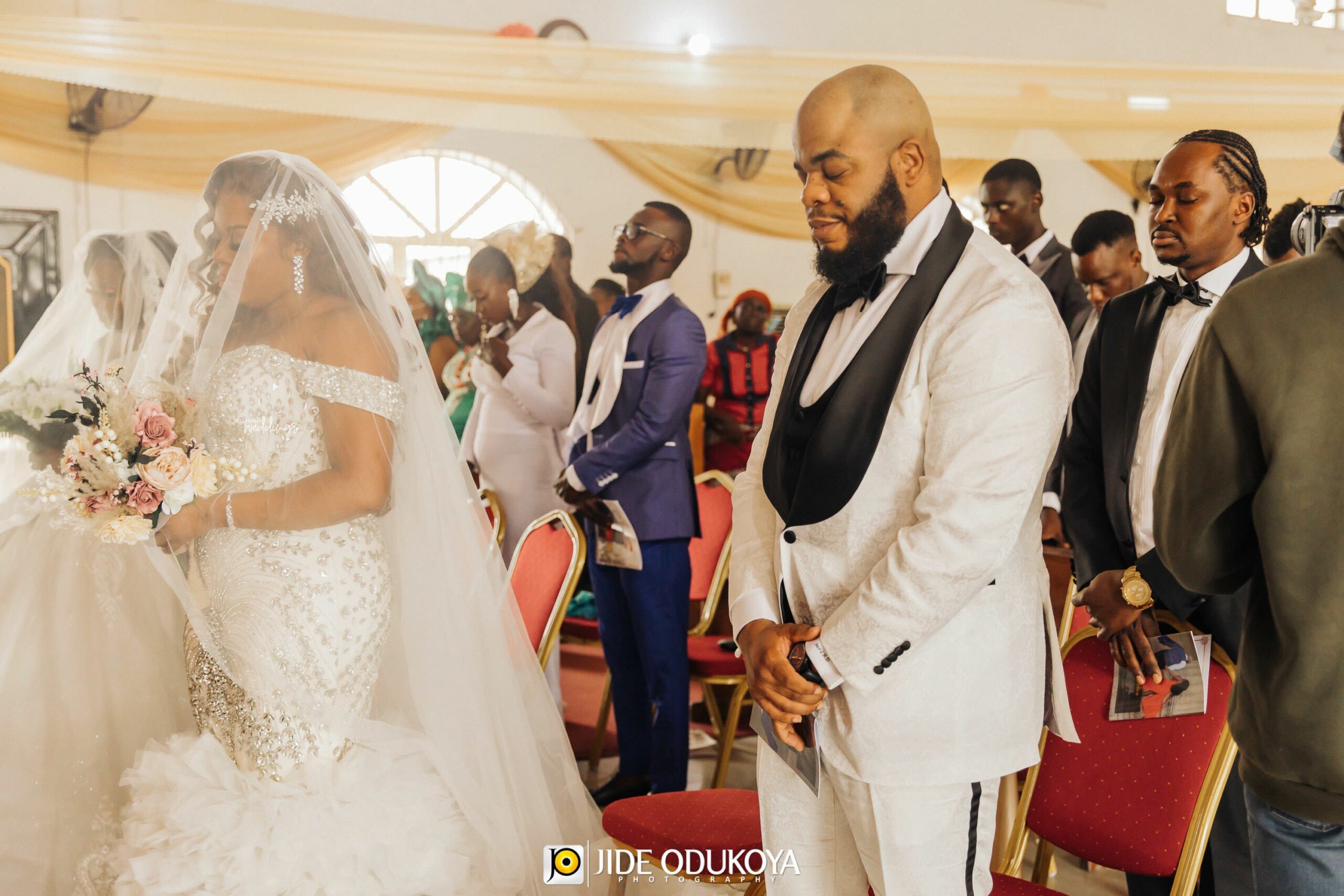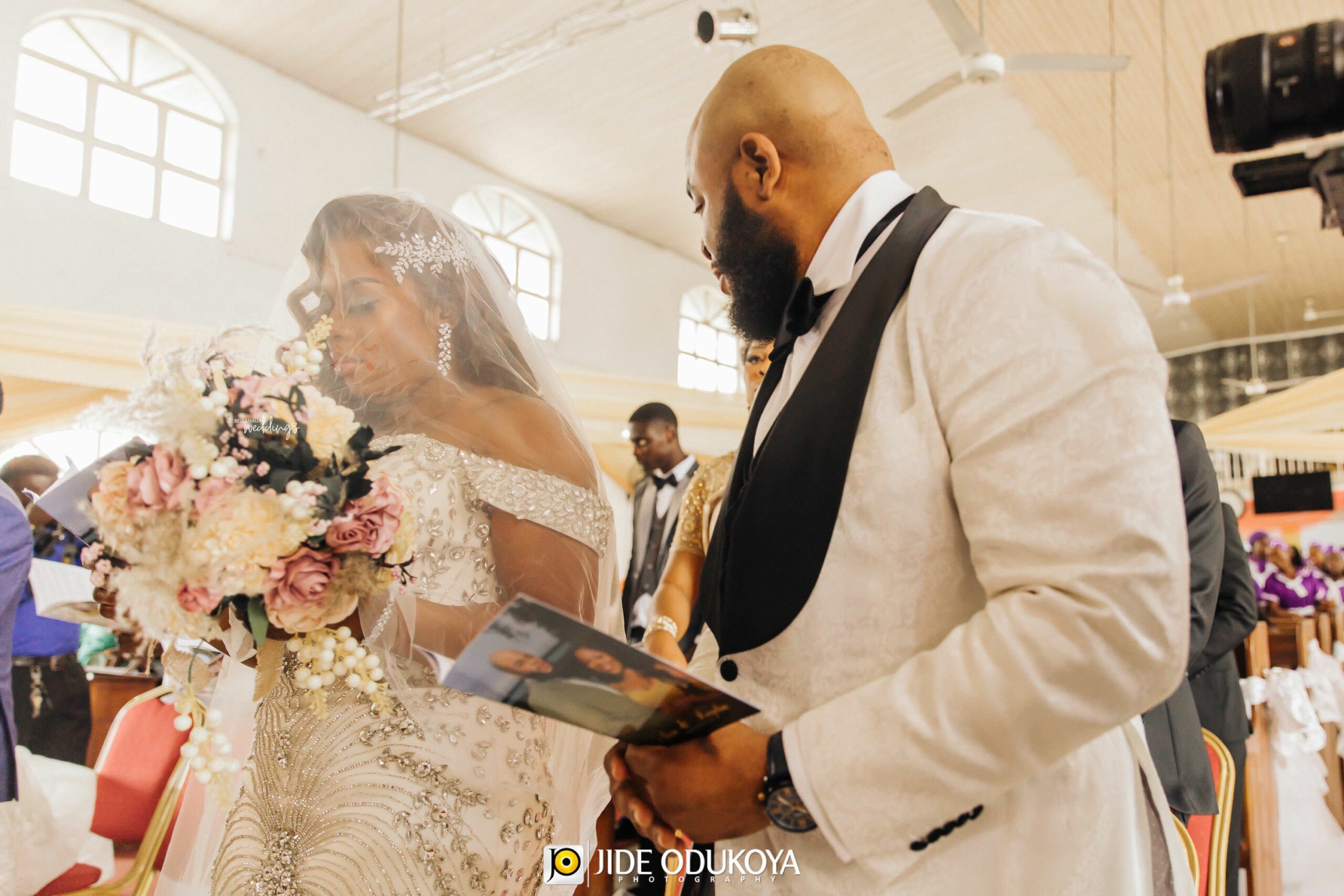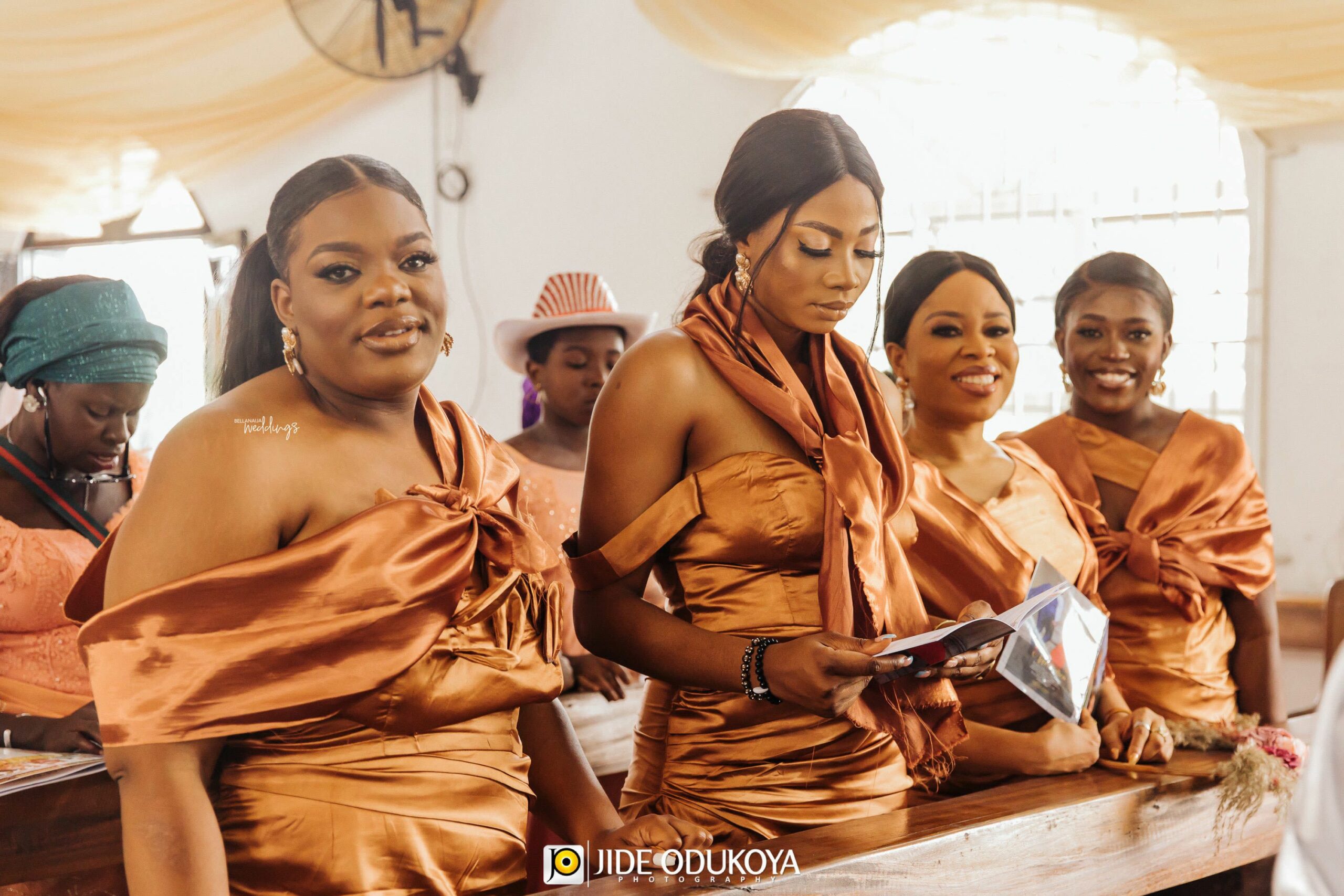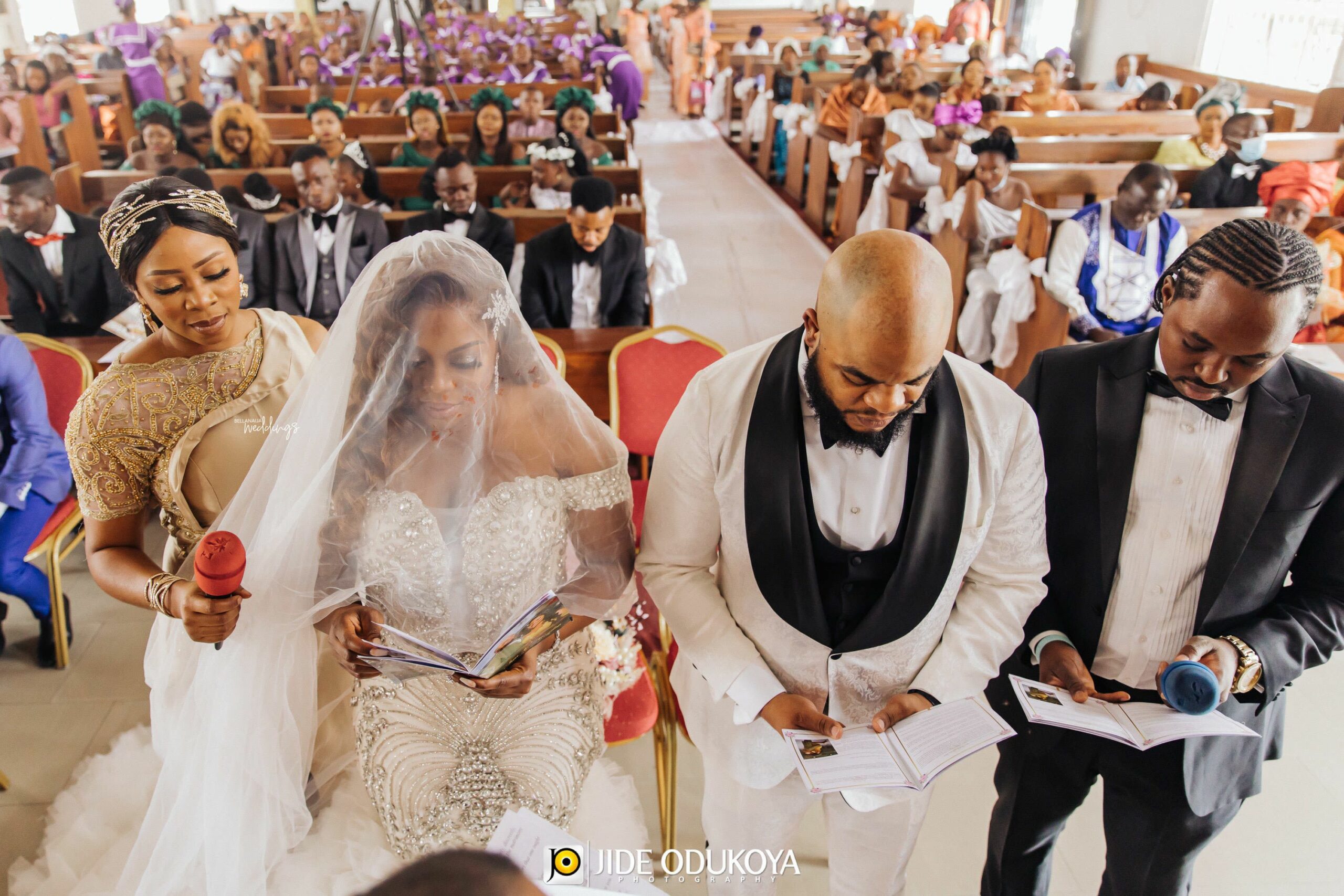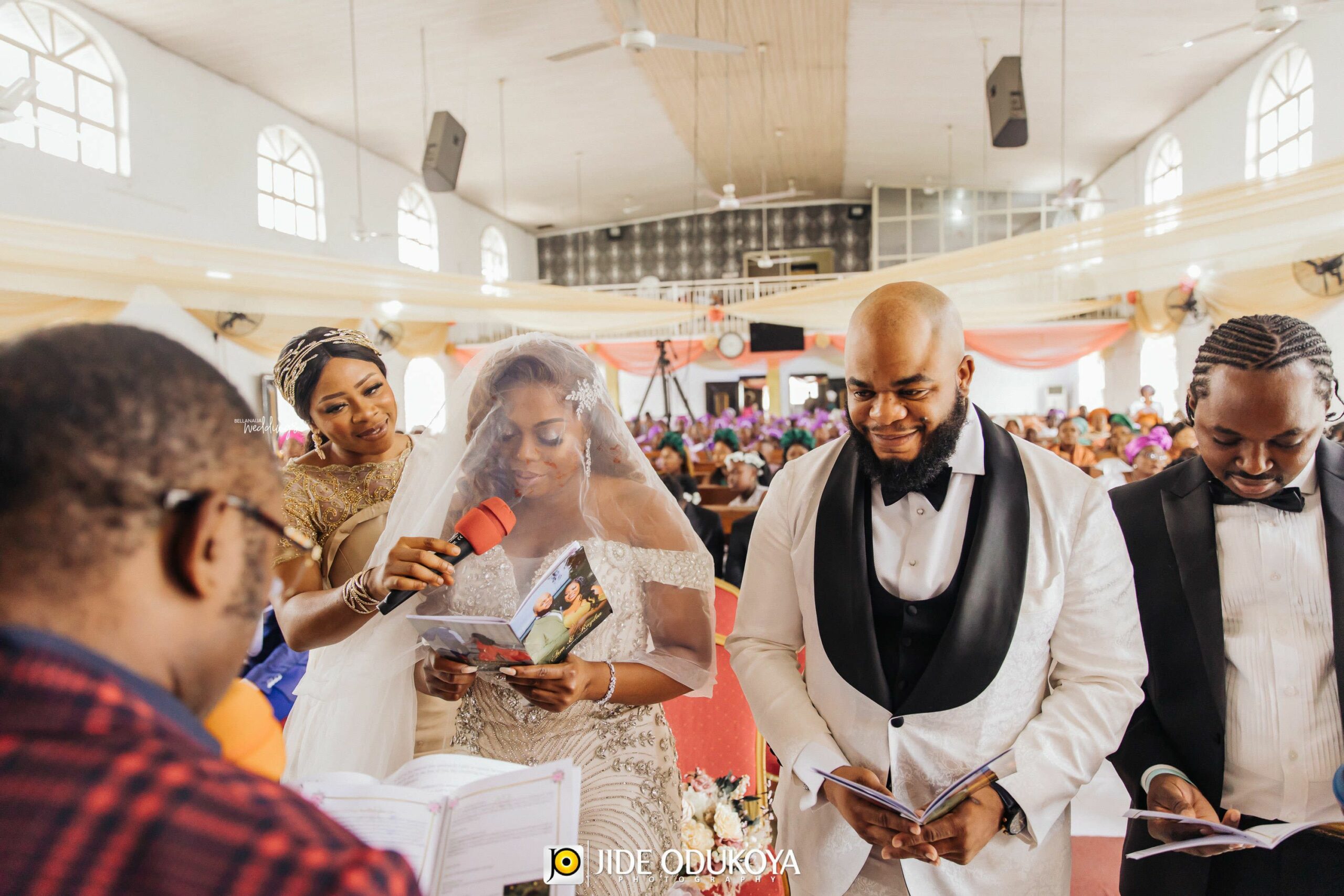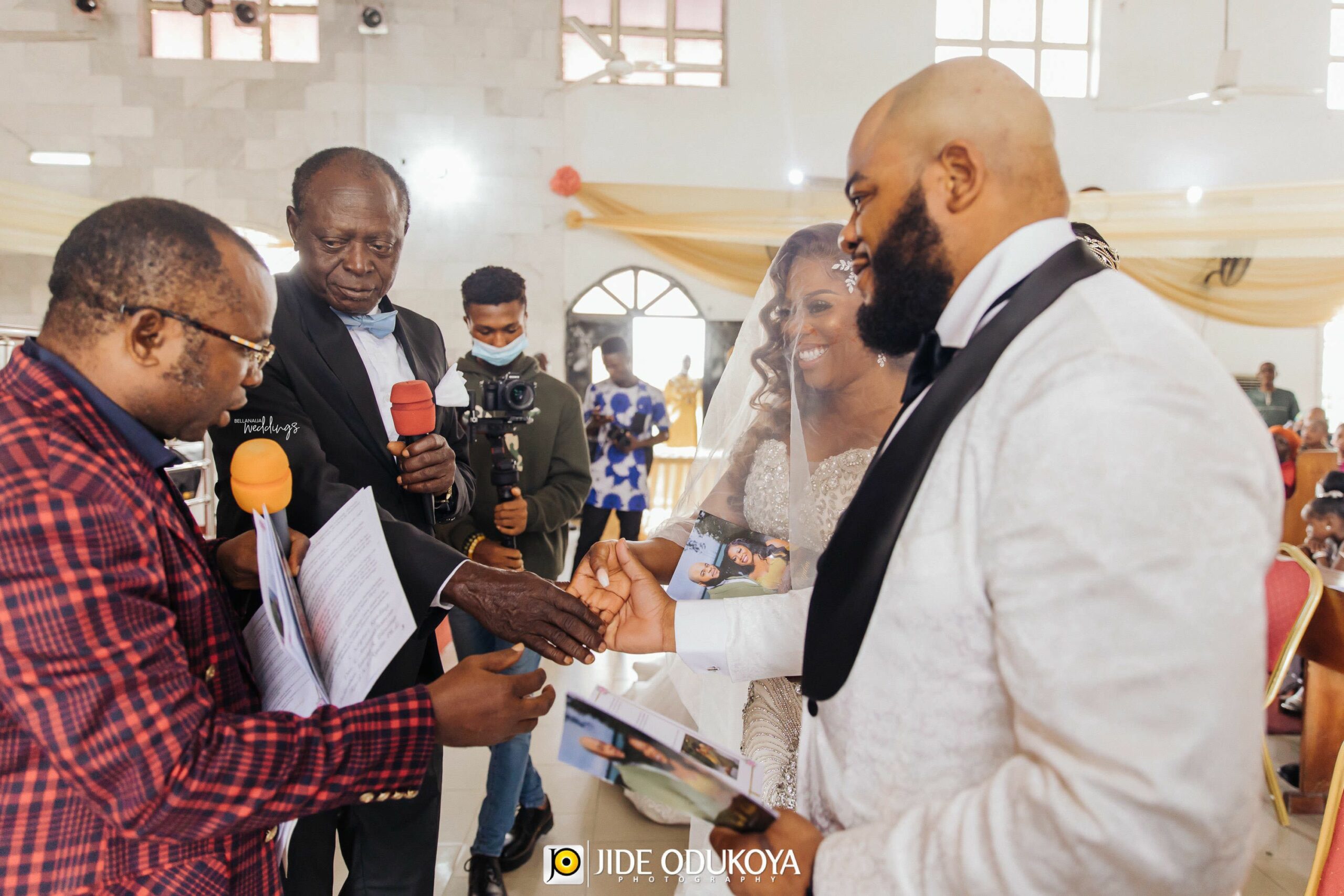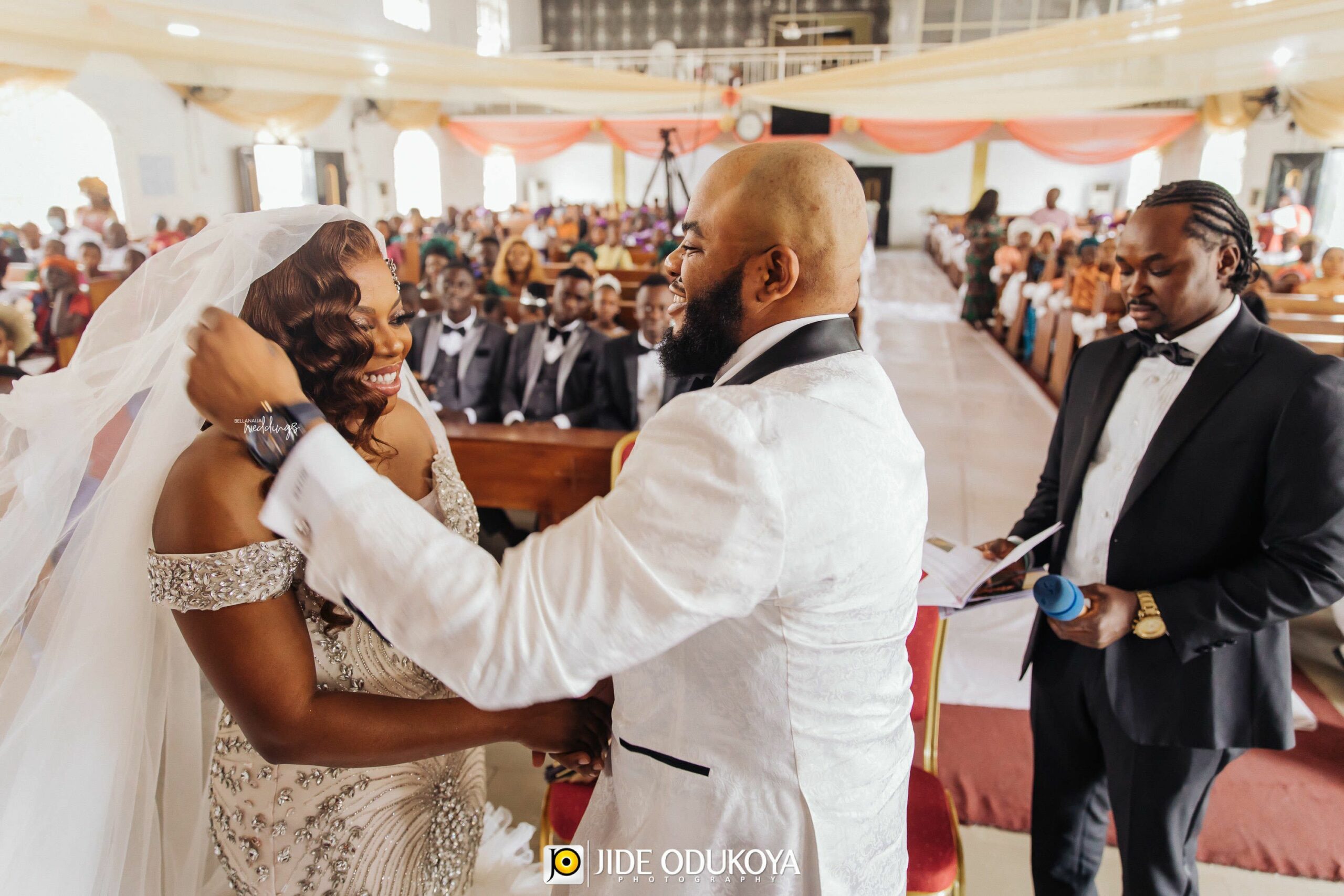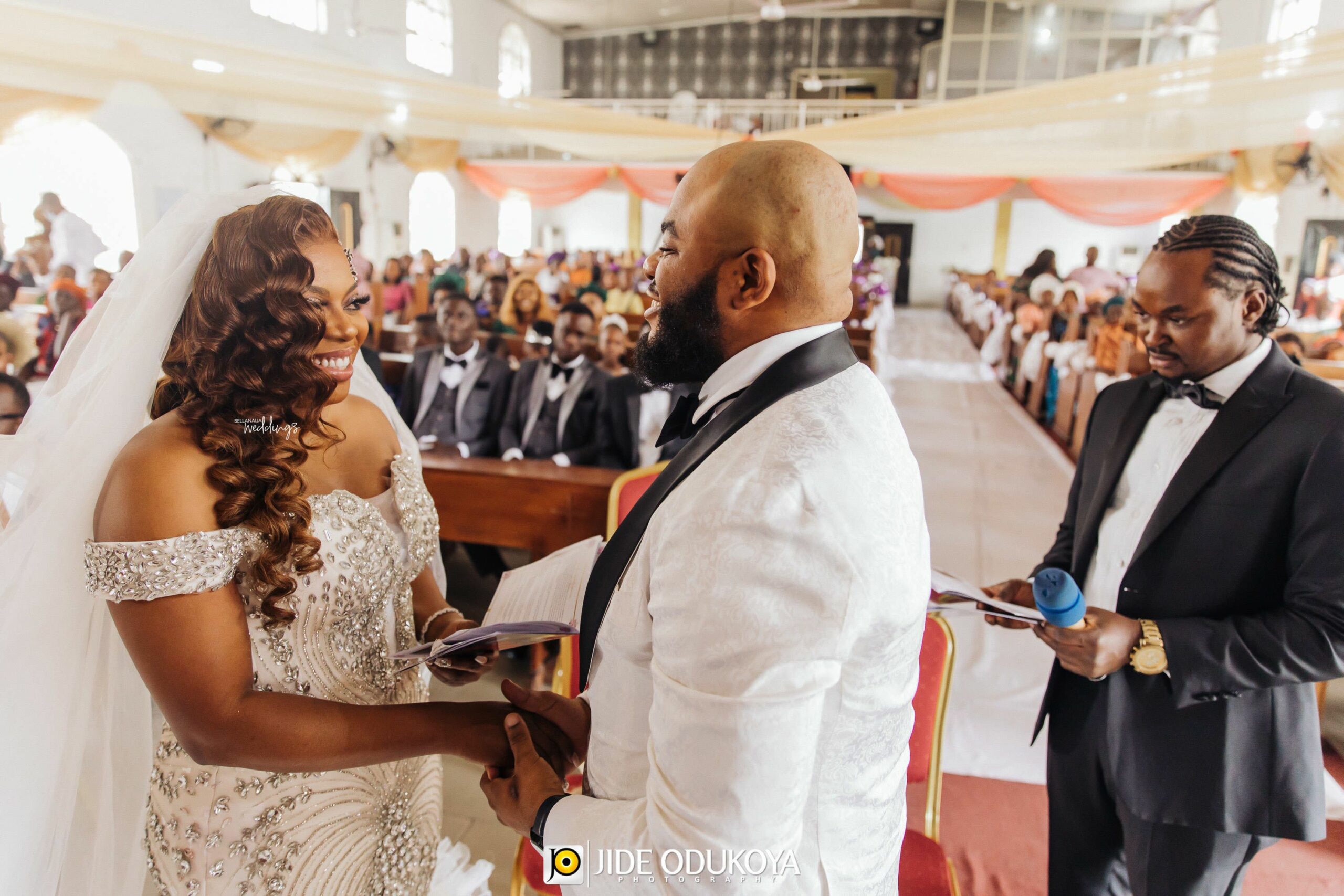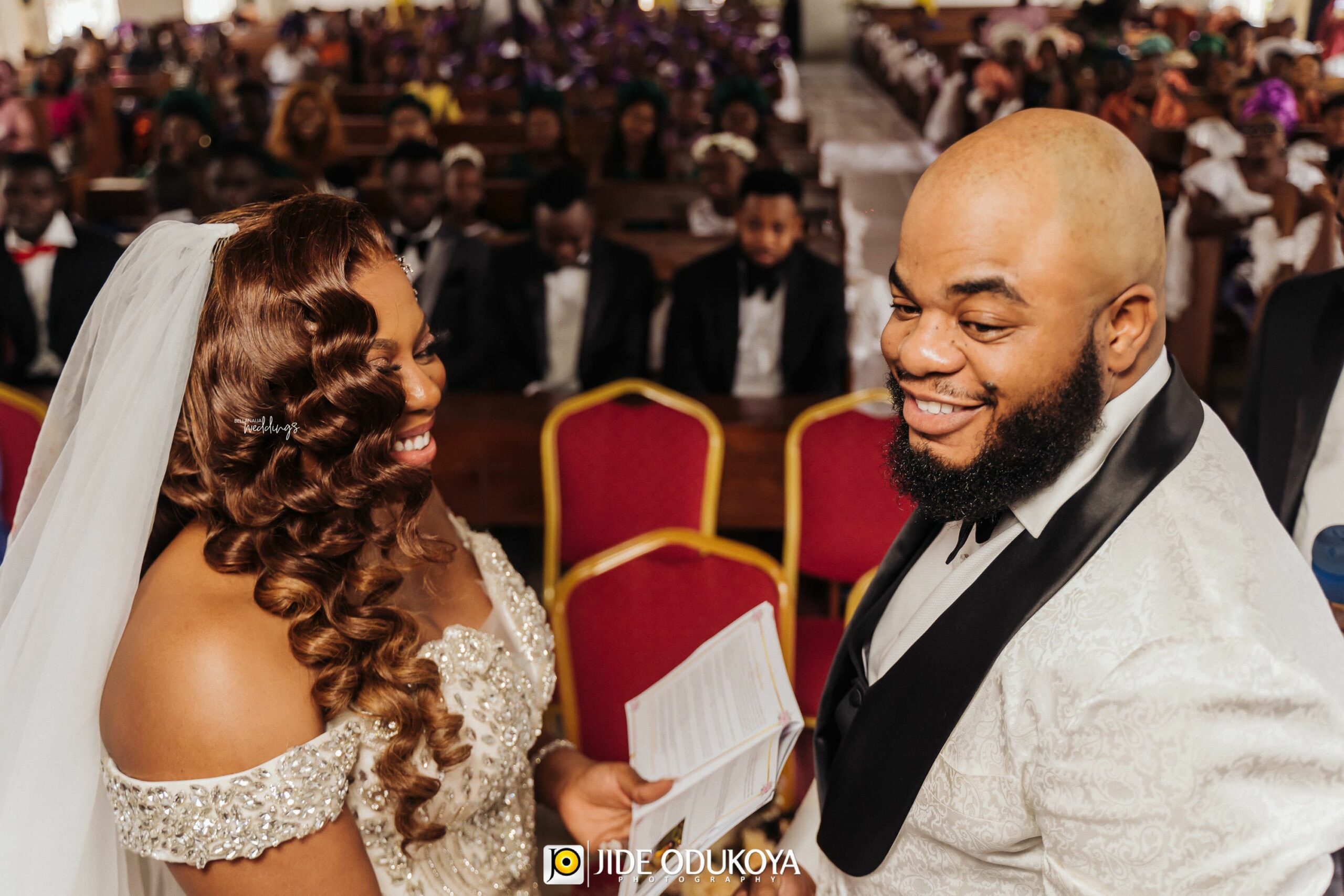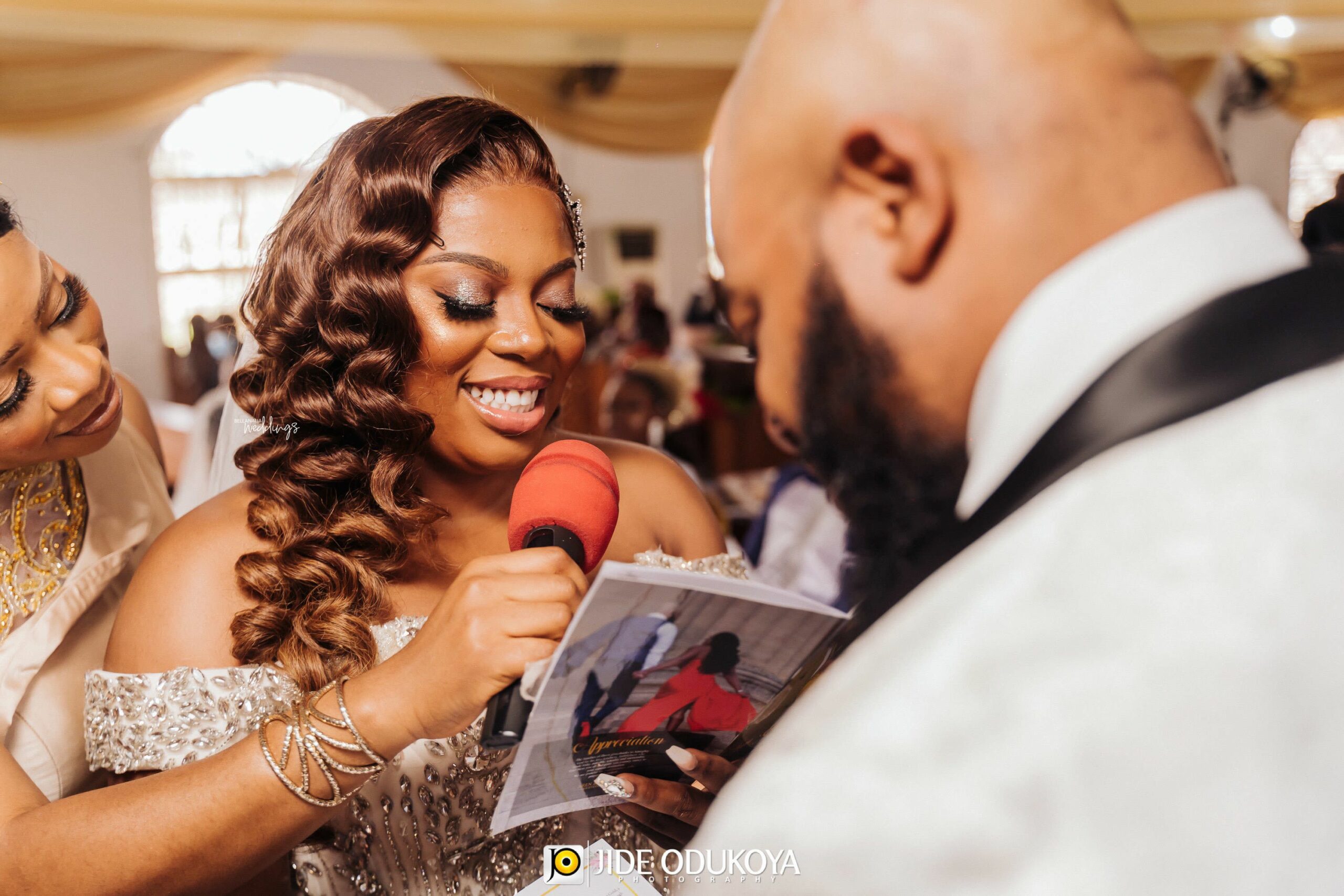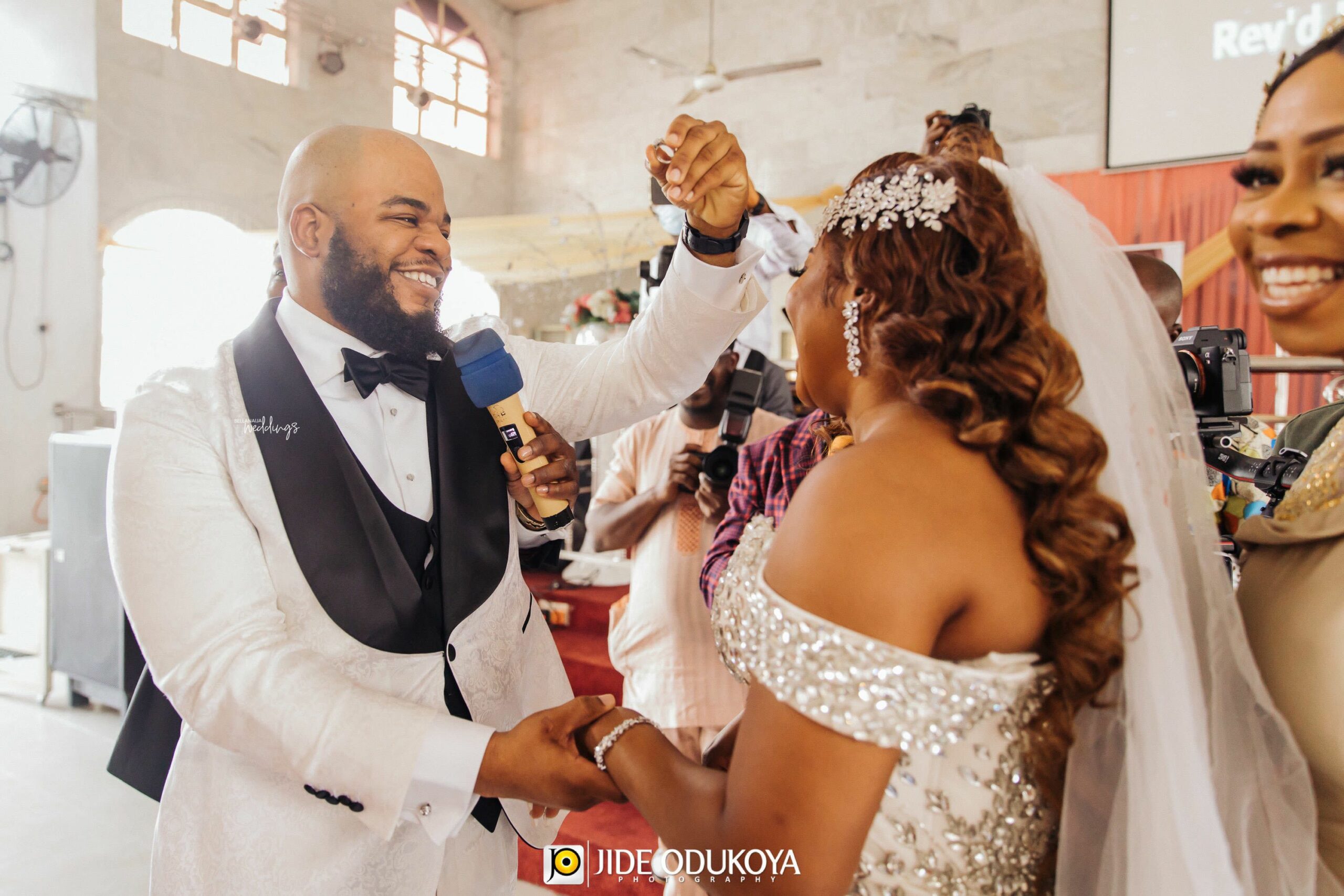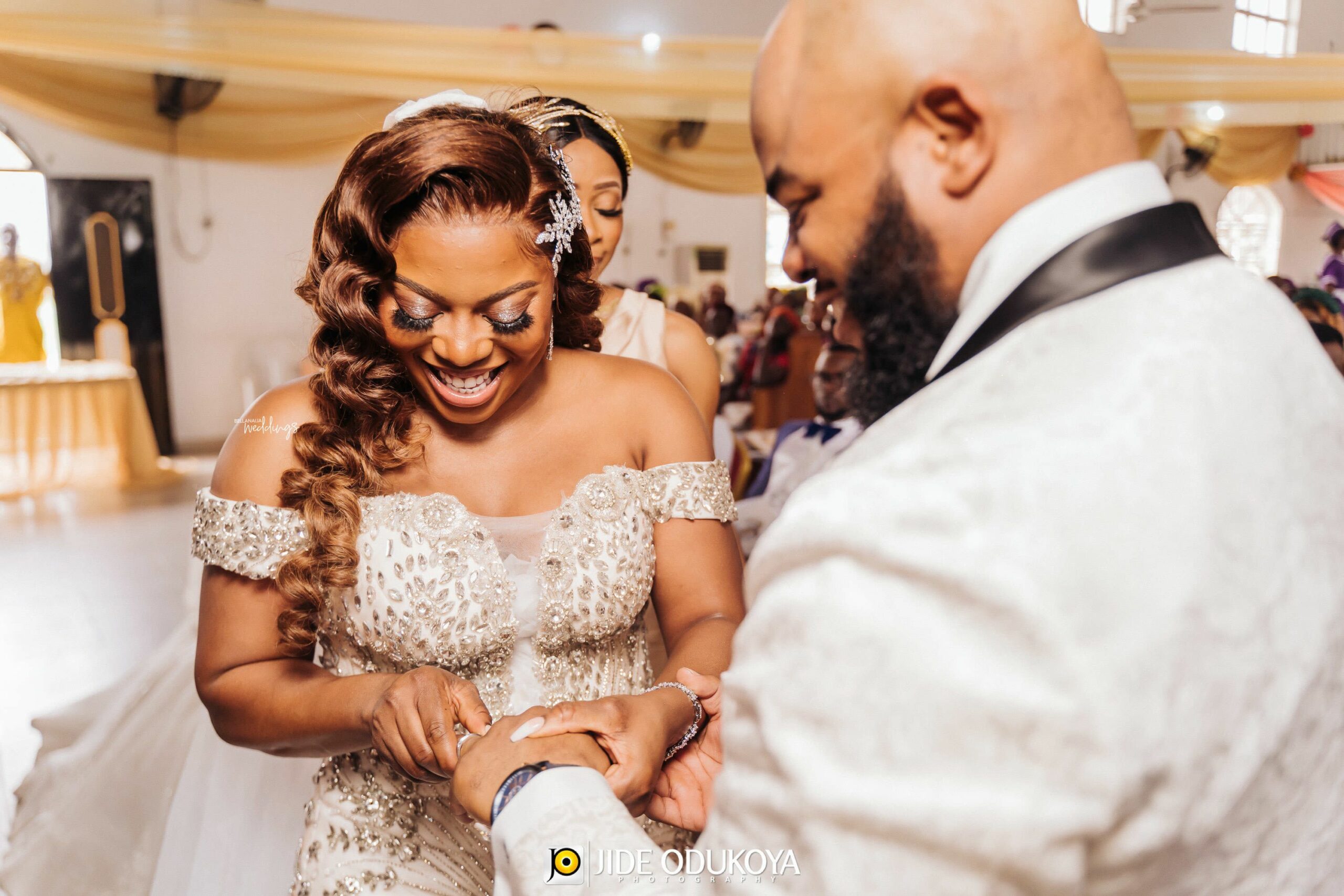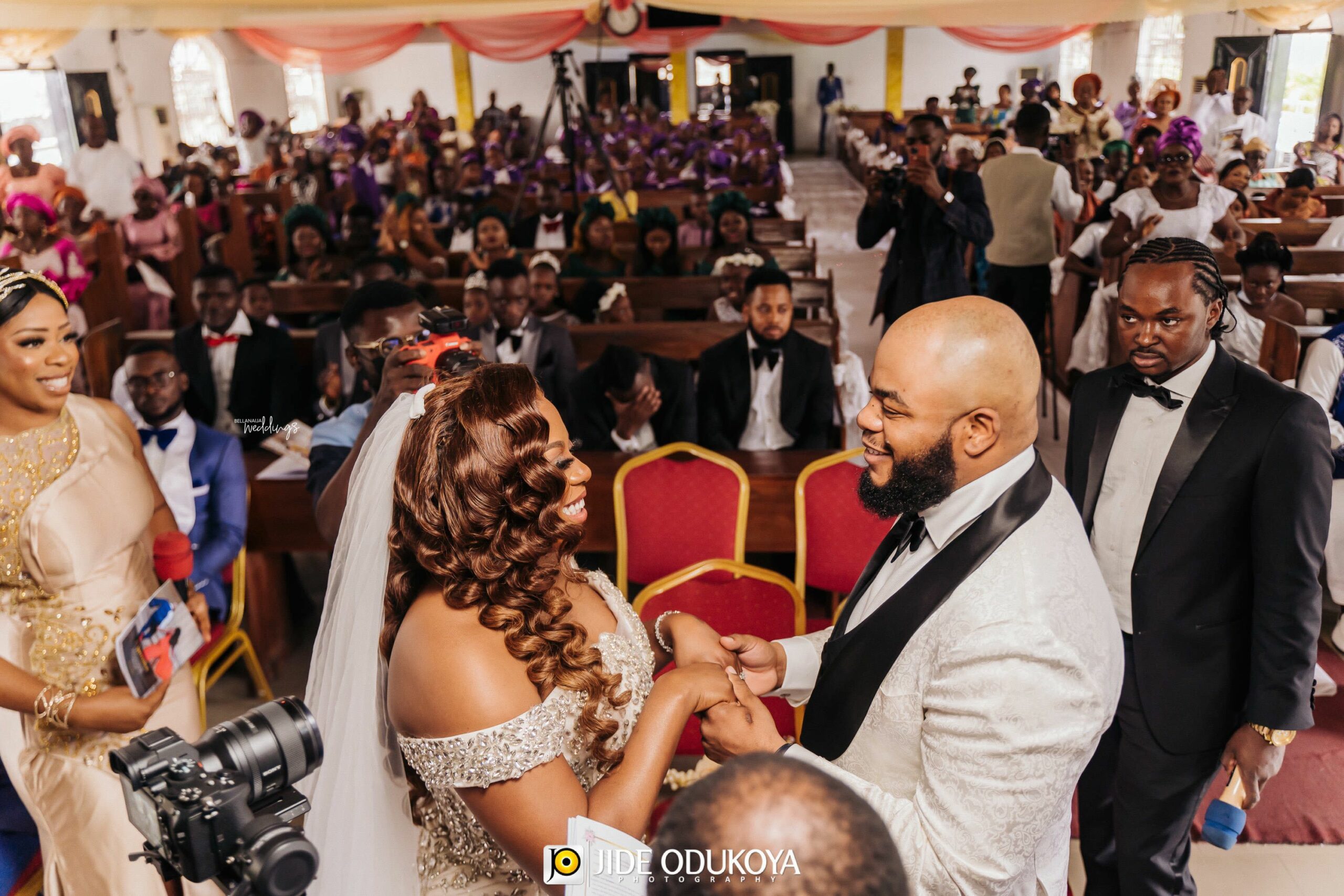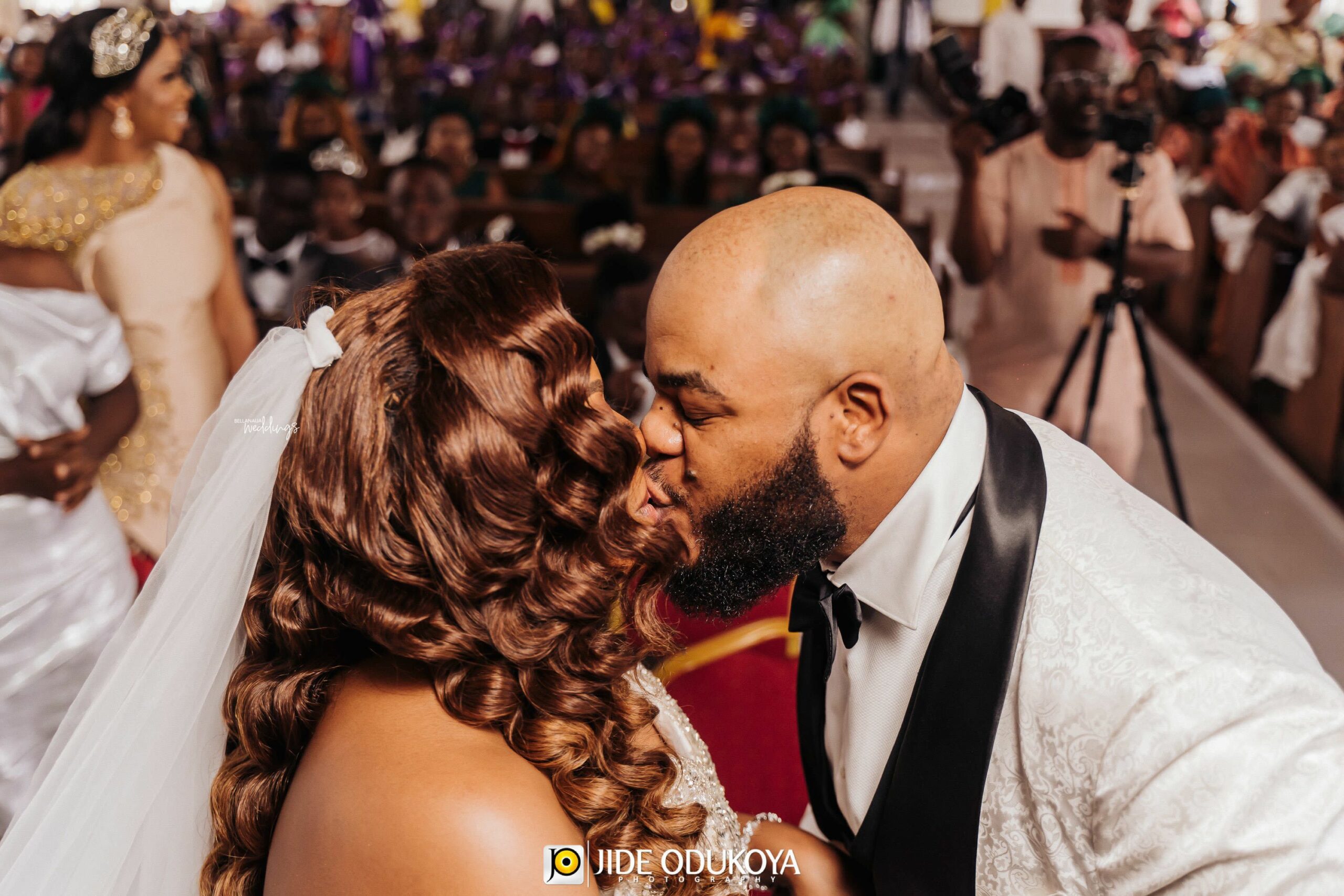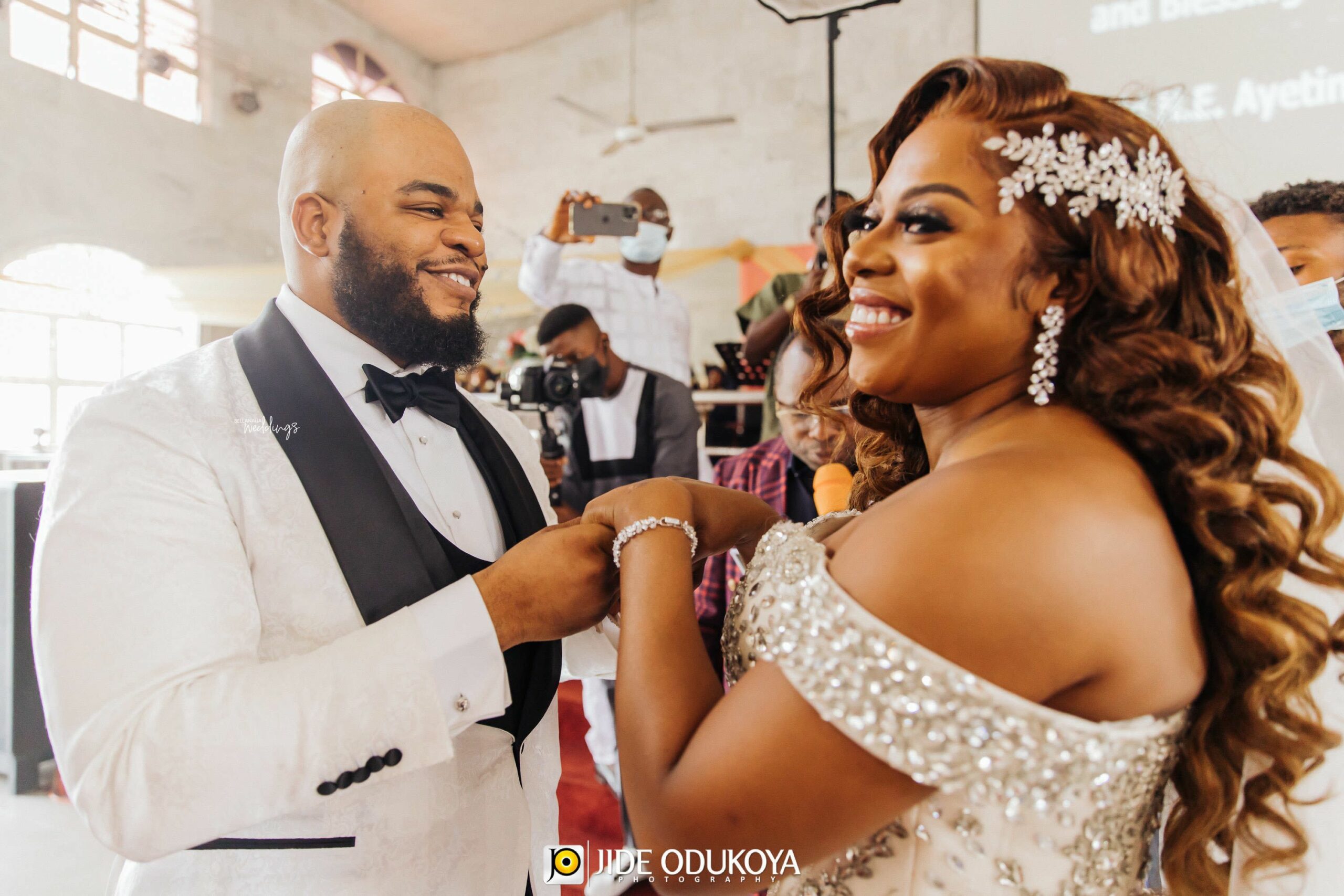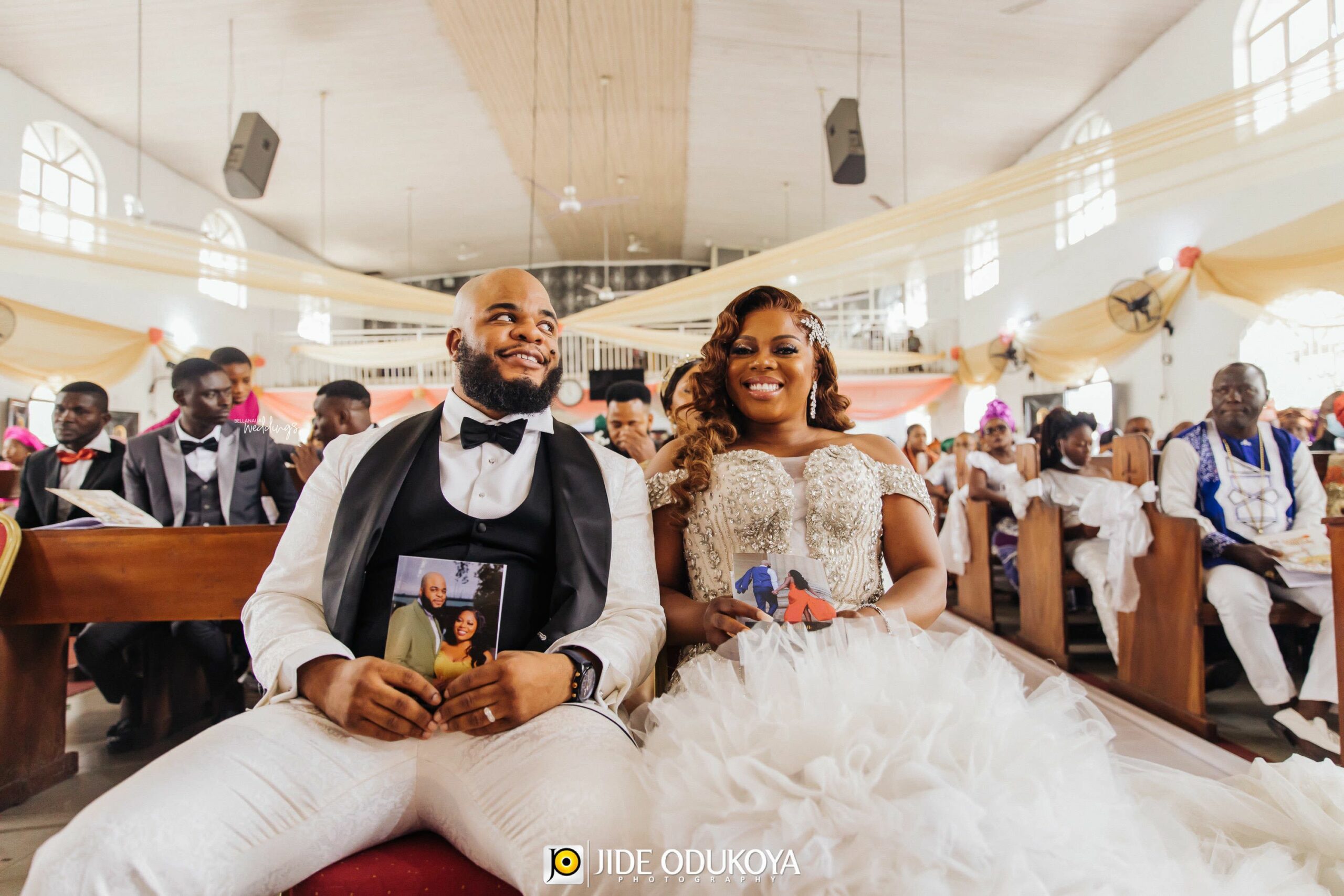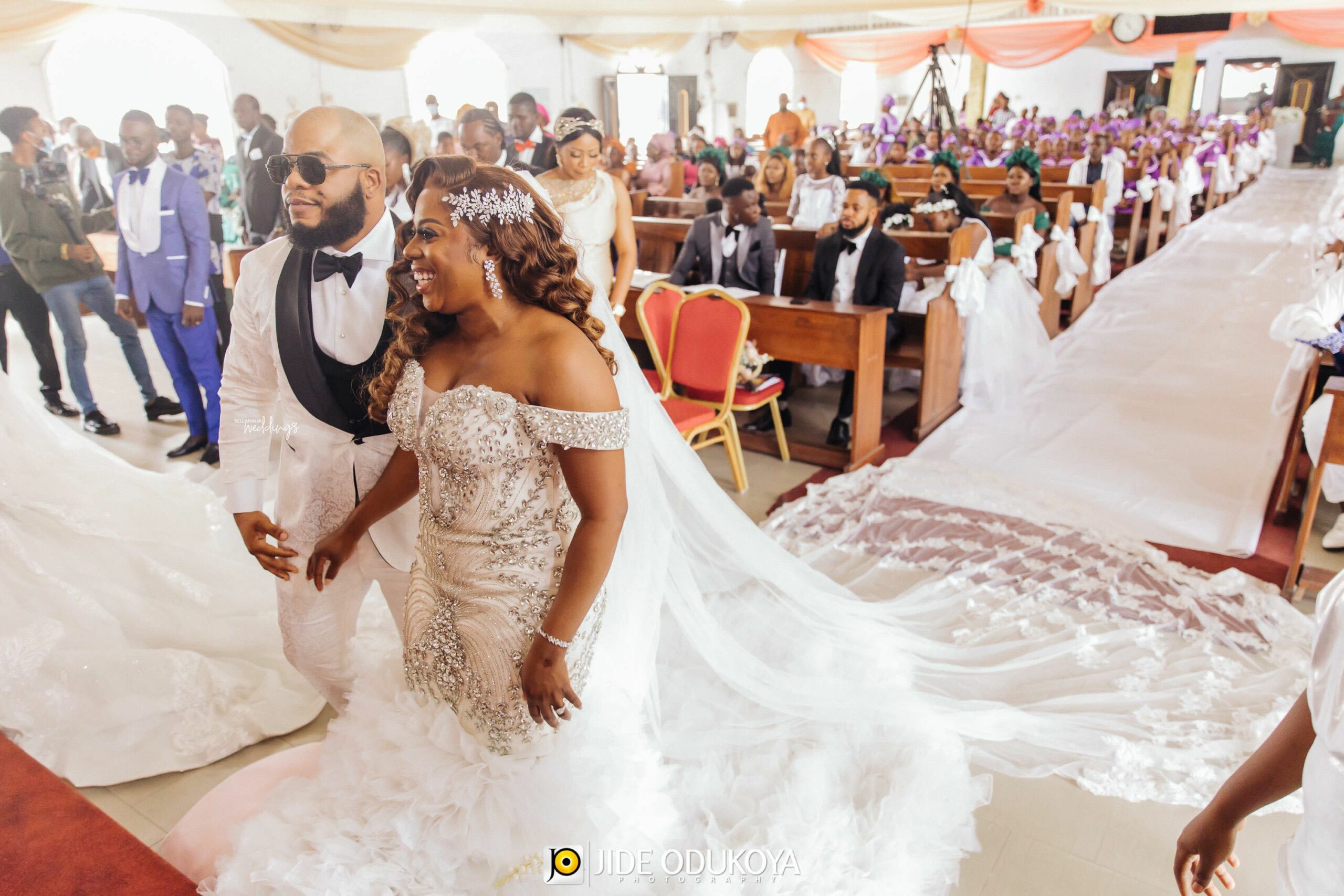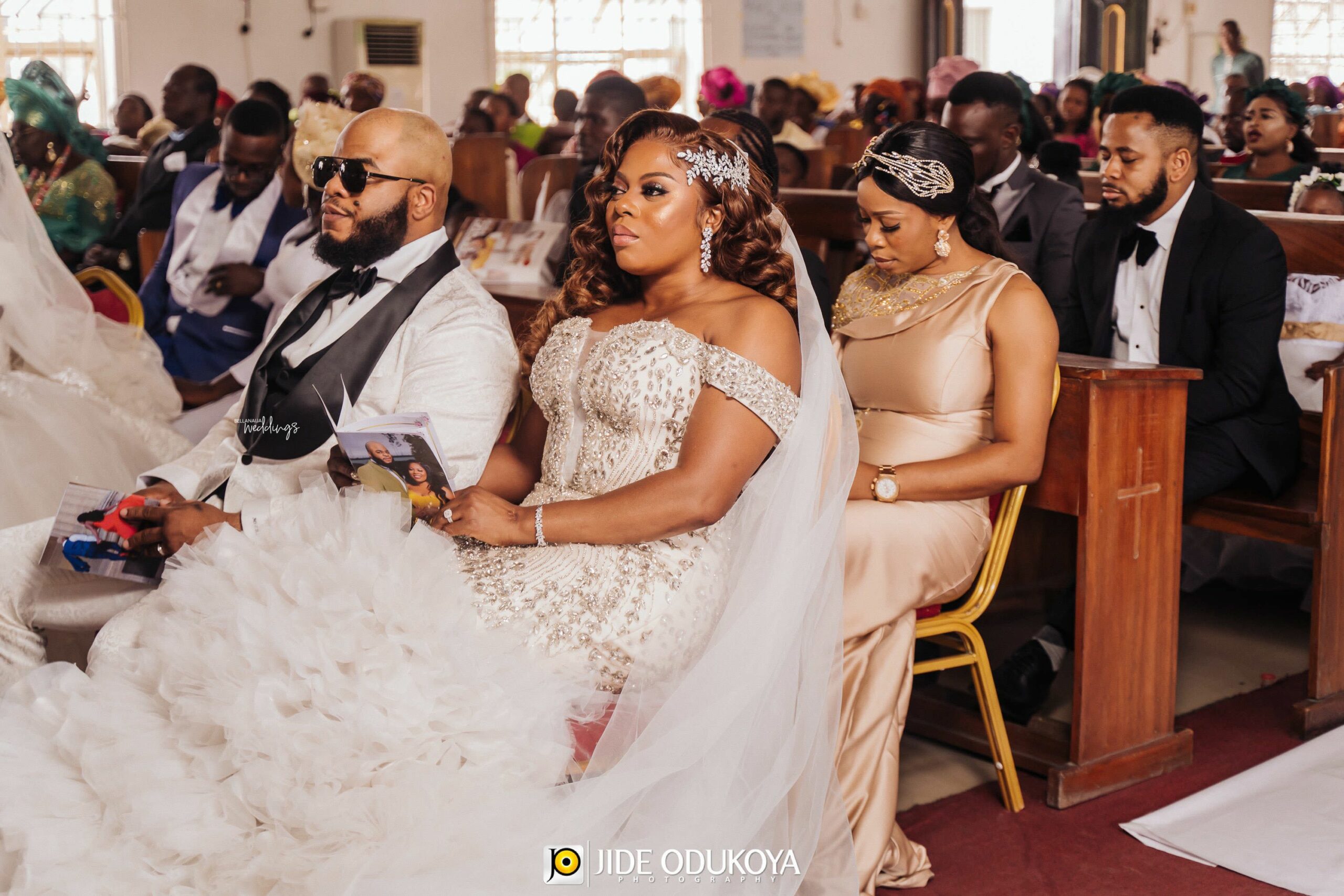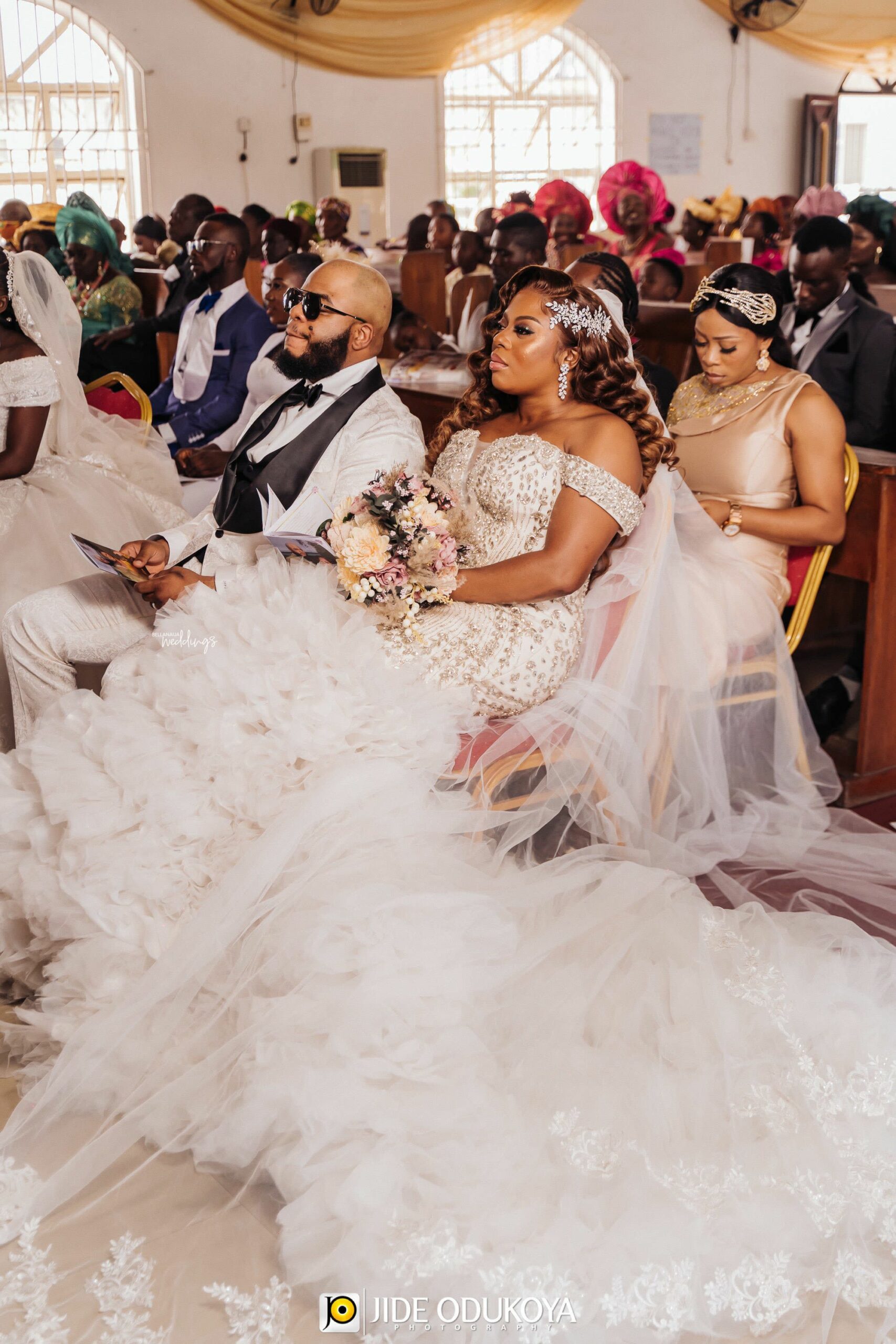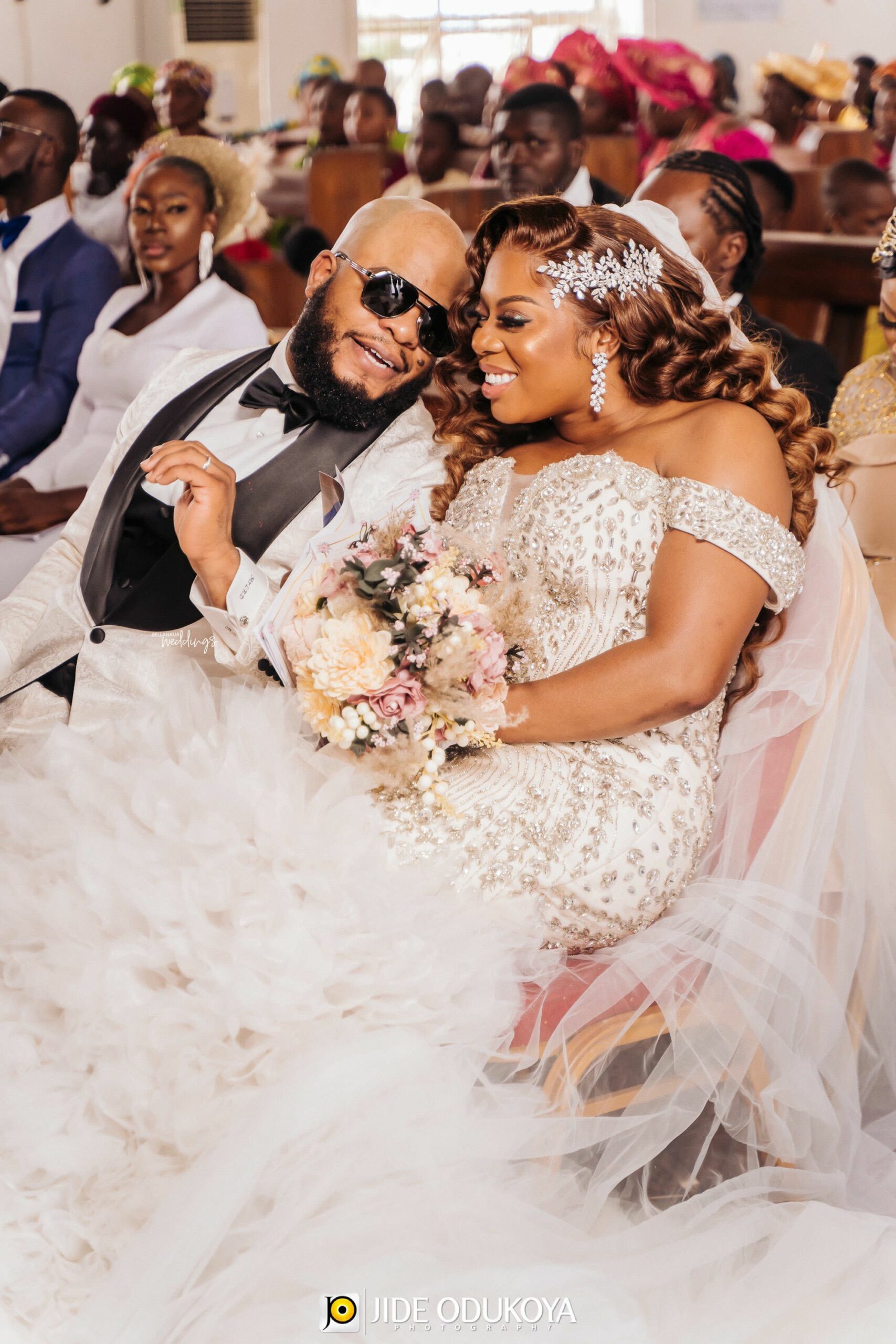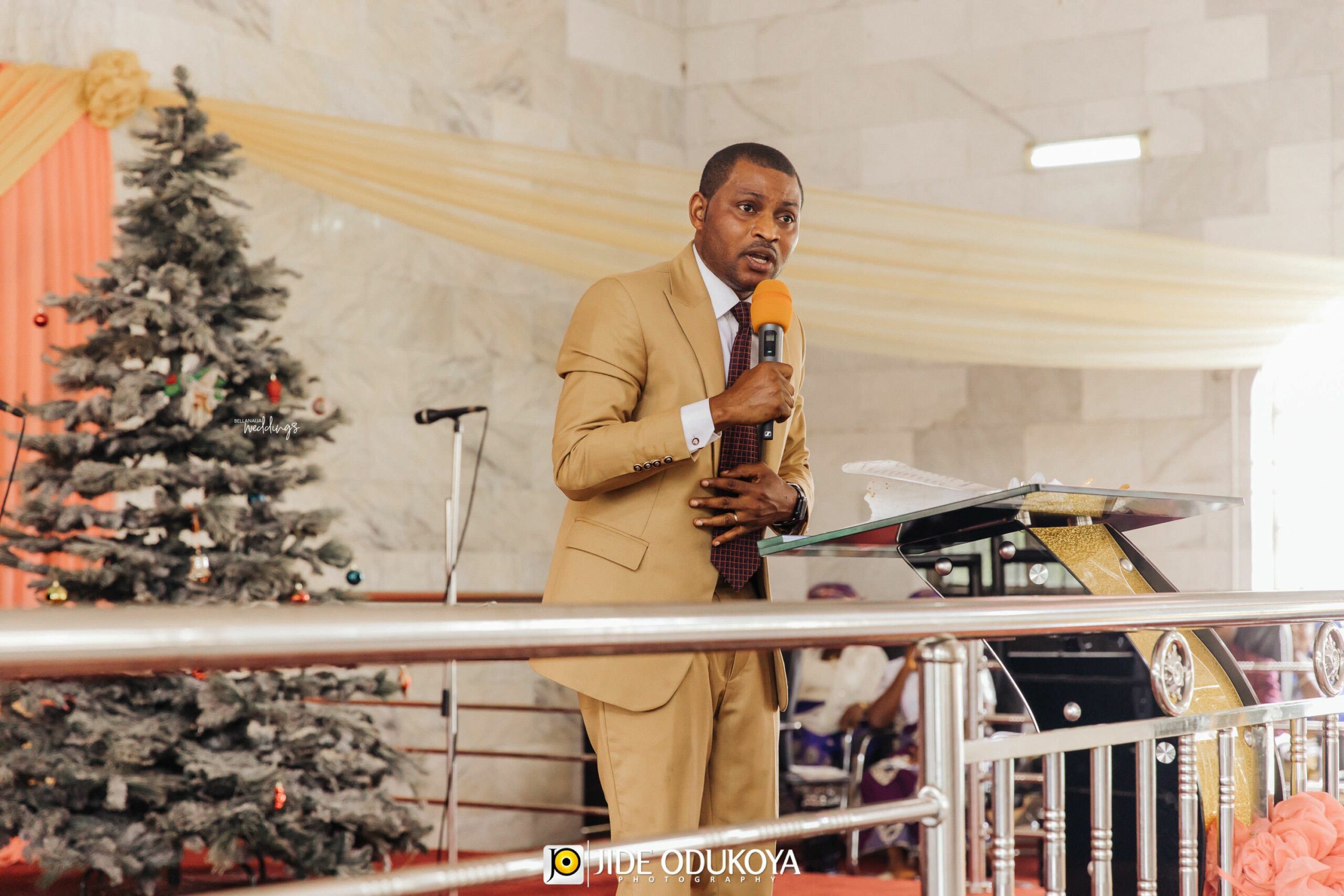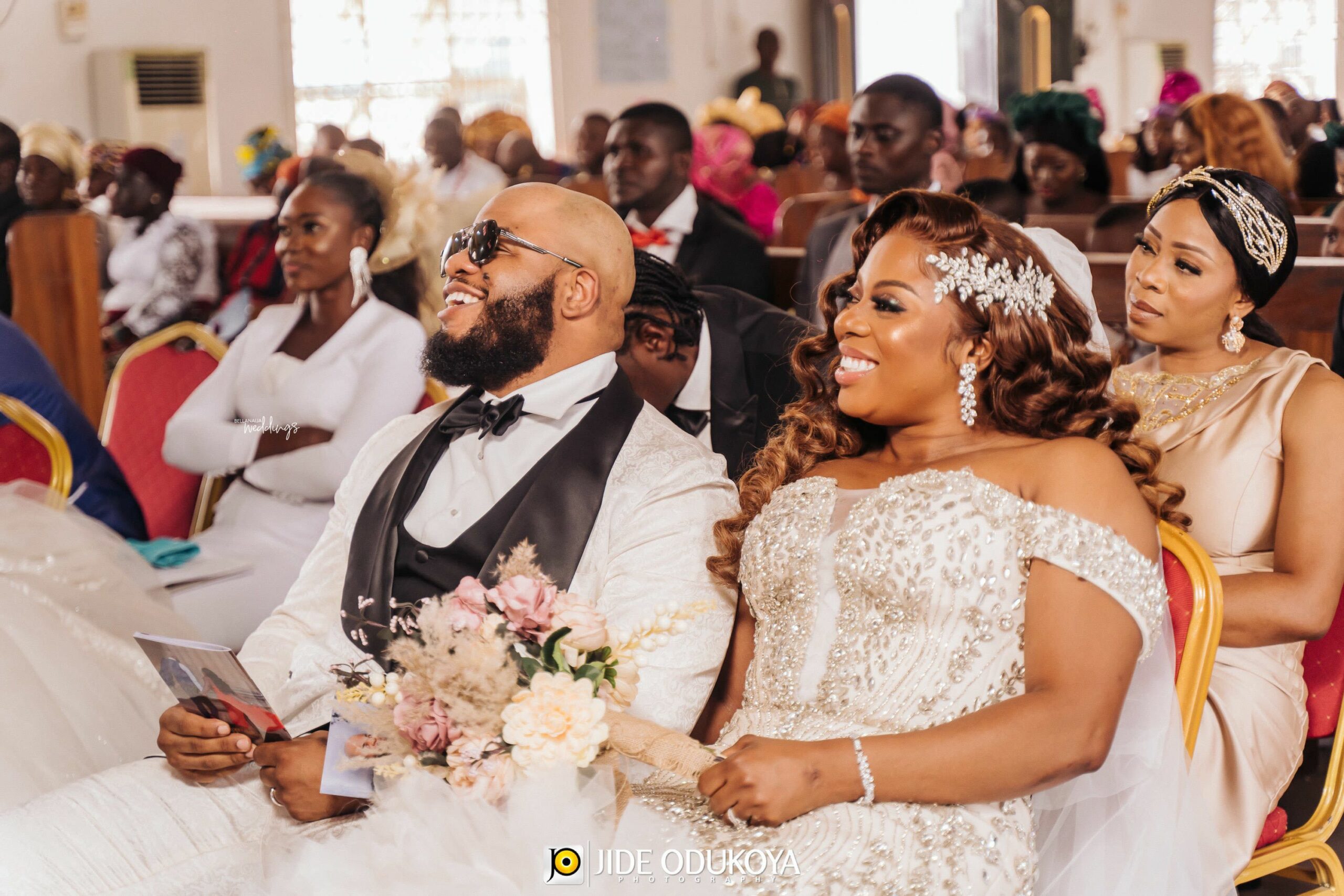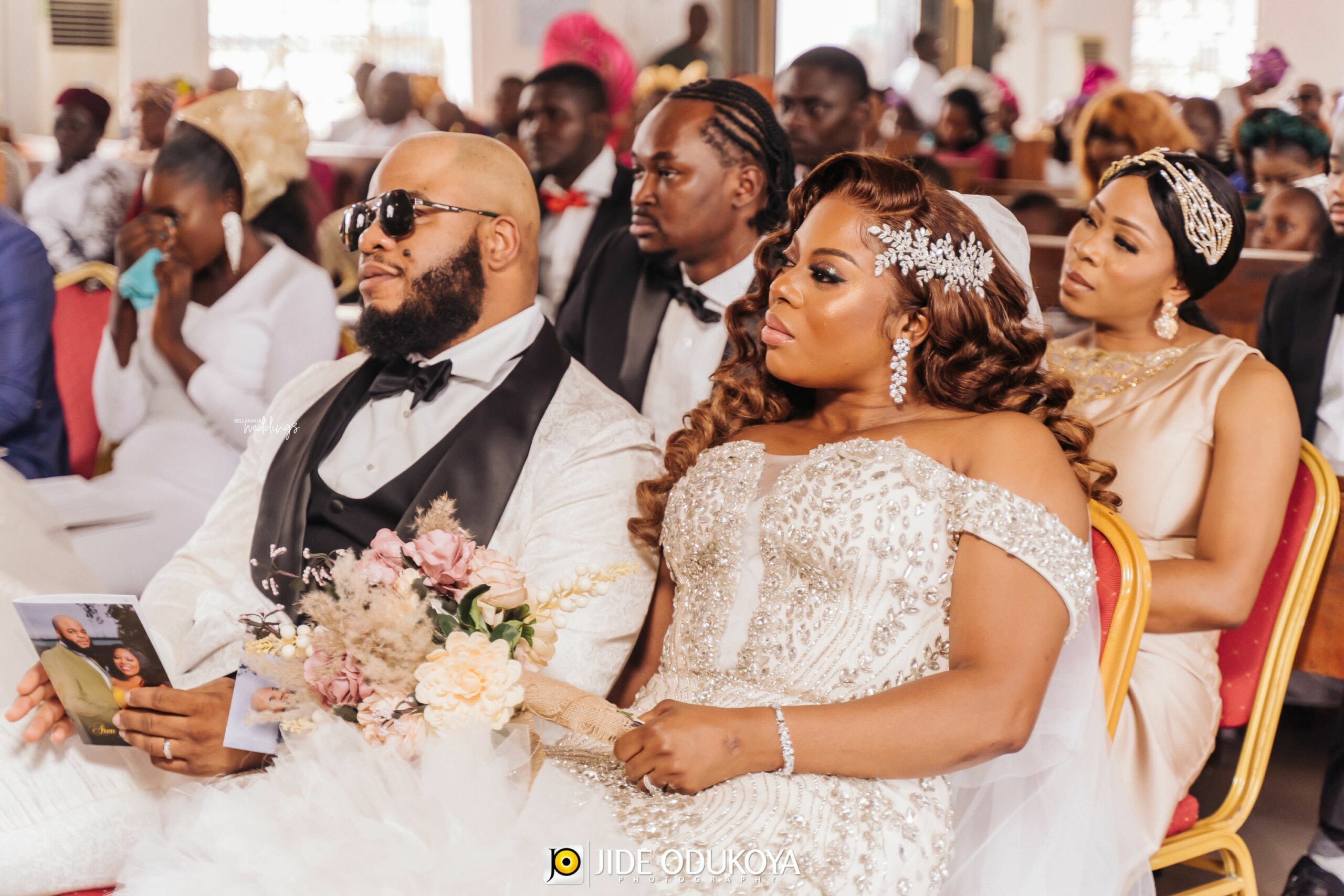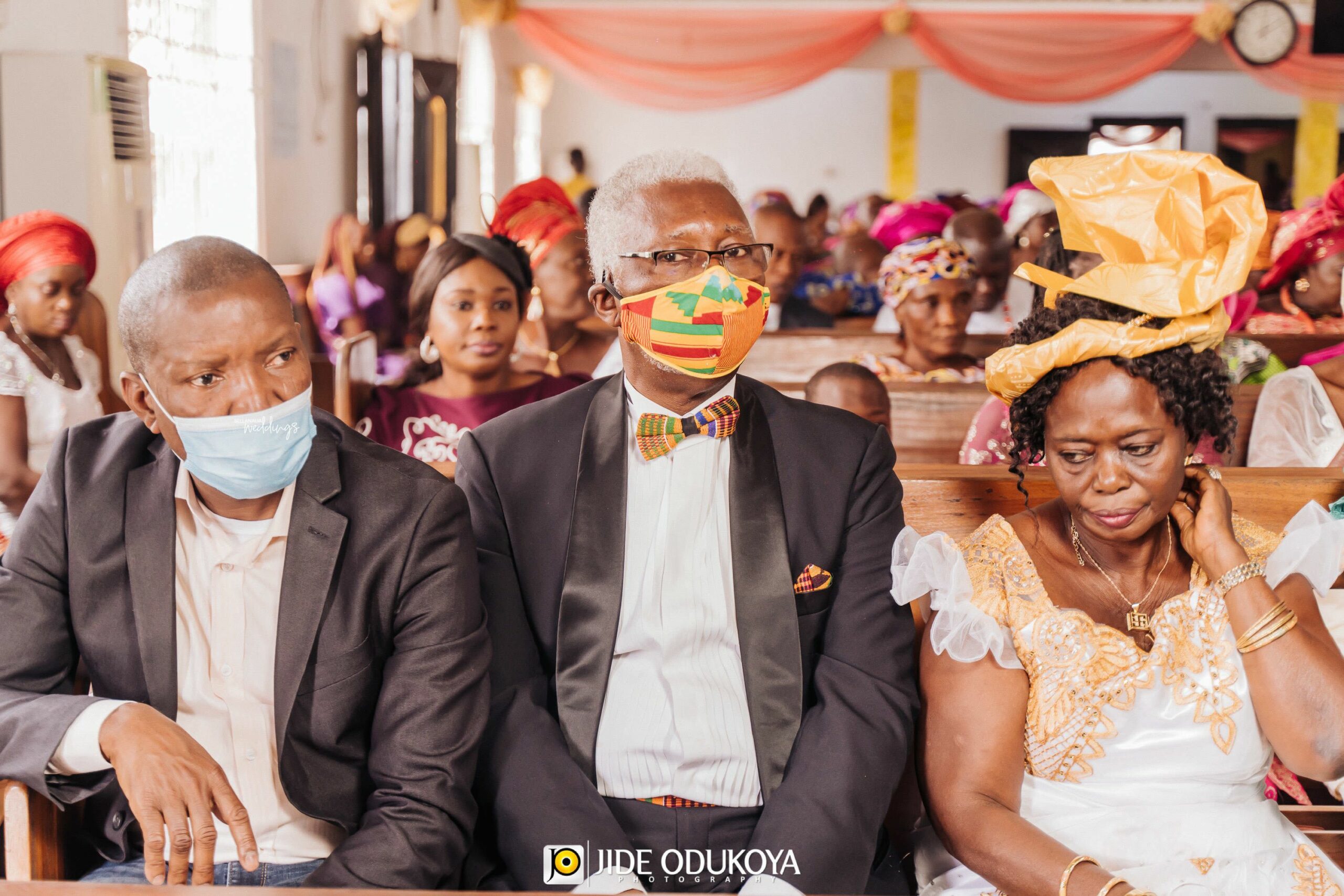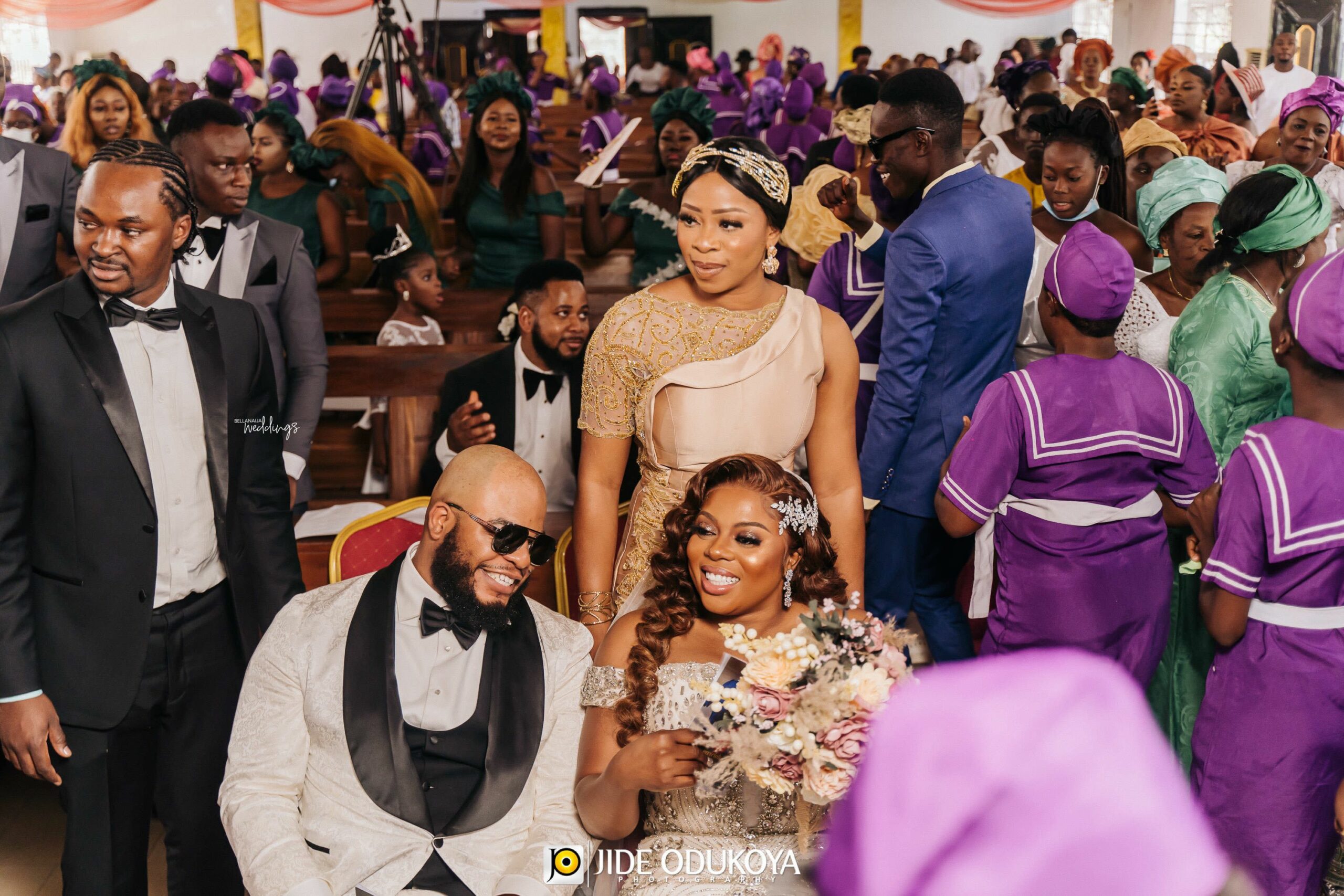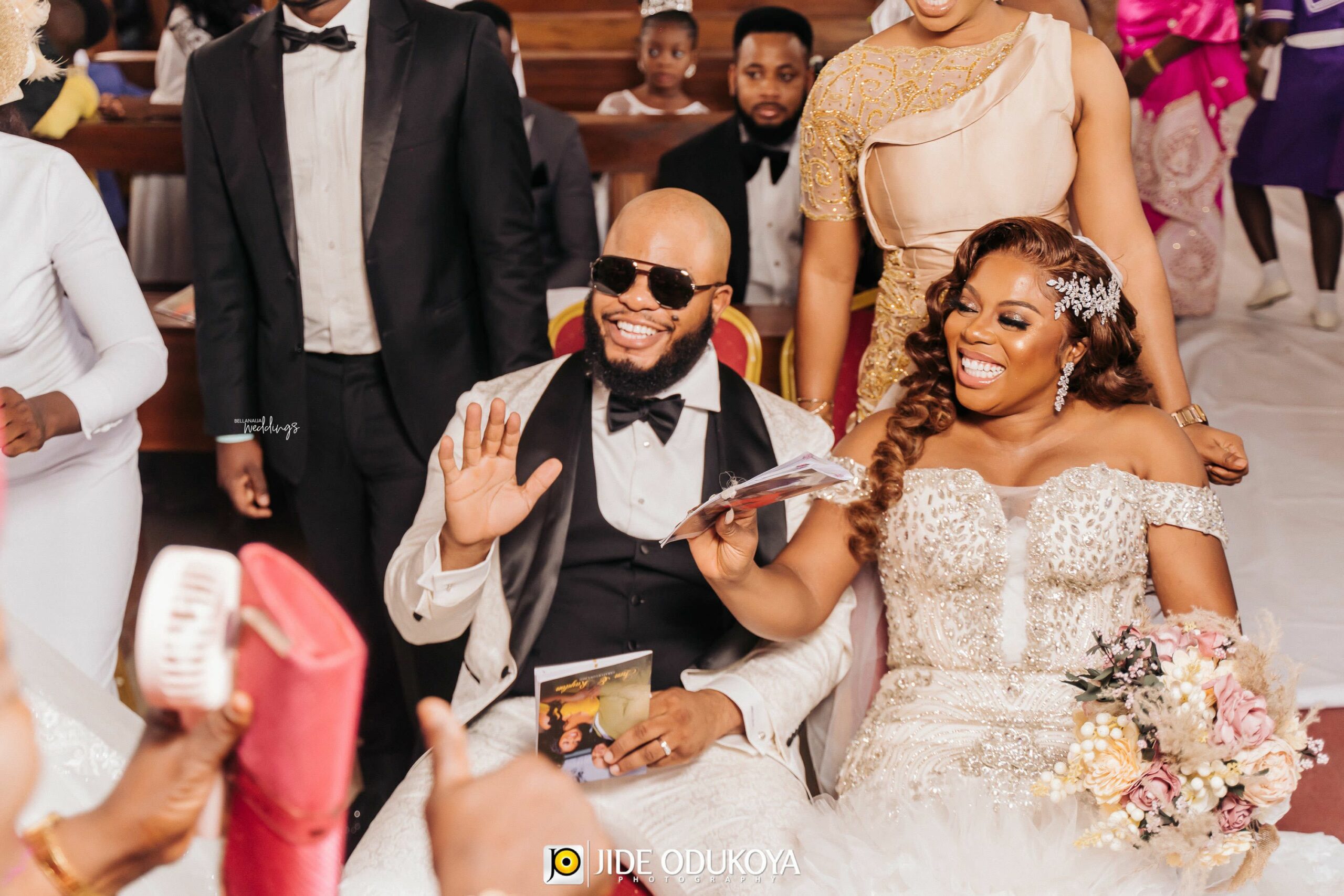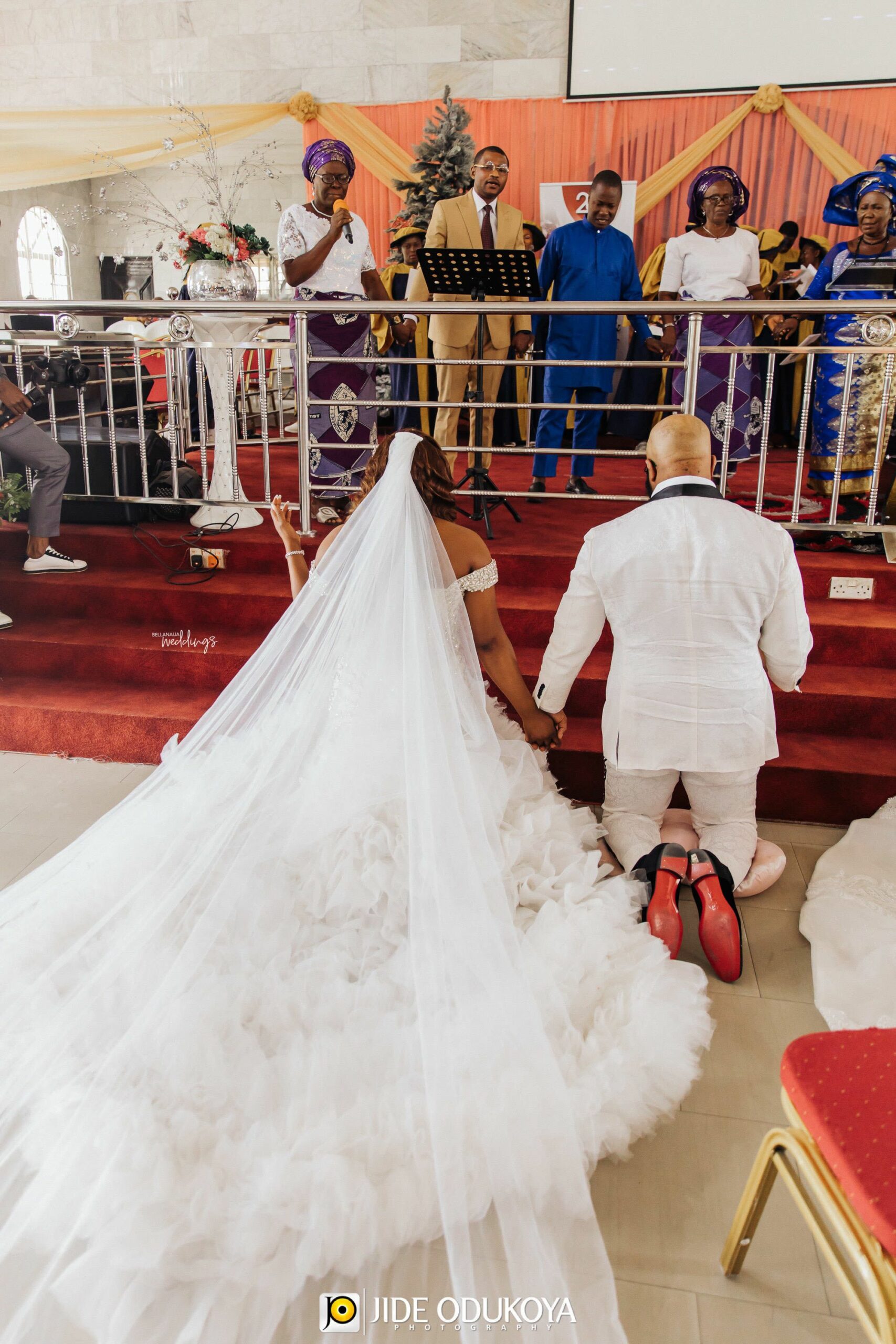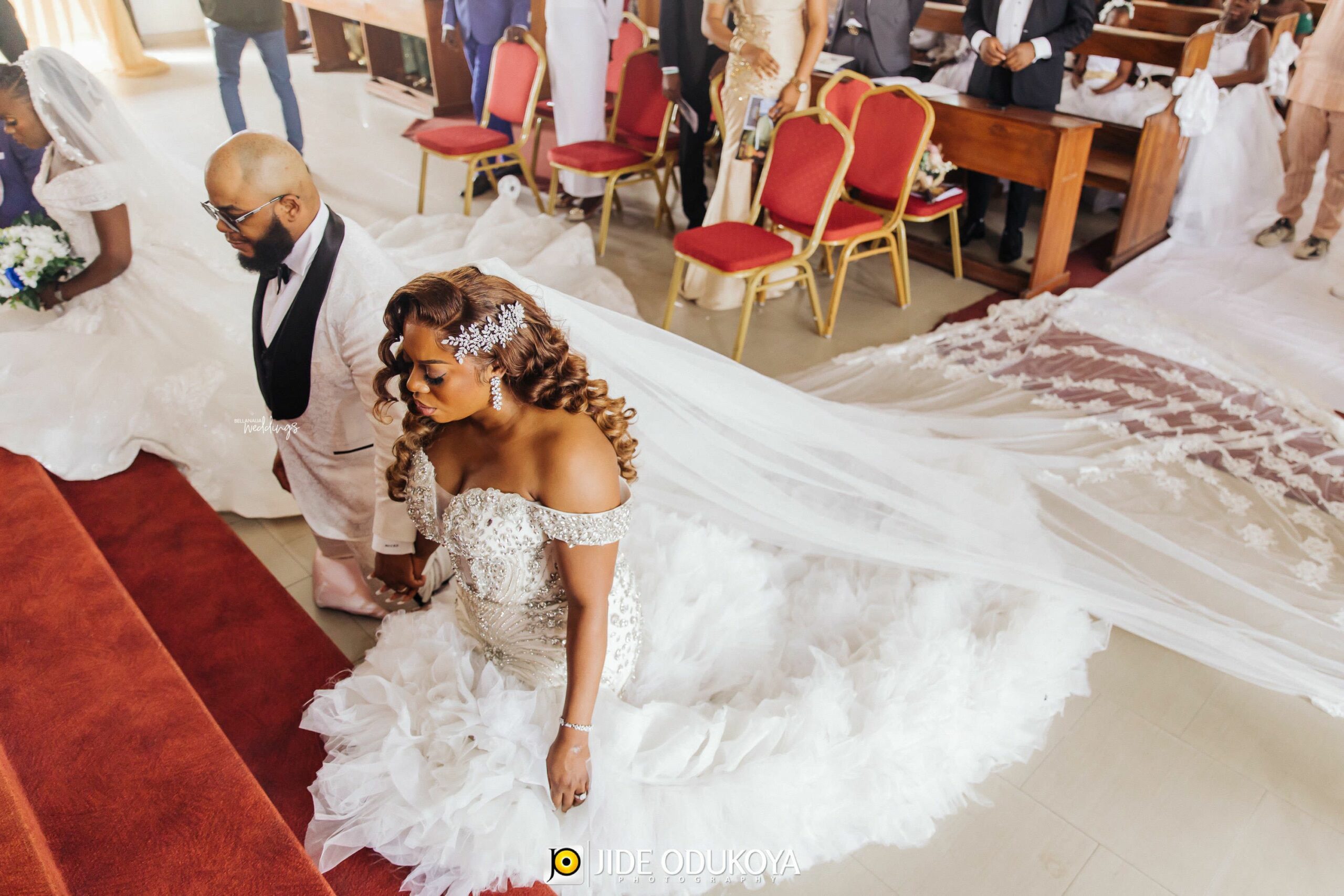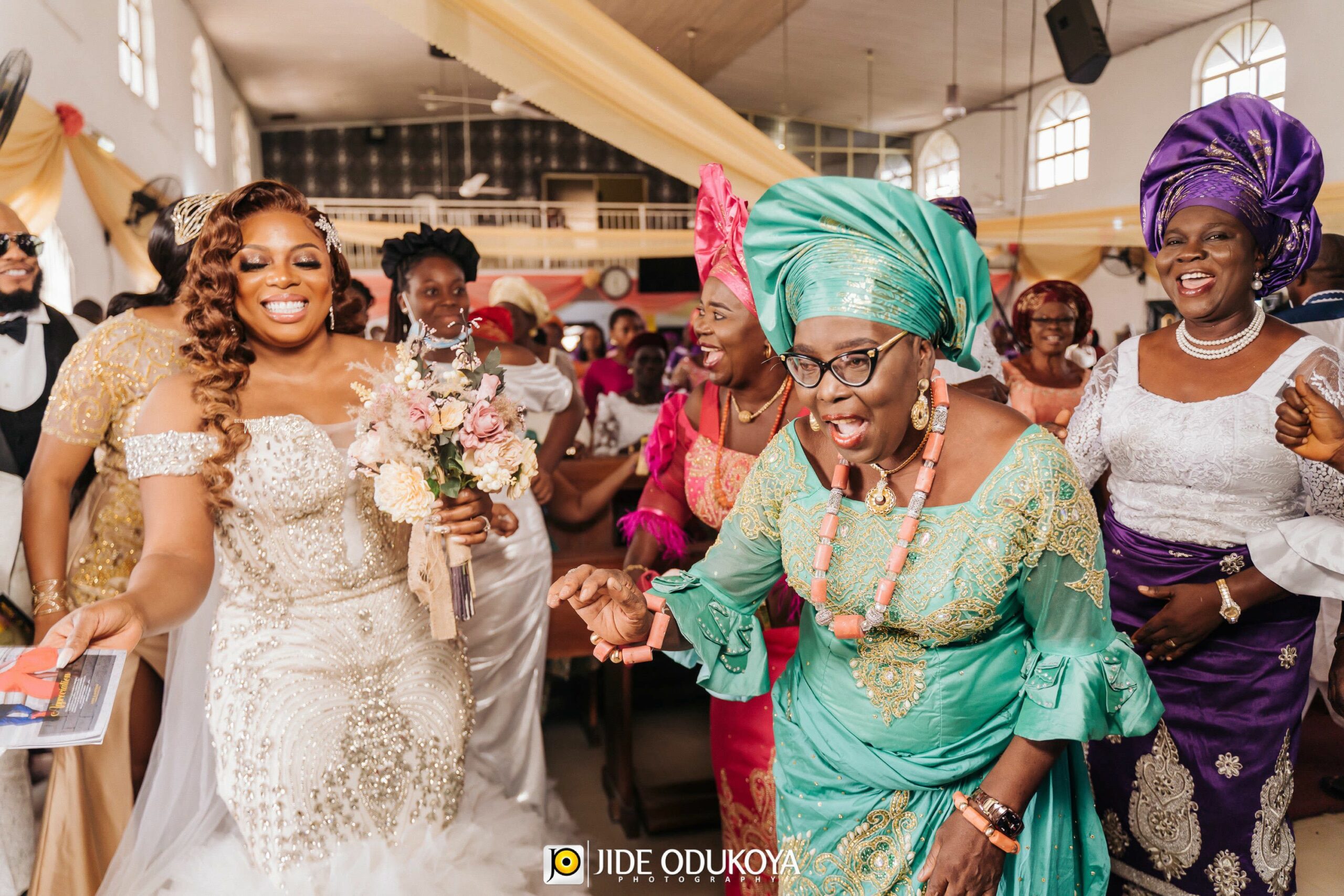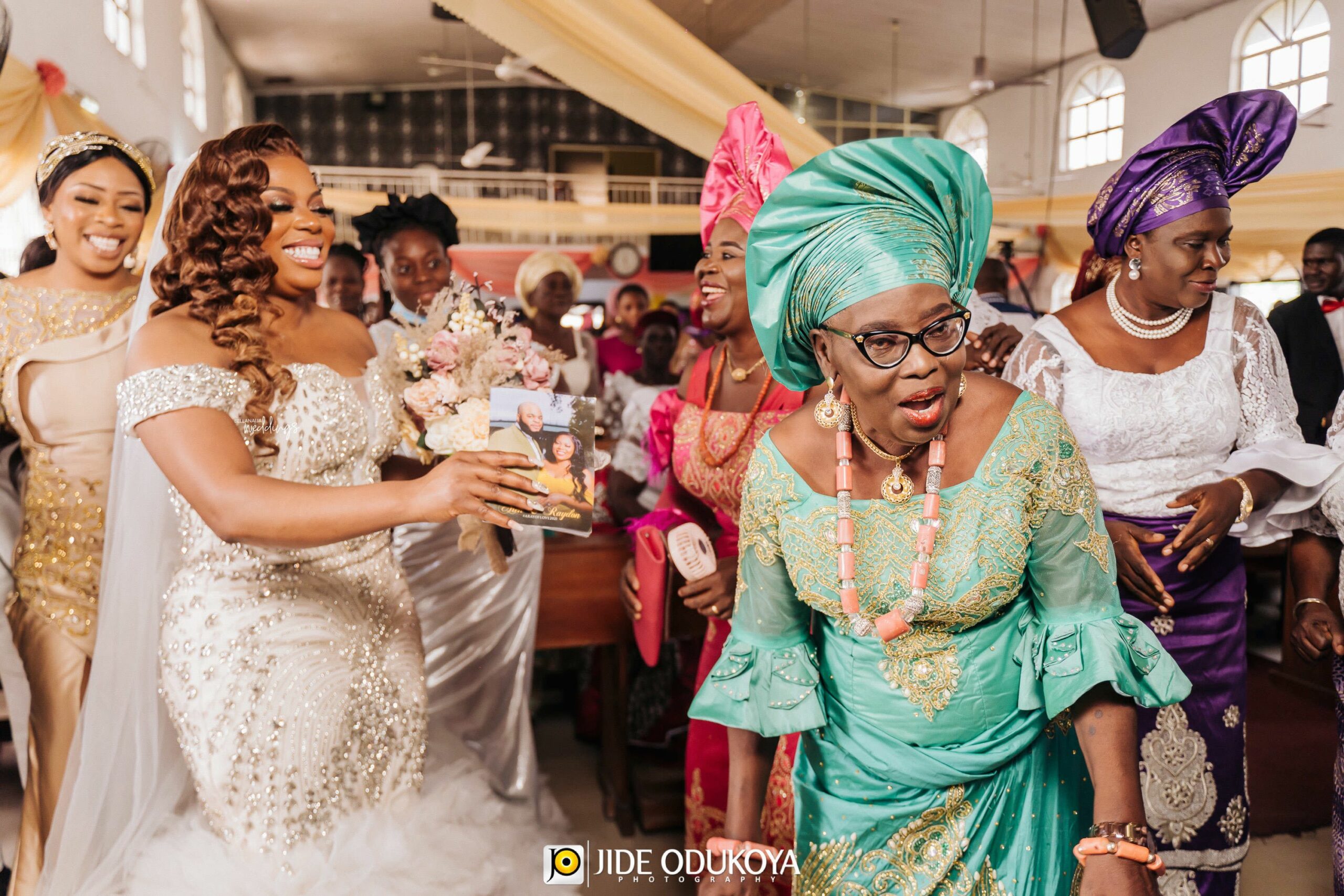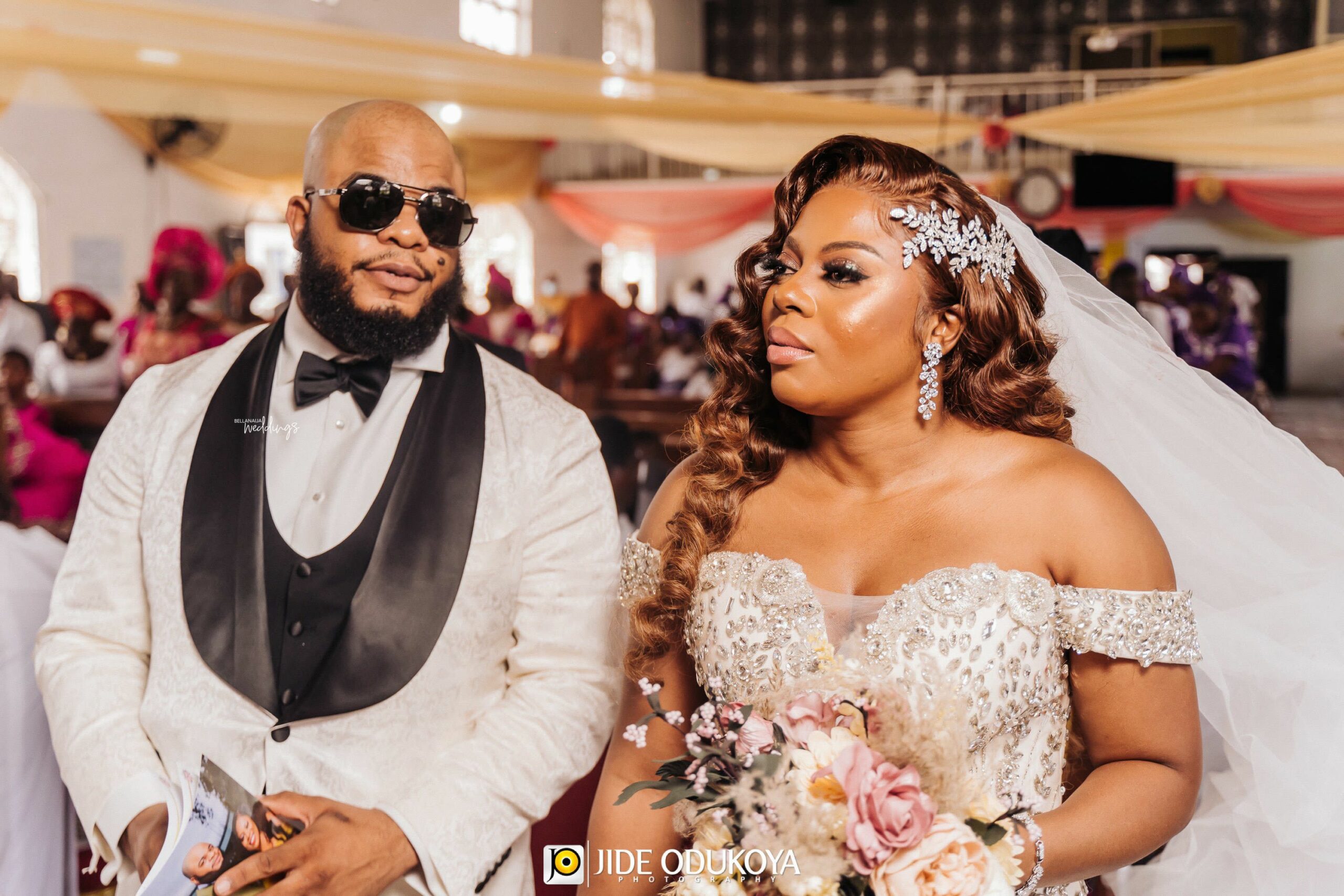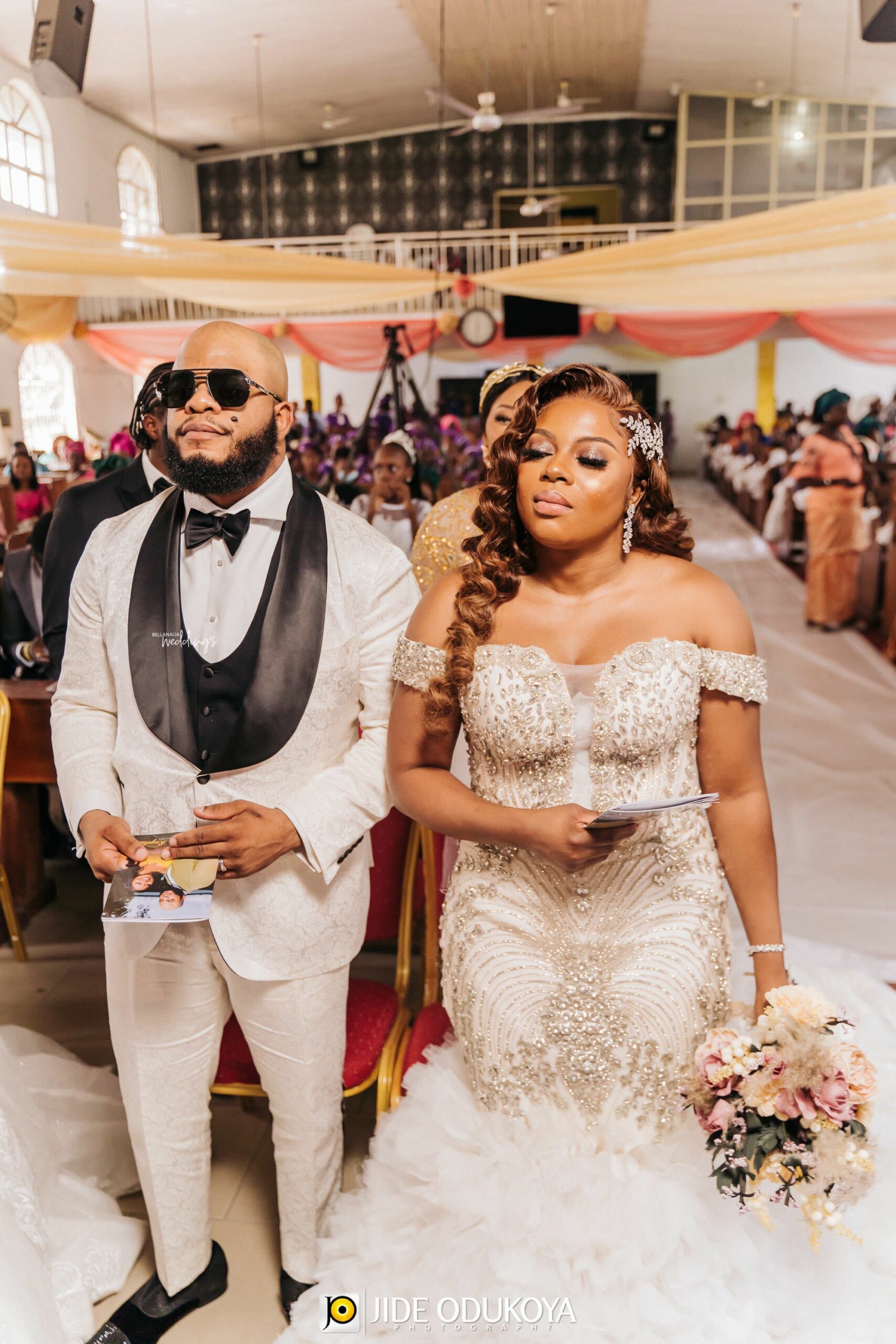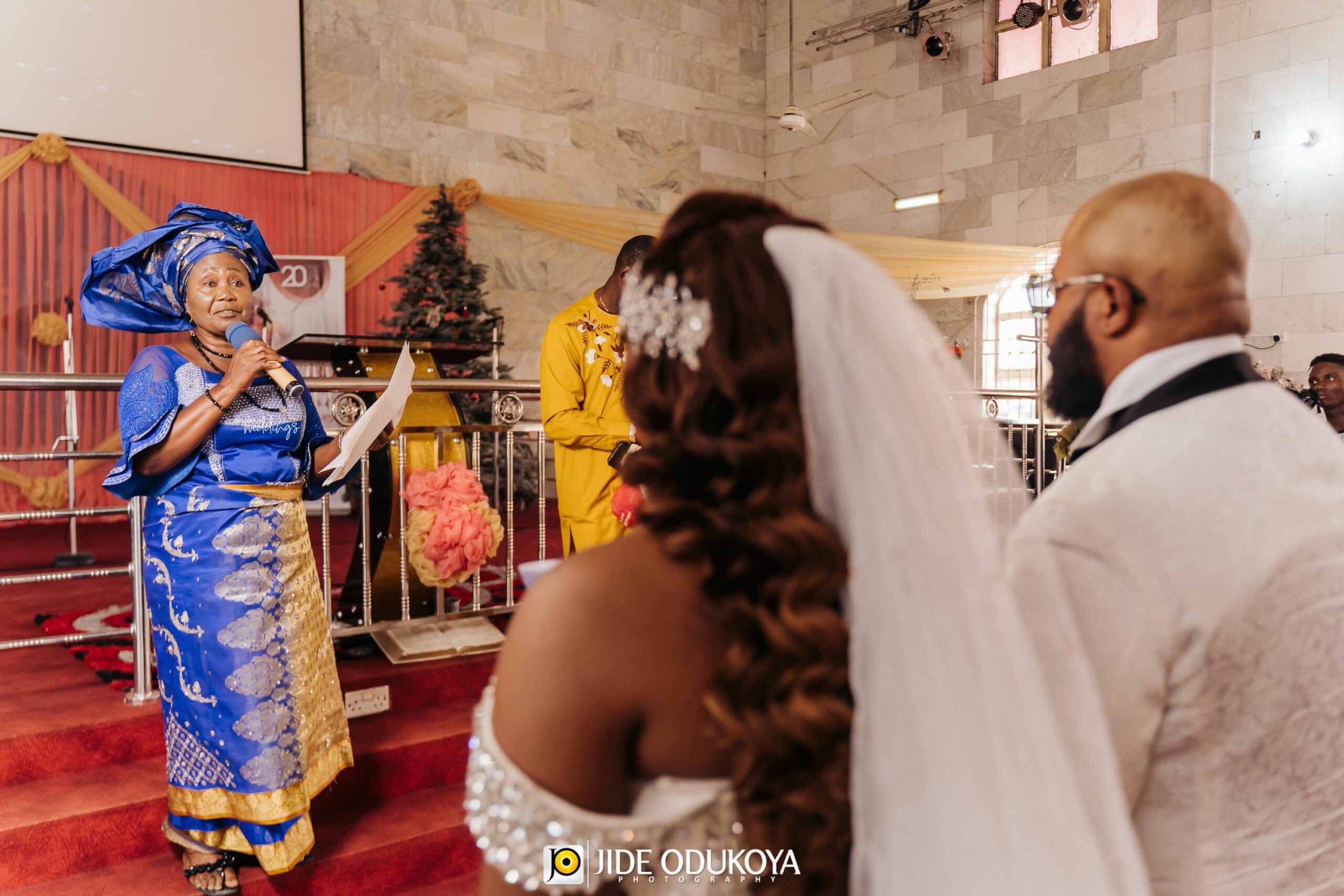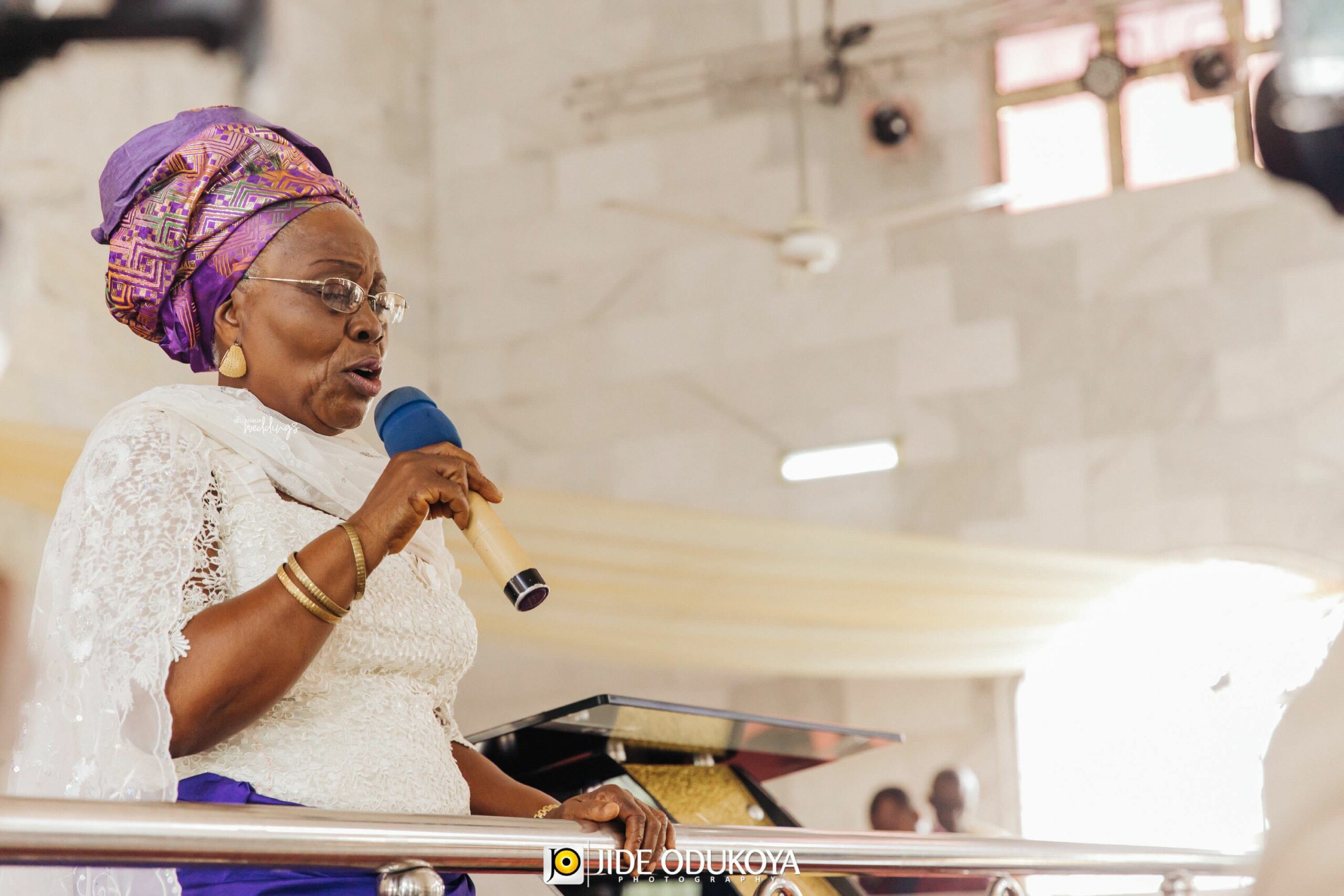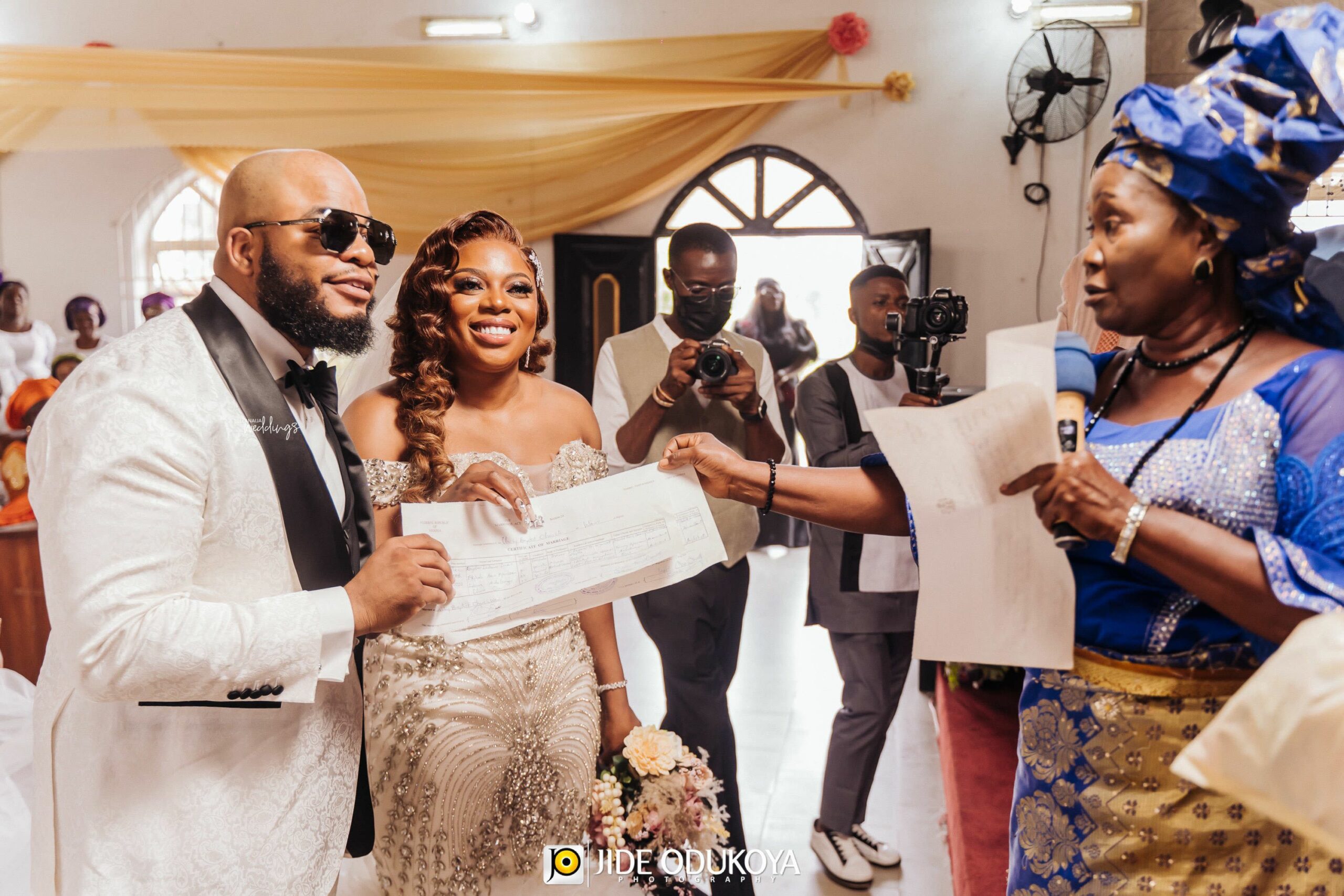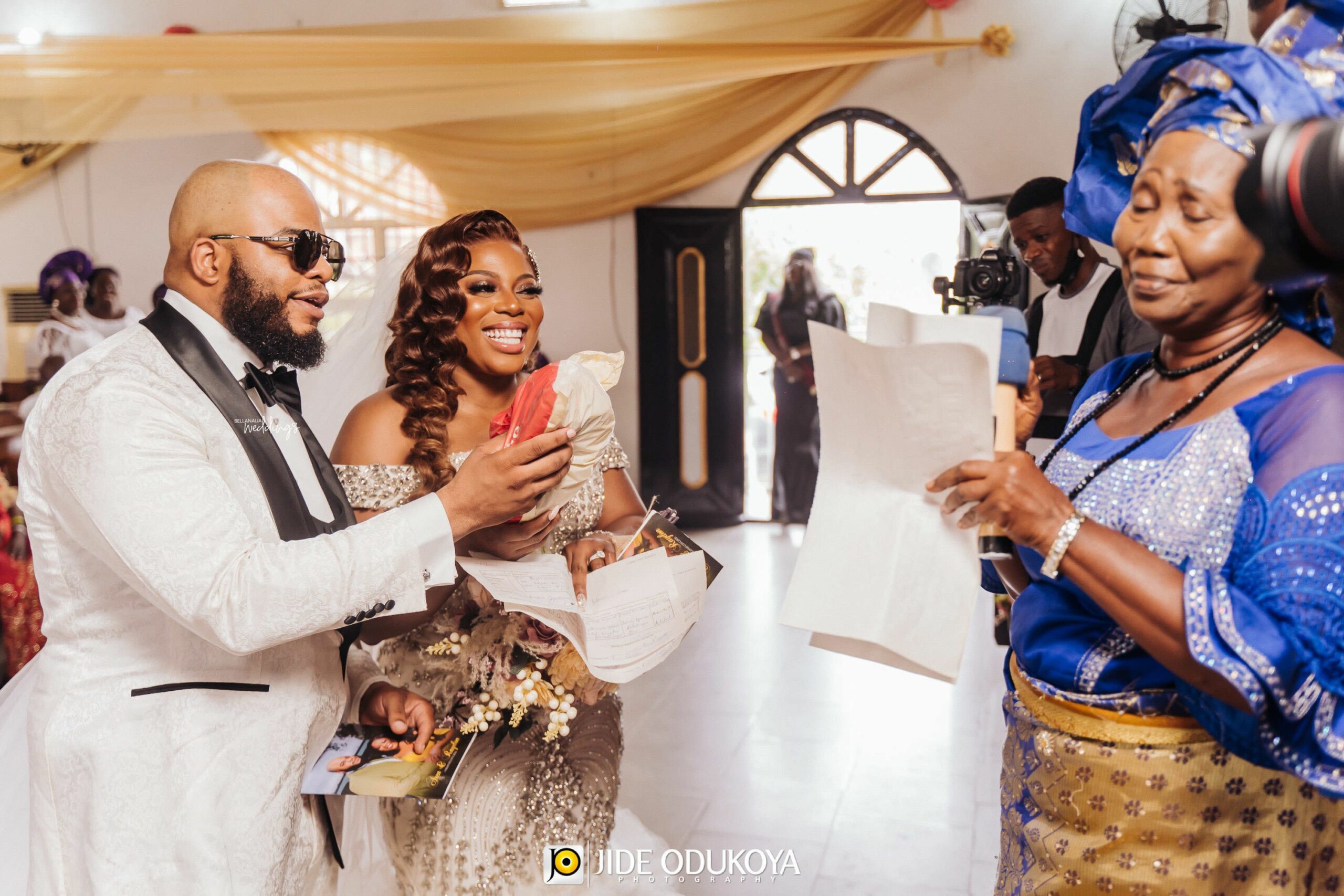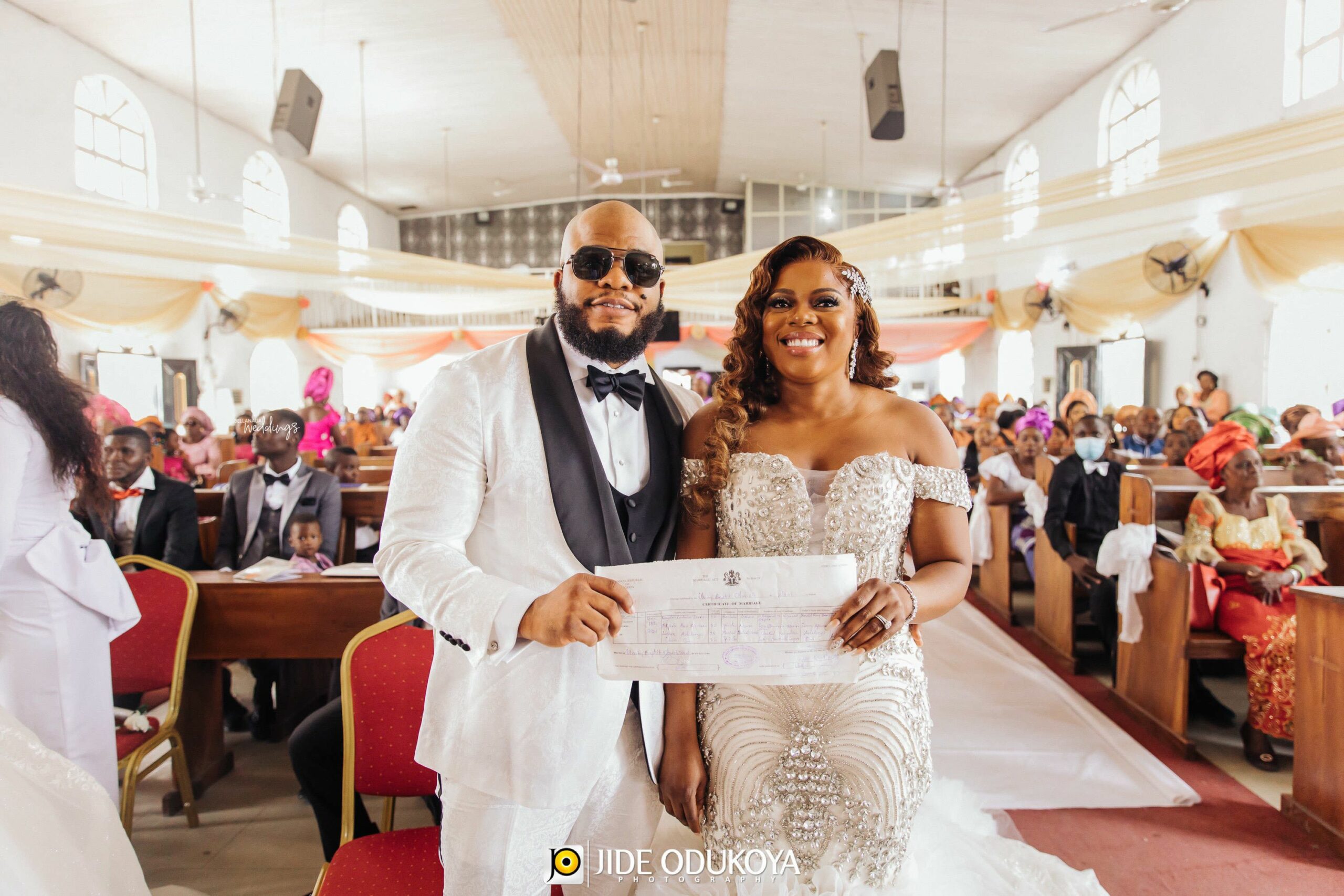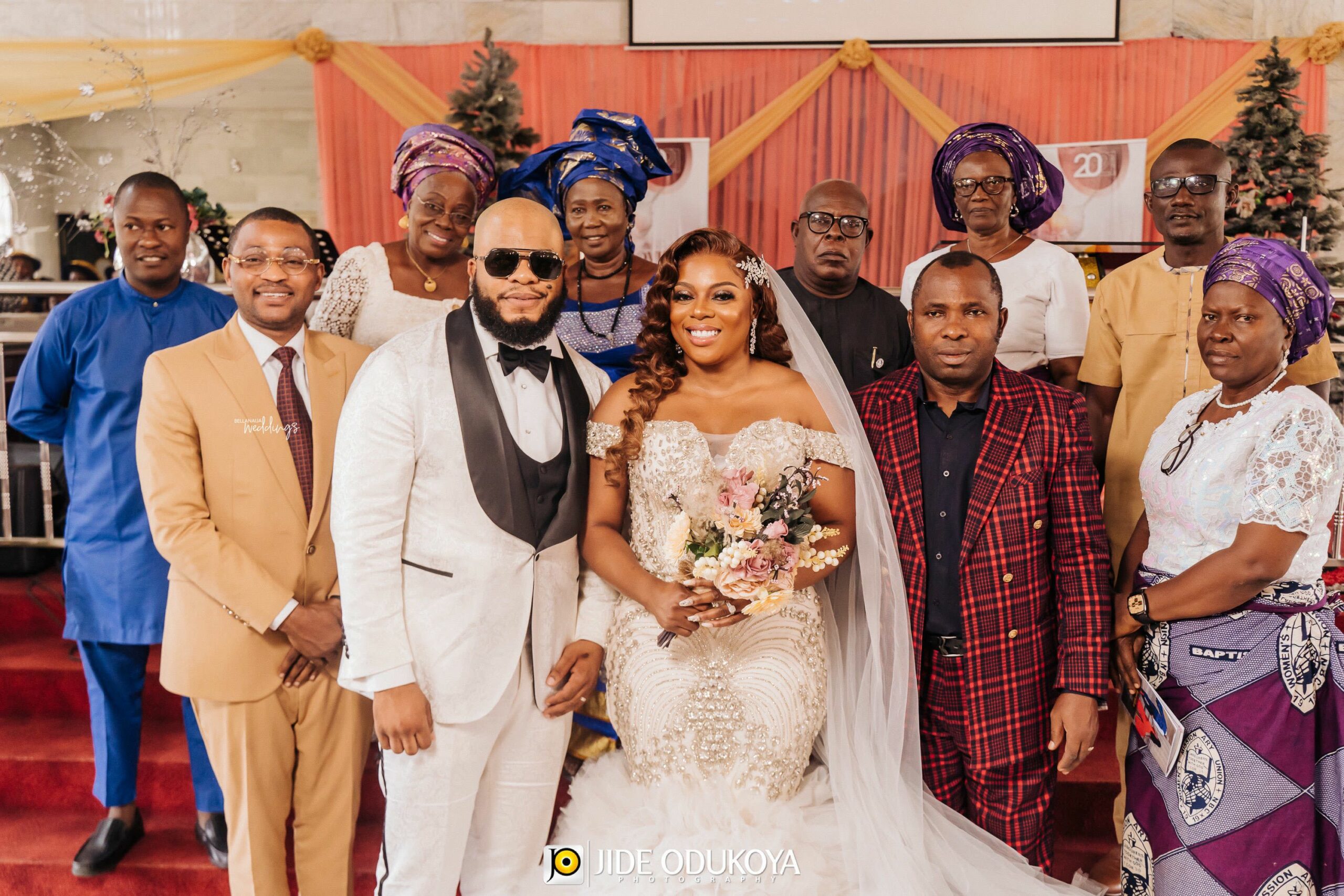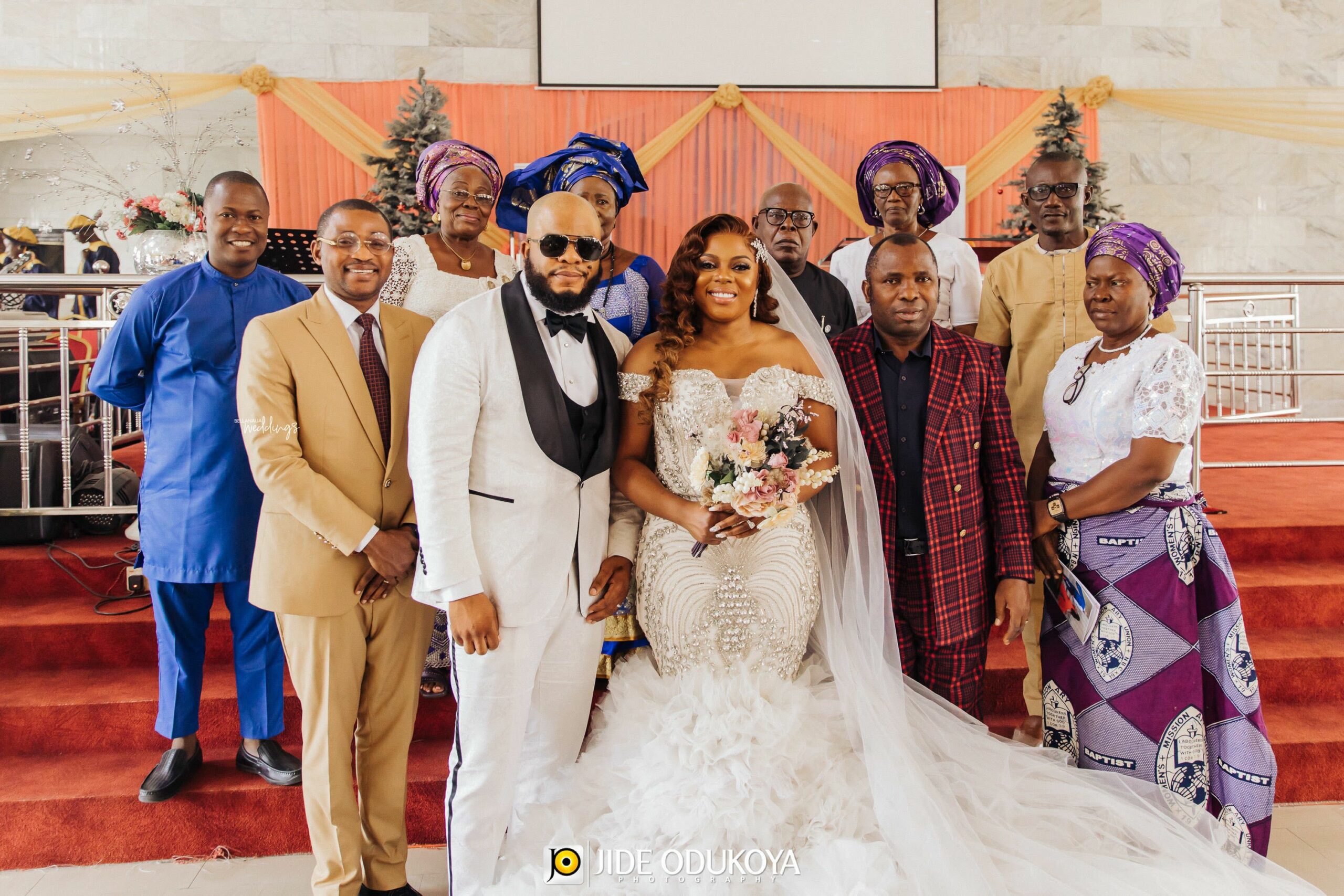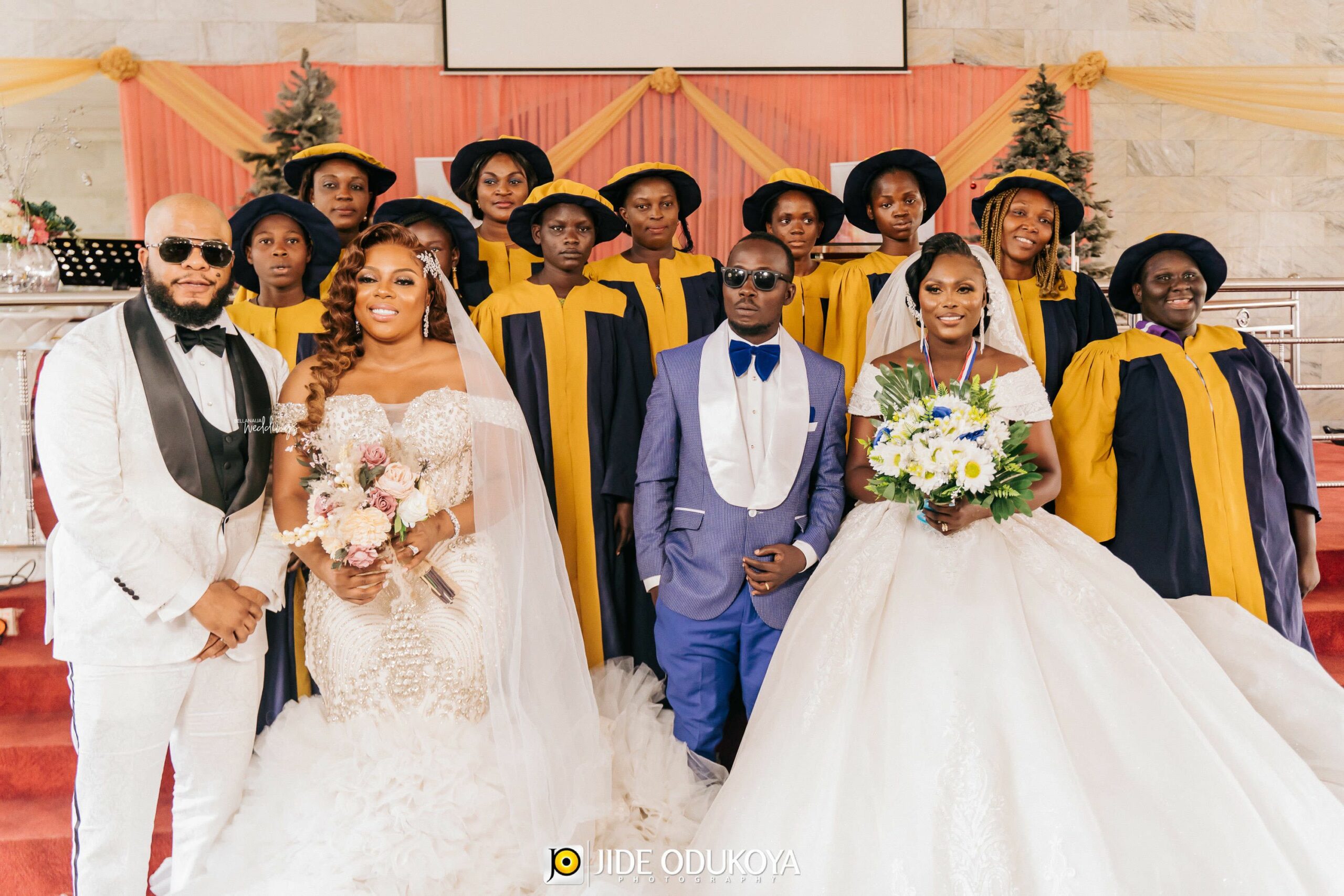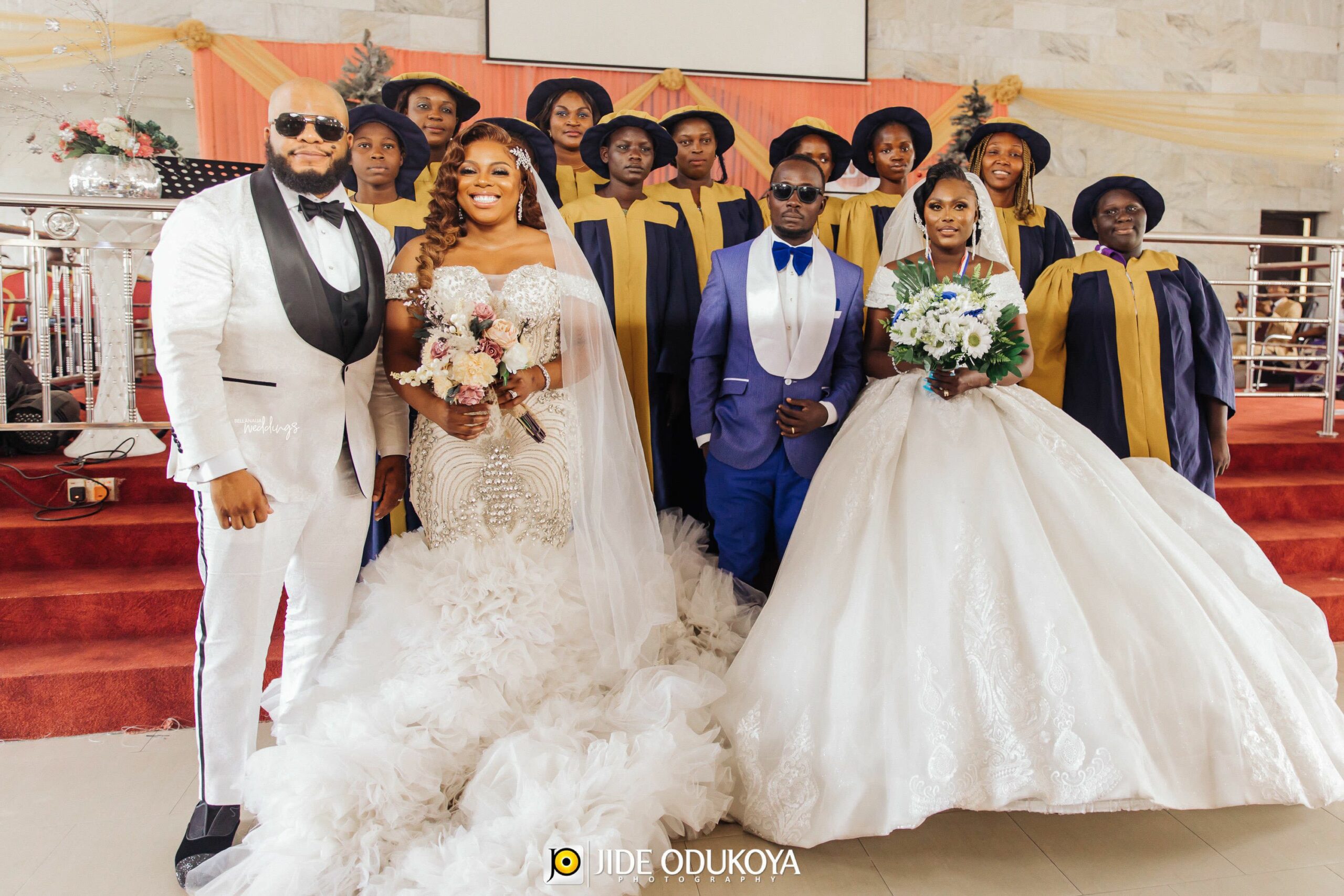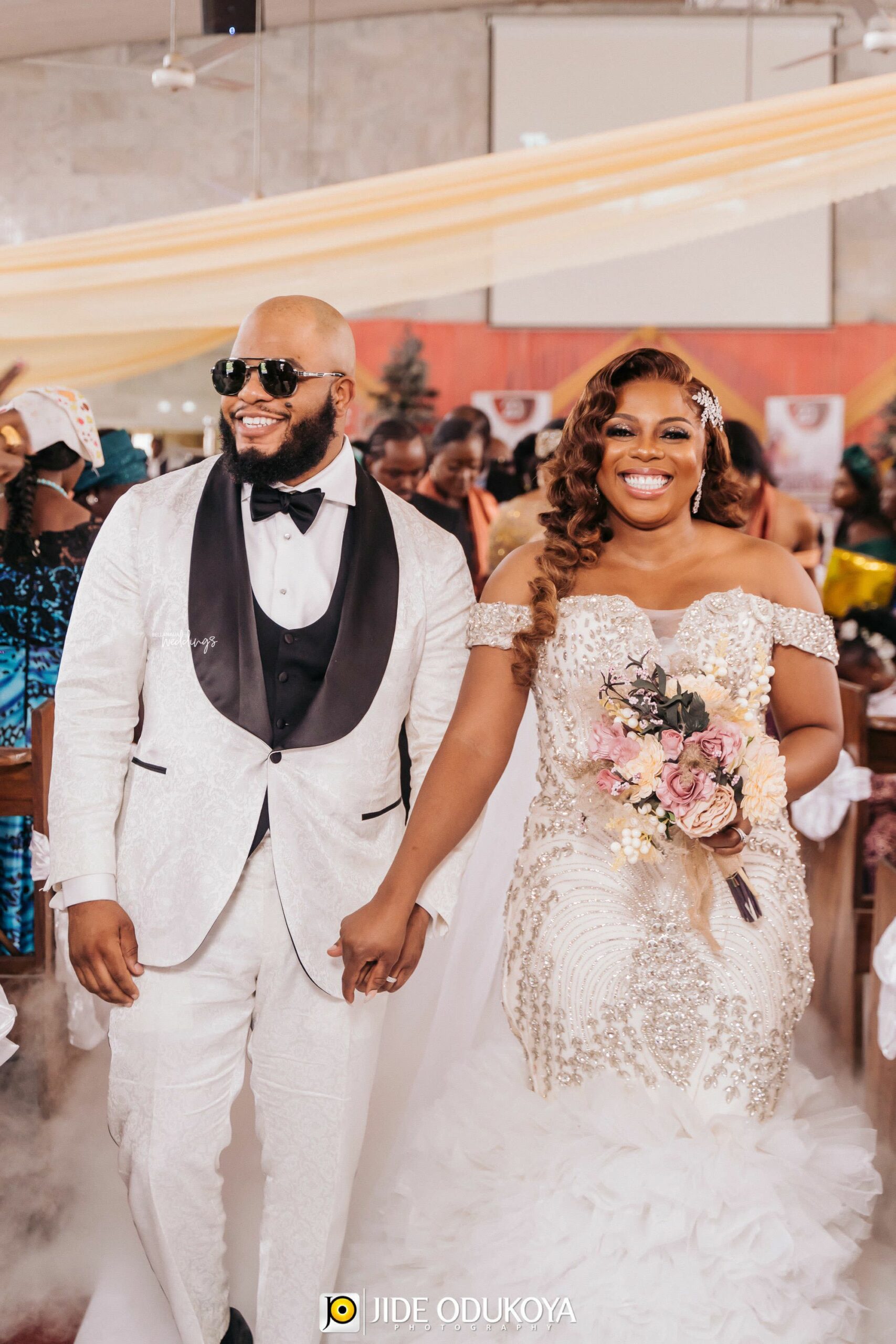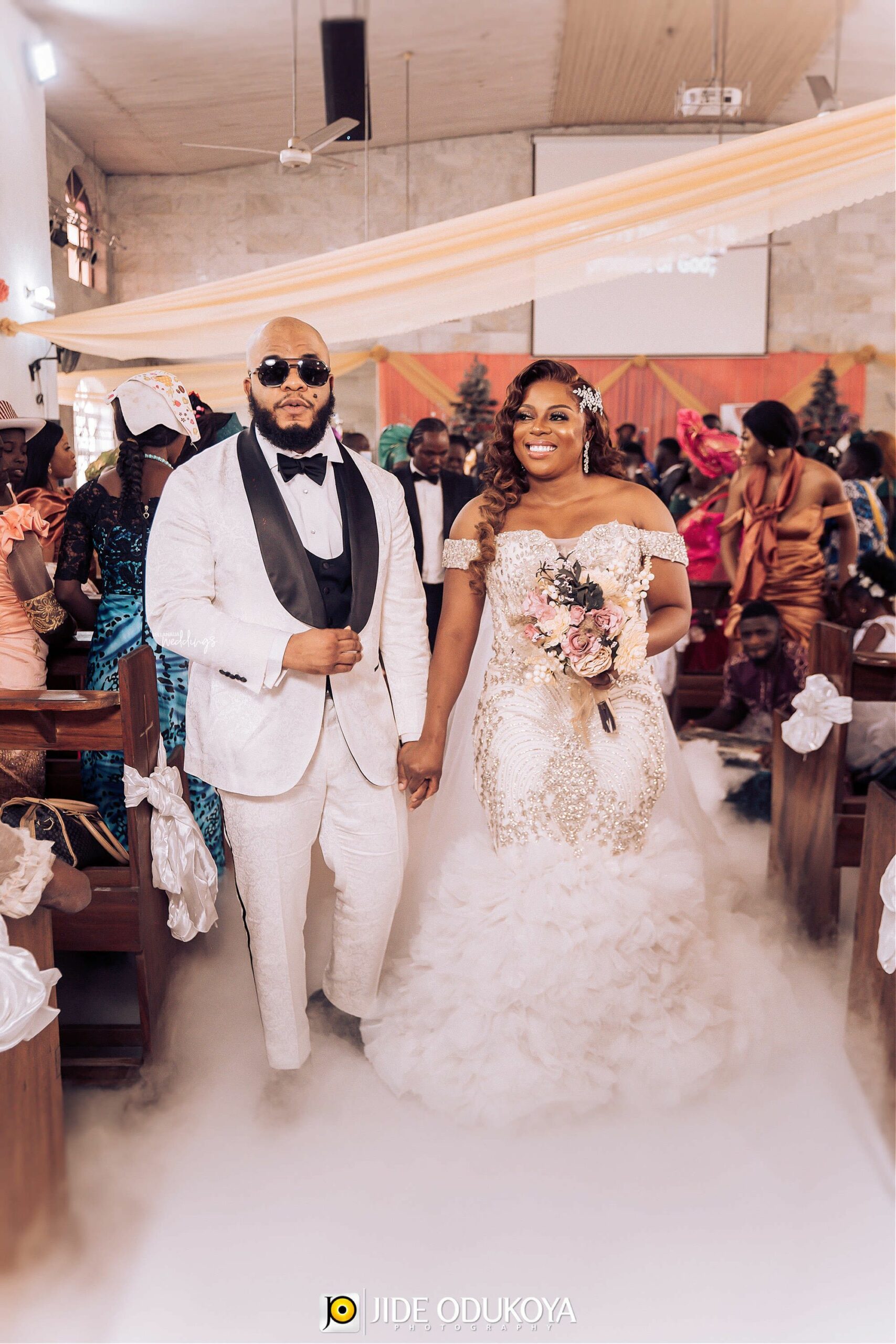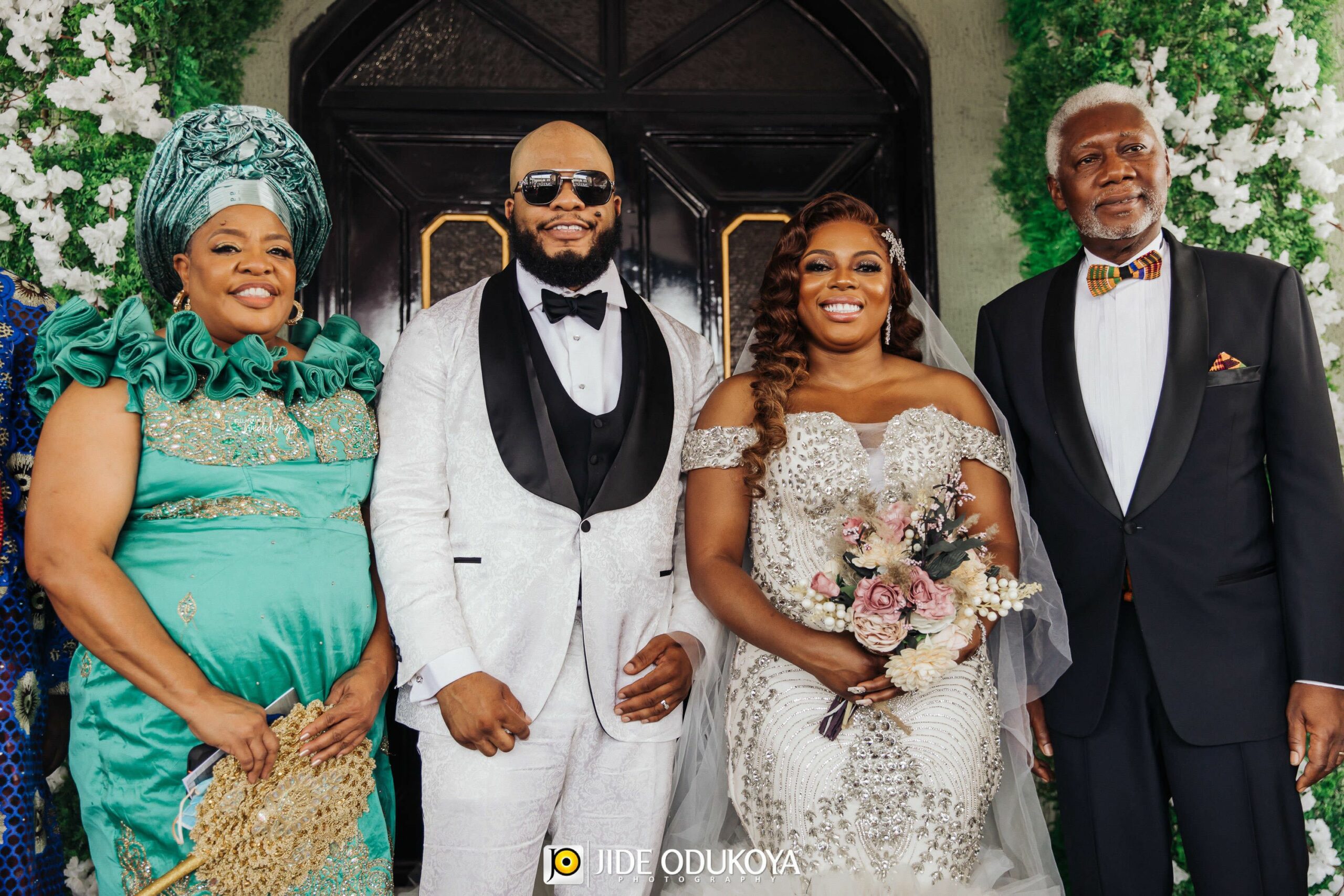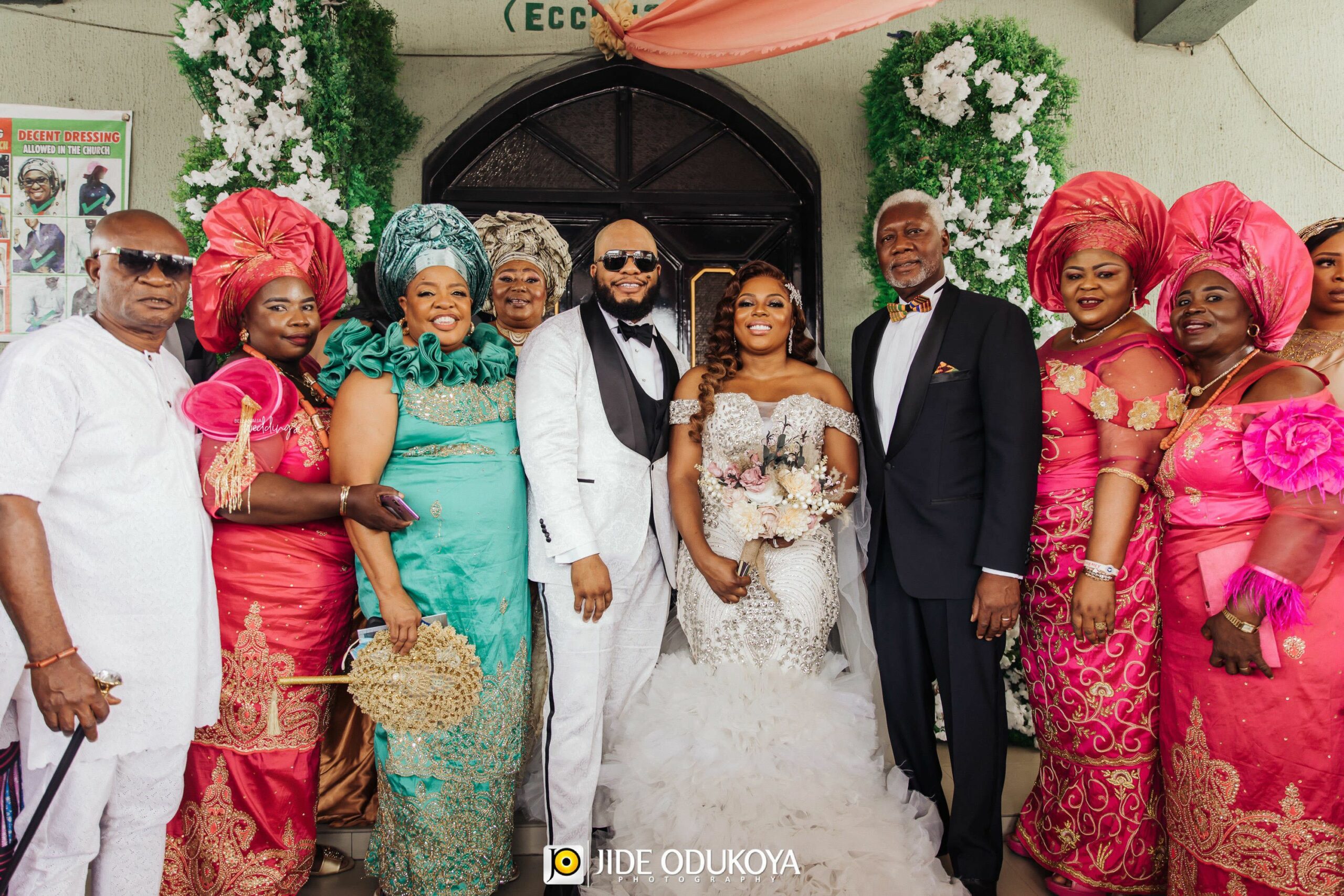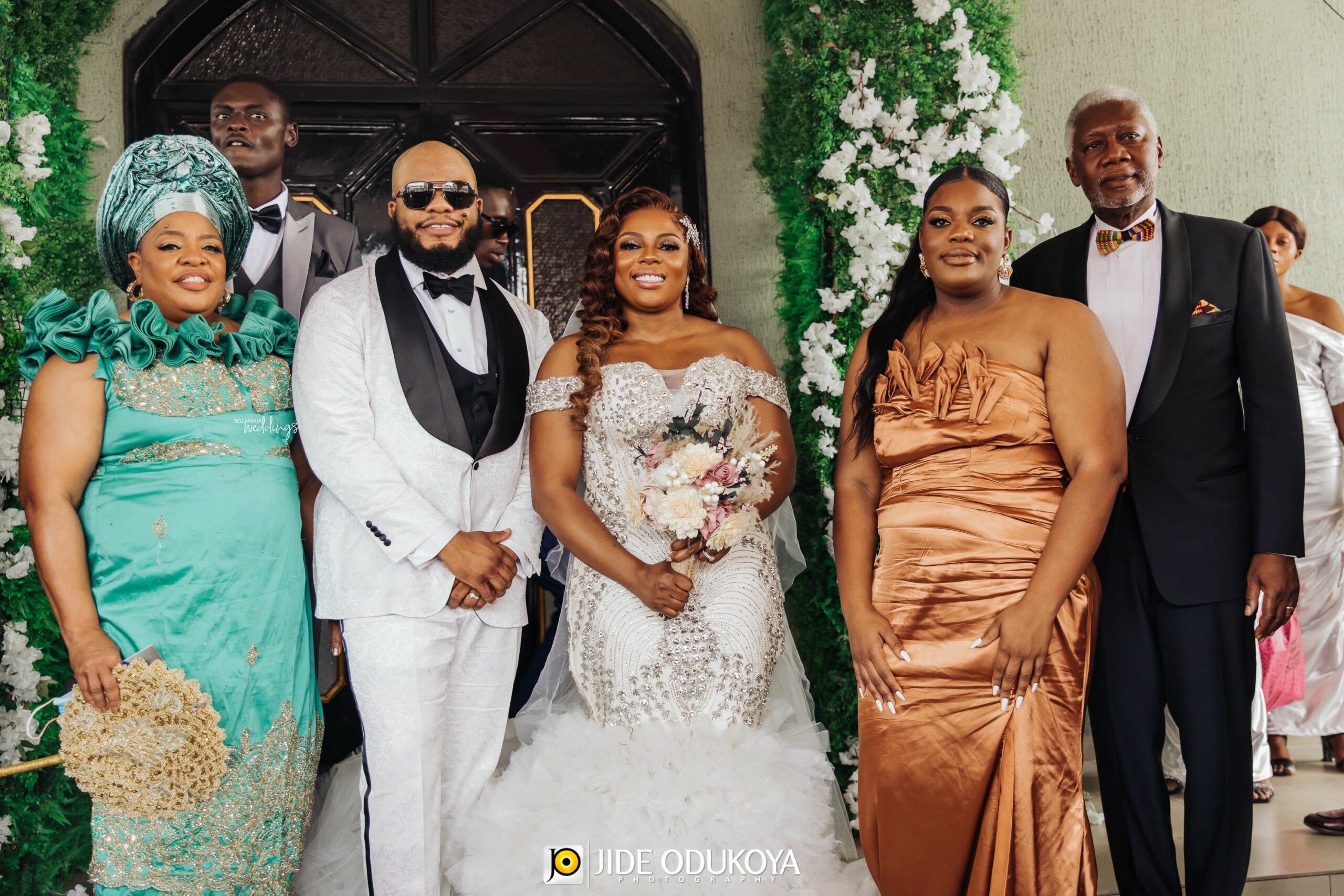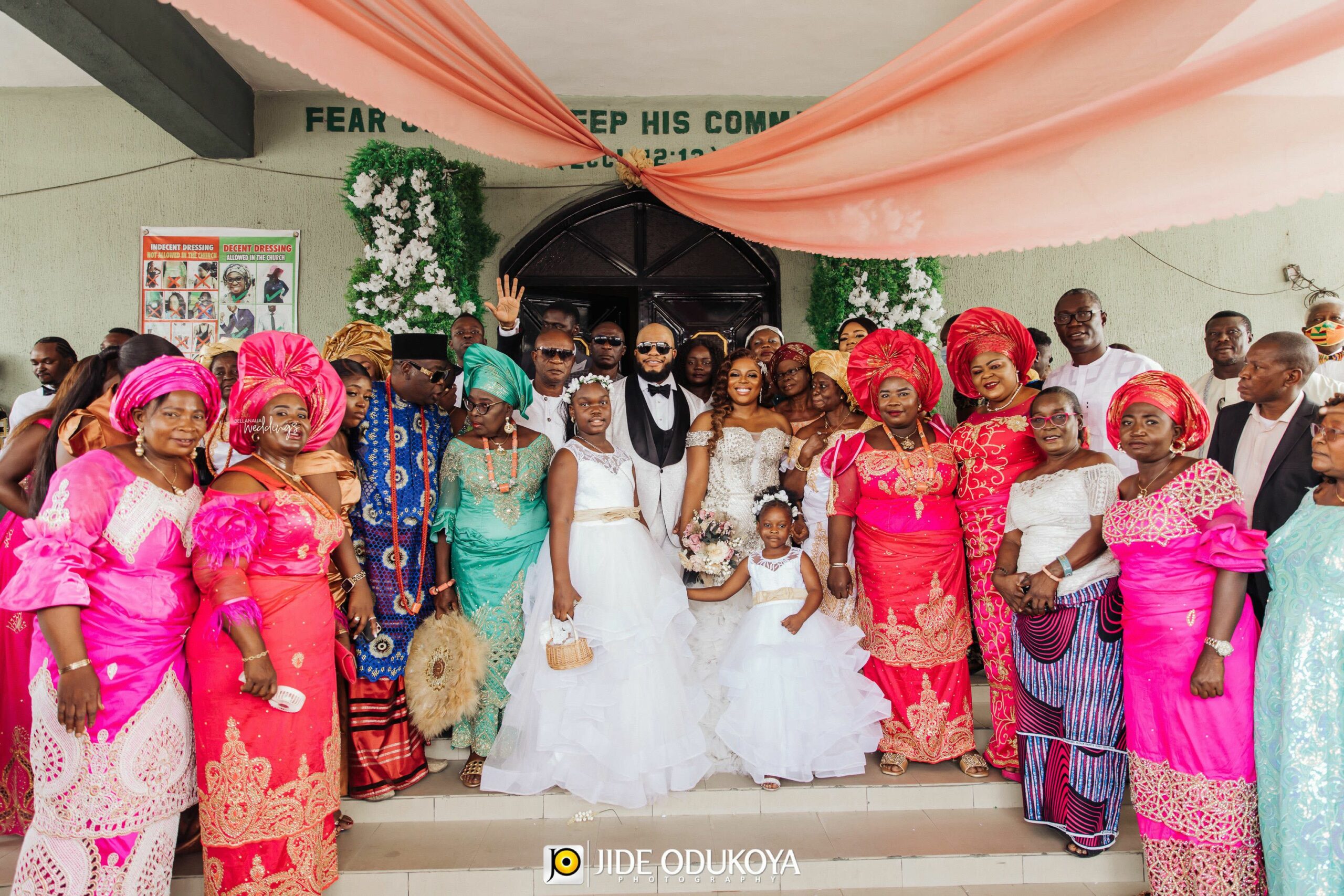 …And two have become one!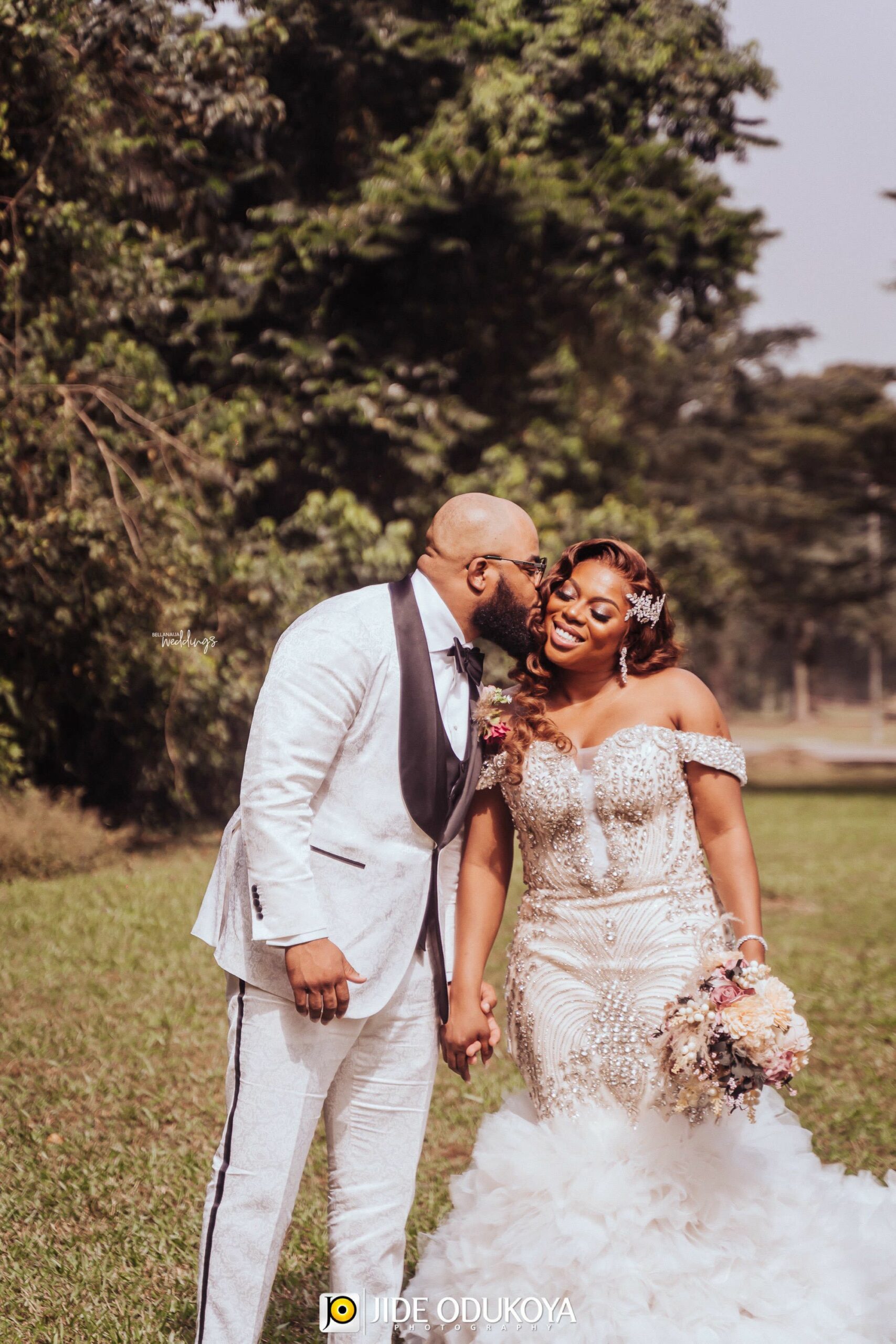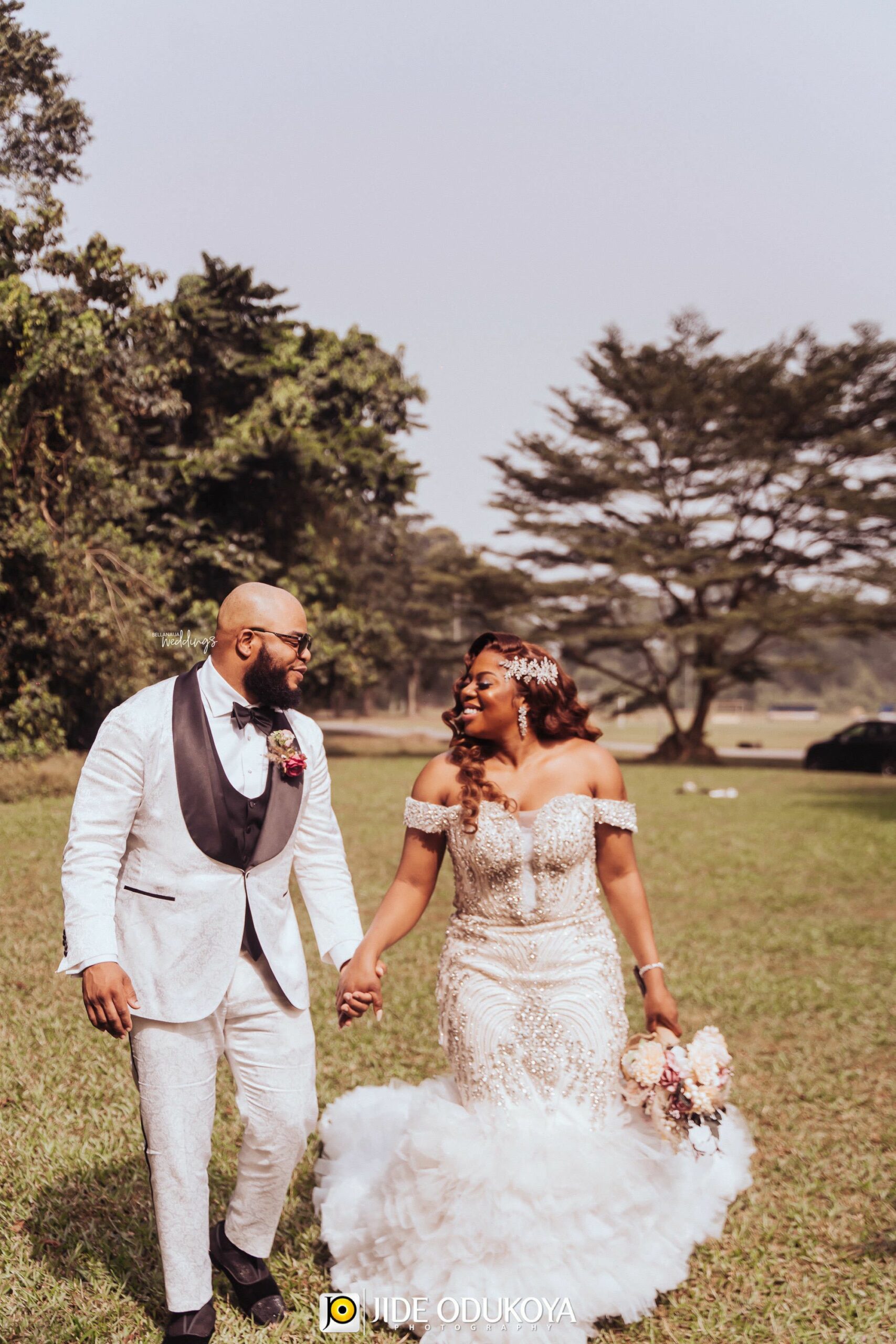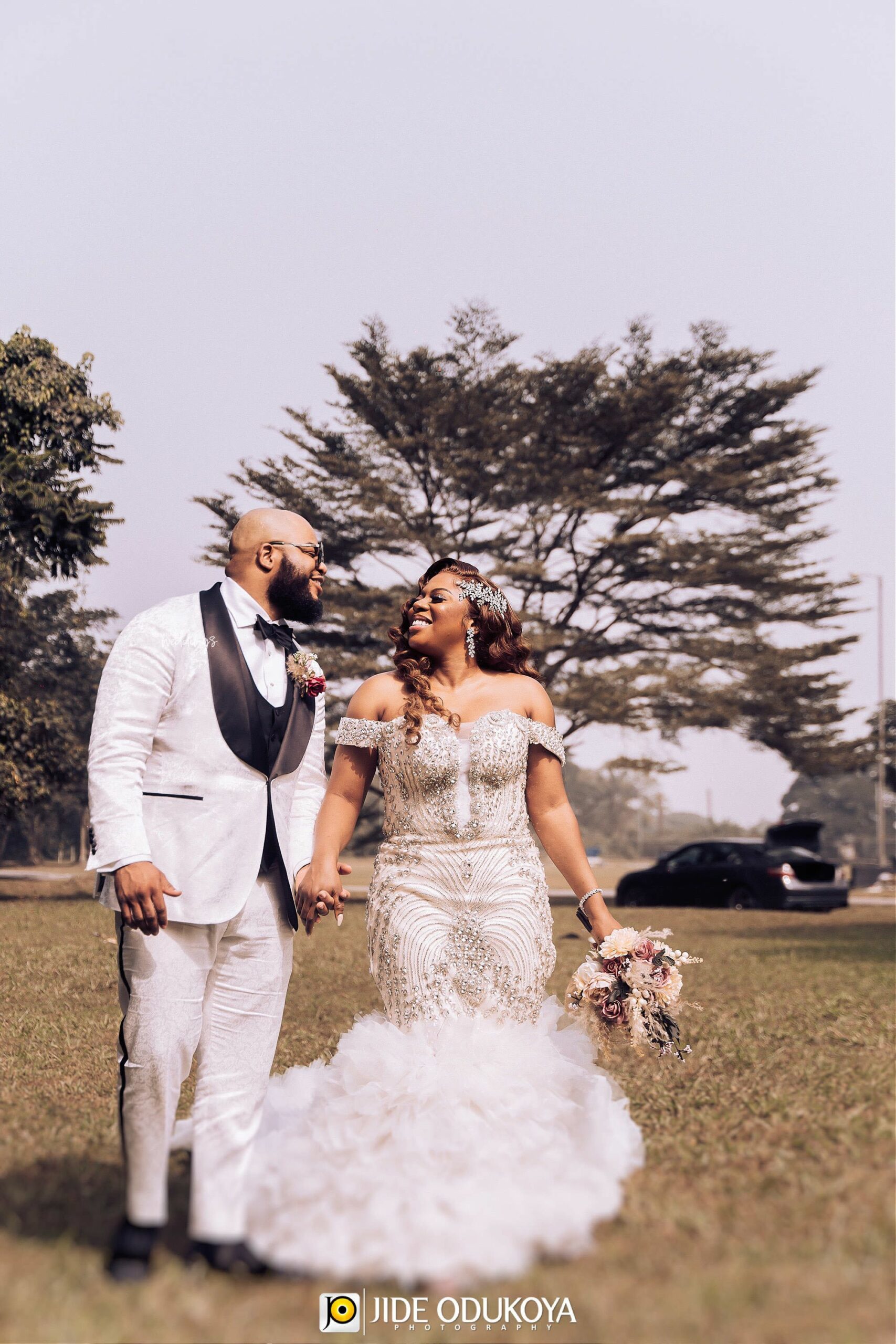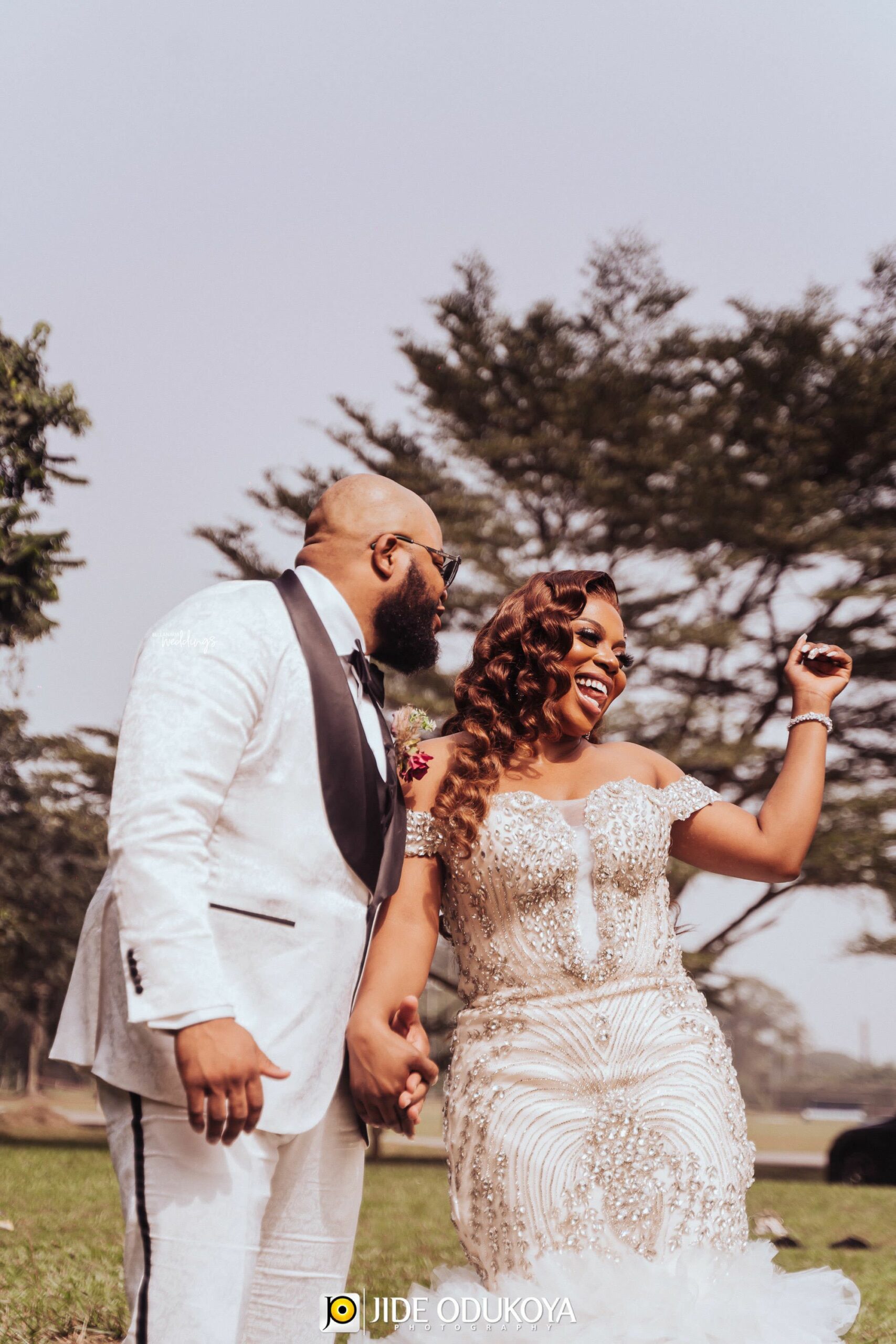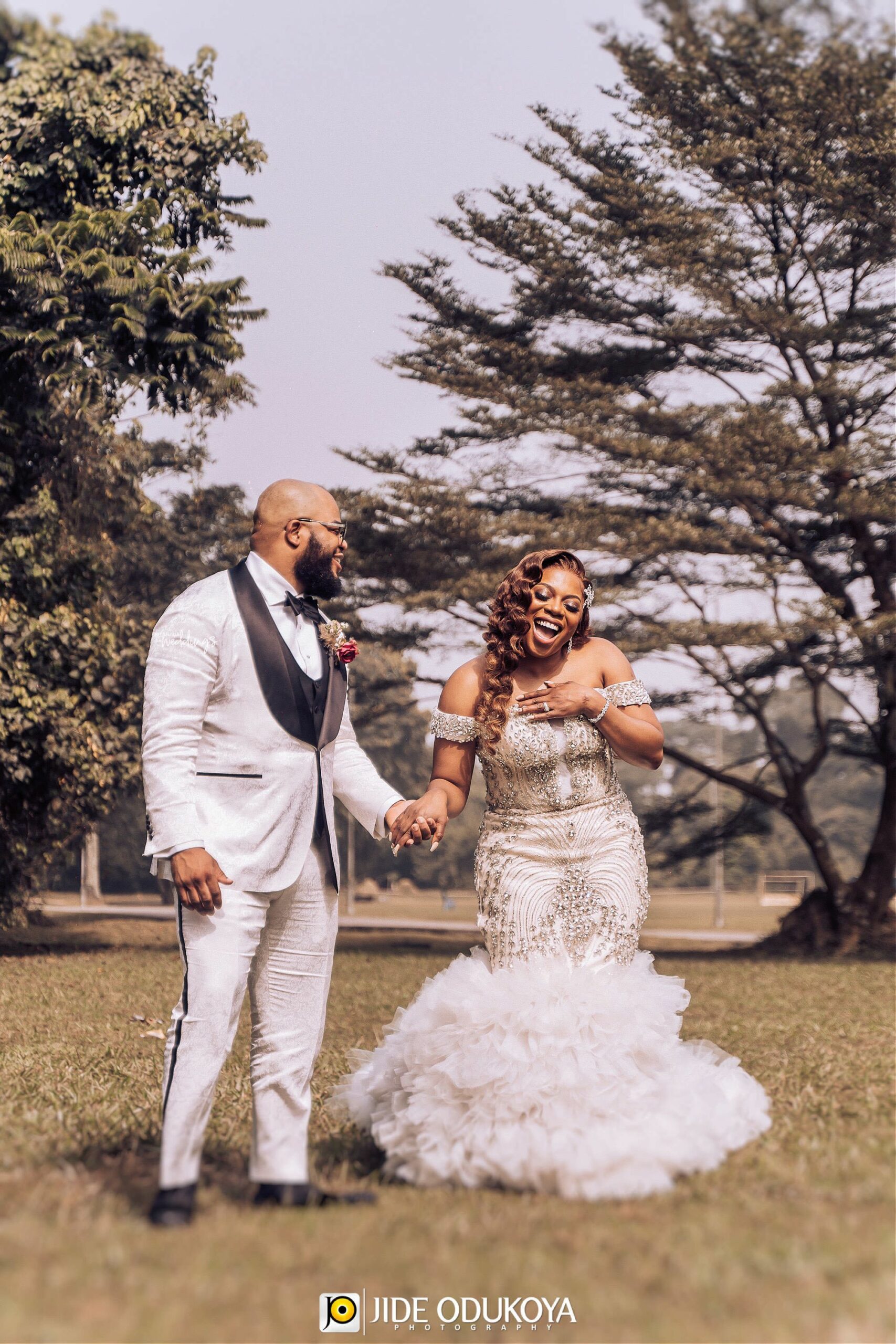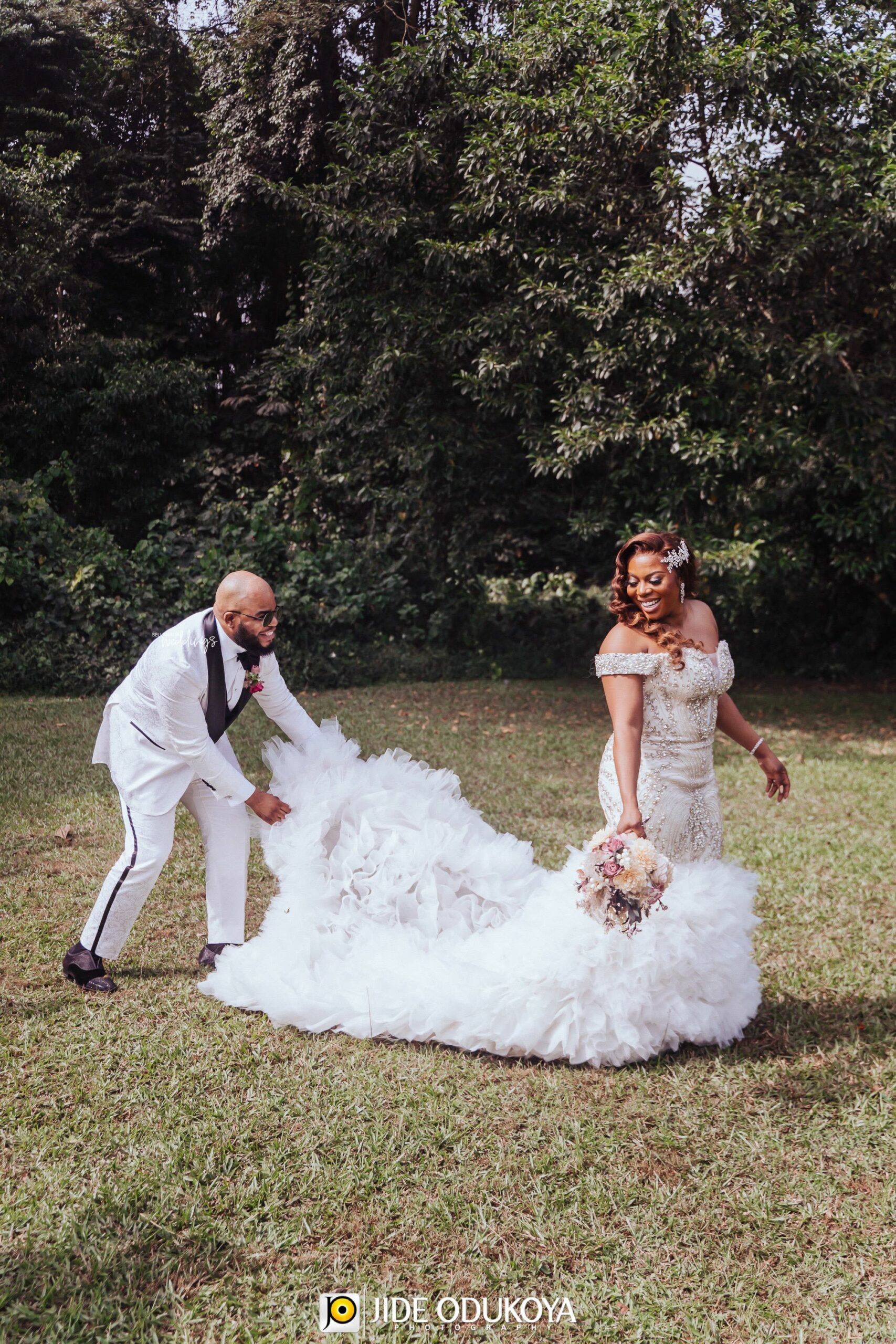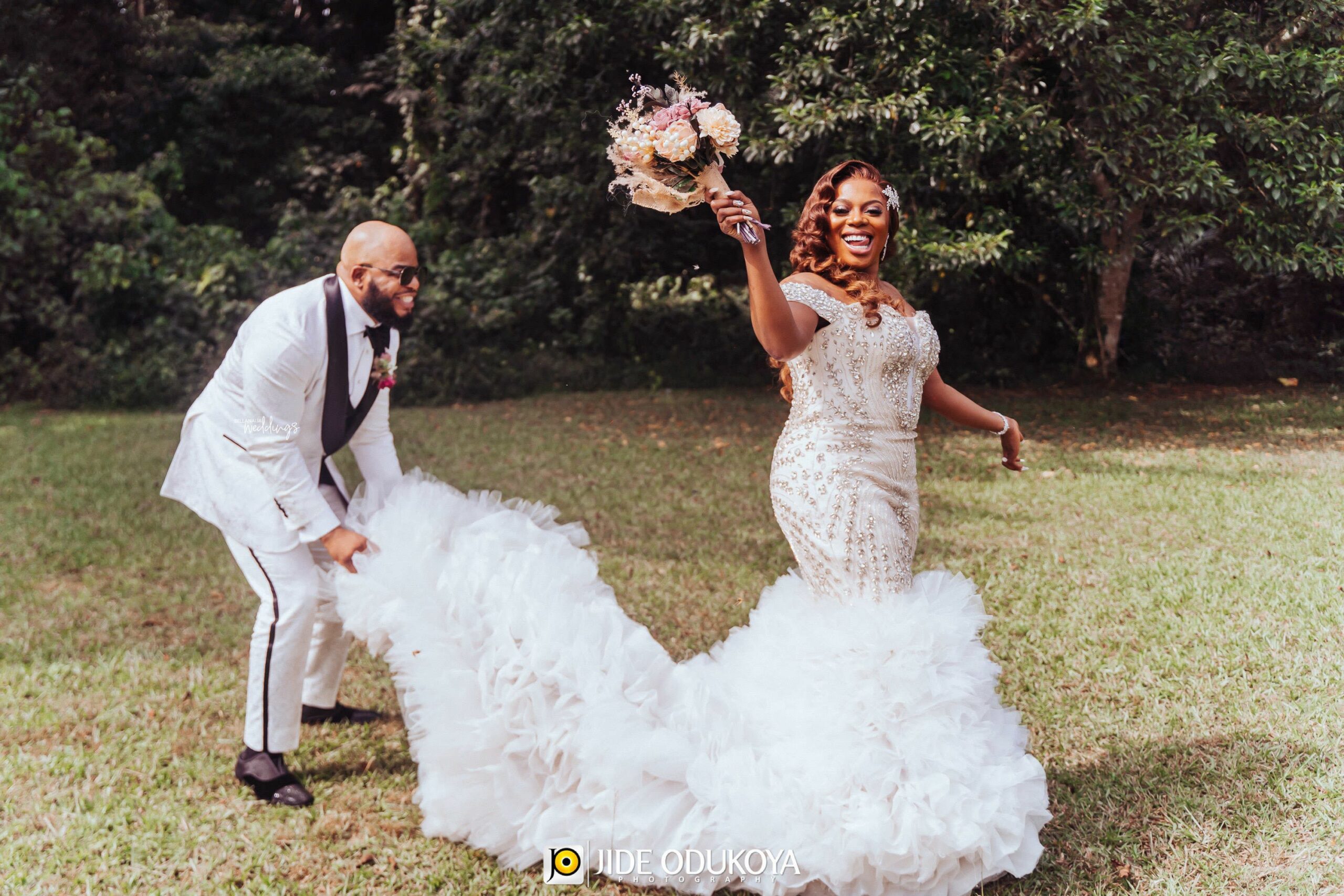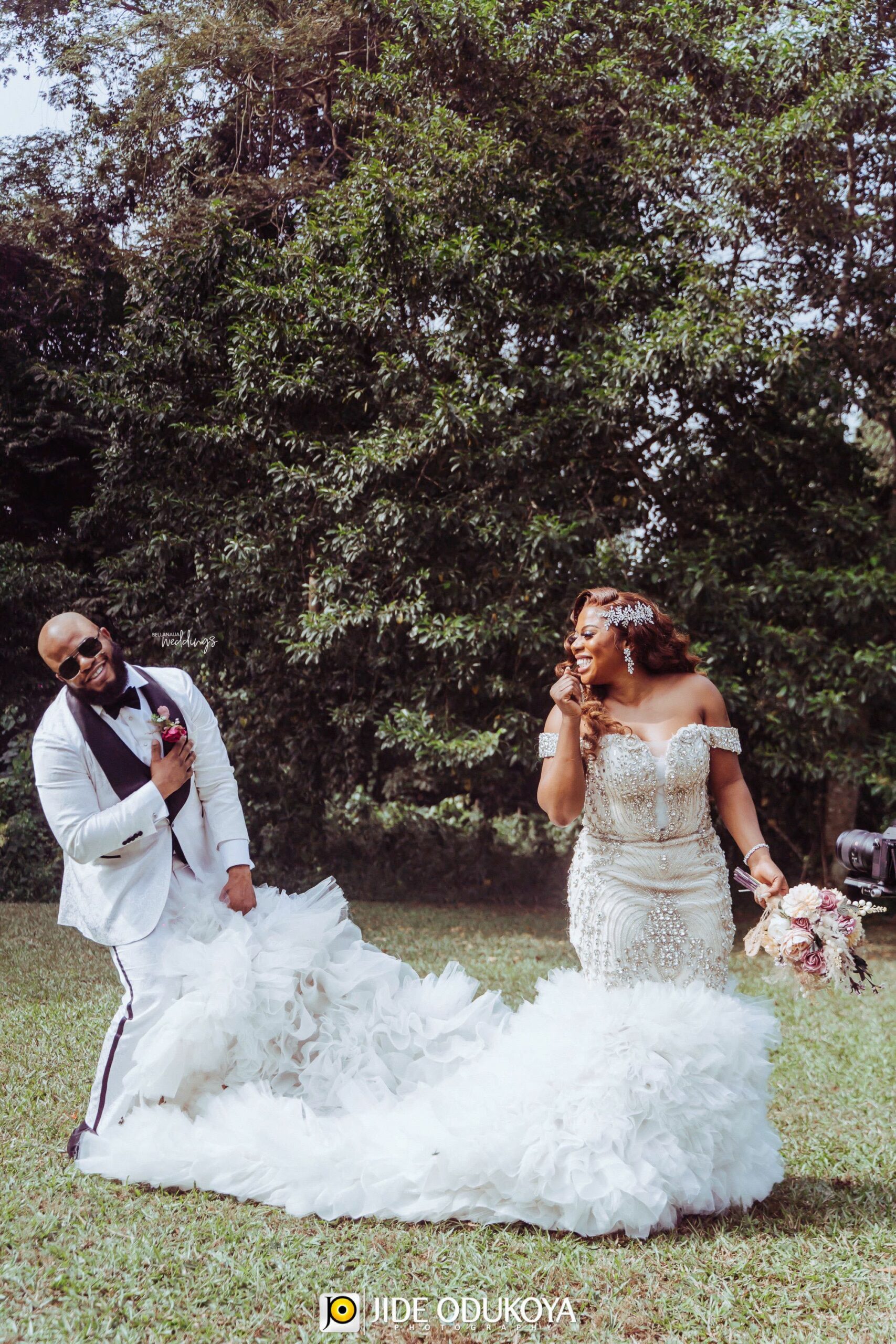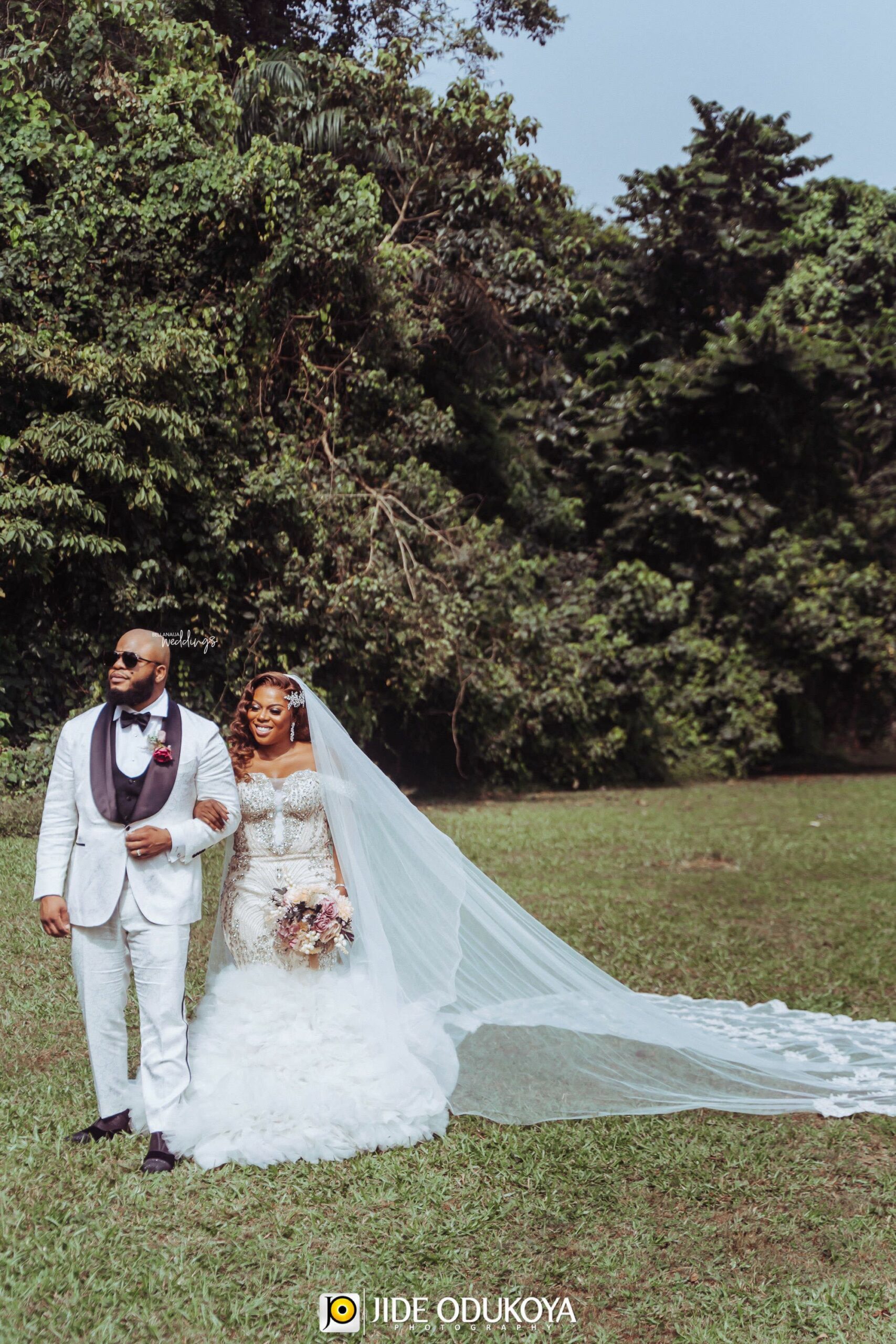 It's Reception O'clock!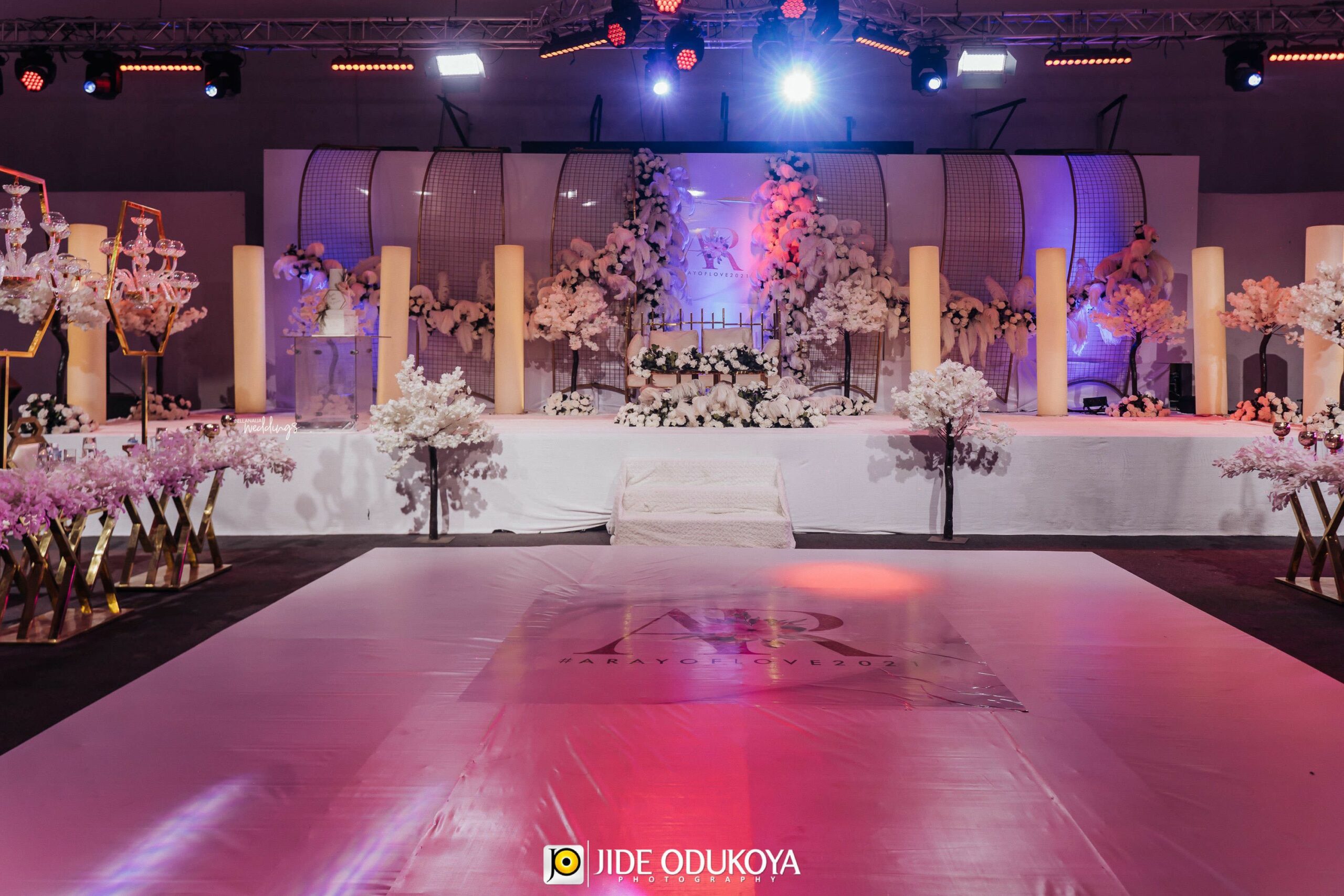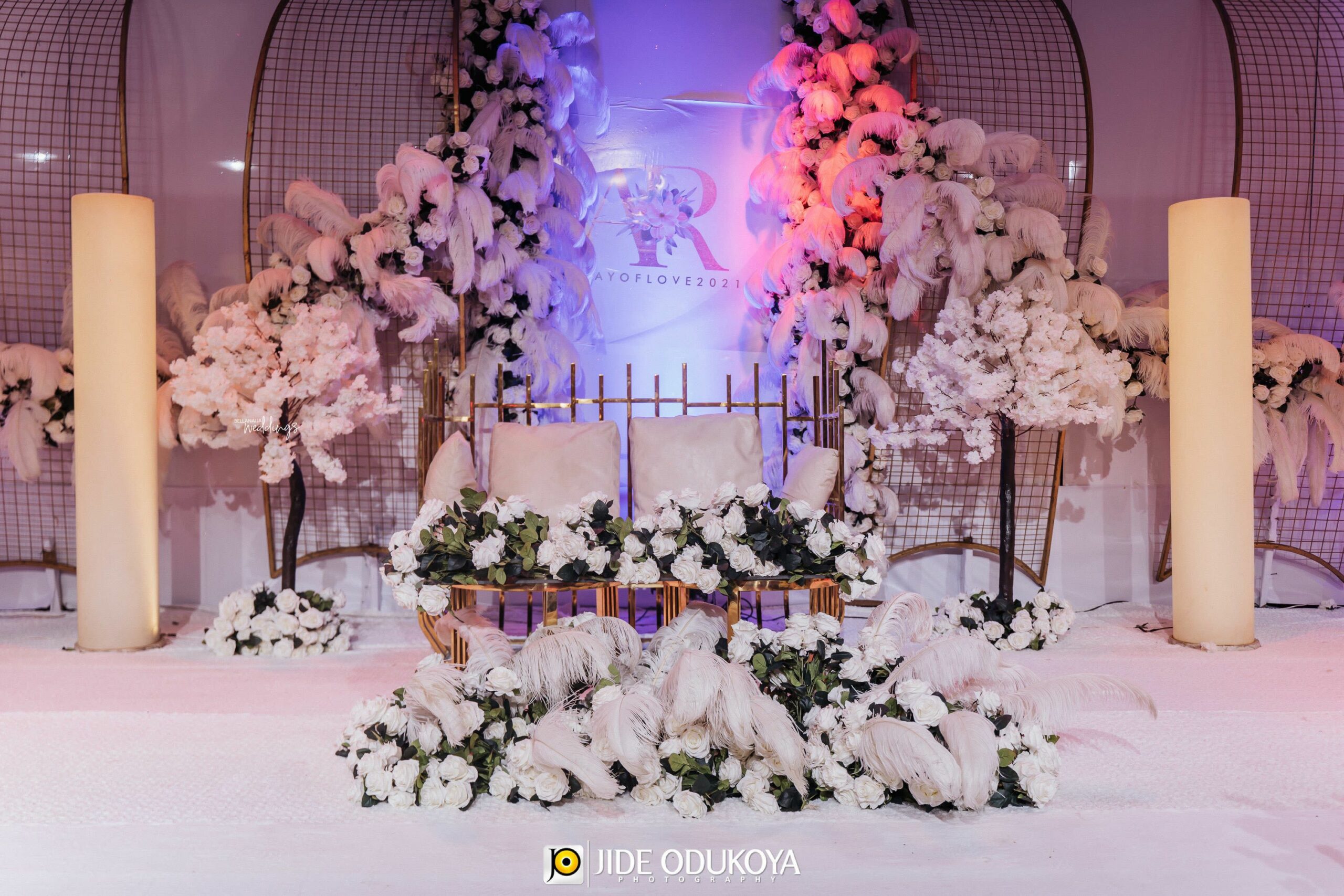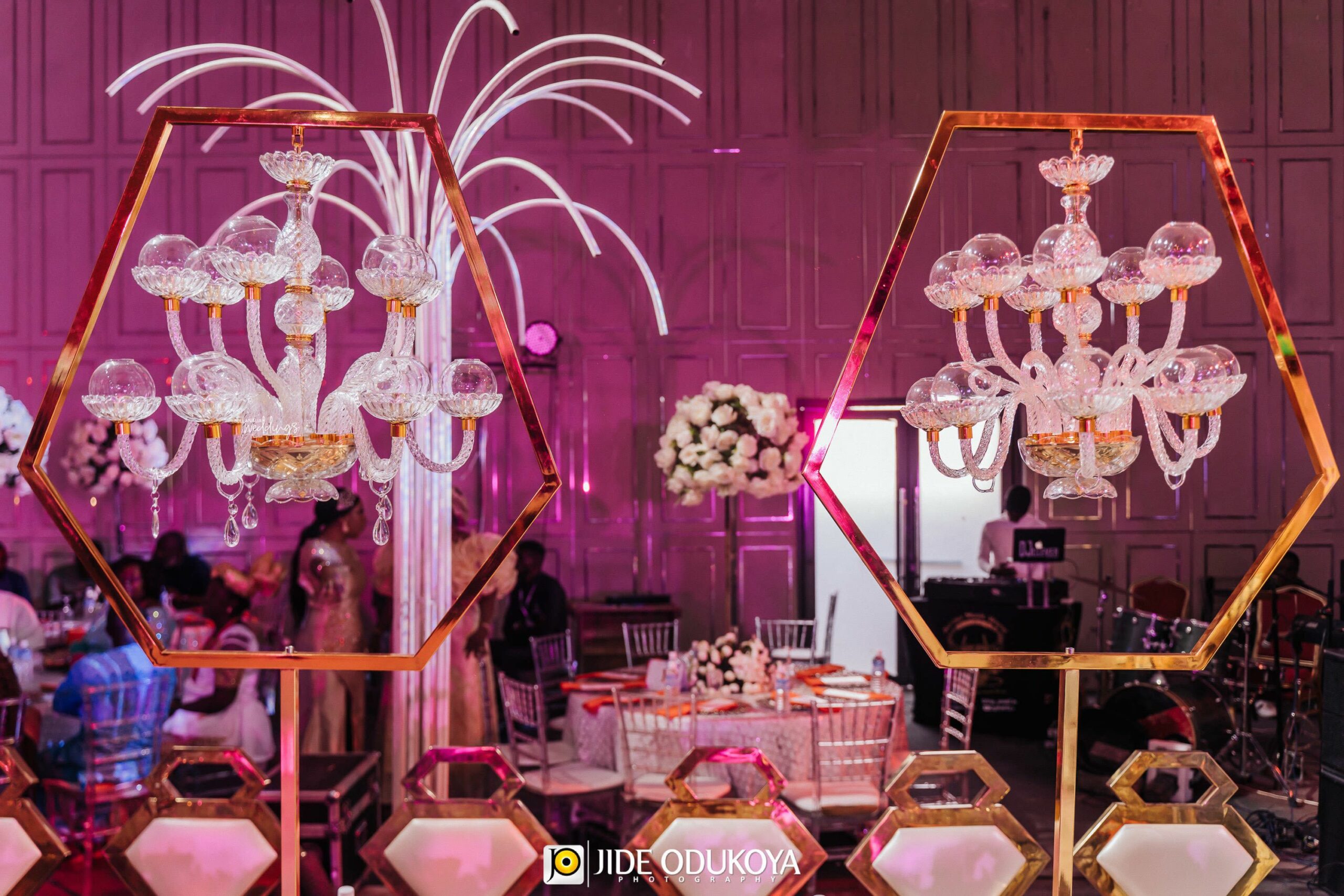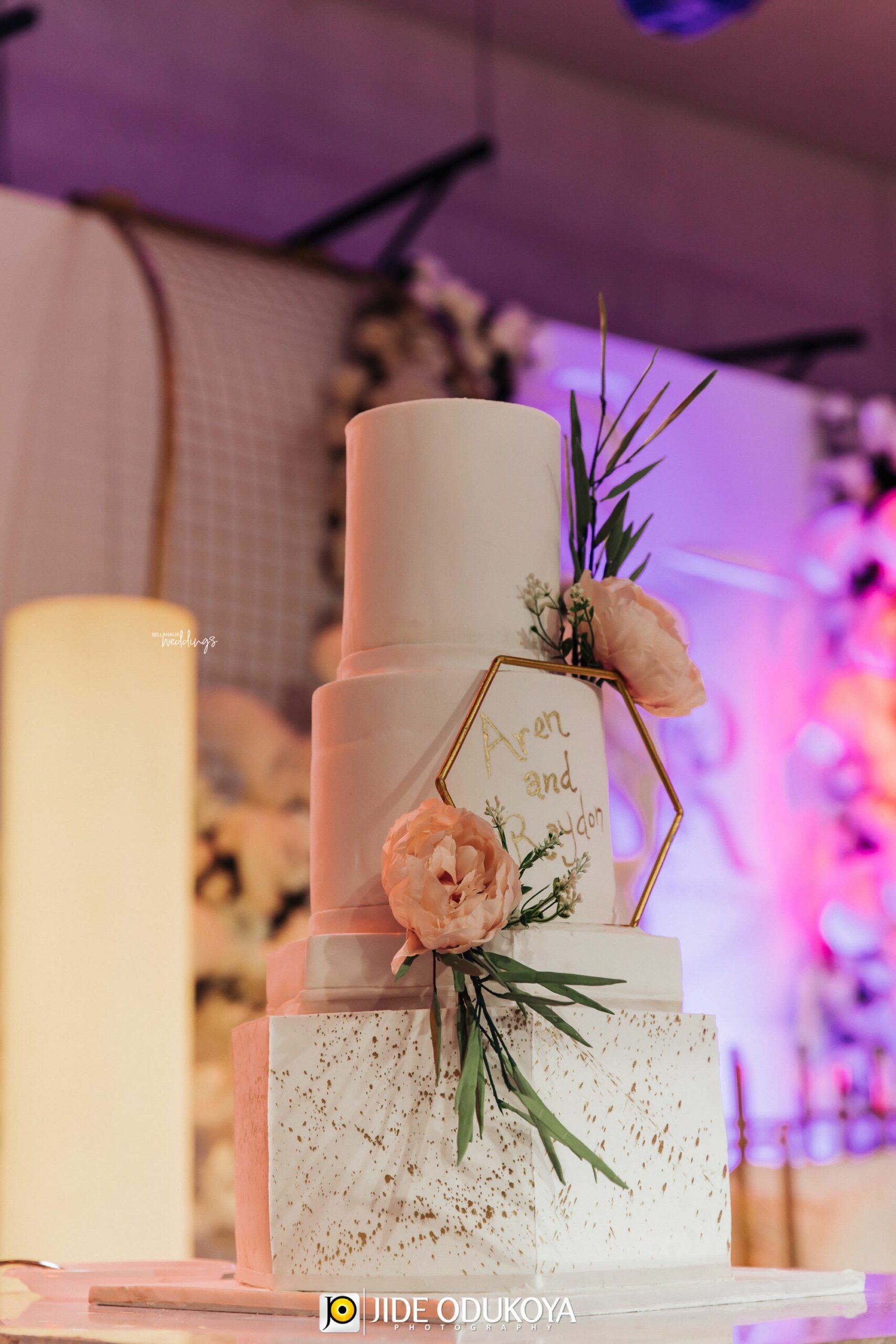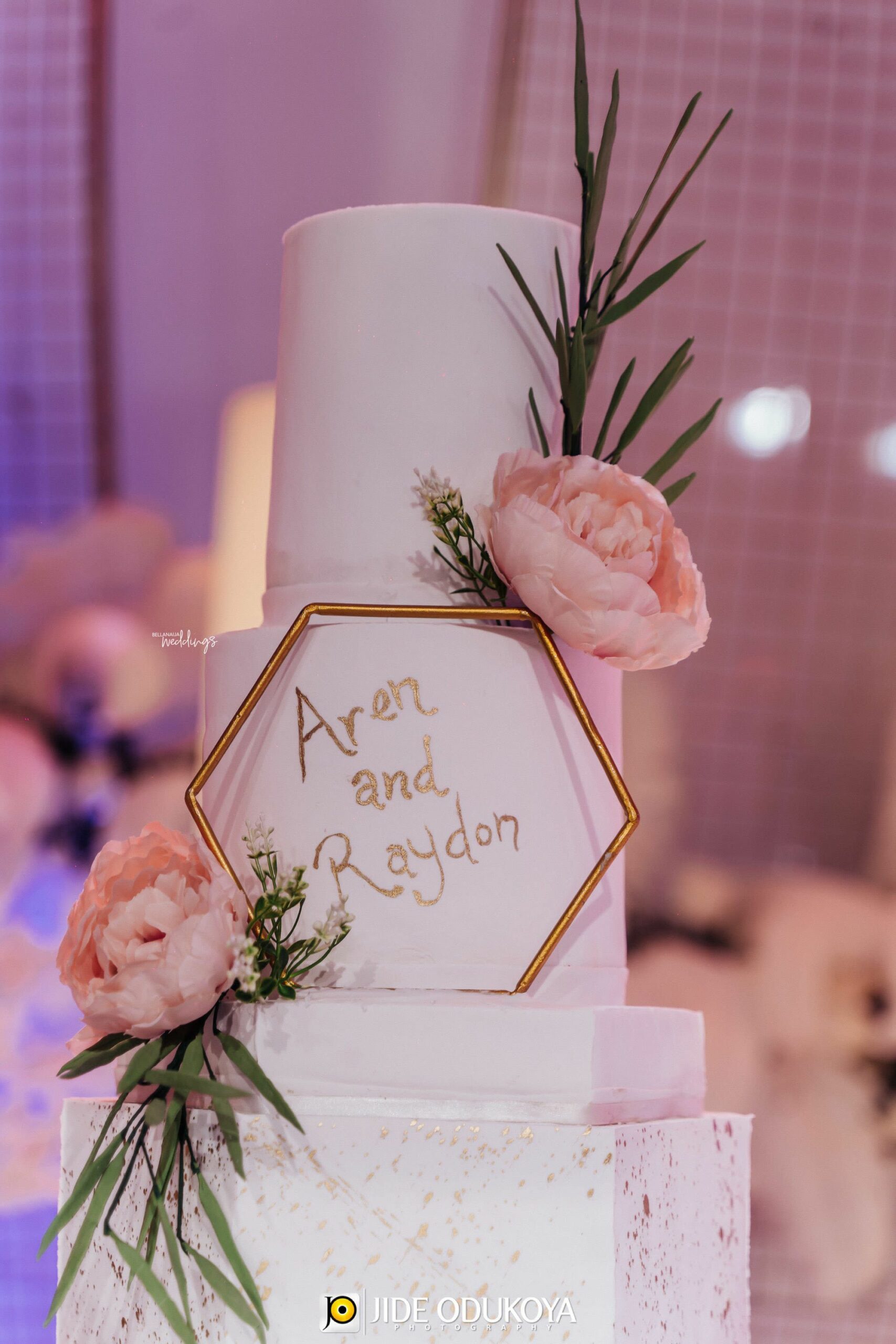 Let the party begin!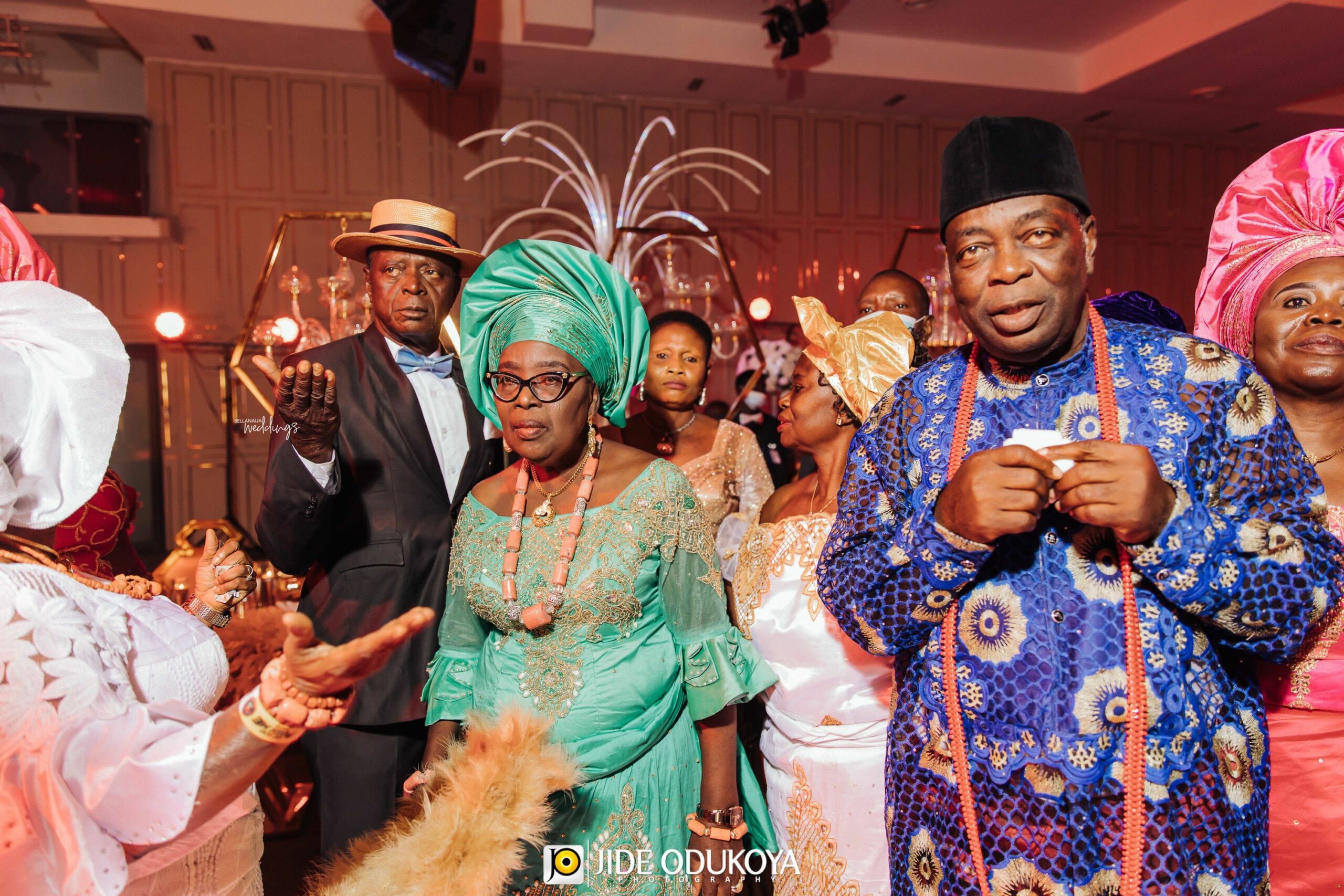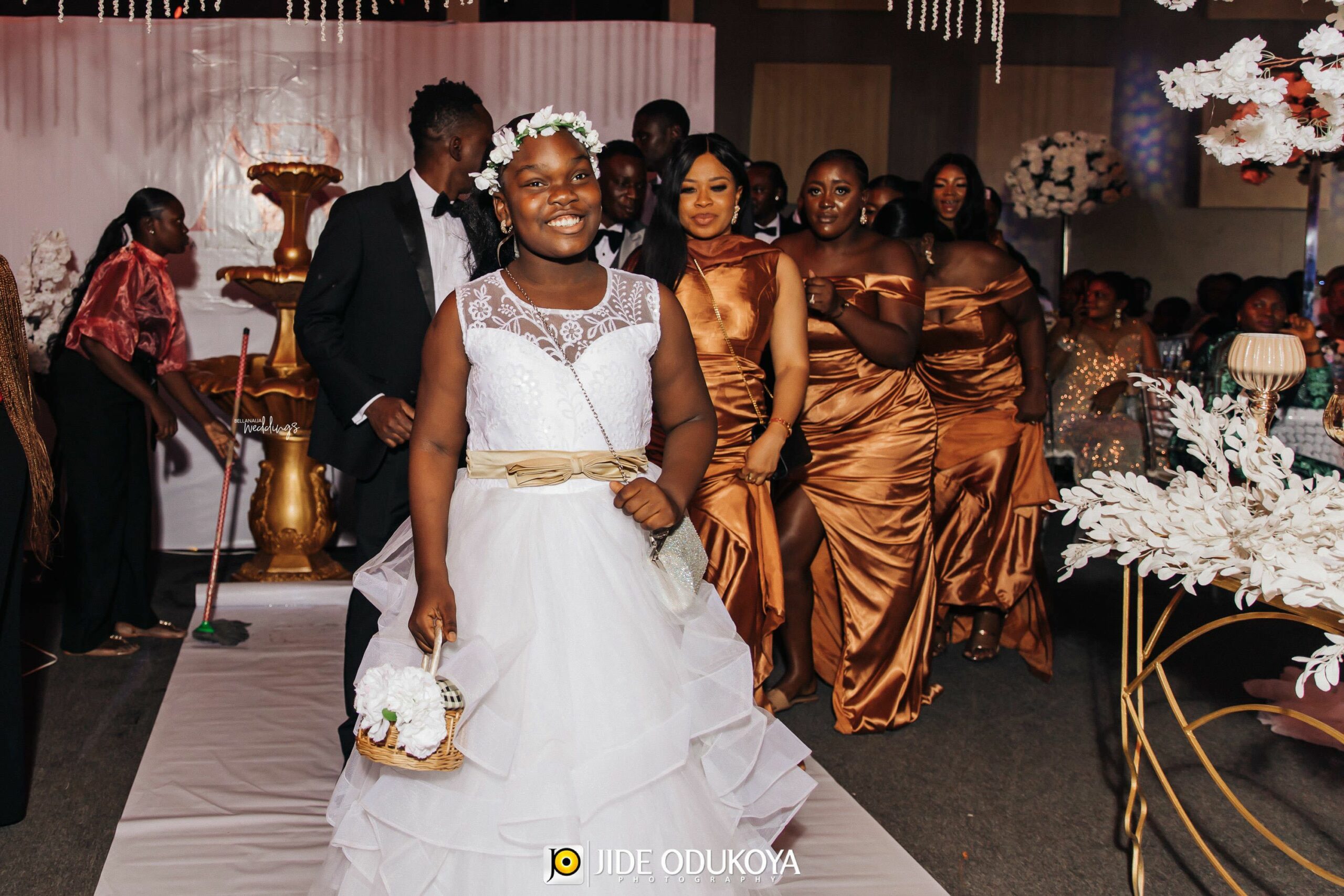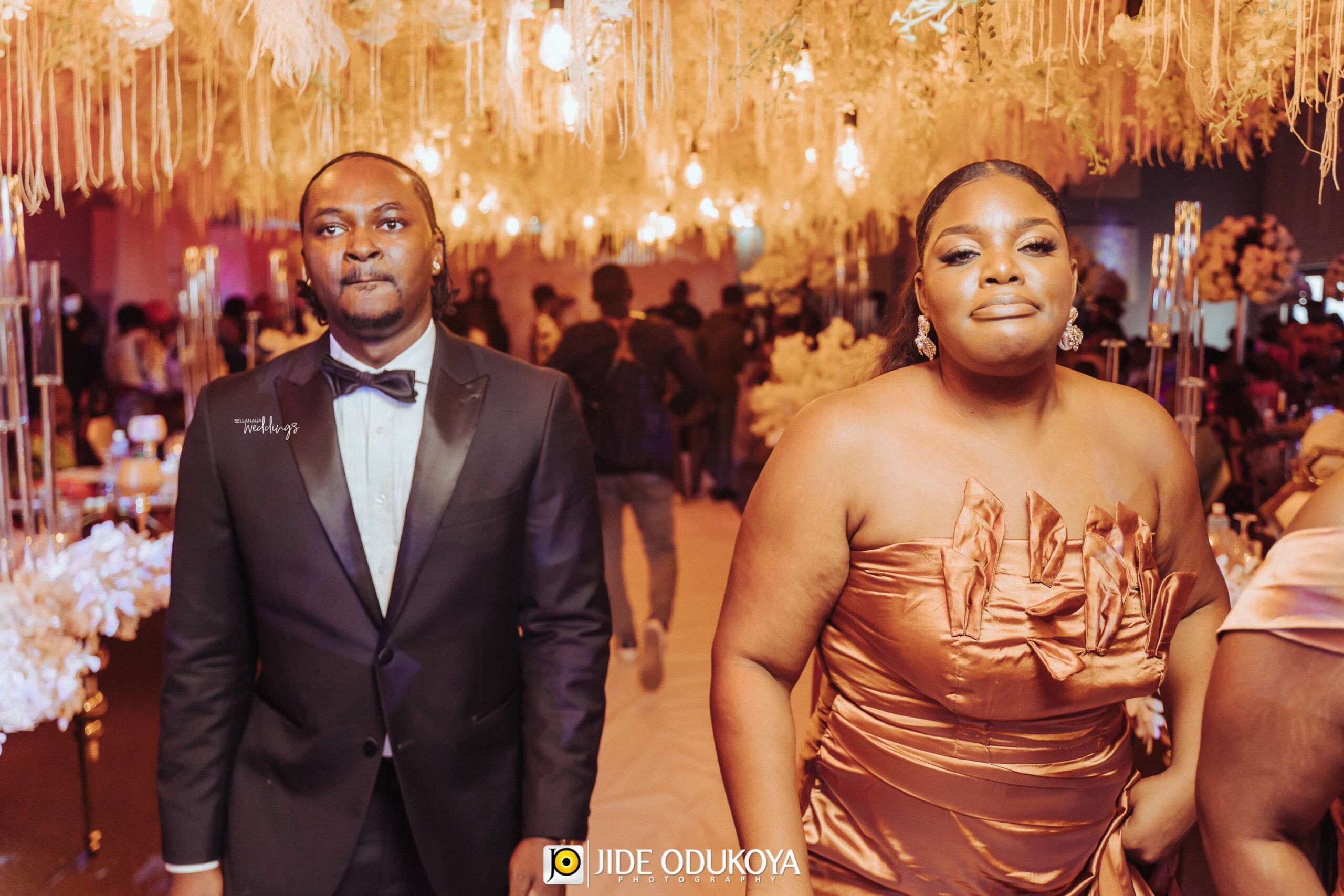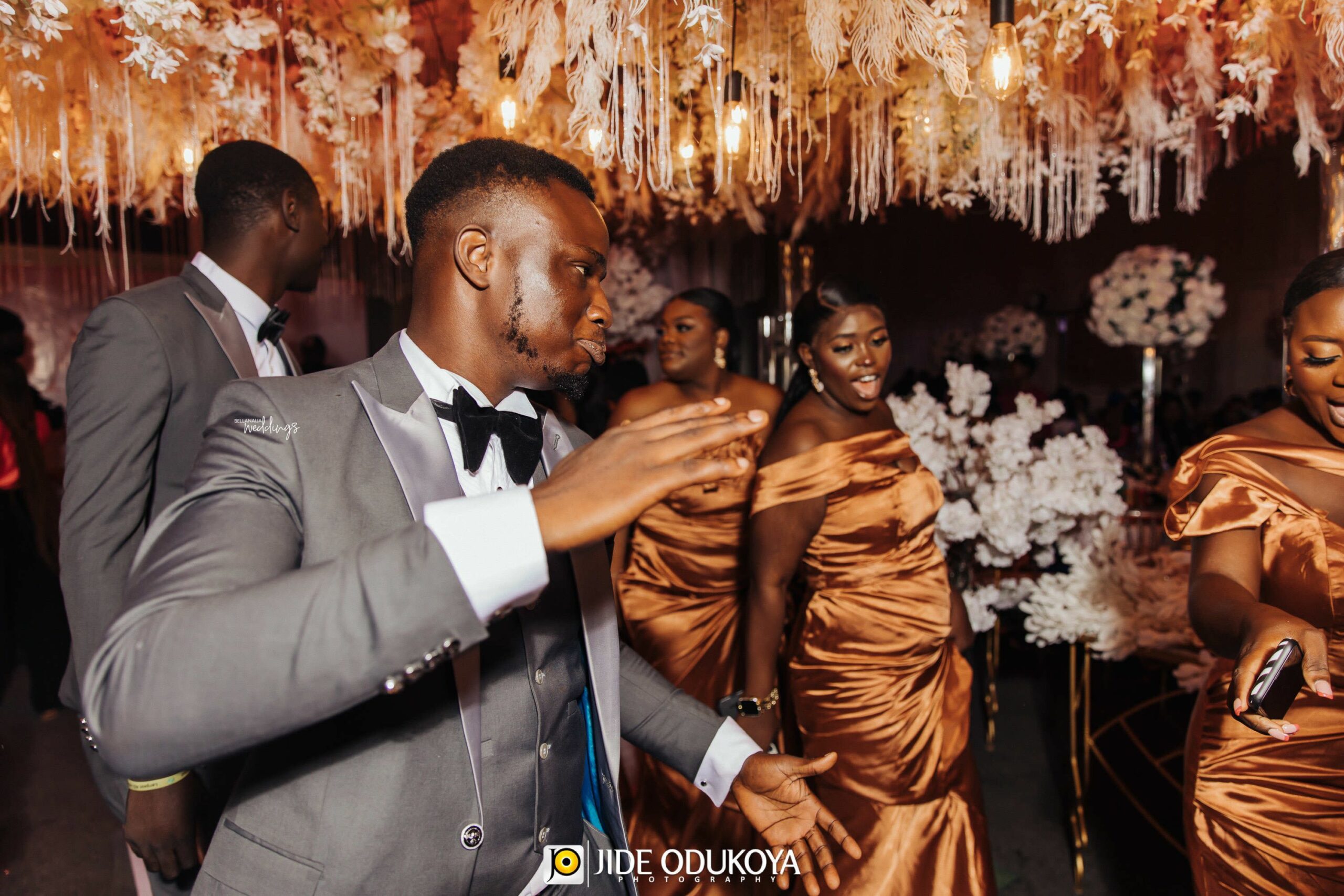 Welcome the stars of the day!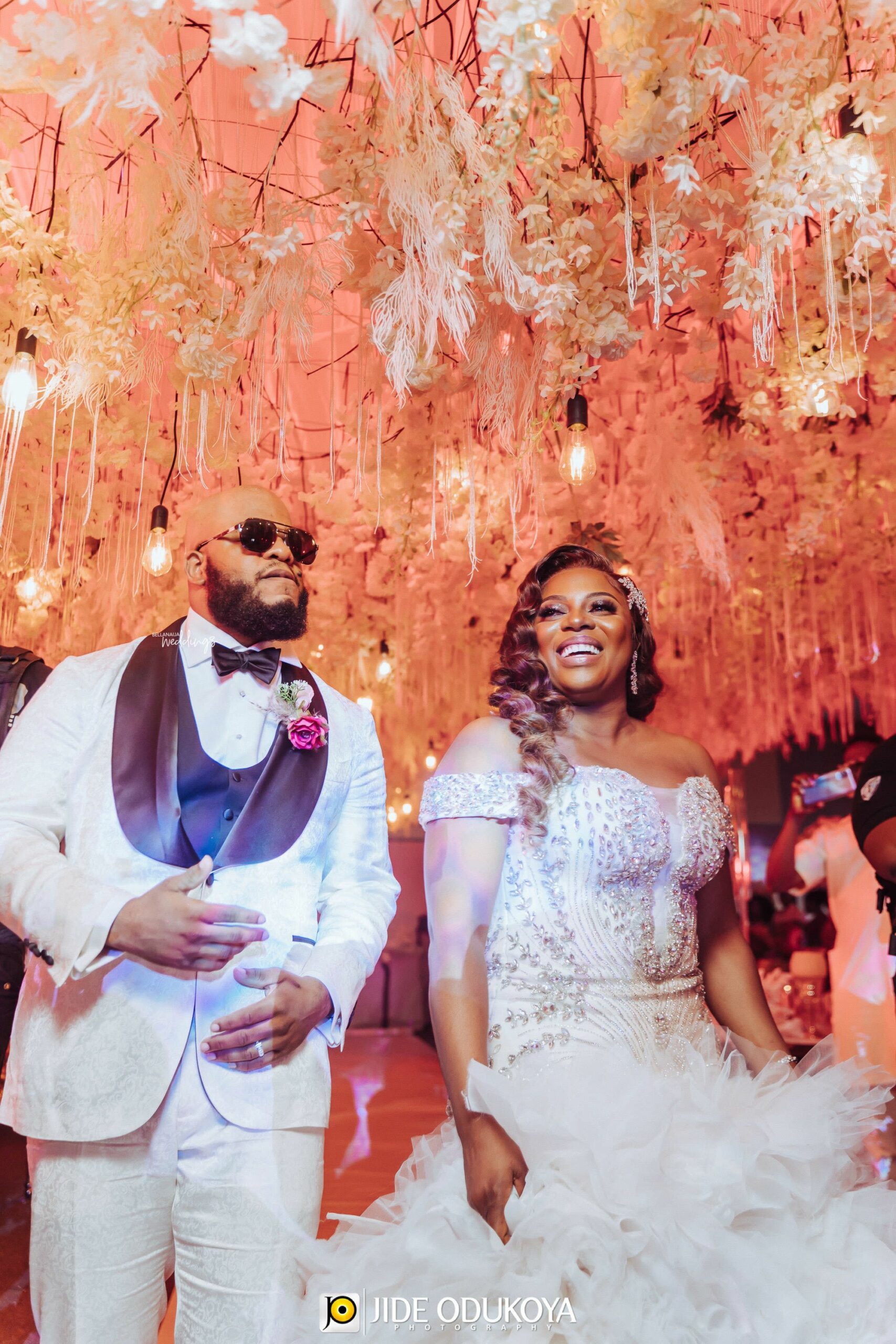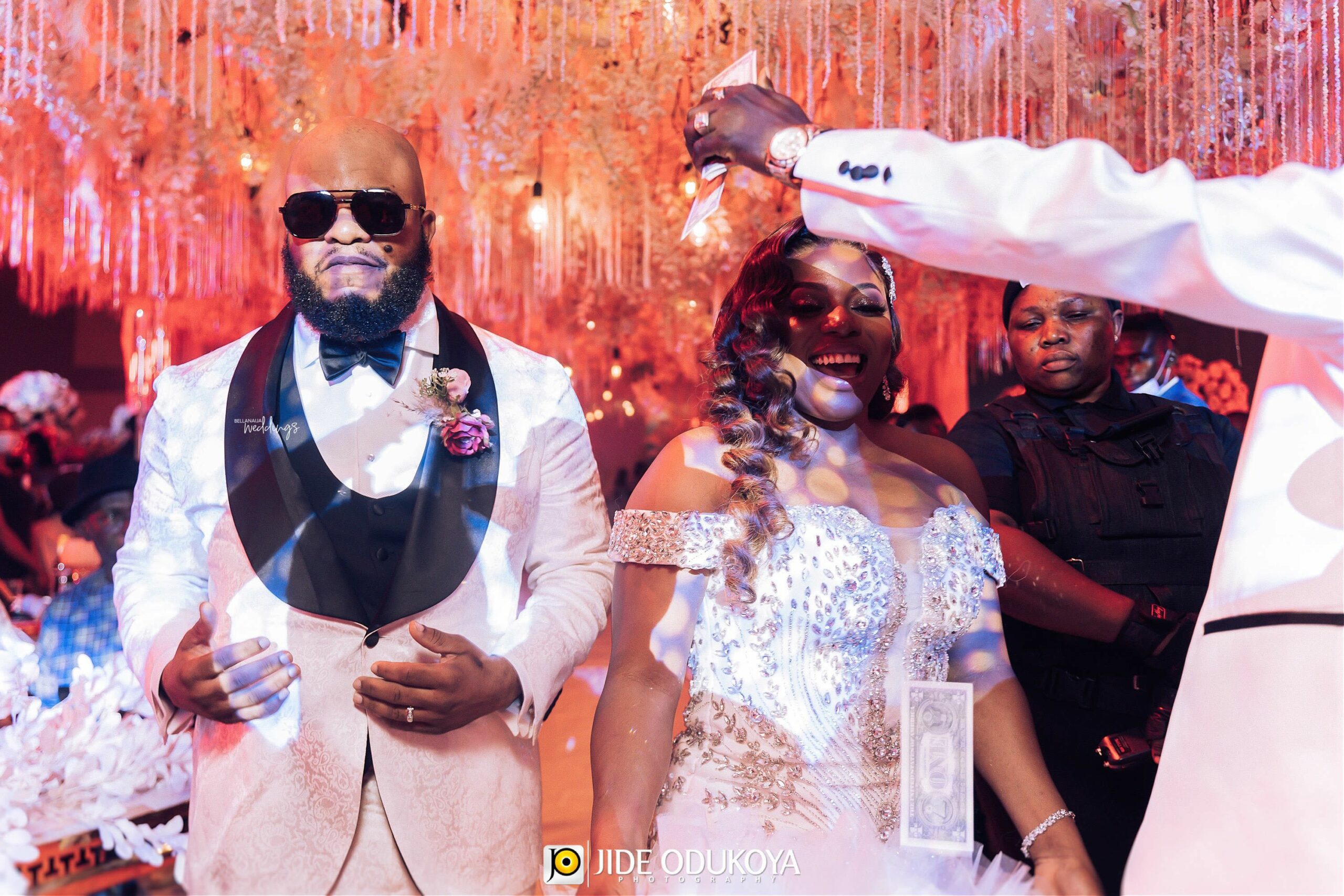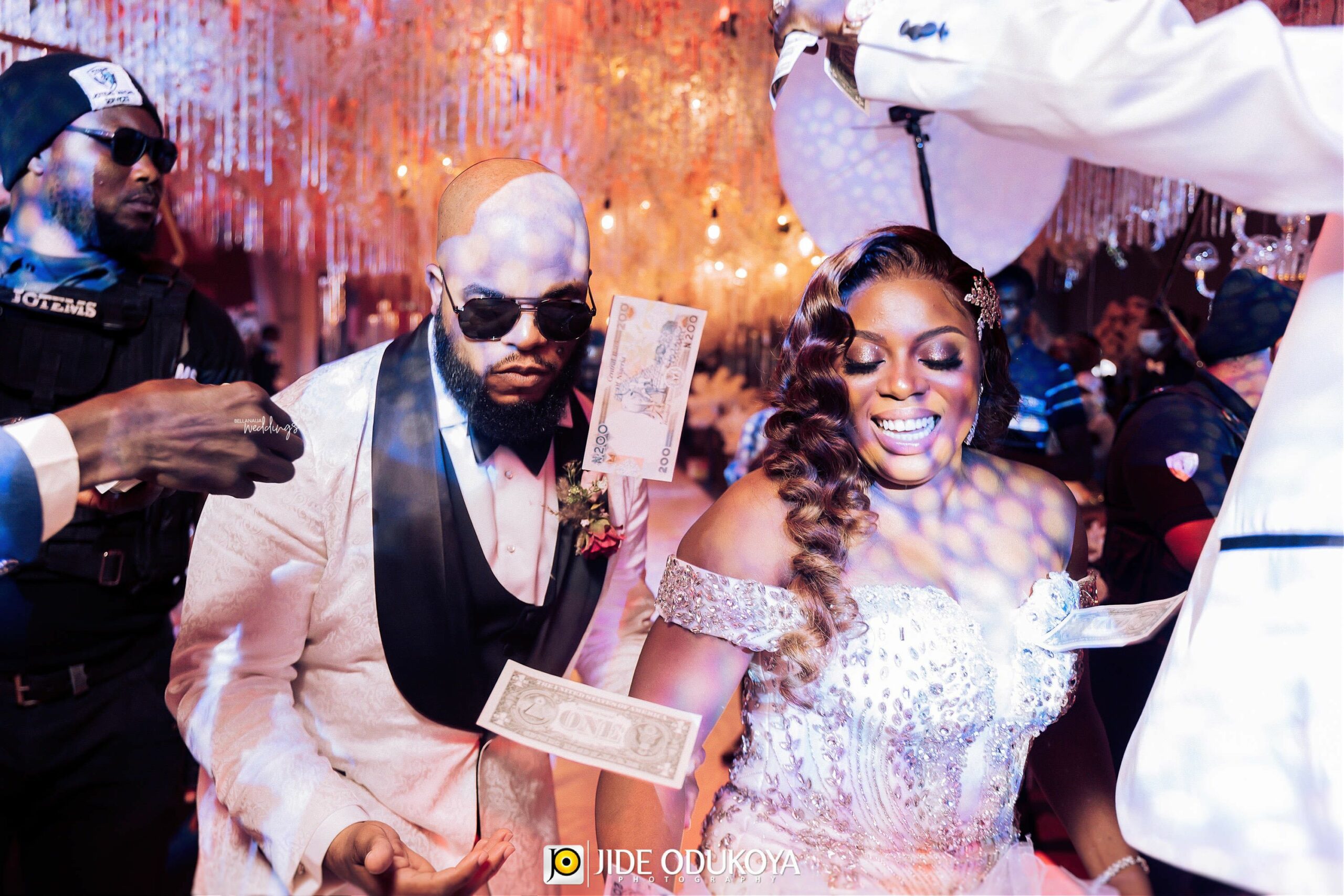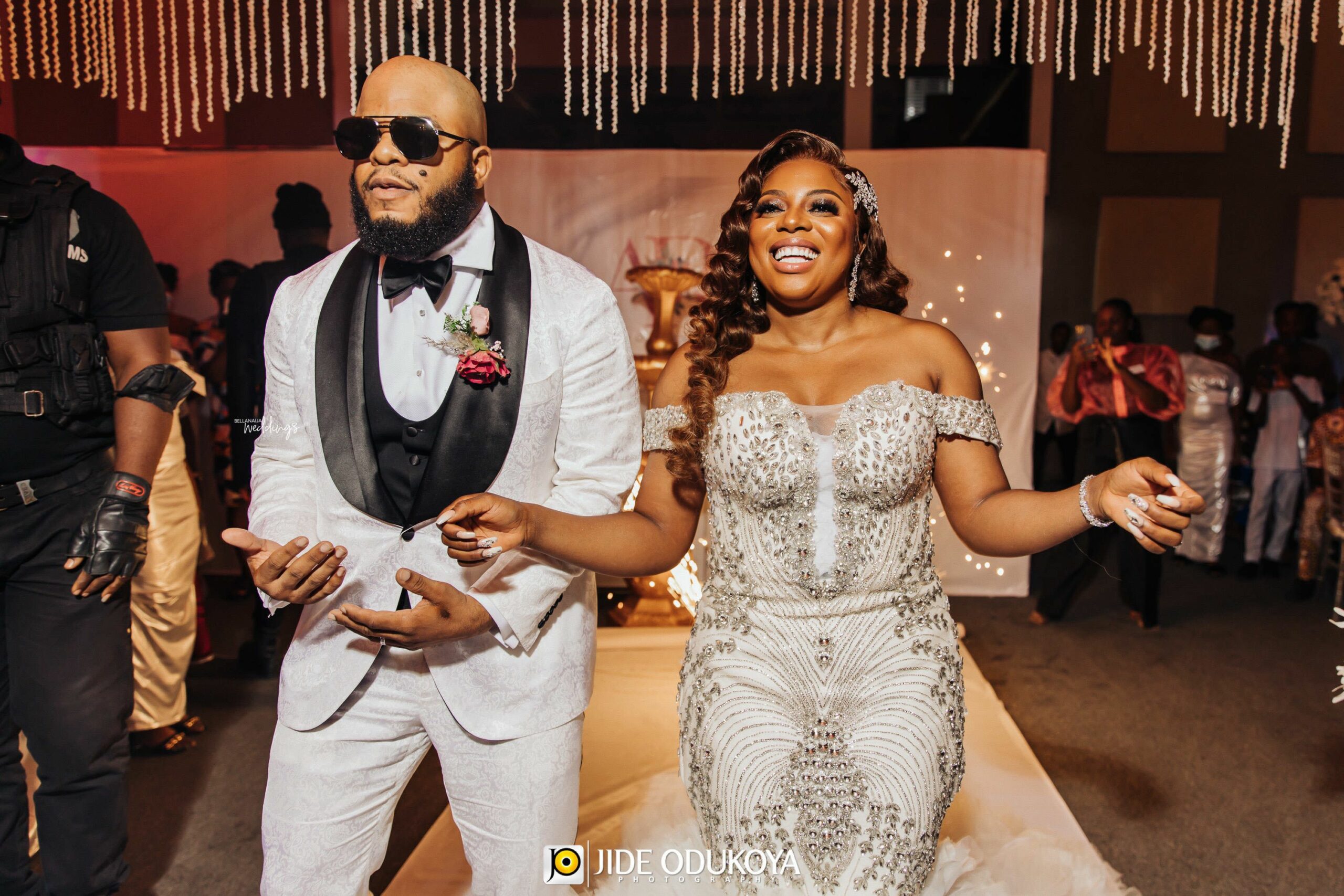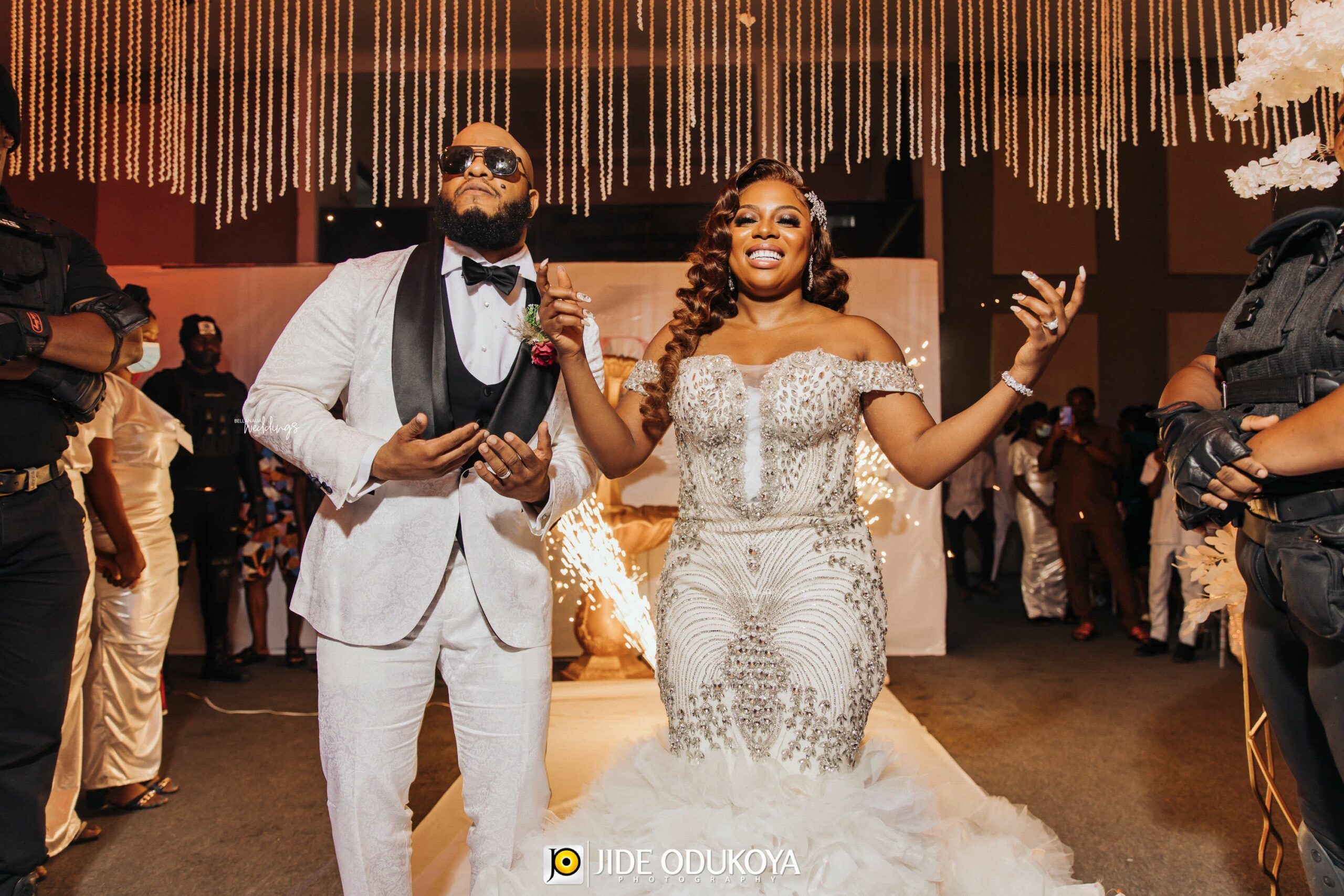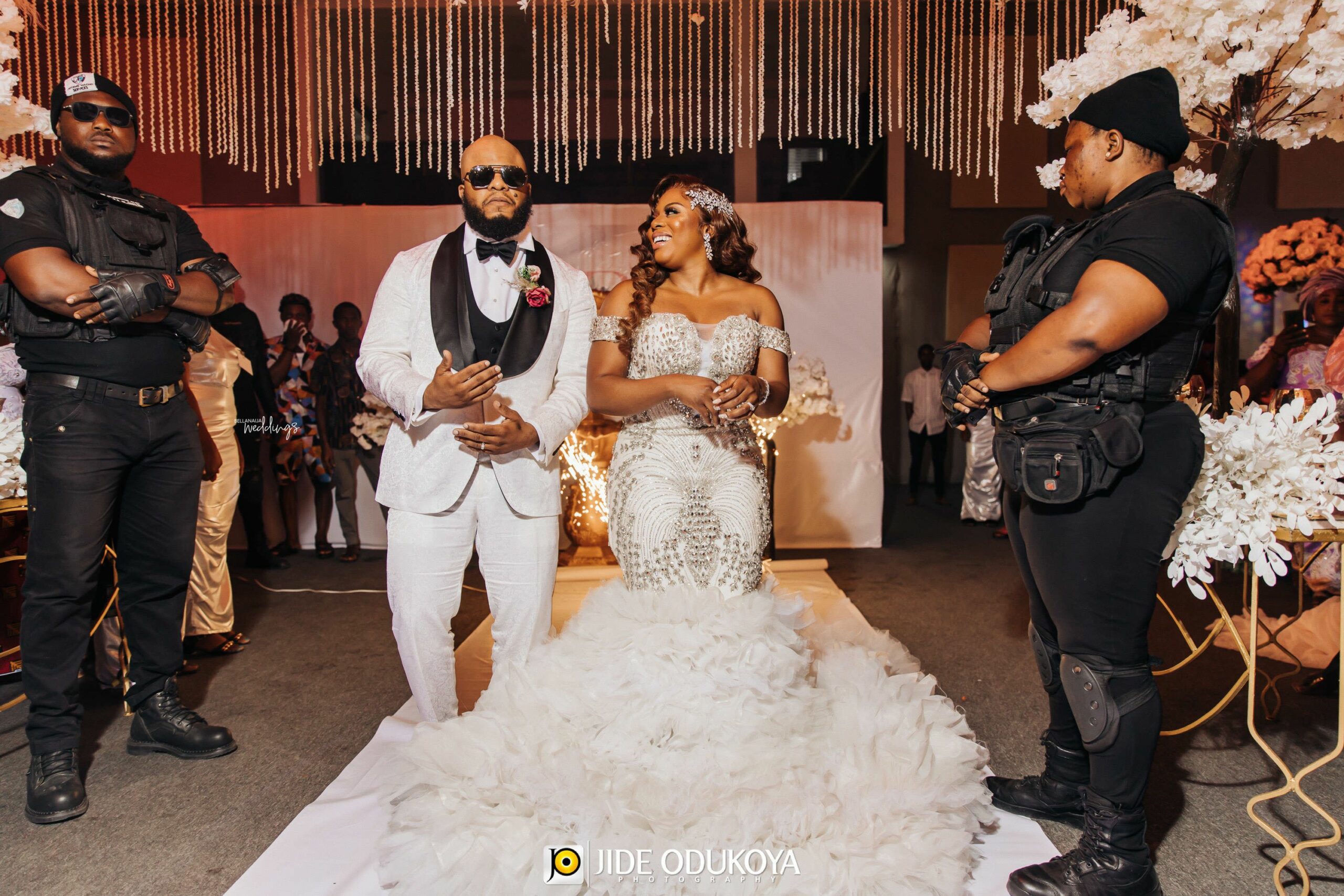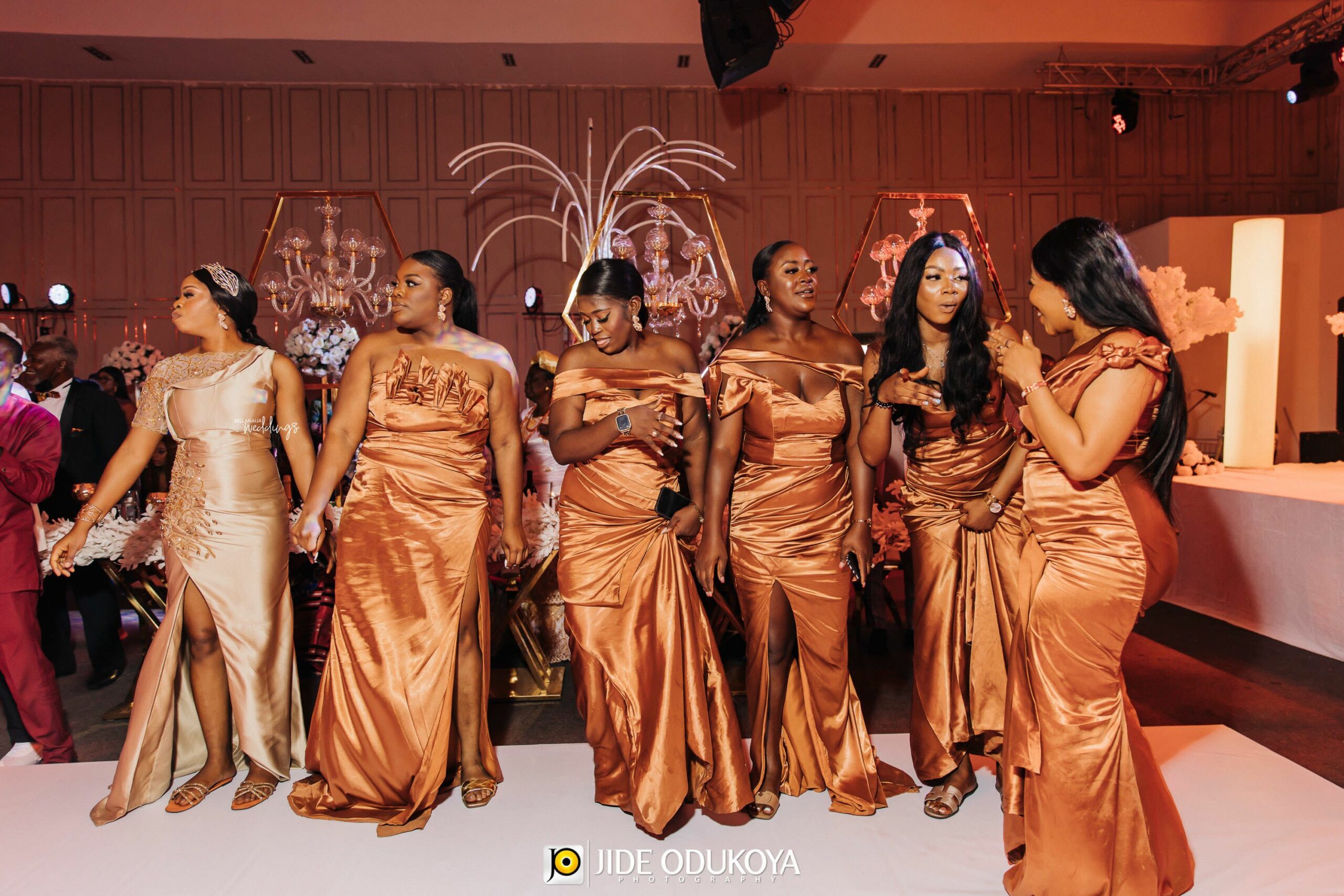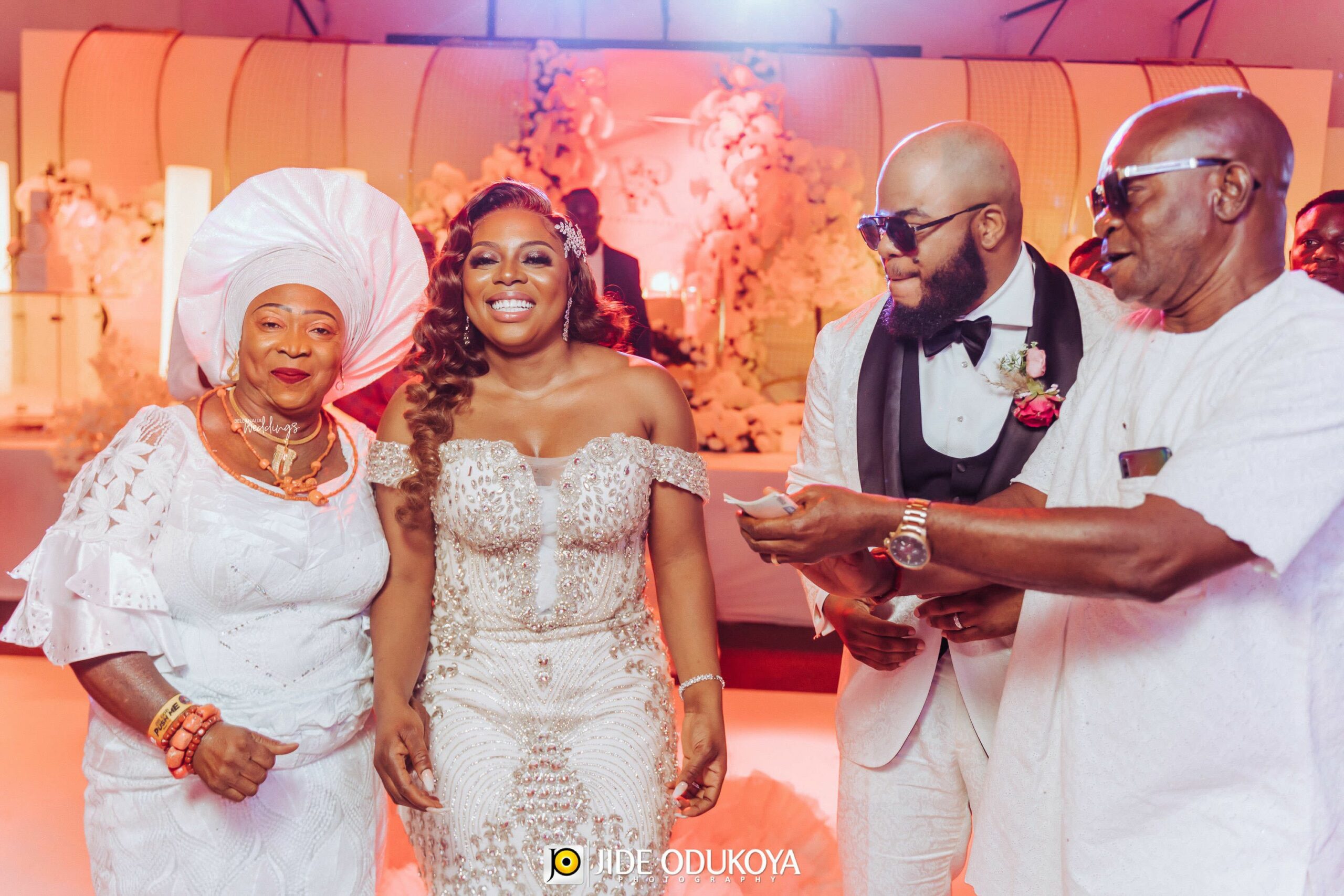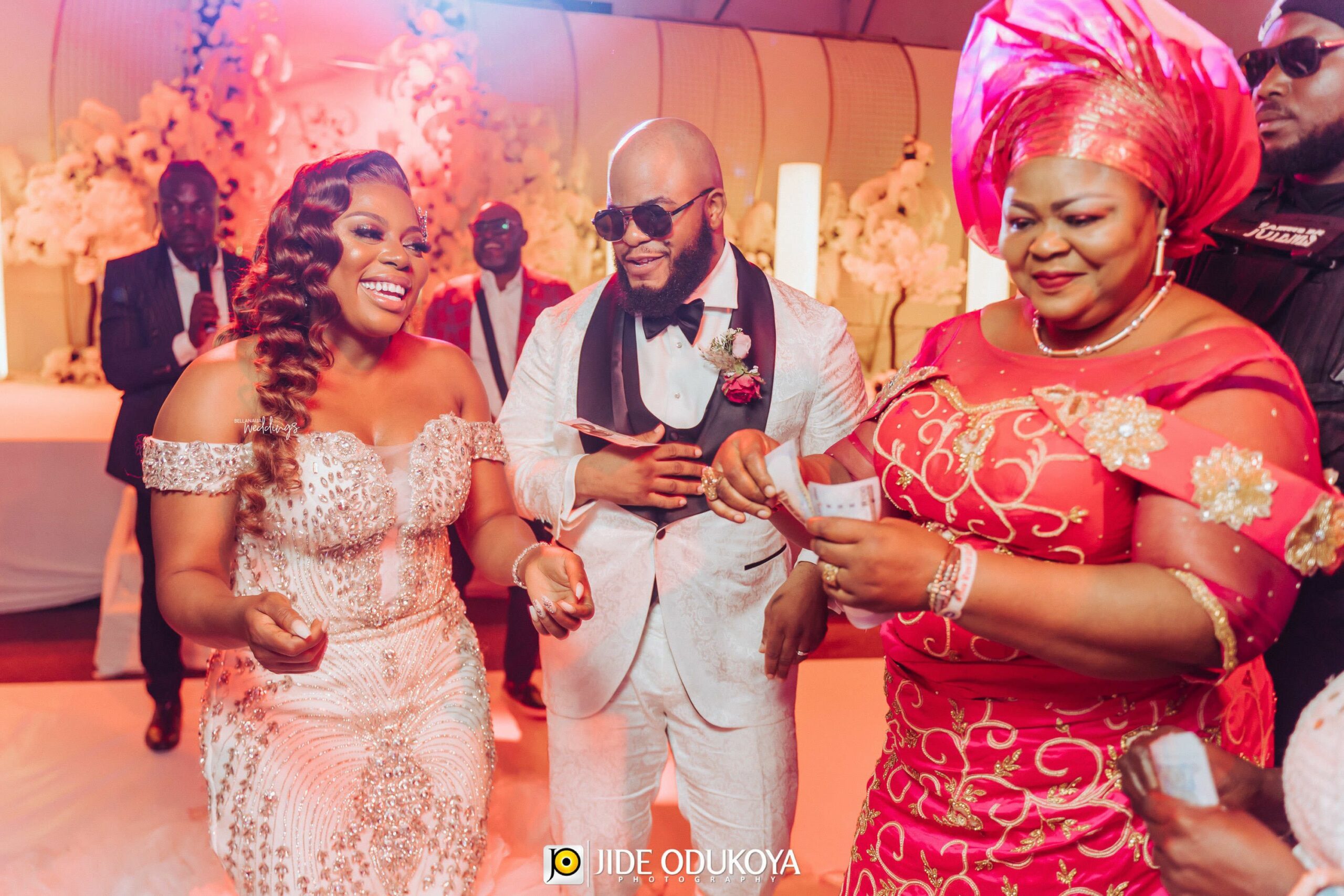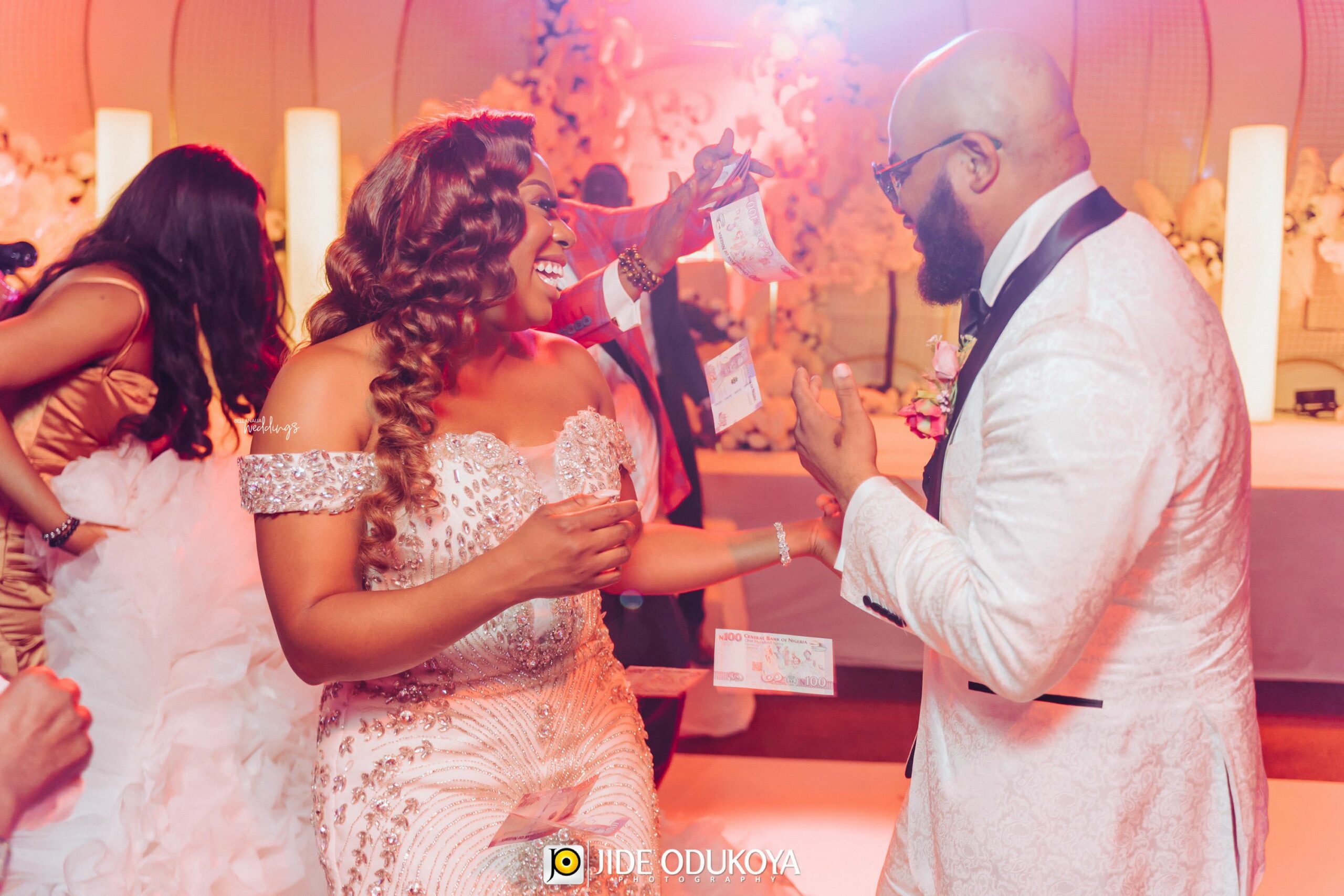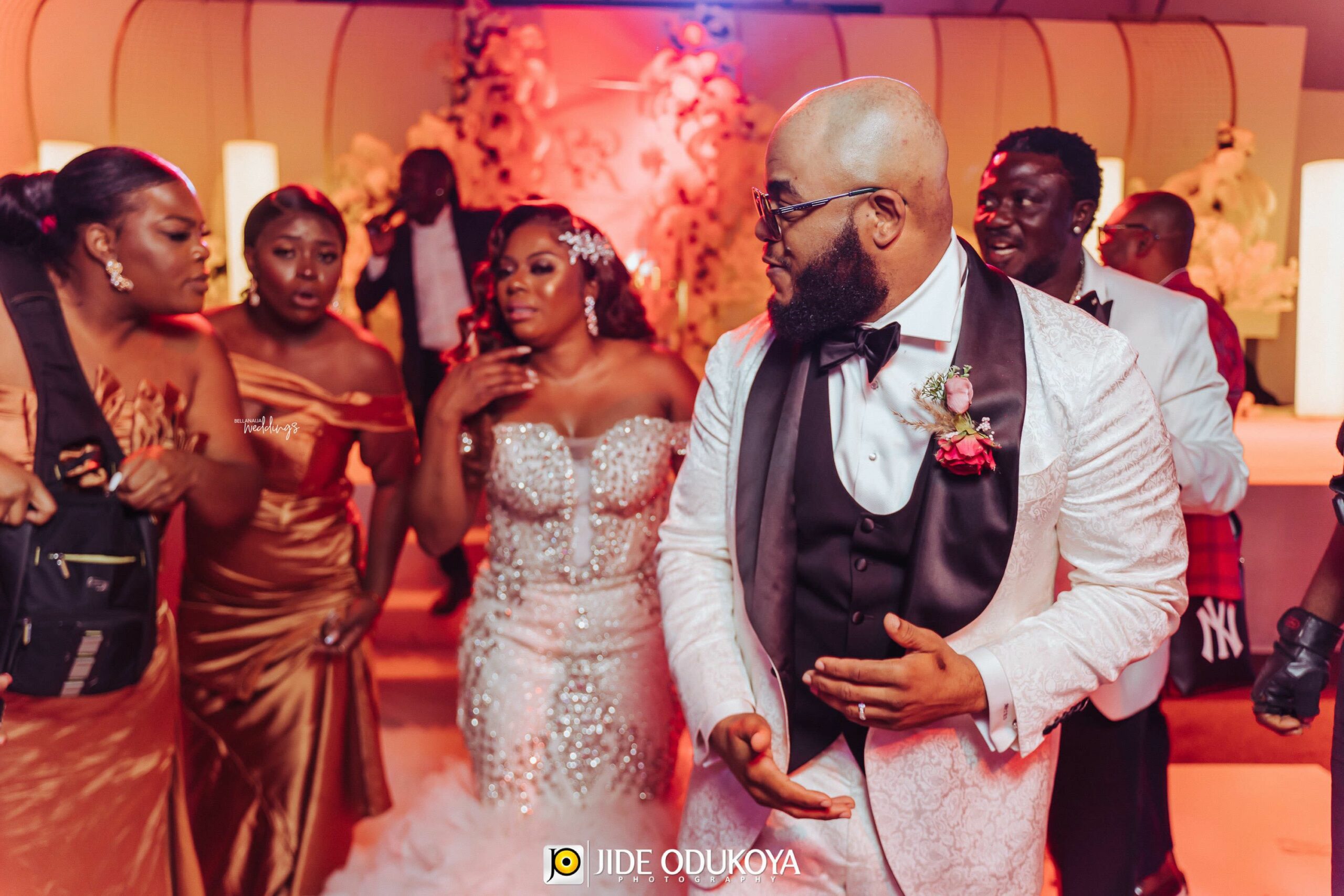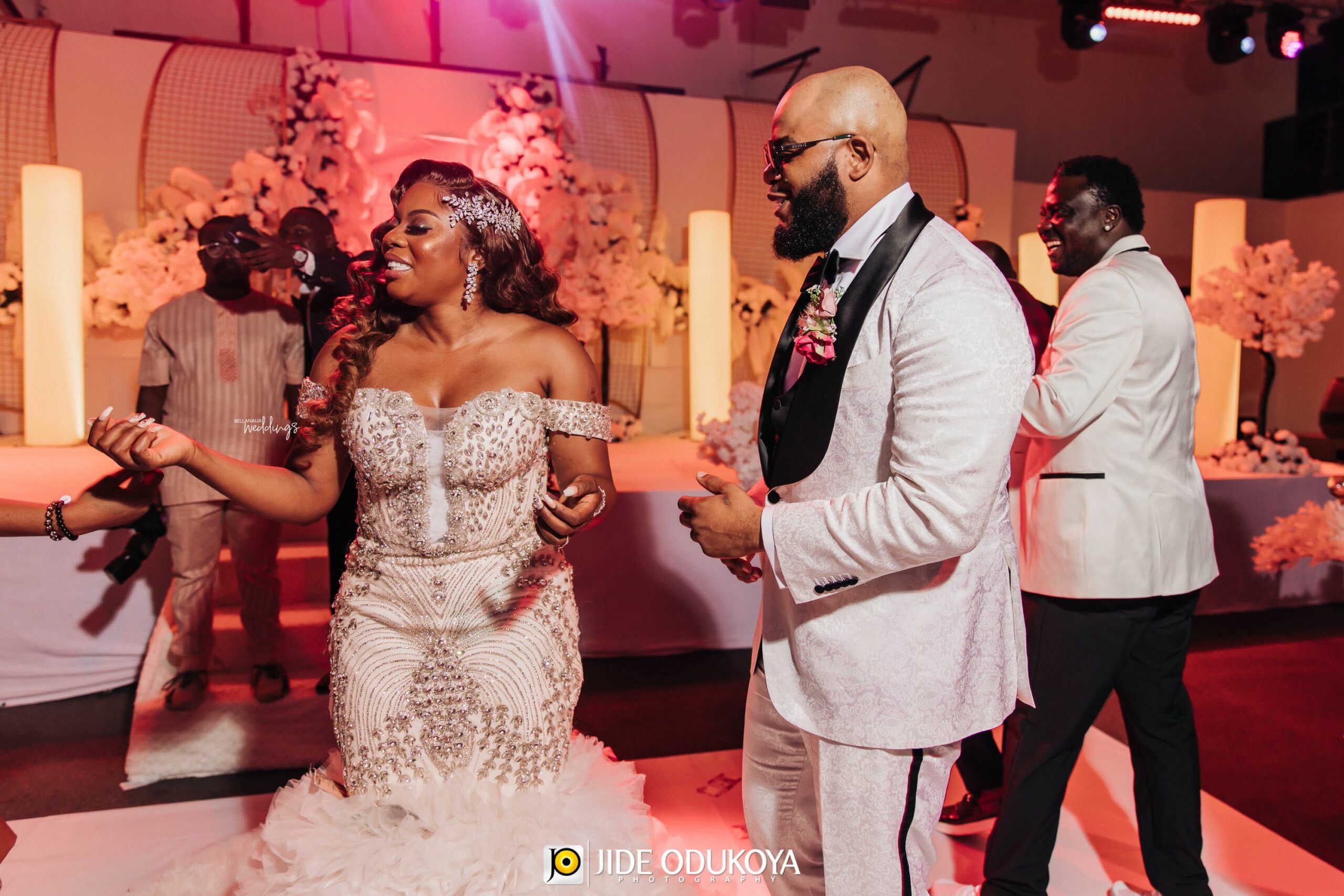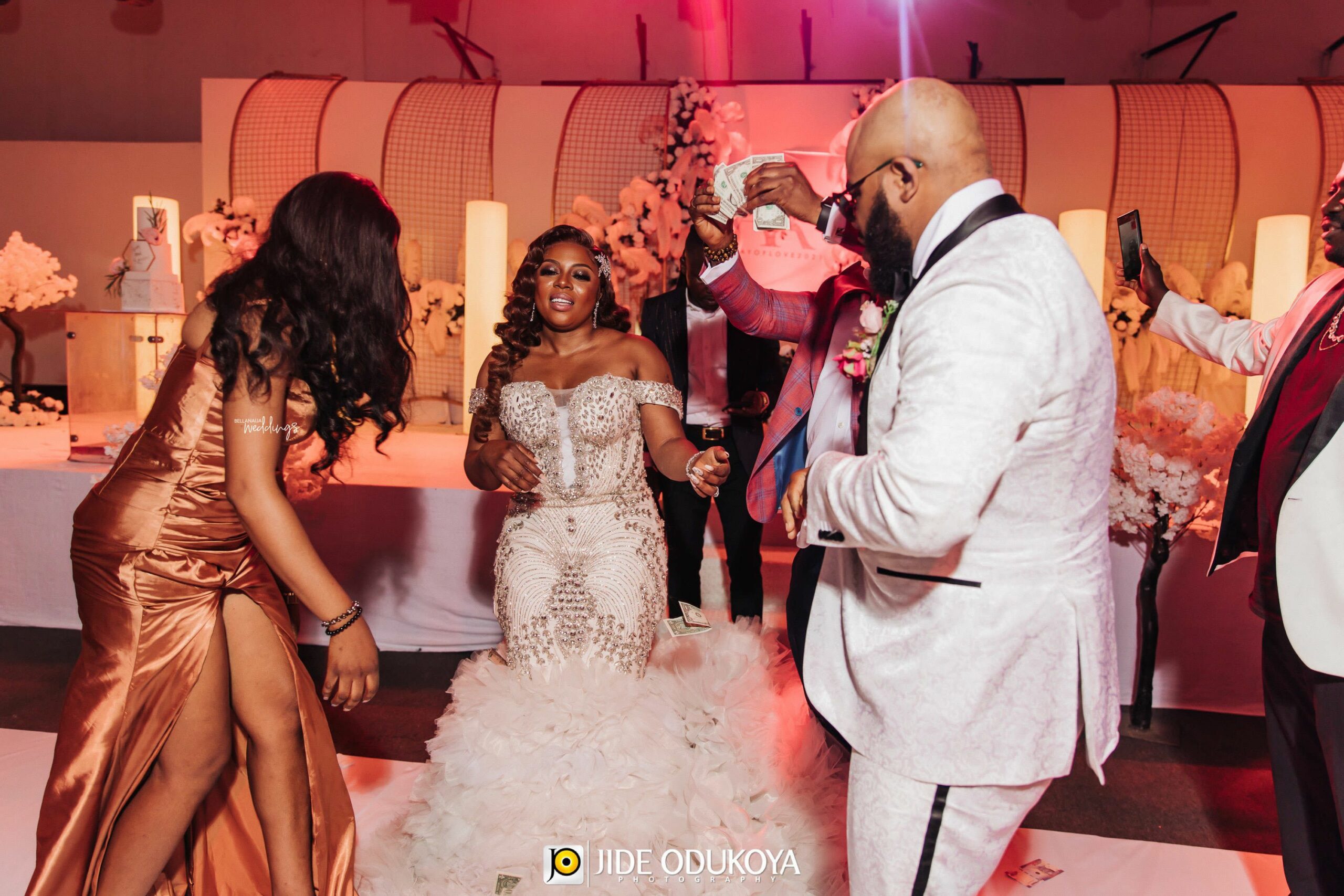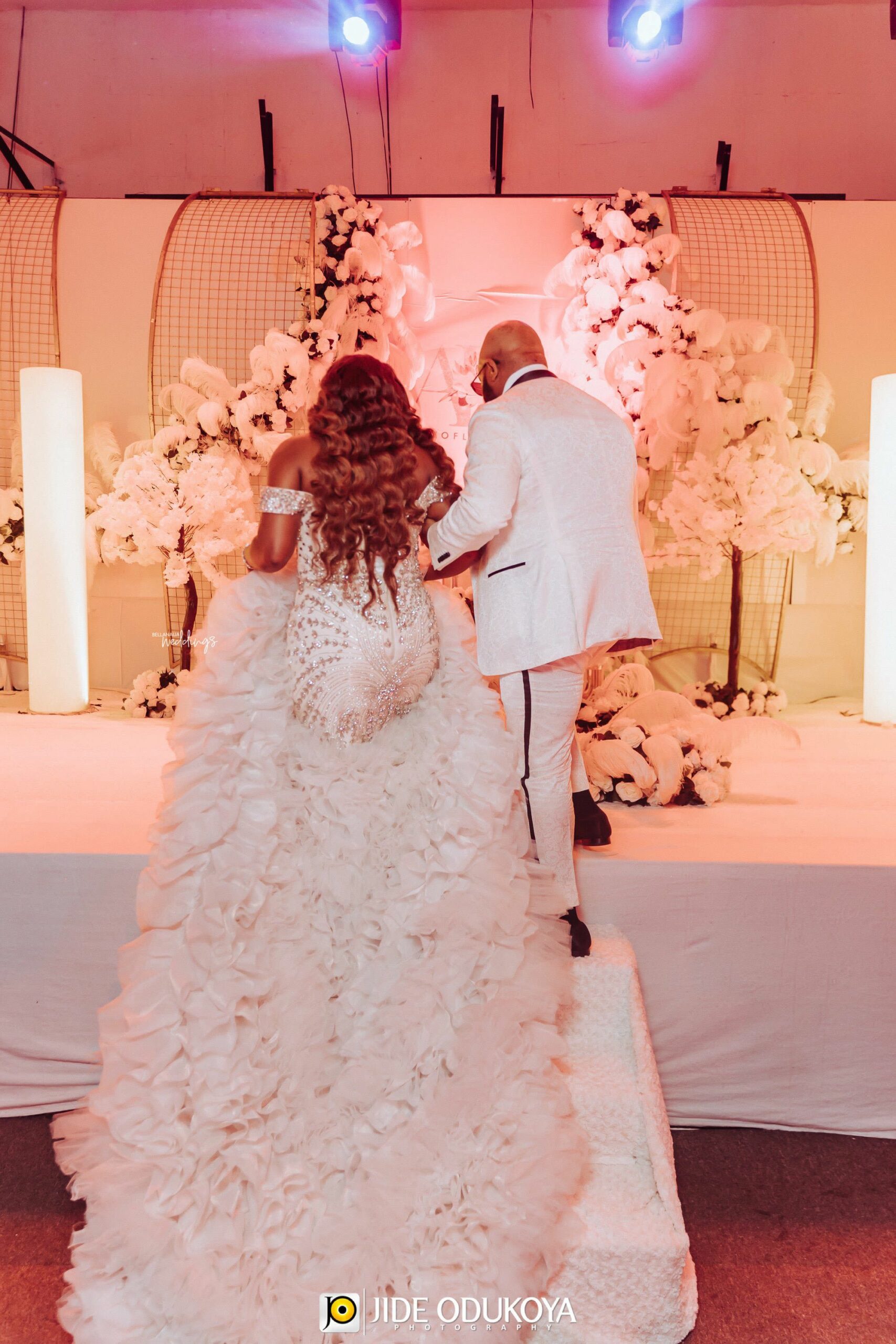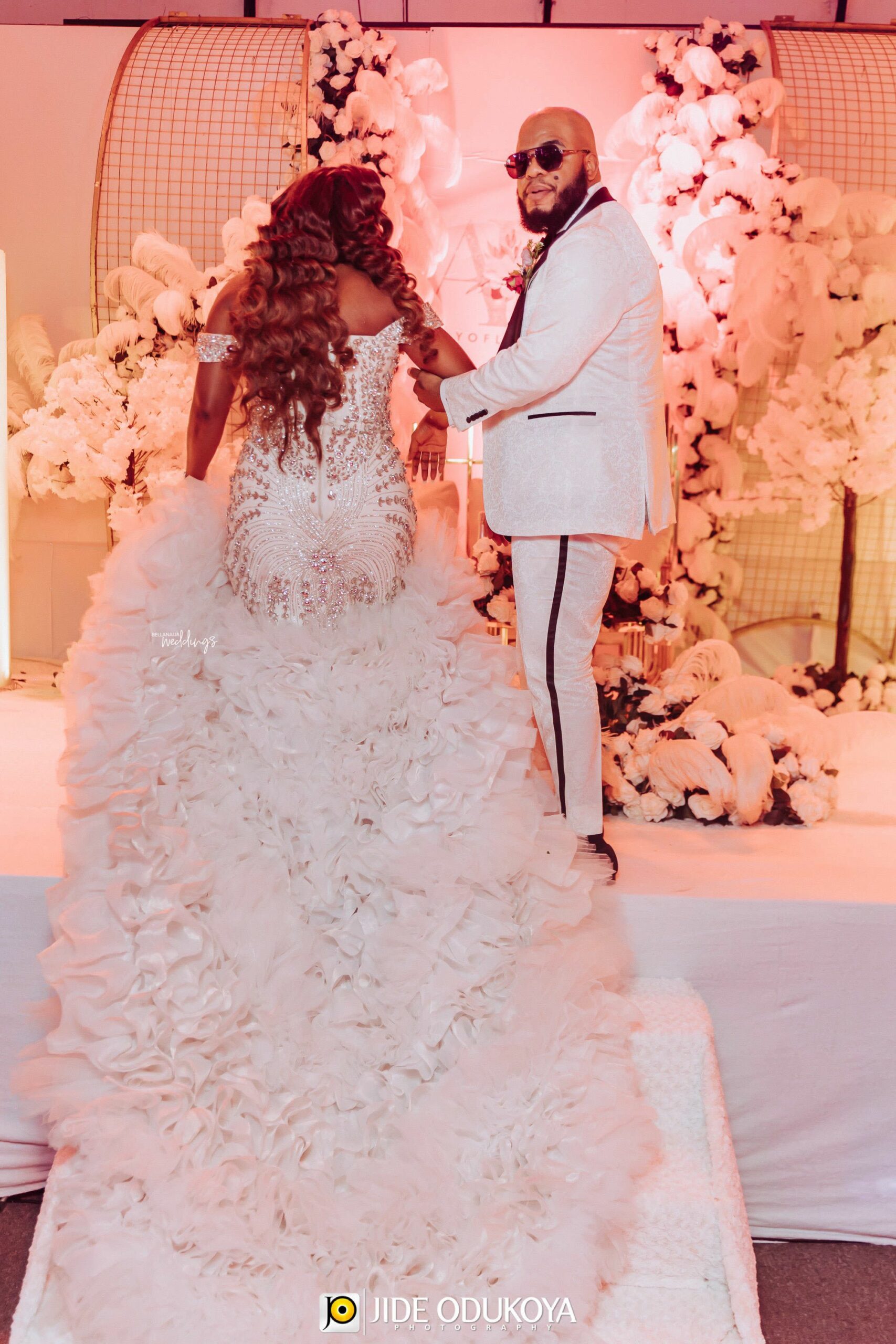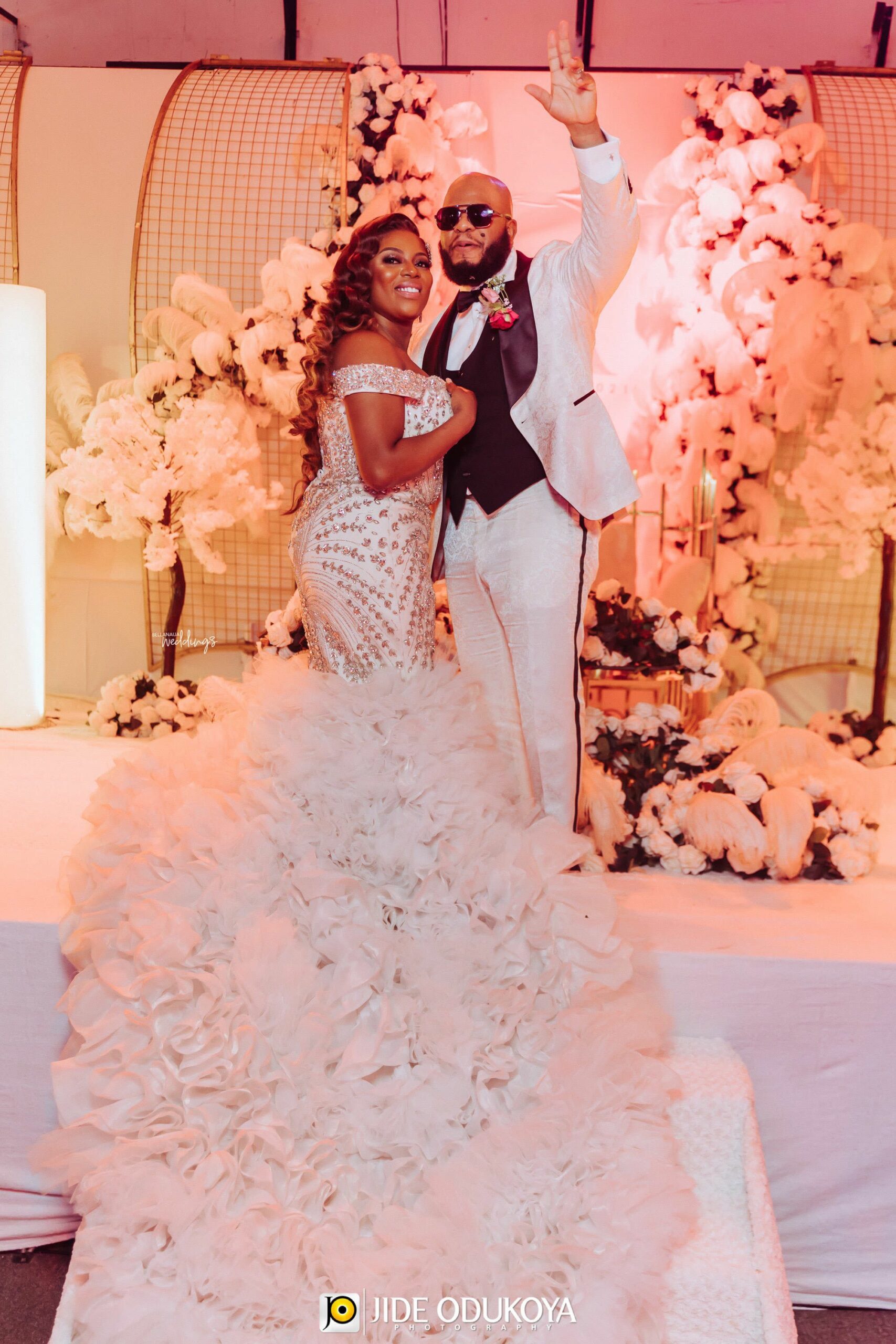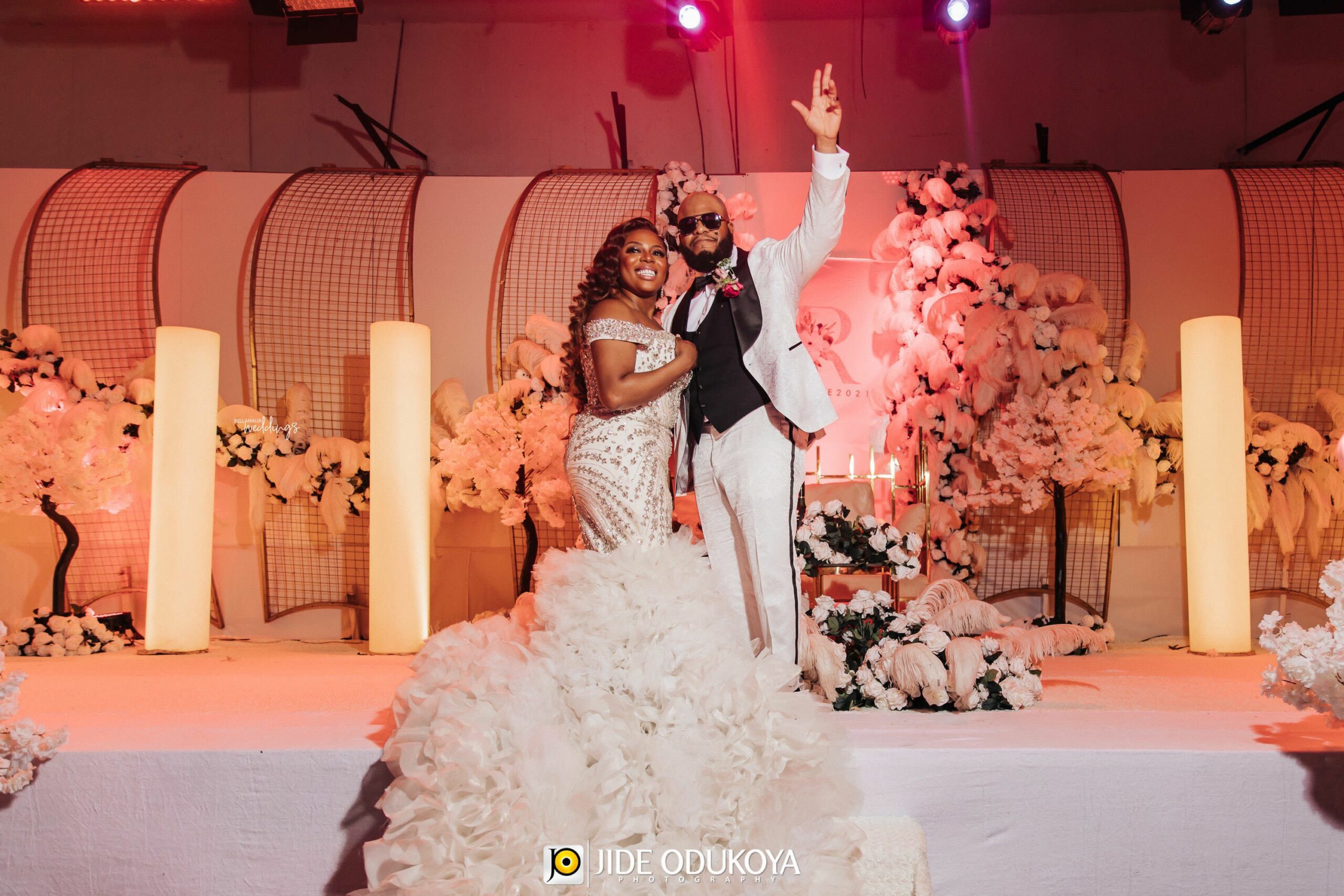 To the cutting of the cake…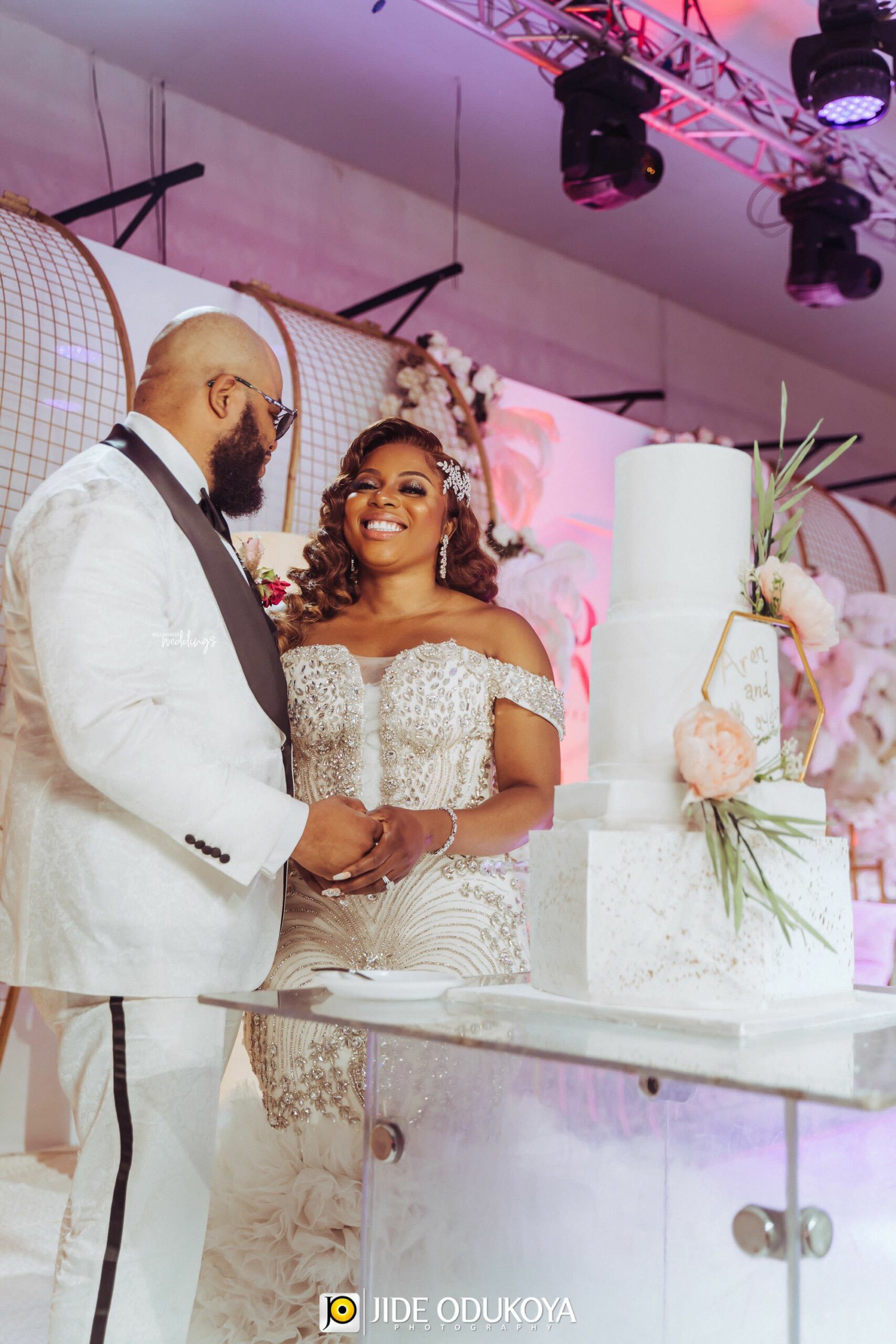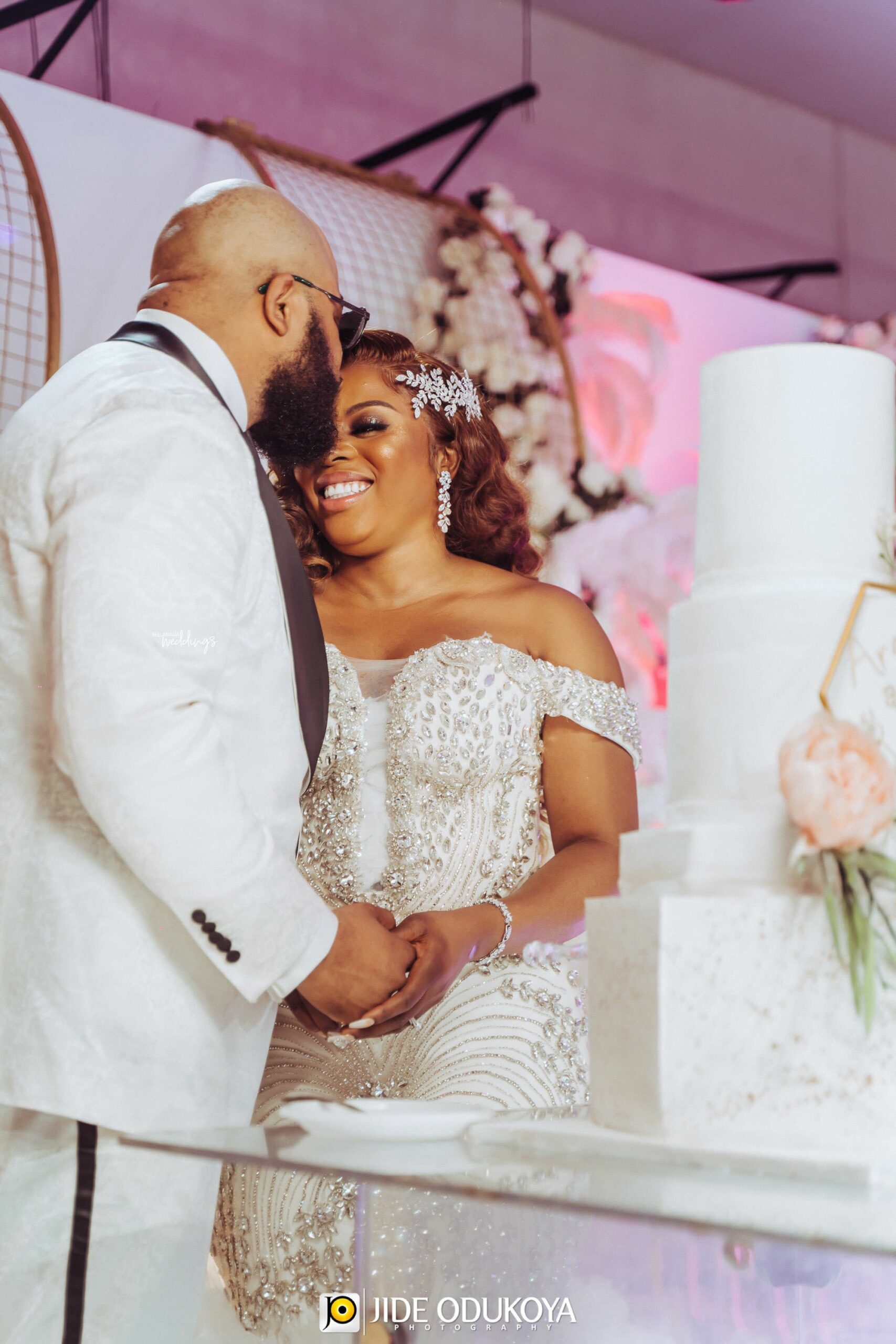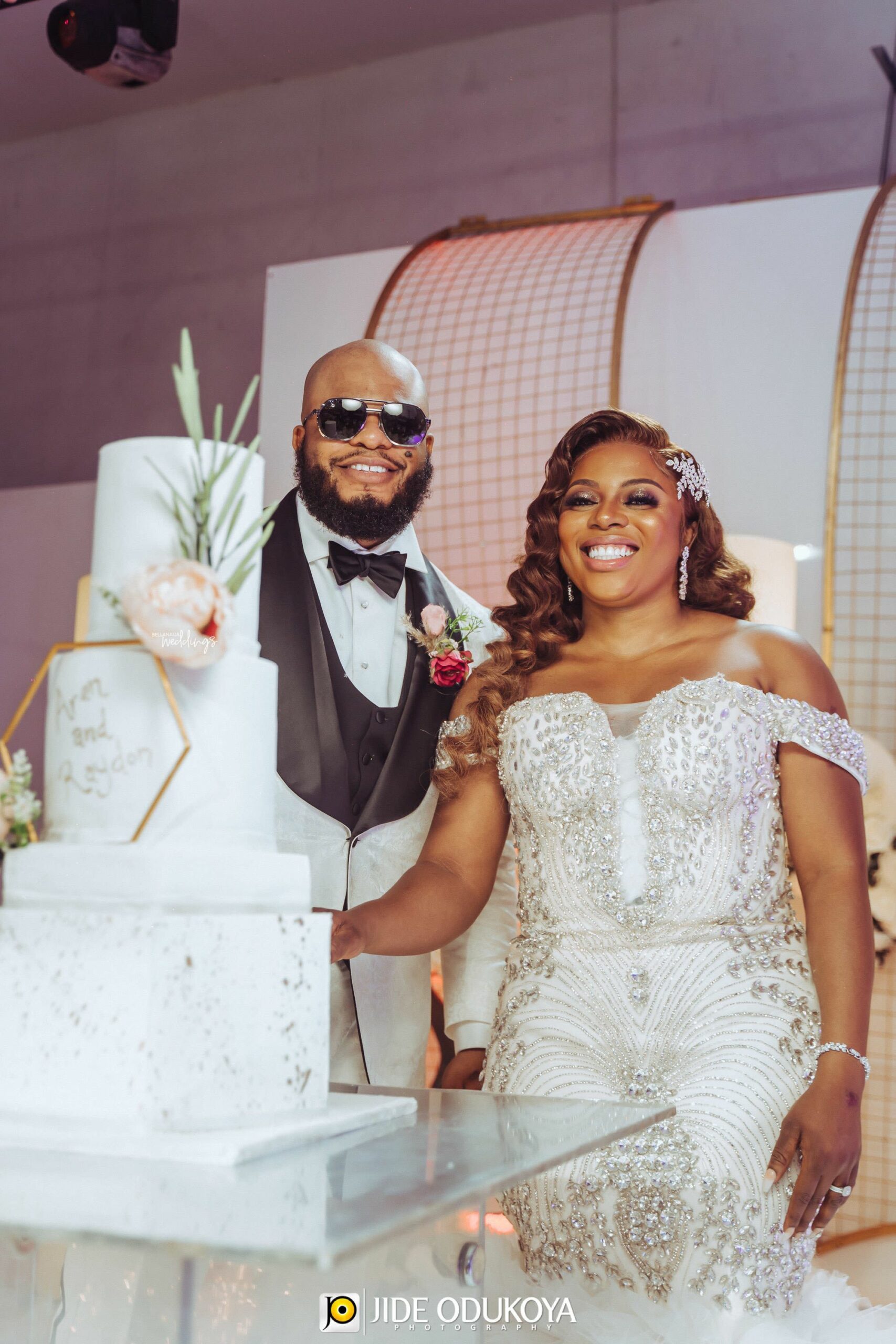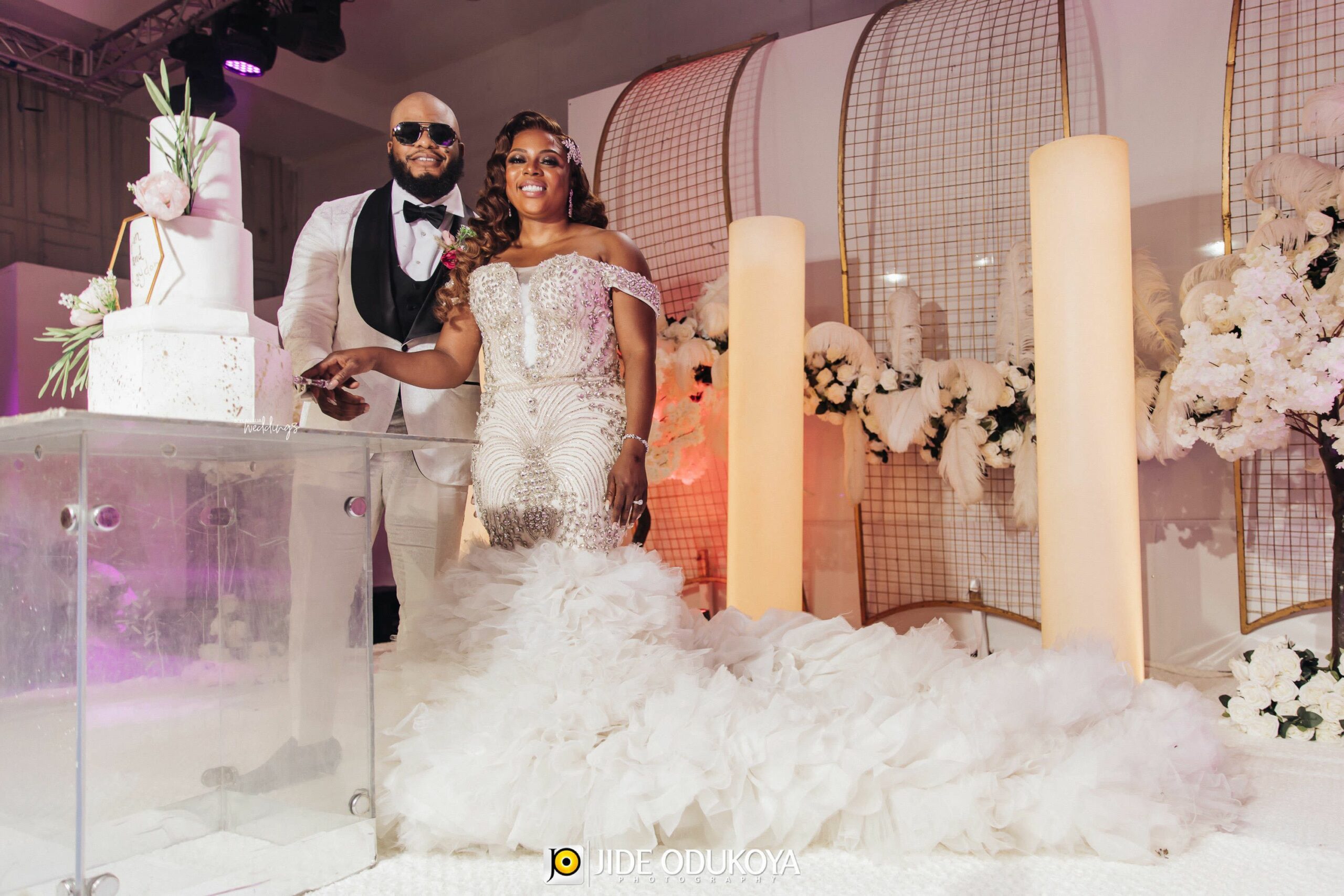 Time for that magical first dance moment…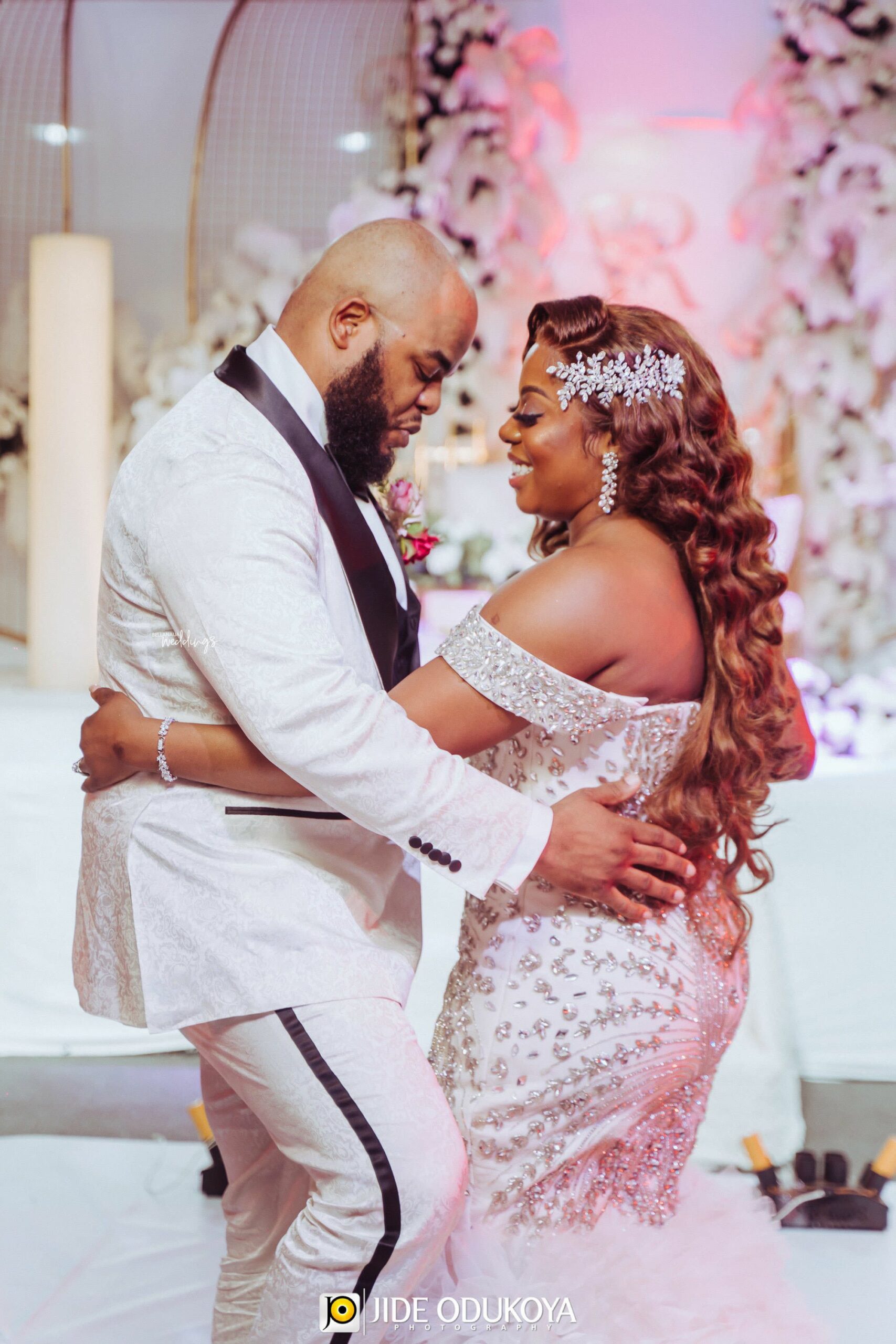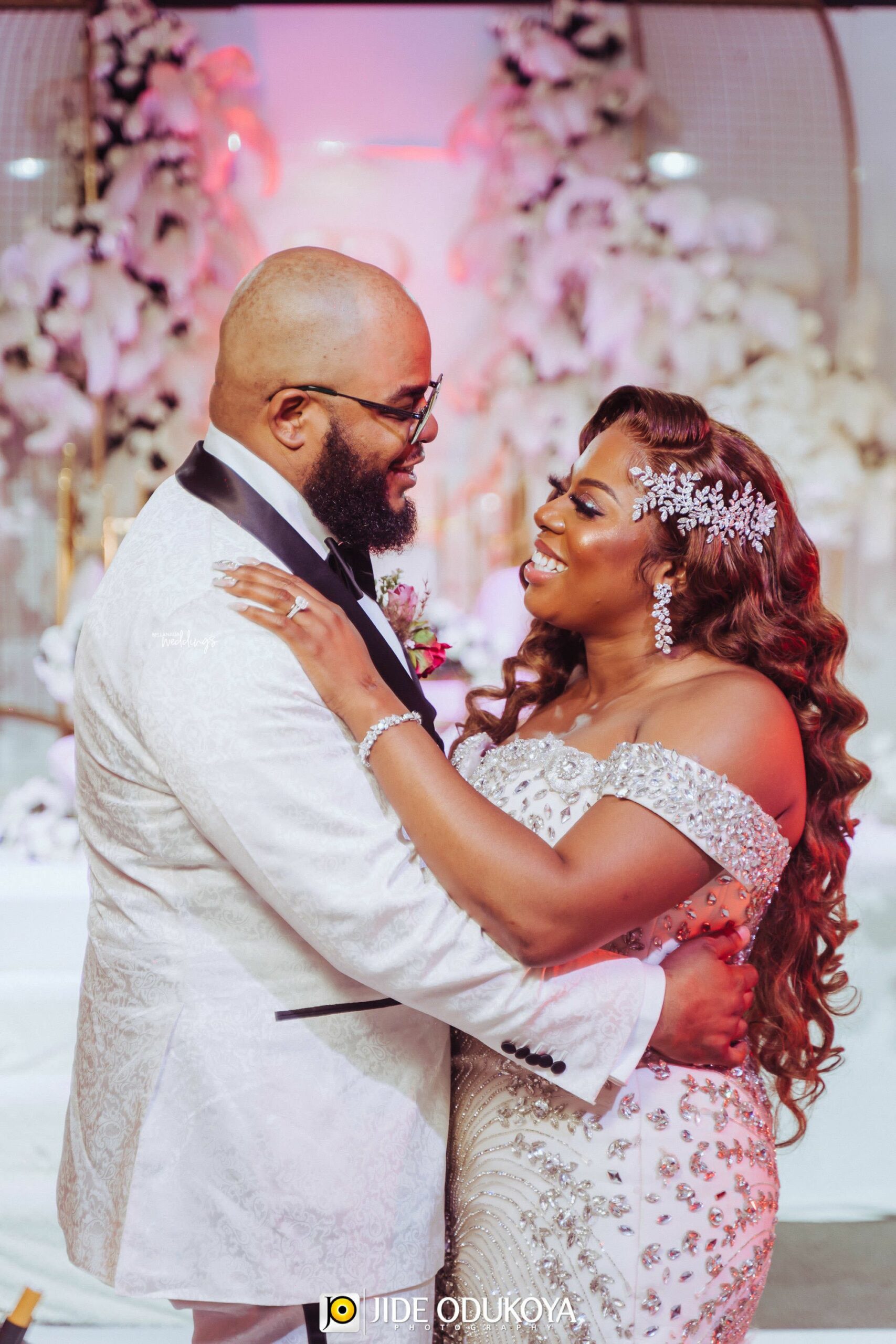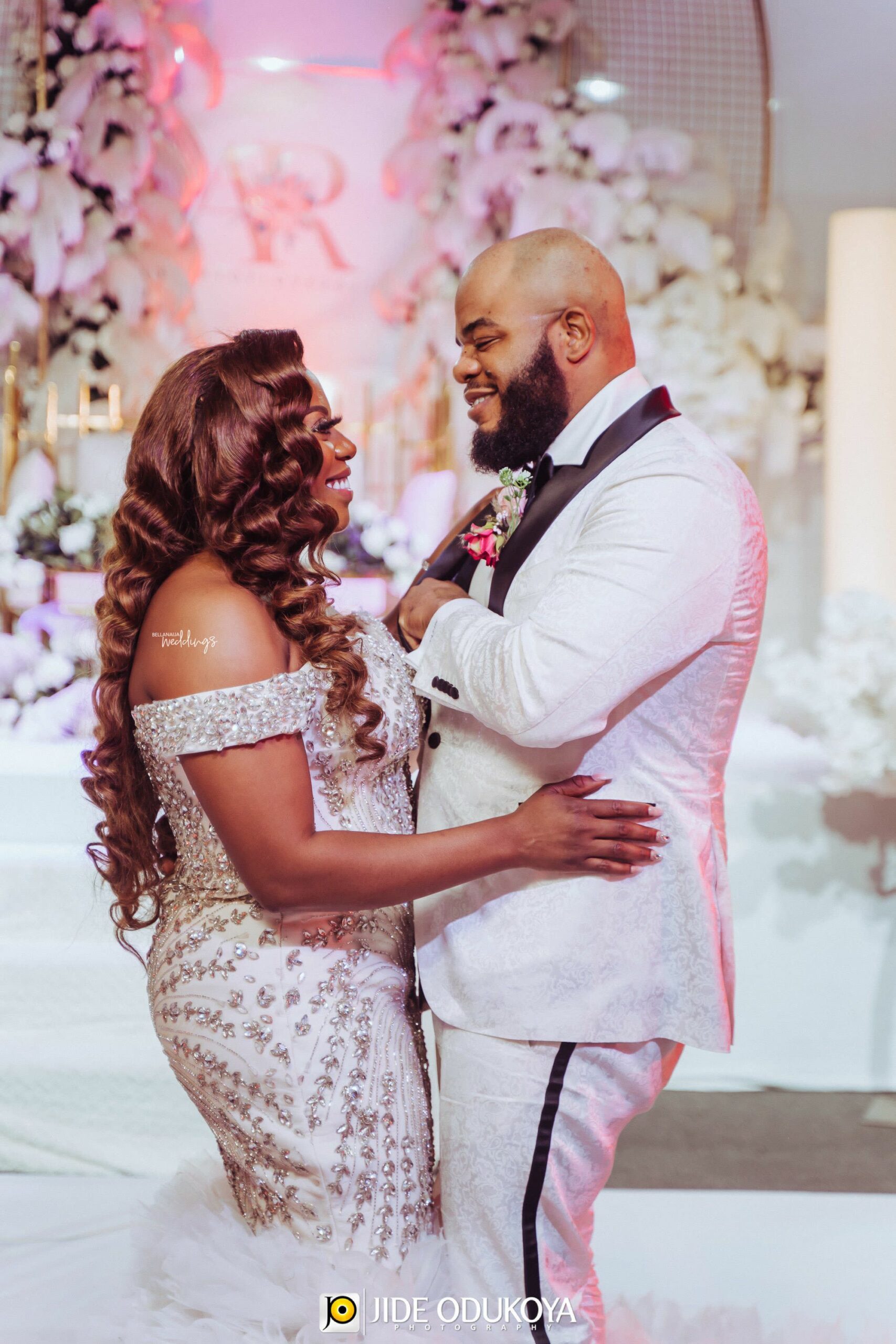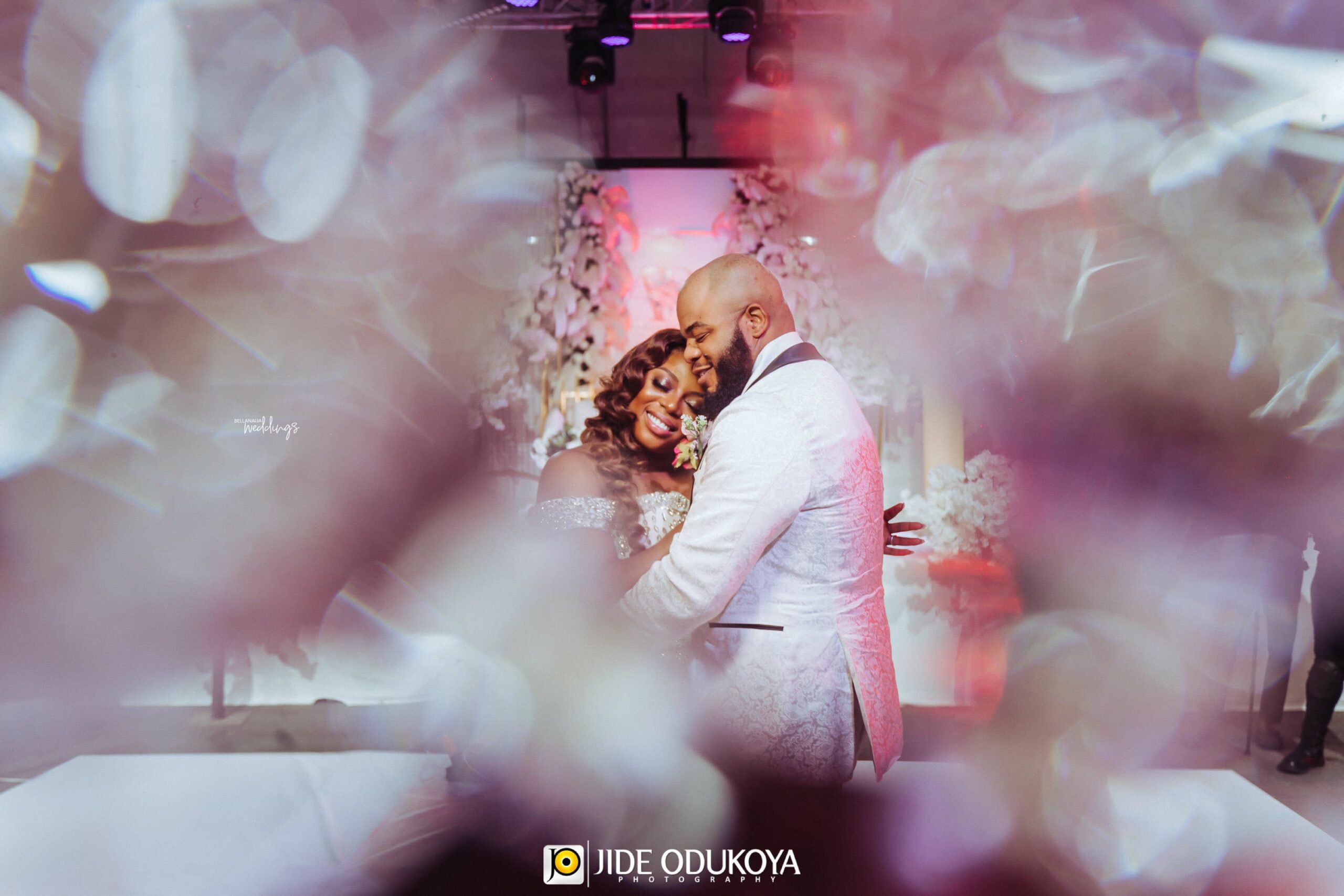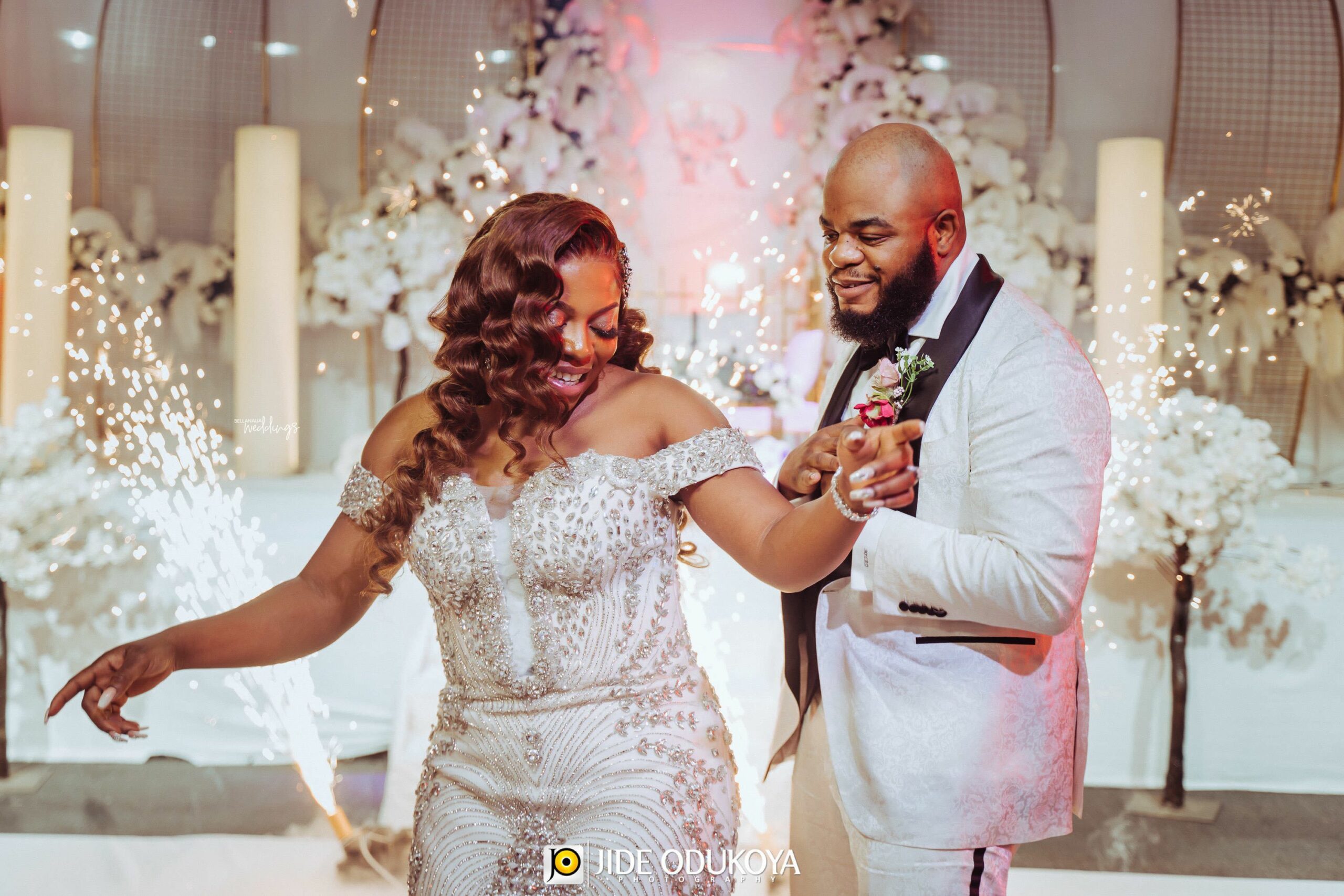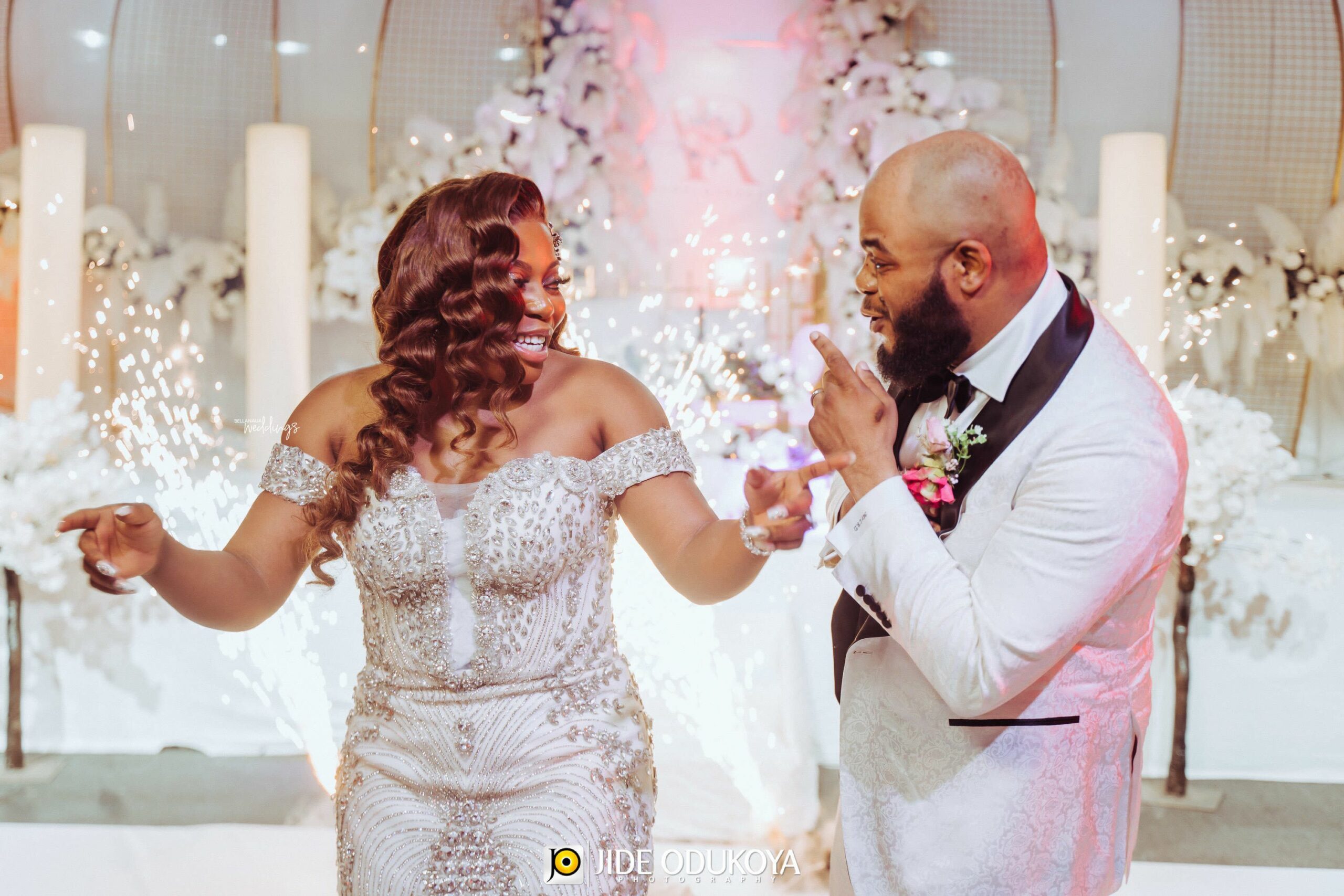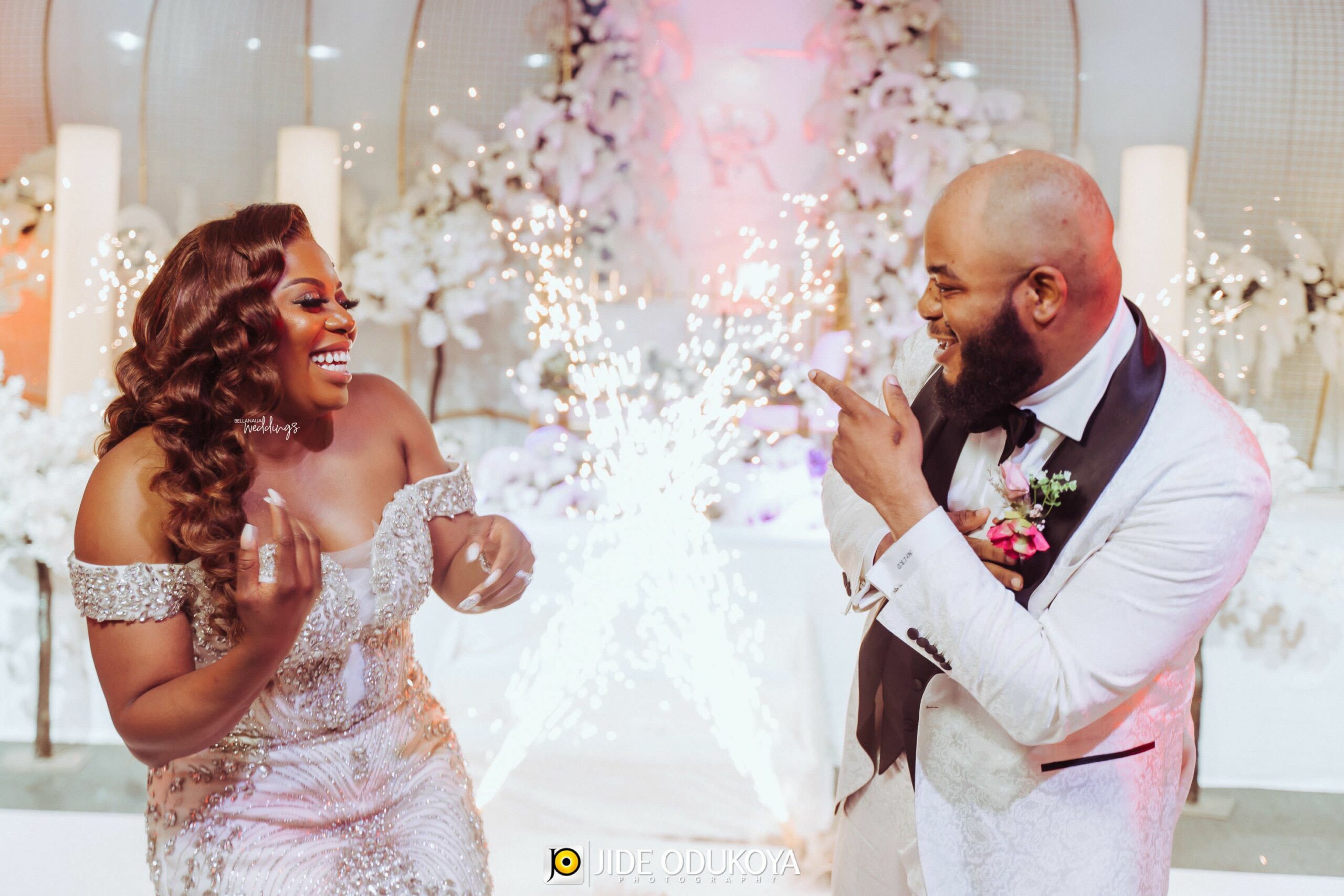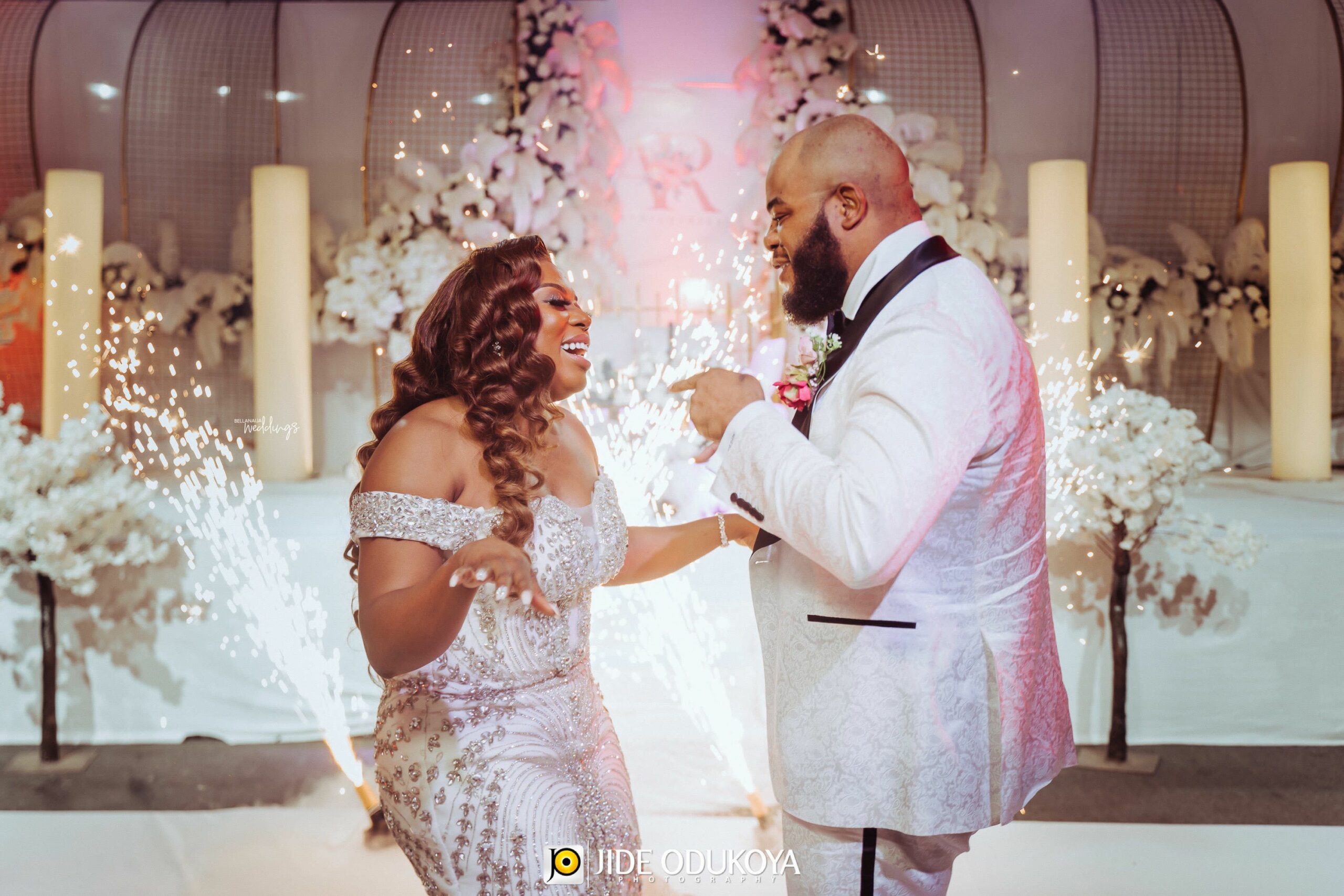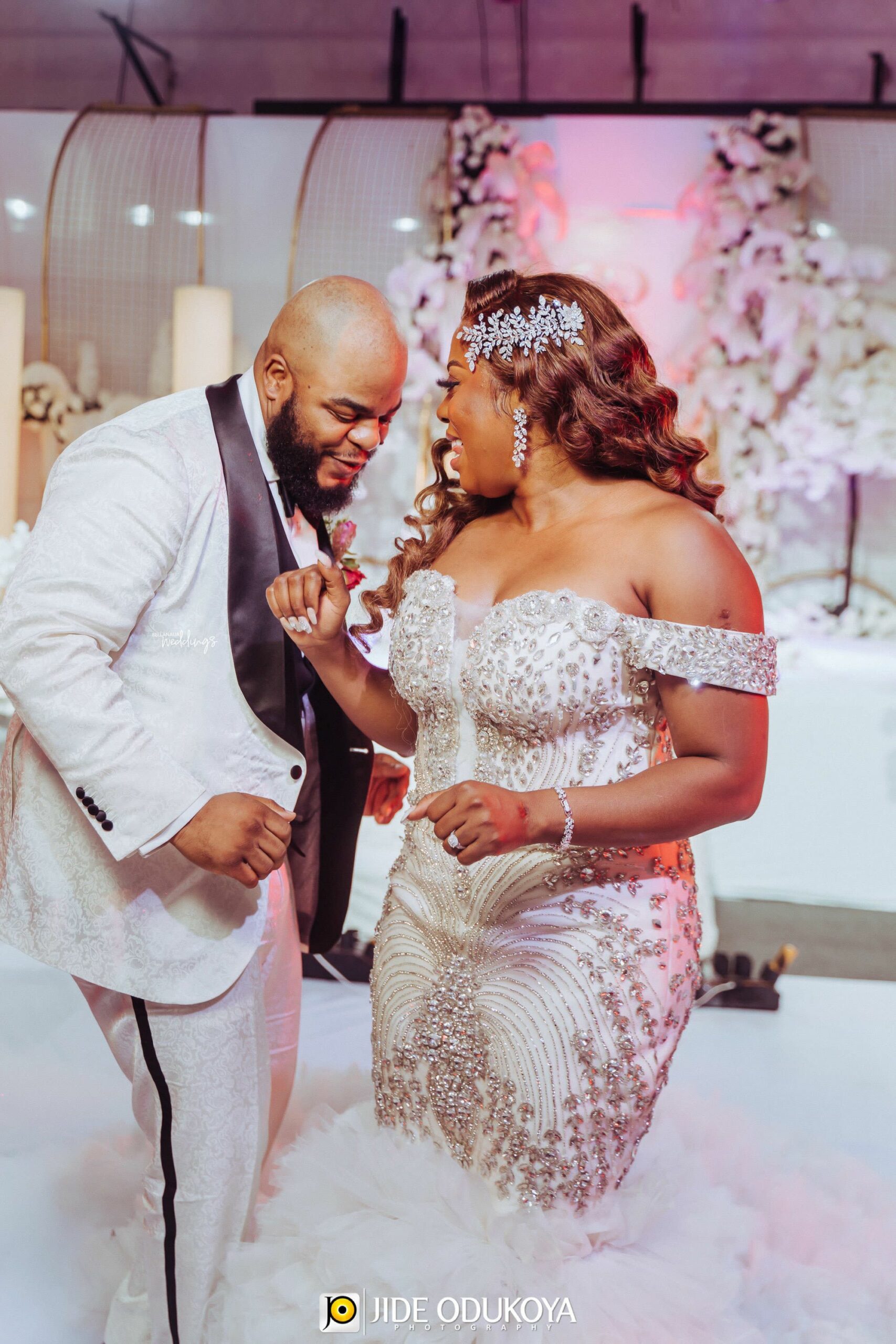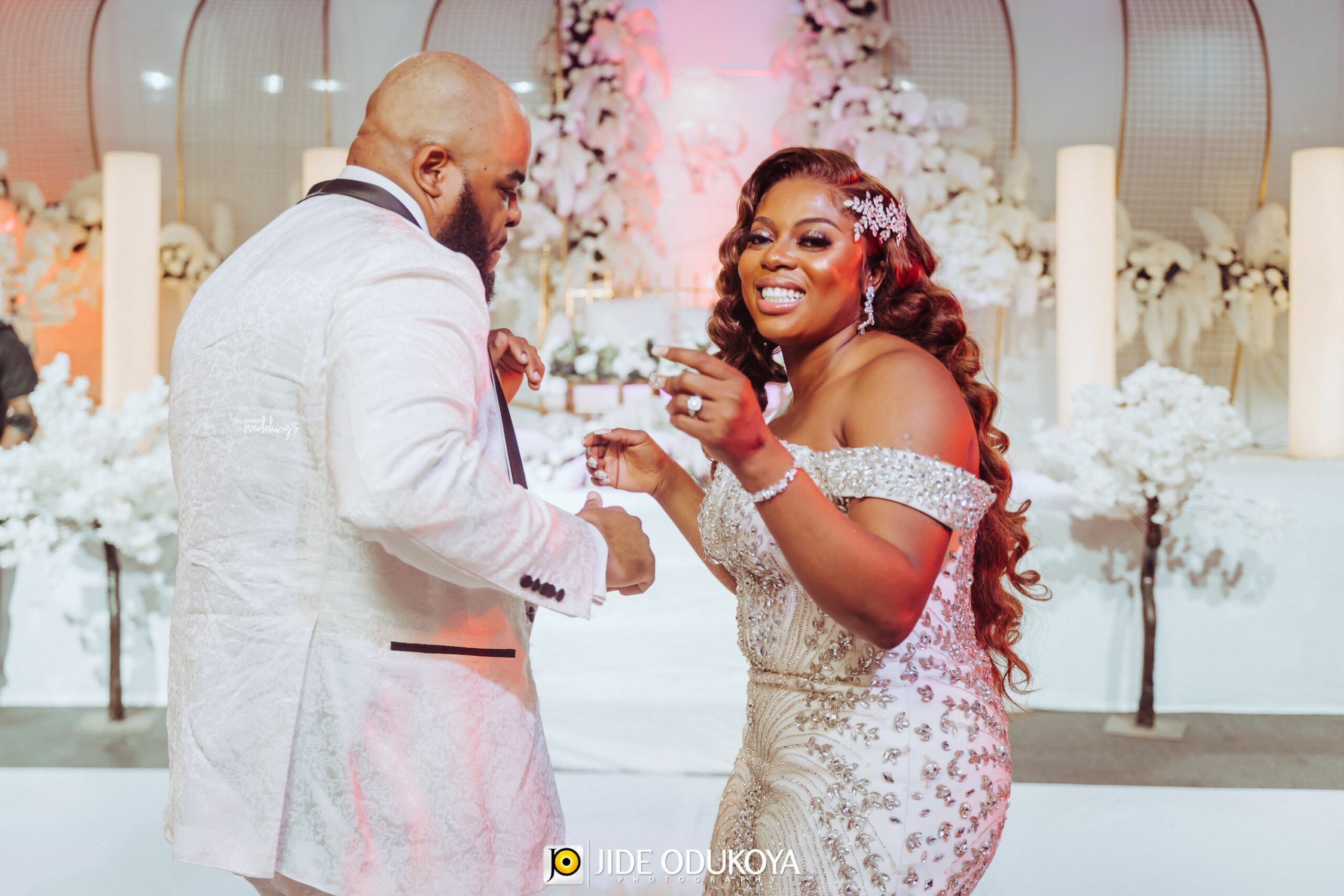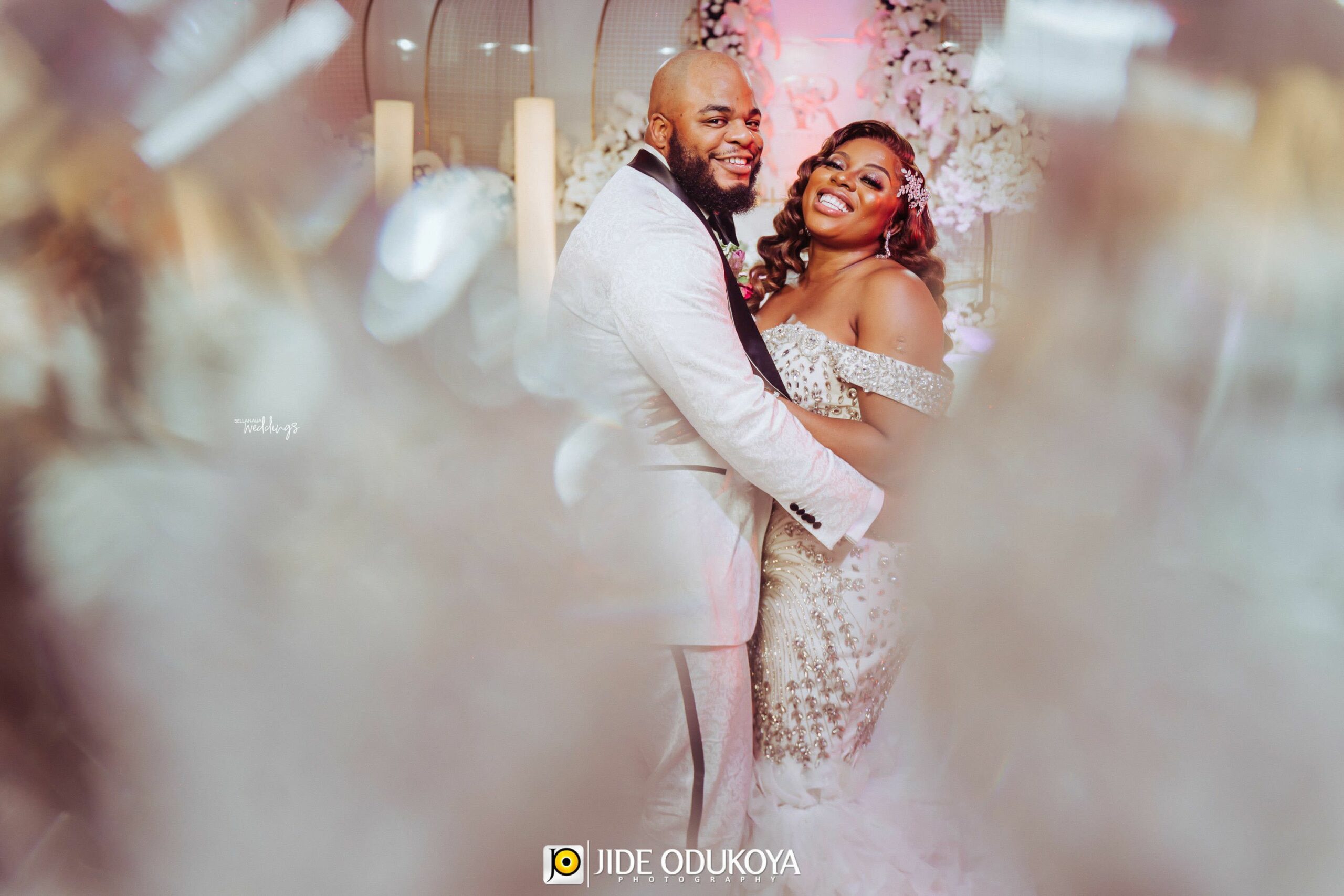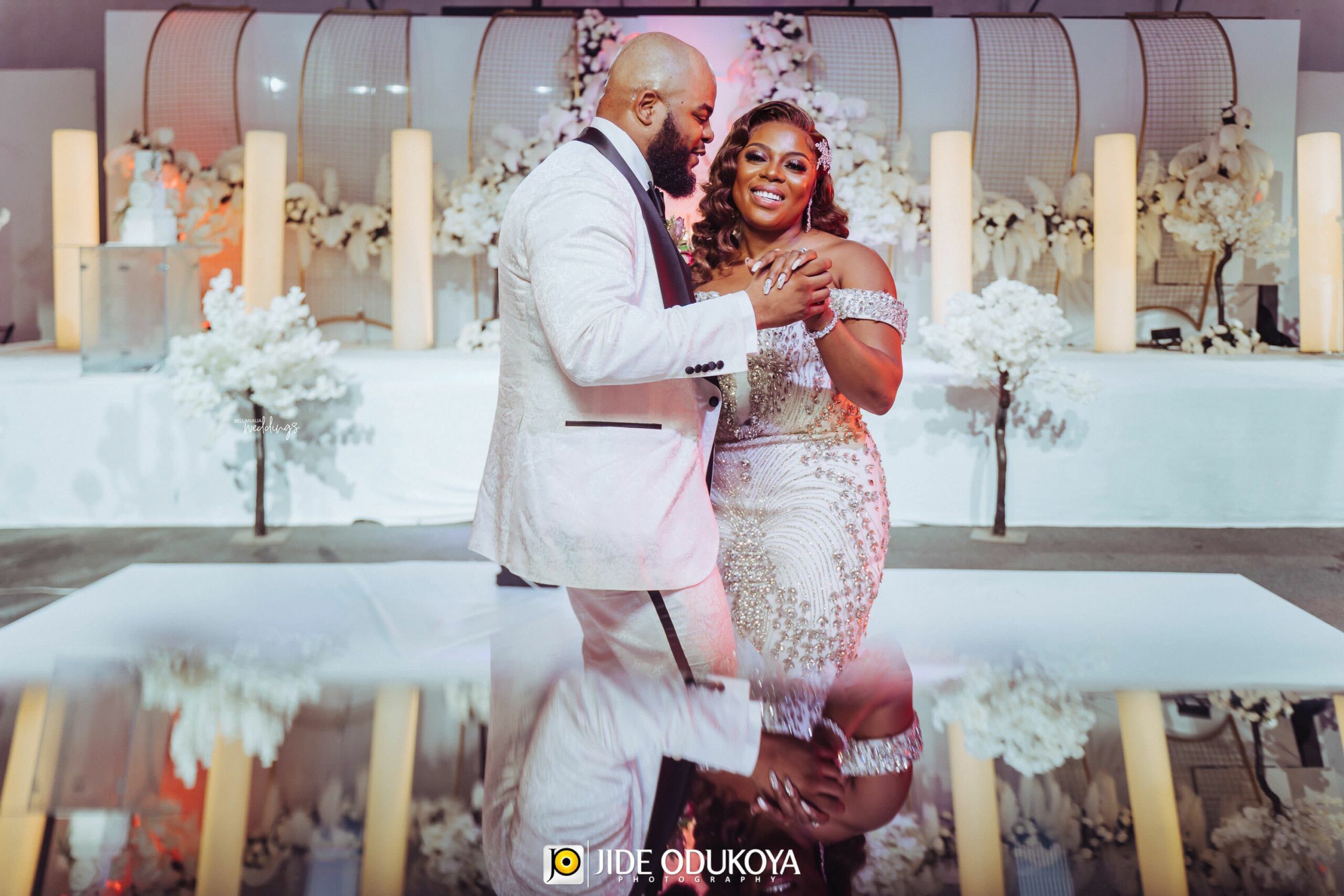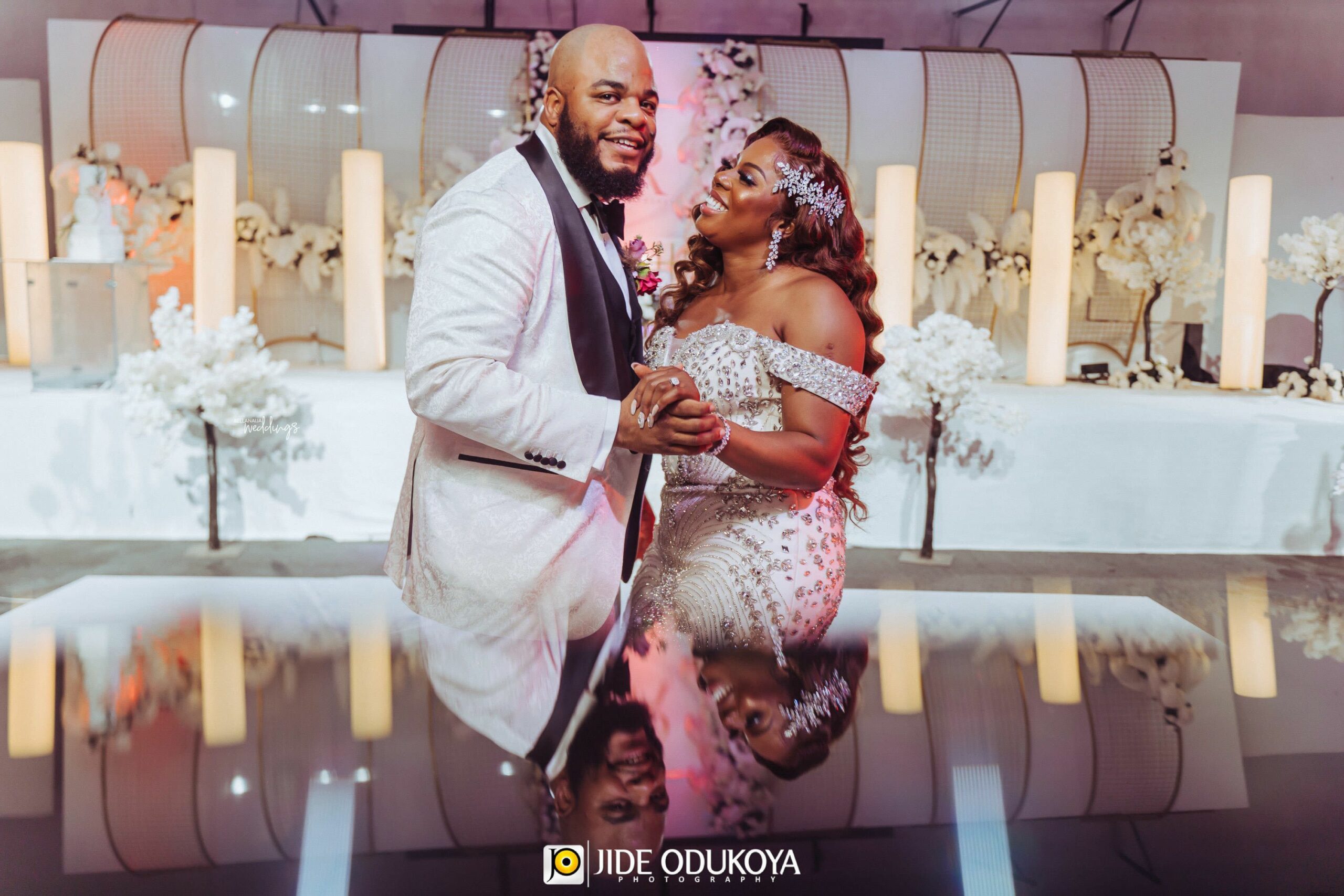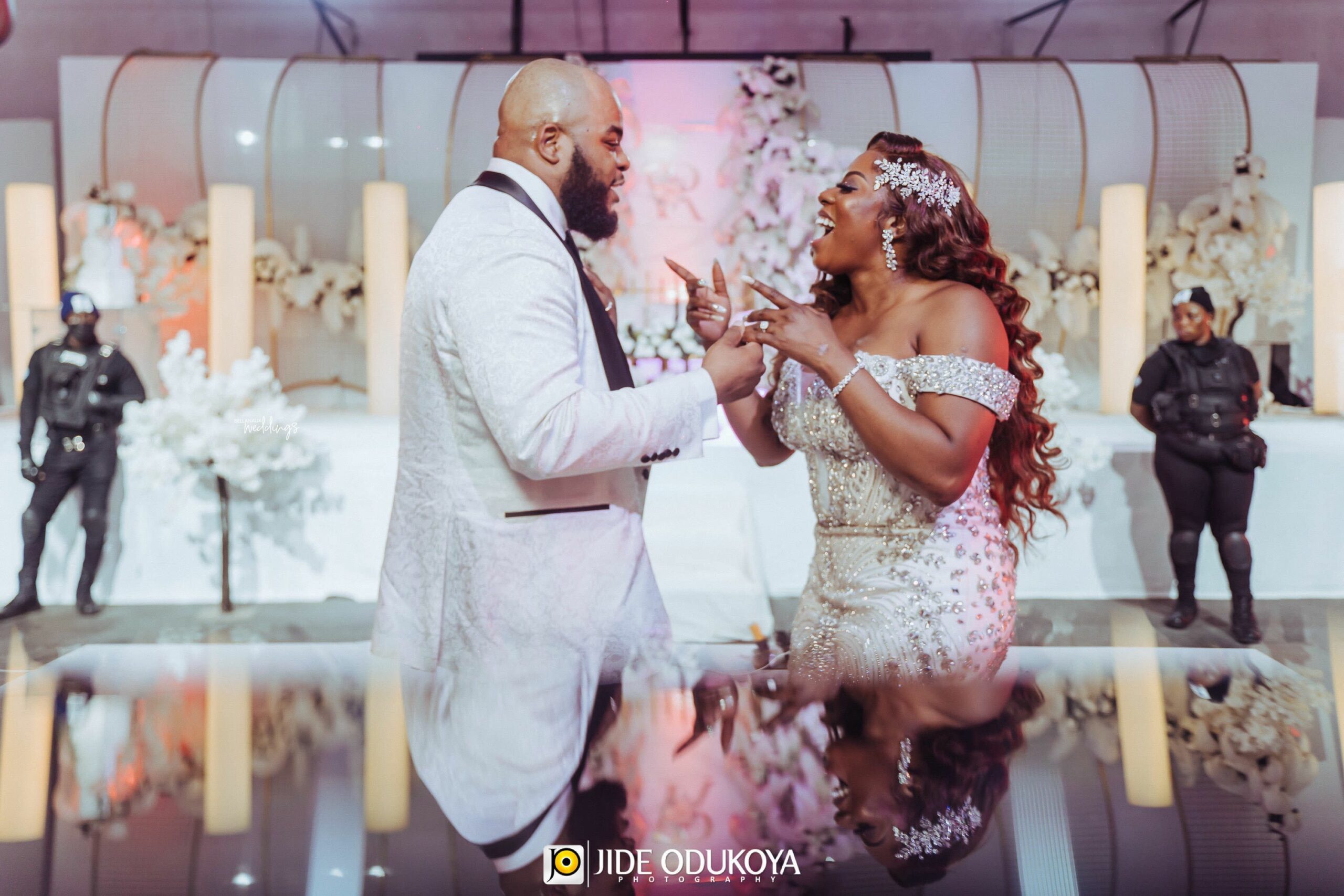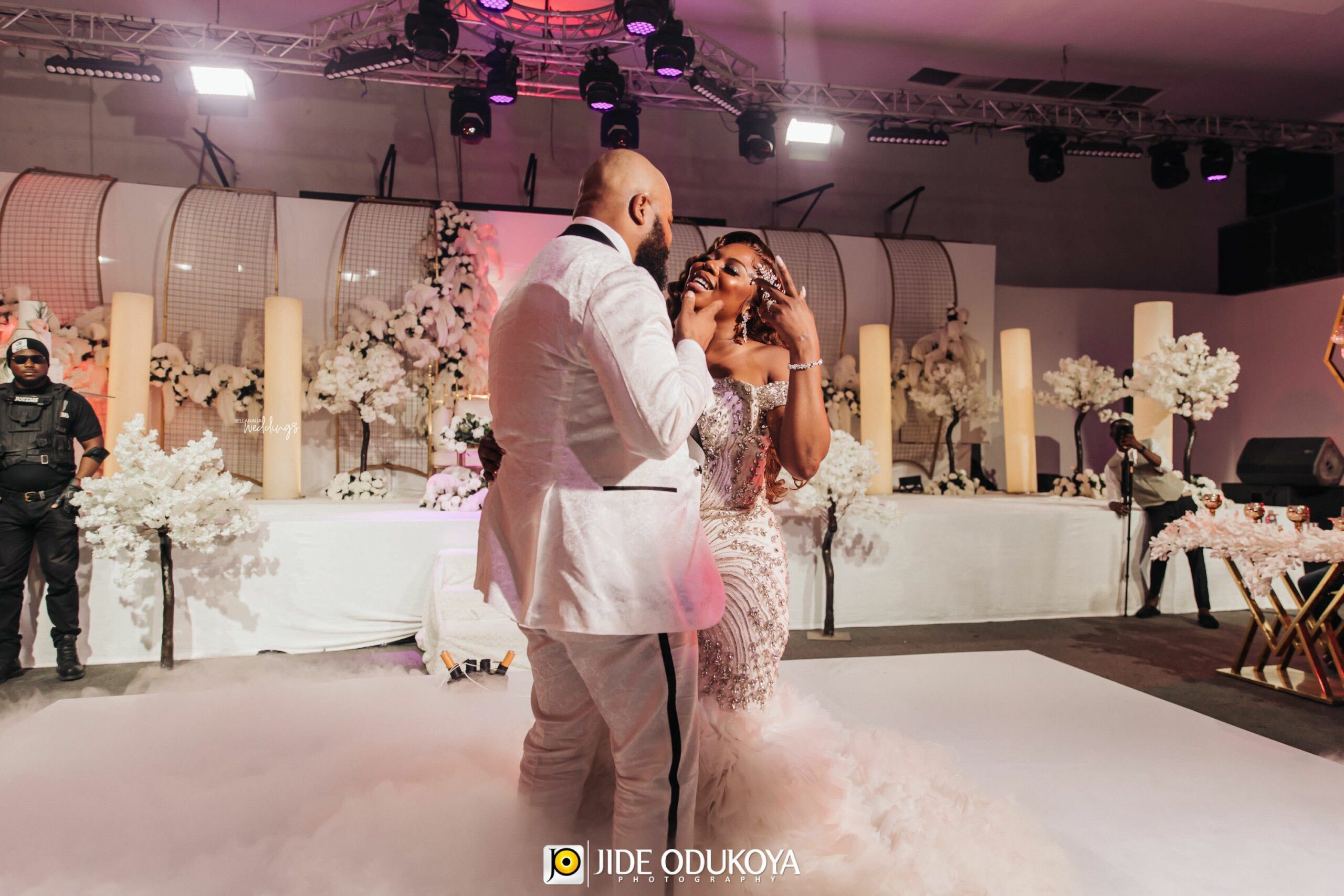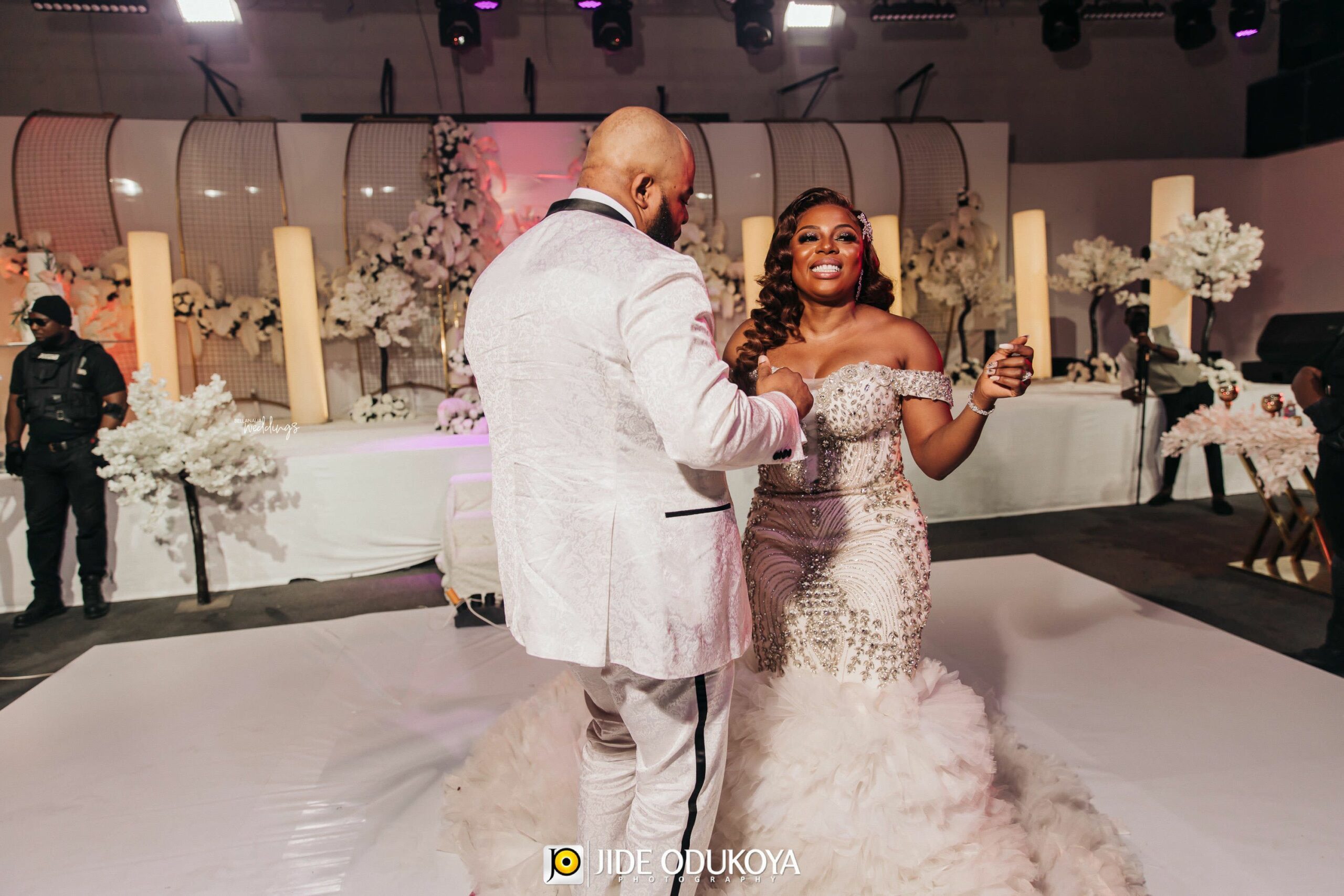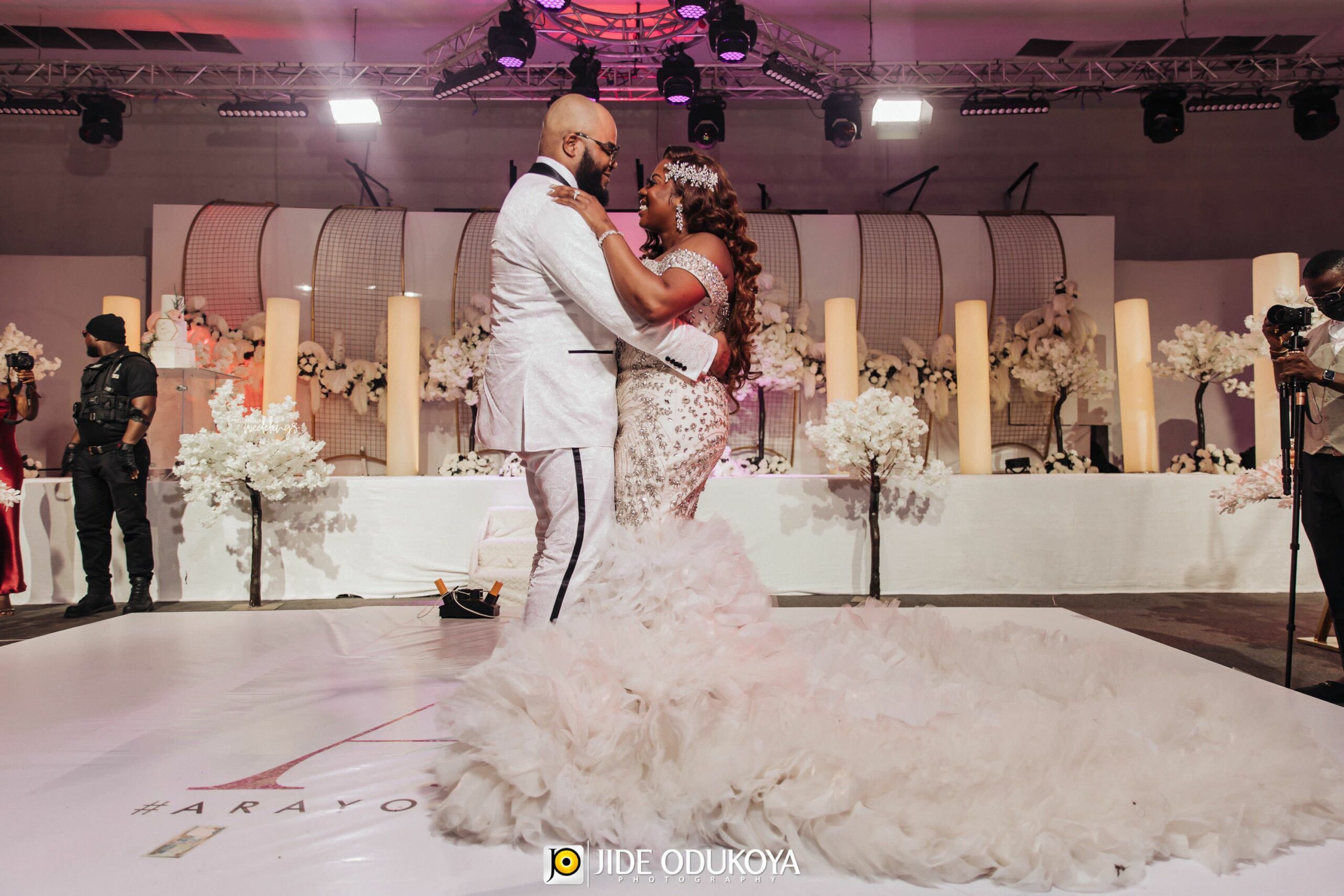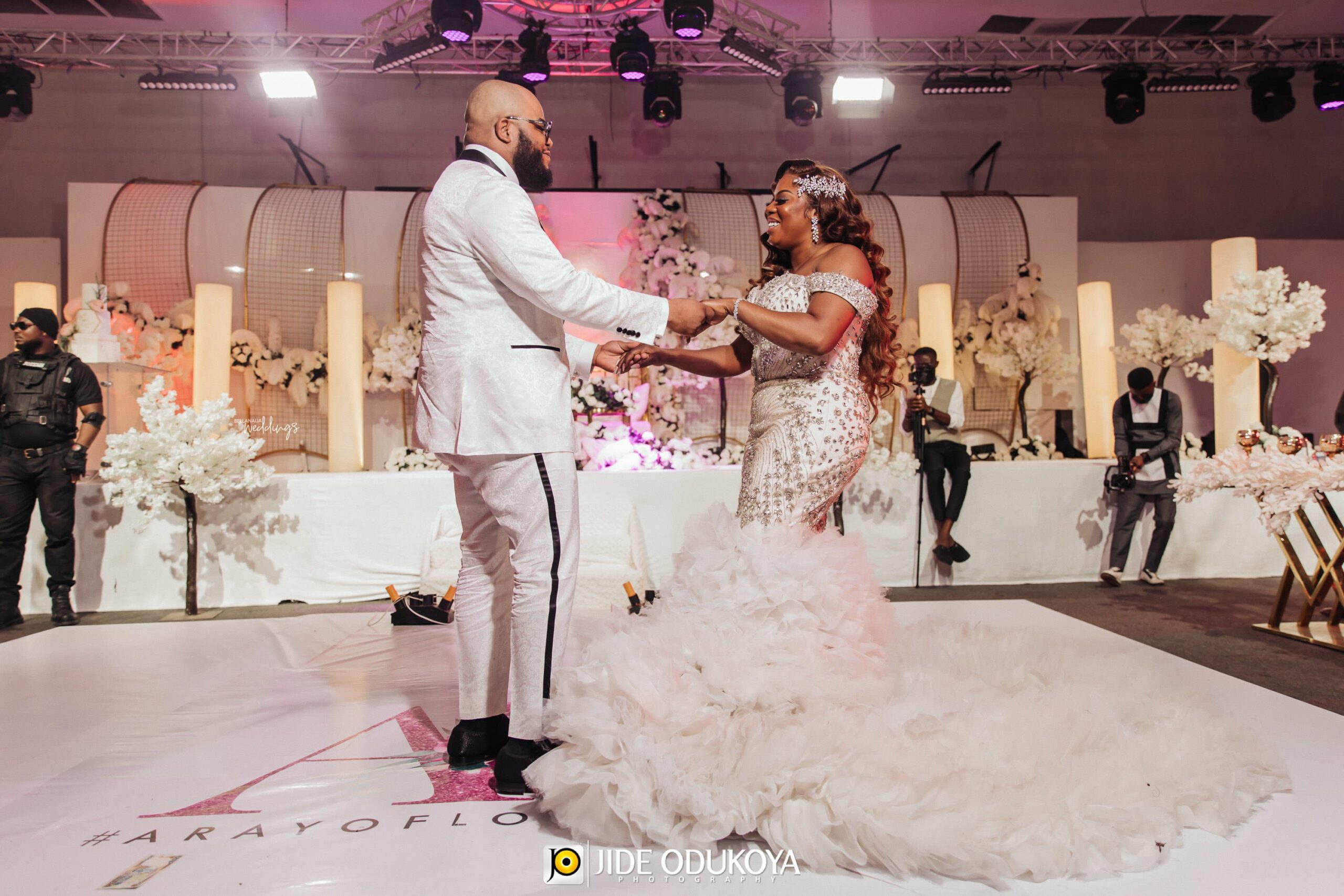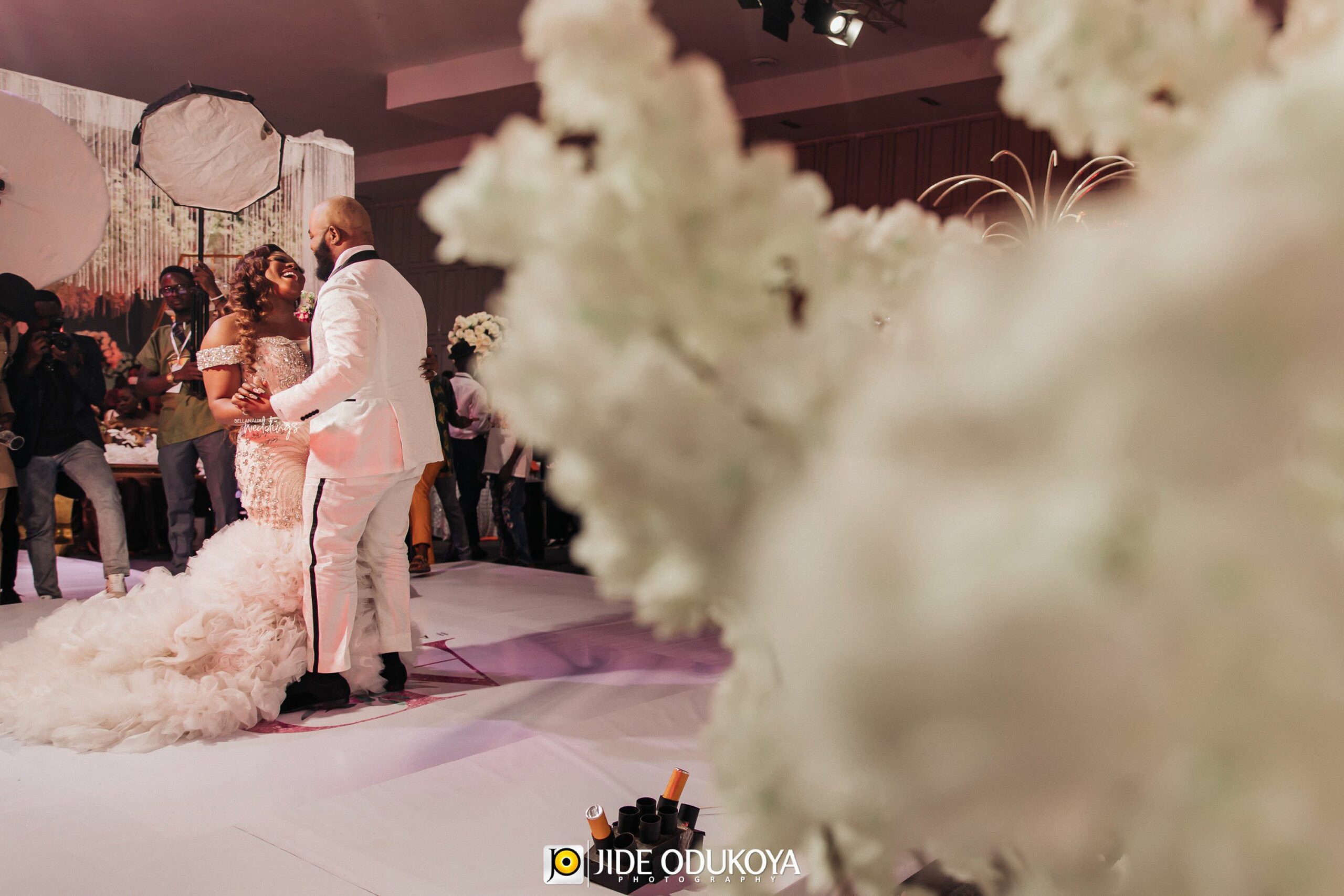 Don't we all love mother-daughter moments!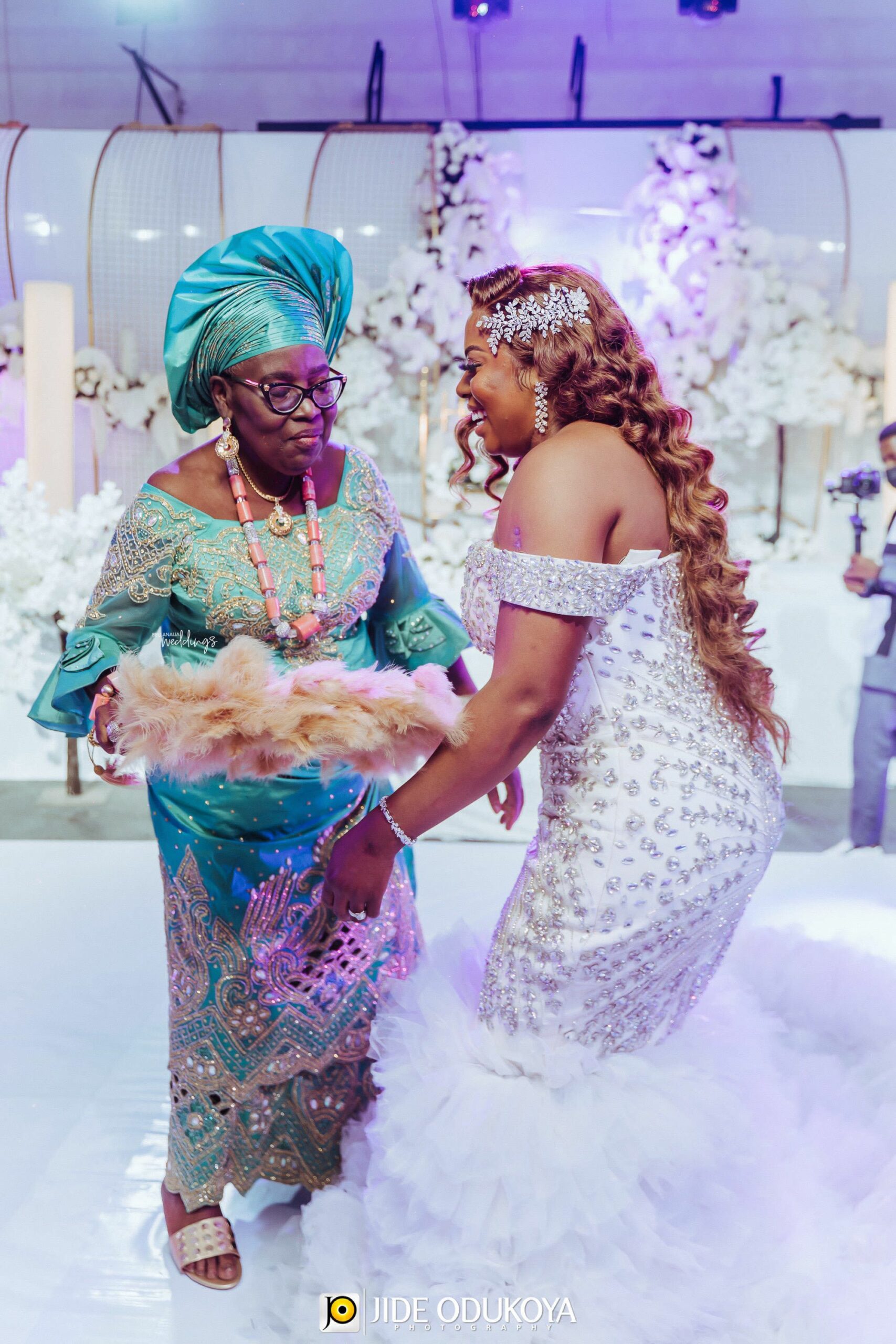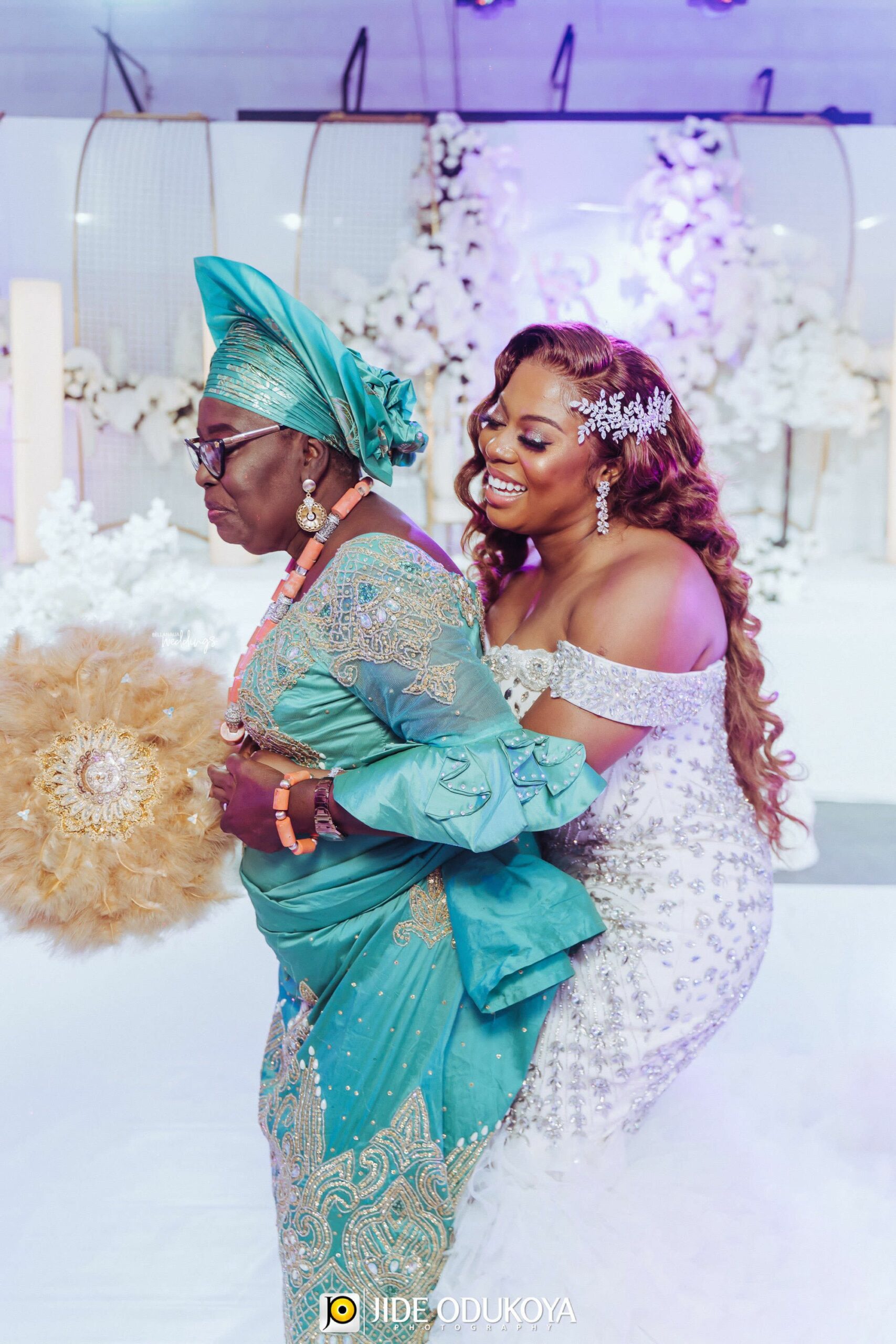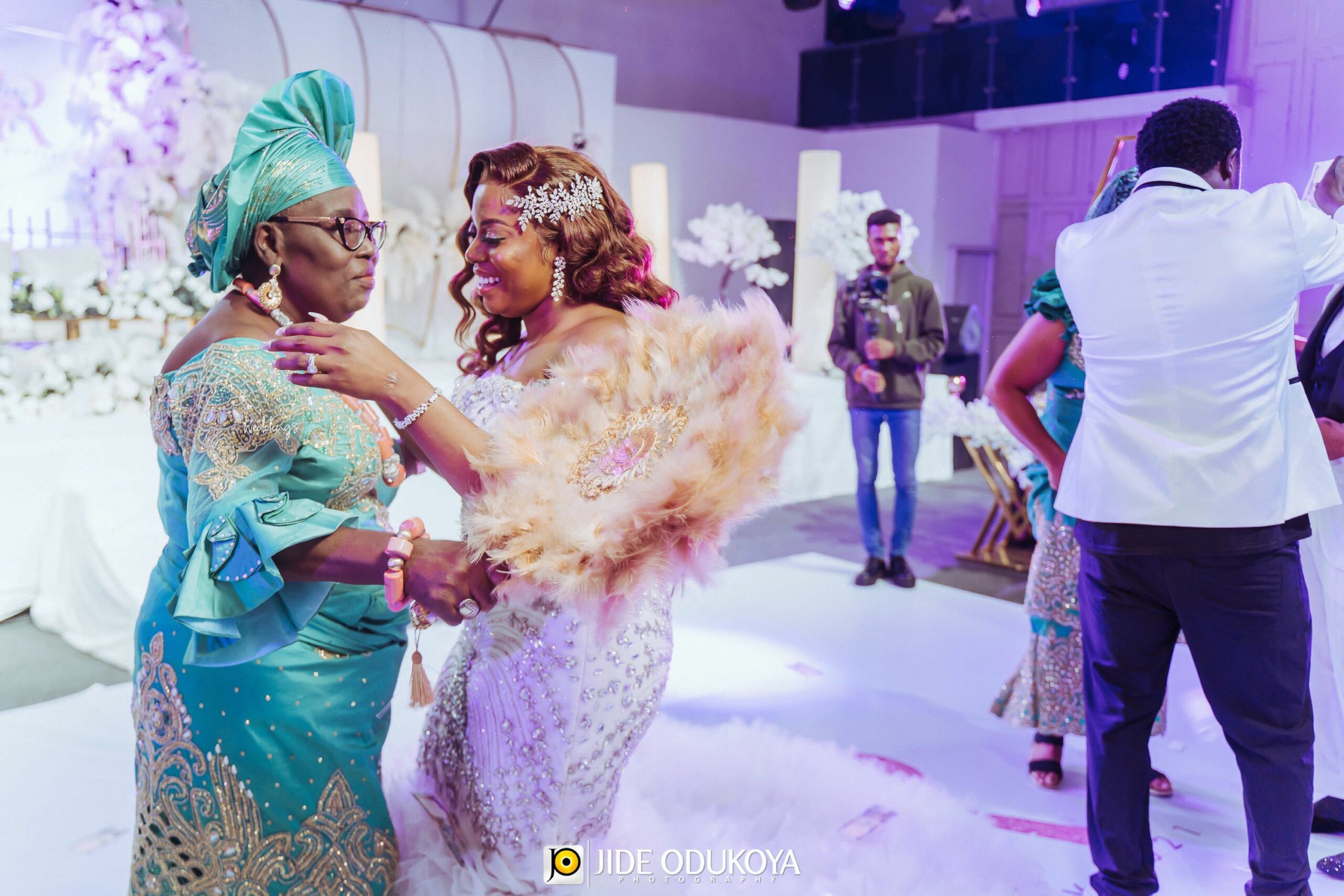 Of course, mummy and her baby boy get to throw it down as well.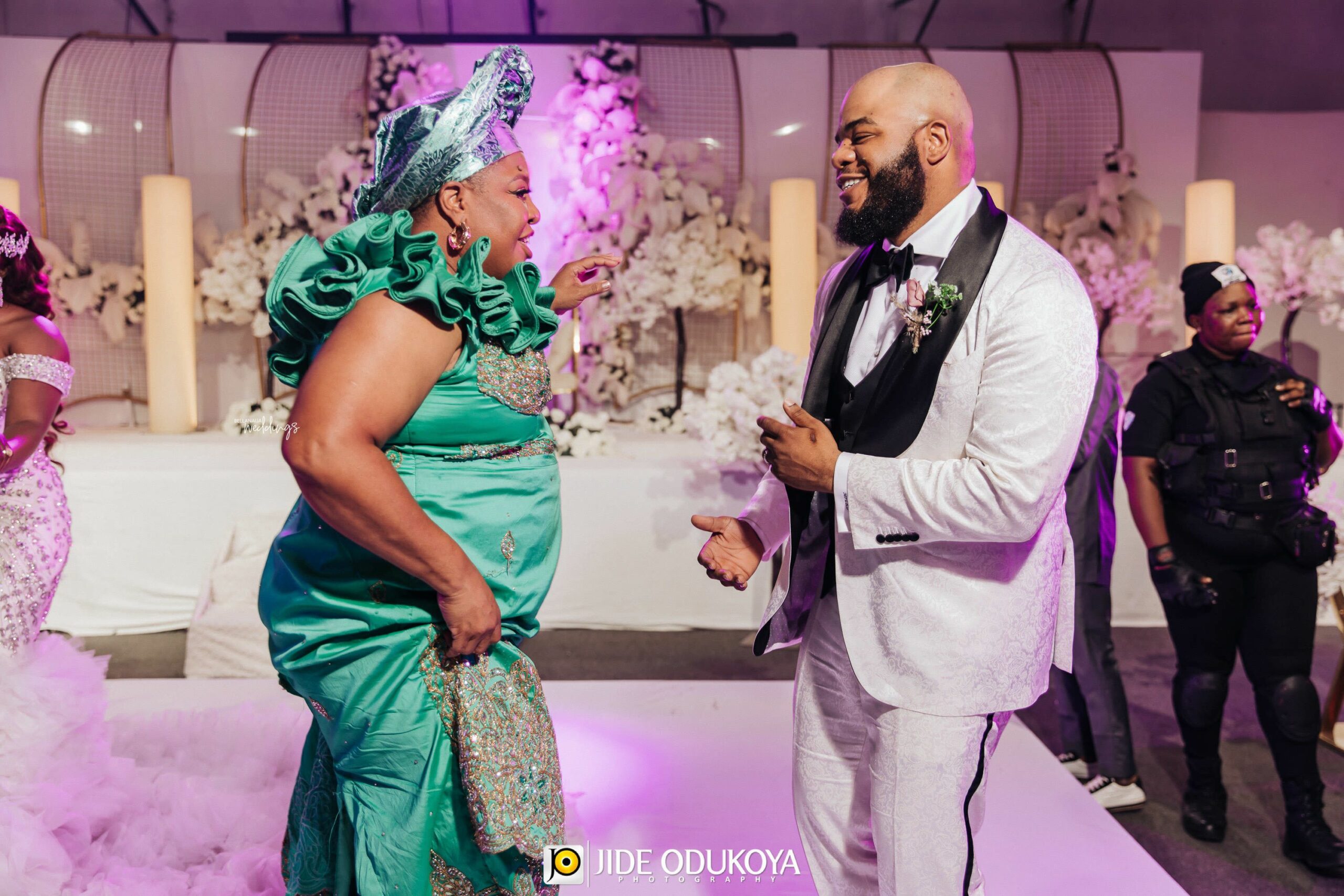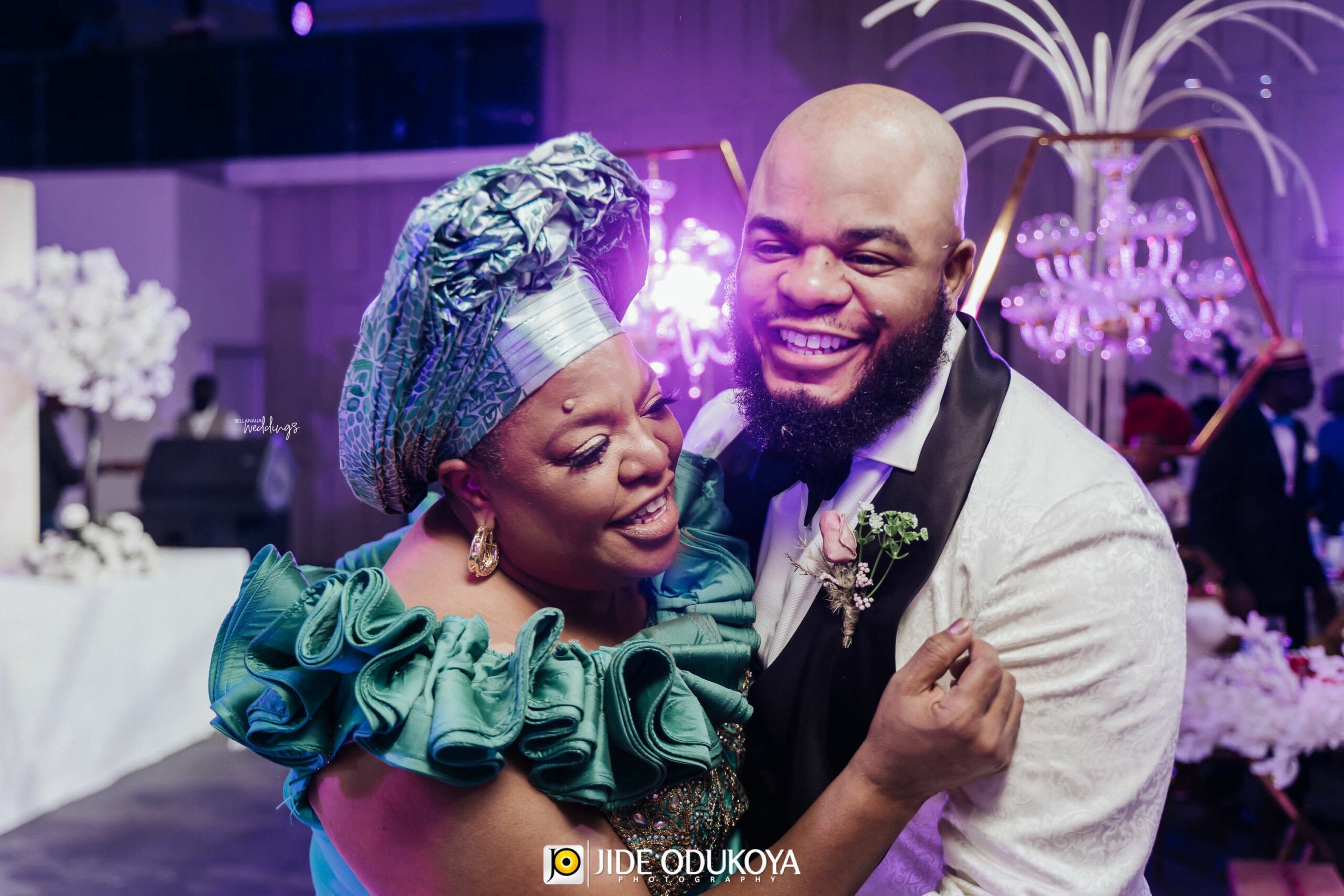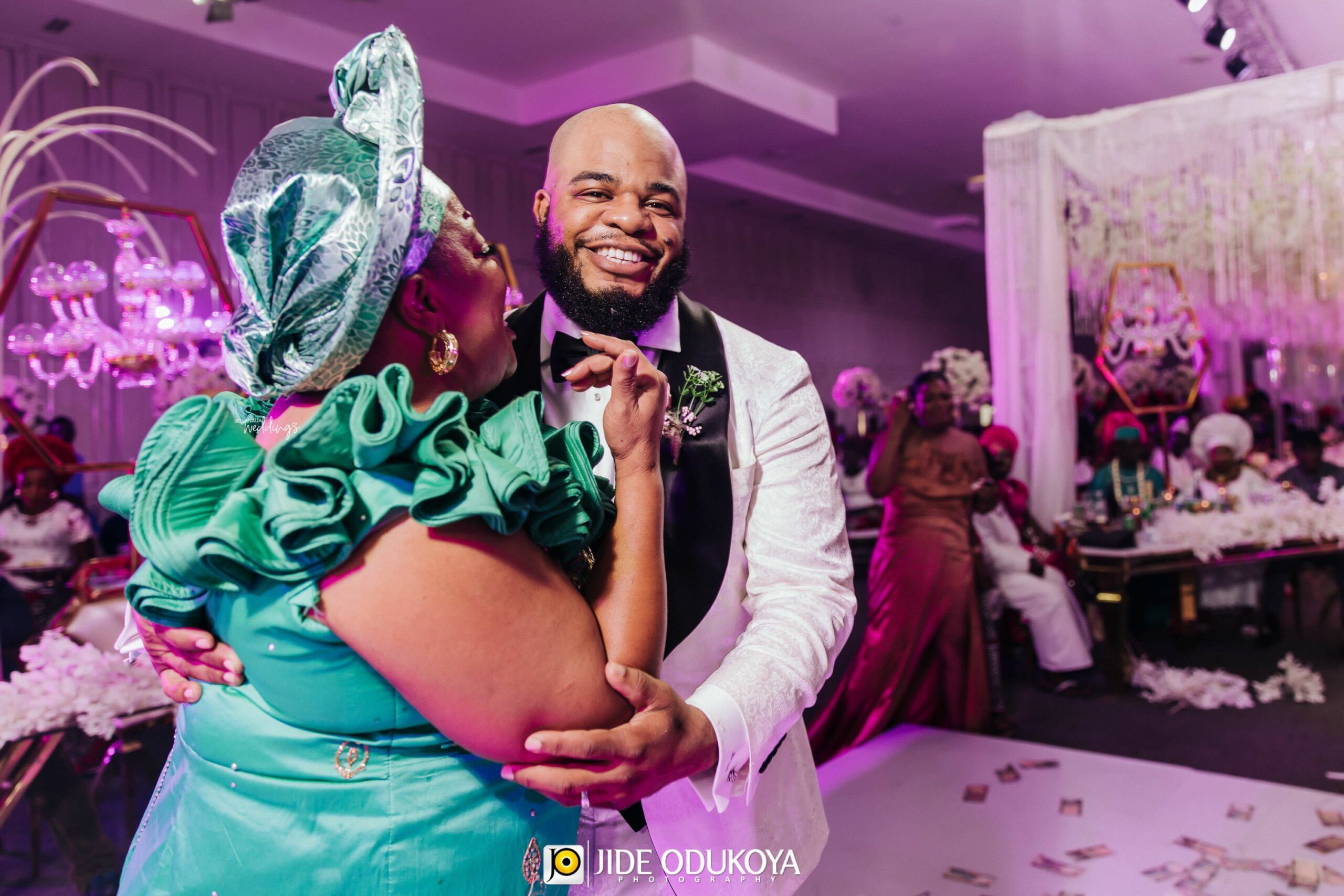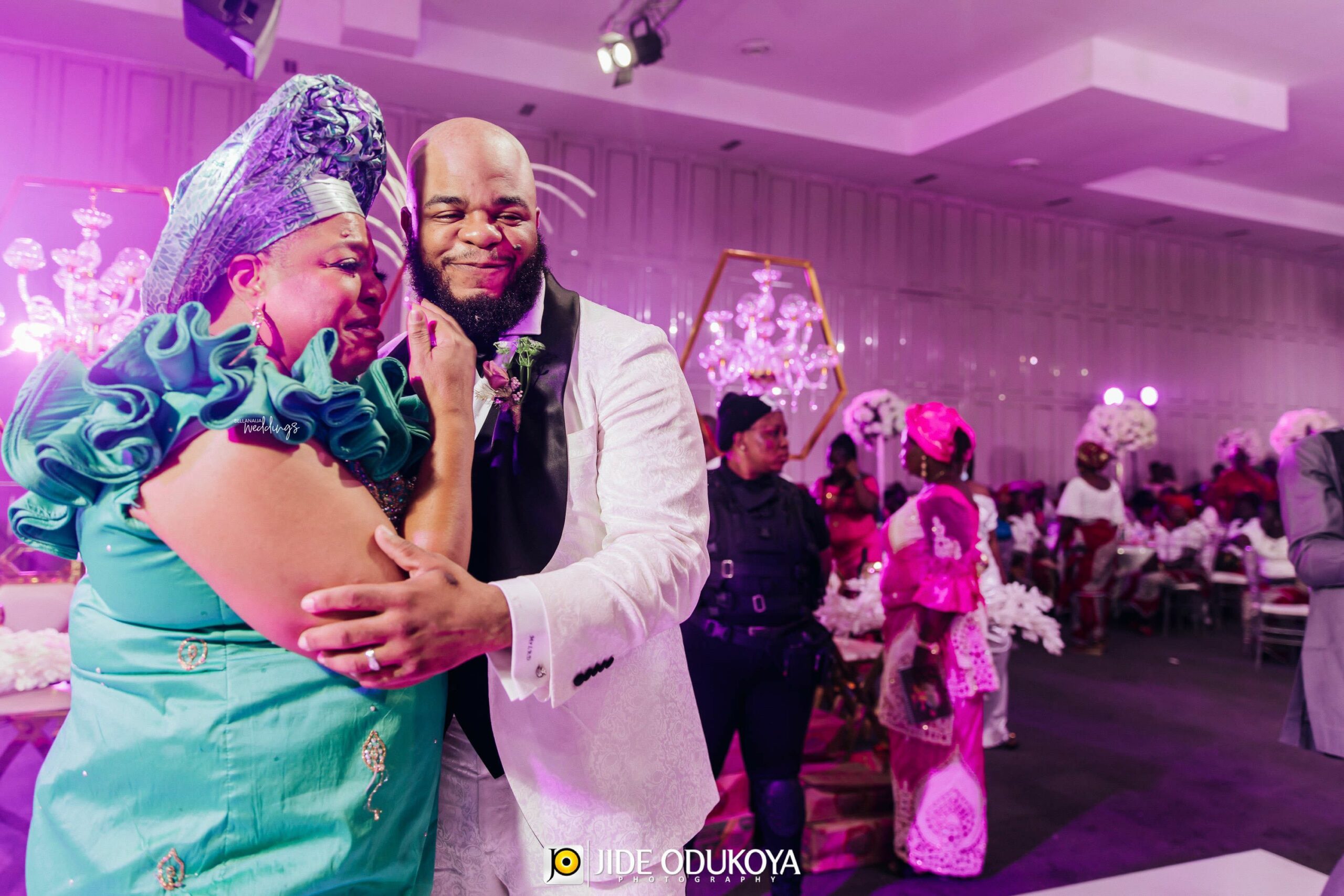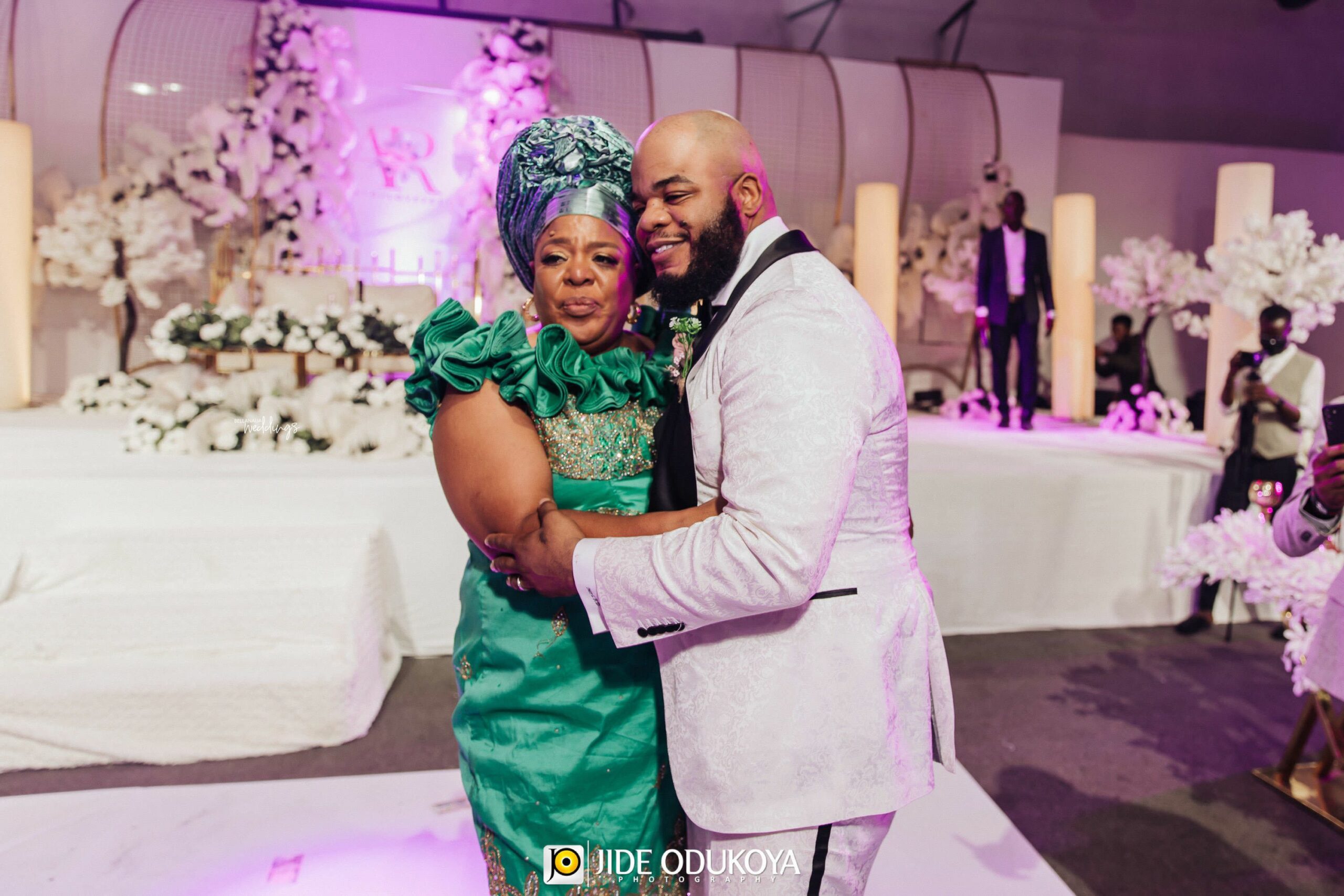 Always going to be Daddy's little girl…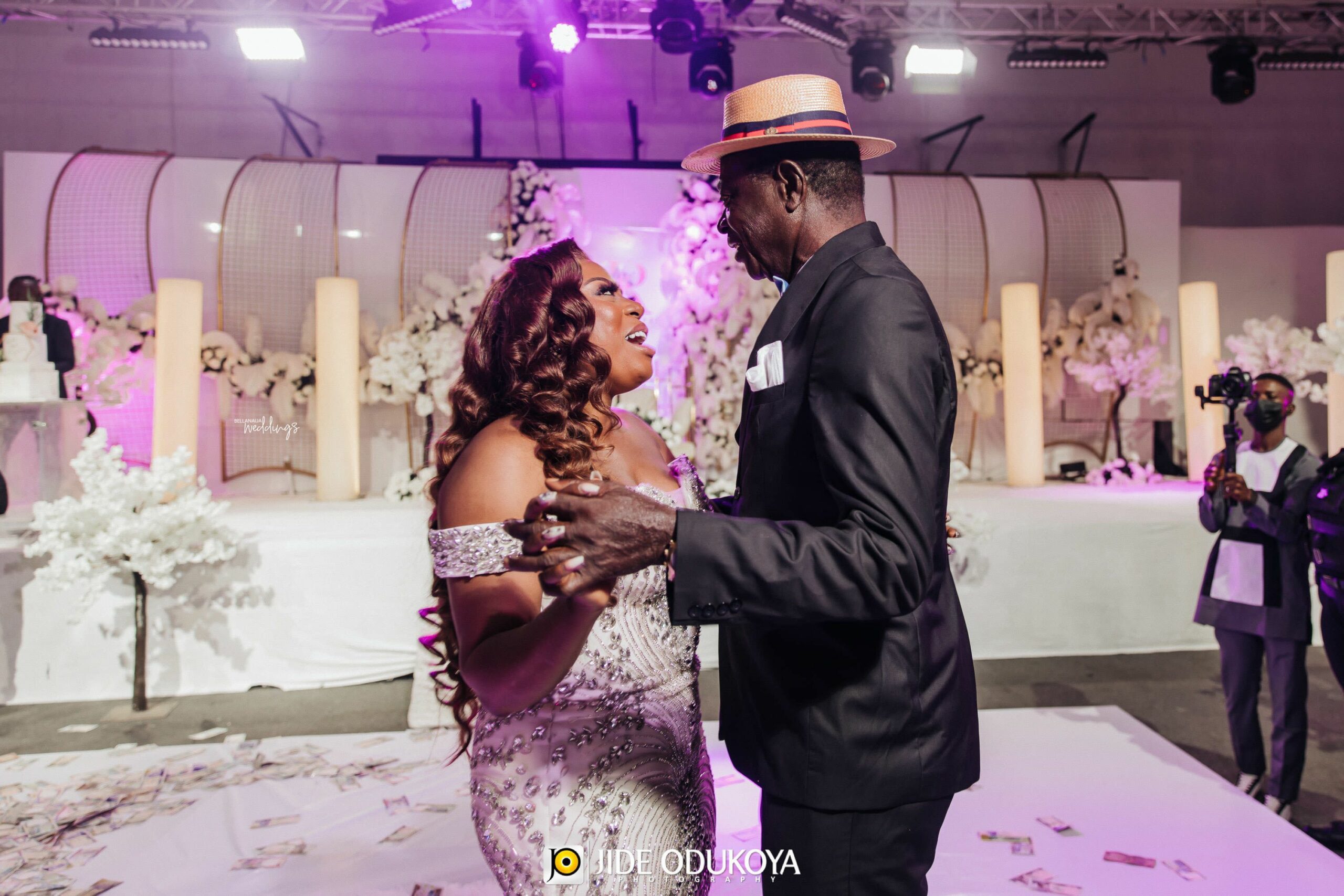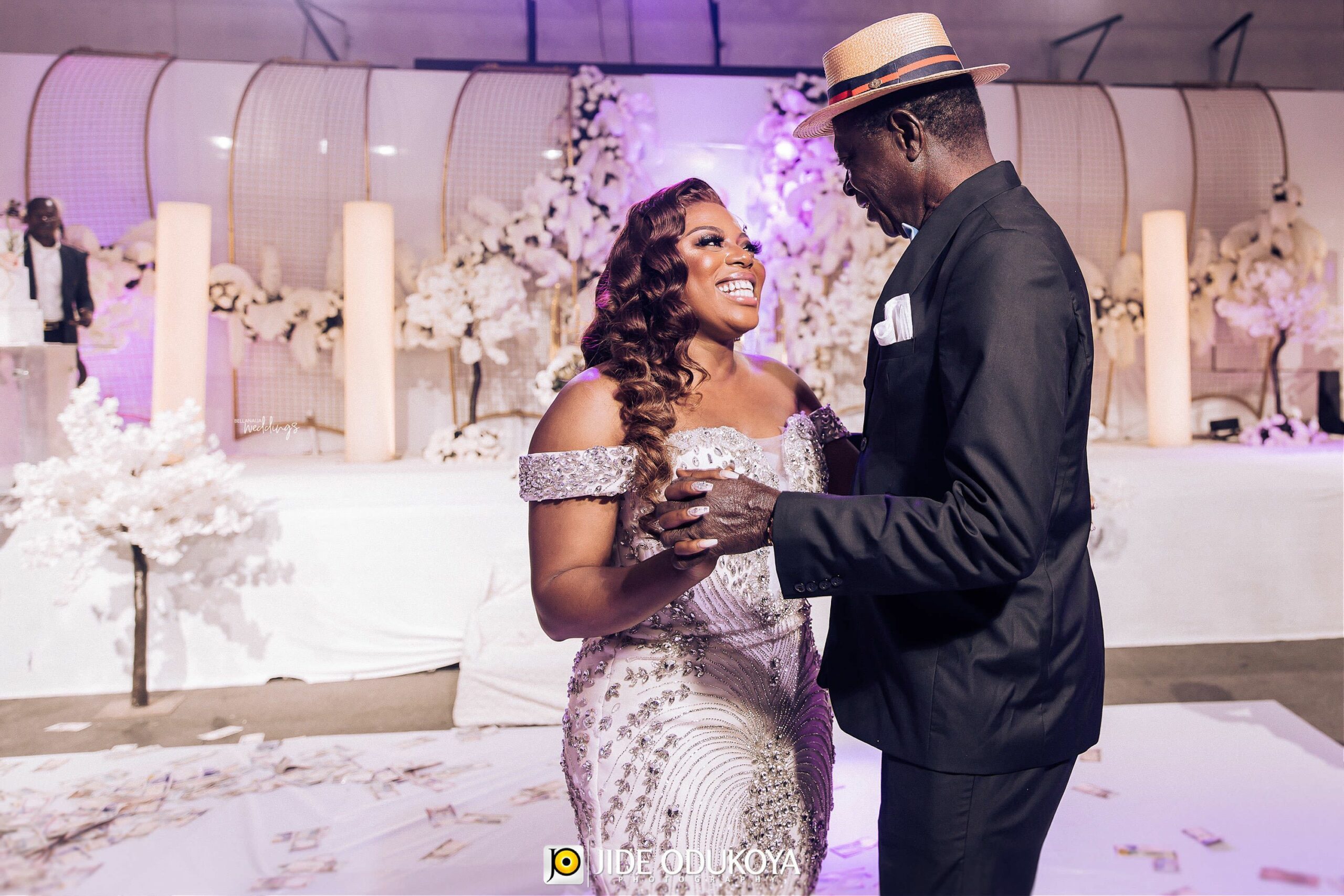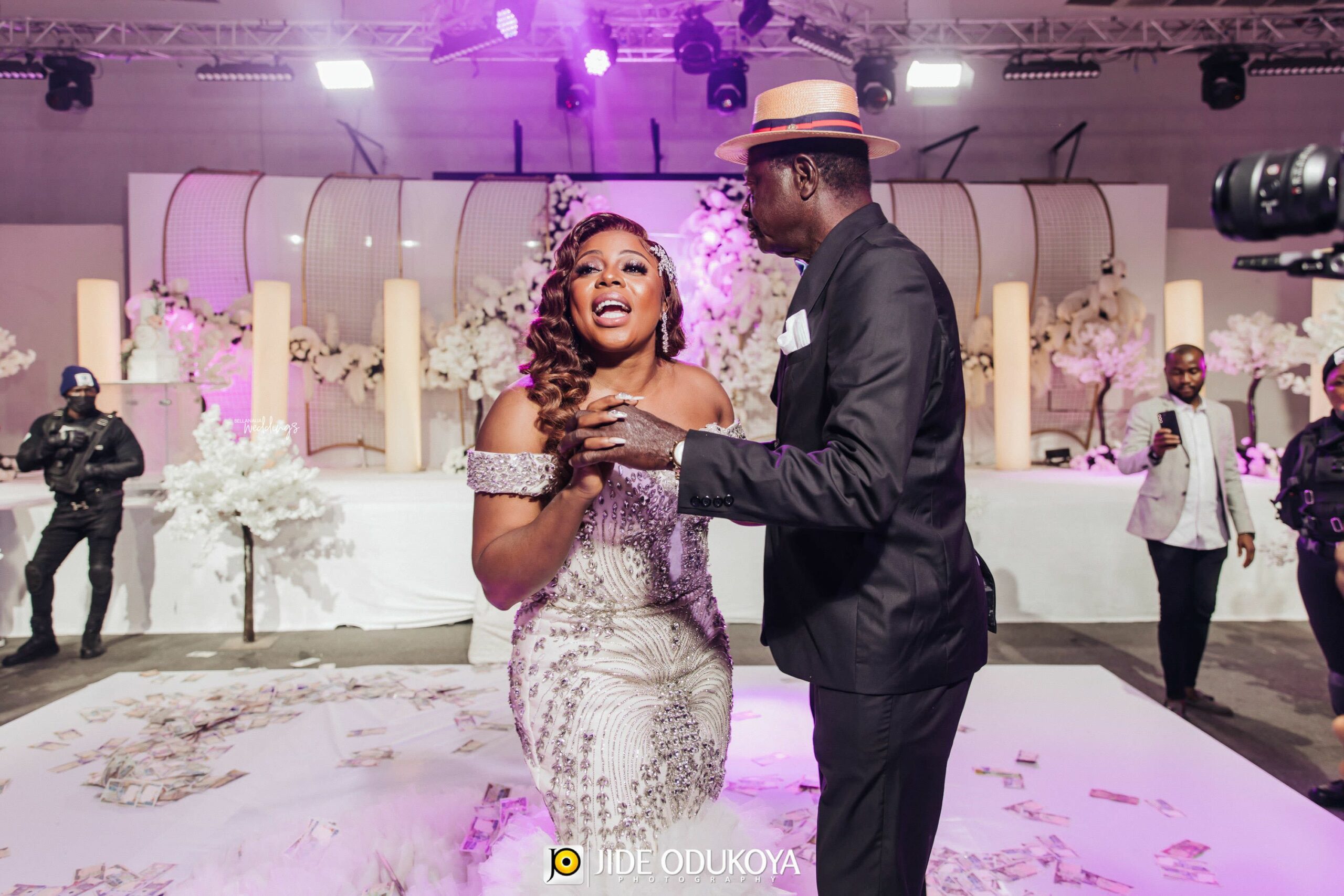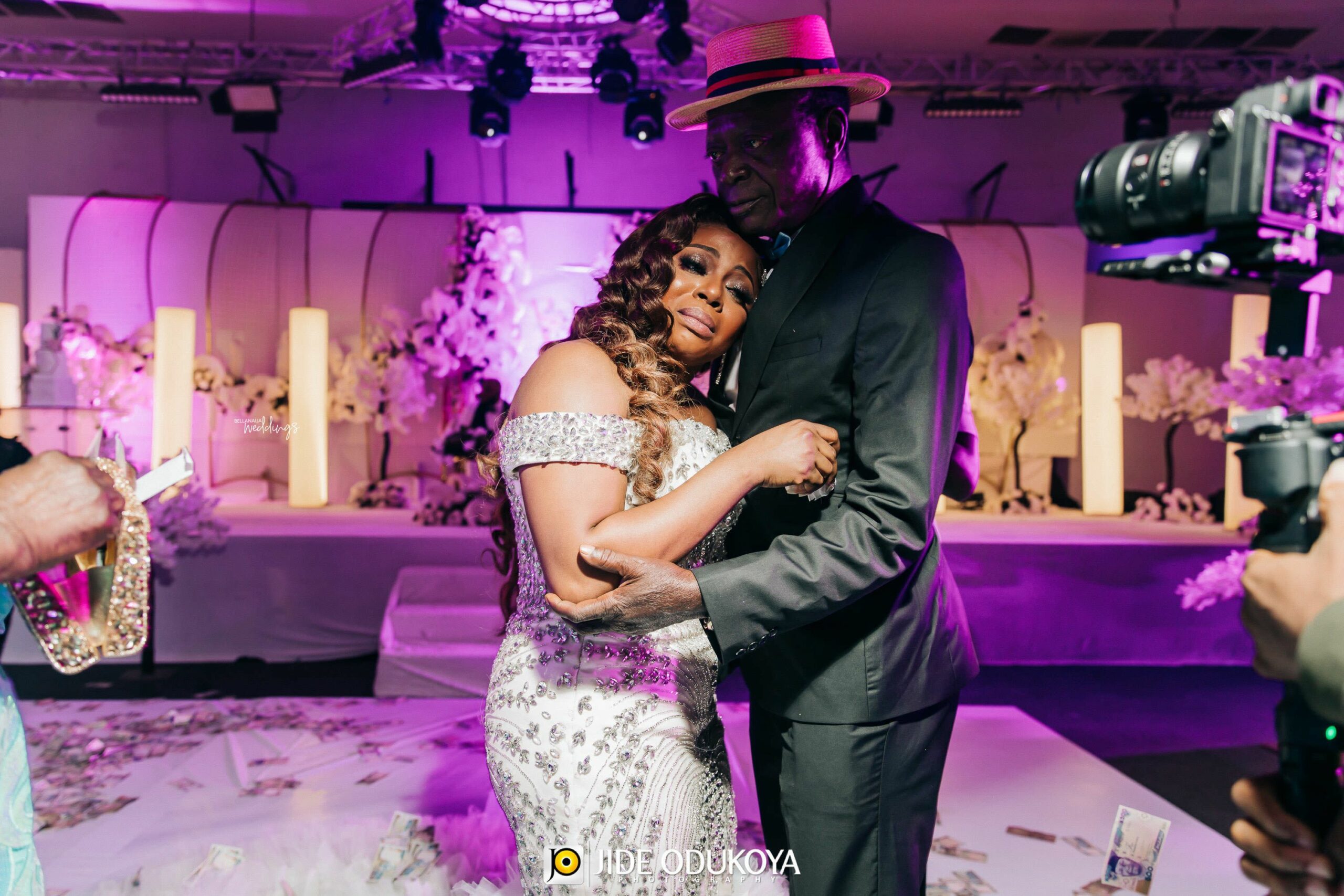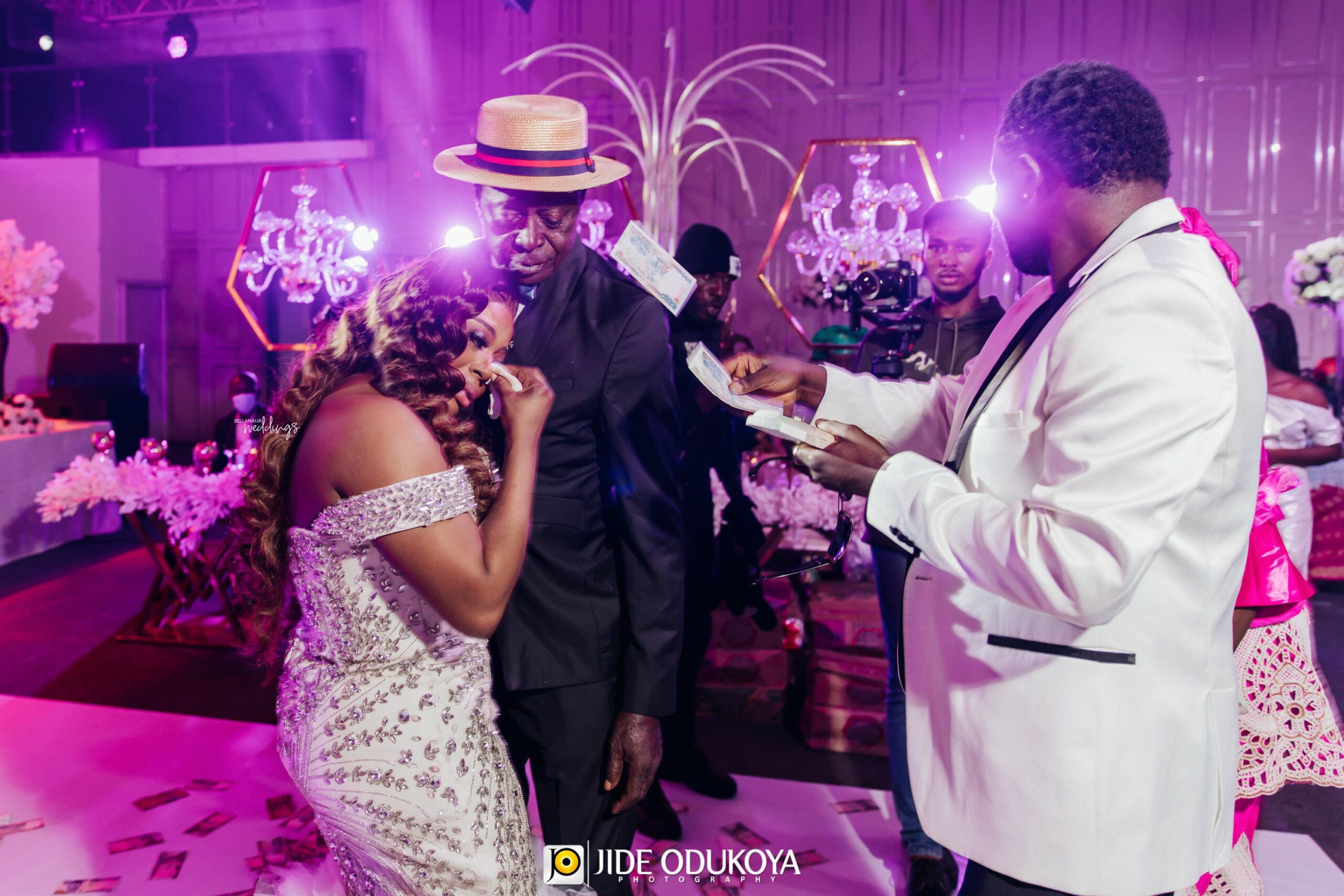 What's a reception without the fun games!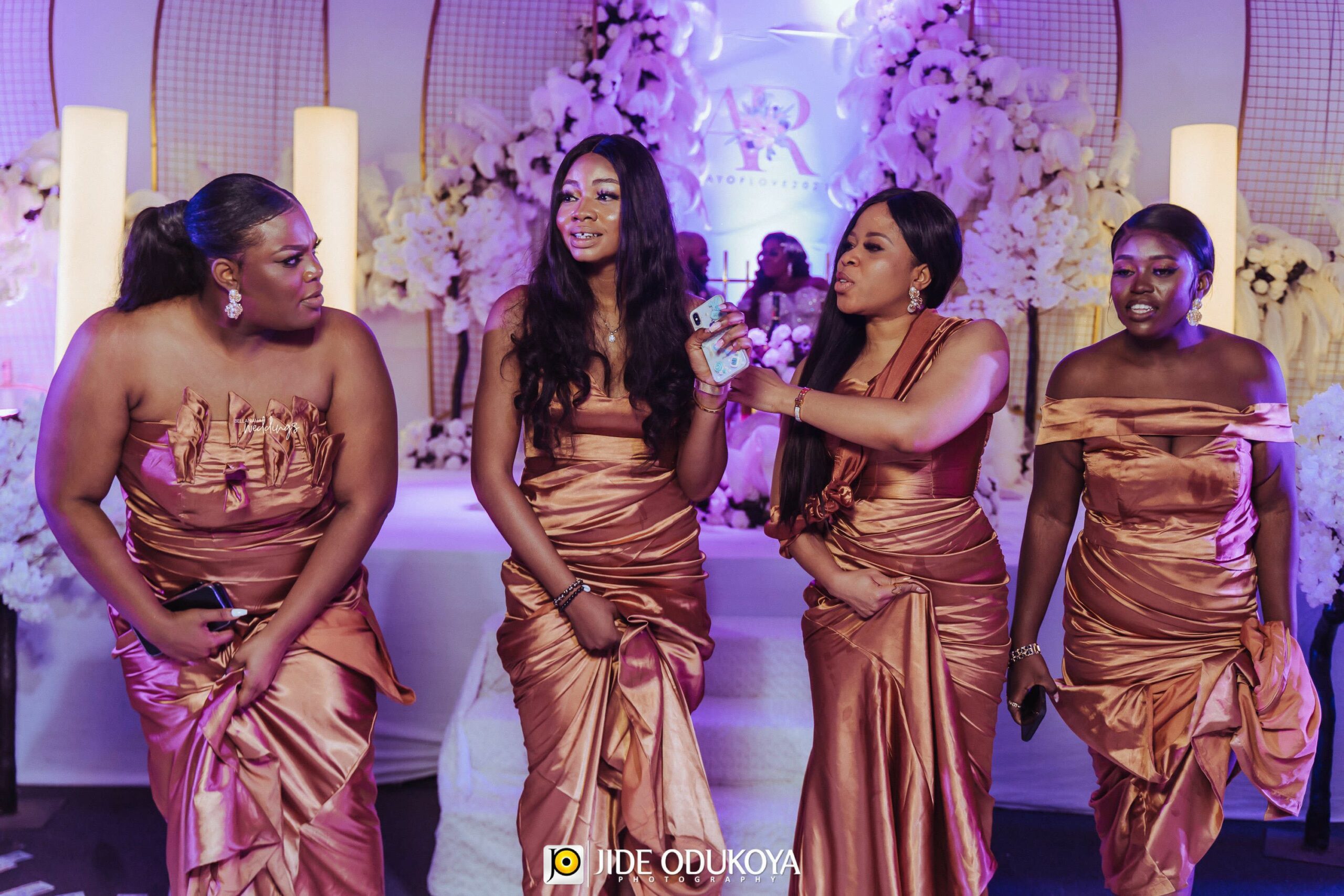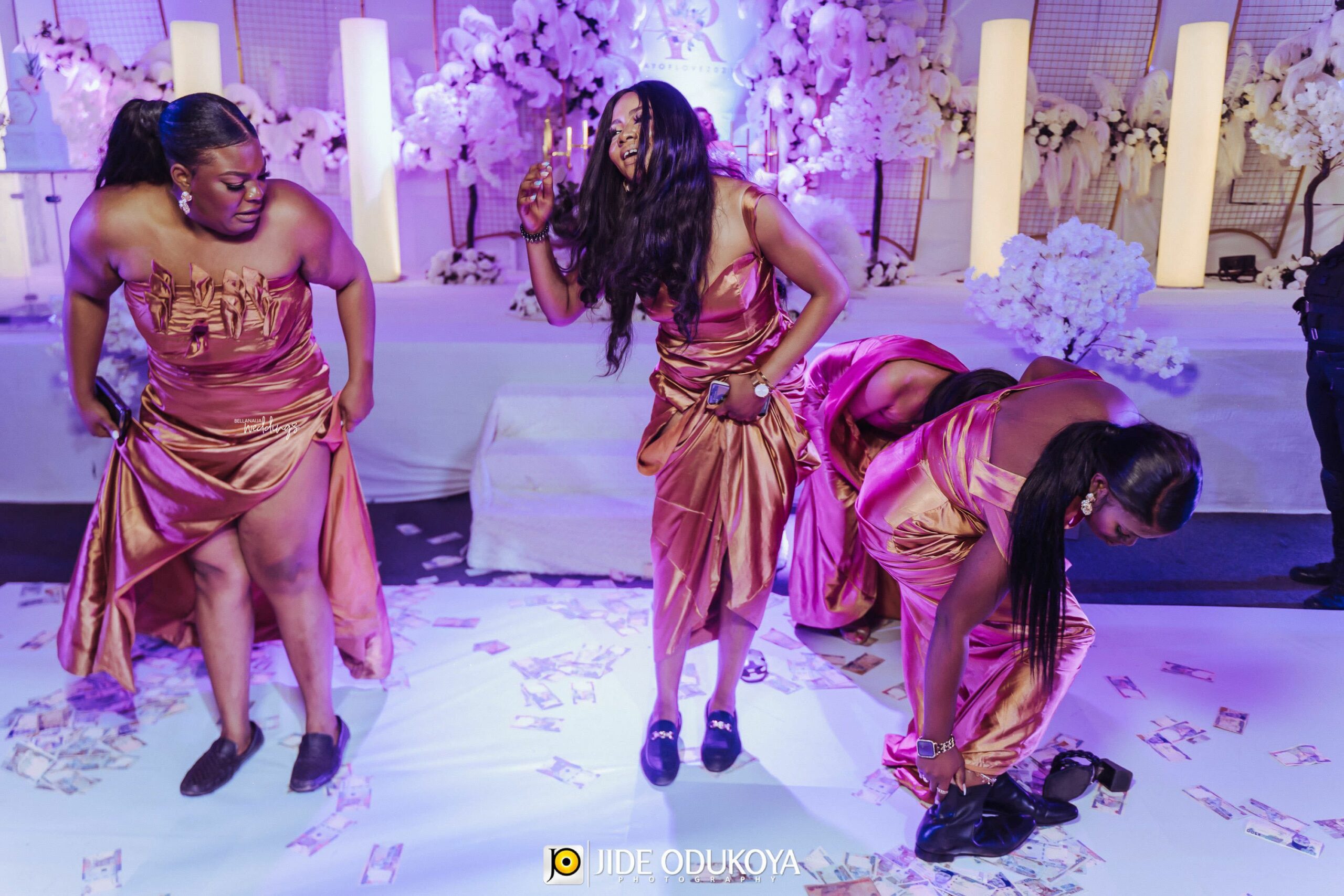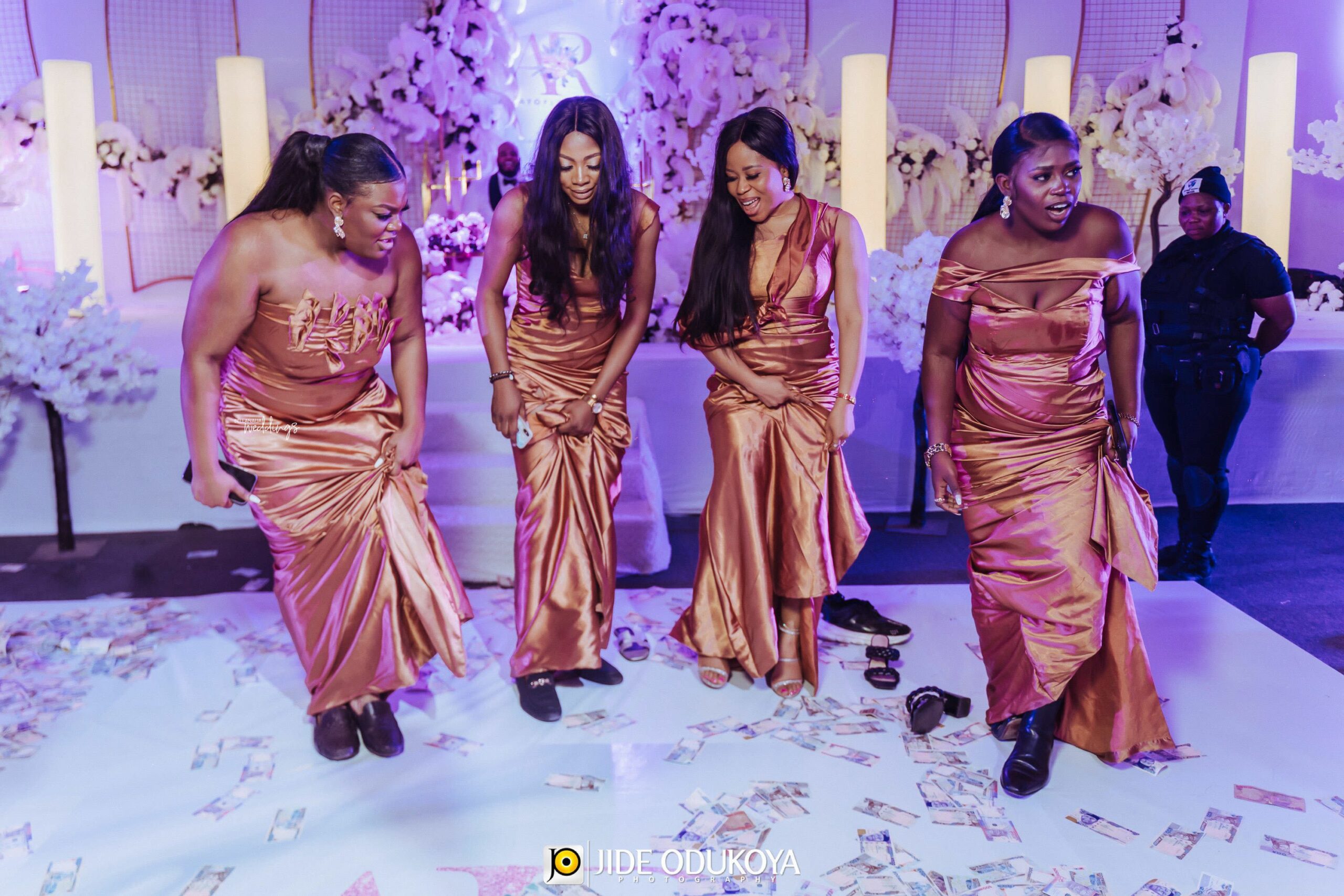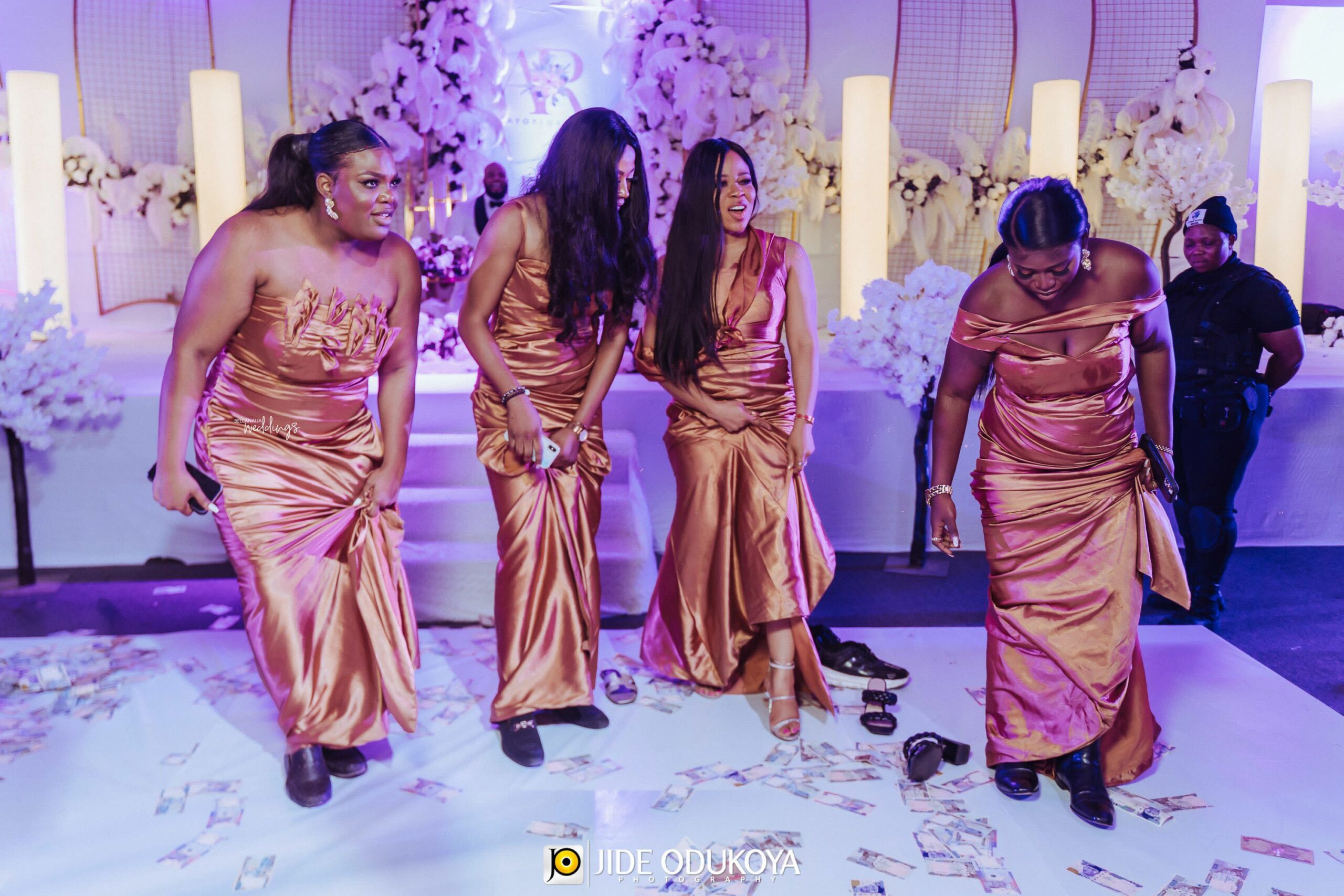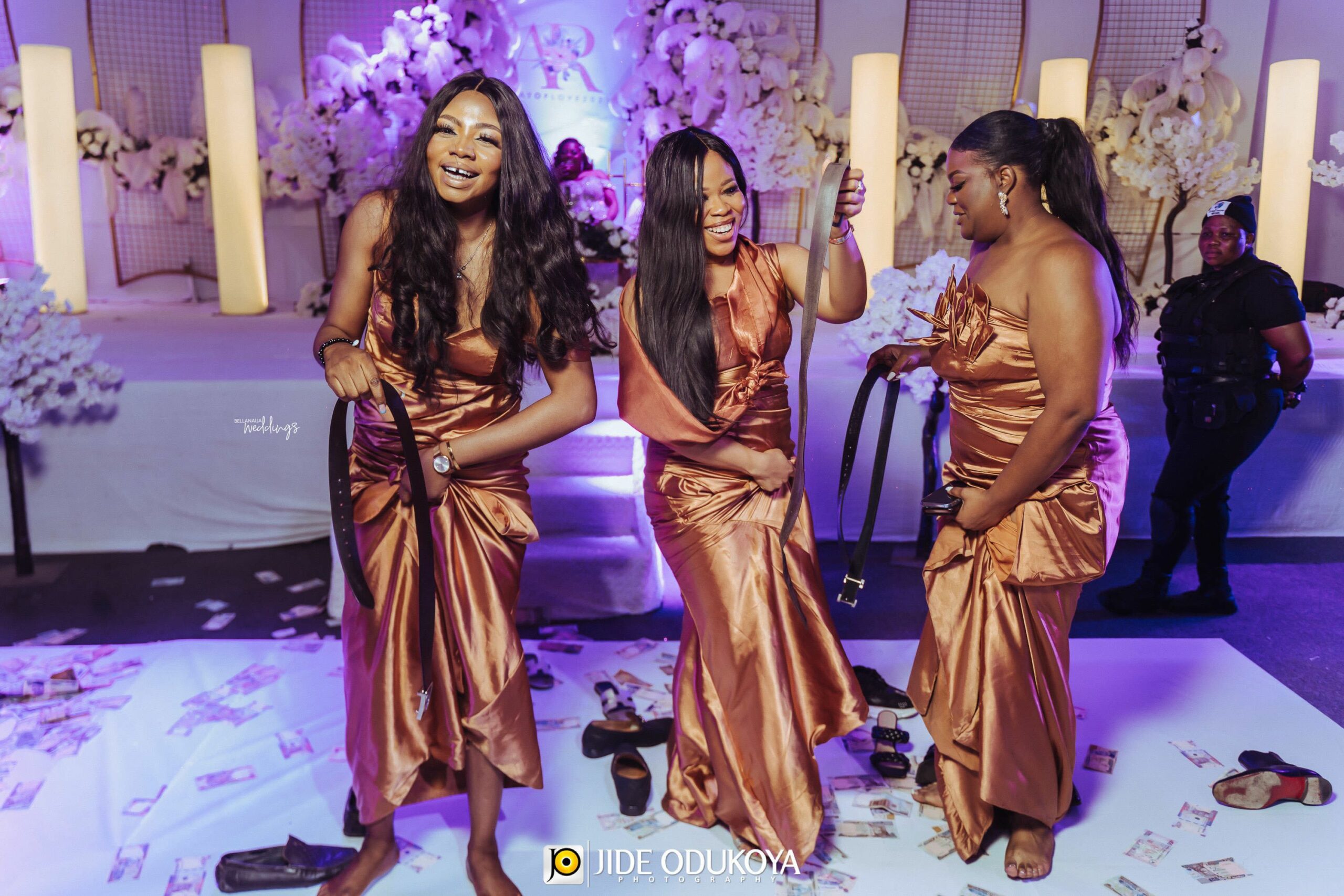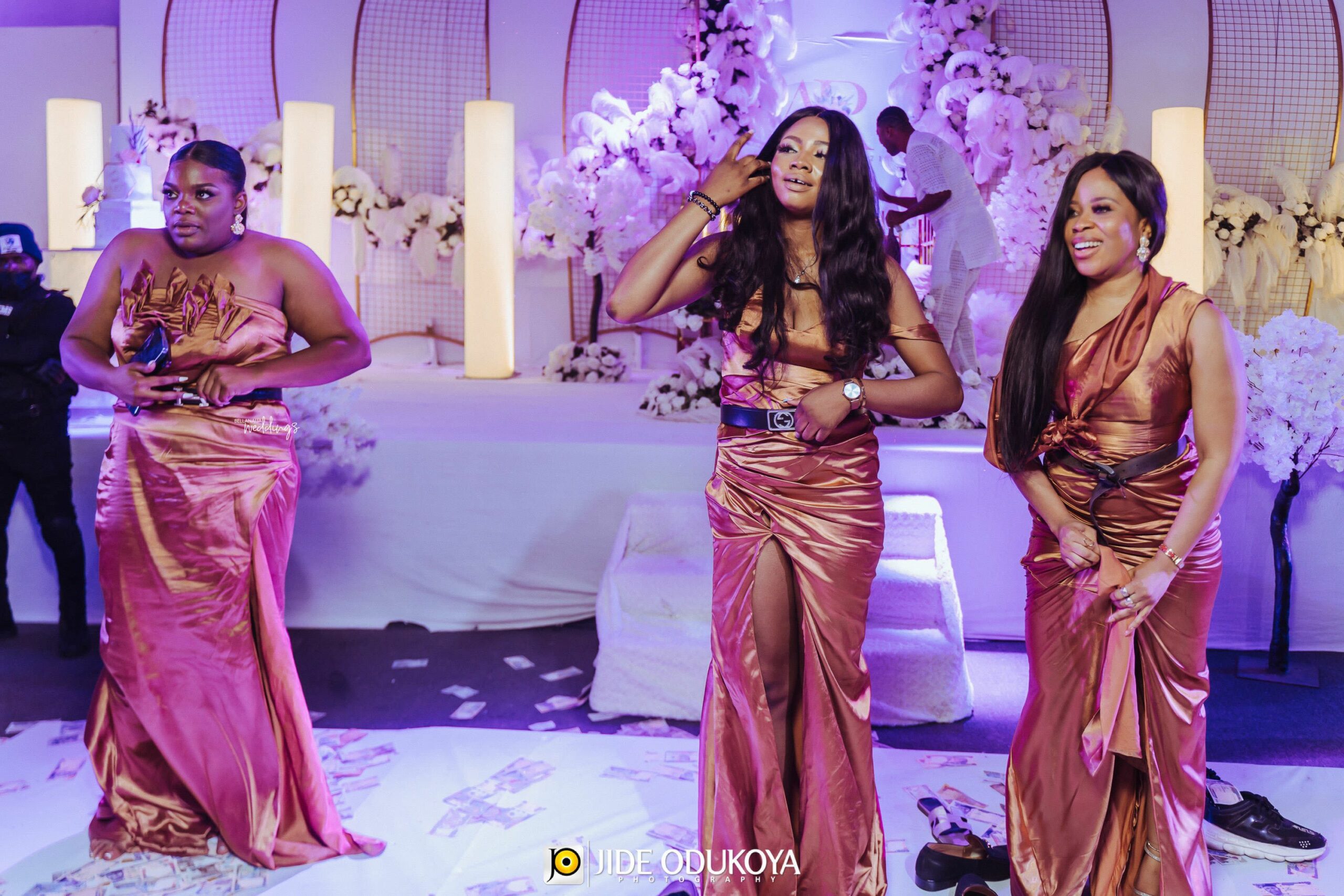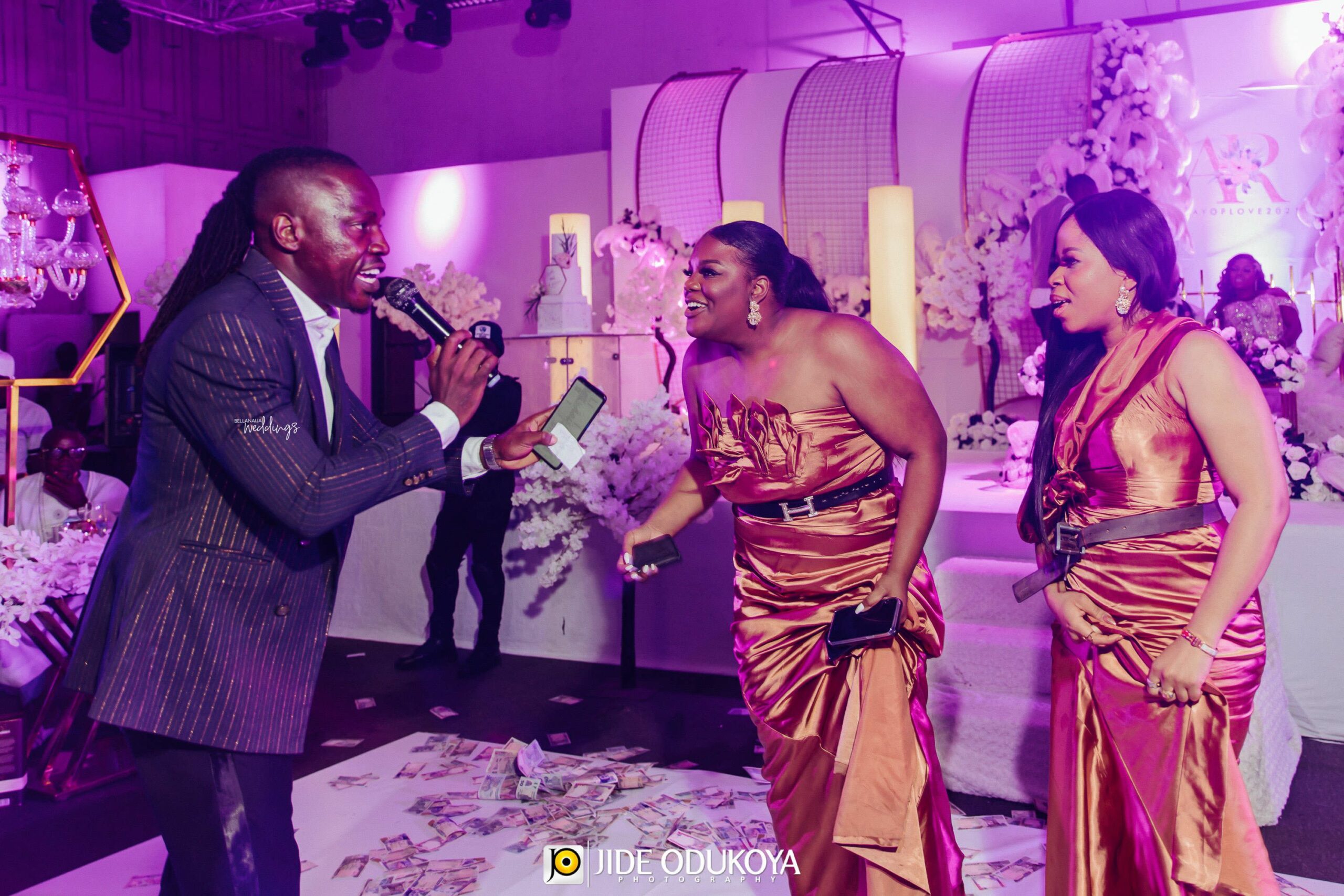 Now, it'ss time to get turnt with the after-party!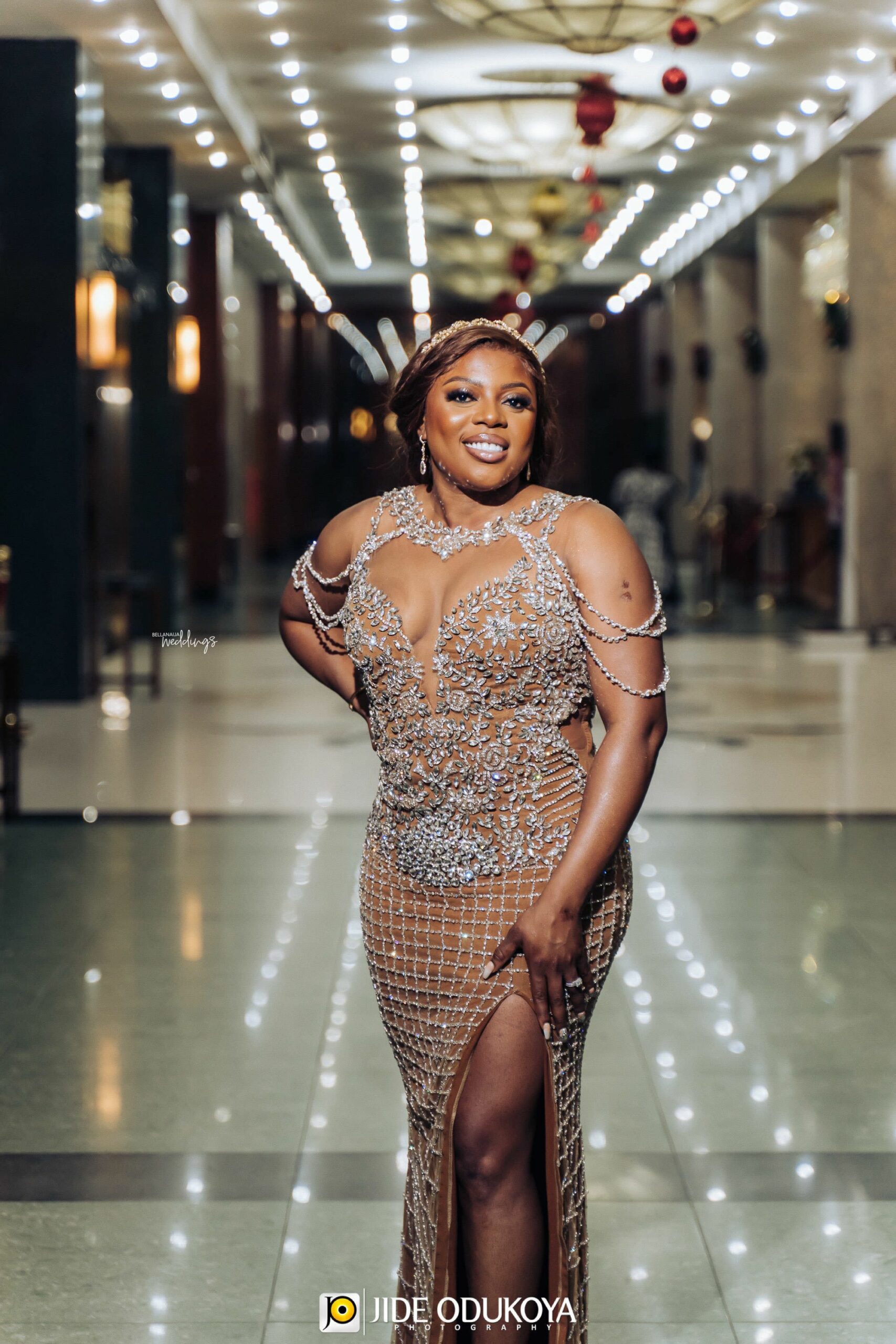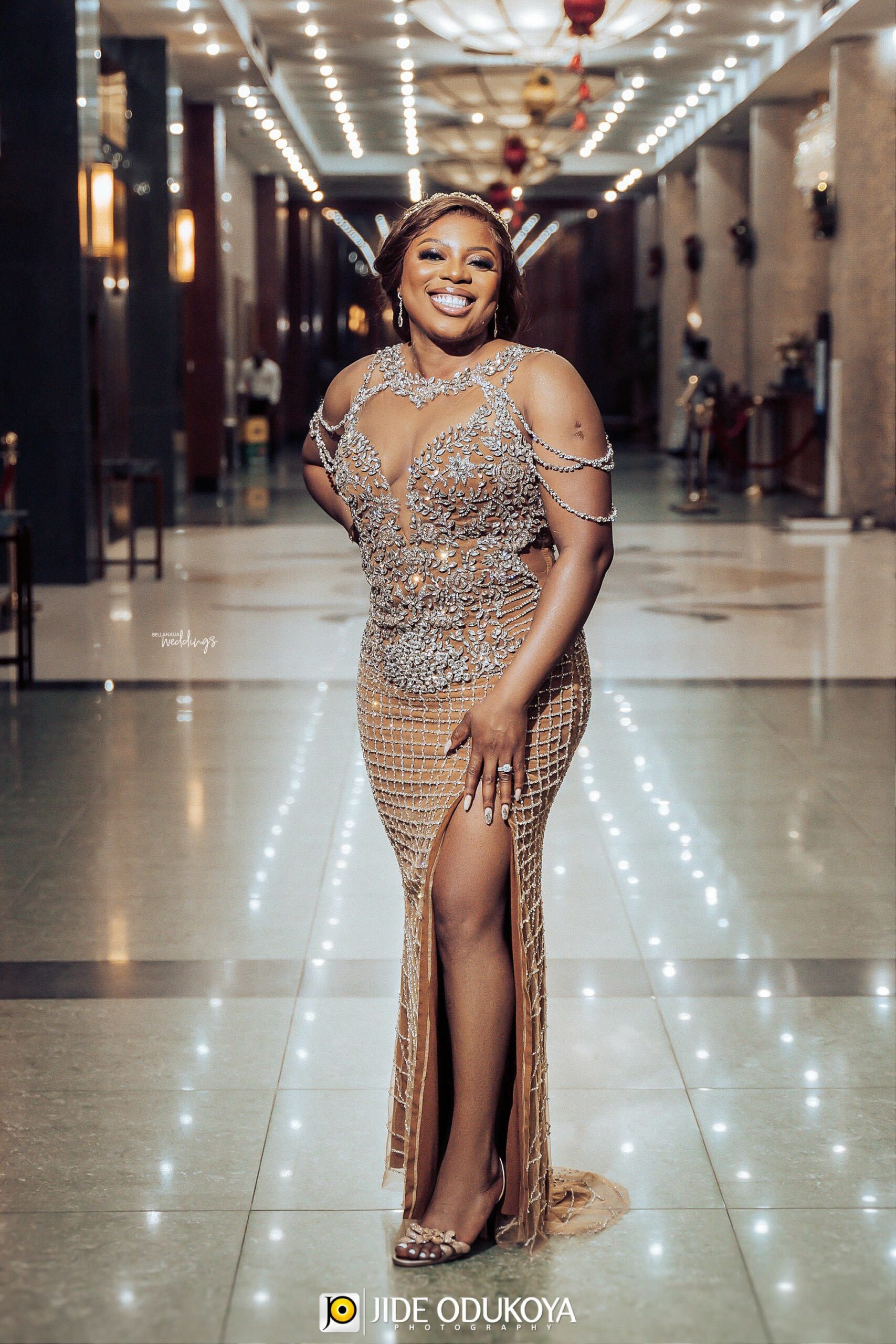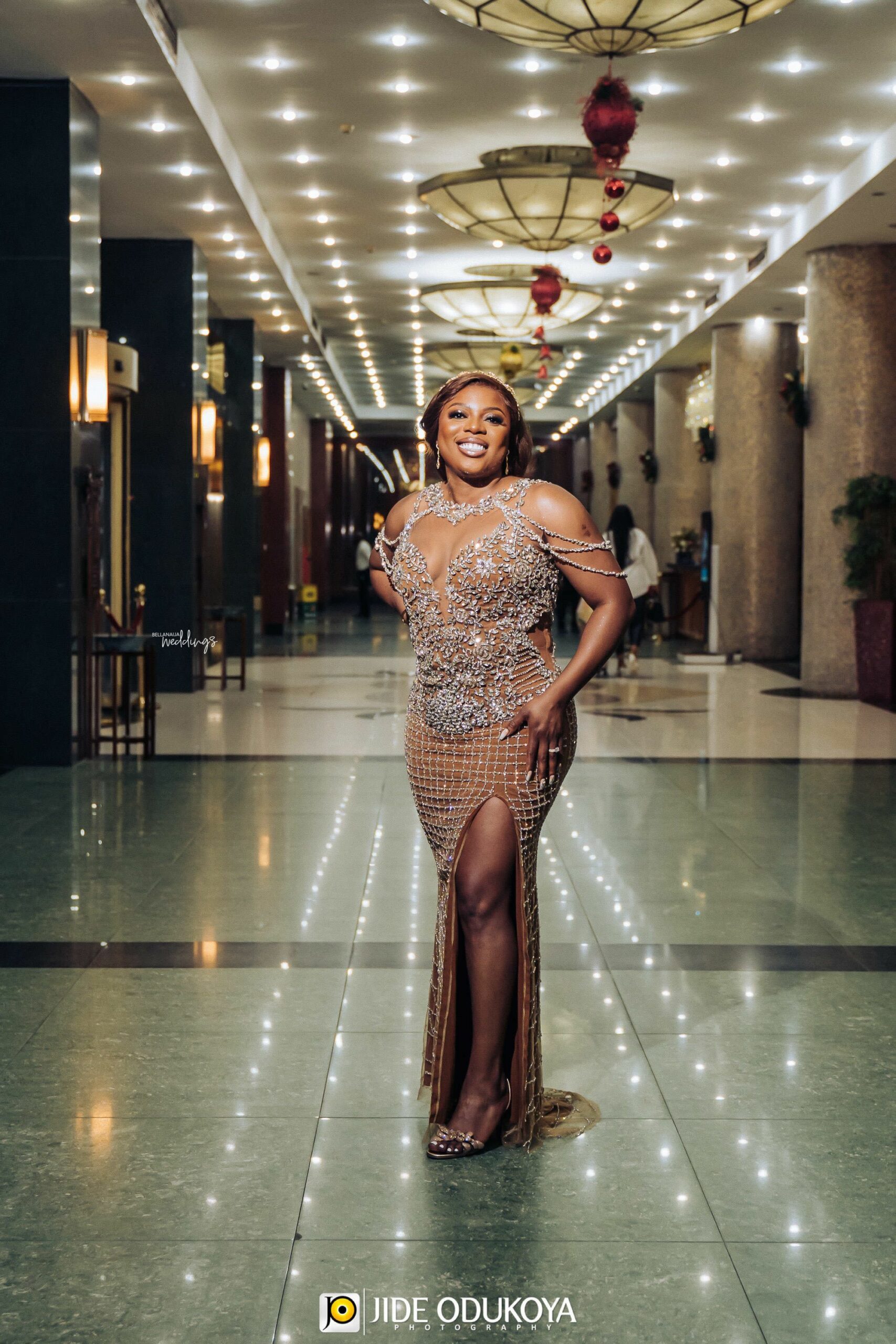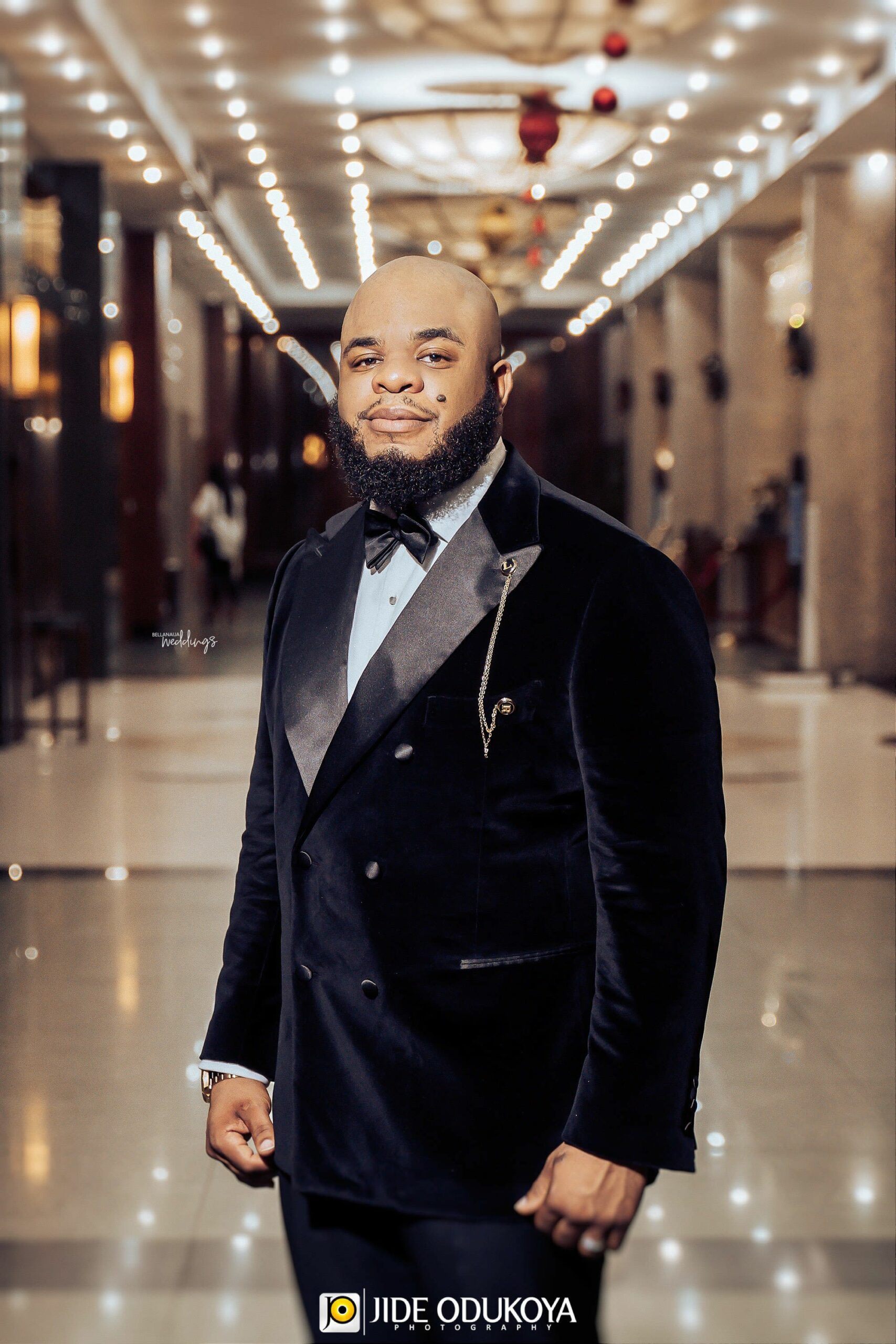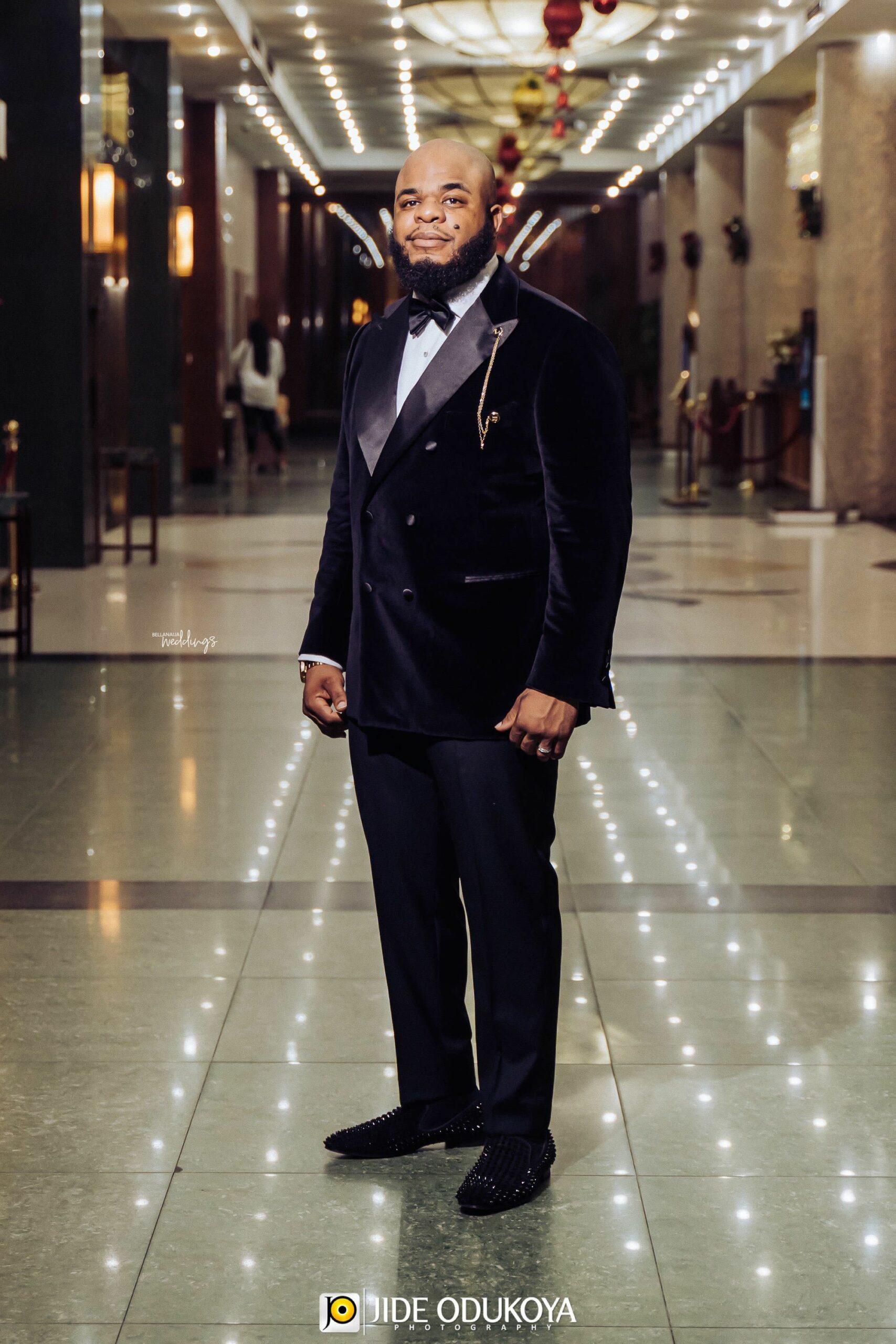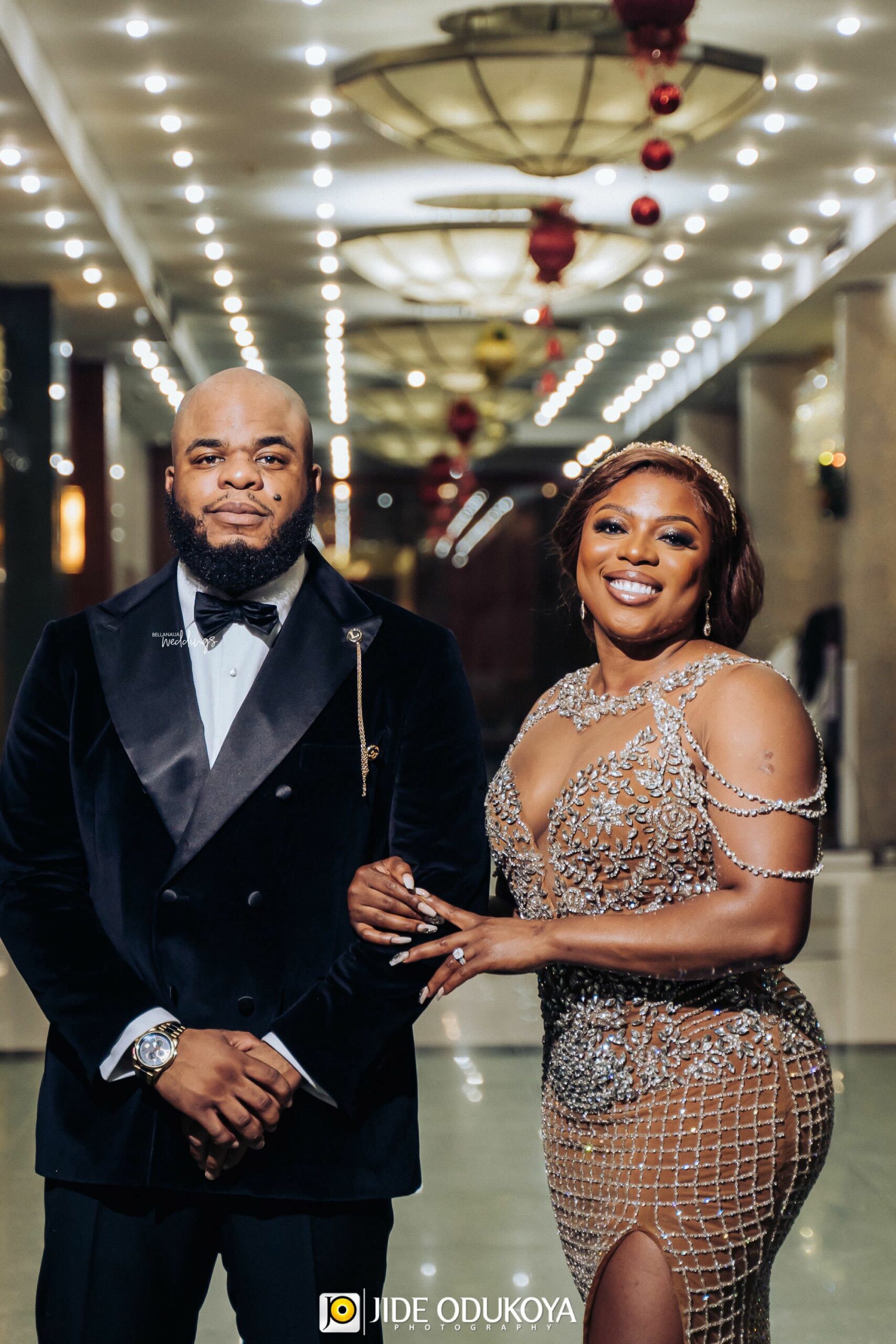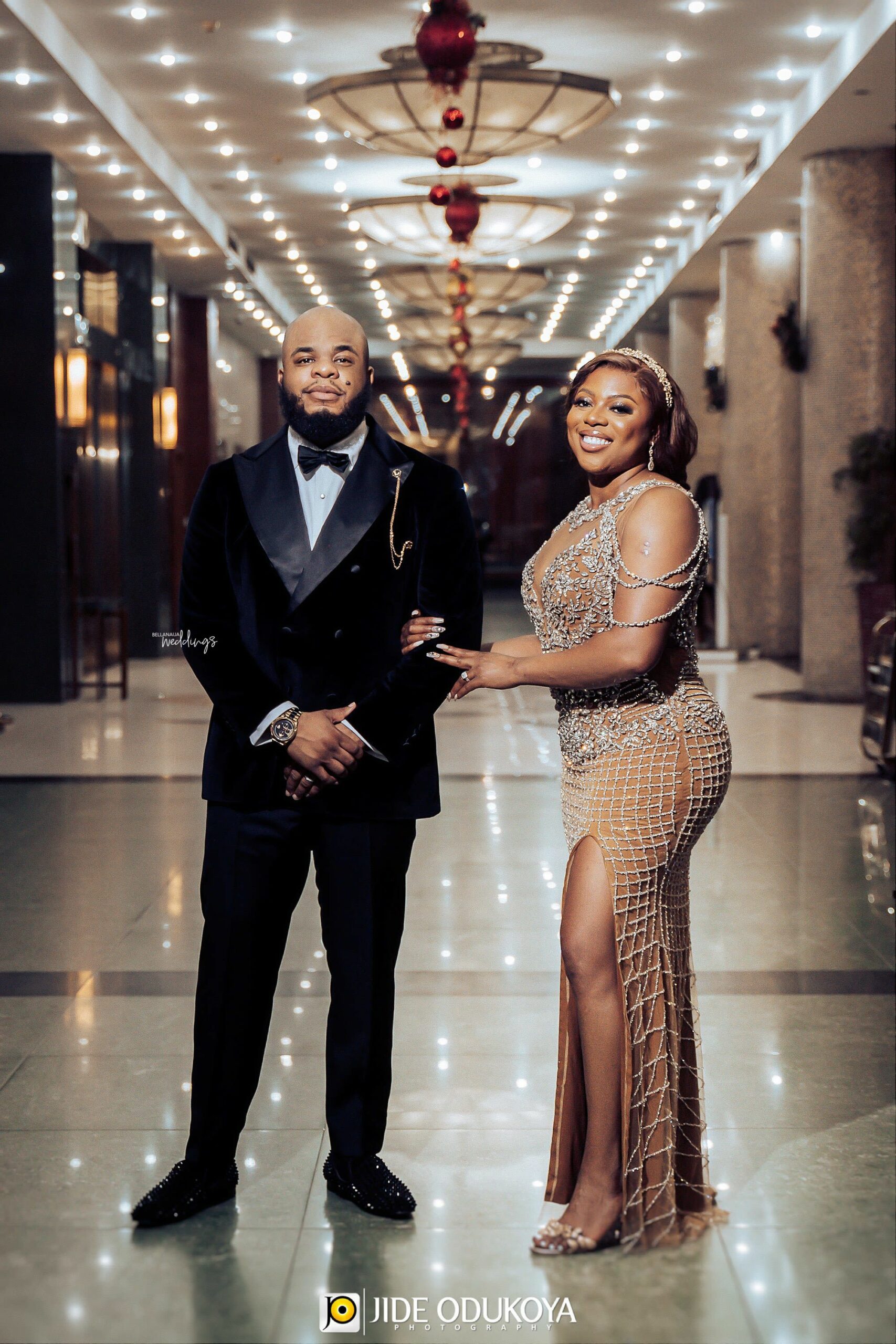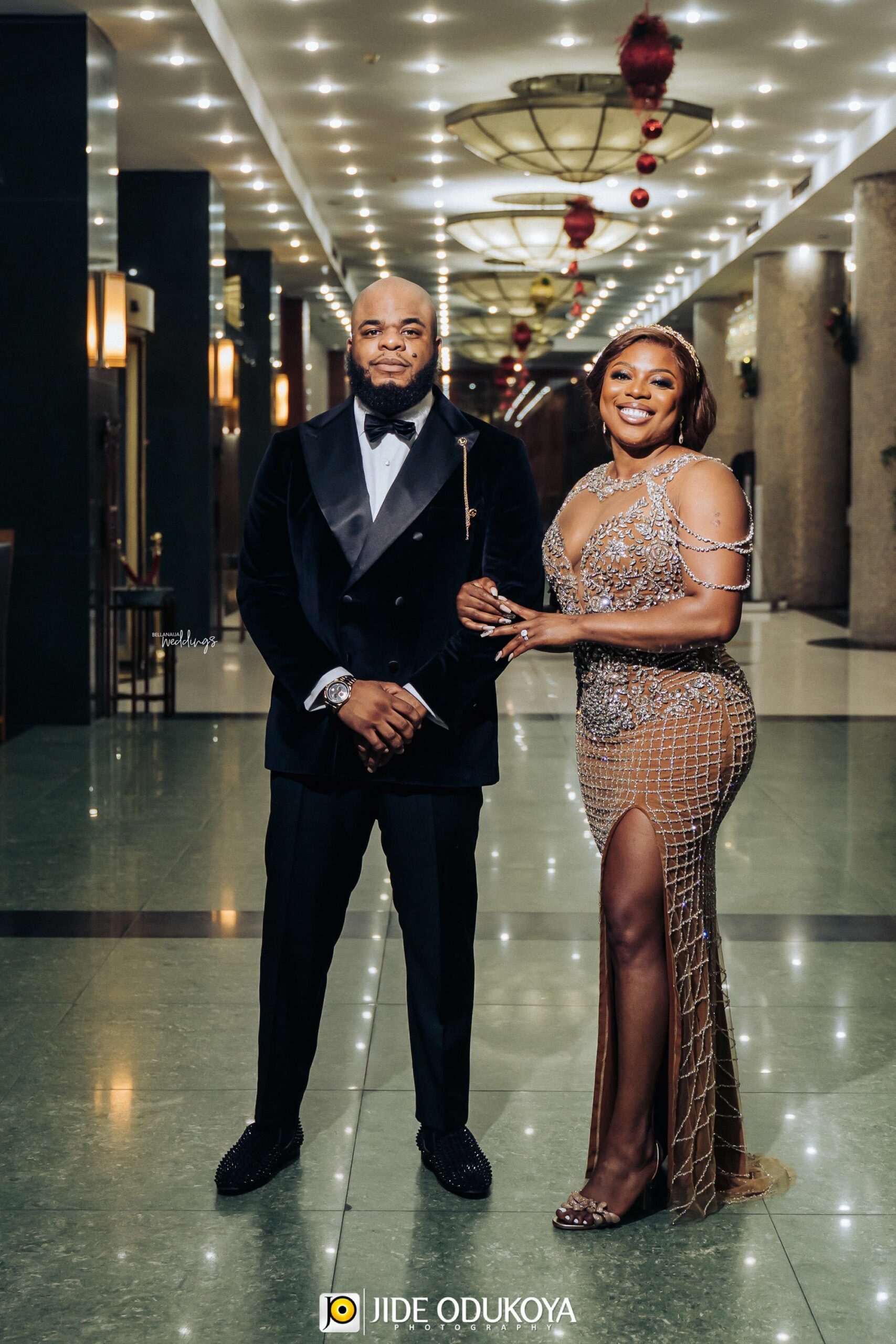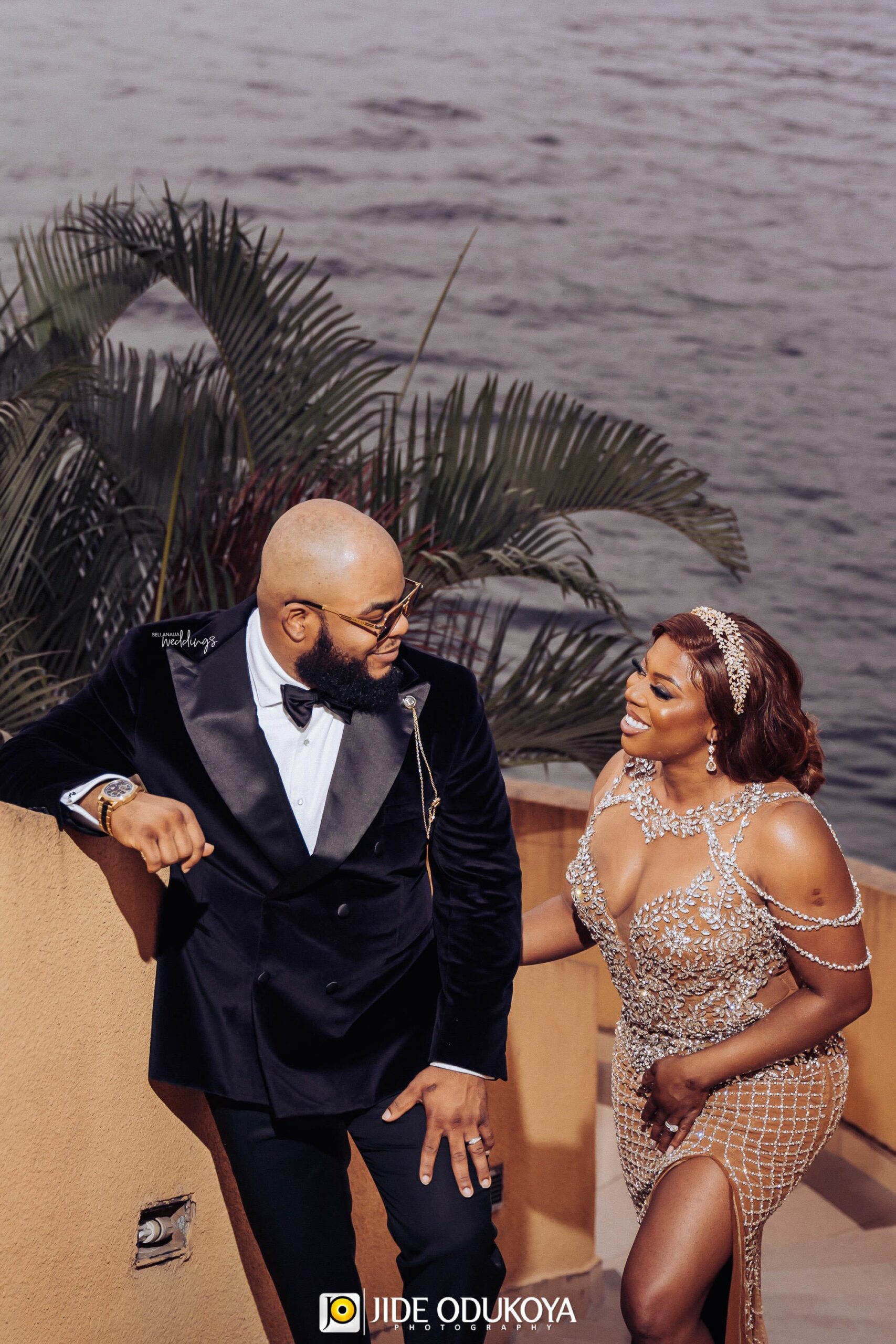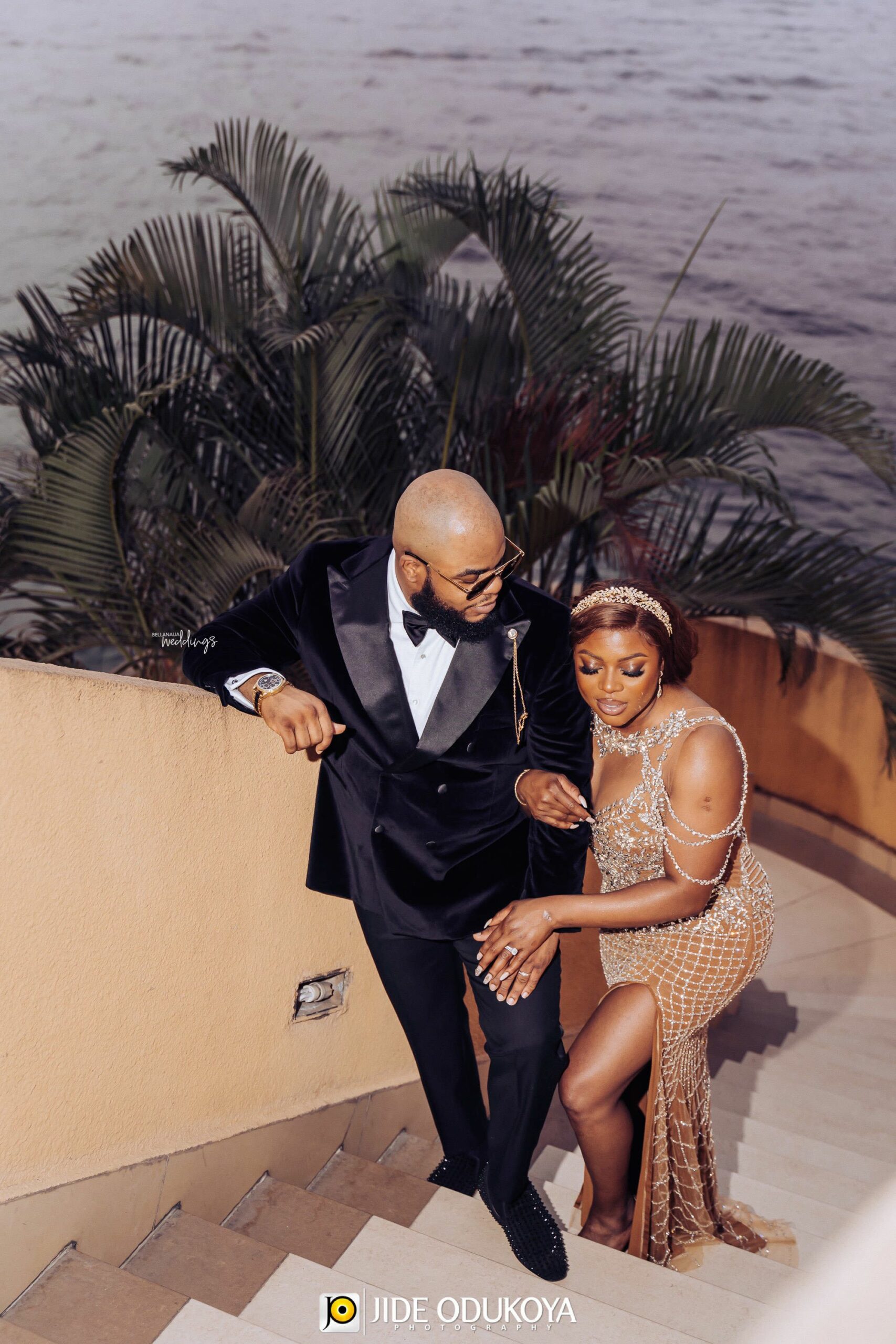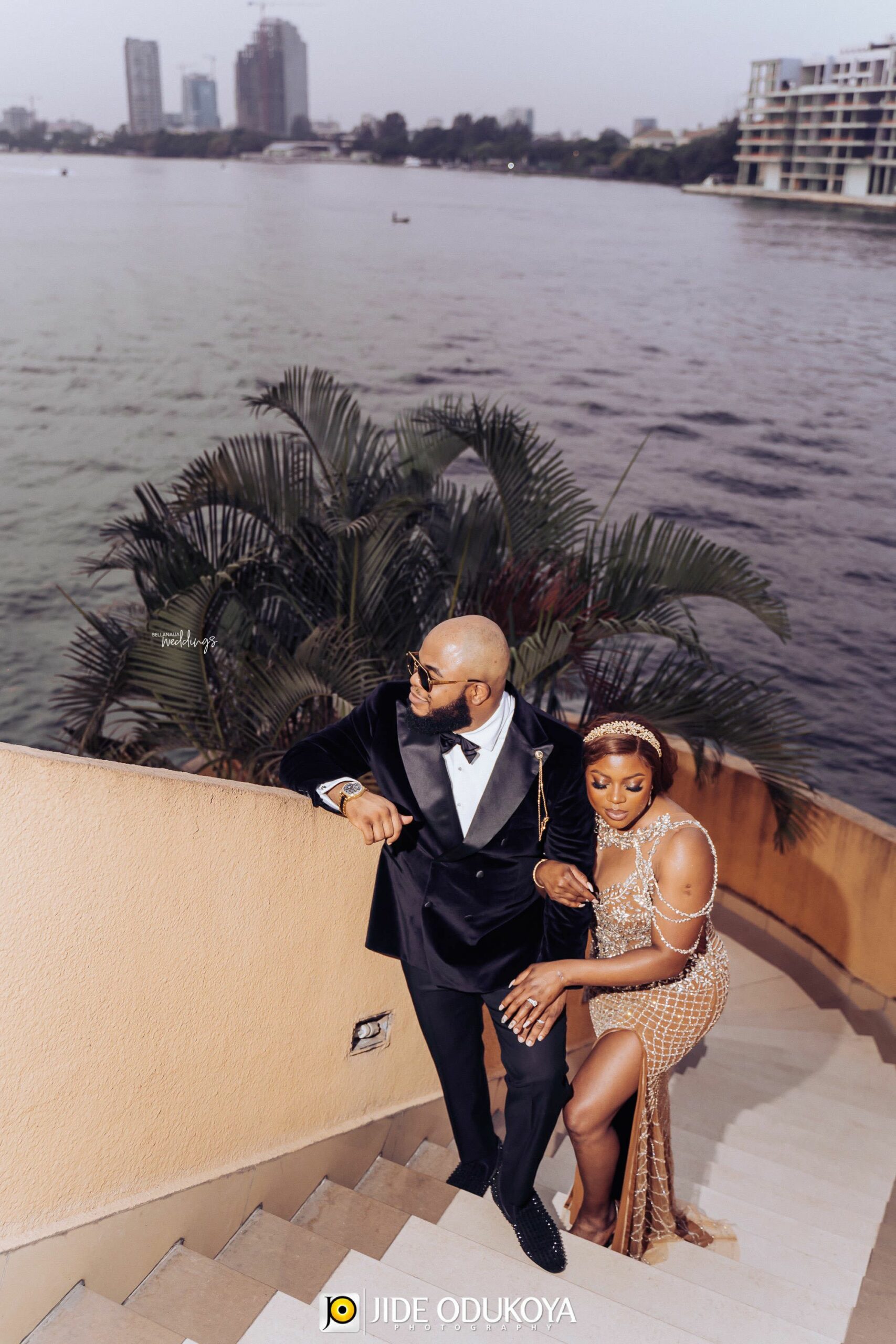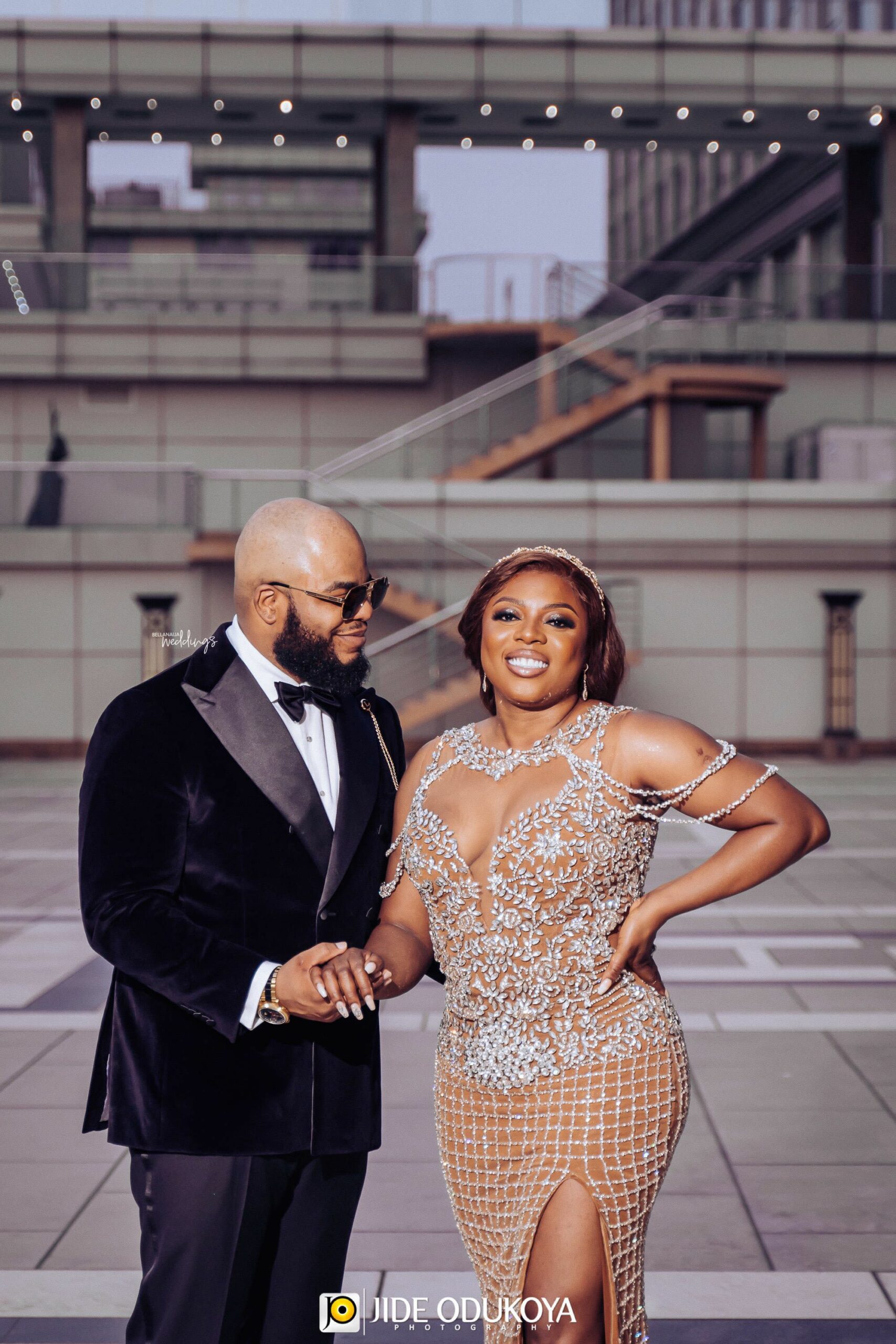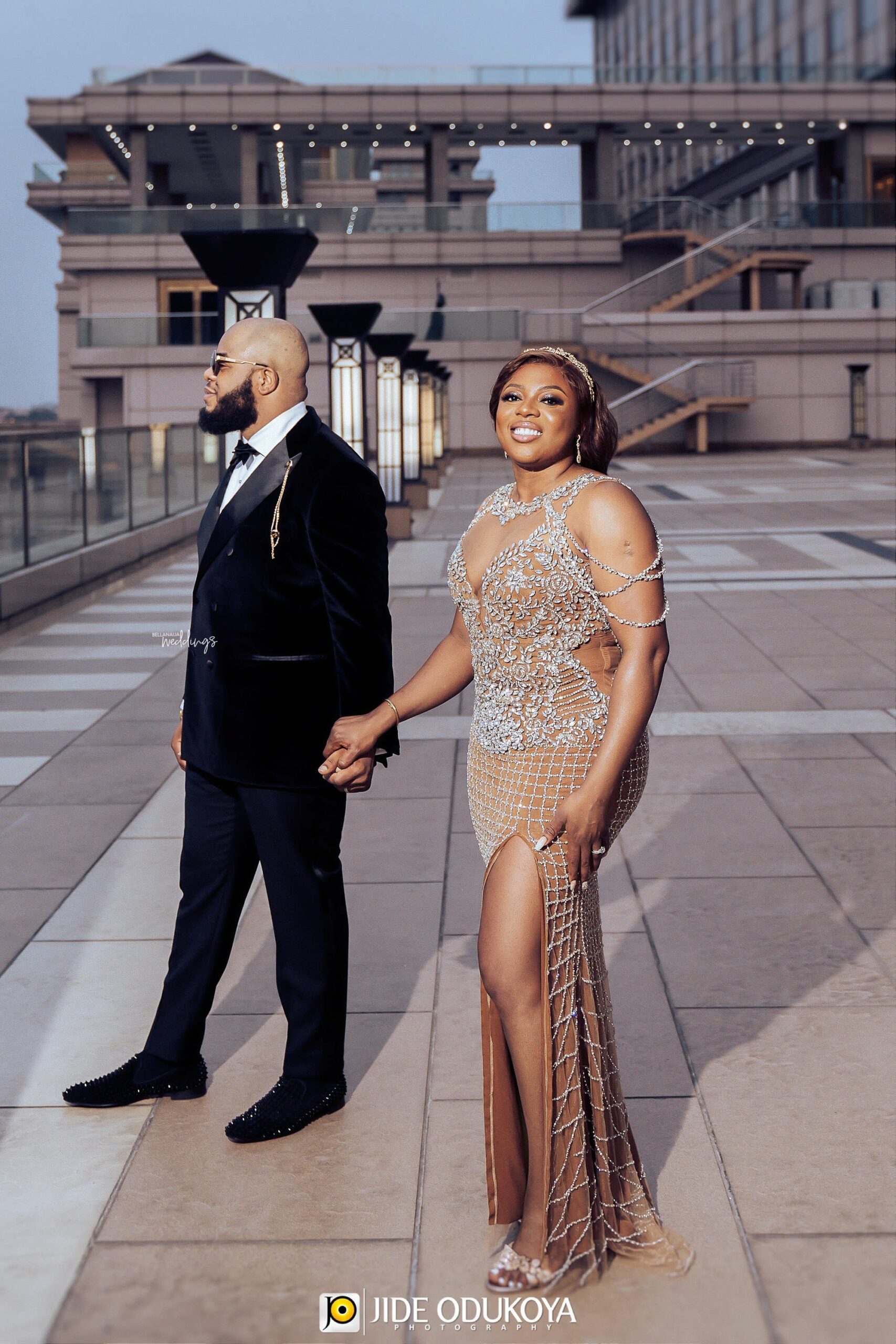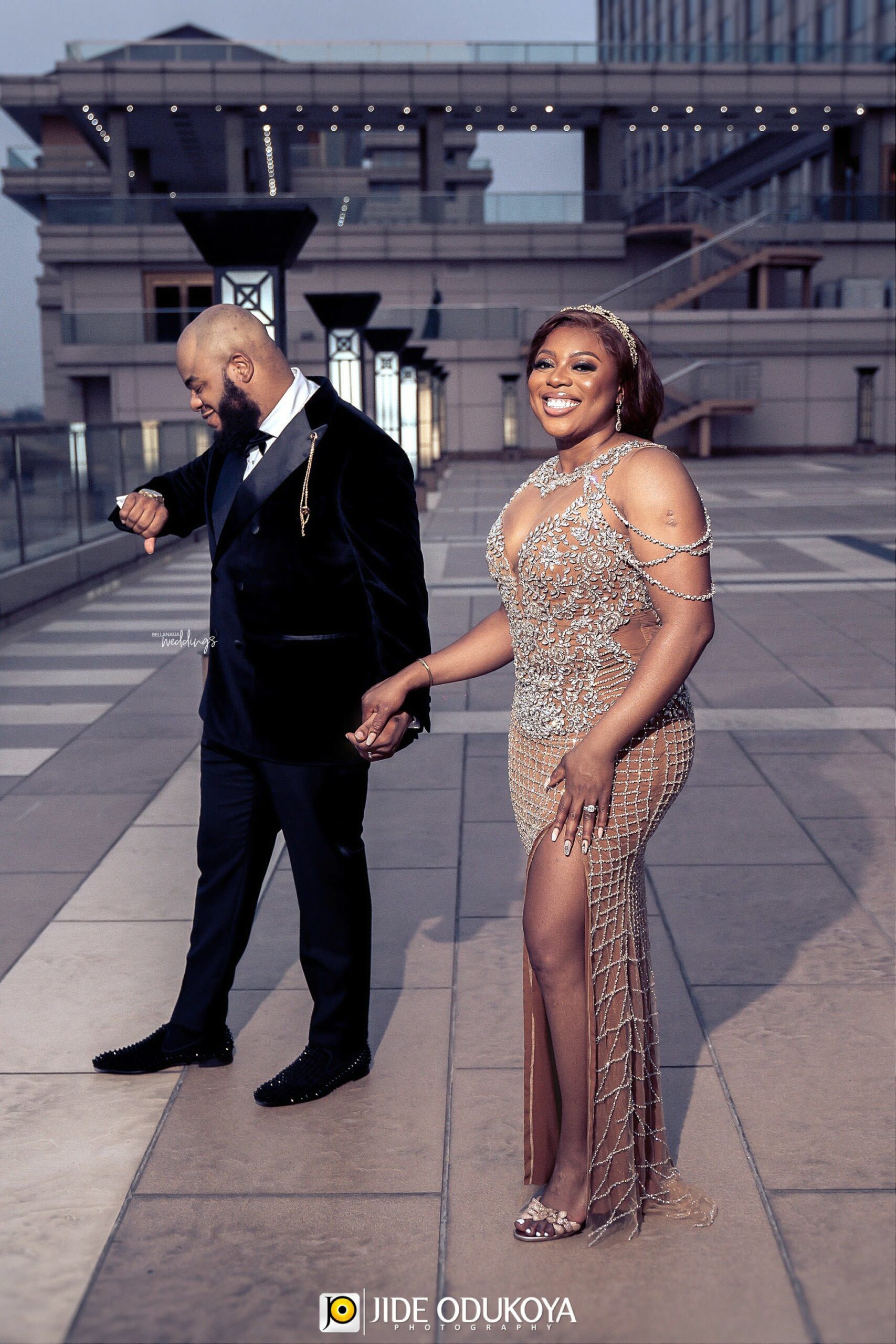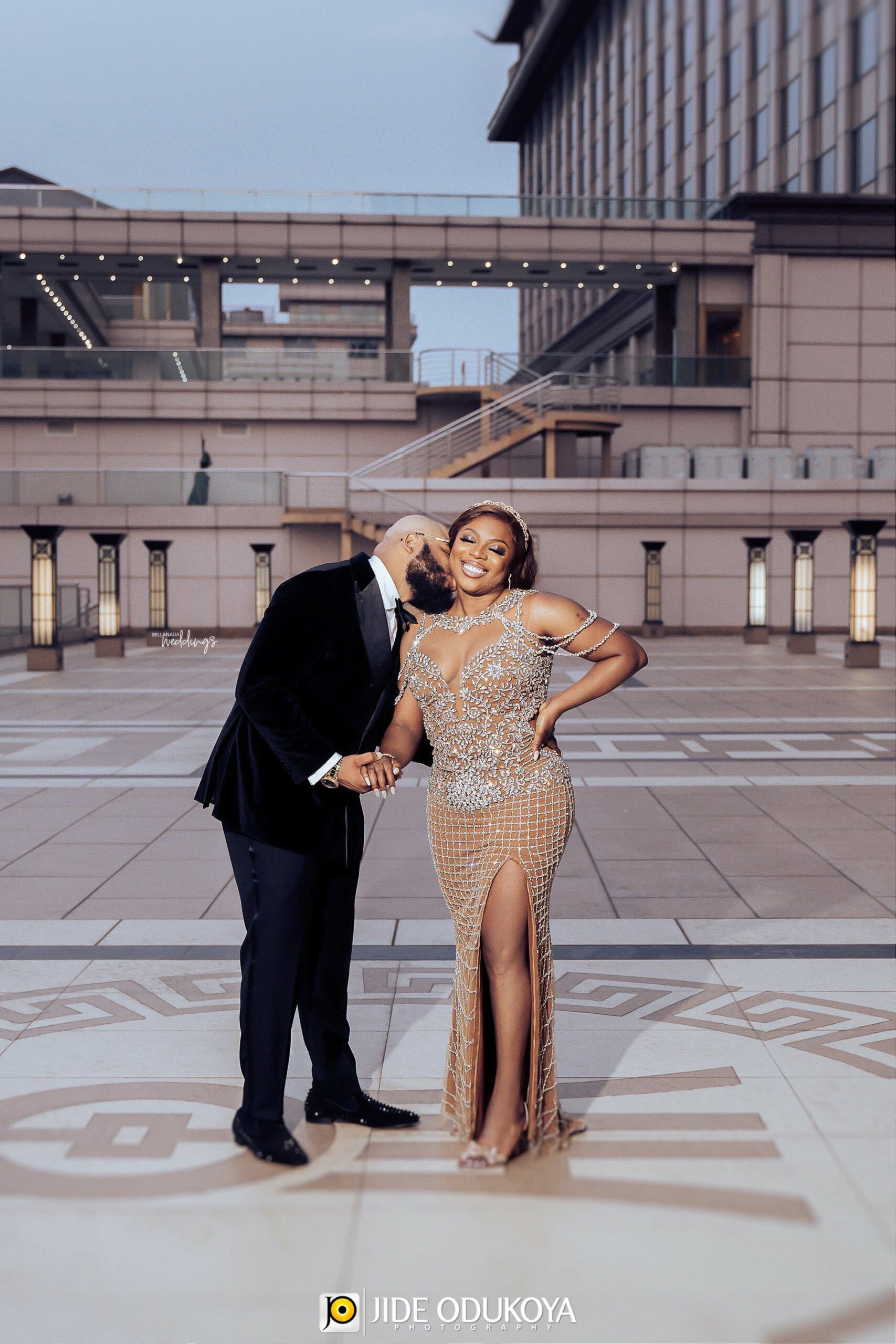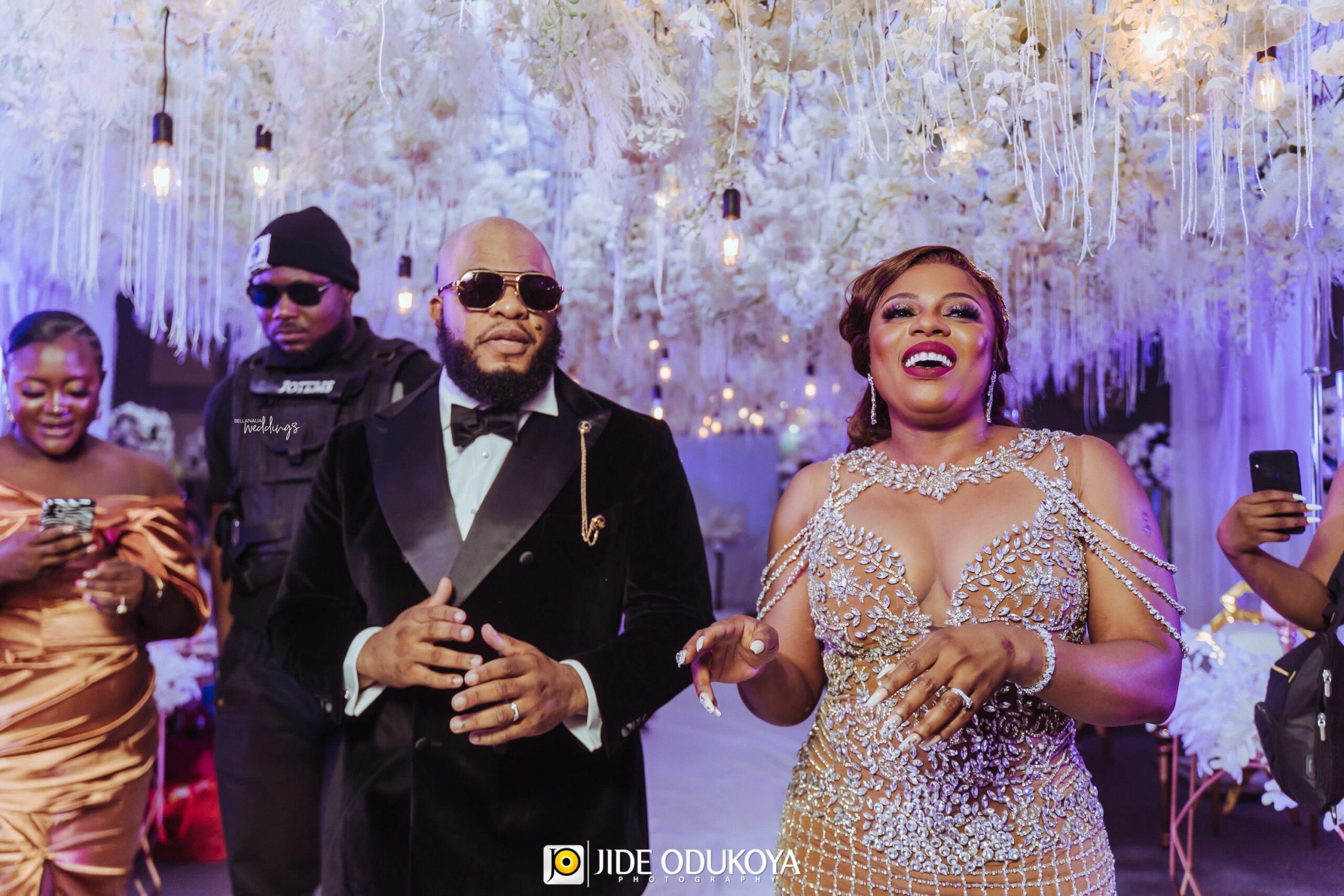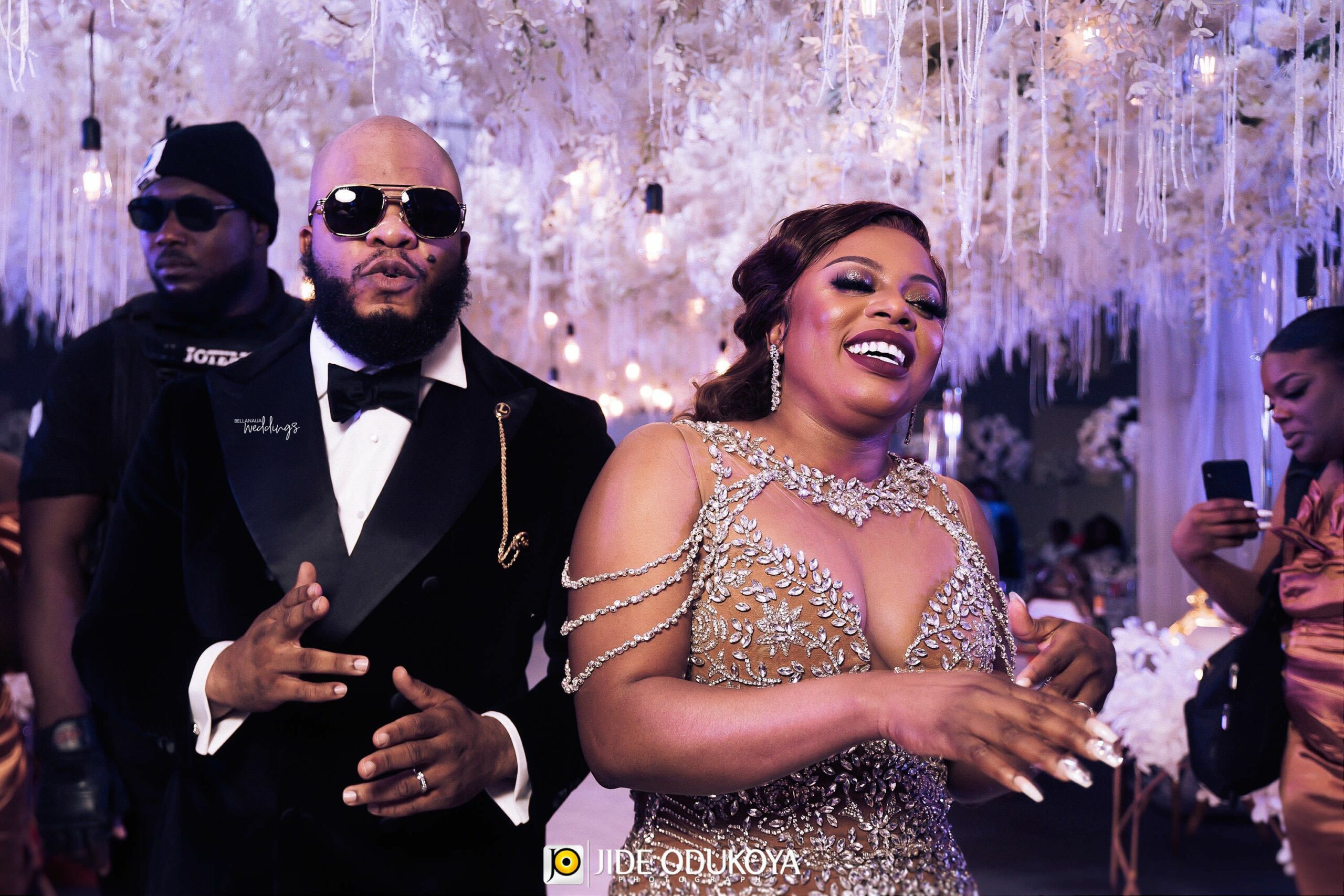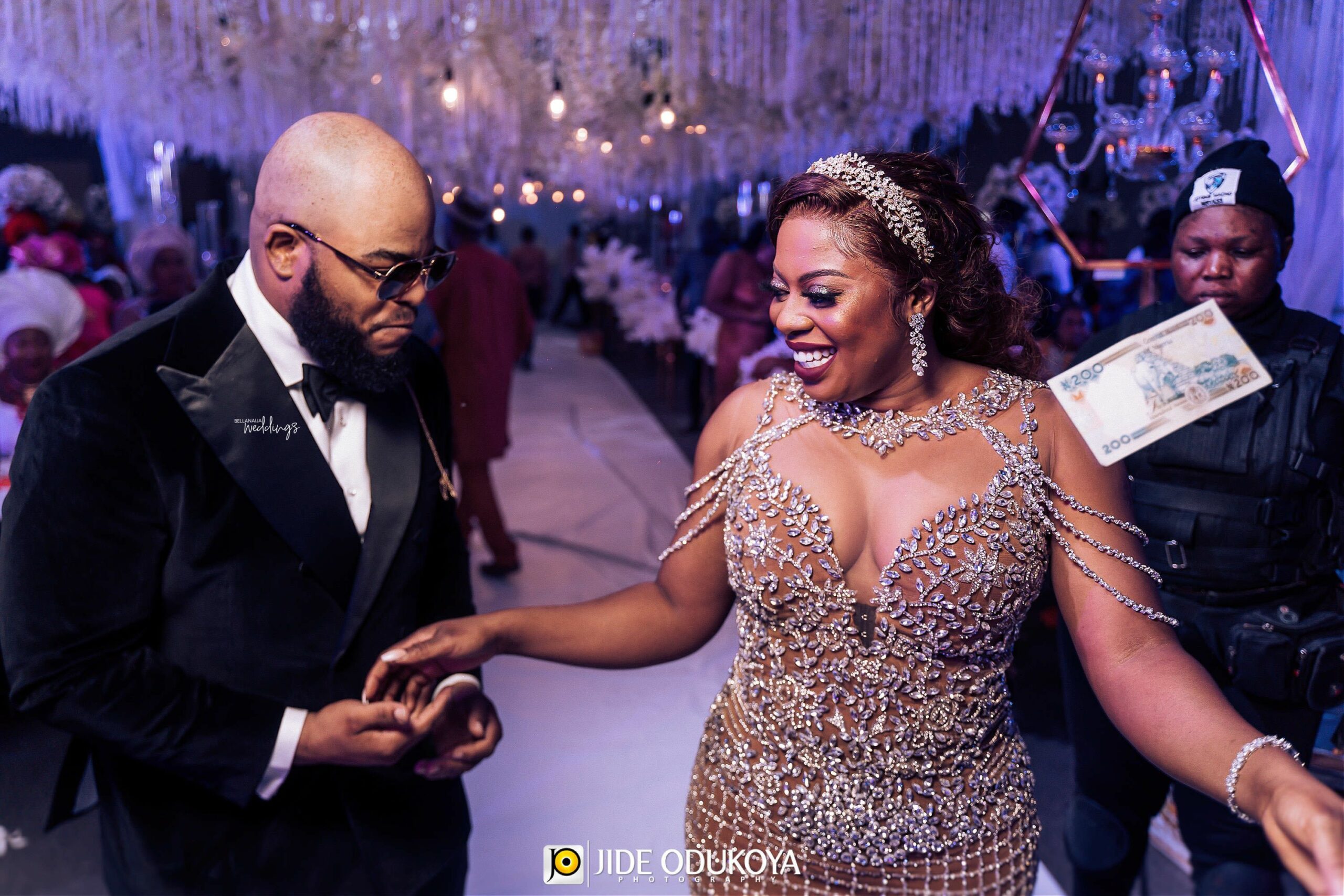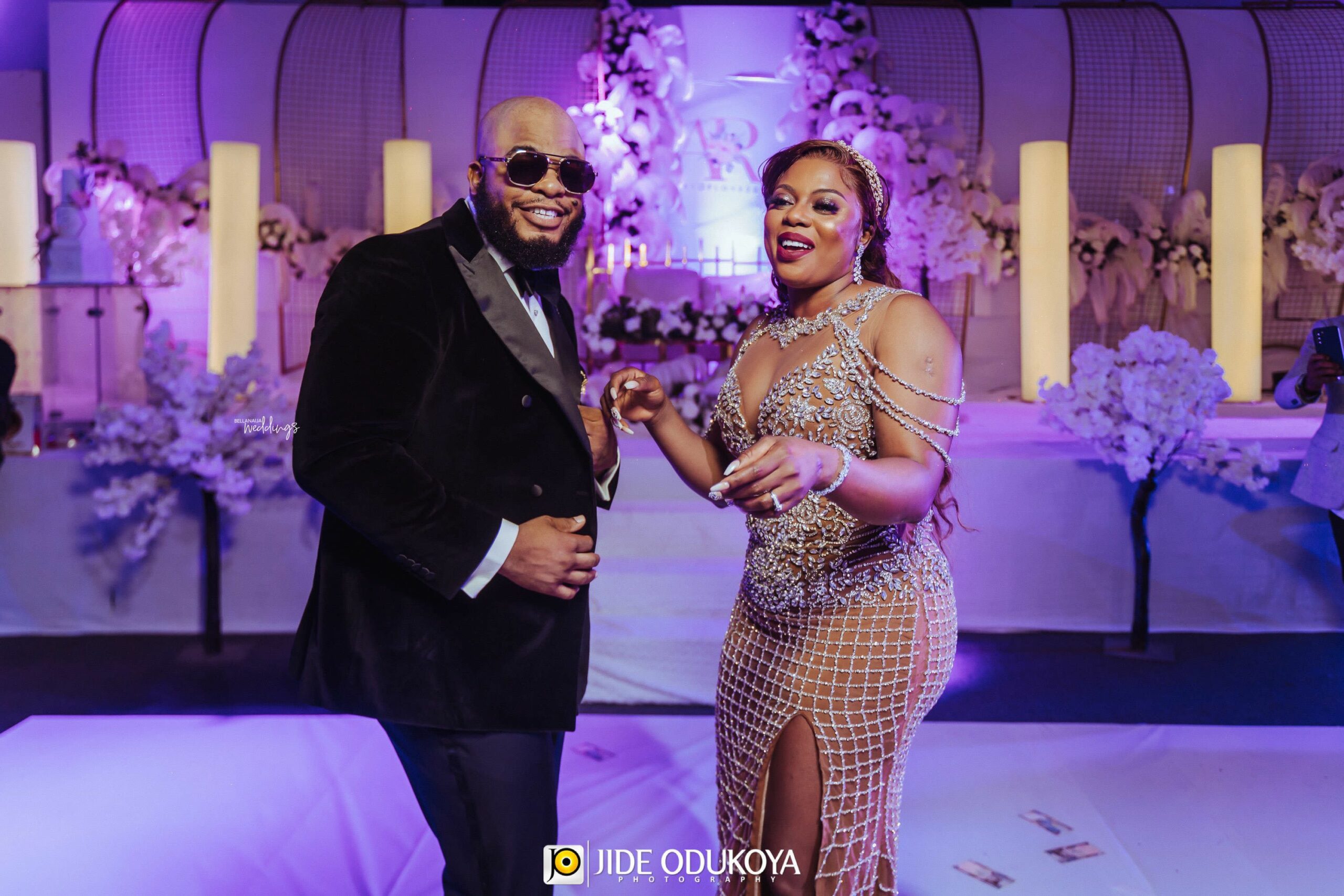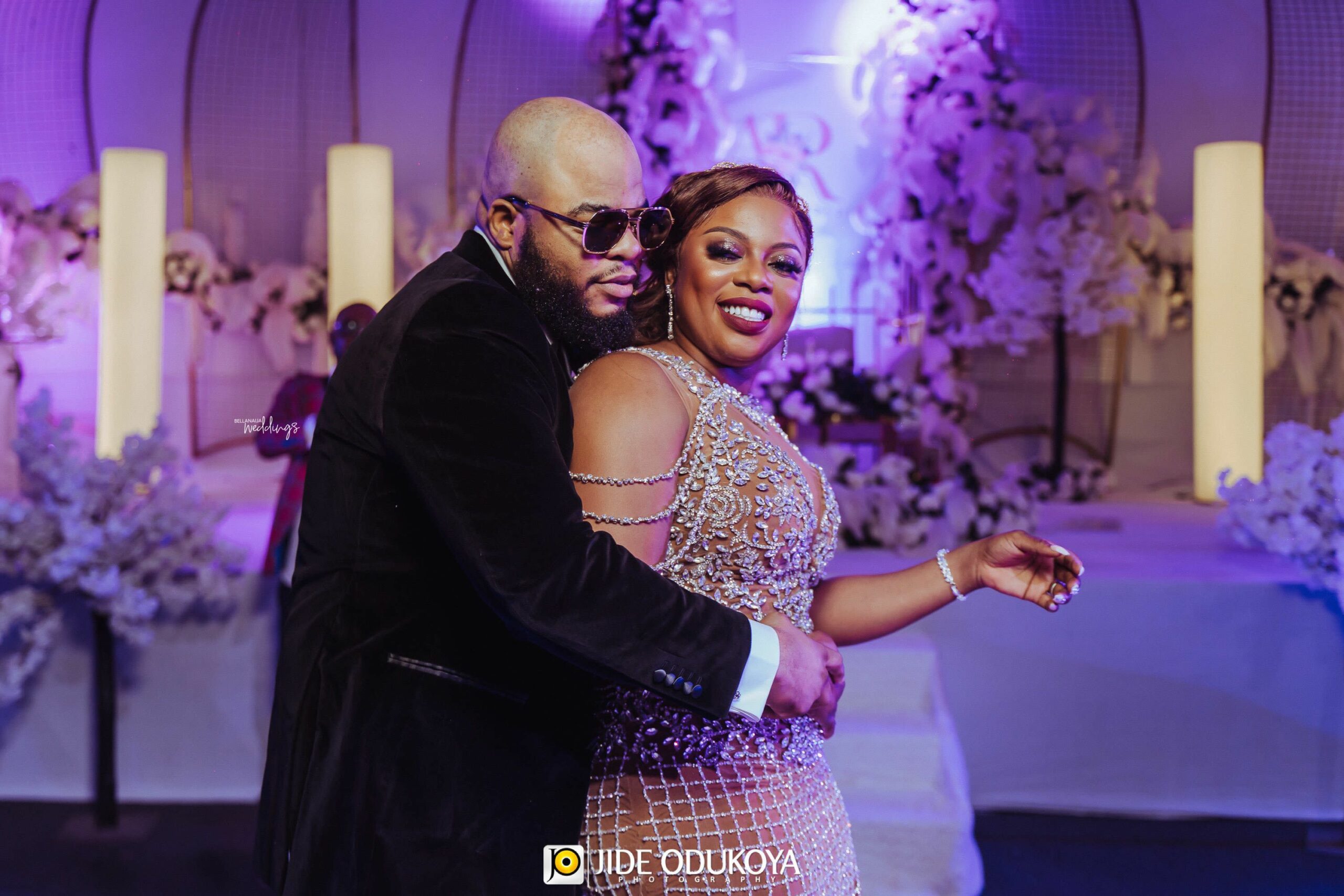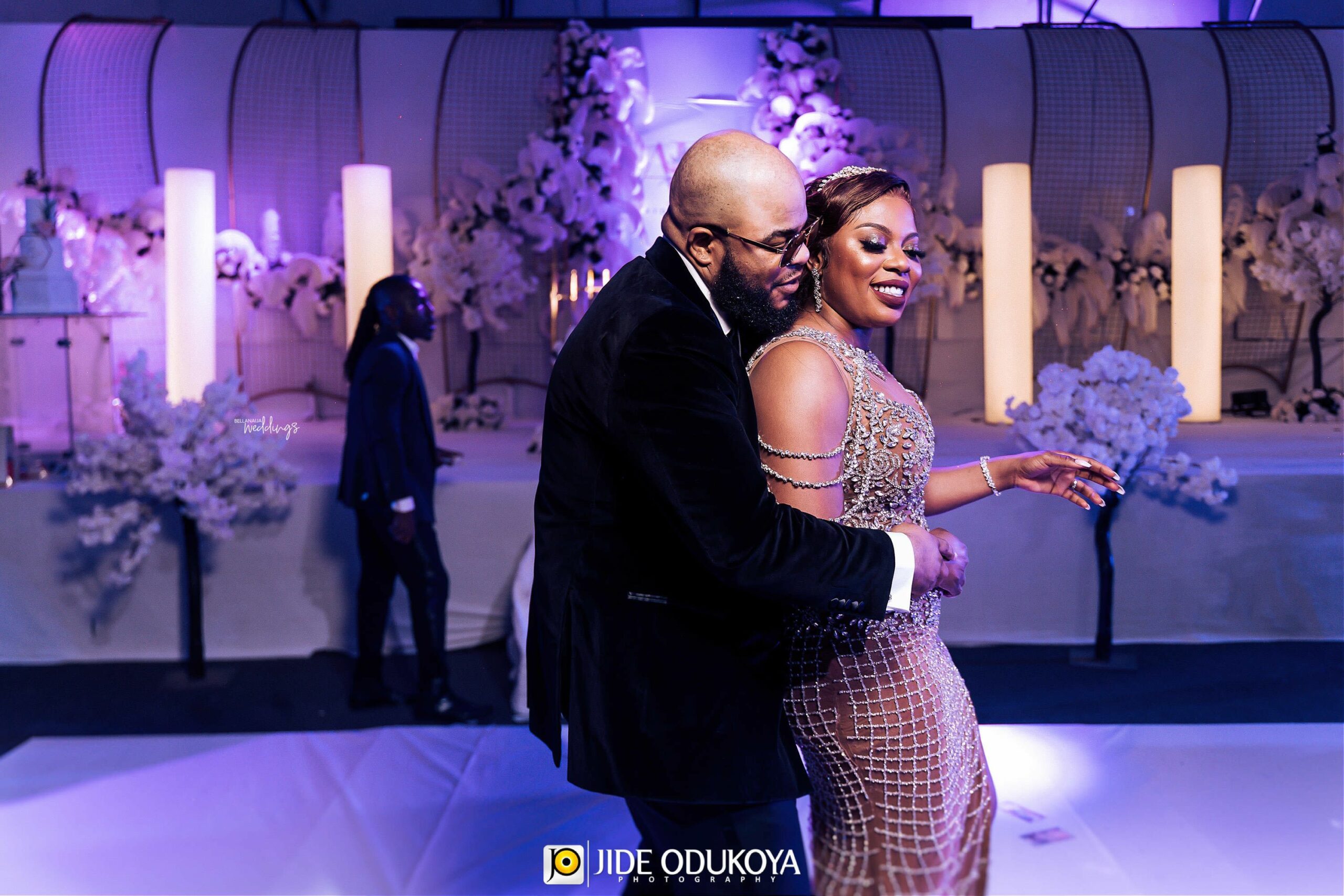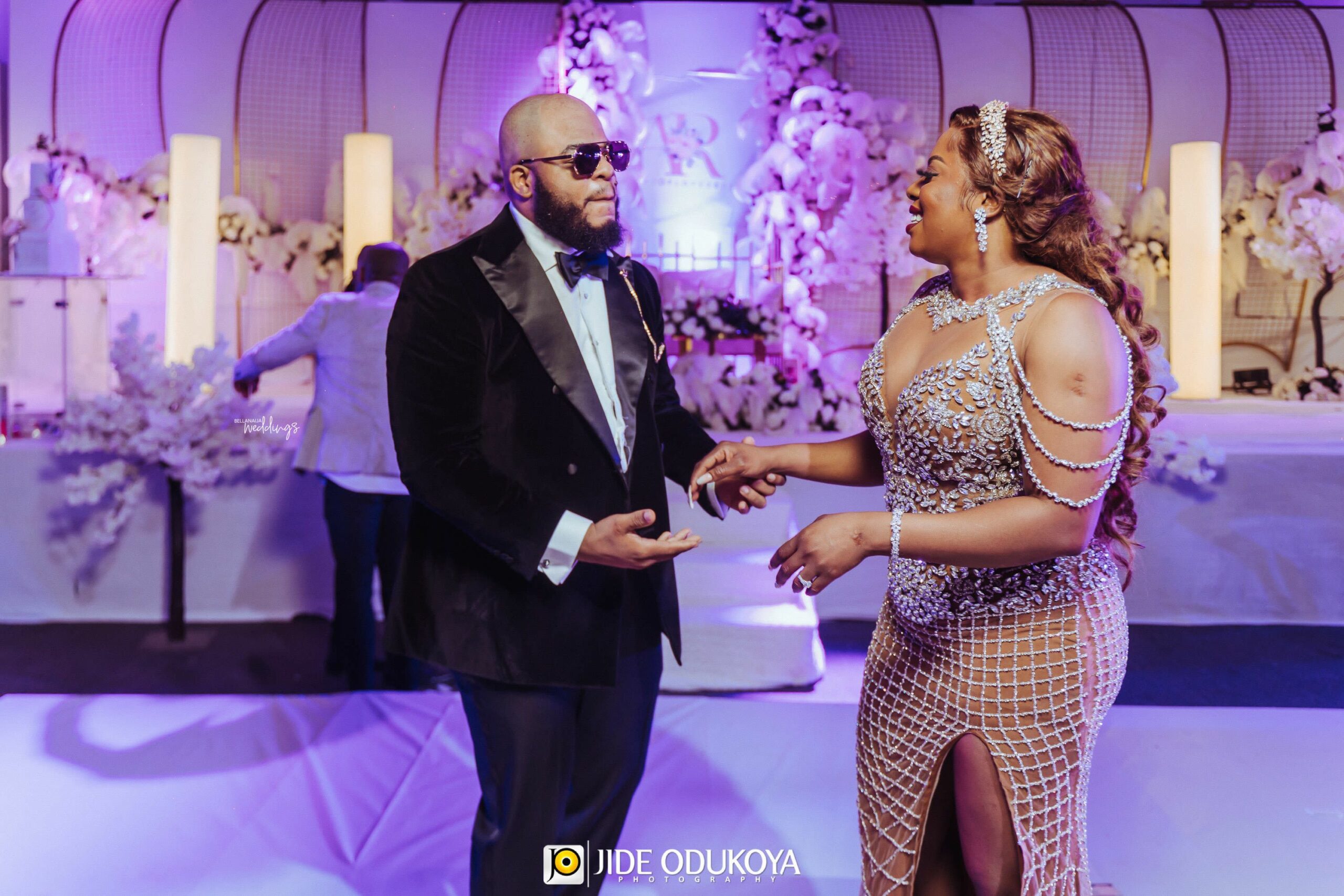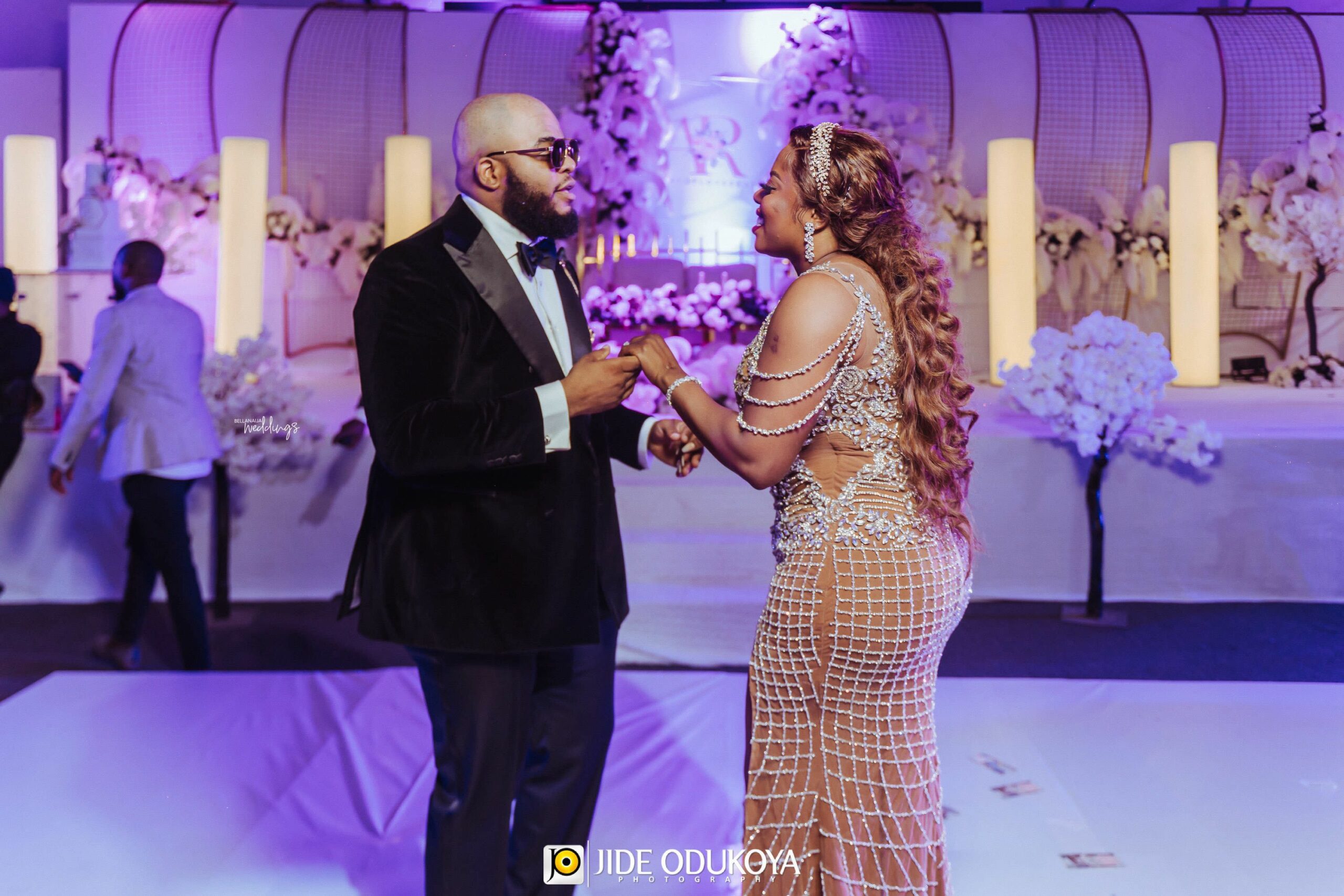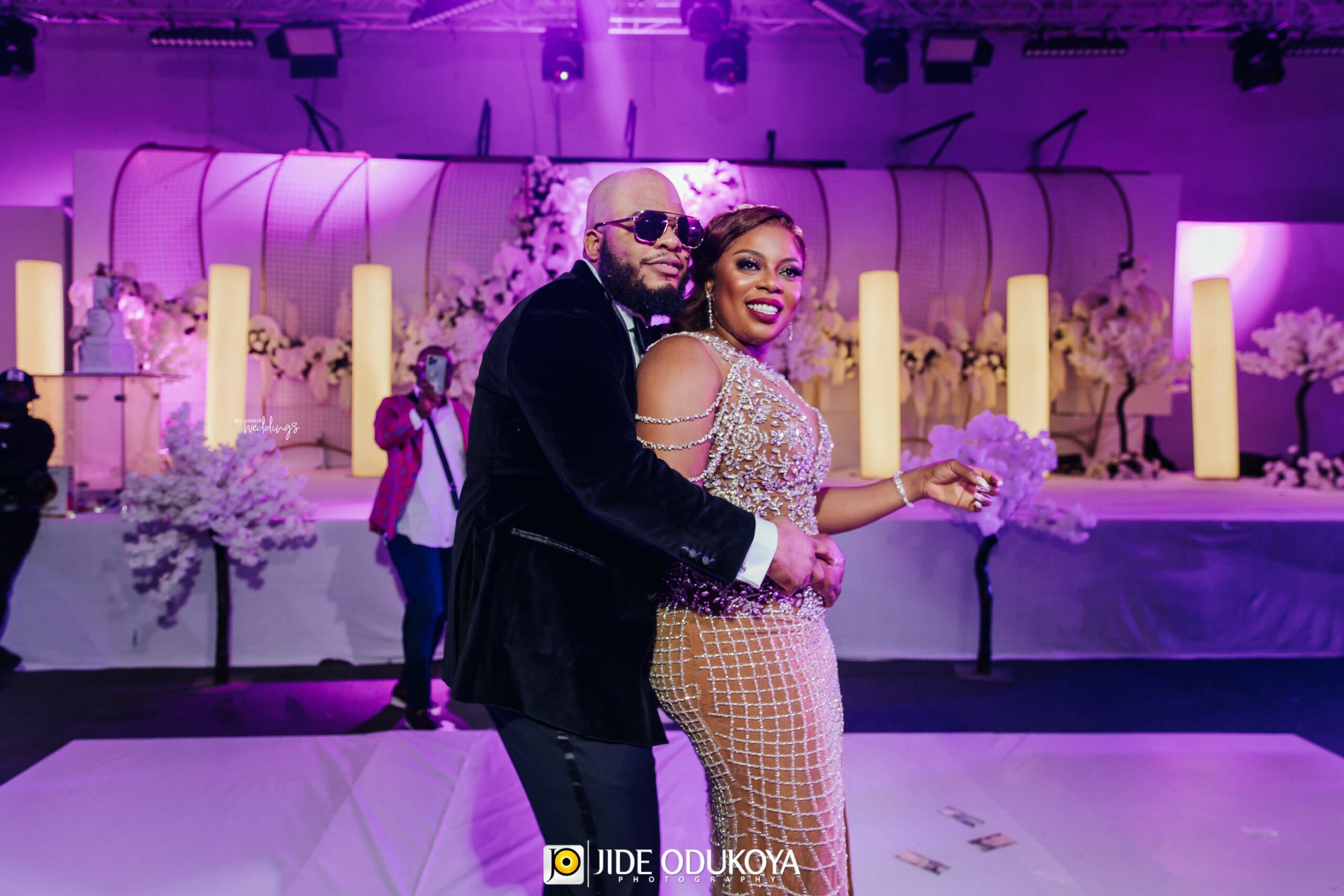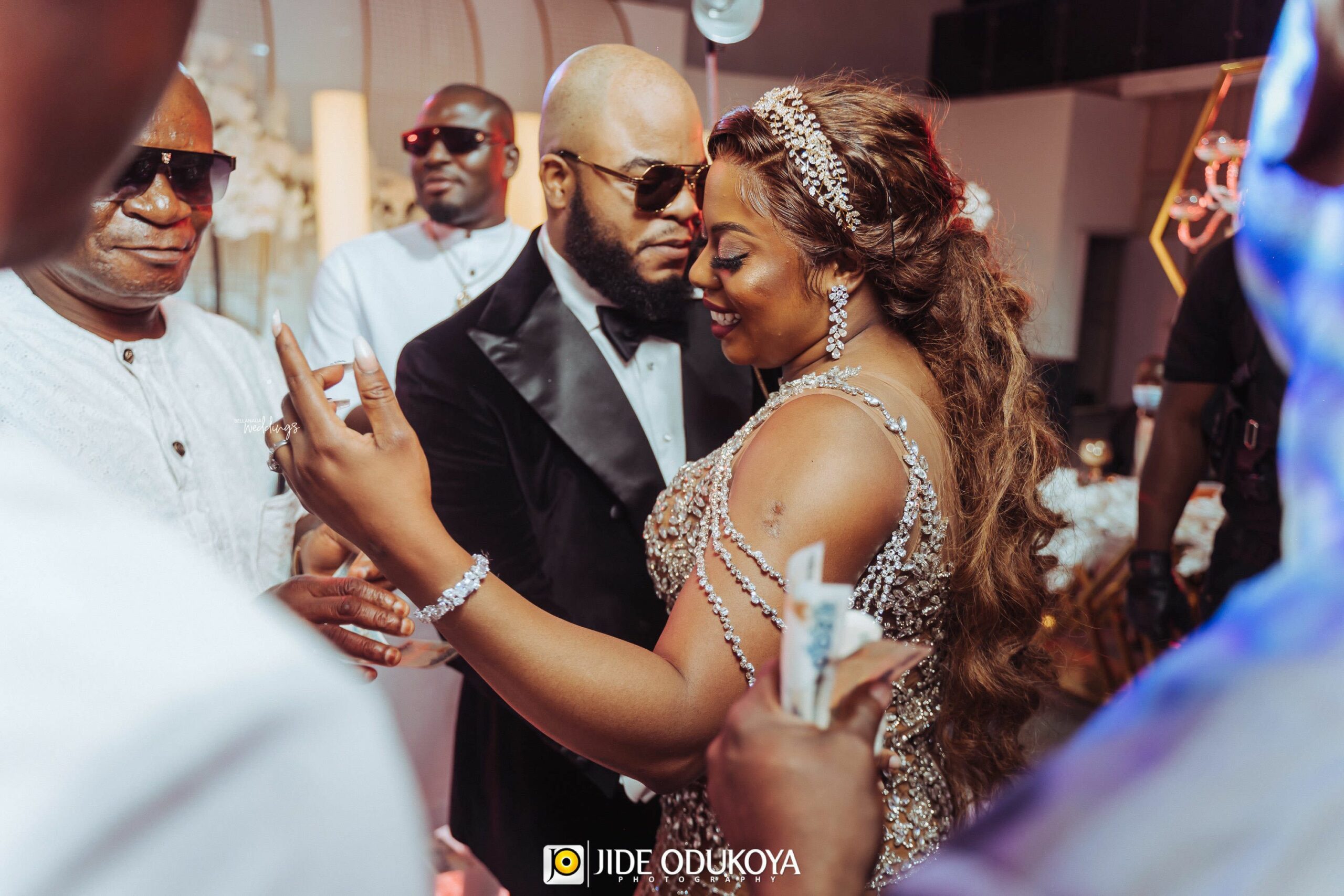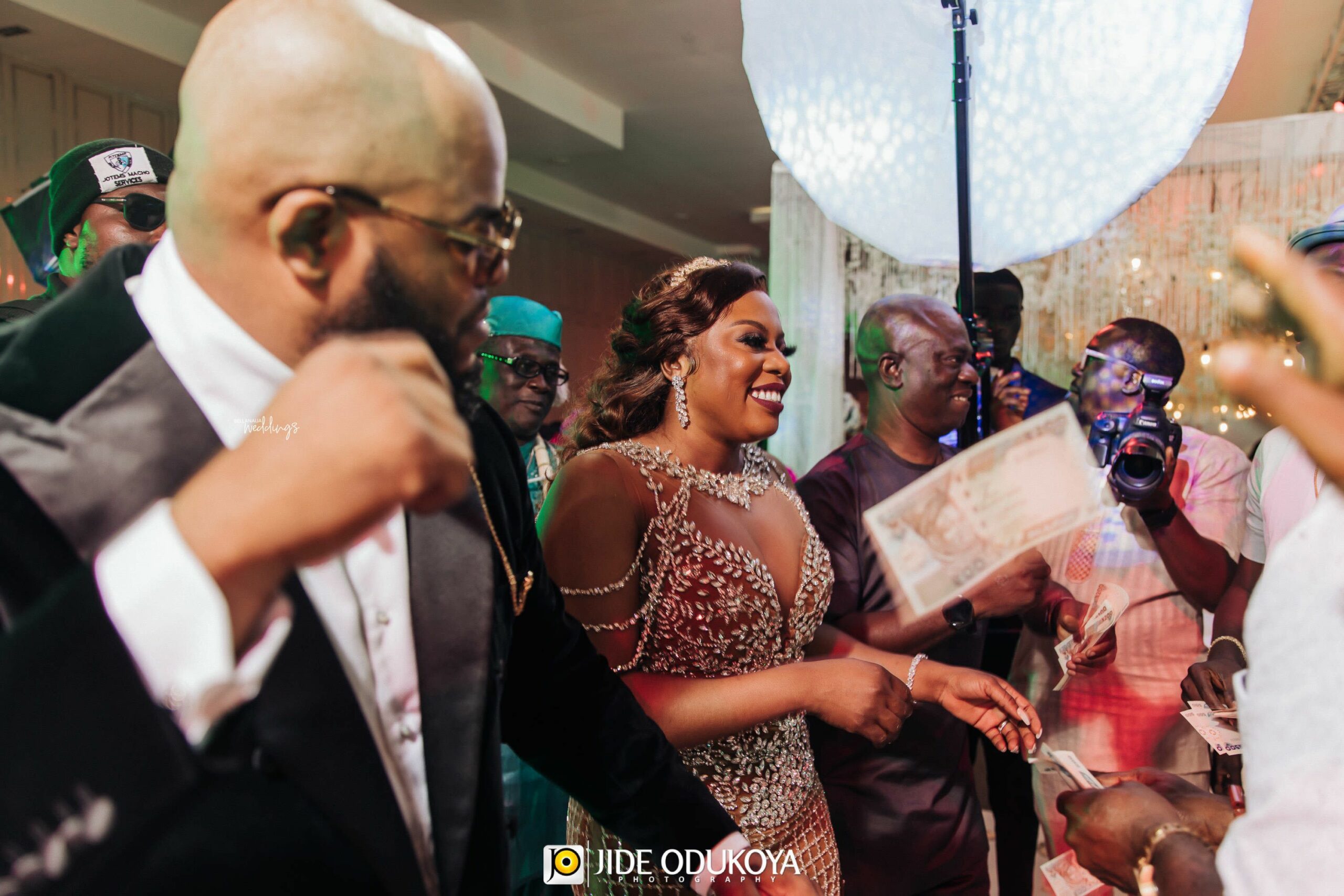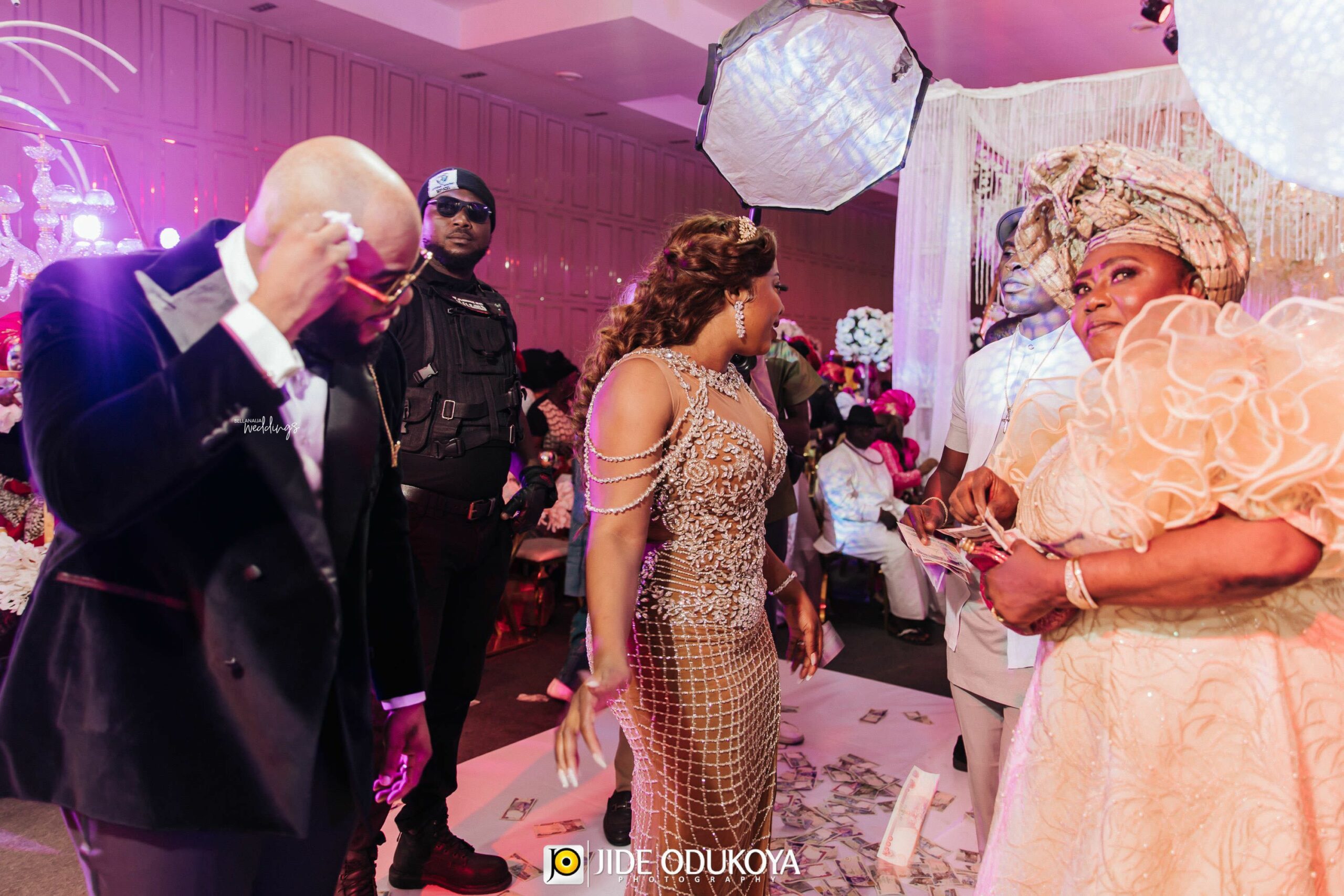 A toast to love that lasts forever!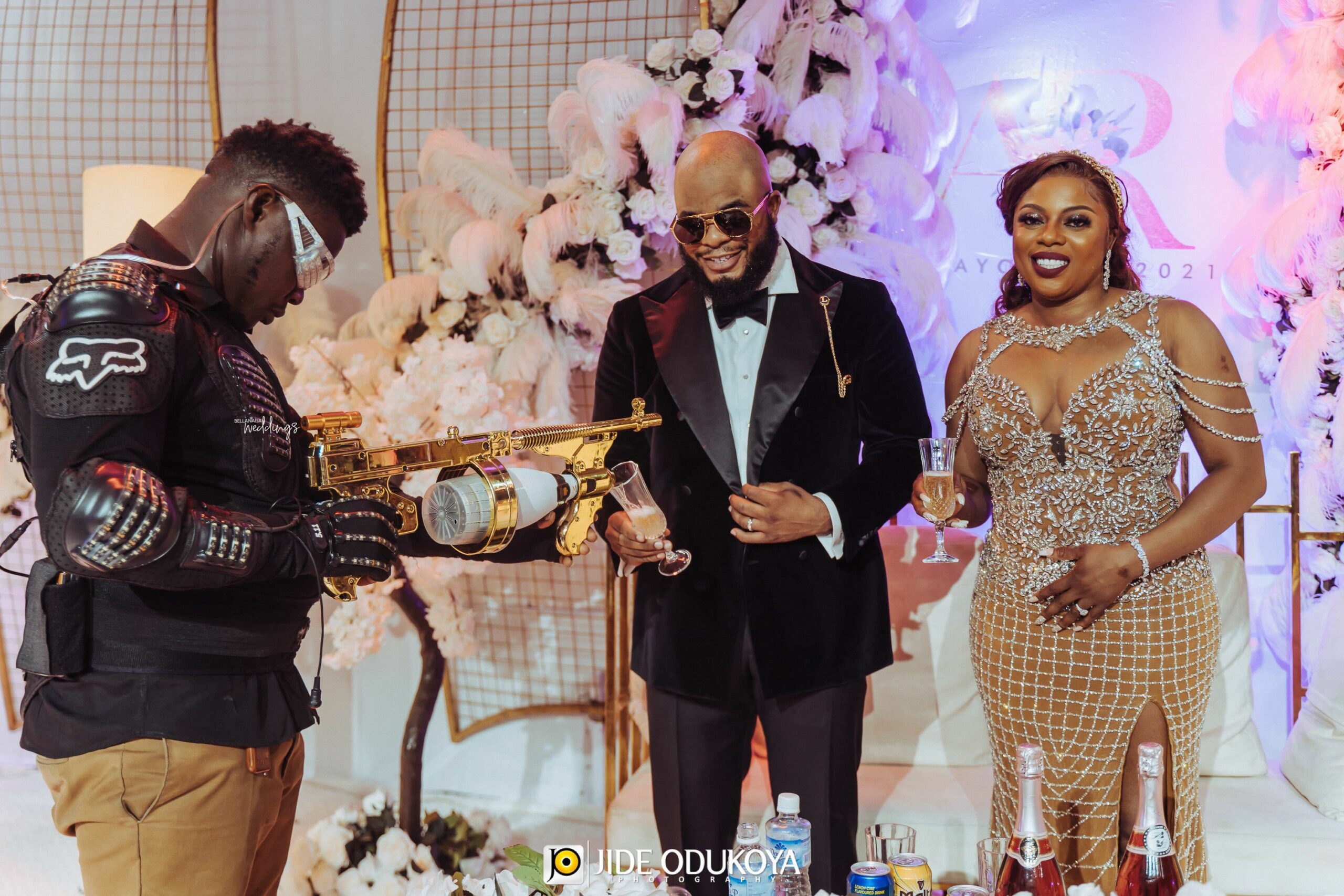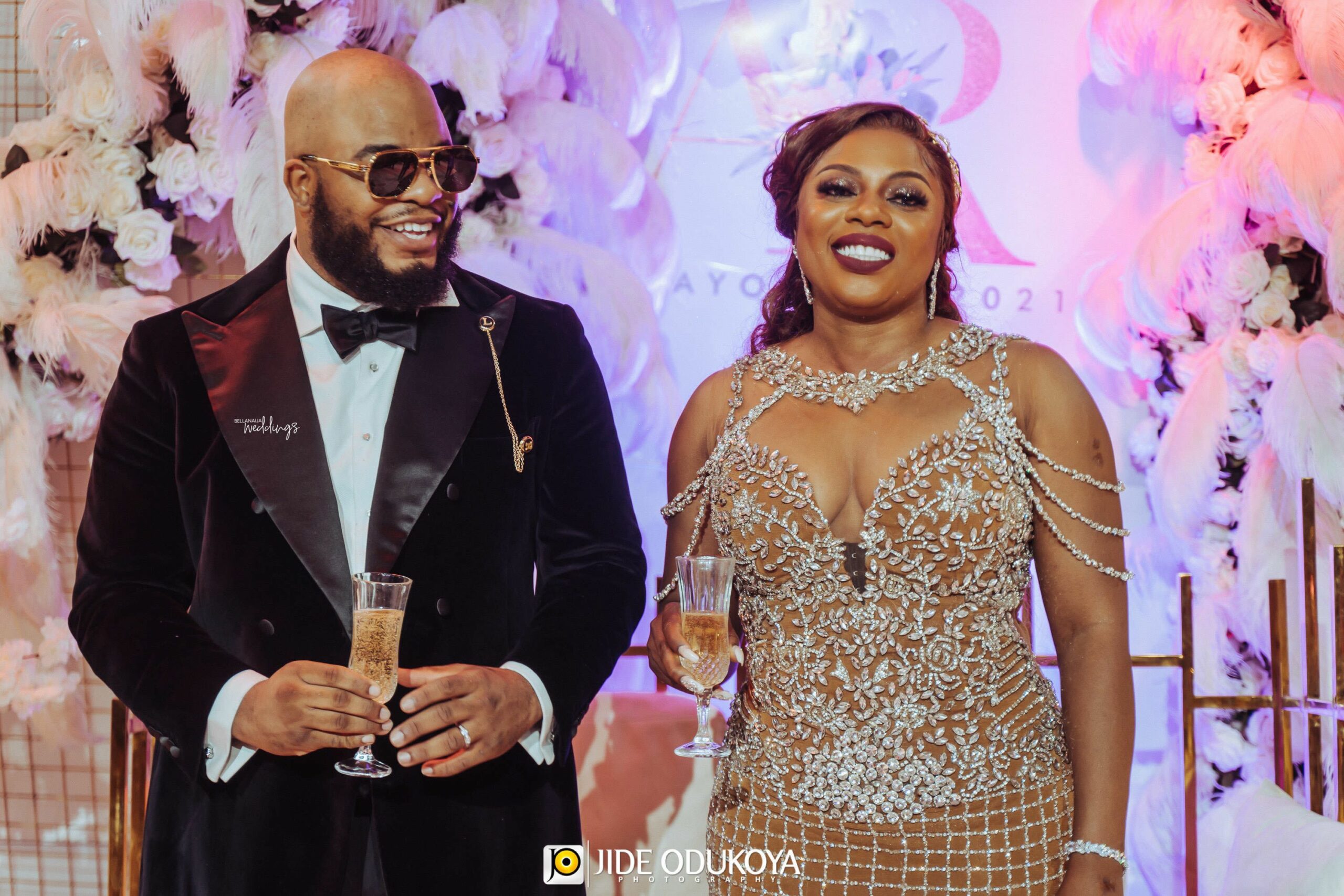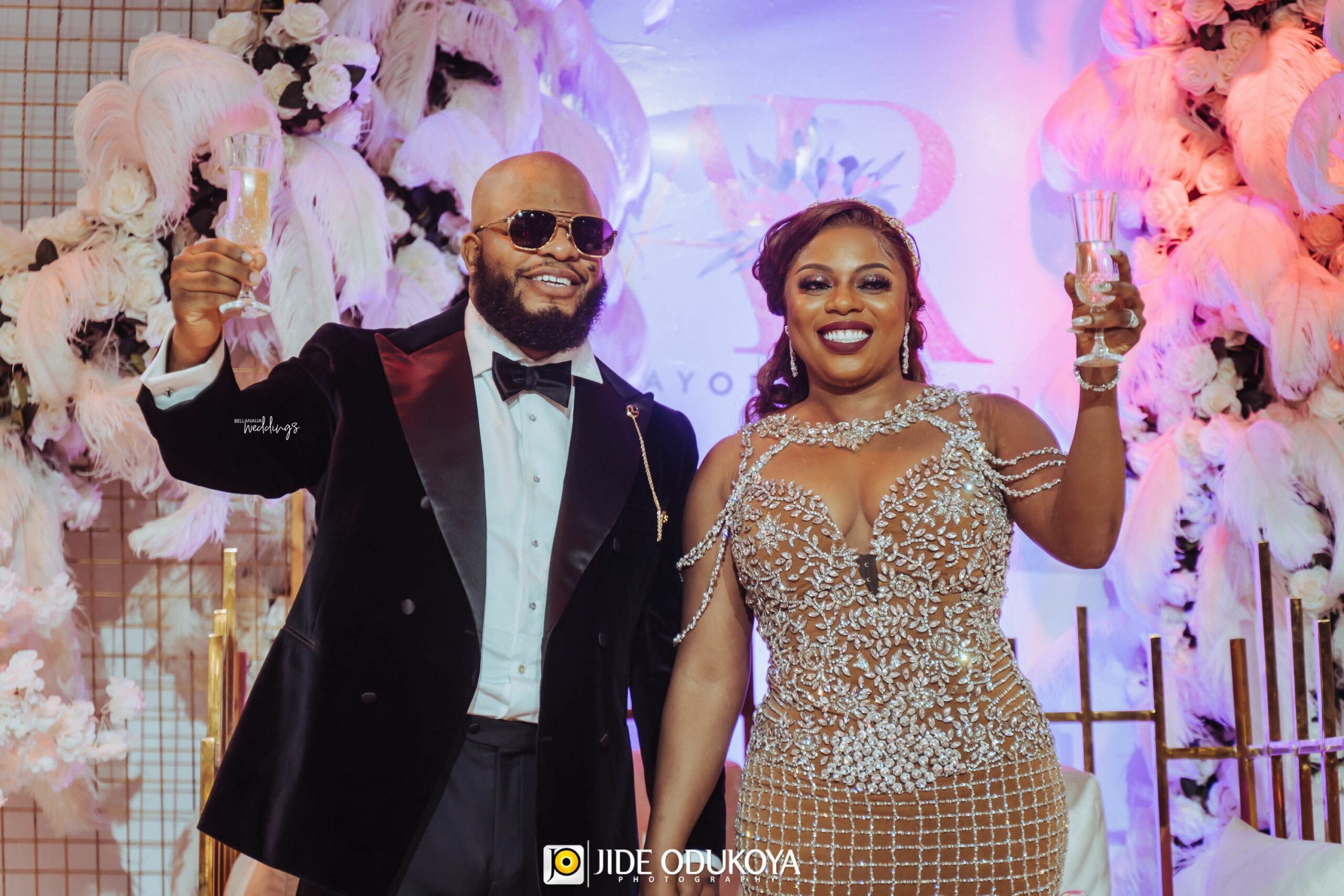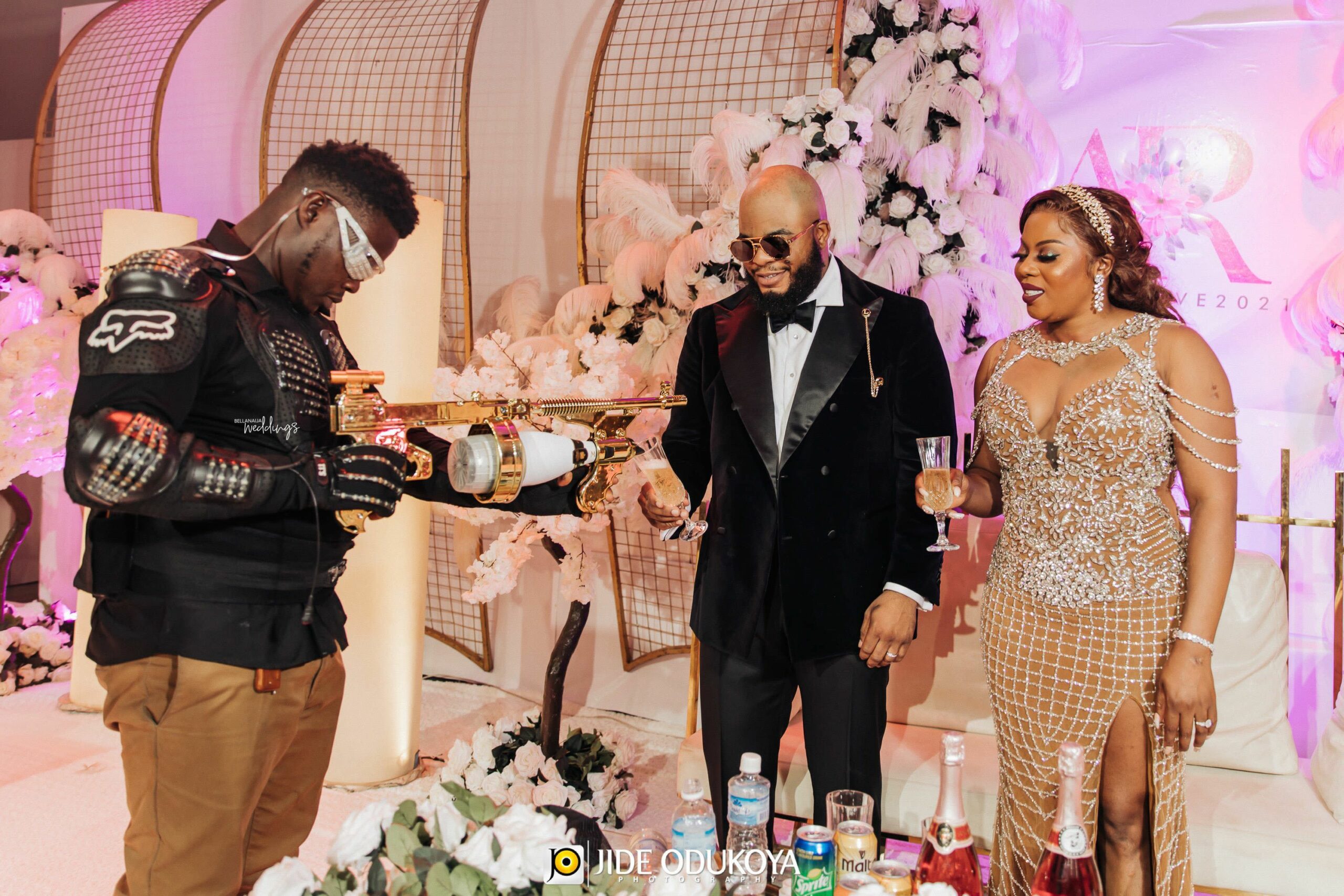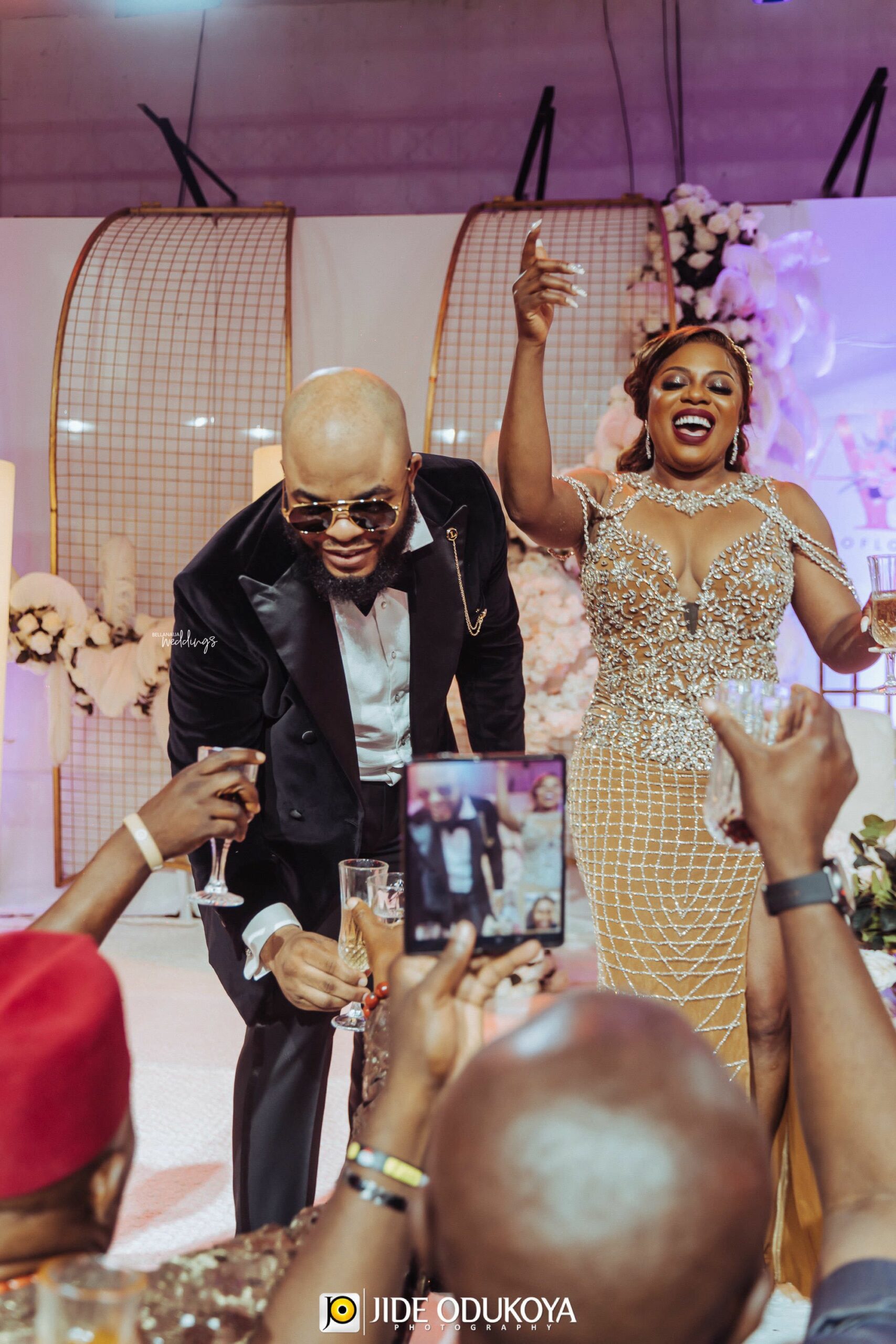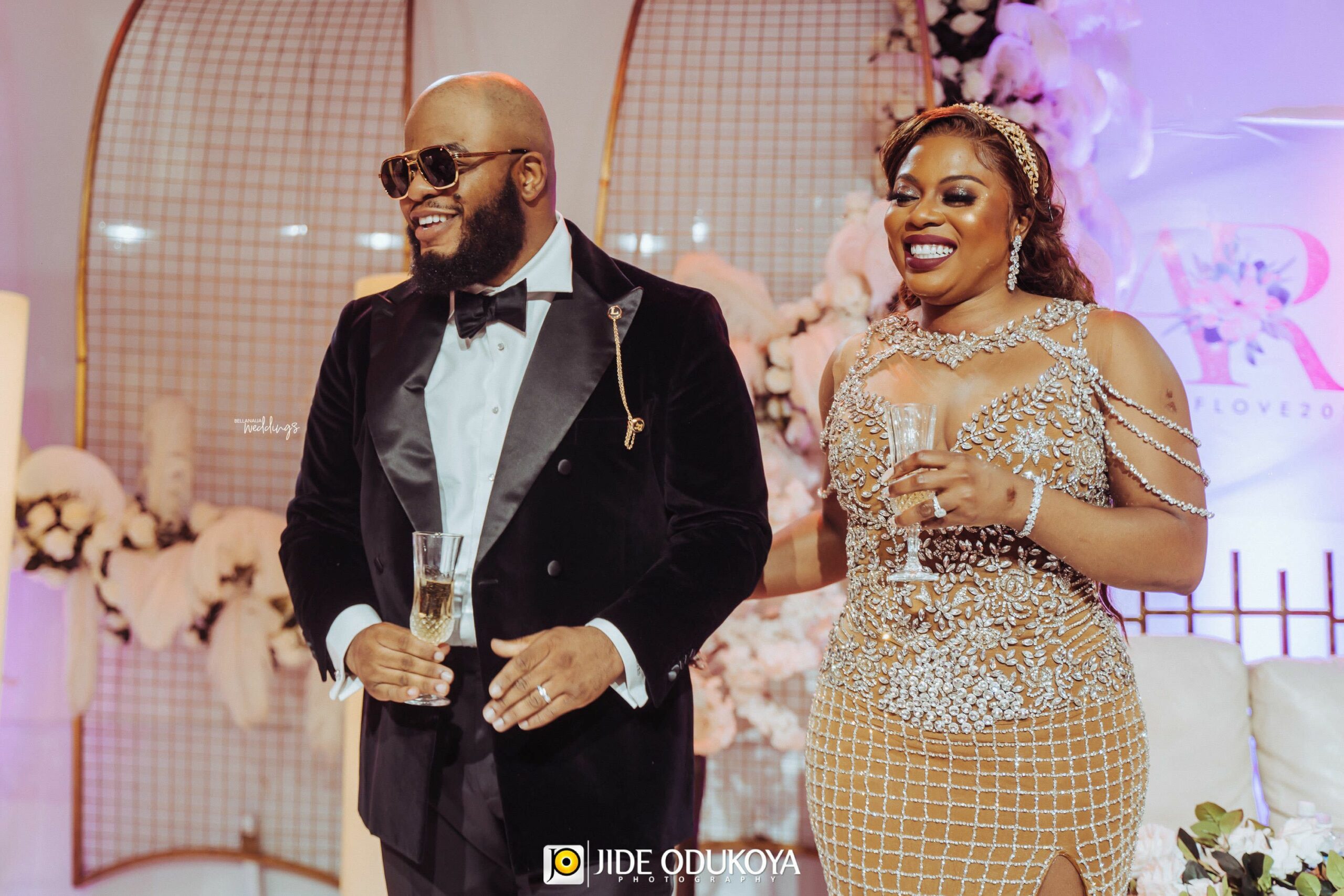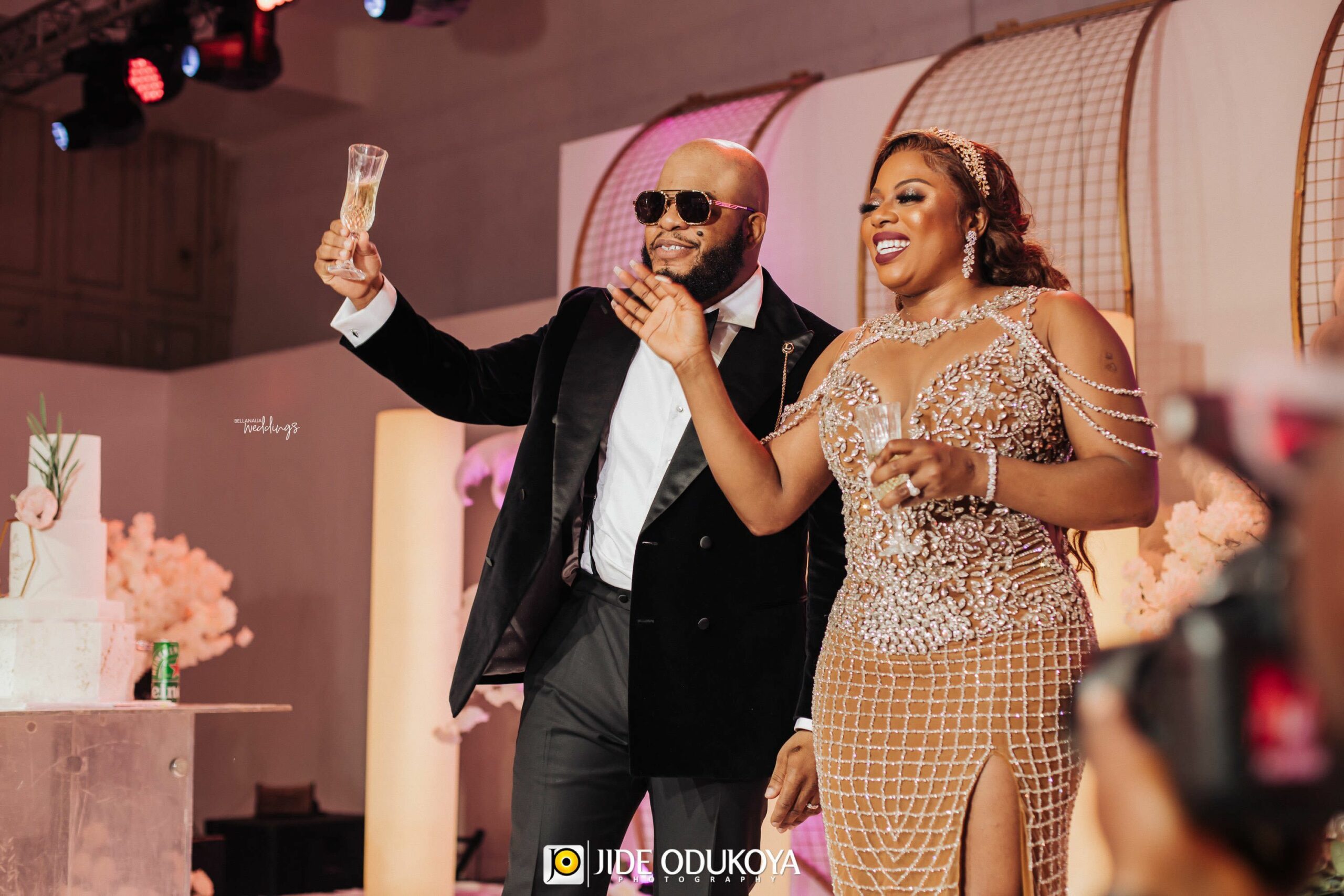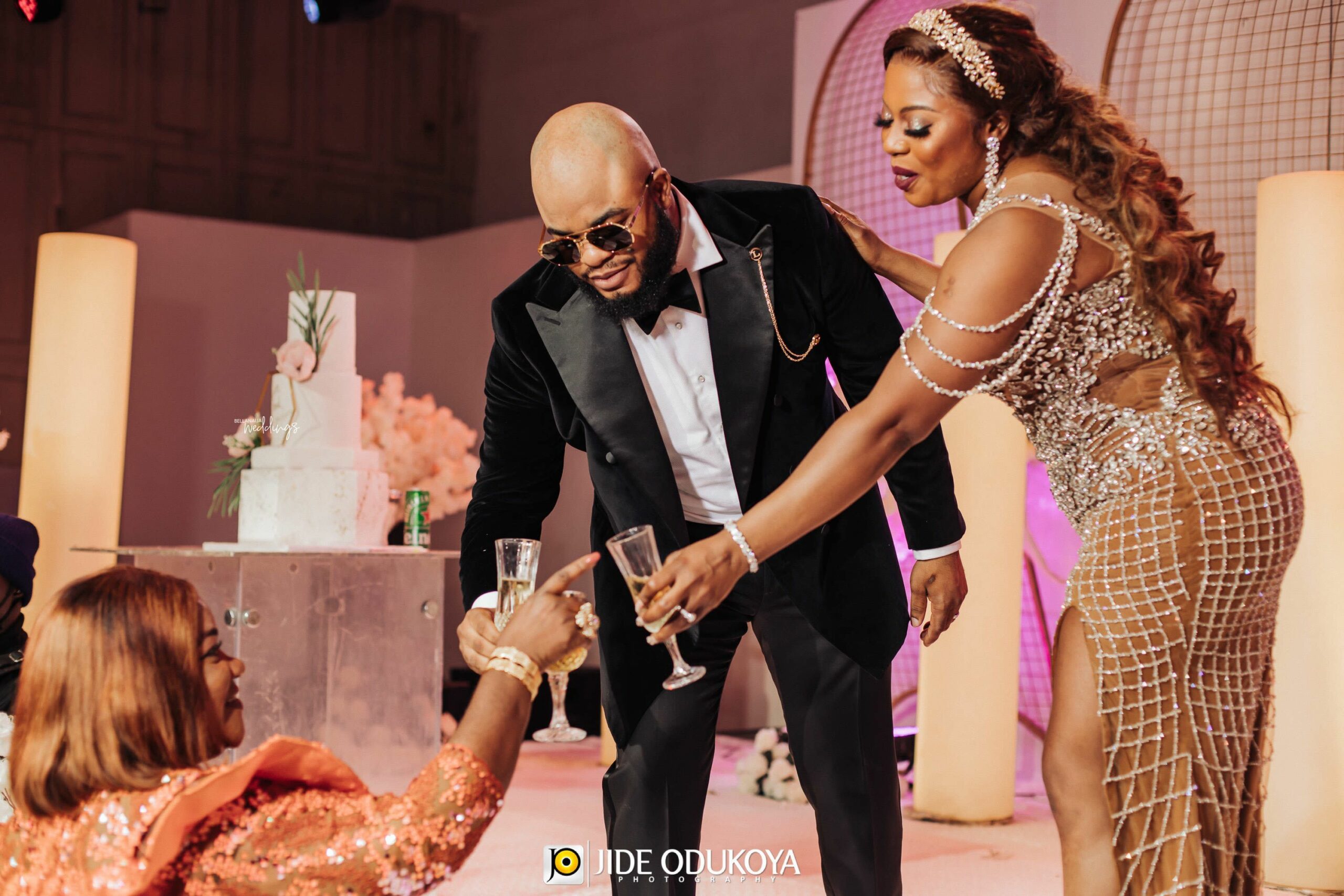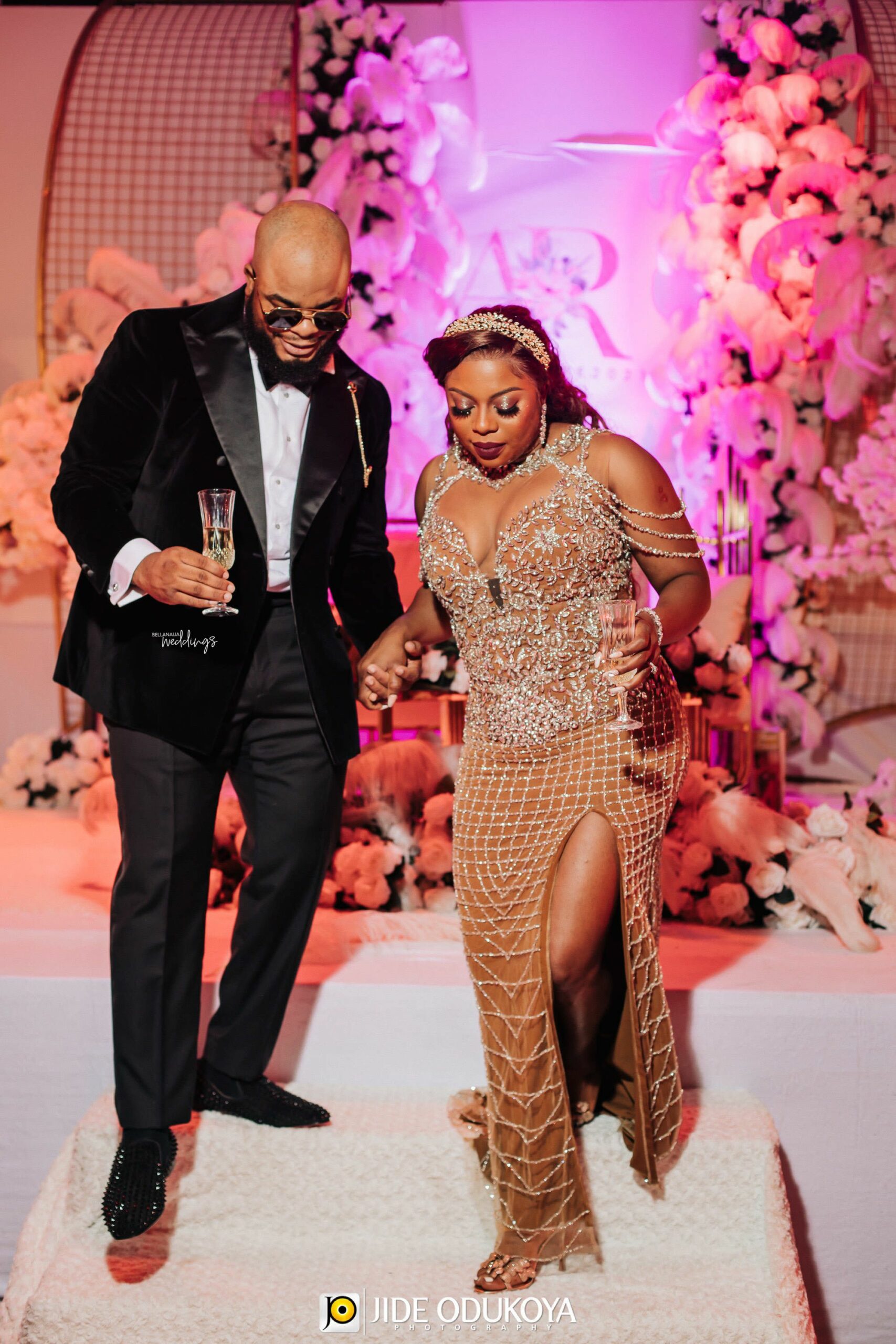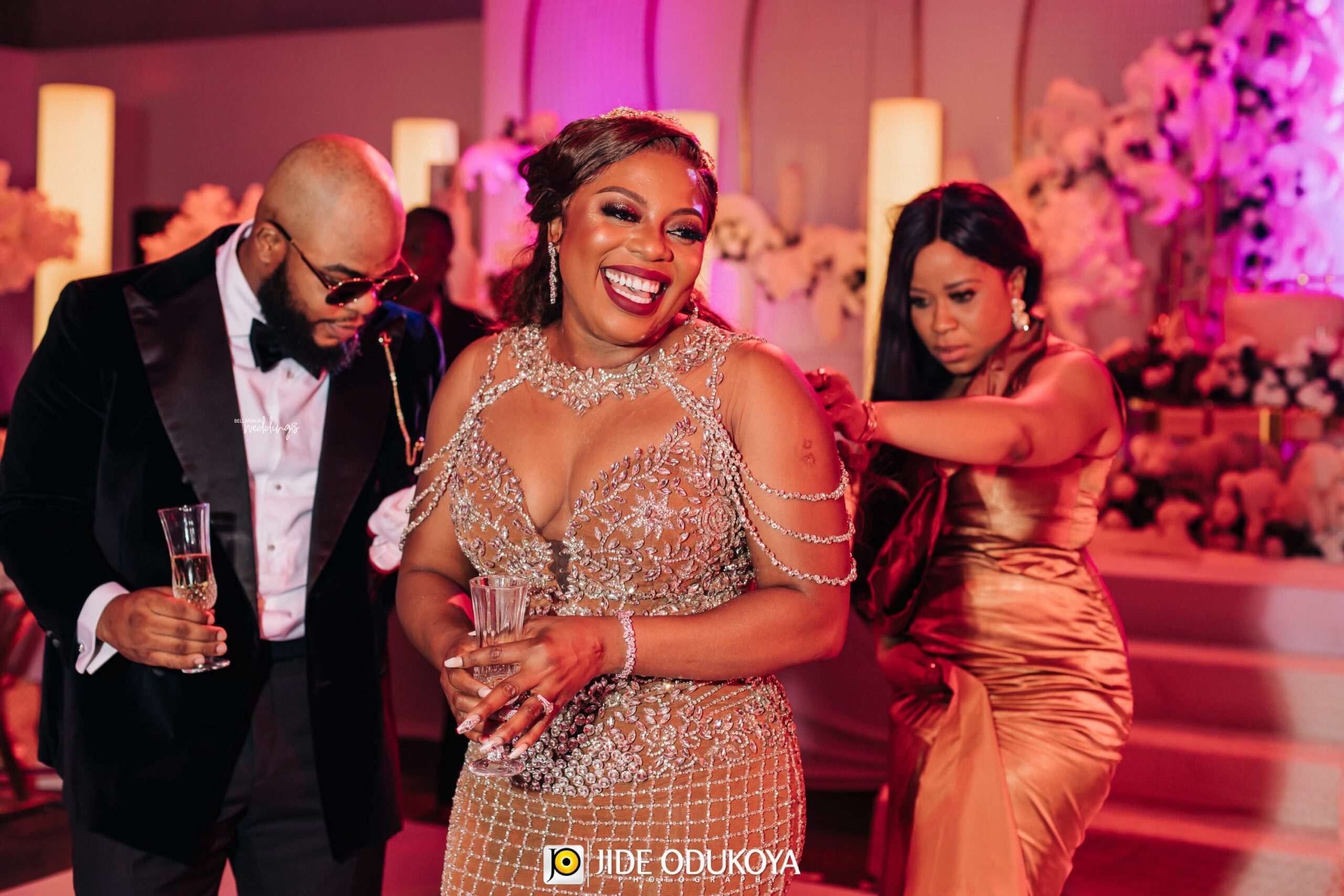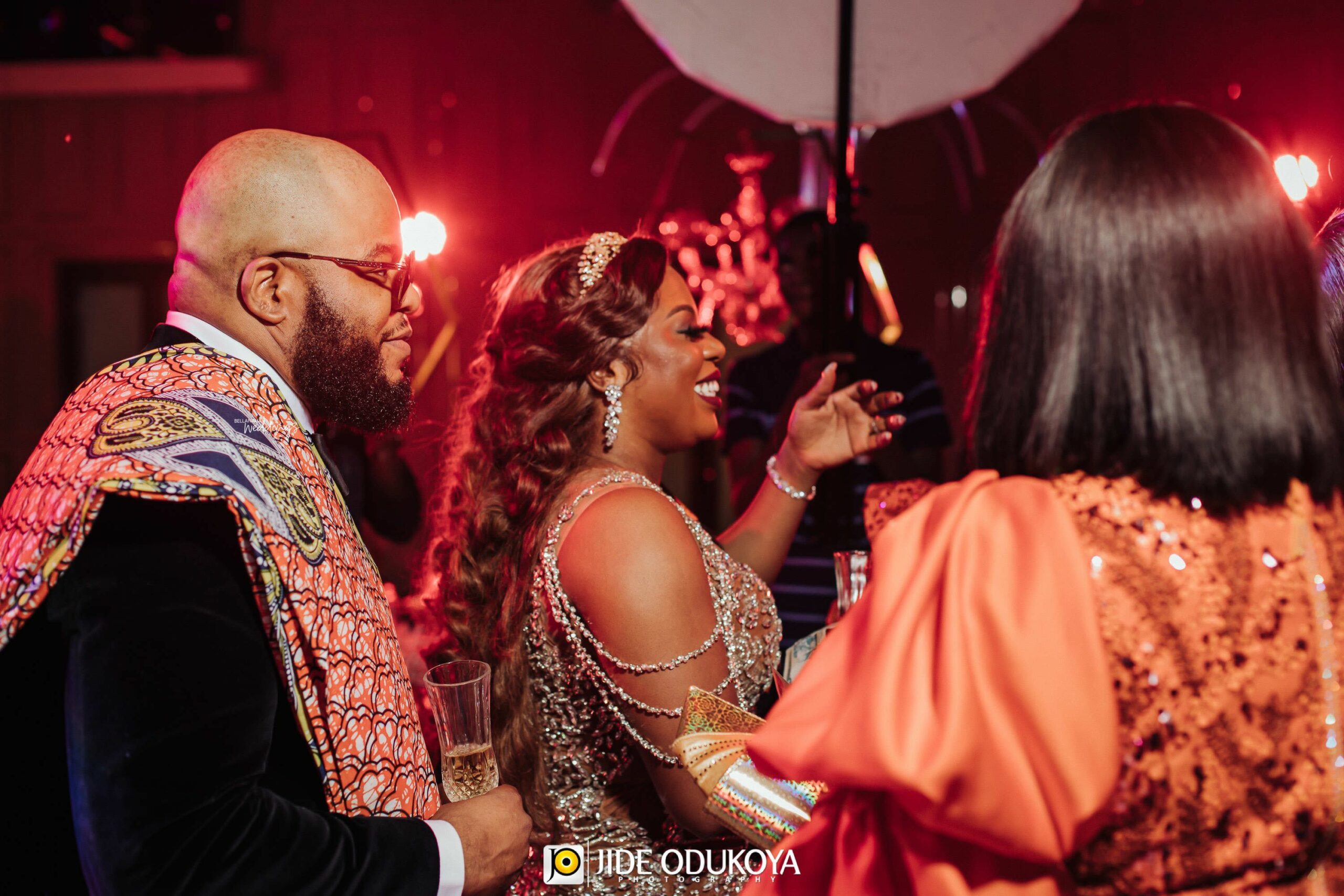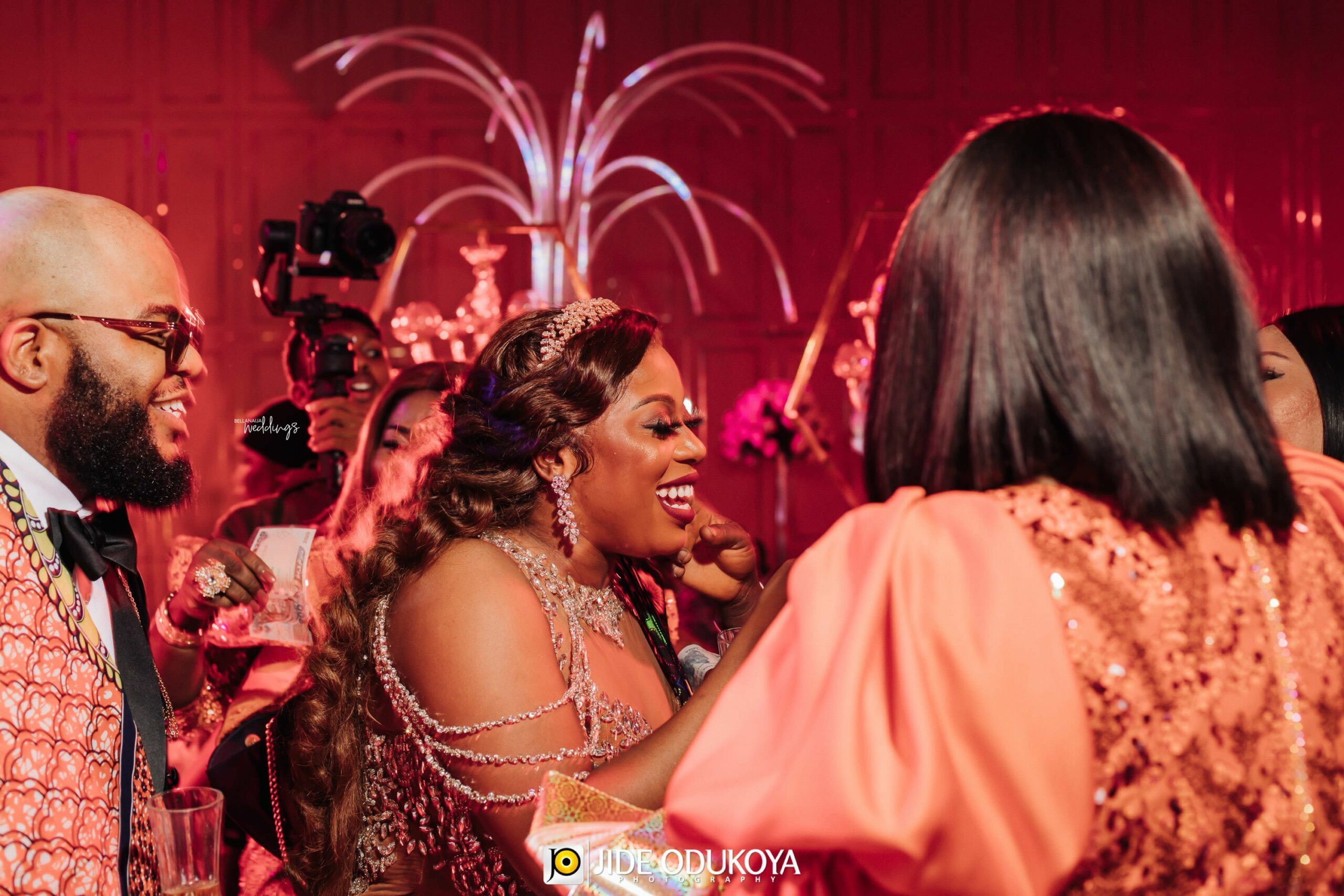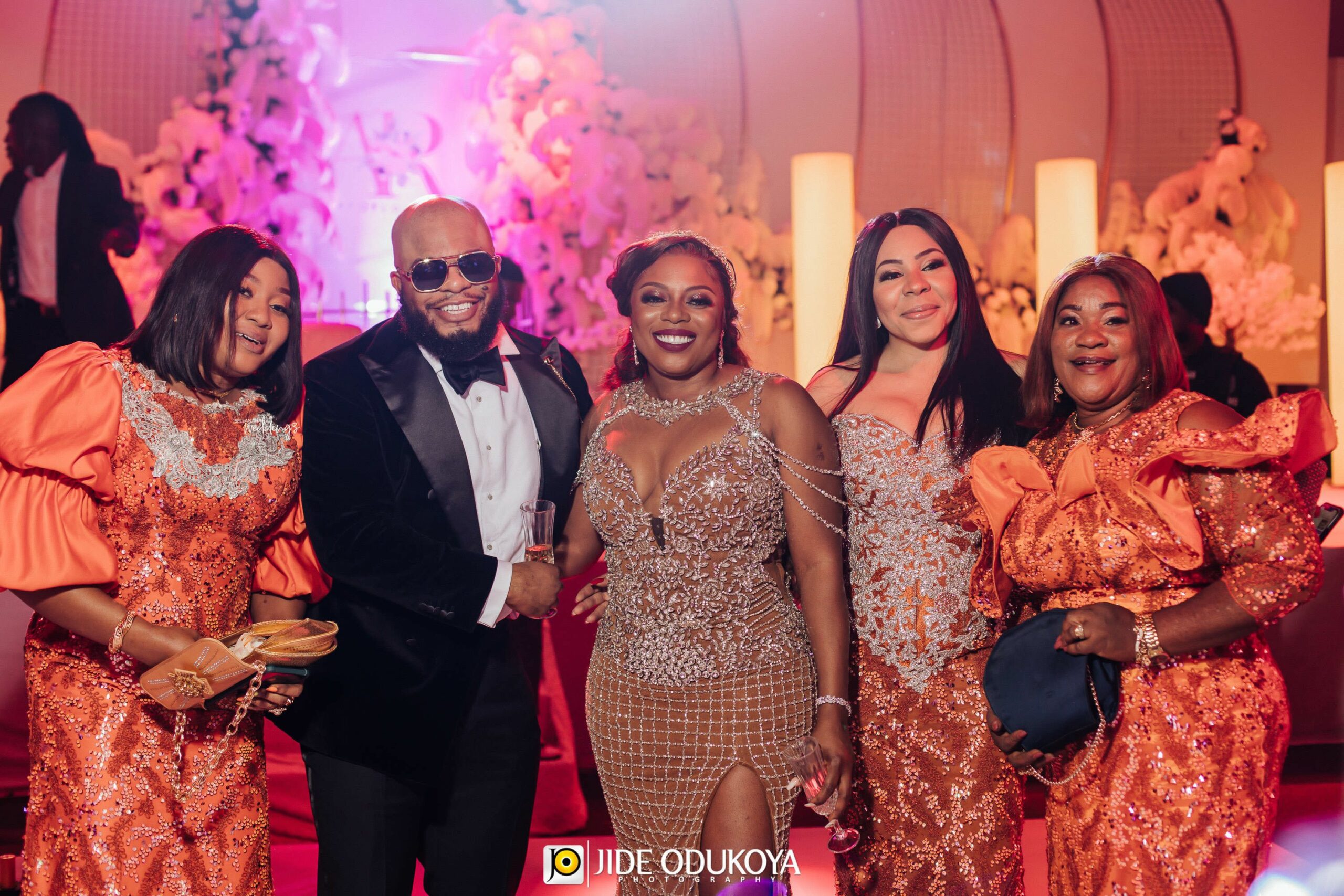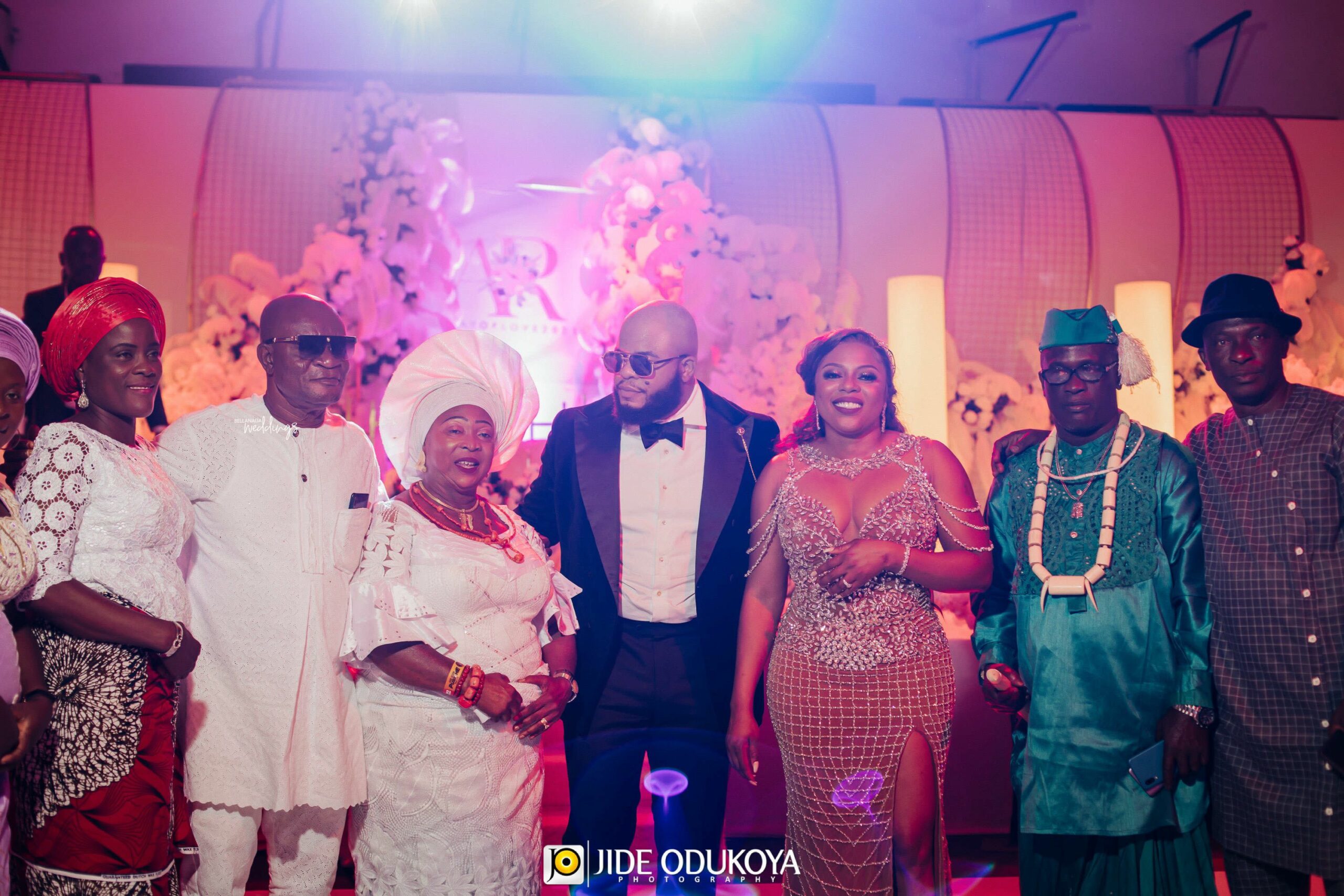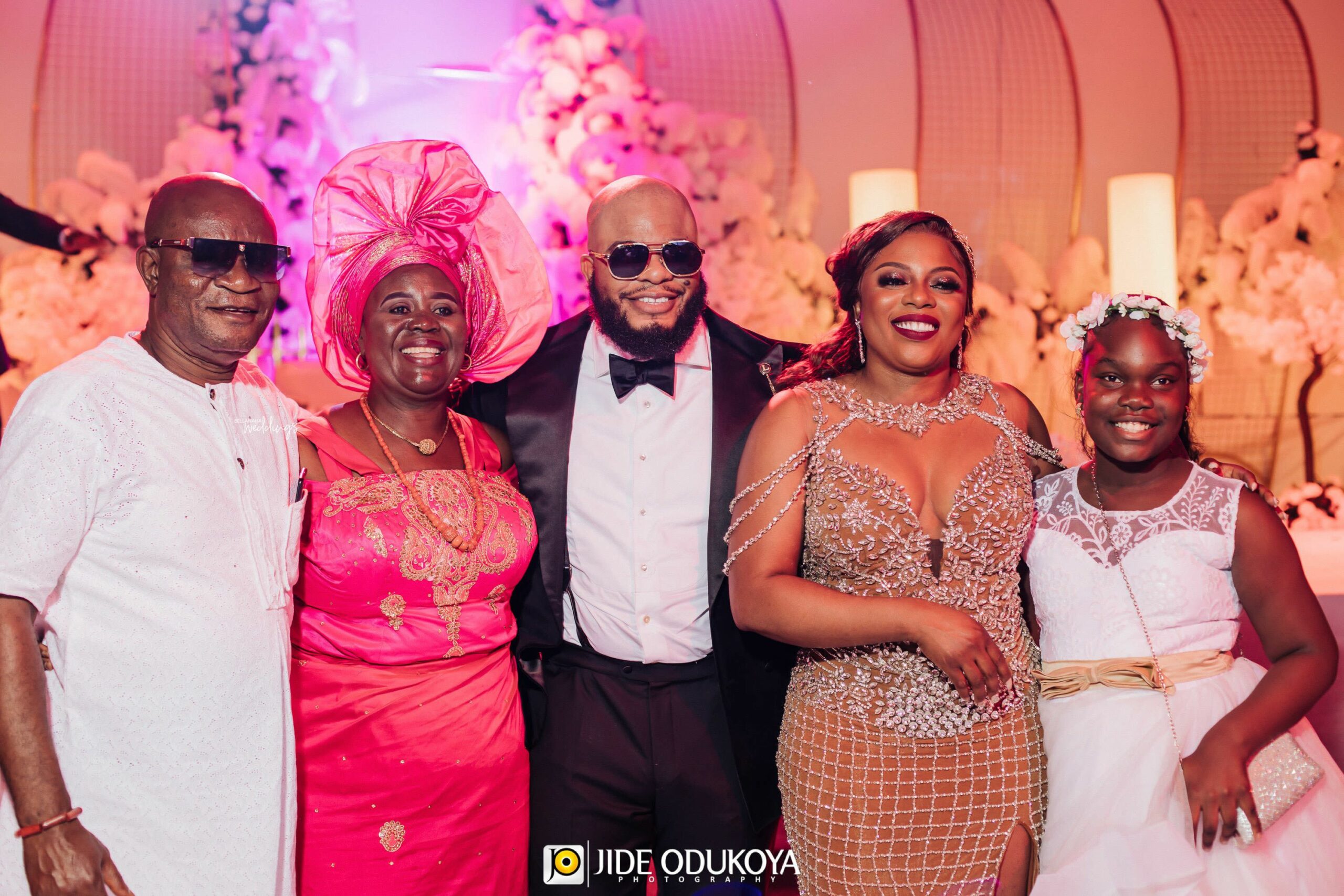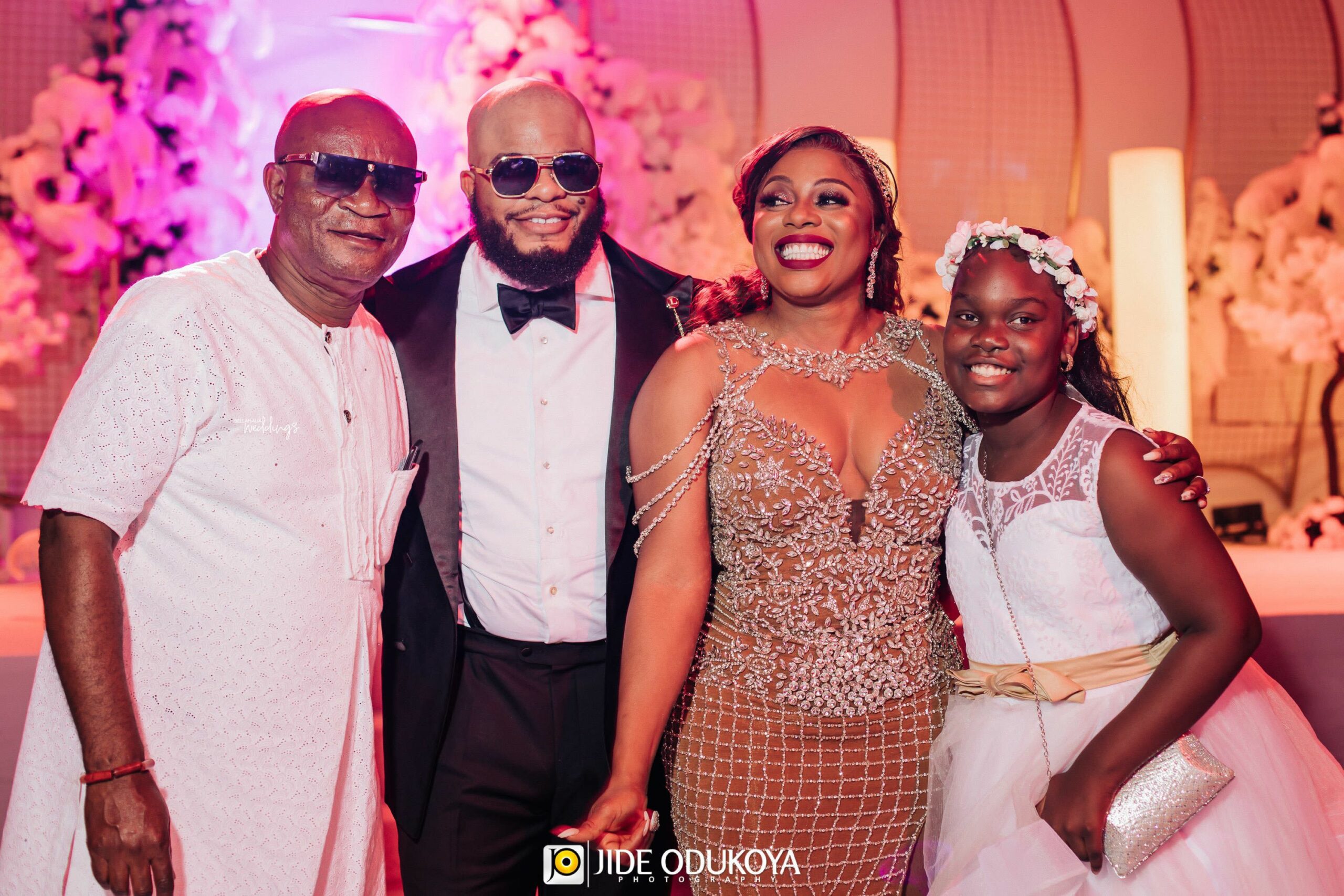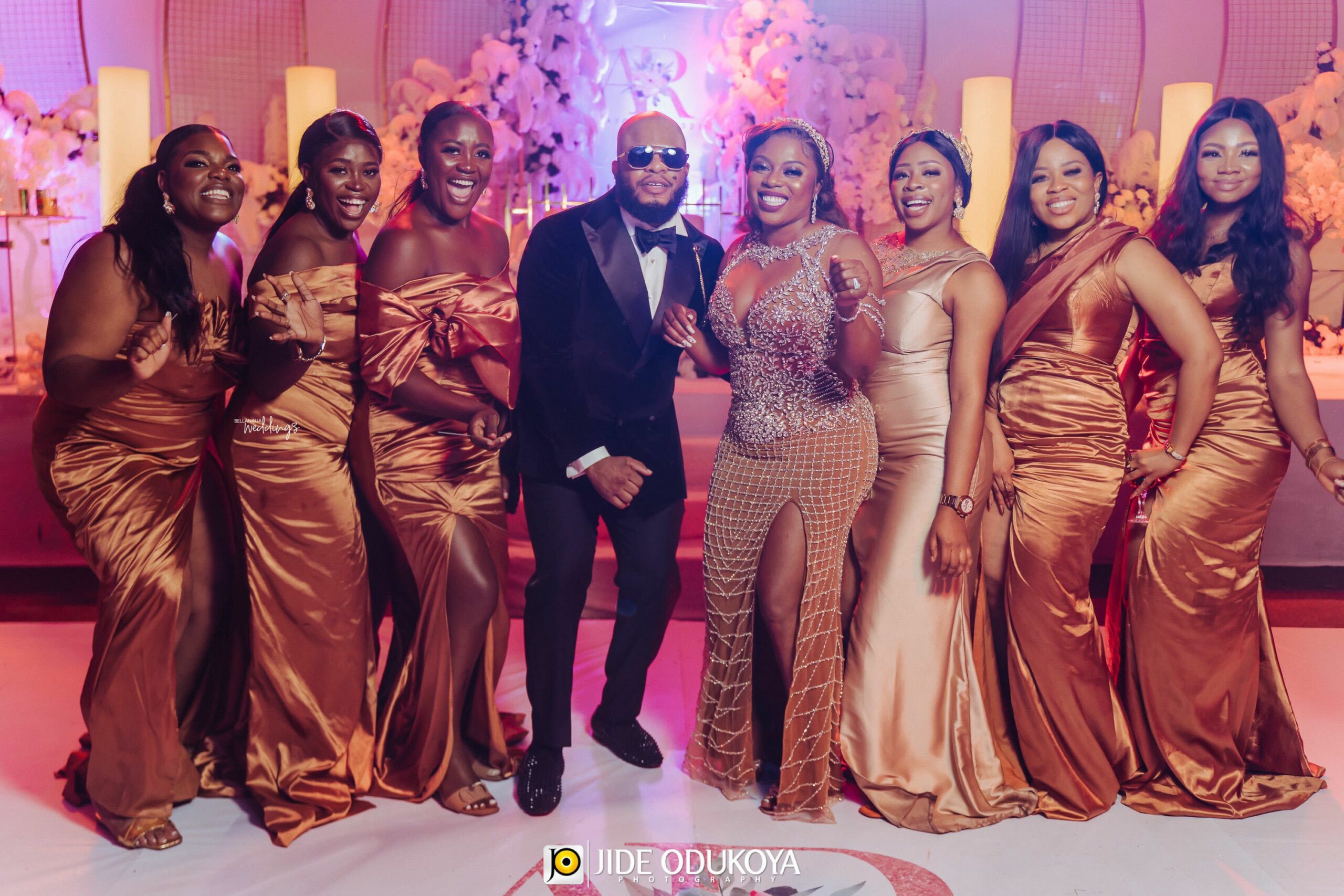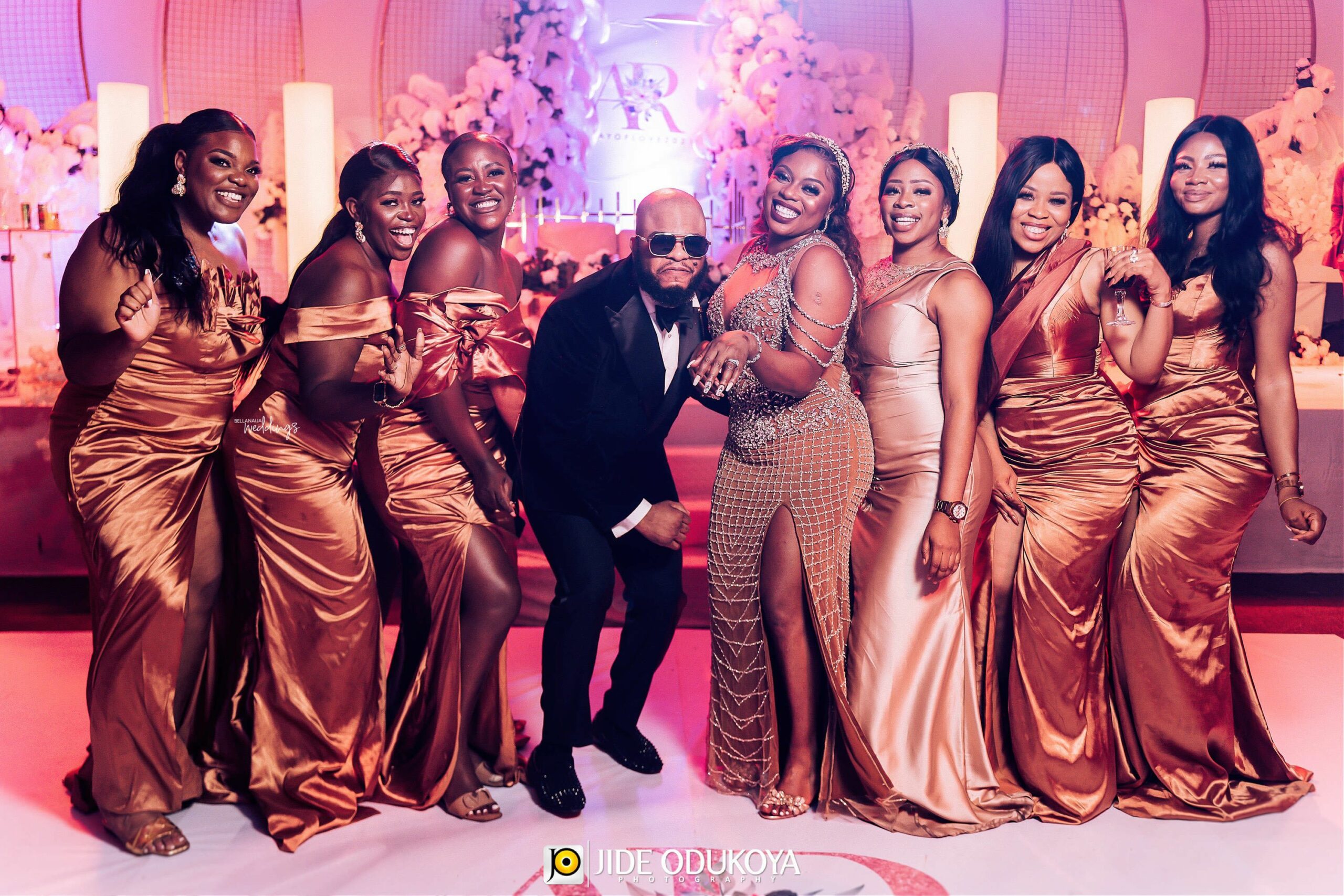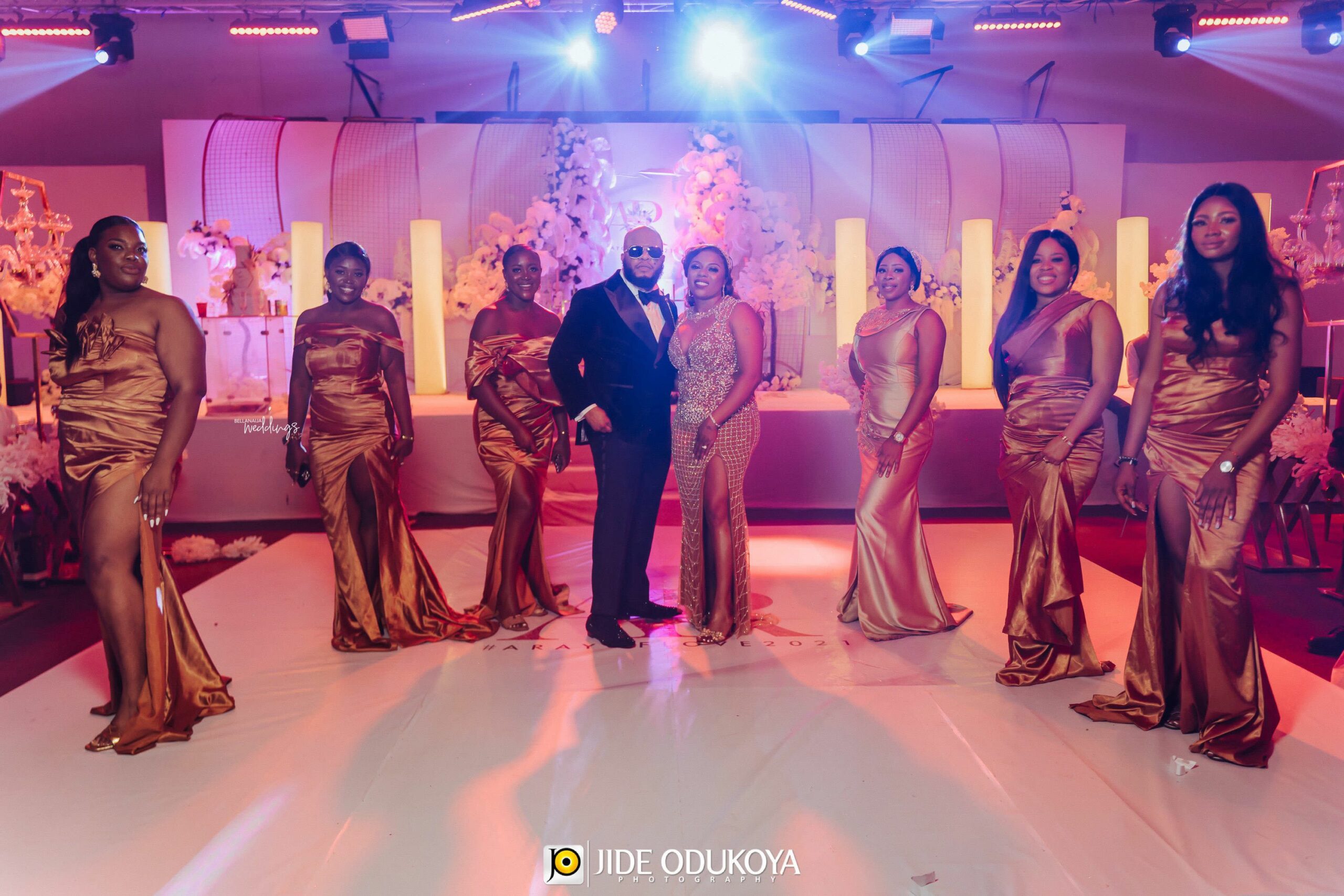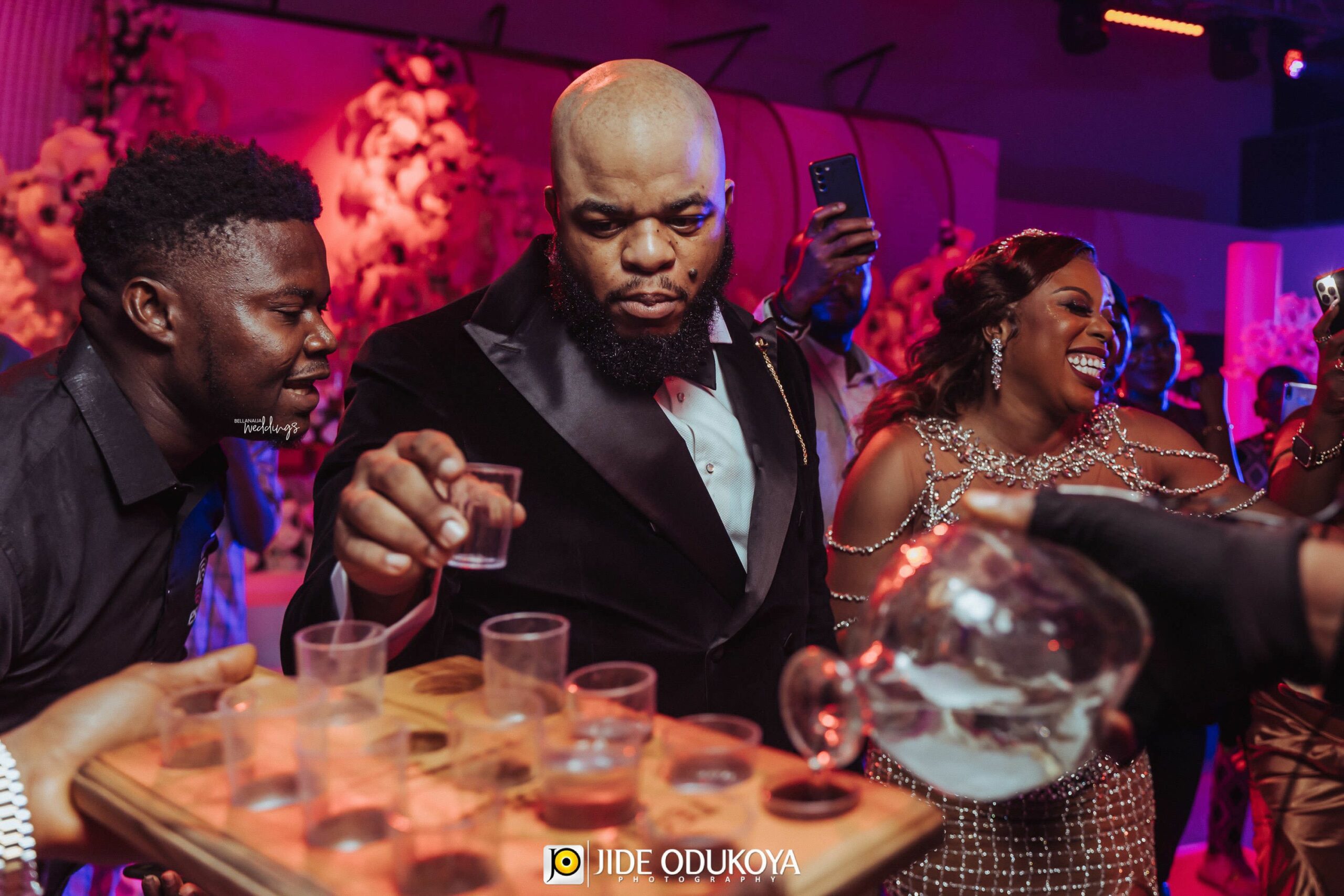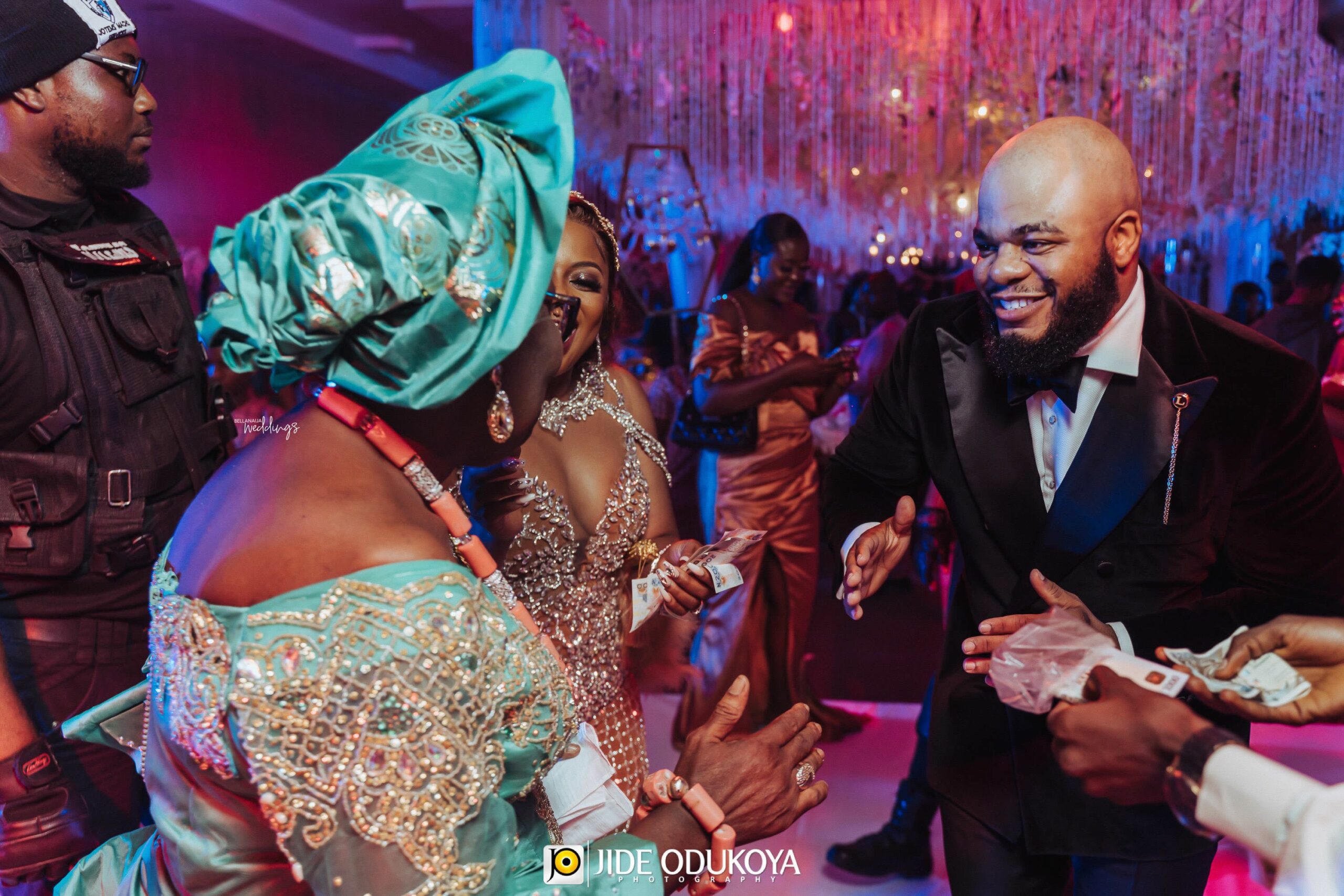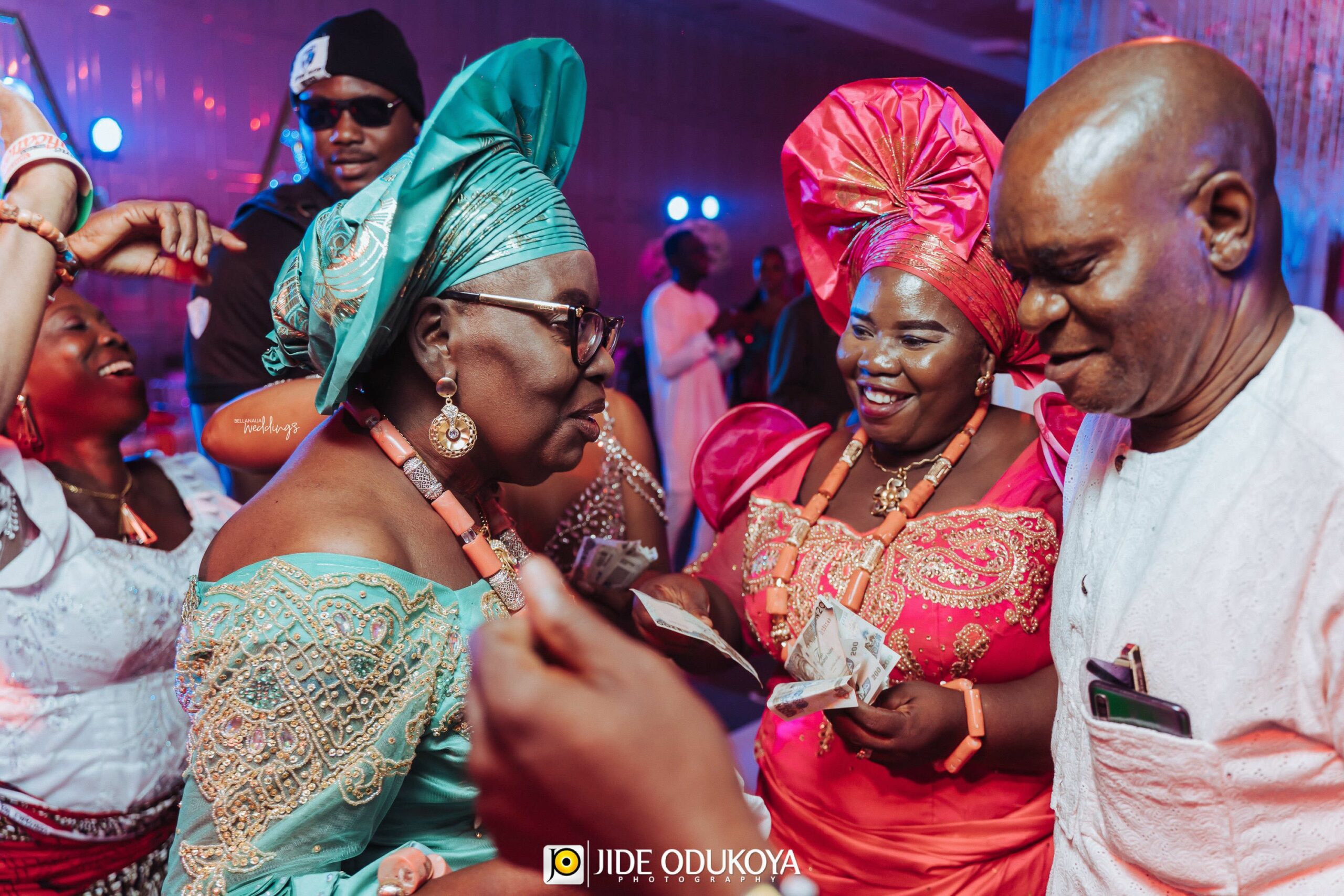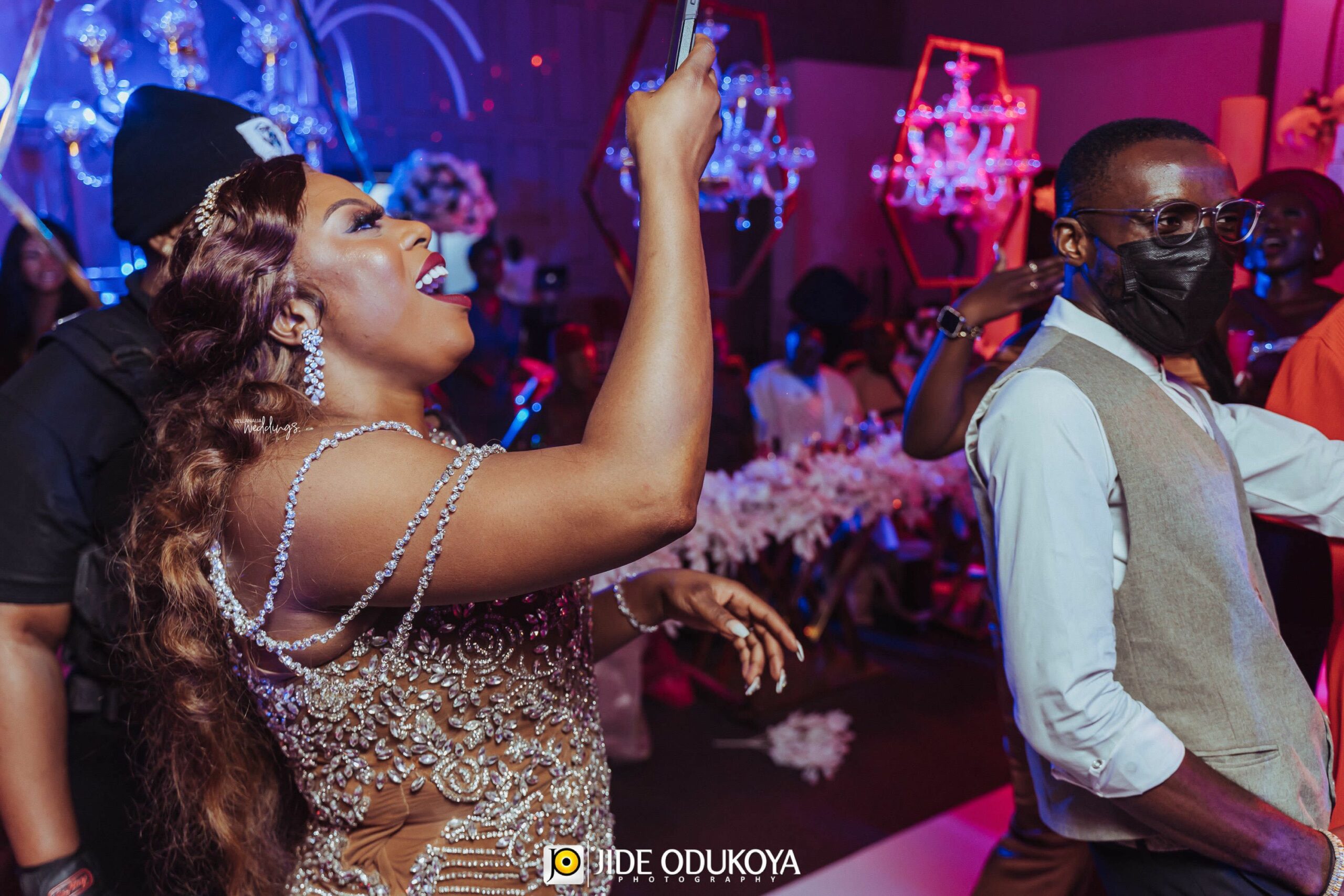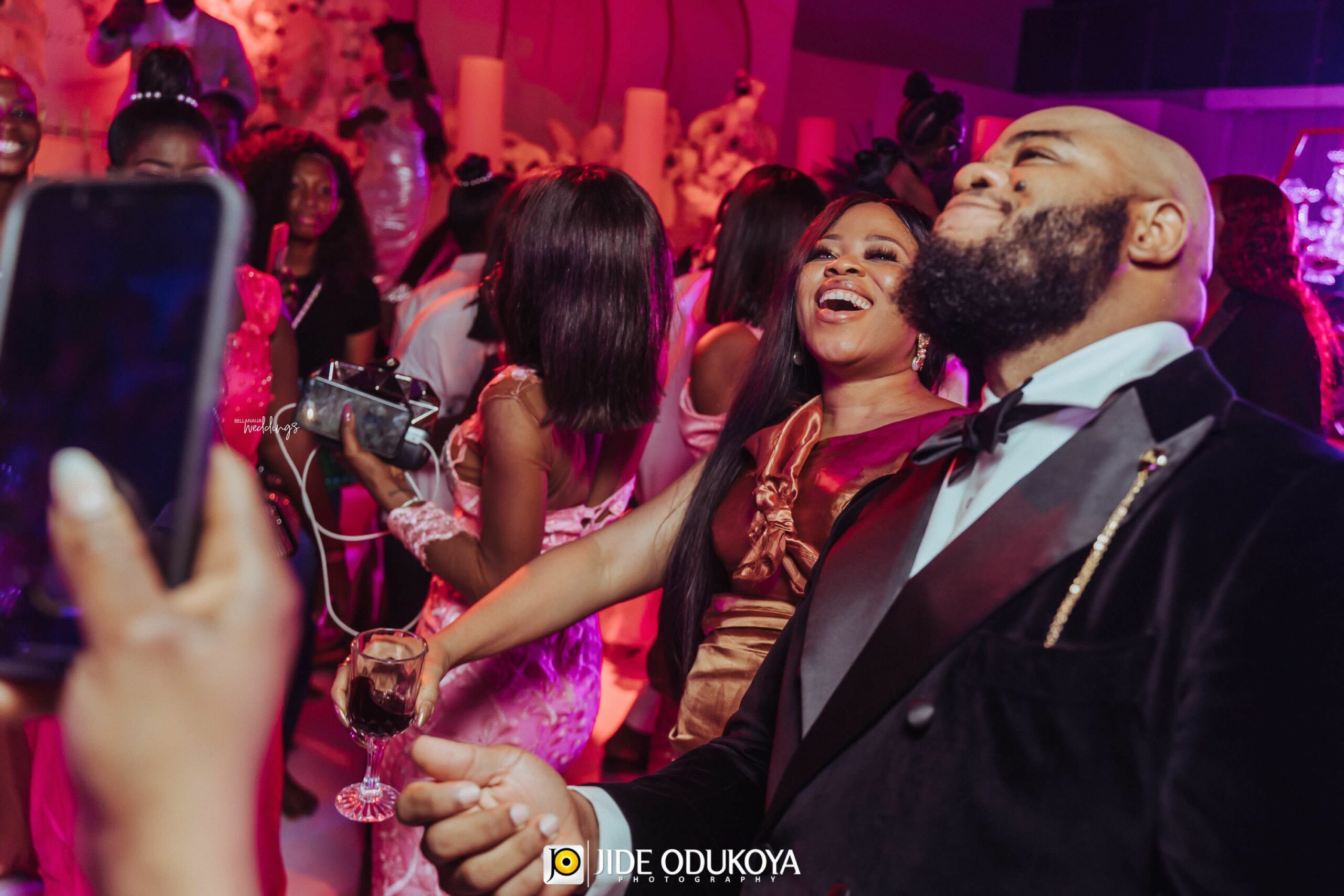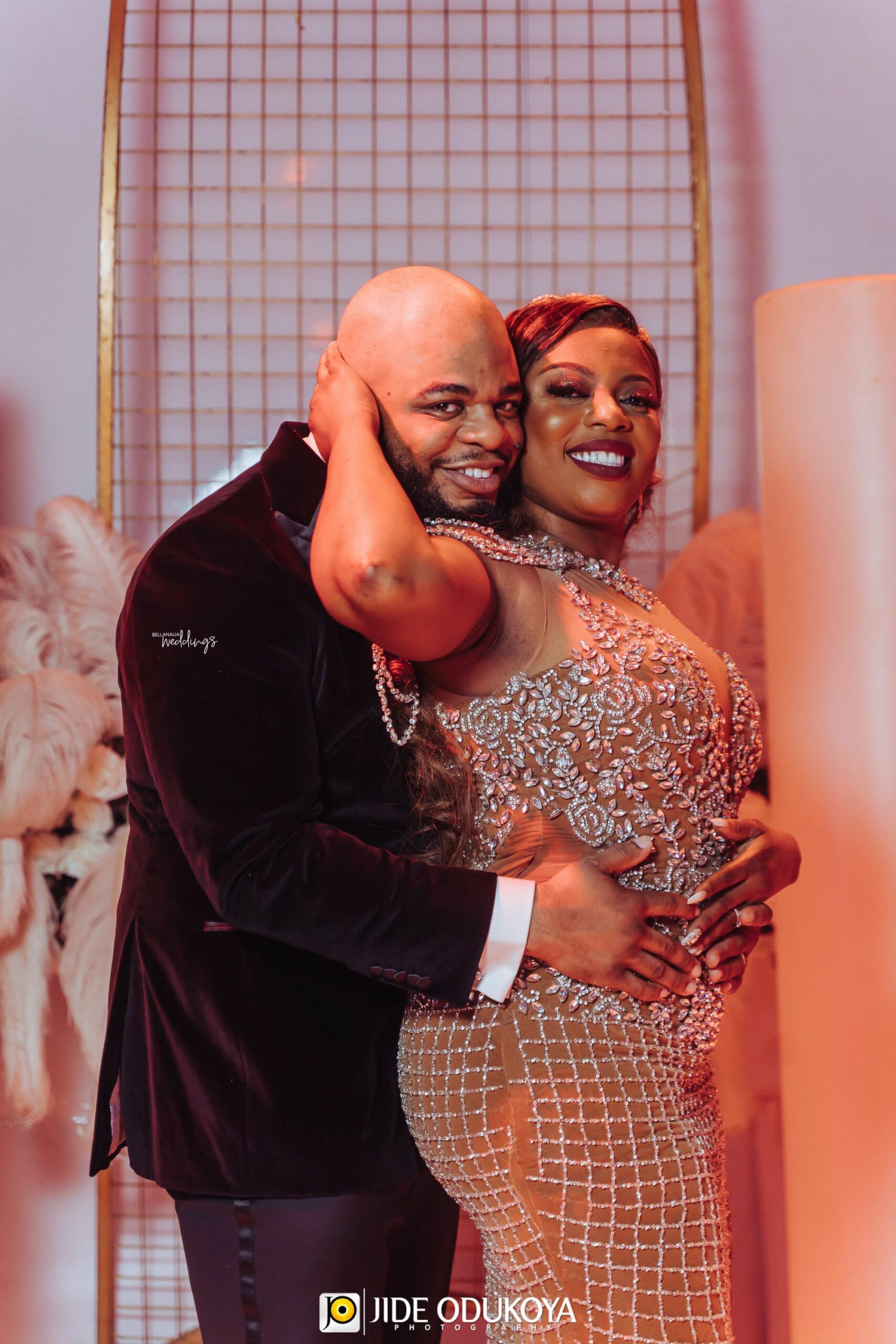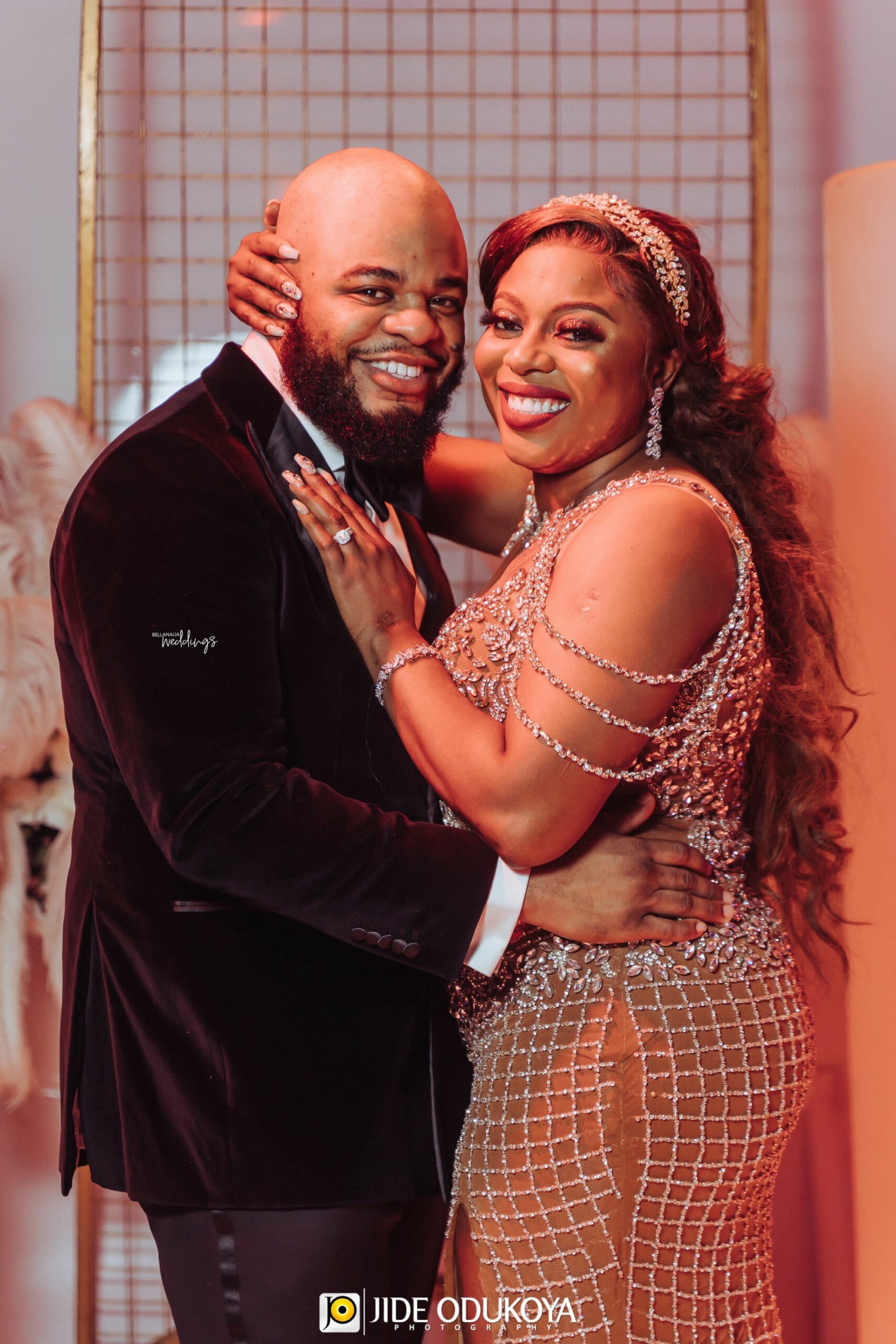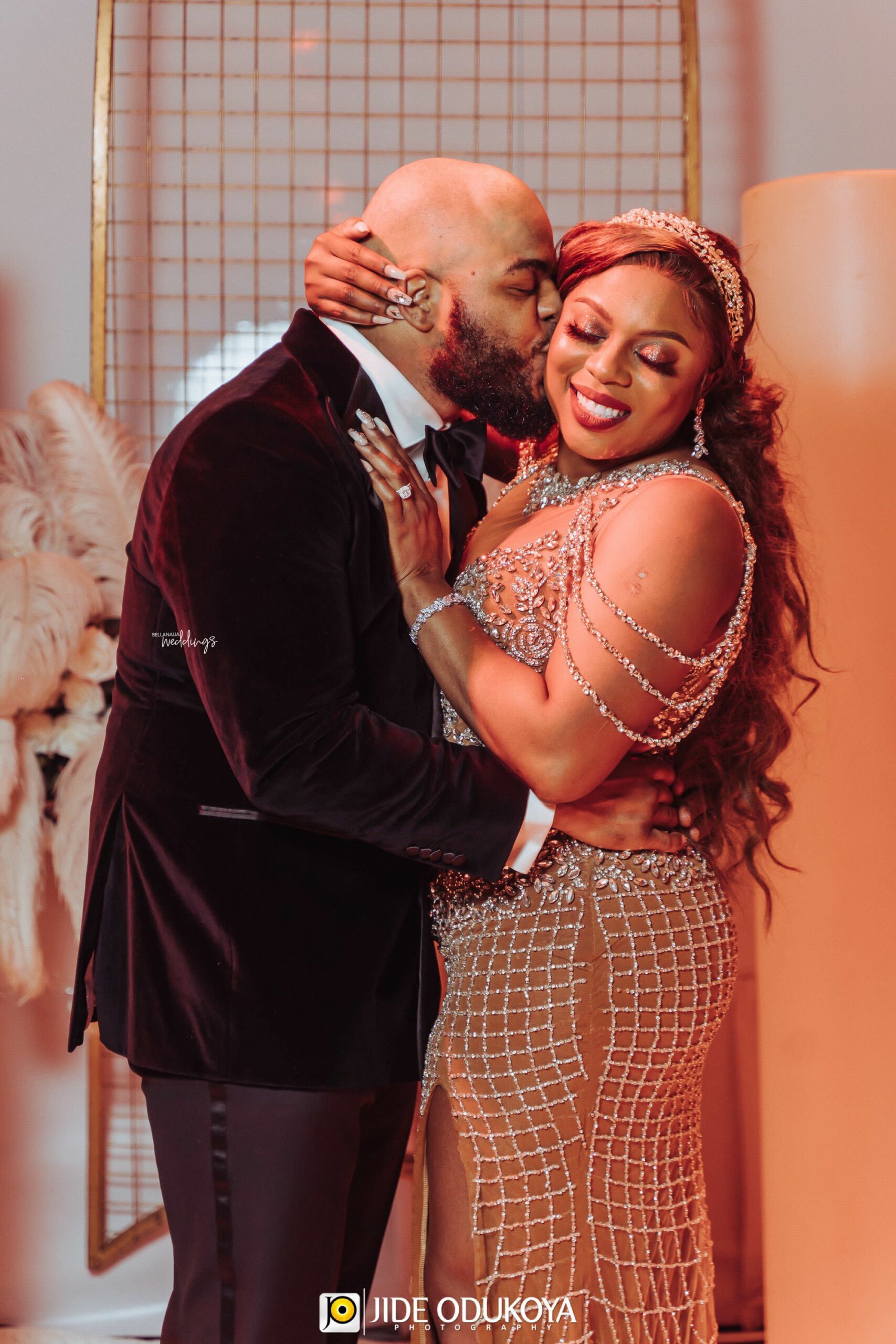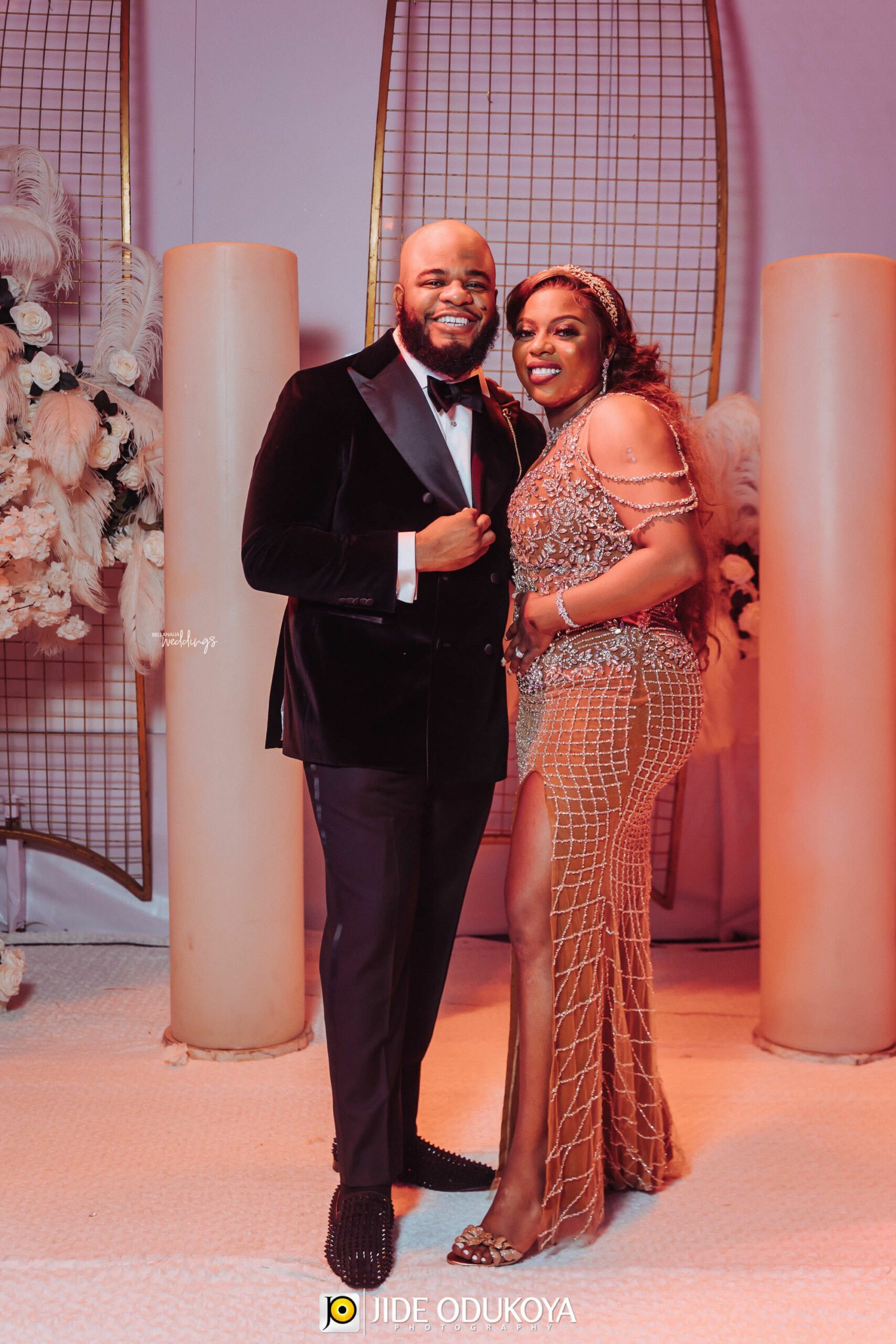 Credits
Bride @aren_aren_k
Groom @lrd_lrd_
Photography @jopstudios
Wedding dress @xtrabrideslagos
Second dress @matopeda.atelier
Makeup @olawande_mua
Hair @queenjayhair
Bride's shoe @aquazzura
Groom's suit @suitsupply
Groom's shoe @christain_loubtin