We love pre-wedding shoots… a lot! It has a way of capturing two people who are so in love with each other in a stylish way. This is because they dress up, go to a beautiful location and create memories.
So, what do you get when a talented photographer (The groom-to-be is THE Jide Kola – yes, one of our favourite wedding photographers) who captures couples' precious moments daily decides to say I do? Ok, we feel there are many answers to that question but one takes the cake… a zillion amazing pictures on his day. Next question is, what happens when he decides to have a pre-wedding shoot with his love? The answer is pretty straightforward- a slay fest of photos!
This is the exact reason we are loving Jide and Cynthia's pre-wedding shoot in Canada and Dubai. The groom-to-be shared, "Being a photographer, I let the photographers who took our pictures decide what they wanted. Creative freedom was key, and I had zero input in the decisions. I made sure I was shot by my mentors. People whose works inspire me so much." 
You know what makes this pre-wedding shoot even more special, it is meant to be a secret, (but hey what are friends for), the bride-to-be made all her gorgeous outfits! Yes, you heard right! You are going to love looking through this engagement shoot. While you are at it, remember to look out for Jide's description of some shots. We also have a short story of the couple's love at the end.
Canada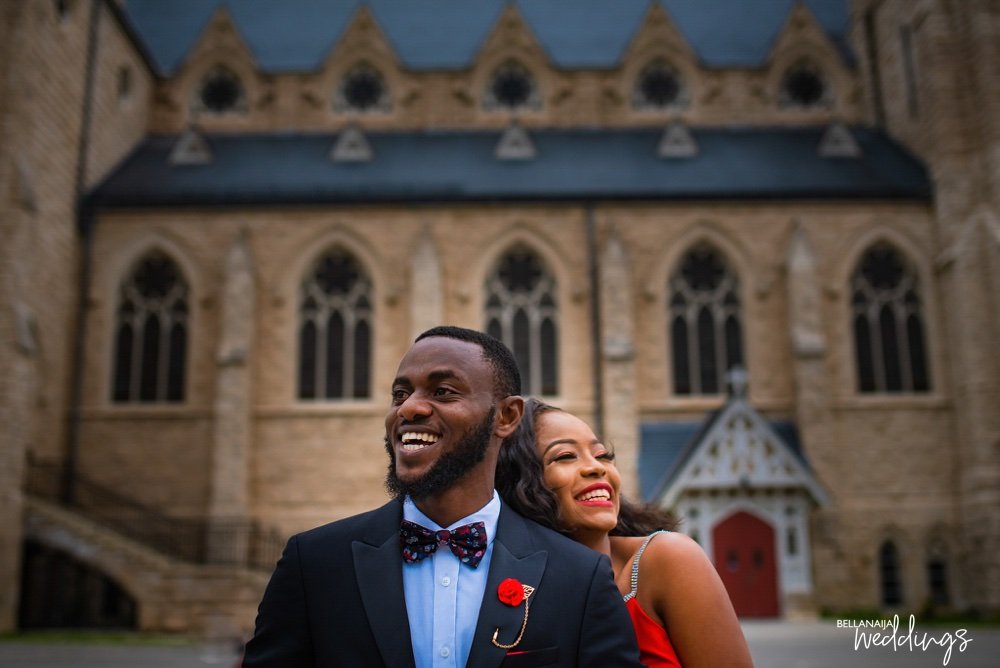 We love red dress pre-wedding pictures because it always has an elegant and classy look. So for me, it was a case of working with my bride-to-be and ensuring I fit in. –Jide


The cathedral inspiration was from the photographer. Bisi is a big uncle to us and my personal mentor. He is quite spontaneous too, so he was not restricted in any way. – Jide
Talk about a frame worthy picture!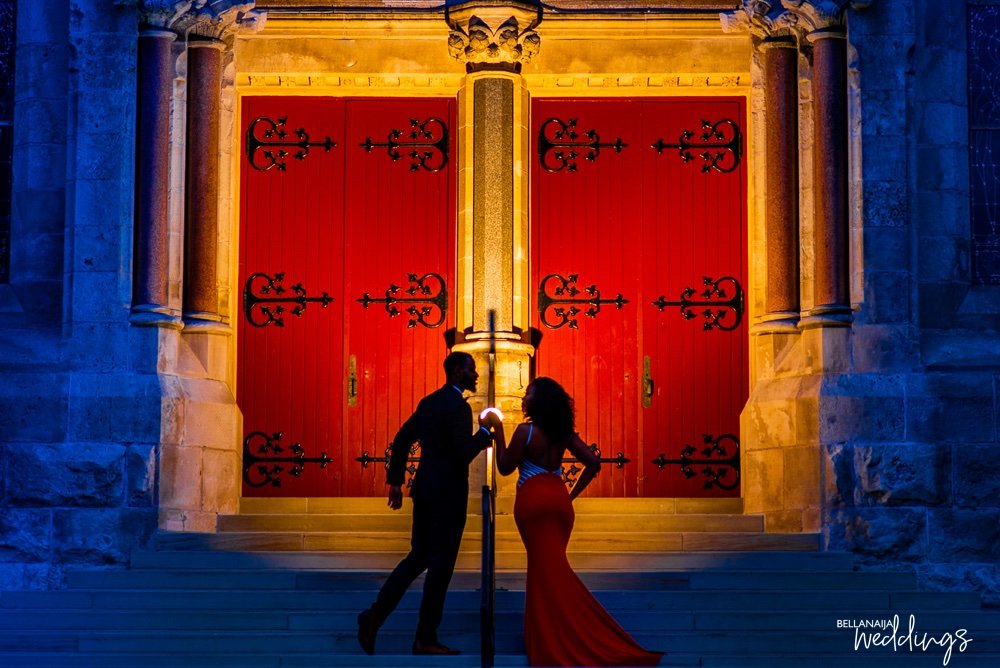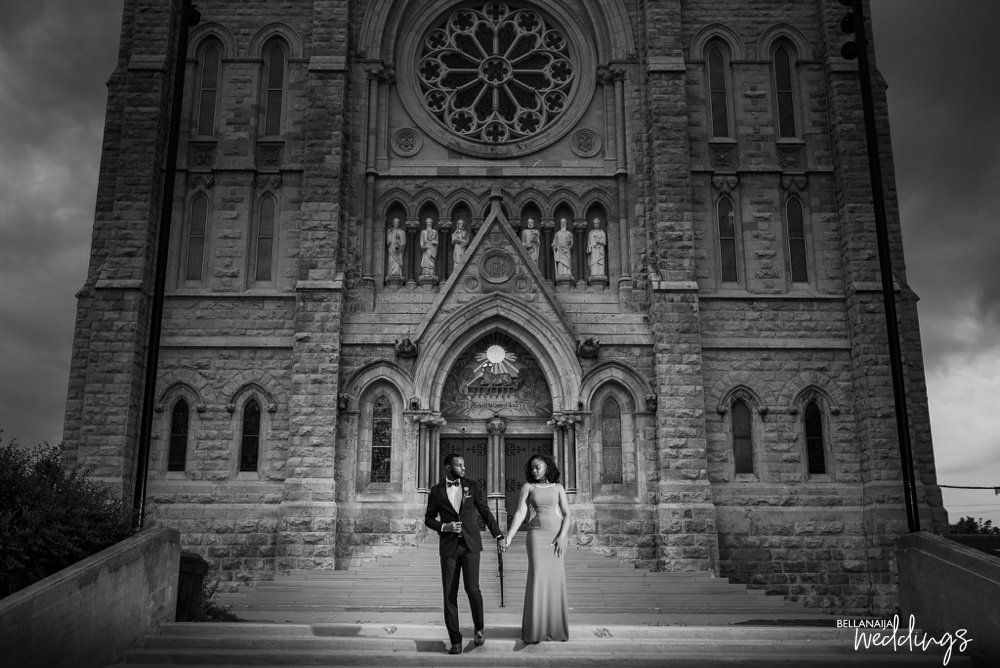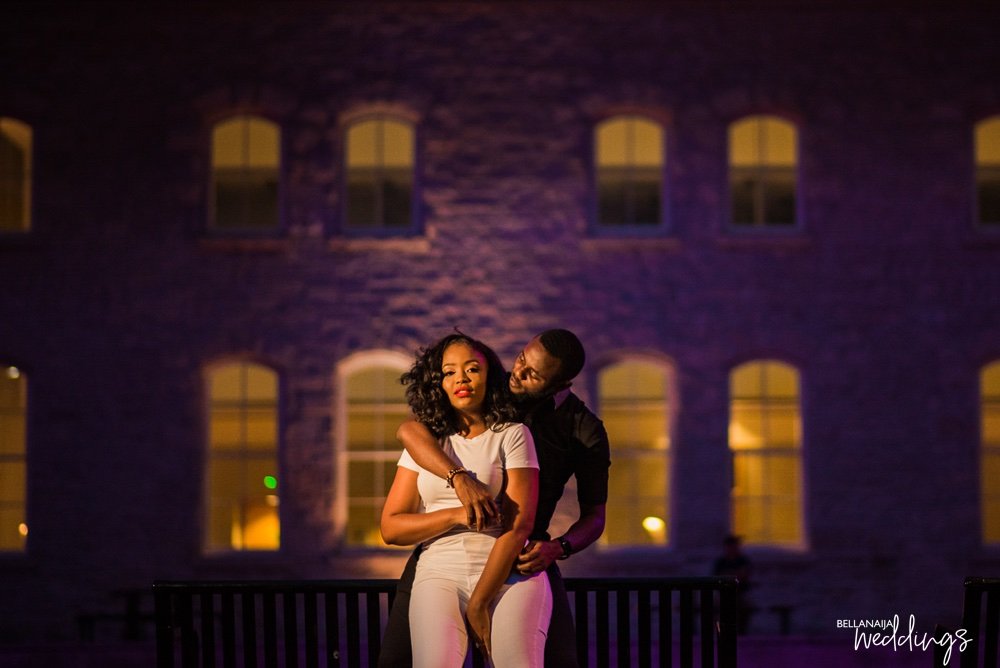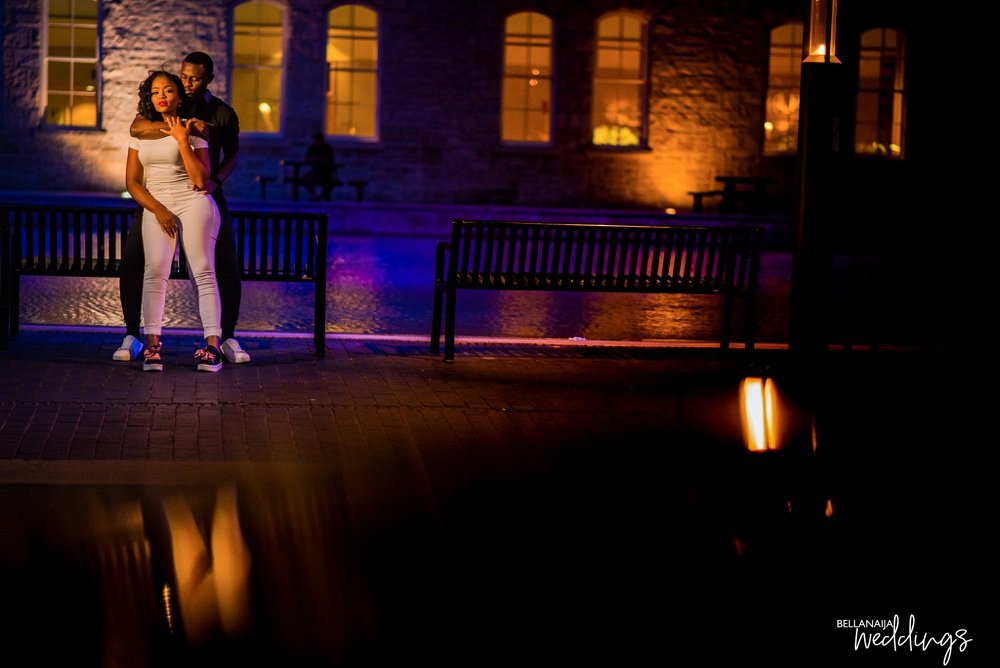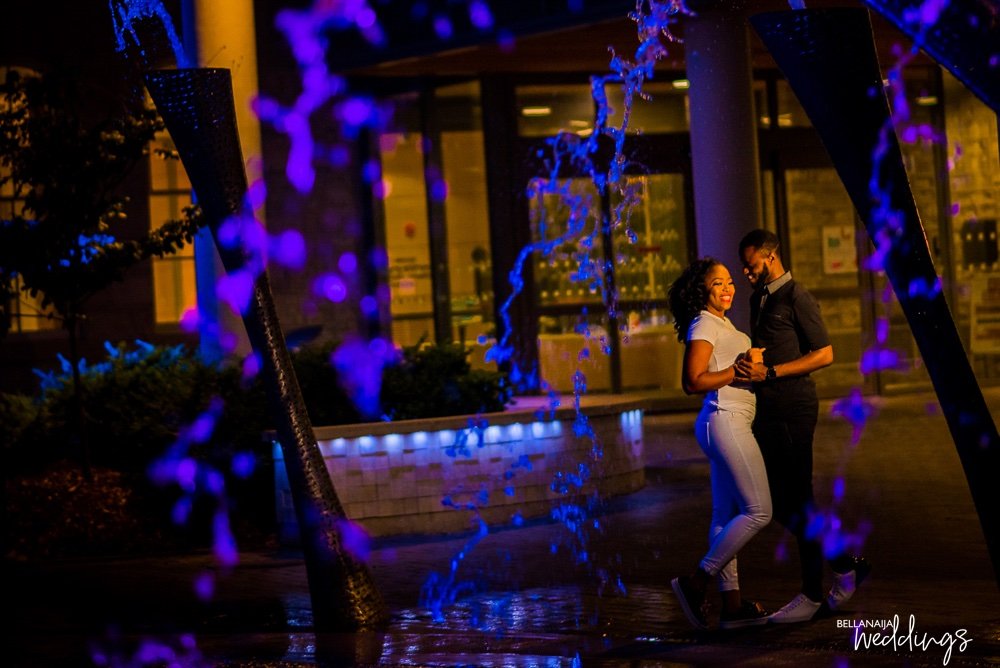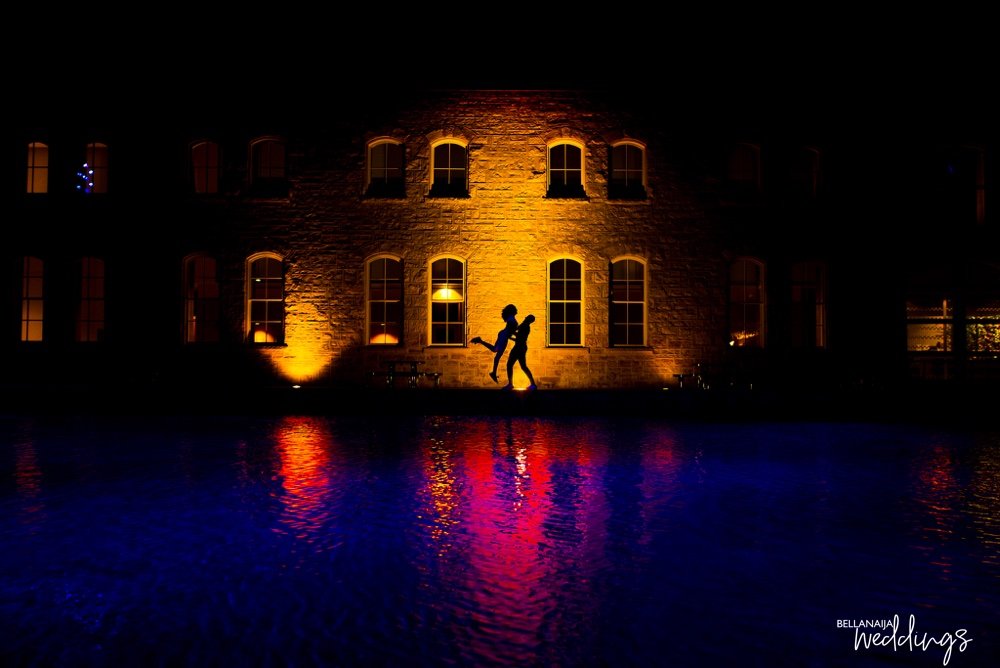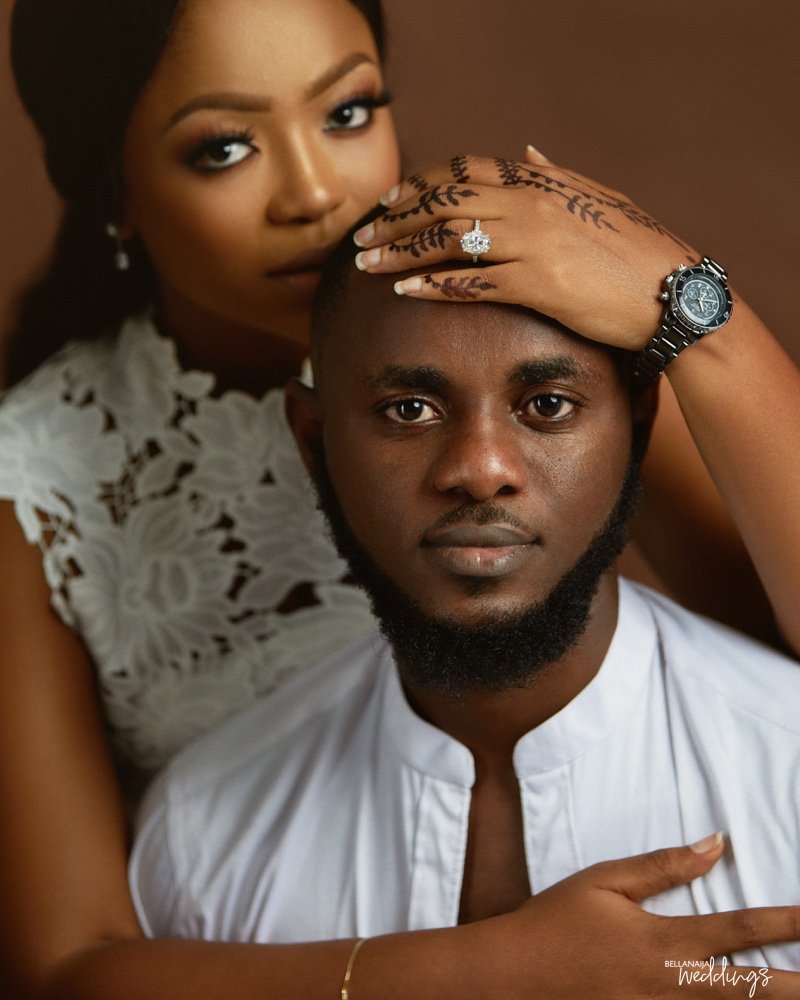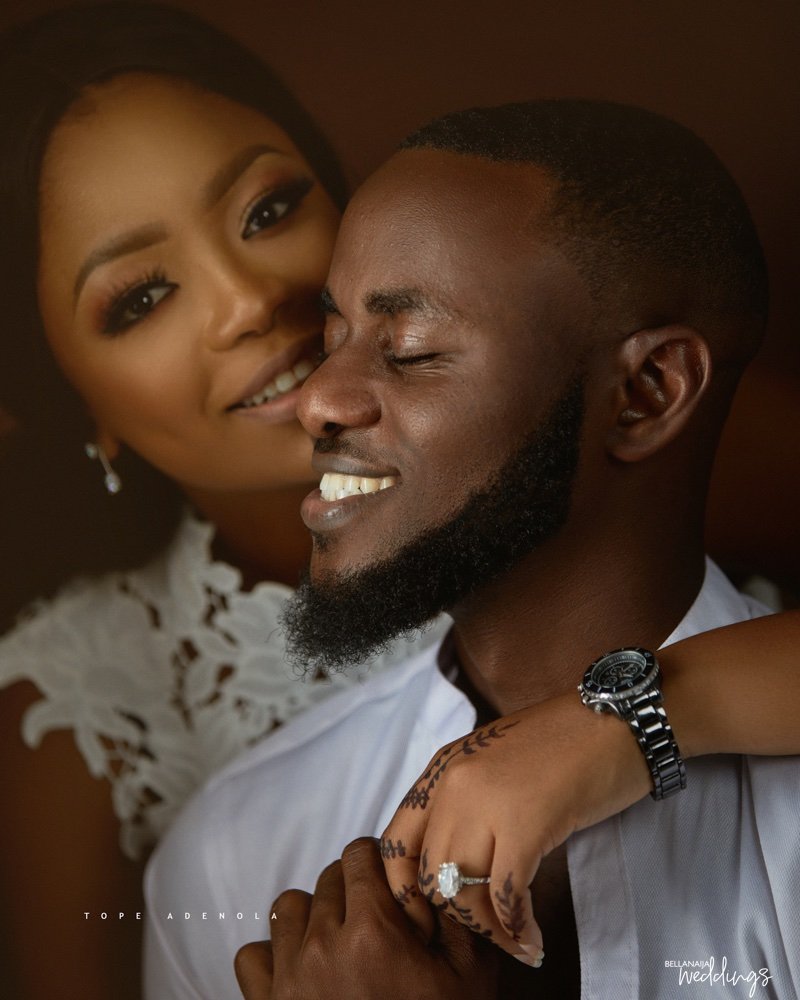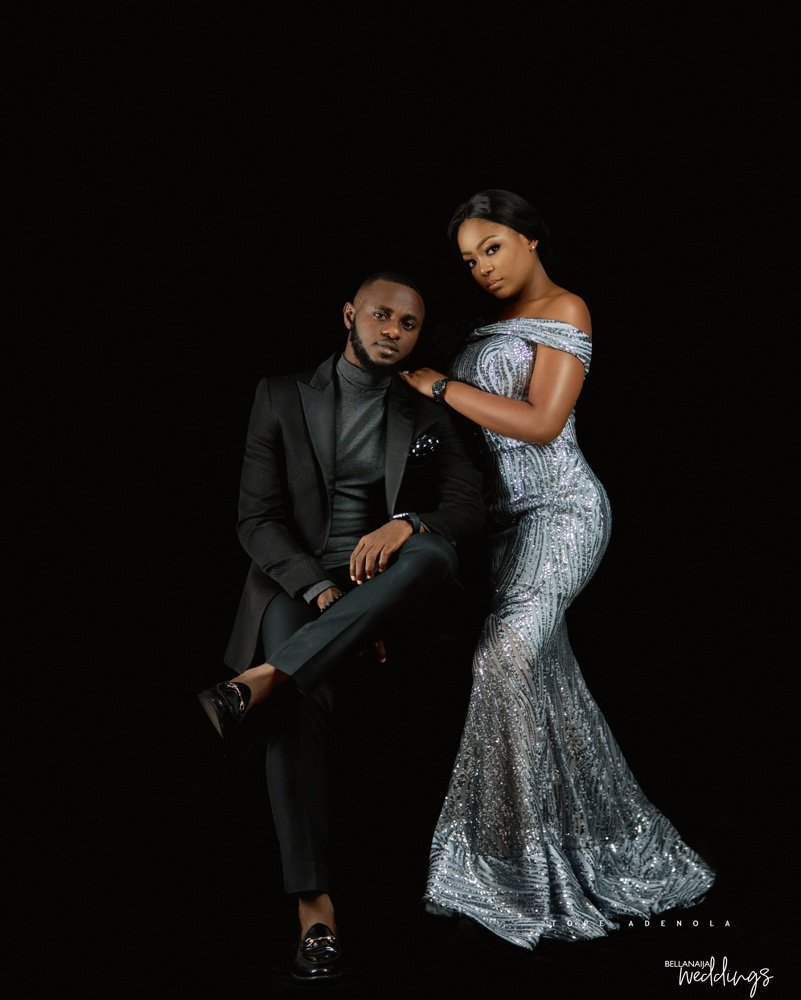 Dubai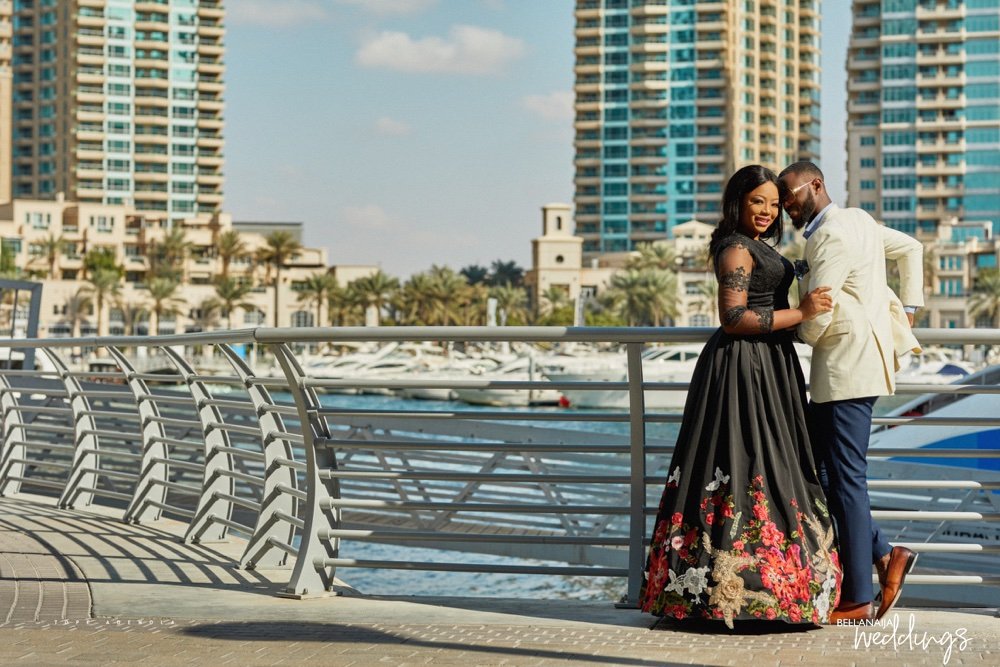 For the Dubai shoot by Tope Horpload, we went for a smart casual look; somewhat semi-formal.-Jide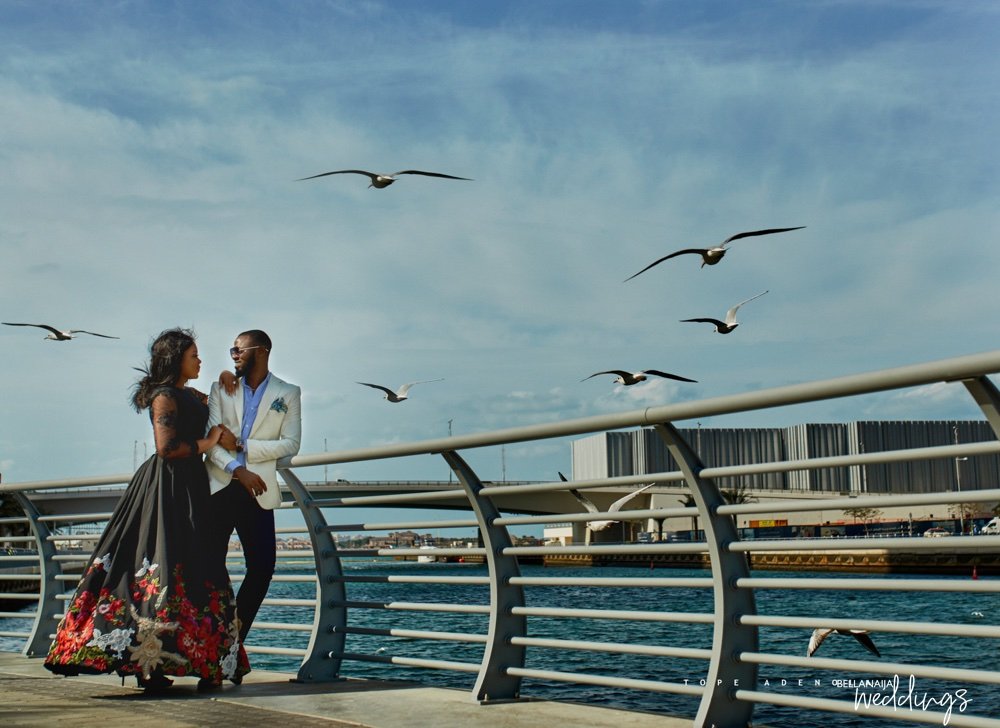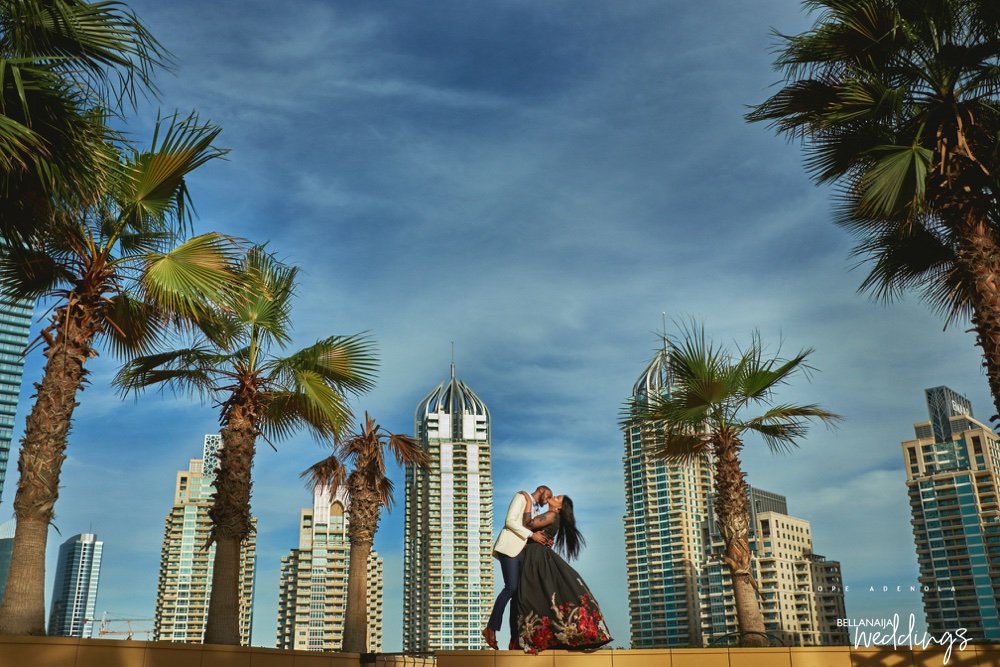 "Cynthia and I went to the same primary, secondary school and university. Both my dad and her mum were staff members of the same institution but we had only shared a few hi's.
It was in 2013, at a mutual friend's wedding that I will say we officially met. I was at a table being my usual lousy self with my group of miscreant friends when she walked in and sat at the table. I whispered to my twin friends "Omo see my girlfriend" and we both laughed.

It was a Herculean task getting Cynthia's number. I asked about three of her friends but they all kept posting me. I took my fate in my hands and went to look for her by myself. Thank God for Twitter (I roast tire for that DM sha oh), and BBM (when she finally promoted me). Line by line, joke by joke, date by date, it took a while, but I finally got her to say the much awaited "Jide, I love you".

Oh lest I forget, after we had started dating, I saw her selfies from the wedding and there I was in the background of every single picture. Ehen! So she was checking me out that day too? (She still maintains it's coincidence but I believe one or two pictures can be coincidental not so many selfies with me in it. Lol."- Jide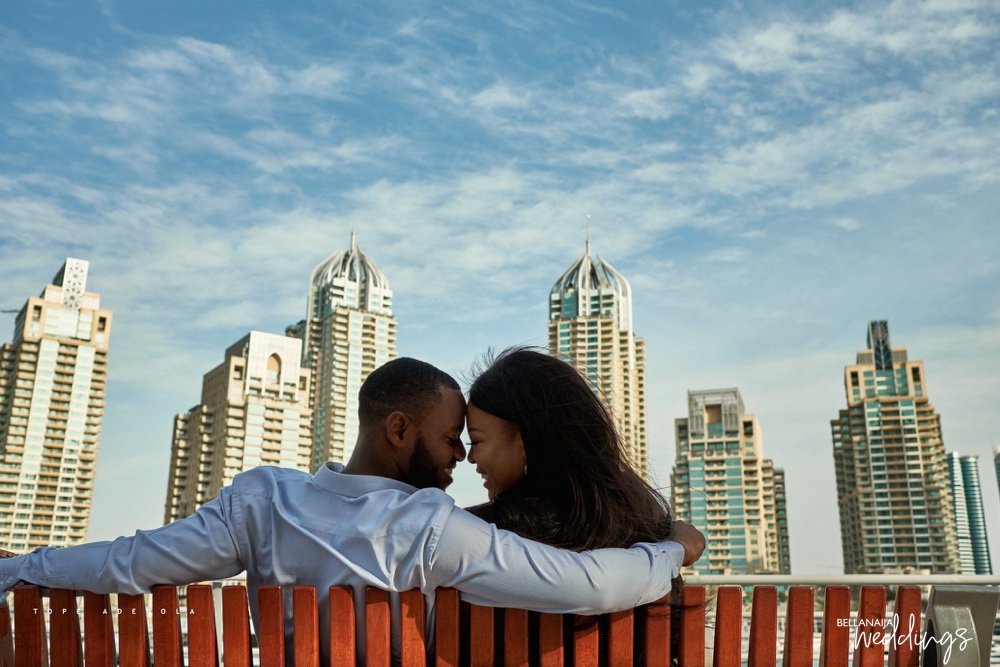 Jide had been owing me a vacation to Dubai for so long, in fact, I had a Dubai flight ticket that had been rescheduled more than thrice because there's always one wedding or the other making him busy. I can't complain too much, I am dating a workaholic.

I have always wanted an intimate proposal, but with the most important people to me involved – my brother and my best friends. I believe I might have mentioned this in passing and he was attentive enough to catch it (don't wanna give him the credit of being so accurate with his plan ?). We packed for the trip, Dubai here we come. Finally! I searched his whole house for a ring, the whole travel boxes… No ring; so this guy won't propose to me in this our Dubai Waka. When we got to Dubai, he took me shopping to buy a dress and said we were going to a house party with his longtime friend that lives in Dubai, I tried on a few dresses and we arrived at one. I should have guessed.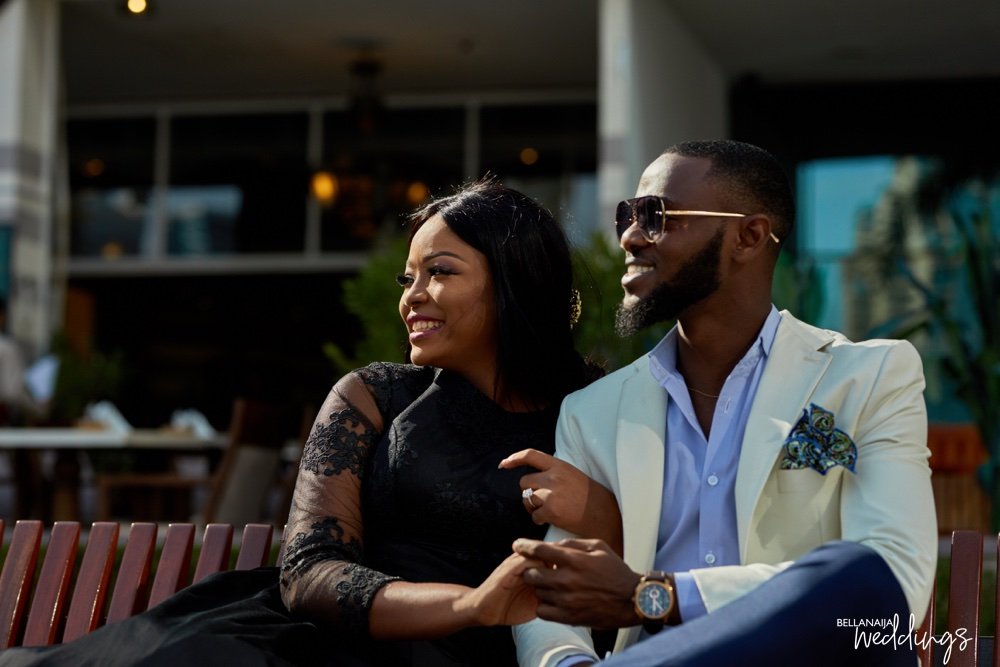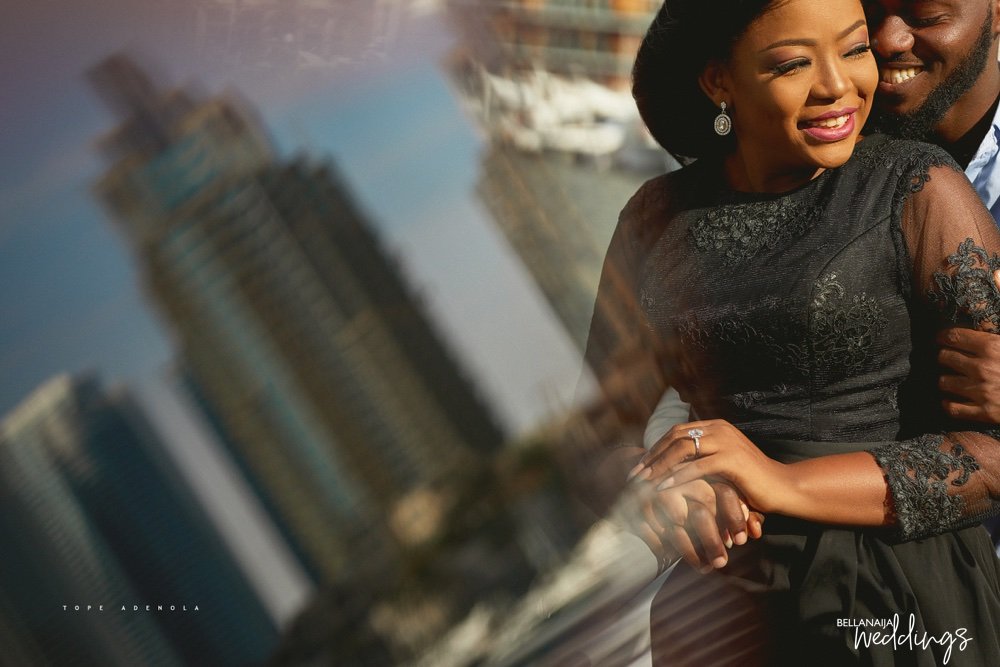 We left for the party later that evening, his longtime friend took us there, and on opening the door to the "house party"; boom! It was our pictures, and balloons and rose petals, with gentle music playing in the background. He led me to the balcony and I saw four of our closest friends holding balloons. Nobody told me Y'all were in Dubai?

Just when I thought the surprise was over, then comes my brother, my only sibling walking in with the ring in his hand. My brother was the ring bearer ??? I didn't even know when I screamed out loud. Jide was on his knees and started his proposal speech, let me confess, I didn't hear a thing. Everything was just too beautiful, the man of my dreams on his knees, my perfect ring – a big rock, the ambiance.

I can't wait to spend the rest of my life with this Superman, workaholic, fire dancer, creative eyes, footballer, computer whiz,  Jidekola. I am so proud to be "Jide's Queen"- Cynthia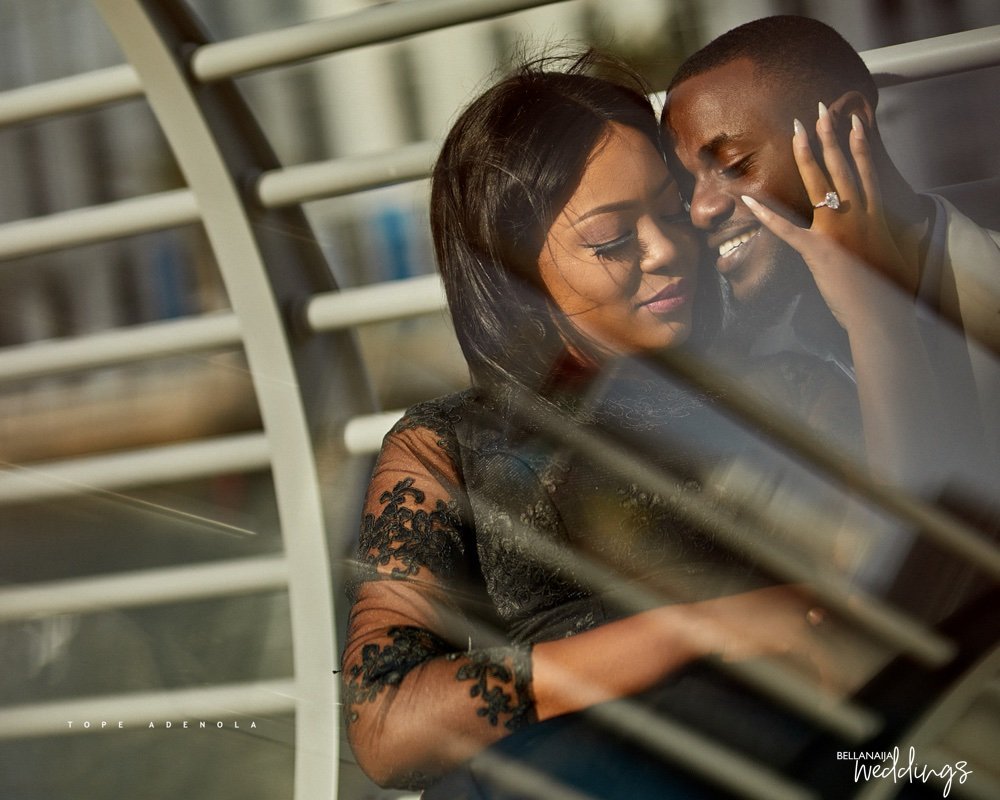 Credits
Bride @deydhayor | @beautefabrics
Groom @jidekola
First Look
Photography @bisialawodephotography
Makeup  @olarahglam
Hair  @hairbytinuade
Groom's Suit  @twelve19styles
Bride's Styling  @beautefabrics
Planner @zapphaire_events
Location Our Lady cathedral, Guelph Canada
Second Look
Photography @tope_horpload
Makeup @arabylaide
Bride's Black Skirt  @beautefabrics
Groom's Suit @adetorchlagos
Planner @zapphaire_events
Location Downtown Dubai
Third Look
Studio Photography @tope_horpload
Makeup @zainabazeez
Bride's Silver Dress @beautefabrics
Hair @ceezystyling
Planner @zapphaire_events
Location @tope_horpload  studio