Editor's Note: Hey guys! We know that planning a wedding comes with a million questions. It might get a little confusing and overwhelming. You even get new questions arising at almost every stage of the process. We totally get it. Today's feature from Anu of OurNuptialChest.com aims to answer a few of your wedding questions.
But before we get into the questions, let's meet her.
Hi, my name is Anu and I lay no claim to be an expert on the subject of weddings but because I own and run a wedding related business I spend a lot of time researching on the subject for business purposes. My Search Engine tool is showing the following as the questions you want answers to, so I am going to do some research and bring the answers to you.
Are wedding planners worth it?
Weddings are becoming increasingly complex with an average number of 15 suppliers to source, negotiate and book. Depending on your cultural identification, managing these vendors might mean coordinating their activities and delivery for two or three days. The guys at the Hitched think if you answer yes to the following question then having a wedding planner is definitely worth it;
Do you and your partner work long hours?
Is your job stressful and demanding?
Do you have to travel frequently with your job?
Are you living outside the area of which you plan to marry?
Do you want your wedding to have the wow factor?
Are you worried about putting pressure on your Mother?
Do you want a professional edge to your wedding?
If your concern is the cost or their expertise in delivering on that creative theme you want for your special day, there are indeed ways around this. For the cost, there are various pricing models eg you can pay a percentage of your total cost or a flat fee. These days more people are using wedding coordinators. You know why they are different from wedding planners, you choose and agree with all your vendors but the coordinator's role is to work with all these vendors on your special day and ensure things are delivered according to the agreed terms and of course according to your dream. My personal word of caution would be, whoever you decide to work with don't take their word for it, do your own checks about their past projects. Speak to friends who might know them or speak of their expertise.
Follow the golden rule: Thou shall not choose on the basis of Social Media accolades.
Can my wedding guests wear black?
This is exactly how the guys at Glamour put it "there are far fewer rules today when it comes to wedding style, besides the ubiquitous don't upstage the bride. It's acceptable and even fashionable to wear black year-round, sequins for daytime and a cocktail-length dress to a black-tie wedding".
If we go by what Naomi Campbell wore to the recent royal wedding I would definitely agree with Glamour.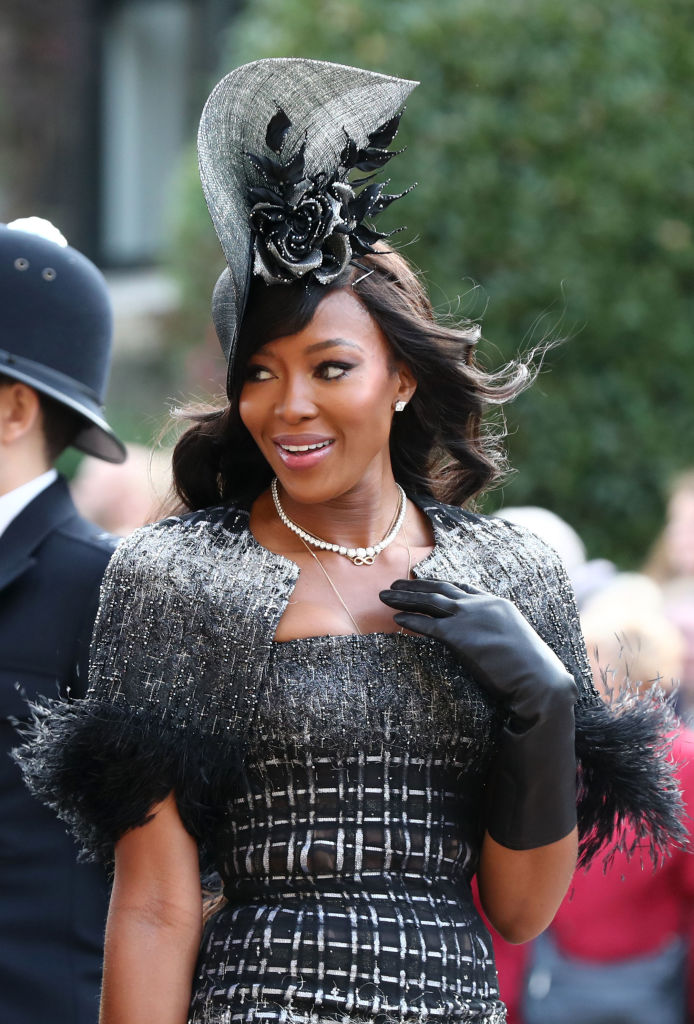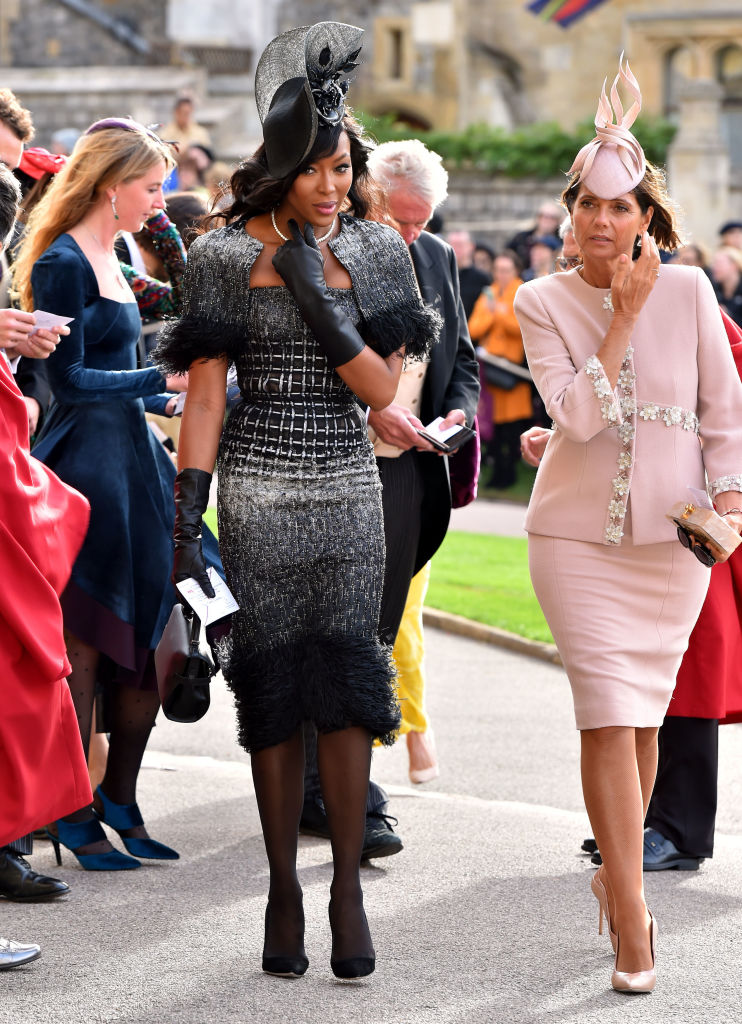 Plus we have more and more brides opting to have their bridesmaids wear black. Very stylish black actually!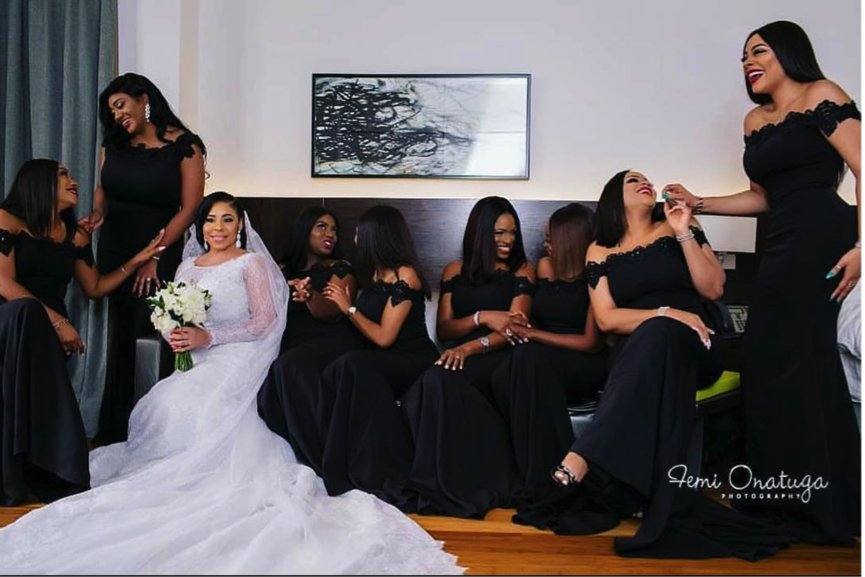 Dresses: @peridotofficial | Photography: @femionatuga
I guess the answer, therefore, is Yes! however, make it a tasteful and stylish black. Remember it is a wedding, not a funeral.
Can weddings be on Sunday?
BBC says "more and more couples are ditching the Saturday wedding and getting married on other days including as It can possibly lead to savings of about 40% in high season."
Weddings primarily hold on Saturday (a weekend) because there is a higher percentage of your friends and family being free from work commitment. So if you believe your family and friends would make Sunday, why not? But then there is the vital consideration of the religious affinity of your family. Christians generally attend church on Sundays (some on Saturdays) so you might want to consider a Sunday evening wedding. There is also the Country consideration. In places like Dubai, the work week begins on Sunday. There is really no hard and fast rule with the wedding date. I would say do what fits your circumstance.
Are wedding gifts required?
Tricky one seeing as I run a Wedding gift related business. But this is my unbiased answer from TheSpruce: "It is possible that you are broke, unable to attend, go to a destination wedding or perhaps are even in the wedding party itself. While it is customary for guests to give wedding gifts to the bride and groom, people tend to fall into the trap of believing that these gifts are in exchange for their invitation. The truth is that a wedding invitation is completely separate from a wedding gift.
In fact, a wedding gift is a token of your affection for the happy new couple—nothing more and nothing less. Usually, wedding gifts are sent as soon as the invitation is received, rather than brought to the wedding. Even if you have already given a shower present or engagement gift, traditionally it is a good practice to give a wedding gift as well."
My two cents as a Nigerian wedding vendor who understands the dynamics of the cost associated with asoebi. If the couple expressly states a gift request on their IV either in cash or actual items please do honour their request. If there is no word about a gift on the IV, you can take the social etiquette road of buying a gift you think they would value or gifting them the honour of your presence. You decide.
How should the wedding reception go?
First off, the wedding reception should be FUN! This is where all the formalities are done and everyone is up for having a great time. To be honest, I did some research and it is a simple case of what works for you. Times are changing and we are slowing getting rid of having a high table or having our parents dance in separately (some actually do away with this completely). You decide how you want the day to go. Be creative with the activities. The important thing is for you to have fun and your guests have a great time. I personally look forward to a wedding reception where we simply celebrate with the couple while playing all kinds of games!
So that's it, guys! I would keep using my keyword tool to pick your top questions but if you have any you would like me to go and get answers on, please do share! You can find me on Instagram via @ournuptialchest
Credit
Featured image: @frankugahphotography | Dresses: @peridotofficial