Of course, you already know that we are coming to the United States of America this month and if you don't know, let's do a quick flashback.
BellaNaija Weddings will be coming through this summer for her first ever event in the USA tagged the BellaNaija Weddings Bridal Brunch hosted by Dure Events. What is it? It is specially curated cultural experience for brides-to-be, bridesmaids, brides and wedding vendors. From decor to makeup, fashion, and art, it is a fully packed event.
Of course, you have to get a ticket to be a part of this exclusive luxury events and here's how: click this link and follow the instructions. Now just because we are super excited about the coming event, we want to let you in on five things you should expect from this bridal brunch.
When:
Monday, 23rd June 2019.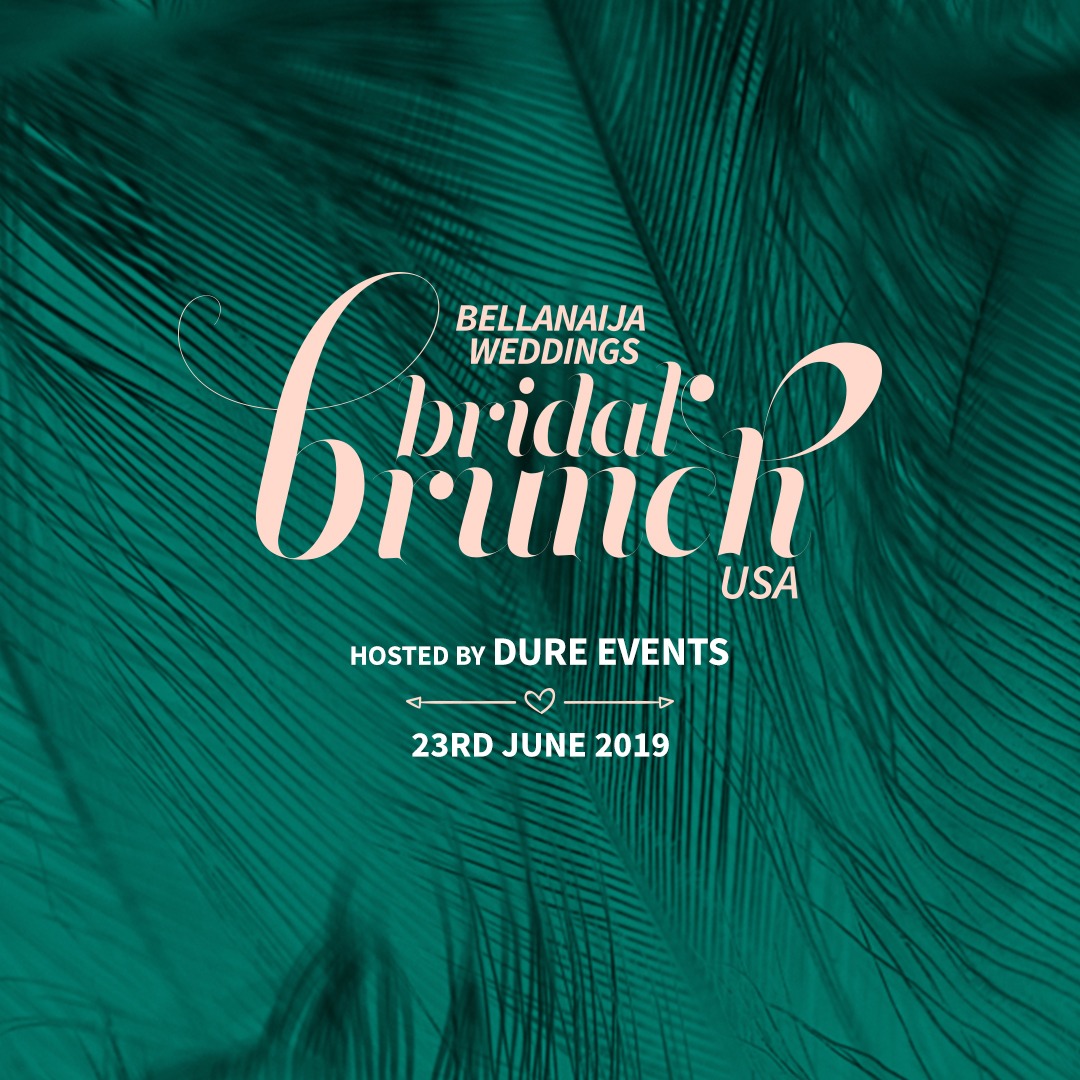 Now, these are the five things you should look forward to on that day.
Prepare to be blown away by our amazing line of speakers.
Ok, guys! I mean, this is one of the power packed line of speakers you definitely want to listen to. From the award-winning Banke Meshida Lawal who will be driving the bridal beauty conversations to the renowned Celebrity Stylist, J.Bolin talking everything bridal styling, Esé Azénabor Grembowski talking about wedding dresses and designs. Then the super-talented Abi Matesun telling us about videography and wedding storytelling. I am sure you definitely want to be a part of this session. Big secret, you get to be a part of the private view of the new Esé Azénabor bridal collection.
One of a kind wedding showcase from our well-grounded showcasing wedding vendors
So it's not just going to be all about listening to conversations, we also have a team of amazing wedding vendors that will be showcasing their designs, arts, and entertainment. This showcase will cover wedding dresses showcase from Esé Azénabor, evening/ reception dress showcase from the 'waist snatcher' Tope Matopeda, to the traditional asooke designs from the brilliant Abimbola Ipaye of Bimms24 alongside the talented Segun Gele. This part of the day will also include some kind of entertainment from the professional vocal artist, The Jas Sound. Are you getting excited already, because we are?

Immersive networking and deep connections with wedding vendors

You know what happens when you have brides-to-be and wedding vendors in one place, there has to be a form of networking. Definitely! Have you met our team of extraordinary vendors working together to make this event a remarkable one for you, if you haven't, click here and find out? Now all these vendors will be there to have conversations with you. So be ready to meet, network and make great connections.
Delicious and remarkable Afro-fusion Cuisine, cocktails, desserts and all
What's a bridal brunch without food, cocktails, mocktails and sumptuous deserts?
Trust us, we are coming with a team that is ready to make your taste buds explode with such a delicious culinary experience. You just need to meet this team right here and you will know that you are in for a treat. You get to enjoy a six-course meal from Chef Emeka @chefemeka , Chef Tobi and Chef Bethany of  @twothirtyfourkitchen @allidoiscookblog. Oh yeah, that's definitely something to look forward to.
Our exclusively curated gift bag, giveaways and a chance to win a free honeymoon
Because we have waited for so long to meet you all. We come bearing amazing gifts that will have you saying aww. We can't say too much here, because it is our surprise to you and you have to experience this yourself. Expect amazing giveaways by Clive Christian Perfume and also a chance to win a free honeymoon for you and your spouse.
Now that you know the five things to expect at the BellaNaija Weddings Bridal Brunch USA, you should totally get your ticket asap and don't forget to tell a friend.
See you there ?.