Hey guys!
We are getting close to the BellaNaija Weddings Bridal Brunch hosted by Dure Events and we know you are excited as we are. So if you haven't gotten your ticket and reserved your spot(?), you can just do so now by getting clicking here.
So you have met a few of our amazing vendors from the those set to thrill us with an amazing culinary experience to the great hands glamming our space and working on our invites. You also met our super amazing speakers of the day, now you have to meet the vendors who will be showcasing their work and designs.
So come June 23rd, 2019, these following vendors will be showcasing their work and we can't wait to see all they have in store for us.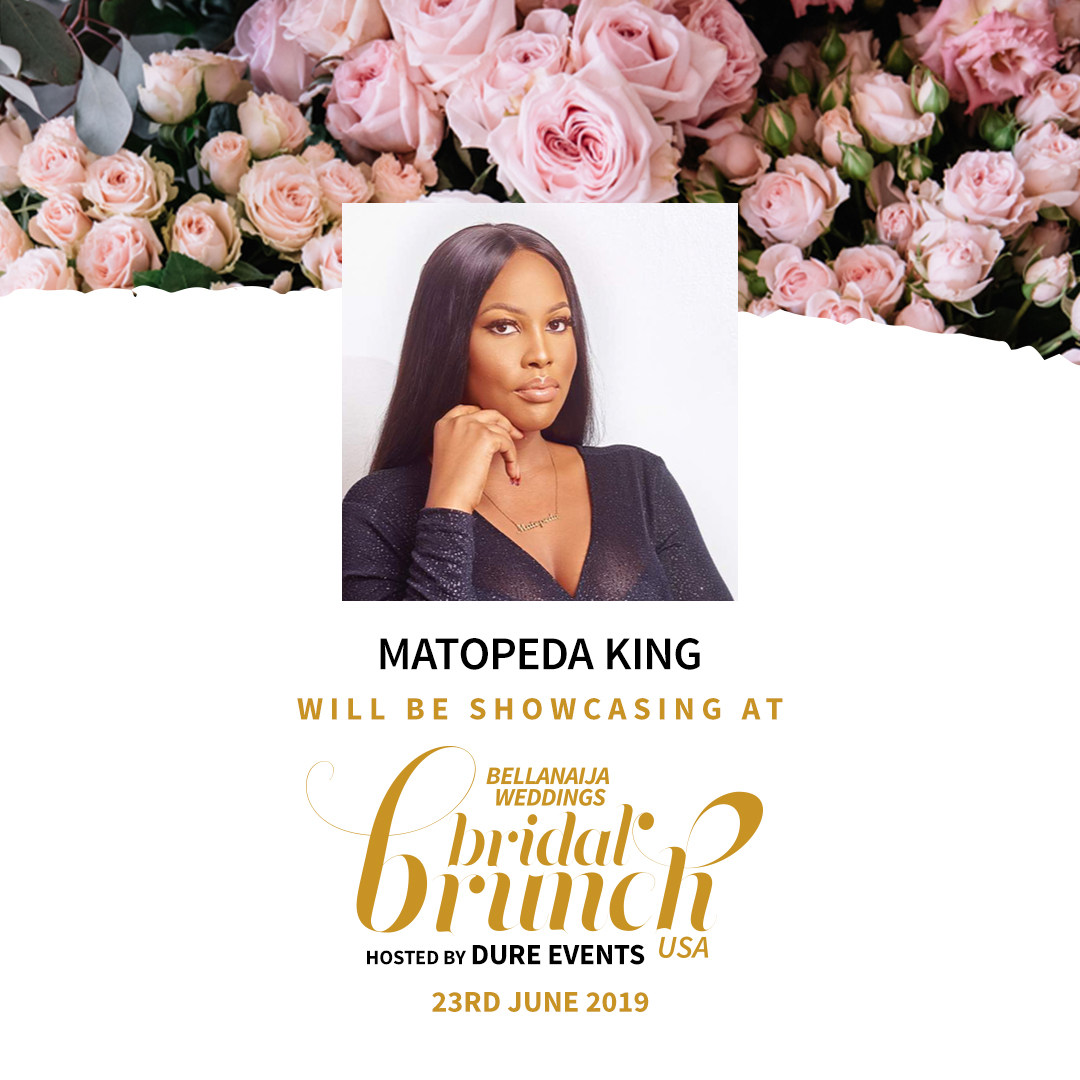 Matopeda King is a Nigerian British born designer. Whilst studying at Brunel University for her bachelor's degree in Biomedical Sciences, she always knew her heart was in fashion. Tope(as she is fondly called) enrolled for part-time courses in London's College of Fashion to follow her dream. Tope traded in her white lab coats for a white sketch pad and began designing in 2008. Having built a strong client base in London, she took an even stronger leap of faith in 2012 and moved to Lagos to expand her brand. Fabric is key to the Matopeda brand. They are known for their selection of exquisite fabric. Matopeda sources one of a kind embroidery, Swarovski crystals, gemstones and lace from Paris, London and NewYork. She recognizes how important it is for her clients to look unique as they continue to be her inspiration. She is known as the 'Waist Snatcher' and it warms her heart when her clients tell me how they feel in my pieces. The female form is a beautiful work of art. It doesn't matter what size. I love to show off how beautiful, sexy and confident she is." Beyonce, Adesua Wellington, Genevieve Nnaji have been seen in Matopeda. The waist snatcher will be showcasing her designs at the BellaNaija Weddings Bridal Brunch. Go ahead and check out her work on @topefnr on Instagram or www.matopeda.com.
Meet Segun Gele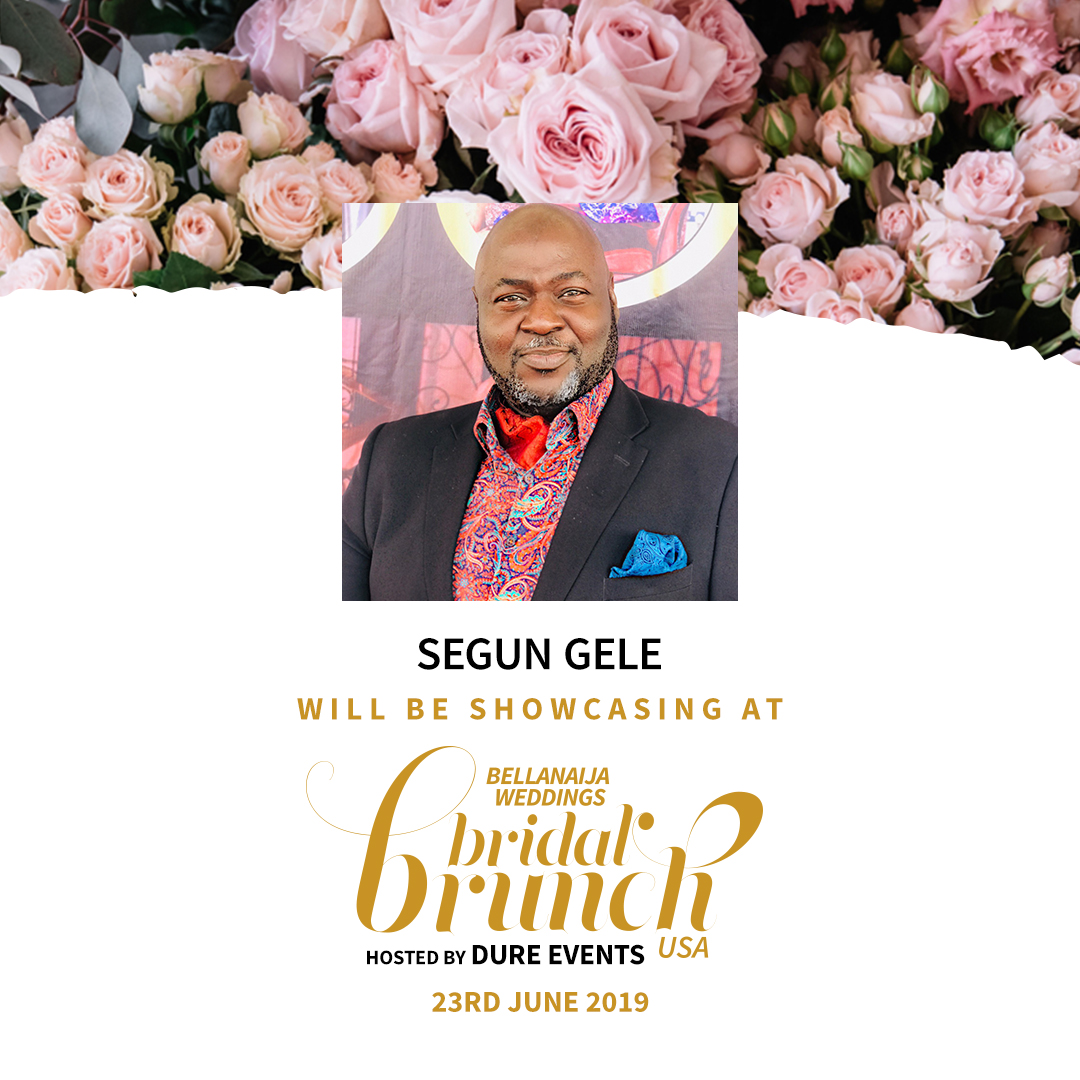 Segun Gele is a professional gele stylist with over twenty-five years of experience in tying gele for women across the globe. His work was featured on CNN for his ability to tie the gele in flamboyant style, a fashion attire of significant importance to the Nigerian and West African women's fashion culture. Seun Gele will be showing his work at the BellaNaija Weddings Bridal Brunch and we are looking forward to his work. Keep up with his work on www.segungele.com or @segungele on Instagram.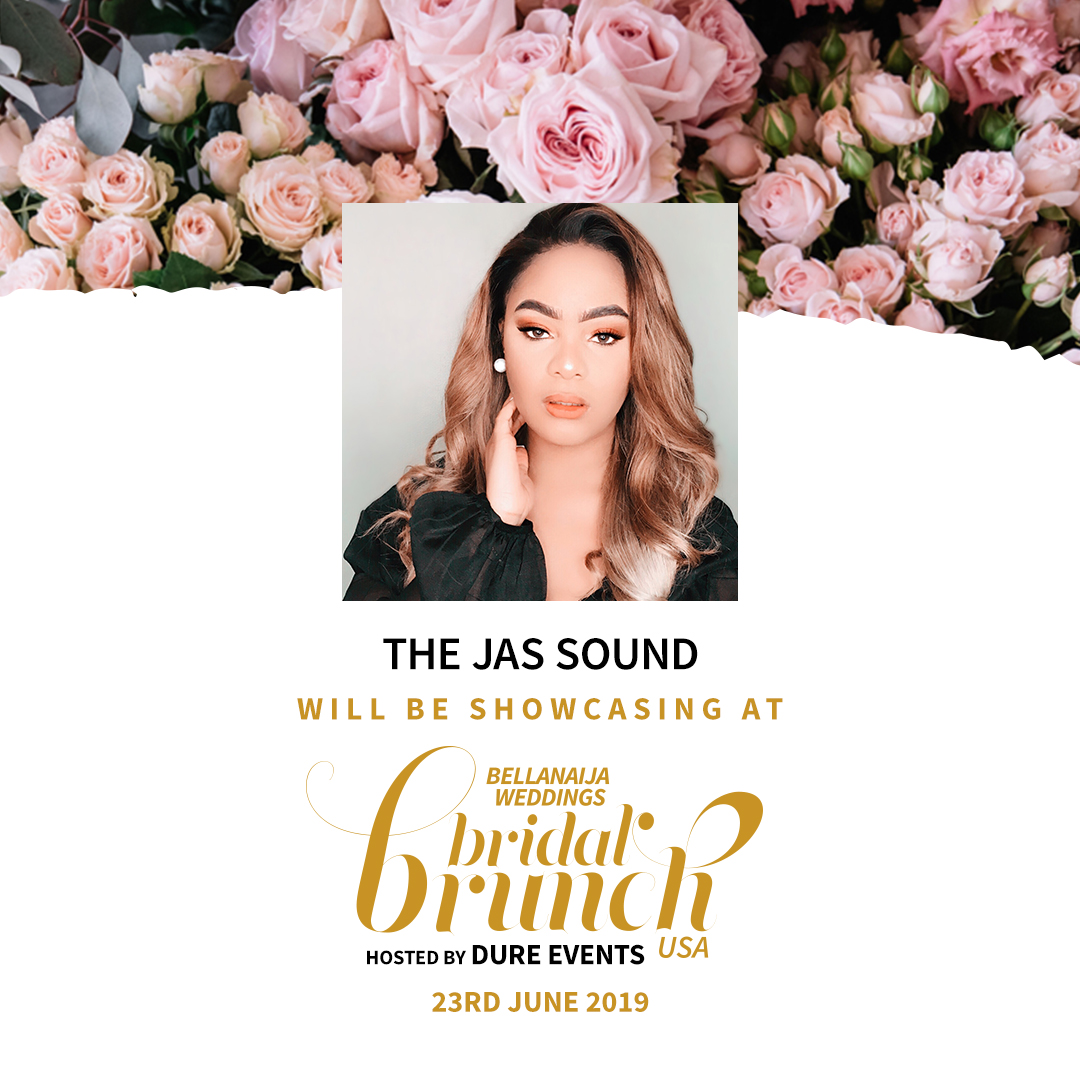 The Jas Sound is a professional vocal artist. Music has always been at the forefront of her life even from the tender age of 6 years old when she sang at her first wedding. Since then, she has studied Opera, Jazz, Gospel and Contemporary music and received her B.A in Vocal Performance which enabled her the opportunity to be a part of many productions including Gershwin's "Porgy and Bess" with the South Florida Symphony Orchestra and various solo performances. Most recently, The Jas Sound released her first single "The Voice of Words" and is currently working on her album showcasing her extensive musical background. The Jas Sound aspires to be more than a vocal artist but a trailblazer to other creatives, helping them find their sound in the Earth, what God predestined for them to do to change the world that they are in, to leave a mark. Singing is simply the avenue given by God to The Jas Sound to change the world, one musical note at a time.  Catch up with her on @the_jas_sound on Instagram.
Meet Abimbola Ipaye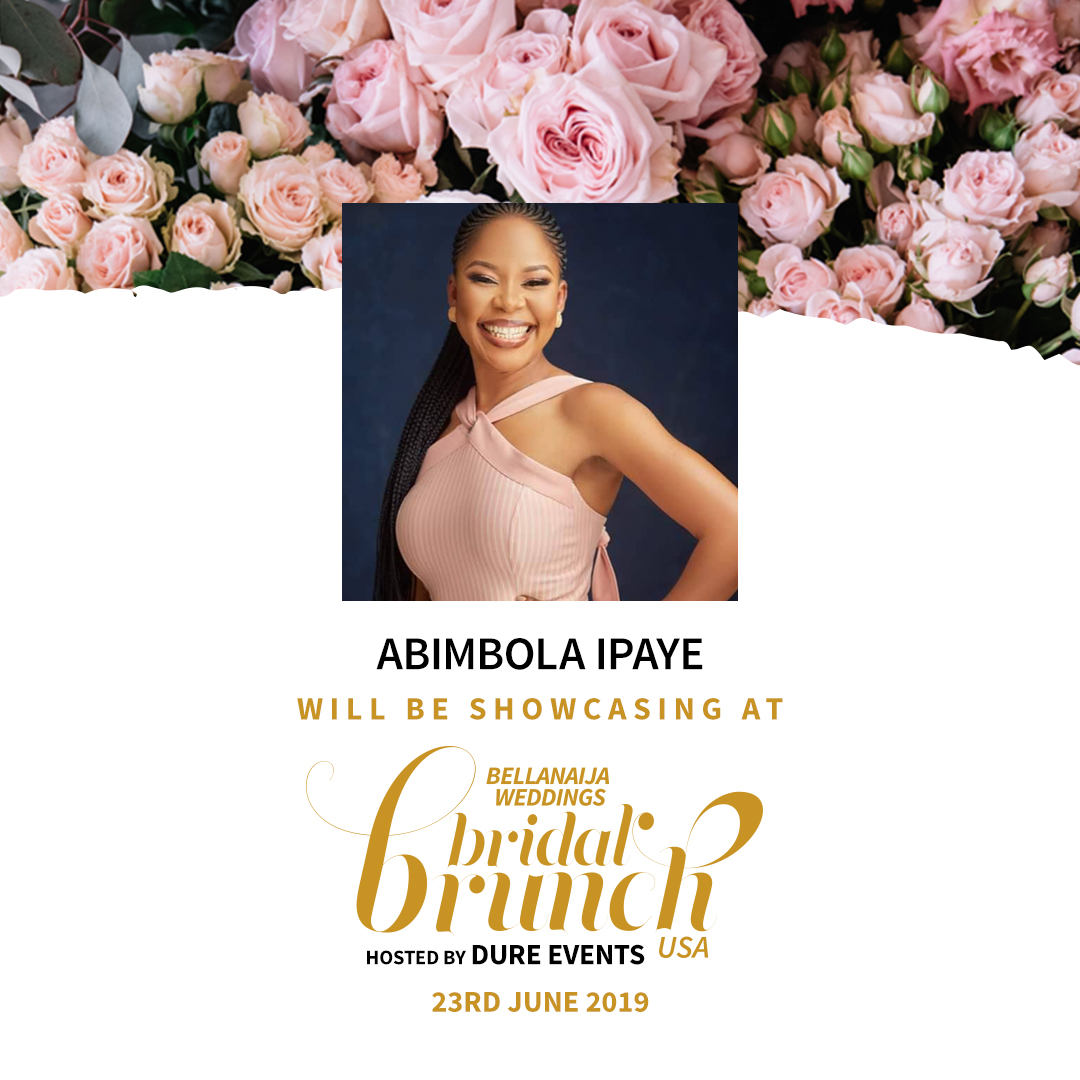 Abimbola Ipaye is the brain behind Traditions by Bimms. She has been breaking designs with her Asooke designs over the years and is definitely not slowing down for a minute. Her reward comes from making brides and clients happy on their big day. Her work in the fashion business has seen her work with a lot of celebrities and politicians daughter of the President of Nigeria, Zahra Indimi and wife of the Vice President, Dolapo Osinbajo. She will be showcasing her beautiful asooke designs at the BellaNaija Weddings Bridal Brunch. Check out her styles on Instagram @bimms24 before then.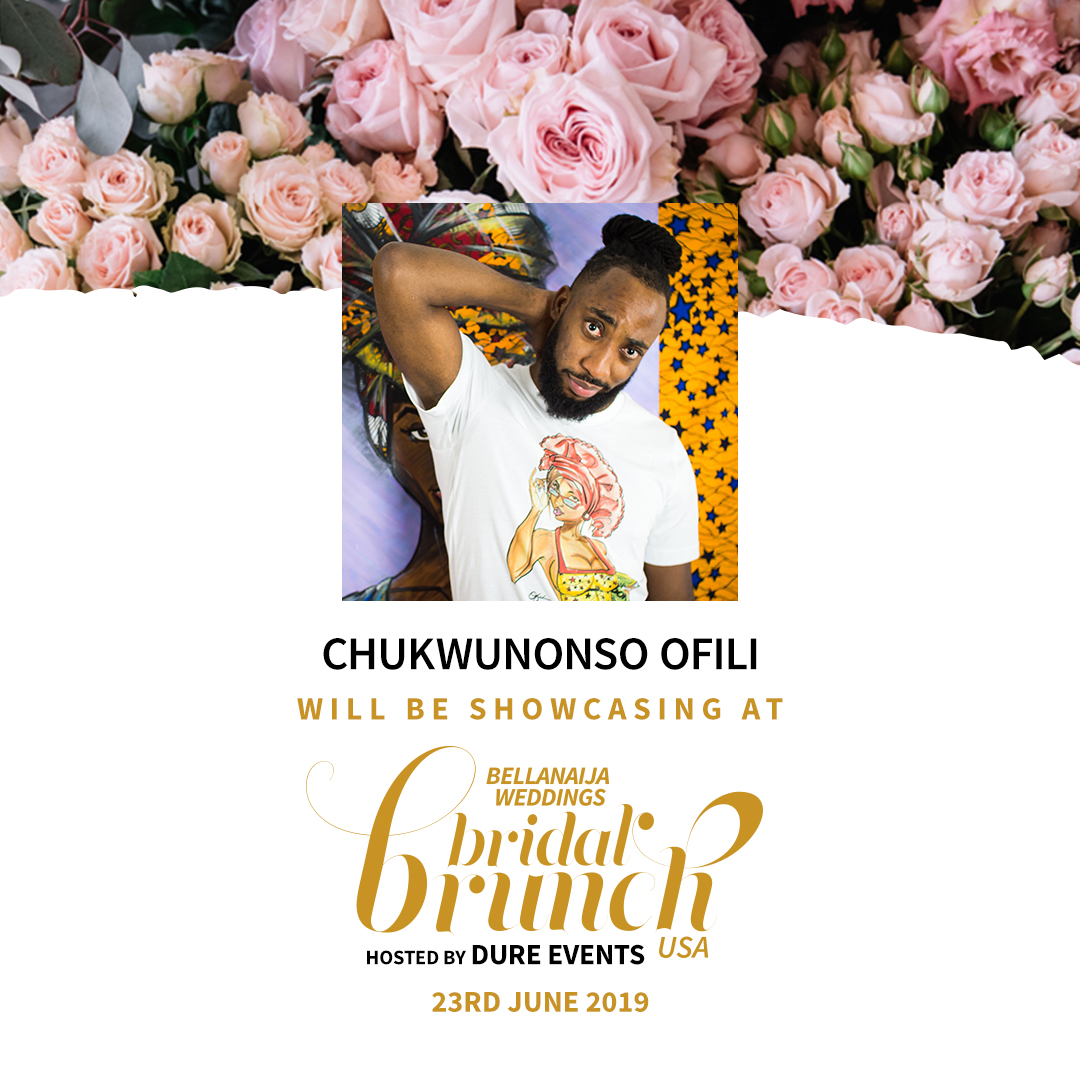 Chukwunonso Ofili, is a product designer, artist, and entertainer based in Houston, Texas. His work, Ofilidesigns art is centered around illustrating images of the Afrocentric culture and that triggers conversation. The desire to expand the taste and reach of his culture has driven him to be a tireless supporter of the art, and of artistic expression, especially in the Nigerian community. He is also the CEO of Wahala clothing and Co-owner of WowoBoyz Entertainment which has become a force to reckon with also in the entertainment industry. His Wahala clothing brand can boast of famous designs such as "JUST DO AM", "U Sabi pidgin?", "Respect My Hustle" and the famous "Gele Girls colouring book" and many more. He has hosted his own art show, Ofiliated I, in 2017 at Ronin Art House and he followed up with another in 2018 at Jomar vision. In July 2018, he was one of the featured artists at African Art Exhibit during Afro Culture Weekend and later in the year was in an Artist-in-residence program to hold another Art exhibition in the city of Oakland, California called "How we Remember Art Exhibit" that was curated by BAKANAL DE AFRIQUE. His aim is to showcase the relevance, progressiveness, and originality of African Visual Arts and bring awareness and inspiration to up and coming visual artists. You can check out his art on Instagram via @ofilidesigns.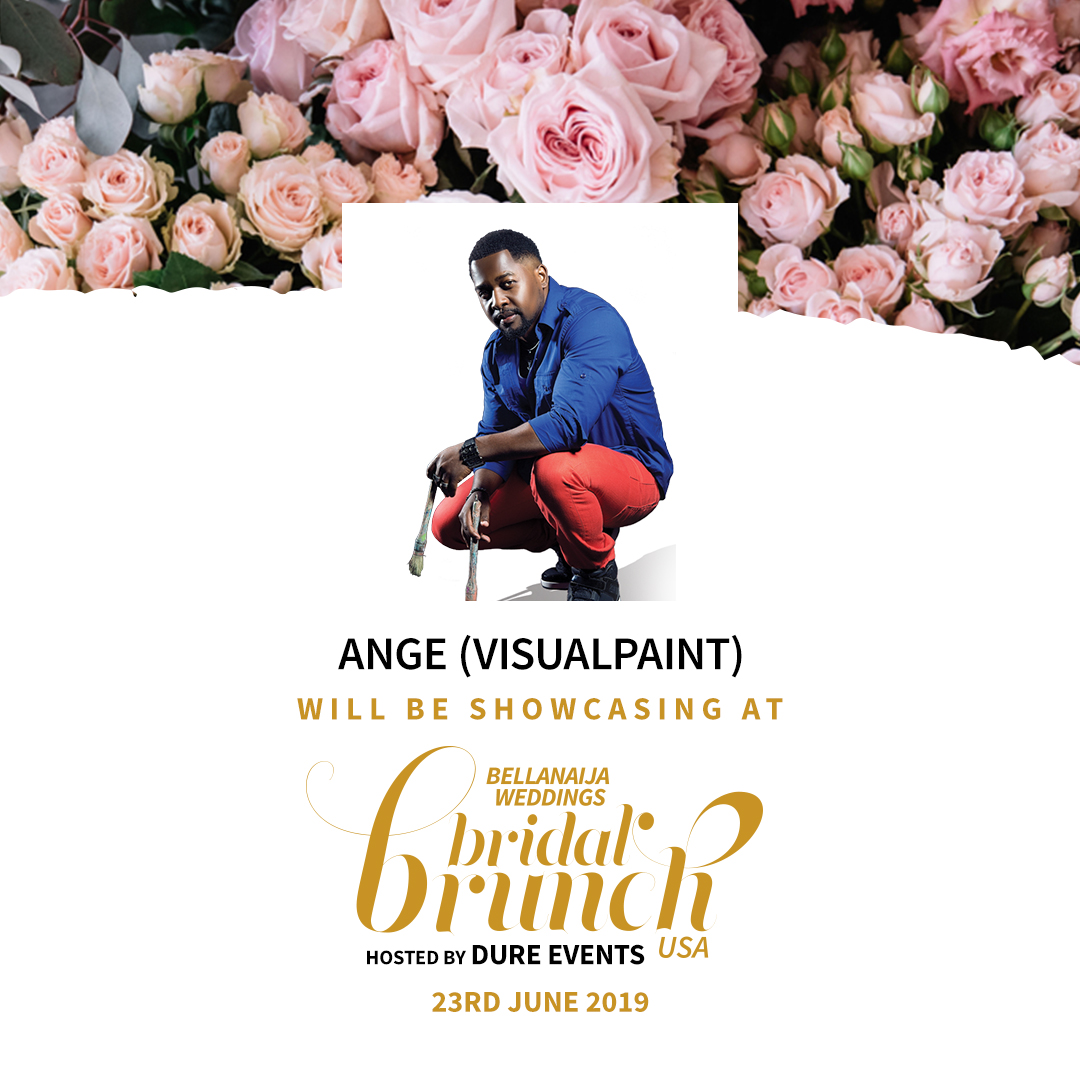 Ange of Visual Paint is a young artist currently living in the Houston area, he has been painting for the majority of his life. His ability to convey his emotions and thoughts through the use of paint and canvas is impeccable. He is a very diverse artist, ranging from surrealism, speed painting as well as pop art. Ange will be showcasing his art at the BellaNaija Weddings Bridal Brunch. Catch up with him on Instagram via @visualpaint.
We bet you are getting excited and can't wait to dine with us, we can't wait too. So get your tickets here and see you soon!